Corner-to-corner crochet, or C2C crochet, is a popular and versatile technique for creating a vibrant, eye-catching pattern to do stunning projects like blankets, scarves, and more. This collection of 40 free C2C crochet patterns offers an array of creative designs with step-by-step instructions and downloadable PDFs that make it easy for beginners and advanced crocheters alike to master this technique.
From classic geometric patterns to whimsical animal designs, these free C2C crochet patterns cater to all tastes and styles. Each c2c crochet pattern includes a detailed guide on the necessary supplies, such as yarn, crochet hook size, and stitches, ensuring you have everything you need to create your C2C masterpiece. Many free c2c crochet patterns also feature helpful illustrations and video tutorials that make learning and mastering the C2C crochet technique a breeze.
Welcome the world of C2C crochet and bring creativity to your home or wardrobe with these inspiring free patterns. Whether you're crafting a cozy blanket, a stylish scarf, or a unique wall hanging, these 40 free C2C crochet patterns provide endless options for your next crochet project. So, pick up your crochet hook and begin your journey into the captivating realm of corner-to-corner crochet today!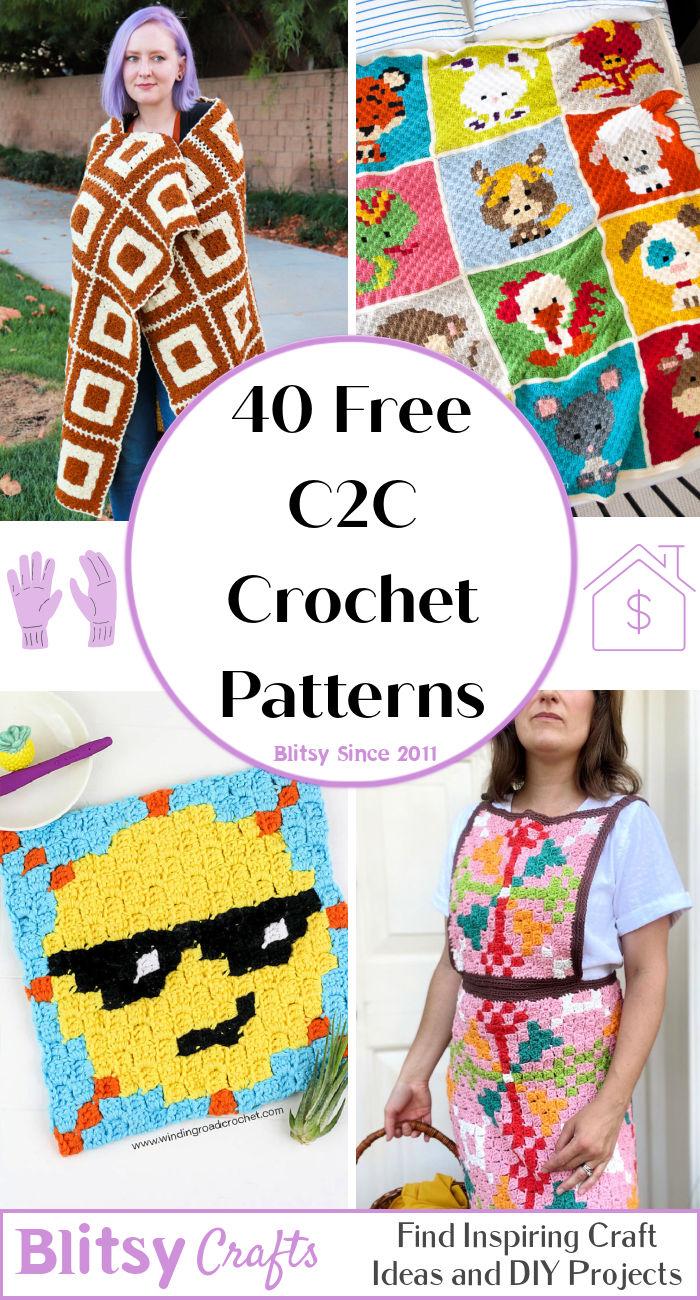 Corner-to-Corner Crochet (C2C) for Beginners
Corner-to-corner crochet, or just C2C for short, is a fun and easy way to create colorful and cozy projects using a simple technique. This article will help you learn everything you need to know to start your own C2C crochet adventure, from the basic stitches and increases to the color changes and decreases. You will also discover some tips and tricks to make your C2C crochet projects look neat and professional.
What is C2C crochet?
C2C crochet is a technique that allows you to work a project diagonally, from one corner to the opposite corner, by making small blocks of stitches. Each block consists of three or four chains and three double crochets (or half double crochets, depending on the pattern). The blocks are joined together as you go, creating a grid-like pattern that can be used to make graphs or pixel art.
What can you make with C2C crochet?
C2C crochet is very versatile and can be used to make various projects, such as blankets, pillows, scarves, shawls, dishcloths, rugs, and more. You can use any yarn weight and hook size you like as long as they are compatible with each other. You can also choose colors and create your own designs using a chart or graphing software.
How to start C2C crochet?
To start your C2C crochet project, you need to make a slip knot and chain six. This will form your first block. Then, you need to double crochet in the fourth chain from the hook and in the next two chains. This completes your first block. To make the second block, you need to chain six again and repeat the same steps as before. Then, you need to join the second block to the first block by slip stitching into the top of the chain three of the first block. Chain three and make three double crochets in the same space as the slip stitch. This completes your second block.
How to increase C2C crochet?
To increase your C2C crochet project, you need to add one more block to each row until you reach the desired width and height. To do this, you need to turn your work at the end of each row and chain six. This will form the first block of the next row. Then, you need to double crochet in the fourth chain from the hook and in the next two chains. Join this block to the previous row by slip stitching into the top of the chain three of the first block of the previous row. Chain three and make three double crochets in the same space as the slip stitch. Continue making blocks across the row until you reach the end.
How to change colors C2C crochet?
To change colors in your C2C crochet project, you need to decide where you want to make the color change and plan ahead. You can use a chart or a graph to help you visualize your design. To change colors, you need to complete two loops of the last double crochet of a block with the old color and then finish it with the new color. Then, cut the old color yarn and weave in the ends later. Continue with the new color yarn until you need to change colors again.
How to decrease C2C crochet?
To decrease your C2C crochet project, you need to reduce one block from each row until you reach one block left. To do this, you need to turn your work at the end of each row and slip stitch across the top of each double crochet until you reach the top of chain three of the first block of the previous row. Then, chain three and make three double crochets in that space. Continue making blocks across the row until you reach one block left.
How to finish C2C crochet?
To finish your C2C crochet project, you need to fasten off your yarn and weave in all the ends. You can even add a border around your project if you like, using any stitch pattern you prefer. A border can help even out your edges and give your project a more polished look.
Tips and tricks for C2C crochet
Here are some tips and tricks that can help you improve your C2C crochet skills:
Use stitch markers or safety pins to mark your first and last blocks of each row. This can help you keep track of your rows and avoid mistakes.
Use bobbins or butterfly clips to manage your yarn when changing colors frequently. This can help you avoid tangling and wasting yarn.
Use a smaller hook size than recommended for your yarn weight. This can help you create tighter stitches and neater blocks.
Use a slip stitch instead of a chain 3 to start each row. This can help you create a smoother edge and avoid gaps.
Use a standing double crochet instead of a chain 3 to join a new color. This can help you avoid a bulky seam and create a cleaner color change.
Use the invisible decrease technique to decrease your blocks. This can help you avoid holes and bumps in your fabric.
Use the mattress stitch to join your C2C panels. This can help you create a flat and invisible seam.
Use a border to finish your C2C project. This can help you hide any uneven edges and add some extra flair to your design.
Free C2C Crochet Patterns
Now that you know how to C2C crochet, you might wonder what kind of projects you can make with this technique. The answer is almost anything! C2C crochet is very adaptable and can create a wide range of items, from cozy blankets and pillows to stylish scarves and shawls. Here are some 25 free C2C crochet patterns that you can try:
1. Concentric Squares C2C Crochet Throw Pattern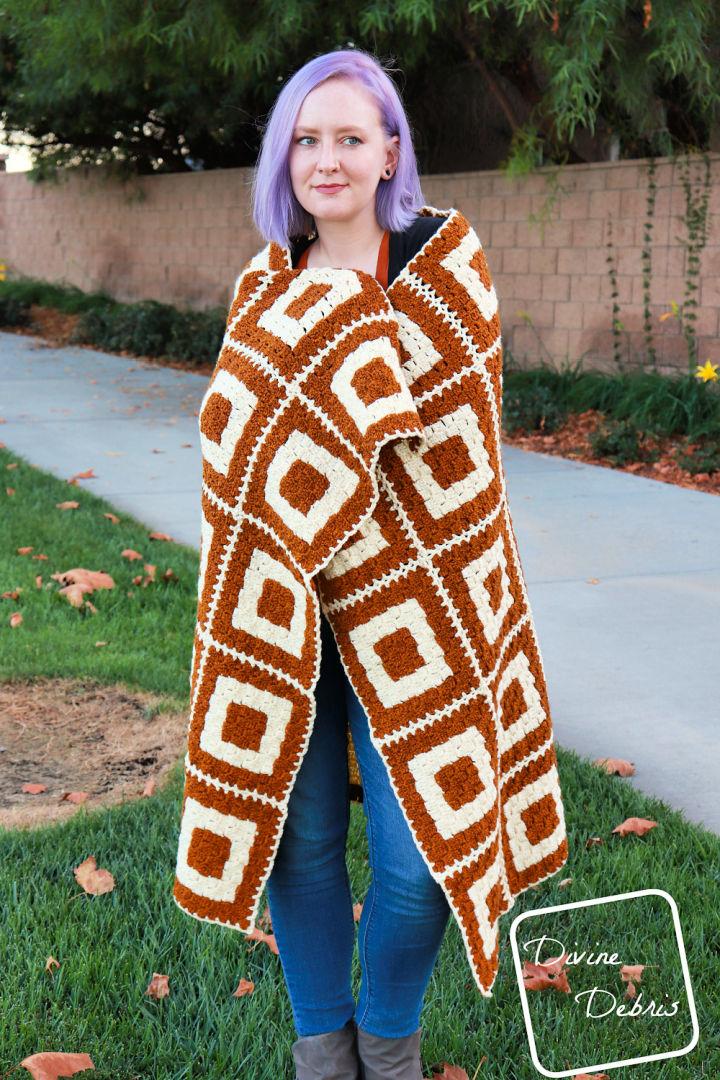 This intermediate concentric squares throw free c2c crochet pattern will take your crochet skills to the next level! It uses an US g (4.00 mm) crochet hook and size #4/ worsted/ medium weight yarn in two colors of your choice for approx finished product dimensions of square 8″ x 8″ (blocked) and blanket 40″ x 56″ (blocked). Get creative, have fun and make something amazing today! divinedebris
2. Retro C2C Crochet Apron Pattern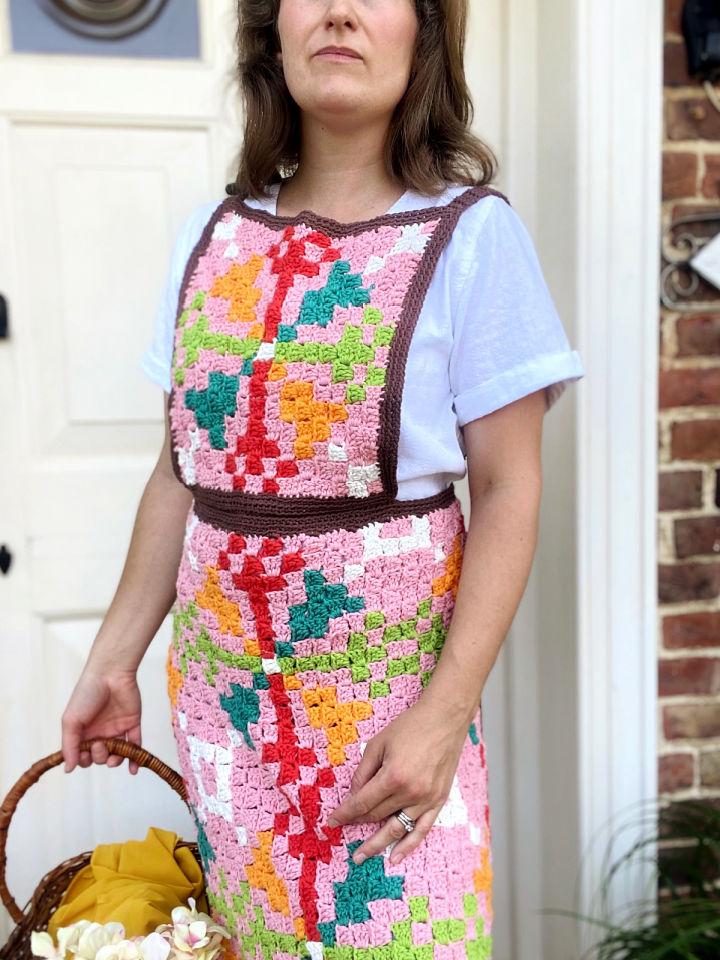 This fun and easy retro c2c crochet apron pattern brings a vintage touch to your home! With simple 2-panel construction and corner-to-corner crochet method, it's effortless to customize the colors for any occasion. Level up your craftsmanship with this easy pattern, whether creating a modern look or a festive vibe for christmas. Let your creative juices flow as you add colorwork to every stitch of this delightful geometric design. hanjancrochet
3. Panda Bear C2C Crochet Blanket Pattern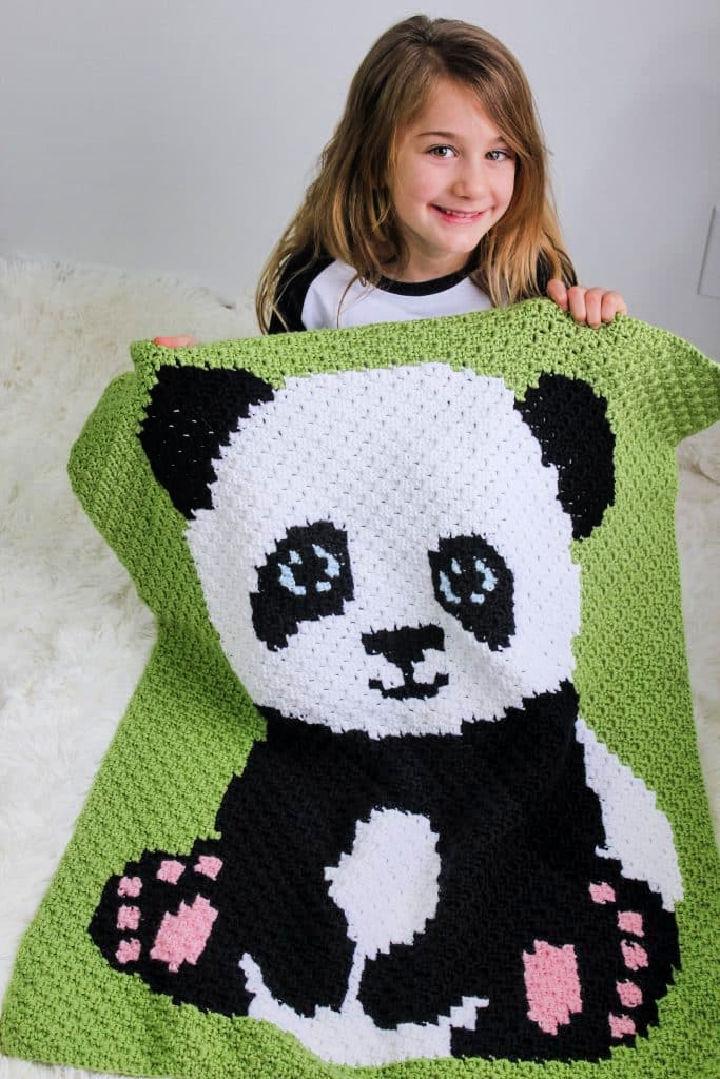 Do you fancy crochet and pandas? Here is just the perfect crochet project for you! This panda bear c2c crochet blanket free pattern is ideal for any panda enthusiast or as a unique baby shower gift. The finished blanket measures 27″ x 33″, making it the perfect size for your little one's cuddles. With this fun and easy-to-follow pattern, crafting an adorable panda blanket has never been easier! nanascraftyhome
4. Free Widcombe C2C Crochet Hat Pattern

Treat yourself or your family to a stylish and modern look with this corner-to-corner crochet hat pattern. Easier than it looks, this free hat pattern is fun to make and comes in sizes from baby to large adult – perfect for every family member! Plus, it's the ideal way to use leftover yarn for a quick and easy crochet gift. So stay warm (and fashionable) this season and get crocheting! hanjancrochet
5. C2C Crochet Moss Stitch Baby Blanket Pattern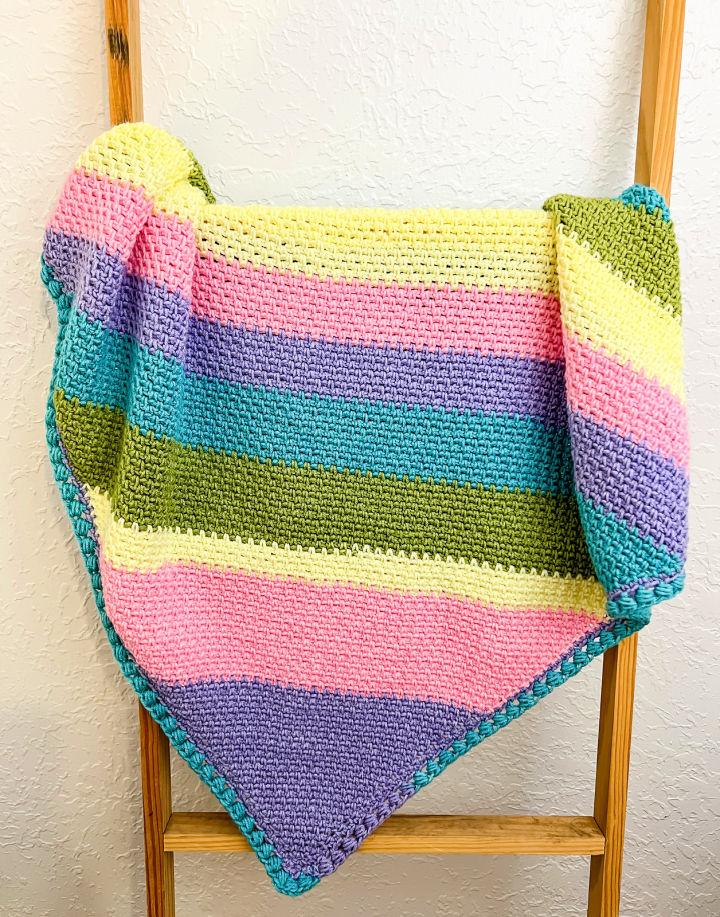 Get ready to bring the beauty of springtime alive and create a beautiful baby blanket for your little girl. This free crochet pattern utilizing the c2c moss stitch and puff edge stitch for the border will help you make this 33″ x 33″ masterpiece in no time. All you need is some worsted weight yarn, a j/6.00mm crochet hook, and all the vibrant colors of yellow, pink, purple, blue and green to get started! okiegirlblingn
6. Zoodiacs C2C Crochet Afghan – Free Pattern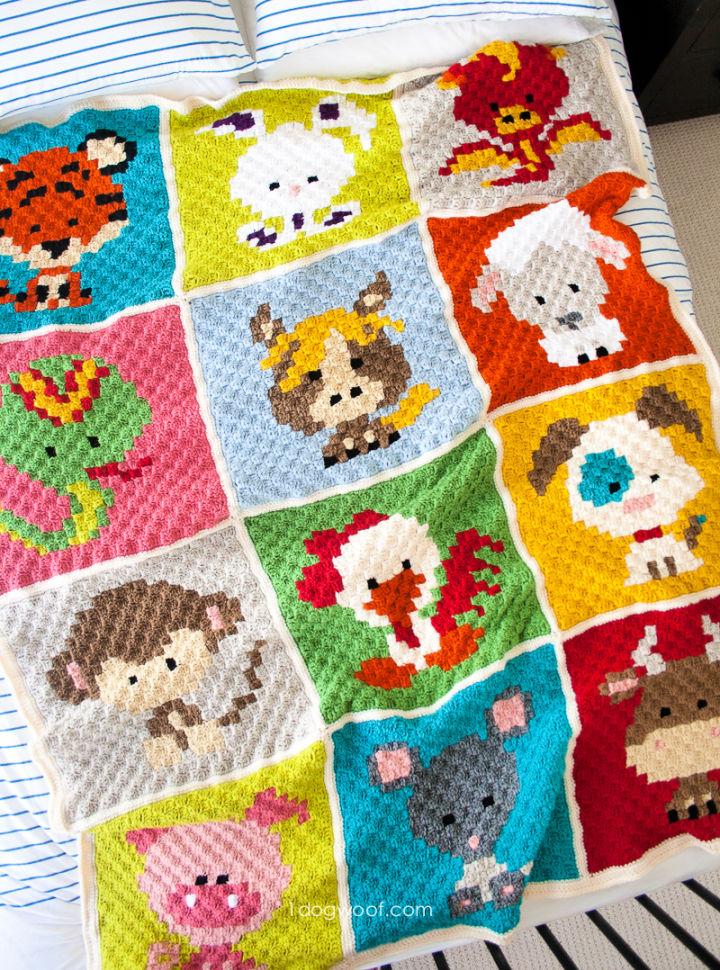 Curl up and get cozy with zoodiacs c2c crochet afghan. This oversized couch blanket is designed to fit your snuggles perfectly! This afghan is a perfect way to showcase your creativity, featuring 12 large c2c (corner to corner) crochet squares that display the animals in the Chinese zodiac. Each 18-inch square has been crafted with immense detail and love, making it an ideal gift for any occasion. So why wait? Get one now and add some warmth and flair to your home! 1dogwoof
7. Easy C2C Crochet Mesh Market Bag Pattern

Create a stunning crochet mesh bag with this free c2c crochet market bag pattern! This simple yet beautiful pattern is beginner-friendly and works quickly. All you need is lion brand 24/7 cotton, weight 4/medium yarn (100% mercerized cotton), a g/6 crochet hook (4.0 mm), and two wood bag handles to make this reusable market bag. The finished size of the bag will be 15″ tall x 24″ wide without handling it in any way – perfect for your grocery trips! nanascraftyhome
8. Crocheting a C2C Blanket in Two Hours – Free Pattern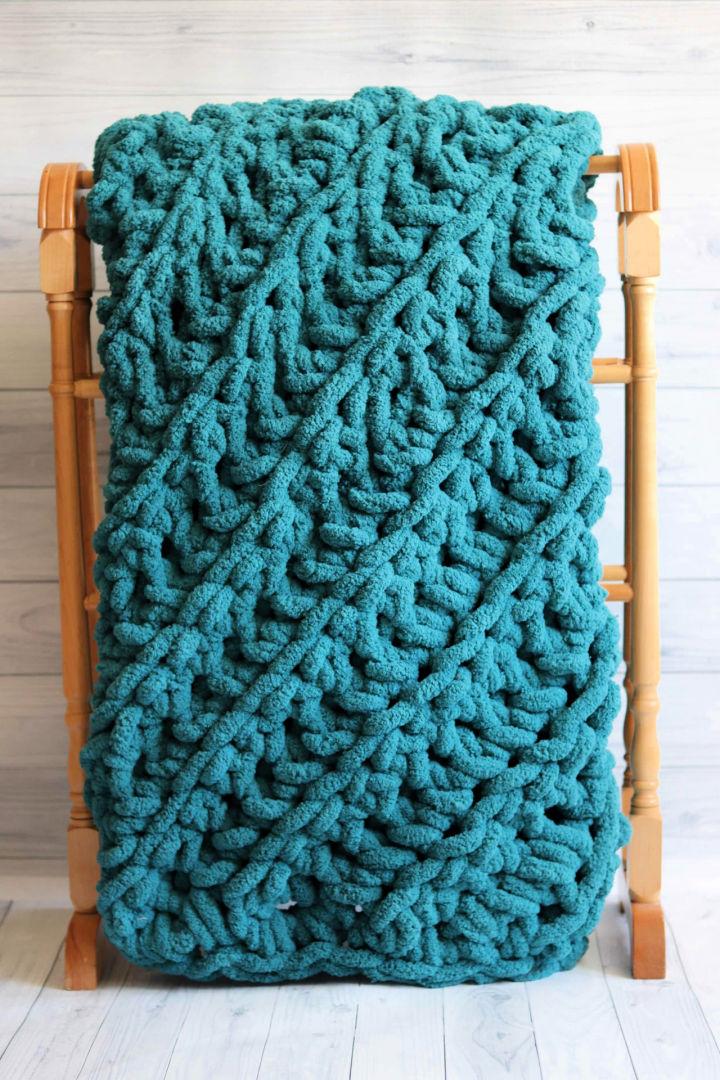 Treat yourself to a cozier winter with this amazing 2-hour c2c crochet blanket pattern! It's an easy project you can finish quickly and proudly display in your home. The bold style and chunky texture of the 100% polyester jumbo weight yarn will keep you warm all season. And with a finished size of 54 x 54 inches, there's plenty of room for snuggling up on those chilly nights! Let's get started making this beautiful blanket today! richtexturescrochet
9. Free C2C Crochet Bee Baby Lovey Pattern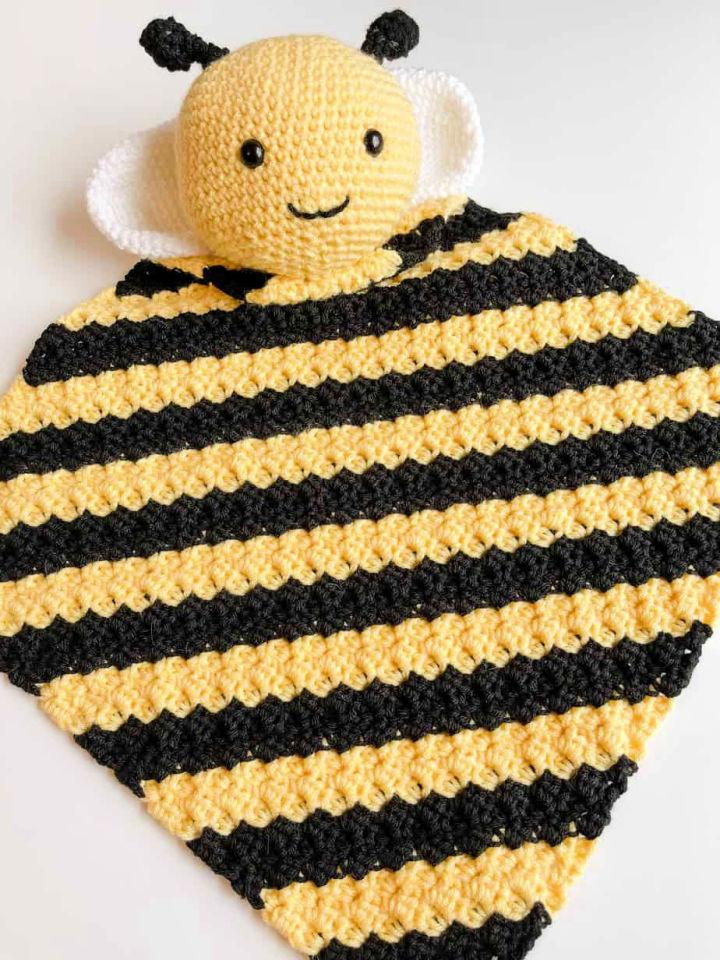 Welcome to the world of crochet! Create the perfect gift for a special little one with this bee crochet blanket free c2c baby blanket lovey crochet pattern. This easy-to-follow pattern features supplies such as weight 4/medium (100% acrylic) yarn, a size j (6.0 mm) crochet hook, 2 – 14 mm black safety eyes and polyfil stuffing. Get creative and enjoy crocheting your unique creation! The approximate finished size of the blanket is 17″ x 17″ with 7 blocks equal to 4″ each – you can't go wrong! nanascraftyhome
10. Colorful C2C Crochet Geometric Pillow Pattern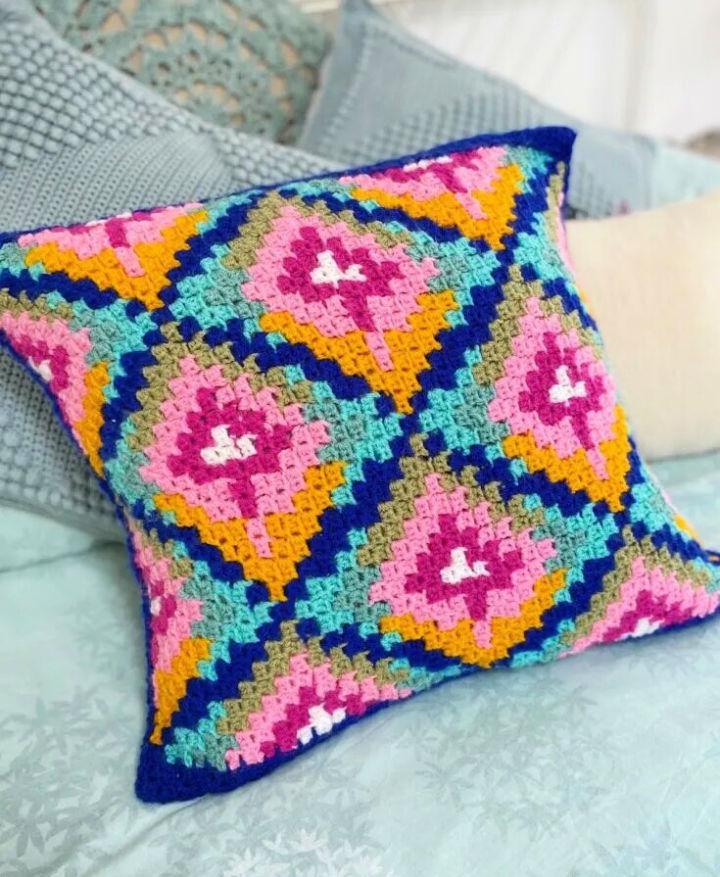 This c2c pillow pattern is the perfect way to take your crochet expertise to a higher level. If you're looking for a challenge, this pattern will allow you to show off your ability. This crochet cushion pattern is a fun, colorful and geometric masterpiece! Easier than it looks, you can easily craft this cushion cover with a 4.5mm hook and 100% premium acrylic yarn. Perfect for cushion pads measuring 45x45cm and 9-by-9 c2c blocks that measure 10x10cm – so why wait? Get ready to create something amazing today! hanjancrochet
11. Lovely C2C Crochet Daisy Day Throw Pattern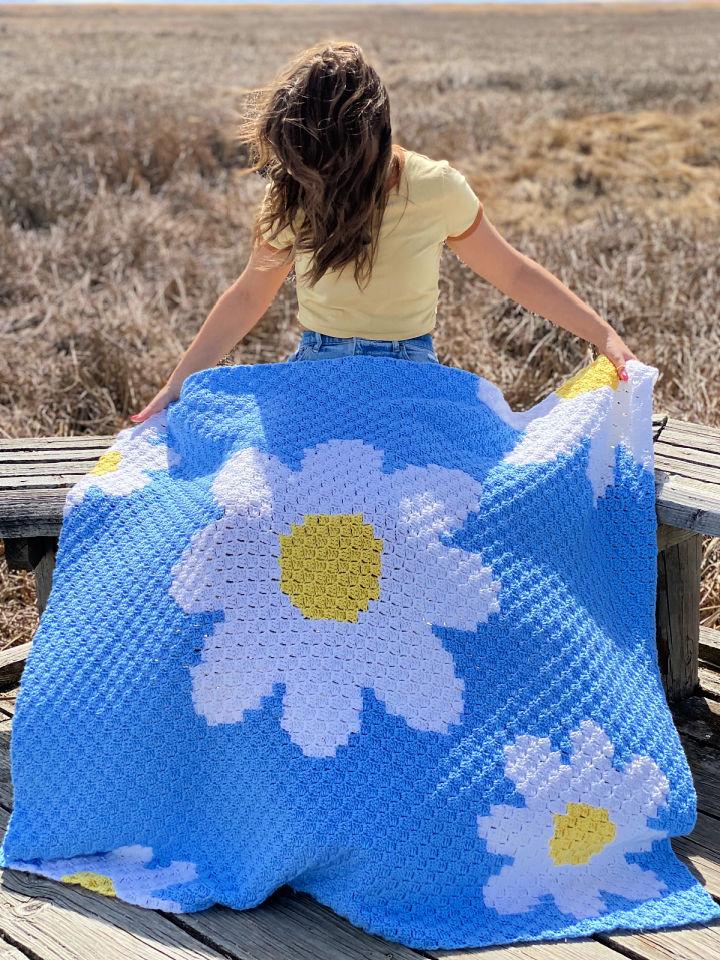 You can bring some sunshine on those cloudy spring days with this daisy day throw crochet pattern. Inspired by the 90s, it will instantly take you back to your childhood. Utilizing the c2c method, this blanket is worked up using worsted (4) weight yarn and an h/5mm crochet hook. Once complete, you'll have a cheerful throw measuring 48″ w by 55″ l. eandpcrochet
12. Best Nova Triangle Scarf Crochet Pattern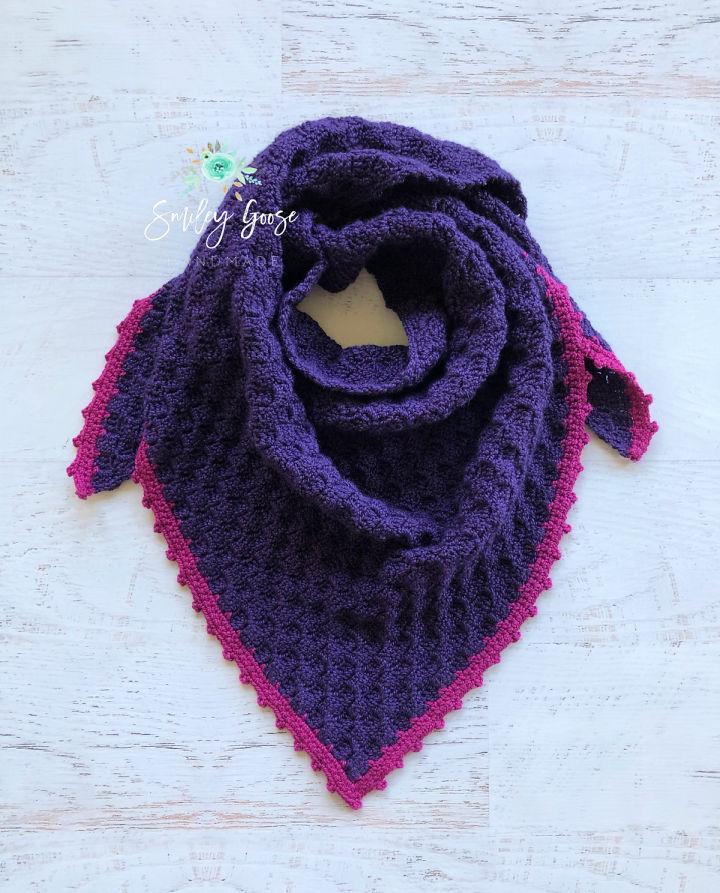 Go for a beautiful, stylish statement with the nova triangle scarf crochet pattern. Using any sock, sport, dk or worsted weight yarn and a us size g-6 (4 mm) crochet hook, you can easily make your design in no time. With an easy c2c crochet technique and increasing until desired dimensions are met, anyone from beginners to experienced crocheters can enjoy making this scarf – measuring approximately 24 inches wide by 53 inches long when complete. Let your creativity flow and create something unique for yourself or as a gift! smileygoose
13. Simple Corner to Corner Crochet Kimono Pattern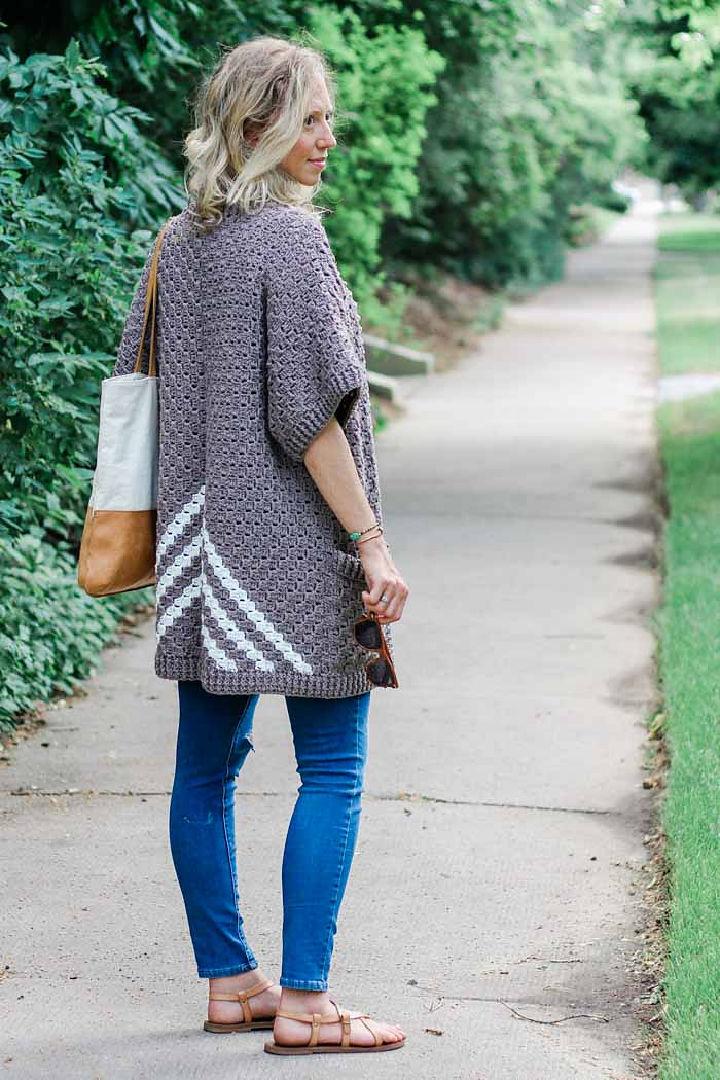 Bring effortless style to your wardrobe with this easy corner-to-corner crochet kimono sweater. Crafted from beautiful, drapey rectangles, you can create the perfect on-trend look for any occasion. All you need is 4/medium weight yarn in taupe and ecru, a size j (5.75 mm) hook and a printable graph pattern for c2c rectangles. The finished garment measures 27.5″ (28.25″, 28.25″), so it's sure to be a flattering fit! makeanddocrew
14. Unique Corner to Corner Crochet Scarf – Free PDF Pattern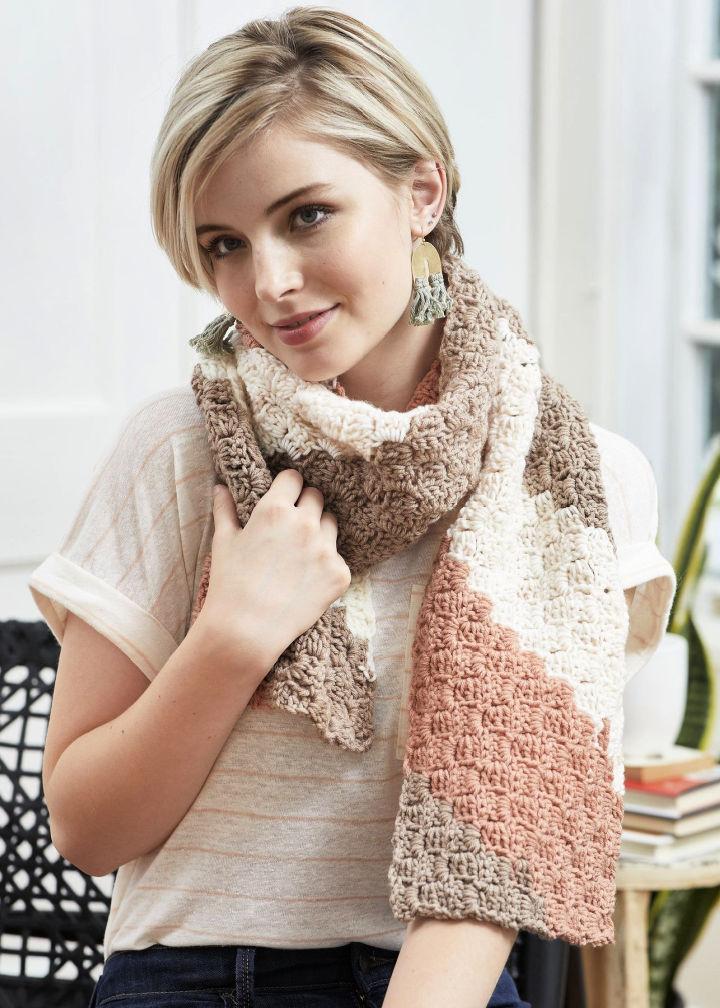 Achieve an impressive intermediate-level project with this corner-to-corner scarf crochet pattern! Create a beautiful piece with premier yarns sweet roll in cinnamon pop and us size h-8 (5mm) crochet hook. The finished measurements are 7¾" in width and 60″ long, perfect for any occasion. Start your next masterpiece today! premieryarns
15. Amazing Crochet Corner to Corner Bobble Cowl Pattern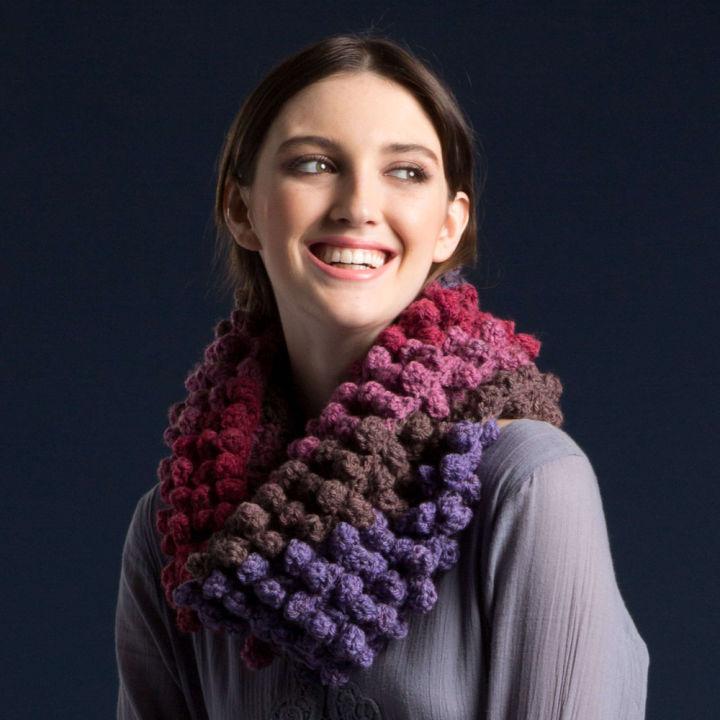 Liven up your wardrobe with this stylish, easy-to-make crochet corner-to-corner bobble cowl! This project measures approximately 15″ (38 cm) deep by 30″ (76 cm) around and requires a size us i/9 (5.5 mm) crochet hook and caron cakes blackberry mousse yarn, making it the perfect beginner's project for those getting into crocheting! Make one today and look fashionable wherever you go! yarnspirations
16. Ladybug C2C Crochet Baby Booties Pattern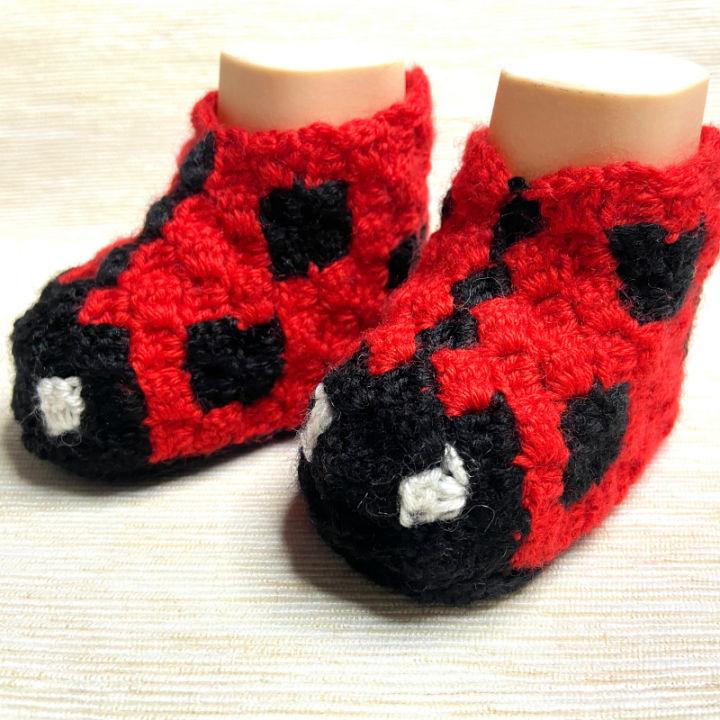 Create a unique pair of booties for your baby with the "c2c crochet" pattern! You'll need some red, white and black yarn, as well as a 2.20mm crochet hook to get started. The tutorial takes you to step by step through the process, plus use the foot mannequin to measure the girth of the base — 22 cm. With this easy-to-follow guide, you can ensure your little one has something special on their feet! diycrochetlily
17. Grateful C2C Crochet Table Runner Pattern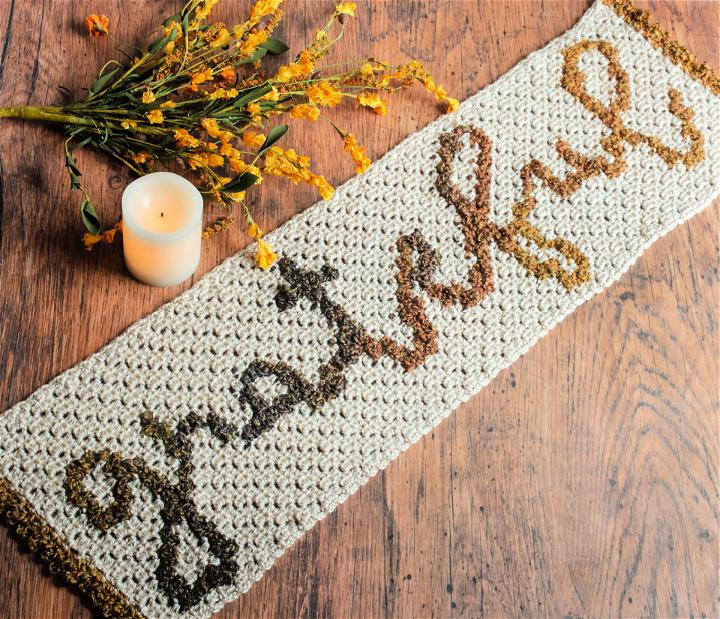 Complete the look of your thanksgiving table with this beautiful crochet table runner! This intricate pattern is created using lion brand heartland and a size j (6.0mm) crochet hook. The finished product will be 10″ wide and 37″ long – perfect for adding holiday cheer to your home decor. With just 7 blocks making up 4″, you can easily make this free c2c pattern in no time! Add this festive piece to your dining table today and show off the amazing work that you have done! nanascraftyhome
18. Be Kind Mini C2C Crochet Wall Hanging Pattern

Make a statement in your home with this beautiful "be kind" mini c2c wall hanging. The perfect crochet pattern for intermediate crocheters, you'll need a US g (4.00 mm) crochet hook and size #4/ worsted/ medium weight yarn–3 colors of your choice! This free pattern will give you a finished product measuring 12.8″ – 13″ x 19″ to ensure it stands out from the crowd! divinedebris
19. Free C2C Crochet Sweater Pattern for Toddlers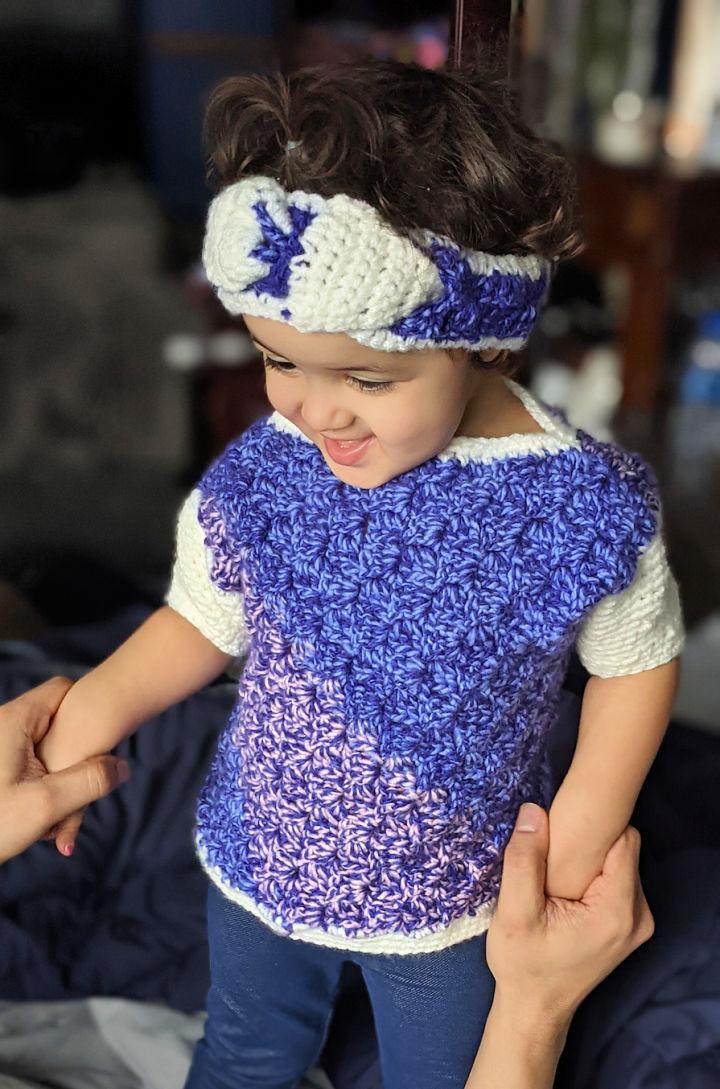 Introduce your little one to the perfect winter pullover with this c2c crochet toddler sweater pattern. Crafted in aran weight yarn, it's a warm and cozy design available in size 2t. With its easy-to-follow instructions and 3.75 mm (f) hook, you can make it an adorable addition to your wardrobe that will take some time to complete! Get ready for some cuddle time with a c2c toddler sweater! ravelry
20. How to Make a C2C Alphabet Wall Hanging

Transform your walls with this eye-catching c2c alphabet wall hanging! This free crochet pattern is perfect for creating a personalized wall hanging for gallery walls, nursery decor, wedding gifts and more. With worsted weight yarn and an h8/5mm crochet hook, it will take you about 3.5 hours to complete the letter "m". Measurements: 10 ⅜″ wide; 7.5″ tall from nail to dowel; 22.25″ tall from nail to bottom. What are you waiting for? Grab your supplies and get started now! eyeloveknots
21. Gorgeous Crochet C2C Square Rug PDF Pattern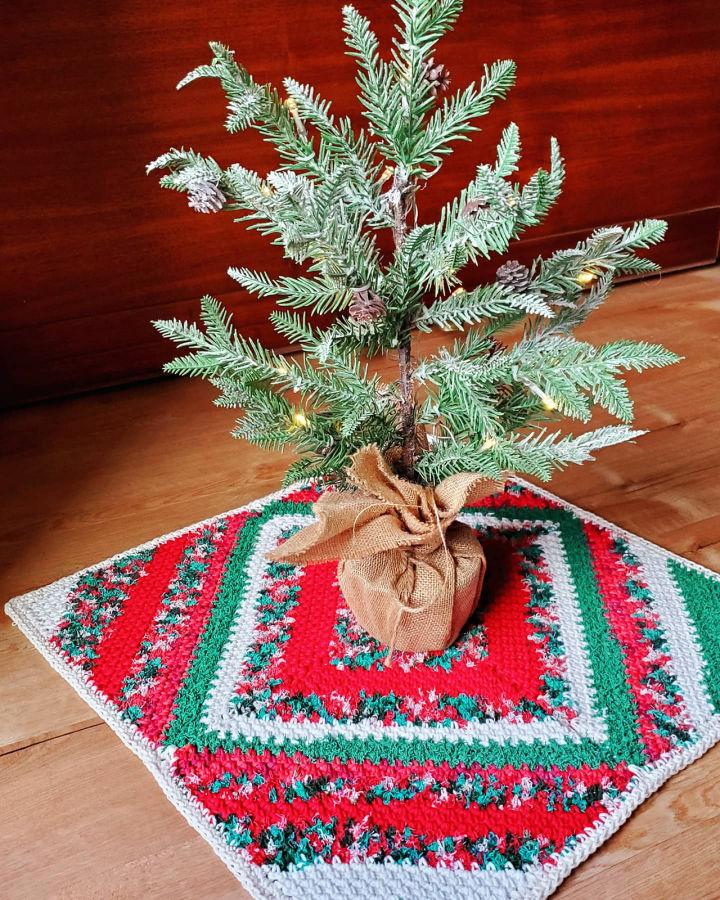 Crochet a beautiful 4th of July-themed c2c crochet rug to add patriotic flair to your home! Try combining the red, white, and blue hues of lily sugar'n cream cotton scrub off with the self-striping beach house yarn to construct perfect squares. You can craft a 4×4 square rug or add more blocks for an eye-catching blanket, depending on your preference. Start creating today! handmadebyraine
22. Draped in Dogs Corner to Corner Crochet Afghan Pattern

You're only moments away from creating your own cozy draped dog afghan! Made with basic stitch anti-pilling worsted weight (4) yarn, this c2c crochet pattern requires a 5.00mm (h) hook, and the finished blanket measures 52″ by 68″. Ecru and taupe heather colors make it perfect for any room of the house! Let's get you ready to craft your warm and furry masterpiece today! eandpcrochet
23. Sun C2C Crochet Graph With Written Instructions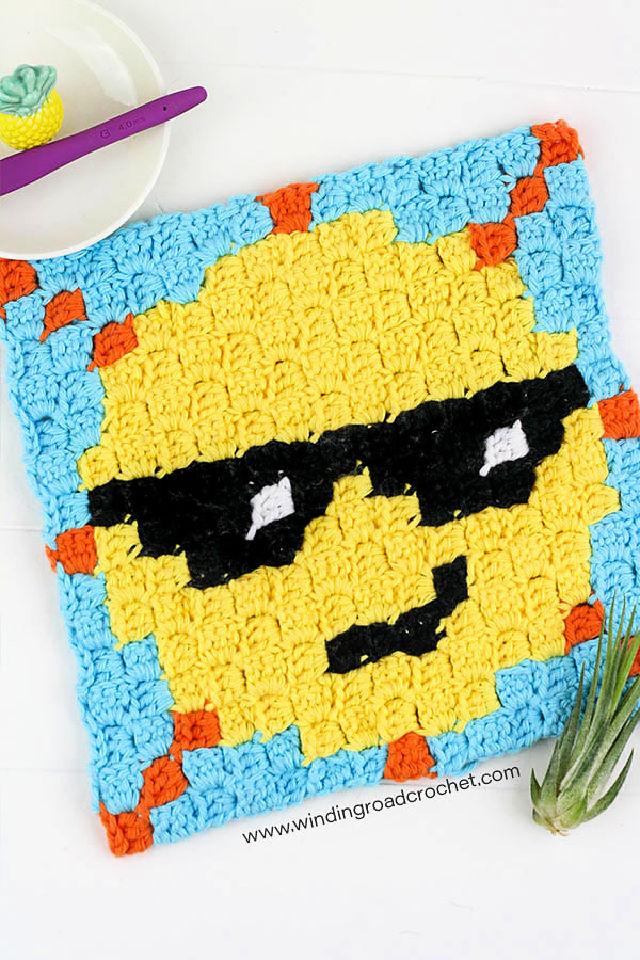 Bring some sunshine into your life with Mr. Sunshine's crochet graph pattern! This corner-to-corner crochet graph is just the project for you to brighten up dull days, and its finished size of 9 ½ inches x 9 ½ inches will make for a delightful addition to any room. Create something beautiful with this sun c2c crochet graph, and let its cheerful face set the tone for summertime fun! windingroadcrochet
24. Crochet Corner to Corner Moss Stitch Washcloth Pattern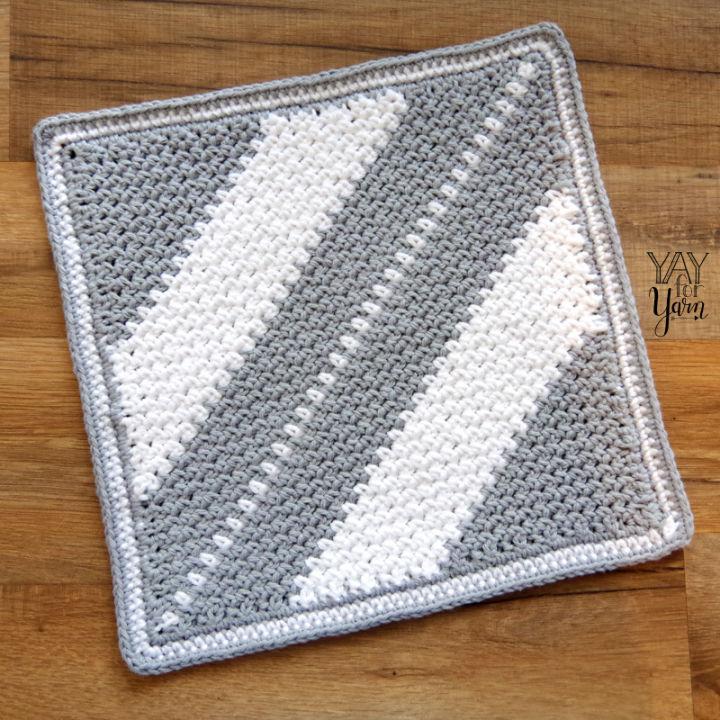 Sorting out a unique crochet project? This corner to corner crochet moss stitch washcloth pattern will make a great choice! Worked on the bias from corner-to-corner, this soft washcloth features a diagonal stripe pattern with a textured twist. Advanced beginners can customize it with preselected colors or make their own with #4 worsted weight yarn. Crochet your masterpiece in less than 2 hours and show off an 11 ¼" (28.5 cm) by 11 ¼" (28.5 cm) beautiful cloth that you created! yayforyarn
25. Free Crochet C2C Corner Bookmark Diagram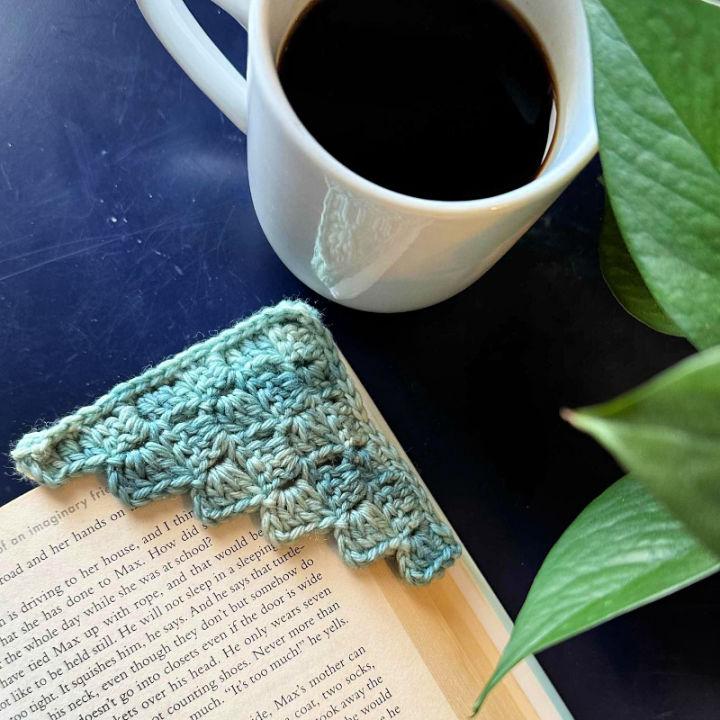 Start your crochet journey with the c2c corner bookmark! Perfect for beginners, this free pattern uses 100% super wash merino woolany dk weight yarn and a 3.5mm hook to create an approximately 4″ x 4″ (or 5″ diagonally) bookmark. You'll have fun learning and creating something useful at the same time. Get started now on crafting an adorable corner bookmark today! juniperandoakes
26. How to Do C2C Crochet Shawl – Free Pattern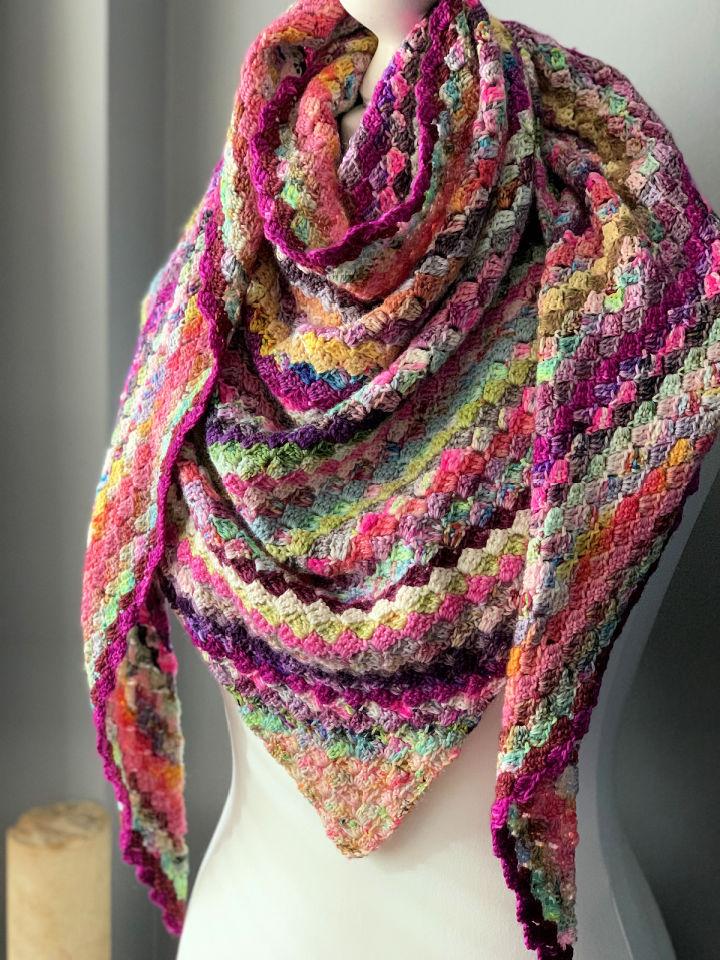 Turn your leftover yarn scraps into something beautiful with this cozy c2c shawl! Crocheted with a 3.5 mm (e) hook and fingerling-weight yarn, you'll have an elegant wrap/shawl to show off quickly. With this crochet shawl pattern, you can give new life to those odd bits and pieces in the most stylish way possible – what could be better? ravelry
27. Diagonals for Days C2C Crochet Top Pattern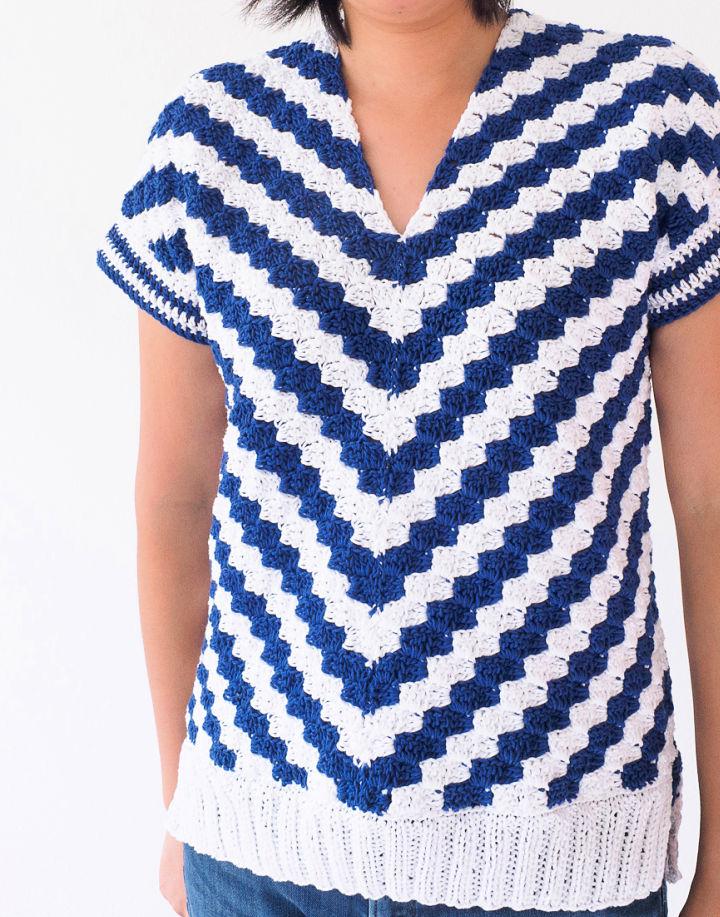 Let your style and creativity shine with the diagonals for days c2c crochet top! This easy-to-follow pattern is perfect for those just starting crocheting. Gather your wool and the gang shiny happy cotton, crochet hook j/6.00mm, and pair of 6.00mm knitting needles to create a stylish look that will turn heads. So grab your supplies now and show off what you can do! 1dogwoof
28. C2C Crochet Block Rockin Poncho Pattern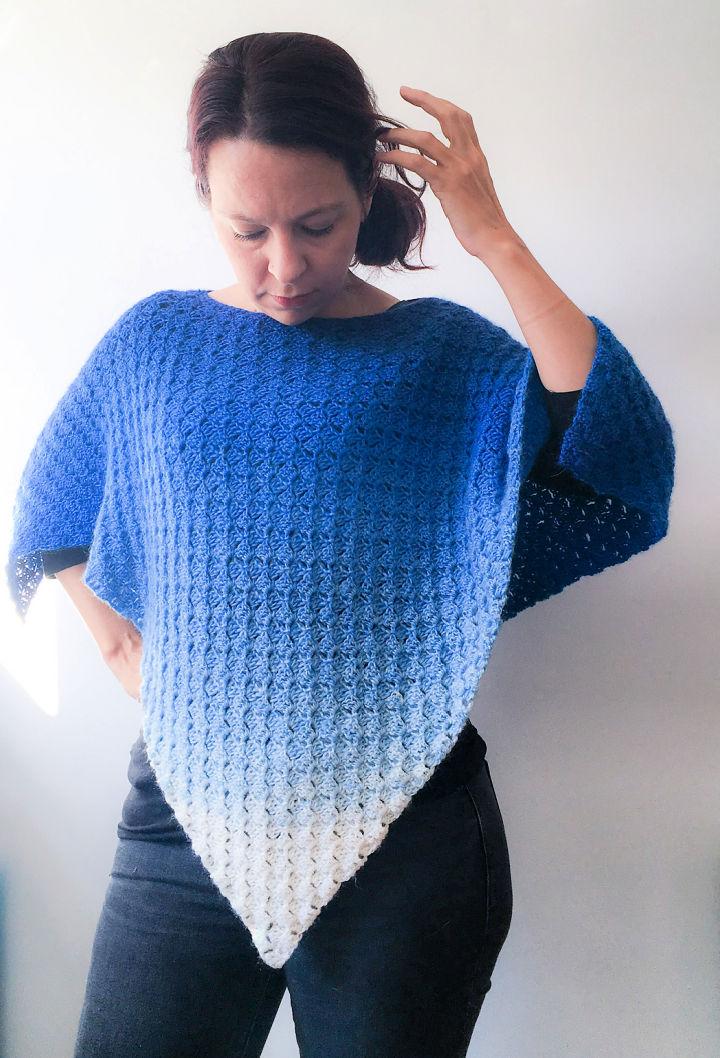 Take your crochet skills up with the c2c block rockin' poncho – an easy yet adventurous free pattern! Perfect for confident beginners, this shawl uses the corner-to-corner stitch and utilizes a 4.5mm hook and sport weight or wool blend yarn. After blocking, it measures approximately 115cm/46 wide and long on the diagonal. Get creative and see what you can make with this versatile pattern! doradoes
29. C2C Crochet Animal Blanket – Free Pattern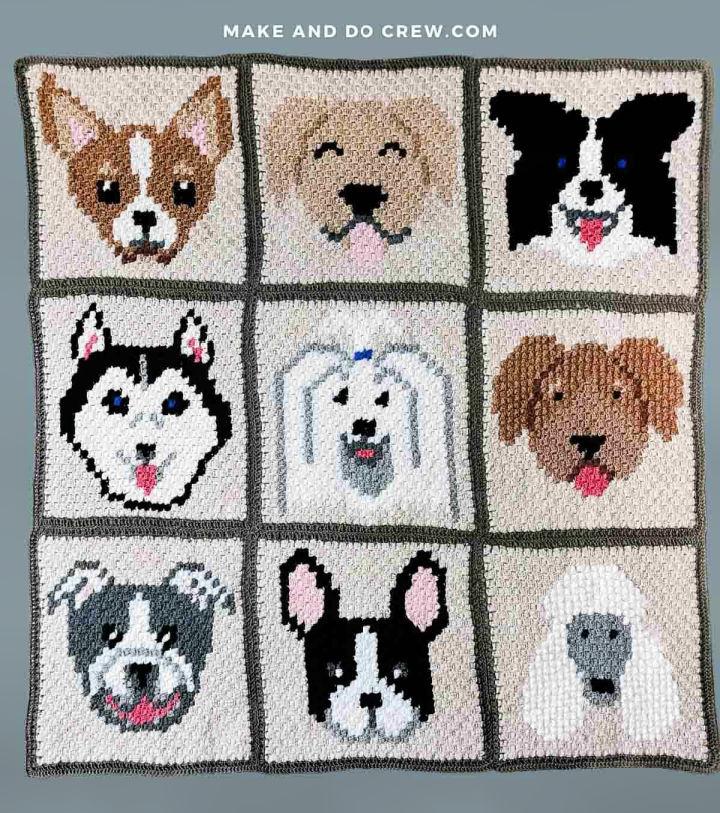 Give your furry friend the royal treatment with the best in show c2c crochet dog blanket! Get creative with nine unique corner-to-corner crochet patterns and create a 58″ x 58″ blanket with all barking in admiration. All you need is a size h (5.0mm) crochet hook and some medium-weight yarn, and your pup's cozy new blankie will be ready for snuggling! Each dog block measures 18″ x 18″, making it perfect for any paw-sized pal. makeanddocrew
30. Free C2C Crochet Hello Sunshine Afghan Pattern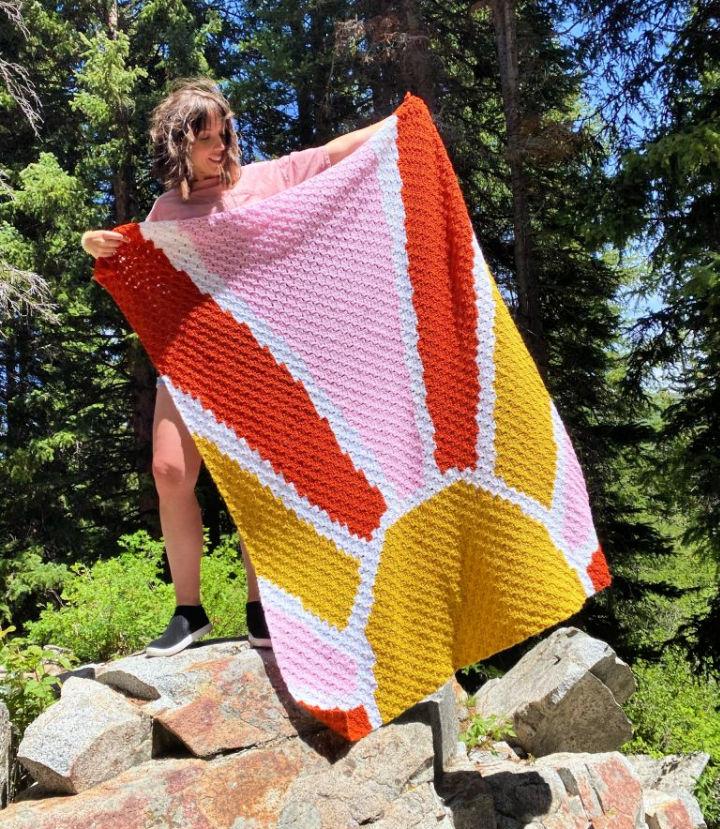 Welcome the dawn of a new day with the hello sunshine afghan! This cheerful blanket is crafted using the mesmerizing c2c crochet stitch and features vibrant retro colors that will brighten up any home. Made with worsted-weight yarn and a 5mm crochet hook, this 50×60″ blanket makes an excellent addition to your living space. eandpcrochet
31. How to C2C Crochet Buck Graphgan – Free Pattern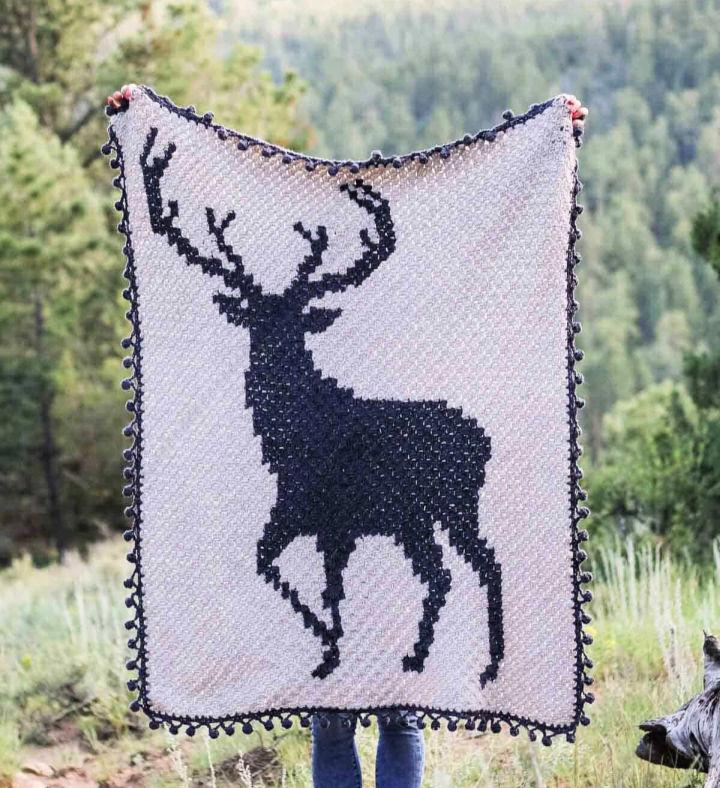 Are you looking for something special to add a touch of rustic charm to your home décor? Look no further than this modern, corner-to-corner crochet graphghan deer blanket! Made with half-double crochet c2c stitches and playful pom pom edging, it's perfect for creating a woodland-themed nursery or adding Scandinavian style to your holiday decor. Get the free graph pattern today and bring stylish warmth into your life. Supplies needed: size k (6.5 mm) crochet hook and 4/medium weight yarn; size is 41 x 49″ (excluding pom poms). makeanddocrew
32. C2C Crochet Rectangle Washcloth Tutorial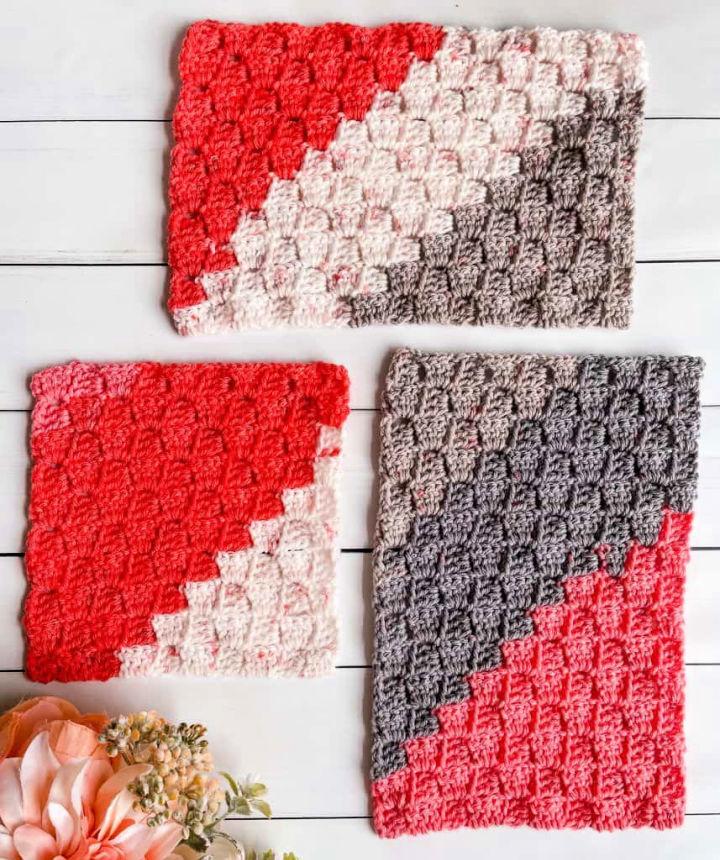 Get ready to create something fabulous with c2c crochet! This complete tutorial will guide you through making a rectangle using corner-to-corner crochet techniques. With step-by-step photos and videos, learn how to do this fun project quickly! Get ready for beautiful results with your c2c crochet rectangle tutorial. Finally, you can enlarge these rectangles to crochet awesome scarves, blankets, and other patterns! nanascraftyhome
33. Free Crochet C2C Silt Blanket Pattern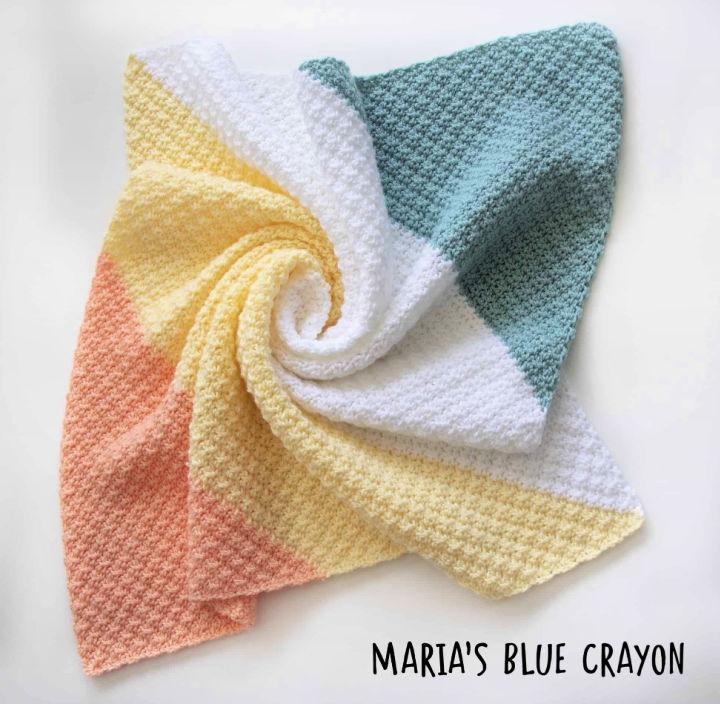 Unlock your creative side with this crochet c2c silt blanket pattern! With all the materials needed and a video tutorial, you're one step closer to making a subtly textured blanket that's beautiful and easy. The finished product measures 36″ x 36″, so prepare for cozy nights. Grab paintbox yarns simply aran in peach orange, banana cream, paper white and washed teal plus a j/6.00mm hook to make it happen – happy crafting! mariasbluecrayon
34. C2C Crochet Barn Quilt Blanket – Step-By-Step Instructions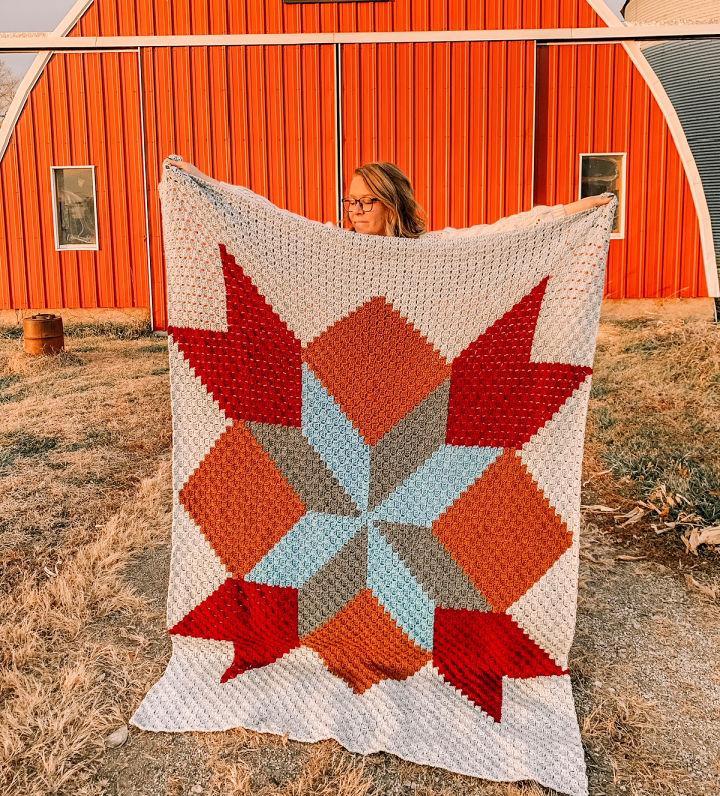 This free corner-to-corner (c2c) barn quilt blanket pattern brings country-style charm to your living room! Crafted with 100% premium acrylic, this throw will measure 53″ x 68″ and features a gauge of 5 squares x 5 rows = 4″. Get started crafting yours for an instant home makeover that all will admire. hookedhazel
35. Crochet the C2C Slant Beanie Pattern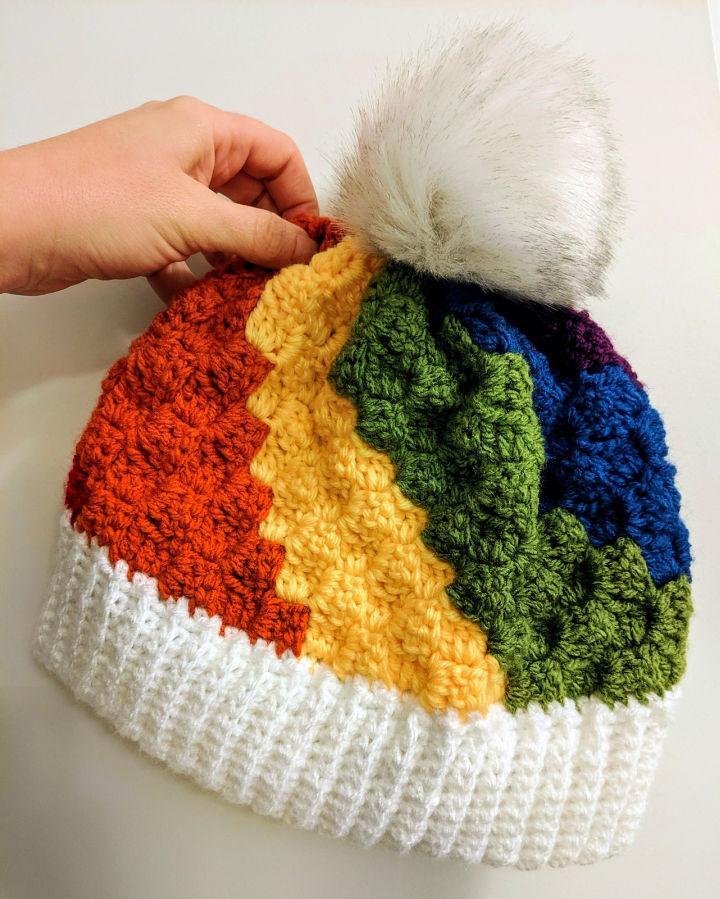 You can add a bit of flair to your wardrobe with the c2c slant beanie! This crochet pattern is perfect for beginners and uses just worsted weight medium 4 yarn, a j hook, and faux fur pompoms. Plus, it's easy to customize – the finished panel measured almost 6.5″ tall and 21″ long. Crochet this stylish beanie today with ease and turn heads everywhere you go! yawnsandyarn
36. How to Crochet C2C Pom Pom Hat – Free Pattern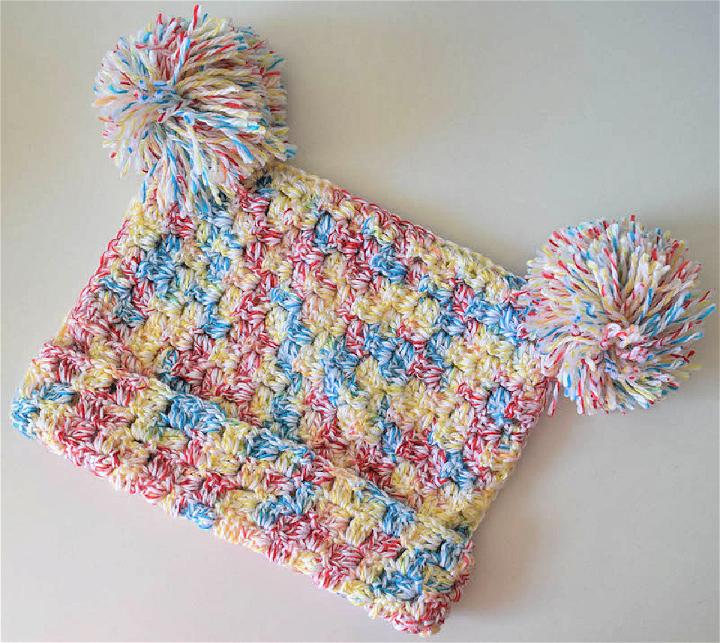 Looking for a unique way to crochet winter headwear? Make the c2c pom pom hat! This adorable crochet hat pattern comes in nine sizes, ranging from 0-3 months to adult large. With a comprehensive corner-to-corner video tutorial as your guide, you can easily make this cozy and stylish hat using Bernat softee baby colors yarn and a US size f hook. Get ready to stay warm while showing off your crafting skills! undergroundcraft
37. Corner to Corner Crochet Hooded Cow Blanket Pattern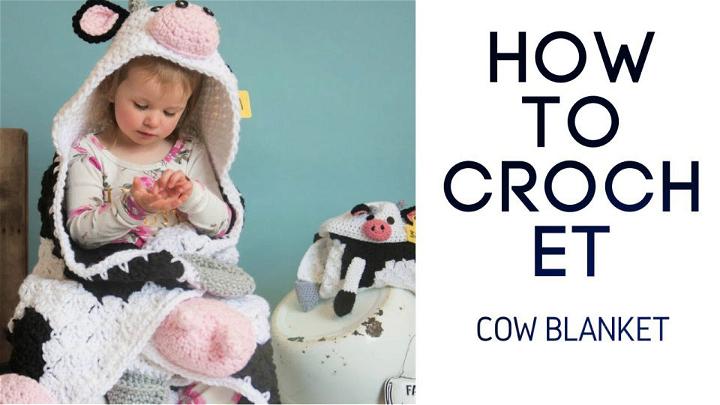 Time to bring warmth and comfort to your home with this crochet hooded cow blanket! This easy-to-follow pattern comes in baby, child, and adult sizes so everyone can snuggle up. Crocheted with Bernat softee chunky for a cozy result, the corner-to-corner tutorial makes creating this unique hooded blanket easier than ever. Get ready to make memories that will last a lifetime with this crochet blanket video tutorial!
38. Crochet Corner to Corner Stitch Vest Pattern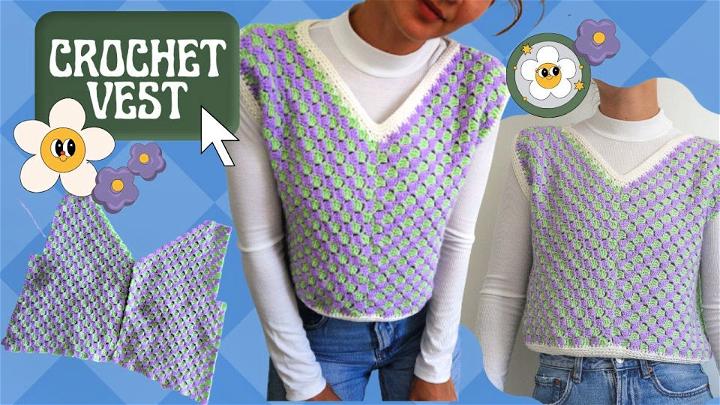 Are you ready to take your crochet skills to the next level? This free c2c vest pattern and video tutorial will teach you how to use the corner-to-corner (c2c) stitch for something more than just graphgans! Get creative and add a unique twist with this classic technique, perfect for beginners or experienced crocheters alike. Try this c2c vest pattern today – it's easier than you think!
39. How to Crochet C2C Rainbow Heart Pillow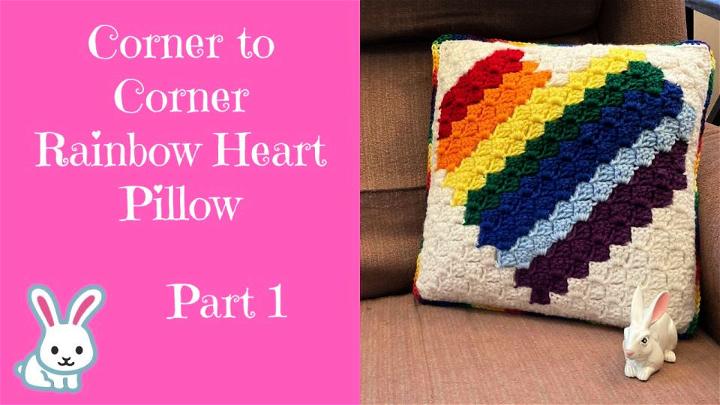 This video tutorial will demonstrate how to create a lovely c2c rainbow heart pillow, which is an ideal project for Valentine's Day or any special occasion if you're interested in crocheting something unique. This fun and easy-to-follow project suit anyone looking to get creative with yarn. You'll make a unique gift that will add color to any room in no time. Learn the basics of c2c crochet and watch your colorful pillow come together right before your eyes!
40. Easy C2C Crochet Prayer Wrap Pattern for Beginners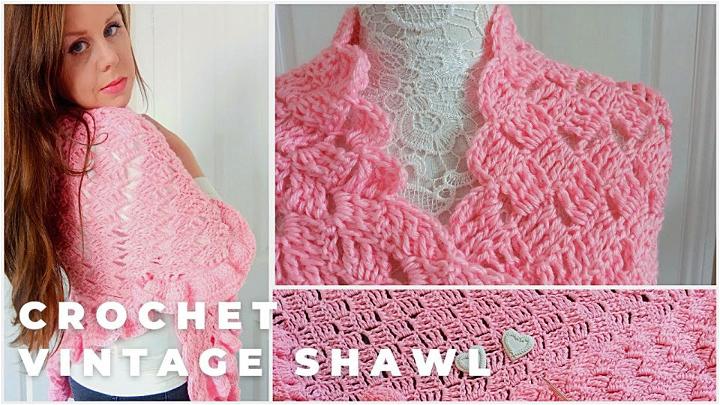 If you're a beginner at crocheting, the crochet vintage prayer shawl pattern is an excellent project for you to start with! This wrap can be used in all seasons, featuring the beautiful c2c stitch and a feminine frilly border. All that's needed is 4 skeins of red heart soft baby steps in the shade 03 light pink and a 6 mm crochet hook. Plus, there's a free written pattern to guide your way – so what are you waiting for? Get started on your vintage prayer shawl now with this crochet video tutorial!
Related Free Crochet Patterns
Discover creative ways to express your unique style with our free collection of crochet patterns! From beginner-friendly basics to intricate designs, find endless inspiration for your next project.
Conclusion: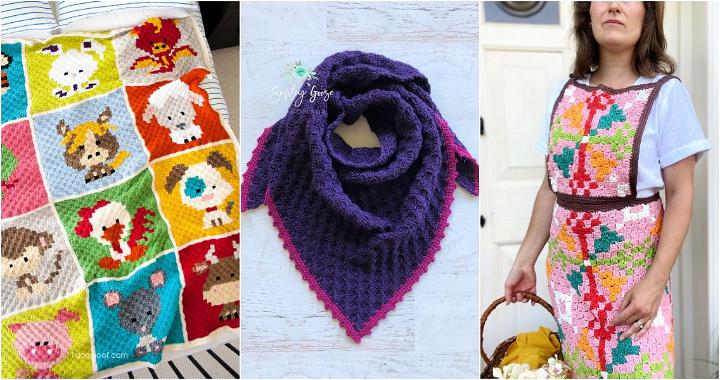 In conclusion, these 40 free c2c crochet patterns provide a versatile range of projects for crochet lovers at all skill levels. From corner to corner crochet blankets and stylish garments to intricate home decor items, the c2c crochet technique offers endless possibilities. As you explore c2c crochet patterns, be sure to take advantage of the wealth of resources available, including written instructions, video tutorials, and pattern makers. These c2c crochet patterns help you master this engaging technique and create stunning handmade pieces.