A crochet heart pattern is a fun and easy project. Crochet heart patterns are a popular choice for crafters who want to add a touch of love and attachment to their projects. From Valentine's Day decorations to heartfelt gifts, crochet hearts can be used in various ways. Learn how to make crochet hearts with these 40 free crochet heart patterns with detailed step by step instructions.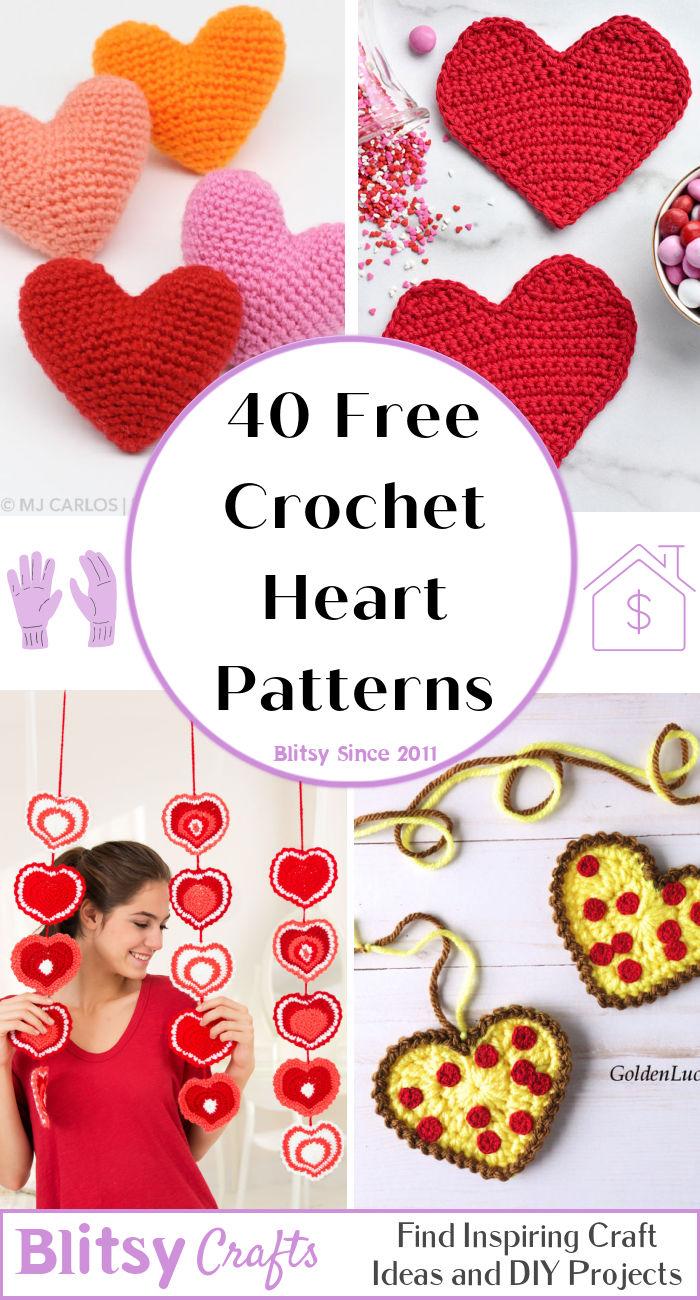 Free Crochet Heart Patterns
Create beautiful crochet hearts with a detailed and free crochet heart pattern! To create lovely and useful crochet hearts, you need a basic understanding of crochet techniques and simple materials such as yarn and a crochet hook. You can use large heart patterns for blankets, pillows, scarves, hats and decorations to small heart applique for jewelry and accessories.
Also, Create large hearts for wall hanging decorations and heart amigurumi or small applique hearts that can be added to your accessories.
With step-by-step instructions, informative diagrams, and helpful images, crochet beginners can create beautiful crocheted hearts in various sizes and shapes. So why wait? Get creative today with one of our easy and free crochet heart patterns below!
How to Crochet a Heart?
To make your own crochet heart, you'll need basic skills and a few essential materials, such as yarn and a crochet hook. The pattern will guide you through creating the heart, usually starting with a magic circle and working your way through each round. Once you've completed your crochet heart, you can use it to decorate a hat, a scarf, or even a sweater. With so many different ways to use them, our list of 40 free crochet heart patterns is a versatile and meaningful addition to any crochet project.
1. Perfect Crochet Hearts – Free Pattern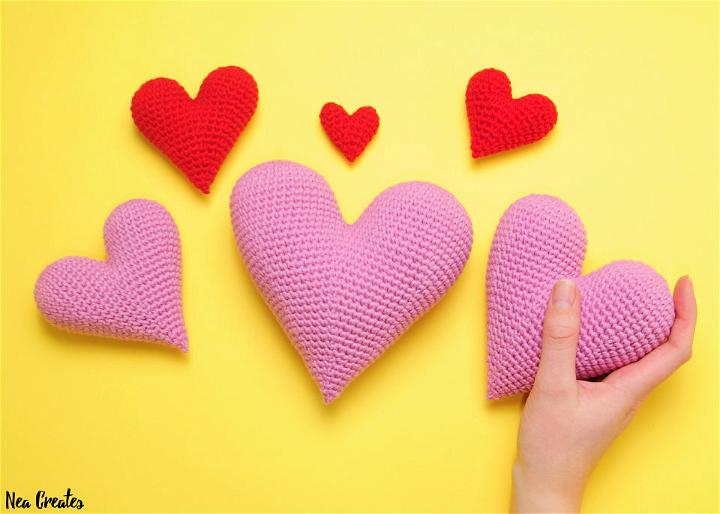 Crochet this Valentine's Day with an adorable and improved amigurumi heart pattern. It comes in 6 different sizes, from 2XL (15x15x7cm) to XS (5x5x2cm). Make the hearts using a 4.5mm hook and cotton yarn, or switch to a 3.5mm hook for tighter stitches. The pattern is easy/intermediate level and crocheted in continuous rounds; all measurements are approximate depending on tension & stuffing needs too! Treat your loved ones this holiday season with one of these handmade gifts – start crafting now! neacreates
2. Free Crochet Pizza Hearts Pattern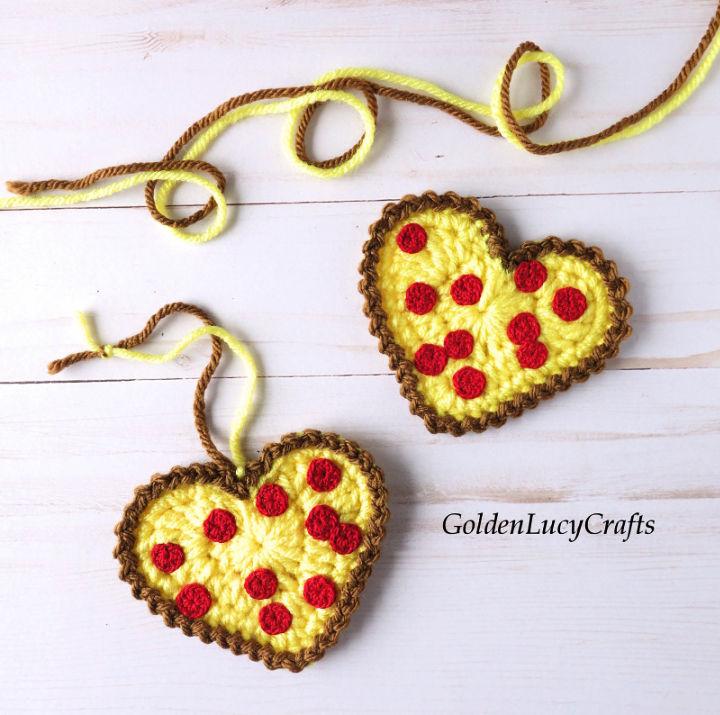 This pizza heart crochet pattern is perfect for making cute small gifts or adding a fun handmade touch to clothing! With a finished size of 3-½" and made with medium weight #4 yarn in yellow, brown, and red cotton thread size #10, this heart-shaped pizza applique will always bring a smile. Get creative with different occasions – birthdays, holidays, or just because – and hook it up using the H/8 – 5 mm crochet hook plus an additional 6/1.8 mm one for even more deliciousness! goldenlucycrafts
3. Best Heart Coasters Crochet Pattern
Add a special touch to Valentine's Day with this free crochet pattern! These heart-shaped coasters will work up fast and make fantastic stash busters. Give them as gifts, or make sets in any colors you like and sell them at markets. They measure approximately 5″x5″ when finished, and the gauge is unimportant. Love is in the air! Make these cute heart coasters for teacher gifts, your own home, or whatever else you can come up with – they're perfect for spreading the love this Valentine's Day! theturtletrunk
4. Gorgeous Crochet Heart Strings Garland Pattern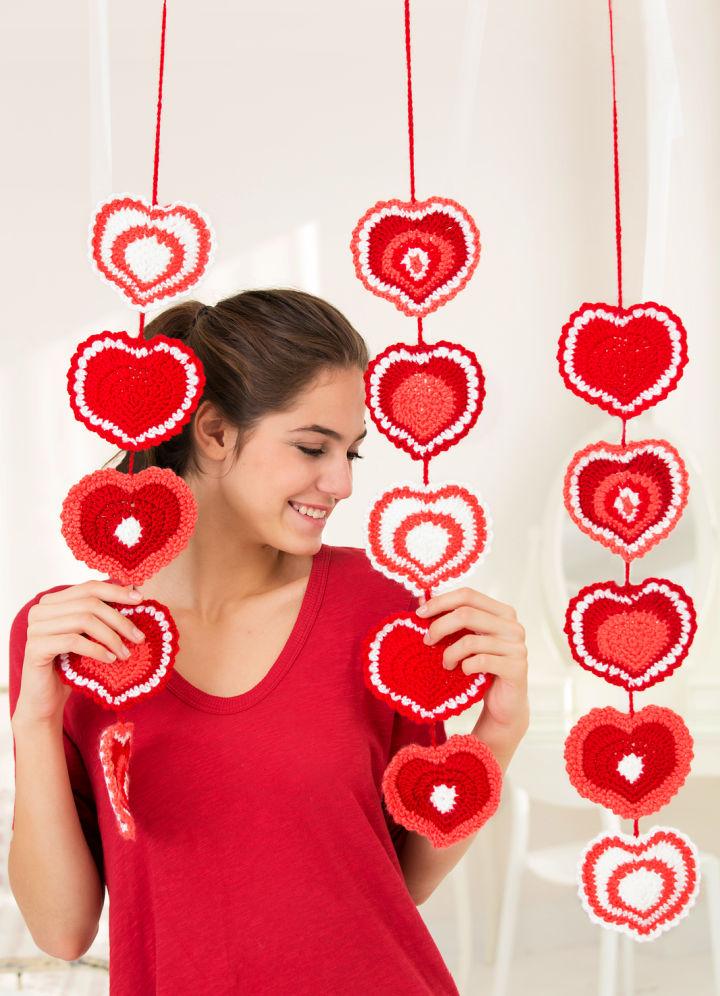 Give a touch of love to your home with these heart strings garlands! This easy crochet project is perfect for Valentine's Day, anniversaries, birthdays or a kid's room. Made with red heart soft yarn in four colors (white a, really red b, coral c & cherry red d), each 5-heart string measures 25″ long and each heart is 5″ wide x 4″ long. All you need is a 4mm crochet hook & yarn needle – great for beginners too! Bring love and joy into your home decor with this charming garland. yarnspirations
5. Crochet Heart Doily Design – Free Pattern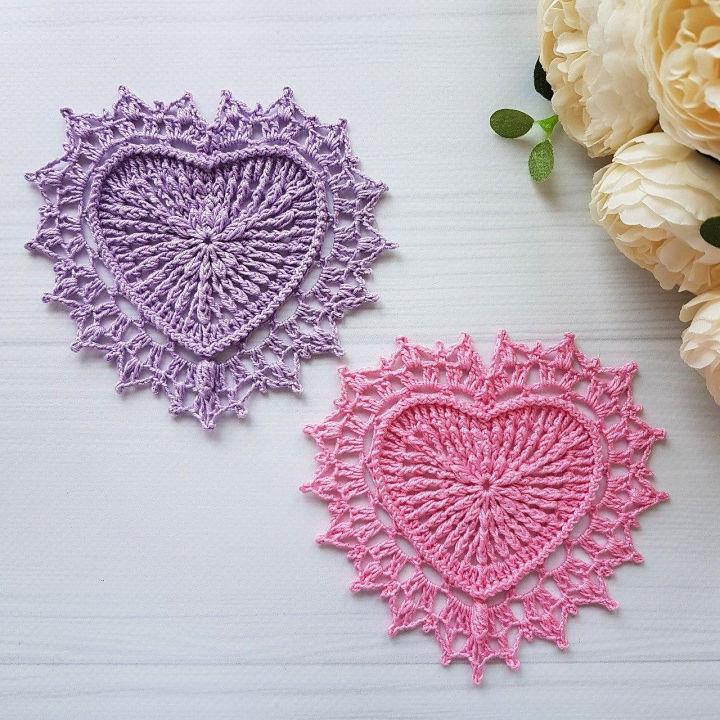 Make a statement with this beautiful, crochet decorative heart doily-free pattern! Perfect for adding elegance to your home decor or surprising someone you love with a handmade gift. This unique design can be crocheted very quickly and uses only 5g of yarn and a 1.5 mm hook size. Make the new "Heart" Doily and watch as it adds character to your living space! With its graceful shape, intricate detail, and stunning pattern, you won't regret taking on this easy-to-follow project that comes with these free downloadable instructions. Unleash your creativity today by learning how to make this delightful piece of crochet artistry! ravelry
6. How to Crochet Heart Scrubby – Free Pattern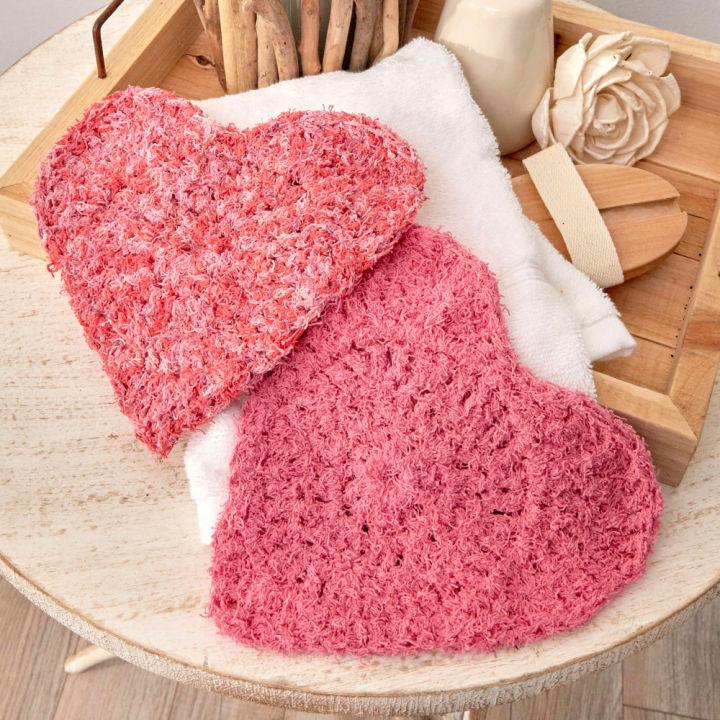 If you love crafting and want to show love for those special people in your life, the crochet heart scrubby is perfect! All you need is cotton yarn in two colors (tulip pink a and blushing print b) and a 5.5mm crochet hook—it's an easy, quick crochet project that produces a heart-shaped scrubby measuring 9″ wide and 8″ tall. This scrubby is also machine washable for bathing or washing faces, so it stays fresh and clean. Show your love with a handmade gift that will be treasured – make them the crochet heart scrubby today! yarnspirations
7. The Easiest to Crochet Heart Pattern Ever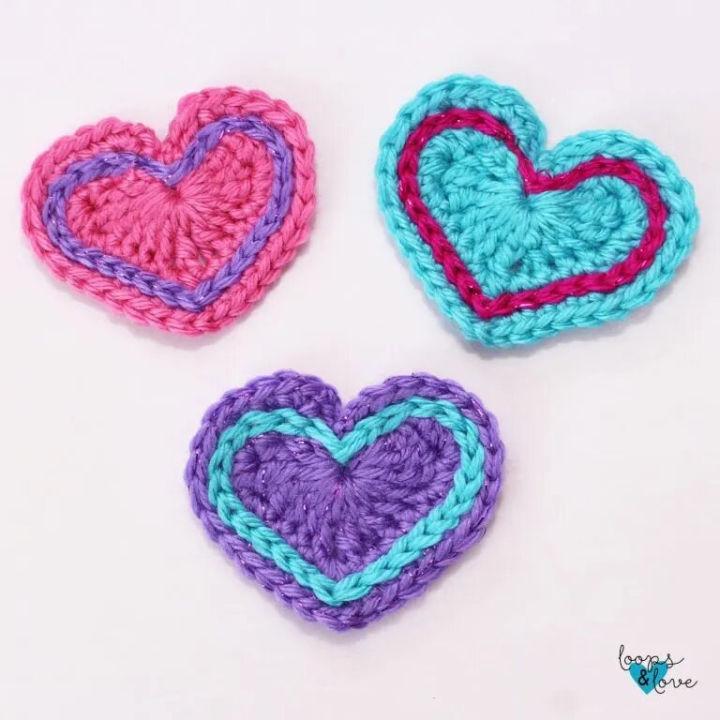 These easy crochet hearts are so fun and fast to make! Choose any color for a custom look or go with red and pink for Valentine's Day. You can also customize the size by choosing your favorite crochet hook – try 5mm, 3.5mm or 6mm – to get hearts from 2.5″ to 3.5″ wide. You need some worsted-weight yarn and your chosen hook, and you're ready to get creative! loopsandlovecrochet
8. How to Crochet Heart Tote Bag – Free Pattern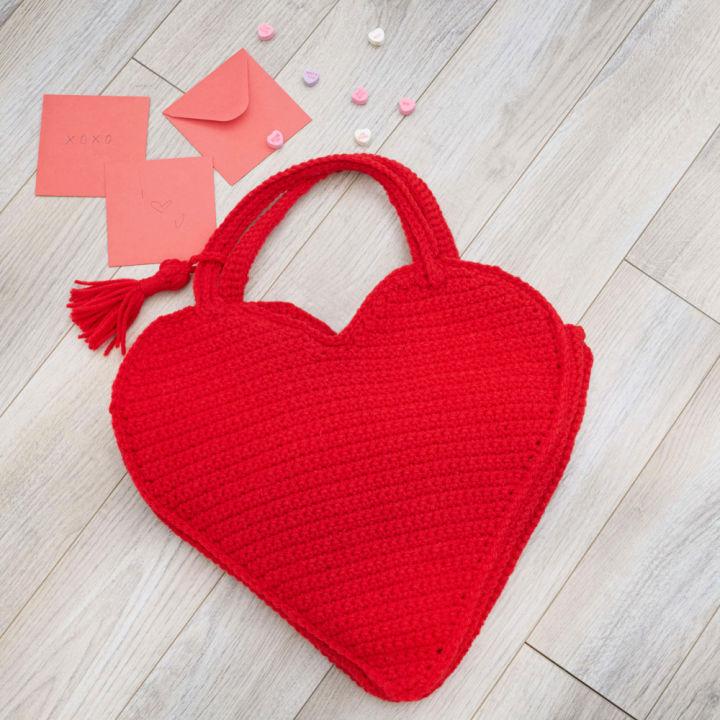 Put your crochet skills to the test with this fun and easy heart tote bag project! This bag measures 16″ wide by 14″ tall, making it perfect for carrying all your daily essentials or yarn projects. All you need is 1 skein of red heart super saver yarn in cherry red and a 5.0mm hook – but feel free to use any size hook to get the right gauge. Show off your creativity by choosing any color you want and create a one-of-a-kind piece that will stand out! Try this crochet heart tote bag today! A perfect crochet project for beginners! yarnspirations
9. How to Make a Heart Pillow – Free Crochet Pattern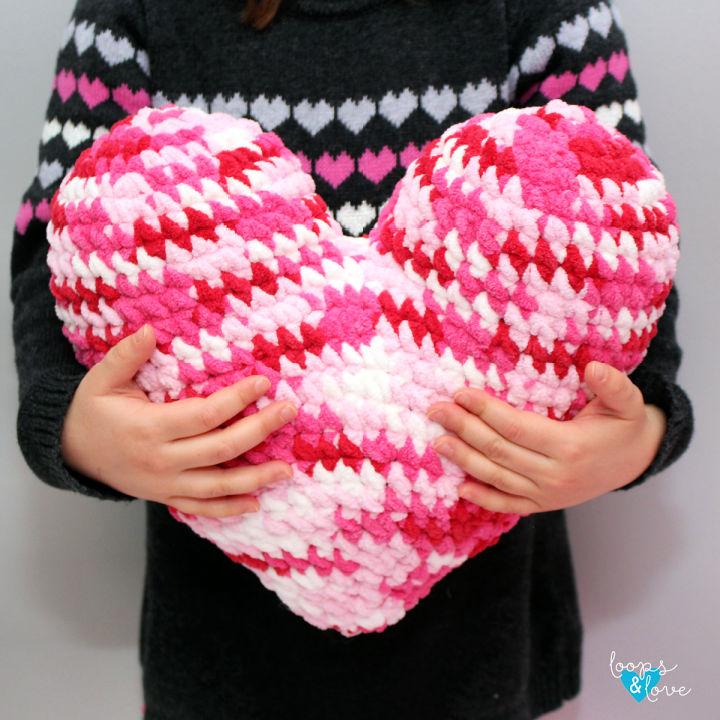 Lovely crochet heart pillows are the perfect addition to any home! Create two sizes – small (8″x 7.5″) and large (11″ x 10″). Follow this easy-to-follow instruction for a soft, squishy pillow that's great for a chair or bed. Kids will love it too! All you need is super bulky yarn, an 8mm crochet hook and fiber fill! Get creative with your colors and designs – these pillows make wonderful gifts too. So start crocheting today & bring some hearts into your life! loopsandlovecrochet
10. Free Crochet Swirly Heart Pattern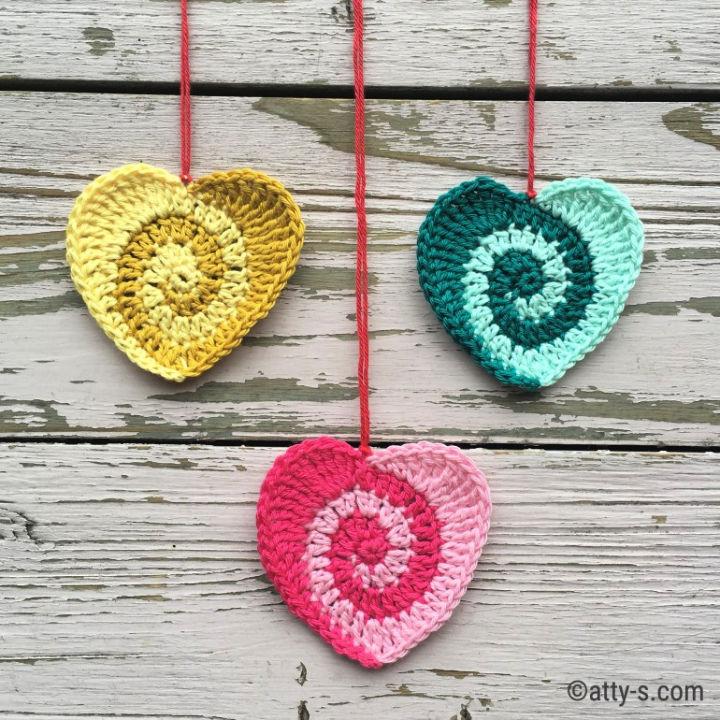 Make something special with this swirly heart free crochet pattern! You can use any yarn you like, as long as it has a matching hook size. This project is perfect for anyone looking to make something beautiful and meaningful. With its intricate swirl pattern and delicate heart design, this crochet pattern will make a heartfelt gift or decoration. Whether you're an experienced crocheter or starting out, this free crochet pattern is easy enough for anyone to follow. Plus, the lovely combination of colors will add charm to any space in your home. Give this swirly heart free crochet pattern a try today! atty s
11. Crocheted Vintage Hearts – Free Pattern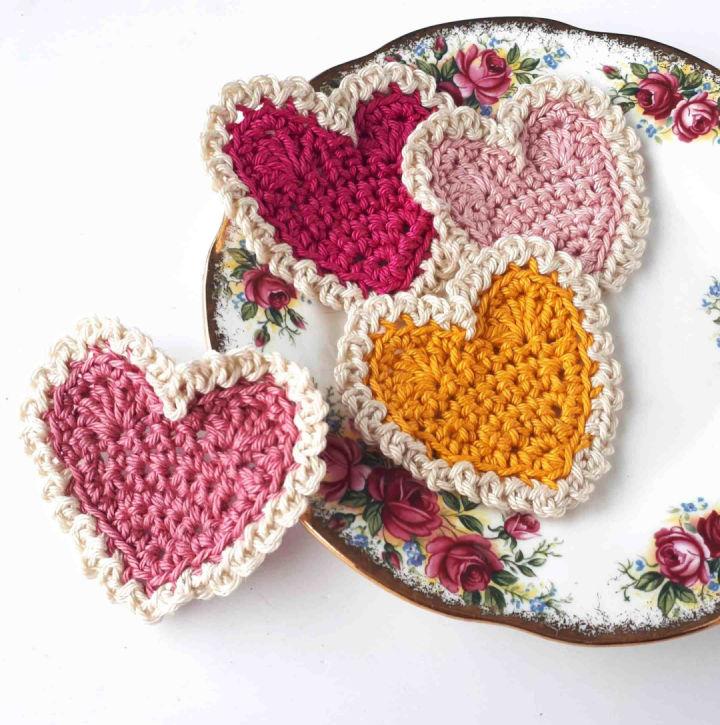 This free pattern gives a touch of vintage charm to your next crochet project! Create adorable mini hearts using scraps of sports-weight cotton yarn and a 3mm hook. Perfect for Valentine's Day garlands, baby blanket embellishments, coasters or washcloth gifts – these versatile hearts can be made in any color. Brighten up bathrooms with a cute heart-adorned washcloth as the perfect gift! Start crafting your sweet vintage-inspired hearts today! anniedesigncrochet
12. Crocheted Brioche Hearts – Free Pattern
Knit up a one-of-a-kind brioche heart with this straightforward intermediate crochet pattern! This will be sure to make your space more inviting and cozy. Perfect for a last-minute gift or lovely festival decoration, you will need only 13-14g of 2 colors of 100% cotton yarn, stuffing, and a smaller hook than recommended by the label to prevent the stuffing from showing through. Step-by-step progress pictures make it even easier to craft this one-of-a-kind project. Don't wait – get creative now and make your own brioche heart! lillabjorncrochet
13. Cute Crochet Little Kawaii Hearts Pattern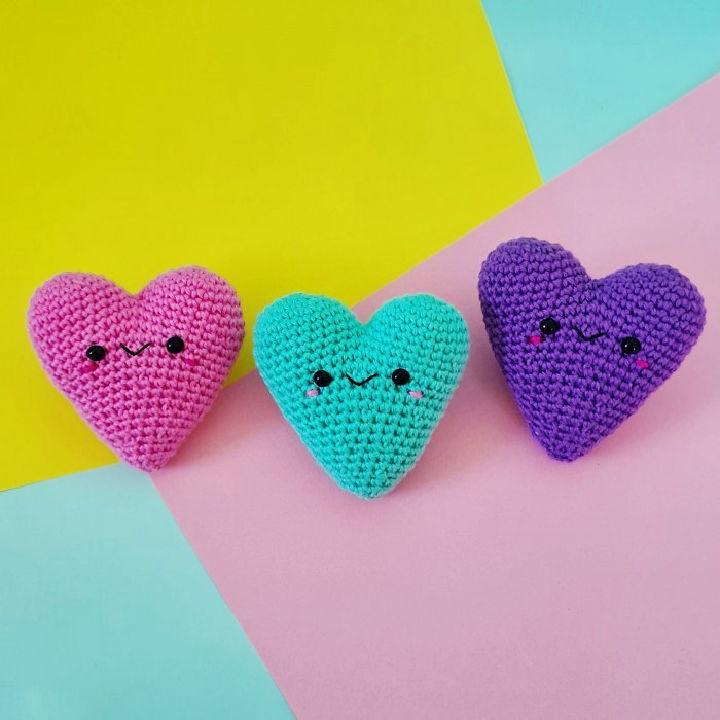 Make your children's nursery special with this cute kawaii heart crochet! An easy beginner-level project can be crafted in rainbow cotton 8/4 for a standard size or 8/6 or 8/8 to customize the size. Add some extra joy to the room using this fun craft, and watch as their faces light up when it's done! Get creative with color combinations and make something unique that your little ones will cherish forever. Give them an extra source of love – start crocheting a kawaii heart today! hobbii
14. Simple Crochet 3D Heart Amigurumi Pattern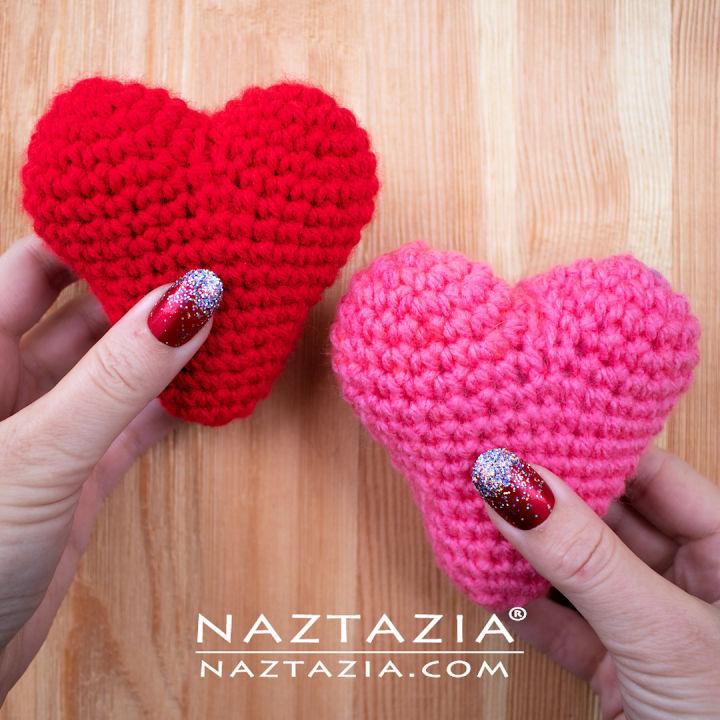 Whip up a unique and personalized toy or craft project with this 3D heart amigurumi! This crochet toy is made of 100% acrylic yarn and requires a 4.0 mm (G) hook. Only 25-30 yards of yarn are needed, making it a great use for leftover yarn from other projects. The finished size measures approximately 4″ wide x 3.5″ high – the perfect size for kids' toys or small accent pieces in your home decor! Make an adorable stuffed animal or cute pincushion using this easy crochet pattern today! naztazia
15. Crochet Heart Appliques – Free PDF Pattern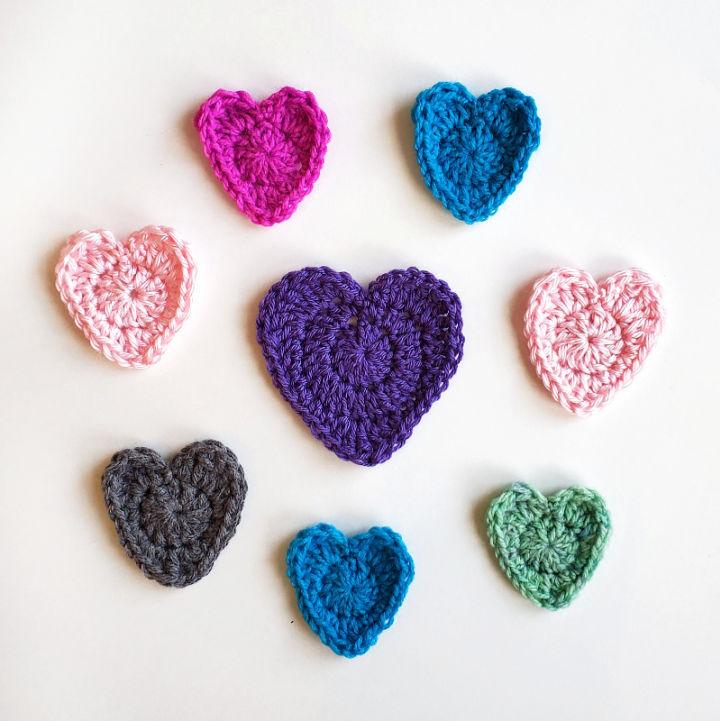 Add a distinct and special touch to your clothing with these heart appliques! They will help you create an individualized style that no one else has. Perfect for any beginner or intermediate crocheter, this project is made using worsted-weight yarn in the color of your choice. You'll also need an H hook (5.00 mm) and a yarn needle to weave in the ends. It's easy to follow with the stitches shown in parentheses together being made into the same stitch as previous rows. Create something special and add some extra love today! hooksnsunshine
16. How to Crochet a Lovely Heart – Free Pattern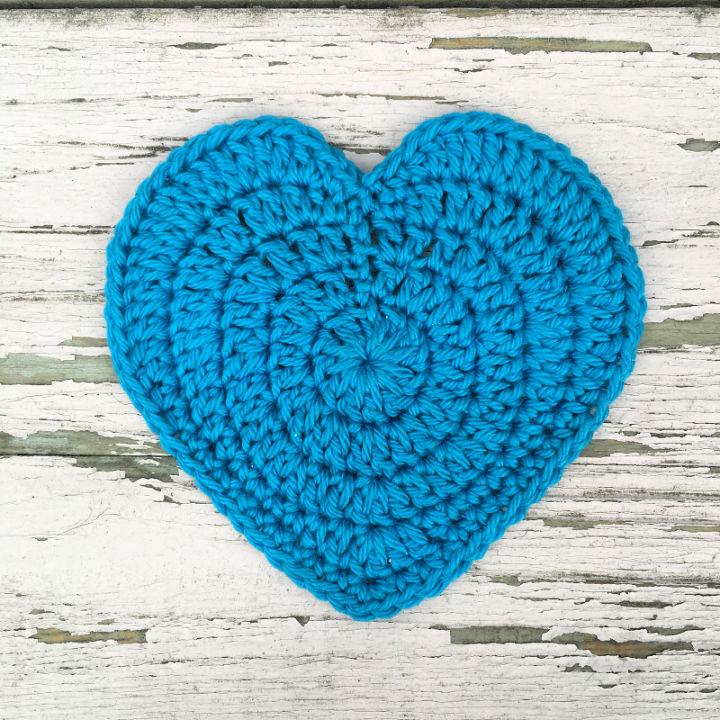 This heart crochet pattern is perfect for those who love to crochet. With this pattern, you'll be able to make beautiful heart-shaped decorations with ease! Made using durable coral mini yarn and a 2.5mm crochet hook, these hearts will look great hung anywhere in the home or used as an embellishment on clothing and accessories. Enjoy learning how to create this timeless classic that can be kept around for years to come with the help of detailed instructions – no prior experience is necessary! Get creative and explore all the possibilities of this amazing craft today! durableyarn
17. Free Crochet Realistic Human Heart Pattern
Craft a meaningful gift of love with this crochet pattern for a human heart! Easy to follow and made with worsted weight yarn in burgundy, blue, red and off-white or ivory. All you need are a 5mm (H) hook for the heart muscle and a 3.5 mm (E) hook for anything else, plus stuffing of your choice. Perfect as a heartfelt home décor or as an original handmade present that will be cherished forever! Start creating now – spread love with this crochet pattern for a Human Heart! cozylittlemess
18. How Do You Crochet an Affinity Heart
Crochet a beautiful crochet affinity heart pattern with scheepjes catona yarn and a 3mm crochet hook. Whether you choose your favorite colors or make it in the rainbow, this classic pattern has been updated with the latest trends! Make the hearts with or without a border and add a standing stitch instead of turning the chain to change colors. With this easy-to-follow pattern, create something special for yourself and others that will be treasured for years to come. Perfect for beginners, get creative and make these charming hearts your own! saraphir
19. Cool Crochet Huggable Heart Plushy Pattern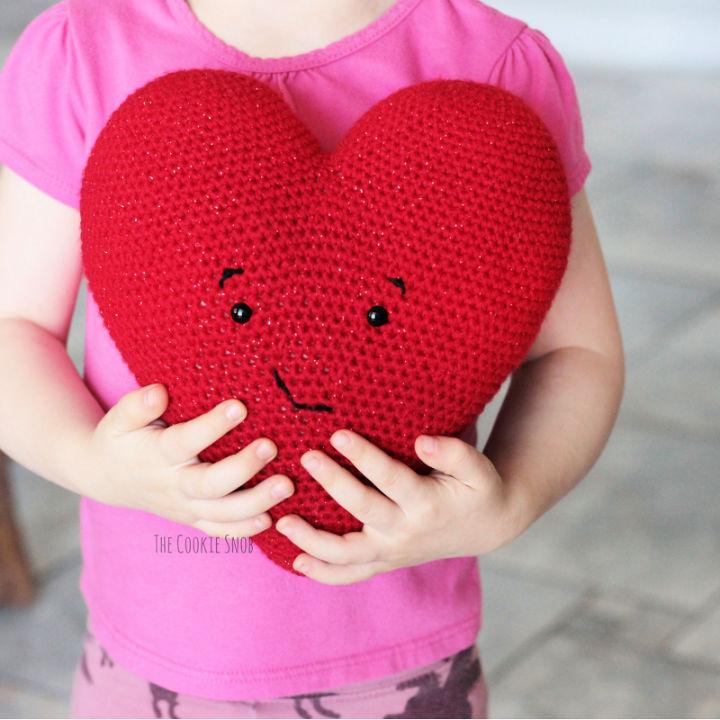 Looking for a unique Valentine's Day gift? Create your own huggable heart plushy with this free crochet pattern! This heart-shaped toy is the perfect size for hugs and can be customized with any design or color. Whether you choose to add a face or not, you can't go wrong – kids love it! Get creative and make something special for someone special this Valentine's Day – download the free crochet pattern today and start creating your own huggable heart plushy! cookiesnobcrochet
20. Easy Crochet Ragdoll Heart Tutorial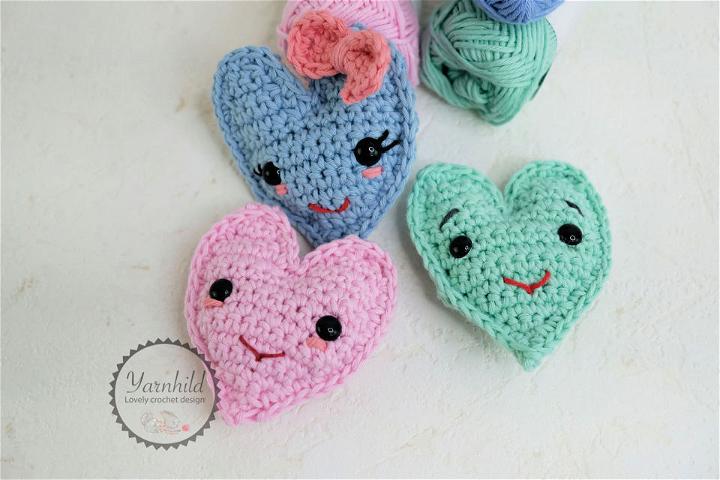 Love is in the air! Prepare your crochet hooks and make a heart for your Valentine this year. With this free crochet pattern, you can easily create an adorable 3D heart that's perfect for any special occasion. These detailed instructions are easy to follow, so even if it's your first time crocheting, you'll be able to finish easily. This project requires basic stitches like chains and single crochet and some simple sewing techniques. Make one or several hearts to show how much you care this Valentine's Day – they're sure to put a smile on anyone's face! yarnhild
21. Easy Crochet Granny Hearts Pattern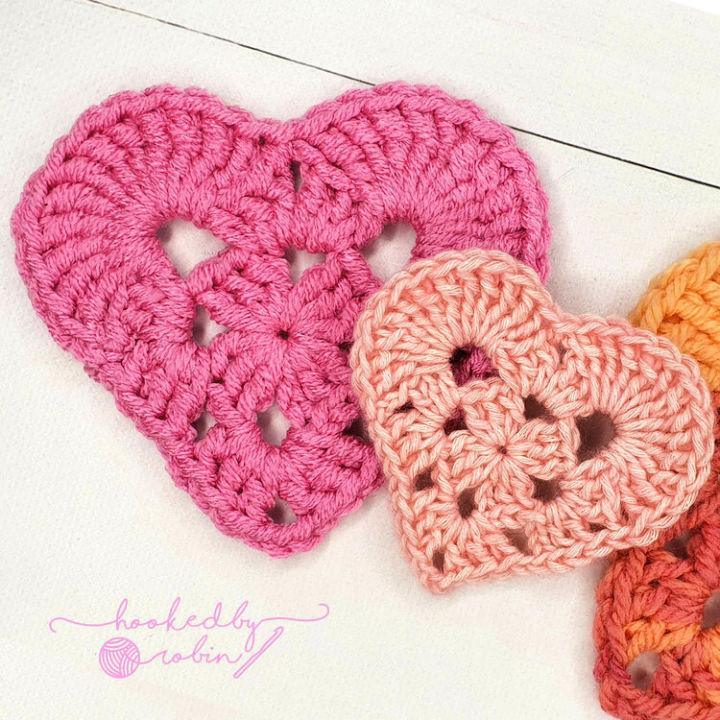 Cozy up with this super simple, quick and fun crochet granny heart! You can bring a little extra love into your home with minimal effort. This classic granny heart adds the perfect touch to any project – use it as an applique on clothing or accessories, a coaster for hot drinks, or give one to a loved one as a meaningful token of appreciation. Get creative and have fun with these pretty hearts—they're sure to add color and cheer wherever they go! hookedbyrobin
22. Crochet Heart Step-by-Step Instructions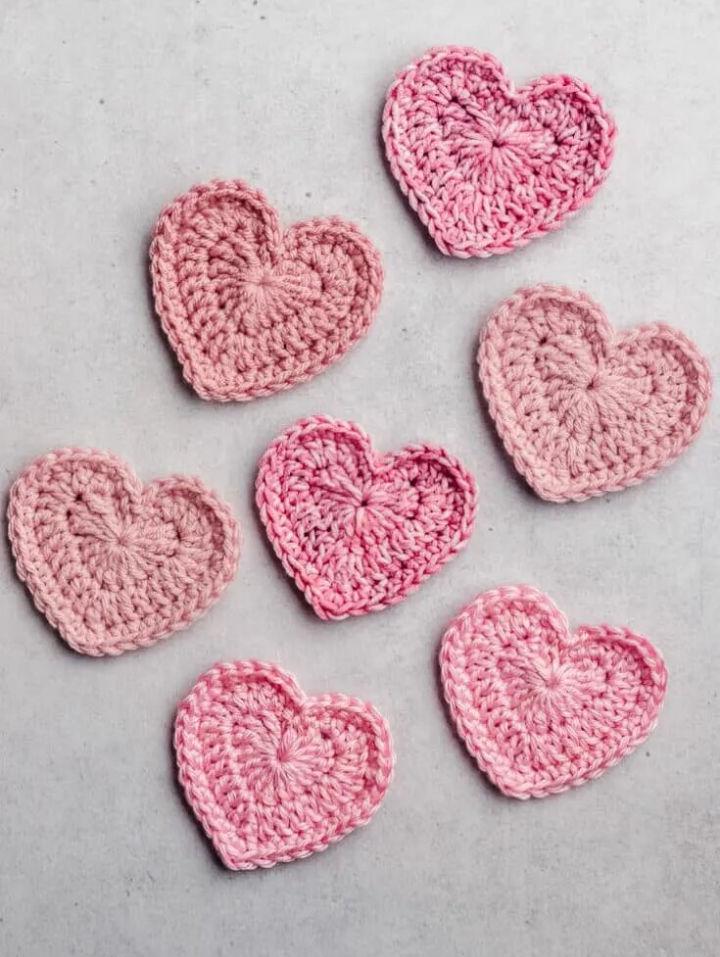 Express your affection with a handmade gift – try this beautiful crochet heart pattern for Valentine's Day! Make these adorable hearts in three sizes and use them creatively. Use them as appliques on bags, sweaters or other handmade gifts, or hang them up together on a string for a unique garland decoration. These soft and squishy hearts are simple to make with easy-to-follow instructions. Get started now and create something special for that special someone! sarahmaker
23. Simple Crochet Sunburst Heart Pattern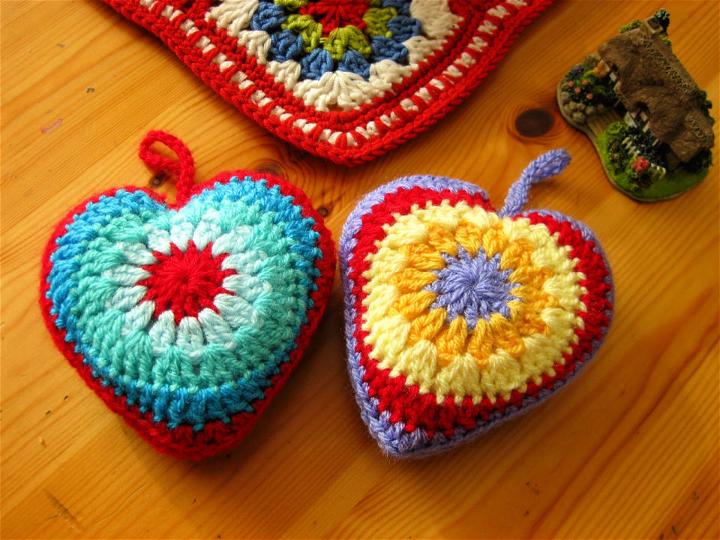 Show your love with a handmade gift this Valentine's Day! Try this beautiful crochet heart pattern and make these adorable hearts in three sizes. Use the hearts to add an applique to bags, sweaters or other gifts, or hang them together as a special garland decoration. This simple project is perfect for beginners with easy-to-follow instructions. Get started and create something unique and special for that special someone! bunnymummy
24. Free Crochet Love Heart Pattern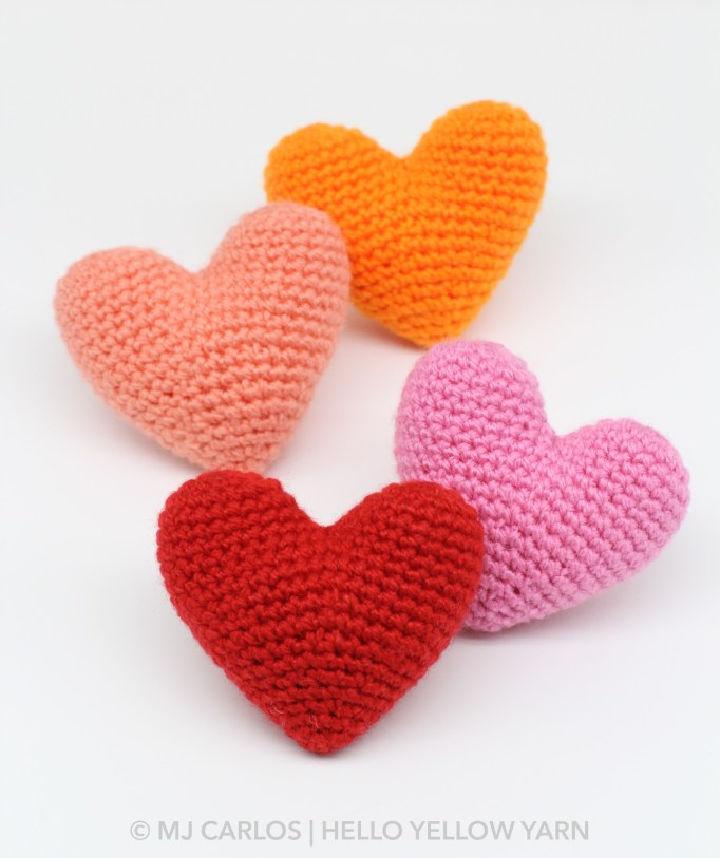 Looking for a quick and festive Valentine's Day project? Look no further than this free amigurumi pattern for an adorable love heart! You can use thicker yarn and a bigger hook to make a larger heart or thinner yarn with a smaller hook to make keychains or bag charms. All you need is a 3mm crochet hook, 8-ply light worsted/dk yarn, and toy stuffing, and you are ready to start crocheting your unique love heart. Try it today – the perfect gift for that special someone in your life! helloyellowyarn
25. Crochet Heart-Shaped Design – Free Pattern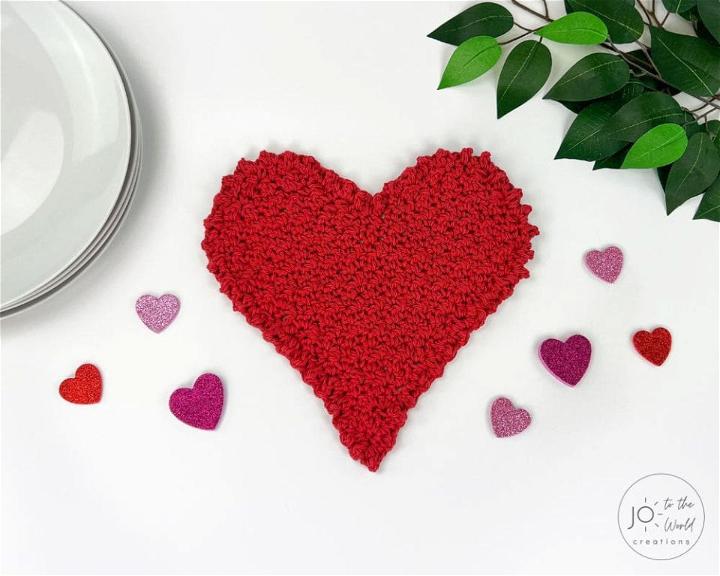 Ready to make a sweet crochet heart pattern? This free crochet pattern will show you how to create the perfect gift for Valentine's Day. Use any size 4 yarn, such as 100% cotton, and you can have your heart-shaped decoration or dishcloth ready in just an hour! The classic design is reversible and looks great on either side. A stunning textured crochet heart – it doesn't get better than this! Start today by downloading this free crochet heart pattern to give a unique handmade gift this holiday season. jototheworld
26. Crocheting a Heart in 15 Minutes – Free Pattern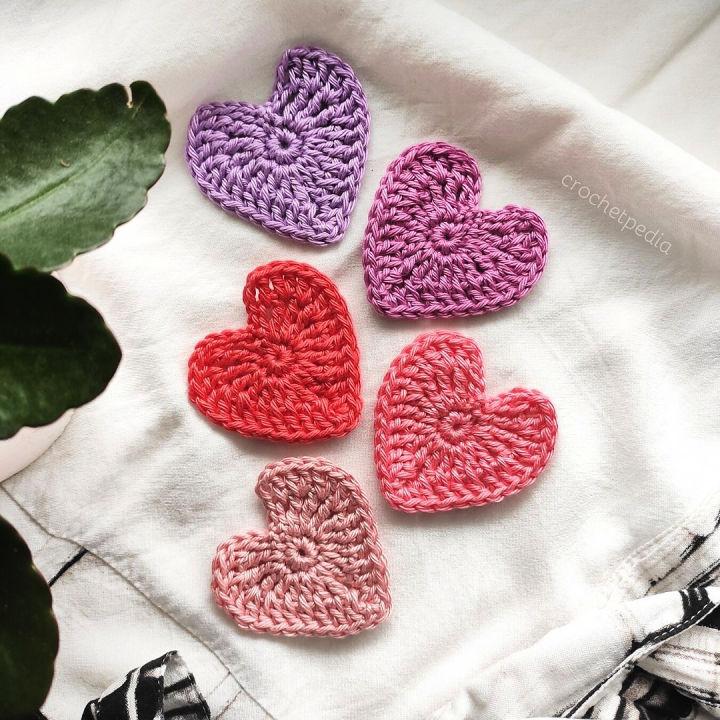 Craft a unique and heartfelt gift for your special someone with this 15-minute heart free crochet pattern plus video! This easy little crochet pattern is quick to make and perfect for adding as an applique, decoration, or cute addition to any Valentine's Day present. Bring that extra touch of love with the help of this free crochet heart pattern – even novice crocheters can master its simple design in under 15 minutes! Watch the step-by-step video tutorial now, and prepare to add some handmade charm to your next Valentine's Day surprise. crochetpedia
27. Crochet Heart Granny Square Pattern
Put your crochet skills to the test and create a meaningful Valentine's Day decoration with this crochet heart granny square! This intermediate-level project is perfect for decorating your home or gifting it to someone special. Measuring 6-½″ x 6-½″, the heart motif in these granny squares makes them extra appealing and fun to work up. You'll need medium-weight #4 yarn and a crochet hook H/8 – 5 mm. Add some charming handmade love to your Valentine's Day celebration today—try making this beautiful crochet heart granny square! goldenlucycrafts
28. How to Crochet a Small Heart – Free Pattern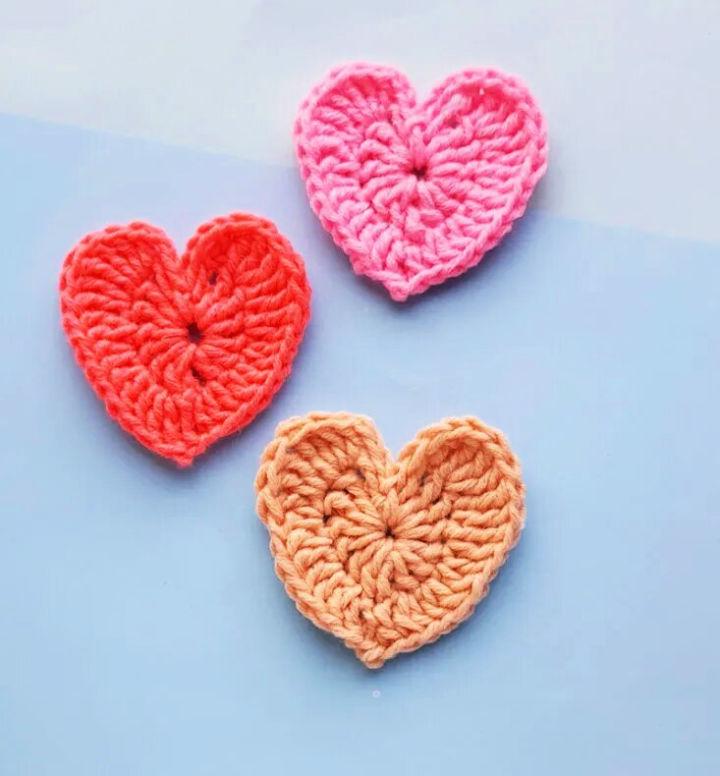 Learn how to crochet a small heart and turn it into a fun craft! Whether you want an easy Valentine's Day craft or beautiful accessories, these sweet crochet hearts have covered you. Add them as original and charming gift tags, and use them as trivets, appliques or even hair accessories – glue them onto an alligator clip for some adorable heart-themed headgear. Sew the crocheted hearts onto clothes and accessories to dress them up and add extra flair – perfect for any occasion! momsandcrafters
29. Crochet Large Amigurumi Love Heart Pattern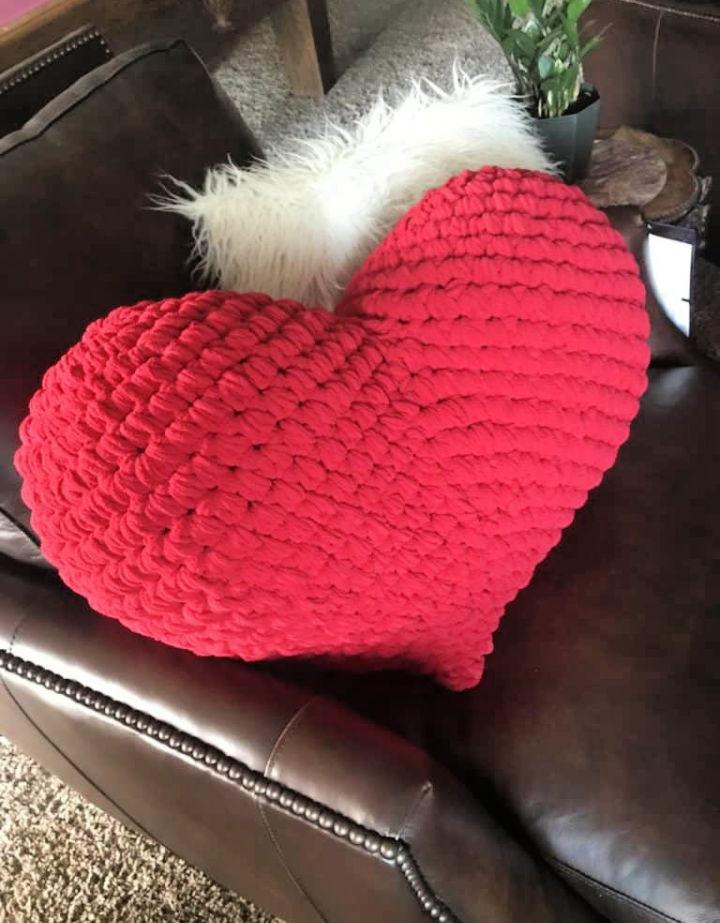 This free amigurumi love heart crochet pattern is perfect for showing someone you care. With a worsted weight yarn and matching hook size, you can make this adorable little heart for yourself or as a gift. You can use different types of yarns, such as fingering/lace weight with a corresponding hook to make tiny hearts or super bulky yarn with an M or N hook for small throw pillows! Your finished result will look like a real Valentine's Day heart, so get creative and start crafting today! hearthookhome
30. Crochet Heart Potholder – Free Pattern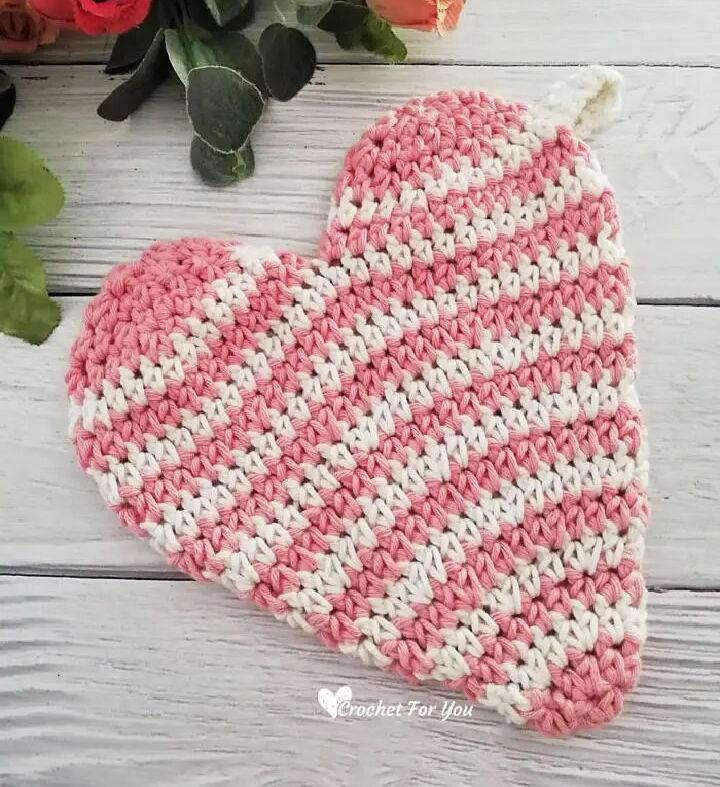 Spread the love in your kitchen with this easy and fun crochet heart potholder free pattern! Perfect for beginners, you can make this double-thickness 8-inch wide heart potholder in less than an hour. The pattern starts from the bottom and works in rounds, so when changing colors to create pink and white stripes, carry up yarn from inside. Ideal as a gift for family, friends, teachers or anyone who loves to cook. Get all of the materials, including 4-medium weight & h-8/5mm crochet hook, ready now! crochetforyou
31. Heart and Soul Crochet Heart Blanket Pattern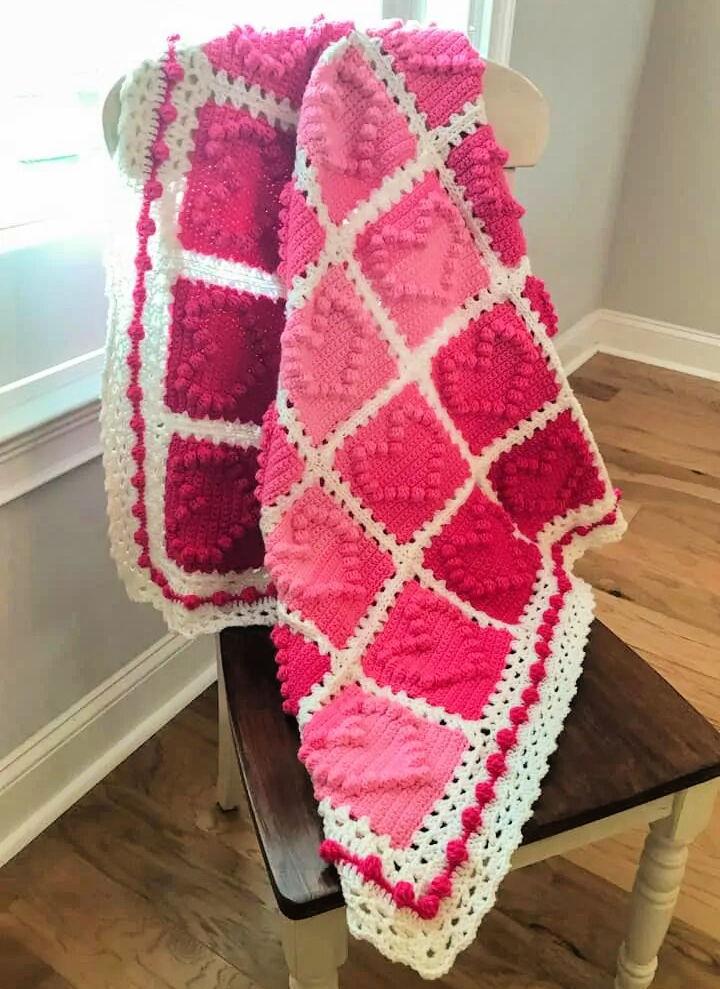 With this pattern, you can make a stunning handmade heart and soul crochet heart blanket or baby afghan. You will need worsted-weight yarn and a US H8/5mm crochet hook to complete the afghan. The finished blanket measures 36″x36″, with each square measuring 5″x5″. Step-by-step instructions are given for creating the bobble stitch used in this masterpiece of love! Beginners can easily learn how to make this adorable heart and soul blanket with just a few tools & materials. Make one today – it's sure to become an heirloom you'll treasure forever! crochet365knit
32. Quick and Easy Crochet Hearts Pattern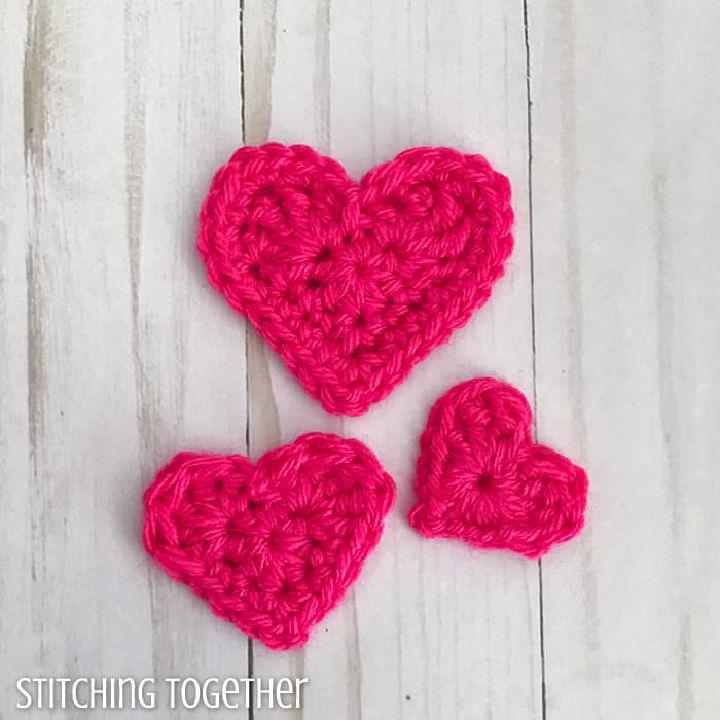 You can make stunning crocheted hearts quickly and easily with this free crochet heart pattern! This fun and easy project include three patterns you can customize. Make a gorgeous heart garland or bunting, add some dimension to a Valentine's Day card or gift, or sew them as an applique on another project. Get creative with colors and textures and make something special for your loved ones today. Grab your hook and yarn, and learn how to crochet a heart – it's quick and simple! stitching together
33. Quick and Easy Crochet Mini Heart Pattern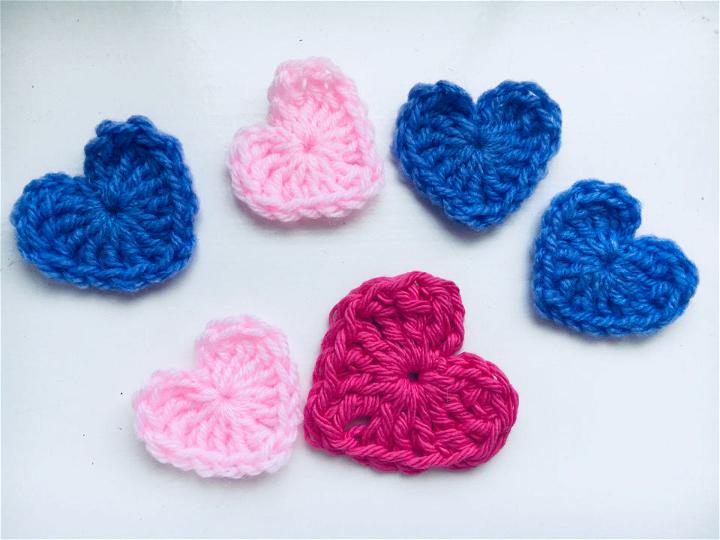 Willing to crochet some charming decorations for your crochet projects and creations? This mini-heart pattern is perfect for adding a cute embellishment to any crochet project! This fast and easy heart pattern works quickly with just one hook size – 4.0 mm (G). Use this quick and easy mini heart pattern to add an adorable personal touch to your garments, home decor items or accessories. These beautiful little hearts are perfect for all skill levels and make any project look even more special! ravelry
34. Free Crochet Spiral Rose Hearts Pattern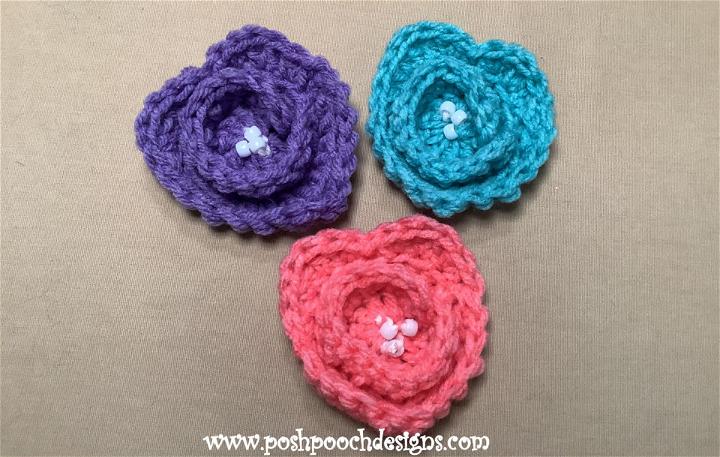 Bring a touch of beauty to your home with this delightful spiral rose heart crochet pattern. This pattern will add a captivating charm to any setting. Whether you make it into a brooch, magnet, or applique, you'll find many uses for these special pieces. It's easy to stitch up using any 4 medium yarns and a 5.00 mm crochet hook. Perfect for using leftover yarns in your stash! Each spiral rose heart measures 3 inches across – great for adding to headbands, hats, scarves, bags, purses and sweaters. Get creative with colors and beads from your bead stash, too – stitch a bunch of them together and decorate for Valentine's Day! poshpoochde
35. Crochet Bobble Heart Potholder Pattern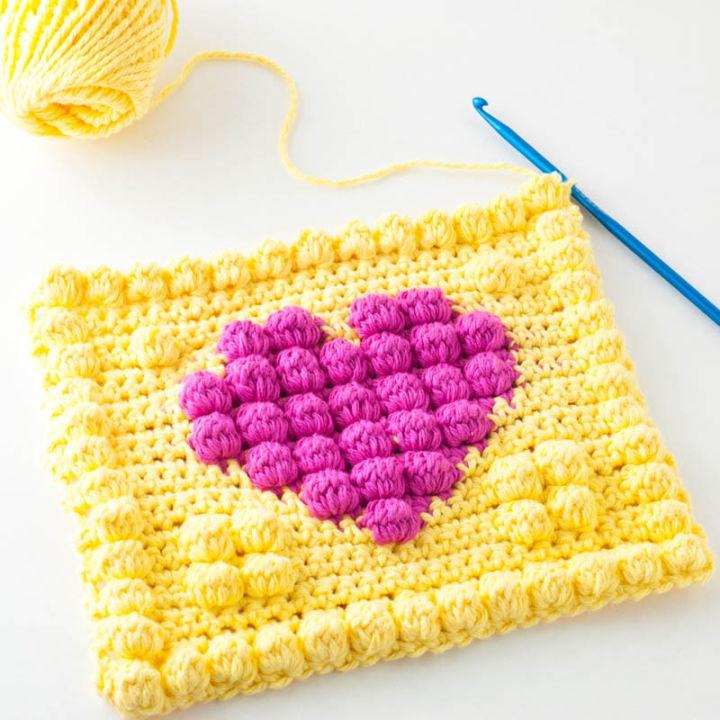 Give your kitchen an extra cozy touch with this brightly colored bobble heart potholder! Crafted from worsted-weight cotton yarn, the textured design will stand out. With a 5.0 mm (h) hook, you'll have this potholder finished in no time! All you need is 2 colors of worsted-weight cotton yarn and an H hook to create the perfect addition to any home. Get creative and switch up the design by opting for different color combinations – your guests will surely love it! youshouldcraft
36. Gorgeous Crochet Stuffed Heart – Free Pattern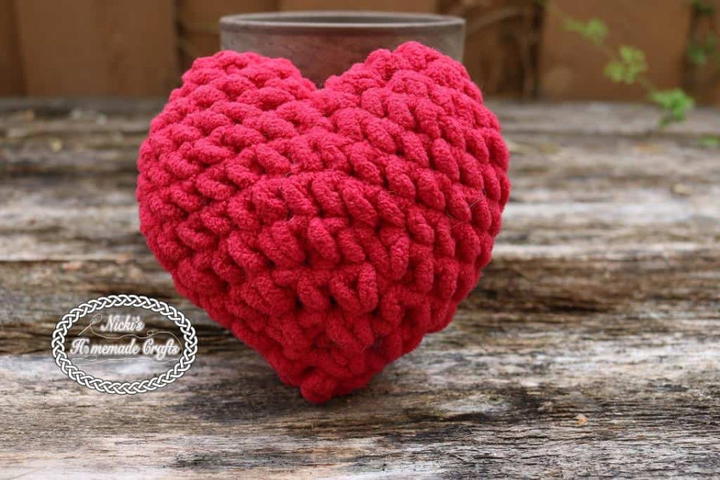 This beautiful crochet stuffed heart pattern is the perfect way to show someone you care. With just a few materials, like a Bernat blanket Yarn in red and a 6.0mm hook, you can make a stunning amigurumi heart for Valentine's Day or any other special occasion. The free pattern is easy to follow with clear instructions, and it's sure to be a treasured keepsake that will last for years! Make your crochet stuffed heart today – it'll be the sweetest gift ever! nickishomemade
37. Best Tiny Heart Crochet Pattern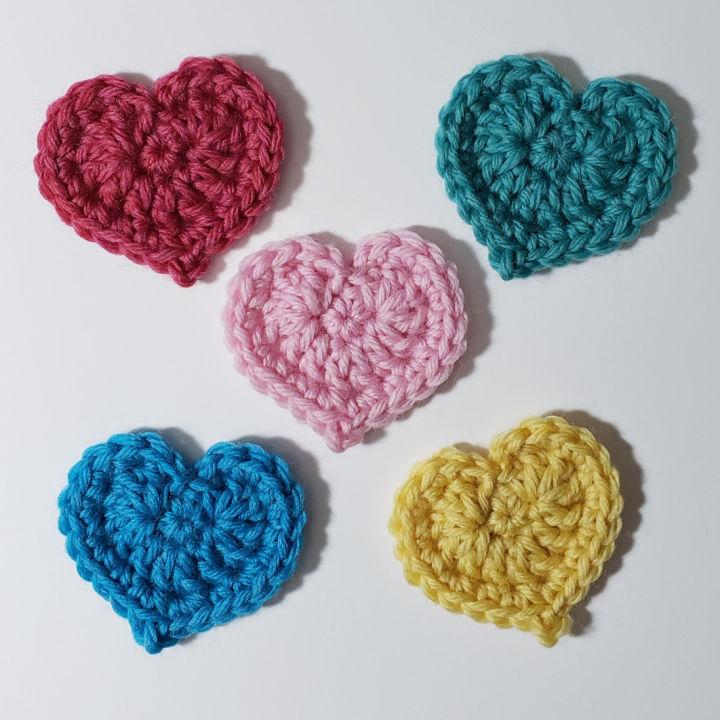 Spread a bit of affection with this simple but sweet "All My Love Heart" crochet pattern. You'll have fun creating this delightful project! With only 8 yards of worsted weight yarn needed, it's a great way to use up those scrap bits in your stash. This heart measures 2 ⅛ inches across the widest point and is 2″ tall and perfect for handmade cards or other decorations. Suitable for intermediate crocheters, grab an H (5mm) hook and get crafting! mamas2hands
38. Easy Crochet Heart Pattern for Beginners
Looking to learn how to crochet hearts? Whether for a DIY Valentine's Day décor, as a special gift for someone you love or just because your child adores hearts – this tutorial is the perfect place to start! Step-by-step instructions will guide you through 3 main styles of heart crocheting: flat, across and granny square. Even if you're new at crocheting, with some yarn and a crochet hook, your skills will have you crafting beautiful handmade hearts in no time! So grab those supplies, and let's start making heartfelt creations today. treasurie
39. Crochet Heart Strings Napkin Tie Diagram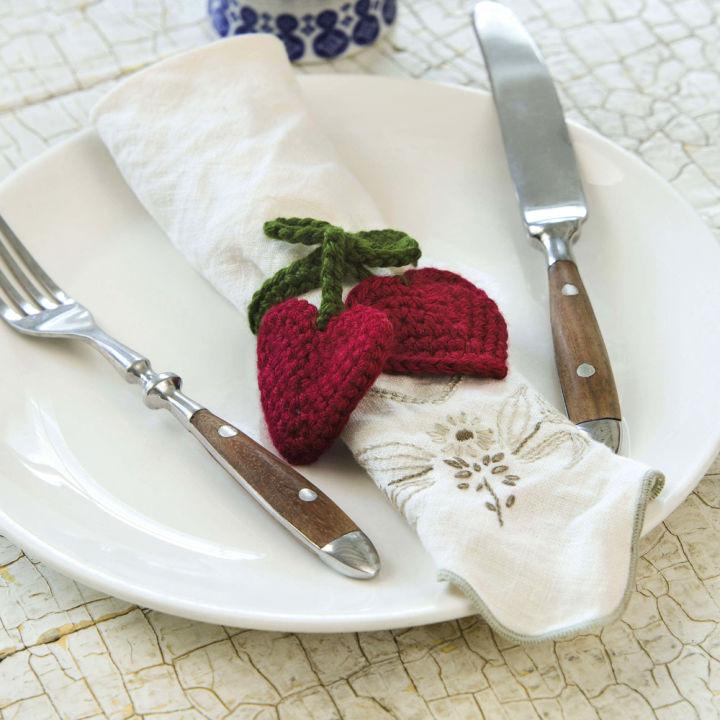 Share your affection for those close to you with these attractive crocheted heart strings napkin ties! Show them how much they mean to you. Easy to make, they measure 6″ around, and the hearts are 2½" in width x 2″ long. Red Heart Soft Yarn in colors wine A, and dark Leaf B, is the perfect yarn choice. This design requires a 5mm crochet hook (US H-8) and 17 stitches = 4″ while 16 rows = 4″. Make something special for dinner or any special gathering – get ready to impress with these lovely crocheted heart strings napkin ties! yarnspirations
40. Easy Crochet Heart Stitch Tutorial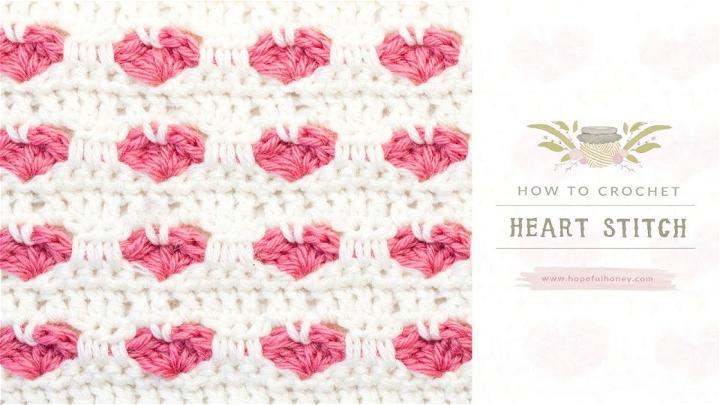 Are you a beginner looking to learn how to crochet a heart stitch? This crochet project brings you an easy video tutorial on the "Heart Stitch" – perfect for crocheting something special for friends and family this Valentine's Day. This stitch is an ideal symbol of love for adding a personal touch to your projects. With just a DK/8ply yarn and a 3.75mm (F/5) crochet hook, even first-timers can master it in no time!
Related Free Crochet Patterns:
Transform your home into a work of art with our fabulous selection of free crochet patterns! Our expertly curated collection includes designs for all skill levels!
Conclusion: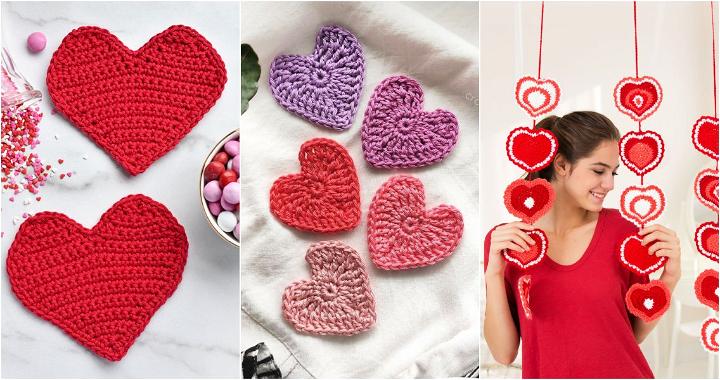 Crochet hearts can be a great way to add personalized touches to gifts and decorations. From large decorative hearts for blankets and pillows to small appliques for scarves, hats, jewelry, and accessories such as keychains, ornaments, garlands, brooches, appliques etc. With a basic understanding of crochet techniques and some simple materials such as yarn or a hook, anyone from beginners to experienced crocheters can make something special. This free crochet heart pattern includes detailed step-by-step instructions to make it easy enough for beginners. Furthermore, the collection contains standard heart shapes and amigurumi hearts – perfect for creating unique designs! So whether you're looking for gifts or decorations this season, why not try these 40 Easy Crochet Heart Patterns?