Learn how to draw a strawberry with these 20 easy strawberry drawing ideas with step by step simple sketch outline, printables and coloring pages. Want to indulge the kids in some fun art and drawing ideas this summer? Why not choose some easy drawing ideas for them inspired by the summer fruits? This makes sense and will help attract the kids to do some fun drawing ideas. Nothing can be more refreshing than the strawberries in summer for berry lovers.
So, presented here are these strawberry drawing Ideas that are more than easier to complete. These strawberry drawing ideas will also be a sweet way to show your love for strawberries, and it will only take 10-15 minutes to draw a strawberry with all the details. From drawing a simple strawberry to a whole strawberry plant to different strawberry cakes and food items, these 25 Strawberry Drawing Ideas will cover all. These ideas will involve drawing some strawberry princesses, kawaii cow strawberry and lots of cartoon versions of strawberries also, that will surely win the heart of all the younger artists.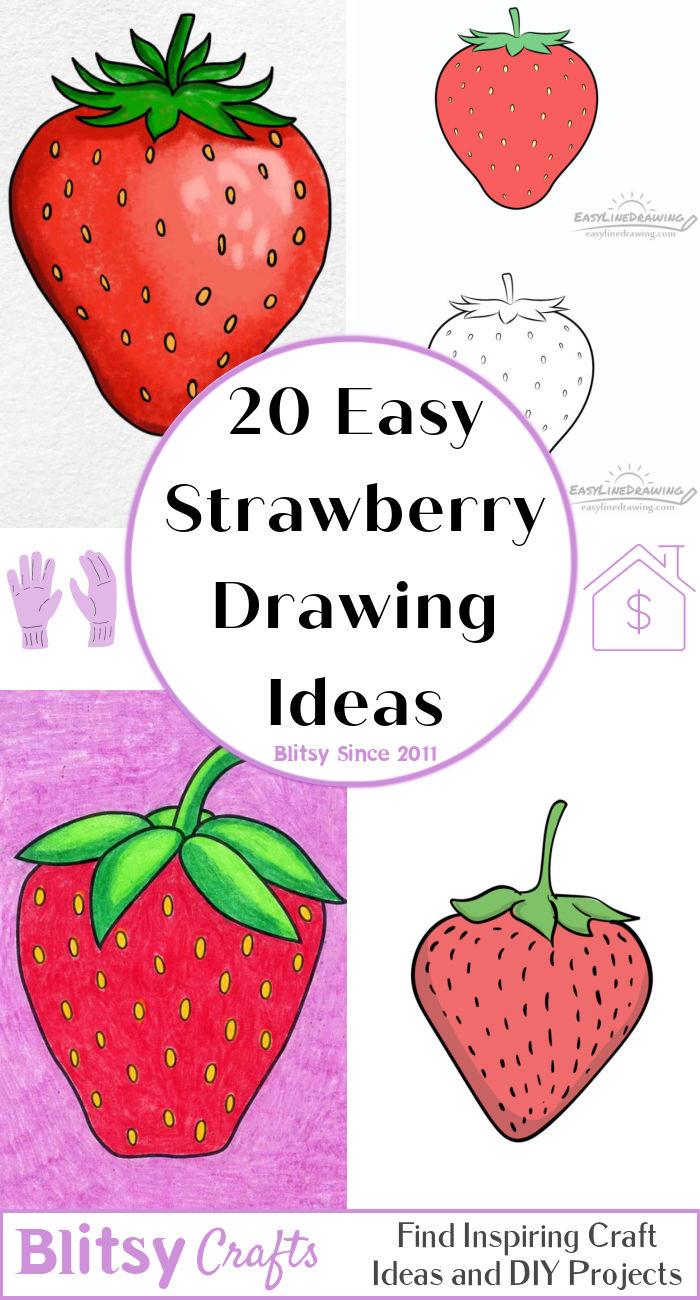 Completing these ideas will provide kids with several different physical and mental health benefits. Completing these fun ideas will help strengthen focus, strategic thinking, handgrip, and the kids' wrist muscles. Moreover, these ideas will also rock for beginners to learn some basics of drawing. However, these Strawberry Drawing Ideas also contain some intermediate and advanced strawberry drawing ideas. So, do let your kids try out these easy drawing ideas.
1. Easy Strawberry Drawing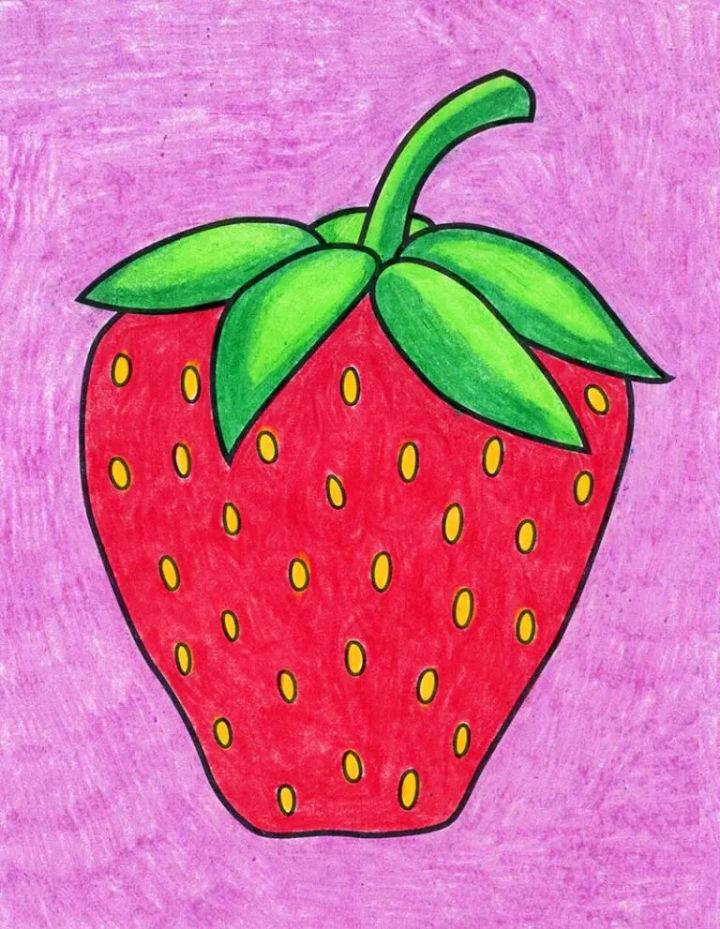 Are you a beginner artist and intending to draw some cute fruits? Then start your artist journey with this easy strawberry drawing. The best drawing project for 1st grade to 5th grade, and you can also use this drawing to teach the kids all about the strawberry. The strawberry is one of the fruits that have seeds outside, and it will create too much fun to complete this easy peasy strawberry drawing. You will get a quick 9 step, easy tutorial to easily learn to draw a strawberry. artideasforkids
2. Realistic Strawberry Drawing
Follow here for quick guides and instructions about drawing a beautiful strawberry with all the comprehensive details. The finished drawing looks pretty realistic and will also make a great strawberry coloring page. You can also shade it well for a realistic strawberry sketch or illustration. First, you can draw a rough triangle with round edges as brilliant guidelines for this strawberry drawing. Next, you can start drawing the stalk and leaves and finish the strawberry with the seeds, and here you go. One of the best and most quick-to-complete strawberry drawing that everyone will love to complete. drawingforall
3. Cute Strawberry Drawing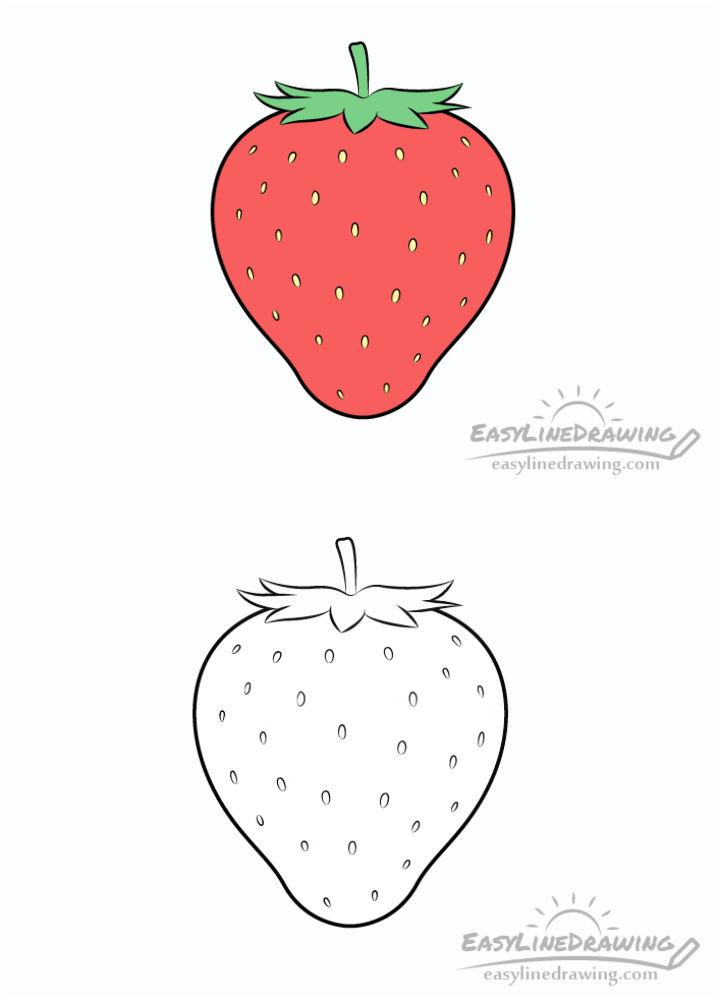 Do you and your kids want to draw something cute and easy? Then try drawing this beautiful strawberry. According to this tutorial, you will be able to complete this strawberry in just 4 easy steps. First, draw the strawberry outline or outer shape of the strawberry, and then you can draw the crown that is the stalk with leaves. Finally, you can finish the strawberry by adding the outer seeds. Give the completed drawing to kids as a brilliant fruit coloring page, and they will just love filling colors in this easy strawberry drawing. easylinedrawing
4. How to Draw a Strawberry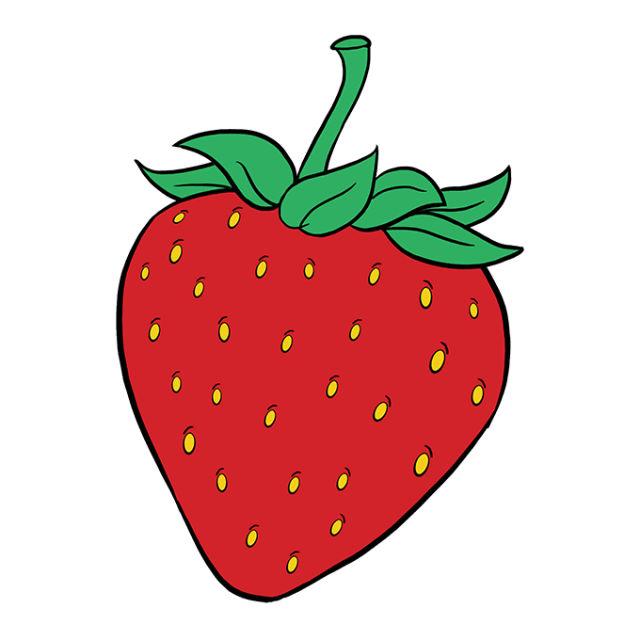 Are you willing to draw a strawberry but don't know where to start? Then grab this quick tutorial to easily draw a strawberry with all the necessary details. The final strawberry drawing is a brilliant cartoon avatar of the strawberry. Everyone will fall in love with this easy strawberry drawing tutorial that is great for beginners and kids. Here the project is all about drawing a rough sketch of the strawberry body, and then you can draw the rest of the details and components beautifully. easydrawingguides
5. Simple Strawberry Drawing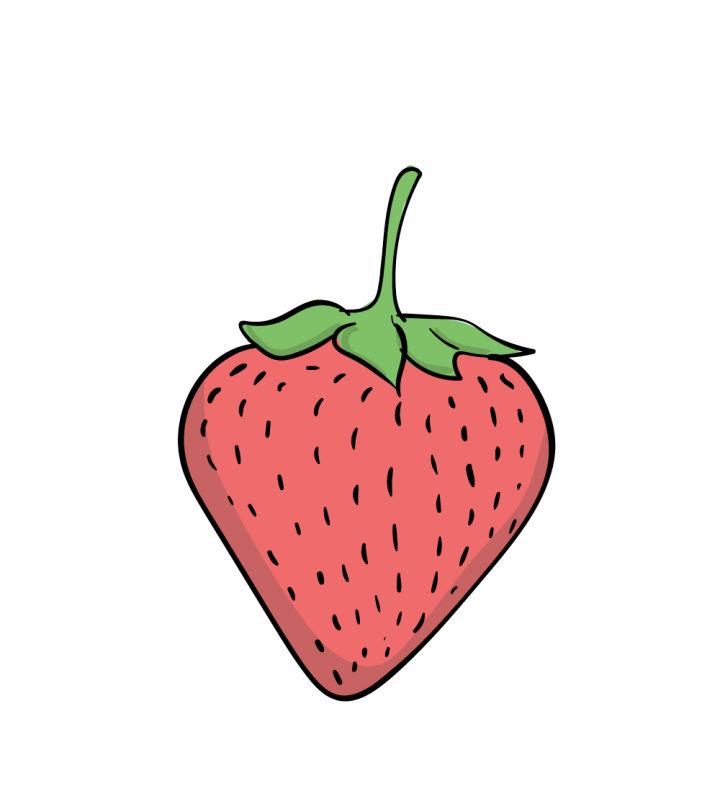 Strawberries are one of the most refreshing summer fruit and should be added to kids' summer craft activities. However, this easy strawberry drawing is something you and your kids can take a start with. Again this entire drawing project is all about drawing the strawberry outline, and the rest of the project is totally simple and quick to complete. You will get an easy 6 step tutorial to easily complete this strawberry drawing. First, draw the outline, next stalk with leaves and finally add the seeds. iheartcraftythings
6. Drawing Of Strawberry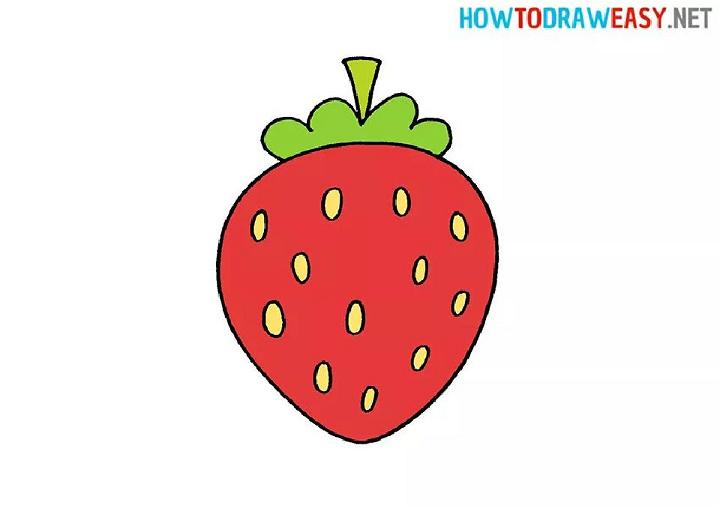 The drawing helps hone the kids' creativity and other artistic skills and can be a smarter way to make the kids busy. So, this time make the kids busy with this easy strawberry drawing project that will rock for preschoolers to elementary class students and is fairly easy to complete. Here you can draw a rough outline for the strawberry body, and then you can add the crown and seeds to complete the entire strawberry drawing. Fill in respective colors and complete this cartoon strawberry drawing. By completing this drawing, you will be able to draw a lovely strawberry in lots of your drawing and painting ideas. Comparatively, this is here a quick and easy strawberry drawing that all beginners can duplicate easily. howtodraweasy
7. Strawberry Sketch Drawing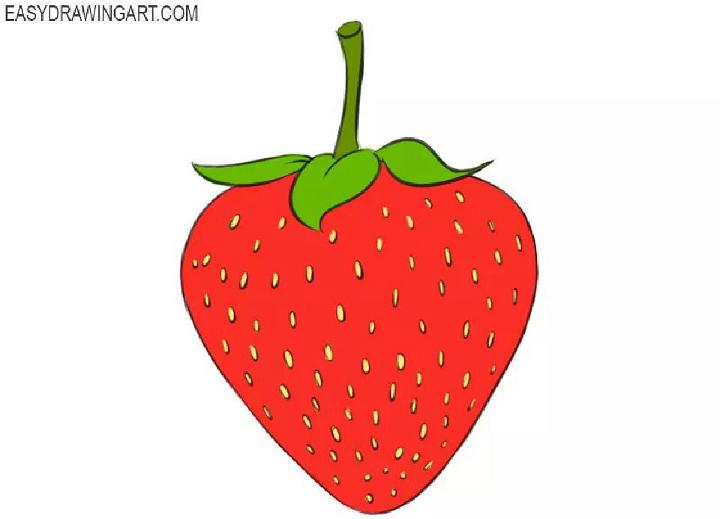 Make the kids busy with some easy drawing ideas to strengthen their focus. It will also help improve kids' strategic thinking to complete a given drawing project. So, make the very beginner kids busy in this very easy strawberry drawing, sure to complete it simply in no time. The provided tutorial makes the entire project as easy as ABC, and it will also be a great holiday craft kids' craft project. First, draw the body of the strawberry by simply drawing a triangular shape and then you can start adding custom leaves or petals on the top of the strawberry and the seeds on the skin. easydrawingart
8. How To Draw A Strawberry Step By Step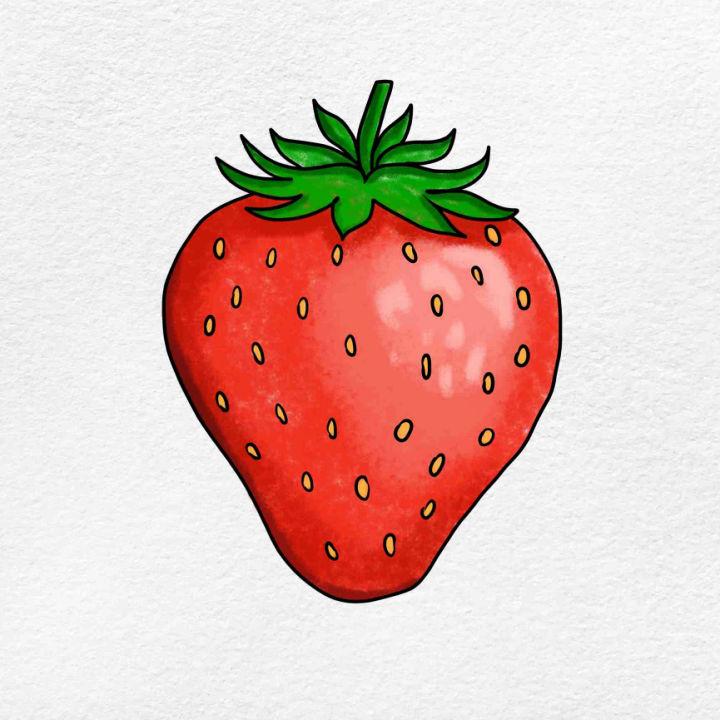 Kids love to draw fruits and other cute things. So, make them learn to draw a strawberry with this easy drawing tutorial that is easy to follow and will provide instructions for each step. The project will rock for the kids who are willing to get started with the easy drawing ideas, and it will only take about 20 minutes to complete this easy peasy drawing project. You need a pencil, drawing paper, crayons or colored pencils and a black marker to complete this project. The project also provides a free PDF download for this drawing tutorial. helloartsy
9. Strawberry Plant Drawing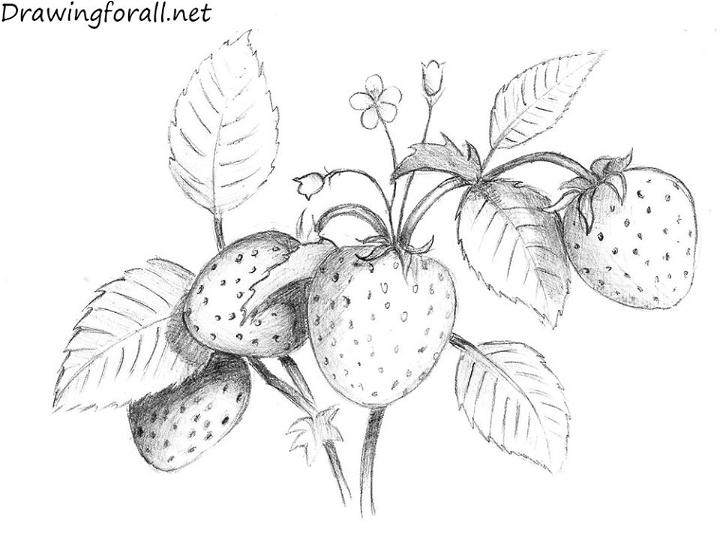 Intending to draw some realistic plants? Then get started with this strawberry plant drawing that looks pretty realistic. You can easily start the project by sketching the contours of the berries. Also, draw the other lines for the central veins of the leaves and strawberry plant stems from gaining a complete rough sketch of the entire plant. Finally, you can start adding the custom details in the leaves and strawberries to complete this easy yet creative strawberry plant drawing. drawingforall
10. How to Draw Strawberries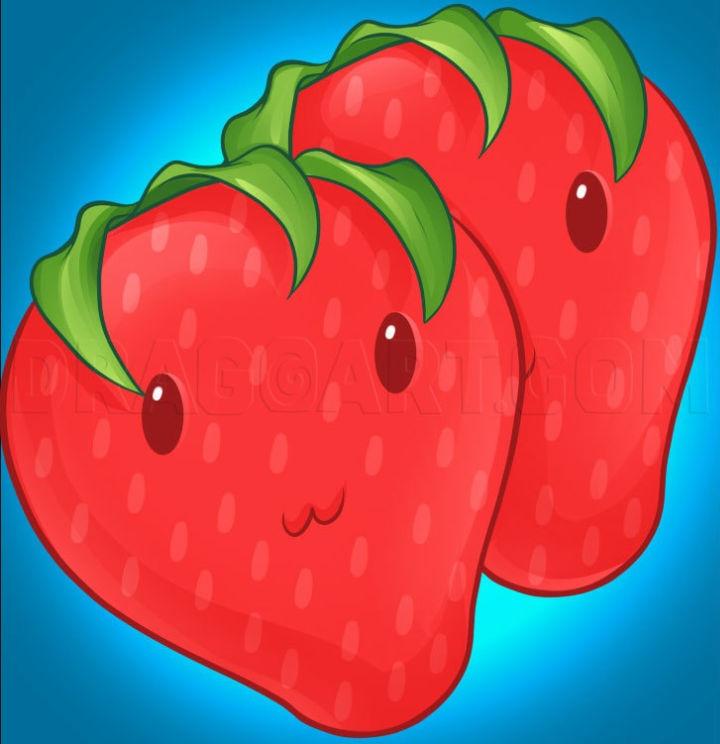 Want to know about the quickest ways and hacks to draw strawberries? Then follow here quick guides about how to draw the two overlapping strawberries with the help of some quick-to-draw guidelines. Here the project involves drawing the cute cartoon strawberries with a cute faces, and the top leaves make beautiful hair. For outlining the strawberries, draw two overlapping circles with custom lines inside to draw the strawberries in proportions. After you get the perfect outlines, you can easily draw the rest. Kids will love to complete this easy peasy drawing project. dragoart
11. Strawberry Dipped In Chocolate Drawing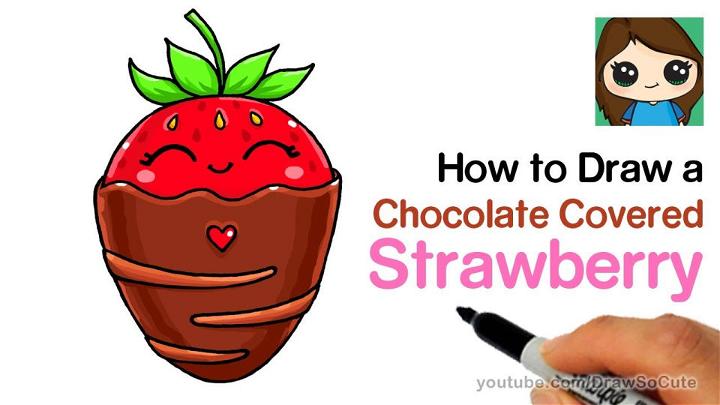 Grab here quick instructions to draw the chocolate-covered strawberry, another cute and sweet version of the strawberry drawing. At the same time, this is another cute cartoon version of the strawberry drawing here. Start the project by drawing the quick top part with wavy bottom and arched top, and then you can easily add the bottom chocolate-covered part. Add the top leaves and stalk and finish by adding the bottom chocolate texture and other facial features. Here a cute heart is also drawn in the center of the strawberry for added cuteness.
12. Easy How to Draw Strawberry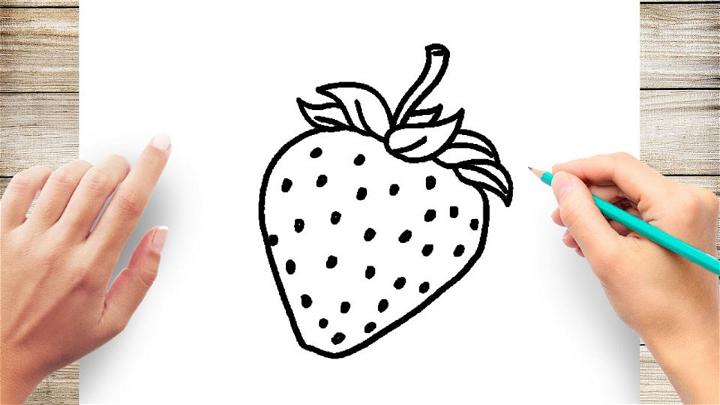 Do you intend to draw the best strawberry without drawing the guidelines first? Then follow here quick guides and instructions to draw a one like a pro at just a drop of the hat. Draw the triangular shape with round corners as the perfect outline of the strawberry body. Next, finish it by drawing the skin seeds, top leaves and stem. First, you can draw the whole strawberry with a pencil and then use the marker over the entire drawing details. After completing the drawing with a marker, just use an eraser to remove the pencil sketch.
13. Colorful Strawberry Drawing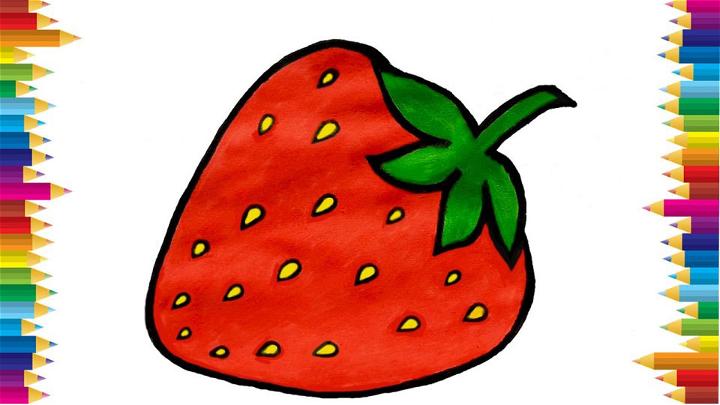 Follow this quick tutorial here to learn to draw a strawberry straight with the marker. You need the marker and paper to easily complete this drawing project, and all kids will love to duplicate it. Draw the strawberry body with a marker, and then add the skin seeds and leaves with stalk. Finish by filling in your respective colors, and that's it. Choose the yellow color for the strawberry seeds. It is the perfect drawing project for toddlers and beginner kids, and it will complete just in a few minutes also. Do add this easy drawing project to kids' holiday art and craft ideas.
14. Draw Hyperrealistic Strawberry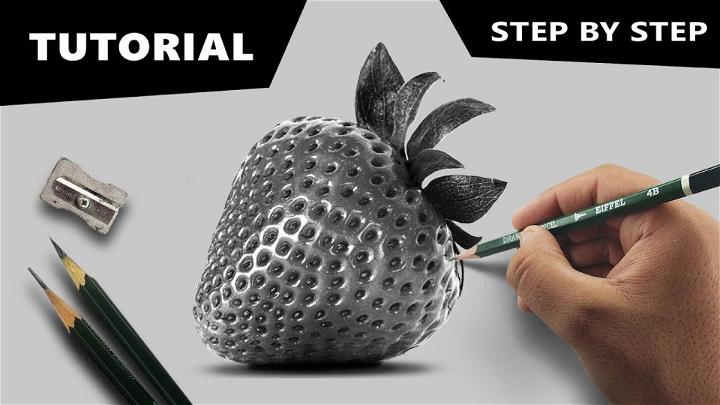 Do you intend to draw a realistic strawberry portrait that will also make a brilliant wall art sign? Then grab here quick video instructions to create realistic strawberries with the lovely shadow for an excellent 3D appeal. The project involves using custom sketching, blending and shading techniques to complete this beautiful strawberry drawing. You can use the brushes to beautifully blend the pencil strokes. Finally, you can use the sharp tip eraser to add those highlights in the central area. Make the highlights all around the circle rather than on sides only. An advanced-level strawberry drawing project.
15. Strawberry Drawing for Beginners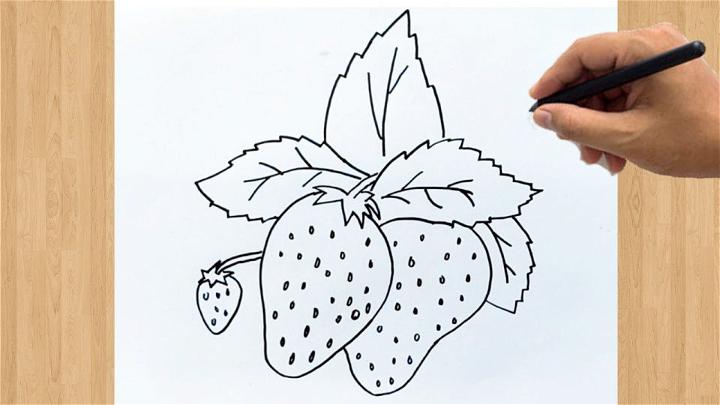 Intending to give some fun drawing challenges to kids? Then do make them busy in this strawberry drawing that is easy and quick to complete. The project involves drawing a bunch of overlapping strawberries, and you can also add a simple stem to get a complete drawing of the whole strawberry plant. First, you can outline the strawberries and then add the leaves to complete this easy drawing project. It will also help strengthen the strategic thinking of kids and add a lot to the creativity of the little artists. One of the best strawberry drawing ideas for beginners.
16. Strawberry Drawing for Kids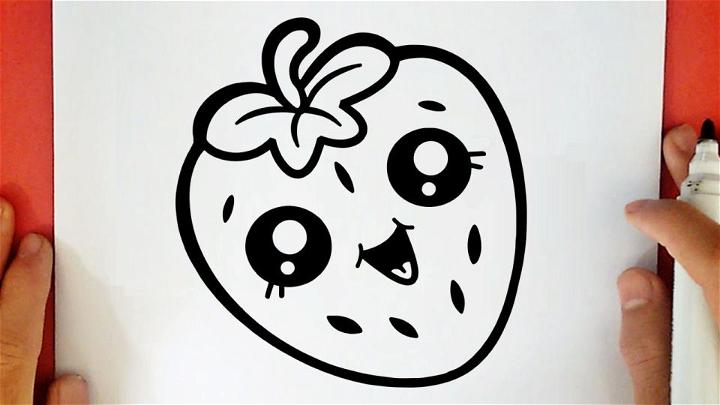 Here you will learn to draw a super cute strawberry with a face. This cartoon version of the strawberry will be the best beginner and toddler drawing project. You will get step-by-step instructions to easily complete this outstanding strawberry drawing here. First, draw the two cross lines and then stem to start the project, and then you can easily outline the whole strawberry and top leaves with their help. Add the big beautiful eyes, mouth and skin seeds, and here you go. One of the best and quick-to-complete DIY strawberry drawing ideas ever.
17. Marker Drawing Strawberry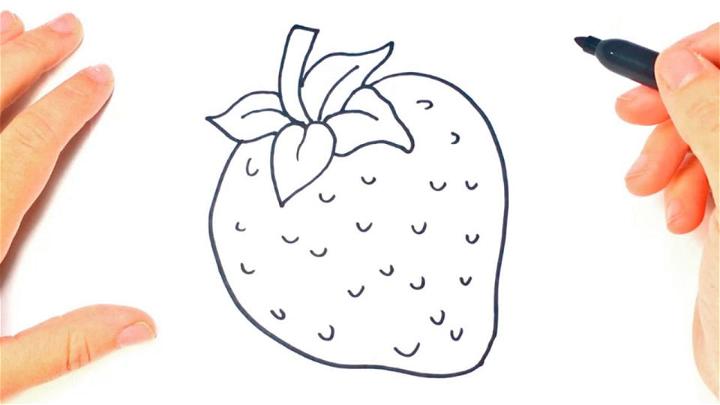 The list will cover drawing a lot of cute and lovely versions of the strawberry from so many different angles. Here you will get instructions to draw another beautiful strawberry by drawing a simple strawberry body outline. You can easily add the top leaves and stem if you are a little expert in drawing leaves. It will only take 10 minutes to complete this easy fruit drawing project. By completing this project, the kids will be able to draw a strawberry anywhere they want, even in their art and painting ideas. You only need paper and a pencil to complete this strawberry drawing project.
18. Strawberry Cow Drawing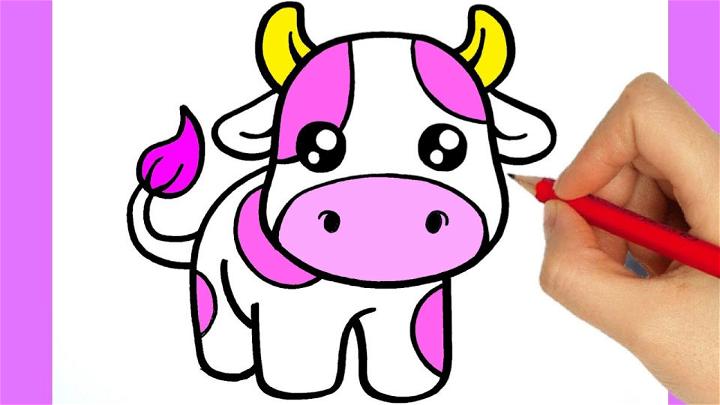 You will love this cute cow kawaii drawing, sure to be easy and quick to project for toddlers and preschoolers. Here the project involves drawing the cutest cartoon version of the cow in the strawberry style, which will create too much fun. Kids with a little control or artist skills in their hands can easily duplicate this strawberry cow drawing. The project will help improve the kids' fine motor skills, creativity, and focus. The completed drawing will be as cute as your kids. Don't forget to fill the strawberry colors in the completed cow kawaii drawing. Fill the yellow color in the antlers and purple in the rest of the cow.
19. Strawberry Shortcake Drawing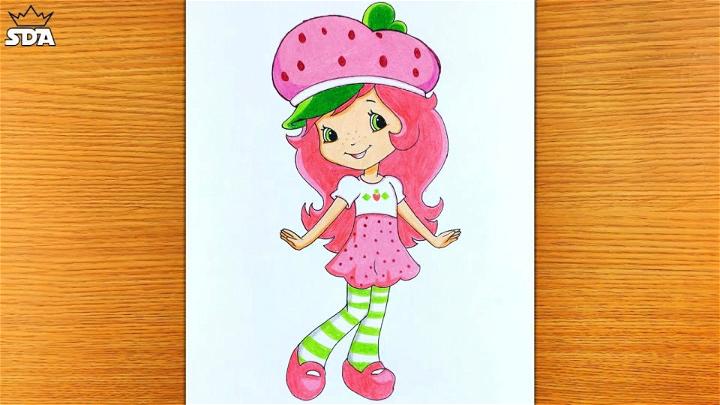 The list covers all the creative strawberry drawings, and check out here another one that will impress all the little kids and those who are kids at heart. The project involves drawing the strawberry shortcake princess that will be cute after filling the respective colors. This drawing project will rock for all who love to draw cute princess drawings at home. It will work great for intermediate skill levels, but the advanced beginner can try out this project also. The completed drawing will make a brilliant wall poster if framed up nicely, and you can also use it as a gift wrap and as a bookmark.
20. Strawberry Milk Drawing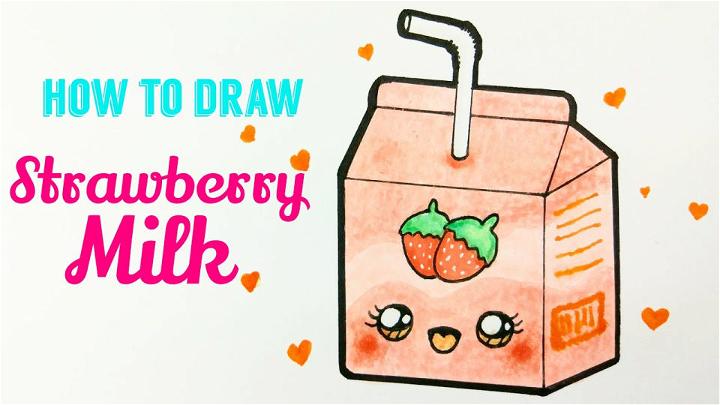 Do you love the strawberries and all the strawberry food items like the strawberry cakes, shakes and milk etc? Then you will love completing this another strawberry project that involves drawing the strawberry milk with a beautiful straw. First, you can use the ruler to draw the milk carton and then draw the rest of the details. Everyone will fall in love with this outstanding strawberry drawing project. Draw the cute mini hearts all around the milk carton and draw cute strawberries in front of it.
Conclusion: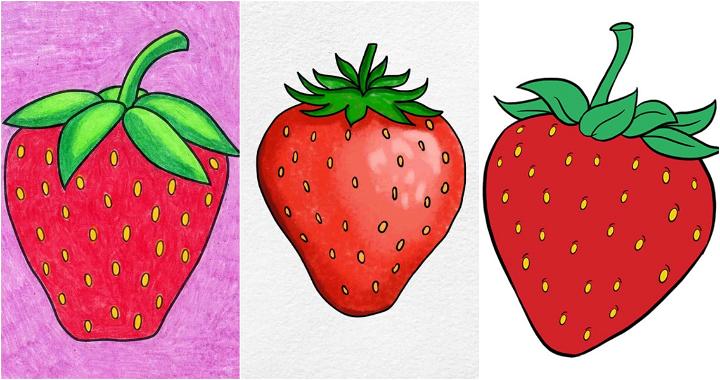 These ideas are especially shared for beginners and to get started with, and they aim to make all the kids experts in drawing a strawberry with all the variations. The provided step-by-step tutorials will make it easier to easily complete any strawberries drawing easily and quickly. From drawing a single strawberry to a whole beautiful strawberry plant, you will get here instructions for all. Moreover, you will learn to draw strawberry milk, chocolate-dipped strawberry, and lots of fun cartoon versions of the strawberry. So, do look through all the ideas to hone your drawing skills.