Learn how to draw an avocado with these 25 easy avocado drawing ideas with step by step simple sketch outline, printables and coloring pages. In this day and age, everyone must keep their diet clean and nutritional. Fruits are the best way to gain such necessary nutrients. This is why we've brought these avocado drawing ideas for you to draw these amazing fruits and be reminded how important they are for our health.
Avocado trees are native to south-central Mexico to Guatemala. The avocado fruit is a large berry with only a single large seed in the center. It has many colors depending on the variety, such as green, brown, black, or purplish. Also, it has many different shapes as well. It is used in many cuisines in the world and is favored for its high fat and protein levels.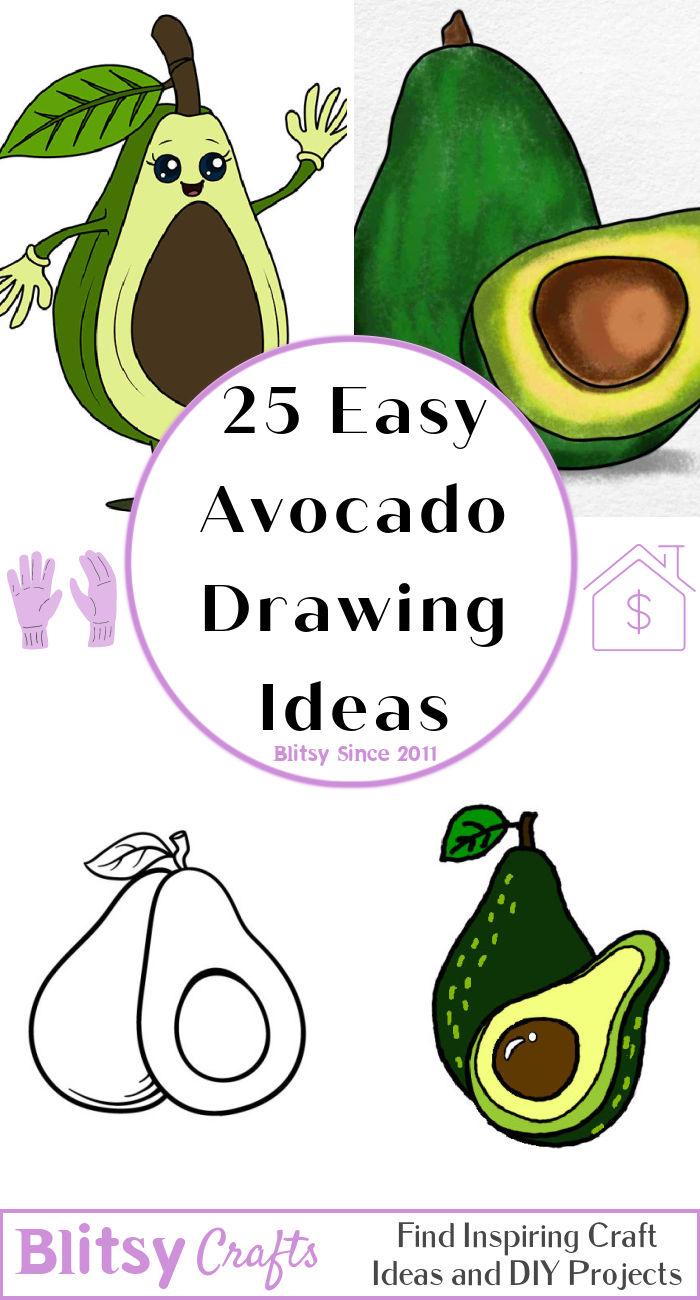 This tutorial will introduce you to as many as 25 unique avocado drawing ideas. These tutorials will provide you with a wonderful opportunity to draw these amazing fruits. From simple to complex drawing ideas, this article is suitable for all ages.
So, keeping in view the various benefits of Avocados and their cultural significance, drawing this fruit will be a prized skill. Draw these avocados in cartoons, pencil sketches and various other styles. So, grab your drawing supplies and get started on these avocado drawing ideas!
1. How to Draw an Avocado – Step by Step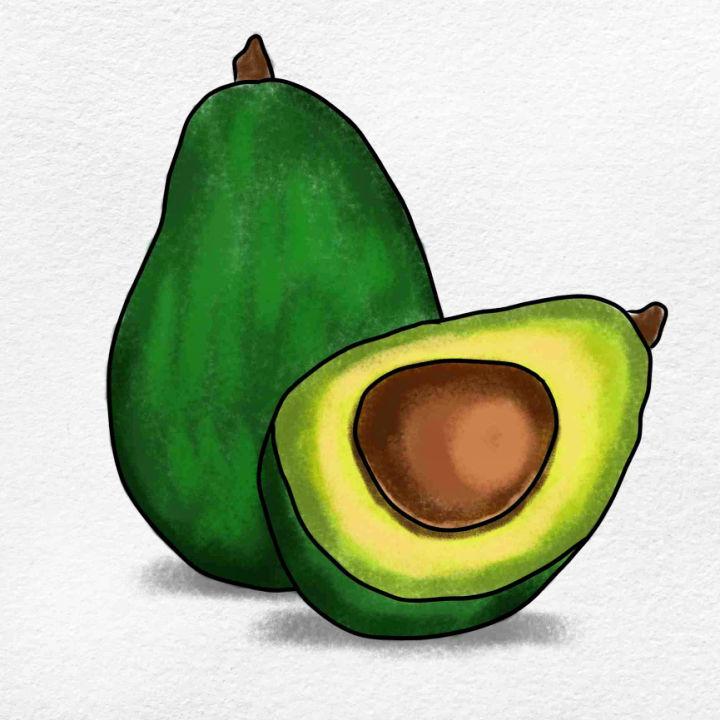 This first tutorial will only require a pencil, drawing paper and coloring pencils. Start the drawing with an oval-type shape and place another oval shape next to it, slightly tilted. Place a small circle inside the shape and two stems on top of the avocados. Finish it by adding colors. helloartsy
2. How Do You Draw an Avocado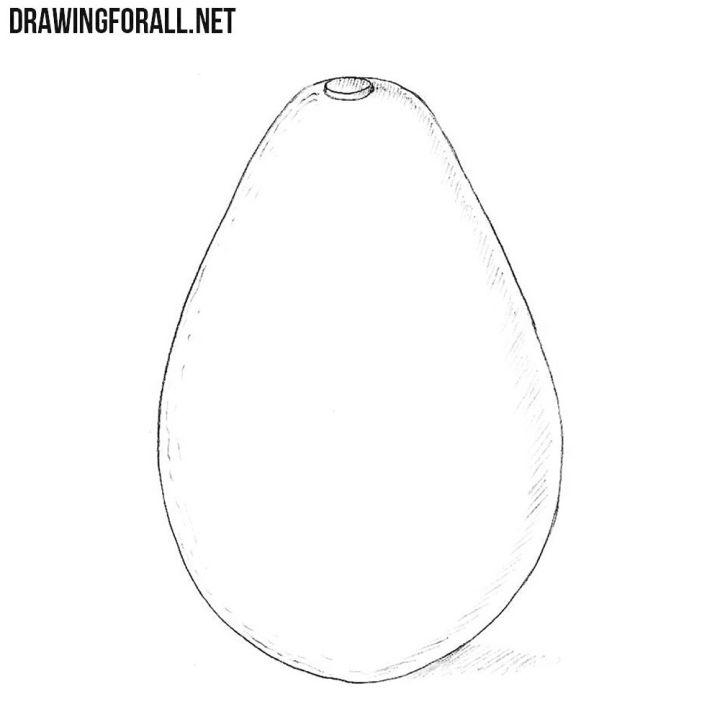 One of the easier ways to draw an avocado. Draw with an oval shape and a small circle on top of the fruit. It will not be connected to any stem and leaves. Etch outlines along the surface, and you're left with a rough-looking avocado drawing. drawingforall
3. Avocado Drawing in Just 6 Easy Steps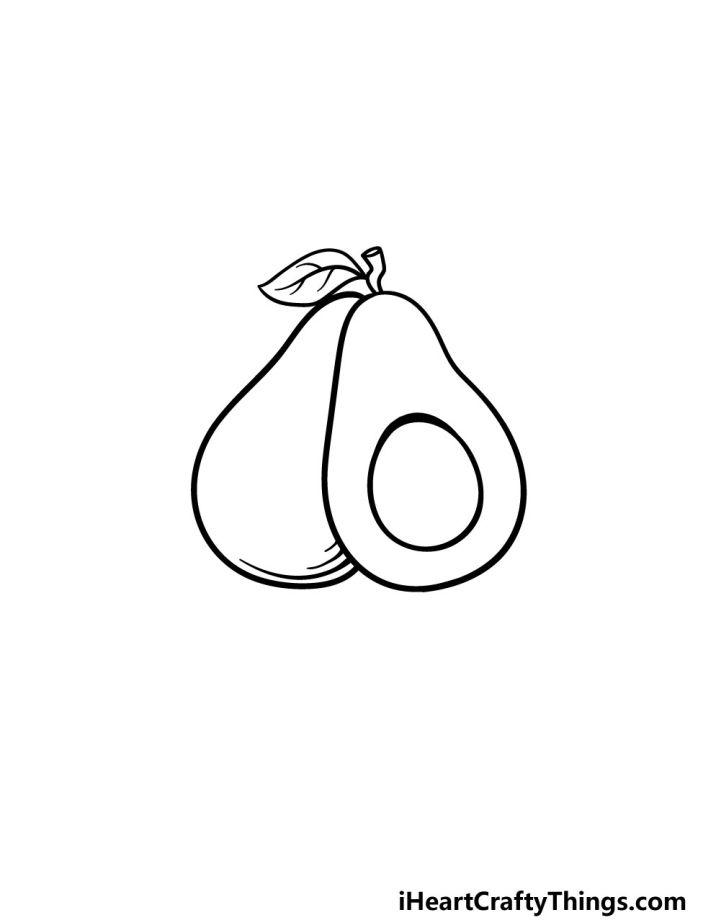 Draw an avocado in 6 easy steps. In the first step, draw the unique shape of the fruit that is rounded at the bottom and narrow at the top. Place two of these shapes together and connect a stem and leaf on top. With a large seed in the middle, use coloring pencils to create a final look. iheartcraftythings
4. Easy Way to Draw a Avocado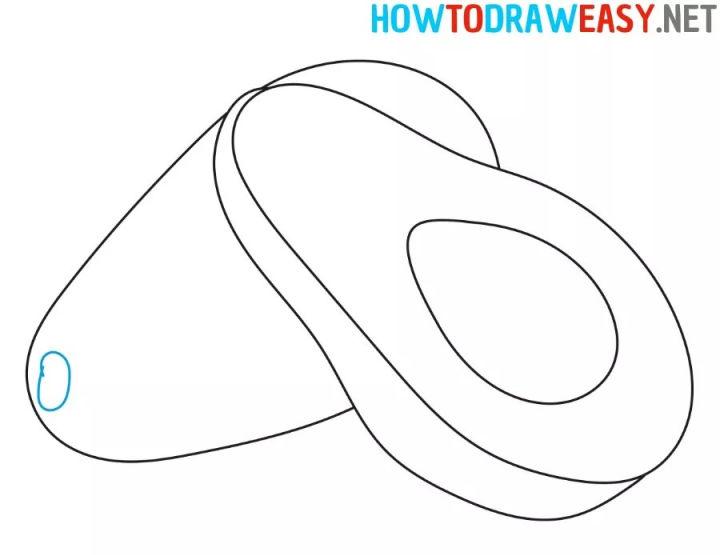 This tutorial will only take 15 minutes to draw an avocado. You can begin to draw by placing an oval shape. Place a seed of the same shape right in the middle and then the outer skin. Place another avocado behind the half-cut one. Color them both dark green. howtodraweasy
5. Super and Simple Avocado Drawing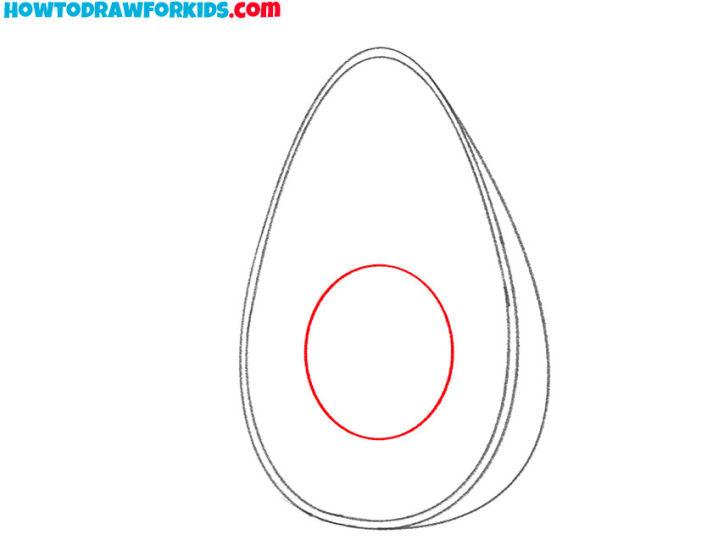 Grab a pencil, paper, eraser, and some coloring supplies to draw this avocado. First, draw a shape that looks like a big egg. Show its skin by drawing another layer outside the avocado. Thirdly, draw a circle to depict the seed. This is all it takes! howtodrawforkids
6. Drawing of an Avocado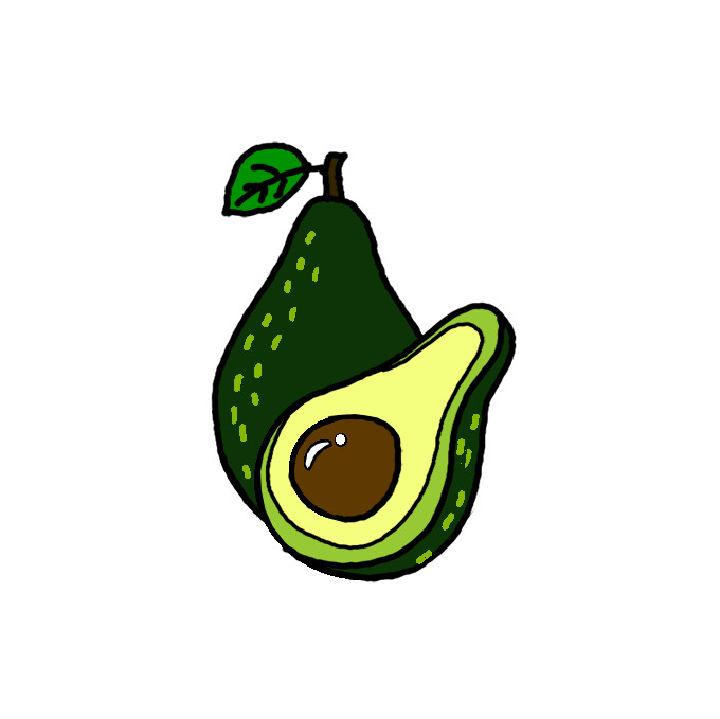 Attempt this avocado drawing idea by first drawing the pear-shaped outline of the fruit. An oval in the bottom part will show the seed, with an outer lining to show layers. You can place another avocado on the back side to complete the look. Just color the skin green and the inside yellow. drawinghowtos
7. How to Draw an Avocado for Kindergarten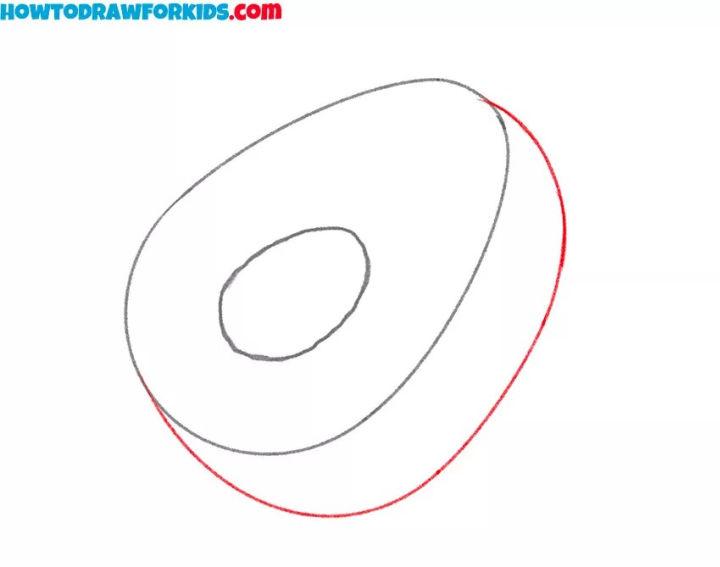 Recommended especially for beginners, draw an avocado in only 4 steps. First, start with an egg-shaped outline and another identical shape in the middle. Draw the outside of the fruit with a curved line around the fruit. Lastly, color it up, and that's it! howtodrawforkids
8. Cute Avocado Drawing for Kids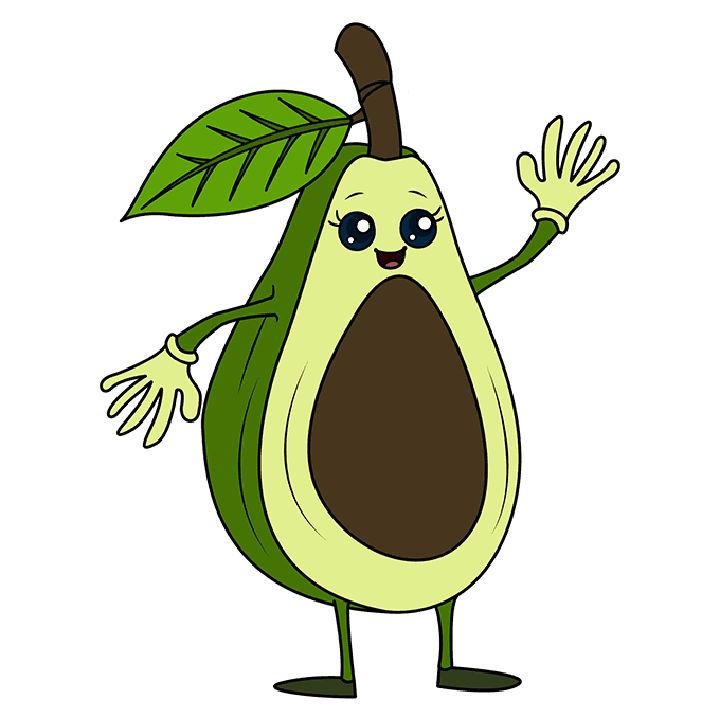 A cute avocado drawing showing a humanoid avocado waving. First, start with the outer skin and stem. Then, draw the inside part of the avocado. To show its hands, attach arms to the right and left sides of the fruit. With facial features on the upper portion of the fruit, this one is complete! easydrawingguides
9. How to Draw an Avocado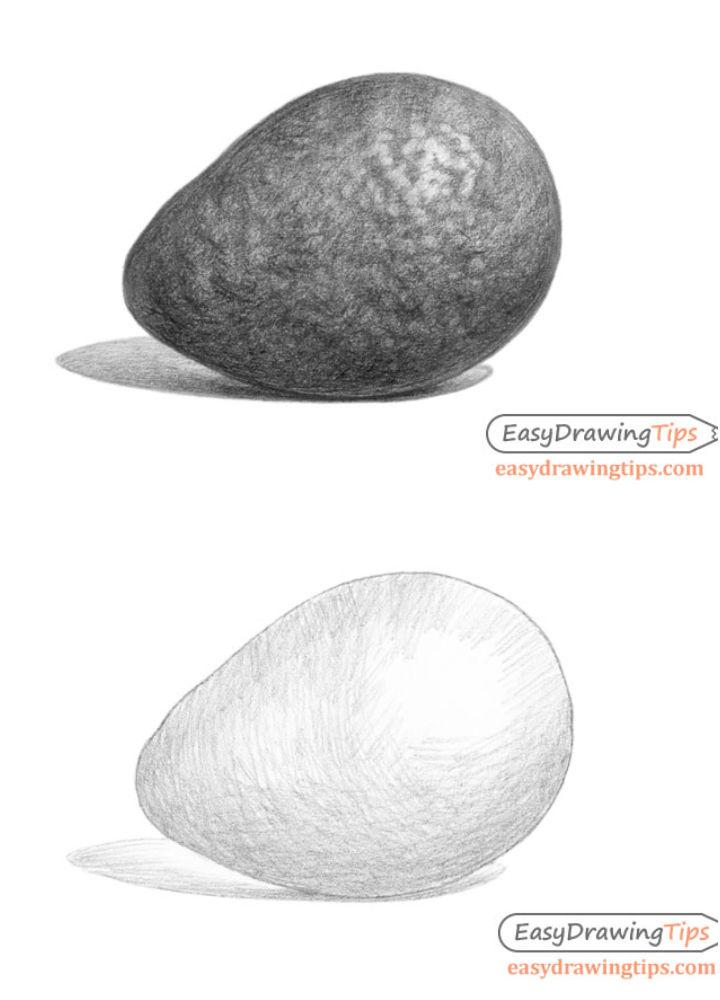 A realistic-looking drawing of an avocado using pencil shade. First, draw a basic outline of the fruit with a shadow falling to the bottom. Begin shading the fruit's skin with a pencil shade. Refine the shading further with alternating dark and light shade. Try to keep the upper portion light to show a light falling on it. easydrawingtips
10. Small Avocado Drawing

A very straightforward drawing of an avocado. You can start with the shape of the fruit with a small tip on the upper part. Show the textured surface by drawing small bumps on the fruit. Color it using any coloring supplies that you like. easylinedrawing
11. How to Draw Dippy Avocado from Shopkins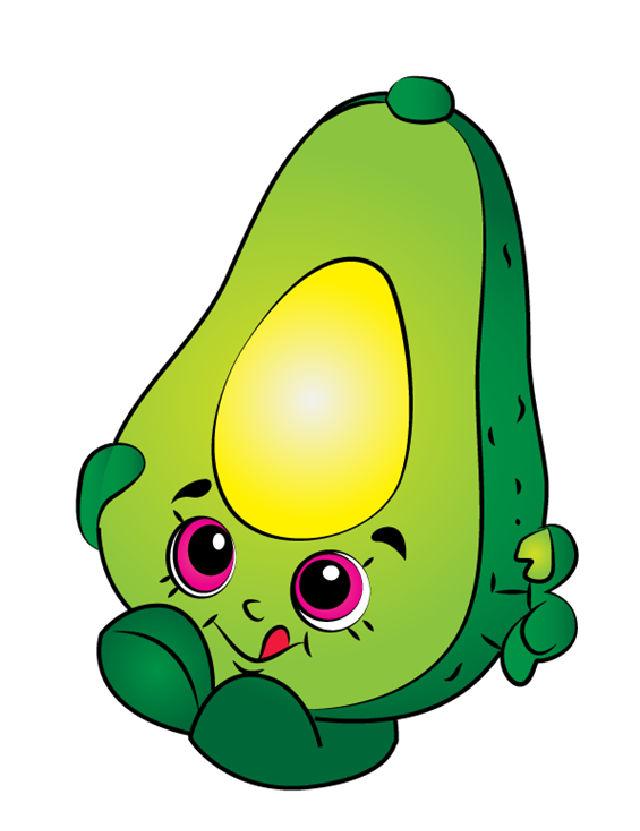 Draw an anime avocado shape using this tutorial. First, make a circle and cross out the bottom part. Use that portion to draw a face. The outer skin can be completed by drawing a curved line to one side. Finish it up, drawing the bumpy surface and a cute face right below the seed. drawingtutorials101
12. Draw Your Own Avocado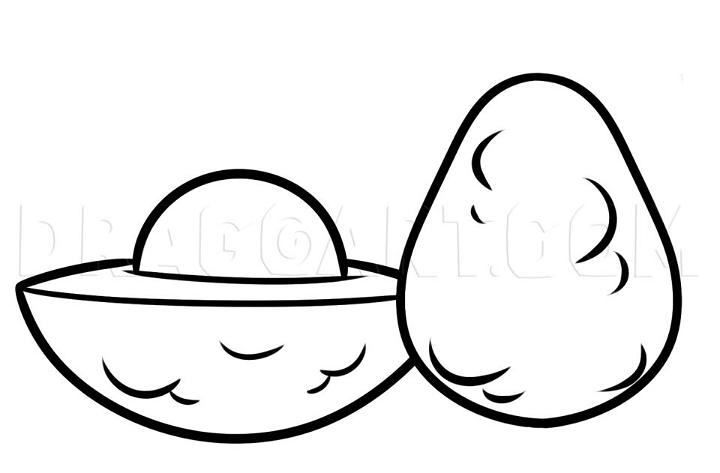 Open this tutorial to make a whole and half-cut avocado side by side. First, draw an upright pear shape and a bowl shape next to it. Draw a small circle over the bowl shape. Show the outer surface with small curvy lines; that's it! dragoart
13. How to Draw an Avocado with a Face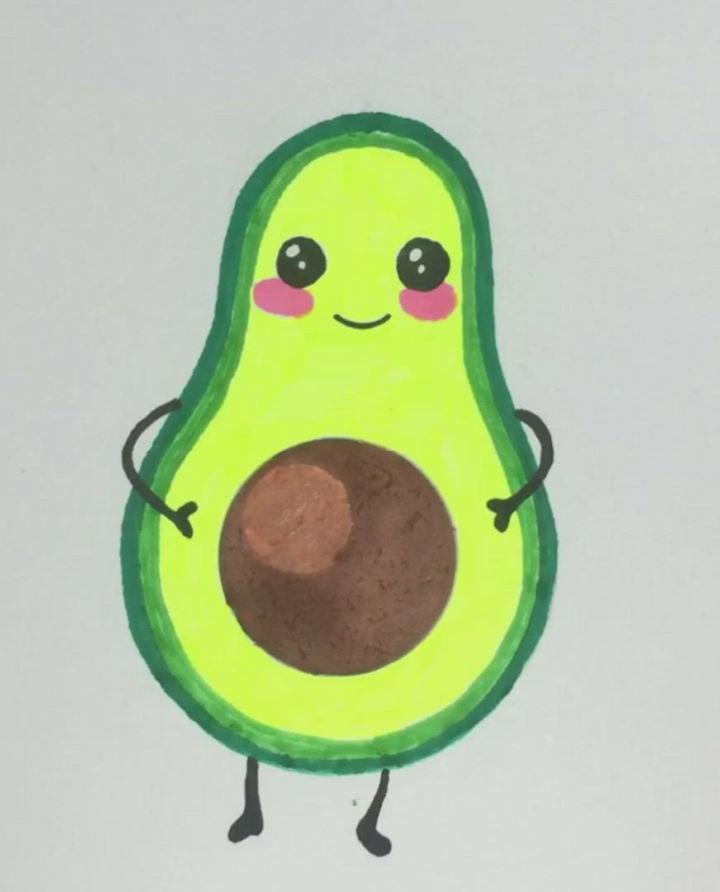 Avocado with a happy, lively face! Draw two circles side by side and connect them both using curved lines. Curve out the bottom part for the seed. Draw eyes and smile on the upper part. You'll be done after drawing its legs and arms. drawswan
14. How to Draw a Cartoon Avocado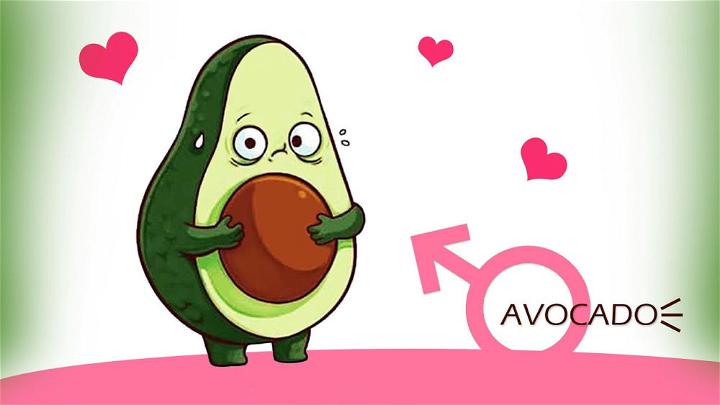 Follow along with this video tutorial to draw a specific pear-shaped avocado. Try to show it with a cartoonish expression with huge eyes and a frown. Its arms should be bent inwards towards its middle. Lastly, color it green using a colored pencil.
15. Pencil Sketch Avocado Drawing

A step-by-step drawing of avocado with just a pencil. Draw an uncut avocado next to half cut one. Begin with the outline for both of the fruits and shade in the outer skin. Use a darker shade for the seed in the middle. Add further detail by using short strokes on the skin and a shadow on the ground.
16. Cute and Easy Avocado Drawing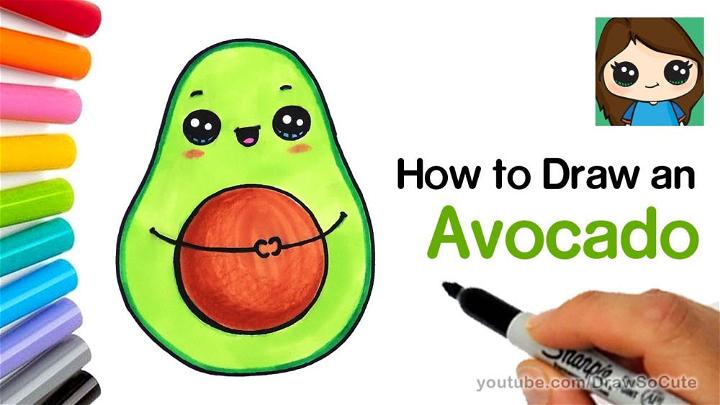 A cute little kawaii avocado. Draw this one using a sharpie pen and highlighter colors. Draw dark glitter eyes on top of the avocados and a pair of small arms connecting in the middle. Color the seed in peach color and the outer skin in the green shade.
17. How to Draw a Funny Avocado

Another fun way to draw avocados, start with a small circle and bring about a larger pear shape around this circle. Add another layer to the right side of the shape. Draw eyes and mouth on top of the avocados. With two arms and legs, an anime avocado is on the rise.
18. How to Draw a Cool Avocado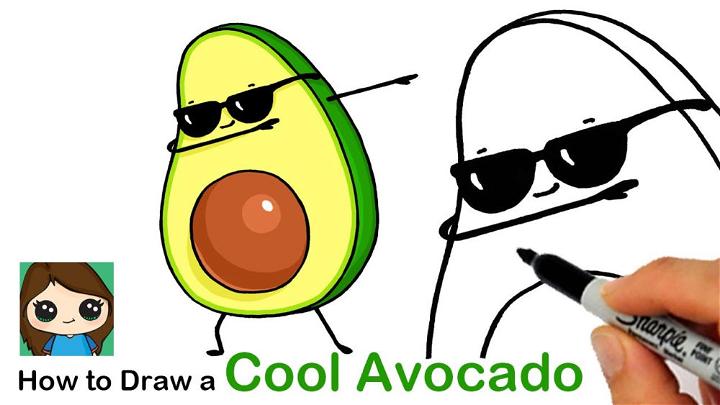 Want to show a cool-looking avocado dabbing? Open this tutorial to show a slightly bent avocado with huge ray ban sunglasses. It should have a slight smirk on its face. Bend an arm around the fruit to show it a dab. Another arm should shoot straight at the sky. With two small legs, this one is done!
19. Drawing a Ripe Avocado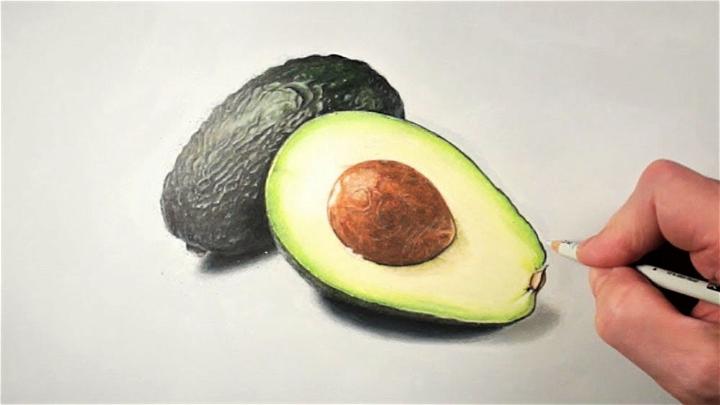 Draw a ripe avocado just fallen from the tree. This one is in great detail and has a pretty dark shade. Just follow the video tutorial to learn how to quickly draw the rough outer skin and the soft inside. Make sure to draw a huge seed in the middle.
20. Simple Way to Draw a Avocado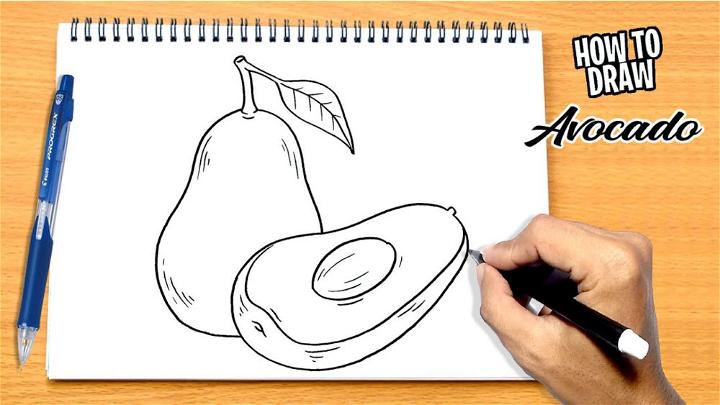 Another avocado drawing to make part of your drawing portfolio. You can also use drawing software to assist you in this one. Use smooth curved lines to draw the outer part and connect a big leaf and step on top of the fruit. Open the link now!
21. Draw a Cute Avocado Couple Pun Art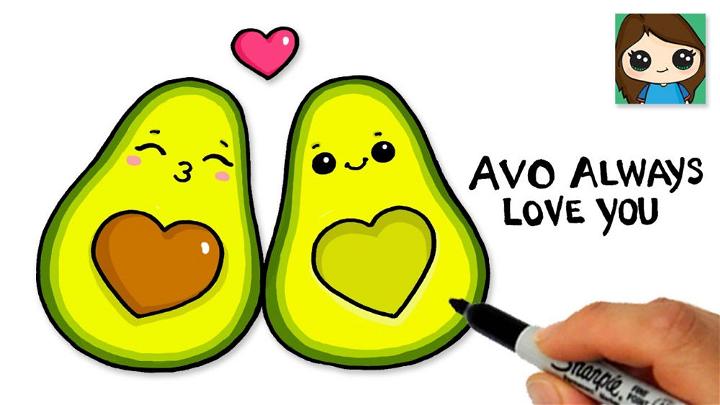 Draw two cute little avocados side by side! These love-struck avocados can be drawn using a sharpie pen. Make them lean on one another with a heart shape in the middle of them. One avocado could be making a smooch face with another one happy. Place a message right below them.
22. Avocado Pictures to Draw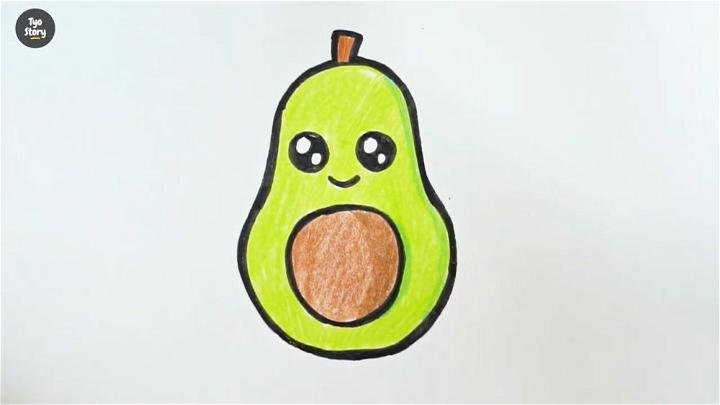 Draw a small avocado to be used as a logo or symbol. This pear-shaped avocado has a small seed inside of it and a cute face to go with it. Color it using coloring pencils. Open the link to see how it looks and get started with this avocado drawing idea, right away!
23. Avocado Drawing Step by Step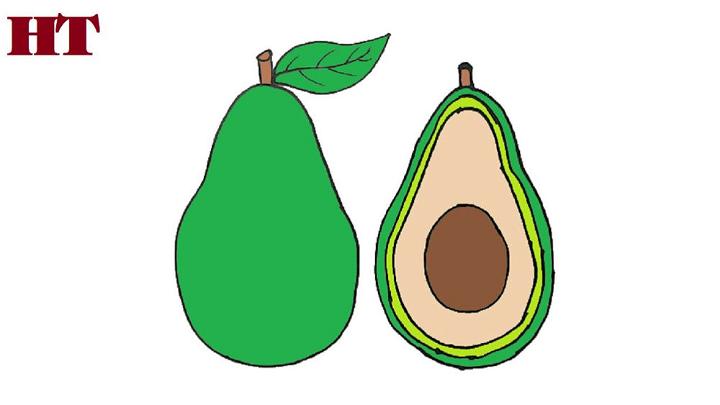 Draw an avocado in only 3 minutes with the help of this video tutorial. Use only a pencil and some coloring supplies for replicating this design. This avocado drawing idea is an easy one to do, so open the link and get started!
24. Avocado Outline Drawing

Draw some amazing-looking avocados using this video tutorial. This avocado drawing idea can be drawn using only a black marker. Place one whole avocado next to another half avocado. With this tutorial, you will now be drawing avocados anywhere and anytime.
25. How to Draw Hyperrealistic Avocado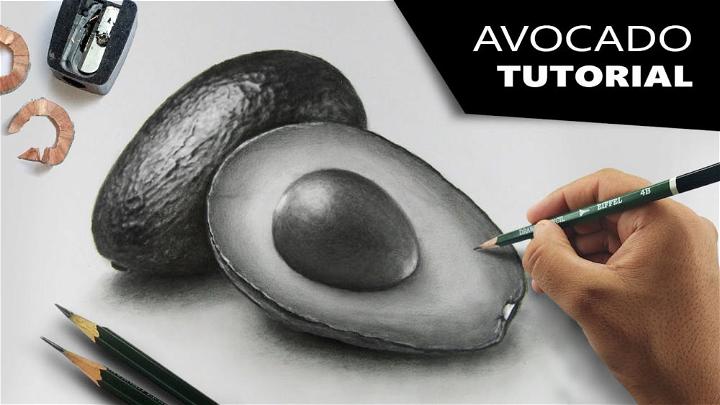 A very hyper-realistic drawing of avocados with this tutorial. This tutorial uses 3 different types of pencils to draw the outline and middle part of the avocados. Darken out the outer side with the B-type pencil and use a dry brush to smooth out the pencil shade. Then use a black pen to highlight the black surface, and it's done!
Related Easy Drawing Ideas:
Get inspired with these easy drawing ideas, perfect for beginners! Follow step-by-step instructions to create amazing works of art effortlessly.
Flower Drawing Ideas: Create beautiful flower drawings with these stunning printables! This list of free templates is the perfect way to practice your art skills and get creative.
Tree Drawing Tutorials: Explore unique tree drawing ideas to add a natural touch to your artwork. Get inspired by these creative ways to draw trees and foliage for art projects, sketches and other visual designs.
Dandelion Drawing Ideas: Unlock your creativity with these inspiring dandelion drawing tutorials. Get inspired and start creating beautiful art pieces that will brighten up any space!
Cell Drawing Ideas: Explore creative cell drawing ideas with step-by-step tutorials. Learn how to draw cells from different angles and create unique art pieces.
Succulent Drawing Ideas: Bring some life to your sketches with these cool succulent drawings. Get inspired and learn the basics of how to draw a variety of succulents in this helpful guide.
Hibiscus Drawing Ideas: Discover creative and fun hibiscus drawing tutorials. Find inspiration for all skill levels from beginner to expert artists.
How to Draw a Tulip: Bring your artistic side to life with these creative tulip drawing Ideas. Get inspired and learn how to draw tulips in various ways suitable for all skill levels.
Magnolia Flower Drawings: Be inspired to create gorgeous magnolia flower drawings with these helpful drawing ideas. Find out how to bring the stunning magnolia bloom and its details to life in your artwork.
Grass Drawing Ideas: Discover how to draw amazing grass with an easy outline. Learn the basics of drawing realistic and vibrant grass, perfect for landscaping drawings or creating a beautiful background.
Pineapple Drawing Ideas: Start creating adorable pineapple drawings with these easy step-by-step instructions. Learn how to draw a pineapple and unleash your inner artist today!
Fruit Drawing Tutorials: Explore creative and cool fruit drawing ideas with these step-by-step tutorials. Printable diagrams, instructions and tips make it simple to draw a variety of fruits for any project.
How to Draw a Plant: Create wonderful plant drawings with these step-by-step guide and video! Learn how to draw a simple plant with just a few lines and easy shapes.
Rose Drawing Ideas: Find loveable rose drawing tutorials, with step-by-step instructions on how to draw a beautiful rose. Get inspiration and learn to sketch your own rose masterpiece, absolutely free!
How to Draw a Strawberry: Increase your creativity with superb strawberry drawing outlines! Learn how to draw a realistic or cartoon strawberry step-by-step for any skill level.
Birthday Cake Drawing Ideas: Bring out your inner artist with these fancy birthday cake drawing ideas! Get step-by-step instructions and videos to create the perfect birthday cake drawing.
Jack O Lantern Drawings: Creative and lovely jack O lantern drawing ideas! Learn how to draw a spooky pumpkin face with these step-by-step instructions.
Conclusion: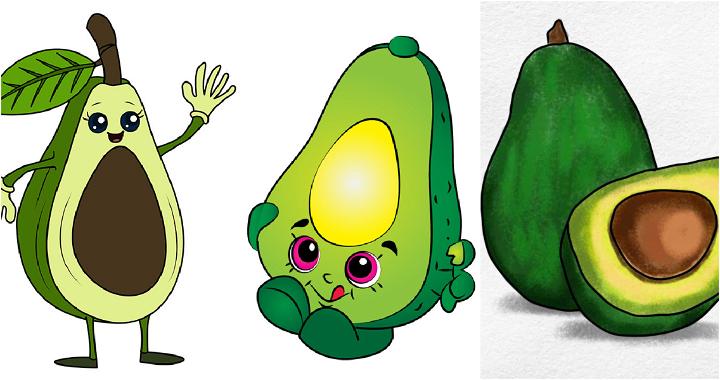 Avocados are so much fun to draw! They have a simple shape and make you go back to the basics of drawings with smooth round shapes and intricate surfaces. So, try out these avocado drawing ideas to build the best base for neat and lovely avocado drawings. Apart from an entertaining activity, drawing these fruits will make you think of memories with these amazing fruits. Why wait any longer? Get started if you haven't already, and have a blast!