Learn how to draw a ladybug with these 15 easy ladybug drawing ideas with step by step simple sketch outline, printables and coloring pages. Cute little ladybugs jumping and flying around the spring or summer season look adorable and are very attractive for the kids. We have compiled different ladybug drawing ideas that include some easy and simple ways to learn to draw these cute little insects.
Their attractive and radiant red color with black dots on the cute little wings make them so lovely to watch that we all want to see them around all year long. The best way is to make a few drawings from these ladybug drawing ideas and put them up here and there around the house wherever you want to add a little more perkiness.
With all the hustle and bustle of life, calming craft projects are a great source of relaxation. So trying these ladybug drawing ideas will give you that sweet experience of sitting down and doing something just for fun. Let the little ones enjoy some fun coloring and drawing projects in a really short time. You can try making a cute ladybug drawing or a drawing that's just for kids of a ladybug.

Don't forget to make a cartoon ladybug drawing and make sure you try a realistic drawing of a ladybug sitting on a leaf. Sketching a ladybug would also be a great idea or get a free pdf file downloaded of a ladybug so that you can learn to draw it easily whenever you find the time.
1. Easy Ladybug Drawing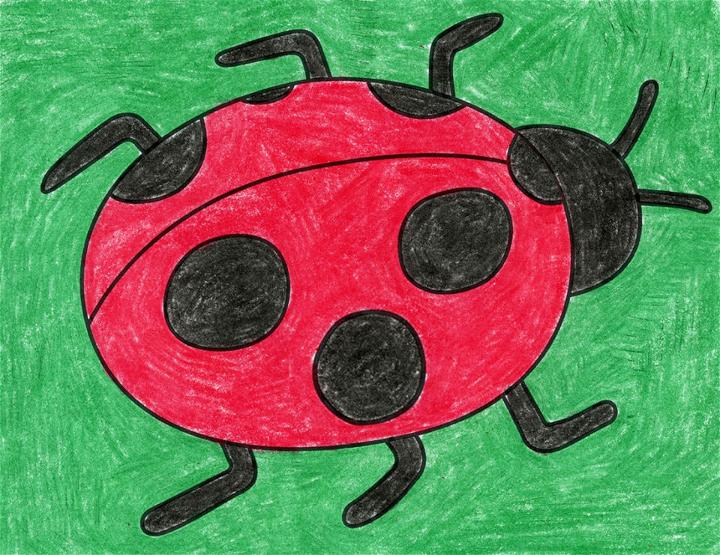 Ladybugs are small sweet little insects that just stay around for a short while before they drift away because of the harsh weather. You can learn to draw these ladybugs in simple ways by following a few steps. Ladybugs have different body shapes but mostly, it has small body with black spots and feathers. Start making your drawing by making dashed lines in both horizontal and vertical directions to use as reference lines. Use an eraser, black sharpie marker, oil pastels, and crayons. artprojectsforkids
2. How To Draw Ladybug Step by Step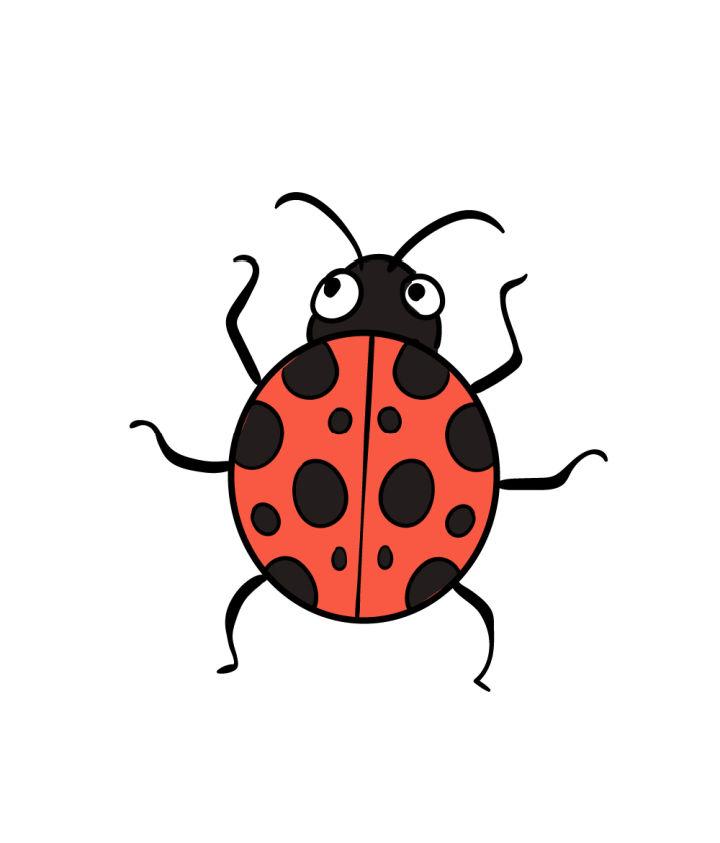 Ladybugs are adorable little insects that have cute patterns on their bodies which make them fascinating for children. You have a chance to learn to draw these cute ladies flying around by following these simple ladybug ideas. Enjoy making ladybugs and coloring them in very interesting ways. Follow the step-by-step guide where you just have to start by making a small round circle or an oval. Divide this round into two halves which will be the feathers of the ladybug. iheartcraftythings
3. Ladybug Drawing for Kids

Children love to play with ladybugs when they come out in summer brightening up the weather a bit more for us. They have striking colors with beautiful spots all over their body making them all the more lovely to learn to draw. They are quite simple even for beginners to make especially if you follow these simple steps. This is a cartoon-like drawing of a ladybug requiring supplies like a printable template, paper, maker of your choice, and coloring supplies. easypeasyandfun
4. How Do You Draw a Cartoon Ladybug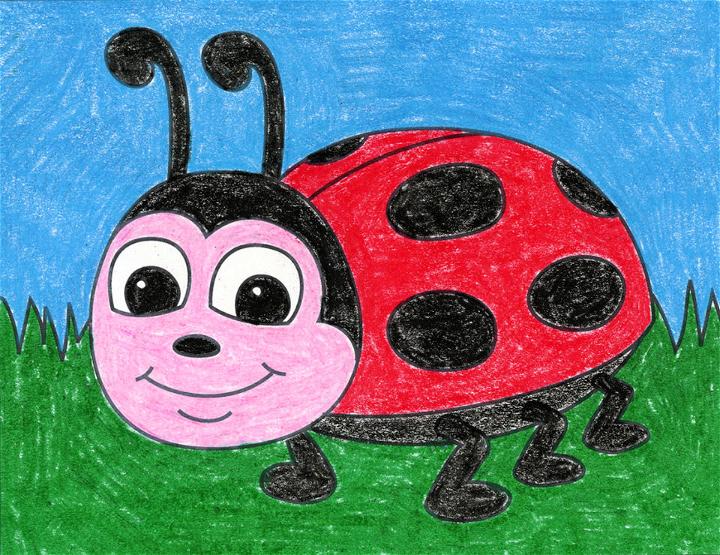 Learn to draw a cute cartoon ladybug drawing in just a few simple steps by following some easy instructions. You just have to draw a few simple shapes and in no time you will be one with the whole drawing of the insect. Ladybugs are everyone's favorite bugs so it's amazing to draw a few bugs and display them here and there in the house. Kids would especially love to see them around in their room so share a few with them too. artprojectsforkids
5. Drawing Of Lady Bug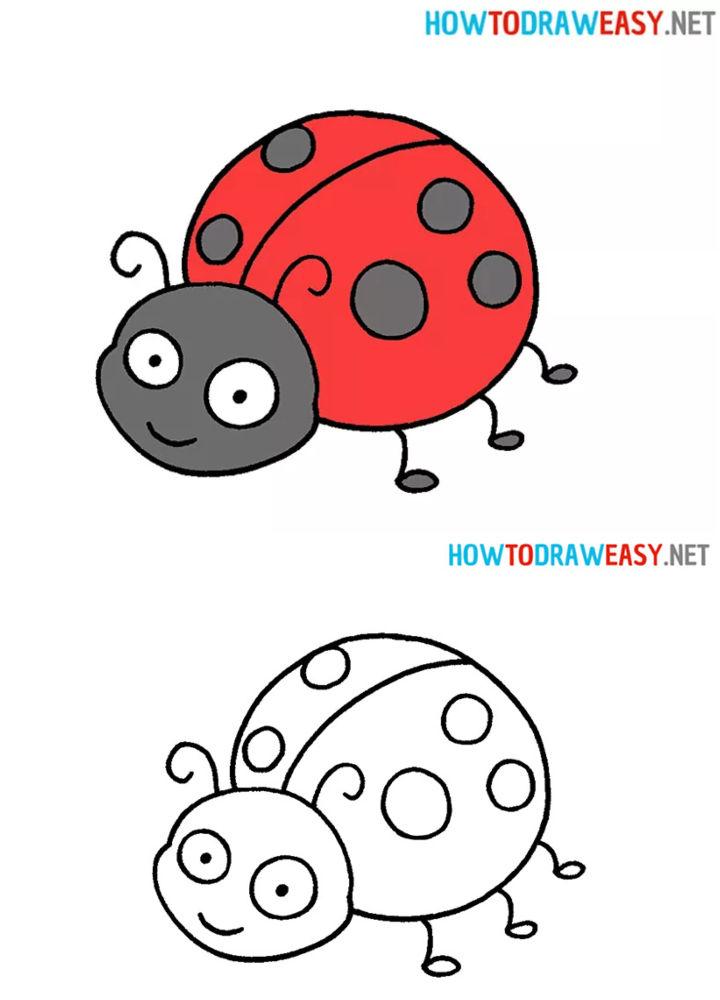 Kids love to run after ladybugs when they are flying around everywhere adding some fun colors to our boring afternoons. Use this ladybug drawing idea to learn to make ladybugs and fill them up with bright colors. Follow some easy and step-by-step instructions that will give you a fair idea of how to draw these adorable little insects. In just 20 minutes make your own drawing and enjoy this relaxing experience. Start by making the head of the ladybug first. howtodraweasy
6. Cute Ladybug Drawing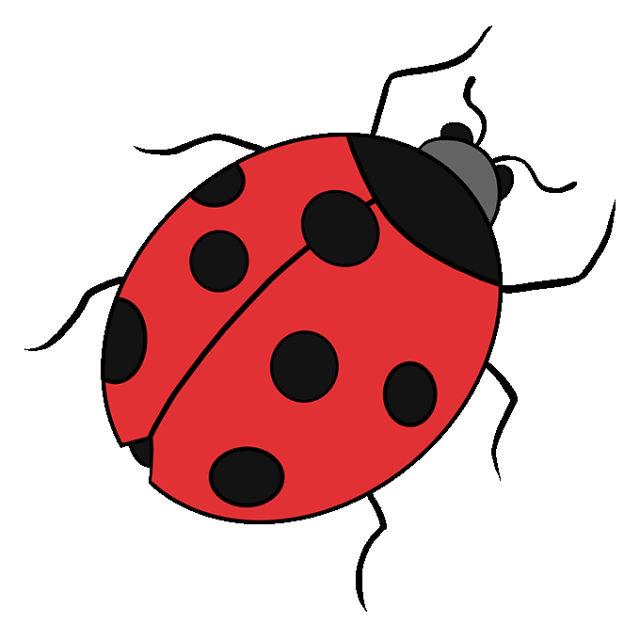 There have been many cute rhymes associated with ladybugs that we've heard so many times. Ladybugs are the cutest most innocent bugs but they could be quite hazardous for different plants and crops. Let's focus on their beauty and learn to draw them using these ladybug drawing ideas. The simple steps of drawing it include making a small oval that will serve as the body of the ladybug. For making the head, you have to make a half-circle onto the oval. easydrawingguides
7. Ladybug On Leaf Drawing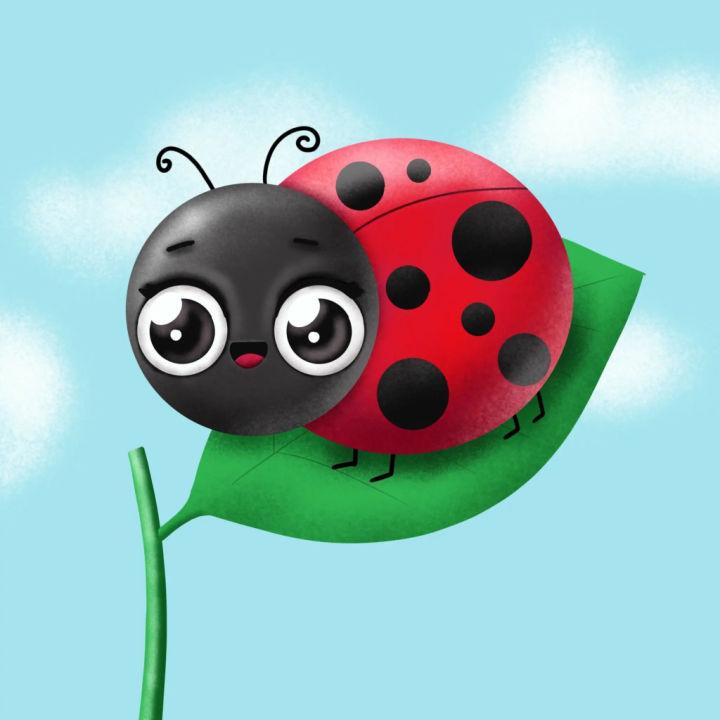 Ladybugs just eating away small leaves but staring at us with huge cartoonish eyes are attractive for almost everyone. You could learn to draw this cute ladybug on the leaf in a few simple steps making it an interesting yet easy drawing project. Kids will especially be excited for this project as they enjoy playing around with these bugs much more than us. If you turn this drawing into a coloring project then there is nothing more than a kid can ask for. busyshark
8. Ladybug Sketch Drawing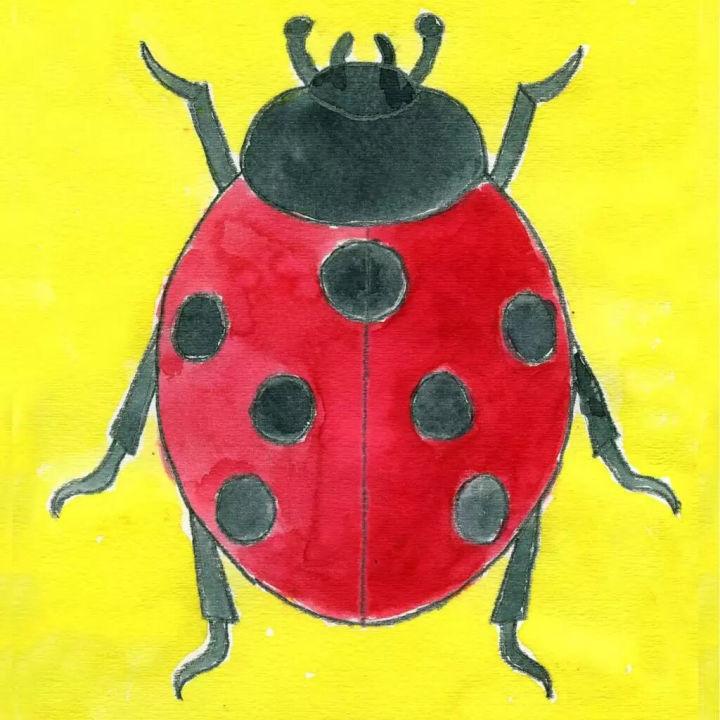 Take out your drawing pad and a pencil to make this ladybug drawing ideas providing you with simple ways of learning to draw them. You just have to break down the whole drawing in simple chunks and make sure that you follow all the steps. You can later color or paint your drawing in red and black and enjoy working on this simple project. It really can be finished in one sitting making you wish to draw just a few more. artprojectsforkids
9. Ladybug Drawing – Free PDF Download

Follow simple and easy steps to learn to draw a ladybug that will be quite an interesting experience for you. The best part is that you just have to whip up a few shapes and you can be done with this project in no time. Supplies needed are pencil, drawing paper, crayons or colored pencils, black marker, and ladybug drawing printable in pdf file. Customize your drawing in any way you want depending upon the size you want by making a circle in the middle of your paper. helloartsy
10. How to Draw a Ladybug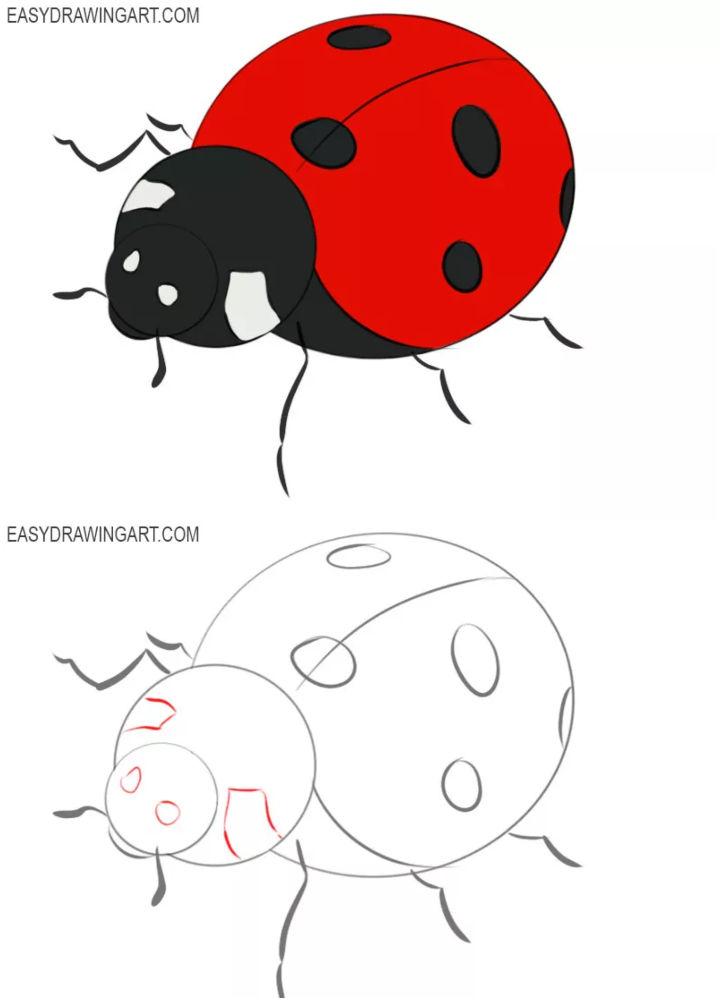 Simple drawings make the best projects as there's nothing compared to the sense of achievement you feel at the end. Learn to make a ladybug by following some simple steps and just a small amount of time. When you start off, draw thin fine lines so that you can erase them later to make changes as you want. Start by making the body of the insect which will just be a small round circle joined by another one for the head. easydrawingart
11. Simple Ladybug Drawing

When a drawing is broken into small pieces it becomes much easier to draw and the end result is quite amazing too. That's why we are sharing these simple ladybug ideas that will help you to draw a ladybug no matter how hard you find it. Simple steps that start by drawing the body of the ladybug with a small circle are just what you need to learn to draw it. Make sure that you use some cute colors at the end of your drawing. dragoart
12. Realistic Ladybug Drawing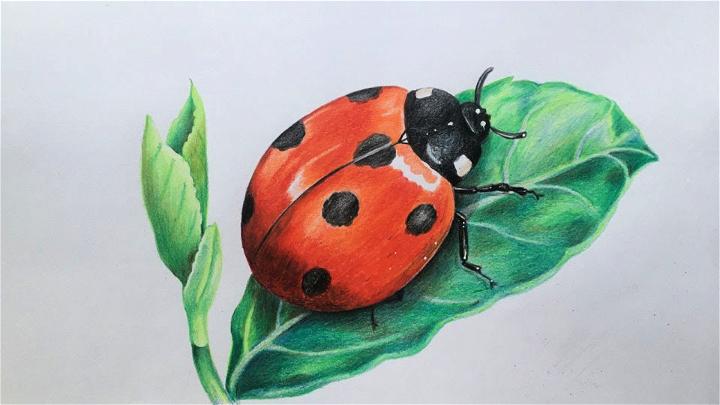 Use simple colors to make a ladybug drawing that everyone will love and appreciate. It will be a small masterpiece for your house if you decide to display it somewhere. You will need just a few supplies like cartridge paper, polychromos color pencil, and an eraser. You can also draw a small leaf on which the ladybug will be resting to make it more realistic and fun. Light shadings added to the drawing will increase its visibility. Use bright colors to color it.
13. Flying Ladybug Drawing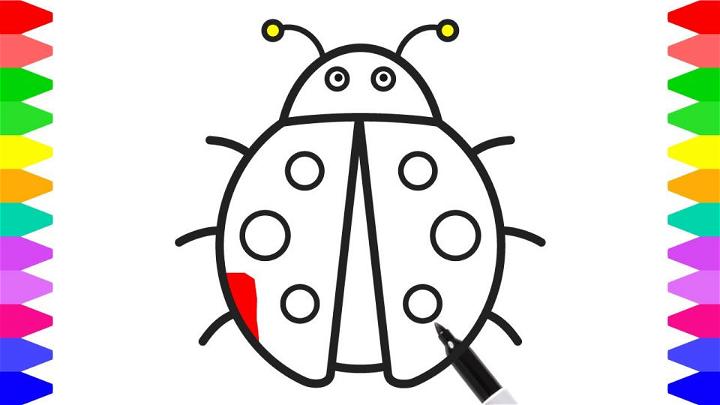 It is so interesting to learn to draw a ladybug as it has the most interesting body with cute wings attached to its head. It's usually seen making short flights here and there on small plants and colorful flowers making them all the way cuter. Kids love to run after them to catch them just to let them fly away from their hands. If you use a marker to draw it, it becomes clearer to the eyes. Color it as you like. youtube
14. How to Draw a Side View Ladybug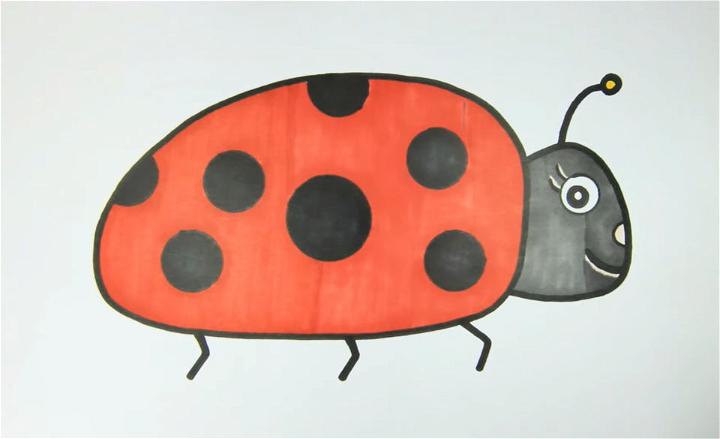 Making the side view of the ladybug makes it more interesting as it will be possible to capture all the spots on its body and the whole insect is visible. Learn to draw a ladybug from its side view in a few simple steps and enjoy making this simple project on a lazy afternoon. Involve the kids by getting them excited about coloring your drawing and letting them enjoy their own creation. You can use any marker or pencil that you regularly use. youtube
15. How to Draw Miraculous Ladybug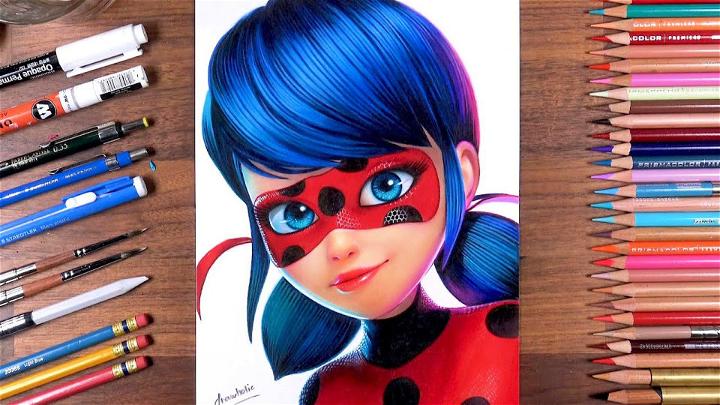 Children really love the miraculous ladybug character featured in a famous movie as she is a superhero doing all the good deeds. Learn to draw this character easily by following this simple tutorial making this drawing fun for you. Make sure that you color this character using ladybug colors to make it exactly identical to the character shown in the movie. Use colored markers to add more clarity to your drawing and don't forget to make the cute hair of this miraculous ladybug.
Related Easy Drawing Ideas:
Get creative with easy drawing ideas! Find helpful tips to draw anything from simple shapes, animals, and cartoons to real people.
Conclusion:
Whether you're a beginner artist or an experienced one, we hope you enjoyed these ladybug drawing ideas. If you want to learn more about how to draw different types of bugs, be sure to check out our other tutorials on our website. We also have a variety of printables and worksheets that can help improve your drawing skills. Have fun with these insects, and happy drawing!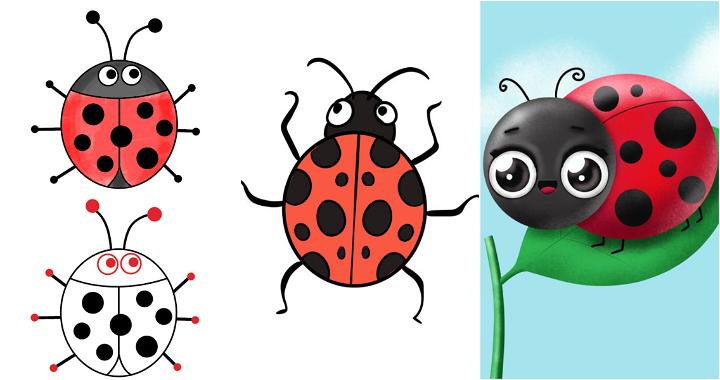 Try your hand at different ladybug drawing ideas which will give you a chance to learn to draw ladybugs in different yet simpler and fun ways. Make these drawings whenever you want to put your legs up to relax after a long hectic day at work. They can be used as fun coloring pages for the children too if you decide to download them and get a few prints that you will be able to use from time to time. Who doesn't want the kids to get busy for a few hours just so you can catch up on a little leftover work? So enjoy having these cute ladybugs in your house no matter which season it is outside your windows.