Learn how to draw a spider with these 25 easy spider drawing ideas with step by step simple sketch outline, printables and coloring pages. Starting off with the training of drawing and coloring for the kids can be quite a task for parents. Children are quite intrigued by spiders so we are sharing a bunch of spider drawing ideas that consist of some easy-to-follow simple steps that can help make a cumbersome task just a piece of cake.
The best part is that whilst working on the drawing skills, children develop many different skills like how to get a good grip on the pencil, and their motor skills also get enhanced. For schoolers and pre-schoolers, how to draw a spider is not something to be afraid of anymore-not the insect but just the drawing part though.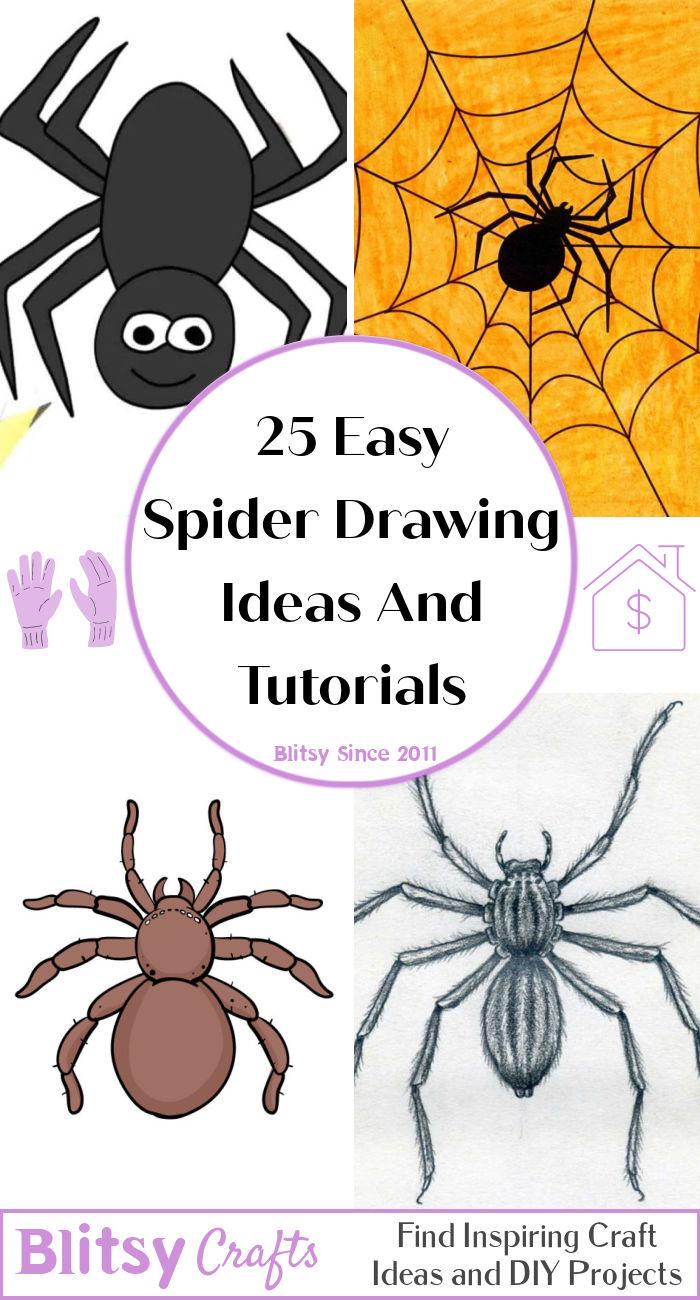 It's quite safe to say that spiders have a divided reputation around the world but drawing them is one skill that is not so perfect and is different for everyone. Here we have a list of spider drawing ideas that include how to draw a cute cartoon spider or learn spider drawing in just 6 steps. You can learn an easy way to draw a spider, learn to draw a wolf spider, sketch a spider or even learn to draw a spider man all done in a few easy steps. Learn to draw in different ways to make learning more fun and enjoyable for the kids.
1. Spider Drawing – Step by Step Instructions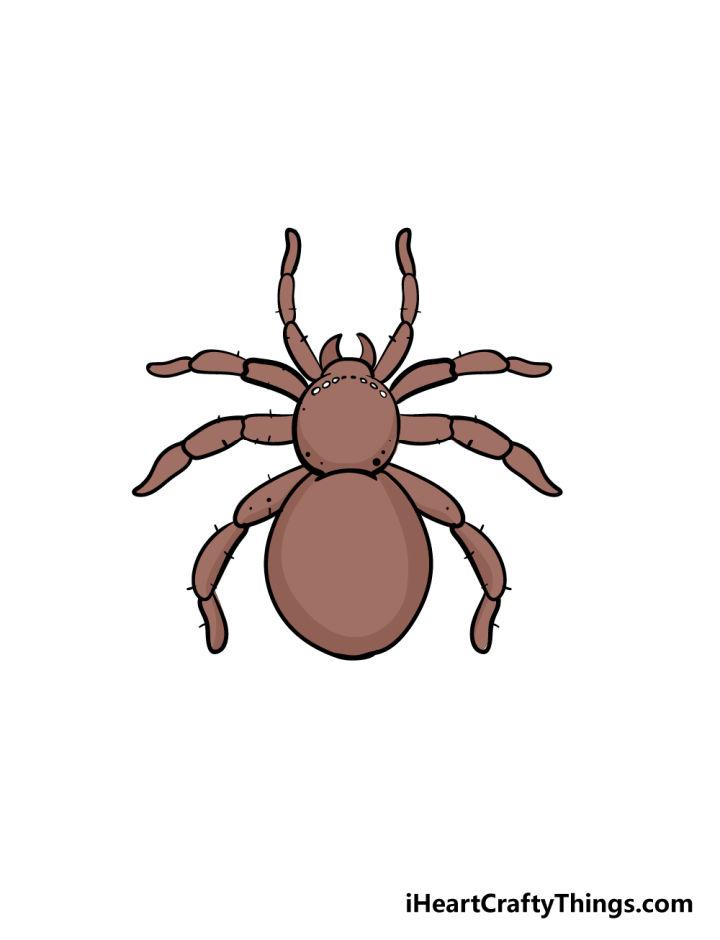 Millions of people all over the world love to keep spiders as pets but many are scared to encounter them too. No matter what it's still fun to learn to draw them and color them using fun colors. Here is a step-by-step guide to learn how to draw a spider that can help you make it in a few steps. You must start by drawing the abdomen as your first step and then move forward to draw the rest of its body. iheartcraftythings
2. Easy Spider Drawing for Kids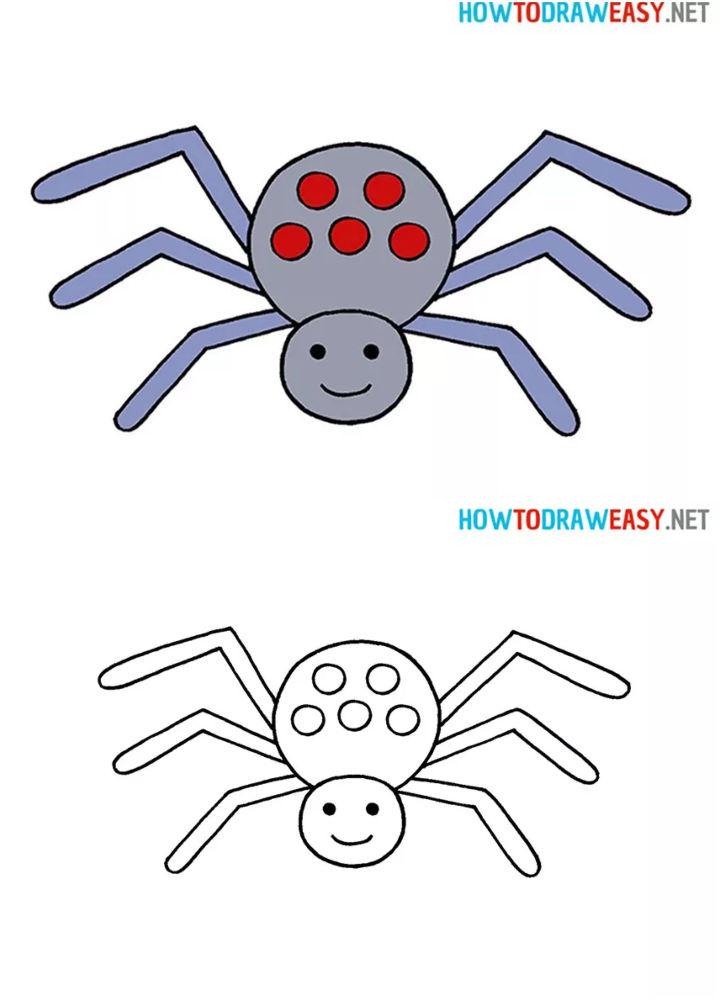 Kids going to school or preschool learn to draw and color for the first time and can get quite overwhelmed by the task. However, they are well aware of the poem incy wincy spider and love the spider in it too. So it's quite easy for them to learn to draw this spider through step-by-step instructions and drawing this insect becomes oh-so-easy. Start by drawing the spider's head and then draw its body. howtodraweasy
3. Cartoon Spider Drawing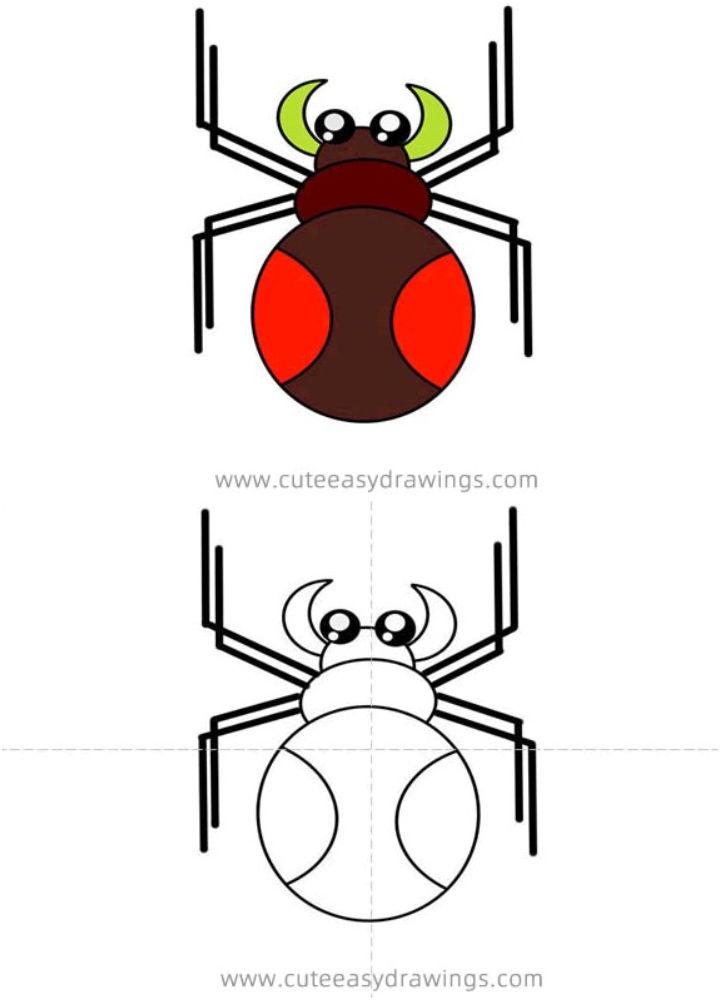 A cartoon spider is such a cute insect with large eyes and an interesting pattern on the body. Children love to see it in cartoons and learn the poems related to it. Drawing a cartoon spider is also quite fun as it can be learned in a few easy steps. Supplies required are drawing a spider pdf file, drawing papers and markers/ crayons, or colored pencils. You can be done with this task in about 30 minutes. cuteeasydrawings
4. Easy Way to Draw a Spider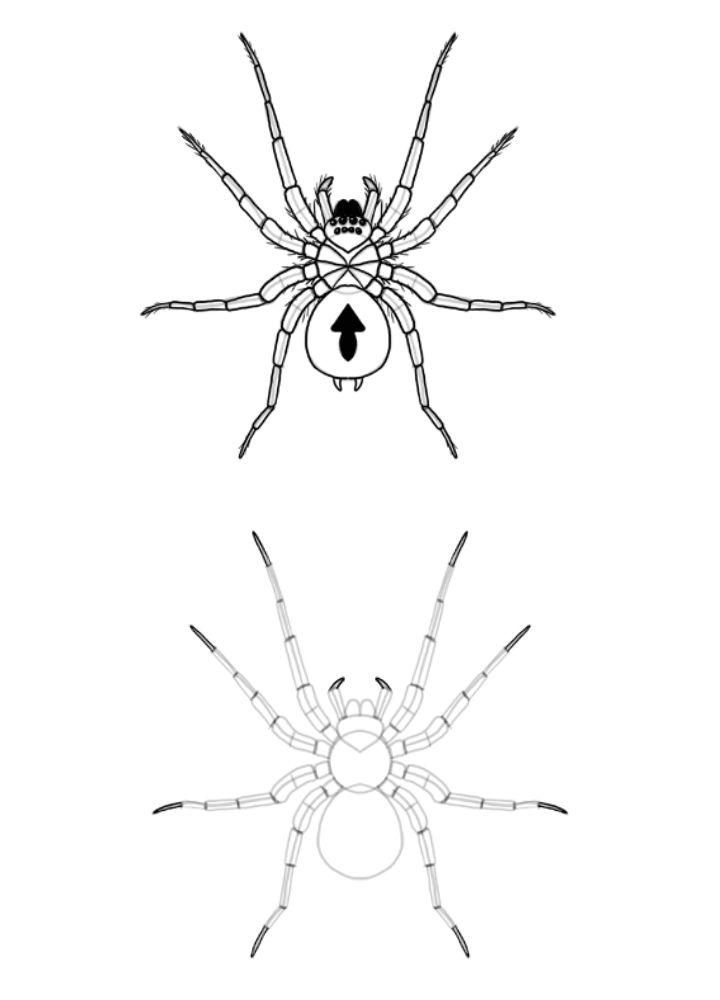 The most popular phobia among humans is arachnophobia-the fear of spiders. A spider resting peacefully on its web is not a threat to anyone so might as well learn to draw it when you can. In a few easy-to-follow steps, you can learn to draw your own spider and color it in any way you want. Start by drawing a circle which will be the torso of the spider towards the abdomen. design tutsplus
5. DIY Spider Drawing in Just 6 Steps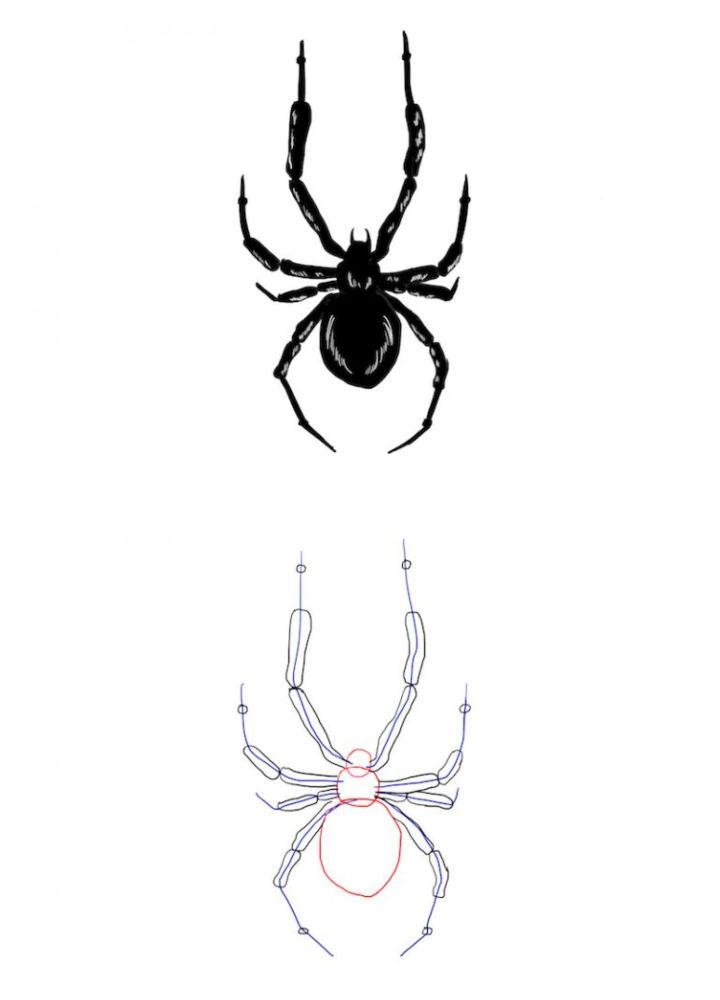 Drawing is the easiest when you are learning to do it in a straightforward way. Learn to draw a spider by proceeding forward step by step and using just a minimum selection of materials. So get started right away and if you include the children they would love to do the coloring for you. Supplies required are an HB pencil, 4 pencils, kneaded eraser, and drawing paper. Make it in gentle strokes for best results. paintingcreativity
6. How to Draw a Cute Cartoon Spider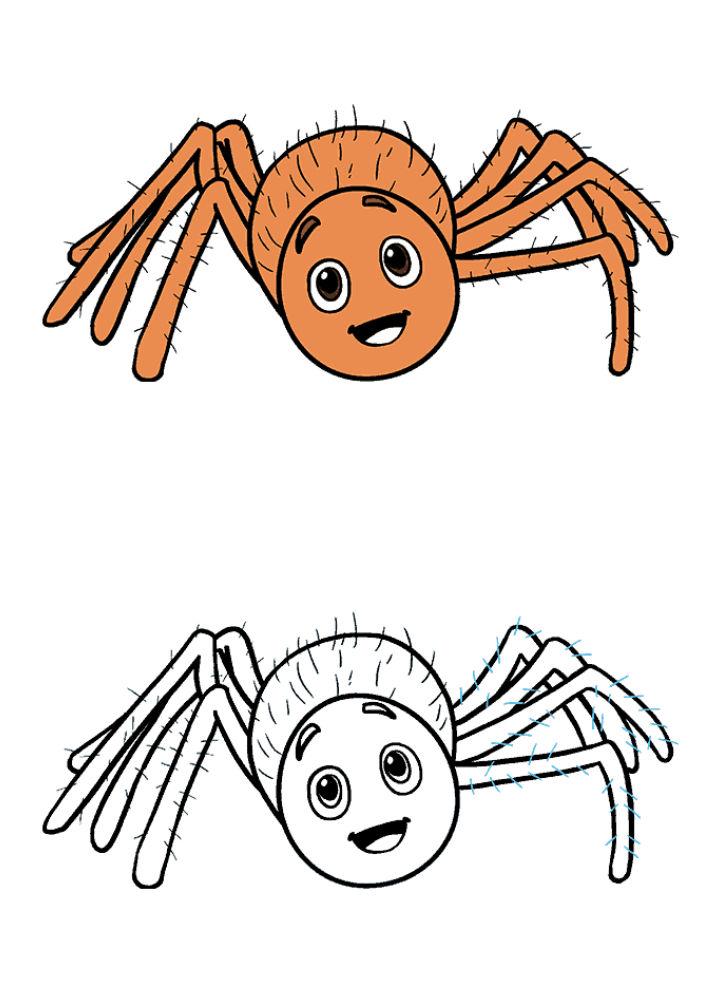 It's a fine saying that wherever you are on planet earth, you are just a few feet away from a spider. They actually live everywhere even underwater so there is no escape from them. Get to learn about them by first trying to draw them which is quite easy too. Cartoon spiders are a part of our popular culture and using a pencil and a piece of paper you can be done learning to draw them too. easydrawingguides
7. How to Draw a Wolf Spider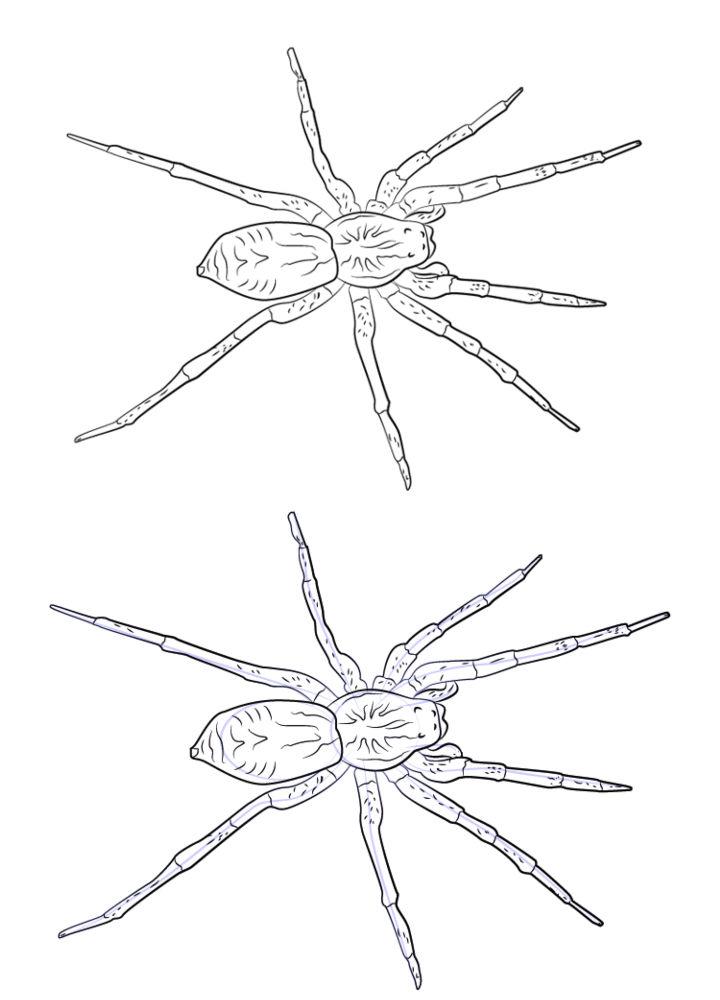 A very agile spider while hunting is a wolf spider and that's how it gets the name wolf too. Learning to draw a wolf spider is also quite fun and following a bunch of instructions gets you done with the task of drawing it. It's merely learning to draw a circle and an oval and the legs are done by drawing random straight lines around the body. Color it and your wolf spider is ready to roll. drawingtutorials
8. Sketch of a Spider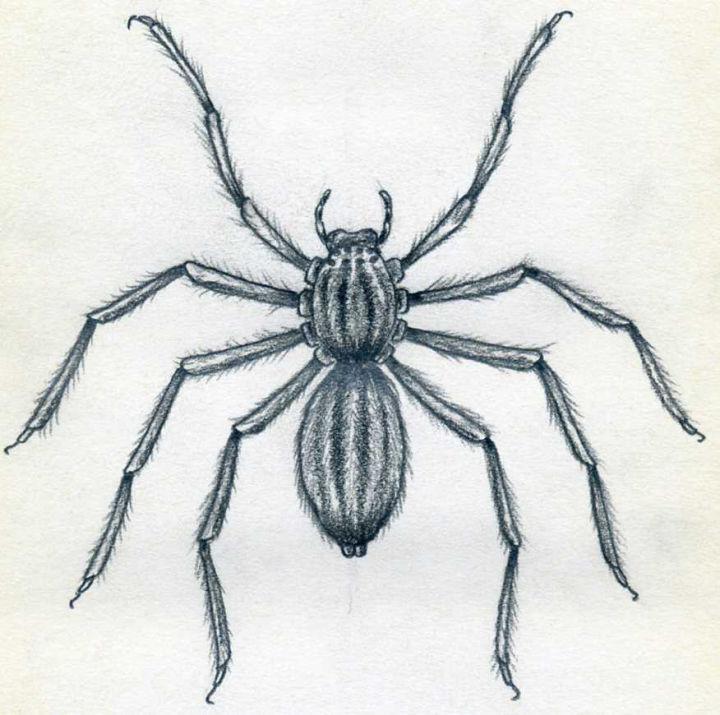 When it comes to drawing, the easiest among the species of insects is a spider. Their body just has three parts-a small head, a big belly, and 8 legs. The only thing that must be kept in mind while drawing it is to keep a proportional balance. The length of the spider's legs must be equal. Learning to draw it is quite simple and can be done in a few steps. .easy drawings
9. Easiest Way to Draw Spider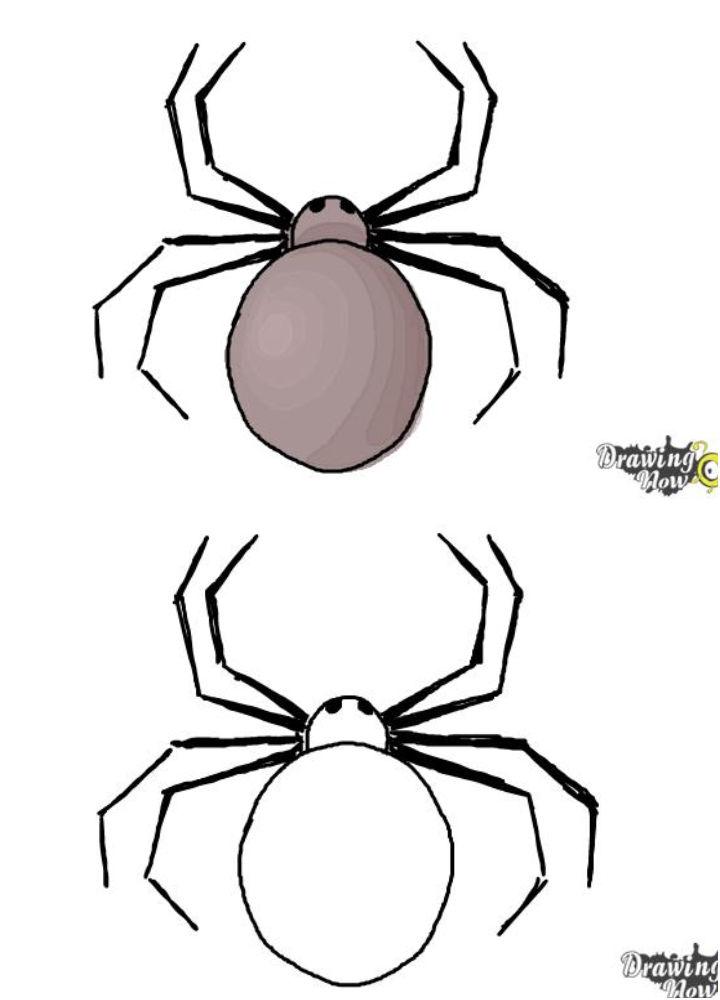 An incy wincy spider going up the water sprout is the first thing that children fall in love with. So spider is probably their first favorite animated character. They would surely want to learn to draw it too so you can go through these simple steps and be done with the drawing. Children can help in drawing the shapes of the head and body and also color it in any color they want. drawingnow
10. How to Draw a Spider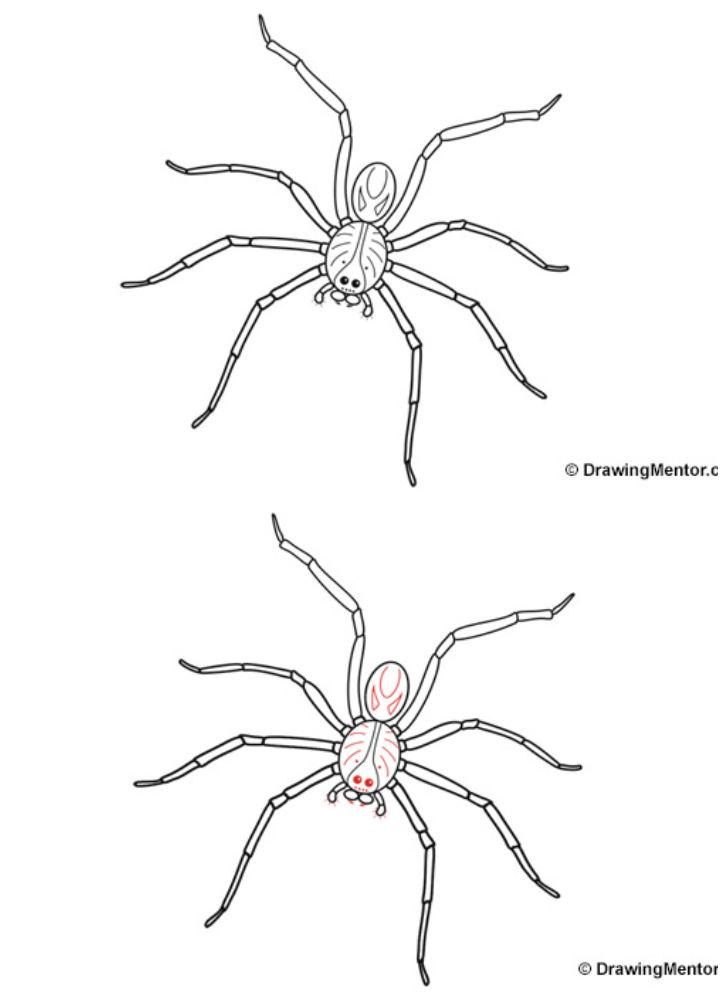 The most interesting species among spiders is the wolf spider and learning to draw it is also quite fun. It has a striking iconic body and looks a little creepy too. The dome is in colors of grey, black, brown, or even tan and has dark patterns or stripes on its body. Even if you are a beginner in drawing, you can draw a wolf spider easily if you follow the step-by-step instructions. drawingmentor
11. Cool DIY Spider Man Drawing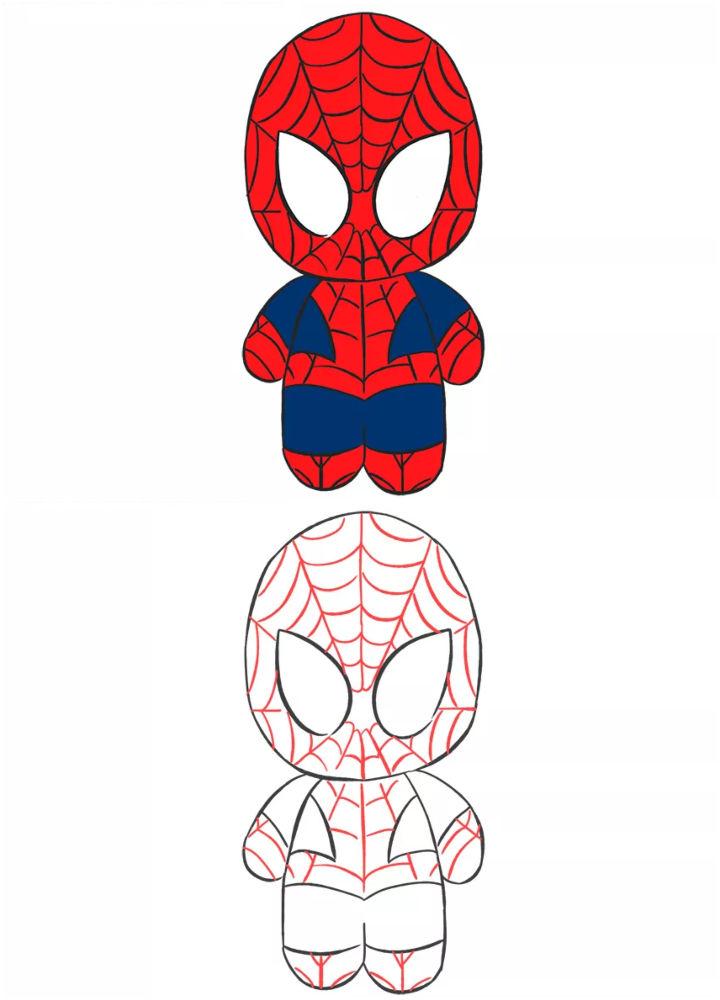 Everybody's favorite character as children or even as grownups is Spiderman. We just love everything about the cartoon and also the movie. It's so great to learn to draw it too and also color it in beautiful red colors just like in the movie. It's so easy to draw it if you do it in steps like starting from drawing the head first to the rest of the body. Your strong and agile character is ready. howtodrawforkids
12. Simple Draw a House Spider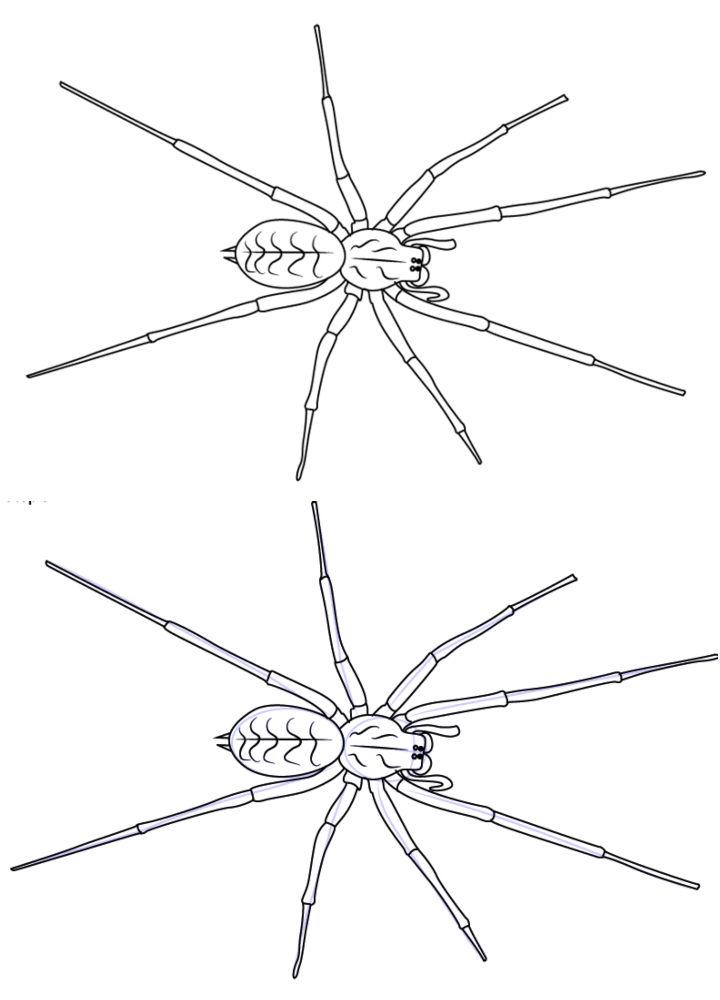 We encounter a house spider almost every day and it's sometimes frightening although most of the time it's quite harmless. It would be so nice to learn to draw a house spider as it's a large-sized insect that builds its web in a sheet-like style. Join two shapes of the circle and an oval to join it with straight lines to draw the legs. It's quite easy to draw it in just a few steps. drawingtutorials101
13. How to Draw a Black Spider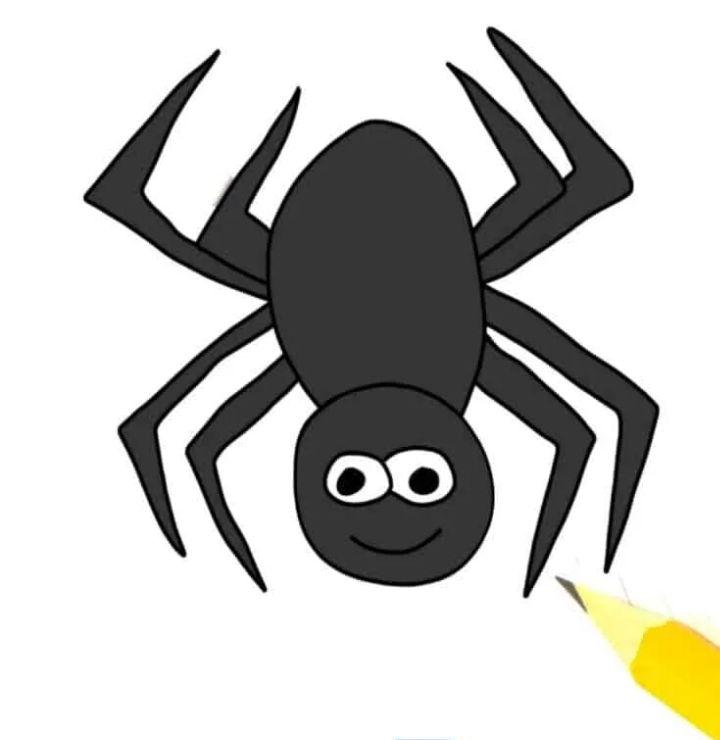 For Halloween every year, we almost always look for drawings that are not so scary but fun and easy all the way. So a spider hanging from its web can be quite handy once you learn to draw it in an easy way and then use it every year. In just a few minutes you can be done with your drawing and ask the children to color it for you to display it anywhere you want for Halloween décor. paperflodesigns
14. Draw Spider King from Paw Patrol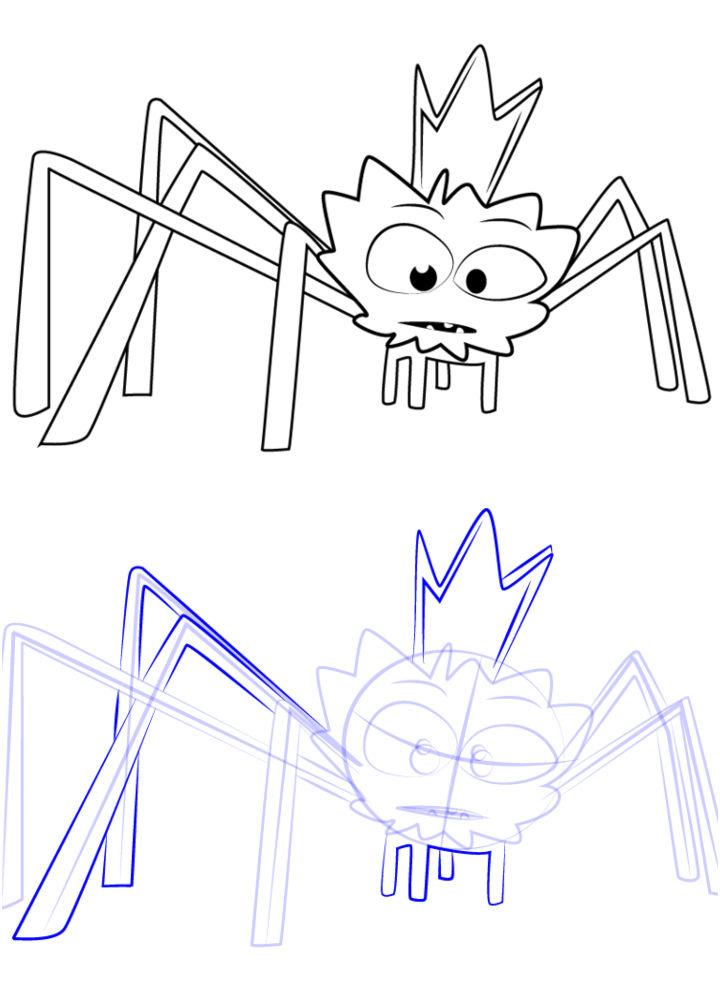 Paw petrol is a very famous cartoon and children watch them all the time. All the characters in it are popular especially the spider king. Learn to draw this spider king in a fun easy way so that children can have some fun in drawing the character and then coloring it in any way they want. Follow a number of a few steps and you can draw it easily even if you don't have expert drawing skills. drawingtutorials
15. Corner Spider Web Drawing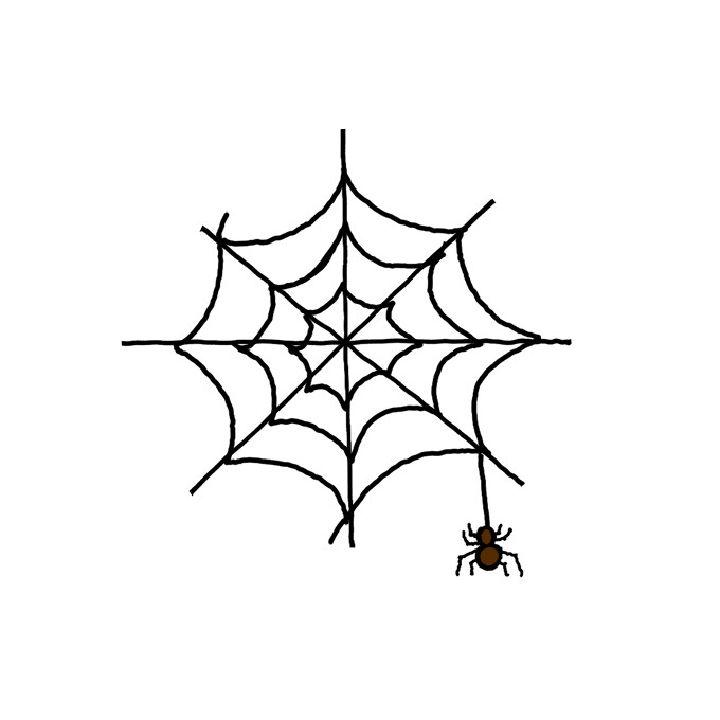 A network of silken thread woven by spiders is very fascinating if you observe it carefully and it's almost impossible to understand the pattern of its beautiful net. Now you can learn to draw this spidery net quite easily by following simple step-by-step instructions and you will draw a net that's not so terrible in no time at all. Start by drawing a cruciform first and then proceed further. drawinghowtos
16. DIY Spider Monkey Drawing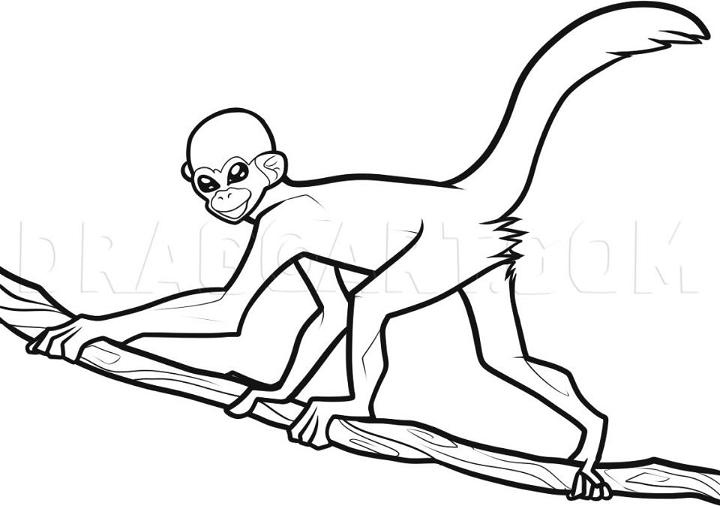 A spider monkey is such a cute animal and gets its name because of its resemblance to a spider. They hang upside down from a tree branch using their tails and the arms and legs are dangling around. You can easily learn to draw this amazing creature of nature in a bunch of simple steps. Start drawing it from aside and make a small circle to draw the head first. dragoart
17. How to Draw Spider Man Logo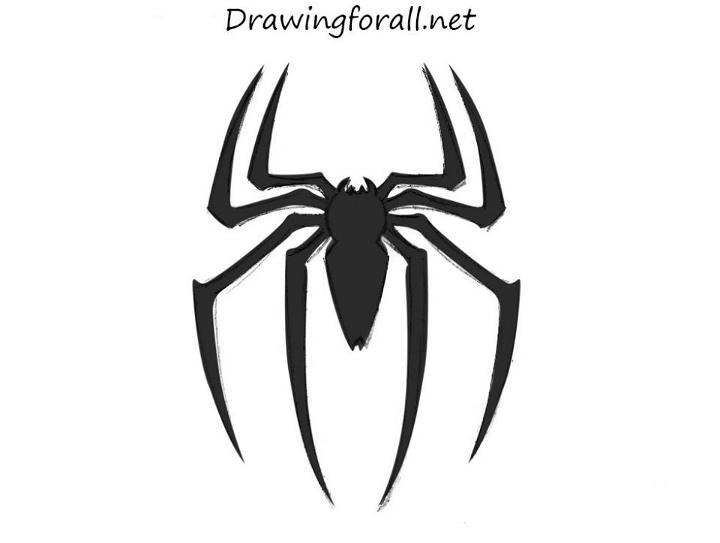 One of the most recognizable characters from the marvel universe is spider man. And everything about the movie and character is much loved including its logo. Learn to draw this logo easily by following simple steps. You have to start by drawing the sketch of the spider first which consists of two parts. A usual circle and a rhombus are similar to drawing a small keyhole. This makes the bottom of your drawing and then draws the rest. drawingforall
18. Easiest Way to Draw Spider Web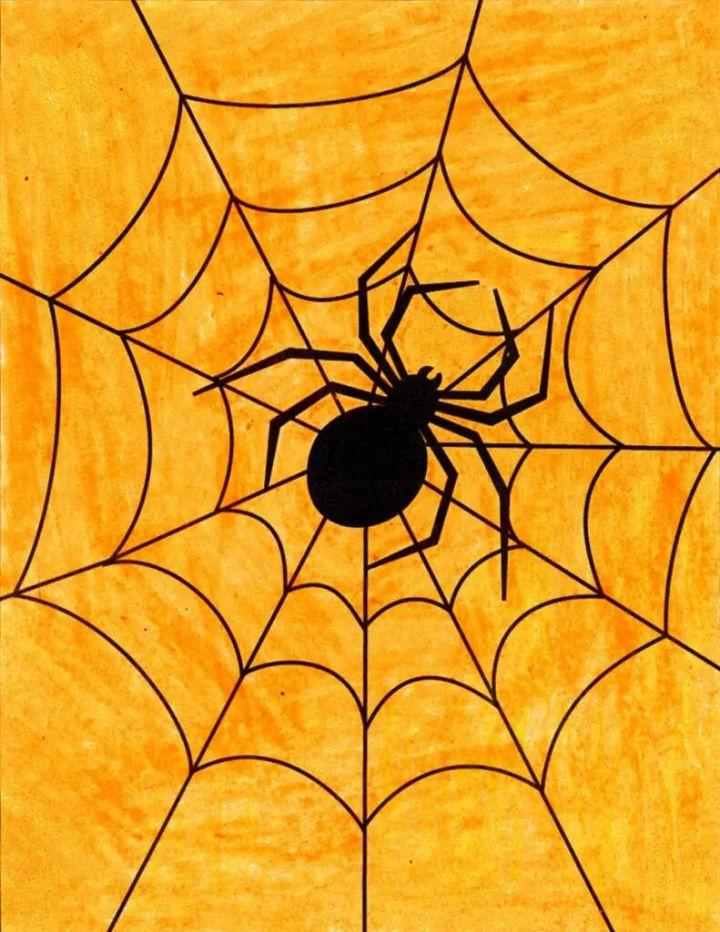 For children learning to draw and color, fun ways are the best way to teach them to make the learning last forever. Spiders are the easiest to learn to draw as children find them very adorable because of their favorite incy wincy spider poem. Learn how to draw a spider sitting on a delicate spider web and let the children use their imagination for coloring it. Create a black silhouette for coloring the background. artprojectsforkids
19. How to Draw a Spider for Kids

Little artists love to learn to draw new things so teach them how to draw a spider in a fun way. Even if they find spiders creepy, drawing it in a simplified version will make it less scary for them. Light and smooth lines must be used for drawing the first few steps and the pencil shouldn't be pressed hard. So start with a circle that makes the head and move towards drawing the body. drawingforall
20. Red Spider Lily Drawing with Pencil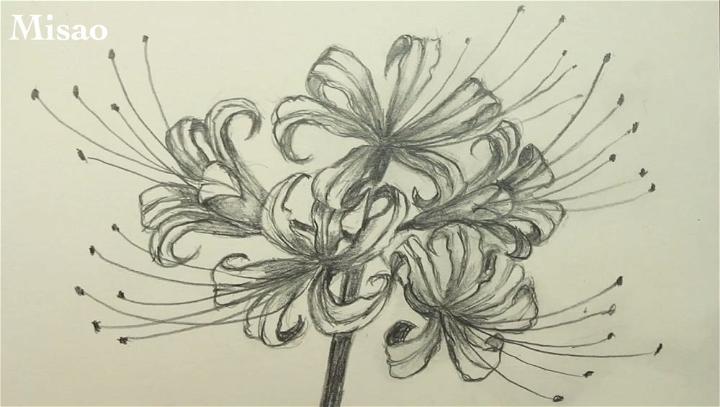 A very beautiful species of flower is a red spider lily. It gets the name because of the interwoven petals of the flowers and long leaves that look like spider legs. Learn to draw this beautiful flower in just a few steps and color it flaming red which will make it look oh-so-beautiful. In under 5 minutes, you can be done with this drawing using just a pencil and ask the kids to join you in coloring.
21. How to Draw a Jumping Spider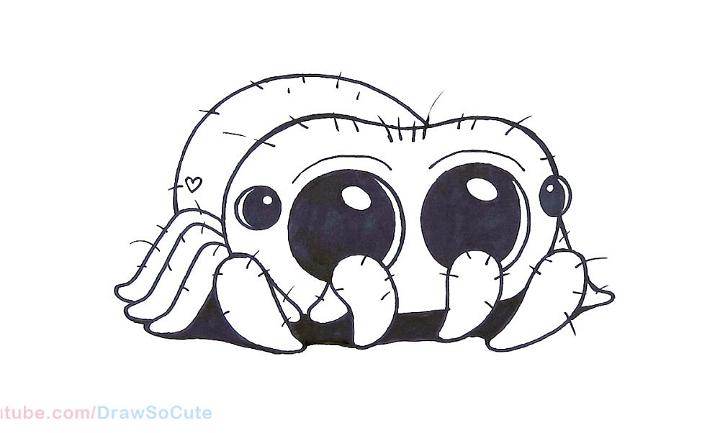 Lucas the spider is a very cute cartoon character loved by children all over the world. Learn how to draw this cute jumping spider Lucas by following some easy steps and you can make it a family activity by asking the children to color it for you. The spider will look super cute especially because of its large eyes even if you are not a big fan of having spiders around, you will love to hang this one around.
22. Draw Spider Plant in a Pot

A simple and beautiful piece of art done effortlessly is what everyone wants as a project. In just a few easy steps, learn how to draw a spider plant in a pot. The long leaves give it the resemblance of a spider and after coloring, you can frame it and hang it anywhere you want around the house or outside in the garden. Paints or sharpie markers can be used for coloring your spider plant and enjoying your artwork.
23. How to Draw Cartoon Scary Spider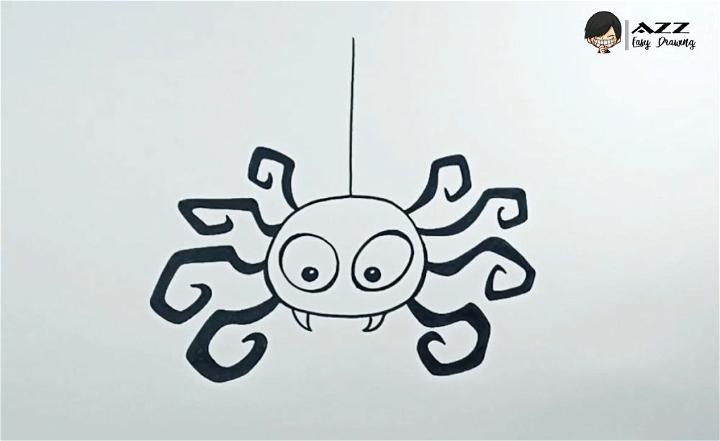 Scary spiders are seen in cartoons all the time but they look more cute than scary if you ask the children. Learn how to draw a scary cartoon spider with large hanging eyes. You can do it in a few steps by first drawing the round head of the spider with large protruding eyes and then drawing the rest of its body. You can make the legs scary by making twists in them.
24. Realistic Spider Drawing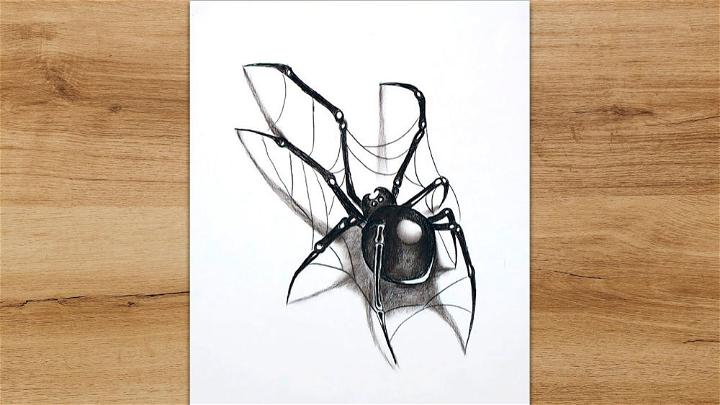 A realistic spider is one that you can use for Halloween décor quite easily. Since it won't be possible really, you can make a realistic spider drawing. And hang it around the house or on the entrance to scare the little ones and have some fun in Halloween celebrations. Color or make shading in your drawing to make it look adorable and more real. Learn to draw it in a step-by-step tutorial and be done in a short time.
25. Easy Way to Spider Drawing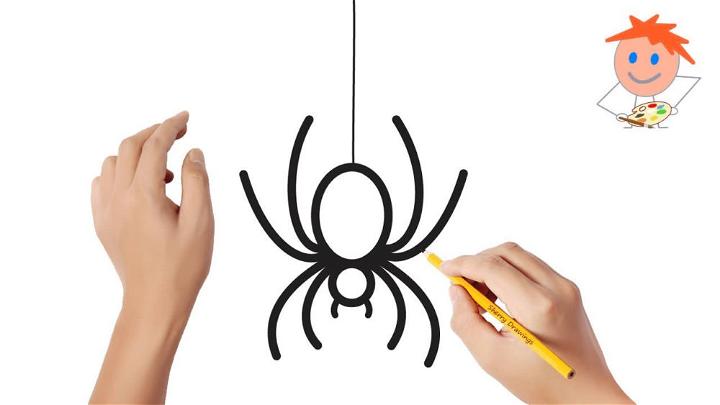 An easy way to make a spider drawing can come in quite handy as you can make it first and then teach the little ones who are just getting started with their drawing and coloring journey. Make it easy and more fun so that the motor skills and coordination of the children can be improved. They will love to join you and will surely enjoy the coloring. Make a small line at the spider's web to show it hanging from its web.
Related Easy Drawing Ideas:
Get inspired with these easy drawing ideas and create amazing artworks. Find step by step tutorials for all skill levels!
Conclusion: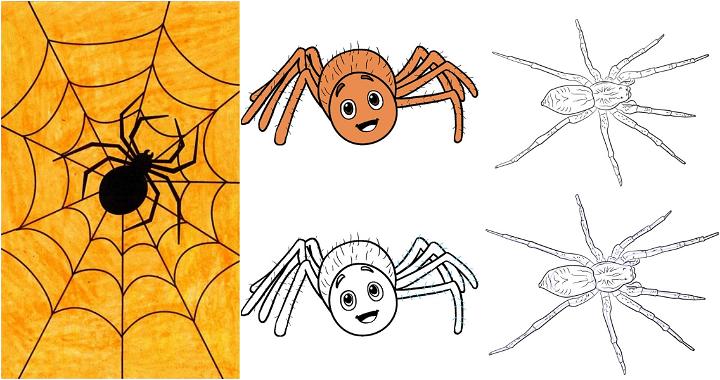 It' time to face your fears and instead of being scared of these eight-legged creatures, you can love them enough to learn to draw them. Spider drawing ideas can help you in drawing your very own creepy arachnid in no time and the children can be a part of this fun learning journey too. You just have get your sketch pencils out to start making these amazing but creepy animals on your drawing pads. Children would love to join you in drawing and coloring to get their learning started but not in a boring old fashioned way.