These DIY Folding tables are space-saving, easy to fold and will add a beautiful furniture piece to your tiny home, apartment or traveling camper. These 25 super easy DIY folding table plans will help you to get some extra dining space without losing a single square foot of your space. The best thing about the DIY folding table is how you can customize them with your own designs and at cheaper rates. However, buying a new table or hiring someone to make it for you could cost a lot, yet you do not get exactly what you look for. The perfect solution to this problem is building a DIY folding table easily at home with full instructions and a few supplies. You must choose a plan that suits your home decor and fits your space area, and can be folded when not in use.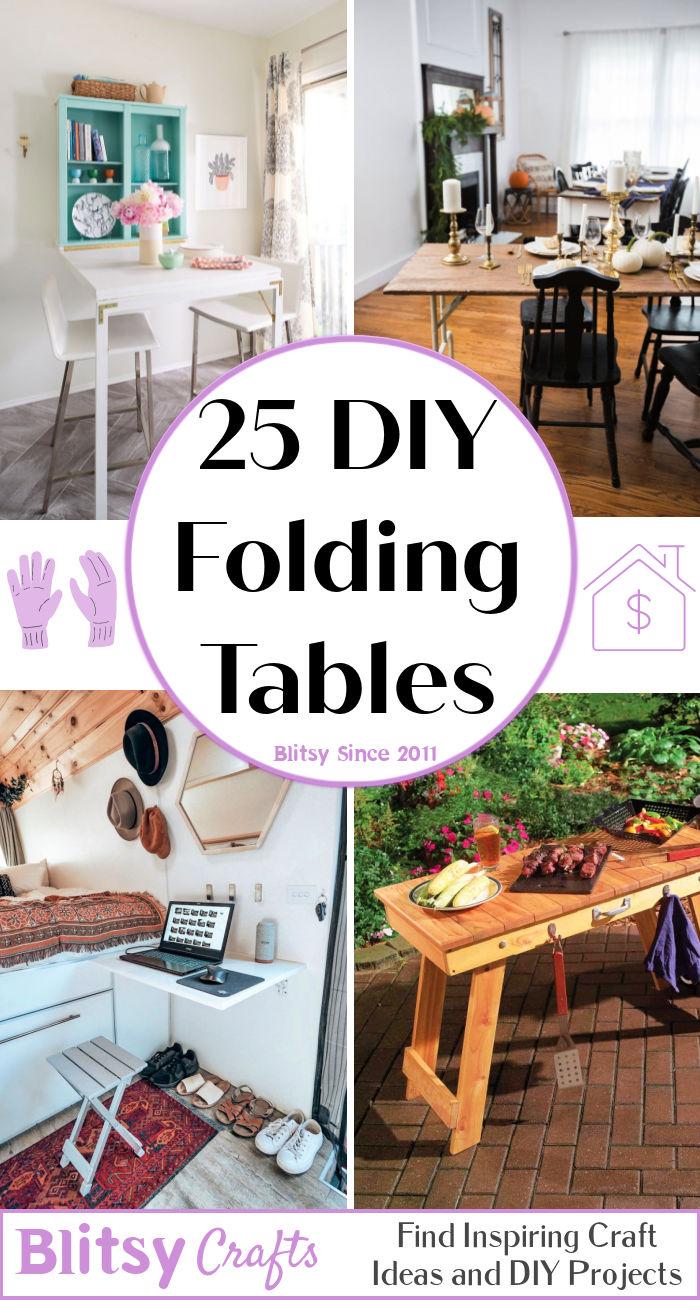 Learn how to make a folding table by following these 25 inexpensive DIY folding table plans with detailed instructions and a pdf guide. We have curated a list of beautiful and easy DIY foldable tables that you can make use of at home or even carry around anywhere, even while heading out for a picnic! While this article is a comprehensive guide that you'd surely find something you desire here and simple instructions on how to make it along with their necessary supplies and tools. You do not need to be a pro at woodworking for these easy folding table plans. So, take your time and go through the list of DIY folding tables we have mentioned below. Feel free to pick out your favorite folding table which suits your budget and space the best.
1. Build A Folding Adirondack Table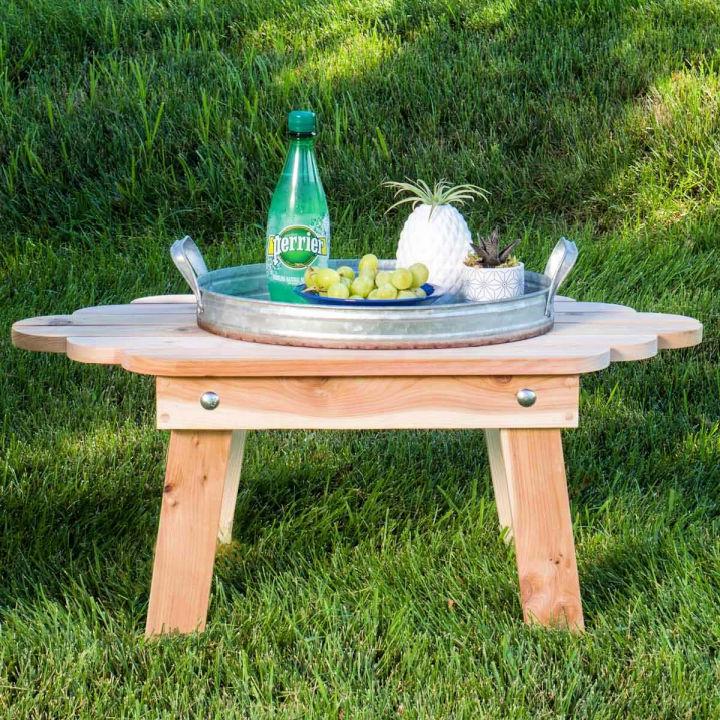 Spruce up your poolside or patio lounge area with this DIY folding Adirondack. It is the perfect thing to pair with your deck. This DIY folding table plan is a great choice for summers where you can rest some cold beverages and snacks. The supplies you're going to be needing for this are a ⅜ plug cutter, Brad nail gun, clamps, drill press, drill/driver, jigsaw, and miter saw. familyhandyman
2. DIY Folding Craft Table Or Foldable Desk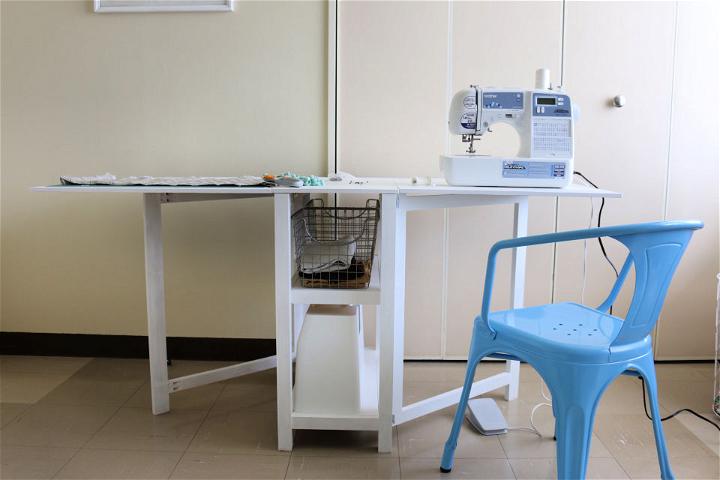 Make your own workstation at home by building this cute DIY foldable craft table, which can be also be used as a great study table. It is perfect for keeping your art supplies, notebooks, and craft collection. This can also be great for all those ladies who love to sew, where you can put your sewing kit and get to work! The best part is that it is space-saving; it can be folded when not in use. The supplies required for this cute table are plywood sheets, pine board, dowel, door hinges, corner or L-shaped brackets, furniture feet sliders, door stoppers, screws, and edge banding tape. remodelaholic
3. Wooden Fold Up Grill Table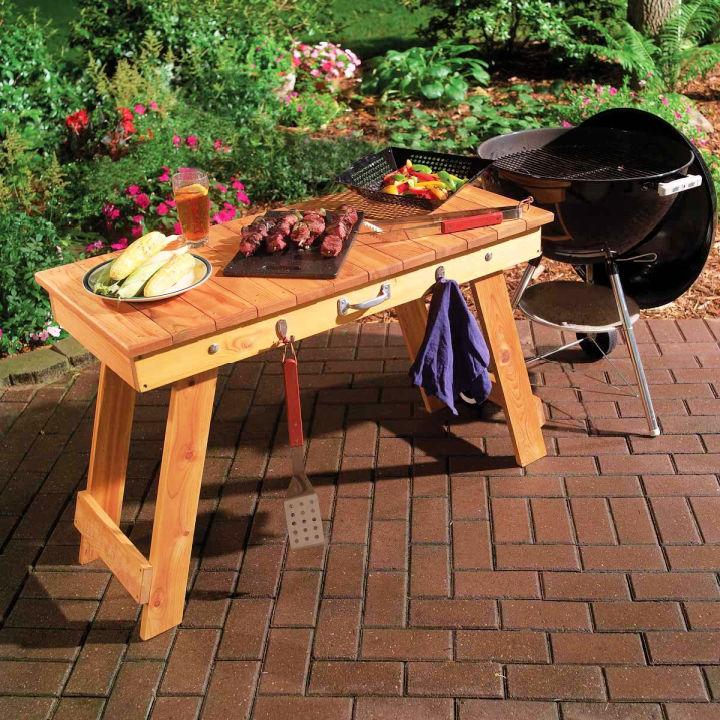 Do you also love outdoor barbecues? But don't have enough room in your garage? Well, no worries, because we won't let you compromise on the barbecue. This DIY foldable grill table will be your best friend when it comes to a good grill with your friends. Fold it up after you're done, and it won't use up extra space! All you need to build up this foldable grill table is a drill, a saw, a stack of cedar boards, and some hours to spare. familyhandyman
4. DIY Wall Mounted Folding Table

If you have a small house or apartment, finding the space for a kitchen table or a dinner table is difficult! So, for this reason, we have this DIY wall-mounted table here which folds down as a double desk is perfect for you to make! It can be used as a desk, so get creative, play with colors and customize this table however you like it; you can also keep this table in your bedroom. When not in use, it folds up as a cabinet as well, which is super amazing. To make this all you need, some materials like hinges, plywood, screws, and paint can easily be found at any hardware store. bhg
5. How To Make A Folding Camping Table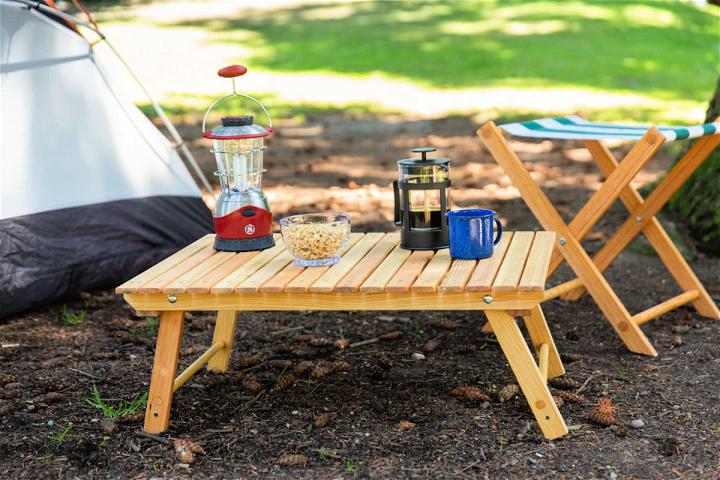 We all know how hectic it can be when it comes to packing stuff for camping. Carrying heavy furniture is the last thing you'd want to do. Well, that will no more be a problem as we introduce to you the perfect DIY foldable camping table, a great companion for your camping trip, and it is also super lightweight! It can hold all your favorite snacks and drinks, as well as your camping essentials. The supplies you will need to build this table are hemlock, hemlock double bull nosed stop, birch dowel, carriage bolts, stop nut, flat washers, screen door pull, and neodymium magnets, teak oil, screws, and flathead wood. diy dunnlumber
6. How To Build A Large Collapsible Table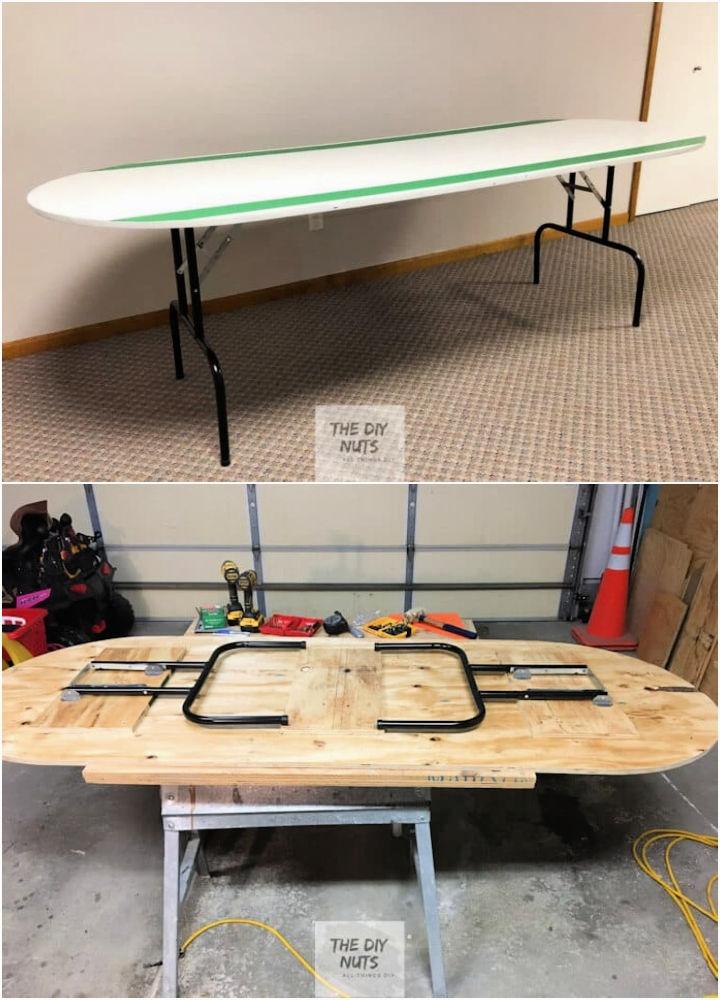 Are you short on space and looking for extra space to do your daily chores? Then this DIY large folding table is all you need. It can be used as a slab to iron your clothes, play your board games, or even sit around for a chit-chat. You can decorate it according to the theme of your living room, and it can be used as an exquisite coffee or tea station in the living room. The supplies you need to build this table are a circular saw, jigsaw, wooden yardstick, tape measure, cordless drill, cordless screw gun, paint roller, paintbrush, straight edge/level, drywall sander, sawhorses, electric sander, or sandpaper and block, drywall towel, 1 ¼ inch screws, painters tape, drywall sandpaper, and CDX Plywood. thediynuts
7. DIY Folding Umbrella Table Design

Are you also someone who keeps looking for creative and unique diy folding table ideas for home decor? Then, this DIY foldable umbrella table is what you need to try next! It can be used as a perfect coffee table for your rooms to keep cute wooden coasters on it or any of your daily essentials. You can also keep your photo and favorite quotation frames as a perfect statement table in your home. All you need is wood, 2-½ in ¼-20 bolts, 9 washers for bolts, nuts, sliding door locks, butler tray hinges, old beach umbrella, poplar dowel, and oil. instructables
8. DIY Murphy Table For The Tots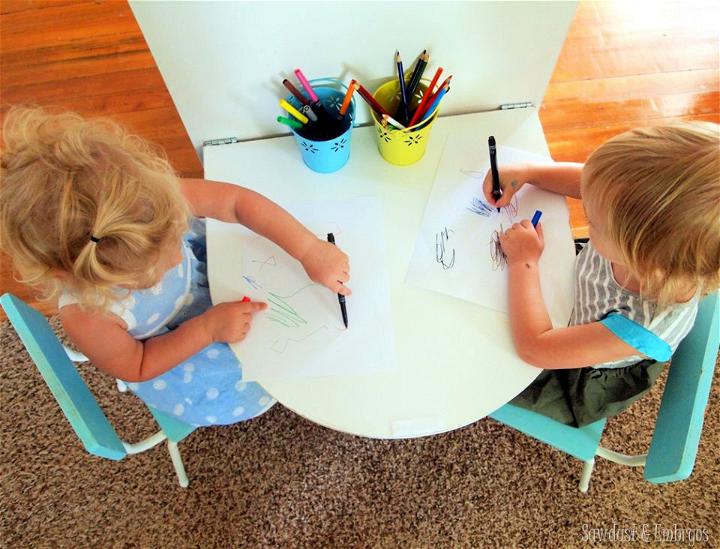 We've all heard how handy Murphy tables are, right? Then let's try this DIY Murphy table plan which is perfect for toddlers! Paint and decorate it however you like. It's great for children to sit and draw, do their crafts, and even have their snacks. It can also be used to keep your everyday stash when you're in a hurry, and what's better than a table that folds when it's not being used. The supplies and tools you need to build your table are a circular saw, jigsaw, plywood, paint, drill, pilot holes, screws, and scotch indoor fasteners. realitydaydream
9. DIY Fold Away Desk from 2x4s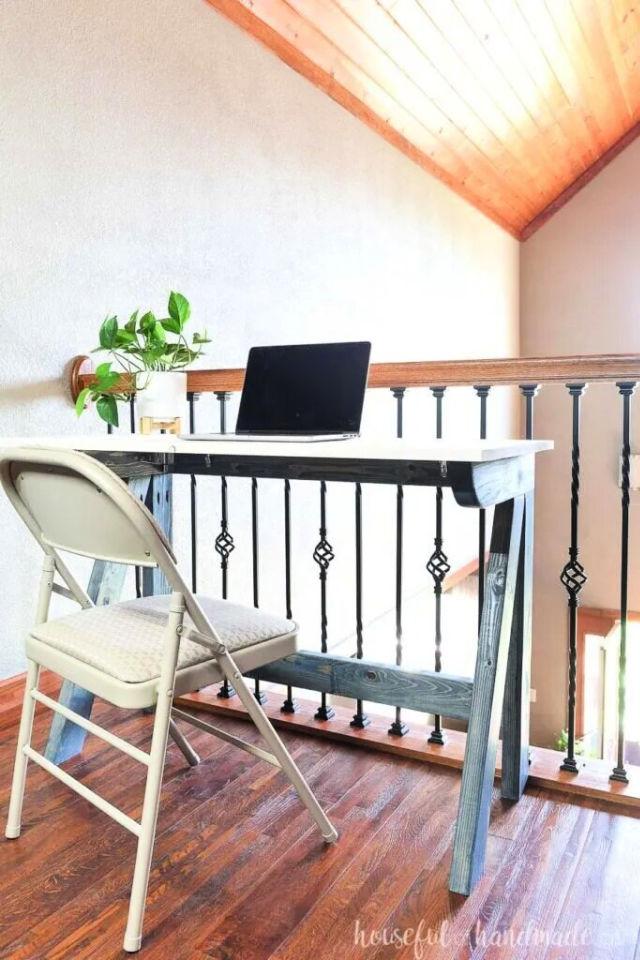 If you also suffer to find workspace in your home, this DIY fold-away desk will be a lifesaver. It can be used to rest your laptop or desktop on it and get productive! It is also great for teenagers and students to complete the bundle of assignments they've got, keep a study lamp, your books, and a cup of coffee to create just the study aura that you need. This table will also come in handy for all the fashion designers who love to sew and stitch their own clothes. Certainly, the best part is that you can fold it and keep it away or carry it wherever you go, a portable workstation! Cool right? The supplies you will need to make this table are wood, Kreg jig, screws, plywood, glue, paint, and T hinges. housefulofhand
10. Farmhouse Style Folding Table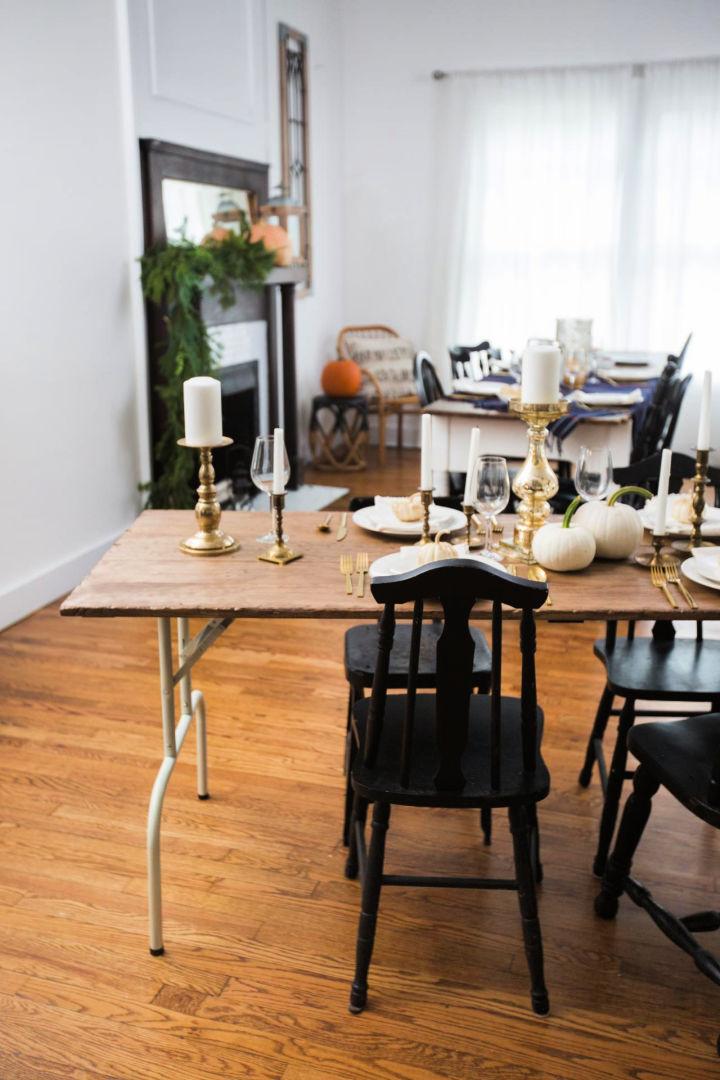 Are you planning a vacation getaway with your family? Well, of course, you're going to be needing a table to dine on, and no one likes carrying a large plastic table with them. Here we have the perfect plan for you! Build this DIY foldable farm table, which is perfect for family dinners and discussions. It's also a very nice option when you all want to sit together and play some board games. Moreover, it can also be used as a great television top to have a movie night. Decorate it with some vases and indoor plants etc. The supplies you need to build this foldable masterpiece are pine boards, tape measure, wood screws, drill, hammer, screwdriver, screws, palm sander, and foldable table legs. hgtv
11. How To Make A Folding Side Table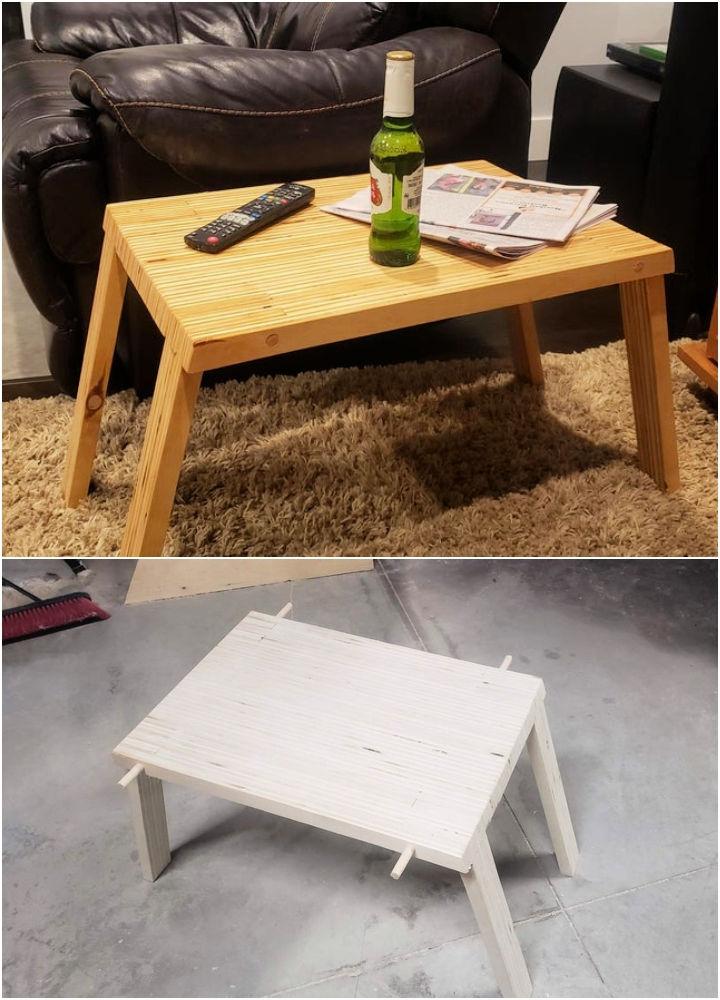 Are you looking for a perfect side table, which can also be carried around? Then you need to try this DIY side table. Keep it by the side of the bed, and place a fancy table lamp to give it a new look. You can also place it in your living room. Or even in front of the television to keep your snacks and drinks, or just as a footrest. Paint it according to your taste, and place it in that empty corner of your house. You can also put some fancy vases and artificial flowers on them to spice things up. Its length also benefits the kids, who can sit around it to do their crafts and chores. The supplies needed to build this table are a table saw, jigsaw, miter saw, belt sander, drill, clamps, hand saw, hammer, and sandpaper. instructables
DIY nightstand: Find a selection of the most affordable DIY nightstand ideas here to invite you to take on an epic DIY project. are you ready?
12. DIY Folding Farmhouse Table From Reclaimed Wood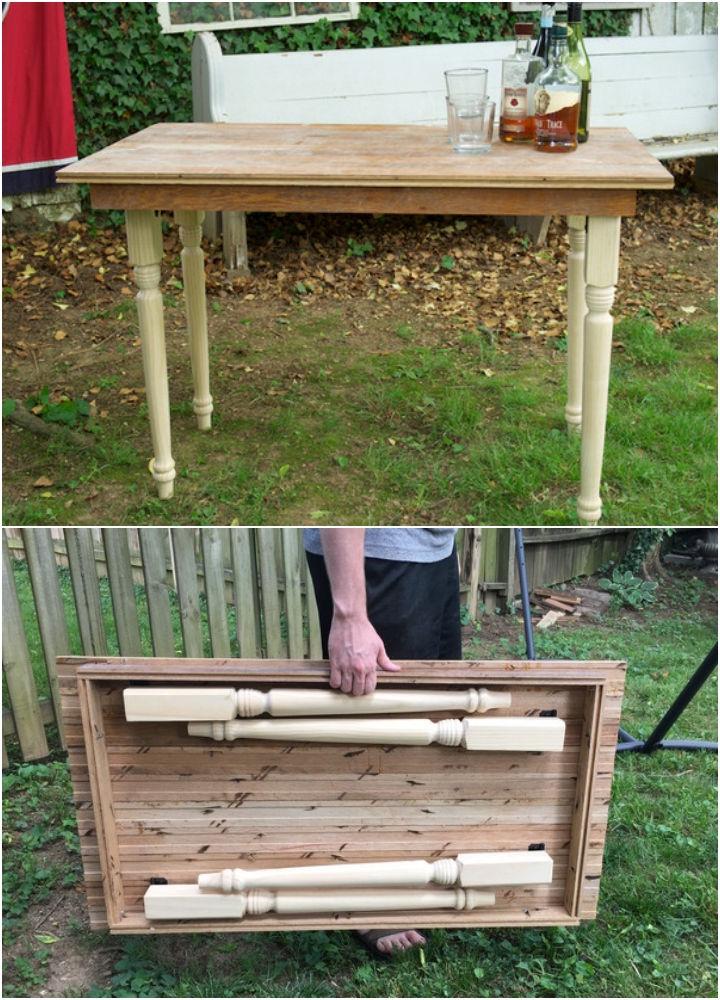 Do you also have a space in your living room and constantly looking for ideas to fill it up? No worries, we've got your back! Build this DIY folding farmhouse table, which will prove to be the most elegant piece of your living room. Place it under a wall mirror and use it on a console table. Keep cute table mats, candles, and decoration pieces to make it more attractive. Moreover, it can also be placed in your bedroom as a vanity table. Other than that, it is a perfect dining table for family and friends to get together. The best thing is that you can make this table out of reclaimed wood! The supplies that you will need to build this table are reclaimed flooring, ornamental gate hinges, spun legs, pocket hole drilling kit, screws, wood glue, and nail pullers. manmadediy
13. DIY Industrial Folding Table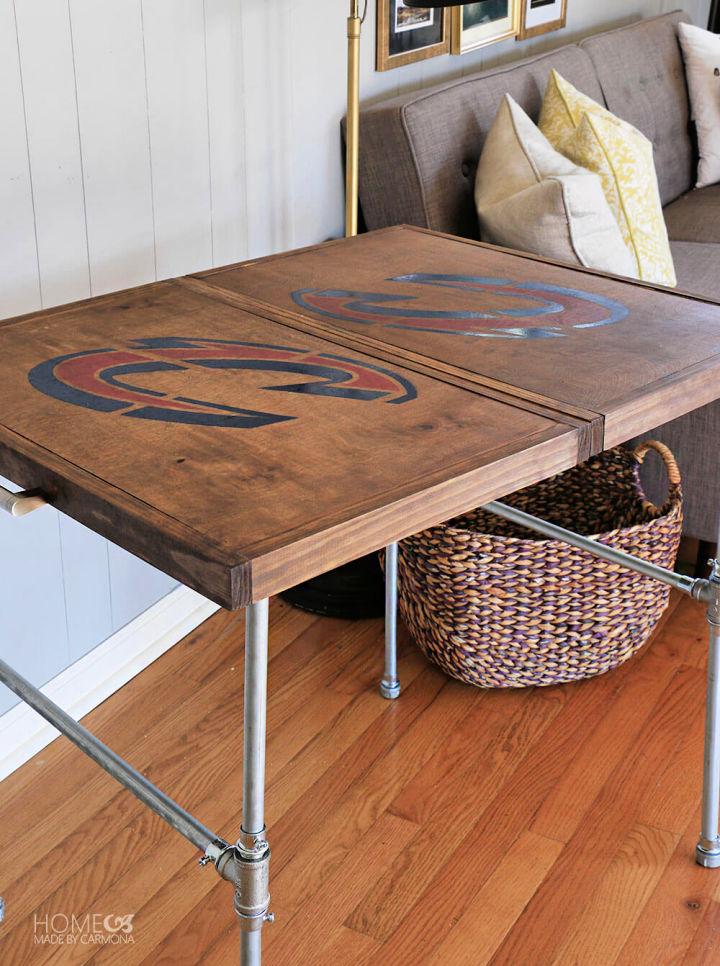 Are you always short of tables during a party or get-together? For this problem, you need to build this DIY folding industrial table. It can also be used as a coffee table by placing some elegant chairs around it. It is also an excellent option to keep in front of you as a snack table and enjoy! The supplies that you need to build this table include plywood sheet, pine board, 1×2 EMT galvanized conduit, EMT conduit hole straps, EMT conduit hole connectors, iron tee, iron cap, galvanized malleable iron floor flange, Kreg screws hinges, wood glue, wood, Kreg jig, jigsaw, circular saw, pipe cutter, and sandpaper. homemadebycar
14. Foldable Workshop Table Plan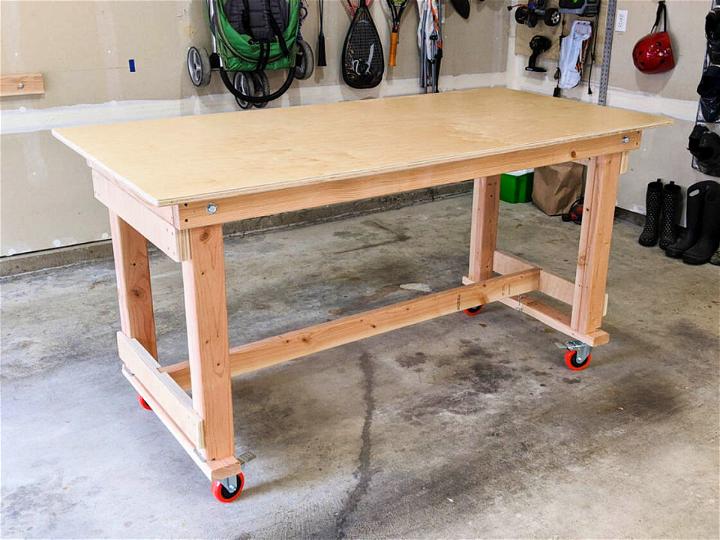 This DIY foldable workshop table is the best thing for all those men who have their workshops in their backyards and garages. We all know that there's not much space, so this table can be folded to the wall when not in use, cool, right? It can be used to place all those drills and hammers when you're in the middle of a project. Its wheels will help you to move it around and hence do your work faster! The supplies and tools you need to make this table are a circular saw, cordless drill, impact driver, orbital sander, oscillating multi-tool, bar clamps, Kreg k4 pocket hole jig system, jigsaw, miter saw, drill bit set, big gator grill guide, plywood, door hinges, wall studs, caster wheels, bolt locks, thread pockets, hole screws, pan head, metal sheet screws, hex bolts, hex nuts, washers, drywall screws, and multi-purpose adhesive glue. visualspicer
15. Mirror Folding Table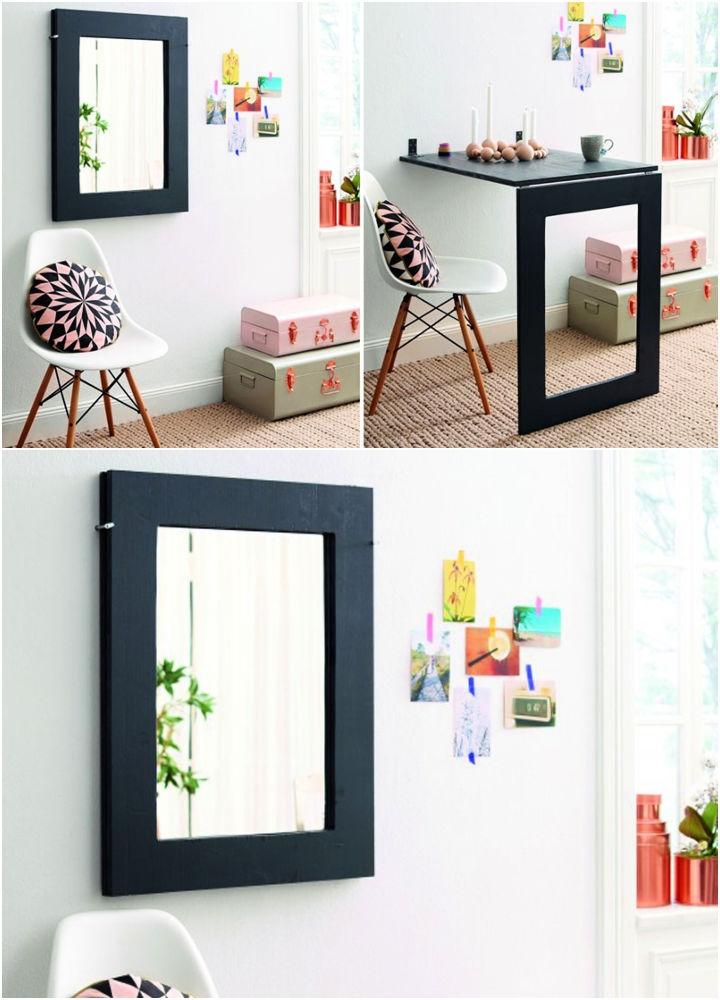 What is better than a 2 in 1? Yes, a mirror frame and a table? Are you wondering how that is possible? Look at this DIY folding mirror table which is an elegant table to place in your house. It is useful, especially when you're saving space. Moreover, it can also be used to place some fancy candles, glass decorations, and photo frames. It will definitely add a beautiful element to your house. The supplies you need to build this table are a paintbrush, wood drill, power drill, jigsaw, sander, drills, wooden boards, metal hinges, mirror, mirror adhesive, acrylic paint, L-hooks, masking tape, and screws. handimania
16. The Perfect DIY Laundry Folding Table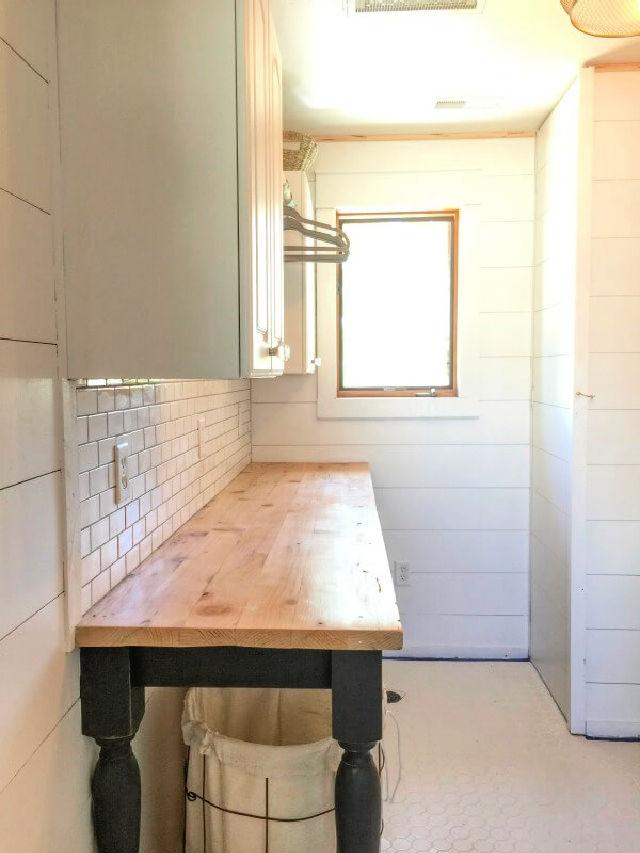 When buying furniture, we often overlook a laundry folding table, assuming that we won't need it, but later suffer when we realize how essential it is. Don't panic, and we have just what you need- a DIY folding laundry table, which is super handy and space-saving! You can keep this table in your rooms, and it can be folded when not in use. Customize it and make it as pretty as you want to. The supplies required to make this laundry folding table are a table saw, miter saw, plywood, screws, and brad nailer. twelveonmain
17. DIY Drop Down Laundry Table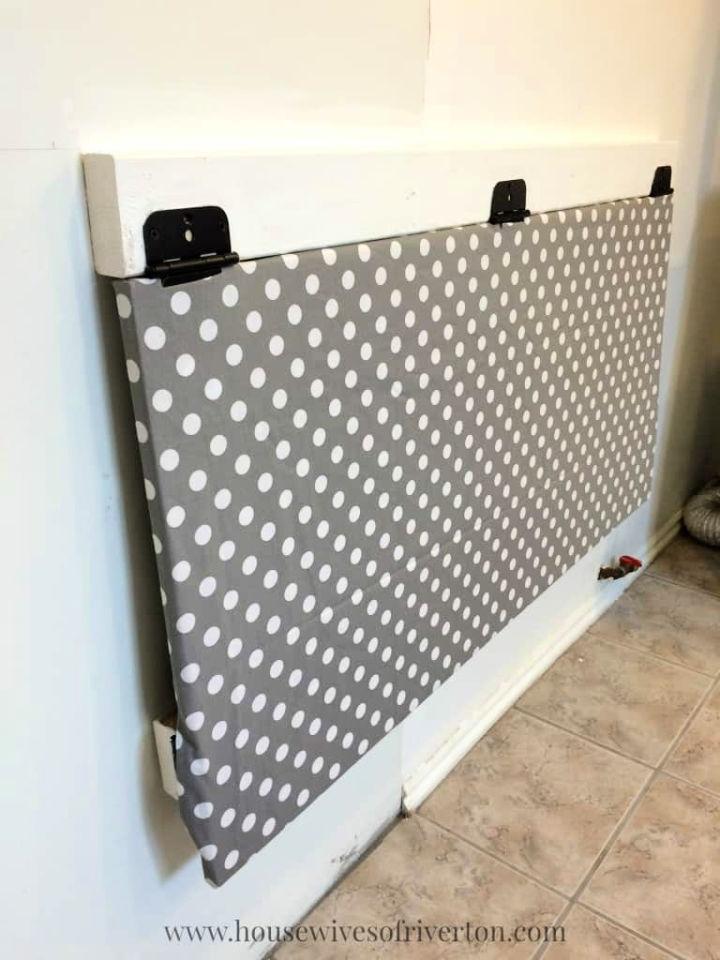 Are you in search of a laundry table but do not have enough space or budget? Well, we have a solution for you! This DIY drop-down laundry table can be folded on the wall when not in use and act as a wall hanging, customize it and make it fancy; drop it down when you want to use it as a laundry folding table. The supplies that you need to make this table are MDF sheets, boards, screws, door hinges, screws, staple gun, and level. creativehouse
18. Handmade Van Folding Table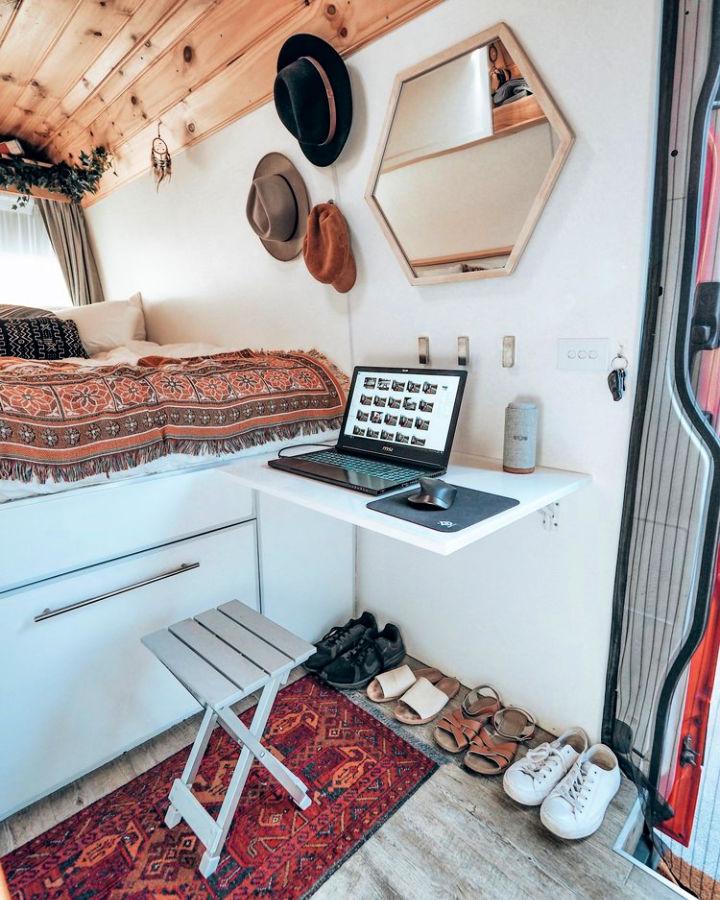 When it comes to designing your van, you don't want weighty and permanent furniture. Therefore, you need to try out this DIY van folding table, which can be easily carried around and serve all of your purposes. It can be used as a side table, a table to keep snacks, a mini craft table, a table to keep your decoration pieces, and even a table that can be used to keep your books. Since you need compact furniture for your van, this folding table can be folded when not in use! The supplies needed to make this table are folding stools, folding hinges, and a tabletop. we who roam
19. Folding Ping Pong Table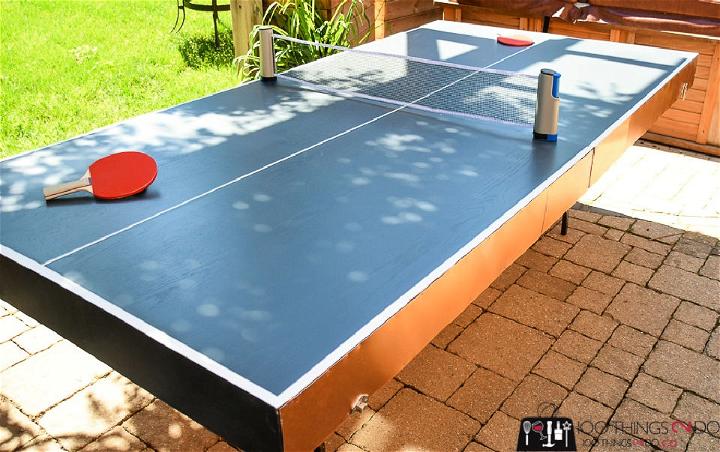 Do you also love to play ping pong but don't have enough space for a ping pong table? As we all know how much space it consumes, here we are with a solution for that! Try out this DIY folding ping pong table plan which can not only be used as a normal ping pong table but can be folded when it's not being used, so go ahead and have as many matches as you want to have, whether indoors or outdoors! The supplies you need to build this table are plywood, boards, pocket screws, heavy-duty hinges, wood glue, metal drawer glides, folding table legs, painter's tape, Brad nails, wood screws, etc. copper sheet. jenwoodhouse
20. DIY Fold Down Sewing Table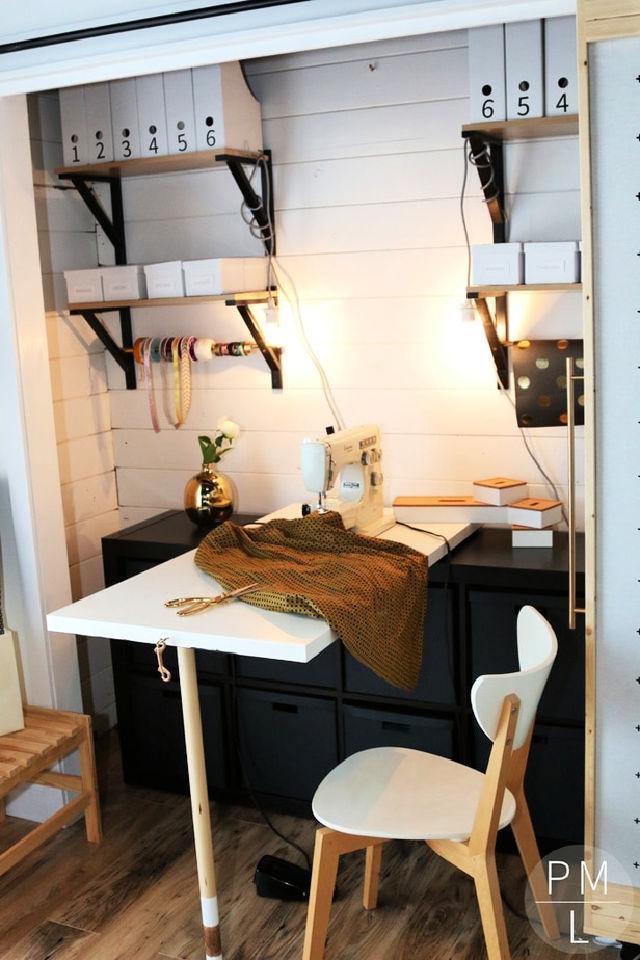 If you love to sew clothes, you must be well aware of the struggle that you never have enough space for work, and you end up sewing on a coffee table or kitchen slab. Well, you wouldn't have to do that anymore because here we present you this DIY sewing table is just what you need in your life, especially when you're on a budget! When not in use, fold it to the wall, and decorate to make it look like a wall hanging, or just put it on your to-do list. The supplies that you need to make this table are IKEA Expedit/Kallax, IKEA Linnmon tabletop, wooden dowel, table leg straight top plate, wood screws, hinges, eye hooks, double-ended snap hook, hanger bolt wood screw, white flat primer spray paint, rust oleum chalkboard paint, stain, and gold spray paint. petitemodernlife
21. Easy DIY Folding Table Plan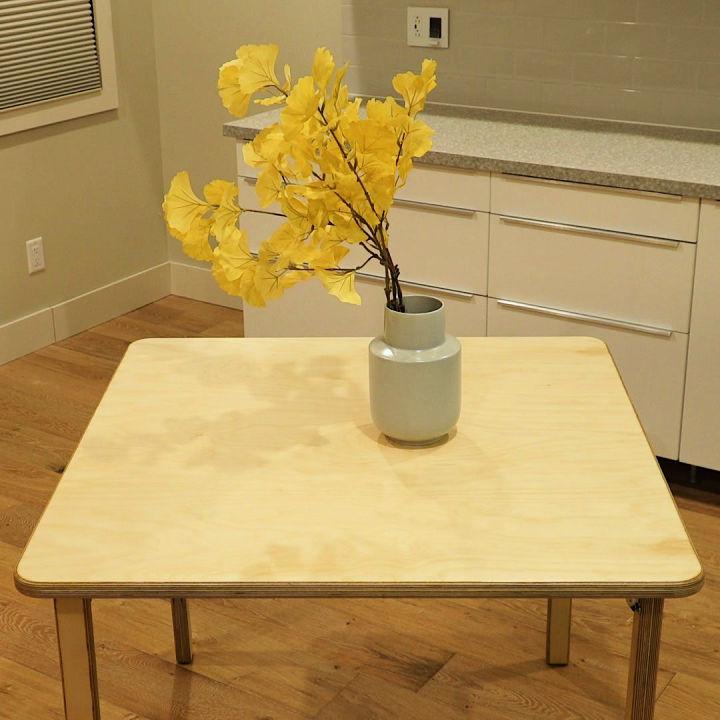 This DIY folding table is a multipurpose table used as a coffee table, snack table, or even a craft table. It is a great thing to place inside in your kitchen since, let's be honest, all of us get tired standing while cutting vegetables! It can also be a daily essential table where you keep your cereals, coffee mixtures, biscuits, and basically all the snacks. You will need to build this table by finishing nails, Baltic birch plywood, sandpaper, screws, folding leg brackets, wipe-on polyurethane, wood filler, and wood glue. familyhandyman
22. Homemade Folding Wall Table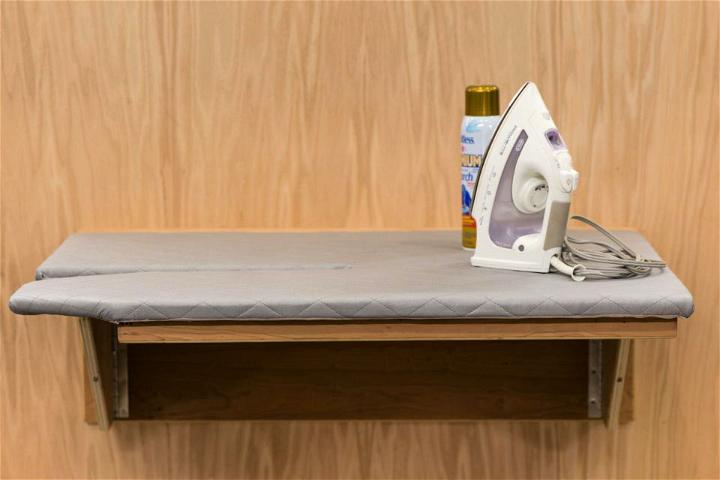 You know, when you're completely out of space in the house, you desperately need a laundry folding table! Well, if you've used up the floor, make use of the walls with this DIY wall-mounted folding laundry table which is perfect for laundry folding whenever you want. Once you're done, it can be folded back to the wall. So get creative and customize it however you like. The supplies you will be needing are a sheet of ¾′ plywood, wood glue, yard quilted ironing board fabric, T50 staples,24″ piano hinge, 2-½″, cabinet screws, measuring tape framing square, straight ruler, pencil jigsaw, drill drive pocket hole jig, screws, staple gun, and hacksaw. diynetwork
23. Building A Hexagonal Folding Table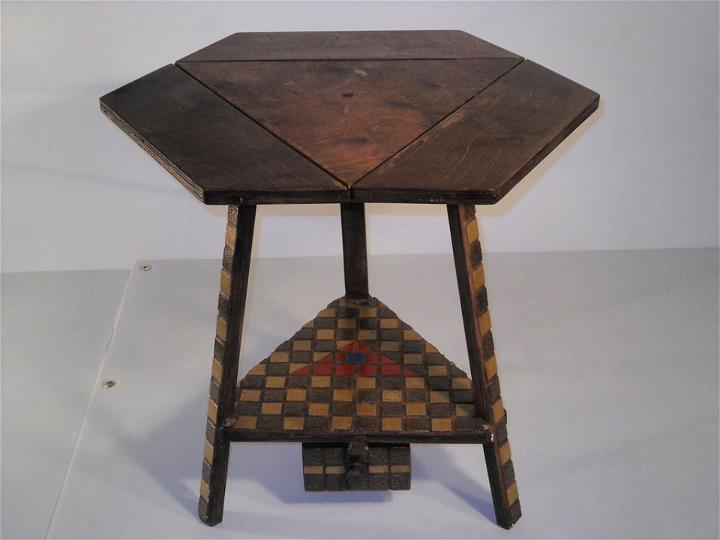 Are you tired of the typical and boring round and square tables? Then trust me when I say that this DIY hexagonal folding table will not disappoint you. Place it in your bedroom or living room, stack it up against your magazines, or keep the fancy decorations on it. You may also place cute and colorful table coasters on it. The supplies you need to make this table are a band saw, miter saw, sandpaper, edge sander, urethane, screws, wood glue, washer, belt sander, stain, drill press, wood filler, saw, ceramic glue, paintbrush, jigsaw, washer, plastic slides, hand sander, rubber hammers, clamps, pencil, eraser, pen, brush, scraper, tape measure, meter stick, file, square, screwdriver, compass, protractor, planer, portable drill, and stain rag. instructables
24. Outdoor PVC Pipe Folding Table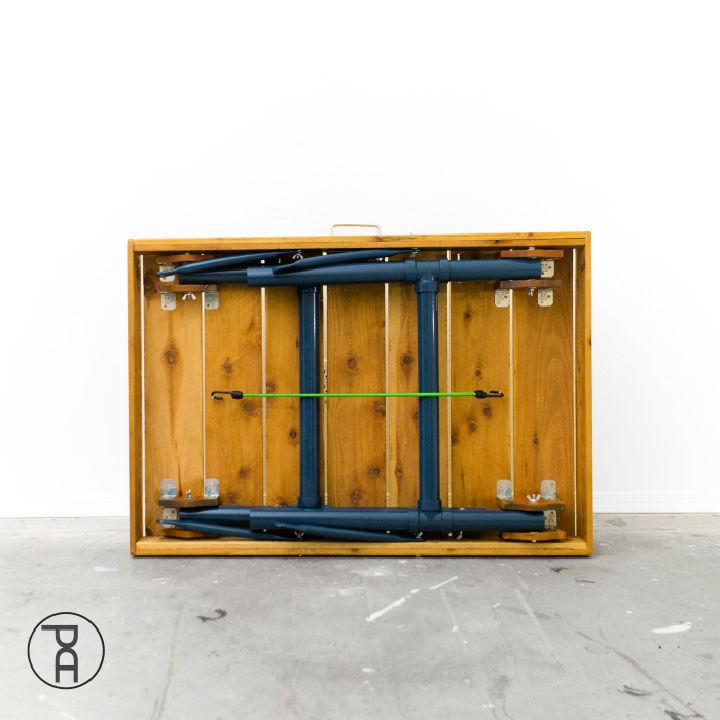 You know when the weather starts getting nice, you feel like spending time outdoor in your garden hanging out with your friends and family right? Well, that calls for snacks, and it isn't charming when you don't have a table for that. So, we have this DIY folding outdoor table that is the best outdoor table you'll ever need. Moreover, you can also keep small cute money plants on it, making the surrounding pretty fresh. To make this, you need some basic skills and materials like hinges, plywood, screws, and some paint that you can easily find at any hardware store nearby. pneumaticaddict
25. DIY Folding Picnic Table Made Out Of 2x4s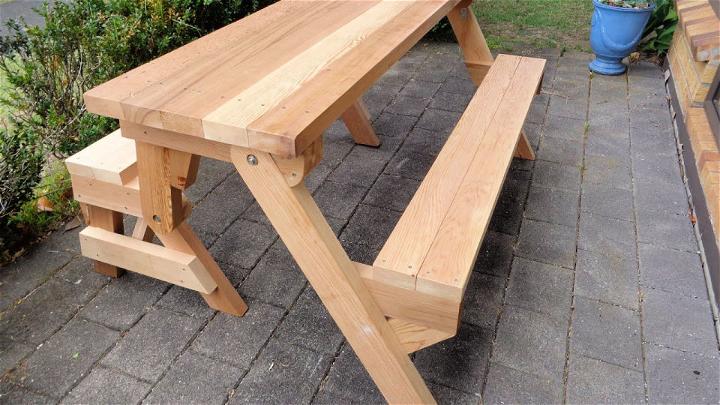 If you're someone who loves picnics and enjoys the fresh weather, then you'll definitely become a fan of this DIY foldable picnic table. It can be folded and is easy to carry when going to a picnic. Moreover, you can sit around with friends and family, have some snacks, and talk all you want. It is super easy to build this table has room for many of you to sit down and enjoy with family or friends. To make this project, you need some basic skills and some supplies like hinges, plywood, screws, and paint which you can easily find at any hardware store. youtube
Conclusion:
So we hope that you are inspired now and planning to make an easy DIY folding table for yourself. These simple and easy DIY folding table plans are quite fun to work up and do not require much time. Each plan has its own vibe and feels to it, so decide on making the one that you want to have in your home or backyard, etc. You must go through all the diy folding tables given above to choose the perfect one, which is the best for your budget and comfort. It can be a new addition to your home decor that is super affordable too! isn't it amazing? Moreover, you may also practice making this plan by building and selling it to people who are looking for a DIY folding table for themselves at a reasonable price! So without further ado, let's start with these folding table ideas!