These 30 free DIY end table plans are a functional and interesting project to make which can be a nice addition to your living rooms. Make these DIY end table plans to revamp your house at very reasonable and affordable prices. By using inexpensive materials and recycling supplies you can make these diy side table or end table projects sustainable as well, who doesn't like that? Furthermore, not only do they add a stylish touch to the house but the tables can be a great way to make space to keep things on them and declutter a lot of stuff. The compilation of DIY end table plans that we have compiled for you all is definitely going to entice you into making a table for your house too!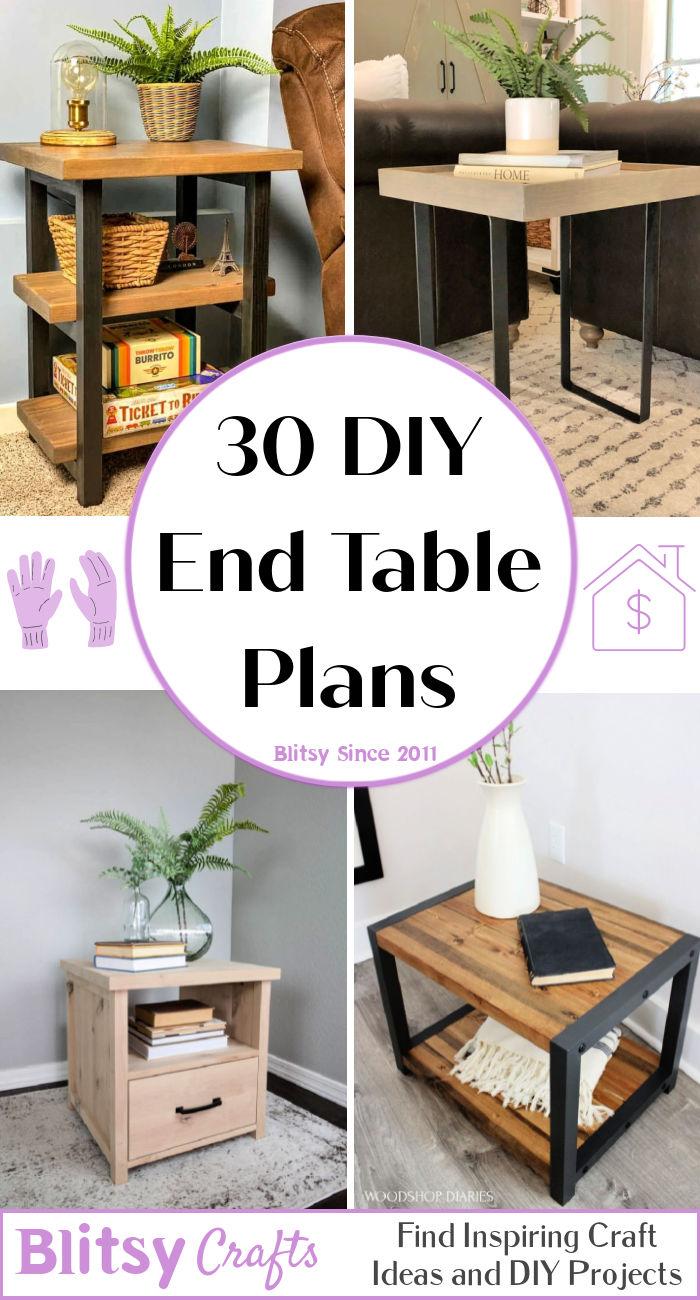 This article has step-wise, detailed, and easy-to-follow instructions on how to easily make a DIY end table whether they are rustic storage style, X end, farmhouse style, clock top, round, with a shoe rack, a bookshelf, and much more, we have them all! These are ideal for placing beside a chair, sofa, or bench so people sitting there can have a nice little space to keep their mugs, books, etc. most of the end table designs are beginner friendly so even if someone does not have expert woodworking skills, they can still make a nice project for their home with our detailed steps. You also have the option to customize projects keeping in mind that the basics remain the same. Hence, without any more delay let's start looking into these simple end table plans!
1. Build a DIY End Table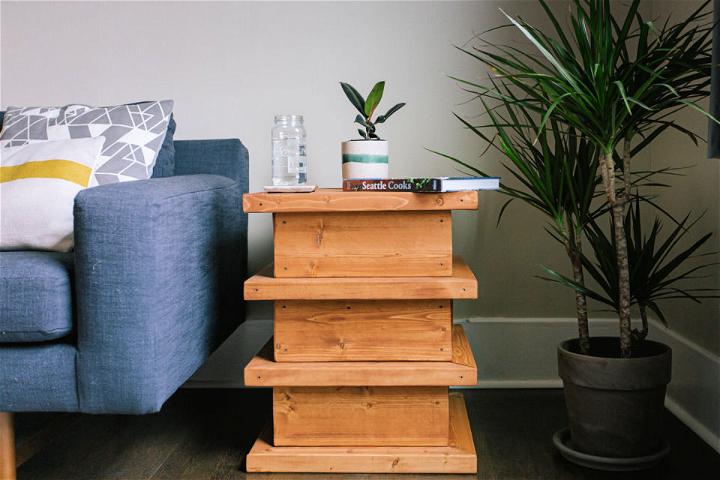 Build this sturdy and durable end table plan for upcoming summers and enjoy outdoor fun with full zeal. You can make this aesthetic and useful project easily over the weekend. Additionally, make sure to have supplied with you including wood, Kreg jig, sand, drill bit, screws and glue etc. to complete the project. diy dunnlumber
2. Rustic DIY End Table with Storage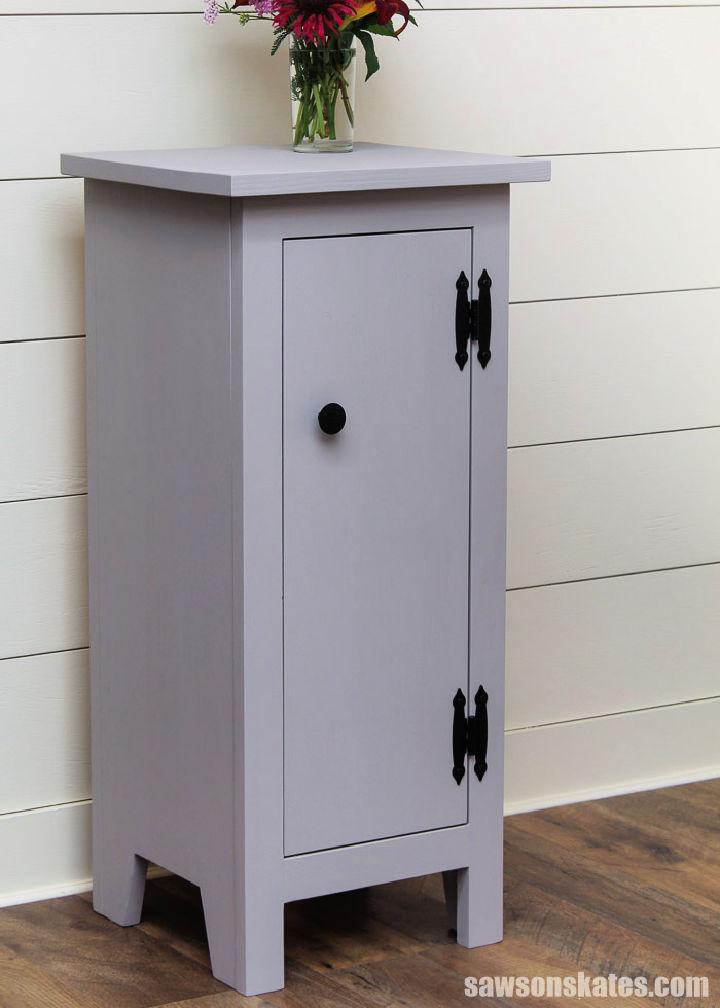 Want to manage all of your clutter in a stylish storage space? Well, look no further! Here we have this rustic DIY end table plan for you to easily add to your home space which not only looks aesthetically pleasing but is also quite useful. It can easily be made with the easiest supplies like pine wood, miter saw, pocket hole jig, drill, and jigsaw etc. sawsonskates
DIY Coffee Table: Looking to DIY a coffee table? Find out how you can turn used items discovered at yard sales and thrift stores into a stylish and functional focal point for your living room. Here's how to make a coffee table.
3. DIY Small X End Table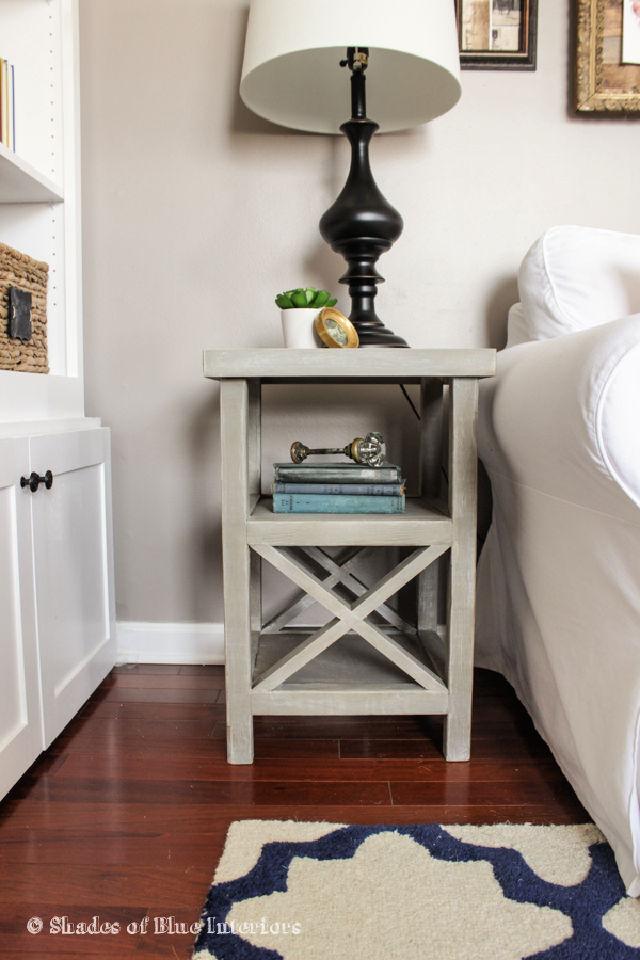 If you don't have a very huge space but want to fit in a stylish yet easy-to-make end table plan, then you are at the right place! This X end table project can be easily completed in a couple of hours so let's dedicate a weekend to this! It makes a chic storage option for you as well and can be made with supplies and tools like a Kreg jig pocket hole system, miter saw, a drill, orbital sander, plywood, pocket hole screws, wood filler and few more things. shadesofblueinteriors
4. Rustic End Table Plan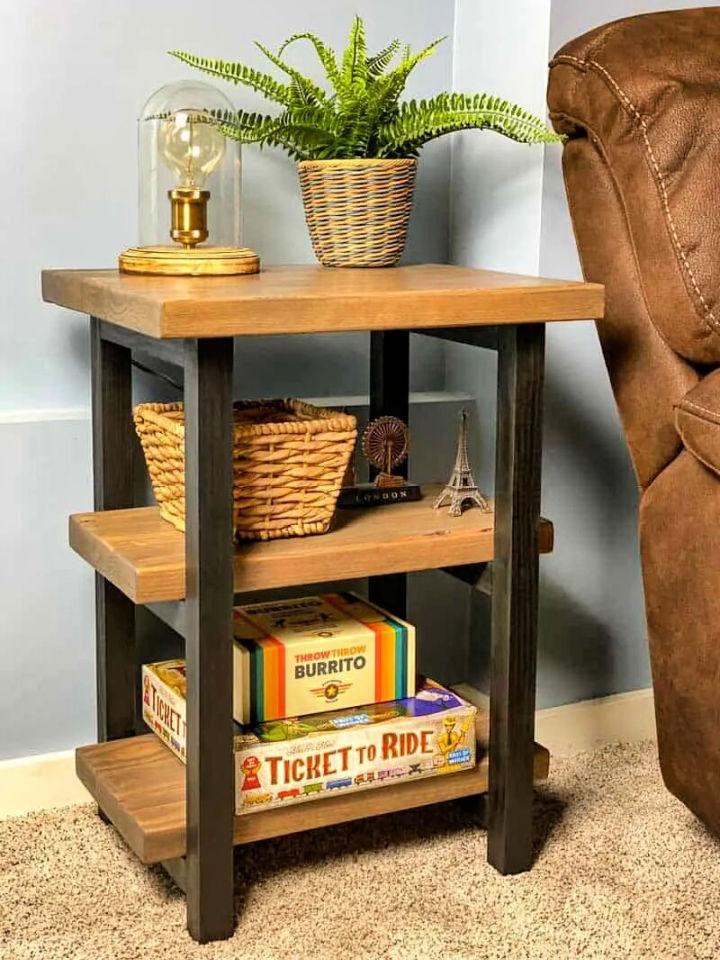 This DIY rustic end table plan features a reclaimed wood top and two shelves along with a black simple frame. It is a beginner friendly project which can easily be made with basic woodworking skills. Moreover, the materials needed for this are boards, pocket hole jig, wood glue, clamps, square, drill, a right angle drill attachment, sander, sandpaper, India ink, wood stain, protective topcoat and polycyclic. thehandymans
5. Farmhouse Industrial End Table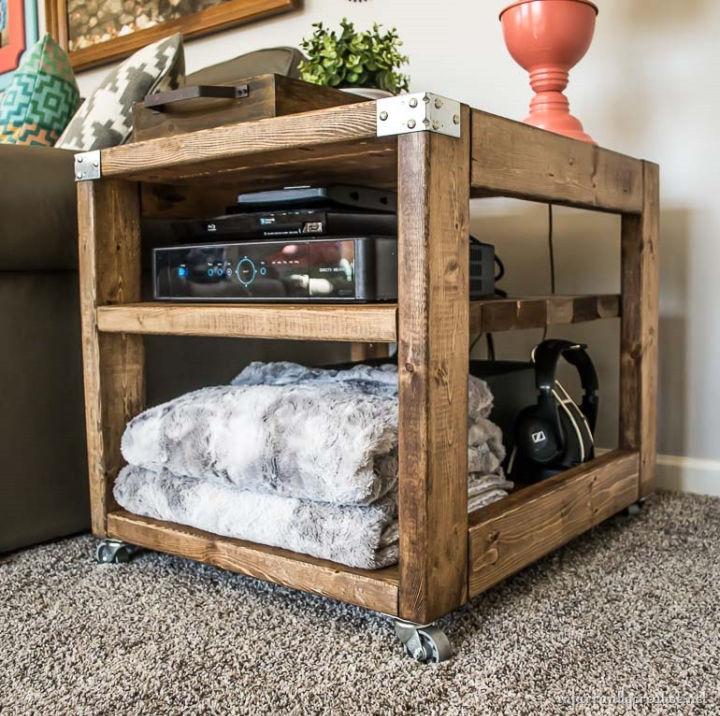 Are looking for a farmhouse and industrial type table with shelving? then you will love this pick we have for you. This DIY end table plan is a stunning statement piece for your home along with a little storing space for your magazines, books, rugs, small blankets, literally anything! Furthermore, you should have all the required materials like Kreg jig, pre-stain conditioner, cordless drill, stain, topcoat, orbital sander, corner brackets, metal casters, chop saw, tape measure, screws and upholstery tacks. infarrantlycreative
6. DIY Clock End Table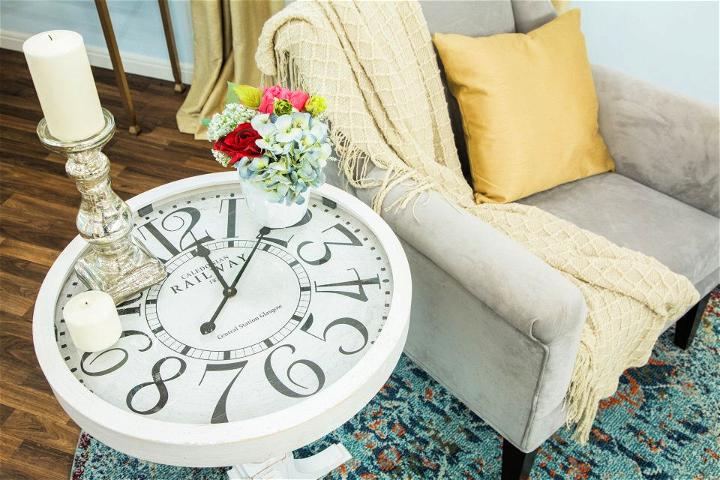 Have an old clock at home which you are planning to throw away soon? Well, why not make use of it? This DIY clock end table plan is a super unique and interesting design for your living room. Just gather supplies list including an old clock, large stair baluster, plywood round, 4 corbels, screws, screw gun and wood glue. hallmarkchannel
7. Build a Round Wooden End Table

A mix of classic with a modern look, this DIY end table plan will be ideal to fit a corner space. It is a very easy project which can be completed for just $16! How incredible is that? In addition to that, you will need your materials like round panel board, furring boards, brad nails, Kreg screws, wood filler, wood stain, Kreg jig, miter saw, a drill, clamp and tape measure. angelamariemade
8. Farmhouse Style End Table

Giving your room a farmhouse furniture makeover? You definitely need to add this DIY end table plan to it! You can further finish the look by adding some decor, photo frames, books or magazines to it. Additionally, the materials required for this project are square dowel, screw, wood glue, wood board, brad nails, wood putty, white paint, medium and fine sandpaper. bhg
9. End Table with Shoe Rack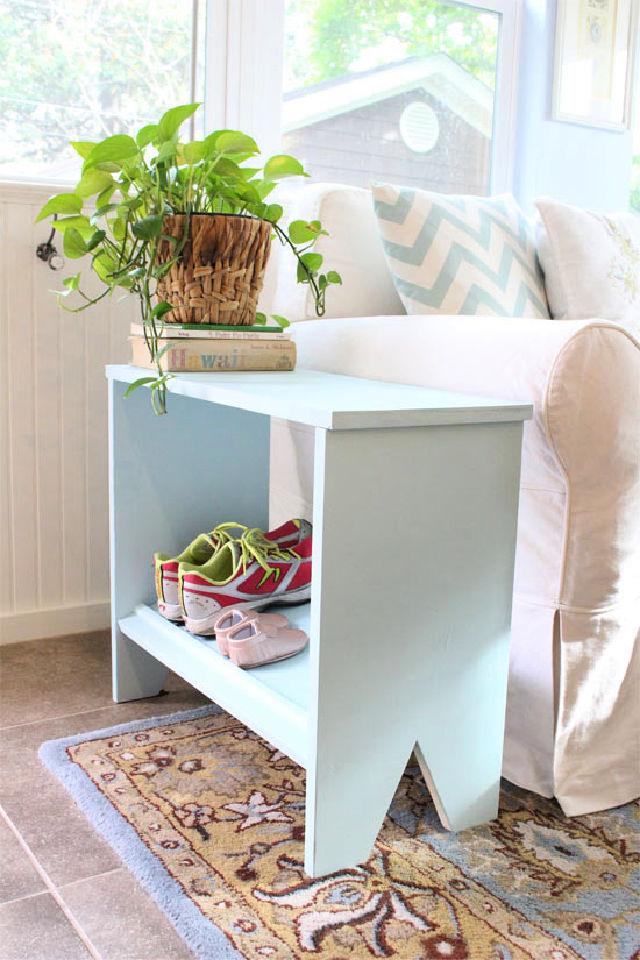 Do you have crawling babies at home and want to reduce the amount of dirt on the house floors? Make this multi-purpose and convenient end table plan with a shoe rack with a simple farmhouse style. In addition to that, the materials needed to complete this project include a circular saw, jigsaw, sander, wood glue, wood putty, drill and trim screws. checkinginwithchelsea
10. Rustic X Base End Table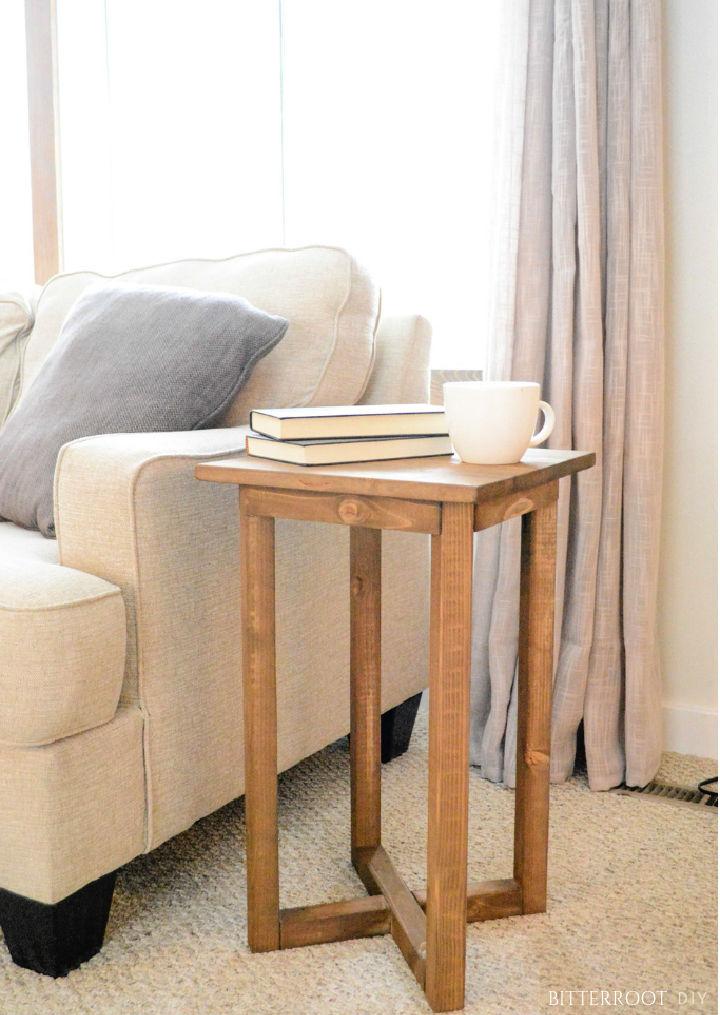 If you feel that end tables can be very expensive when you buy them from stores, then why not build one at home to suit your preferences? It is a practical and easier alternative as well. Just take out some free hours from your schedule to make this piece. Additionally, the supplies and tools you will be needing are a miter saw, orbital sander, drill, Kreg pocket hole jig, pocket hole screws, wood glue, tape measure, pencil, safety glasses and ear protection. bitterrootdiy
11. Homemade End Table

Ever imagined that a simplistic design could look so chic and elegant? This homemade end table plan can be made for less than $50 bucks! Amazing, right? Just make sure you have all the essential tools and supplies like Kreg jig K4 pocket hole system, pocket hole screws, wood glue, wood screws, Minwax stains, and Rustoleum ultra cover black paint for completing this project. handmade haven
12. West Elm Inspired End Table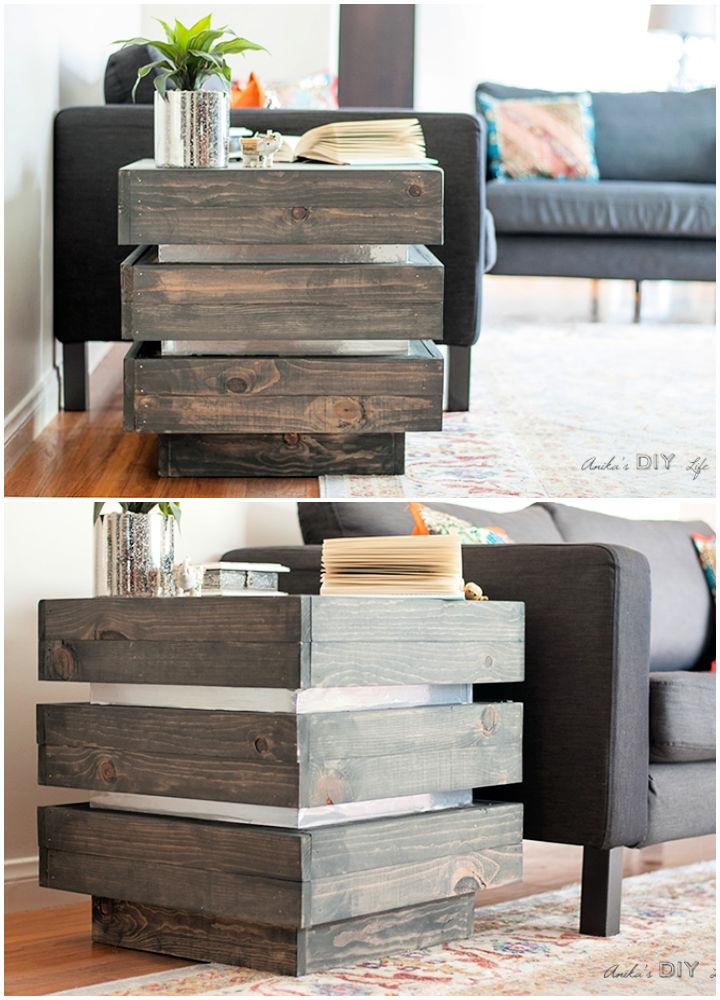 West Elm-inspired end table is an easy DIY sofa side table project that is beginner-friendly. You can build this on your own using the easiest steps with detailed instructions. The most exciting part about this design is how this great-looking table is so easy to build without any special woodworking skills involved. Furthermore, gather all the necessary supplies like lumber, circular saw, miter saw, power drill/driver, brad nailer, pocket hole jig, sander, sandpaper, pocket hole screws, wood screws, finish nails and wood glue. anikasdiylife
13. End Table with Shelf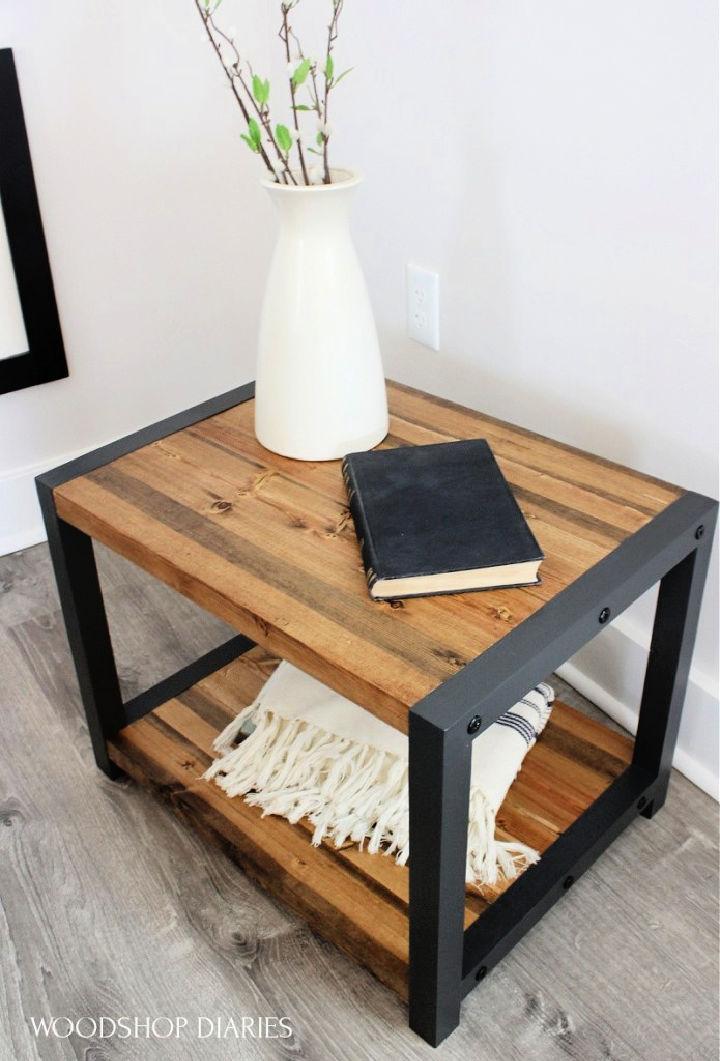 A modern industrial vibe end table is quite versatile and can be a useful thing to add to your home furniture. With just using basic woodworking skills and tools, this table can be completed. You can be creative with your design and customize the color etc. to match your furniture. Adding on, materials needed are a saw, drill/driver, wood glue, pipe clamps, wood screws, black timber screws and sander. woodshopdiaries
14. Wire Basket Side Table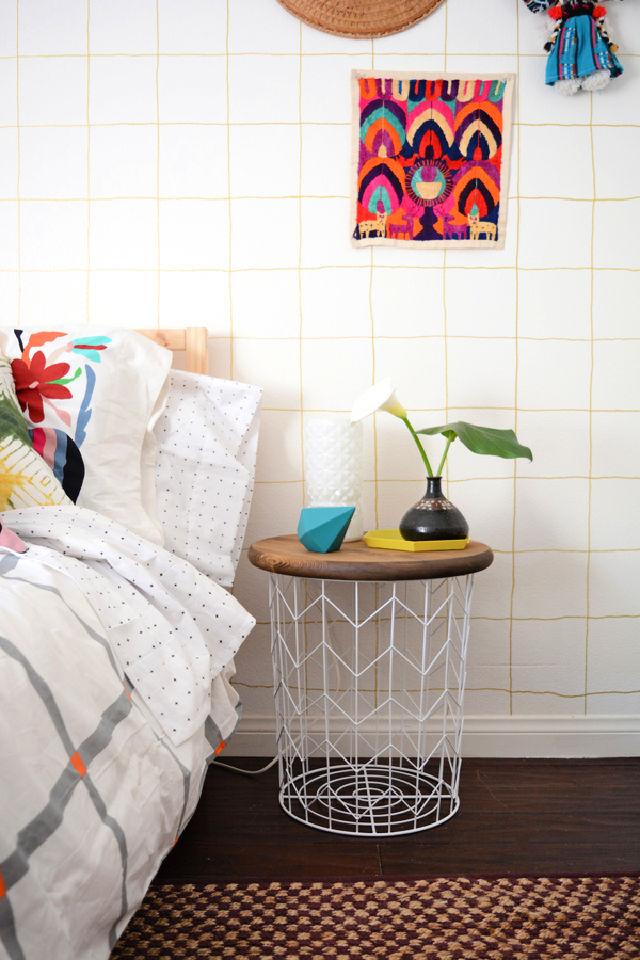 Here is a super affordable accent table made from a wire basket. It is very simple and easy to make using only a few supplies and very low prices. It can be used to put a hot cup of coffee or a book which you will be reading while sitting beside the comfy chair. Just grab all your supplies and you are good to go! makinghomebase
15. Belvedere End Table Plan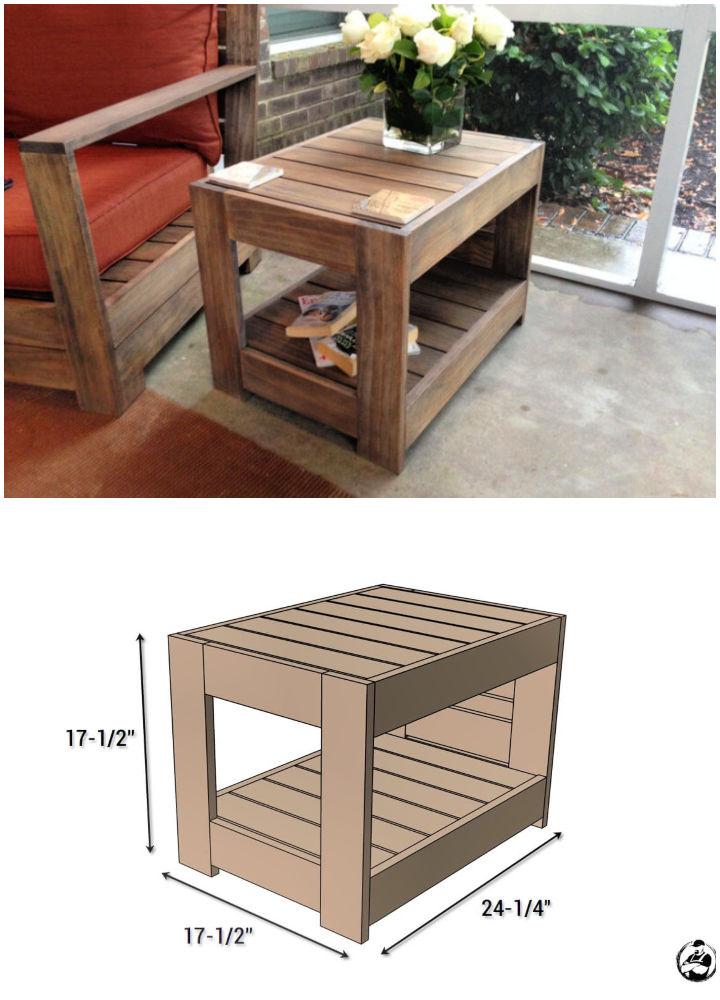 Are you someone who loves sitting outdoors and enjoy reading up a favorite novel or just casually drinking a cup of tea or coffee? If yes. Then you definitely need to make yourself an aesthetic and pleasing sitting arrangement by adding this Belvedere end table plan. This is one of the best end table plans. It has the perfect wooden design sturdy table to hold some of your home decor as well. Moreover, you will need supplies and tools like common boards, pocket hole screws, brad nails, pocket hole jig, drill, miter saw, brad nailer, tape measure, pencil, glasses and hearing protection. rogueengineer
16. DIY 2×4 End Table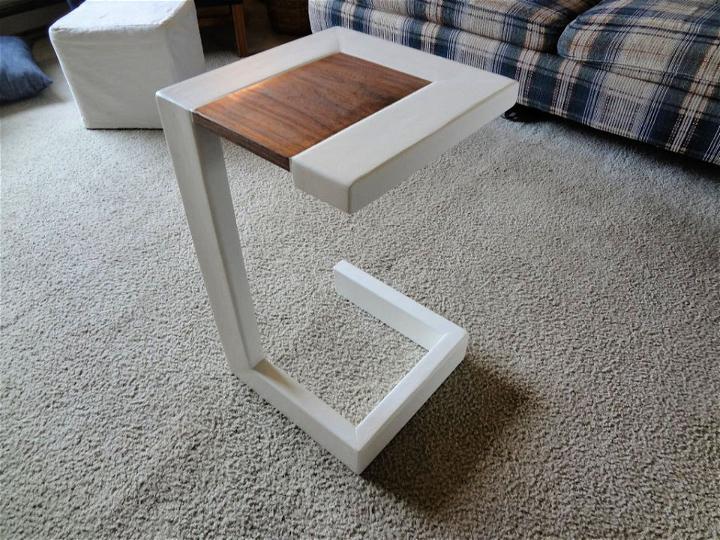 End tables are basically small sized tables at your arm height which is used beside a chair or a sofa. Make this 2 x 4 ideal table for your room where you can place some of your things along with adding a chic piece of furniture to the room as well. Additionally, the materials required for this are a miter saw, sander, band saw, walnut scraps, screws and plugs. instructables
17. Large Rustic X End Table

Building your own end table plan will give you a sense of gratification which you can proudly show off to your guests as one of your creations! It will get you all the compliments and praises at a very reasonable price too if you use inexpensive materials. This gorgeous and rustic end table is made with an X end which is not too complex to build. In addition to that, you can use up supplies like wood, corner bracket hardware decorative bolts, pocket hole screws, wood glue, tape measure, miter saw, speed square, Kreg jig, drill, sander etc. ana white
18. Modern Rustic End Table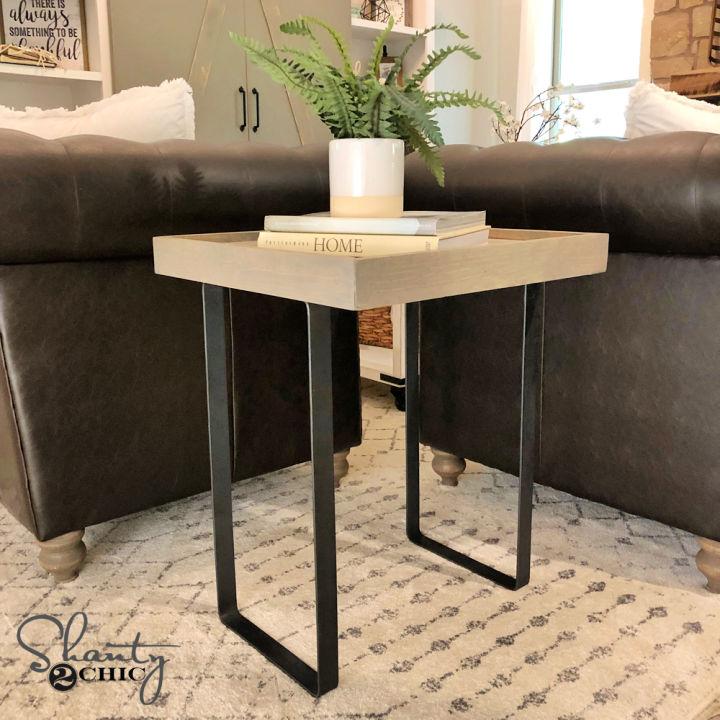 Go for a minimalistic yet classy vibe end table with this rustic modern design. You can add some contemporary decor to it including books or plants to make the table stand out even more. The detailed instructions will be easy for all the beginners as well as this project does not require you to be an expert in woodwork. shanty 2 chic
19. Crate and Pipe Industrial End Table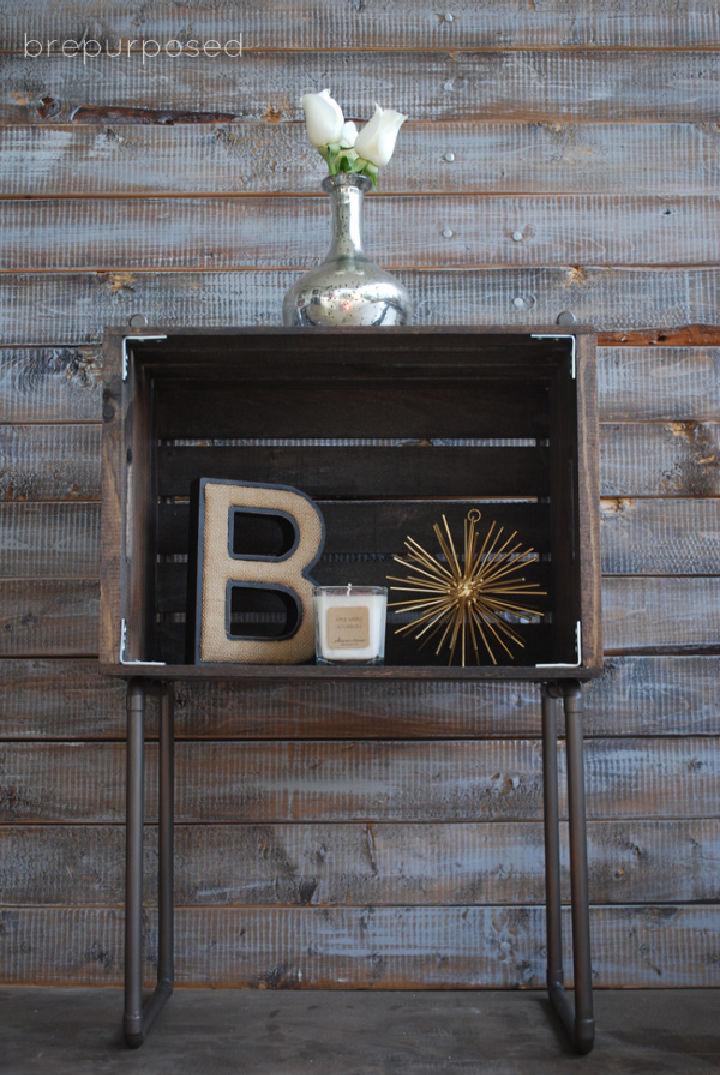 This industrial style table is an amalgamation of the crate and copper piping. To attach everything, you need to use copper tube straps which you can even paint with any color of your choice so it matches with your own house interior as well. Besides, you just need to grab all the supplies and you???ll be ready to start this. brepurposed
20. Tall Outdoor Side Table with Wood Scraps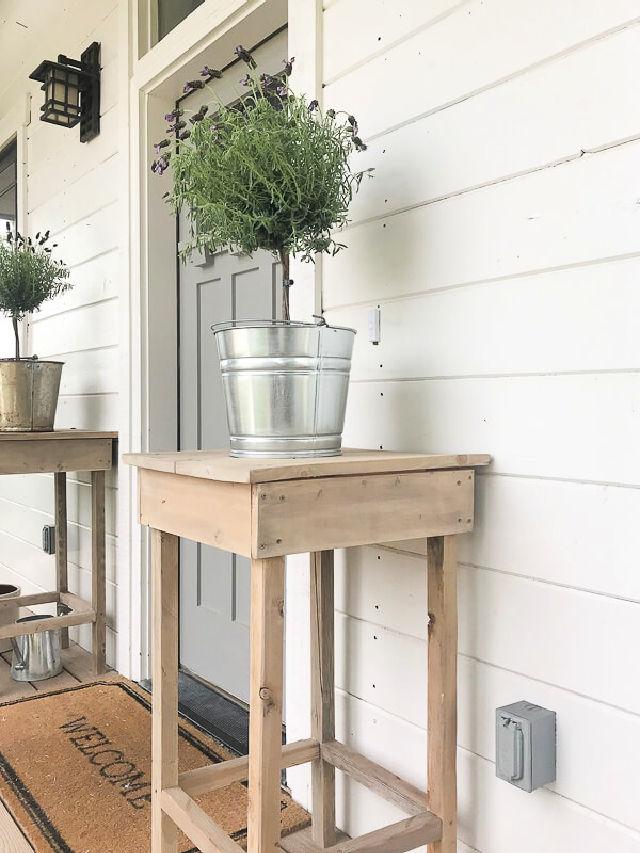 Add style to your front door even with less space area by making this DIY tall outdoor side table. It is made with wood scraps so the DIY project is not complicated but still very stylish and trendy. Moreover, you can easily decorate them with a nice and healthy plant pot which will look even pretty in the spring season. You just need supplies like wood pieces, cordless drill, impact driver, screws, common wood bards, orbital sander and DIY weathered wood stain. twelveonmain
21. Farmhouse Crate End Table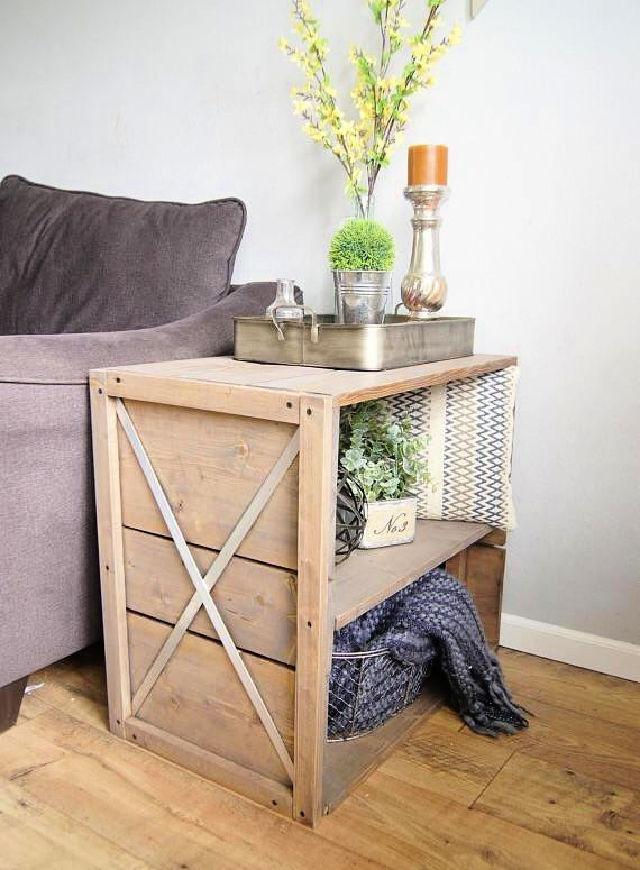 If you are a big farmhouse style fan, then this is the perfect option for you to choose. Here is a farmhouse crate end table plan to spruce up your living room area! You can even customize the dimensions to fit to your space but the main details and instructions will remain the same. Additionally, you need to have plywood, aluminum flat bar, wood glue, brad nails and few other things for this project. handmade haven
22. DIY Lybrook Side Table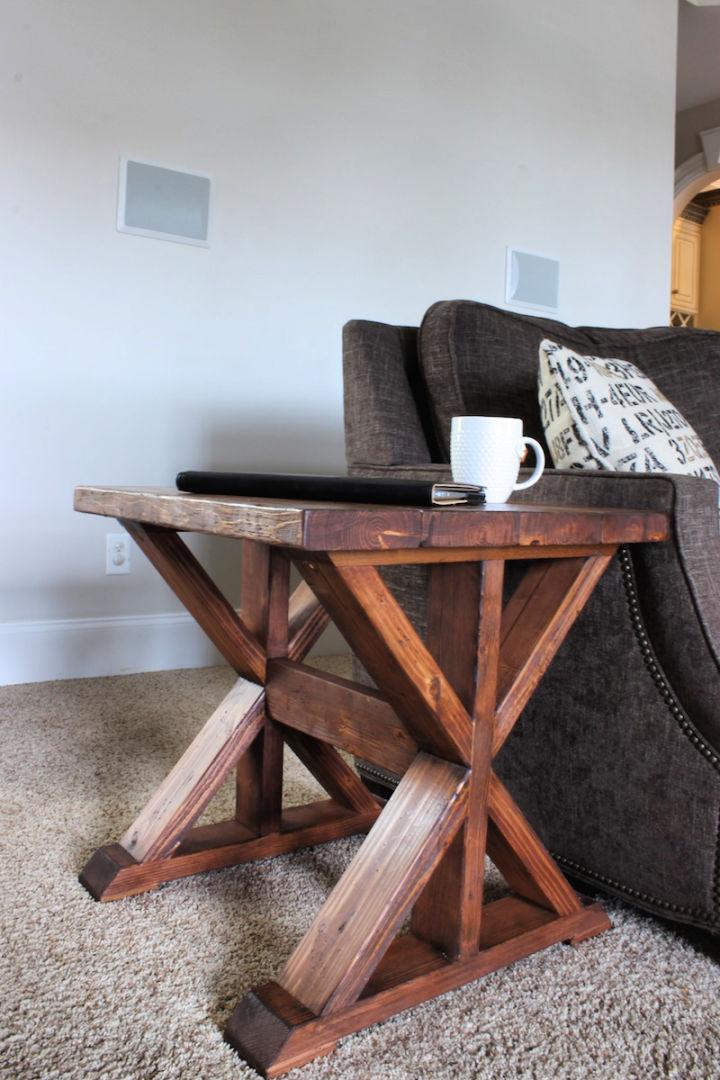 Lybrook's side table plan is the basic and must-have in any living room. It is the perfect place to add some decor items along with providing the ideal space for keeping mugs when guests are over. Instead of brands ripping off hundred dollars from you for this, make it easily at home in a very economical price. In addition, you just need to have materials like untreated kiln-dried lumber, premium studs, Kreg pocket hole screws, wood screws, wood glue, pocket hole jig, drill, miter saw, tape measure etc. rogueengineer
23. How to Build a Bookshelf End Table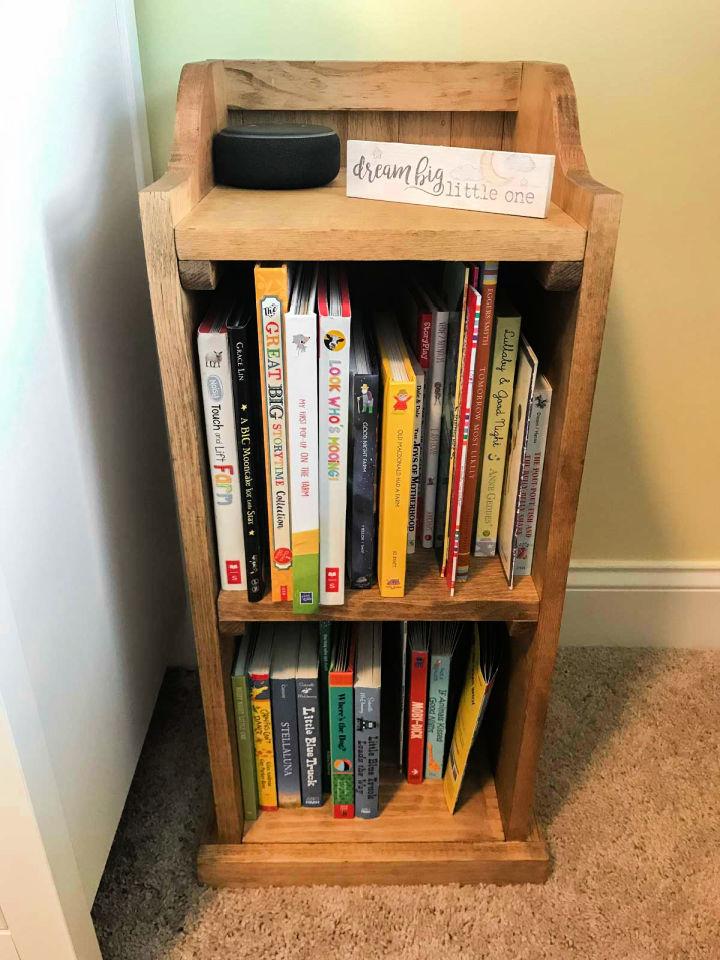 Are you an avid reader and always looking for spaces to keep your books in? well, without any further ado, look into this bookshelf end table plan. It is ideal for anyone who owns lots of books as this multi-purpose end table also does the work for a bookshelf. Make it easily under $40 and save yourself the hassle of finding spaces for books. Additionally, you need materials and tools including pine wood, square dowels, plywood, finish nails, hammer, wood glue, stain/paint, table saw, miter saw, jigsaw, clamps and hand sander/sandpaper. chiselandfork
24. Dog Kennel End Table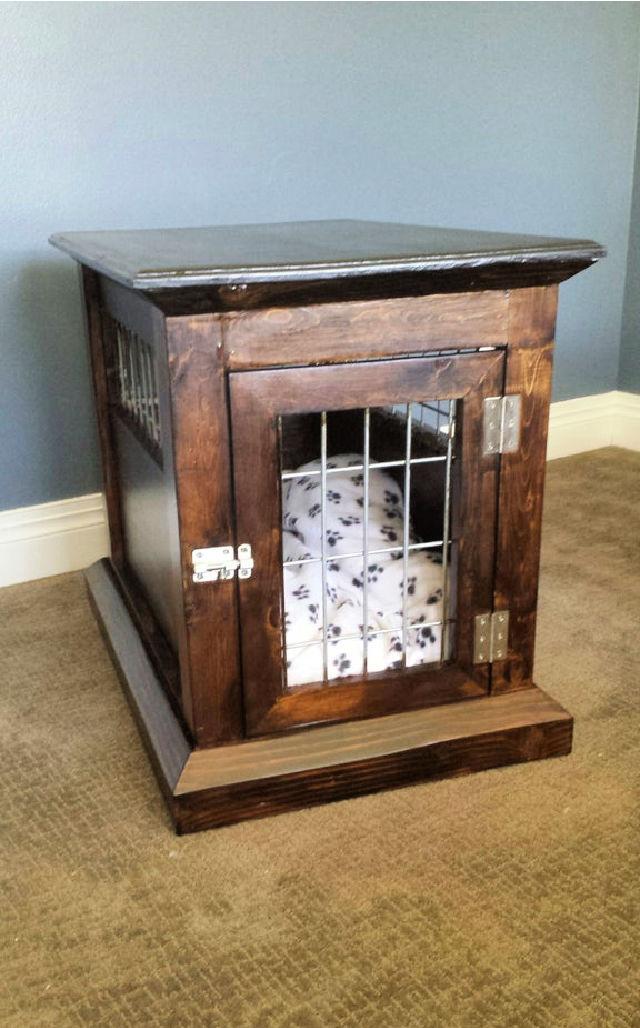 Dog owners can make this super unique Dog kennel end table plan. It is not only a furniture piece for a statement but also includes a dog kennel for your pet to have a nice, safe place for sleeping and relaxing. This fun build is not too difficult to make and you will surely enjoy a lot making this. Make sure to grab supplies like pine laminate, wood glue, steel hanger straps, screws, hinges, locking mechanism, salvage horse fence, wood conditioner, dark walnut stain, poly-urethane, table saw, circular saw, sander, nail gun, router, power drill etc. instructables
25. X Brace Side Table with Concrete Top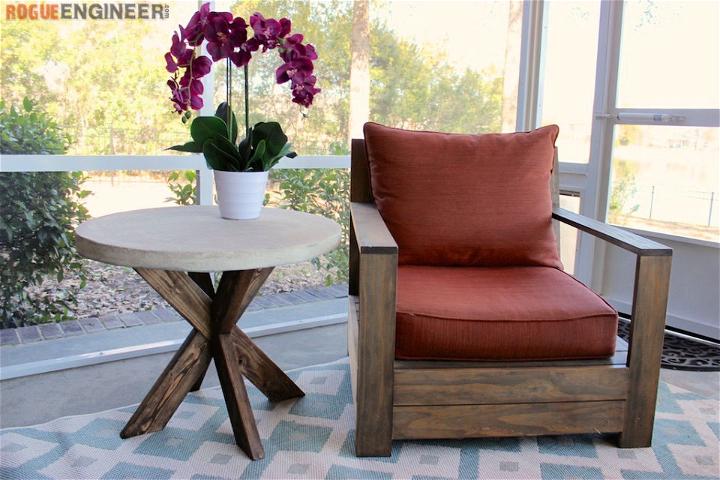 X-brace base end tables are quite in trend nowadays and people prefer this design for different projects. You can also jump in the bandwagon and try this X-brace side table concrete top plan for a classic addition to your home furniture. Moreover, the best part about this is that you can easily make this under $20 with just using a few supplies and tools like pine common boards, premium studs, scrap plywood, Kreg pocket hole screws, pocket hole jig, drill, miter saw, tape measure, pencil and few more things as well. rogueengineer
26. How to Build a End Table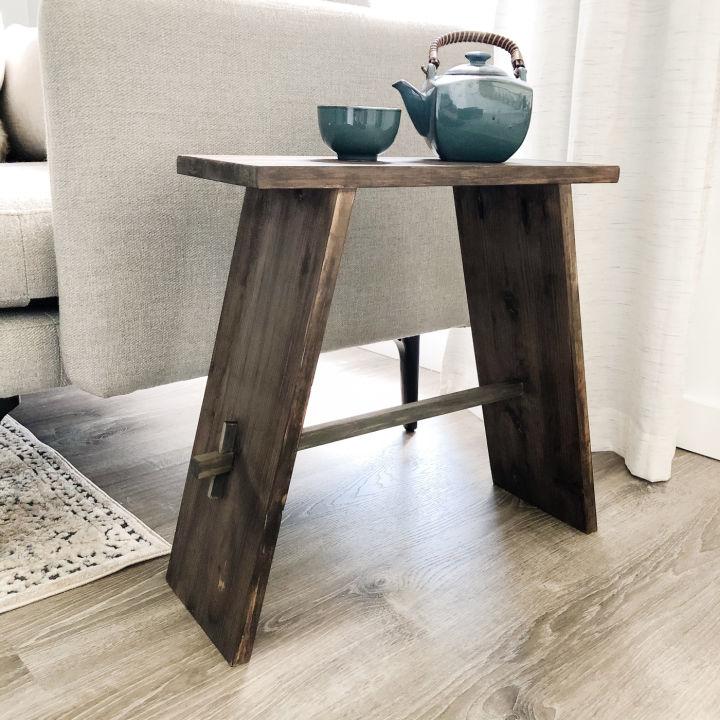 How about making a useful project out of scrap wood with just a few tools? That sounds like a fun idea, right? Here is a tutorial on how to make an end table with the easiest instructions so you do not need to be an expert in woodwork but still make what we have written. Furthermore, you need your supplies like scrap pieces, stain, miter saw, sander and pocket hole jig. everydaymodernlife
27. DIY Side Table with Drawers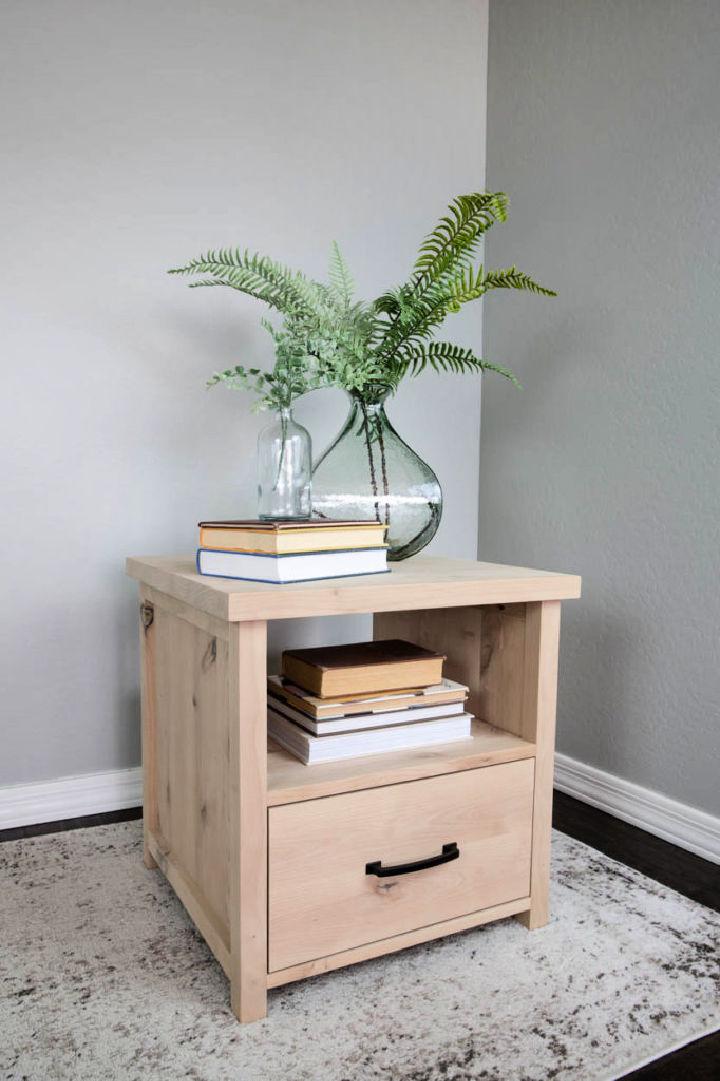 This DIY side table with drawers is the perfect plan for anyone looking to keep their books, blankets etc. in a stylish storage area. It also has a lot of space to display all your decor items as well and this project will not only cost you less but is very useful too. Just gather all the necessary supplies and start making it. addicted2diy
28. Ana White Farmhouse Side Table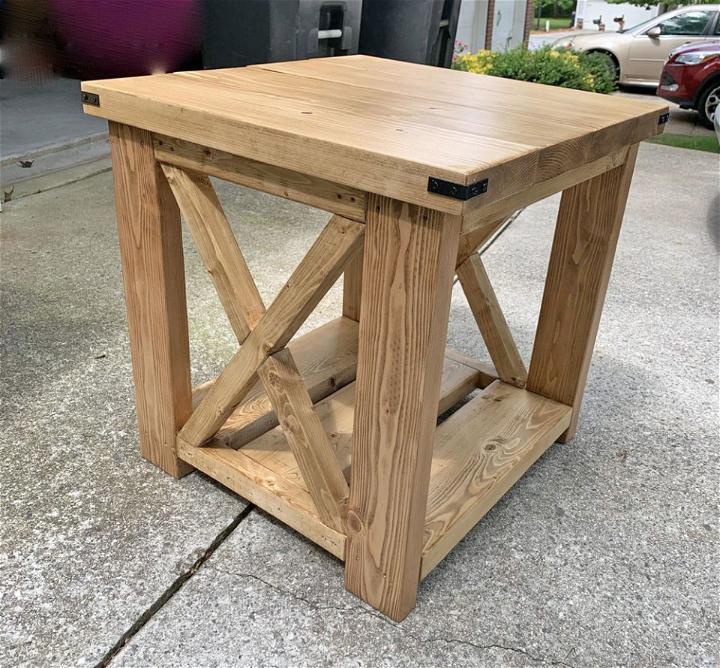 Here is yet another X detailing farmhouse style table for all the beginners out there. It can be used in living rooms to provide an option for extra space for keeping decor or decluttering items. It is easy to build and quite a reasonable alternative to buying from stores. With all the basic tools and materials, you can make this beauty within hours! ana white
29. Shaker Style DIY End Table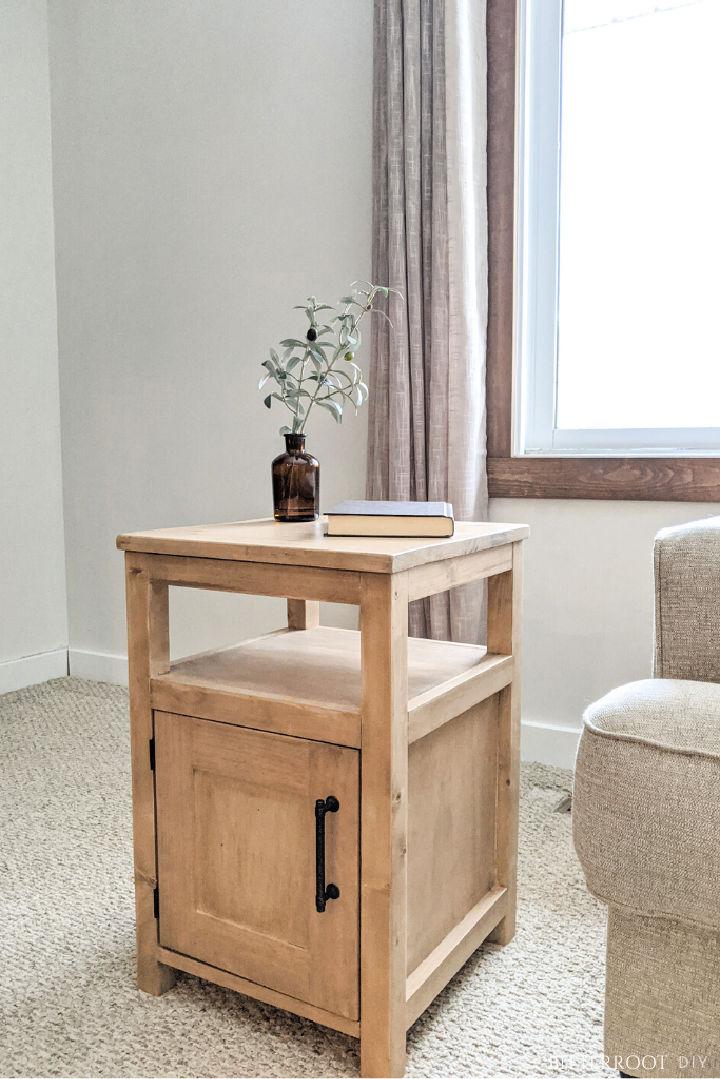 Shaker style DIY end table is all wooden giving off farmhouse style vibes. It makes a nice and trendy piece of furniture for a living room which you can further decorate with plants, books etc. It can be made easily with supplies as a miter saw, drill, brad nailer, router, jigsaw, Kreg pocket hole screws, corner braces, butt hinges, magnetic door catch, soft iron cabinet pull, tape measure, wood glue, clamps, pre-stain, whitewash stain and a few more things are needed to complete this. bitterrootdiy
30. Round Side Table Plan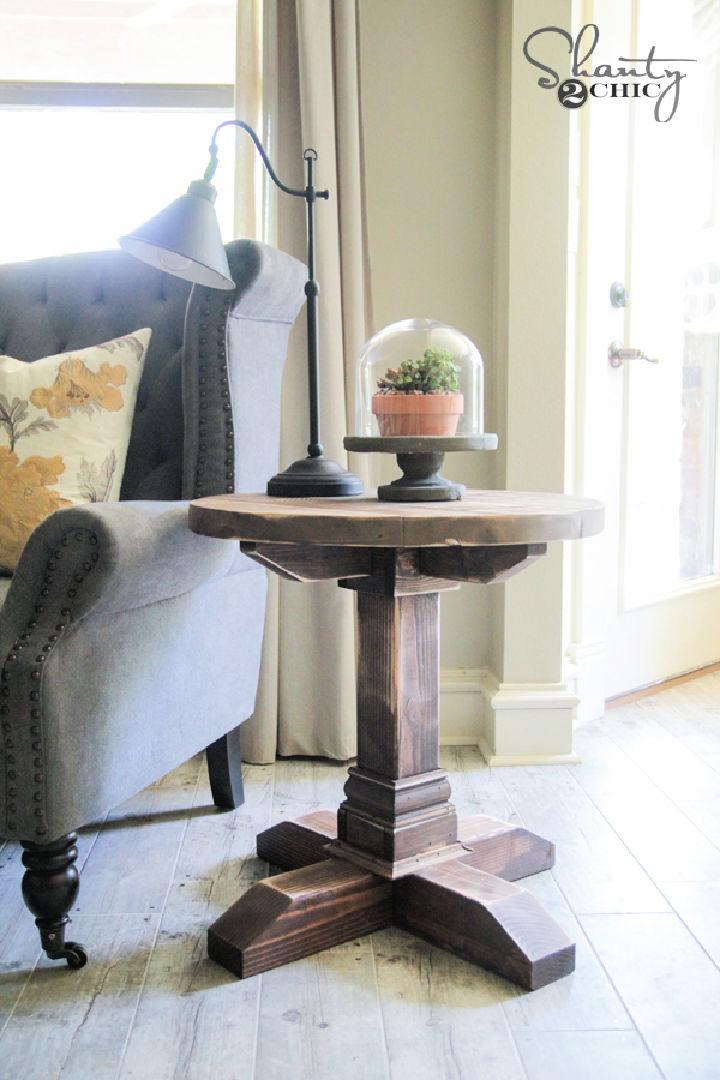 Last but definitely not least, here is a basic yet stunning round side table plan which is a must-have in everyone's house. It is a very simple and easy build for which you need not be a pro at woodwork and just following the detailed instructions will be enough for anyone making this. Moreover, the supplies that you will be needing are pine or whitewood board, casing molding, cove molding, wood glue, pocket hole screws, wood screws and a finish of your choice. shanty 2 chic
Conclusion about these end table plans:
So, we think that now you have a lot of inspirations and ideas for DIY end table plans to try making them yourself. You can choose any project that you like the best from the above-mentioned compilation and try it out. These are very low-cost alternatives to buying expensive tables from stores etc. Moreover, DIY can be very fun to make with lots of customization so you can fit your need while being creative and having fun. We have a wide range of end table plans so you can easily find the perfect one for you which suits your preferences the best. Make sure you have all the supplies and told needed for the selected project and you can finally start making them without any delay further. Good luck and happy building with our unique list of DIY end table plans!