Accommodate yourself or host the most amazing parties with a diy patio table. Learn how to build a patio table with these 25 free DIY patio table plans that come with detailed instructions and PDF guides. It is specially compiled for people who want to revamp their outdoor space on a budget yet want to add stylish pieces of furniture as well. Purchasing a patio table set can cost you an arm and a leg but we don't want that, right? So these diy patio table plans are the easiest and most useful alternative for that. We provide complete diy outdoor table plans with instructions using all the available and inexpensive supplies!
Lovely weather often makes people want to go outdoor and enjoy their meals or even a cup of nice, hot coffee and for that, you definitely need a comfy place to sit so these DIY patio table plans are the option to go for! This guide of diy patio table plans provides you with a wide range of tables including big outdoor tables, a simple side table, an old door table, modifying an old table, tile top table, concrete table or even an octagon shaped table! we have it all!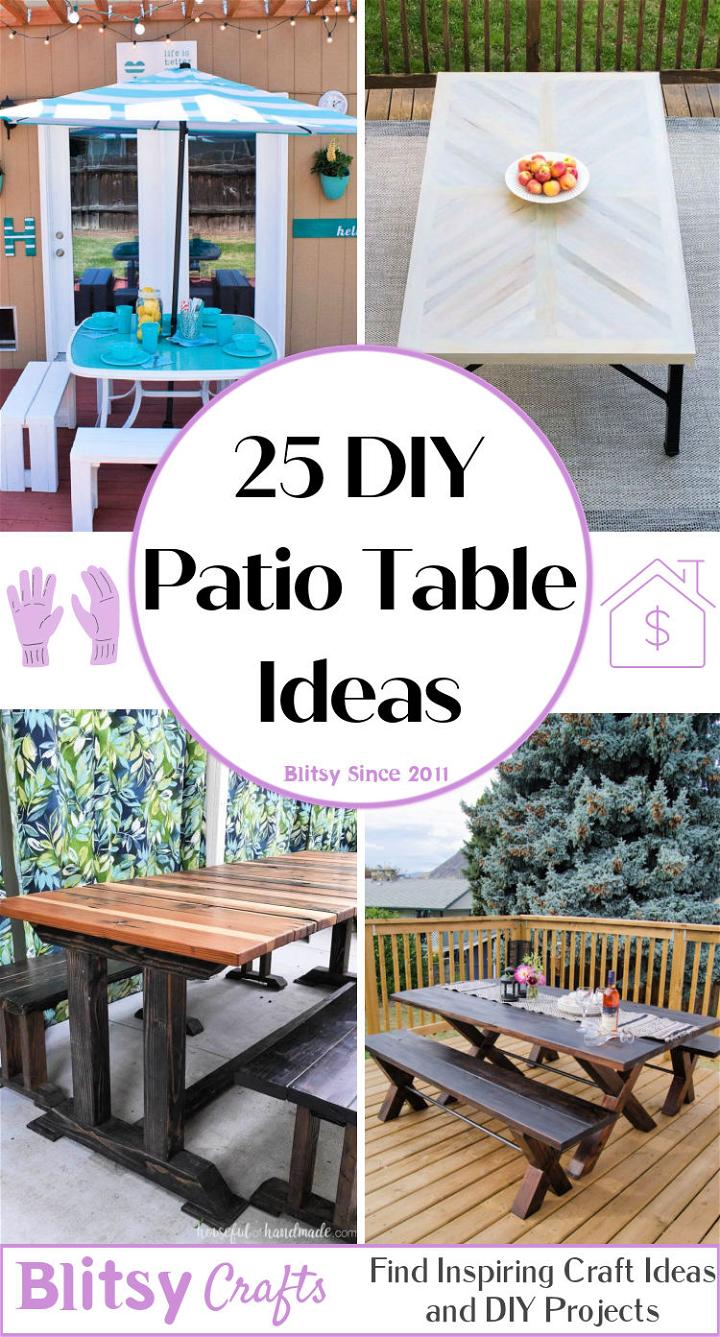 Moreover, you need to look for all the mentioned diy patio table plans and then considering your patio space, choose the perfect fit for you and without any further ado, start working on it right away!
1. Modern Farmhouse Patio Table With Umbrella

This modern DIY farmhouse table with an umbrella is perfect for the outdoors. This easy and simple to make table is built to comfortably cater to as many people as it can. It is very practical and gives off the perfect rustic vibe aesthetic. Moreover, we would need supplies like a drill, pocket hole jig, pocket hole screws, miter saw, hole saw, orbital sander, stain and weatherproof top coat. designingvibes
2. DIY Outdoor Patio Table

Summers are around the corner and you are thinking to dine outdoors? Well, here is the perfect DIY patio table for you to make. In just a couple of hours, you will have a full fledge table at a very economical price as compared to the ones you buy at stores. Additionally, you will need supplies like wood boards, bolts, washers and a circular saw to complete this. yellowbrickhome
3. Build a 2×4 Small Patio Table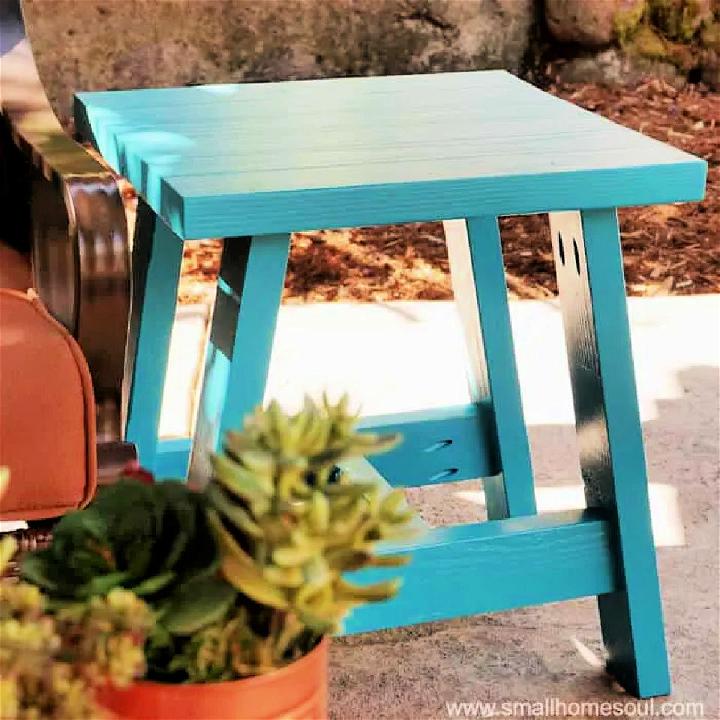 A great beginner woodworking project that anyone can make easily, sounds fun, right? Make this compact DIY patio table and add a stylish piece of furniture for your house. The most exciting part is that it does not require a big budget and supplies needed are cordless drill, pocket hole jig, table saw, exterior pocket hole screws, clamps, wood glue, palm sander, wood filler, sand paper, putty knife, spackle, wood filler and paint. girljustdiy
4. Round Wooden Patio Table Plan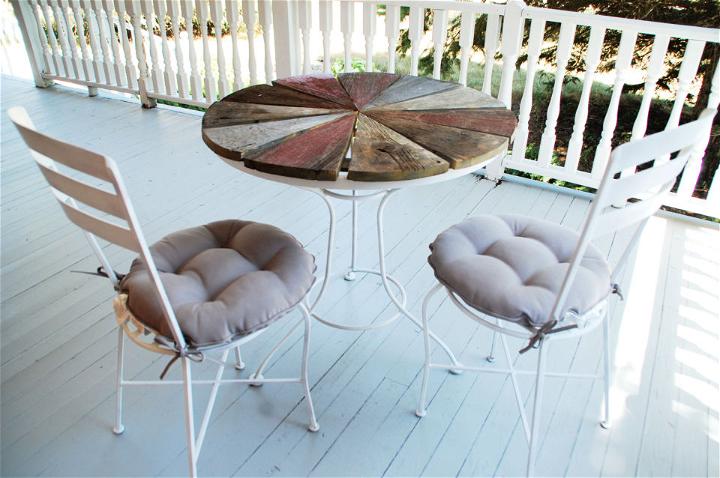 Salvage some old wood to make this rustic round wooden patio table plan. It will cost you very little considering that you will be using scrap wood. Functional and fun, this project will be great for not only eating out but you can also work or enjoy a nice cup of coffee on a beautiful, rainy day! Just gather up the supplies and you will be good to go. diydiva
5. DIY Patio Coffee Table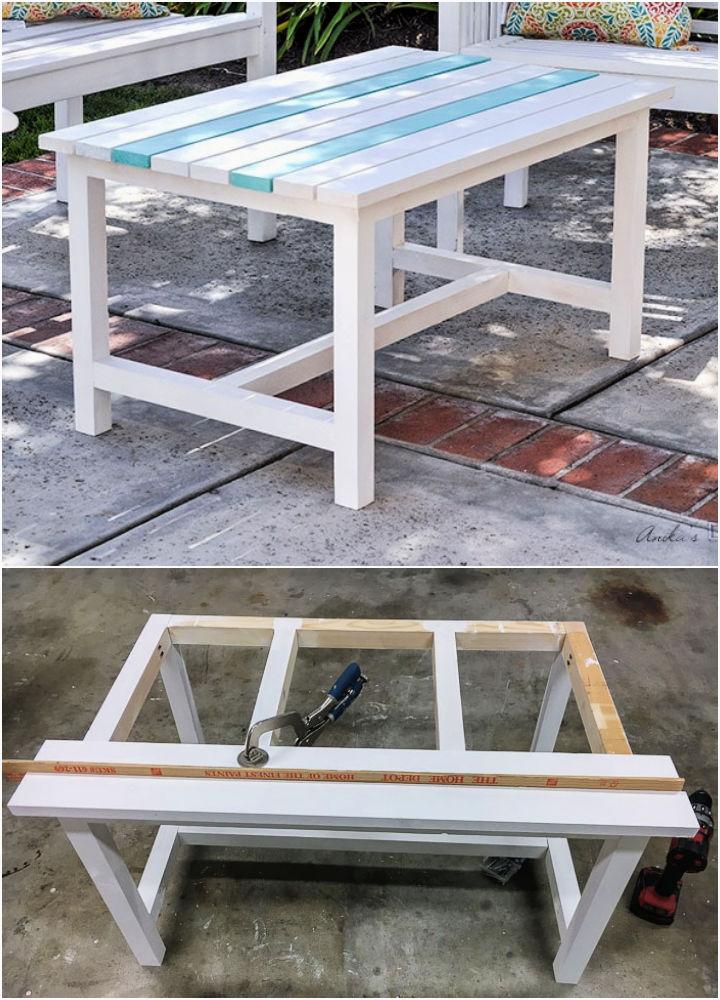 Learn how to make use of a broken door to make a stunning and useful DIY coffee table. Easy to make and ideal for outdoor sittings. Moreover, it is made with supplies like lumber, kreg jig, kreg screws, miter saw, miter box, wood screws, kreg right angle clam, face clamp, drill and wood glue. anikasdiylife
6. Glass Patio Table Makeover

Want to spiff up your porch by using the creative skills hidden in you? Unleash those powers to make this cute and fun DIY glass patio table. You can customize your boring table with this design while choosing a color that you like the most and complements your space overall. In addition to that, assemble materials like paint, paint roller and spray paint. makingtheworld
7. High Top Patio Table Plan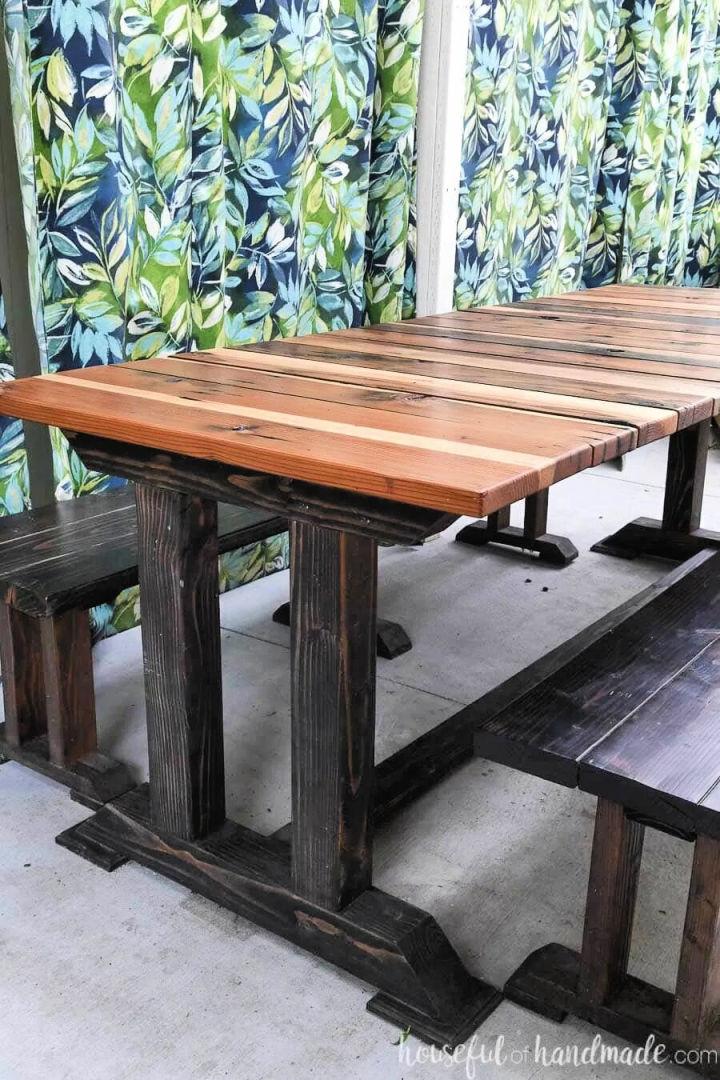 Do you miss going out and having a fun picnic? Well, how about arranging it on your own patio with a high-top DIY table plan. There is room for around 8 people to sit and enjoy at this DIY picnic table. Decorate it with some nice, modern decor items, which will enhance the piece's overall look. Additionally, you must have all the materials and tools with you before starting the project. housefulofhand
8. Making A Tile Top Patio Table

Here is a DIY patio table made in gorgeous and dreamy black and white color. It is a very trendy and affordable alternative to buying a patio table set from stores. Furthermore, you should have the materials like Merolo tiles, plywood, molding, nail gun, mortar, and grout to complete this table. seekinglavender
9. Outdoor Rectangular Patio Table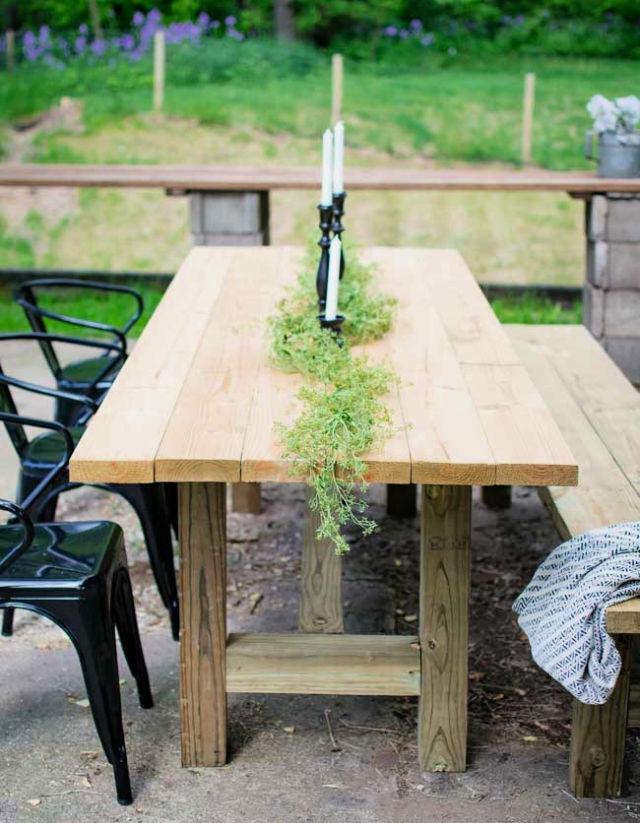 Ideal for summer relaxing and entertaining, this outdoor rectangular DIY patio table gives off farmhouse vibes. The best part about this is that it is very easy to make even if you do not know much woodwork. Additionally, you need to have supplies like the treated wood board, drill, wood screws, Kreg jig, Kreg screws, and wood clamp. northcountrynest
10. Wooden Patio Table With 2x4s For Less Than $60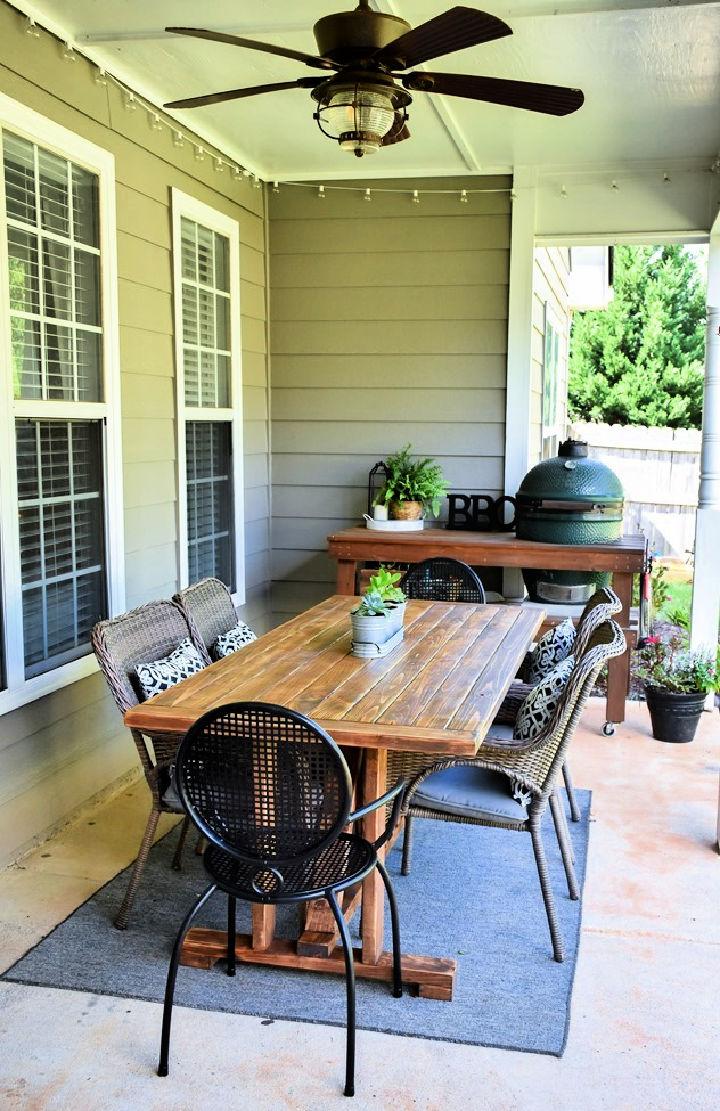 Choosing the perfect outdoor table can be a challenging task to do, so how about making one yourself? Sounds amazing to us! Build this DIY wooden patio table with 2 x 4s for less than $60. It is not such difficult woodwork; rather very easy to follow and make. Moreover, you will need your supplies: spam screws, pocket hole screws, varathane classic stain, varathane spar urethane, drill, miter saw, and an orbital sander. thefrugalhome
11. Easy DIY Outdoor Table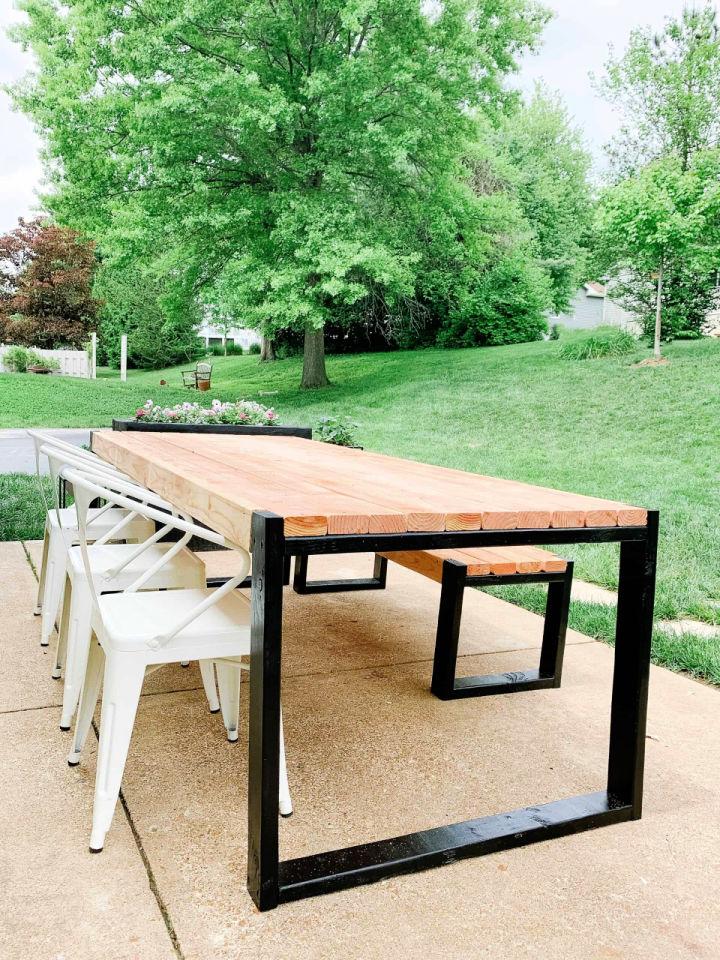 Outdoors are great for hangouts, having meals, or just sitting and relaxing for a bit. Make this time even more amazing by building yourself the perfect DIY patio tables. Here is a very easy option to make one. Adding to it, make sure to gather your supplies like outdoor deck screws, outdoor black paint, poly sealer / outdoor stain, wood filler, drill, and table saw. arinsolangeat
12. Cheap Outdoor Table Plan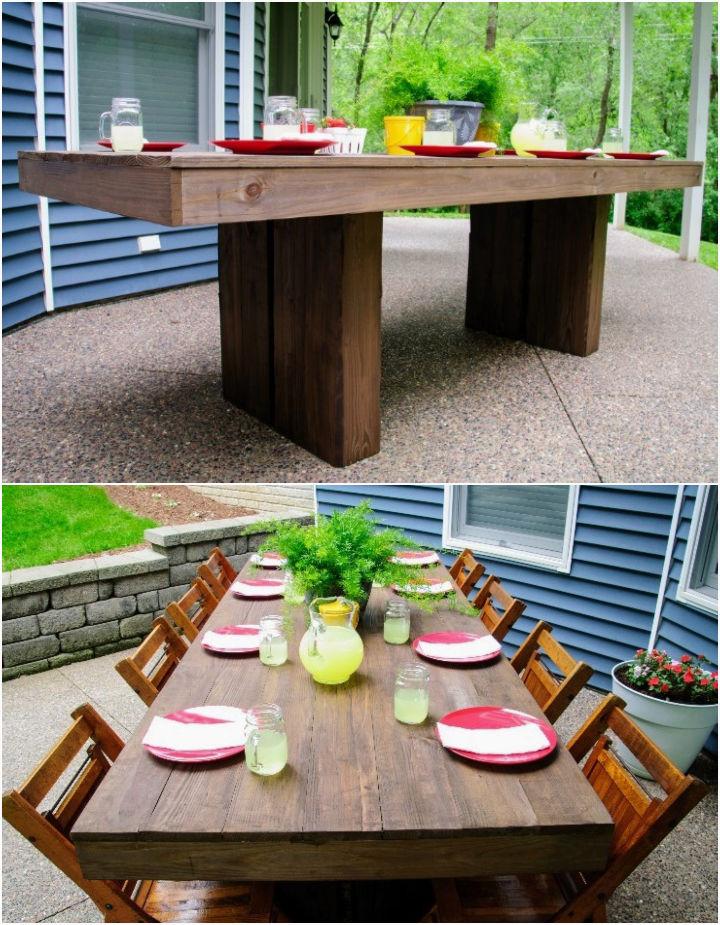 This DIY outdoor patio table tutorial is perfect for hosting a nice dinner for close friends or family. It is not very hard to make, and you can even customize by choosing the right wood for you to do the project. Additionally, you must have your supplies of pressure treat boards, outdoor screws, Kreg jig, and outdoor wood glue. decorandthedog
13. Ana White Patio Table Bench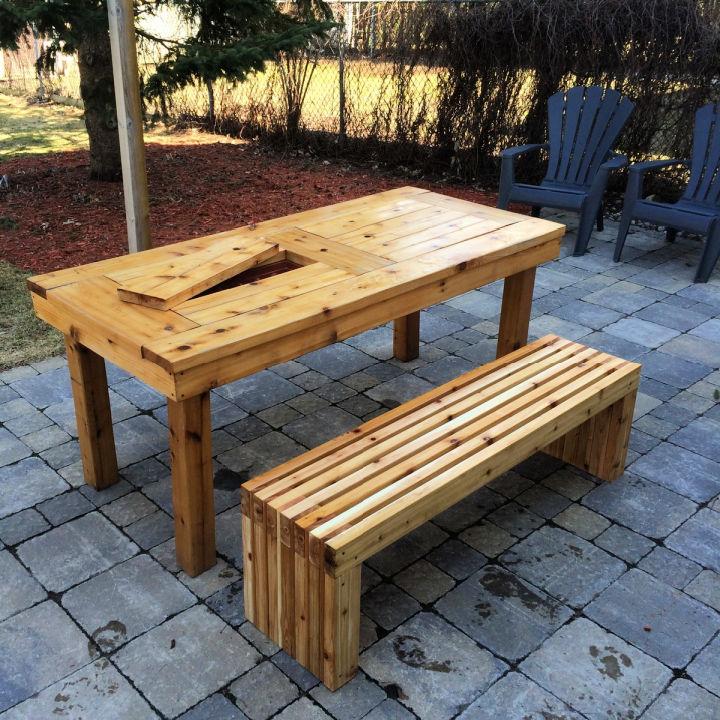 An excellent outdoor DIY patio table and outdoor benches tutorial to make your life easier. This project is great for beginners as well as it is pretty straightforward. In addition to that, you should have the basics supplies with you like wood, wood glue, wood filler, wood screws, sandpaper, clamps drill, and few more things as well. ana white
14. Simple $10 DIY Side Table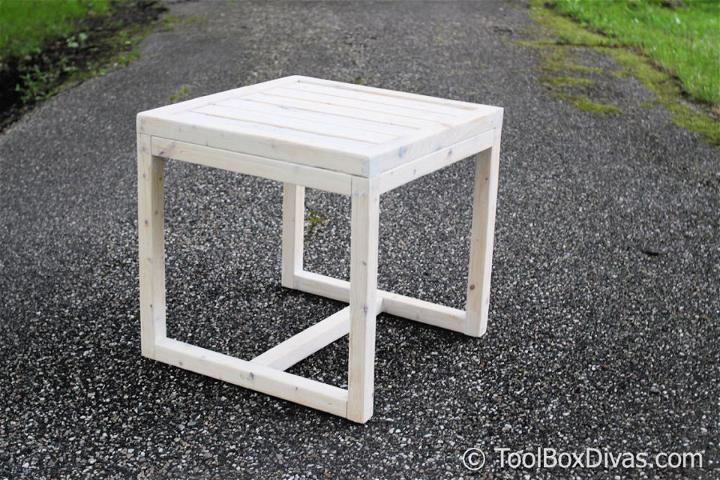 Are you in search of an easy and budget-friendly DIY patio table project to make? Build this super cute and simple outdoor side table for your patio. This accent table is going to be very useful to put drinks while enjoying a book, considering it will just cost you $10 to make. Furthermore, gather materials for the project like boards, screws, corner brackets, drill, miter saw, and sander. toolboxdivas
15. Dining Table for The Patio

Many people like dining out on the patio in the summers or when there is pleasant weather outside. If you are one of them, then you definitely need to build this simple yet beautiful DIT outdoor dining table for your patio. It will cost you just $20 for supplies like lumber, Kreg jig, pocket hole screws, exterior wood glue, miter saw, power drill, and paint or stain. anikasdiylife
16. DIY Patio Table For $65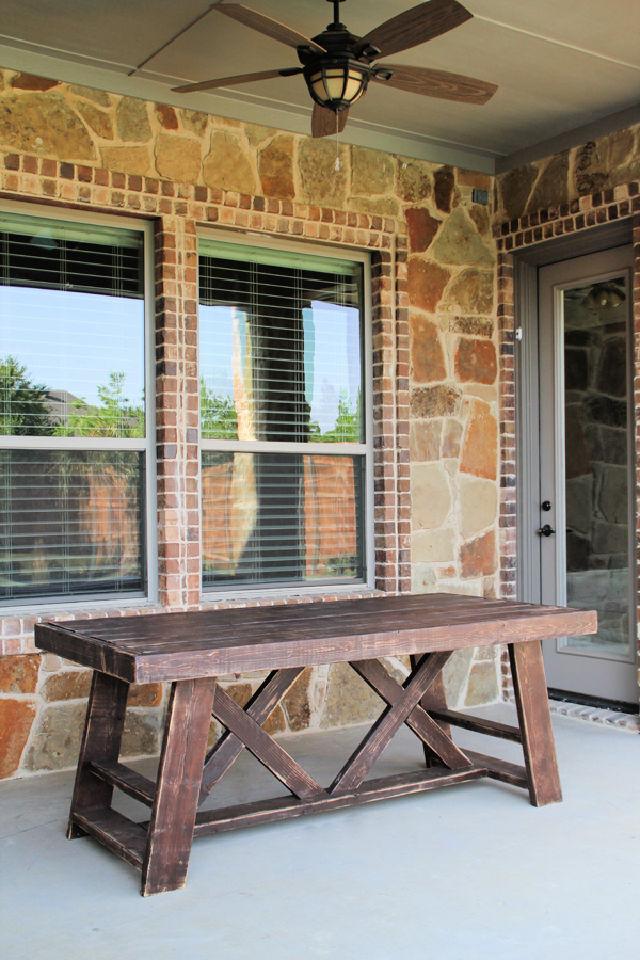 Want to hang out and entertain outside this spring season? Build this stunning DIY patio table easily for just $65. Besides, you will need to have a Kreg jig, pocket hole screws, wood glue, grit sandpaper, wood stain, and spar varnish for supplies. Splurge on some nice farmhouse decor for the table, or you can even lookout to buy benches with this beauty. shanty 2 chic
17. Affordable 2×4 Patio Table

DIY patio tables are the easiest and perfect way to build an item of economical yet trendy furniture for your home. These designs can even be customized according to your preference, unlike the ones you buy from stores which are also pretty expensive. Just like that, this affordable 2 x 4 patio table is specially made for people with a limited budget yet stylish choice. Additionally, you will need lumber, drill, and miter saw orbital sander, primer, stain, and few more things. bybrittanygold
18. Patio Table With Built In Drink Coolers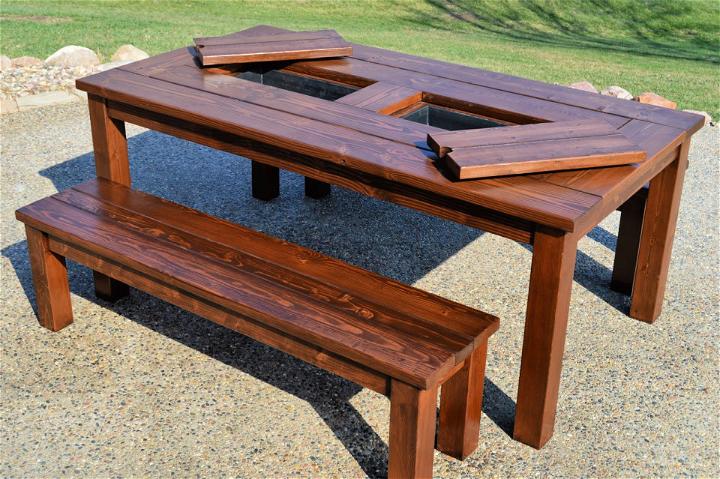 Here we have the smartest and most creative idea for a DIY patio table. These amazing built-in drink coolers are perfect for keeping your drinks cold while eating out on a hot day. This table idea will be a success among everybody and wonderful while hosting a party. Moreover, gather supplies like boards, plastic planter boxes, Kreg pocket screws, deck screws, bolts, washers, wood anchors, stain, brushes, etc. remodelaholic
19. X Leg Patio Table With Pipe Trestle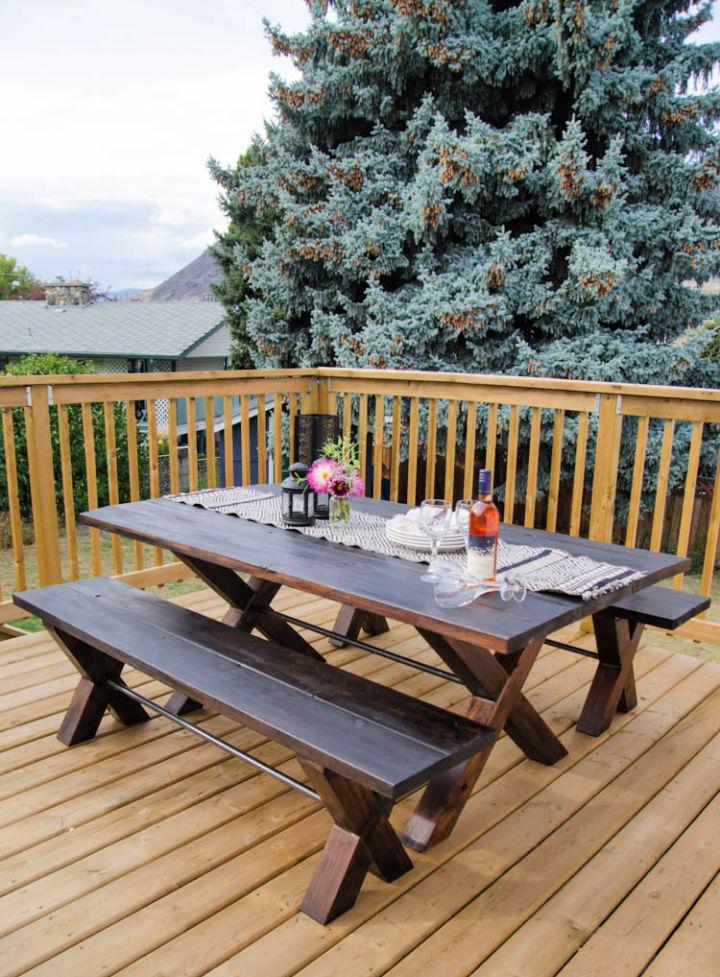 Wondering how to make a classy yet inexpensive DIY patio table for your home? Here is the perfect option for you! This X-leg patio table with pipe trestle is ideal for dinner, birthday party, or just a casual get-together. If you have a way around with power tools, then you can easily pull this project off. Additionally, you should have your supplies with you, including lumber pieces, electrical conduit pipe, black spray paint, wood screws, Kreg jig, wood glue, spade bit, circular saw and drill, etc., to complete this table. lemonthistle
20. Gray Farmhouse Patio Table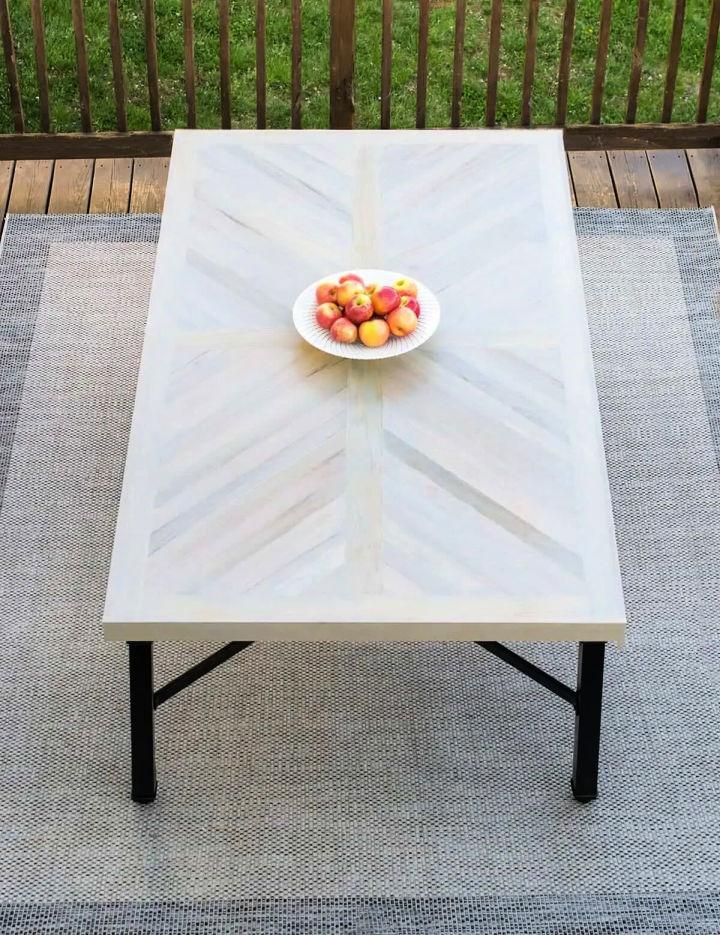 Enjoy Spring this season in a more fun way by building this DIY outdoor dining table by customizing it into a gorgeous farmhouse style. Just grab a table set from your local thrift store and modify it into how you want your table to look by spending a lot less. Besides, you need material like white oak wood boards, Kreg jig, brad nailer, wood glue, plywood, miter saw, wood stain, varathane ultimate exterior spar urethane, etc. cravingsome
21. Making an Old Door Patio Table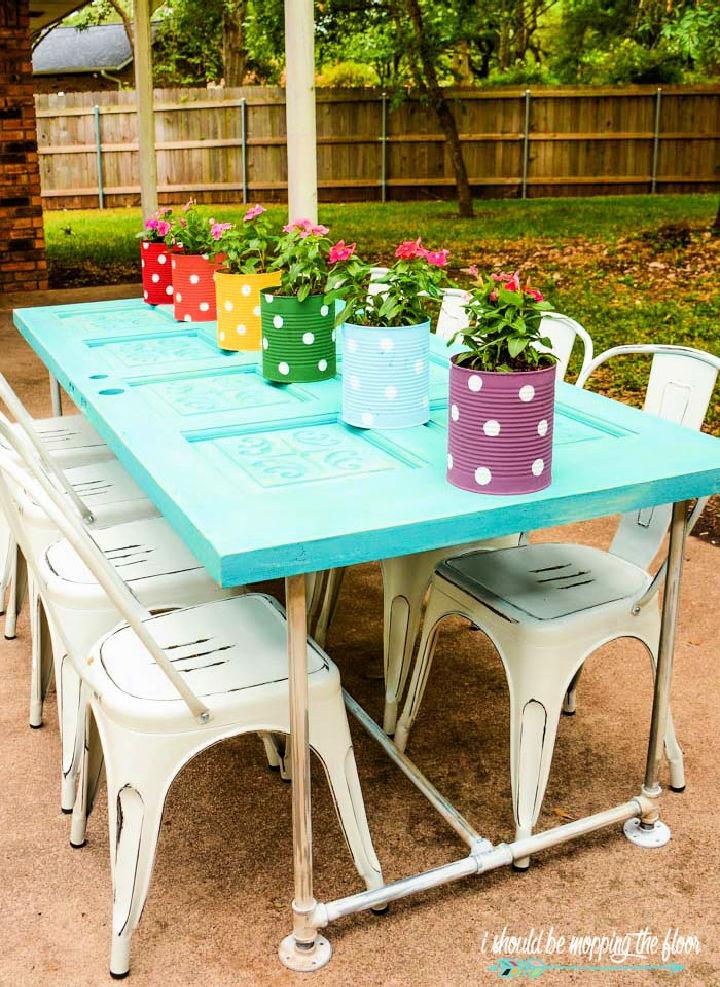 Going to throw out an old broken door? Well, how about turning it into a nice and useful DIY patio table? Absolutely incredible, right? Well, you can make use of a broken door by making the base out of a plumbing pipe, and it will surely become one of your favorite projects. Furthermore, you will have to gather all the required supplies for this project like pipe pieces, an old door, paint, screws, wax, and few more things. ishouldbemop
22. Pallet Outdoor Dining Table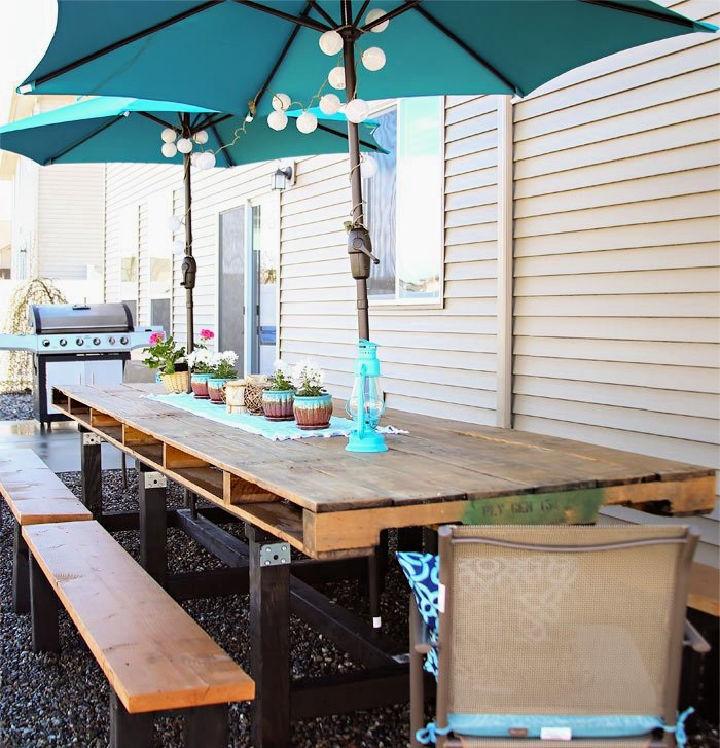 If you are a pallet furniture lover, you surely have to try making this DIY pallet outdoor dining table. This is super fun and useful plan which can be completed easily over a weekend. You can make use of your outdoor space with this pallet project in pleasant weather, along with making sure that you have all the necessary supplies with you before starting it. kleinworthco
23. Homemade Mosaic Patio Table

This DIY mosaic tile outdoor table is really easy to create and makes a great addition to your patio furniture. The tabletop is finished using mosaic tiles, which gives this design an entertaining and unique vibe. Adding on, you need basic materials like wood supplies, pine boards, screws, tiles, glue, etc. to complete the project efficiently. centsationalstyle
24. DIY Concrete Table Plus Solar Lamps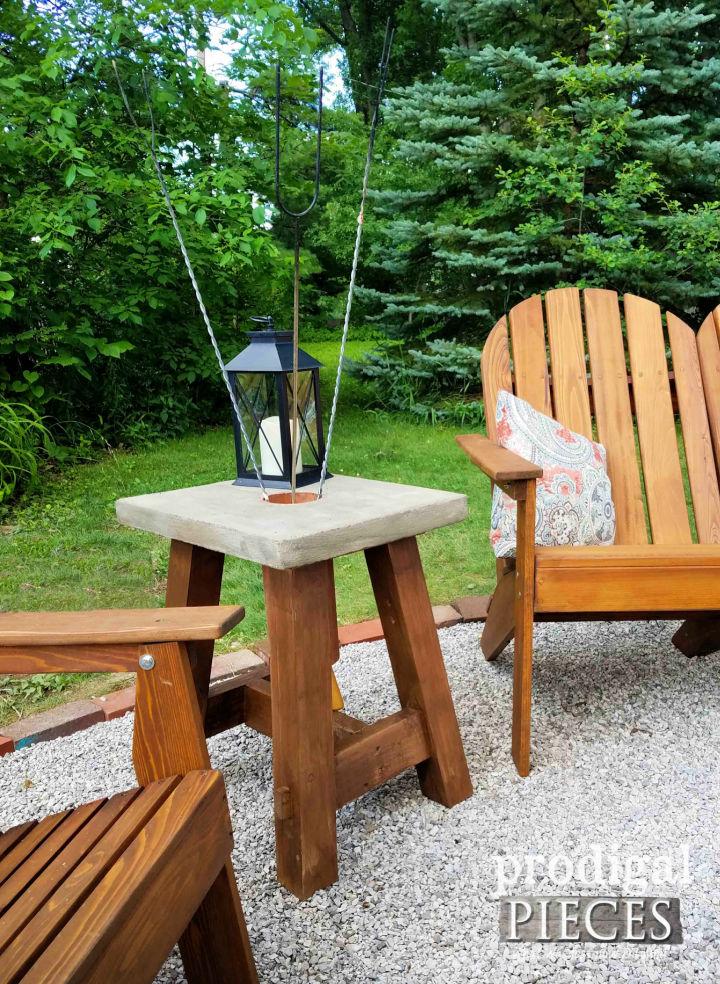 Take your outdoor decor to the next level with these DIY concrete tables plus solar lamps. The best part about these tables is that they are versatile and durable. Also, these tables can be customizable to meet your preference. Moreover, the materials and tools needed are board, concrete adhesive, decking screws, chicken wire, stain, wood glue, drain pipe, drill, table saw, miter saw, mixing drill bit, spade, etc. prodigalpieces
25. Outdoor Octagon Coffee Table With Lattice Legs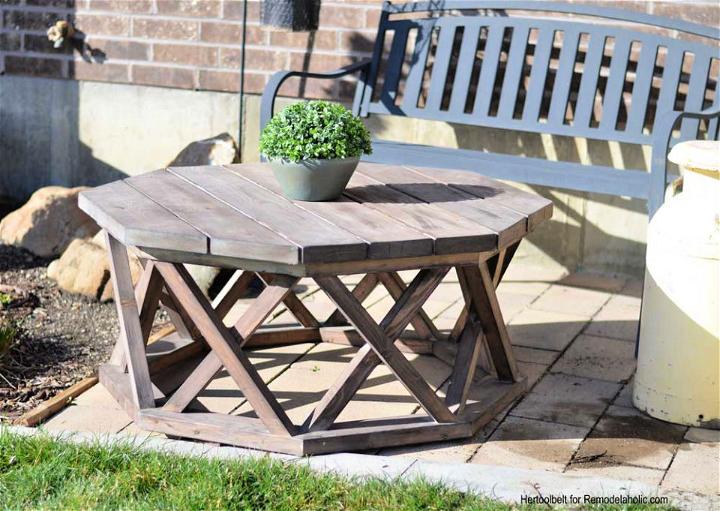 Last but definitely not least, if you are tired of circle and rectangle tables, then build this fun and unique octagon outdoor DIY table with lattice X legs. It is a beginner-friendly project, and you do not need to be a pro at woodwork for this. If you like modern farmhouse style, this is the perfect design for you to try out with supplies like boards, pocket hole screws, brad nails, Kreg pocket hole jig, wood glue, sandpaper, stain/topcoat, and pocket hole plugs. remodelaholic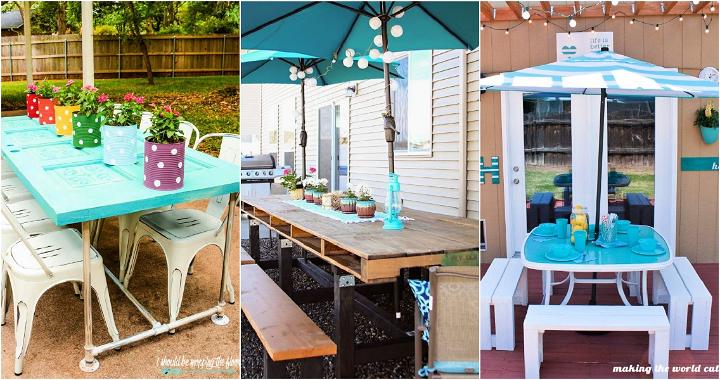 Conclusion:
We hope that now you are quite inspired by the above-mentioned list of all the diy patio table plans you can make a patio table. You will have a great-looking patio once you add these beautiful and practical diy patio table plans to them. Enjoy summers and spring by making the diy patio table plans budget-friendly while using inexpensive materials along with little effort and time.
Start by choosing and selecting your desired diy patio table design to match your home decor and plan out the perfect space for it. Then you need to gather all the supplies and tools necessary for it, most of them might be present at your home already. So, dedicate a weekend to a project, and you will have an amazing outdoor space to sit and enjoy pleasant weather in the upcoming days! Good luck!