The purpose of a mirror is obvious. However, they also go much beyond the modern interior world and serve as a great decoration. So, learn to make all sorts of decorative and other custom mirror designs at home with the help of these 20 unique diy mirror frame ideas based on genius hacks. At the same time, the list will provide tutorials also to build all those expensive types of mirrors inexpensively, like the Pottery Barn-inspired ones
Explore this grand list of 20 inspiring DIY Mirror frame ideas and see a big range of homemade mirrors, sure to impress you at a very first glance. From building floral mirror to lighted vanity mirror and epic sunburst mirror to diy mirror wall, you will learn here to build all. This not ends here. The mirror frame ideas list will provide a big range of IKEA Mirror and smart tech mirrors that will certainly leave everyone stunned.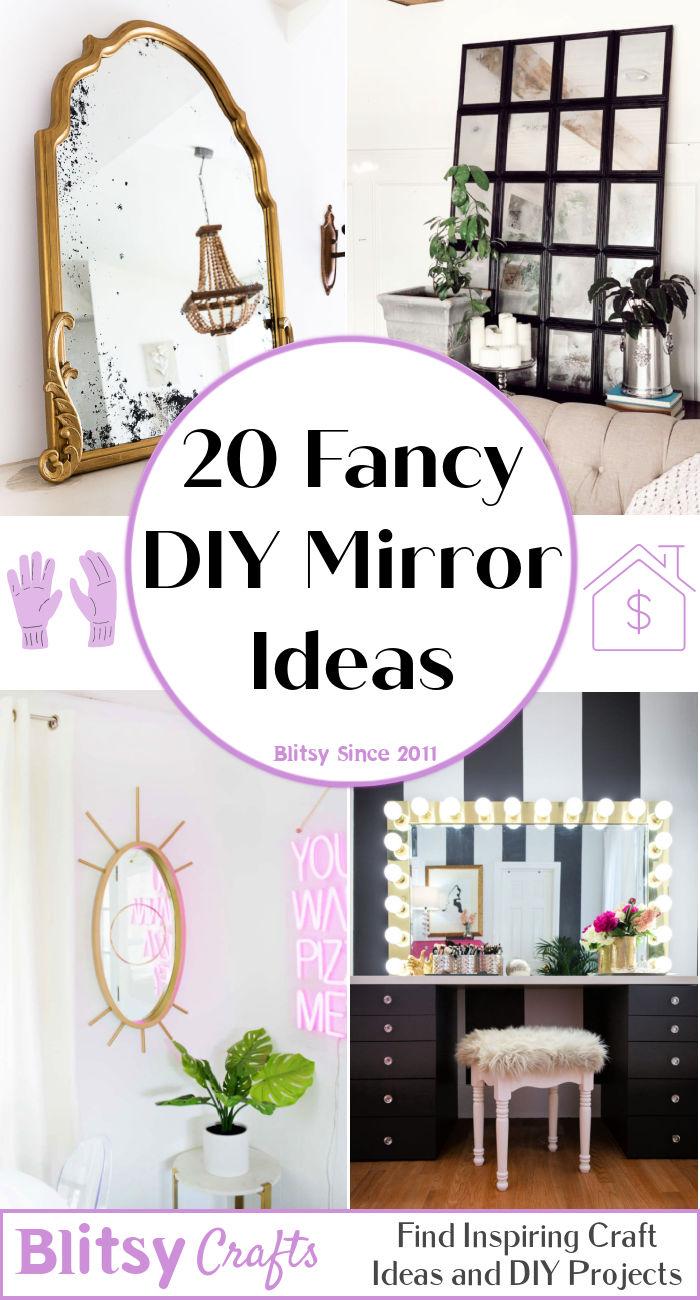 In short, this episode will make you a master at making DIY mirrors of all kinds. You will learn here to update, revamp and refurbish the old mirrors also. At the same time, you will get comprehensive guides about installing lights, decorative frames, and other accents to mirrors you want to update. These DIY mirror frame ideas will allow you to build all sorts of mirrors, from round mirrors to sunburst ones to mosaic mirrors.
1. DIY Wooden Eye Wall Mirror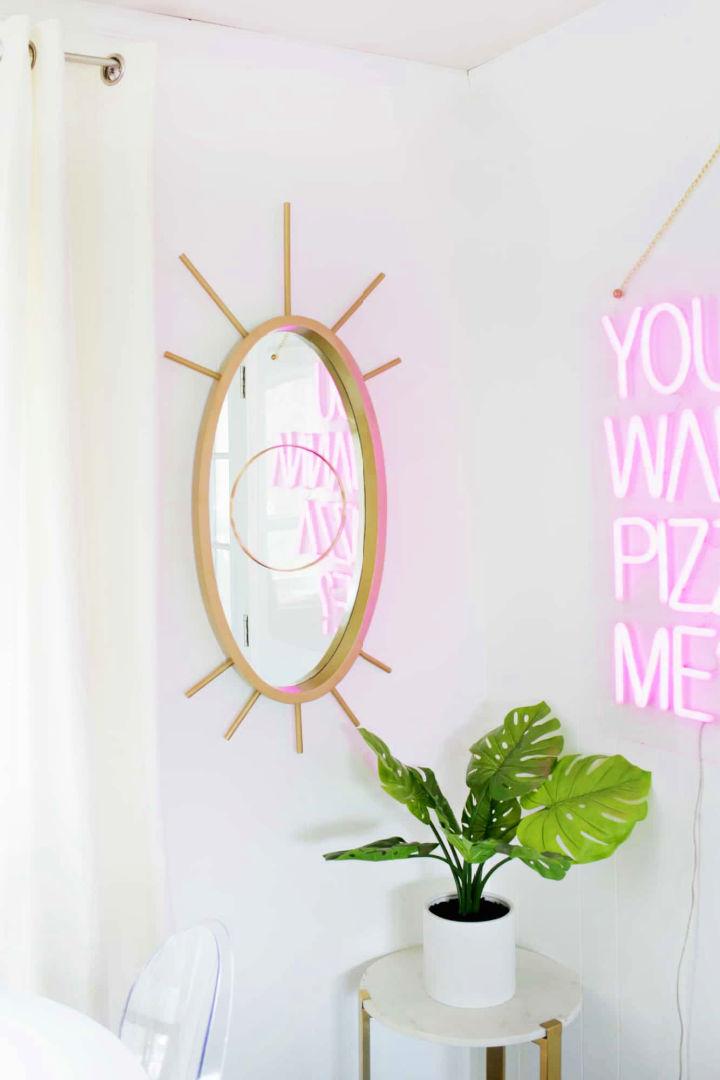 Want a novelty mirror that will serve the basic purpose and make a great wall art piece too? So, create a bigger decor statement in your space by adding this eye mirror frame on the wall. Making the mirror is pretty simple, do a creative makeover of an oval framed wood mirror to make it look like an eye. You can easily do so using wooden dowel rods, gold ring, glue, and paint for the mirror. In this project, ½" thick wooden dowels and a 10″ gold ring are used for the precious eye makeover of the mirror. abeautifulmess
2. Dollar Tree Window Pane Mirror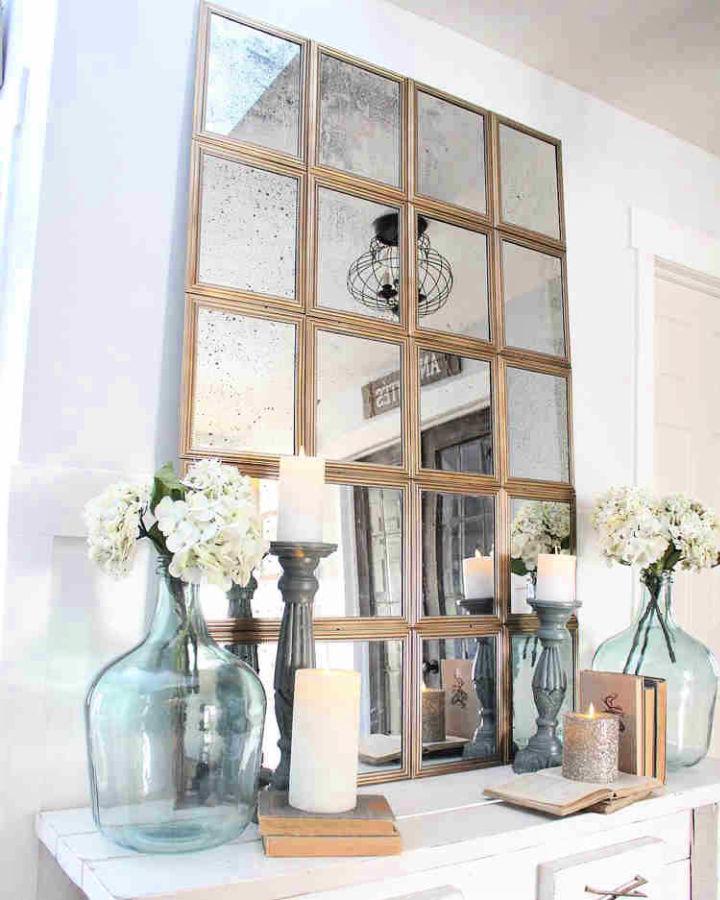 Looking for a high-end decor for your modern, chic white and luxury interiors? This windowpane mirror will or DIY mirror wall will do the trick. It may look like an expensive purchase, but actually, it is homemade and is very inexpensive. The design is inspired by Pottery Barn and will be much doable even for a beginner. You need 20 Dollar Tree Mirrors 11 ½" x 9 ½", a large piece of plywood, spray paint, paint chemical stripper, heavy-duty oven cleaner, saran wrap, flat edge scraping tool, glue and glue sticks. One of the best DIY Dollar Store mirror ideas that everyone can duplicate. bloomingdiyer
3. Rustic DIY Sunburst Mirror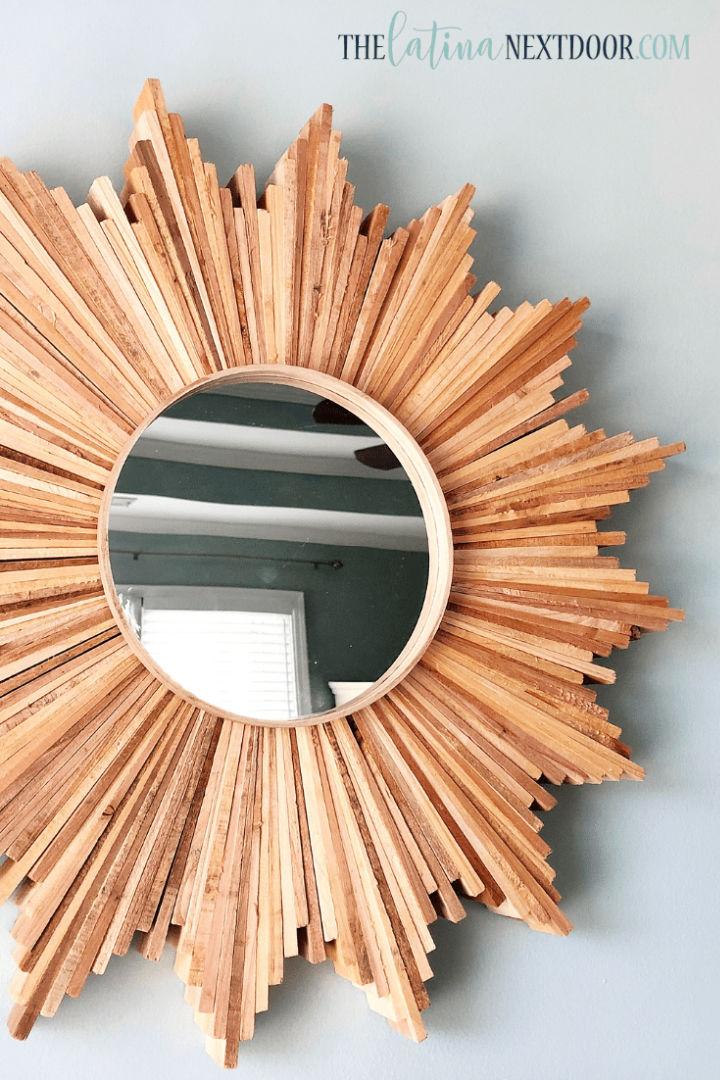 You will love to start your day by looking yourself into this sunburst wall mirror, sure to say a sweet good morning to you. It will make a great rustic wall decor also. In market rates and prices, this type of mirror costs big. But here, you will learn to make it at home in a budget-friendly way. To complete this rustic wooden sunburst mirror, you need wood shims, wood glue, clamps, embroidery hoop 8″, a round mirror and a wire hanging kit. The mirror will leave a great impression on all the onlookers. thelatinanextdoor
4. The Ultimate DIY Antique Mirror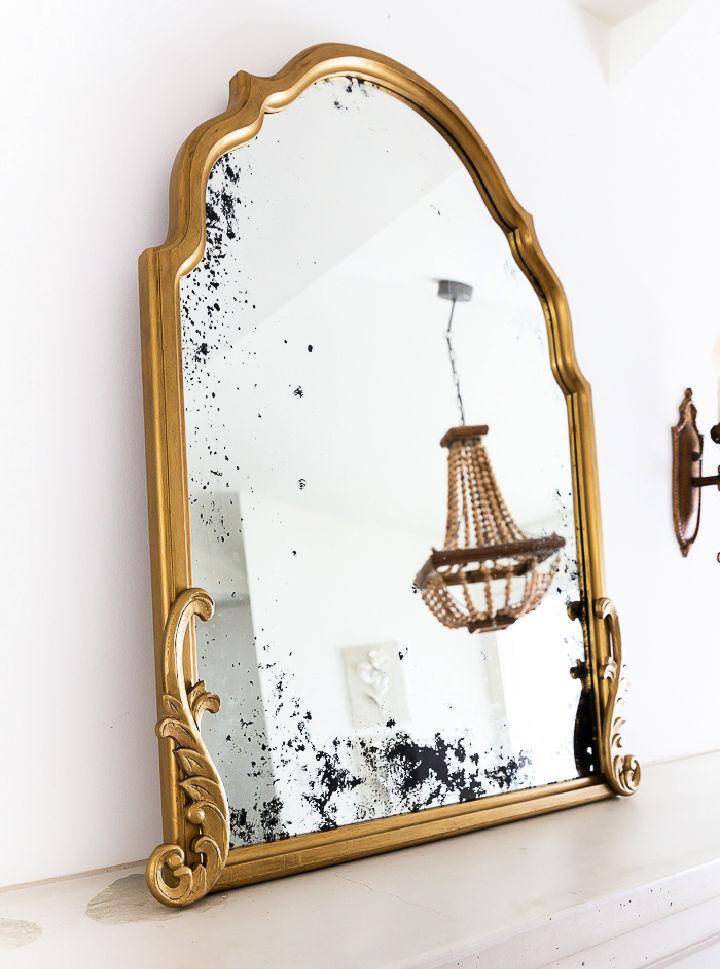 Satisfy your love for antique mirrors by making them at home. Don't know where to start? Follow the creative tricks and hacks here to make one that will bring lots of character and antique vibes to a particular room interior. The project will share complete guides about how to do an antique makeover of a mirror. You need a drop cloth, plastic garbage bags, mirror, paint remover, chip brush, plastic scraper, chemical gloves, paper towels, eye protection, face mask, funnel, plastic spray bottle, muriatic acid, Amy Howard antique mirror stripper and mirror effect to complete this project. somuchbetter
5. DIY Multiple Panel Mirror Frame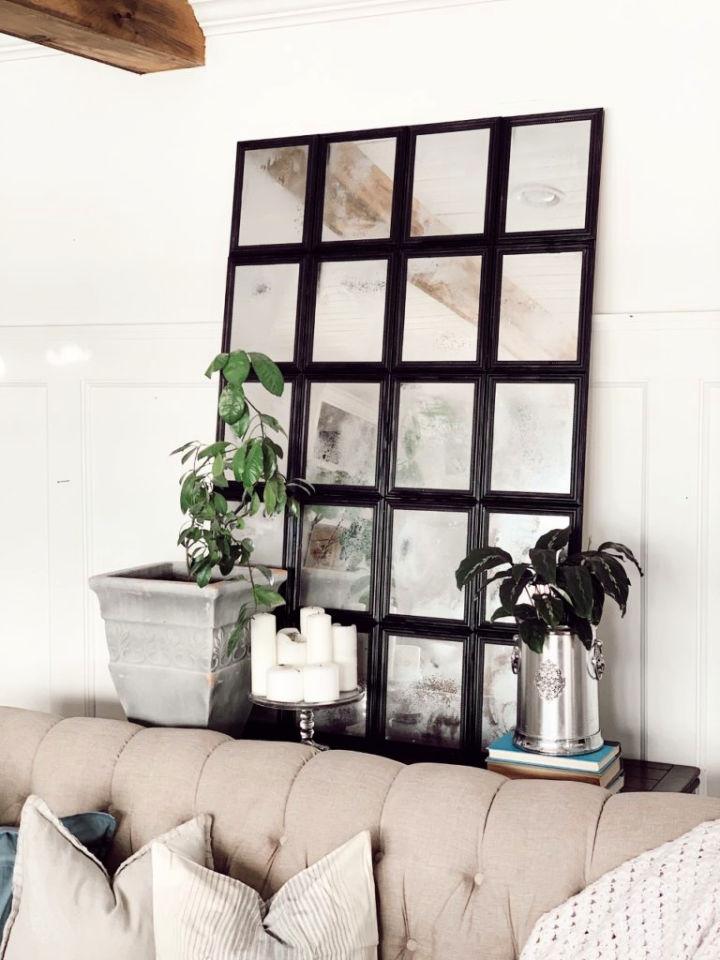 You will love this windowpane mirror that is a crazy Pottery Barn knock-off. The best antique mirror to add to your most attractive home wall or foyer table. The design is made of Dollar Store mirrors that you can easily mound on a piece of plywood. The design of the mirror is super impressive, and everyone can duplicate it. In supplies, you need Dollar Store framed mirrors, black spray paint, a piece of plywood, antique pewter spray paint, chrome spray paint, water and white vinegar, an old rag and an empty spray bottle to duplicate this mirror. thislittleestate
6. $50 Full Length Wall Mirrors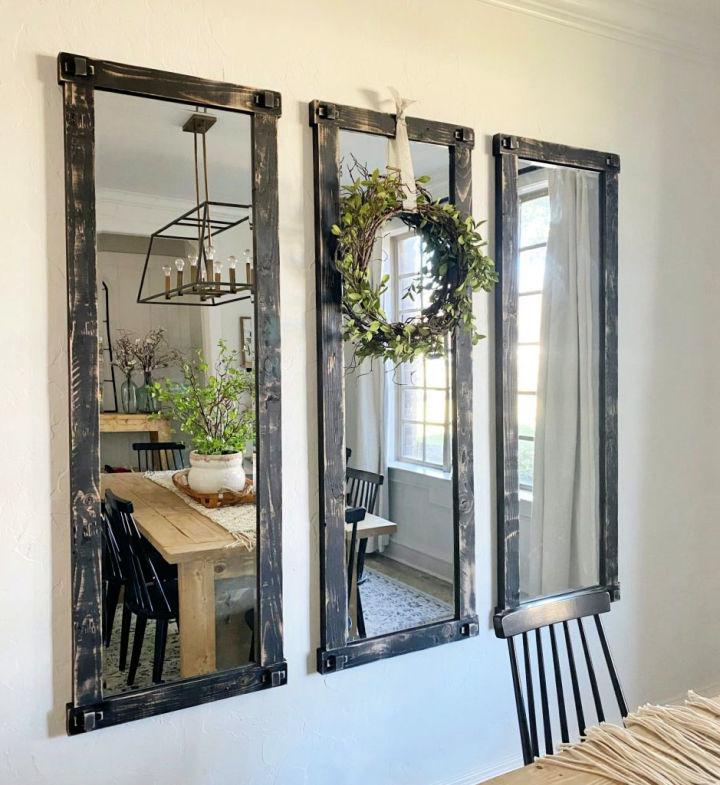 The wall mirrors serve an interior in multiple different ways as they are decor and a need at the same time. However, choosing a custom mirror complementing your style can make the whole space look super impressive. Learn here to make full-length mirrors at the amazing cost of $50. The project is beginner-friendly and involves using the ¾" plywood and 2x4s. Go with the pocket hole joinery system to assemble the frames with no visible hardware. Finish the frames with frameless mirrors, and that's it. A trio of these mirrors will go for bigger decor statements for sure. shanty 2 chic
7. Make Your Own Smart Mirror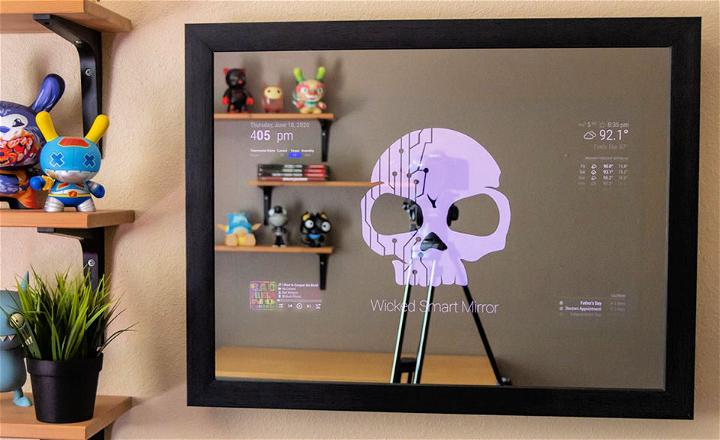 This project will share the rare and most creative details about how to build a smart mirror. It will be a two-way mirror that will show the time, date, weather, etc. It will build with a smart LED screen. They can be placed in the kitchen, bathroom, and custom accent table for bigger style statements. The very required supplies for the project will be, 18″ x 24″ picture frame, Acer 1080p monitor, raspberry pi kit, 18″ x 24″ two-way glass mirror, acrylic mirror, HDMI adapter, black acrylic paint, ¾" plywood, keyboard, mouse, glue and wood screws to complete this one-of-a-kind smart mirror. instructables
8. DIY Vanity Mirror Project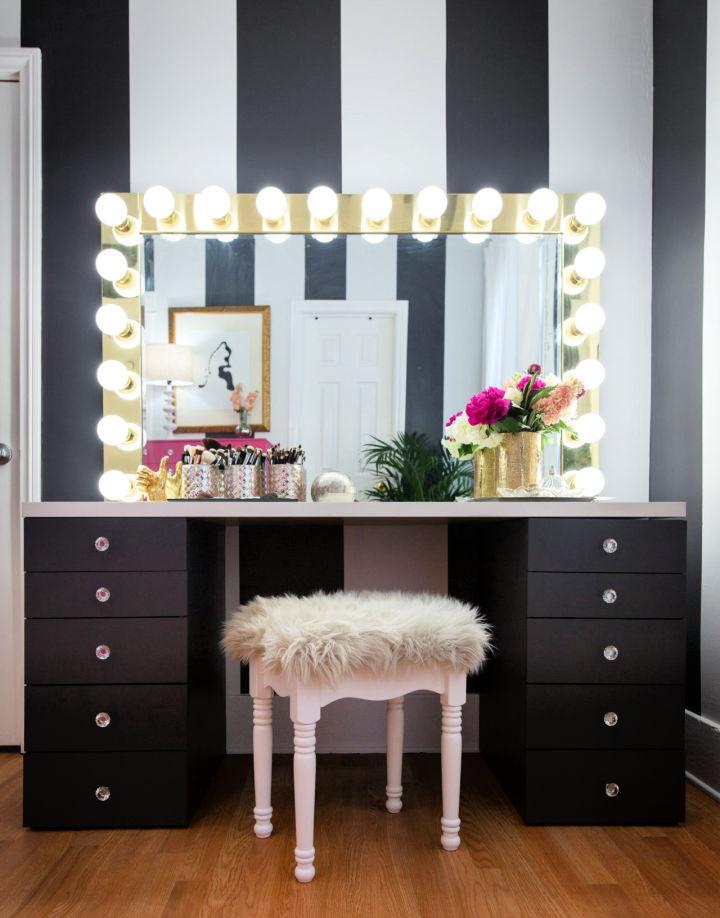 You always need a big sharp focus of light right on your face during a makeup session. So, you can create this lighted mirror for the makeup vanity that will light up the whole room. It comes with an equally spaced line of bulbs around the boundary and is a homemade creation. Grab the frameless mirror, 3 vanity light strips, light bulbs, ½" plywood, 3 prong replacement plugs, remote plug and custom wood tools for cutting, measurements and assemblage, to complete this project. Use paint to match the mirror boundary with the vanity table. mrkate
9. IKEA Infinity Mirror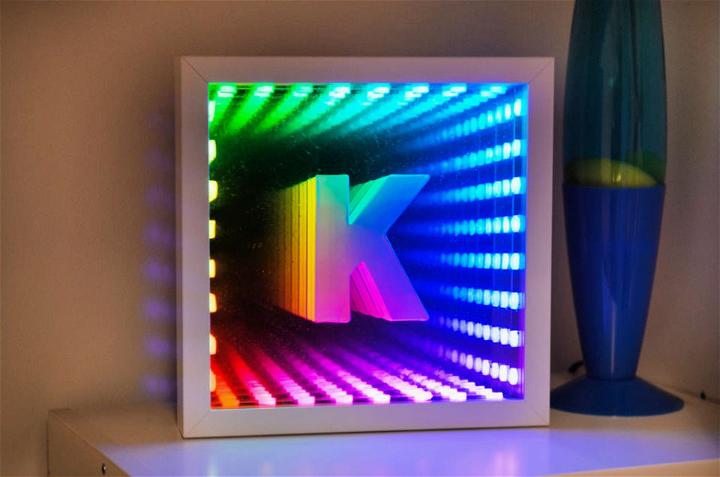 This mirror will be a unique piece of art to feature on your accent shelves, tables and even on walls—a modern magical mirror, sure to leave the entire audience stunned. The whole project is a brilliant IKEA hack, and one should get this type of mirror when need to create a stimulating vision of the entire space. To make this mirror, grab the IKEA ribba frame, LEDs, mirror film, mirror, wire, LED driver and 5V adapter to complete this IKEA infinity mirror. The best handmade gift to give to a close friend. instructables
10. No Grout Mosaic Tile Mirror Frame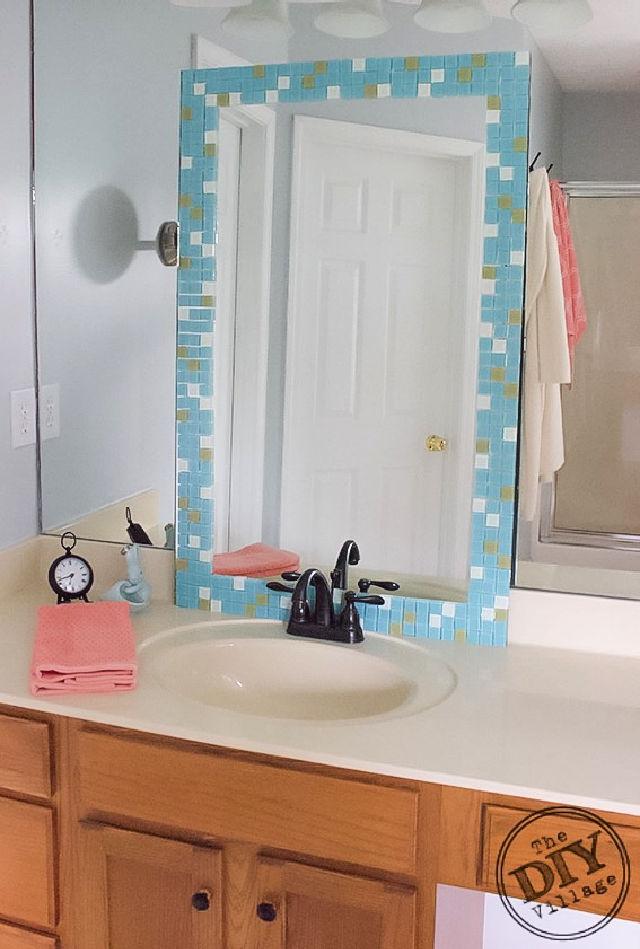 Feature the extra brilliant mosaic effect right in your bathroom by adding this no-grout mosaic tile mirror, a crazy DIY creation. You need scotch clear mounting tape, scissors, a utility knife, mosaic tiles and a mirror to whip up this fantastic mosaic mirror, sure to be a significant addition to one's space. The idea is to adhere the tiles all around the mirror for added visual grace and stimulation. The best DIY mirror to make at the drop of a hat will bring tons of focal stimulation to the entire bathroom. thediyvillage
11. DIY Backlit Mirror – Bathroom Remodel

Do you intend to renovate your bathroom, and mirror replacement is added to your plan? Then time to do a quick remodels with this light-up bathroom mirror, wholly made at home. The addition of a mirror will give a touch of hotel ambiance to the entire bathroom, and you can add it to any room or wall also for adding mind-blowing ambiance. Get a mirror and frame it out with some pieces of wood. Hang the mirror on the wall in a way that it will stick out a little so the soft glowing light will be visible behind. leahandjoe
12. DIY Flower Mirror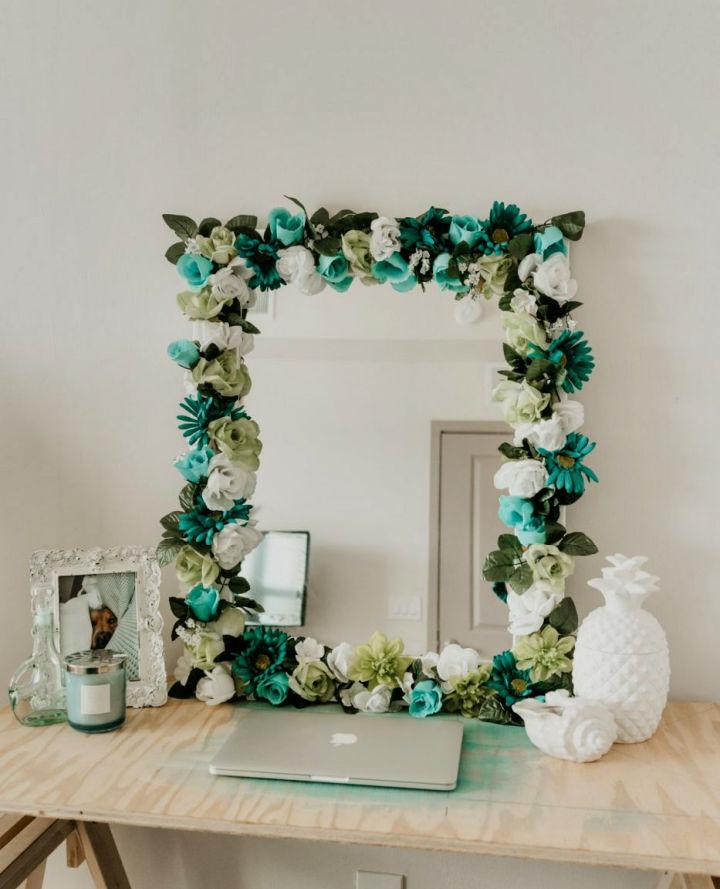 Bring the necessary colors and a glam touch of the garden to a bathroom or any wall by adding this flower mirror. Everyone can make this diy mirror frame at home as the whole project is quick and straightforward. You need a mirror, hot glue and some fake flowers to complete this flower mirror. The idea is to glue the fake flowers of choice around the mirror to create that amazing floral boundary or edge. Choose any other type of flowers you like to add to your mirror. The whole project will also cost you next to nothing. sweetteal
13. How to Frame a Mirror

Buying new mirrors can get expensive when you want them to match a custom decor theme of the targeted space. However, replacing mirrors is not always the solution. You can also update the old mirrors to look brand new and perfect to match the current decors. So, learn here all about how to frame up a mirror. To complete this project, you need primed MDF, tape measure, paneling adhesive, extra-strength wood glue, caulk, level, latex paint, painter's tape, and paintbrush. The entire project will be much doable for all. hgtv
14. Makeup Vanity Mirror With Lights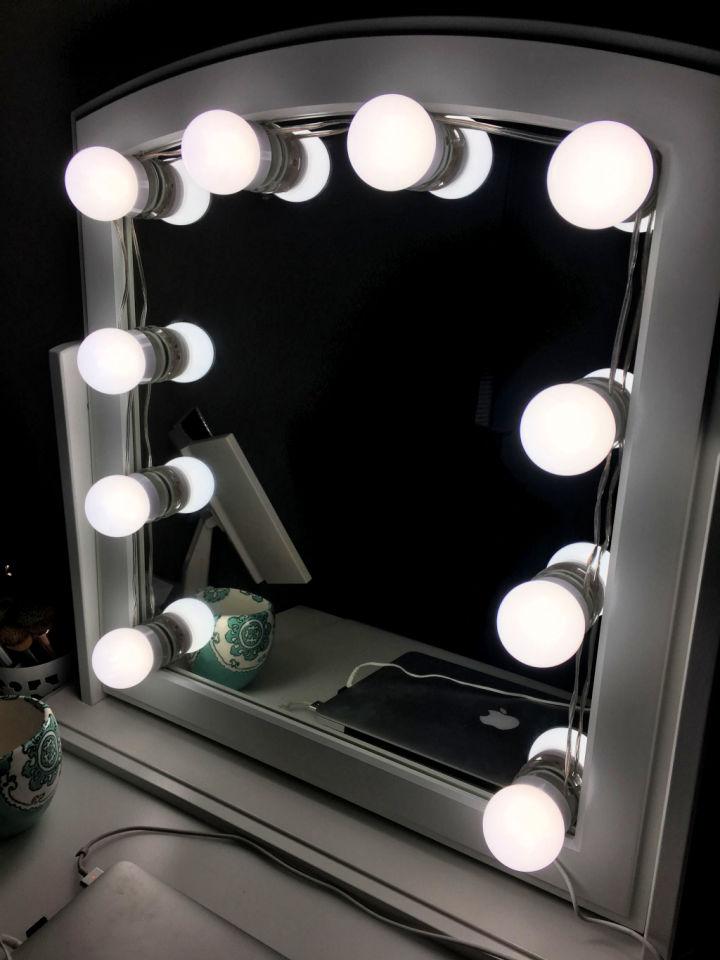 Check out here a brilliant IKEA hack to make a quick modern vanity mirror in a budget-friendly way. The project will cost you less than $70 and is much doable even for a beginner. You need IKEA TYSSEDAL Mirror, LED vanity light kid and some creativity to complete this IKEA hack LED light vanity mirror. This diy mirror frame will rock your makeup routines and sure to make everything visible beautifully. The best handmade gift to make for every makeup-loving lady, and it will be a total pleasure to make also. One of the best DIY mirrors ever made, and it will be there in no time. girllovesgloss
15. DIY Pottery Barn Eagan Mirror Frame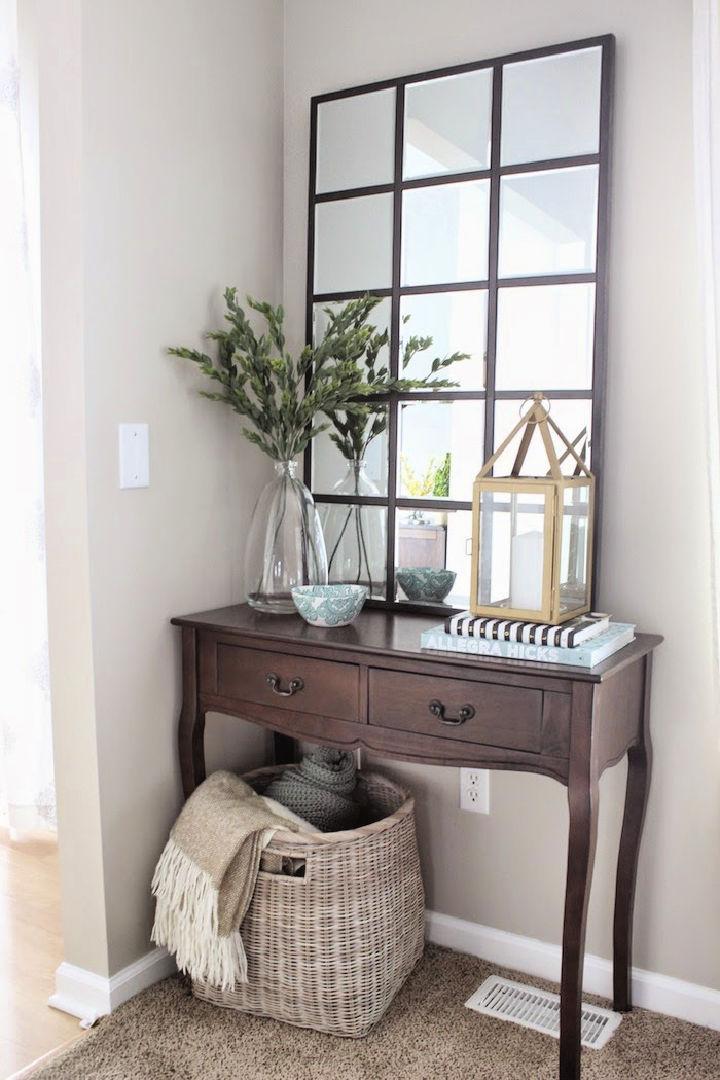 Want to feature a glam touch of Pottery Barn style in your home decors? Do so by adding this Pottery Barn Multipanel Eagen Mirror to your space. Ideally, it will be beautiful to place over an accent table, and you will love making it at home. Grab the 15 candle mirrors in size 8″x8″ to make this brilliantly beautiful PB-inspired mirror—the best homemade gif to make in no time. First, make the frame for the mirrors with the grid-style panels on the surface. Complete the project by fitting the mirrors into built-in square frames. Next, stain or paint it to create an exact look of it. itsagrandvillelife
16. Large Paneled Wall Mirror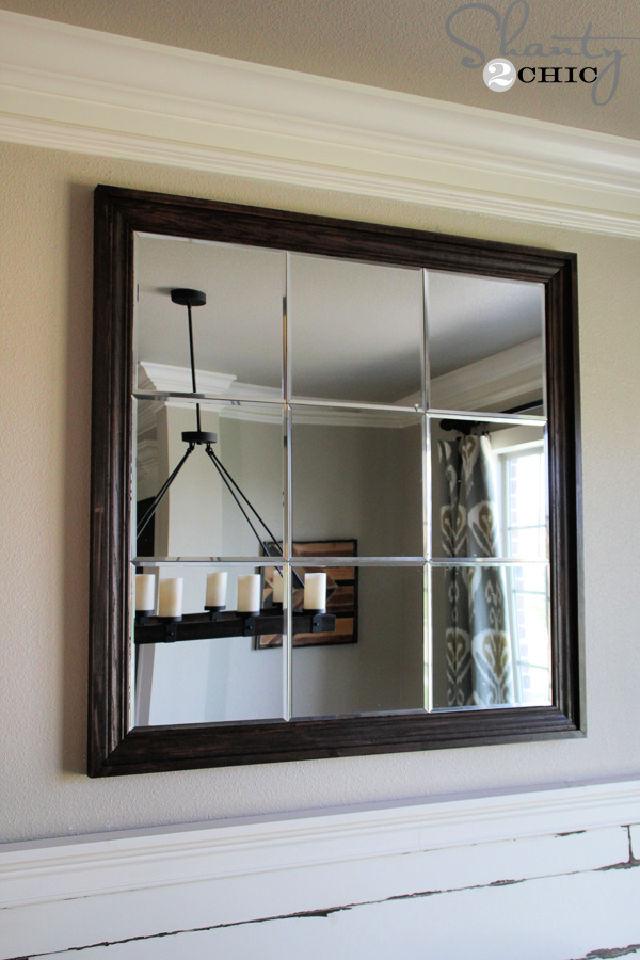 Bring a big wow factor to your interior home walls also by adding this large paneled mirror. The project will unveil the mystery here to build this kind of mirror at home that you have been buying expensive from the market. The idea is to add the fine-cut mirror pieces with edged sides on a plywood board and then frame it up with extra wood or wood trim to a paneled wall mirror. Here a total of 9 mirror square pieces have been used to build this paneled mirror. shanty 2 chic
17. DIY Spoon Mirror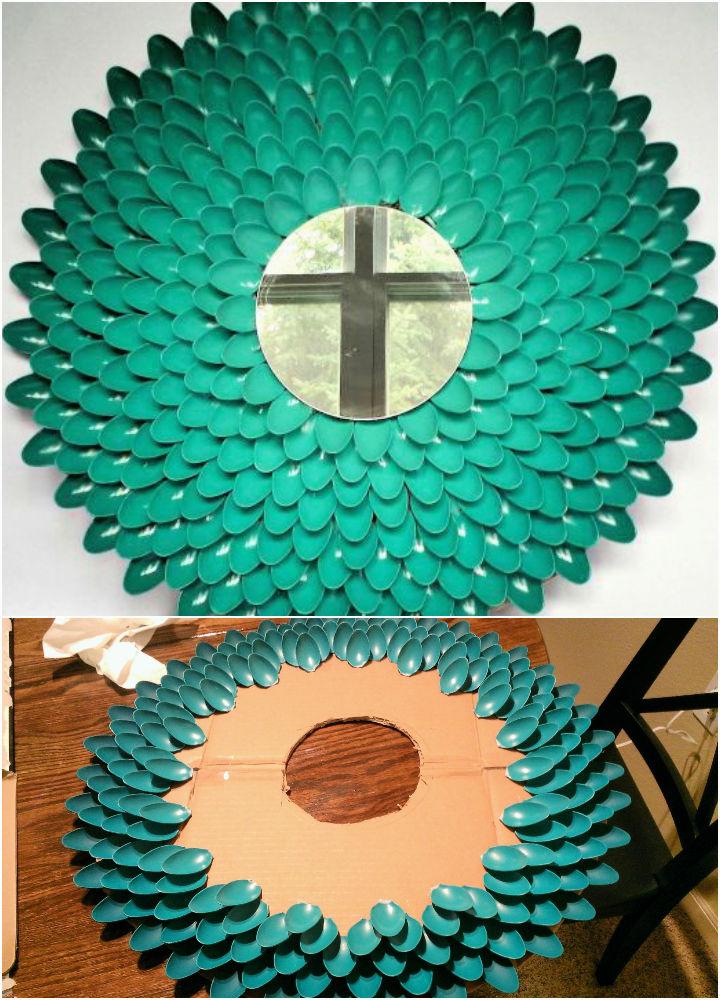 In terms of designs and style, this diy mirror frame will get ten out of ten from you. Here is the best chrysanthemum spoon mirror that will be a great addition to a boring blank wall. Grab a round piece of cardboard and add the plastic spoon heads all around it in a scalloped manner to create the brilliant round mirror frame or boundary. Spray paint the spoon frame the way you like and add the round mirror in the center to complete this magnificent round spoon mirror; it will never get out of style. Don't forget to finish with a spray sealer. destination
18. Faux Mercury Glass Mirror Frame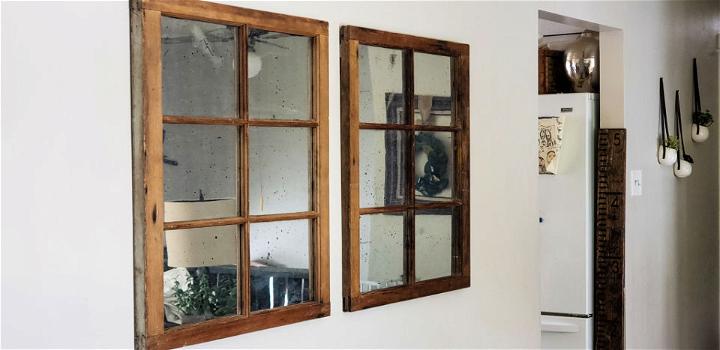 Are you highly obsessed with mercury glass mirrors? Learn here to make the faux mercury mirrors at home in a super inexpensive way. The idea is to use the old glass doors and windows for this project. The rest of the makeover will involve using the Rustoleum mirror effect spray paint, matte black spray paint, gold spray paint, water & vinegar, painter's tape, butcher paper, painter's tarp, paper towels, sawtooth picture hangers, sandpaper, stain and Rustoleum chalk paint to complete this project. One of the best and quick-to-build DIY mirrors to make at home out of recycled items. tidymo
19. How To Make A Tiffany Mirror Frame

Everyone will fall for this super beautiful Tiffany mirror, sure to be a great addition to one's space. The best part is that the whole fancy mirror is made with an old Tiffany lampshade. You need an old tiffany lampshade, wire cutters, jewelry pliers, wood-burning kit, razor blade, ¼" plywood, jigsaw, 6-8″ round mirror, craft paint, E6000 glue, picture hanging kit and sanding sponge to do this project—one of the loveliest DIY mirrors ever made at home. The project is budget-friendly and beginner-friendly and will make bigger changes to one's space. girljustdiy
20. DIY Touch Screen Mirror Frame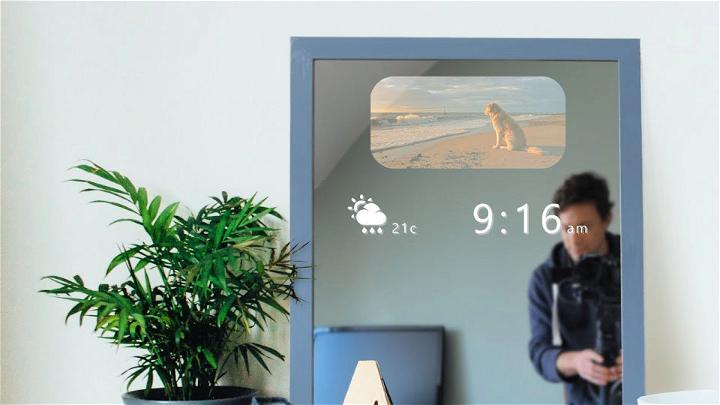 The mirrors in the steam rooms are often to get faded with steam. So, it can be hard even to see your face in the mirror at that time. So, learn to make a smart diy mirror frame that will not steam up and help you do all you want by looking into the mirror. Here, you will get the complete video guides to build a lasting, longer and beautiful, smart mirror with the MDF boundary. The project involves using the D misting method for making this mirror, and it will be an insane and lovely addition to one's bathroom. youtube
Conclusion:
These DIY mirror frame ideas will make your space look bigger. The mirror glass brings that modern delicacy to an interior, and this is always the frame that decides the final decorative look of a mirror-like rustic, vintage and modern. From framing the mirrors up to lighting them up to build all sorts of modern or rustic new mirror frames, you will get diy mirror frame ideas and guides for all.
These DIY mirror frame ideas will share complete material lists, tool lists, hardware lists, and step-by-step written and picture guides to easily clone each of the given mirrors. So, read through all these amazing mirror frame ideas to start building the expensive-looking mirrors at the cost of next to nothing.