Decorate your home and garden with your own creativity and crafting skills. For indoor and outdoor decor, plants and gardening play a vital role. You can add your favorite plants and flowers to your home decor super adorably with a DIY plant stand. Trust me! Making a plant stand with wood scrap and leftovers will not take more than one or two hours.
No doubt, wood stores have several and modern-style plant stands. But the rates of that stands are too much higher and not affordable for all. Don't worry. You can now make your own plant stand to give the home decor a classic look. For this, you can get help and inspiration from these 40 free DIY plant stand plans that come with detailed instructions and a material list.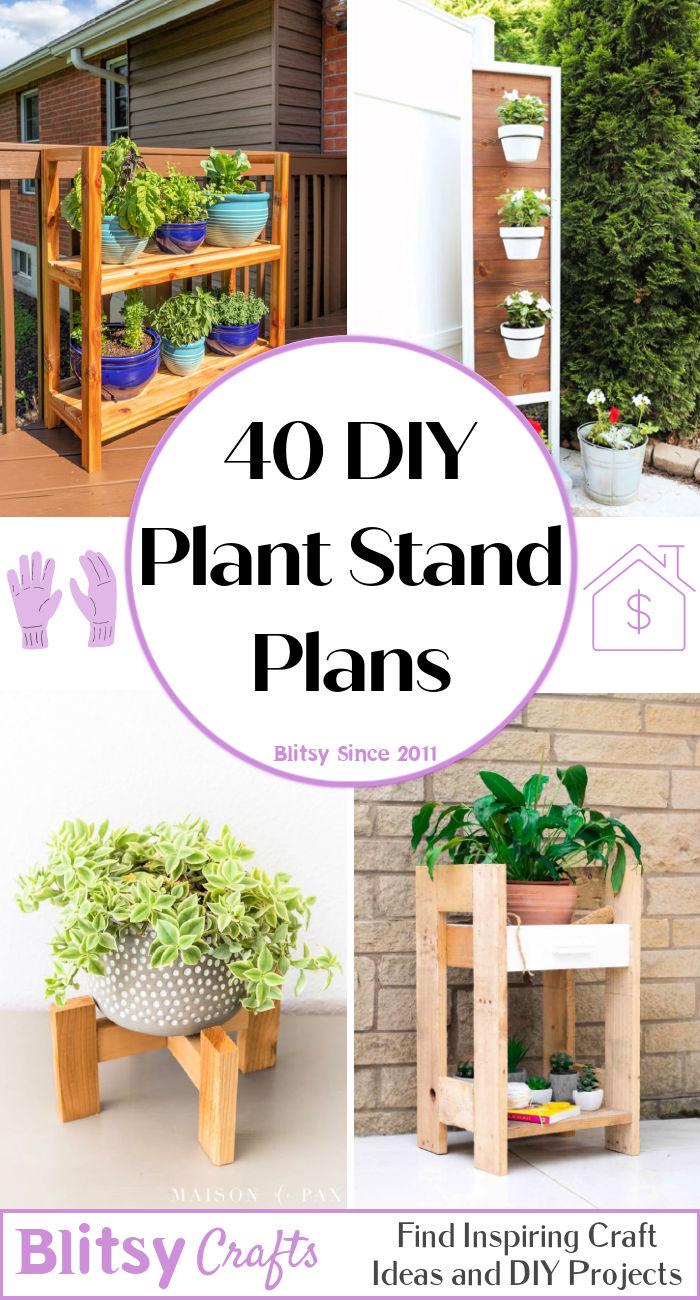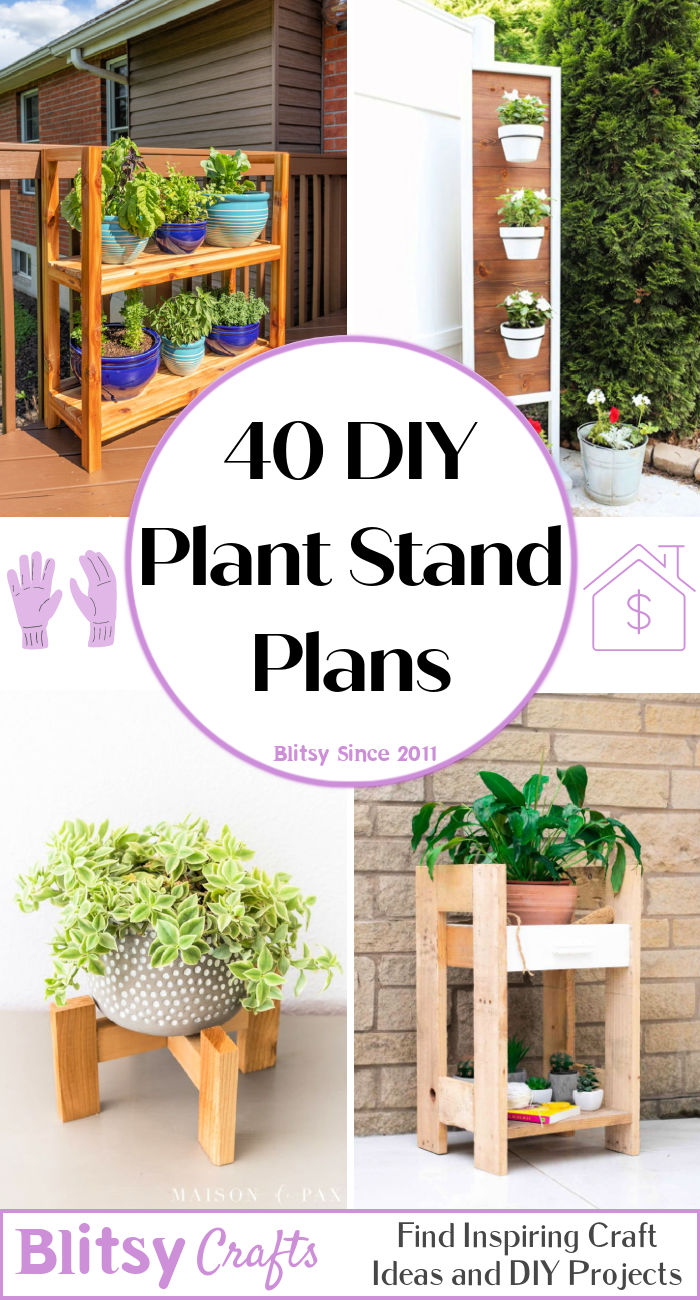 All the following inexpensive DIY plant stand plans are free, including all instructions and material details. Moreover, you can customize the wooden plant stand in your desired colors and designs according to your space specifications. The only thing you need to do is gathering the required material for creating a plant stand. Once you have done collecting supplies, you are all set to build a stylish and affordable DIY plant stand that seems your needs.
1. DIY Outdoor Plant Stand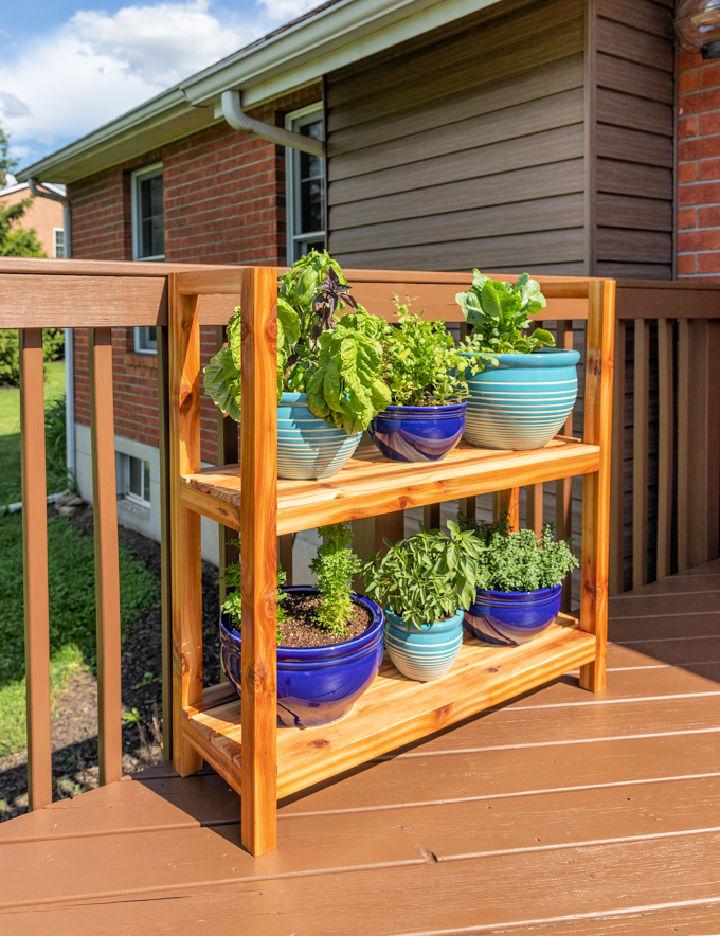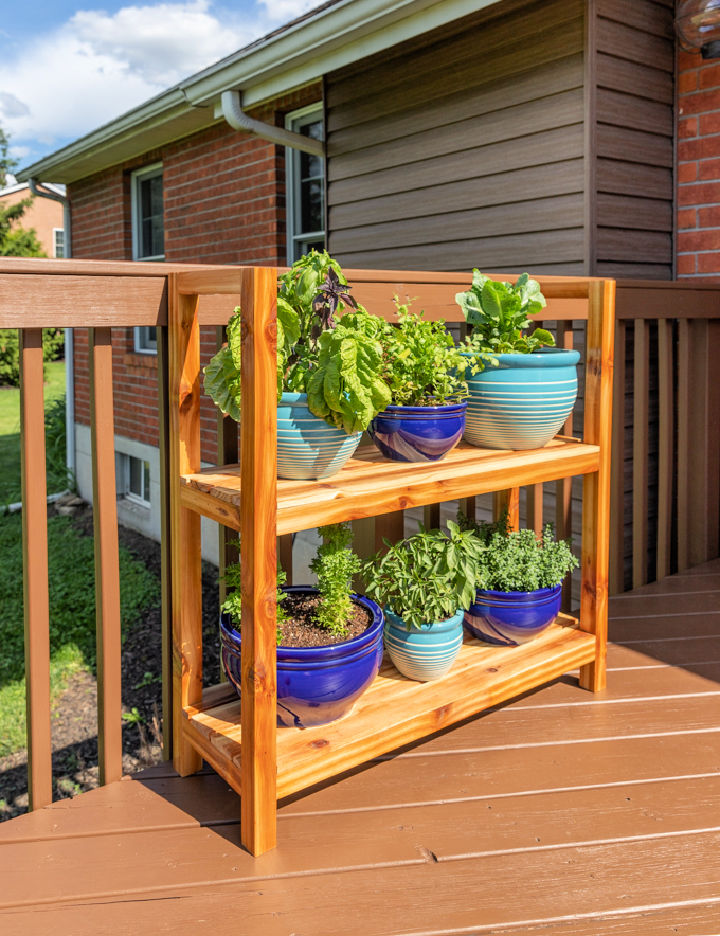 Decorate and add more life to your outdoor decor with this super affordable and stylish DIY plant stand. You can make this wooden plant stand by yourself for your home garden, patio, and entrance. Use cedar wood and pickets along with pocket holes and outdoor screws. Moreover, use drilling tools, a table, and a miter saw to complete this stand project. The best thing is that you can customize it according to your space needs and appropriate measurements. You can also increase and decrease the number of tiers according to the number of pots. handmadeweek
DIY Projects for Home and Garden:
Find these 40 cheap, easy and creative DIY garden ideas to upgrade your outdoor and indoor space. Get ideas for creating an amazing garden.
2. Carved Hexagon with Plant Stand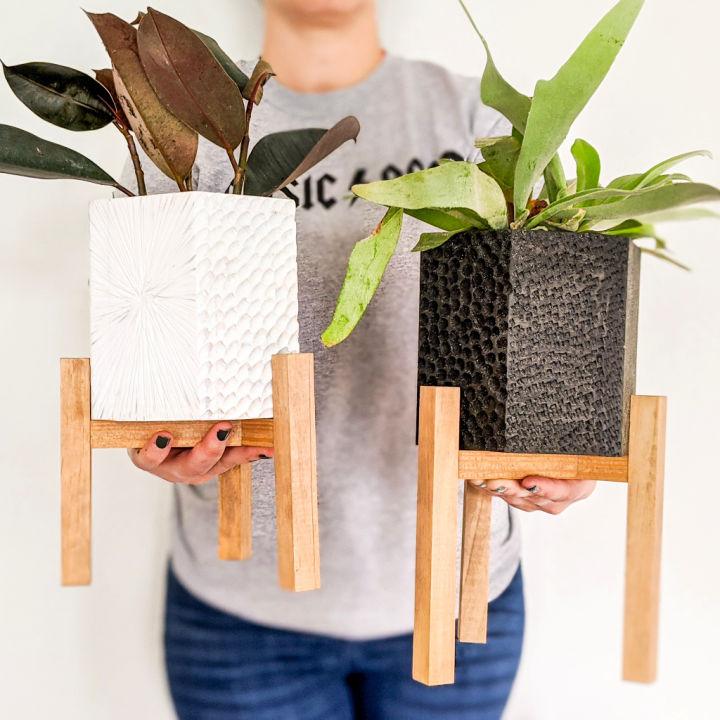 Carved Hexagon with a plant stand is an ideal option for indoor and outdoor home decor. You can customize it yourself instead of buying from a wood store. In this way, it will cost you less, and you can also make it according to your specifications. This DIY plant stand's basic supplies are a dowel stand, Hex planter, clamps, wood glue, miter saw, table saw, tape measure, spray paint, and wood stain of your choice. Craft this DIY planter box more proficiently by painting the planter with different color stains. uglyducklinghouse
3. Vintage Candlestick Plant Stand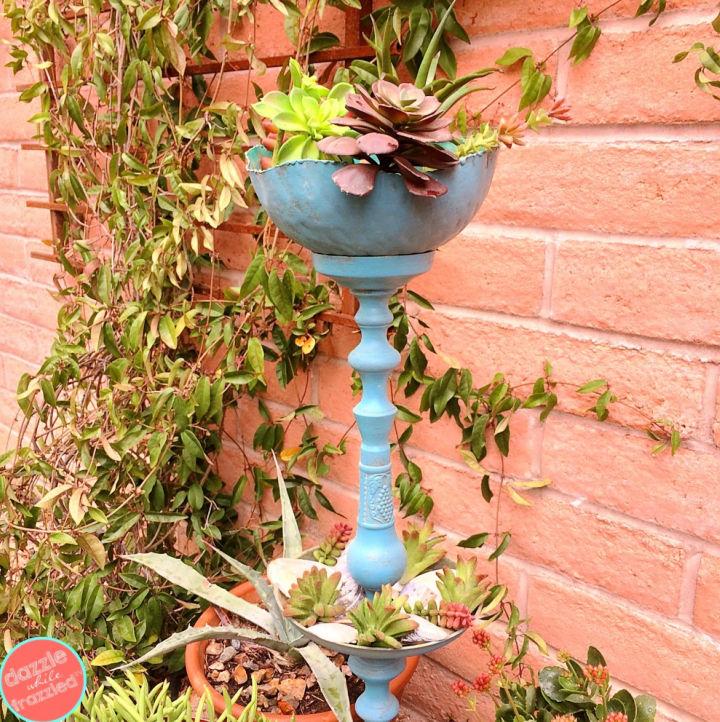 Reuse and reclaim an old vintage candlestick or holder for making a super gorgeous plant stand. You will be excited to know that you don't require too many supplies and materials to give vintage vibes to your home patio. Use a discarded bowl from kitchenware to use as a planter on this stand. Firstly, paint the bowl with your desired color or the same as the stand color. The only thing you need to do is filling the bowl with soil. Plant the flowers and succulents in this customized candlestick plant holder. gardendecordiy
Free greenhouse plans: Do you want to build a greenhouse? Wouldn't it be amazing to grow tasty big tomatoes all year round? Find these free greenhouse plans to get organic vegetables for all seasons.
4. Multi-Level Indoor Plant Stand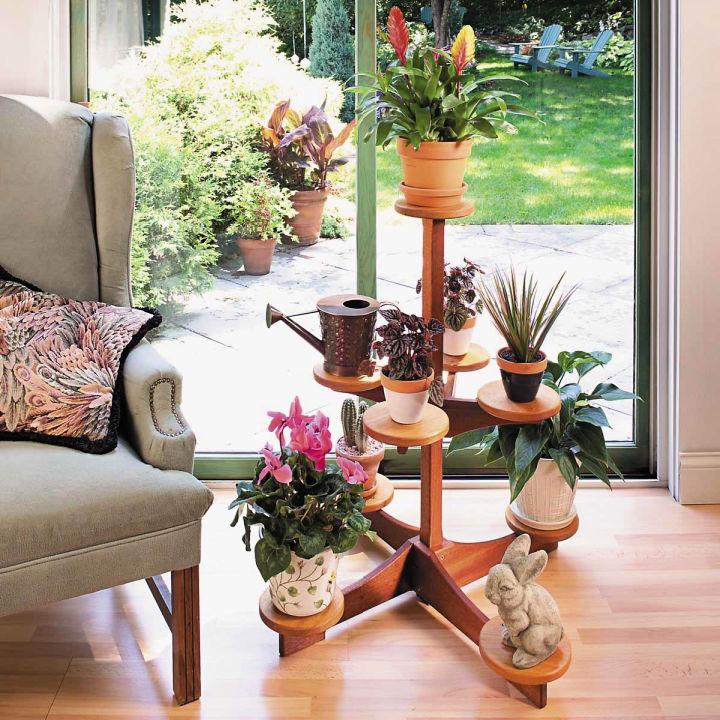 No doubt, greenery helps to cherish your moods unnoticeably. For this, you don't need to buy expensive planting pots and vases to place indoor and outdoor. You can make them yourself with your craft and wood store supplies. Build this super stylish, and good-looking multi-level indoor plant stand plan with wooden scrap and blocks. You can get help from a pdf format for customizing this stand, including all material details. Doesn't this plant look like a wooden candle holder? familyhandyman
DIY flower bed designs: Enjoy a dazzling view from your house, deck or patio with these flower bed ideas full of vibrant color.
5. Modern A-Frame Plant Stand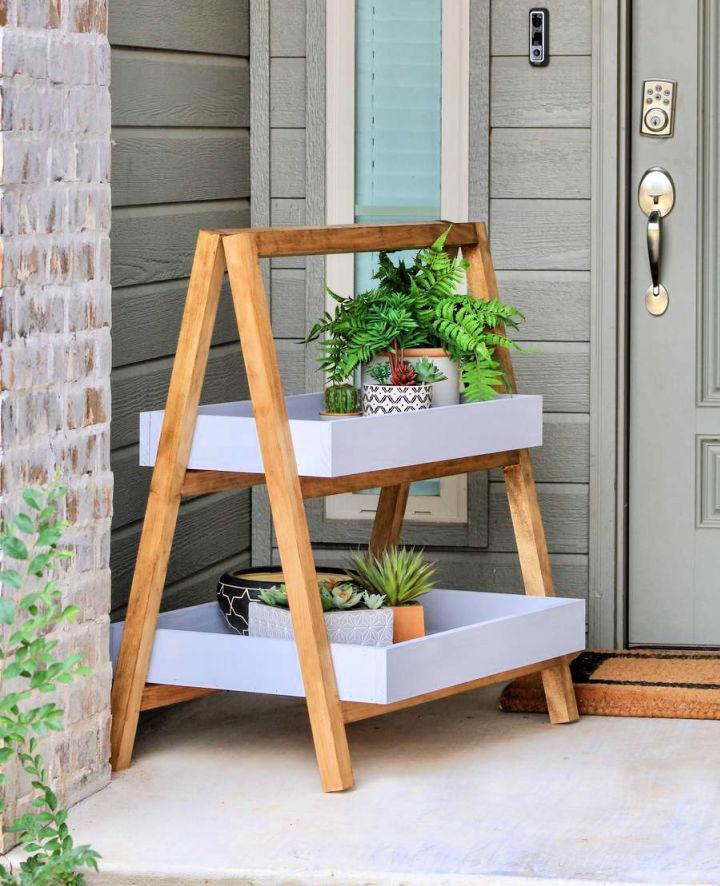 Add more glam and modern look to your outdoor with this super adorable DIY frame plant stand. Make this stand by yourself effortlessly with plywood and scrap wood. Moreover, you require hinges, wood glue, golden Oak, pocket hole screws, and drilling tools with a suitable angle clamp. You can work on this project step-by-step with the help of provided guidelines for your ease. Once you have done building this modern plant stand, paint it with a rustic wood stain. handmade haven
6. Pottery Barn Plant Stand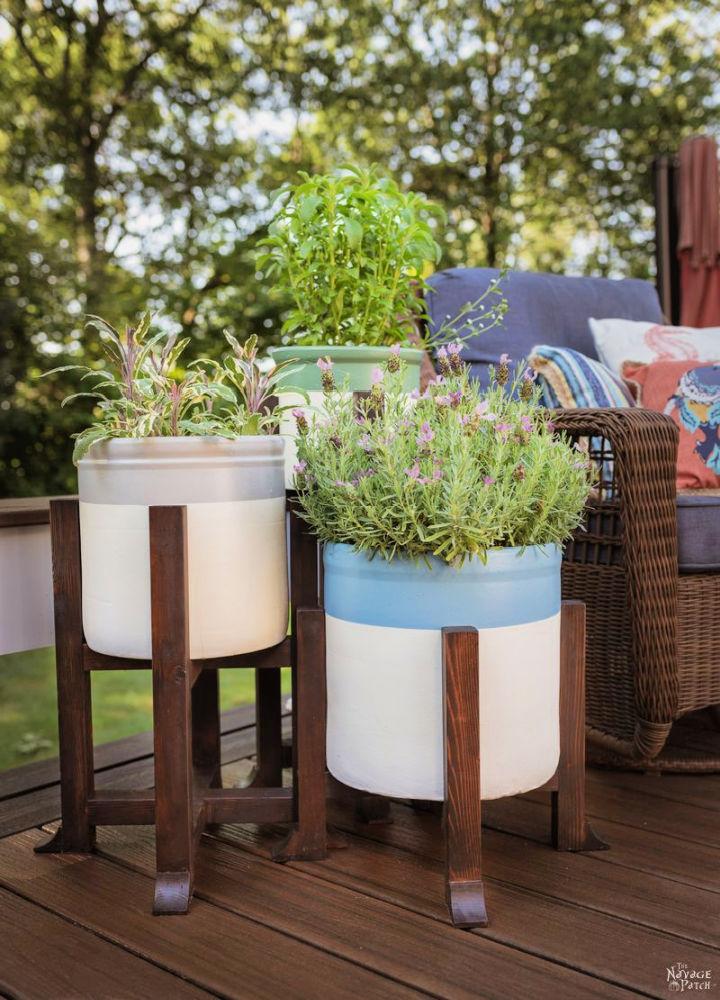 A pottery barn plant stand is an ideal and the most suitable option for patio decor. You can add more glam to outdoor decor with this customized and inexpensive stand. Excitingly! It's much easier and effortless to build this plant stand than you think with wooden blocks. Use the big pottery bowls or vases for placing on this stance. Therefore, it's better to cut the wood according to the size of the pots. So, you can adjust them later on this stand efficiently. Make this crafted plant stand more worth displaying by painting with wood stain. Additionally, paint the vases with desired colors in multiple tones and combinations. thenavagepatch
7. Plywood Plant Stand on Wheels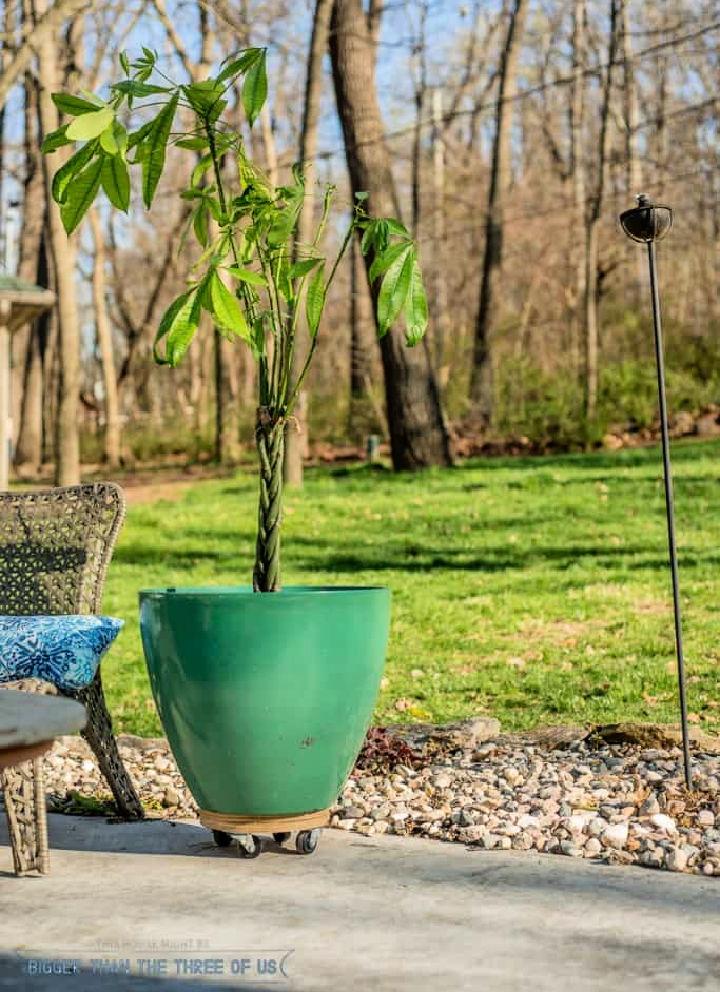 Plywood plant stand on wheels is the best choice because you can move it indoors and outdoors whenever you want. It's not essential to buy a new pot or vase for placing on this plywood stand. Indeed, you can also consider an old vessel for this project. Use the plywood sheet with caster wheels for building this stand. One more thing, sanding pot is the ideal option for placing on this movable stand. Craft it and put it wherever you want effortlessly! biggerthanthethree
8. Indoor Elevated Plant Stand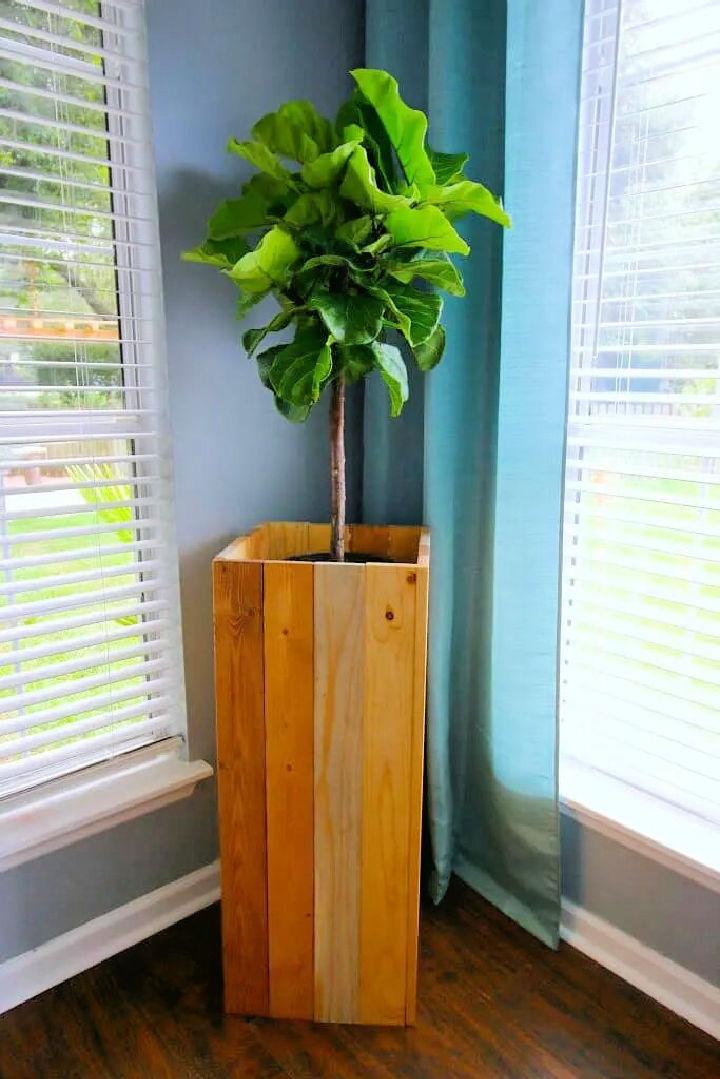 Add more greenery and blossoming colors to your living space with this indoor, elevated plant stand. You can place this stand in your room's corner. Luckily! The making of this stand is more accessible and effortless. You can build it with fewer supplies. This DIY plant stand's primary material requirements are wooden scrap blocks, L brackets, wood glue, foot clamps, and wood stain. You can paint the wood before assembling it for ease of work. charlestoncraft
9. Outdoor Rolling Plant Stand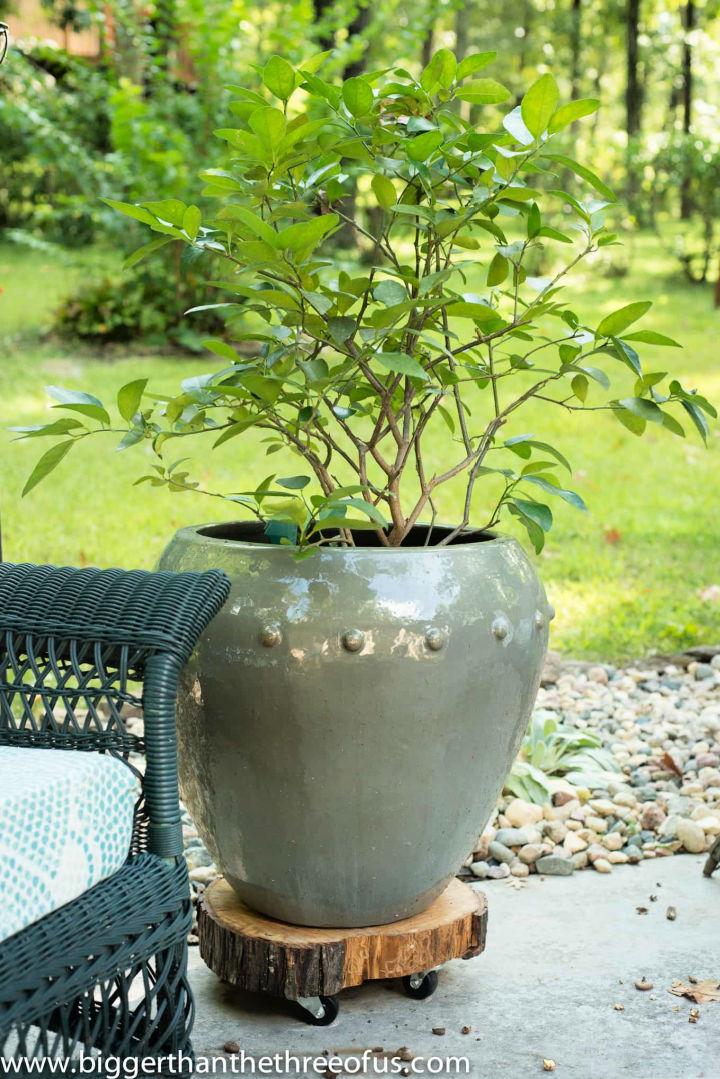 Make a DIY rolling plant stand for the entrance and patio. You can move and adjust this stand anywhere you want super easily because of the wheels. For making this stance, use a rustic wood slice from your home garden. Select the cut according to your pot size and weight. Moreover, use wood glue, screws, and a power drill for adjusting the wheels under the wood slice. However, painting this stand is optional. biggerthanthethree
10. Make a Hanging Plant Stand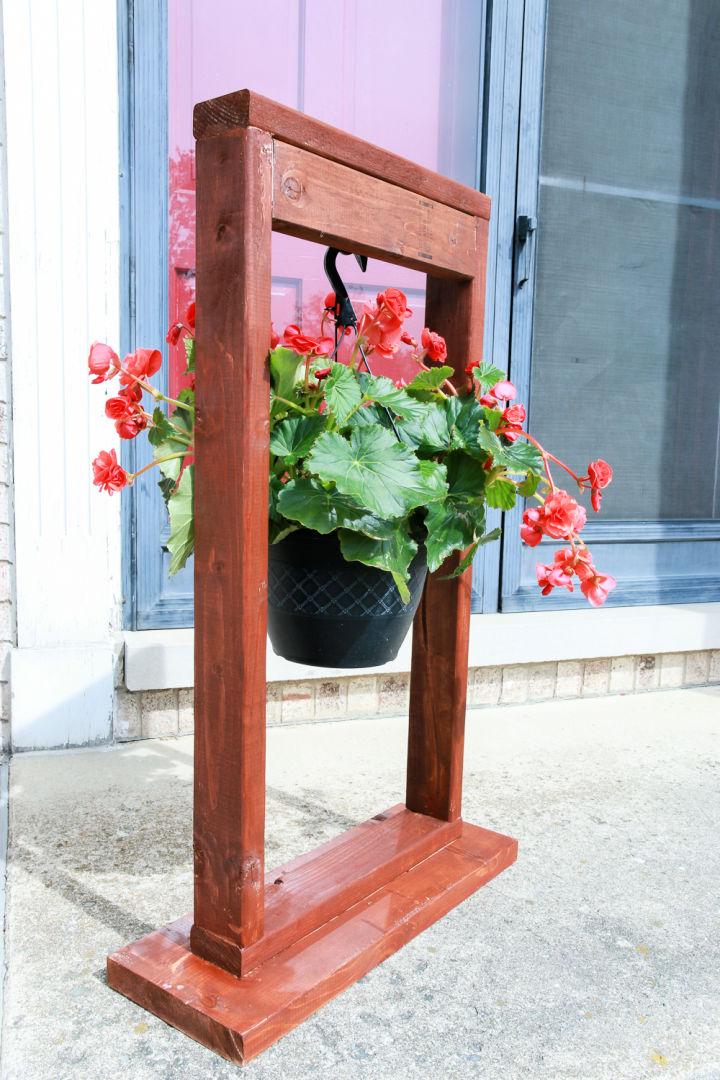 DIY a hanging plant stand for outdoor and entrance decor. Excitingly! You can also plant your favorite flowers and herbs, and even you have a less planting place. For making this hanging planter, use wood scrap, screws, hooks, paint, hanging terracotta pot. The only thing you need to do is assembling the wooden pieces in a stand format. Later, use the theme for hanging the pot on this stand. Make this customized hanging planter more eye-catching with wood staining. theweatheredfox
11. Mid Century Plant Stand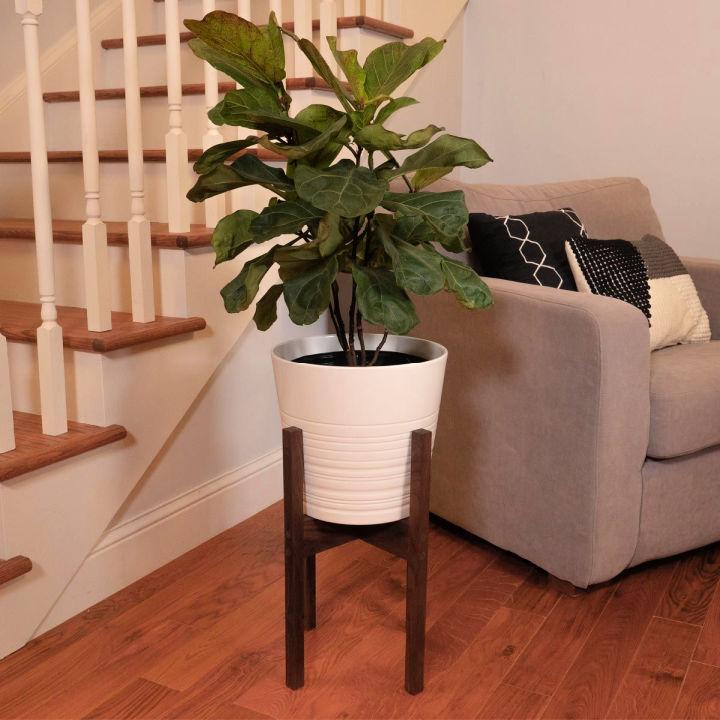 Place plants and pots indoor with more style with this mid-century plant stand. Make this stand by yourself instead of buying from the wood store at higher rates. For this, you require only fewer supplies. Use wooden boards, screws, miter saw, hand saw, table saw, and power drill. Cut the board for customizing legs and cross members of this stand. Once you have done cutting, assemble them all using screws and drilling tools. Paint this mid-century plant stand with wood stain and any other color of your choice. familyhandyman
12. Copper Round Plant Stand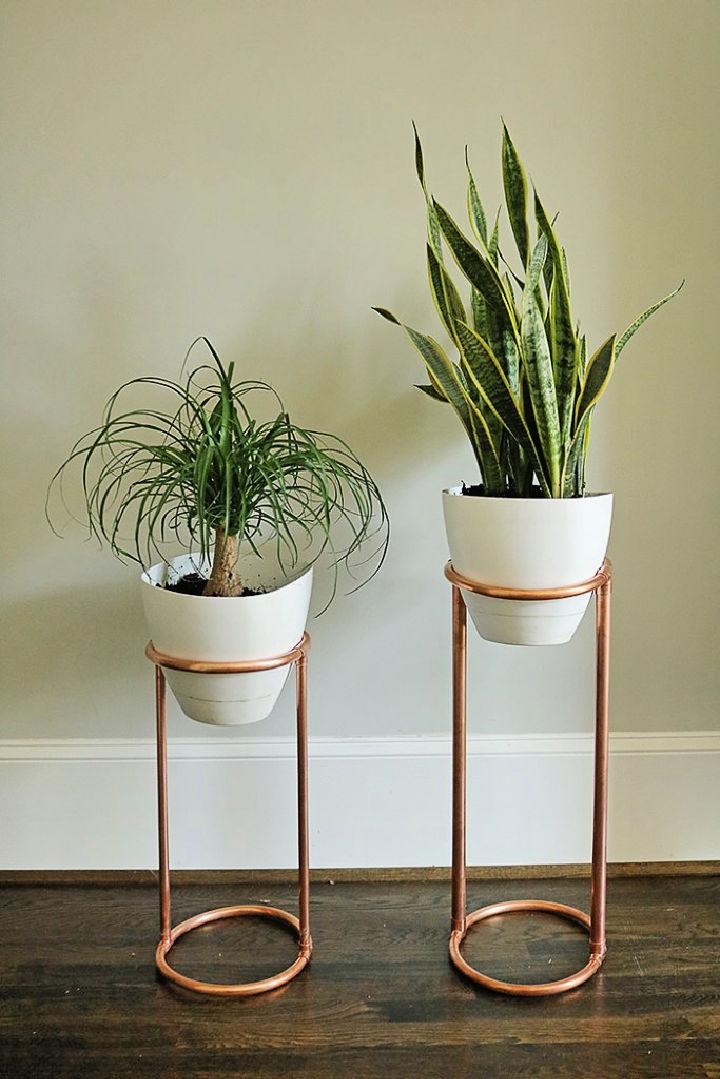 It's time to reuse and recycle your workshop supplies to make a productive household item. You can use the copper pipes, copper cutter, copper coil, copper tee part, black sharpie, and tape measure to create a versatile DIY plant stand. For this, you need to assemble the pipes and rings using the tee part. However, it's better to measure the pot's size before building this copper round plant stand. So, you can adjust the vase on this stand easily. darlingdarleen
13. 3-Tiered Corner Plant Stand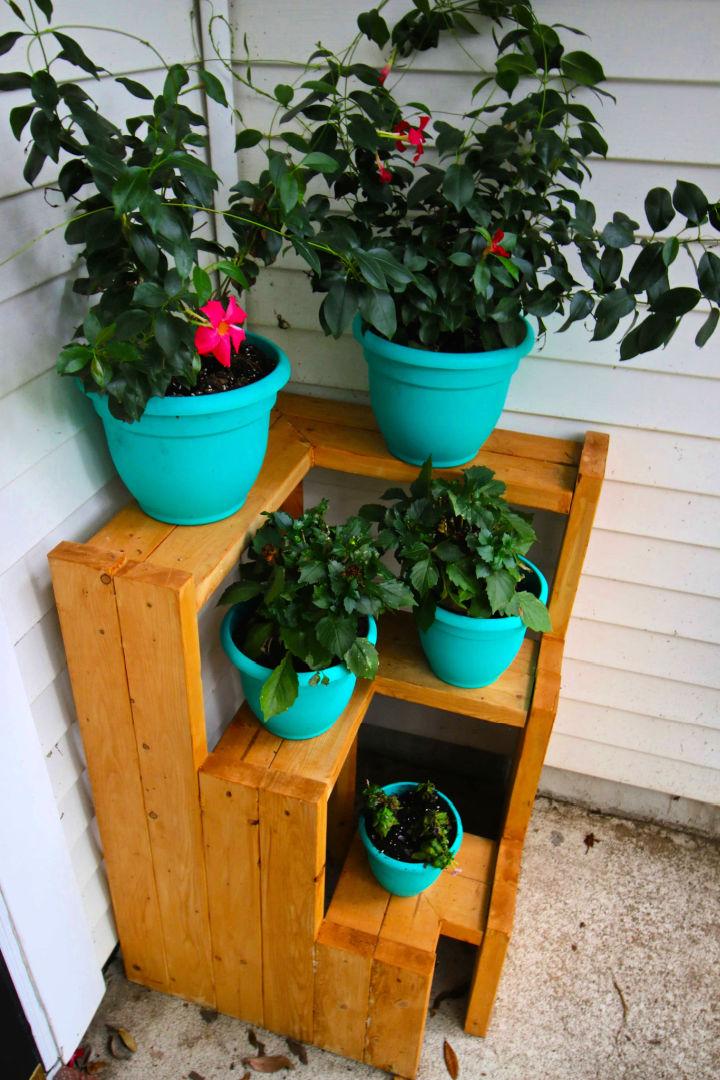 Are you living in a small place and still want to decorate an outdoor area? If yes, consider the space-saving and budget-friendly 3-tiered corner plant stand. The best thing about this DIY project is that you can plant several flowers and herbs in the same and small space. Excitingly! You can also increase the number of tiers according to your supplies and the project's specifications. Use 2*4 boards for building this stand more affordably and efficiently. Consequently, you require drilling tools, a miter saw, table saw, screws, wood glue, and clamps to complete this tiered plant stand. charlestoncraft
14. How to Make a Resin Plant Stand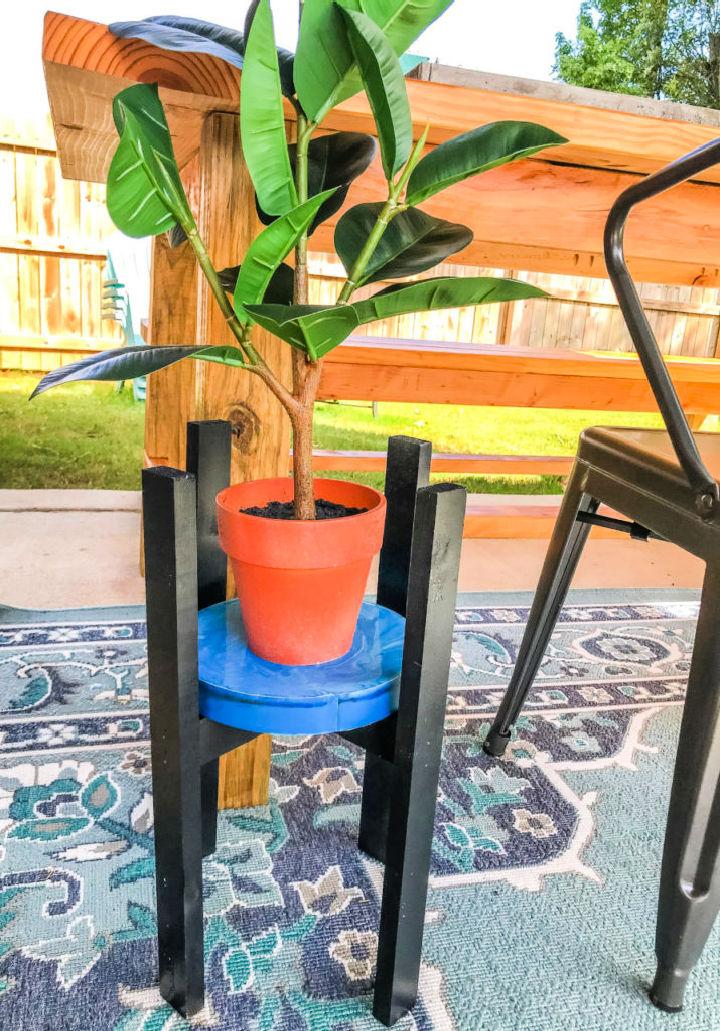 Resin decor and DIY projects look more attractive and stylish. Now, you can also make a resin plant stand for indoor and outdoor decor at home. For this, the basic supplies are casting resin, the dye of your choice, a plastic container, a paint mixer, and pine pieces. Mold the stand with resin according to your pot's size. You can make this stand for a larger, as well as a smaller vase efficiently. Additionally, make the base stand with pine or plywood. southernyankee
15. DIY Multiple Plant Stand

Enjoy the spring season by adding more blossoming colors and flowers to the outdoor and patio. For this, you don't need to plant the flowers in the garden. You can make multiple pots placing plant stand easily. For this, you can reclaim and reuse cedar lattice. Moreover, use the wooden boards for creating the shelves on this plant stand. Use screws and a power drill for the firm adjustment of racks on the lattice. hearthandvine
16. Wooden Plant Stand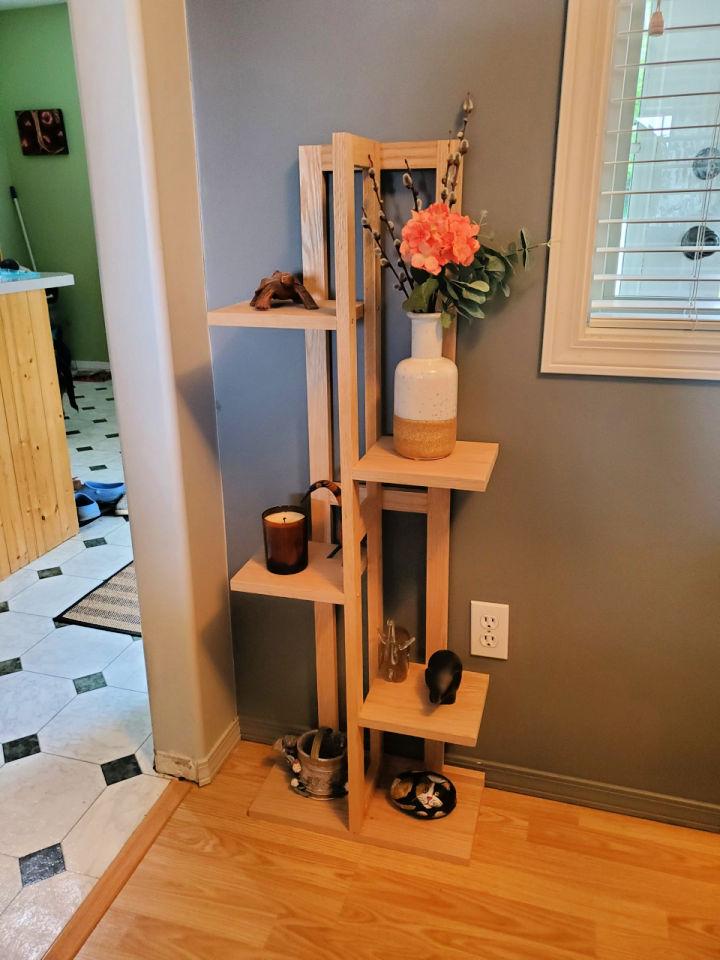 On this Mother's Day, surprise your mom with this super gorgeous and easy-to-make DIY wooden plant stand. She would surely love this gift and appreciate your efforts. You can make it with wooden boards, lumber, wood glue, wood screws, and clamps. You can increase the numbers of racks and plant holders on this stand according to your work ease. Make it more inspiring and good-looking with wood staining or interior color painting. The best thing about this project is its versatility. craftybuilds
17. Cedar Wood Plant Stand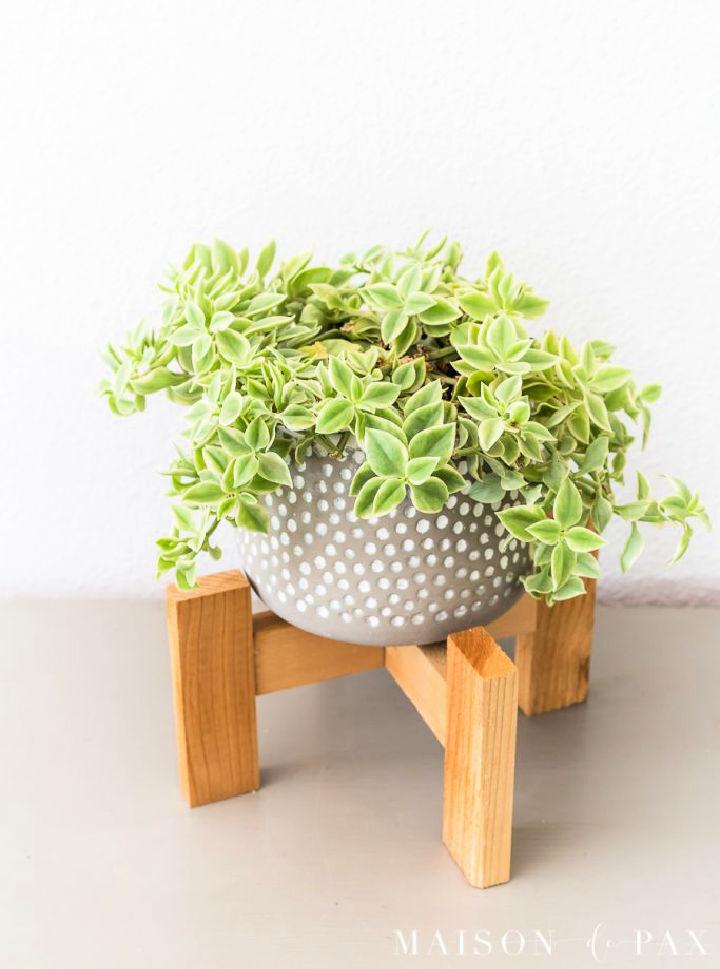 No doubt, cedarwood looks more mesmerizing and long-lasting than others. You can use it for making a versatile and stylish DIY plant stand. Craft this cedar plant stand is an ideal consideration for both indoor and outdoor decor. Additionally, you require wood glue, wood stain, screws, power drill, and miter saw. You can build it in various sizes and heights according to your needs. Paint the wood after cutting and before assembling the legs and base. So, you can get your hands on this plant stand like a pro. maisondepax
18. Large Plant Stand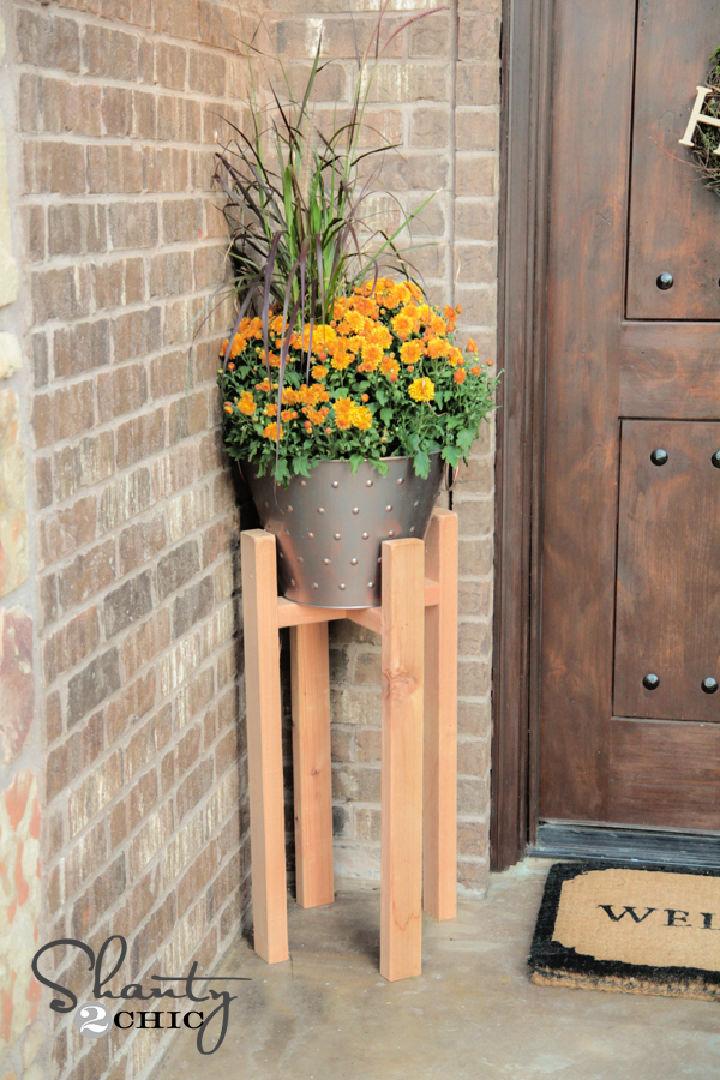 DIY a larger plant stand for the entrance corner and outdoor decor. However, you can also consider this stand for indoor placing after fewer changes. Use cedarwood rails for building a large plant stand. Cut the wood and assemble it according to the size of your pot. Furthermore, paint it with wood stain and any other color to make it more worthy. One more thing, it's better to decorate this stand also with a large vase. shanty 2 chic
19. How to Build a Plant Stand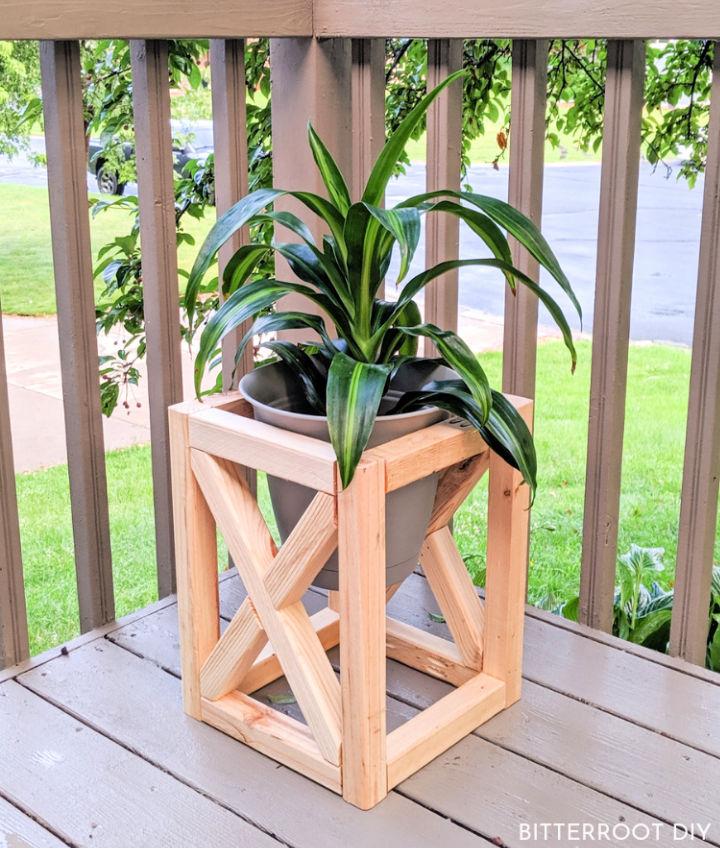 Building a DIY plant stand is much easier and effortless with a PDF format or online template. So, you can also make a stand of your own choice by getting guidelines from templates. DIY this smaller plant stand with lumber in different measurements for legs, supports, and Xs. Additionally, use the cutting and drilling tools with pocket hole screws. Use the wood glue for firm sticking of lumber rails. Craft it and place your favorite flower pot on it! bitterrootdiy
20. Making a Outdoor Plant Stand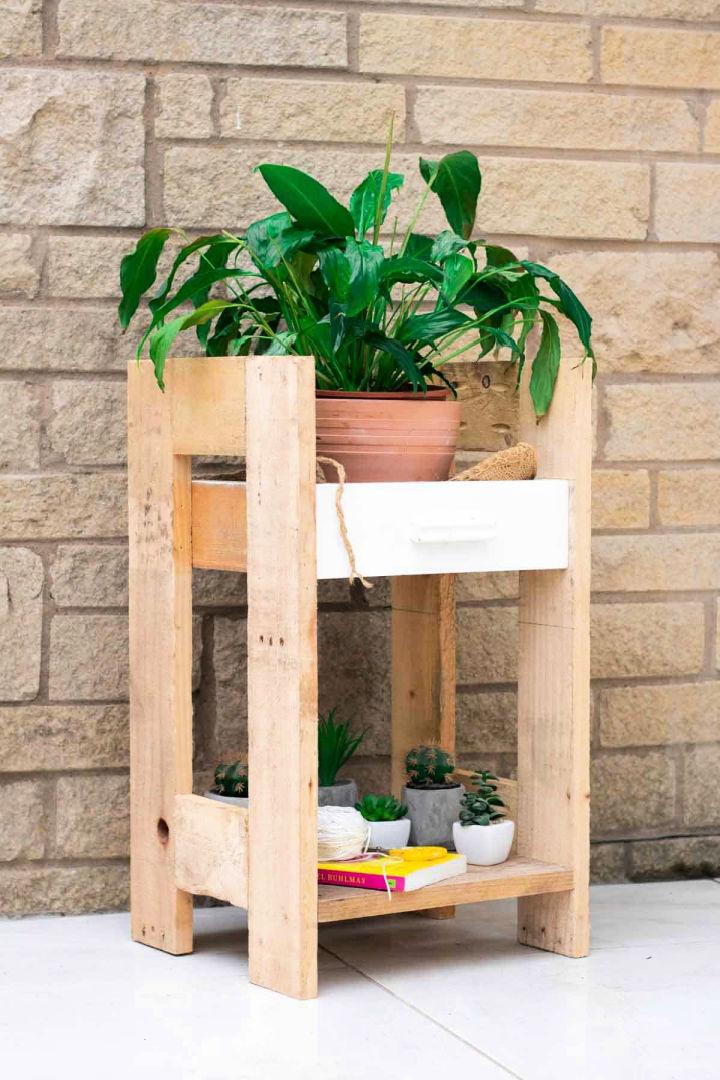 Making an outdoor plant stand is more manageable and affordable with wooden scrap. For this, you don't need to buy the new wood supply from a store. You can reclaim the leftover and trash from your craft store. Luckily! You can also reuse the shipping wooden pallets for building this stand. However, it's better to consider the blocks for a long-lasting end product. Moreover, use the pocket hole screws, jig holes, wood glue, orbital sander, power drill, and speed square. You can customize this upcycled plant stand more efficiently with a designed plan. thecarpenters
21. DIY Concrete Plant Stand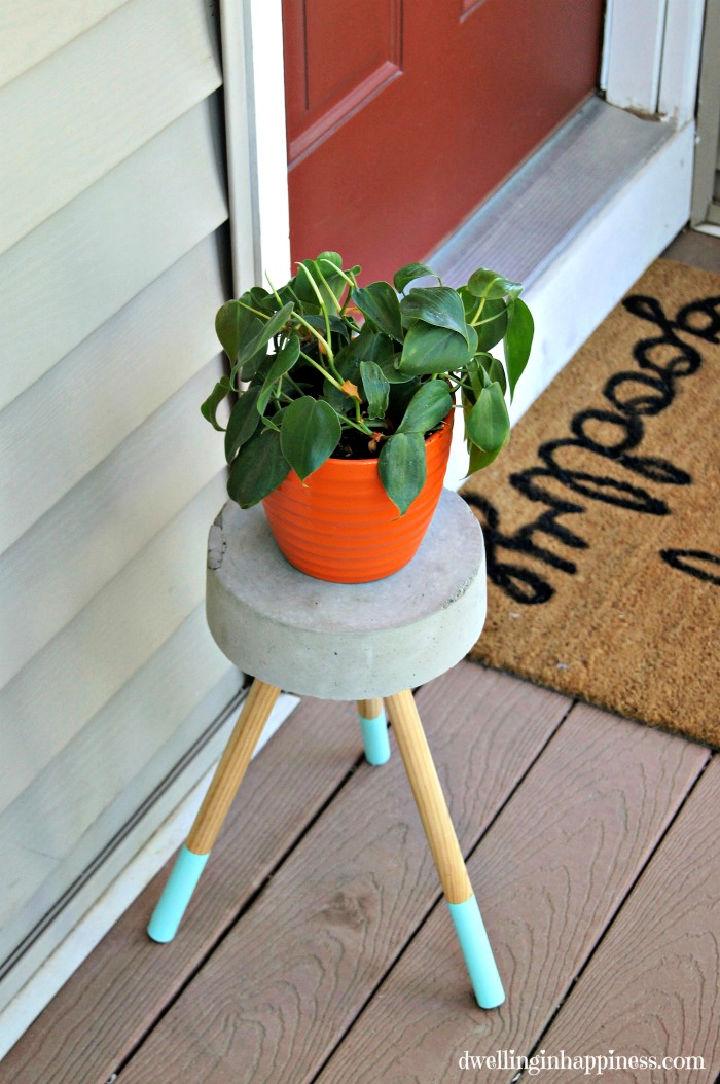 No wonder concrete projects are more durable and long-lasting. Now, you can also use this material for building a plant stand. So, it's a right to reuse your construction leftover creatively. Use the molding bowl, concrete mixture, reclaimed hairpins, table legs, paints, and paintbrushes. All you need to do is molding the sand tray by putting the concrete mix into a molding bowl. Once you have done with molding, place the legs inside the wet concrete. So, the legs and stand stick together firmly. dwellinginhappiness
22. Skinny Tall Plant Stand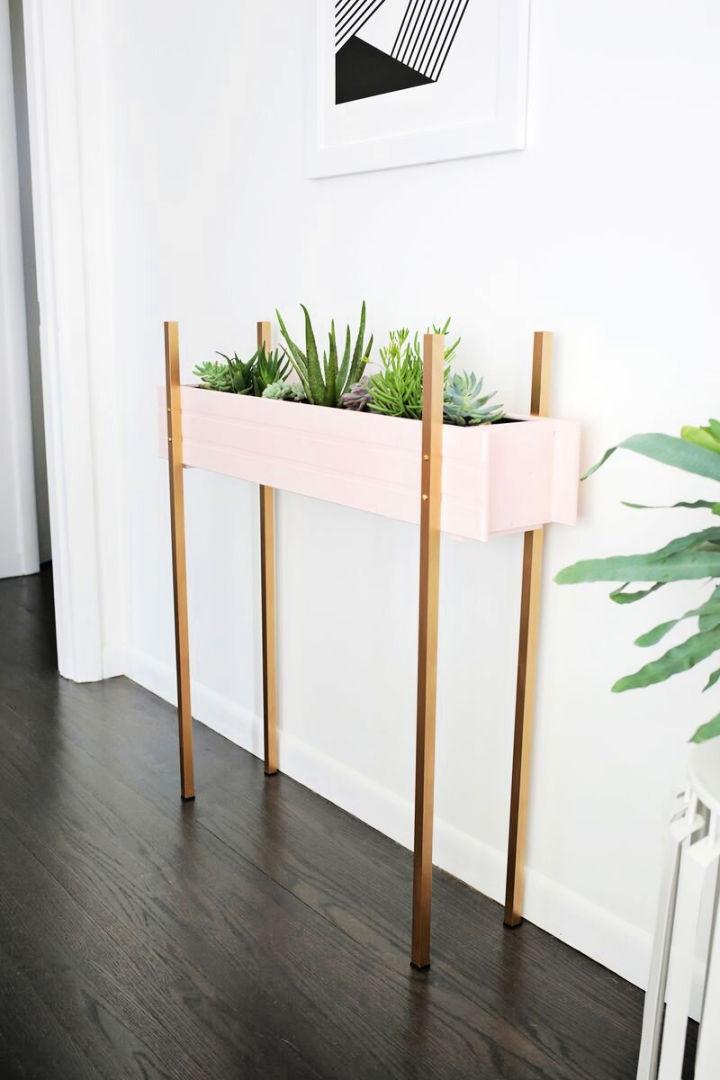 Skinny tall plant stand looks more attractive and modern for indoor decor. However, you can also consider it outdoor. Make it effortlessly by yourself with a reclaimed window box, inserter, aluminum tubes for leggings, paint for legs and base, clamps, and drilling tools. You can paint the legs with metallic gold paint before assembling. Consequently, paint the window box white or any other color of your choice. abeautifulmess
23. DIY Tiered Plant Stand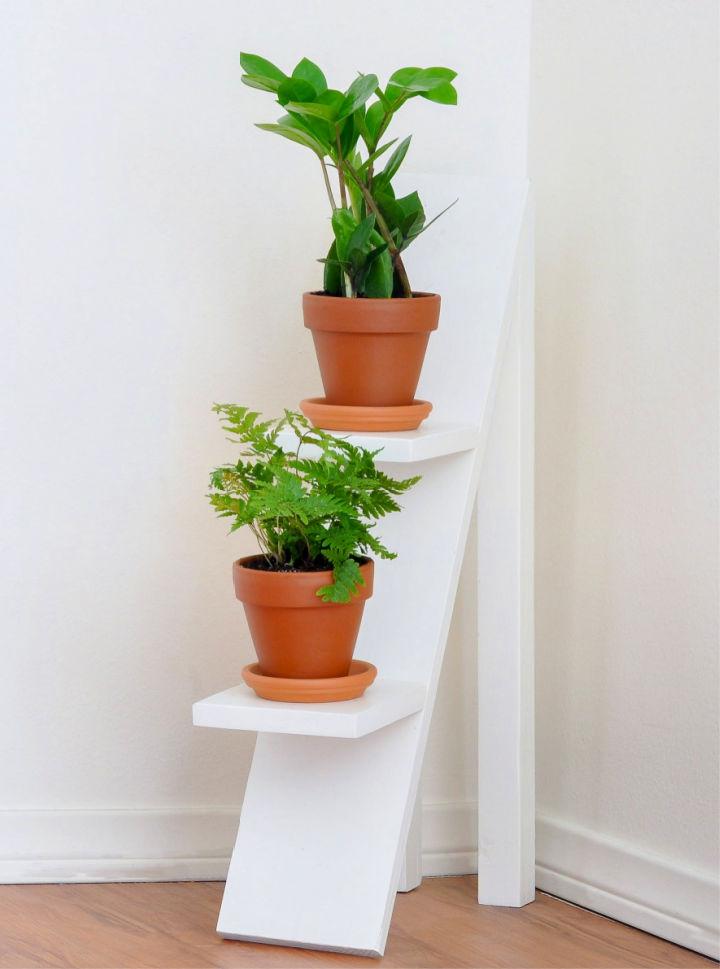 DIY tiered plant stand plans for indoor and living area decor like a pro. You can give your home a statement and more aesthetic look with this stylish stand. Build it yourself with different sizes of board cuts, jigsaw, pocket hole screws, wood glue, spax screws, brad nailer, and paint of your choice. However, the white color looks more elegant on this stand. Excitingly! You can also increase the numbers of racks and plant holders on this stand with a specified board cut. anikasdiylife
24. Build a Frame Plant Stand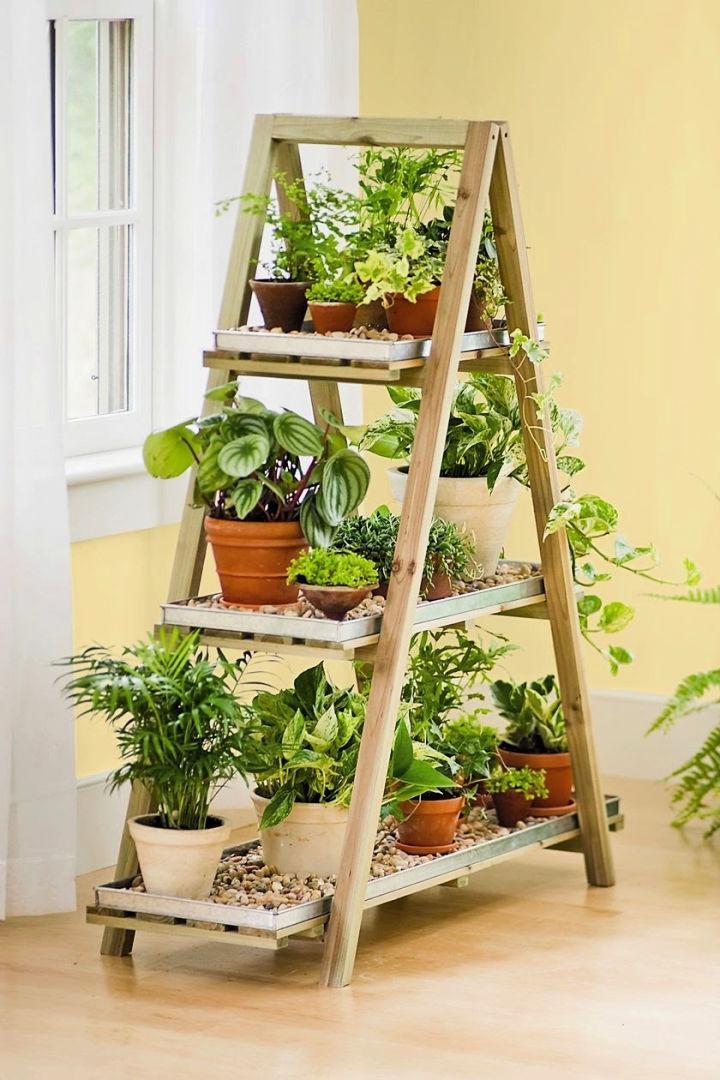 DIY a frame plant stand plans with pine. The main reason for considering the pine is that you can customize it efficiently. Moreover, you require wooden pallets and rails for making the racks on this stance. Use power drill, pocket hole screws, wood glue, wood stain, tape measure, and jigsaw for building frame plant stand. So, what are you thinking? Get hands-on with all these supplies and customize a plant stand like a pro! katrinablair
25. Plant Stand with Free Plan

Building a plant stand with free plans is much easier and less time-taking than you think. No doubt, wood stores have stylish and gorgeous frames. But the prices of those stands are too much higher. Don't worry. You can create a stance for your home decoration by yourself with an accessible template. The essential supplies for making this stand are wooden blocks, power drill, jigsaw, table saw, pocket hole screws, white paint, and wood glue. You can increase the length and width of the legs or supporting base according to the pot's size. Use wood glue and screws for the firm adjustment and assembling of all pieces. Later, paint it white or any other color of your choice. jaimecostiglio
26. Easy to Make Plant Stand

Are you looking for a quick and easy-to-make plant stand? If yes, this stand plan is for you! You can make it in less time and effort with fewer craft supplies. For this, use woodcuts in specified sizes, wood glue, nail gun, and reciprocating saw. All you need to do is painting all the wood pieces with black wood stains. Later, assemble them all using screws and wood glue. That's all. You have a super striking plant stand for home's makeover! thestonybrook
27. DIY Wooden Plant Stand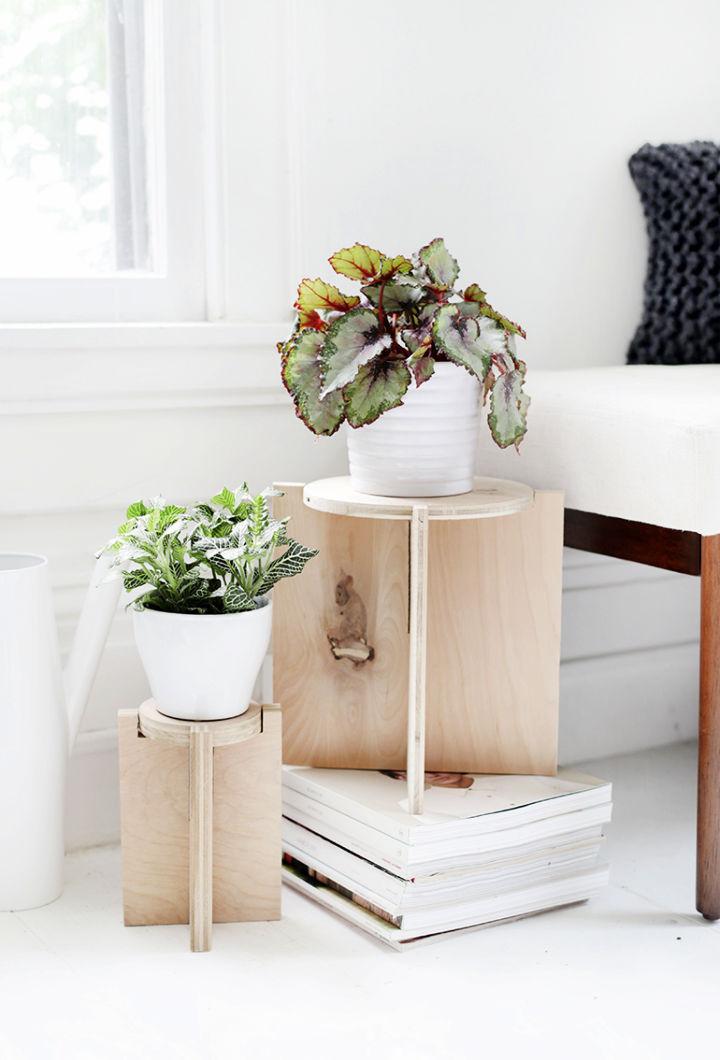 Recycle and reuse the wooden scrap from your craft store or home garden for making a versatile plant stand. The best thing about this wooden plant stand is that you can even place it on the table. For making a plant stand, use plywood, wood glue, tape measure, bandsaw, and sandpaper. Design a plan of this stance according to an online template for ease of work. You can keep this stand in the same rustic look or paint it with the same interior color. themerrythought
28. DIY Flower Pot Stand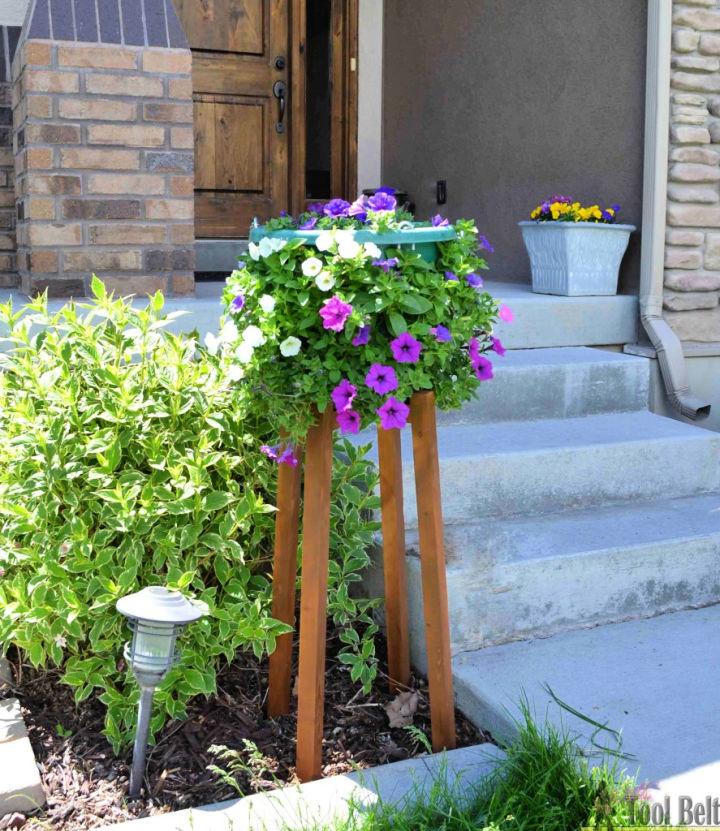 Welcome the spring season by adding more blossoming flowers to your home garden and entrance. For this, you don't need to plant the flowers in the ground. You can build a stand with wooden boards or plywood for placing the flower pot. The best thing about this flower pot stand is that you can customize it in your way. Use wood glue, pocket hole screws, jigsaw, wood stain, and tape measure for building this pot stand. hertoolbelt
29. Tomato Cage Plant Stand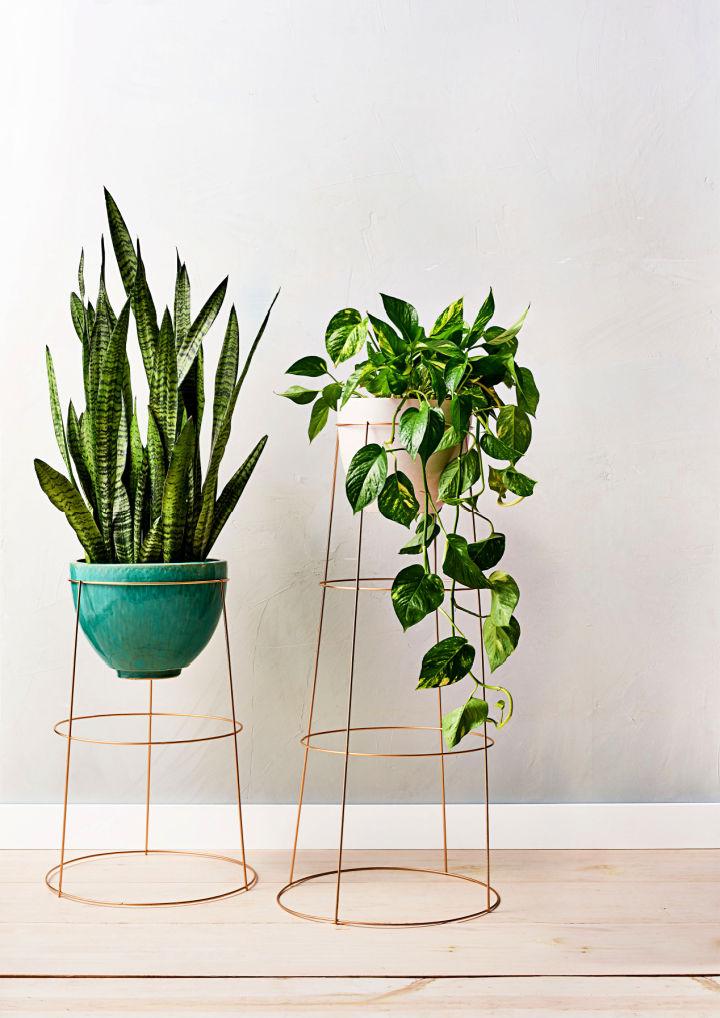 Upgrade and redo indoor decor with this super gorgeous and stylish indoor plant stand. For this, you can reuse an old tomato cage. The only thing you need to do is painting the cage with metallic gold color. Once the paint has dried, place your favorite plant and flower pot on this versatile tomato cage plant stand. No wonder it's a quick and five-minute craft to uplift the overall room decor! marthastewart
30. Vertical DIY Plant Stand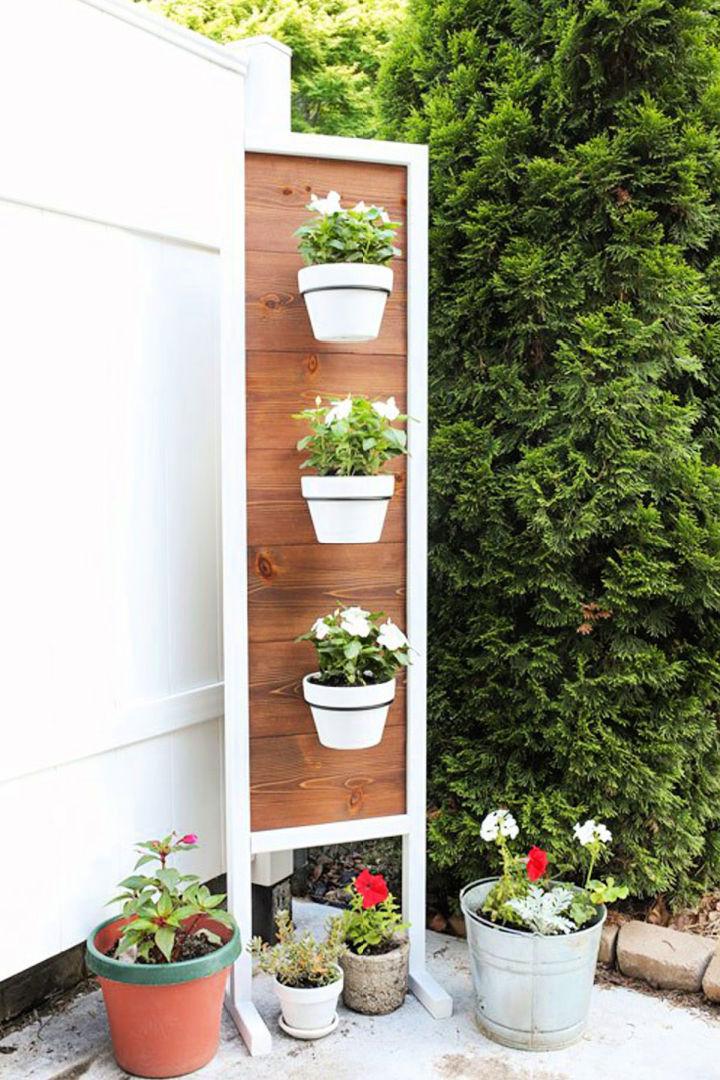 The vertical DIY Plant stand is easy to make and the best option for small outdoor places. You can make it efficiently with a designed plan and cedar or pine wood. Moreover, use the wall painter hooks, jigsaw, primer, wood glue, and spray paint. Use pocket hole screws for assembling and joining all the sides, legs, and base support of this stand. Once you have done with this stand, paint and hang the pots on it with solid hooks. angelamariemade
31. Welcome Hanging Plant Stand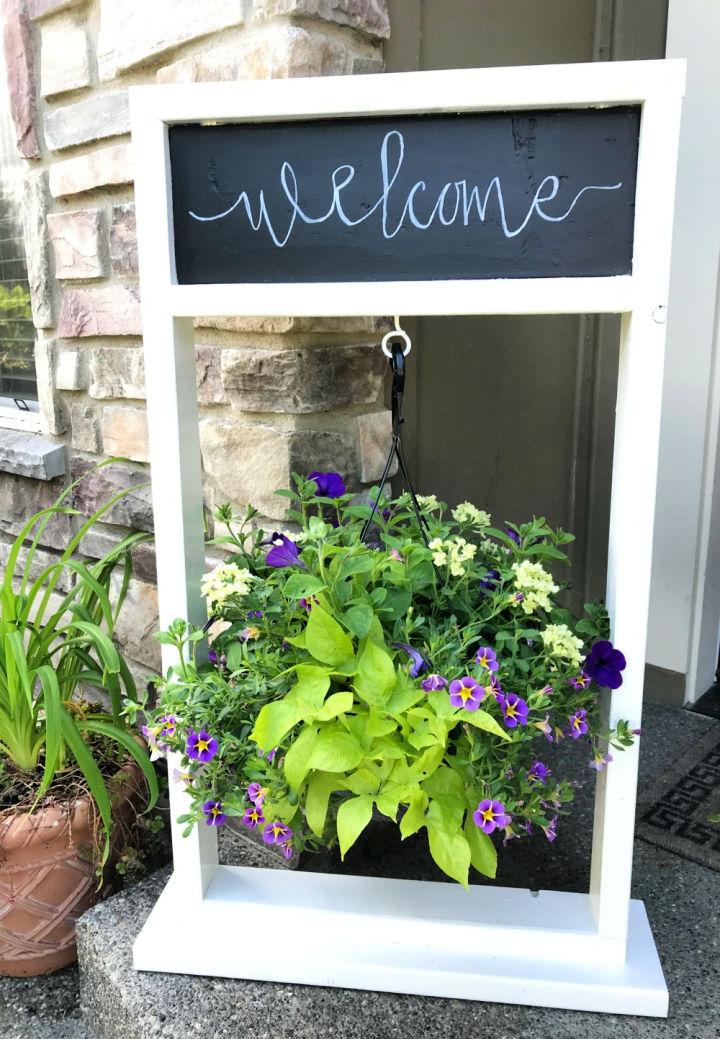 DIY this two-in-one welcome sign and plant stand yourself with wood scrap and craft store supplies. You can place this stand on the entrance for greeting your guests more overwhelmingly. For this, you can also reclaim an old window frame for this purpose. After this, use the white paint spray and paint the stand thoroughly. Once the paint has dried, hang the plants on this stand. On the other hand, use chalk paint and chalk for writing the "welcome." rachelteodoro
32. DIY Short Plant Stand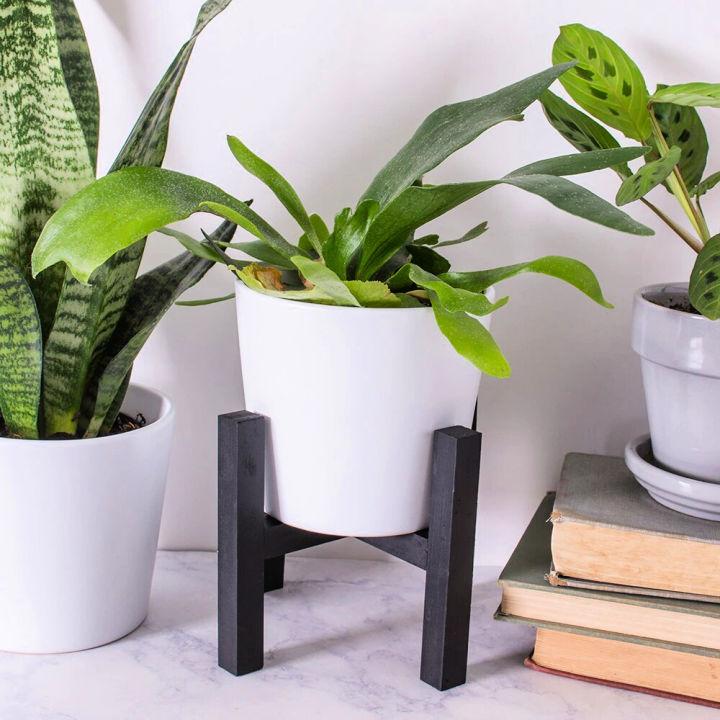 DIY short plant stands for your room and indoor decor. You can make it effortlessly for placing your favorite flower's pot near you. For this, use plywood, screws, drilling tools, wood glue, black paint spray, and tape measure. You can cut the legs, base, and support of this stand according to the vase's size. In the end, paint this stand with a black mat color to give it a statement look. homedepot
33. Wooden Plant Holder Stand

Make the wood plant holder stands for oversized pots and vases at home with the free DIY wooden plant stand plan and cedar planks. Additionally, use poly stain, orbital sander, wood glue, and chop saw. One more thing, measure the dimensions and size of your pots before cutting. So, you can later place them effortlessly on the stand. Give these stand a more beautiful and smooth finishing with poly staining. remodelaholic
34. Tall Wooden Plant Stand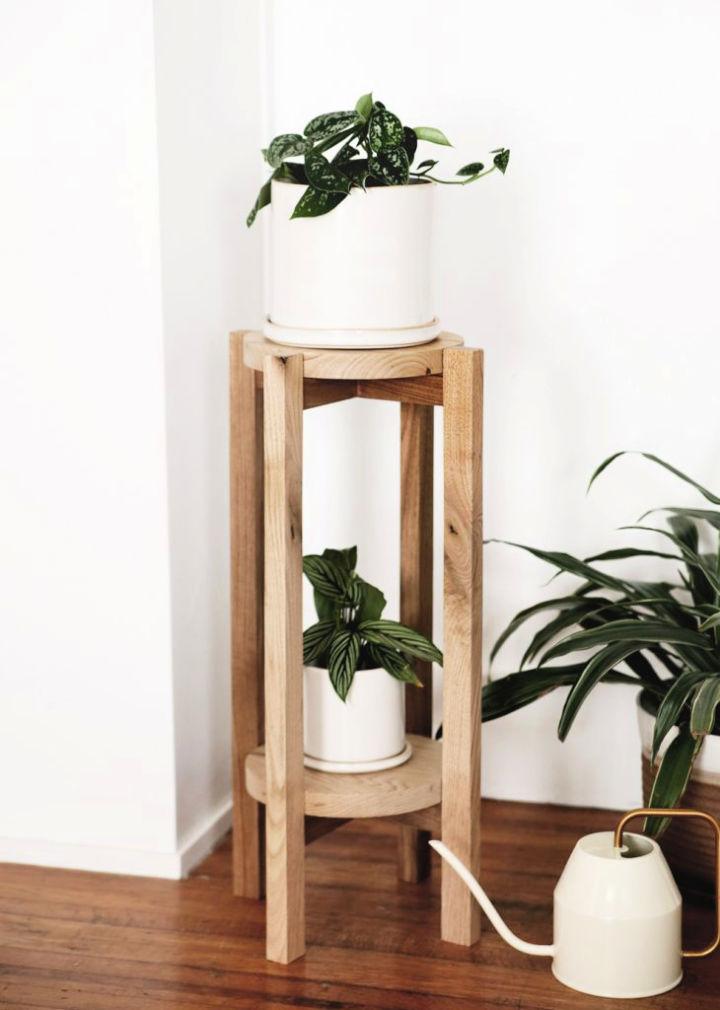 Tall wooden plant stands look gorgeous and classier than small ones. You can make a tall plant stand yourself with wood, screws, power drill, sandpaper, clamps, dowel pins, wood glue, and polyurethane for smooth finishing. If you love adding new furniture and wood-crafting projects to your home, you would surely enjoy building this tall plant stand. themerrythought
35. Industrial Style Plant Stand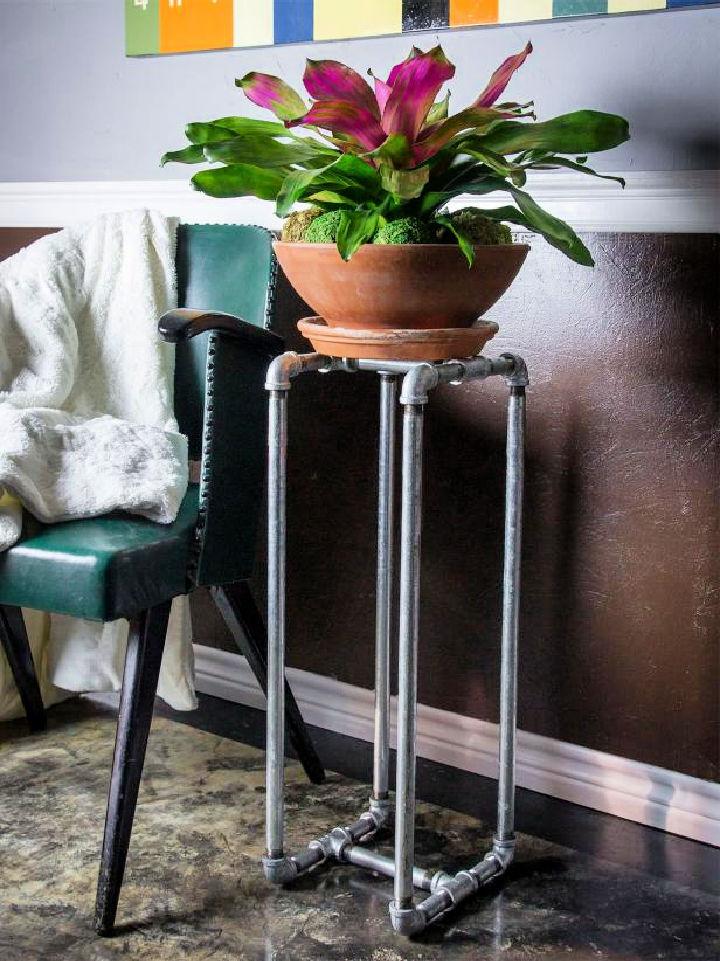 Make a homemade plant stand with industrial supplies and workshop material affordably. For this, use PVC pipes, jointers, paint spray, and a terracotta planting bowl. The only thing you need to do is assembling the pipes using jointers. Once you have done it, paint this customized industrial stand with desired color paint spray. Keep in mind; this industrial plant stand is suitable for lightweight vases. hgtv
36. How to Create Metal Plant Stand

No doubt, indoor plants become essential for home decor and uplifting human's mood. You can also place and decorate your home stylishly with plants. For this, you can make your own plant stand using a tomato cage, blot clutters, paint spray, and pots. All you need to do is painting the cell with metallic paint spray. Lastly, place the flower vase on this homemade plant stand. proflowers
37. Tiered Plant Stand from Old Ladder Garden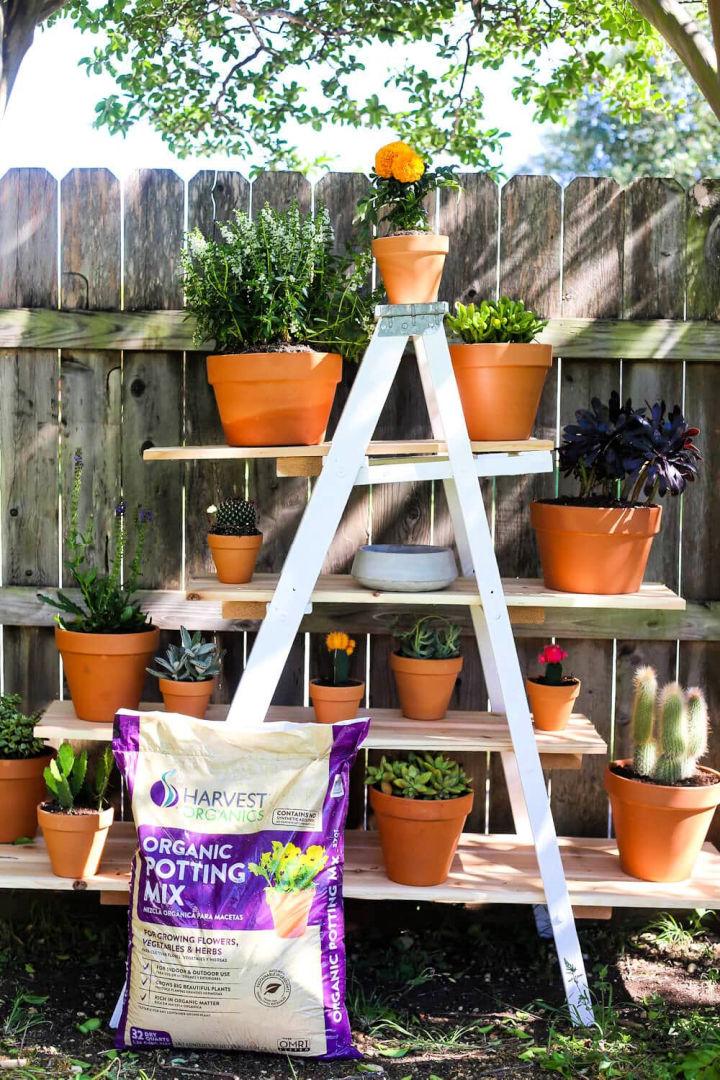 Grow and add more planting pots to your home garden with this tiered plant stand. For making this stand, you can use an old wooden ladder. Additionally, use the wood pallets for creating the shelves and racks on this ladder plant stance. Give this giant plant a smooth finishing and aesthetic look with white paint spray just only on the ladder frame. loveandrenovation
38. DIY Wood Plant Pedestal Stand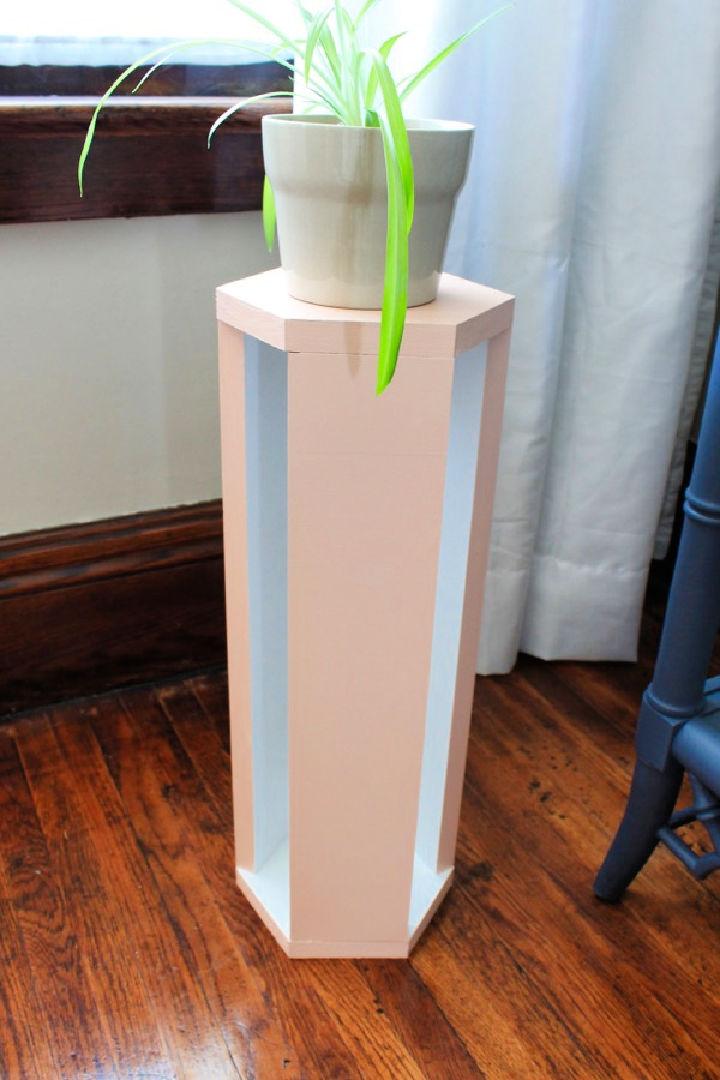 DIY a wood plant pedestal stands with a joint board, measuring tape, wood glue, table saw, paint, painting brush, and nail gun. Use the same wooden supply for cutting and making the baseboard of this stance. Moreover, use the remaining joint board for customizing the legs and support of the pedestal stand. Give this handmade stand a stylish look by placing the LED white light inside the legging frame. decoradventures
39. Modern Oak Planter Stand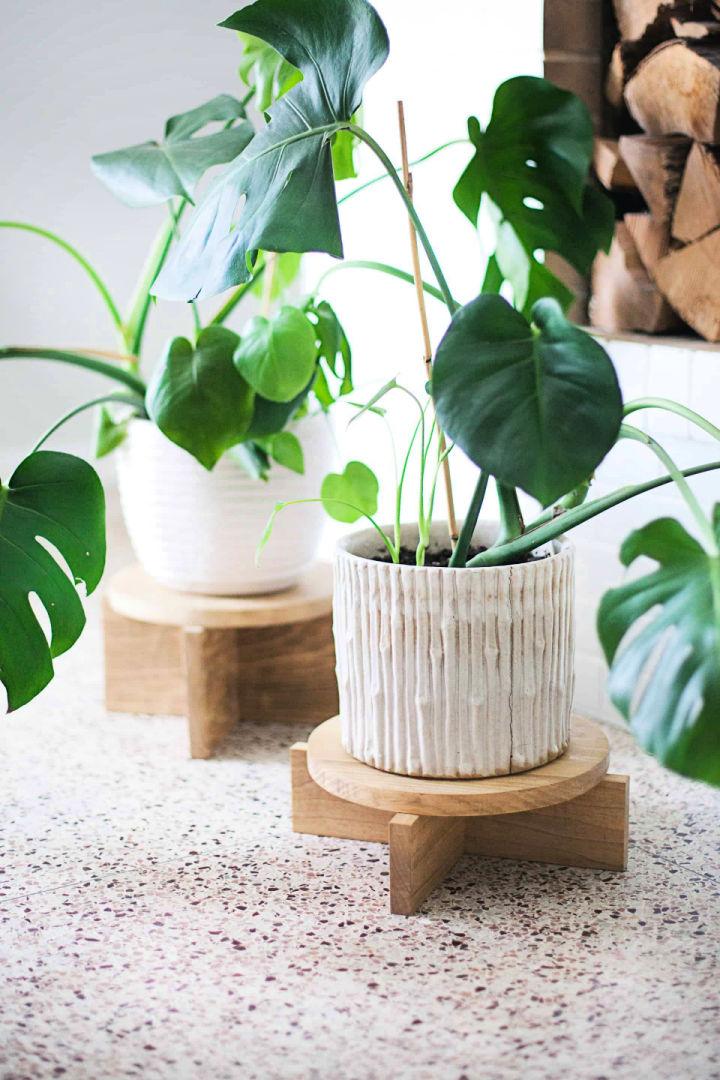 Make this super easy and adorable plant stand for outdoor decor using lumber, sandpaper, wire brads, wood glue, jigsaw, and clamps. You can increase the width of the stand baseboard according to the size of the pot. Use two wooden rails for creating the four cross legs of stance. In the end, join the legs and base using wood glue and screws. It's up to you to paint the stand with wood stain or any other paint spray. abeautifulmess
40. Cheap DIY Plant Stand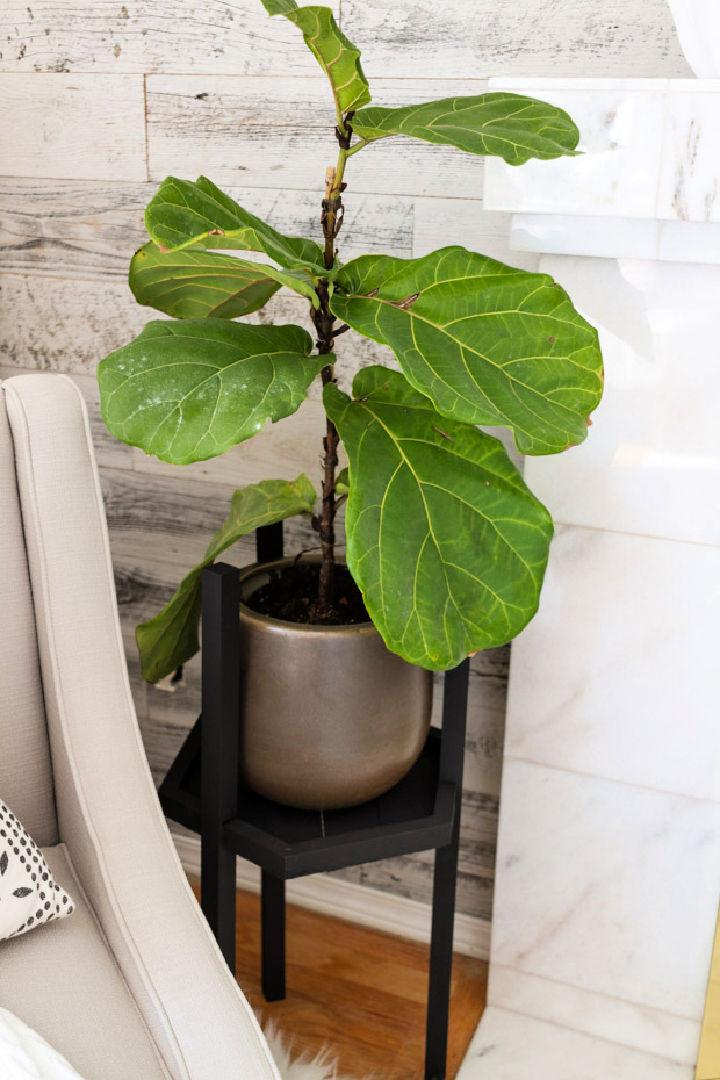 Do you want to add more style and glam to your home decor without stepping out of your budget? If yes, this cheap DIY Plant stand is an ideal option to consider. Make this stand using a wooden tray, dowels, wood glue, power drill, screws, measuring tape, and sandpaper. The only thing you need to do is assembling the tray and legs with screws and glue. Once you have done it, paint the complete customized stand with black paint spray. Enjoy placing your favorite flower pot on this versatile and affordable stand! zevyjoy