These inexpensive Ikea desk hacks will make your workspace as stylish and comfortable as you want helps you to be more productive. So, Are you looking to make your home office the most functional and organized? Find these 25 simple and cheap Ikea desk hacks and ideas that will help to increase your productivity and organize your home office desk using IKEA products at a low budget. All are included in the collection of IKEA desk hacks, from modern minimalist desks to chic storage-friendly desks to standing & folding desks.
Most of the DIY IKEA desk hacks are all about putting together the IKEA components smartly to build stylishly beautiful IKEA desks. Look through this collection of 25 IKEA desk hacks that will cover all the popular diy desk designs you have been buying expensive from the market or shops. The best part is that you don't need a lot of carpentry skills to build these posh-looking desks because IKEA has already done it for you.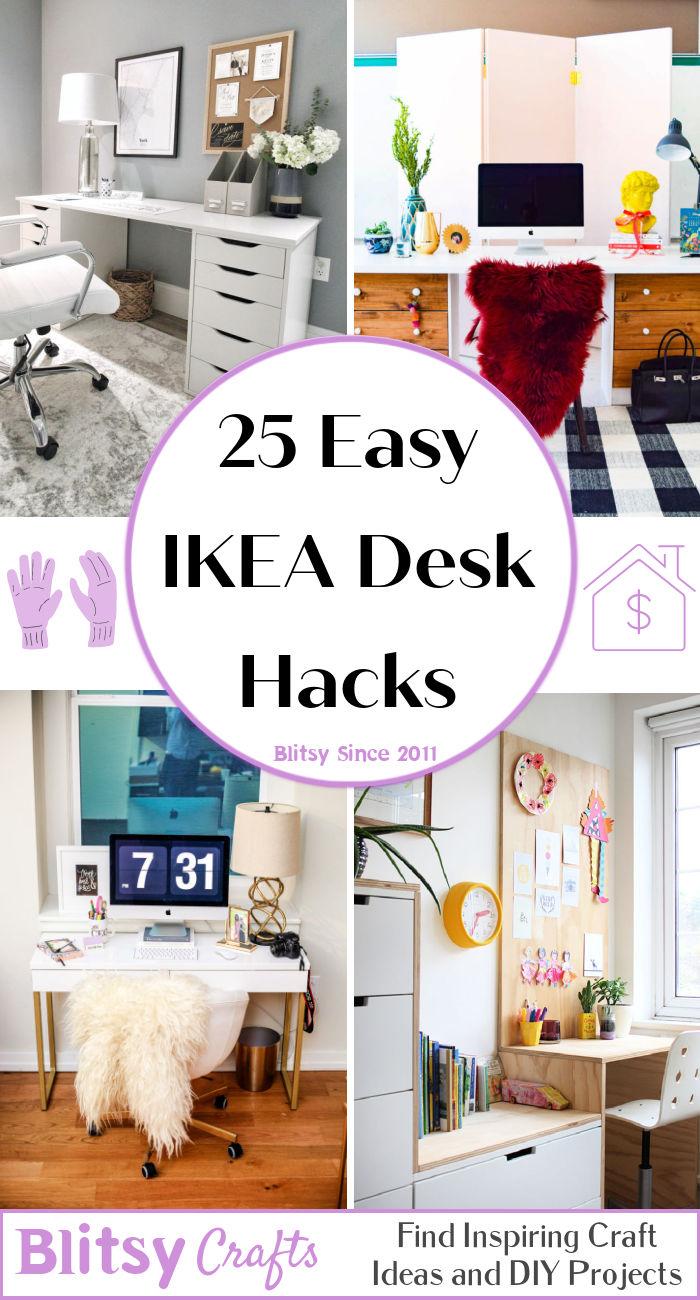 Being the largest Internation home furniture producer, IKEA provides a wide range of modern and office accessories in modern interiors. The IKEA products for desk building are easily available. They mostly involve the IKEA Linnomon desktops, IKEA Alex drawer units, IKEA Trofast bins, IKEA LERBERG Trestle legs, IKEA Kallax etc.
However, these IKEA desk hacks will involve using all to build, from sturdy desks to crafting desks to storage-friendly office desks. So, the ultimate modern and functional desks are right in your way if you are to build a modern home office on a budget.
1. DIY Plywood Double Desk Hack with Drawers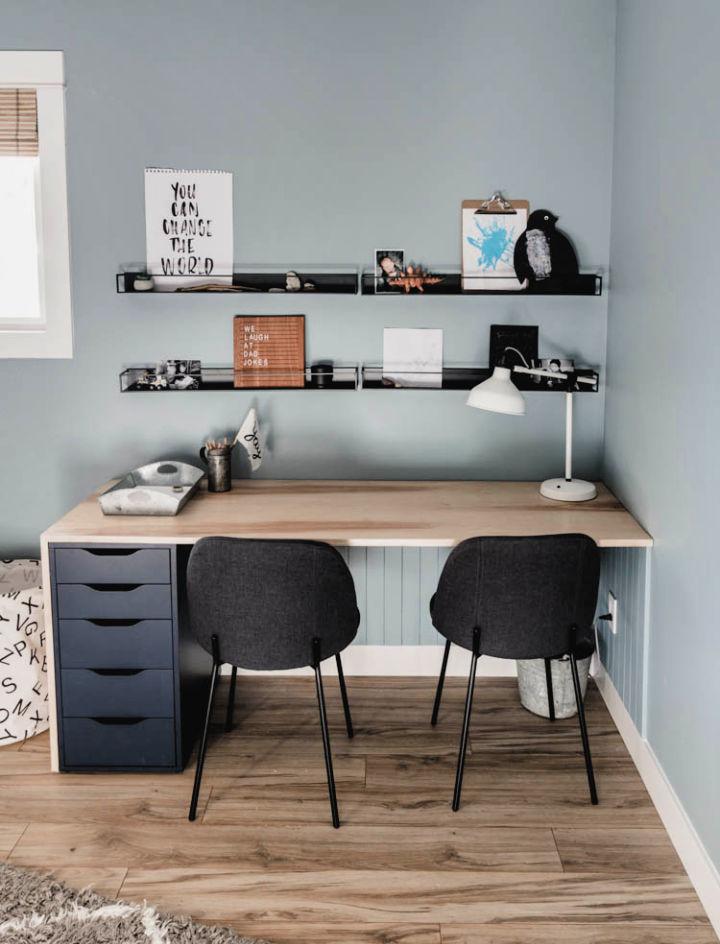 Accomplish your modern desk desires using the IKEA components. Get instructions to make the best modern plywood double desk at home! It will be a great addition to kids' space. The vertical shiplap under the desk and the waterfall edge are the most beautiful features of this very modern desk design. The drawers are the desk that comes from the IKEA, and they add ample storage space. You need IKEA Alex Drawers, ¾" plywood, wood veneer edging, baseboard or plywood, clear poly, 1″ L brackets, glue and custom woodworking tools to complete this IKEA desk. lemonthistle
2. Easy Ikea Alex Desk Hack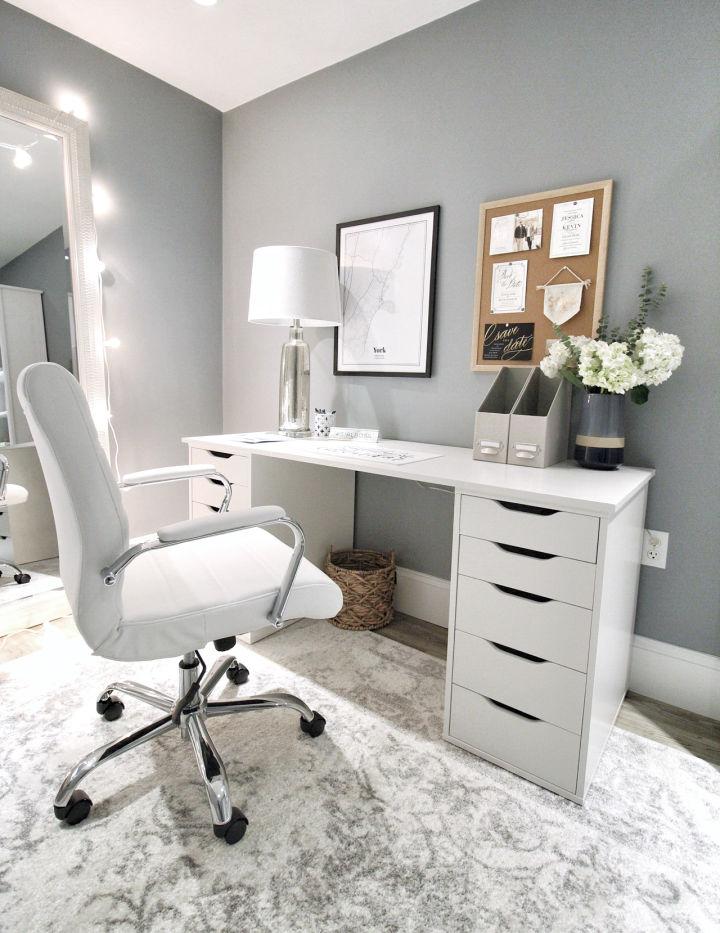 There are readymade IKEA components out there that you can put together for modern furniture building. You love this gorgeous white-painted desk that provides an elegant top and many drawers for your ultimate storage needs to organize your desk. You need IKEA Alex drawers and an IKEA Linnomon top to complete this fabulous wooden desk. However, you can give a nice wood finish to the entire IKEA desk for weather protection and lots of visual stimulation. You need stain blocker primer, snowbound paint in gloss and high performance for a brilliant glossy white desk finish. emilyeveryday
3. IKEA RAST Desk Hack with Minwax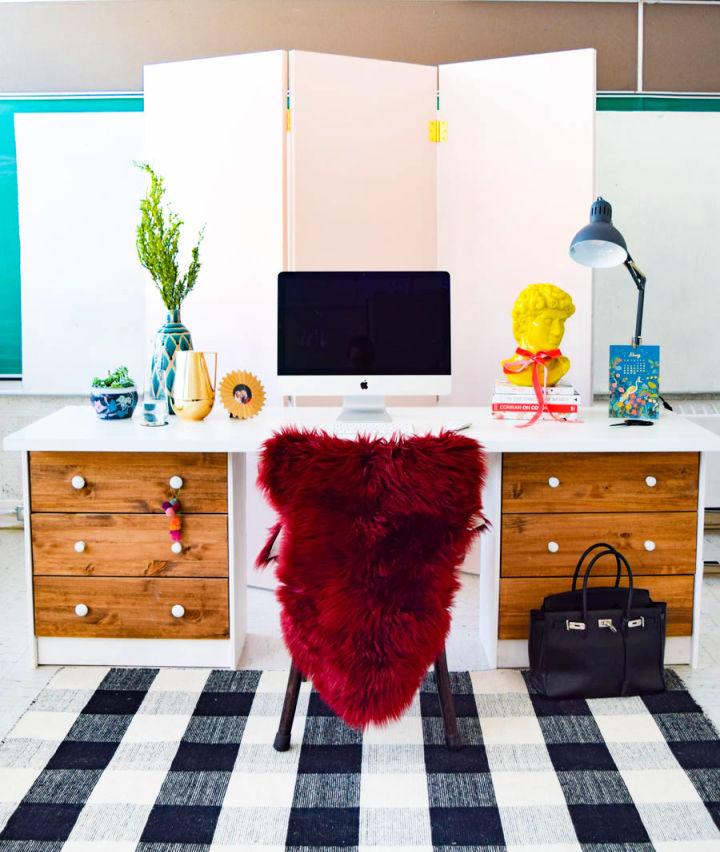 The IKEA provides readymade cabinets and tables or desktops that you can put together to make beautiful and modern desks in no time. However, you will love this IKEA Rast desk hack also! It involves building a super glamorous and modern wooden desk design, sure to be a great addition to kids' study rooms and mini home offices. You need 2 IKEA Rast, IKEA Linnmon, Minwax wood stain, latex gloves, cotton staining rags, white paint, drill & bits, nail gun, 1×8 and 1×3 knotty pine pieces to complete this unique wooden IKEA desk. pmqfortwo
4. Ikea Desk Hack Tutorial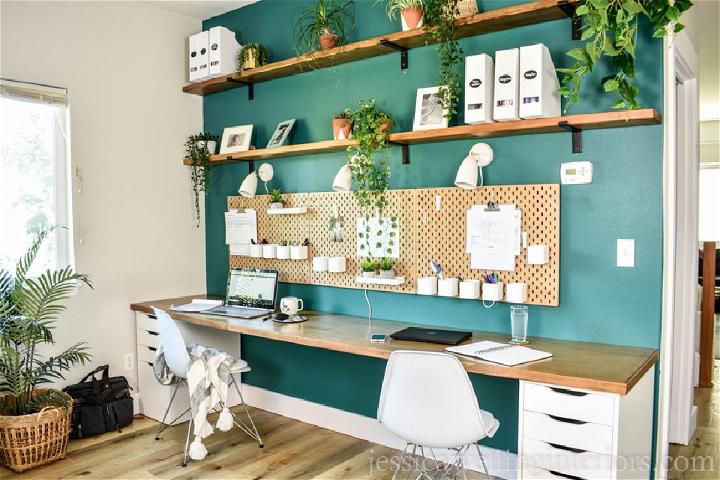 Intending to build the custom desk design with the IKEA? Look through the given ikea home office ideas and learn to build a fantastic modern IKEA desk without getting a bit expensive. You need maple or birch veneer and plywood, 2x12s, drywall screws, IKEA Alex Drawers, oil-based pre-stain wood conditioner, wood stain and semi-gloss polyurethane to complete this fantastic desk. The desk is wide enough to set up for 2 people working at the same time. Decorate the back wall with custom art frames, organizers and other custom desk decor. These unique desk decor ideas provide complete step-by-step tutorials for building the whole beautiful wooden desk with lots of storage also. jessicawellinginteriors
5. Small Ikea Desk Hack with Cube Storage Shelves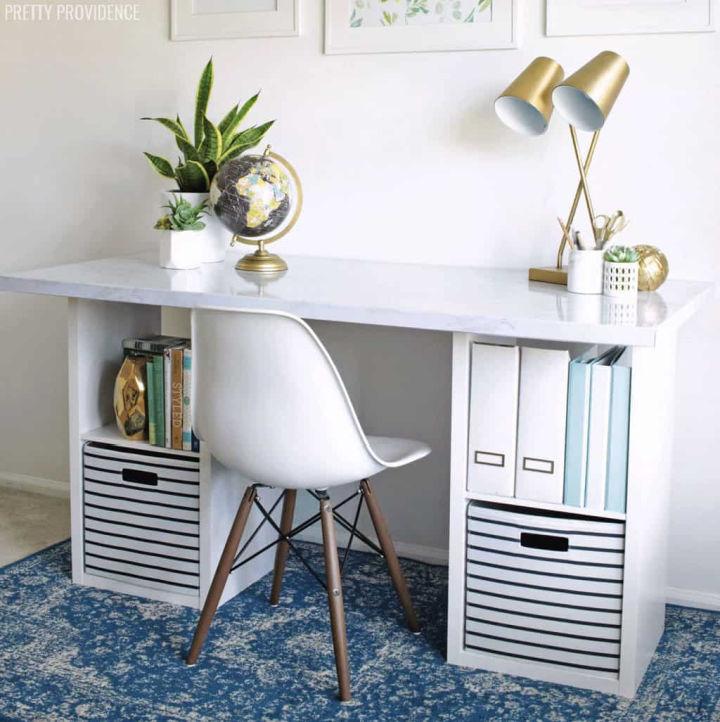 You will surely fall for the glossy appearance of this IKEA desk! It will add to your home's office beauty. The white succulent pots and planters, and other metal centerpieces create that fantastic and lush look of the entire desk. Grab the IKEA Linnomon desktop, 2 storage cubes, a roll of marble contact paper and 2″ heavy-duty wood screws to complete this entire beautiful desk. Depending on the custom added details and features, the desk will cost you around $60-$100. In tools, you need a drill, drill bit, measuring tape and pencil. prettyprovidence
6. DIY Cane and Wood Desk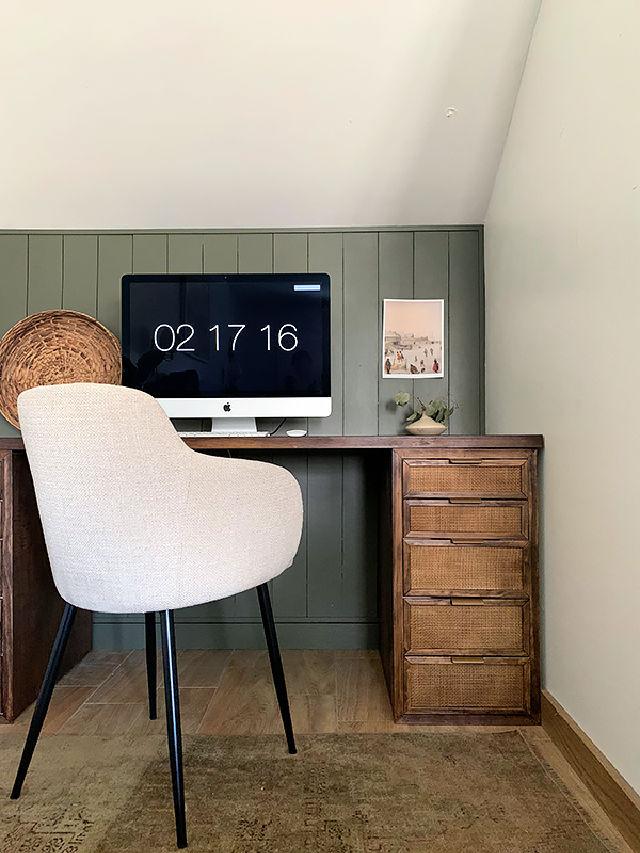 The desks are everywhere, from the office to home! And they are often to add to the kids' play and study rooms. Are you sorting out the modern desks for your workspaces? Then this IKEA desk hack will surely do the trick. Peek into details of this cane and wood desk that is a brilliant IKEA Alex hack! It will impress all the desk lovers. The desk is just great for laptop operating and ready and write purposes! And it will be total ease to build with minimal carpentry experience. So, get your hands onto 2 IKEA Alex Drawer Units, cane webbing, polyshades spray paint, ¼ " plywood for sides and drawer fronts, drawer pulls, wood trim for drawer fronts, nail gun, staple gun, topcoat, stain, door slab and some creativity to complete this desk. brepurposed porch
7. Custom Ikea Hack Floating Desk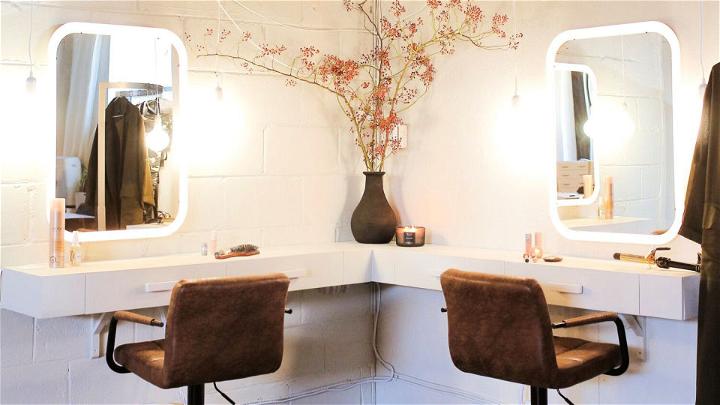 The floating desks are all the rage now when suffering from short space issues in the home or office. So, get here instructions to build an L-shape floating desk using the IKEA components! And this will be significantly easy and cost-efficient. However, here, these floating desks are built for a parlor or saloon, but they can also be employed as a study or home office desks. You need 2 IKEA EKBY ALEX floating shelves, 4 IKEA SANDSHULT wall brackets, ½" plywood, wood glue, wood filler, nail gun, saw, and 4 handles to complete this fantastic floating desk. thesorrygirls
8. Ikea L Shaped Desk Hack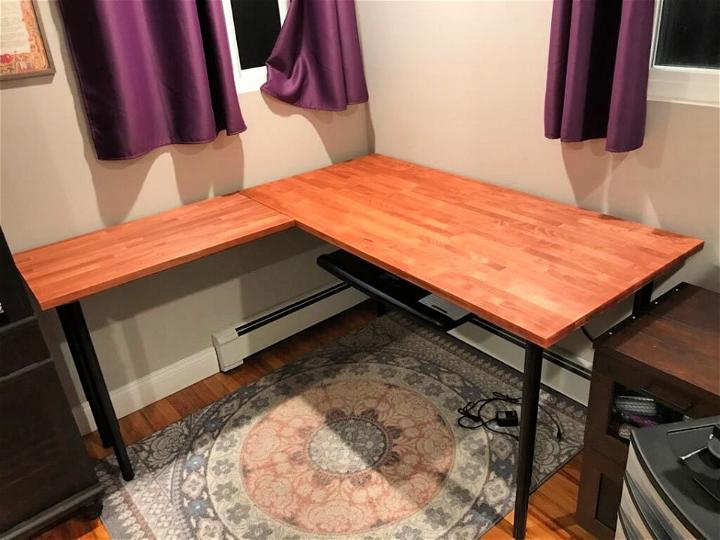 Learn here how to build an IKEA corner table while spending a cheaper cost of $325. This L-shape desk will allow 2 people to work simultaneously, and it will rock for read and write purposes and for the laptop operating. You need GERTON tabletop, OLOV adjustable legs, metal brackets, 1×4 wood planks, cable grommets, keyboard tray, and screws to complete this super beautiful L shaped desk. In tools, grab the circular saw, guide for circular saw, drill and tape measure to complete this project. ikeahackers
9. DIY Standing Desk – Ivar Ikea Hack

To kill the sedentary sitting and behaviors, the standing desks are becoming a bit center of attention. So, get here a brilliant IKEA hack about how to build a diy standing desk without getting a bit expensive. You need a pine board, drill with screw bits, screws for the tabletop part of the desk, furniture wall straps, and 2 pcs of 20″ deep IVAR IKEA cabinets to complete this fantastic wooden desk. This desk is a great IVAR IKEA hack, and it will be loved dearly by all the students and computer operators. Building this desk will cost you around $150-200. One of the best IKEA hack desks hacks ever. papernstitch
10. Ikea Slim Desk for Writing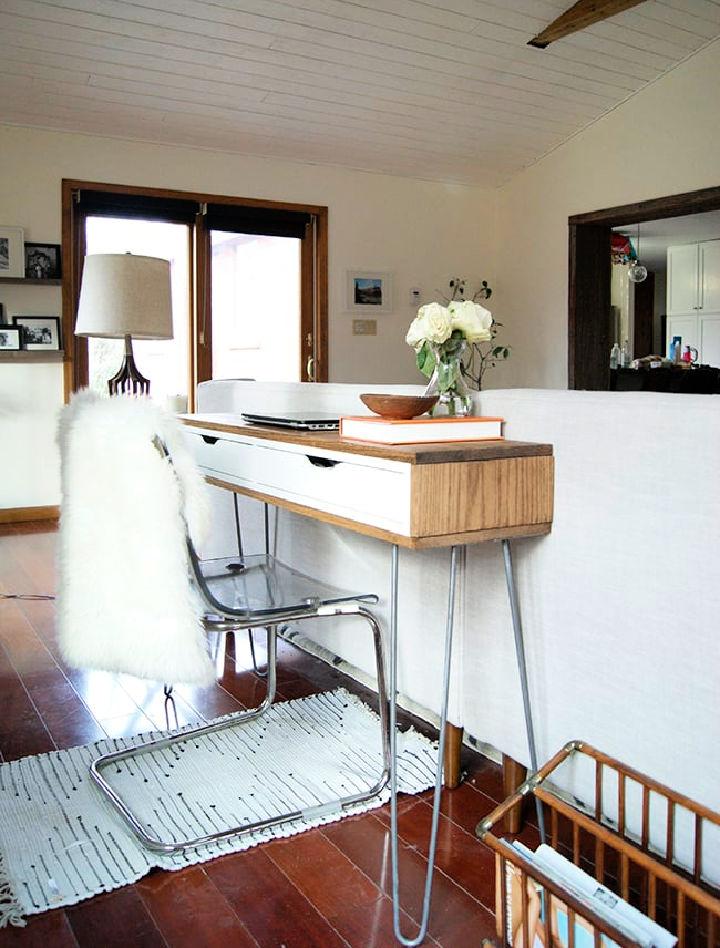 Satisfy your love for the minimalist desks and furniture by building this slip-long IKEA desk that stands on the metal hairpin legs. The desk provides two built-in drawers right under the top for added visual grace and will be a total pleasure to whip up. You need an IKEA EKBY Alex shelf, pre-stain, Minwax mission oak in gloss stain, sandpaper, brad nailer, hairpin legs, drill and 2 custom-cut pieces of wood to complete this phenomenal wooden desk, sure to be a big love of all. It will not take that too long to build this stylishly beautiful wooden desk that is storage-friendly also. undeclaredpanache
11. Affordable Ikea Desk Computer Hack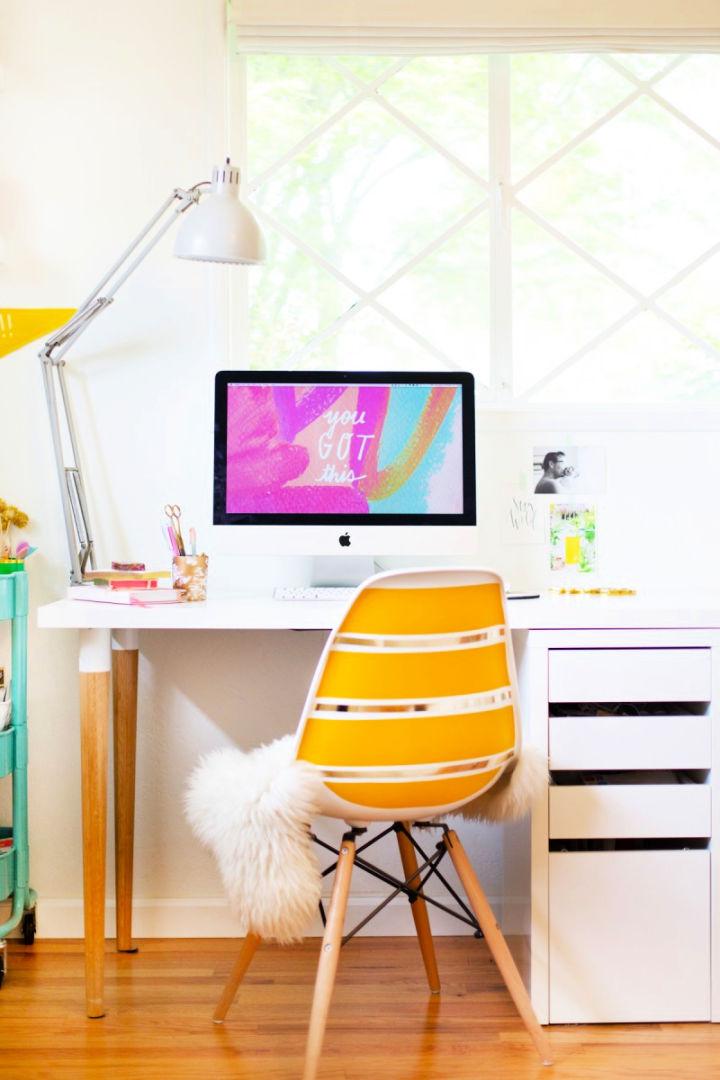 Get here free desk plans to build this DIY ikea computer desk hack that lasts longer and stylish and will cost you around $140. Again you need the custom IKEA components to build this lasting longer and a storage-friendly wooden desk will never get out of style and trends. You need 2 IKEA silver table legs, IKEA Linnmon tabletop, IKEA Micke drawer unit and industrial velcro to easily make this more durable desk. It will be a great addition to a study room or a mini home office and will be easy to build also. lovelyindeed
12. DIY Craft Room Storage Desk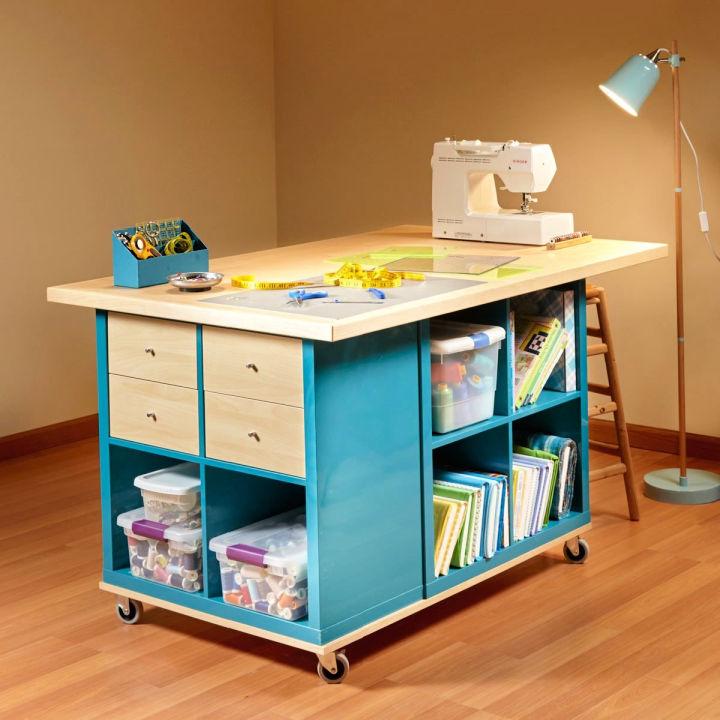 Help boost the kids' craft activities and creativity by building this super storage-friendly crafting desk. It comes on wheels for easy dragging and pushing and impresses with the half painted and half wooden appeal. However, this craft desk or play desk is a big IKEA hack, and it will cost you around $101-250. The construction will be much doable for all intermediate carpenters, and you will love the finally completed wooden desk. You need IKEA Kallax insert with two drawers, an IKEA Kallax shelving unit, 3″ locking swivel casters, birch or maple solid wood, ¾" birch plywood, birch iron-on edge banding, metal screws, polyurethane and wood glue to complete this one-of-a-kind IKEA desk. familyhandyman
13. Built in Ikea Bookcase Desk – Ikea Shelf Desk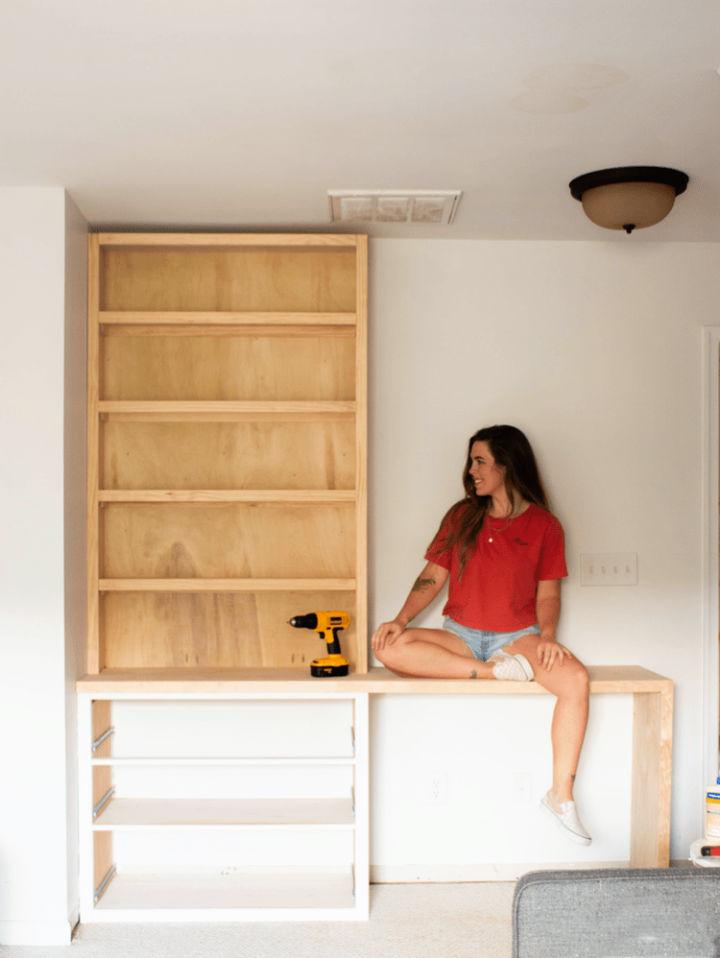 You will fall in love with this another ikea shelf desk that looks sweet and gorgeous and is built for both laptop operating and also for read and write purposes. The desk enchants with the custom added storage options above and below the desktop, and it will never get out of style. Along with the plywood, you also need the IKEA cabinets or 2 drawer chests to complete this functional desk built to fit a custom space. The project will be super easy and cost-efficient, even for a beginner. cassmakeshome
14. Adjustable Standing Desk with Pipe legs- Small Ikea Desk Hack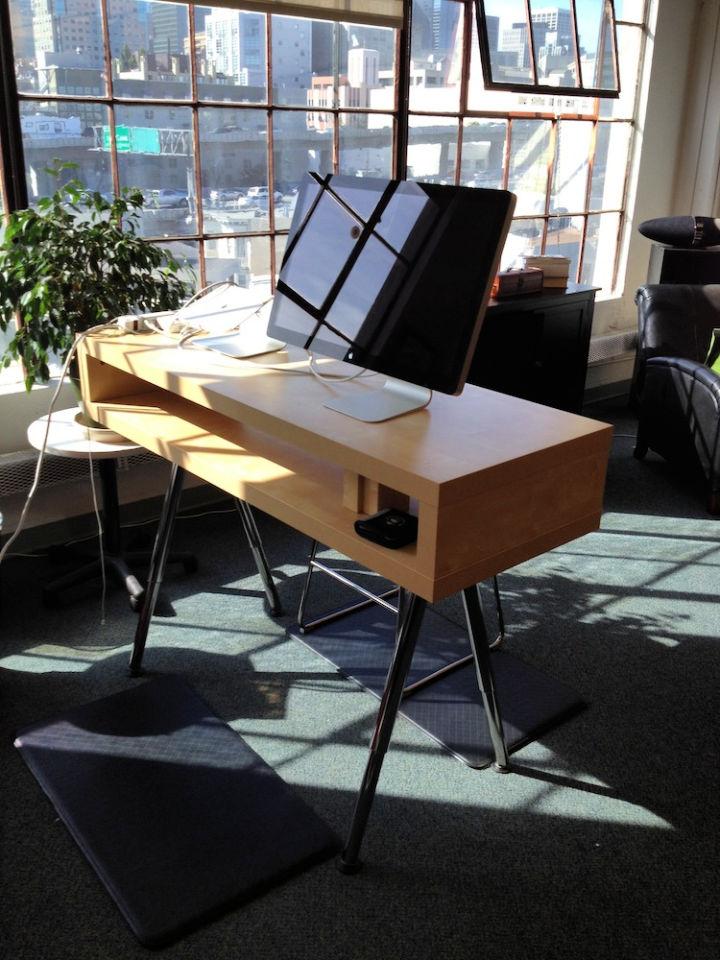 You will fall for this another modern desk that is to build also with the IKEA components. The small IKEA desk gains attention with the solid steel pipe legs and a brilliant slip top with open storage underside. The desk will help keep you active and healthy all day long and help kill that sedentary sitting style. It will cost you around $140 to build this fantastic IKEA desk. You need an IKEA LACK TV unit, IKEA GALANT adjustable A-frame desk legs, bolts, washers and nuts to complete this fantastic modern desk. One of the best DIY furniture to build at home. spacekat
DIY pipe desk: Get inspired by dozens of DIY pipe desk plans and build your own pipe desk. Learn from others who have built tables and desks made from pipe fittings.
15. Hideaway Home Office Desk – Ikea Shelf Desk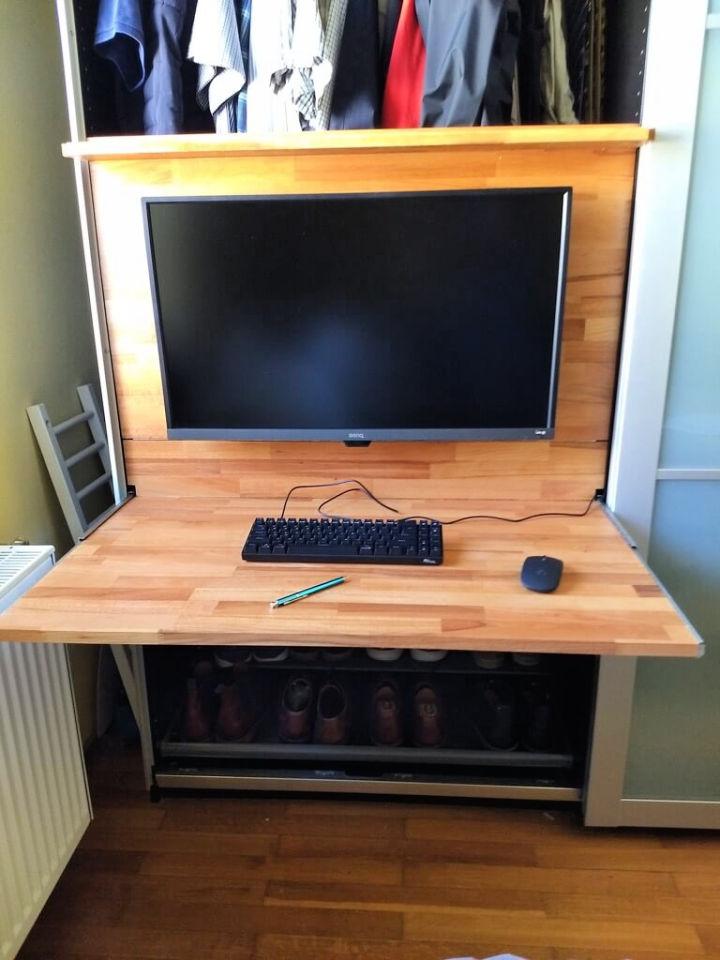 You will love this most genius Ikea shelf desk here to gain a beautiful instant desk in a short space interior. The desk folds gracefully out of the PAX frame and will rock for laptop and computer operating. You need an IKEA PAX frame with sliding doors, wooden plates, heavy-duty slides, piano hinge, screen with a corresponding VESA mount, magnetic catches and some scrap wood to complete this outstanding folding IKEA desk. In tools, you need a drill, wood glue, dowel pins, measuring tape, joiners square, spirit level and saw to complete this IKEA desk. ikeahackers
16. Make Your Own Ikea Long Desk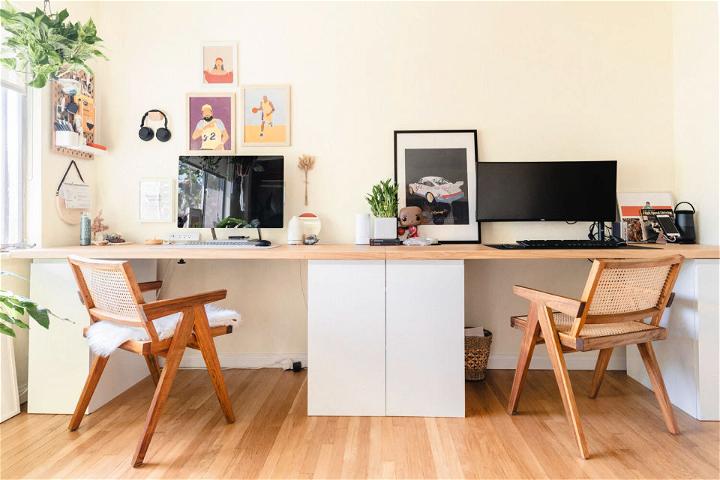 The modern desks cost you big, but you can build them at home also without getting a bit expensive. Get inspired by this genius IKEA hack that shares guides for building a big DIY computer desk plan that will be great for 2 people simultaneously and will cost you next to nothing. You need a power drill, L-brackets, sektion base cabinet, sektion base cabinet with shelves, mollekulla countertop, sketion legs and some creativity to whip up this solid wooden desk at home. bylisalinh
17. Cheap White and Gold Ikea Desk Hack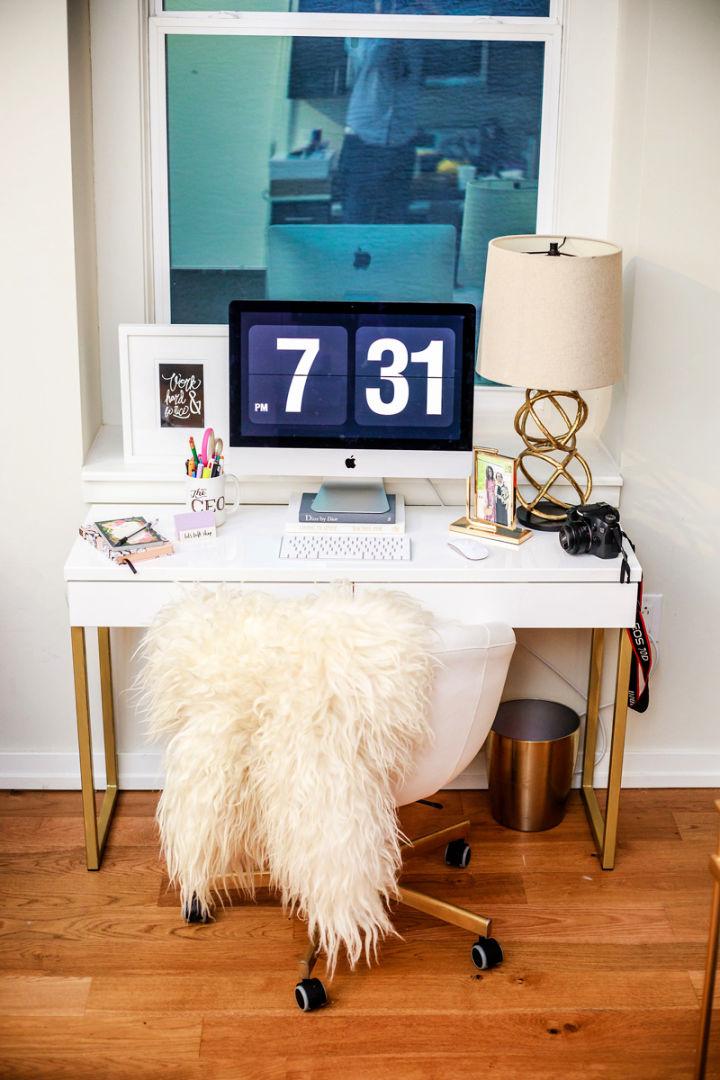 The white and gold go great together, and you will find it so true when looking at this white and gold ikea computer desk hack. Another brilliant ikea home office hack that helps build a gorgeous modern and lush design of the desk. The furry chair just makes the user more comfortable working on this desk. The desk will rock for computer or laptop operating and also for reading and write purposes. Here the project is more than easier to do and will also complete in no time. You need an IKEA BESTA BURS desk, metallic spray paint and cardboard or plastic drop cloth to spray on to complete this entirely modern IKEA desk. aliciatenise
18. DIY Ikea Lerberg Computer Desk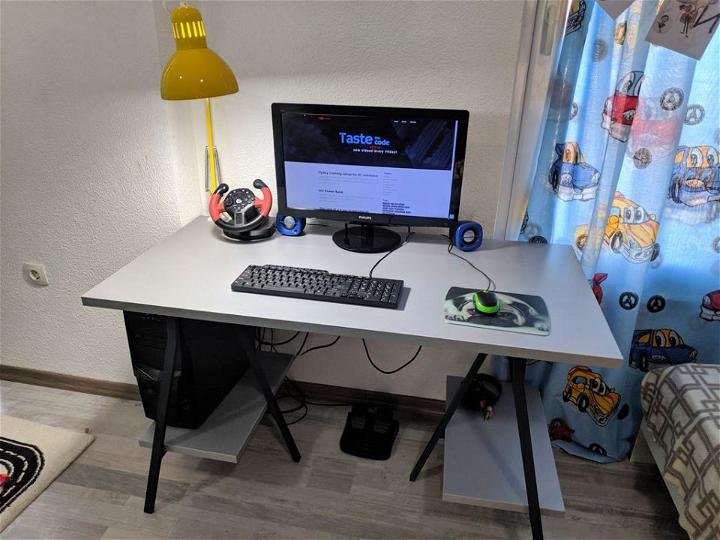 In terms of style and durability, this handsome desk will get ten out of ten from you. It is different and unique from the ordinary mass-produced and is the genius IKEA hack ever. Here you need the IKEA LERBERG system and a 25mm gray melamine board to complete this entire that is just looking extra beautiful in the final painted appeal. However, you can drill holes to attach the metal legs to the top of the desk. However, you can go with a custom wood finish and paint for the top also. instructables
19. Built in Desk with Ikea Alex Desk and Drawer Hack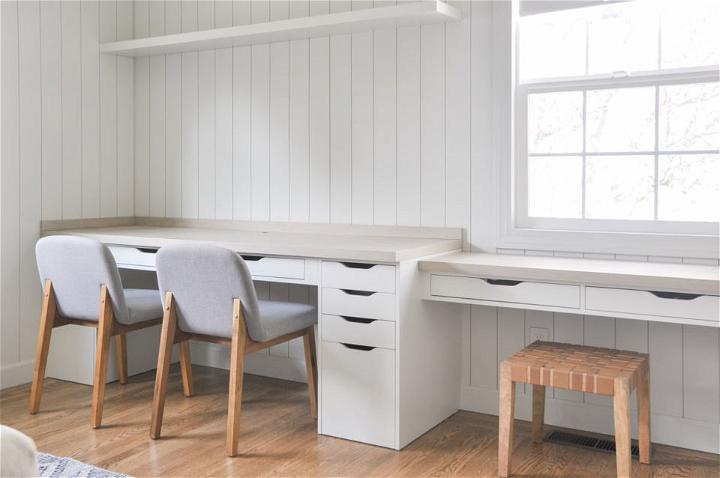 You will surely fall for these gorgeous IKEA desk hacks that are both storage-friendly and extra large and will useful for multiple people who are willing to work at the same time. It will not be challenging to complete this ikea computer desk hack, and everyone will just love building it. You need the 2 pieces of ALEX drawer unit with drop file storage and 2 pieces of EKBY ALEX shelf with drawers to complete this entire sophisticated IKEA desk, will never get out of style or trends for sure. hydrangeatreehouse
20. DIY Lego Desk with IKEA Trofast Bin Storage

Opt for this IKEA desk that is super storage-friendly and will rock as the gaming and crafting desk simultaneously. The entire IKEA desk amazes with the fabulous storage options and will be a total pleasure to build at home. Here is the perfect Lego desk that makes the best handmade gift for the little kids at home. You need 5 IKEA Trofast bins, 1×3 boards, ¾" plywood, ½" square wooden dowels, pocket hole jig, wood glue, clamps, edge banding, paint, desktop and a brad nailer to easily duplicate this beautiful IKEA desk. thehandymansdaughter
21. Live Edge Desk with Trestle Legs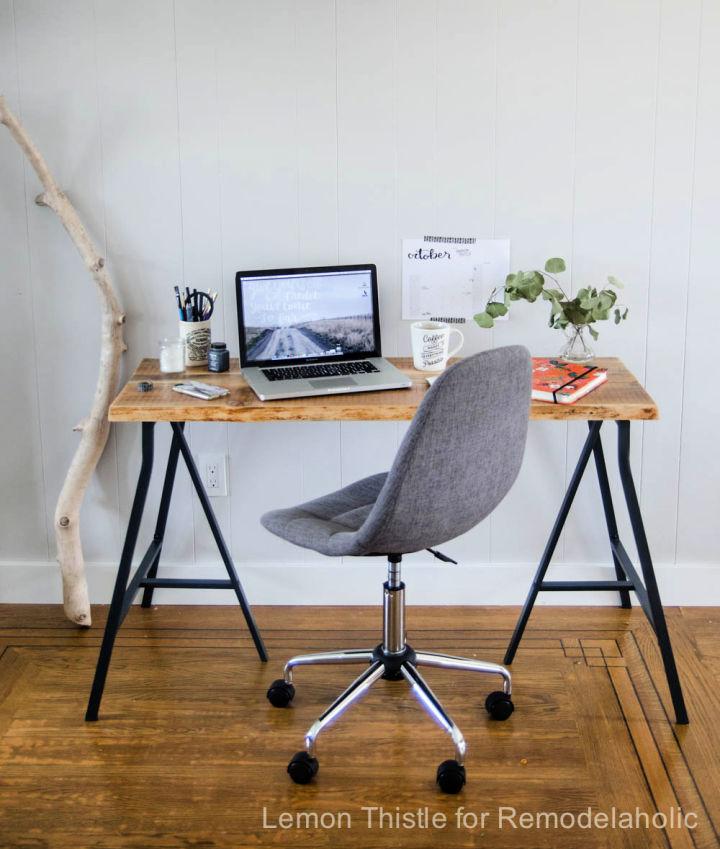 Intending to feature the live wood edge to your home or office space for a glam touch of wood rusticity? Then you must build this live edge wooden desk that stands on the IKEA trestle legs. The best modern yet rustic and industrial style desk that you will love to duplicate for your workspace. In supplies, you need live edge planks, Kreg jig, wood glue, sander 60-120 grit, varathane crystal clear satin finish and IKEA lerberg trestle legs to easily duplicate this fantastic IKEA desk. It will make a better handmade gift to a favorite person also. remodelaholic
22. How to Build a Ikea Desk Hack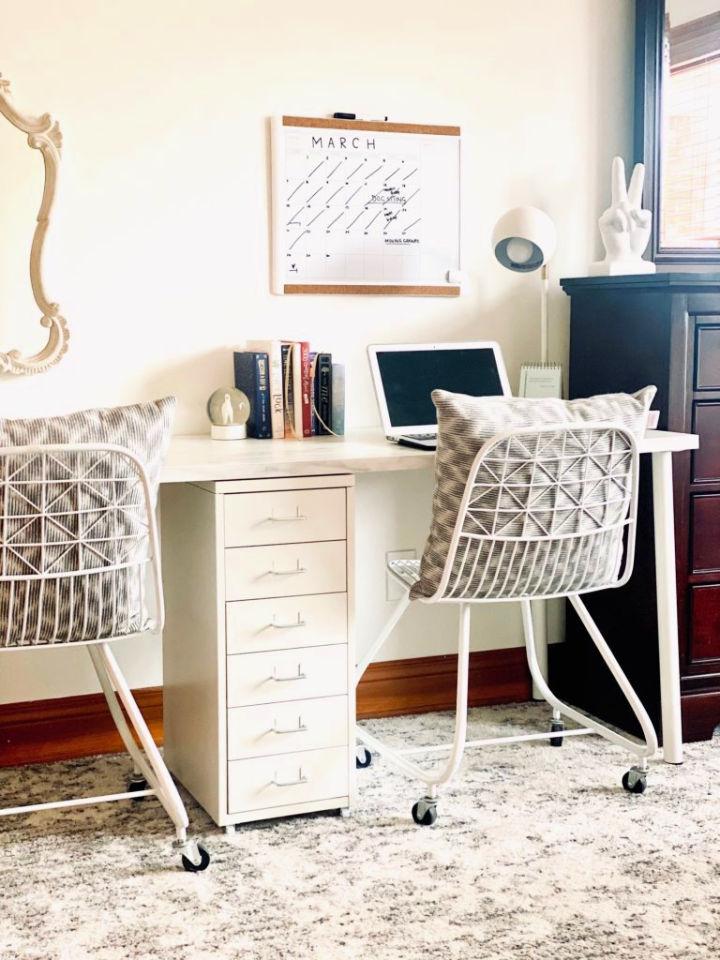 Have you not gone through carpentry ever but still want to build a modern desk for your workspace? Then go with this IKEA hack to build a beautiful instant desk in no time. The whole desk is built with 3 IKEA items that are easy to find and cheap to buy. You need an IKEA HELMER cabinet, IKEA ADILS legs, and IKEA EKBACKEN countertop to complete this whole beautiful wooden desk. Gift this desk to a favorite person or kid, and it will work great to add to your home office space. The finally completed desk will work great for 2 people who are willing to work simultaneously. tamiinbetween
23. DIY Plywood Kids Desk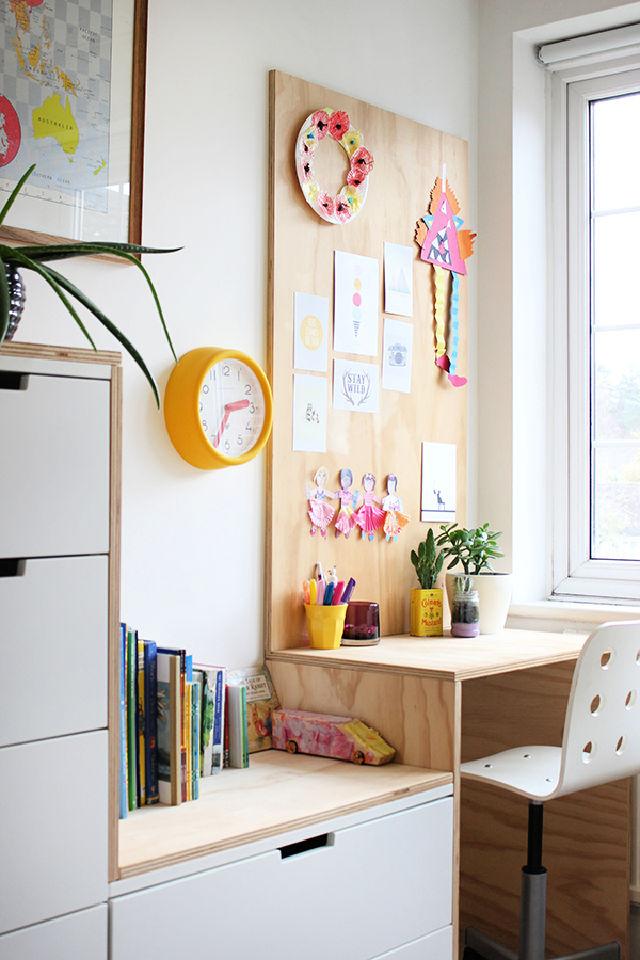 Sorting out the perfect home workspace desk for the little kids in home and just want to build it faster? Here a brilliant EZ's bedroom makeover is done with the extra genius and brilliant IKEA hack that helps build a DIY kids desk. The project involves using plywood and IKEA Alex drawers to complete this storage-friendly desk. However, the addition of a back wall plywood board makes the entire desk look extra beautiful. You can use the back wall as a brilliant memo board also. The desk appears with a unique design that fits best to the targeted space. growingspaces
24. Gold Leafed Acrylic Ikea Desk Hack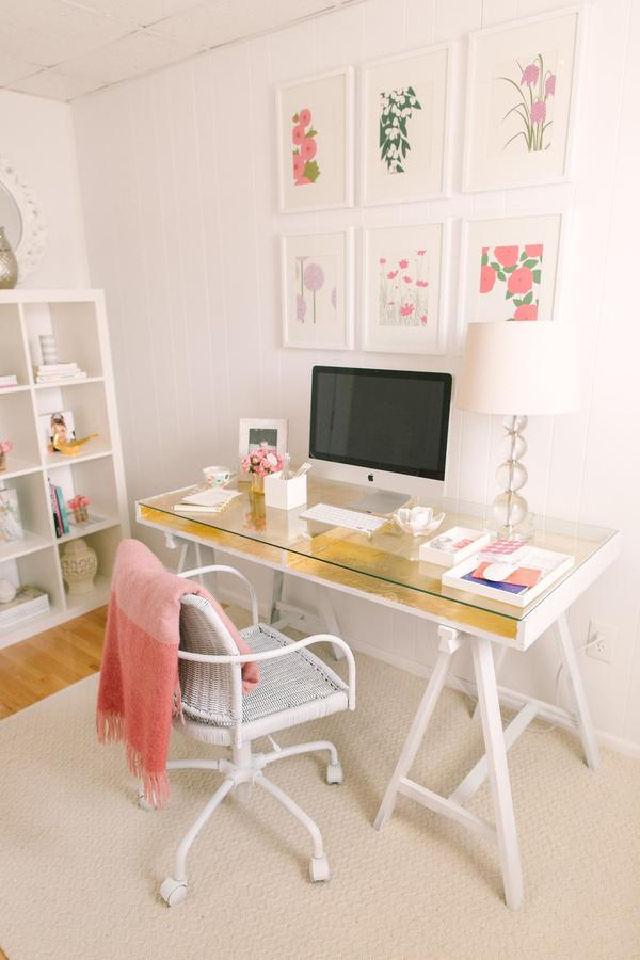 Are you a big fan of posh-looking furniture? So, this handsome gold-leafed IKEA desk will surely get ten out of ten from you in terms of style and elegance. The desk stands on the outstanding trestle legs and makes an excellent handmade gift for a student and for all those who are from home. It will be easier to complete this fantastic desk, and it will be a big love of all. You need an IKEA Vika Gruvan desk with trestle legs, adhesive gold leaf, glue brush painter's tape 2″ foam brush, paintbrush and clear acrylic spray to complete this outstanding IKEA desk. stylemepretty
25. DIY Linnmon Alex Corner Desk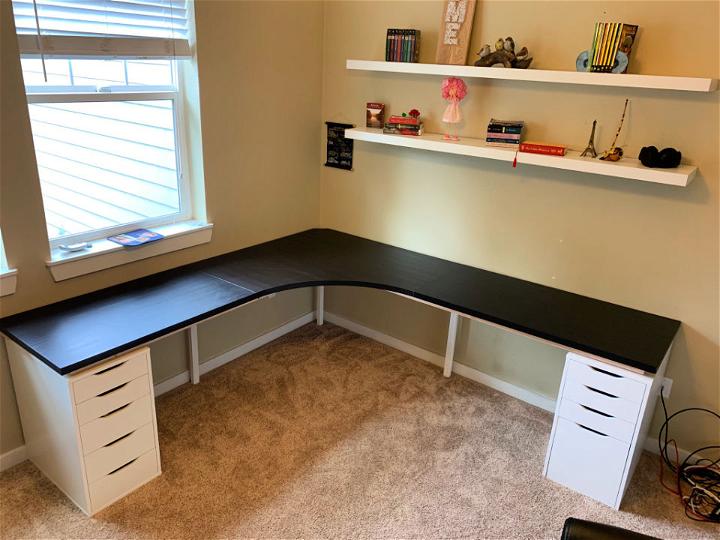 You will love this fantastic IKEA creation, the outstanding IKEA desk, built to impress and fit into a corner space. Use the IKEA Linnomon top and IKEA Alex drawer units to easily build this DIY corner desk. The whole design gains attention with the white painted drawer units and a dark stained top, and it will be a big love of all the home lovers. You can just open up the drawers to store anything inside, and they will be a big love of all. One of the best and quick-to-build DIY IKEA desks ever. imgur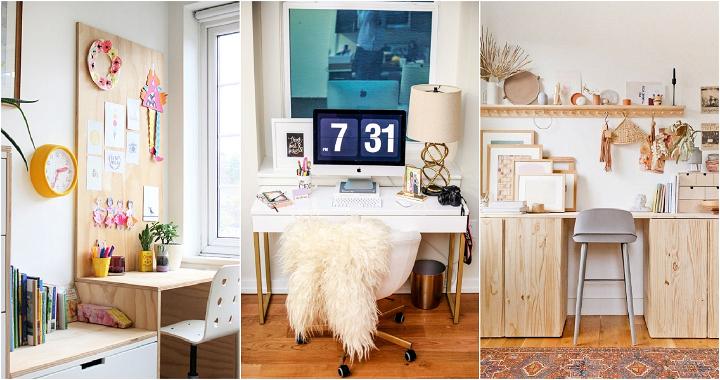 Conclusion:
The big list of DIY IKEA desk hacks and ideas aims to provide the most genuine and genius information for building a lasting DIY modern desk with IKEA products and components. You will see dozens of creative configurations of the IKEA items building the stylishly beautiful and posh-looking furniture items that will be a big love of all.
However, most of the IKEA desks are easy to set up, but it may require some skills to build those floating and folding IKEA desks included in the list. These DIY IKEA desk hacks are all for free, from complete step-by-step instructions to doing custom makeovers for a personal touch. These IKEA desk plans and hacks provide all for free. Moreover, you will also get a complete list of materials and tools to easily clone any of the given IKEA desks.