These DIY coffee table plans are the perfect addition if you are looking for useful and fun furniture projects for the weekend. Do you feel like something is missing whenever you sit on your couch for a coffee cup every day? Your living room needs to be updated with these stunning DIY coffee table plans specially designed to cater to coffee mugs along with some minimal decor too. Since we all are aware of how important and convenient a coffee table can be, we would highly advise you to add this versatile piece of furniture to your home and make your life easier and stylish!
This article gives you a simple and functional DIY coffee table to make and revamp your living room at a very reasonable price. Building one can be a lot more gratifying than buying one off the market. Here we have compiled a wide range of DIY coffee table plans that you can make easily. Either you like it outdoors, rustic trunk style, pallet ones, simple wooden stumps, recycled doors, or a modern-chic style from minimalistic to farmhouse designs, we have all types of coffee table plans here!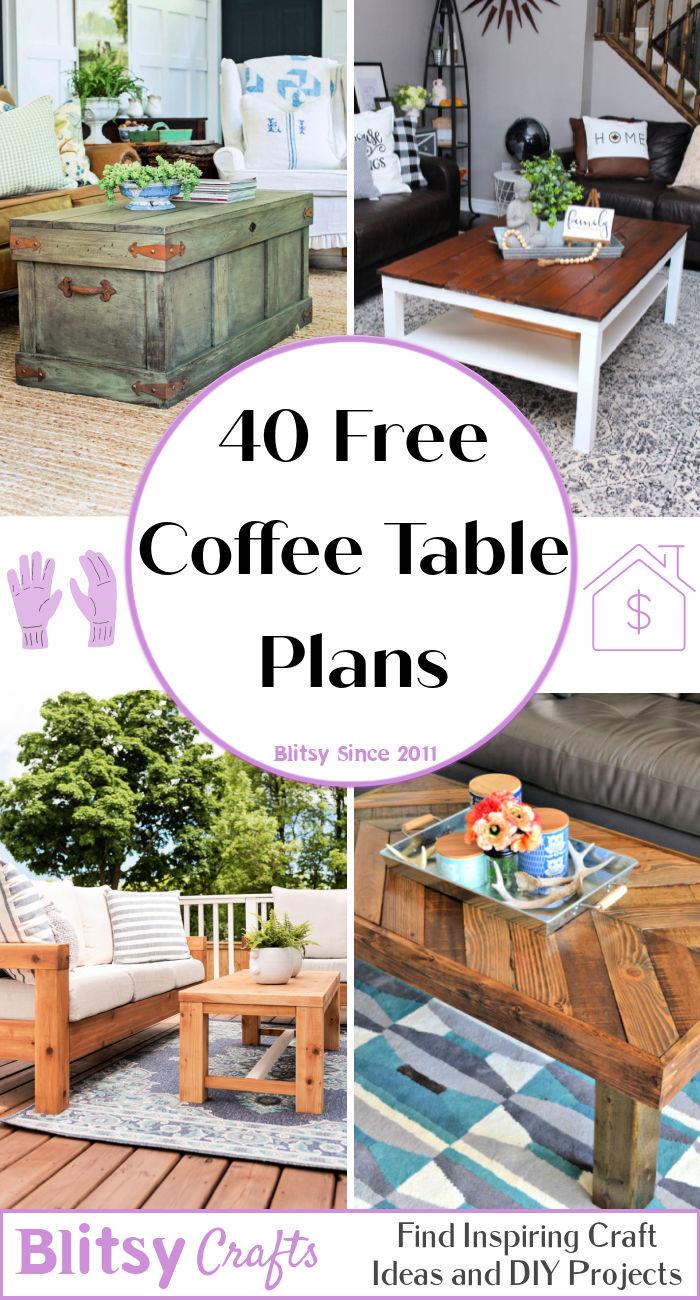 Do all you need to do is choose the perfect DIY coffee table that suits your space, like an extra storage one? Or a lightweight and moveable one? Just make sure it matches perfectly with your house interior while being useful at the same time. So, without any further ado, gather all the required supplies and get started with these FREE coffee table plans right now!
1. Outdoor Coffee Table Plan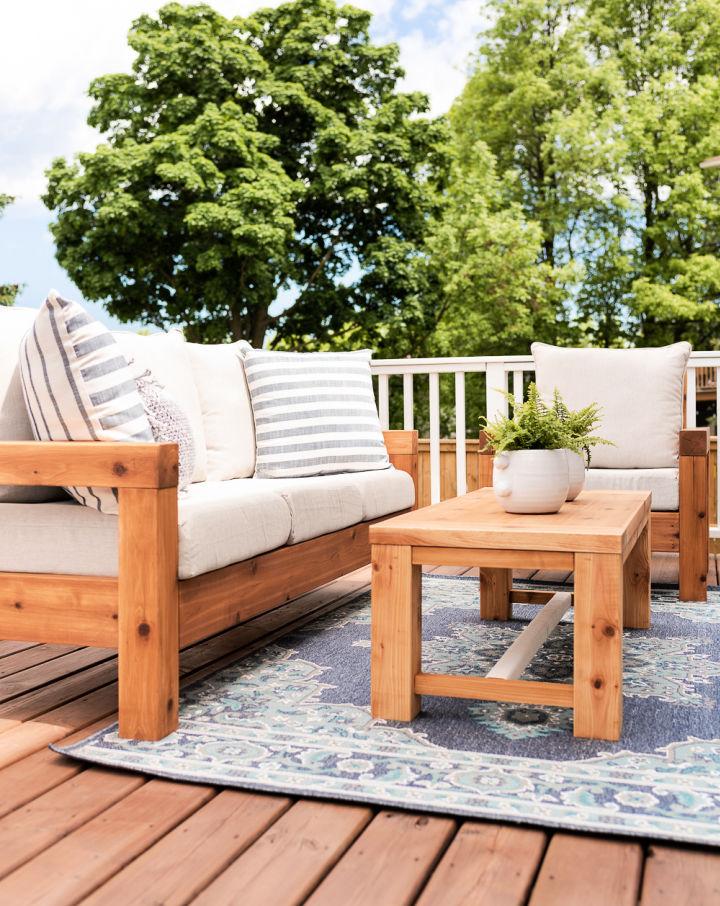 Here is a modern and sleek cedar coffee table perfect to pair up with your outdoor chairs and sofas. It not only looks beautiful but is also very comfortable to use. You will need supplies like cedar posts, cedar boards, pocket hole screws, deck screws, wood glue, cordless drill, miter saw, and tape measure. nickandalicia
2. Mobile Coffee Table Out Of Pallets

If you love pallet wood furniture, then this mobile pallet DIY coffee table is definitely going to be your favorite one. It is fairly easier to make and can be completed within three days. Moreover, you can also add a glass top to add give this table a nice finish and is moveable around the house, making it super convenient. dabblinganddecor
3. Rustic Trunk Style Coffee Table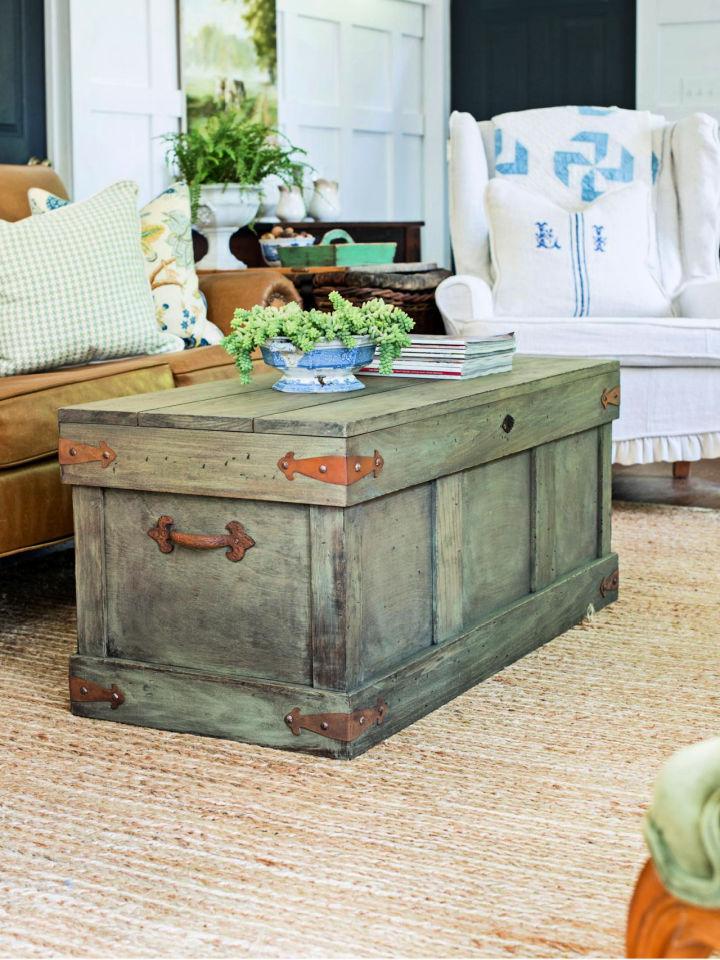 How about making a trunk-style DIY coffee table? This is the most beautiful table in our list of free coffee table plans! Sounds super fun, right? It is quite stylish and serves a two-on-one purpose of a table and useful storage for pillows, toys, or anything you want to store in one place. The rustic table is easy to build but looks like pro woodworking skills. Additionally, you will need suitable pine boards and plywood along with tape measure, drill, miter saw, hammer, screws, decorative straps, tacks or screws, etc. hgtv
4. Build a Stump Coffee Table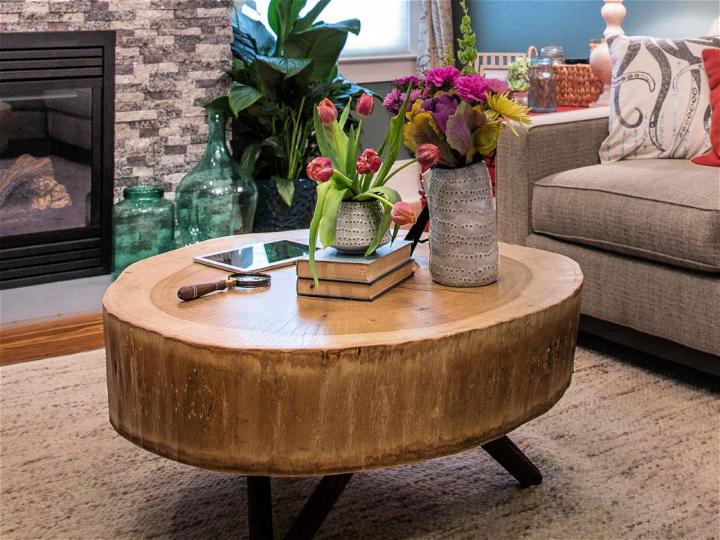 This stump DIY coffee table is a great statement to add to your house without costing you an arm and a leg. The most exciting part is that this rustic coffee table is made of all recycled things easily available at home. In addition to that, you need to assemble materials like a full slice of a tree trunk, a pint of polyurethane, sanding disc, orbital sander, chisel, hammer, safety glasses, dust mask, and work gloves. diynetwork
5. Building Your Own Coffee Table

Do you wish to add a coffee table to your TV room for just under $100? You're at the right place! Here we have a quick weekend project for you to make and add this stunning coffee table to your living room space. Furthermore, make sure to gather all supplies which you can mostly get from your home. simplymichele
6. DIY Square Plank Coffee Table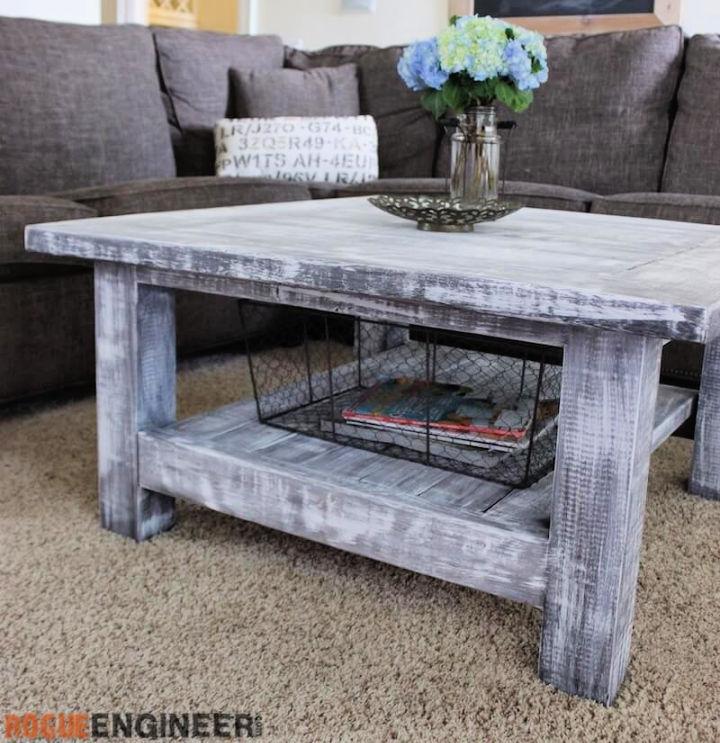 Want to make coffee time even more fun? Make this DIY square plank coffee table. It is minimalistic and very useful, which you can use to put your hot and frothy coffee mugs and enjoy it with full zeal. Additionally, you will need supplies like lumber, studs, pocket hole screws. Wood screws, pocket hole jig, drill, miter saw tape measure, pencil, and a few more to complete it. rogueengineer
7. Box Frame Coffee Table with Lift Top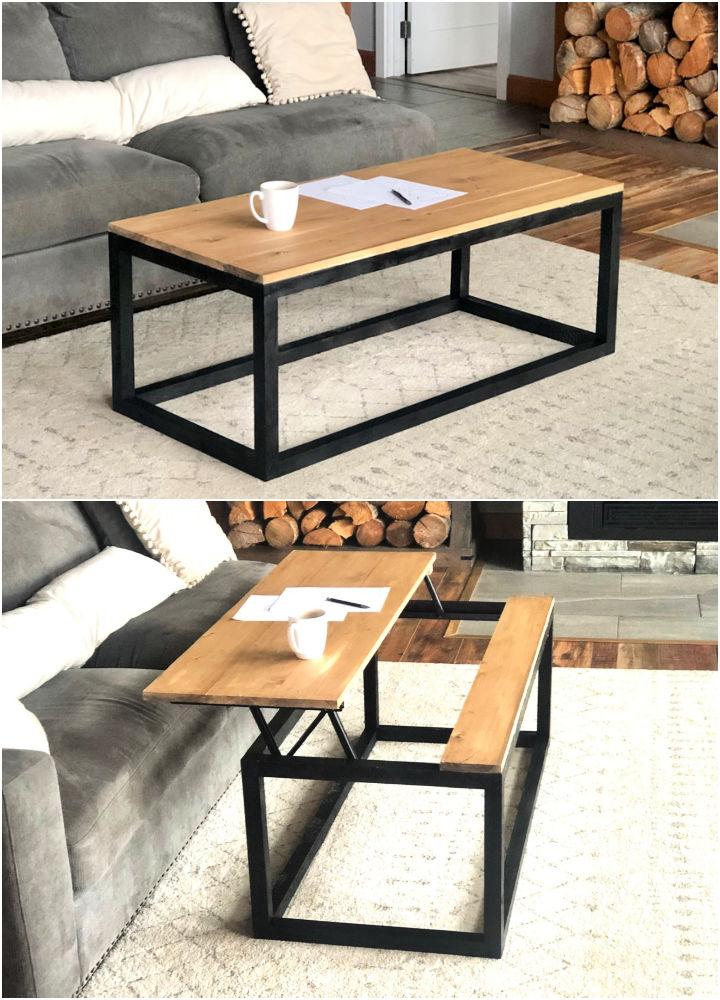 Do you usually work by sitting on your couch or sometimes like to enjoy your dinner in the living room? This lift-top DIY coffee table is the ideal option for you! However, you can modify the table a bit according to your own preference. Make sure to gather your materials like a hinge, pocket hole screws, wood glue, brad nails, tape measure, pencil, drill miter saw, and sander. ana white
8. DIY Industrial Style Coffee Table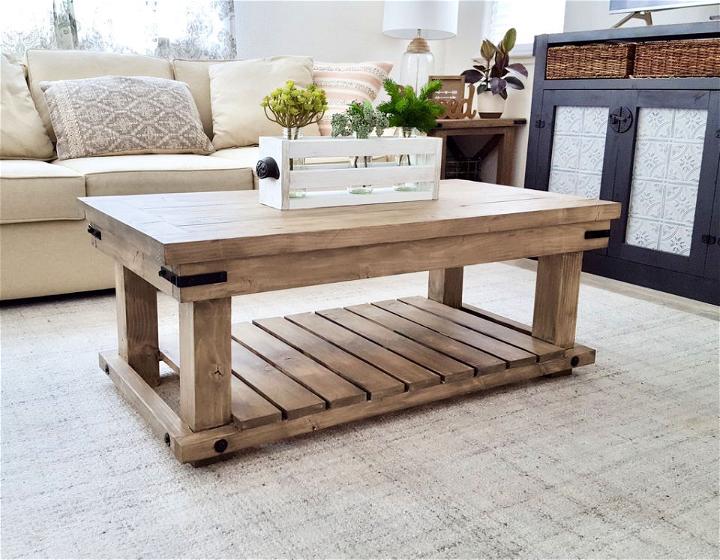 A wonderful and easy way to give your space a new look, what say? Make this stylish farmhouse DIY industrial coffee table. This rustic table is not the only stunning piece but also very useful to put coffee mugs when guests arrive. Moreover, gather supplies like the miter saw, pocket hole system, brad nailer, pocket screws, wood screws, washers, head cap screws, and L brackets. handmade haven
9. Old Door to Coffee Table with Glass Top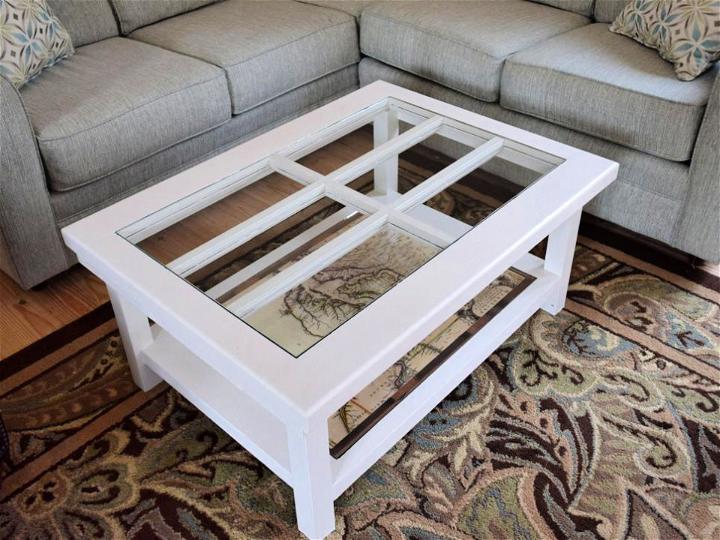 Here we have a unique recycled project in which you can modify an old door to make a wonderful DIY coffee table. Moreover, it is also very inexpensive and great to try if you are an intermediate woodworker. The tools and materials required for this project are solid wood door, sanded edge glass, wood square stock, wood glue, construction adhesive, biscuit joiner, pocket hole jig and screws, wood screws and a tape measure, etc. diynetwork
10. Farmhouse Style Wood Spool Table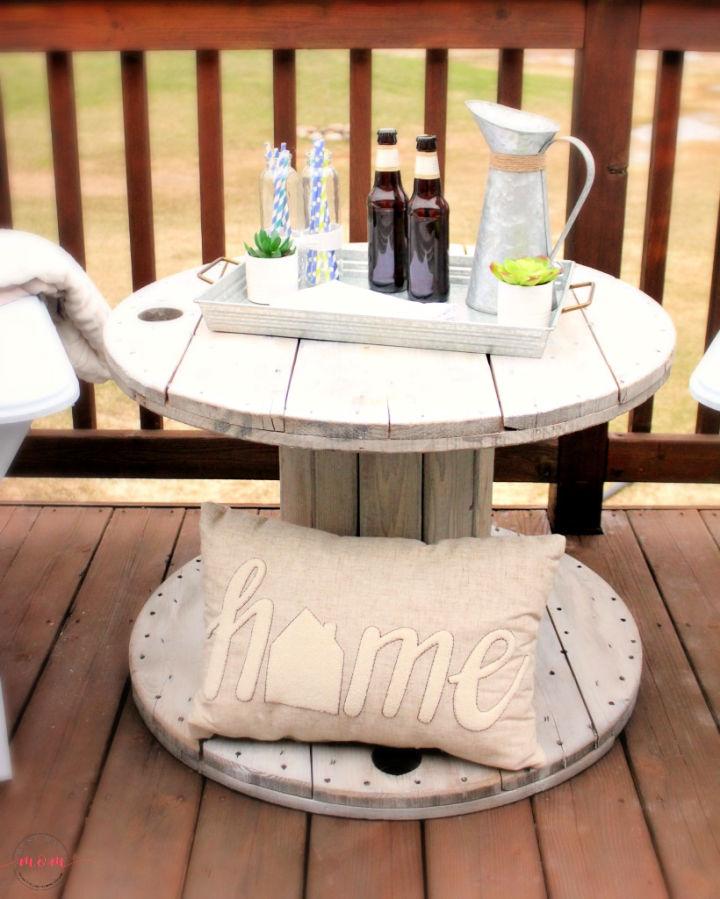 This farmhouse-style wood spool DIY coffee table will definitely make you wonder why you did not build it sooner! It is super easy to make and is perfect for both indoor and outdoor decor. Its size can be customized according to your space but using the same directions given. Supplies needed for this project are cable spools, wood stain, brush, towels, Minwax white wash pickling stain, and a rag. musthavemom
11. $60 Mid Century Modern Coffee Table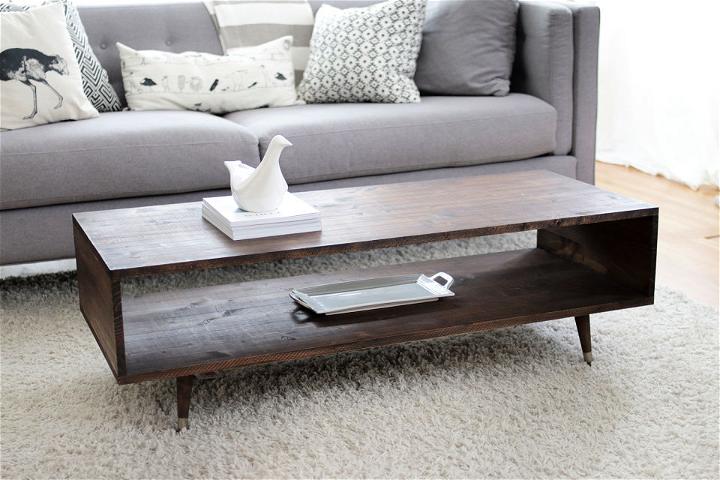 Coffee tables are quite expensive when you go out to buy at stores, and to facilitate you, we have an economical solution! Why not make one on your own? You can make this modern mid-century DIY coffee table easily without being a professional woodworker. Moreover, you need to assemble supplies like pine boards, pre-stain, stain and sealer, wood glue. Tapered legs, angle top plates, doweling jig, sandpaper, stain brush, and few more things as well. bayonabudget
12. DIY Pallet Coffee Table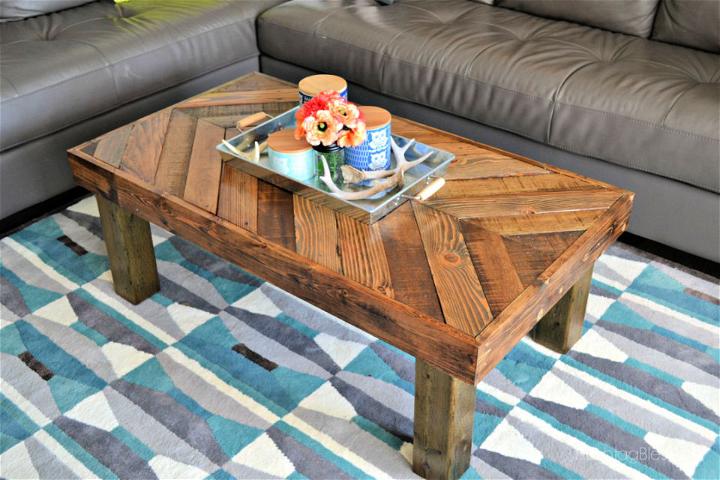 Pallets can do wonders if used in the right way! Here is the perfect example for that, this rustic pallet coffee table will be an amazing addition to your home. You will also require things like pallets, plywood, brad nail, glue, table saw, skill saw, Minwax stain, and Minwax polyurethane. autumnandash
13. Live Edge Coffee Table Plan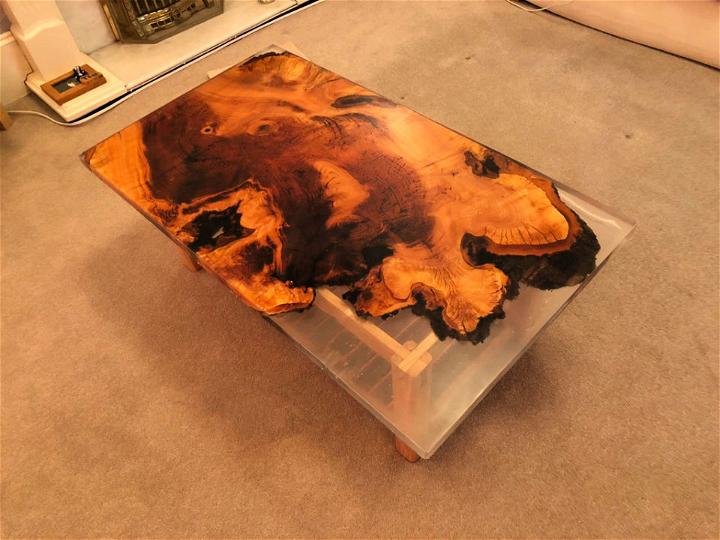 Renovate your living room by adding this exquisite live edge coffee table. Making things yourself is a great time pass, and you get to customize something for your home in your way, which is often hard to find in stores. In addition to that, this table is made using cherry slab, beech, oak. Copper pipe, wood glue, clear casting resin, wax, threaded wood inserts, m6 bolts, and polishing compounds. instructables
14. Modern Pipe Leg Coffee Table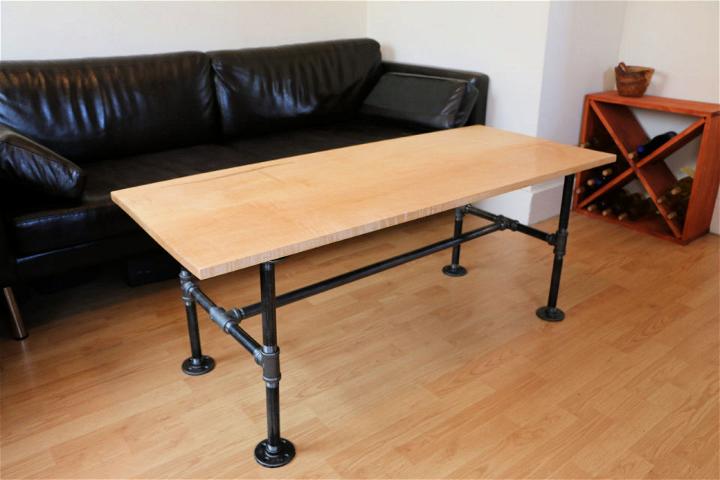 Functional and modern this pipe leg DIY coffee table is going to be a wonderful addition to your living room. It requires very minimal use of tools. How great is that? It has a nice build as the black pipe is used to give it an industrial look. Adding to that, the materials used are boards for wood table top, wood biscuits/dowels, wood glue, screws, WD40, razor blade, steel wool, spray adhesive, and paste wax. jeffsdiy
15. DIY Ottoman Coffee Table

Inspired by Ottoman furniture, this coffee table is made by putting an upholstered cushion on top of the table. Any simple table can easily be modified into this by using some time, creativity, and effort. Moreover, this project requires supplies like the coffee table, ready spray primer, paint, protect topcoat, paintbrush, tack clot, lint-free cloth, piece of plywood, upholstery foam and fabric, batting, staple gun, and heavy-duty Velcro. rainonatinroof
16. Wooden Crate Coffee Table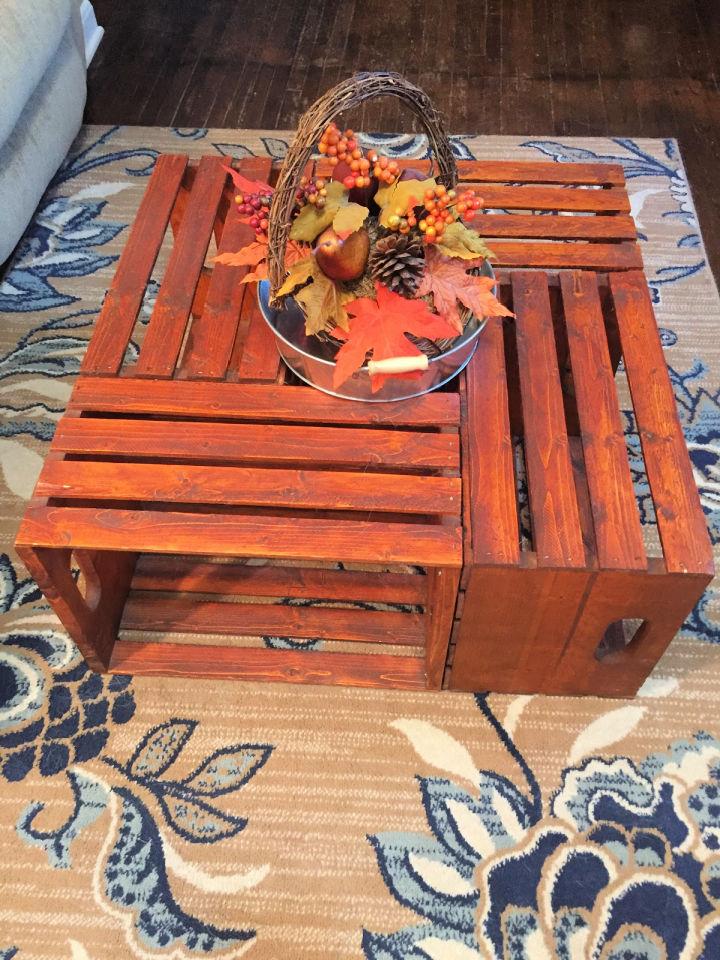 Wooden crate furniture has been quite popular for the past few years. You can also jump into the bandwagon and make this DIY wooden crate coffee table. It is a very easy and simple project to make, which also does not require much time. Adding on, you will need to assemble supplies like wooden crates, wood stains, paint brushes, old rags, sandpaper, electric sander, medium-length screws, and a drill. thelegalduchess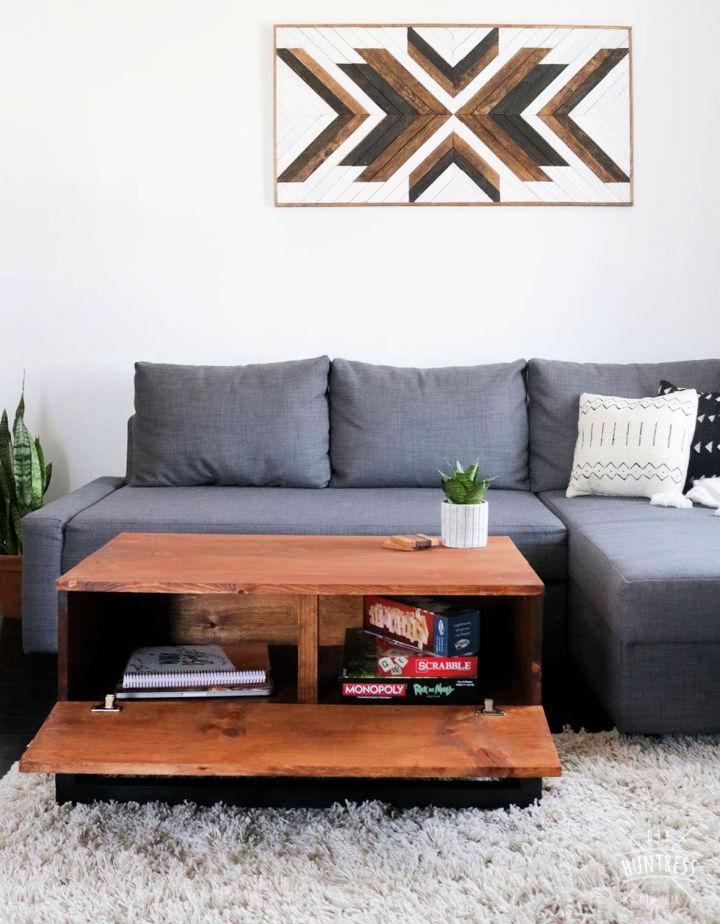 It can get a little difficult living in a small space area; hence it becomes crucial to have practical furniture. We have an amazing idea make this DIY coffee table with hidden storage to solve such problems. You can quickly hide all the clutter in this storage area when friends come over suddenly! Moreover, make sure to have a biscuit joiner, biscuits, wood glue, glue brush, hinge jig, inset hinges, stain, spray paint, and wood putty. diyhuntress
18. Build a Marble Coffee Table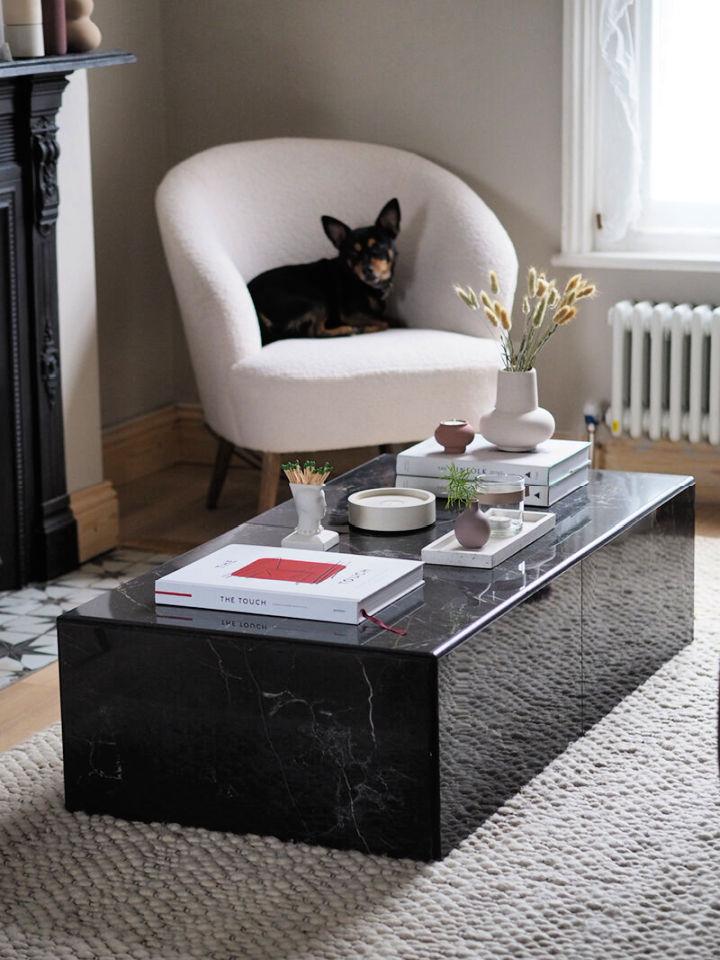 A DIY marble coffee table? You are surely going to be a fan of this one! Give your living room a makeover by making this incredible table and that too at a quite reasonable price. Make sure you have all your supplies like tiles, MDF, tile adhesive, tile grout, and gorilla glue. lukearthurwells
19. How to Make a Touch Screen Coffee Table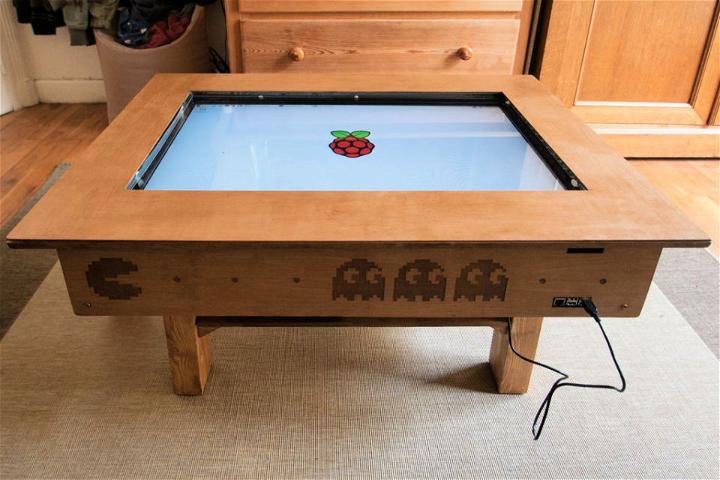 Now you can wait for your coffee to be made while passing the time by playing a game on this amazingly unique and wonderful DIY touch screen coffee table. It is not only cost-efficient but also has good quality. Make sure to gather all the supplies for electronics, wooden boxes, tables. The table under and touch detection. instructables
20. Danish Unique Coffee Table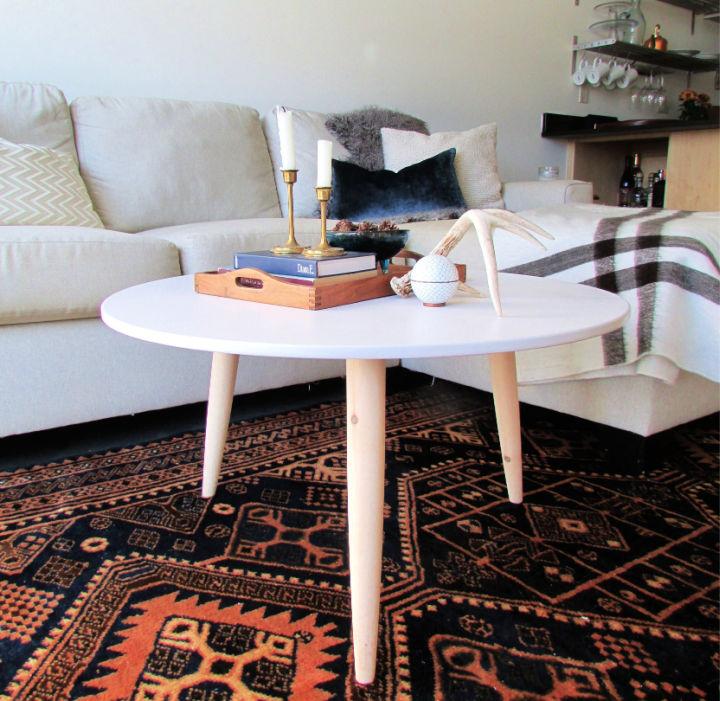 Get this modern chic table from our amazing diy coffee table plans. A staple in the living room, here is a simple yet elegant DIY Danish modern coffee table. It can be further made beautiful by adding some contemporary decor. Moreover, you will need to have materials like salvaged round tabletop, grit sandpaper, soap, water, epoxy spray paint, scissors, string/yarn, permanent marker, pencil, ruler, electric drill, white pine, Wegner Danish table legs, and angle top plates + screws. francoisetmoi
21. Vintage Wine Crate Coffee Table

Vintage wine crate coffee table as interesting as it sounds, this project is very easy yet unique to make. Now you would not have to worry about the legs of your new table to wear and tear from being pushed. Furthermore, you would need materials like wooden crates, casters, mod podge, stain, various screws, nails, L brackets, bolts, and satin polyurethane. diy vintage chic
22. 8 Board Farmhouse Coffee Table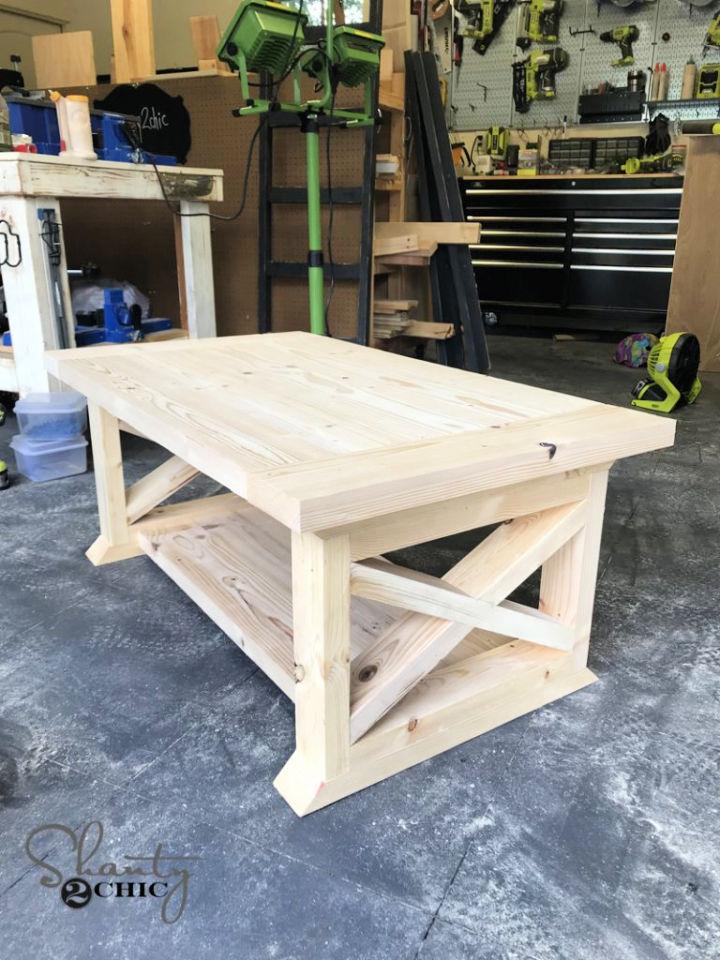 This 8 board farmhouse coffee table should be a must-have in the house if you cannot go one day without having your morning coffee. This project can easily be completed for under $40 how amazing is that? Ensure you have all essentials gathered to easily start making this ideal coffee table for space in the house. You can even add some farmhouse decor to make the table even more appealing. shanty 2 chic
23. Chunky Farmhouse Coffee Table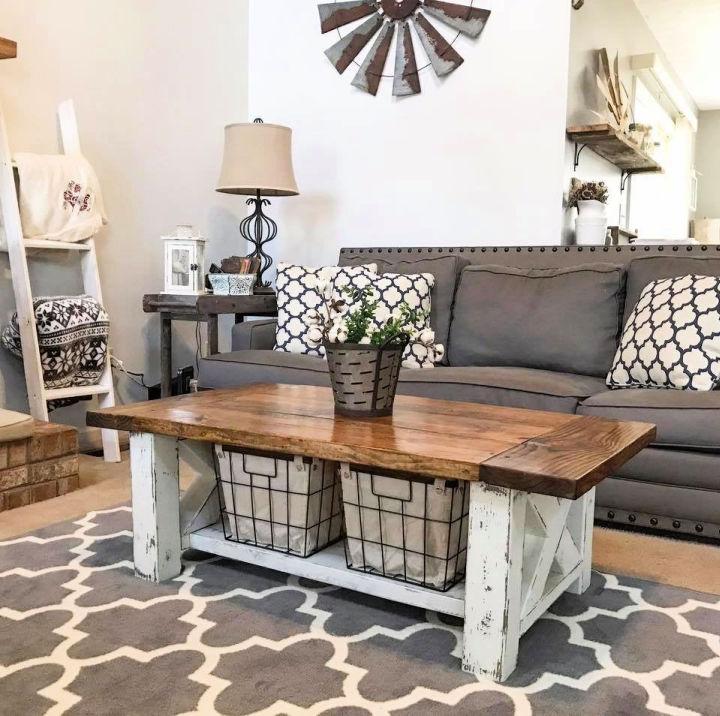 By being budget-friendly now, you can easily make this chunky farmhouse coffee table. It has a charming design and will serve you quite well for numerous years to come!?? This lovely table can be made using supplies like specific woodcuts, brace, Kreg jig, pocket hole screws, and wood glue. instructables
24. Coffee Table with Truss Sides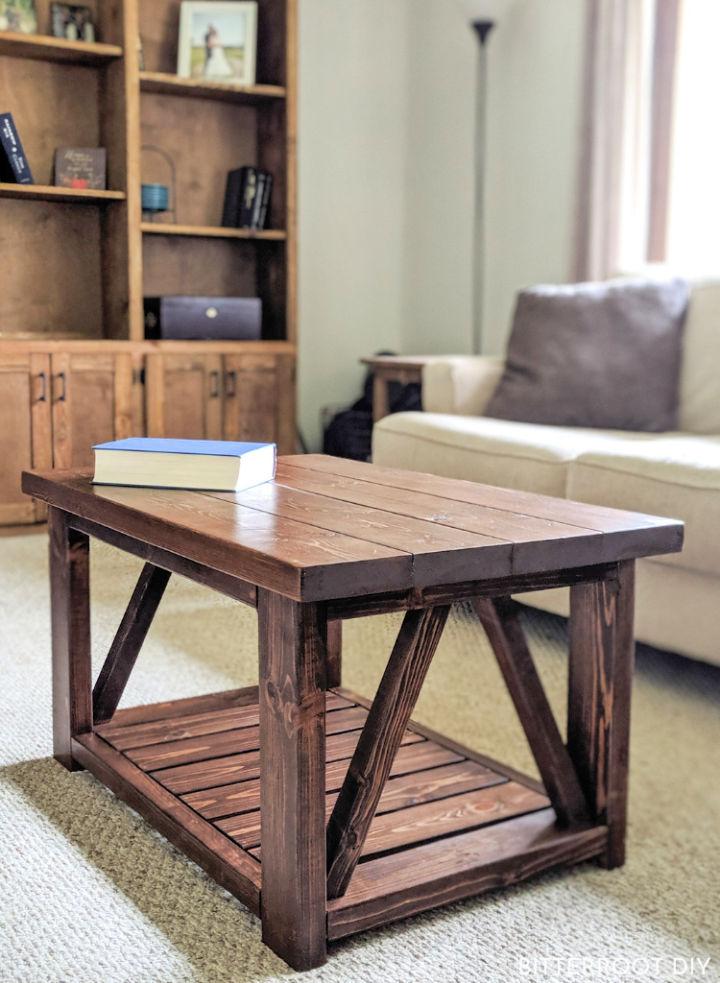 This classy and gorgeous DIY coffee table with truss sides will be a great addition to your living room. It is not only a fun project to do but will redefine your space so you can enjoy your DIY work while proudly telling people that you made it yourself. Moreover, the supplies you need for this are Kreg pocket hole jig, pocket hole screws, self-tapping screws, and miter saw drill, brad nailer, orbital sander, tape measure, clamps, wood glue, level, speed square, and pencil. bitterrootdiy
25. Space Saving Coffee Table with Pullouts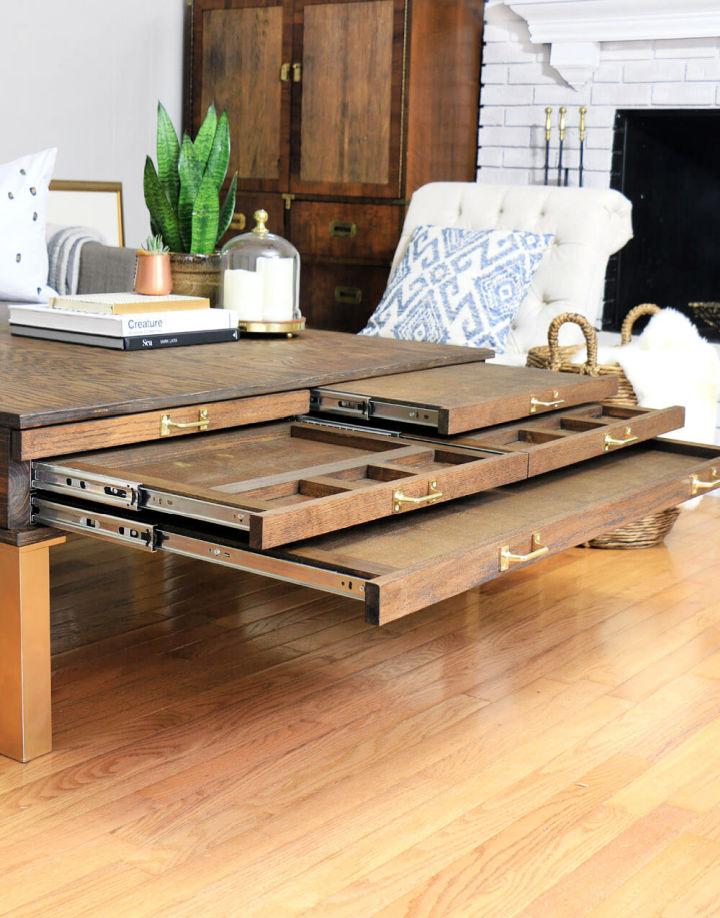 The best thing about DIY projects is that you can customize things in your own way to make them look like how you would want. Similarly, you can make this super functional and chic coffee table with pullouts giving the perfect storage solution as well. Additionally, you will need specific supplies like woodcuts and things to join them all together. homemadebycar
26. Build a Wooden Coffee Table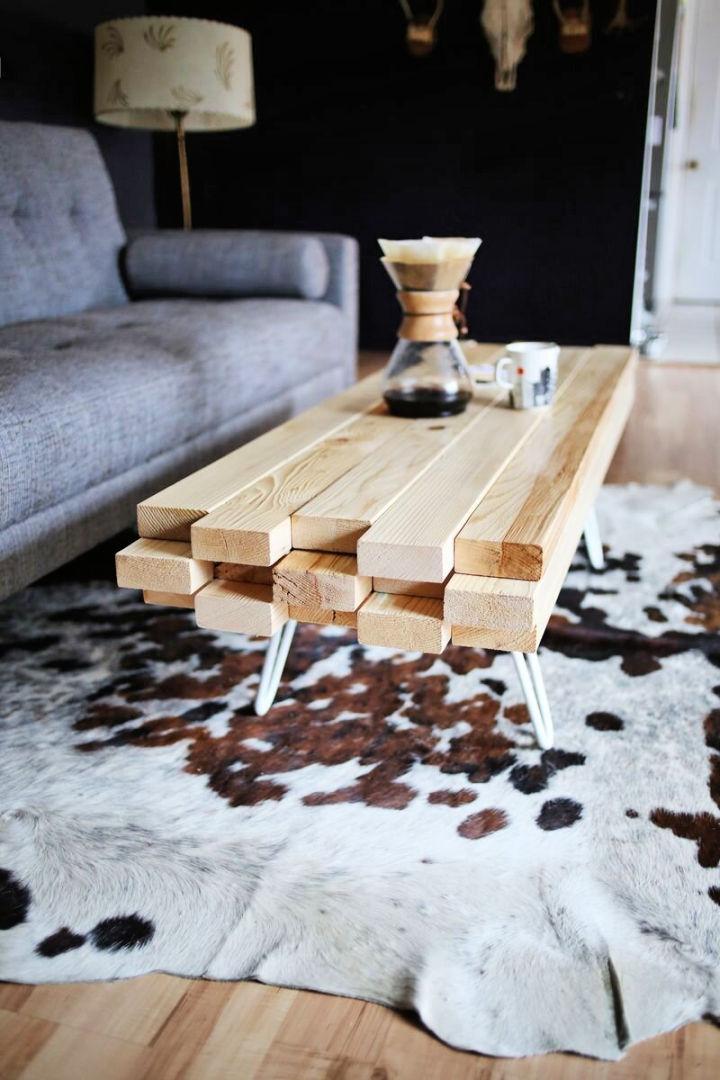 Take a bunch of wooden boards and join them to make this fun and unique DIY wooden coffee table. This beautiful statement piece looks great and will add some style to your living room. In addition to that, you need to assemble materials like boards, bench-style hairpin legs, wood screws, sandpaper, and polyacrylic protective finish in semi-gloss. abeautifulmess
27. Make a Small Round Coffee Table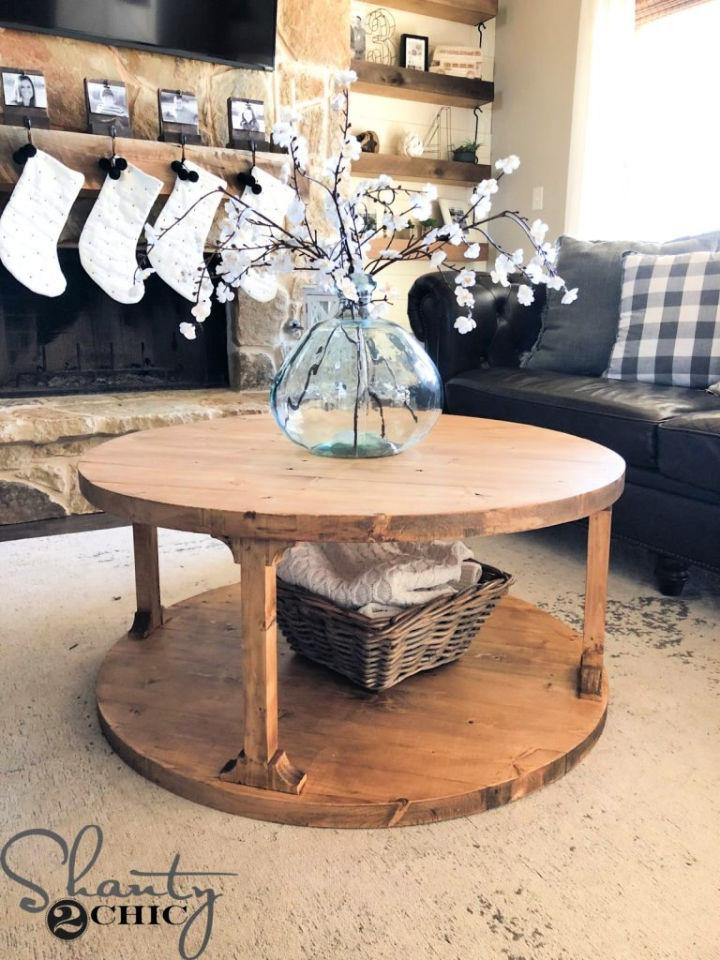 Compact and budget-friendly, this DIY round coffee table is here to add the perfect finish to your living room. Now you can save a lot of time and money by doing this project for just $39! Just gather all the essential supplies and start making this amazing table. shanty 2 chic
28. Concrete Paver Outdoor Coffee Table

This concrete coffee table is a very sturdy and durable table that will last with you for years to come! It is made for just $25, which makes it even more amazing! It is easy to do a project for which you will require concrete pavers, long pocket hole screws, iron grip adhesive, penetrating exterior stain, tape measure, speed square, pencil, safety glasses, ear protection, Kreg jig, drill, circular saw, and sander. ana white
29. Round Coffee Table for Living Room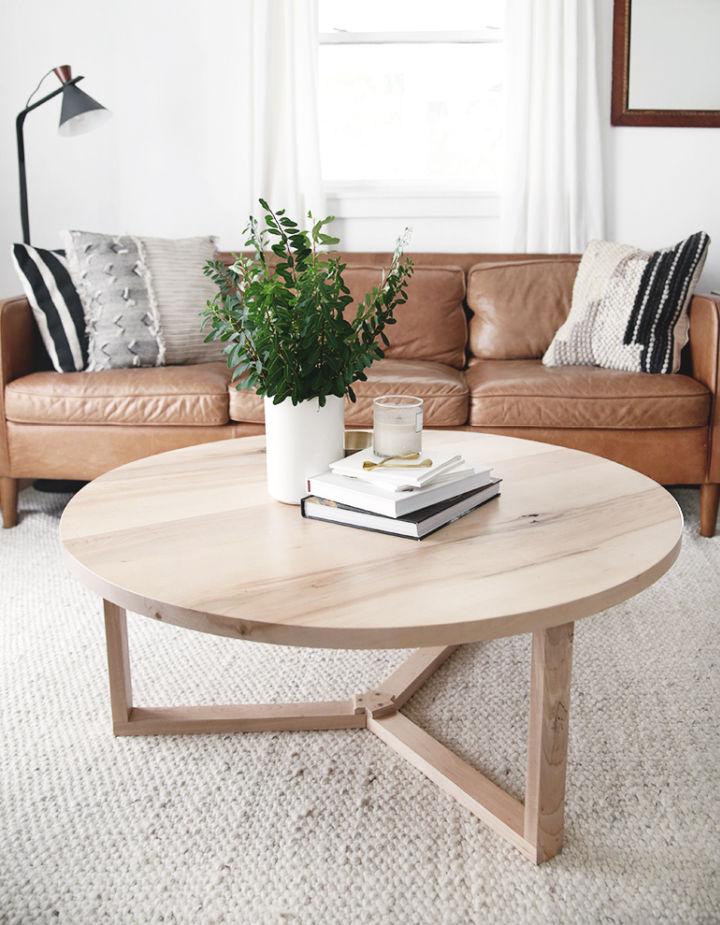 Update your living room by throwing out the old and out-of-date table. Instead, make this contemporary and chic DIY round coffee table. The knots and grain in the wood add a fine texture and gives a rustic type of vibe to the piece. Moreover, the supplies you will be needing are wood, screws, glue, clamps, router, scrap plywood, table saw, drill, miter saw, jigsaw, sandpaper, and clear polyurethane finish. themerrythought
30. DIY Coffee Table Inspired by West Elm

Looking for a fun furniture-making project for the upcoming weekend? Try this DIY coffee table inspired by West Elm. It can be made, and now there is no need to spend hundreds of dollars on stores selling these tables when you can easily make one yourself at quite low prices. Additionally, gather supplies like pallets, pine of plywood, wood screws, corner braces, miscellaneous clamps, tape measure, pencil, wood glue and stain, etc. diycandy
31. Modern Wood Coffee Table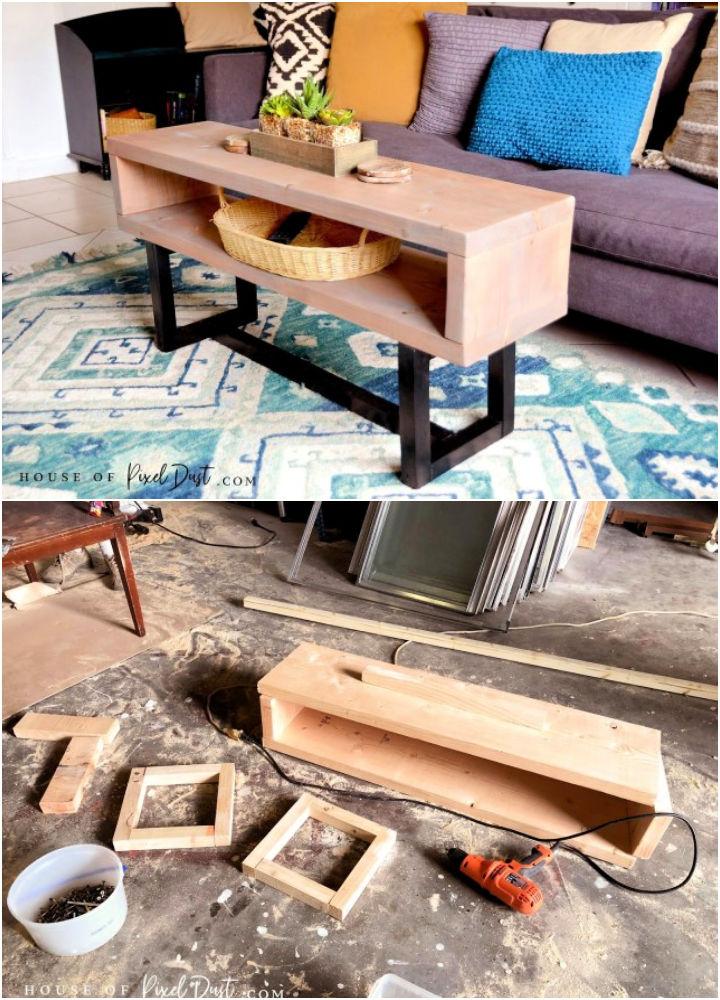 Want a rewarding and fun yet useful project? Make this DIY modern wood coffee table with double-top storage. This project can easily be completed for under $20 super amazing, right? It has a nice sophisticated boho vibe to it. In addition to that, gather materials like the wood board, long decking screws, wood stain, specific woodcuts for tabletop, box side, leg squares, and leg support beams. houseofpixeldust
32. Upcycled DIY Coffee Table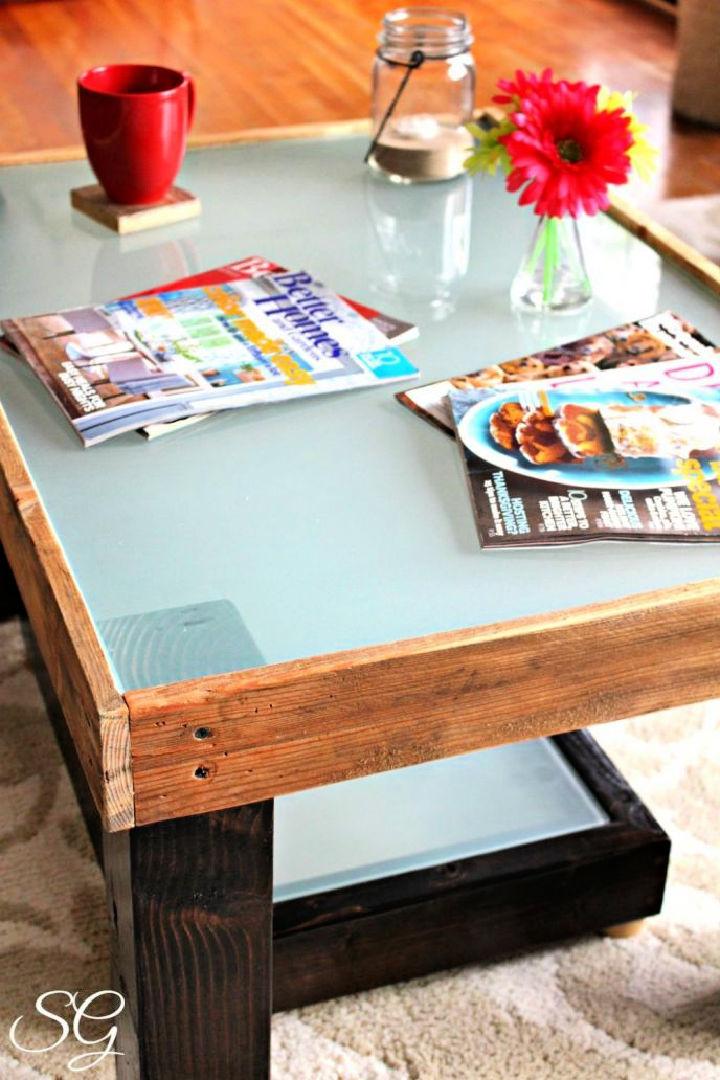 Sick and tired of your old coffee table? Quickly make this upcycled DIY coffee table which is as easy as a pie to make. Furthermore, you need your supplies like a miter saw, dowel piece, stain, high gloss polycrylic, Danish oil, pallet boards, wood glue, screws, orbital sander, and natural finish oil. scrappygeek
33. Outdoor Coffee Table with Built in Cooler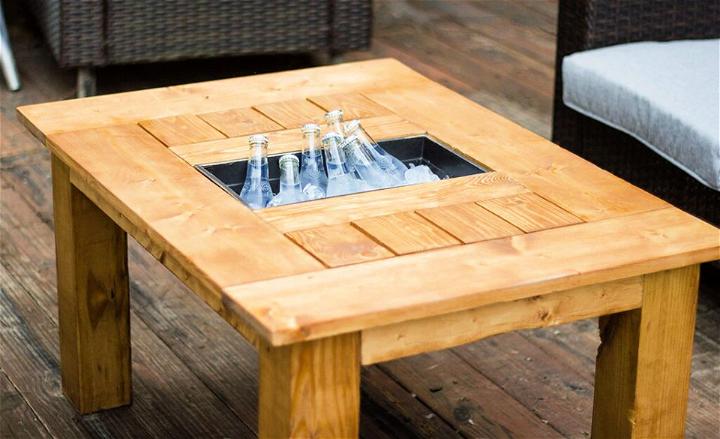 Make use of this multi-purpose outdoor coffee table that can even turn into a cooler if you want to have some cold drinks in the summers. The rustic wooden table is easy to make and will go well with basic wood furniture. Ensure you have all the needed supplies with you before you start working on this basic yet useful project. homedepot
34. Homemade Farmhouse Coffee Table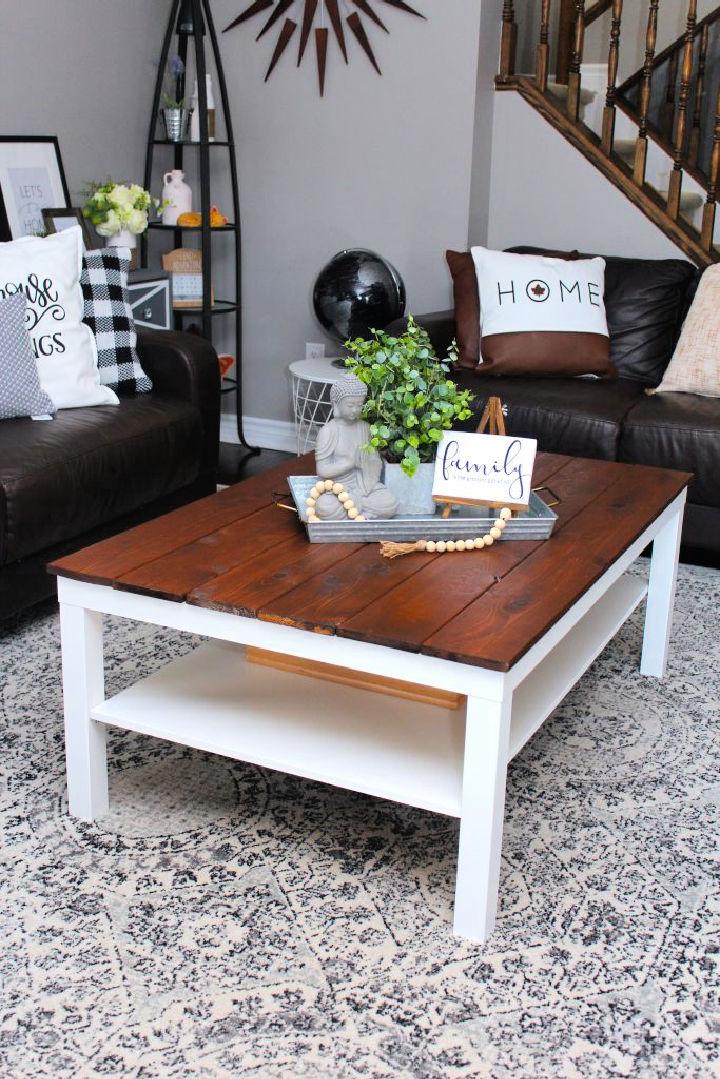 Super simple and easily made without using any power tools, this DIY farmhouse coffee table can easily be made on the weekend. This project is a simple table modified into a beautiful table by adding some wooden planks on top of it. Moreover, it is easy to put together and cost-effective project that you will absolutely love. You'll need materials like Ikea lack coffee table, cedar fence planks, wood stain, wood sealer, construction adhesive, clamps, and paintbrush. feelingnifty
35. DIY Aquarium Coffee Table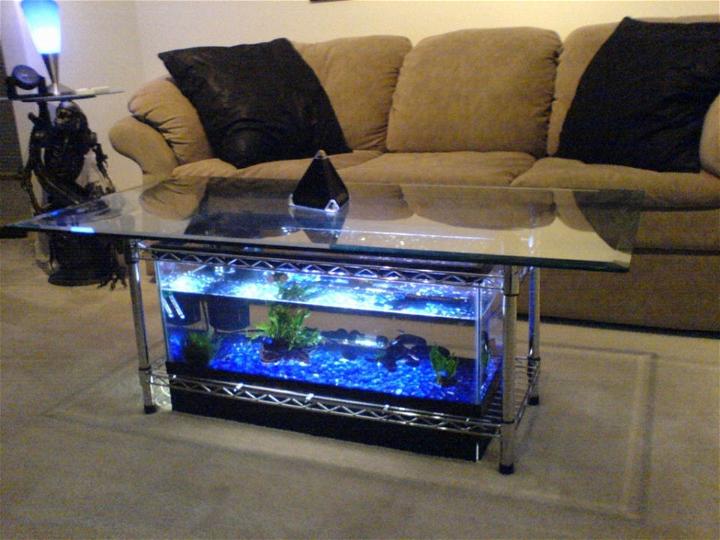 Enjoy the aquarium aesthetic while sipping on your hot cup of coffee with this aquarium coffee table. It is super unique and fun to do a project which is not too difficult to build. Additionally, you will need supplies like a 20-gallon long tank, fluorescent fixture, black foam board, power strip, light timer, chair end caps, wire shelving unit, glass tabletop, heater, internal filter, glass vase marbles, and a 3-way power splitter. instructables
36. DIY Narrow Coffee Table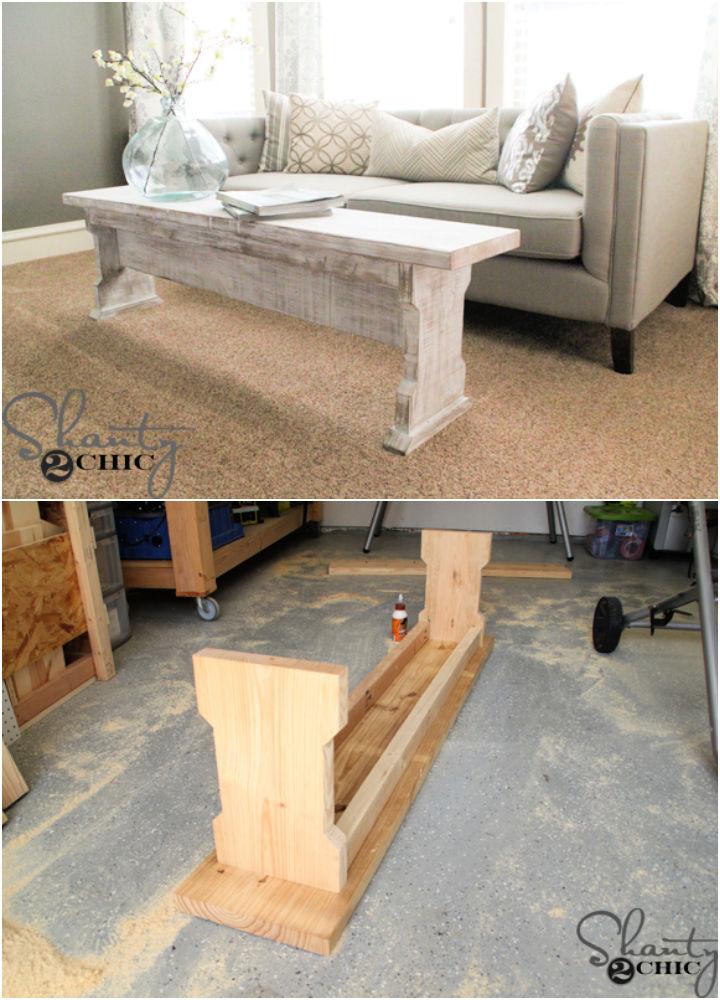 Would you like to try a nice and fancy table for your coffee time? well, here we have this DIY narrow coffee table and bench. It can be used in a room with less space, so it adds a stylish statement to the room without taking up much space. Adding on, you will need supplies like pine or whitewood boards, pocket hole screws, wood glue, the finish of choice, and wood screws. shanty 2 chic
37. Large Book to a Coffee Table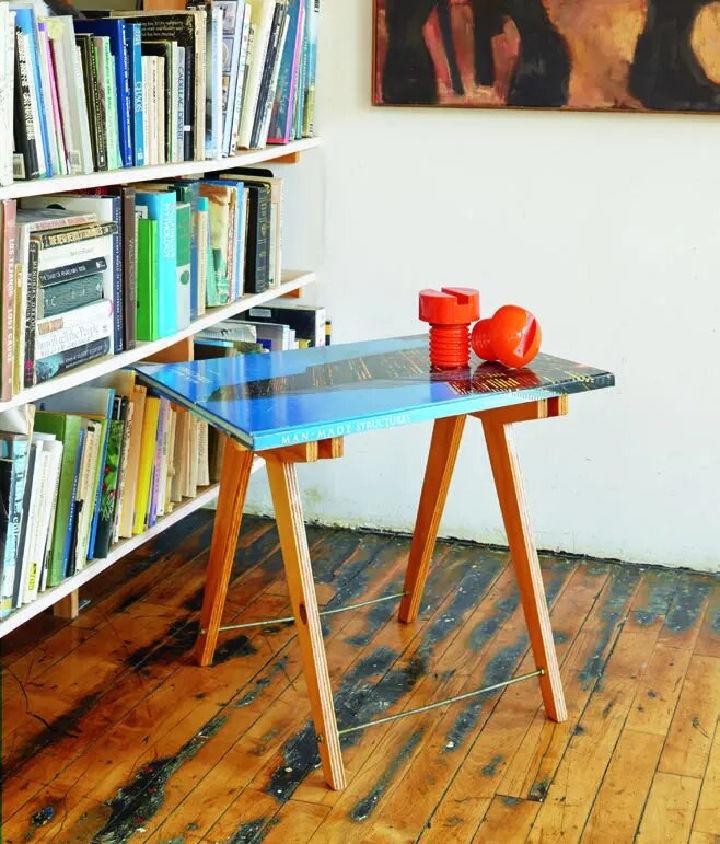 Books are used to read, and now you can also make a coffee table out of them! Super amazing, right? This guide gives you instructions on making a DIY coffee table using a large book that looks quite artistic. Furthermore, you will need supplies like a coffee table book, plywood, yellow pine rails, plywood crosspieces, machine bolts, nuts, washers, threaded rods, drywall screws, wood glue, and finishing of your choice. dengarden
38. Coffee Table from Trash to Treasure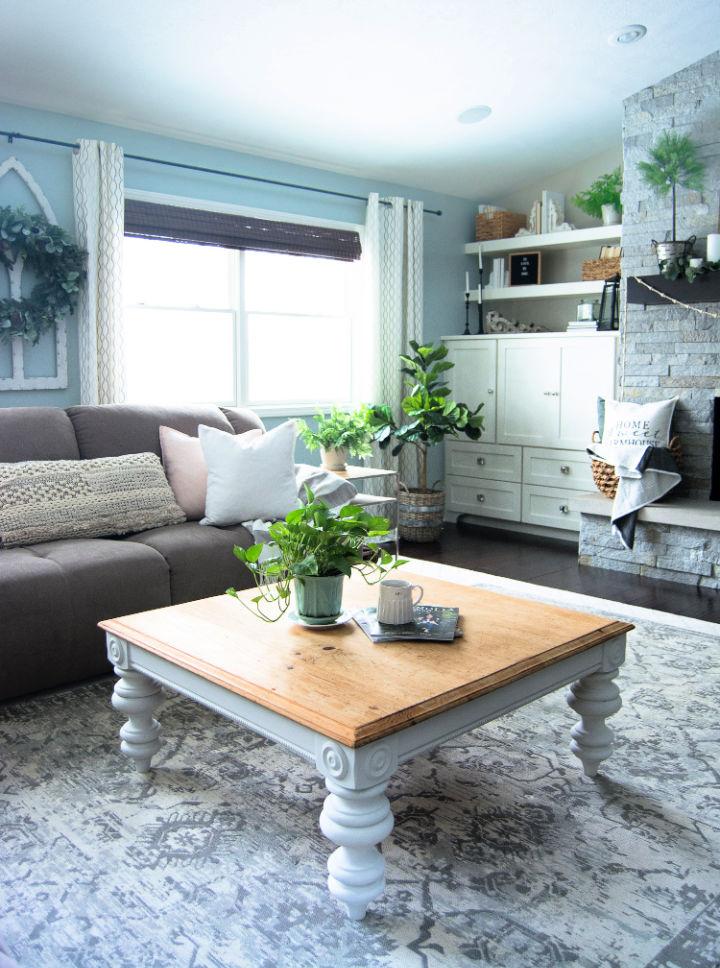 Who does not like a fun and creative DIY project? We know everyone loves it; similarly, you will also love this rustic DIY coffee table along with saving money too. It is an easy-to-make farmhouse beauty decorated with some indoor plants or a pile of magazines. Make sure to gather all supplies before starting to make this beauty. graceinmyspace
39. Cheap and Cool Basket Coffee Table

From a bamboo basket to a coffee table? Why not! Try doing this fun project which is not only cost-efficient but also makes a cute addition to your living room for a great space for coffee mugs along with some minimal decor. Just assemble all your materials before the project and then start working on it. lizmarie
40. DIY Fish Tank Coffee Table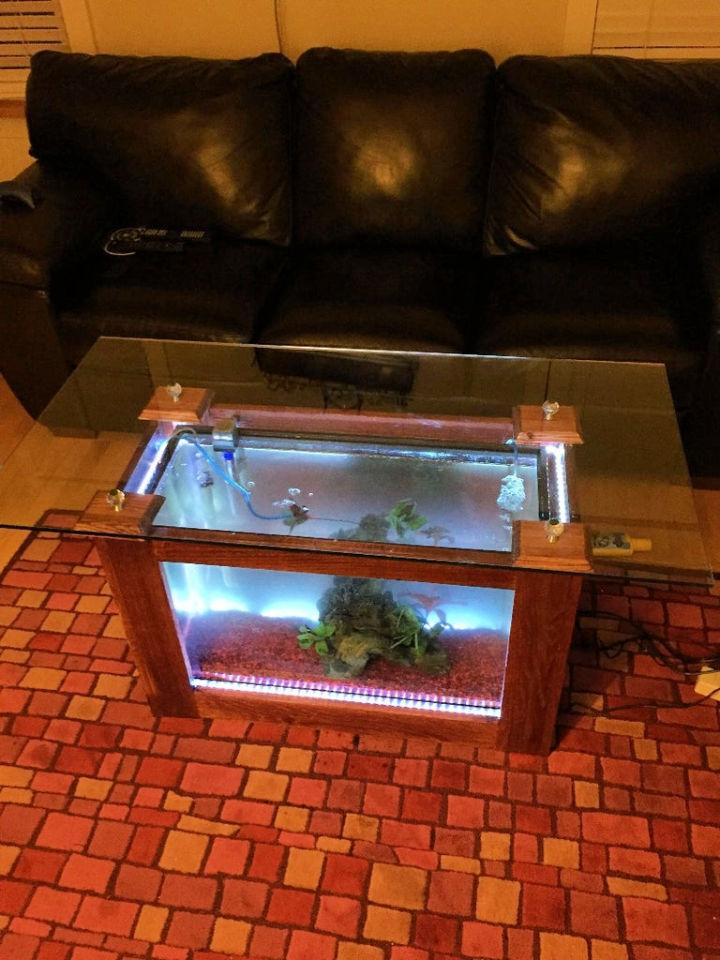 Last but definitely not least, here is a fish tank turned into the coffee table, so it looks super interesting and useful. Now you can enjoy aquatic beauty while enjoying a nicely brewed cup of coffee and feel fresh. Additionally, you will need supplies like sides rails, top rails, fluted dowel pins, wood glue, tank base, tank support, caps, Minwax poly shades, plate glass with polished edge, waterproof LED strip light, fish tank, and air pump. instructables
Conclusion:
So, we hope that now you are all ready to make a fun and rewarding DIY coffee table project. Give your living room a new look by getting out the old and boring coffee tables and making a new one instead! You might feel like you need to be a professional at woodworking for these coffee table plans, but we assure you that these coffee table plans can be added to your living rooms with enough patience and a little bit of effort.
These unique coffee table plans and ideas will definitely grab your guest's attention. Moreover, choose the project according to the space available in your house and whatever suits your couches and chairs. Gather all your supplies for the chosen DIY coffee table plan, and get started! Good luck!