Create a big optical fantasy of floating table charm in your favorite targeted spaces with tensegrity furniture that will enchant creative and visually impressive systems of cables and struts. The tables have a stable structure by working on the principle of pure compression and pure tension. However, THE tensegrity floating table will be the most delicate type of tables but can handle a lot more weight than expected. See these 20 free tensegrity table plans PDF to make your own floating table that will amaze all the onlookers and be loved by all furniture lovers.
These tensegrity table plans will involve building wooden, wood and metal, and steel and glass floating tensegrity tables, and they will bring a big wow factor to a targeted space.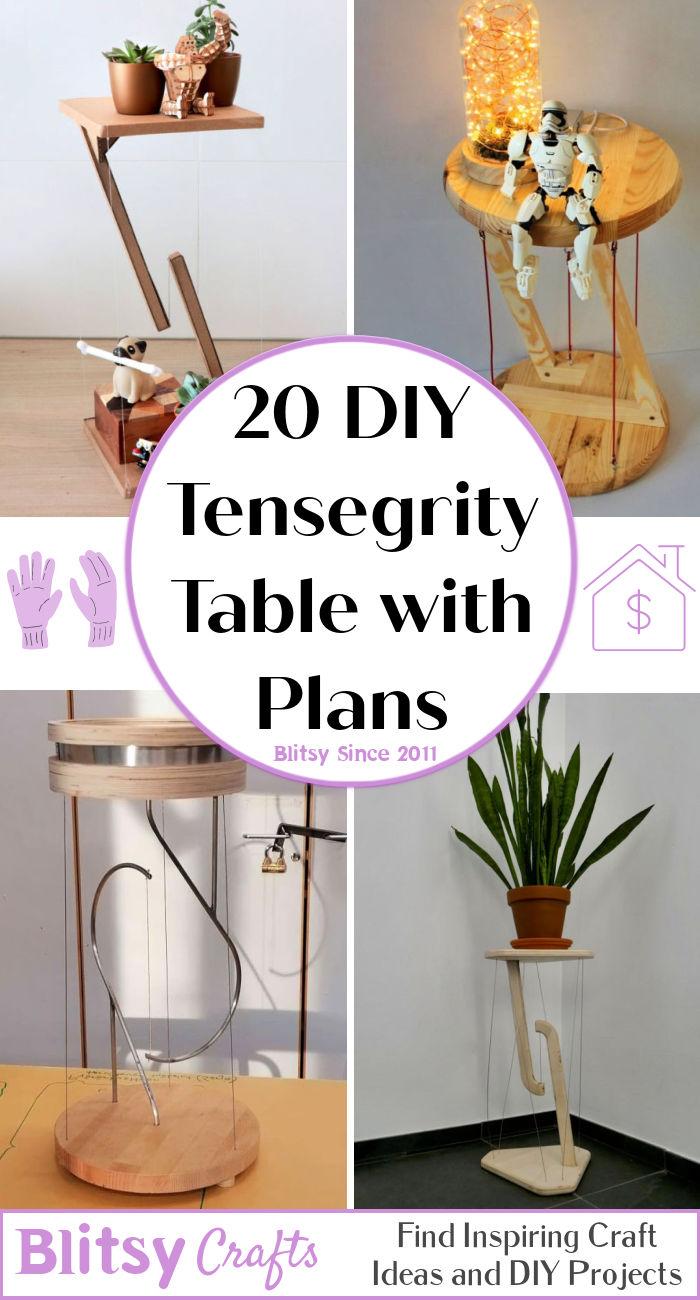 First, you can decide the size and design model of the table. Look through the entire curated list of tensegrity table plans to pick the designs that fit your budget and space best. Start the constructions by cutting the pieces according to plan and then assemble with string or paracord, metal chains, and heavy-duty wires.
Using thin invisible string or wires will rock if you want to create that magical floating table illusion. Reading through all these free DIY tensegrity table plans will give lots of creative info about building this particular type of tensegrity floating table.
1. DIY Floating Tensegrity Table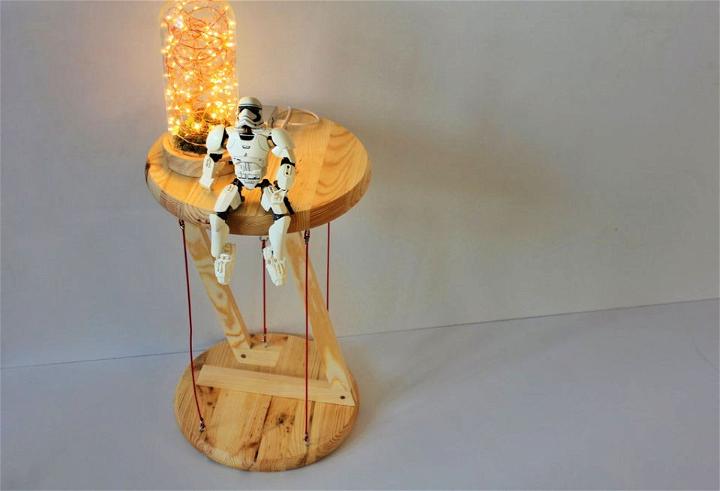 Do you love the tensegrity tables due to the amazing visual details they add to a particular interior? Then why not satisfy your love for those outstanding floating tables by building this floating tensegrity table. This is a lovely wooden coffee table that you can quickly build yourself. The whole video tutorial is here as a comprehensive guide for you. In supplies, you need round wood cutting board, pine board, steel wire rope or vinyl coated 2mm, expansion with round hook, paper clips, and glue for wood to complete this tensegrity table. instructables
2. Tensegrity Table with Infinity Tabletop

Get a comprehensive tutorial about building around a tensegrity table at home with an infinity top. You need plexiglass, stainless steel and plywood circles, and the bicycle's gear wires to complete this entire tensegrity table design. It will be highly stable to hold a glass of water and bring tons of focal stimulation to a living room space. The mechanism and style of this table will put the audience all around into big amazement for sure. imgur
3. DIY Impossible Floating Table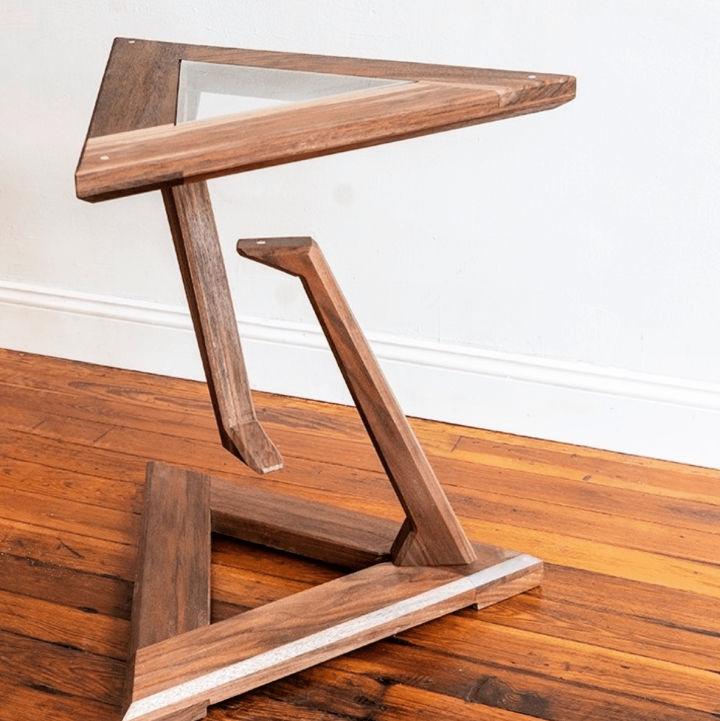 Get professional instructions and video guides to easily build this another arresting design of floating tensegrity table. It will amaze with its unique design and put the onlookers into big amazement for sure. The table looks impossible to build, but you can easily put it together with the help of provided guides and instructions. You need Walnut wood, 100lb flashing wire, glass for a tabletop, custom finish and CA glue to complete this entire table, sure to be a big love of all. In tools, you need bessey screw clamps, router table, router, table saw, drill, and Japanese pull saw to complete this super stylish impossible floating table. johnmaleck
4. Build a Tensegrity Coffee Table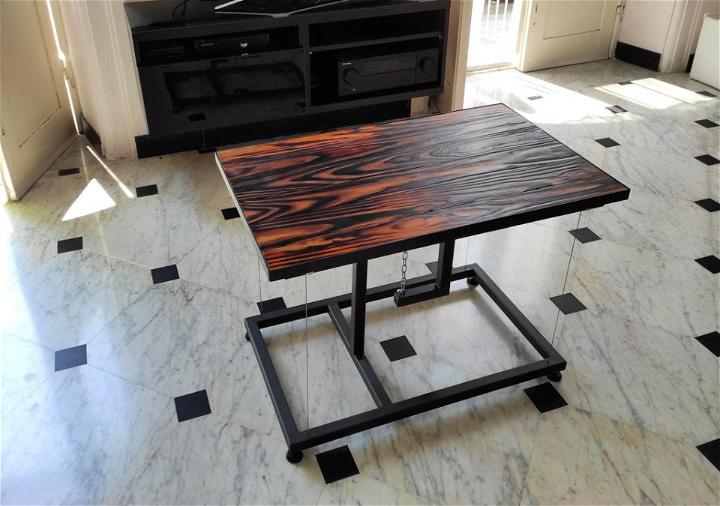 One of the best tensegrity table plans ever. Bring a big wow factor to your living room by adding this tensegrity coffee table. In features, it amazes with the unique floating design, black painted base, and a dark stained top that appears with tons of wooden texture. One of the best, nicely engineered and industrial-style tensegrity tables that you can build just at the drop of a hat. The required power tools for the project will be a welding machine, angle grinder, drill or drill press and circular saw. Next, you need a ned, square box, plate, 4 feet, cables, cable clamps, bolts with washer and nuts, wood screw, 4 L to fix tabletop and tabletop to complete this project. instructables
5. DIY Copper Tensegrity Table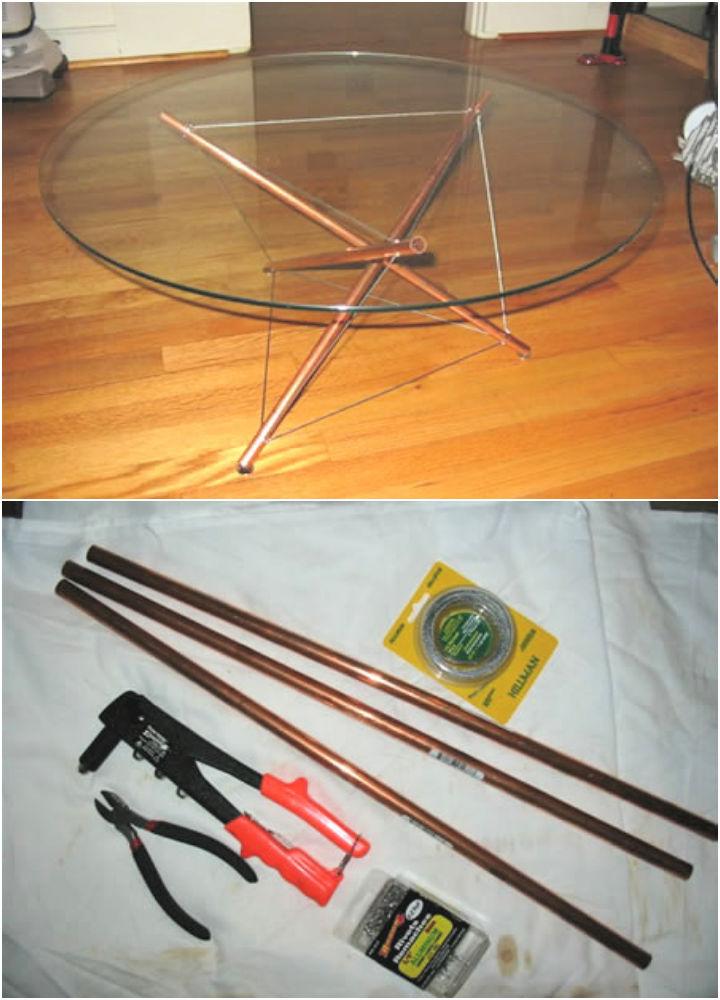 The tensegrity furniture comes with the structure stabilized through tension and are always easily tunable and deployable. However, this table offers maximum strength but can't be as durable as the ordinary table mass-produced. So, you will get here instructions to build a copper tensegrity table with the big round glass top. How much weight can a tensegrity table hold? It can easily hold weight up to 5kg and be a big center of attention in the entire living room. Here the rigid parts have beautifully been linked through flexible wires to give this stronger table model. To complete this project, you need a copper pipe, picture hanging wire, aluminum pop rivets, and a glass tabletop. copper org
6. How to Make a Floating Tensegrity Table from Cardboard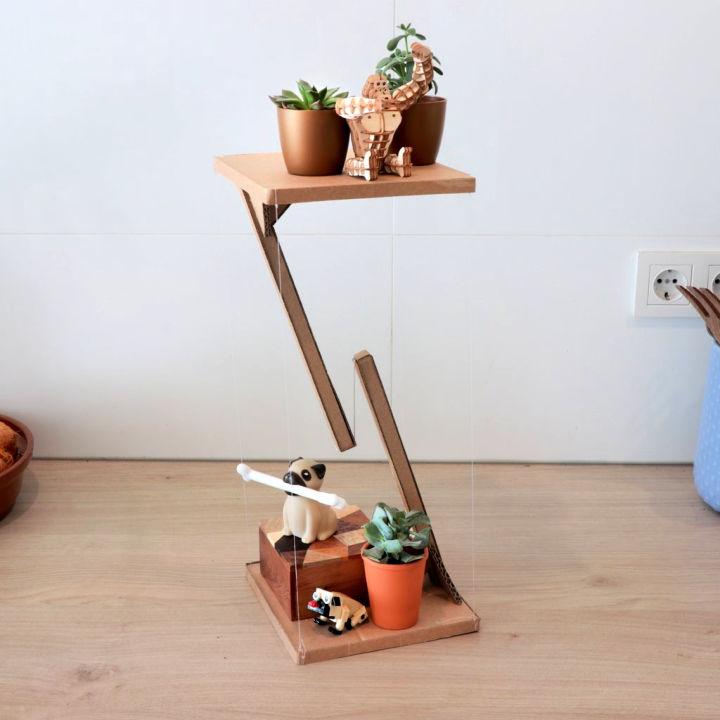 Every onlooker will fall in love with these levitating side tables that can hold both books and other centerpieces. One of the best tensegrity table models that you can quickly duplicate. The optical illusion the table creates will be loved dearly by all. You can easily draw your table parts on the cardboard to complete this entire beautiful table. Next, you need glue, rope and glue to duplicate this entire table. instructables
7. How to Make Desktop Tensegrity Table

If seen from a distance, the tensegrity table looks magically levitating. They are made on the design principle that balances the discontinuous set of compression elements with a continuous tensile force that stabilizes the entire table structure. Look at the given tables that are much focally stimulating and complete just at the drop of a hat. You need a 3mm MDF sheet, clear fishing line, neodymium magnets, and wood glue to complete this entire tensegrity table. The project is much doable for all beginners, and you will also get the complete guides for the entire table construction. the diy life
8. How to Build a Tensegrity Table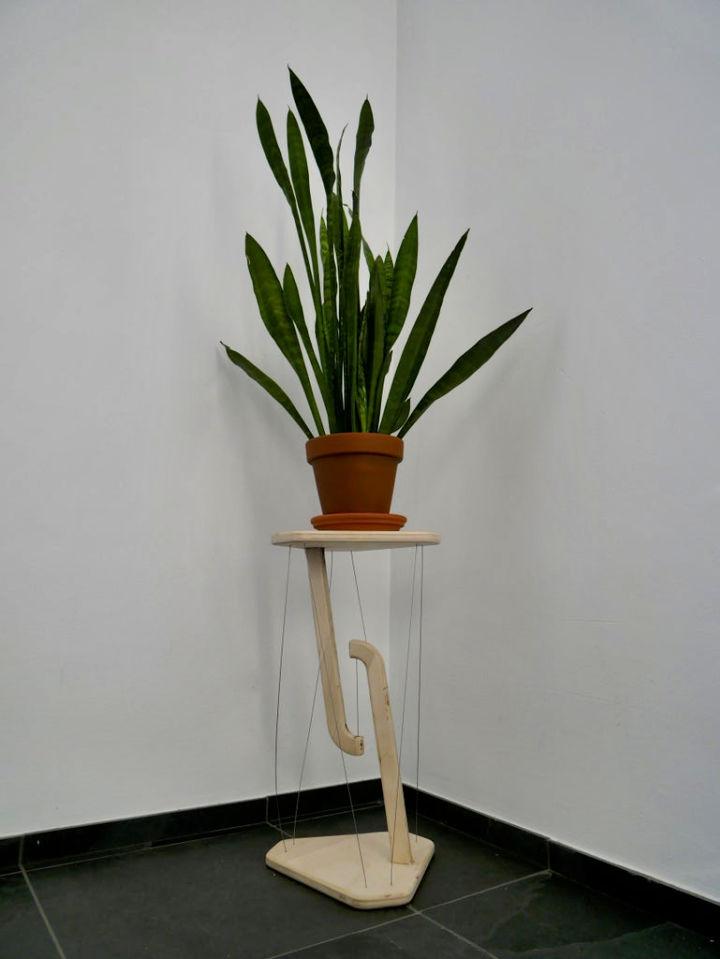 Building this super cool tensegrity table model will be a better way to explain the principle of tensegrity to kids. Before getting into the table construction, manage to have 3m of 1mm steel wire, a sheet of plywood, screw-on wire ends, a pull-through cable tensioner and wood glue. In tools, you need a drill, a pair of diagonal pliers, sandpaper, a 1.5 hex key, a router with a 6mm roundover bit and a CNC router or a laser cutter or even a saw to cut out the wood shapes for this project. Cut the plywood pieces and glue the layers to build the table parts. instructables
9. Make a Floating Tensegrity Table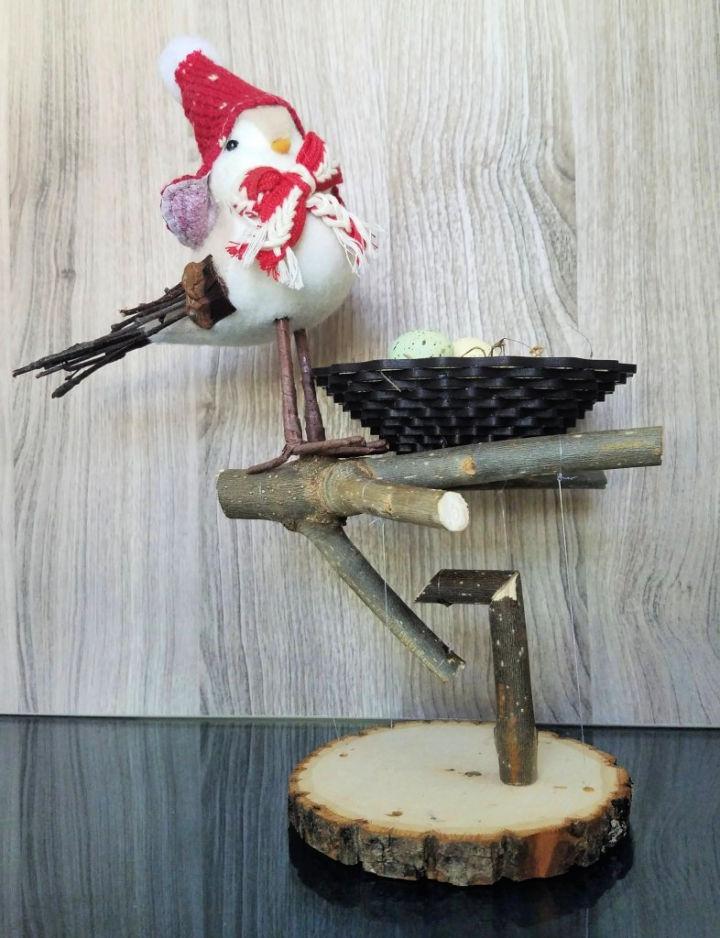 Everyone will fall in love with this rustic and natural-looking tensegrity table, a genius handmade table model. You need a slice of wood for the table base, tree branches for tabletop, wood for the middle of the table, clear fishing wire, clamps, glue, a saw and a drill to complete this entire model of the table. It looks like magically floating in the air, and you can quickly build it just at the drop of a hat. You need a wooden bowl, bird, reindeer mos and small eggs in optional supplies. kandfdesign
10. How to Make a Floating Table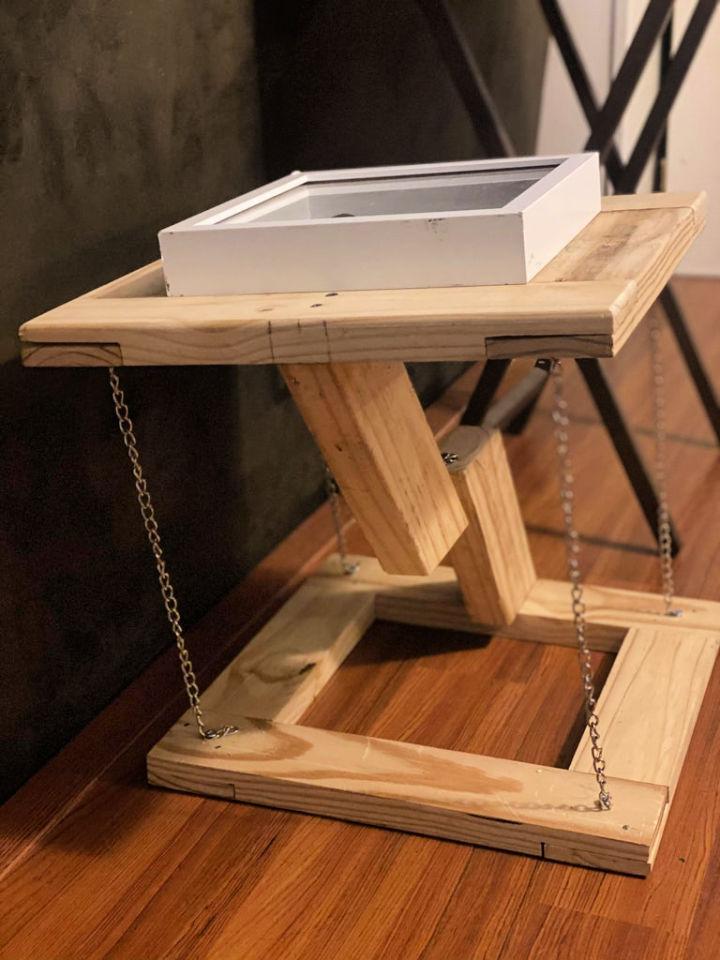 Bring a big wow factor to your living room by adding this floating tensegrity table that is much visually captivating. Here the table is made of 2×4 wood got from pallets. Moreover, you also need 10ft of lightweight chains and 10" ¾ screws to complete this outstanding wooden table model. In tools, you need a router tool, miter saw, table saw, orbital sander, jigsaw, and nail gun to complete this entire tensegrity table. The entire table can handle little weight and will be a total pleasure to build with minimal skills. The project is much precision taking and should be done with care. instructables
11. Build a Tensegrity Table

Get here complete professional instructions to build an outstanding round floating tensegrity table. You can make it hold a beautiful vase or books, and it will bring that big wow factor to your home and space. From cutting the round tops to middle parts to putting through the string, you will get guides for all steps. Finish the finally completed table with a custom stain or varnish to bring tons of grace more to wood grains. Moreover, this will also work great to add more weather protection to your table. youtube
12. DIY Ultimate Tensegrity Table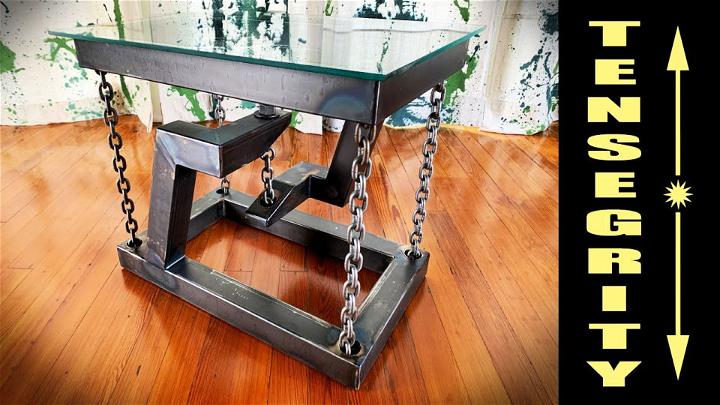 Follow here complete guides and instructions to build a solid metallic tensegrity table made of steel and glass. Just cut square steel tubes to build the table frame, and both base and top parts of the table are supported with the heavy-duty metal chains on the anti-gravity principle. Finally, the entire model is finished with a solid glass top, combining stability with glassy elegance. The table will live years to come and makes a heart-winning handmade gift to a favorite person. Buying this kind of table will cost you an arm and a leg. youtube
13. Amazing Levitating Tensegrity Table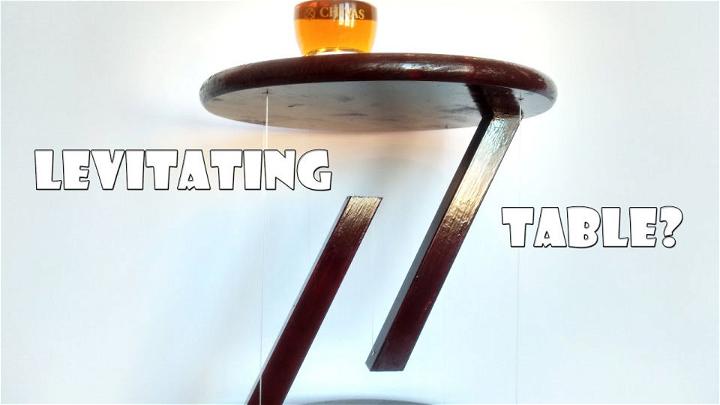 There are dozens of different designs of tensegrity tables to choose from. Presenting here another cute model that will amaze all the onlookers and be a total breeze to build. This levitating tensegrity table is totally easy and quick to build and enchant with perfectly round surfaces. The entire table will be a big love of all and will never get out of style. You will get here complete instructions to easily build this fantastic table. Finish it with a custom wood finish for added beauty and weather protection. This graceful design of a floating table also comes on wheels. youtube
14. Build a Tensegrity Dinner Table

Get here complete video guides about building a lasting longer and stylish wooden impossible table without getting a bit expensive. The table's design enchants the beautiful design curves and is supported with heavy-duty metal chains. This is here a one-of-a-kind model of tensegrity table to add to your space, and everyone will just love to have it at home. From building each part of the table to installing the chain on the tensegrity principle, you will get instructions for all the steps here. You can keep the table blank or stain it for a desired wooden appeal. The choices are all yours. youtube
15. Impossible Wood Floating Table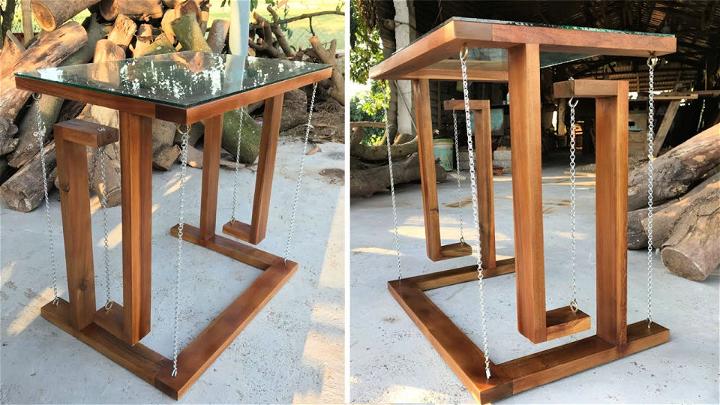 Peek into details of this gorgeous tensegrity table model that you can drag to any space for added visual charm. This is where the impossible wood floating table stabilized on the anti-gravity wood structure. From cutting each part of the table to assembling all the parts to putting through the chain lengths, you will get complete video instructions for all steps. Here the chain to wood connections are made using the cup shape screws. Finish the completed table with your favorite stain coats and a glass top. youtube
16. How to Make Tensegrity Structure Table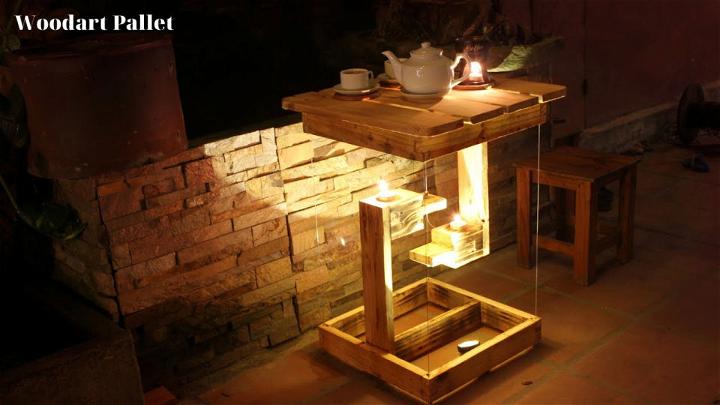 This super graceful tensegrity structure of this table will surely bring tons of wooden characters and a big "Wow' factor to a space. The table is super easy and quick to build and support with heavy-duty strings. The addition of lights makes the entire table look extraordinary. You can easily go handmade with the pallet wood to build this thousand-dollar table, will never get out of style. From cutting the wood to assembling the entire structure, you will get instructions for all the steps. One of the best and quick-to-build DIY tensegrity tables that will cost you next to nothing. youtube
17. DIY Tensegrity Table With Epoxy

Impress all your guests and make the living room elegant and decor to the next level with this epoxy tensegrity table looking amazing. It will be totally easy to build this phenomenal tensegrity table with the provided instructions and video tutorial. It will also bring a great wooden character to a living long along with an accent metallic and industrial touch. Just weld the square metal tubes together to build the unique base of the table, and then you can move ahead to install the metal chains and tabletop.
18. Impossible Tensegrity Table Floating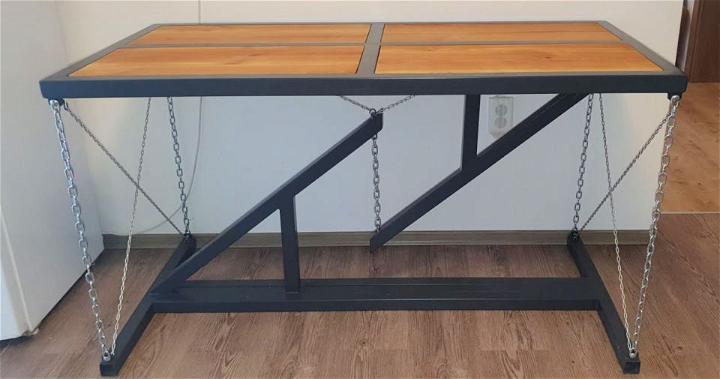 Are you deeply in love with the floating tables? Then build one of your own choices at home without getting a bit expensive. Learn her to build an IMPOSSIBLE tensegrity floating table that will be elegant and magical at the same time and can handle a lot of weight also as compared to ordinary mass-produced. The entire base of the table, including the tabletop frame, is built with square metal tubes. They have been cut and welded together to go for the targeted stability. The video instructions will guide you through all the construction steps.
19. How to Make Tensegrity Table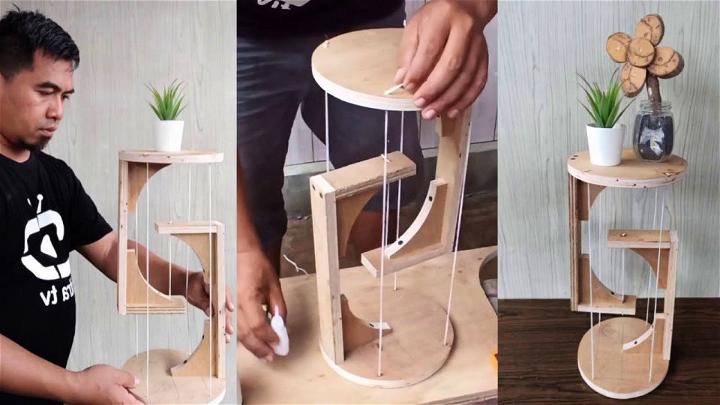 Are you puzzling at home to build a lovely tensegrity table at home? Then grab the complete and comprehensive instructions from here. Yes, look through this complete video tutorial and learn to build a lasting longer and elegant tensegrity table like a pro. The project will guide you also how to stabilize the table with a continuous tensile force. The table will look floating, which will surely make the entire table look magical. Start the construction by cutting the wood rounds for the base and top and the middle wood parts.
20. Ultimate Tensegrity Table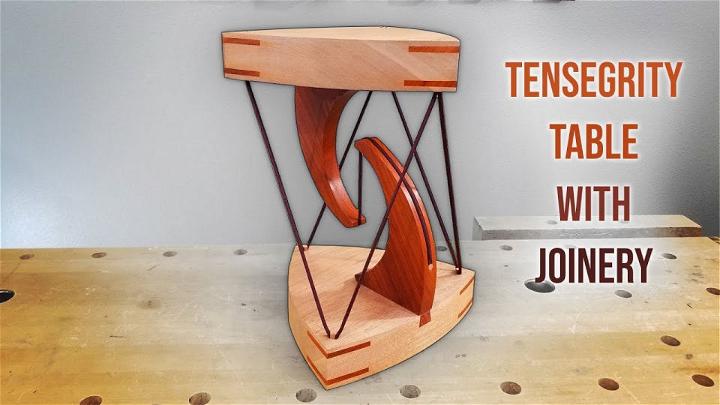 This tensegrity table will get ten out of ten from you in terms of style and beauty. Here is the best accent tensegrity table that will rock for holding decorative pots and vases. It enchants with the triangular base and top and gains a lot of attention due to curved middle parts. The string work is done amazingly, making the table look a lot more special. The middle pieces are stained for a light brown appeal, while the top and base pieces are finished with a light blank wood tone. Here the paracord is used to make the entire tensegrity table structure stable.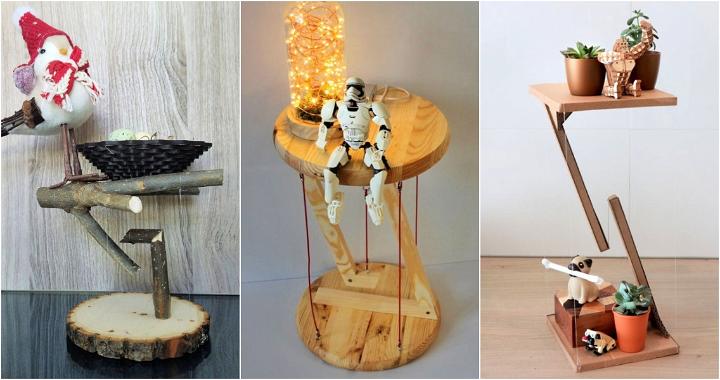 Conclusion:
Are you brainstorming about how to build those tensegrity tables that are always expensive to buy? Then this episode of tensegrity table plans will share all the professional tutorials and hacks with you about building dozens of unique designs of tensegrity tables. These tensegrity table plans that come with PDF to download will share the complete list of materials, tools, and hardware and the step-by-step instructions to make you easily clone any chosen table model.
All these free tensegrity floating tables will be a great addition to one's living room or space and will never get out of style. The best tensegrity table plans bring great visual interest to a particular room space.