DIY has always been a great method to acquire your desired stuff but on a low budget and with a little effort and a creative mind. In this diy sewing table plans guide, we have tried our very best to make this effort a lot easier for you by incorporating various techniques and ways to build your sewing table just the way you like it! In addition to this, these cheap diy sewing table plans will prove very helpful and bring you all the different supplies and methods you need to design your favorite DIY sewing table your way!
With that being stated, we have for you about 20 unique diy sewing table plans to help you design your favorite Sewing Table. Providing different ingredients and the process of this DIY Sewing Table, this article can make building your own DIY furniture, especially this DIY Sewing Table, super fun and easy. Since birch plywood or maple solid wood is easily available, you will be able to make this DIY craft table in a concise span of time.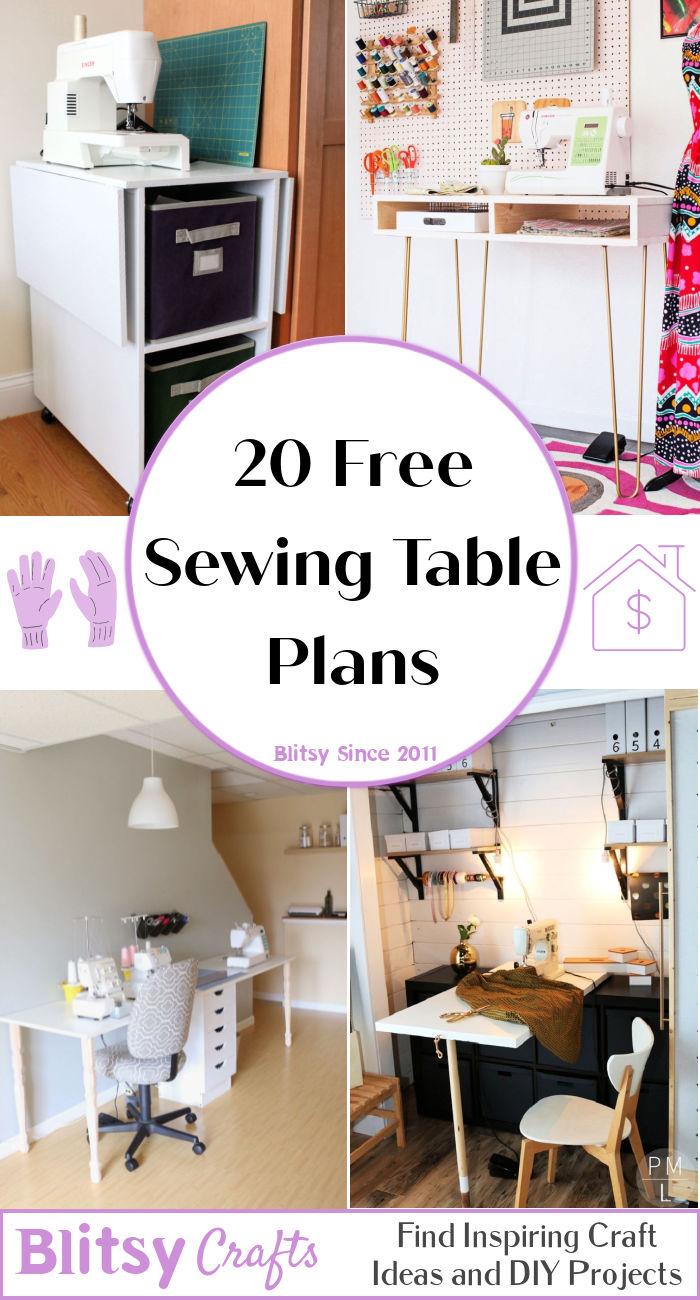 Whether you are a professional or just a beginner trying to find an easy way online to build this DIY sewing table, this article will serve to be a complete guide helping you walk your way through every step. Moreover, these ingredients are way cheaper than the cost of a brand-new sewing table. Sounds great, right? So, let us give you an outlook and a quick review of all these super convenient techniques so that you can select the idea that would work best for you.
1. IKEA Hack Craft Room Storage Table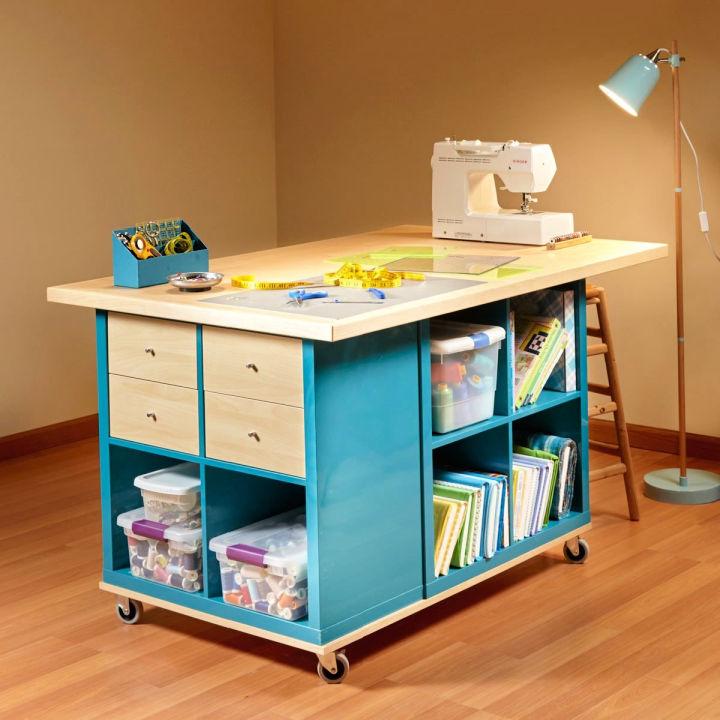 Want to start working and crafting without enough budget to afford a convenient storage worktable with a huge surface and easy mobility? Rush to your local store, get yourself few pieces of birch or maple solid wood birch plywood, grab a wood glue, and you are ready to build your DIY sewing table. Other than this, you will also need about twenty-four flat-head sheet metal screws, Polyurethane, Birch iron-on edge banding, locking swivel casters to assemble these parts. familyhandyman
2. Build Your Own Andreas Sewing Table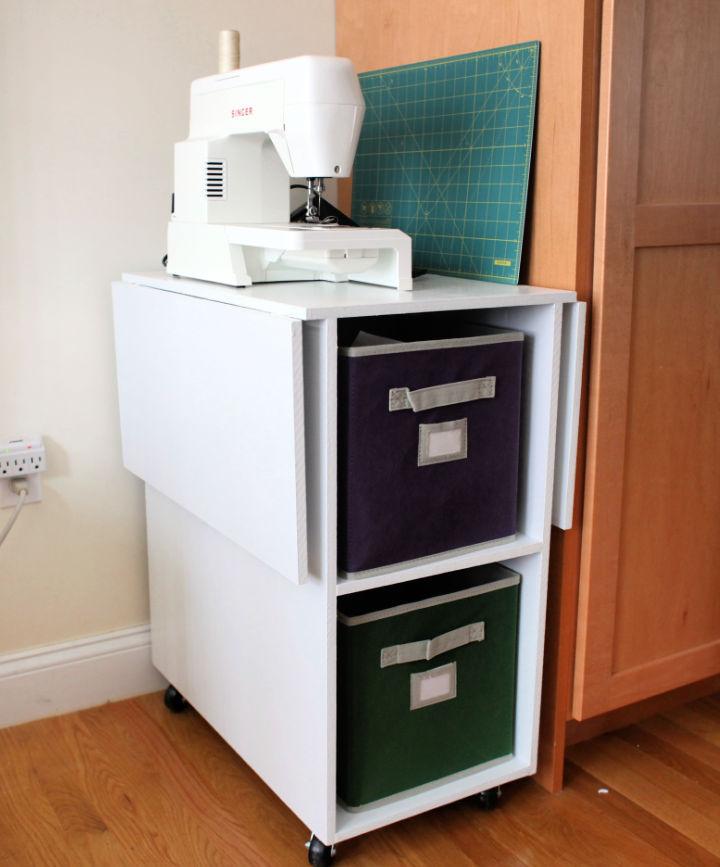 To increase maximum productivity at DIYing, a DIY sewing table can go a long way. This smooth and super convenient DIY table takes up very little space and is also easy to build. After drilling some pocket holes and screwing the joints to assemble the boards, use wood putty to fill those holes. Almost half the work is done here! Then, you need a few hinges and wood brackets with protective glass on the tabletop to structure it properly. Paint it with your favorite color! ana white
3. Homemade Foldable Sewing Table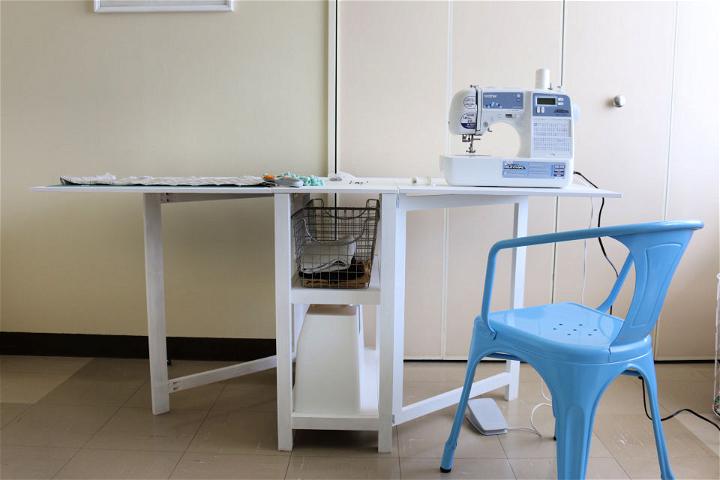 Looking for a foldable sewing table possessing the qualities of storage plus craft space? Then, you have come to the right place! This multi-tasking DIY table can be built from super cheap scrap wood only. Sounds cool, right? For this, you might need a few tools, including a drill, screwdriver, rafter square, pocket hole jig, and sandpaper. So grab your square dowel, hinges, corner braces, and casters & get to work! remodelaholic
4. Make a Custom Sewing Table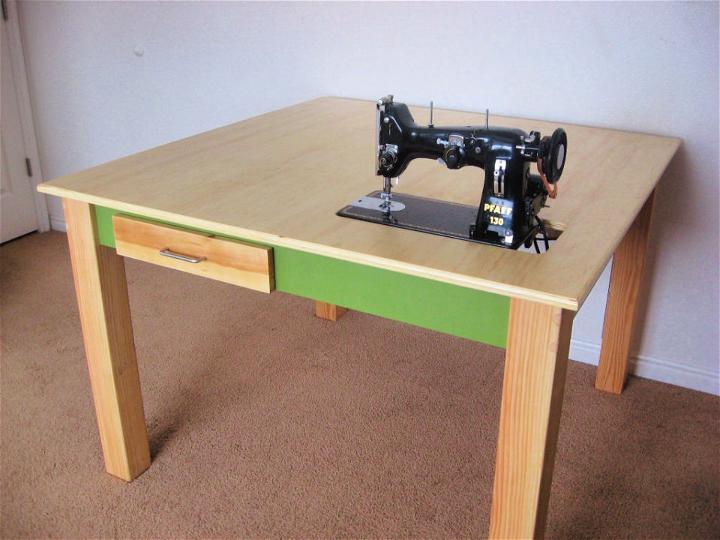 Immediately learn how to create your own DIY sewing table, along with saving tons of money! Furthermore, you also have the advantage of modifying it and installing as many support pieces as possible, which you think are necessary for its stability. You can also add cross pieces in the skirt structure for the same purpose. So, what are you waiting for? Start this fun project right now! instructables
5. How to Make a Sewing Table

Want your own personalized space to work on your sewing projects? Then, we got you covered with this easy and amazing tutorial. The results will leave you in awe of it! All you need to do is fetch some Sanded BCX Panels, Premium Stud, and Swivel Rubber Castors to start working on this. After you have begun your project, you will need ceiling tiles, duck cloth, and Swivel rubber castors for its completion. Super easy! goheendesigns
6. Vintage Sewing Machine Table

How about getting your own personal worktable without actually spending money that costs a sewing table? Yes, using this super simple and convenient technique is possible to create your very own DIY sewing table. The method is pretty easy as you can find most of the ingredients within the four walls of your house. The easily available chalk paint line is of major use here. designthusiasm
7. DIY Sunken Sewing Table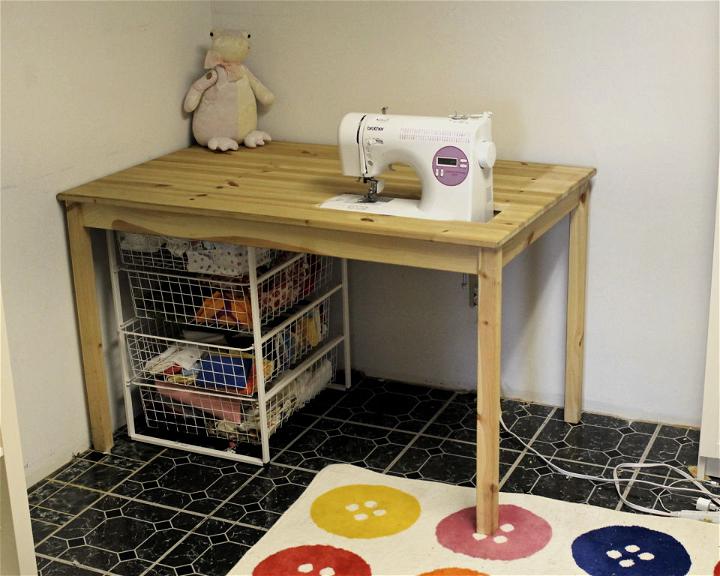 Evaluating your sewing space and thinking about shrinking your sewing machine into the desk it can sit on? Then, worry not! We got you covered with this amazing tutorial depicting the construction of a uniquely designed DIY sewing table. Yes, you can now build and customize your own DIY sewing table by utilizing your old and ordinary dining room table but make sure it is made of solid pine! measuredandslow
8. Craft Room Sewing Table Plan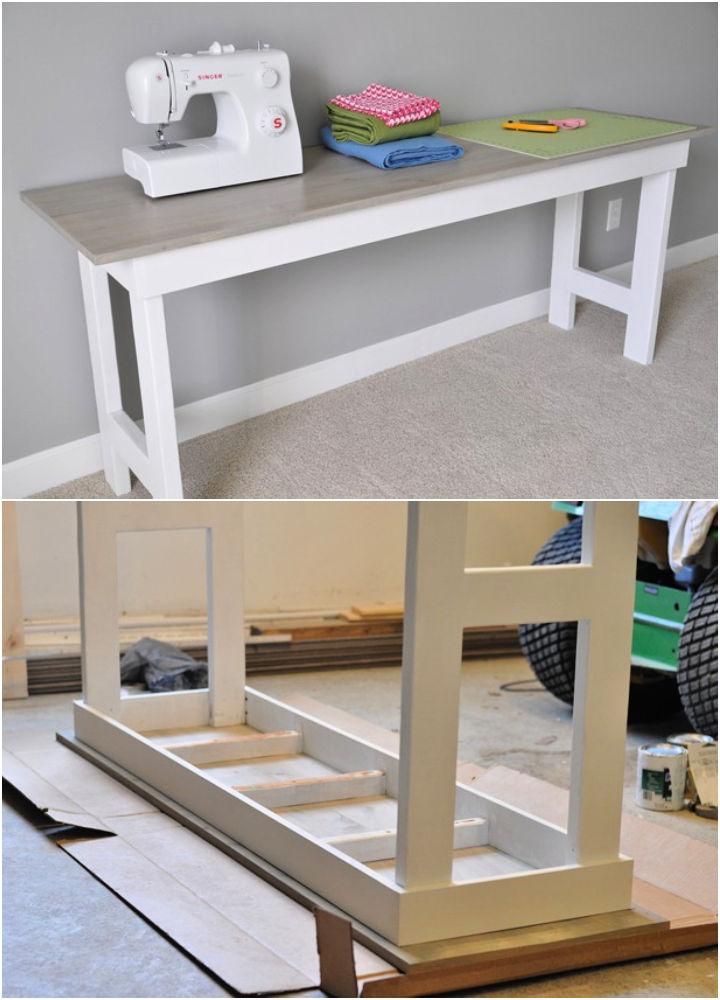 Sharing with you our ultimate DIY sewing table tutorial so you can easily build your very own without having to rush to several markets to purchase the best one. The best part is you can find all the materials and tools within the four walls of your own home. Even if that is not the case, you can quickly grab all these materials from your nearby local shop. Immediately start working on this fun project by drilling few pocket holes into the ends of the boards! decorandthedog
9. Custom Sewing Machine Extension Table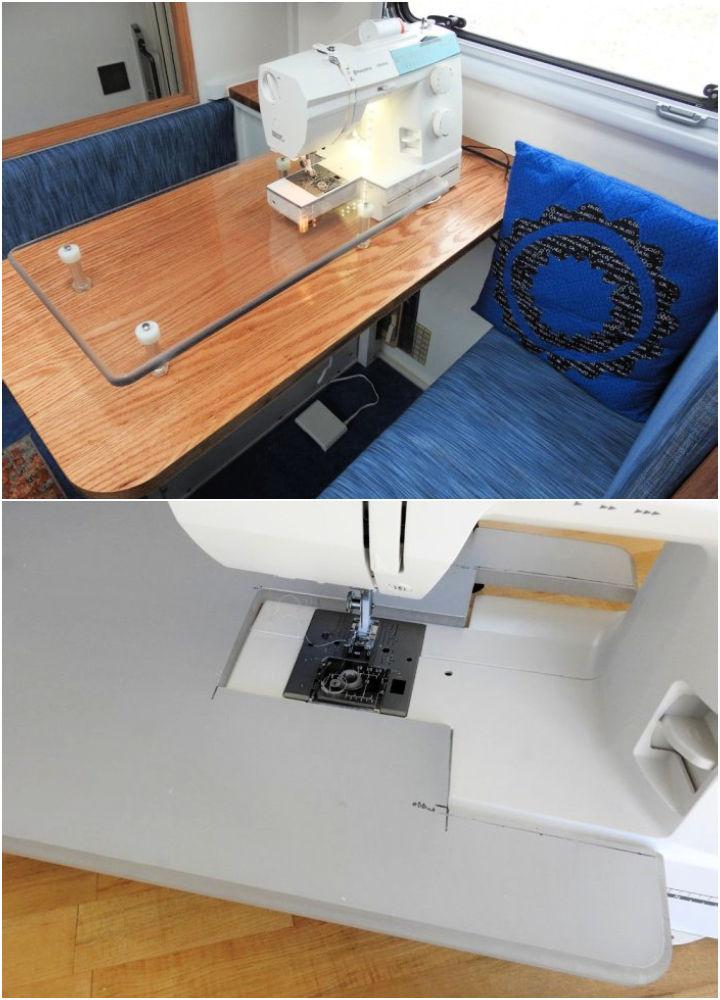 It is about time you get your own sewing table and start working on that from now! To save you the hustle and money, we present this quick and easy method of creating your own DIY Sewing table in a concise span of time, saving your precious time. Polycarbonate plays an exceptional part here as it is the main and the essential material you need to purchase to construct a convenient DIY table. quiltingjetgirl
10. IKEA Fold Down Sewing Table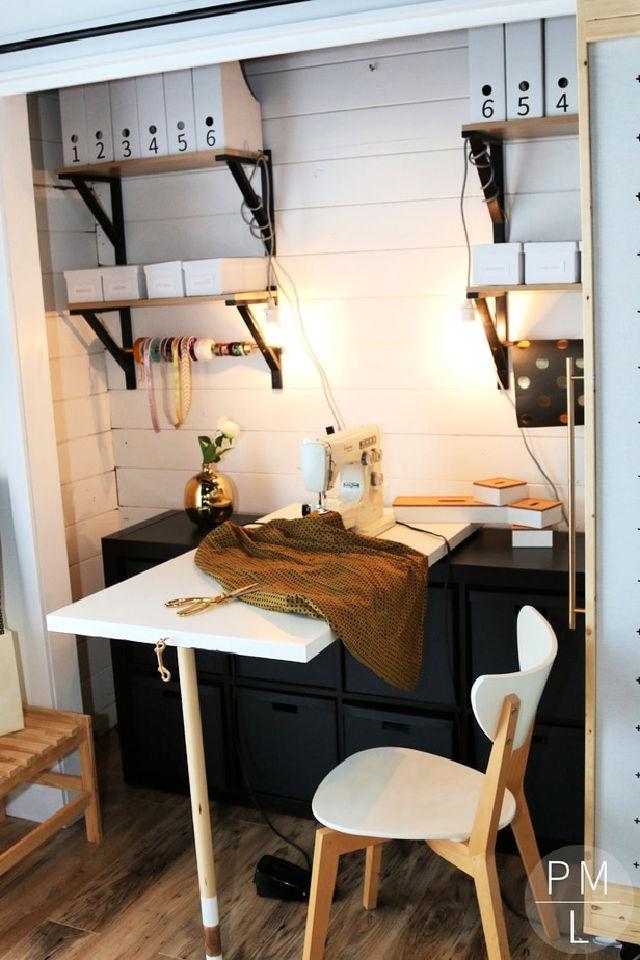 As your sewing hobby becomes a passion and profession, you need to have your own customized workspace. Then, a sewing table is all you need. All you need is a sharpie for marking the cut lines, a jigsaw for cutting, a sander for cleaning the edges you will cut with a jigsaw, a stencil for the round corners, and last but not least, a drill. You can use a router table for rounding the top edge, but this is totally up to you! petitemodernlife
11. Sewing Room Cutting Table Ikea Hack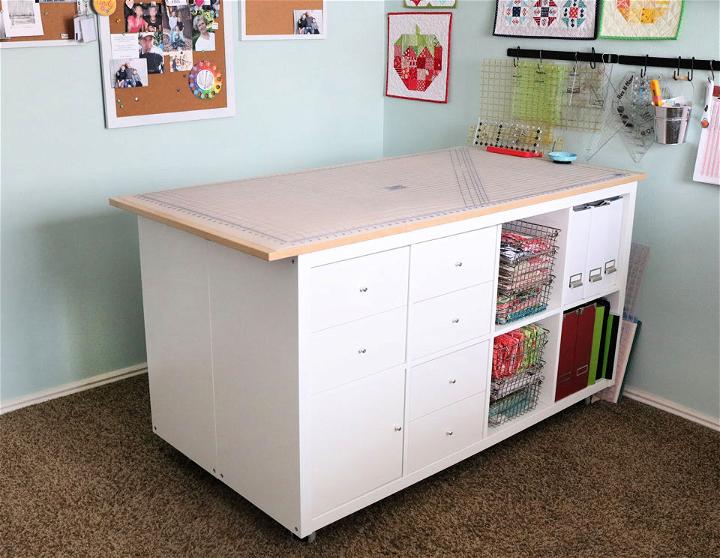 Are you ready to have your own sewing table and work with full focus? Then, this tutorial to create your own DIY sewing table is definitely for you. This is one of the best and most functional diy sewing table plans. You can also add some wheels to your table to give it a little height, which will be great during your important tasks. Head over to the link below for a step-to-step guide. abrightcorner
12. Upcycled DIY Sewing Table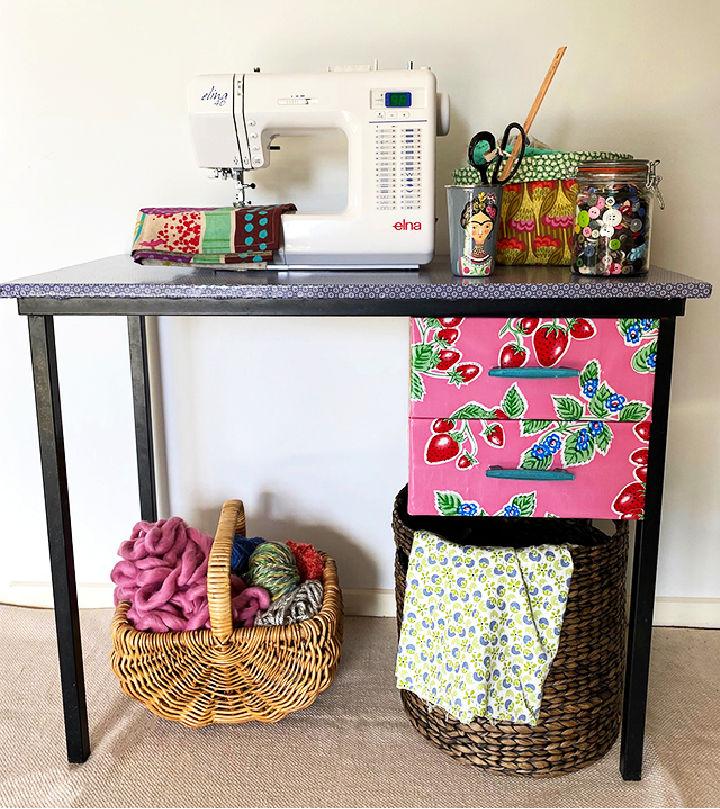 If you really are searching for a strong sewing table, why not create your own DIY sewing table. With this tutorial, we make it easy for you by providing a complete guide on what to do. In this tutorial, we would be bringing to you an easy way of constructing your very own DIY sewing table along with guiding you on how to customize it the way you like! julesmadden
13. Repurpose An Oak Dining Table Into Sewing Table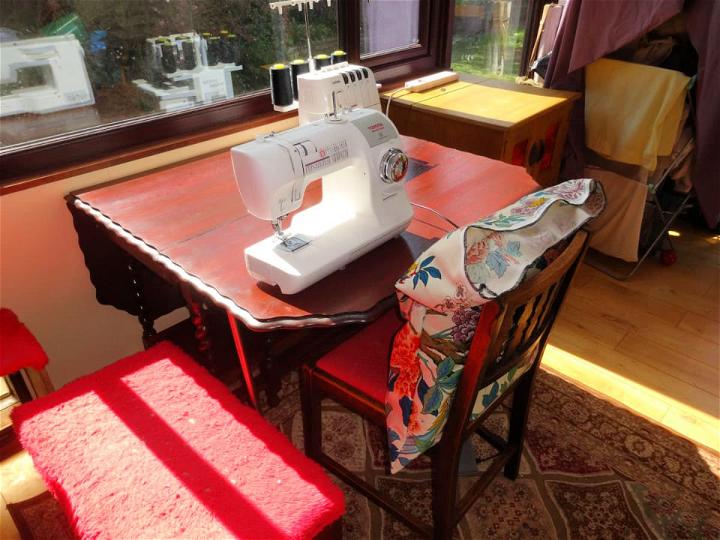 Tired of working uncomfortably and want your own private sewing table? Well, in that case, a DIY sewing table will fulfill all such needs and requirements. Learn how to build one with this simple step-to-step guide. The fun part is you can renovate your old oak dining table into a stunning DIY sewing table that you were about to throw away. Now that is some awesome recycling trick! feltmagnet
14. IKEA Knockoff Sewing Table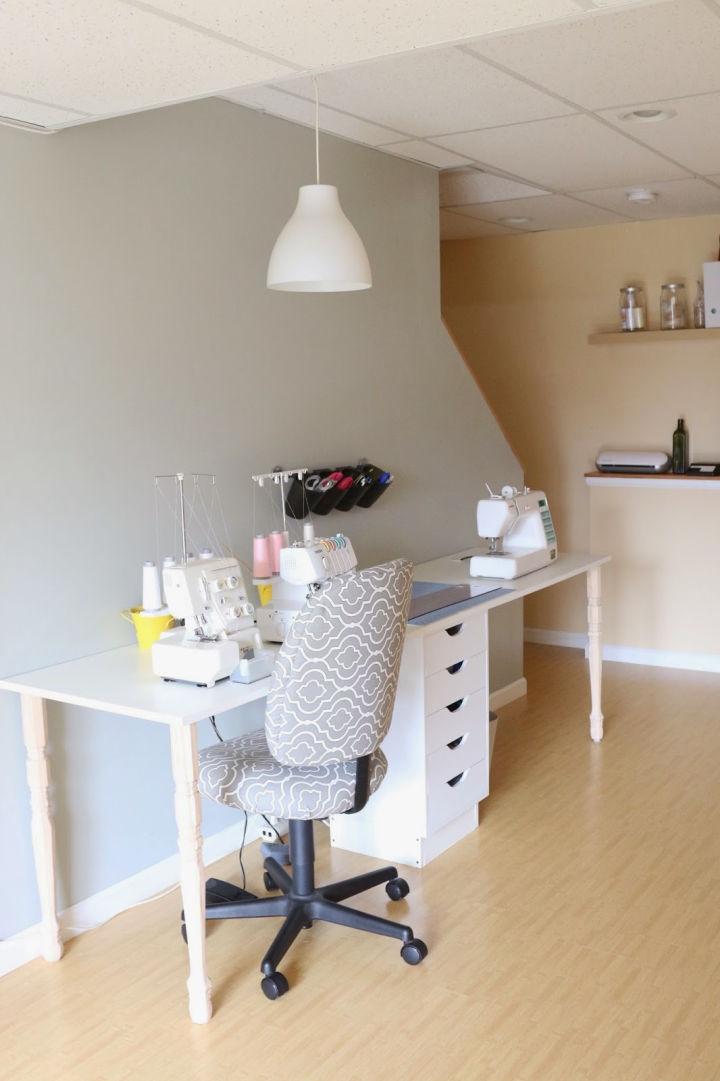 Dreaming about having your very own sewing table? Then head over to the link provided below for this cool IKEA knockoff sewing table guide and tutorial. You might need drawers, plates, and table legs for this fun project. Without wasting any further minutes, get to work immediately and watch your dream turn into reality! zaaberry
15. DIY Antique Folding Sewing Table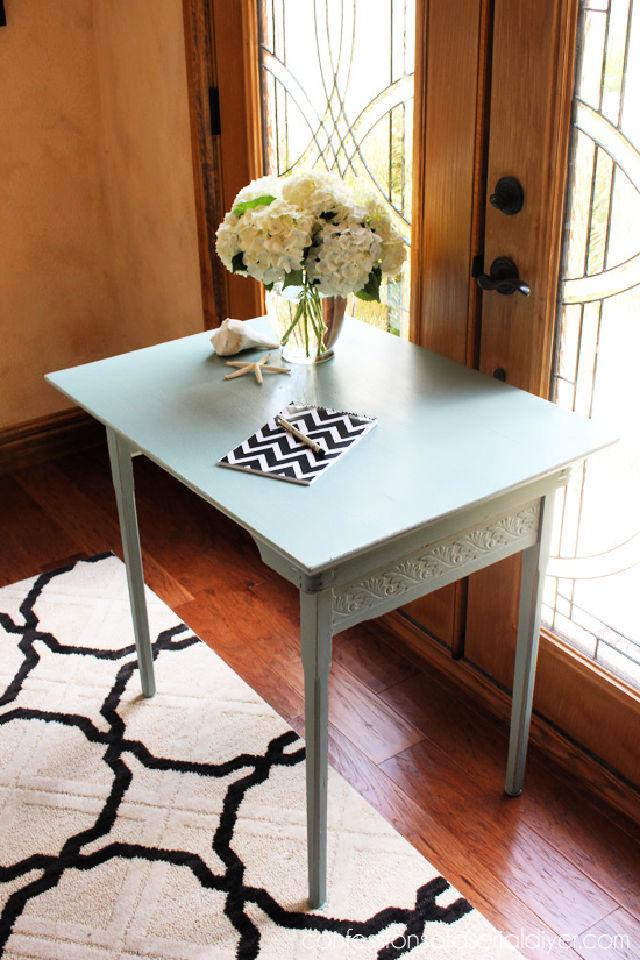 Here is an effortless yet unique way of designing your own DIY sewing table. For this, you do not need to rush to the market for all the supplies. Just utilize the old wood table that you threw in the storeroom or garage, and you are good to go! Perfect, don't you think so? confessionsofaserial
16. Quilters Sewing Machine Table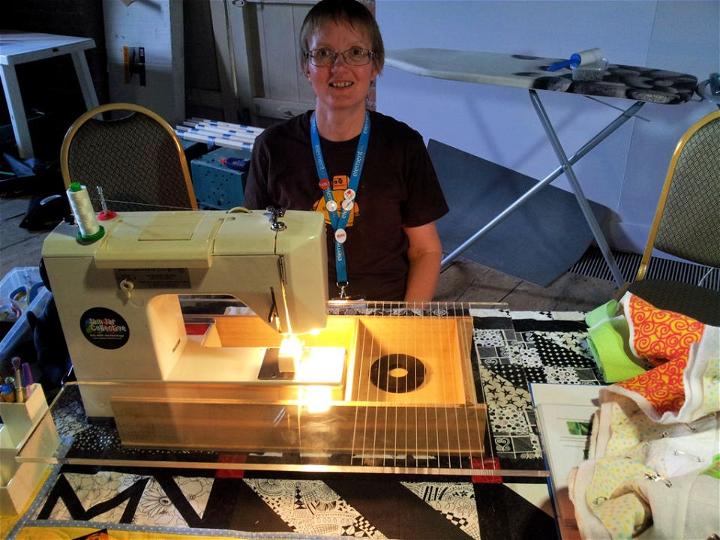 Cut a hole with a jigsaw in your solid pine dining room table and to make an attachment for the shelf suspension, insert bolts and drill four pockets with screws to make sure the attachment doesn't fall off and your DIY sewing table is almost ready! Make the necessary changes as mentioned and start working on it already. instructables
17. DIY Sewing Table for Under $34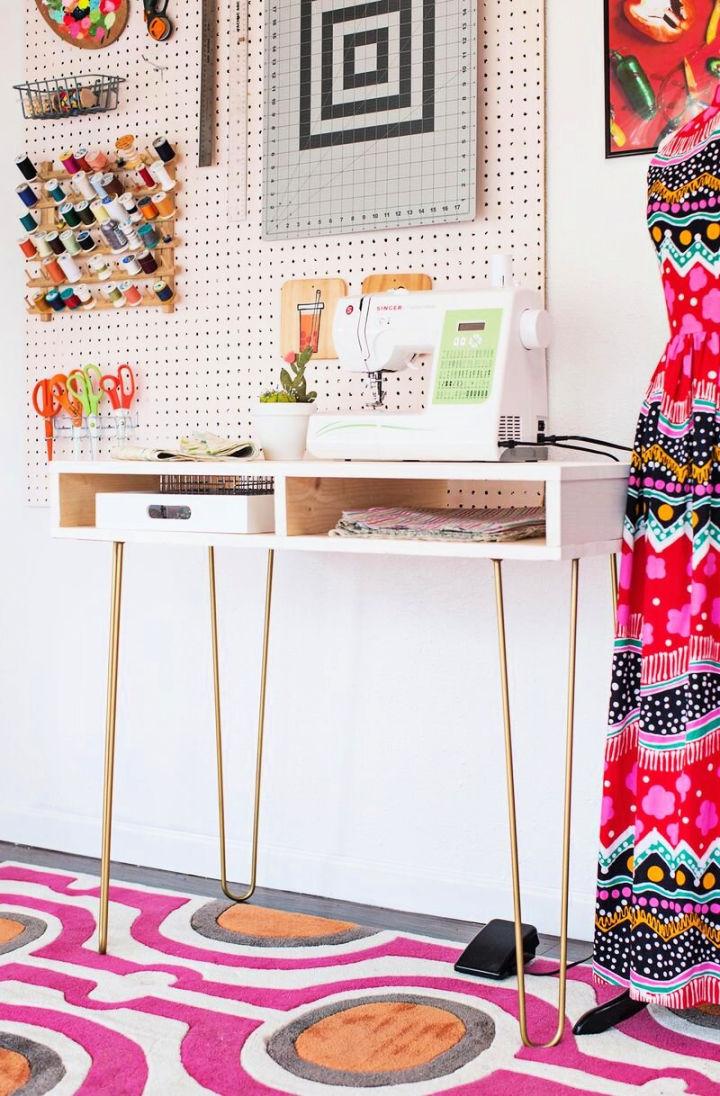 No more procrastination! Create your own DIY sewing table and increase your productivity level at work. Finish it off with packing tape, screws, washers, stims, staples, nuts & bolts. Finally, paint it with the color you love! This is how simple it is! abeautifulmess
18. How to Build a Sewing Table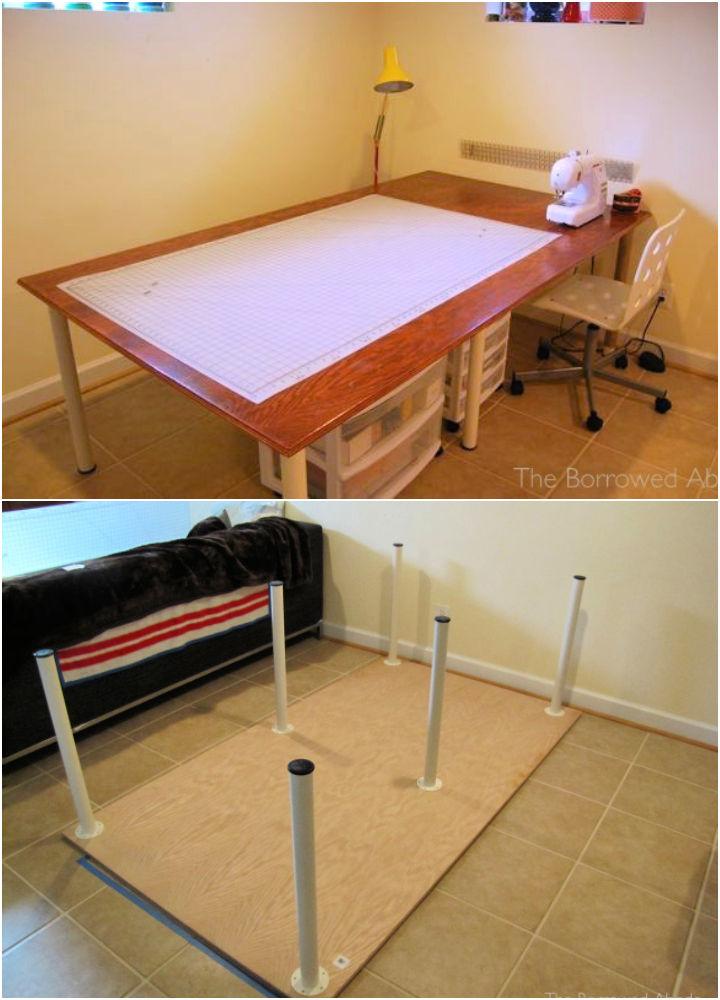 Check out this amazing technique of building a DIY table for yourself to work on efficiently. So get those desk legs, Maple Veneer plywood, and Skinny pine trim molding strips arranged, and get ready to put them into good use now! theborrowedabode
19. Building a Sewing Cabinet with Lift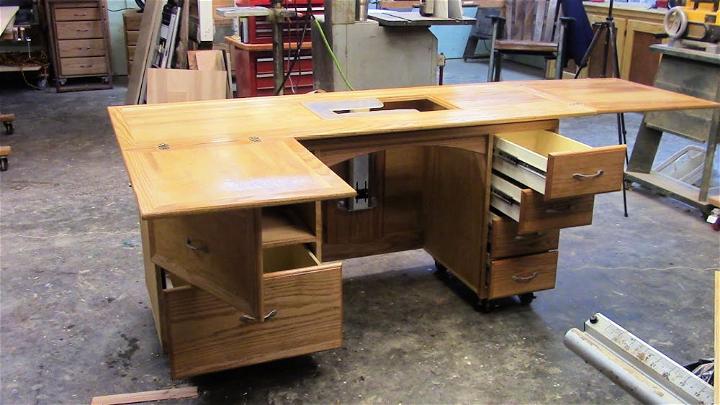 Here's another one of our DIY sewing table guide that you cannot afford to skip! A super easy and convenient method that will save you tons of money, and the result is just as elegant, neat, and classy as the table you go to and purchase yourself. Click on the link for all the essential details! youtube
20. Industrial Sewing Machine Table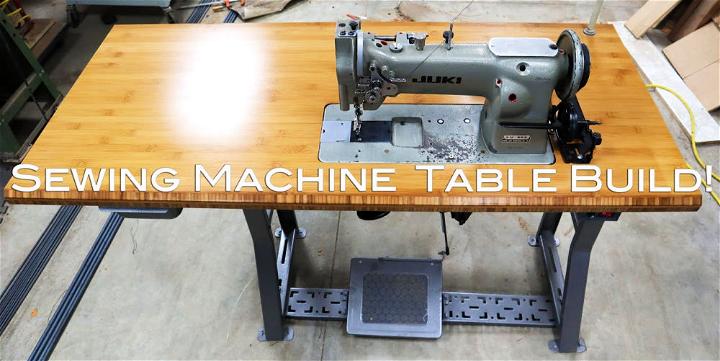 Last but definitely not least, this ultimate guide on how to design and customize your own DIY sewing table with some heavy industrial sewing machine is truly a game-changer! It will save you the struggle of finding the perfect one, and the results will leave you stunned! This one is made using bamboo plywood, so grab your materials and give it a try! youtube
Conclusion:
Summing up this entire article, we hope you found all these various DIY sewing table plans and ideas quite enlightening and are thinking of giving it a try as well! To do this, you need a little patience and dedication, and you will soon see your table transformed into what you absolutely dreamt of. Since the materials and tools are easily available at nearby local stores or within the four walls of your own house, your precious time is saved. Apart from that, the tools and materials are also not costly at all. A plus point! So grab your tools & materials and watch your dreams unfold into reality with these 100% free diy sewing table plans!