Try out a free crochet star blanket pattern to add some color and texture to your home! Find 25 free crochet star blanket patterns with step-by-step instructions for a beginner or an advanced crocheter. You can make a cozy and colorful blanket for any occasion with a wide range of crochet star blanket patterns. These start blankets are perfect for adding a touch of personality and color to any room and can even make a great gift for a friend or family member.
These free crochet star blanket patterns come in various sizes and designs, from baby star blankets to full-sized adult afghan blankets and 5 star to super star afghan blankets. Each free crochet star blanket pattern provides detailed instructions on the materials required, including yarn, hook size, and gauge. Many crochet start patterns come with helpful illustrations and pdf to help visualize the process and make it even easier. You can customize your blanket by choosing different yarn colors and weights or experimenting with different stitches to create unique crochet star blankets.
You'll need to learn how to crochet a star blanket to get started. Many star blanket crochet patterns come with detailed guides and videos, and you're sure to find one that fits your skill level and style. Start your next crocheting project today with these amazing free crochet star blanket patterns!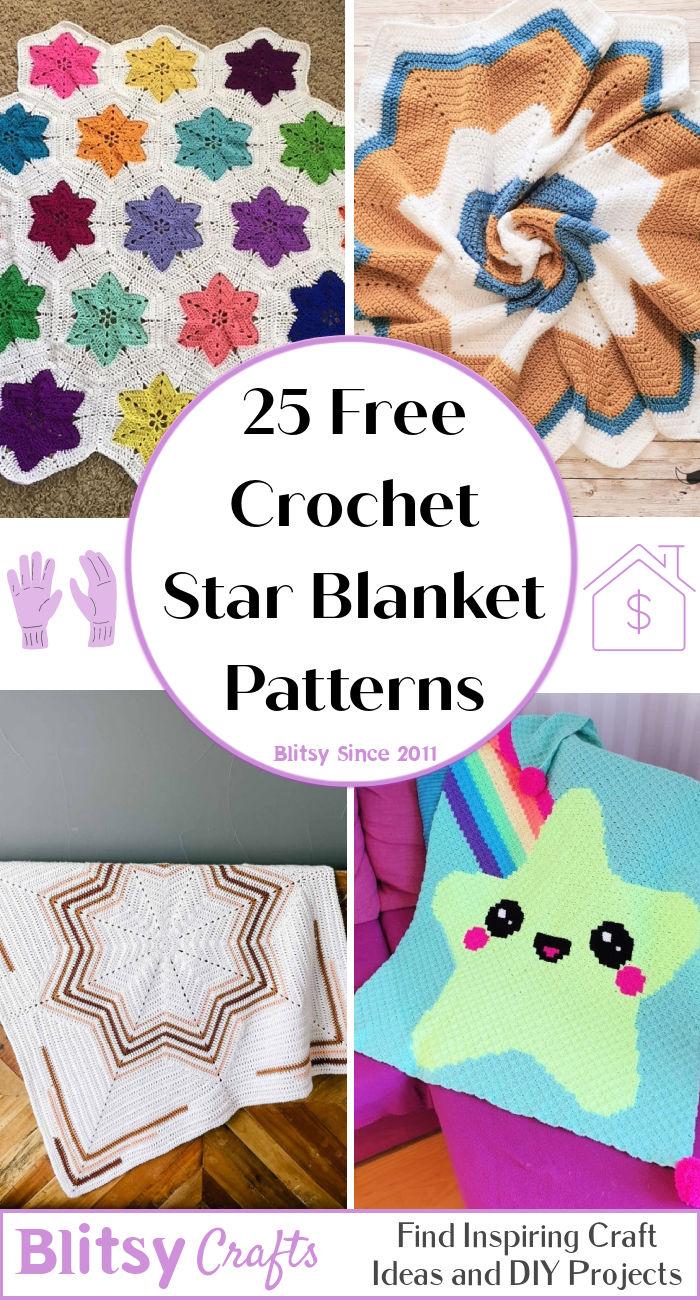 Crochet Star Blanket Benefits and Uses:
Crochet star blankets are not only a cozy addition to any room, but they also offer a wide range of benefits and uses. Here are ten ways that crochet star blankets can add value to your life:
Warmth and Comfort – Crochet star blankets offer warmth and comfort on chilly days. -These blankets are perfect for snuggling up on the couch or as an extra insulation layer in bed.
Home Decor – With their bright colors and intricate patterns, crochet star blankets can add a touch of style and warmth to any room in your home.
Versatile – Crochet star blankets are versatile enough for throws, bed covers, baby blankets, lap robes, or even car seat covers.
Outdoor Use – Crochet star blankets can also protect from the sun in outdoor settings such as the beach or park picnic.
Great Gifts – The beautiful patterns created by crocheting stars make these blankets great gifts. They are sure to be appreciated by anyone lucky enough to receive one!
Easy to Care for – Crochet star blankets are easy to care for and can last for years with proper care.
Eco-Friendly – The delicate nature of crocheted items makes them eco-friendly choices that reduce landfill waste.
Handmade – Crochet star blankets are handmade, which means they are unique and offer a personal touch to your home decor or gift-giving.
Stress-Relief – Crocheting can be a relaxing and meditative practice, which can help relieve stress and anxiety.
Beginner-Friendly – Finally, crochet star blankets are fun and easy projects for experienced crocheters and those who may just be starting out on their crafting journeys.
Crochet star blankets are versatile and stylish and offer many benefits that can add value to your life. Whether you use them as blankets or home decor, they are sure to bring warmth and comfort to any space.
Free Crochet Star Blanket Patterns
Crochet star blankets are a classic and timeless craft that can create a unique pattern for anyone looking for something special. From cozy throws to baby blankets, a crochet star blanket is a beautiful way to add warmth and texture to any room. Find 25 easy and free crochet star blanket patterns available below, you can create an amazing star blanket of your own in no time!
1. Free Crochet Rising Star Baby Blanket Pattern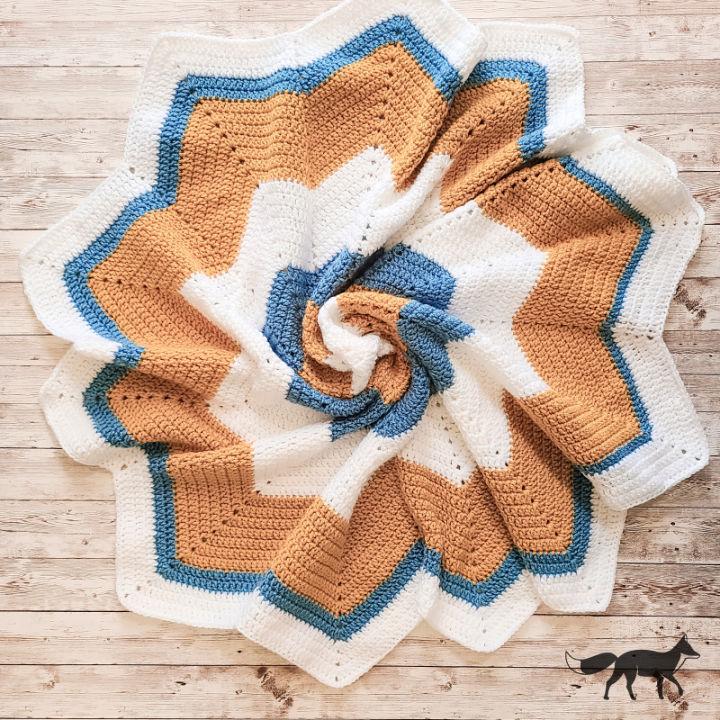 This beautiful, lightweight crochet star baby blanket is the perfect gift for any expecting mother. With the rising star baby blanket pattern, you can create a gorgeous 12-point star blanket in any color pallet you like. Suitable for intermediate level crocheters, this free crochet baby blanket pattern requires 3 colors of light (3) weight yarn and a 4mm hook to make a 34-inch diameter finished piece. Whether creating it as a shower gift or just because this delightful creation will surely shine! theloopholefox
2. Crochet Kawaii Shooting Star Blanket Pattern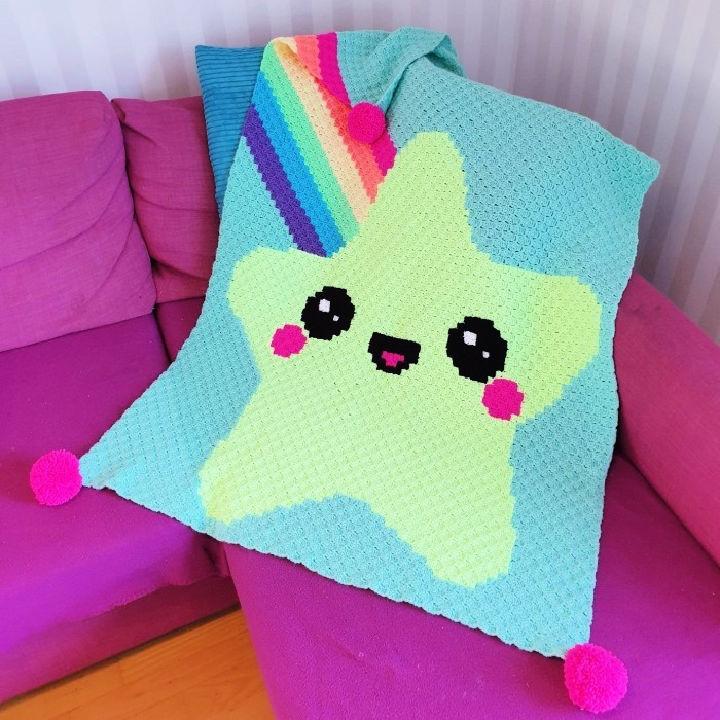 Welcome to the cuddliest blanket of them all! This kawaii shooting star blanket is perfect for adding a kawaii style to your home. It's crocheted with the corner-to-corner method so that you can expect bold colors and an eye-catching design. Its detailed instruction guide makes it easy to keep track of each row as you crochet along. Make this unique blanket yours and wrap yourself up in warmth and kawaii charm – it's sure to be a hit with friends and family! The pattern requires an intermediate skill level! hobbii
3. Crochet Four Points Star Blanket Pattern
You will love this four points star crochet blanket that is perfect for any little one in your life! It features 4 colorful and bright "four points" squares joined together using the single crochet join-as-you-go method. The border creates a finished look making it great for any room decor! Plus, it's made from red heart super saver yarn, which can be machine washed and dried. The intermediate skill level required to complete this project measures 34″ by 39″. Get crocheting today and create something truly special! jessieathome
4. Free Crochet Rising Star Blanket Pattern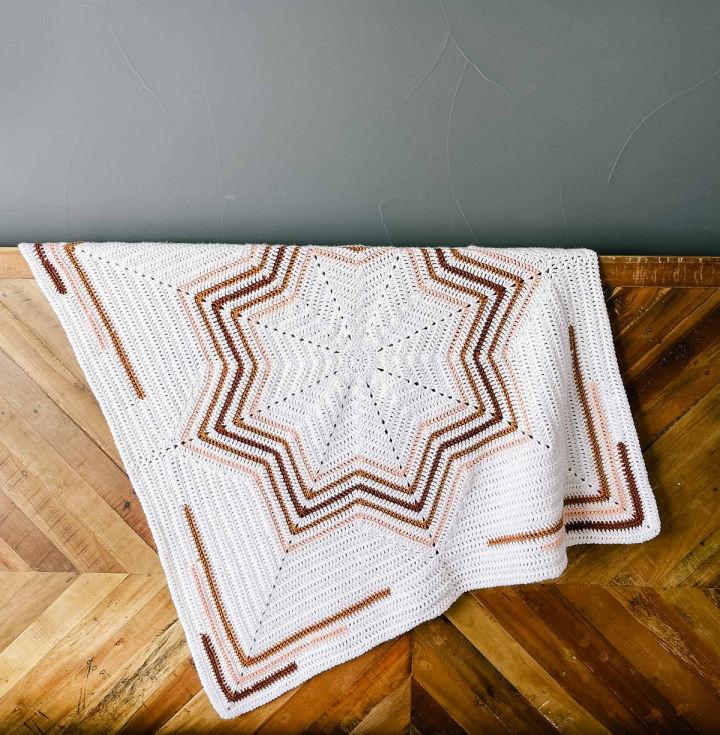 This beautiful and modern rising crochet star blanket will take your crochet skills to the next level! This pattern features an eight-point star motif, perfect for making a baby blanket or adding a touch of style to any armchair.
You will need weight 4/medium yarn in 4 different colors and a size J (6.00 mm) crochet hook to bring this project to life. The finished blanket measures approximately 38 x 38″, with 14 dc stitches over 8 rows equal to 4″. Download the free pattern today for step-by-step instructions on turning this traditional stitch into something extraordinary! makeanddocrew
5. Crochet Star Stitch Baby Blanket Diagram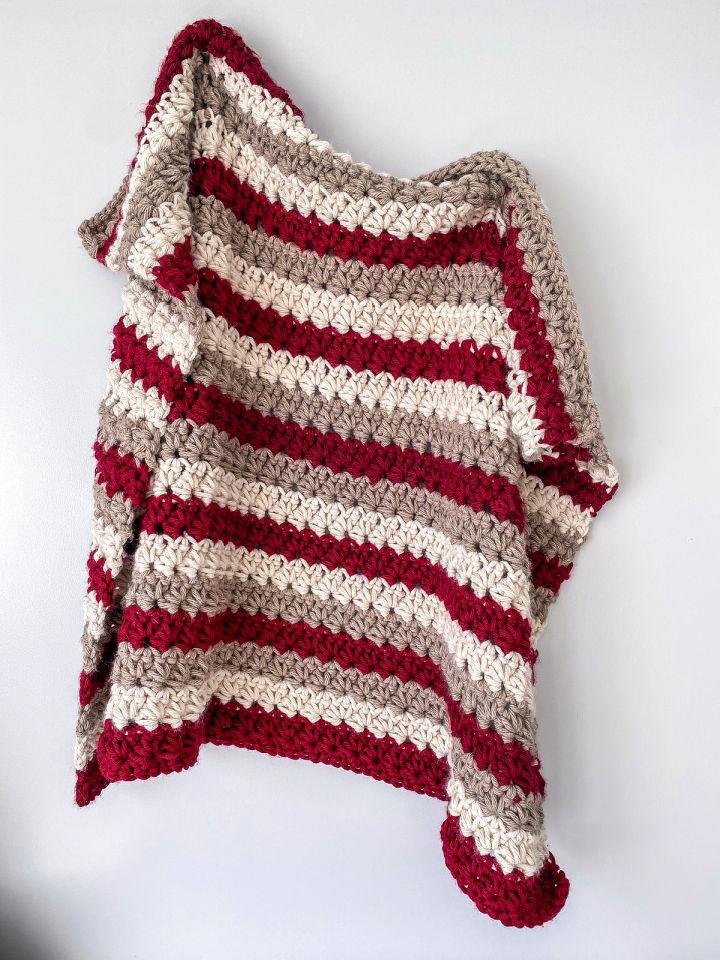 This free crochet pattern creates a cozy and beautiful baby blanket for your little one! This easy-to-follow tutorial will help you learn the crochet star stitch, which creates a thick fabric perfect for winter weather. You only need #6 super bulky yarn and a 12mm hook. Follow the step-by-step instructions to craft an adorable handmade gift — they'll love snuggling up in it during naps or playtime! lifeandyarn
6. Crochet Colorful Hexagon Pieced Star Blanket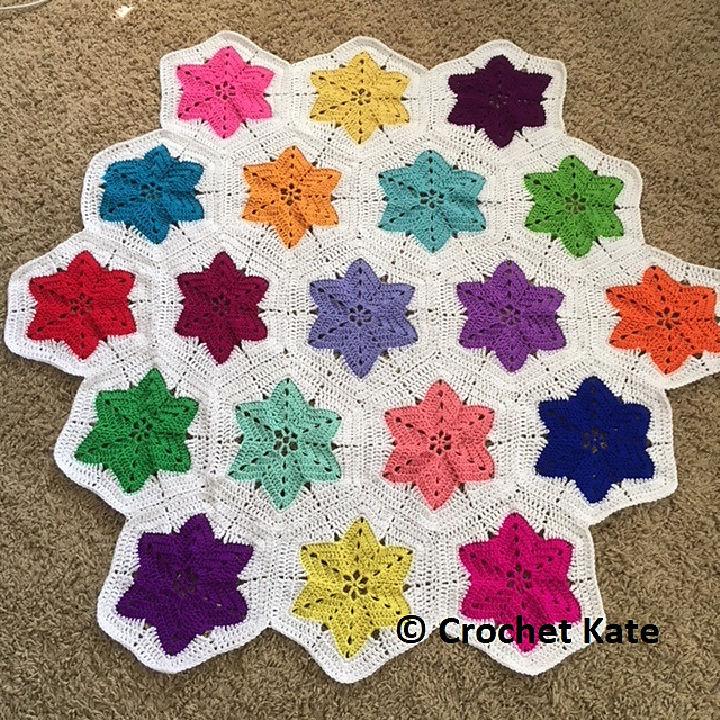 Want to crochet a lovely blanket? This colorful hexagon pieced star blanket is a fun and rewarding project. Using 3 DK-weight colored yarns and 4 DK-weight white yarn, the individual stars make the process seem to go faster than tackling row after row of a blanket. With each hexagon measuring 10.5″ across, this finished product measures 31″ on each side or 52″ at its widest cross-sections. Use a size 6 mm crochet hook to wrap up your unique masterpiece for the best results! crochetkate
7. Crochet Point Star Blanket Pattern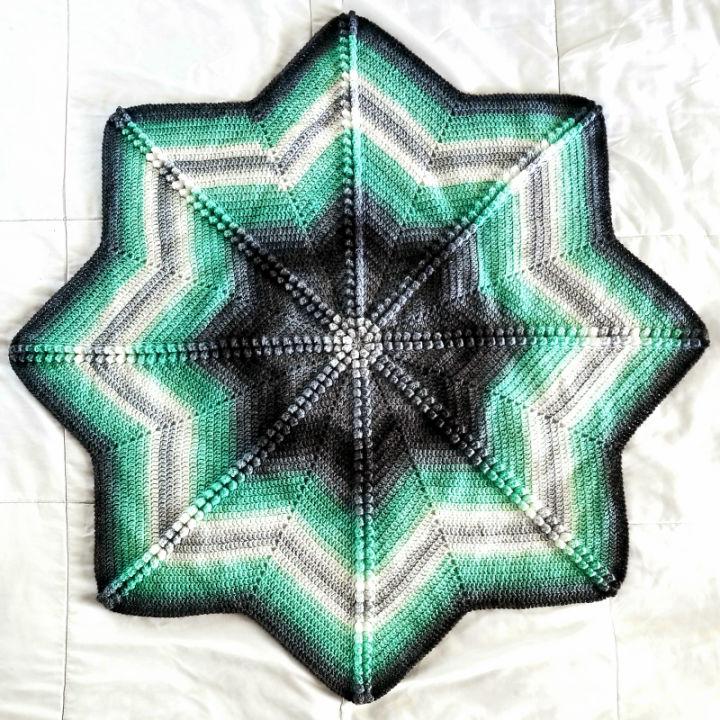 Crochet a cozy compass blanket of any size with this free crochet blanket pattern. It features the popcorn stitch for eight-pointed star peaks! Perfect for crochet beginners and experts alike, use DK weight yarn with a 4mm (G) hook to create your masterpiece. Let your imagination run wild — from baby blankets to afghans, you decide how big or small this project will be! Look no further for an eye-catching yet easy crochet project — get started on this compass blanket today! ravelry
8. Crochet Light Star Shaped Blanket Pattern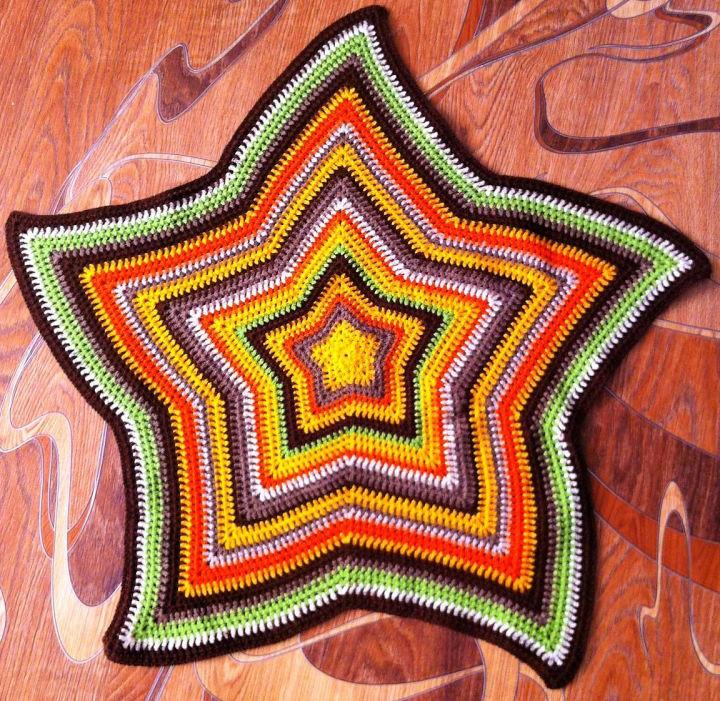 Surprise your mom this holiday season with a light star-shaped blanket for her birthday. Perfect for cozy winter evenings in front of the TV, the lightweight and soft fabric is sure to keep her warm and comfortable. This unique star-shaped wrap is the perfect leg warmer, so she won't have to worry about getting chilly while lounging around at home! Not only will it make an excellent gift, but you'll have peace of mind knowing it's made from high-quality materials that will last through plenty of chilly nights. brightbag
9. Dreamtime Crochet Star Baby Blanket Pattern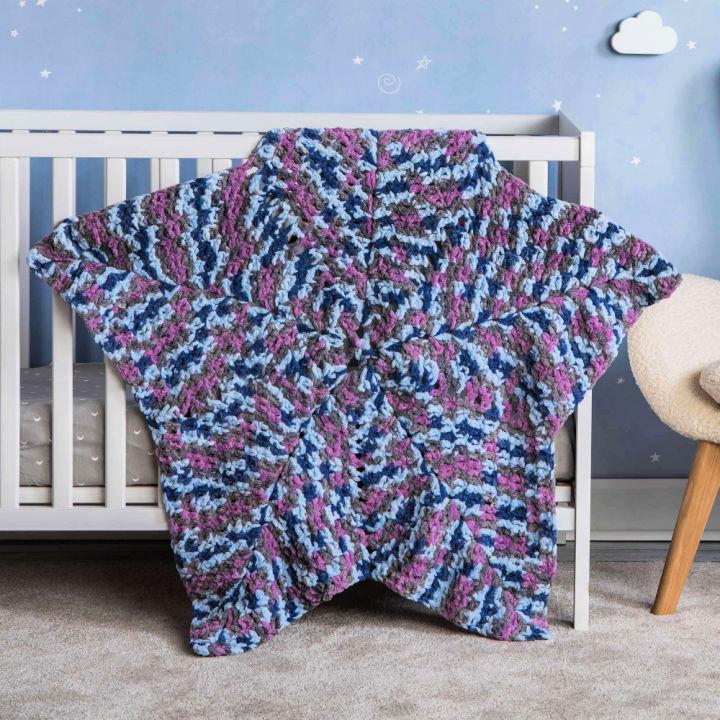 Whip up this beautiful dreamtime crochet star baby blanket, sure to be a perfect way to add whimsy and warmth to any nursery. This easy skill-level project will measure approximately 38″ from point to point when completed, using a Bernat baby blanket in dreamy skies and a size U.S. L/11 (8 mm) crochet hook. Perfect for the crocheter looking for an elegant baby blanket pattern that will stand out! yarnspirations
10. Free Crochet Stargazer Blanket Pattern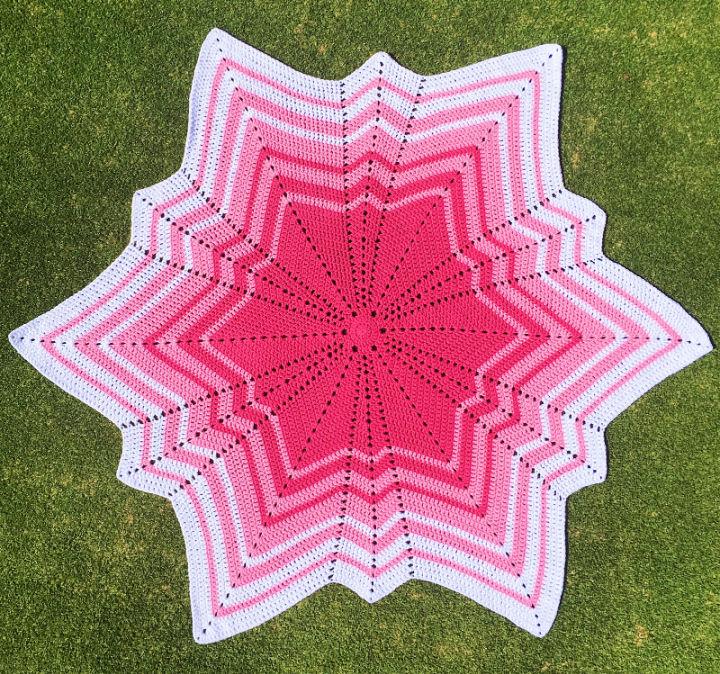 Discover the perfect crochet project for any level of skill. The stargazer crochet blanket is a free pattern you can customize to create a doily, baby blanket, or bedspread. With its easy skill level and minimal materials like cotton aran yarn & 5mm hook size, you can be creative with colors to make your unique design.
It measures 120cm across in diameter from largest point to largest point (without blocking) when complete. Learn techniques such as chainless starting double crochet (optional), magic ring, v-stitch and shell stitch while creating this cozy masterpiece! consciouslycrochet
11. Crochet Twinkle Stars Baby Blanket Pattern
Keep your little one happy and warm with this beautiful Twinkle Stars Baby Blanket! Crafted using red heart anne geddes baby yarn in four colors – dolphin a, robin b, posy c, and daffodil d – along with a 4mm crochet hook, you can easily make a cozy blanket measuring 34.5 inches wide by 36.5 inches long. Add the delightful star appliques for an extra touch of whimsy, and enjoy creating them in color combinations to match any nursery design.
This project is easy-level, so anyone can feel like they're singing "twinkle twinkle little star" as they work! Make sure to check your gauge before beginning, and soon enough, you'll be wrapping up love for your little one with this darling blanket. yarnspirations
12. Twinkling Stars Blanket Crochet Pattern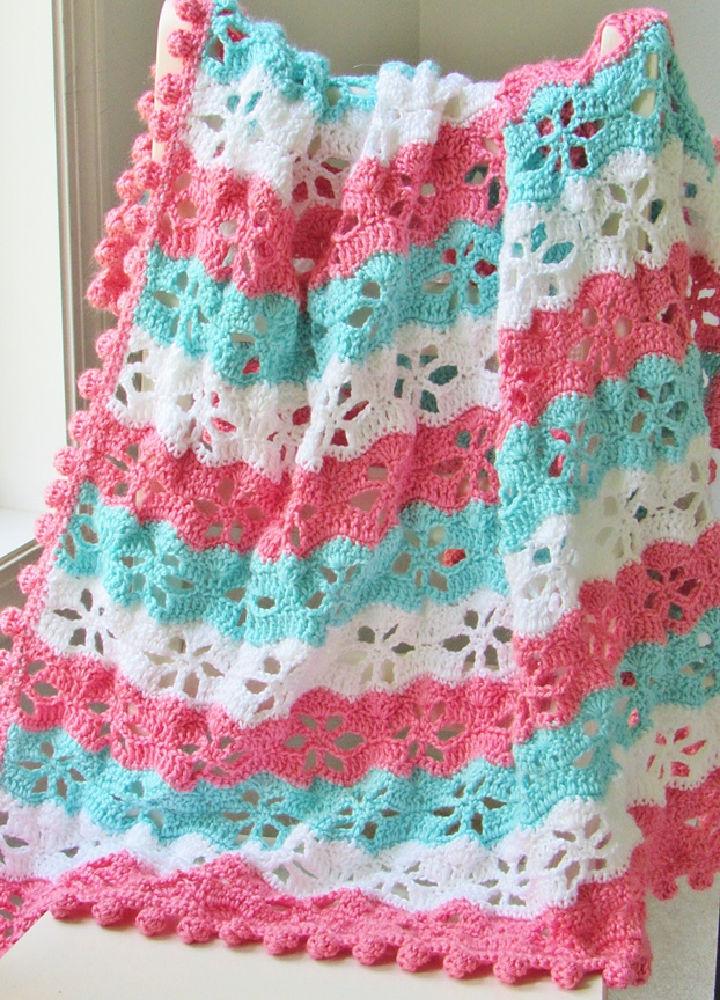 This crochet blanket-free pattern featuring twinkling stars and a unique floral stitch is the perfect spring/summer companion. Lightweight and airy, it's easy to make with worsted weight yarn & hook h (5mm) – finish size 38 ½ inches wide x 38 ½ inches long. Grab your supplies & enjoy the luxurious feel of this handmade blanket in no time! crochetdreamz
13. Crochet Modern Patchwork Stars Blanket Pattern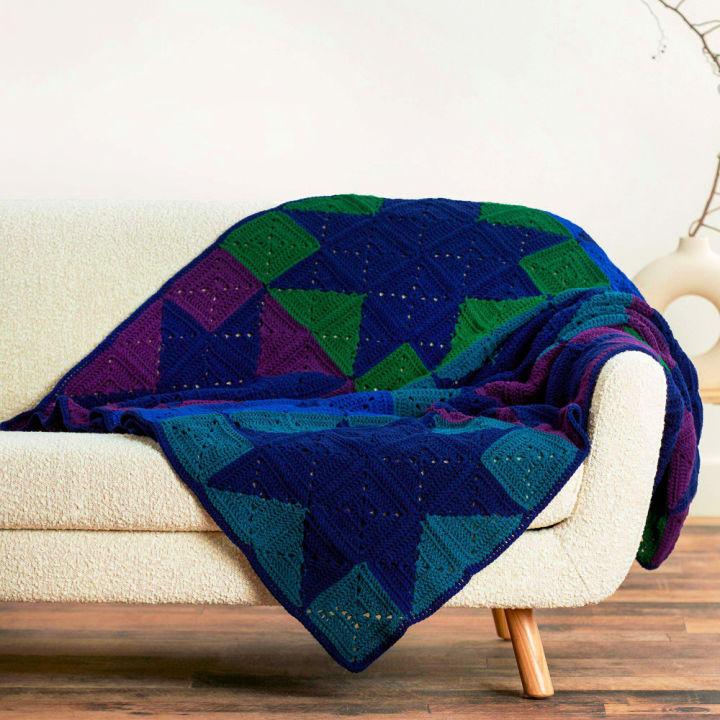 Time to stay warm and make a stylish statement with the modern crochet patchwork stars blanket! This easy-level project measures 61 inches square and uses red heart super saver yarn in soft navy, royal, real teal, paddy green and dark orchid. With a US H/8 (5mm) crochet hook, anyone can create this stunning work of art – perfect for adding an eye-catching pop of color to any home. Get started today on your modern patchwork stars blanket – grab your hook and yarn now! yarnspirations
14. How to Crochet a Star Blanket – Free Pattern
Crochet is the perfect accessory for any home with premier yarns, sweet roll vivid's stunning star blanket! This gorgeous 40-inch diameter circle is ideal for snuggling and adds vibrant color to any room. To create this cozy masterpiece, you'll need a US size I-9 (5.5mm) hook and be ready to chain single & double crochet, shell stitch & v-stitch in joined rounds. Take time to check your gauge – 14 dc x 8 rows should measure 4 inches – will ensure perfection when finished. Don't wait another minute; start your star blanket today! premieryarns
15. Crochet Stars and Pom Poms Baby Blanket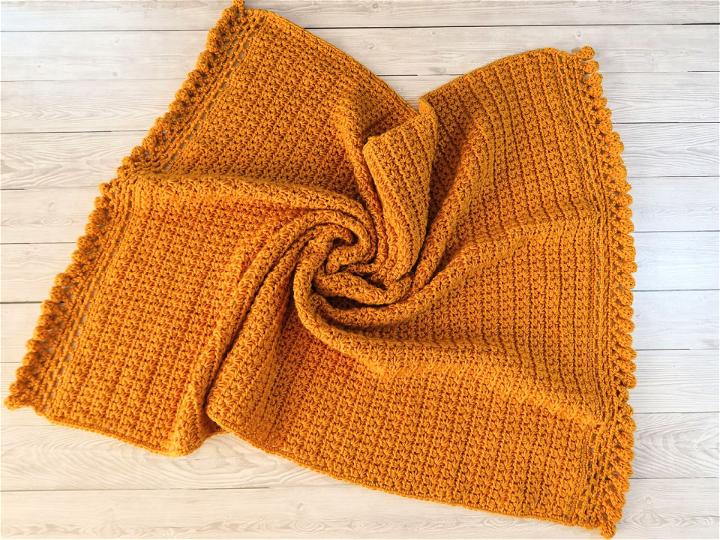 Add a modern, elegant touch to your home with the stars & pom poms baby blanket crochet pattern! This beautiful adult-size afghan has lattice pom borders on top and bottom of the blanket and a textured design using star stitch. The pattern is easy to adjust, so you can make it as big or small as you want it to be, with a finished size of 125cm by 80cm. So grab your favorite colors and get crocheting for this stunning blanket today – perfect for snuggling up in! craftinghappiness
16. Amazing Crochet Rippling Star Afghan Pattern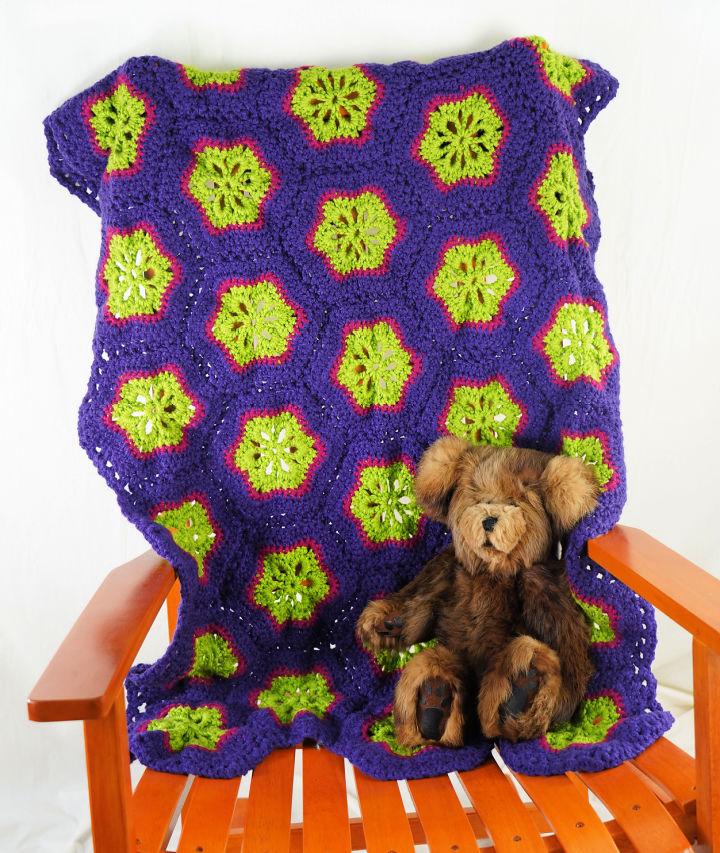 Everyone will fall in love with this beautiful chunky rippling star afghan, an intermediate crochet pattern that measures 32″ wide x 48″ long. It's made using chunky 100% acrylic yarn, and a size J (10 mm) hook for a soft, cozy finish. Perfect for snuggling up in front of the fire on a cold winter night, this afghan will be cherished for years to come! Get started now and create your one-of-a-kind masterpiece today! cascadeyarns
17. Star Shaped Crochet Blanket Pattern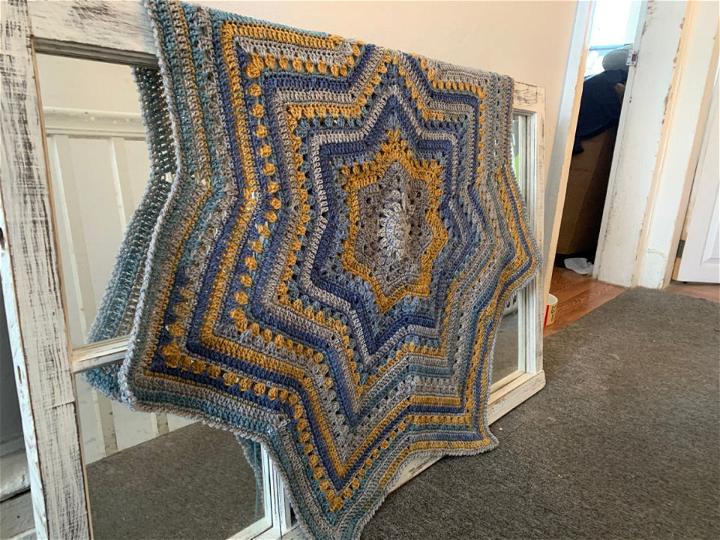 Ignite your imagination with the 6-Day Star Blanket! Perfect for anyone to make, this easy project can be tailored to any size and weight of the blanket. You only need 1000-2400 yards of DK or worsted weight yarn and 12 rounds. Create a lovey for a baby or a cozy throw for your home that will last for years and become a treasured item. Begin your 6-Day Star Blanket today! With this pattern in hand, you'll have an amazing piece of work that'll show off your crafting skills in no time. bettymcknit
18. Crochet Point Star Blanket Tutorial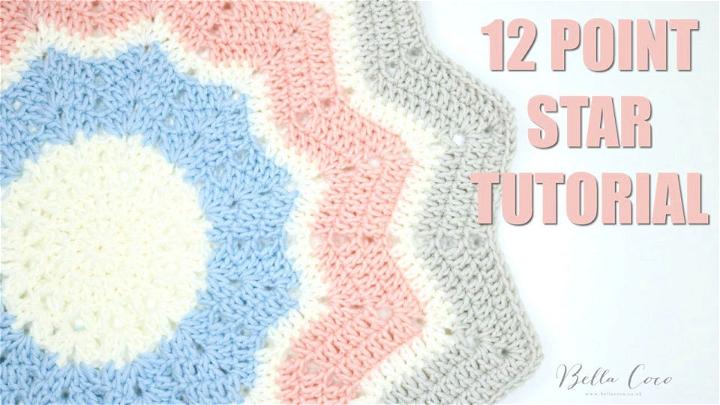 Are you looking to make something unique and beautiful in crochet? Discover the magic of crocheting a 12-point star with this easy-to-follow tutorial! Perfect for all skill levels, it will guide you through building your initial rows, show you which rows to repeat, and demonstrate how to change colors for a stunning design.
Use the soft and cozy millamia aran yarn in blush, sky blue, stone, and ivory to bring your creation to life. Whether you're an experienced crocheter or just getting started — this tutorial will take you to step by step toward making a graceful 12-point star that can be used to make gorgeous blankets. So don't wait any longer! Get your hooks and yarn ready – let's start creating!
19. How to Crochet Star Blanket – Free Pattern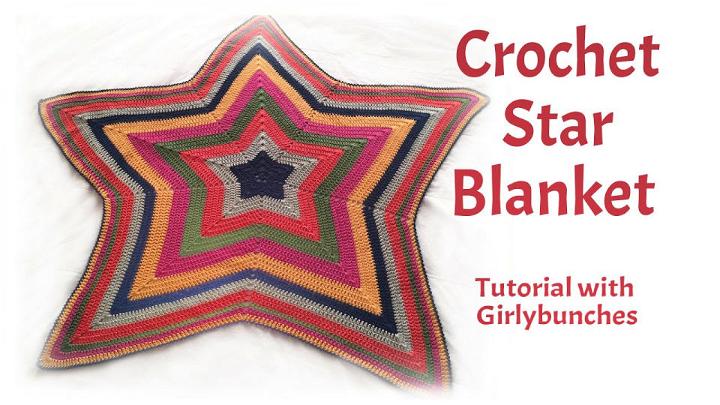 Enchant your home with the delicate charm of a handmade crochet star blanket! This easy-to-follow tutorial will guide you through the process from start to finish. Here is this detailed pattern is perfect for creating a cozy throw in the shape of a star. With this tutorial, making a crochet star blanket has never been easier – you'll be amazed at how quickly and easily you can transform your space into something special. Get ready to grab those crochet hooks and create something magical – let's get started!
20. Free Crochet Pattern for Star Blanket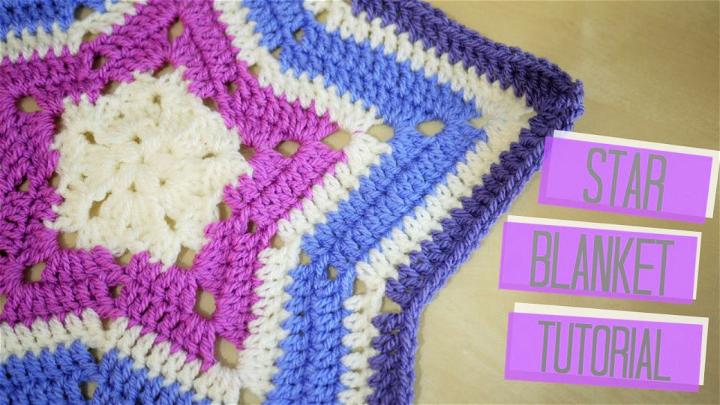 This DIY video tutorial shows you how to make a beautiful star blanket using style craft special dk yarn and crochet. In the video, you'll learn the basics of crochet and be able to create something unique for any room in your home or give it as a gift. Follow along step-by-step with each stitch explained in detail, and see what amazing things you can create! The result is a stunning star blanket that will look great wherever you put it. So grab your supplies, follow this tutorial, and get creative today!
21. Crochet Star Shaped Pocket Baby Blanket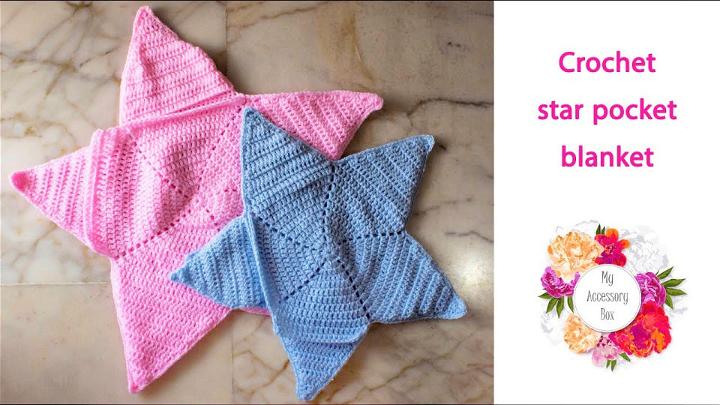 Need to wrap yourself or your kids warm this winter? Crochet a cozy baby blanket with this easy-to-follow free crochet pattern! You'll learn how to make a star-shaped pocket blanket perfect for newborns up to nine months. This video tutorial is great for beginners, as it requires only basic materials such as acrylic yarn, a crochet hook size 7 mm, scissors and 4-5 buttons. Make your stay extra special by decorating with beads or flowers of your choice. Time to craft the perfect gift for any baby in your life!
22. Free Crochet Pointed Lovey Star Blanket Pattern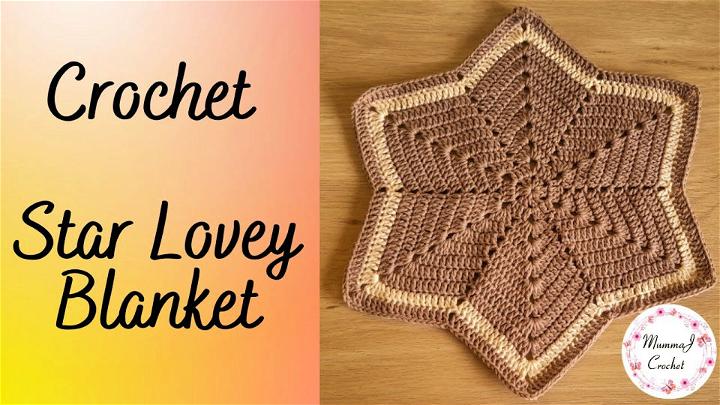 Upgrade your crochet skills and make a star-studded blanket to show your love! You only need a few supplies like cotton yarn, scissors, a yarn needle, and a 3.5mm crochet hook to create your own unique handmade lovey. The 6-pointed star design is perfect for little ones to snuggle up in and is sure to become an instant favorite. It's soft and comfortable for babies, making it an excellent gift for any special occasion. Follow the video instructions and create your very own 6-pointed star lovey blanket today!
23. Crochet a Pointed Star Blanket and Motif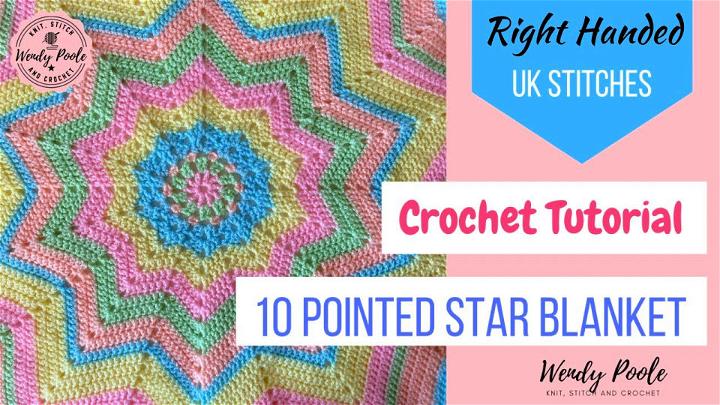 Learn how to crochet a stunning 10-pointed star motif blanket in seven easy rounds. This beautiful design will make an excellent baby blanket or lap blanket and can be made using basic acrylic double-knitting yarn and a 4mm crochet hook. Using five 100-gram balls of yarn makes a blanket up to 40″ wide approximately – ideal for the special little one in your life! Find out how easy it is to make this beautiful creation with this comprehensive step-by-step guide!
24. Easy Crochet Prairie Star Baby Blanket Pattern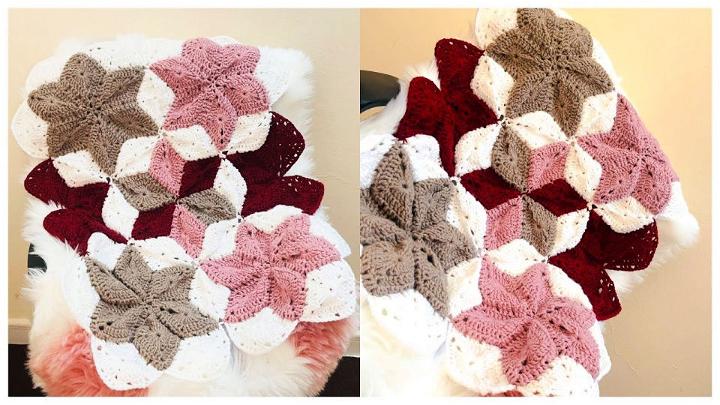 Crochet a beautiful baby blanket with this easy DIY video tutorial! This prairie star, diamonds, and hexagon motif crochet baby blanket will make any little one extra cozy. In the detailed video, learn how to make each of these unique stitches step-by-step. Start your project today and finish with a stunning handmade gift that will be treasured for years to come. Perfect for experienced crocheters or beginners looking to learn something new – get started now!
25. Crochet 5-Point Star Baby Security Blanket Pattern
This video tutorial is perfect for crafters of all levels. This easy DIY tutorial teaches how to crochet a beautiful 5-point star baby blanket. Perfect for security blankets, loveys, and afghans of any size! In no time, you'll have crafted a stunning handmade piece that's sure to be treasured for years to come. Follow along step by step using the helpful tips and tricks provided in this simple guide, and create your very own heirloom quality crochet star blanket today!
Related Free Crochet Patterns:
Discover a wide range of free crochet patterns for all skill levels, from hats and scarves to blankets and accessories, and start creating today.
Conclusion: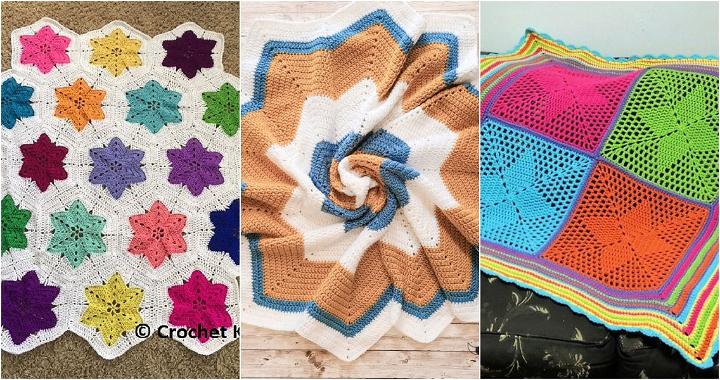 Crocheting a star blanket can be a great way to add texture and color to any home decor. With 25 free crochet star blanket patterns, crocheters of all levels will find something they love. These free start blanket patterns are simple enough for even the most novice crocheter but detailed enough that those with more experience won't feel bored. No matter what type of project you want to make – from a super star afghan for the bed or just an easy baby blanket – there is sure to be something here for you! Each pattern includes step-by-step instructions and visuals so you can easily master each unique design. So pick up your needles, get out some yarn and create something special with one of these free crochet star blanket patterns!