The crochet scrunchie pattern is a great way to add flair and texture to any hairstyle. Learn how to crochet scrunchies with these 25 free crochet scrunchie patterns that add color, texture, and personal flair to any outfit. Whether you are a beginner or an expert in crochet, these beautiful hair ties will add a special touch that will surely turn heads. With so many crochet scrunchie pattern options, the possibilities are endless! Whatever style you choose, adding crochet scrunchies to your wardrobe is sure to take your look up a notch.
Finding crochet scrunchie patterns online can be a daunting task. But don't worry; we've made it easy on you by providing 25 free crochet scrunchie patterns – all reviewed for accuracy and with detailed step-by-step instructions aimed at the beginner crochet enthusiast. Our crochet scrunchie patterns come in both pdf and video tutorials, so you have plenty of choices to find the perfect one. Whether you're just starting or looking for something quick and easy, our crochet scrunchie patterns have something for everyone. So grab your crochet hook and get crocheting!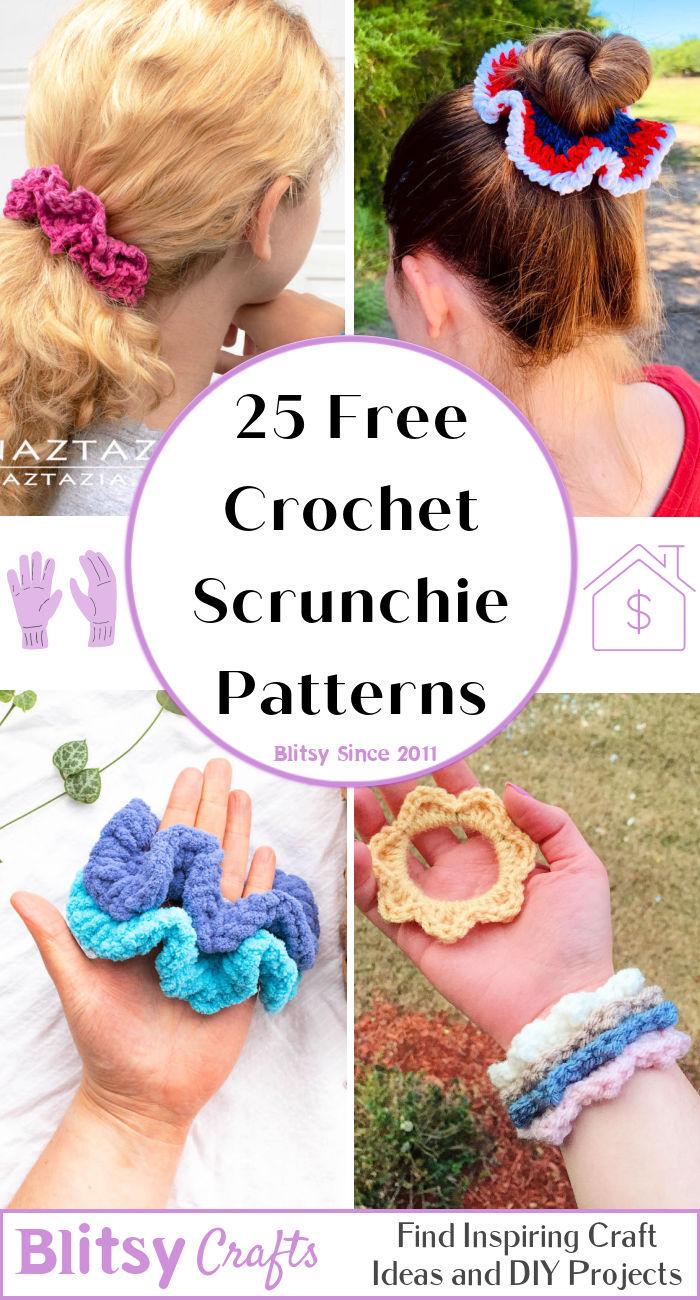 Free Crochet Scrunchie Patterns
Explore the creative potential of crochet with these 25 free crochet scrunchie patterns! Each of these crochet scrunchie patterns arrive with detailed instructions, and PDFs provide step-by-step guidance on how to make your own crocheted scrunchie hair ties. With various yarn colors and textures available, you can customize each scrunchie design to fit your unique style. These quick and easy patterns require minimal materials, making them the perfect choice for anyone looking for an affordable crafting project. Get started today and create beautiful crocheted scrunchies that will enhance any hairstyle!
How to crochet a scrunchie?
You know those little pieces of yarn you use to keep your hair in place? Well, crochet them into scrunchie-style hair ties instead! You can create a stylish and affordable addition to your wardrobe with just a few simple steps. Here are the instructions for crocheting a scrunchie:
Materials you will need
To make a crochet scrunchie, you will need the following:
Crochet hook size G/4.00mm
Yarn needle
Scissors
Stitch marker
Tape measure
Directions:
1) Chain 48 (or the desired length you want your scrunchie to be). Sl st in the first chain to form a ring.
2) Ch 3 (counts as dc here and throughout), dc in each of the next 7 chains, sl st in the top of ch-3 to join. (46dc)
3) Ch 2, turn, sk first dc, dc in next dc, sk next 2 dc, hdc in next 3 dc, turn. (45hdc)
4) Sk first hdc, work sc dec over next 2 sts, sk next 2 sts, work sc dec over last 2 sts; fasten off. (42sc dec)
5) Weave in ends.
The crochet stitch used for a scrunchie
The crochet stitch used for a scrunchie is the SC. This tutorial will show you how to crochet a scrunchie using this stitch. You will need a size G/6 (4 mm) crochet hook and Worsted weight yarn.
How to make a basic scrunchie?
How to crochet a basic scrunchie? Making a basic scrunchie is easy and fun! All you need are some basic crochet stitches and materials. The finished scrunchie will be about 18 inches long and can be worn interchangeably as a tiara, headband, or hair tie.
To make the scrunchie, start by crocheting two loops in your desired color yarn. Ensure the loops are large enough to fit comfortably around your hair once completed. Next, chain 10 (or however many stitches you want the finished scrunchie to have) and insert the hook into the first loop of your color yarn, yarn over, and pull through both loops on the hook. You now have one loop left on your hook.
Do this again by inserting the hook into the next loop of color yarn, yarn over, and pulling through both loops on the hook to create another loop. You now have two loops on your hook. Chain 1 (this will count as your first stitch), and then do this:
Yarn over, lift up the strand of color yarn between the second and third loop on the hook (this strand should now be behind the first loop), and draw through all the three loops on the hook (this creates a treble crochet stitch). Repeat these steps for as many loops as needed until you reach the end of your desired length. To finish off your scrunchie, slip stitched each end together.
Adding embellishments to your scrunchie
Adding embellishments to your scrunchie is a fun way to personalize it and make it unique. There are various ways to do this, including using beads, buttons, yarn loops, and even feathers! Here are some tips on how to add embellishments:
Start by making a basic scrunchie using multiple strands of yarn.
Sew the ends together to create a loop big enough for your desired embellishment(s).
Thread your embellishment through the top of the scrunchie and pull tight.
Secure the end with a knot or stitch.
Repeat steps 2-4 to create as many scrunchie embellishments as you'd like!
Crochet a scrunchie In this quick tutorial, we will show you how to crochet a basic scrunchie using the slip stitch. This is an easy project that can be completed in just a few minutes and makes a great addition to your wardrobe. Once you know how to crochet a scrunchie, you can create any style you desire!
1. How to Crochet Scrunchies – Free Pattern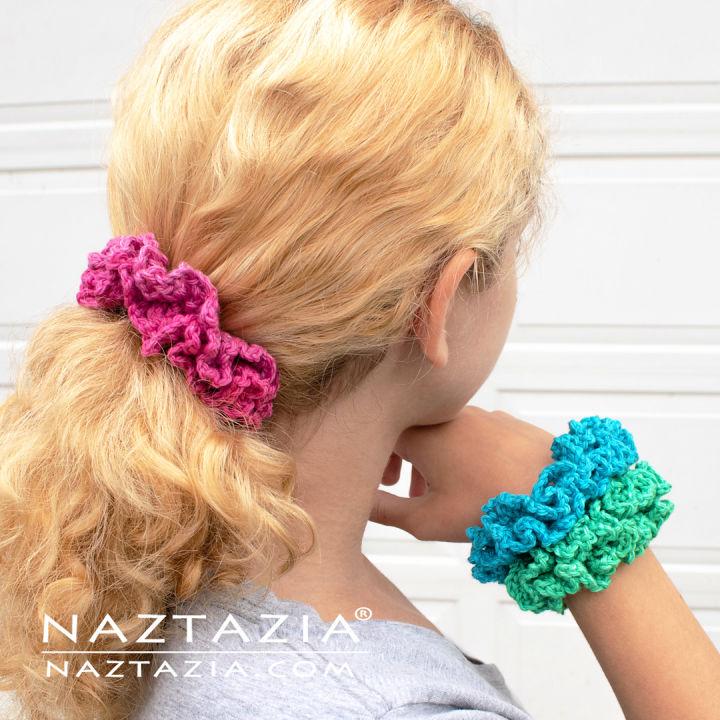 Take your look to the next level with a stylish scrunchie crafted from this simple crochet pattern! You need DK weight yarn, a 3.75 mm crochet hook, and a two-inch hair elastic. The simple steps will help you create an adorable and functional piece that can jazz up any outfit in minutes! From selecting the right yarn for your project to stitching up the final product, these tips are sure to make crocheting scrunchies fun and stress free. With just these few materials, you'll be able to craft something unique while keeping your hair out of your face all day. naztazia
2. Crochet 4th of July Hair Scrunchie Pattern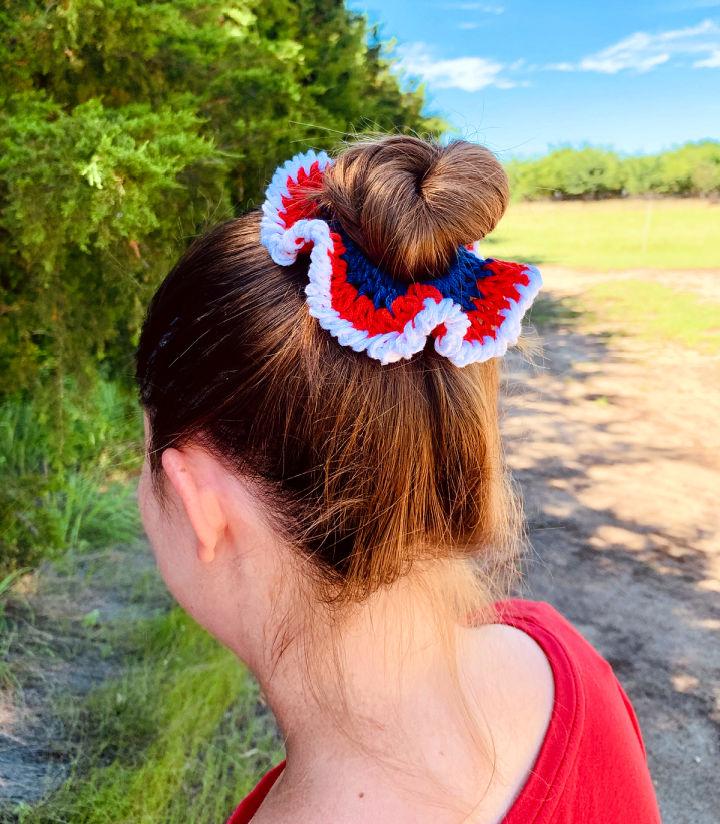 Celebrate the 4th of July with a free crochet pattern for a red, white and blue hair scrunchie. This easy-to-make design is perfect for any messy bun or ponytail look! Whip up dozens in no time as it only requires three rounds and an elastic band – plus, it's lightweight too. When finished, each scrunchie measures approx. 4.5″ across so you can show off your patriotic style! Get creative and celebrate this summer holiday with the 4th of July Hair Scrunchies—it's fun and fast! okiegirlblingn
3. Free Crochet Blanket Yarn Hair Scrunchie Pattern
This free crochet pattern for a yarn hair scrunchie is perfect for fashionistas who want to stay on trend with the '90s style revival. With just a 6.5mm crochet hook, some #6 super bulky yarn, and any leftovers from a baby blanket project, you can create your fashionable accessory in no time! Finished scrunchies are approximately 3.25 inches in diameter; one easy pattern makes it so simple to be stylish! youshouldcraft
4. Simple Crochet Hair Scrunchie Pattern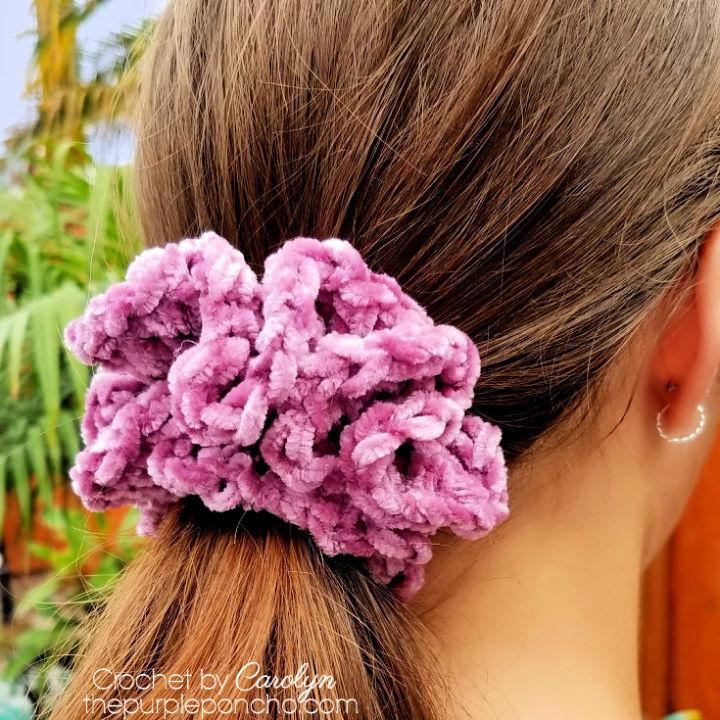 Create the perfect accessory to complete your look with this free crochet pattern for a simple and stylish hair scrunchie. Brimming with ruffles and scrunched stitches, it is made from luxurious velvet yarn for an ultra-feminine touch. With minimal yarn and basic crochet stitches, this easy hair accessory is quick to make and comfortable to wear. The finished size measures 4 inches across – perfect for styling any mane! All you need is some velvet yarn, a J/10 (6mm) hook and an elastic hair band. Make one now! thepurpleponcho
5. Easy Crochet Hair Scrunchie Pattern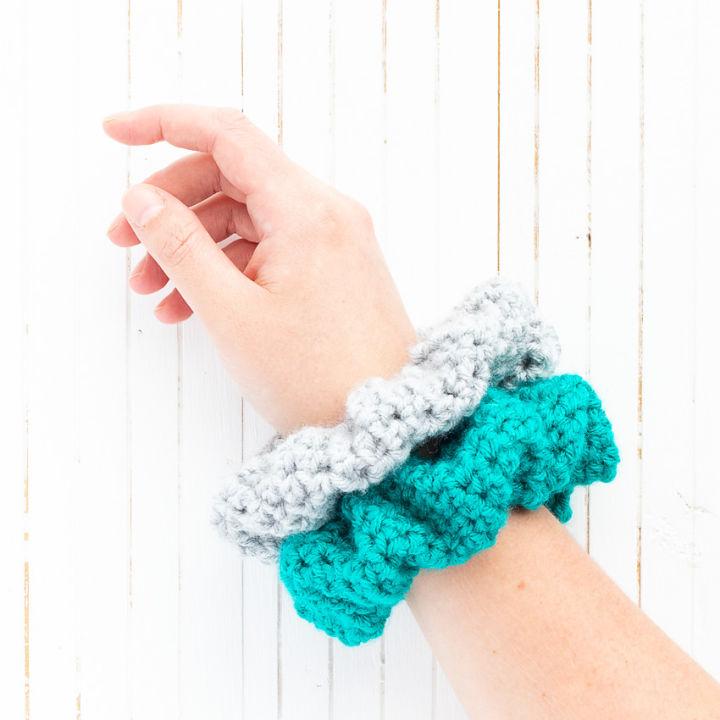 Give your style a quick boost with a splash of color and the perfect scrunchie, crocheted from this unique easy hair scrunchie crochet pattern! Channel your inner 80s/90s child and hone your half-double crochet skills to create this stylish scrunchie. All you need is worsted-weight acrylic yarn, a 6.0 mm hook, and an ouchless hair elastic – and in no time, you'll have the perfect 5-inch diameter scrunchie to add some extra flair to any hairstyle! Don't forget to grab your free scrunchie pattern! youshouldcraft
6. Crochet Hair Scrunchie Pattern For Beginners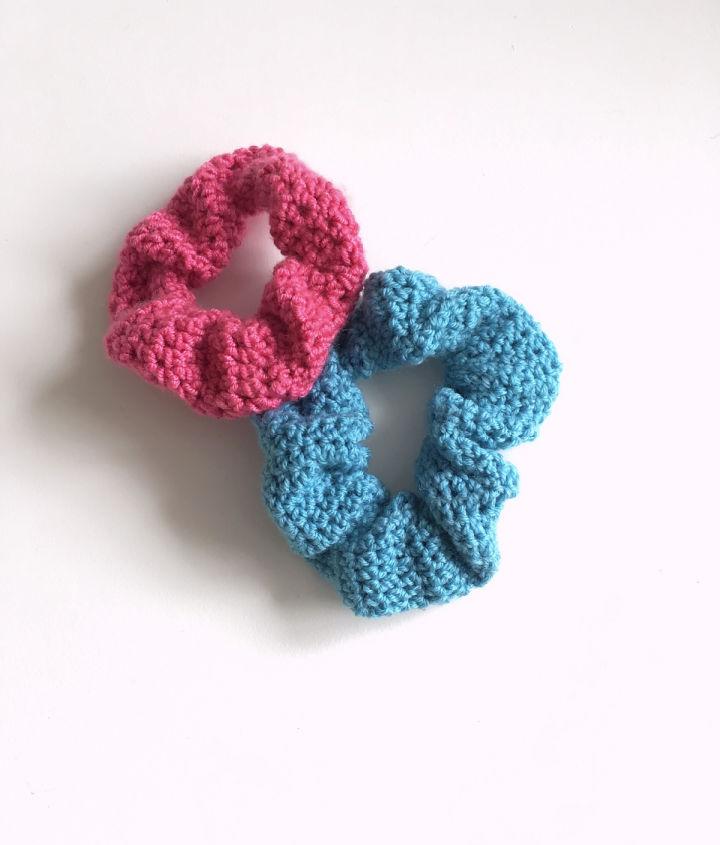 Learn how to make a crochet hair scrunchie quickly and easily with this free crochet pattern and video guide! No matter your skill level, it's an ideal project for beginners and is fun to make using leftover yarn. All you need is an elastic hair tie and some yarn – making it the perfect way to use up your stash. The pattern uses half-double crochet stitches to have your accessory ready in no time. doradoes
7. Crochet Scrunchie – Free PDF Pattern
All girls will fall in love with this Andie crochet scrunchie is easy to make and the perfect accessory for your favorite hairstyle. Made from Premier Yarns Bamboo Select in pale lilac, this scrunchie has a beautiful color and will be sure to add a touch of elegance wherever it's worn. With a finished diameter of 5½ inches, this crochet project can be created with just one US size G-6 (4.00 mm) crochet hook. Make your unique look today with this simple but stylish scrunchie! premieryarns
8. Colorful Crochet Scrunchies Pattern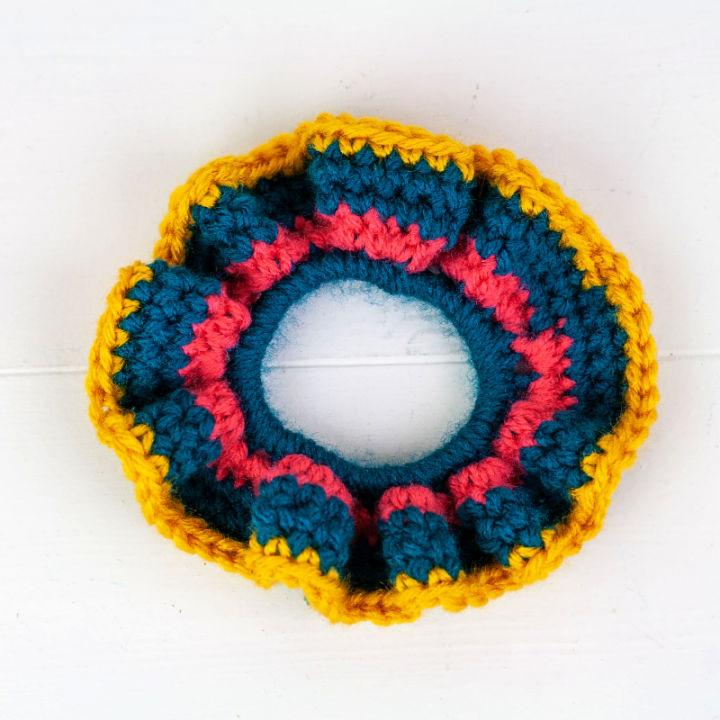 Wear a great hairstyle with these crochet scrunchies! These scrunchies are easy for beginners, even if you're starting with crochet. With complete patterns and instructional photos included, this tutorial will teach you everything you need to make two types of scrunchies.
Detailed material lists show what supplies you'll need and helpful information on stitches, gauges and sizing. Wear them in a top knot, bun, ponytail or at the end of a braid – however you style it up, these scrunchies will certainly add a unique touch! windingroadcrochet
9. Crochet Double Blooms Scrunchie Pattern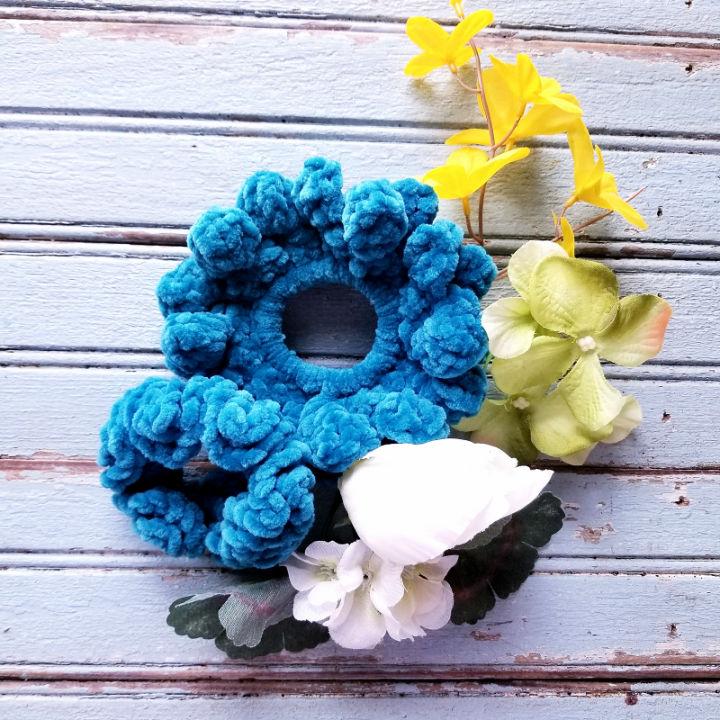 Add a perfect finishing touch to your hairstyle with these stylish, easy free crochet flower scrunchies! Using just two hair elastics, velvet yarn scraps and a hook size H/8 5.00mm, you can work the single crochet in the hair elastic the same way as you would for a magic circle or chain loop, like when starting to make a hat or ball.
These unique scrunchies will surely give any outfit an attractive and fashionable look. They also provide great opportunities for experimenting with different colors, patterns and textures of fabric to get that truly one-of-a-kind statement piece! rebekahhaas
10. DIY Hair Scrunchie – Free Crochet Pattern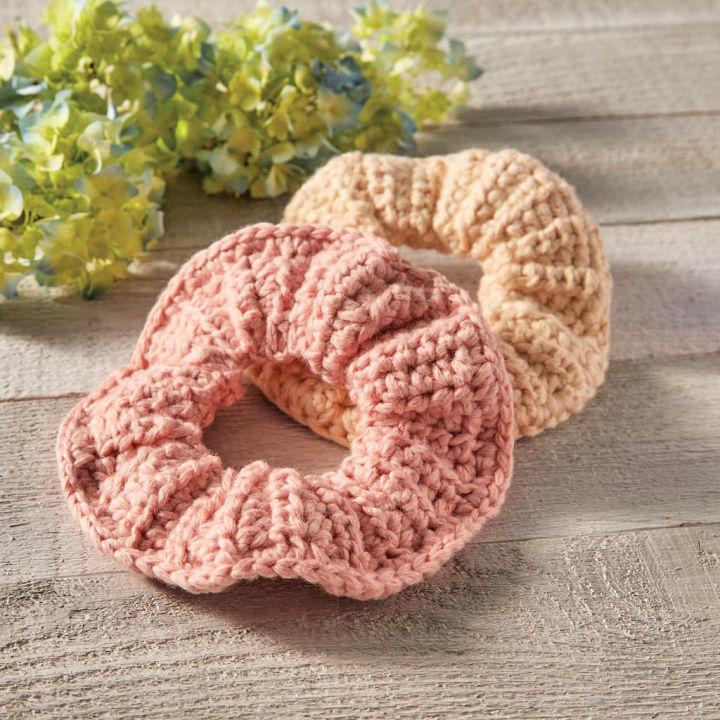 Accessorize your look with crochet hair scrunchies crocheted with cotton yarn and hook size F/3.75mm, these handmade scrunchies make an easy addition to any outfit, or you can make a set for your friends as the perfect gift. Crocheted from luxurious yarn that is stylish and comfortable to wear, this crochet hair scrunchie will be loved by everyone. Grab the free pattern and supplies today and get creative with a unique scrunchie design for every occasion! michaels
11. Fastest Crochet Flower Scrunchie Pattern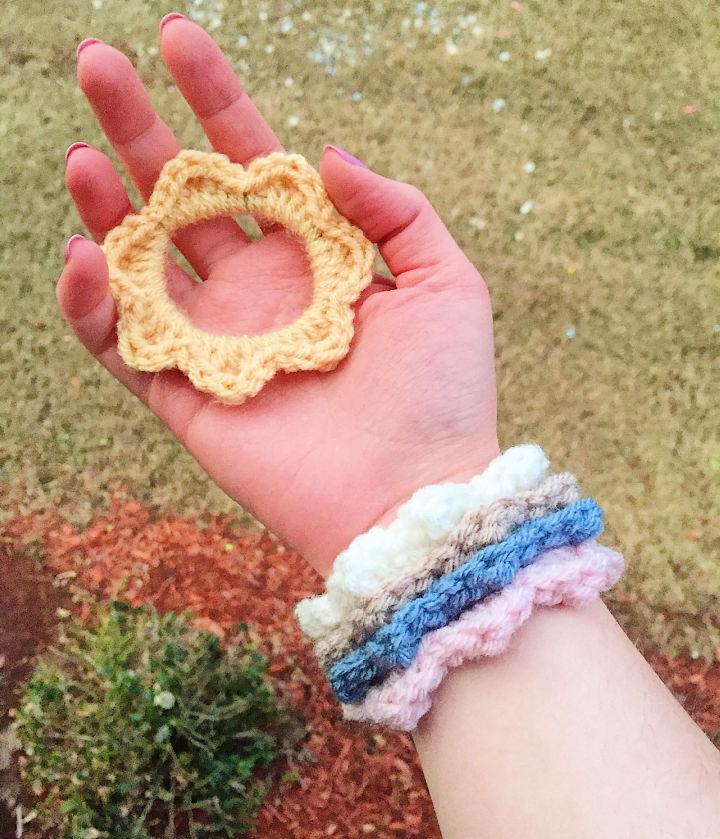 Skip buying the expensive scrunchies! Crochet your own beautiful crochet flower scrunchie with this free crochet pattern! All you need is a few materials like acrylic worsted weight yarn, a 5mm crochet hook and a set of hair bands. You can even use just the affordable yarn from Dollar Tree to make it cost-effective.
With tapestry needles and scissors, you'll have all the supplies necessary to create an eye-catching statement piece that will turn heads everywhere you go! Get creative with different colors or add embellishments for extra flair – these crocheted flowers are sure to be an instant classic in any wardrobe. crittercrochet
12. Crochet Hair Ties Scrunchie – Free Pattern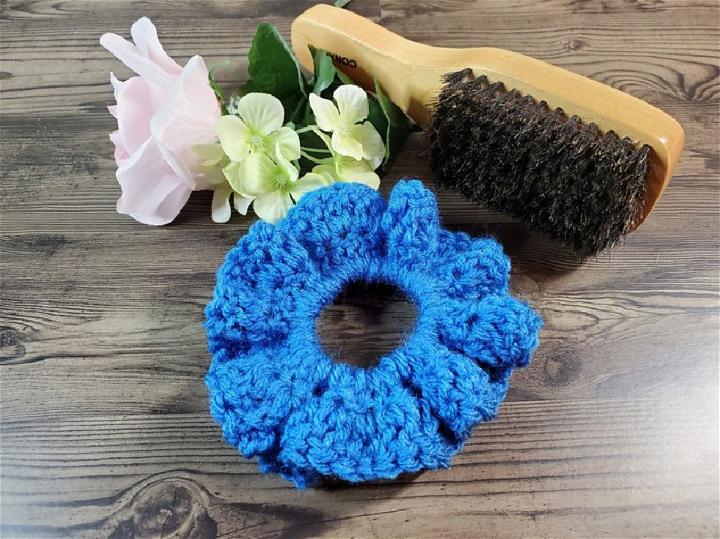 Turn your passion for fashion into something unique and stylish with this crochet scrunchie pattern and tutorial! This quick project is great for both beginner and advanced crocheters. Choose any color or combination of colors to create your unique scrunchie that can match any outfit.
This easy pattern can also be adjusted to make smaller or larger sizes. All you need is some Redheart Worsted Weight Acrylic Yarn, a size I – 5.5mm crochet hook, a hair tie, yarn needle and scissors! Try out the free scrunchie pattern for an added flair to any hairstyle! emeraldcherub
13. Free Crochet Luxe Scrunchie Pattern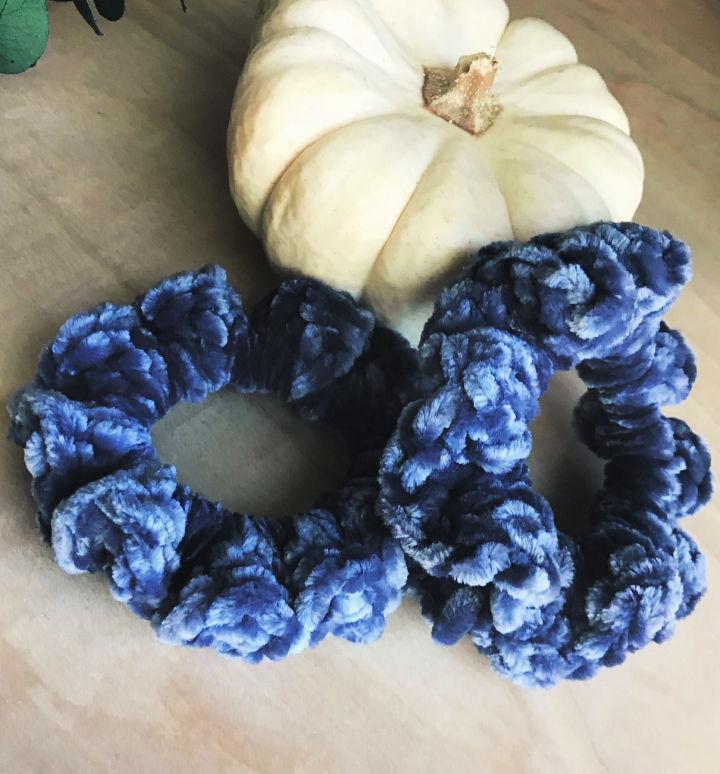 Get busy with your beginner crochet skills and make a soft, luxurious scrunchie with this super quick and easy pattern. Everyone can follow the given photo tutorial and 6 simple steps to make a lovely velvety scrunchie that everyone will love. All you need is yarn of weight super bulky and a hook size of 6.5 mm (K). Whether for yourself or as a gift, this project is sure to please! ravelry
14. How Do You Crochet a Scrunchie
Comprehend how to crochet 3 different kinds of scrunchies with this simple crochet pattern that shares a video tutorial also. With worsted weight yarn and basic crochet skills, you can quickly make fun and flirty accessories perfect for any season or special occasion. Scrunchies are a great stash-buster project; you can make them as gifts or sell them! Follow along step by step to create your unique scrunchies! thesnugglery
15. Quick and Easy Crochet Scrunchie Pattern
All crocheters will love this crochet scrunchie pattern that is perfect for any Vsco girl! And with the soft velvet yarn, you can make one as beautiful and unique as you want. This beginner-level project requires supplies such as Bernat Velvet Yarn in Gray Orchid, H/8 5.00mm crochet hook size, hair elastic bands without metal, scissors and a yarn needle to bring it all together. Have fun creating your scrunchies for yourself or to give away! crochetnerd
16. Crochet Sophie Scrunchies Design – Free Pattern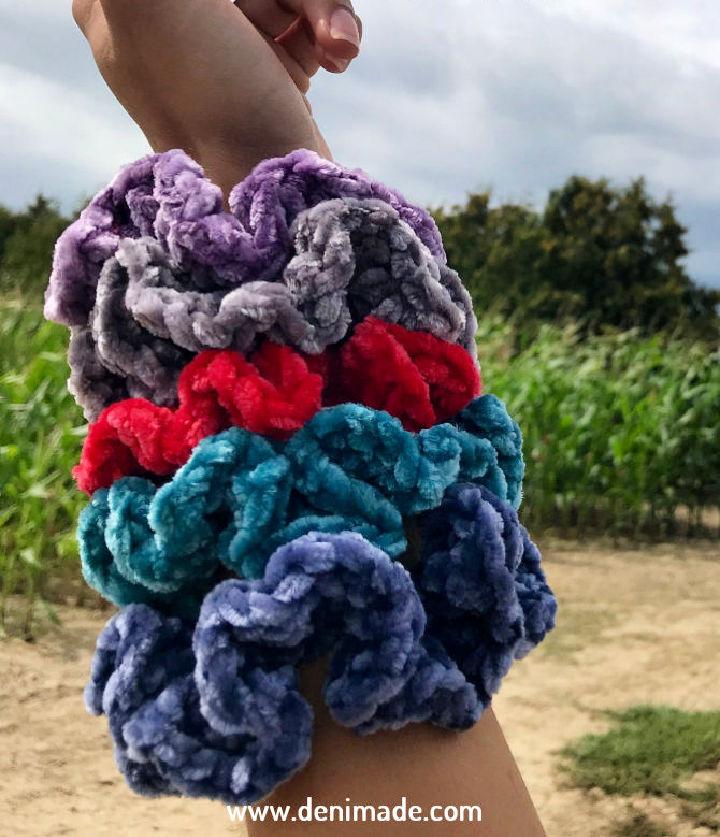 Want to crochet a quick gift for friends? This free crochet pattern for scrunchie is perfect for crocheters who need a quick and easy way to give their friends something special! This pattern works up in about 8 minutes with minimal yarn so that you can make plenty of scrunchies for market prep. All you need are a 5.5mm (I) size crochet hook, some "ouchless" style hair elastic and Bernat Velvet Yarn (5). Perfect as a gift this season or even to keep around the house, these quick-crochet Sophie scrunchies will be your go-to accessories! denimade
17. Gorgeous Crochet Scrunchies Pattern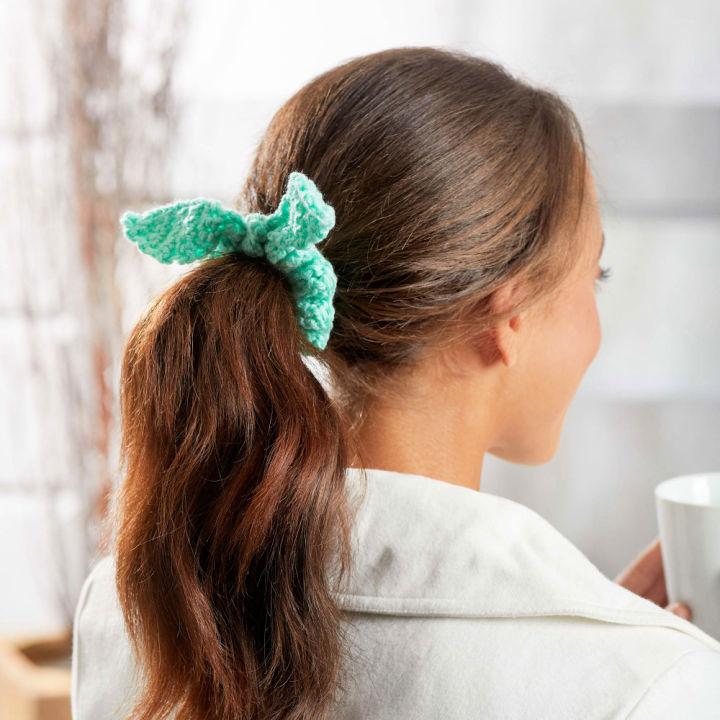 Opt for this set of scrunchies, which is sure to be an easy and fun way to accessorize your hair! Choose from various colors in Red Heart Super Saver Soft yarn for different looks. With a 5mm "US H-8″ crochet hook, you can quickly make these soft and beautiful scrunchies as gifts or for yourself. The gauge is 14 sc = 4″ [10 cm]; 9 sc rows = 4", so it's the perfect project for any beginner crocheter. You'll also need thick hair ties and a yarn needle to complete this look. Get creative with color combinations today! yarnspirations
18. Crocheting a Scrunchie in Twenty Minutes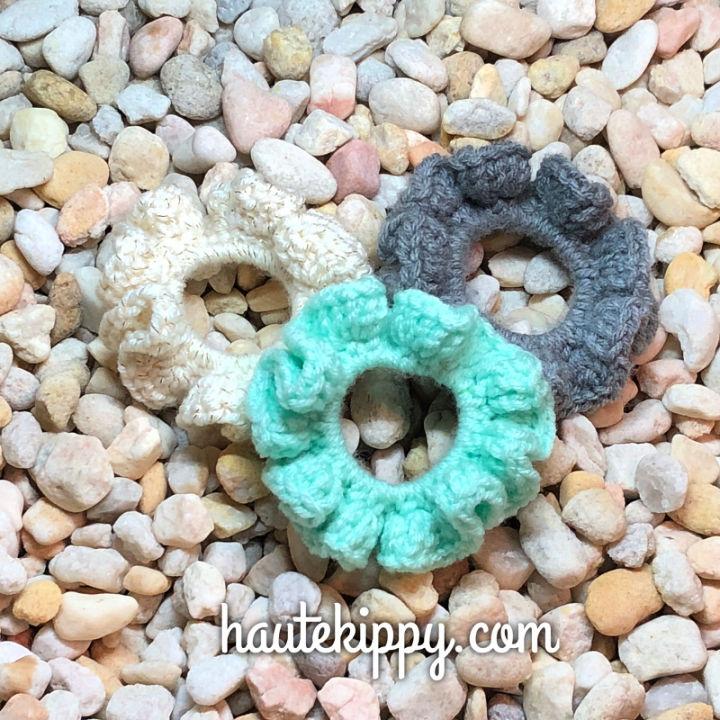 Give your hair an elegant and stylish look easily with the 20-minute scrunchie! With no counting, gauge, or pattern to worry about, you can easily crochet this simple accessory in just twenty minutes. Using a H/8/5mm hook and worsted weight yarn, join the elastic hair tie for fast results that will bring out your inner fashionista.
Create unique designs from basic stitches – it's so easy nothing is stopping you from having one for every outfit! Get creative with color combinations, or keep it classic with a monochromatic style – either way, the 20-minute scrunchie is perfect for adding chic glamour to any look. hautekippy
19. Free Crochet Scrappy Scrunchie Pattern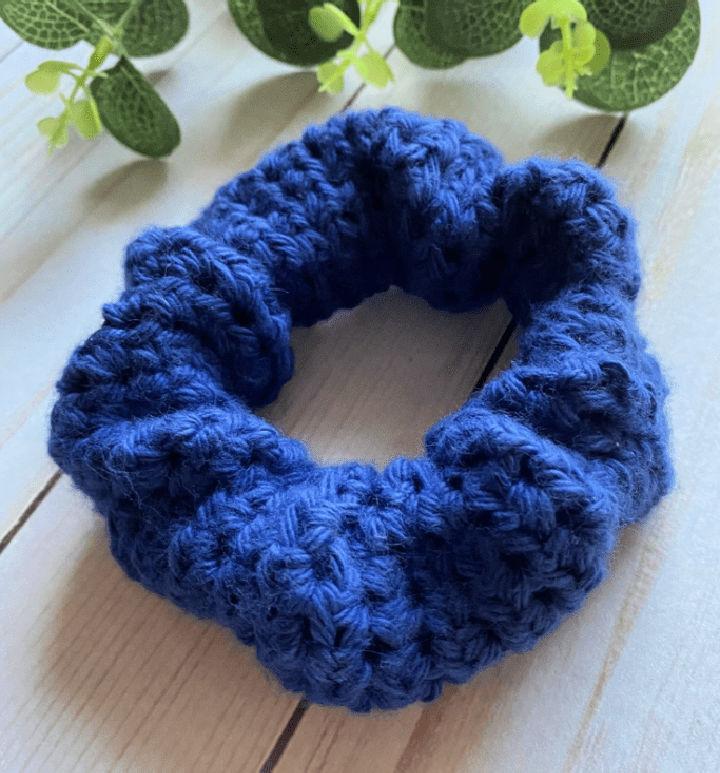 Go for a unique style statement with this easy-to-make scrappy scrunchie! Using the worsted weight #4 yarn, a size h/5mm crochet hook, and the given free crochet pattern, you can turn those scraps of yarn lying around into something special.
For added convenience, you need 8 inches of ¼ inch thick elastic, sewing thread & needle, scissors, and a yarn needle. It's the perfect project for beginners; it only takes 15 minutes to complete! Get creative with colors and patterns – get ready to have fun while making that unique accessory in no time! sunsandstitch
20. Crochet Timeless Scrunchie – Free Pattern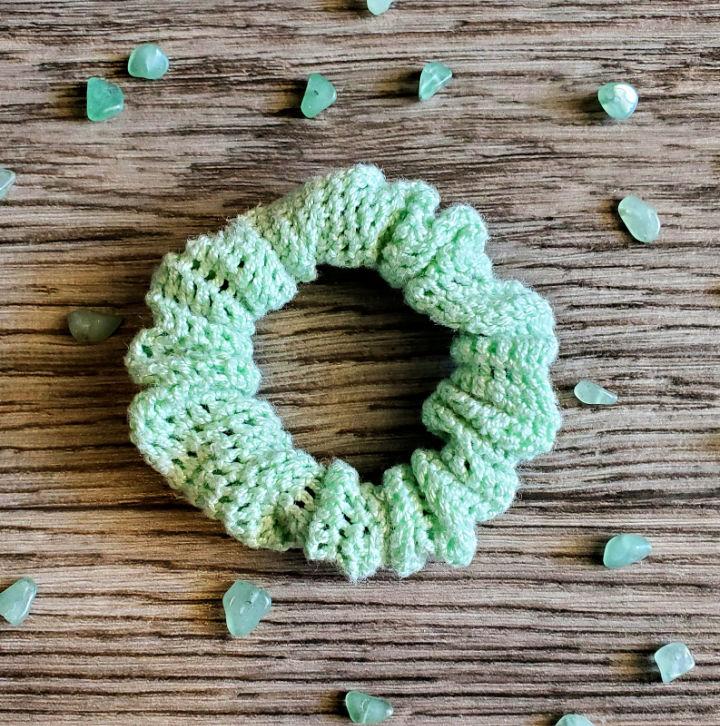 Satisfy your love for wearing unique hairstyles by making your hair accessories with this free and easy crochet scrunchie pattern! Pick your favorite lace yarn, elastic or hair tie and hook size 3.0 mm to start. This timeless design is quick and simple – crochet a tube around an elastic or another favorite hair tie for instant style. With any yarn/hook combination, you can create the perfect scrunchie for yourself in no time using this pattern! ravelry
21. How to Crochet Velvet Scrunchies – Free Pattern
Ready for Halloween crochet fun? Choose between a jack o'lantern pumpkin or a black cat crochet ponytail holder. These easy-to-make spooky scrunchie patterns only require a scrap amount of yarn, an affordable elastic hair tie and some polyfill stuffing. Approximate finished size: 1 ¾″. Get creative and show off your DIY skills with these free crochet patterns this Halloween! nanascraftyhome
22. Crochet Pink Scrunchie Pattern for Beginners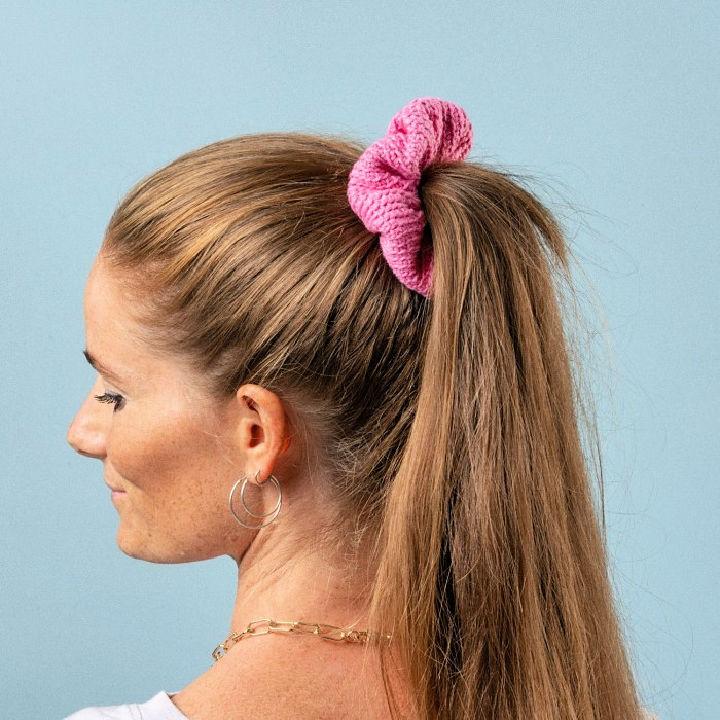 This crochet pink scrunchie pattern is perfect for beginners! It's quick, easy and will make a stylish statement with your hair. All you need are some cotton yarn, glittery yarn and a 3.5mm crochet hook to create this gorgeous accessory. Make it part of an outfit or add one to your wardrobe for any occasion – endless possibilities! Experience the joy of making something with these simple materials, and let everyone know that you made it yourself! hobbii
23. Free Crochet Thank Scrunchie Pattern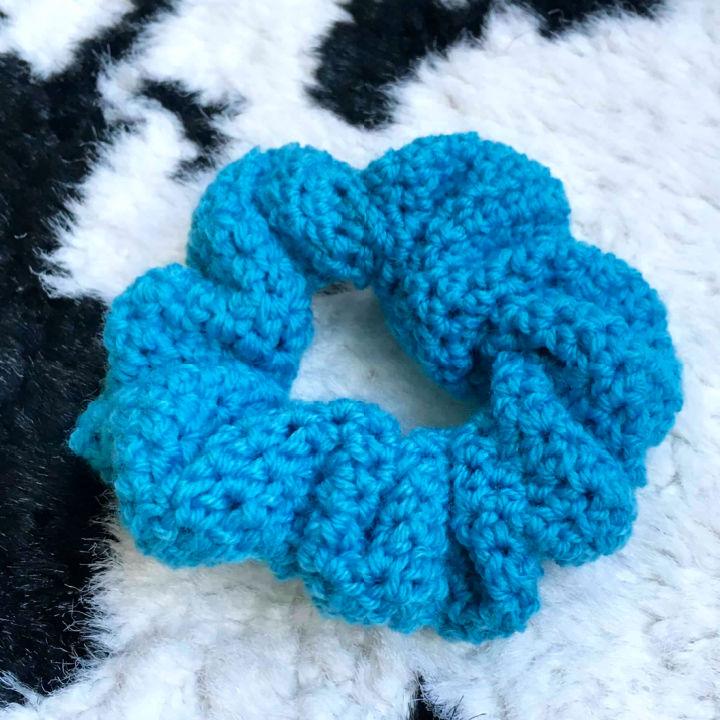 Crocheting is a fun and easy craft to learn, even for beginners! With this free crochet scrunchie pattern, you can make an adorable accessory in no time. All you need is a small amount of yarn, so it's perfect for busting those leftover stashes. Follow the instructions for making the pink and blue scrunchies; the pink was worked with acrylic double knit and a 3.5mm hook, while the blue one requires 4-ply wool and a 3mm hook. Get creative with colors and have fun crocheting your unique scrunchie today! doradoes
24. Free Crochet Scrunchie Pattern to Print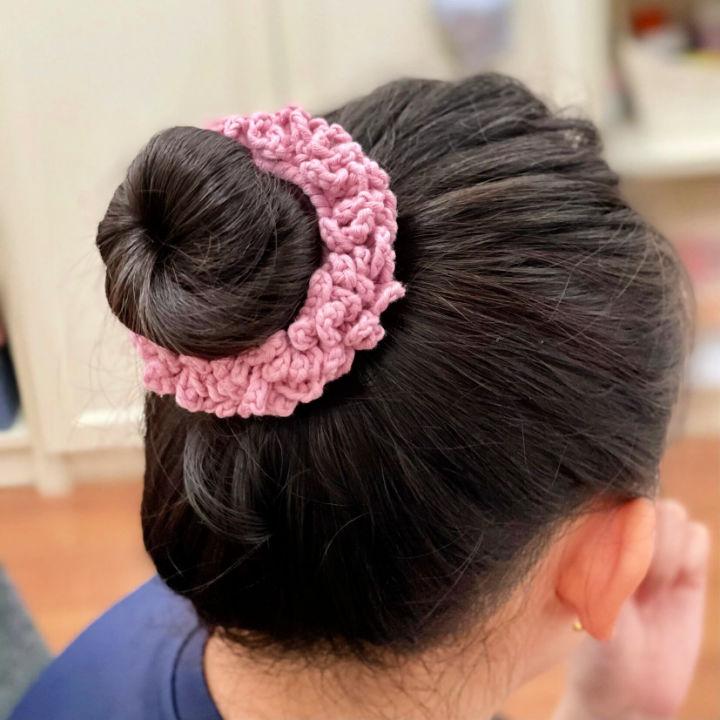 Time to make your hairstyle look effortlessly chic with crochet scrunchies! Easy to make yet fashionable and fun, these scrunchies can be made with any yarn. Use leftover yarn from other projects and choose any color – match it to your favorite dress or shoes. Create matching scrunchies for the whole family, so everyone looks great on special occasions!
Plus, wearing them on your wrist is a trend that never gets old. All you need is elastic hair ties, leftover yarn and crochet hooks (depending on the size of chosen yarn). Get creative and start making yours today! vivmade
25. Lacey Crochet Scrunchie – Step By Step Instructions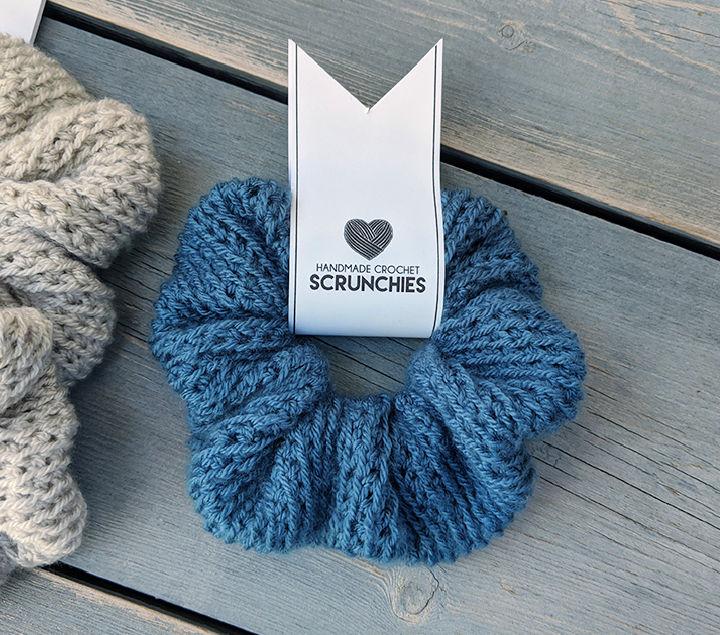 Give a touch of lacey yarn elegance and texture to your outfits with this free crochet pattern for lacey scrunchie accessories. These scrunchies are the perfect accent to any look, adding a feminine and stylish finishing touch. The delicate lace stitch creates an intricate design that will catch your eyes and make you stand out. Easy step-by-step instructions allow beginners to complete these crocheted beauties in no time! Dress your style with beautiful handmade lacy scrunchies – download the free crochet pattern today! savlabot
Related Free Crochet Patterns:
Discover the perfect project with our amazing selection of free crochet patterns. From cozy sweaters and accessories to beautiful home décor, you'll find your next masterpiece here!
Conclusion: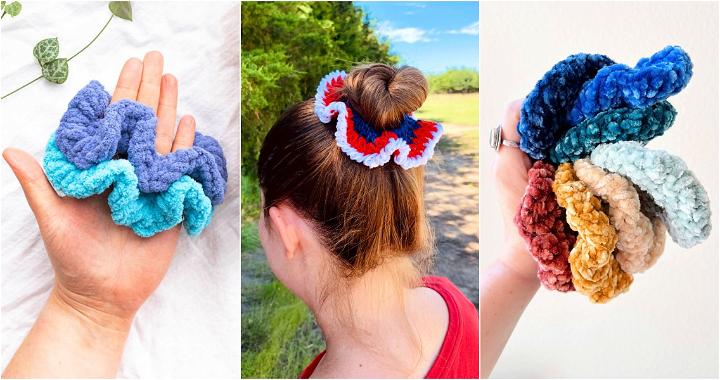 Crochet scrunchie patterns are an easy way to add fun and unique accessories to your wardrobe. With 25 free crochet scrunchie patterns, you can get creative and make your own crocheted hair ties at home. Each pattern includes detailed instructions and accompanying step-by-step photos for beginners and experienced crafters.
Plus, all the patterns come in PDF format, so you can easily print them off and work on them wherever you are! Thanks to these easy-to-follow instructions, anyone can learn how to crochet scrunchies quickly and easily – even if they're not experienced crocheter! So why not give it a go? Get crafting today with these free, detailed crochet scrunchie patterns and enjoy creating something special that is unique to you!