Looking for a free crochet top pattern to help create your own stylish and unique look? Discover 55 free crochet top patterns that are perfect for beginners or anyone looking to make easy, stylish crocheted tops with detailed step-by-step instructions. Whether you've been crocheting for decades or just getting started, the perfect crochet top pattern awaits with the wide selection of free options available. So it will take a little while before you can show off your new crocheted tops.
These free crochet top patterns range from crop tops and tank tops to halter tops and shirts. Each crochet top pattern comes with detailed instructions and step-by-step configurations that are perfect for the novice crocheter. Get creative and make crochet a part of your style today, and enjoy the summer season with your unique handcrafted crochet tops!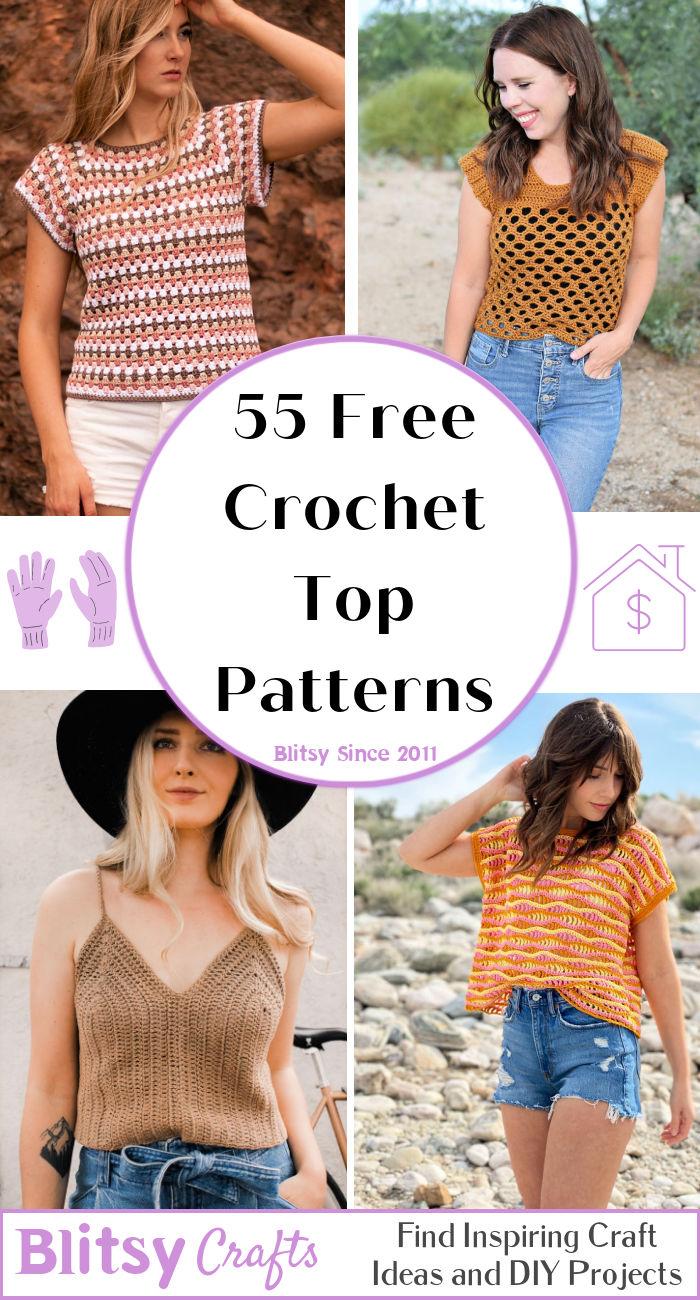 Crochet Your Way to Fashion with Free Crochet Top Patterns
Crochet tops are perfect for warmer weather and can be a stylish addition to any outfit. Fortunately, these 55 free crochet top patterns are available below for every style and skill level.
Some popular crochet top pattern includes crop tops, off-the-shoulder tops, and lacy tops. Depending on the design, you may also need to choose the appropriate yarn weight and hook size. It's also important to pay attention to gauges and measurements to ensure a proper fit.
Many crochet top patterns offer customization options, such as adjusting the length or adding sleeves. Additionally, there are many video tutorials to help you along the way. With the right free crochet top pattern and supplies, you can create beautiful and unique crochet tops that you'll love to wear.
From Beginner to Pro: A Guide to Free Crochet Top Patterns
Take your crochet skills to the next level with free top patterns catering to all experience levels. Whether beginner or experienced, master the basics or tackle a new challenge in crochet, there's a crochet top pattern for you. Get started and show off your creativity!
How to Choose the Perfect Free Crochet Top Pattern for You
With so many free crochet top patterns, it can be overwhelming to pick just one. Consider your skill level, the type of yarn you want to use, and the occasion you want to wear your crochet top to help you make a perfect choice.
Elevate Your Style with a One-of-a-Kind Crochet Top
Make a statement with handmade crochet tops that are truly unique. You can create a top tailored to your personal style and taste with so many free patterns. Get inspired and start crocheting today!
Embrace Your Creativity: Start Crocheting Your Own Top Today
Embrace growth by stepping out of your comfort zone with a handmade crochet top. With free patterns available, there's no excuse not to start crocheting today! Regardless of skill level, whether you are a beginner or an experienced crocheter, you're sure to find a crochet top pattern that suits your skills and style. Let's start crocheting today and add a unique, one-of-a-kind crochet top pattern to your wardrobe!
1. Gorgeous Crochet Honeycomb Top Pattern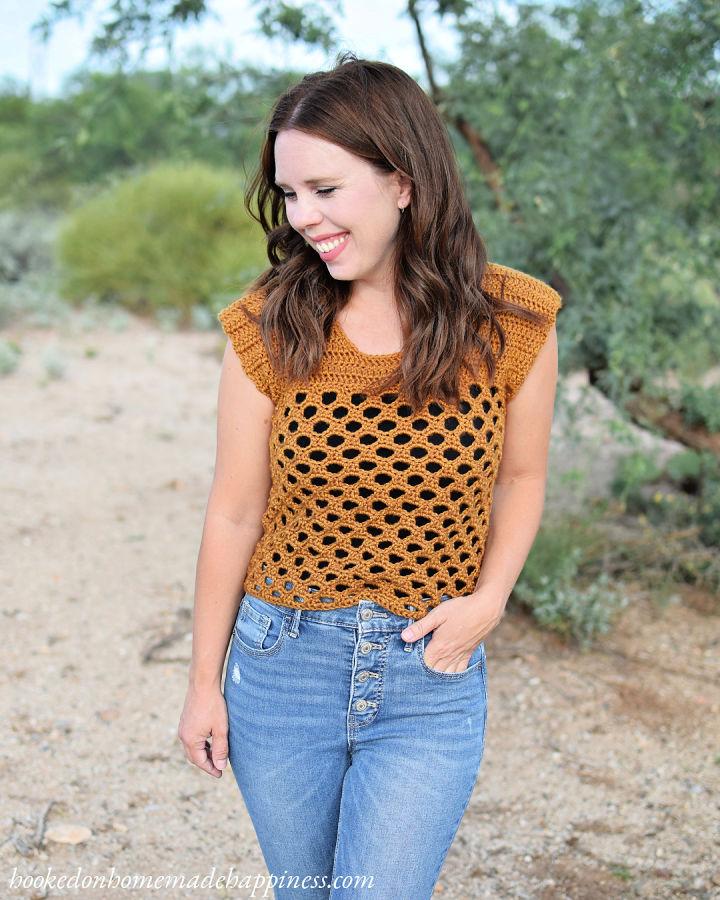 Add a touch of glamour to your wardrobe with our beautiful Honeycomb Crochet Top! This intermediate pattern uses a worsted-weight acrylic yarn and size h/5.0mm hook for the honeycomb stitch – an airy, open stitch that will make this top stand out from the rest. The golden yarn in this top gives it a luxurious look that would be perfect for special occasions or just a day out. Get ready to shine – grab your hooks and start crocheting this gorgeous Honeycomb Crochet Top today! hookedonhome
2. Unique Free Crochet Maria Top Pattern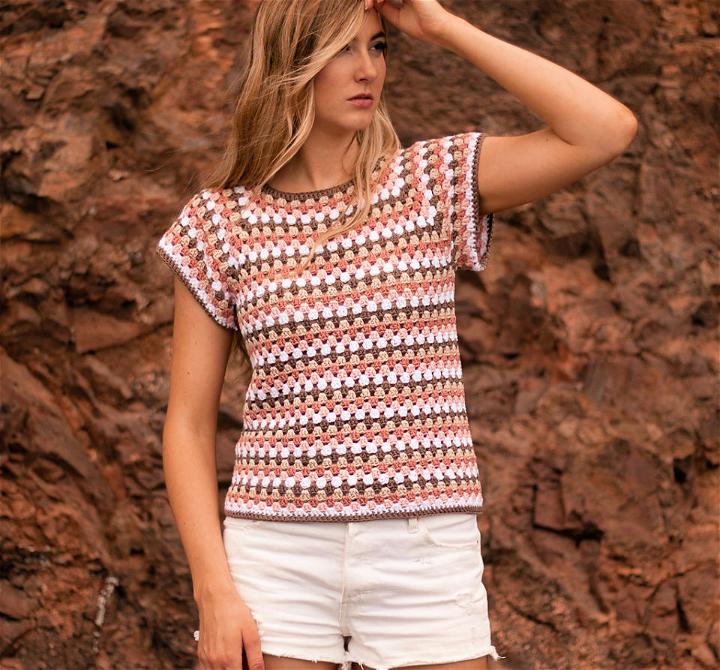 Give a fresh look to your wardrobe with the maria top crochet pattern! This easy-to-follow design is perfect for beginners, featuring raglan-style construction and a worked-in-the-round no-seam design. The granny stitch used makes it an ideal project when multitasking. Crafted with lion brand coboo yarn – a soft blend of cotton and bamboo that gives a beautiful drape – you'll have this top ready to wear in no time. So don't wait – grab your crochet hooks and start making the maria top today! originallylovely
3. Crochet Chasing Summer Tank Top Pattern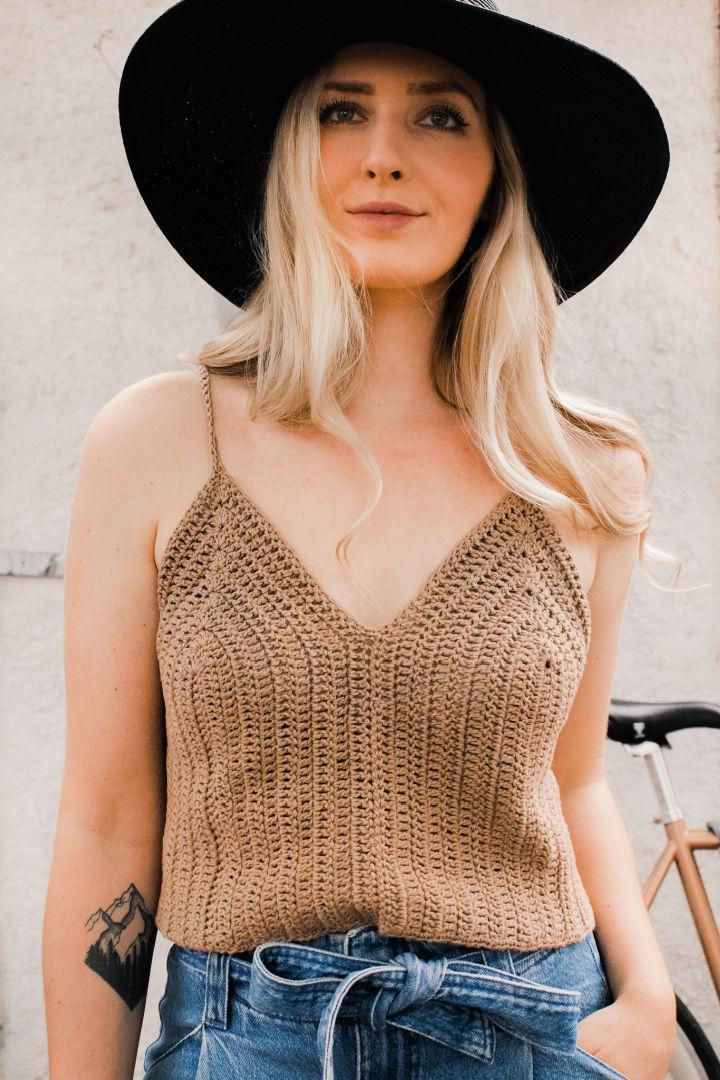 The chasing summer tank top is the perfect crochet pattern for summer days! This beginner-friendly pattern is free and uses DK yarn to create thin straps and vertical stitching with thoughtful, customizable shaping around the chest. Made mainly using the double crochet stitch, this tank top works up quickly and can be adjusted in size (9 sizes available) by sizing down if you're between sizes. With 40+ colors of cotton/linen blend yarn, you'll find a hue that's just right for any wardrobe or occasion. Perfect fit guaranteed – start chasing summer now! knitsnknots
4. Cute Crochet Everyday Sweater Vest Top Pattern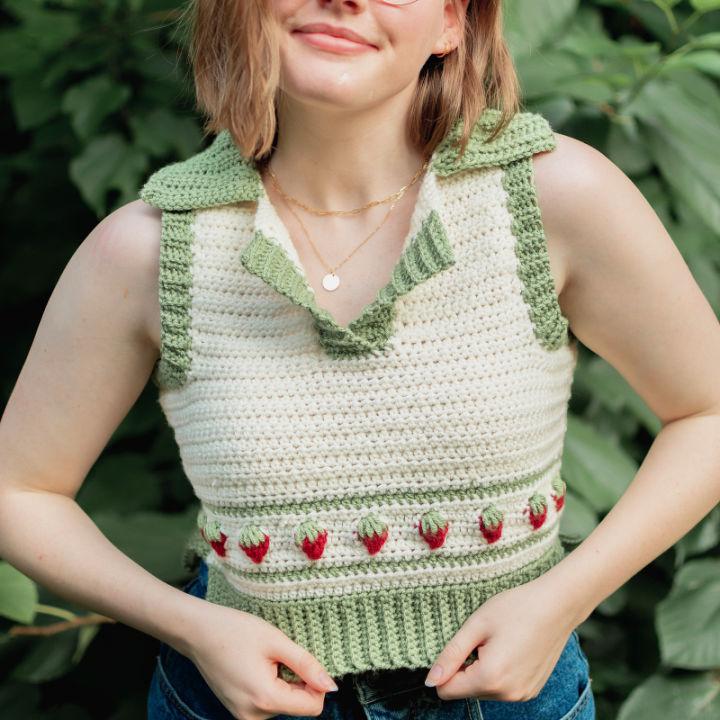 Be sweet and stylish in the "Strawberry Fields" sweater vest! This vintage-inspired design is perfect for any season. Crochet it with worsted weight yarn and a 4.5mm crochet hook. Wear it with a turtleneck or long-sleeve top during colder months or on its own during spring and summer.
The fitted style can be sized up for a more boxy fit, and the strawberry stitch can also be replaced with 2 rows of half double crochet if desired. It's an intermediate-level project that you can customize with your favorite colors to suit your unique look – so get started crocheting this versatile sweater vest today! hayhaycrochet
5. Crocheted Mesh Crochet Top – Free Pattern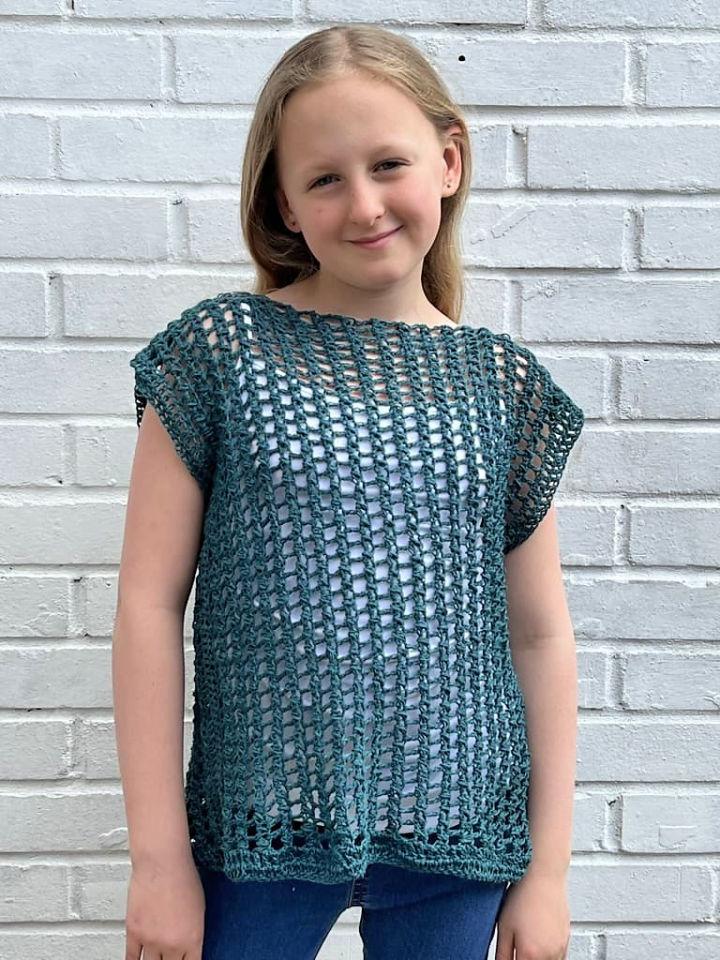 Crochet your way to a flattering look with the borlotto tee! This advanced beginner-level design features intricate crochet stitches, including foundation double crochet, chains, double crochet and mini bean stitch. Made for women and young girls in sizes XS to 5XL, this unique mesh top is designed with vertical stripes that elongate the body shape. Ideal over a vest or bikini, stay in style while crocheting your piece of clothing – perfect for summer days or beach vacations! Get creative and let your imagination take you on a journey as you make something special that stands out from the crowd this season. offthehookforyou
6. Free Crochet Kelsey Tank Top Pattern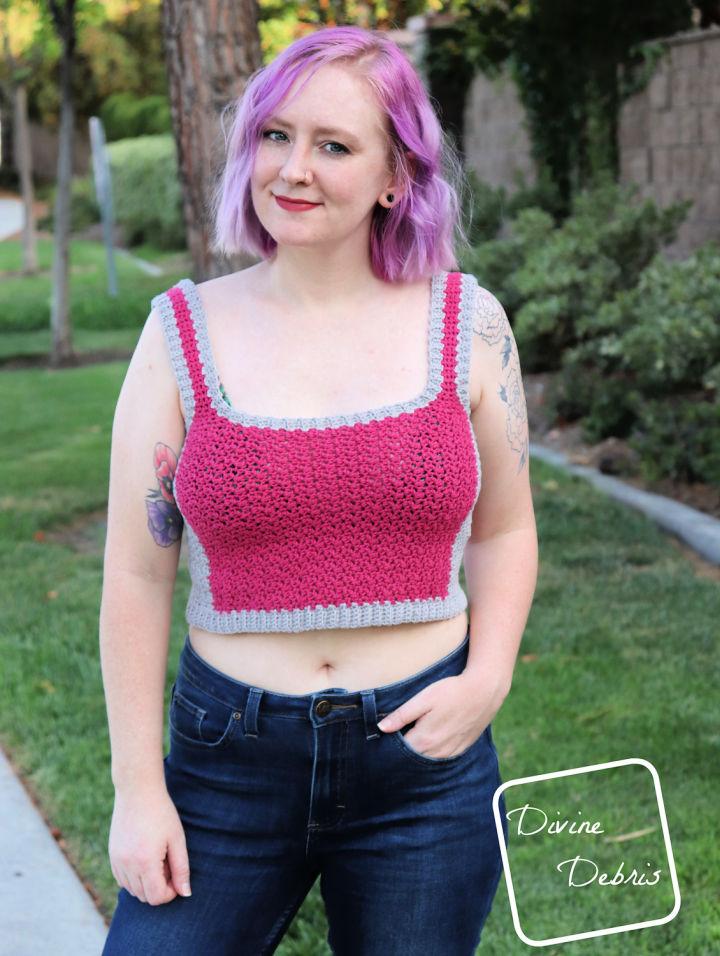 The kelsey tank top crochet pattern is perfect for beginners! Create a versatile and customizable tank top that you can adjust to your preferences – personalize it with your favorite colors or make it longer or shorter. This pattern uses US H (5.00 mm) and US G (4.00 mm) crochet hooks and size #3 DK weight yarn in two colors. Make this fashion-forward design today and show off your finished look! divinedebris
7. Crochet the Jasmine Bralette Top Pattern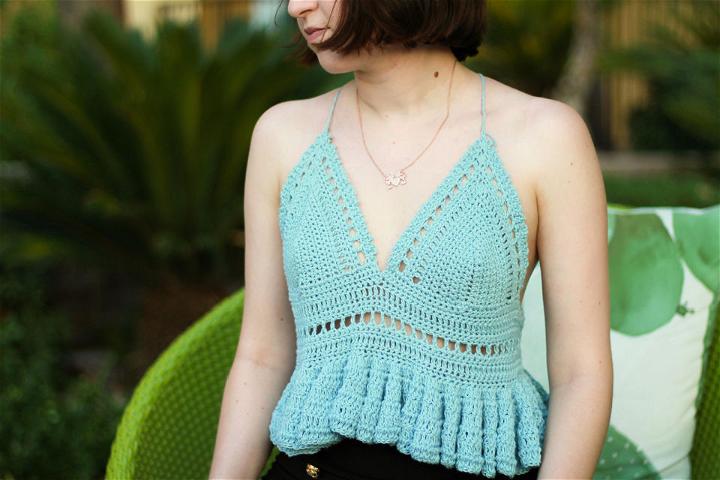 This stylish and comfortable bralette crochet pattern is perfect for intermediate-level crocheters. Use sport-weight yarn to create this breezy, cute accessory with a bit more length than a traditional bralette. The project requires between 510 – 1,200 yards of yarn, depending on the size you choose. Grab your 4.00 mm crochet hook and start crafting! casalecrafts
8. Pretty Crochet The Electric Sun Tee Pattern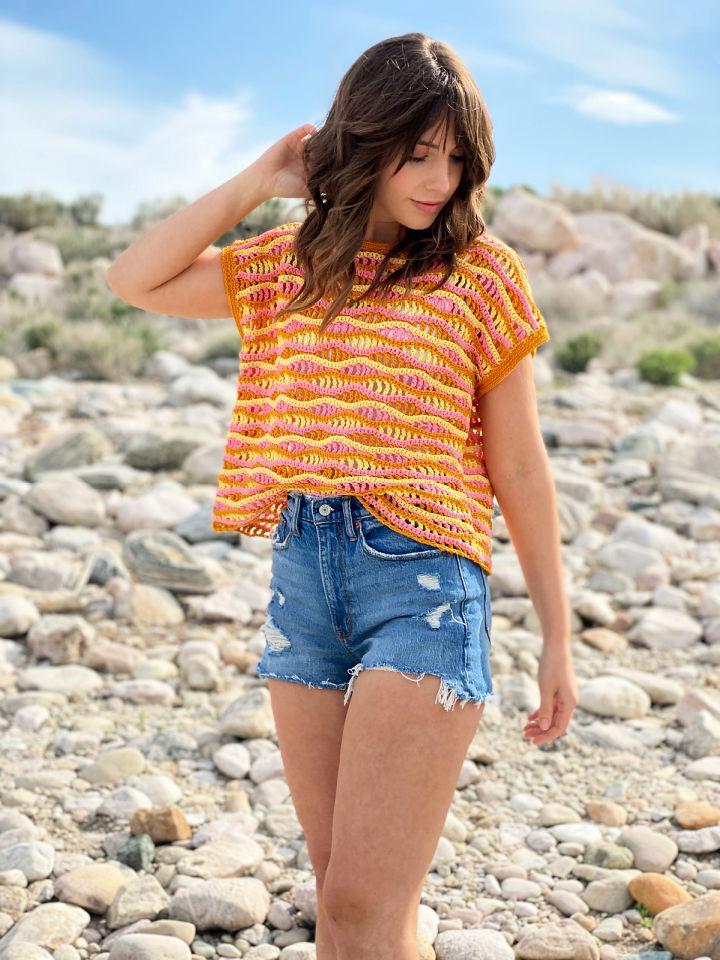 Stand out this summer with the electric sun tee! This stylish oversized crochet top features a wave effect created by its stitches and comes in 3 sizes. The project provides a digital pattern download to customize the fit with positive ease or make it longer. Follow the video tutorial for extra help, and keep the yarn attached when changing colors to save time later on. You'll need worsted weight yarn, a G/4.00mm crochet hook, stitch markers, and a 4×4″ square by chaining 18 & working rows 1-12 of the pattern. Get ready for some fun in the sun with this breezy tee! eandpcrochet
9. Crochet Multi Square Neck Ribbed Crop Top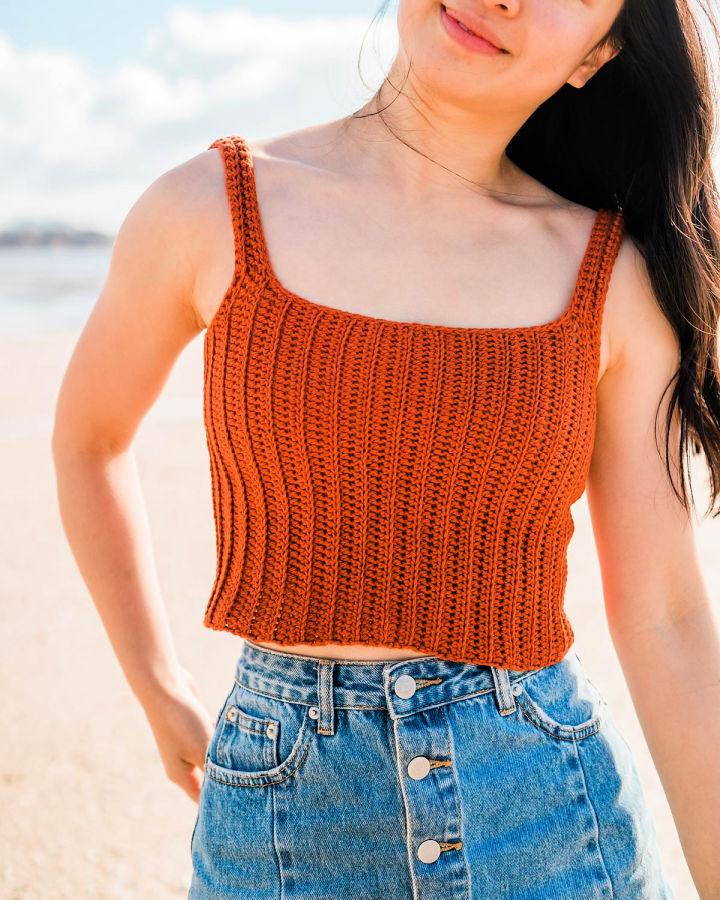 Get ready for summer with this stylish square-neck ribbed crop top! This free crochet pattern is perfect for beginners, featuring a trendy square neckline, thick straps, and a fitted bust. It's crocheted quickly using back loop half double crochet ribbing and light (3) weight yarn.
Available in size small to fit 5'3″ models with a 32″ bust, you can get your hooks ready and start crocheting now! Add this fashionable terracotta crop top to your wardrobe for an effortless look that will keep you looking great all season long. Get the pattern today and show off your style when the weather gets warmer! forthefrills
10. The Blue Sky Crochet Tee Pattern

Stay cool this summer with the blue sky crochet tee! This lightweight and easy-to-crochet top is a summer staple, featuring beautiful open stitchwork and a simple design. Available in sizes XS-3X, this unique cotton/linen blend yarn gives incredible drape and stitch definition.
The half-double crochet clusters stacked with a simple v-stitch create an eye-catching texture that adds just the right pop of color to your wardrobe. With about three inches of positive ease across the shoulders, it's comfortable yet easily customizable for any size. Get started on this easy-wearing top today – perfect for those hot days spent outdoors or relaxing at home! masonjaryarn
11. Awesome Crochet Maci Seamless Top Pattern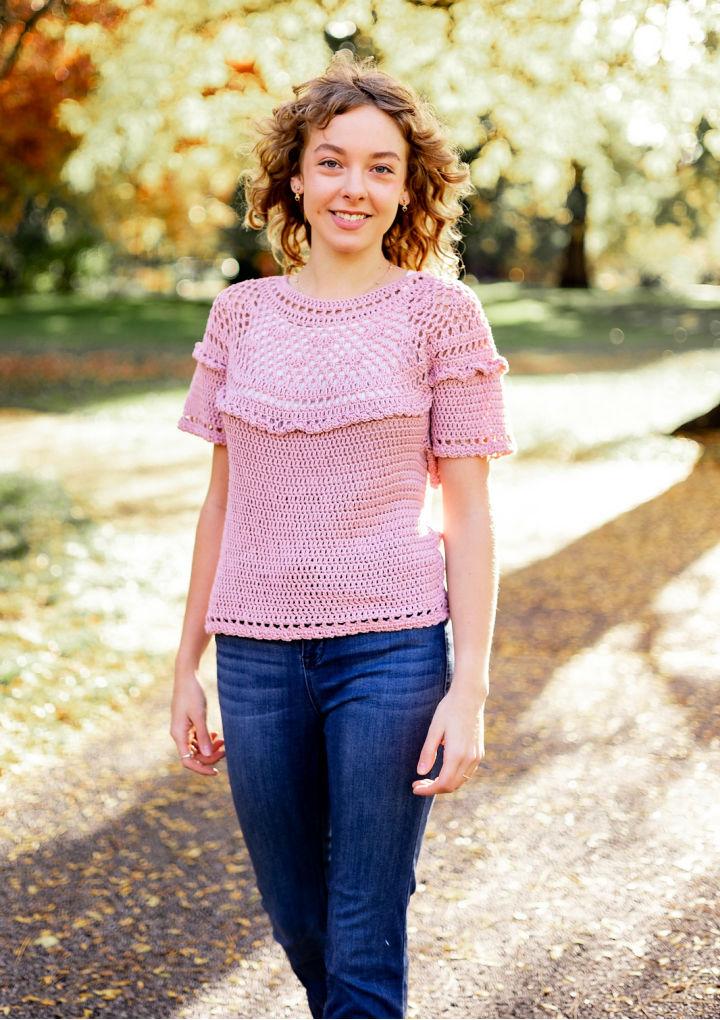 The maci seamless crochet top is the perfect weekend project for intermediate crocheters. Made with a soft and drapey bamboo-blend yarn, this top features a delicate lace yoke, pretty ruffle, and loose sleeves providing an on-trend look that's comfortable to wear. The finished bust size is 36″ and uses lightweight 3 cotton yarn with a US G/6 (4.0mm) hook. Treat yourself or make it a special gift – either way, you can't go wrong with this must-have addition to your wardrobe! ilikecrochet
12. 4 Color Crochet Plus Size Top Pattern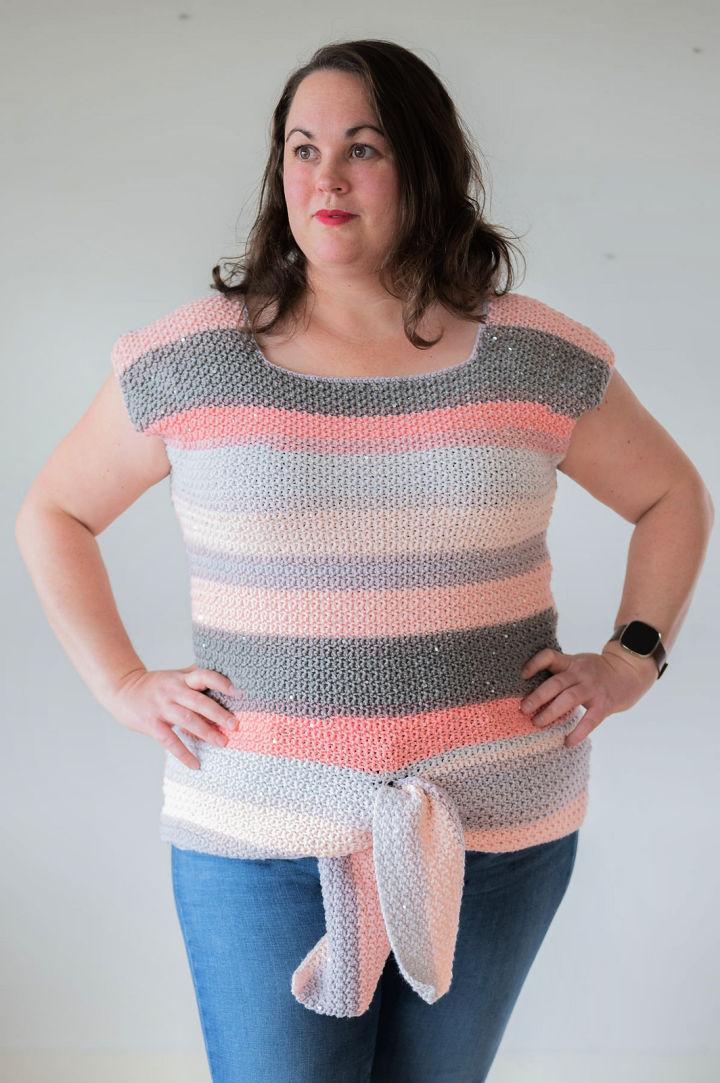 Crochet yourself a chic, stylish top with this tie front top pattern. Perfect for special occasions and made from easy crochet stitches, it's sure to please all shapes and sizes from XS to 5XL. The front features a knotted tie and delicate cap sleeves for an extra touch of femininity, making this the perfect project even for advanced beginners! With 3 light yarns, gauge 16 stitches & 17 rows per 10 cm/4″, why wait? Start crocheting your own Tie Front Top today! joyofmotioncrochet
13. Crochet Women's Ollie Tunic Pattern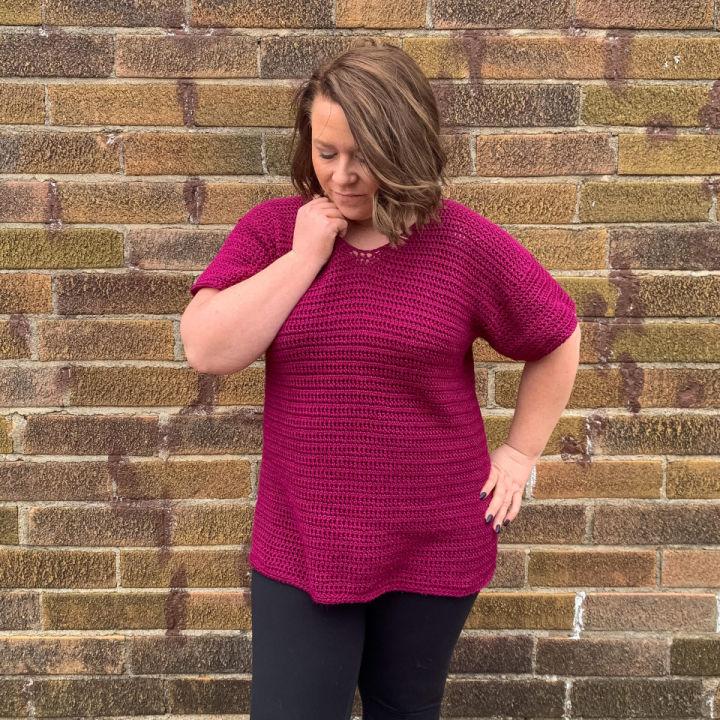 The ollie tunic crochet pattern is perfect for achieving a fashionable and cozy look. This pattern provides a trendy style while helping you stay comfortable. This transitional piece is perfect for a day in or a chic date night. This pattern is made with luxurious DK yarn and has a flattering fit with 2″ positive ease and V-neck detail. Get started today with 9-17 balls of yarn and a US H/5mm crochet hook. Make the ollie tunic today & be ready to wow! hookedhazel
14. Free Crochet Bayswater Top Pattern

Elevate your summer look with the versatile bayswater top – a timeless piece that adds effortless style to any outfit. This free crochet pattern features easy-to-work filet crochet stitches with a lovely texture, made using lion brand 24/7 cotton yarn for smooth and beautiful stitch definition. The mercerization process ensures vibrant color that lasts multiple wash cycles, while the variety of 24 colors allows you to make this top in your desired shade. Sizes range from XS to 5X, with a bust measurement of 28-62 inches; use a US size F/5 (3.75mm) crochet hook and special stitches like cluster stitch to complete the look! cococrochetlee
15. Best Flower Buds Top Crochet Pattern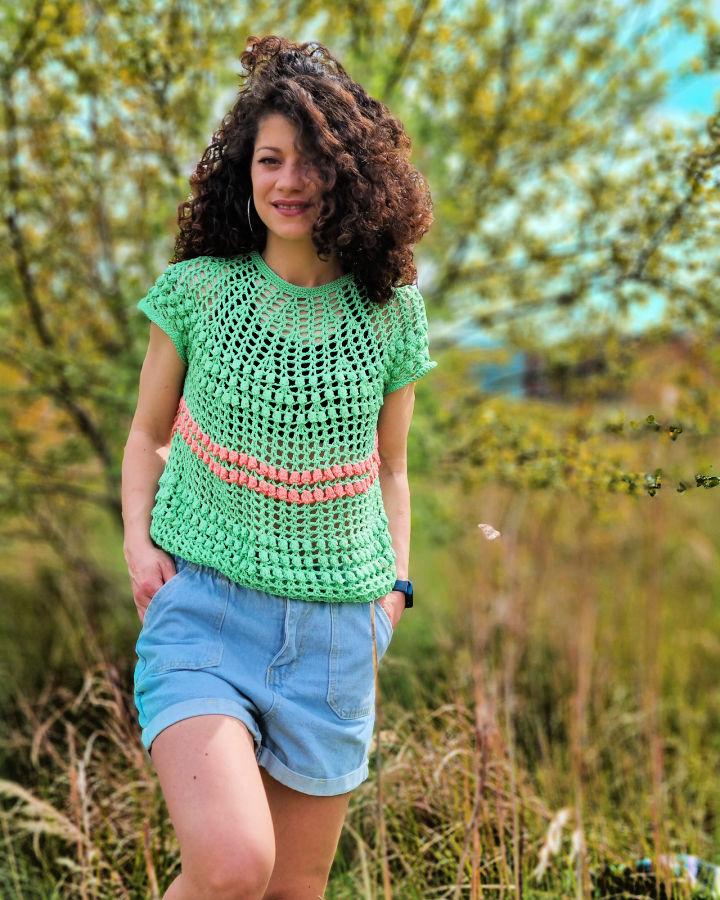 Its light, breezy fabric and bright floral pattern make it the perfect top for hot summer days. Crochet this stunning oversized top using a 4mm hook and fingering weight cotton. Featuring easy-to-follow instructions, it has top-down construction with double crochet, chain stitches, single crochet, popcorn stitches and working in the round to add interesting texture.
With its 22 cm positive ease around the bust area, this stylish yet comfortable top will be your go-to for any occasion. Take creativity to another level by customizing your design: try only v or popcorn stitches for a unique twist on this classic pattern! by katerina
16. Free Crochet Georgia Cardi Top Pattern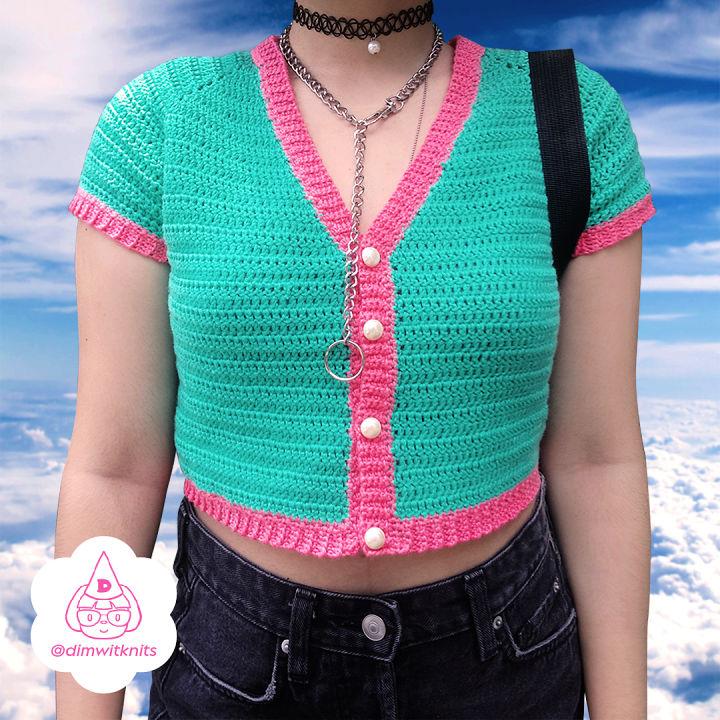 Georgia cardi is a beautiful and stylish cardigan knit with DK yarn weight. It's perfect for staying warm without being too bulky. The hook size used is 3.5 mm (E), and it requires 400 – 650 yards of yarn depending on the size you choose from the sizes available: XS, S, M, L, XL or XXL. Get creative and make this one-of-a-kind piece to show off your crocheting skills! ravelry
17. Crochet The Stony Shore Pullover Pattern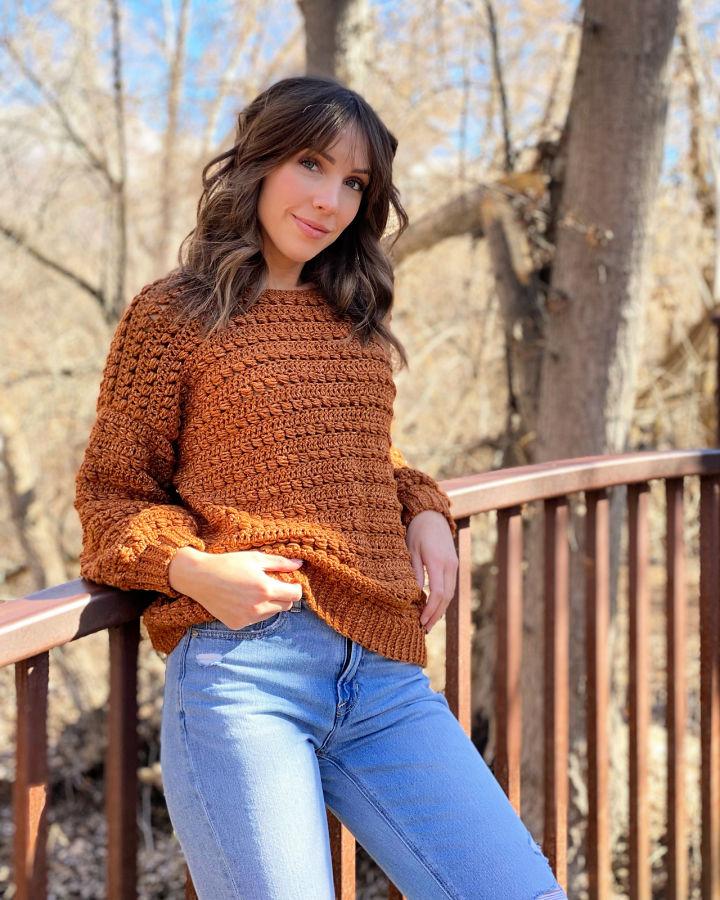 Snuggle up in this season's stony shore pullover for an ultra-cozy experience. It will keep you wrapped up and feeling snug. Crochet it from luxurious lion brand jeans or heartland yarn. This oversized balloon-sleeved pullover is perfect for beginners and easy to make. With 8 sizes ranging from XS to 5X based on your bust size, you can find your ideal fit while enjoying the beautiful texture created by a simple stitch. Get ready for chilly days in style with this stylishly comfortable pullover! eandpcrochet
18. Free Crochet Women's Boho Top – Free Pattern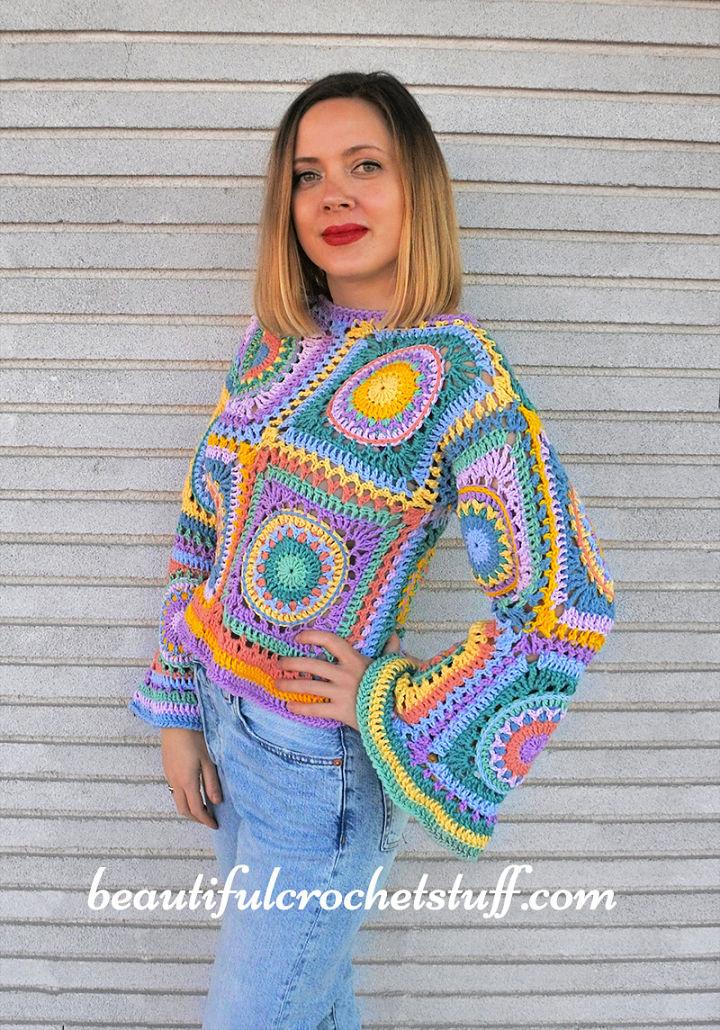 You can stay in style with this free crochet top pattern! It's an easy way to make sure you look fashionable. Crochet it with 8/8 cotton yarn for optimal comfort and breathability. This top features a delicate stitch pattern. With an easy-to-follow design and sizes ranging from S – M, you'll be able to achieve the chic boho look in no time. With dimensions of 21x21cm (8x8in), a length of 45cm (17.5in), a width of 40 cm (15.5in) and sleeves of 50cm (19.5in). Get the perfect summer look today! beautifulcrochet
19. Beautiful Crochet Lace Top Pattern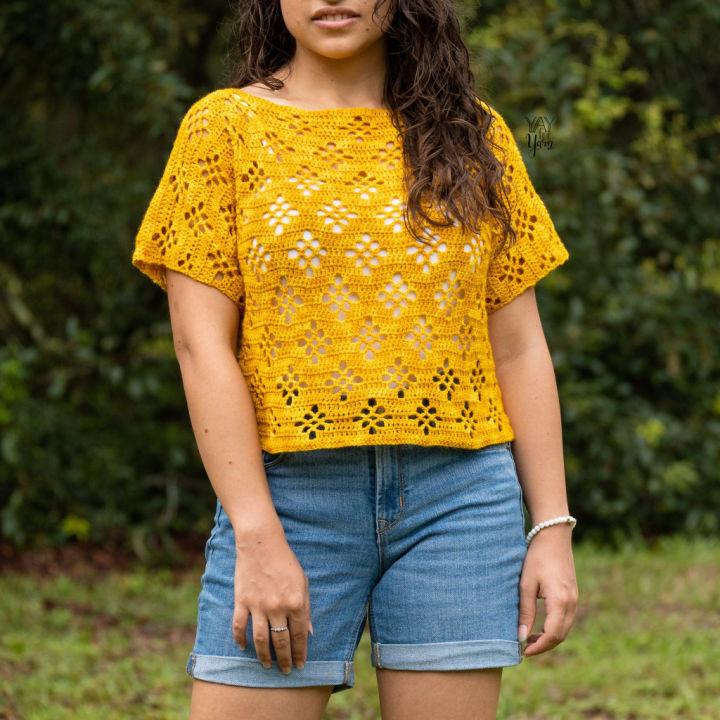 Create the perfect summer top for all sizes with the daisy tee crochet pattern! This plus size inclusive pattern features a boxy construction and pretty floral lace stitch, made from wecrochet hawthorne fingering kettle dye yarn. Choose from 20+ hand-dyed colorways in two lengths – cropped or full length. The pattern is intermediate level with instructions for sizes XS to 5X, so you can craft a breathable and lightweight piece that fits comfortably. Get ready for summer with the Daisy Tee Crochet Pattern today! yayforyarn
20. Free Crop Top Crochet Pattern for Beginners

This may crop top crochet pattern is perfect for beginners! With it, you can create a stylish and textured top in a matter of moments. Featuring the unique grit stitch of single and double crochets, this crop top has 4 neckline options – square neck, bow, sweetheart and gathered – for an individualized look. Drops cotton merino yarn gives a stretchy and airy feel making it perfect for summer days. Choose from 19 sizes to create your fit with either 100% cotton yarn for a relaxed feel or acrylics/cotton-acrylic blends/cotton-merino blends for more of a fitted style. Get started today on this quick and easy project! forthefrills
21. Free Crochet Pattern for Cumberland Tank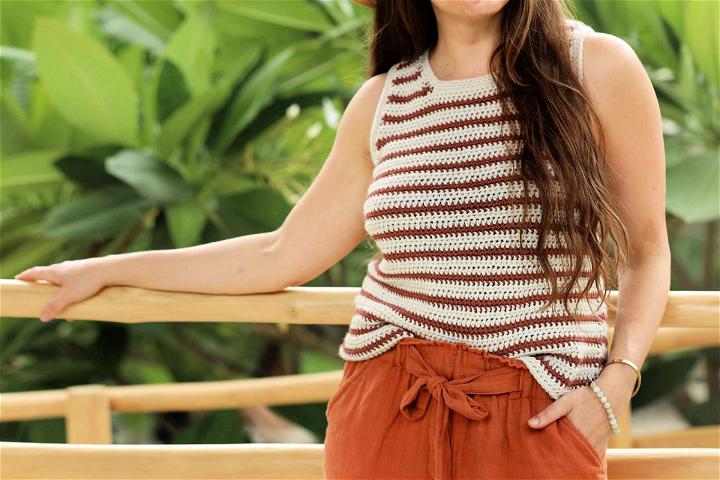 The softness of the new color theory yarn makes the cumberland tank a fashionable and cozy addition to your summer wardrobe. Featuring a sleeveless, shell-style design and classic striped fabric, this easy-level pattern comes with single crochet, half double crochet, decreases and crocheting along the side edge of rows for a relaxed fit. Enjoy 153 color combinations from its 18-color palette of smooth, comfortable yarn – perfect for an on-trend look this season! Get ready to show off your DIY skills and make your cumberland tank – it's fast to crochet worked in the round with two-row striping for speedy project completion. twoofwands
22. Crochet Sunflower Lace Cropped Tank Top Pattern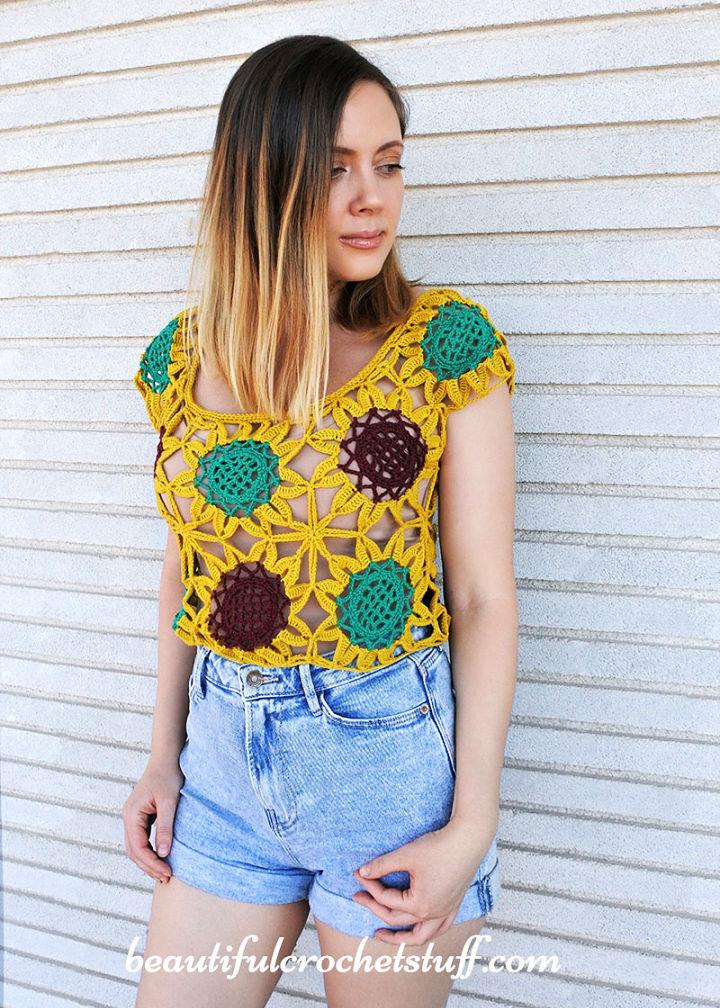 Bring summer vibes to your wardrobe with this beautiful crochet sunflower lace crop top! With an adjustable pattern, you can crochet it in any size you need. This stunning piece is perfect for festivals, beach days, or just looking cute! Get creative and craft the design using hobbii rainbow cotton 8/4 /super fine yarn and a 3 mm crochet hook. Download the free pattern today and show off your new handmade look tomorrow without breaking the bank! beautifulcrochetstuff
23. Cool Crochet Sleeveless Top Pattern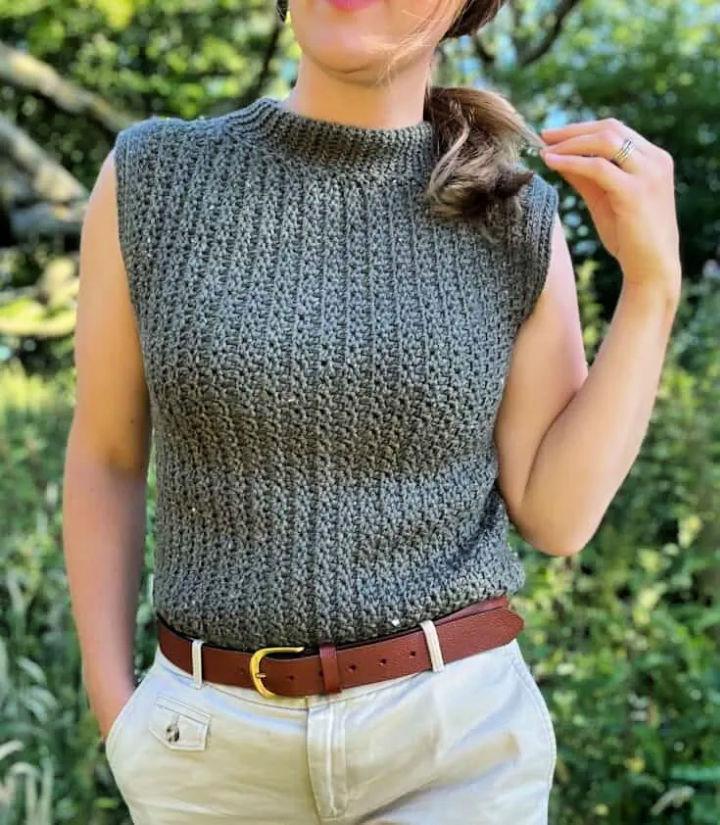 You'll turn heads with this stunning crochet sleeveless top pattern, using even the most basic stitches. The vertical side-to-side construction and two-row repeat to make it easy even for a beginner. This is your favorite go-to look, available in sizes XS-5XL, plus a full video tutorial and diagrams. For an extra snug fit, size down or choose larger sizes up to 5XL for an oversized poncho look. Get creative and start crocheting today! hanjancrochet
24. Free Crochet Halter Top Pattern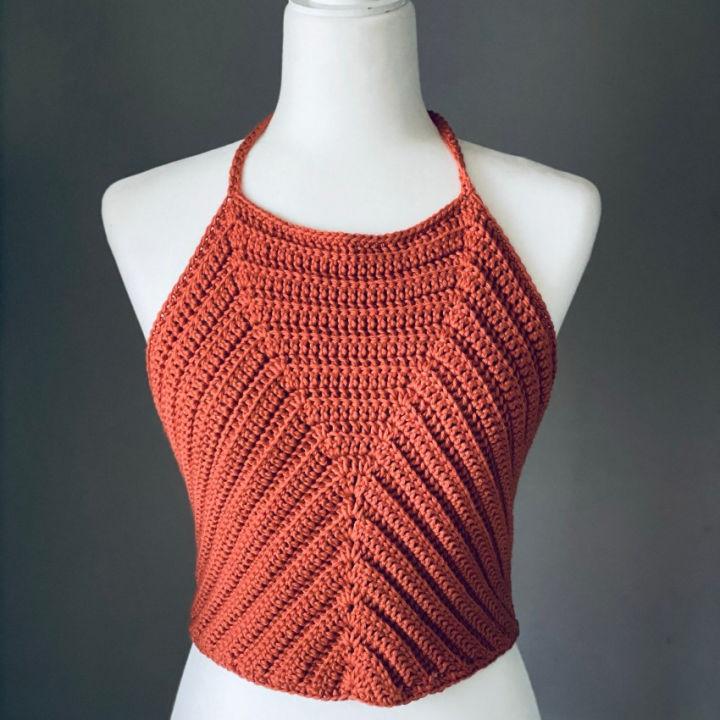 Upgrade your summer wardrobe with this easy-to-follow advanced beginner crochet pattern halter top! With a stunning textured fabric, double crochet in the back loop creates an illusion of a V-neck and plenty of coverage across the chest. This free crop top features a halter tie at the neck and waist for adjustable sizing from XS to XL. Get creative with medium/4/worsted-weight cotton yarn and a 5 mm (h) crochet hook; you're sure to love the little grace halter top! carlieflo
25. Beautiful Crochet Summer Wrap Top Pattern

A summer of softness awaits you with this airy crochet wrap top! Crocheted with weight 3 cotton yarn and featuring a raglan construction, this beginner-friendly project requires no seaming. Choose from three colors, grab your 5.5mm crochet hook and make a stylish and comfortable garment in no time. Enjoy the fun and easy process of creating something beautiful – Get ready for summer with this free crochet pattern! eclairemakery
26. Modern Crochet Strawberry Cream Peplum Tank Pattern

Welcome the warm weather with this gorgeous strawberry cream peplum tank! Easy to crochet and made with 2 skeins of global backyard sock in the "cherry blossom" colorway, this top features a simple bodice tube, fabulous ruffles and straps crocheted right on. Fully customizable, too – it has a 35-inch circumference, 7-inch bodice height, 5-inch ruffle height and 12 inches total. Each strap is 11 inches long. All you need is your 5.0mm H crochet hook and tapestry needle – get ready for summer in style! fiberfluxblog
27. Free Crochet Azalea Cropped Top Pattern

Enhance your look this summer with the delightful azalea cropped top. Its airy feel will keep you comfortable while bringing class and style to your wardrobe. With a free crochet pattern and video tutorial, it's easy to make in any size from S – 3XL.
Plus, you can customize this top to fit your bust size perfectly! Create an effortless look for beach days, or pair it with a camisole for additional coverage. You only need sport-weight yarn and a 4mm crochet hook to get started on this t-shaped top that uses simple stitches. Make it even longer by adding more rows if desired! crochetwithcarrie
28. Easy Crochet Striped Tank Top Pattern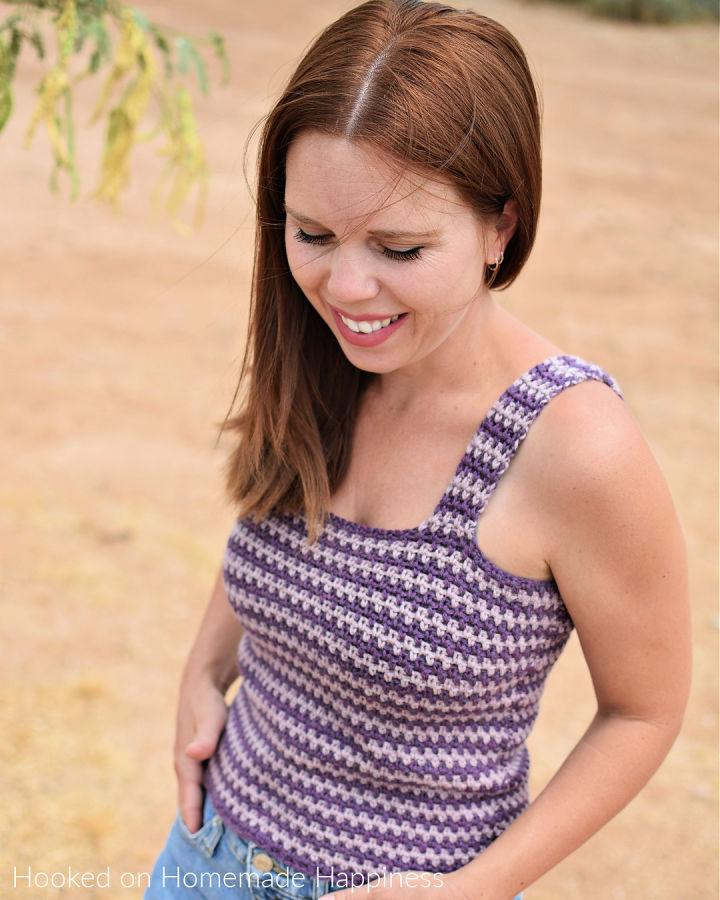 Crochet a stylish top with this easy striped tank top crochet pattern! This pattern is simple and fun whether you're an advanced beginner or just getting started. It's a rectangle with two straps added, making it ideal for those new to crocheting. Plus, the 1 row repeat makes it quick and enjoyable to create. This easy stripe tank top crochet pattern makes your summer wardrobe more exciting! hookedonhome
29. Crochet Granny Motif Squares Halterneck Top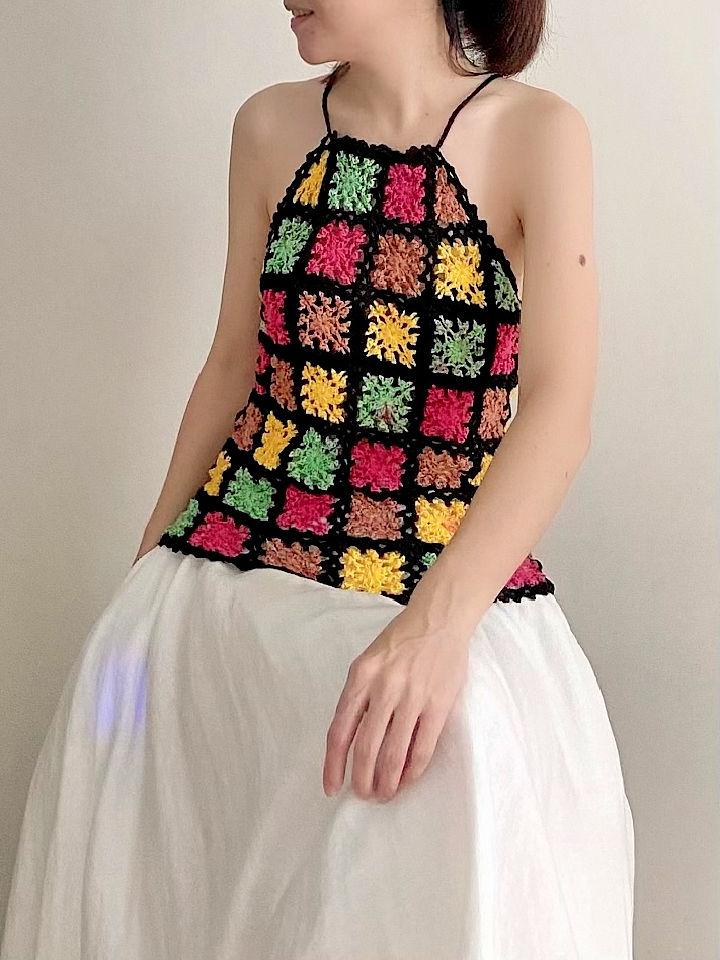 Crafting something unique and extraordinary using scrap yarns is a great way to express yourself! This granny motif square halterneck top is a one-of-a-kind project. The motif is 2.5 x 2.5 inches but can be adjusted to your desired size using different yarn weights or adding more rows. With the bust measurement of 15 inches and length of 17.5 inches, you will need only 175 grams of fingering weight or sport weight yarn plus a 4.0mm crochet hook for this fun upcycled project! Start making your personalized piece today! znooicraftcorner
30. How to Crochet Cable Crop Top – Free Pattern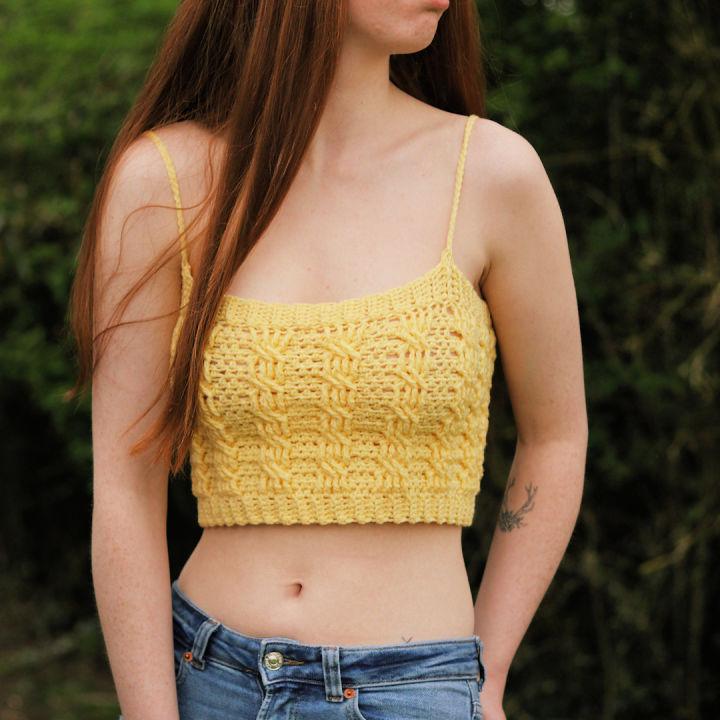 Beat the summer heat with this crochet cable crop top – an ideal choice for staying comfortable and stylish! Using hobbii's kind of feather yarn, this beginner-friendly pattern is quick and easy to make. Featuring single crochet, half double crochet, and treble crochet stitches, it has a modern tank design with an eye-catching cable stitch and ribbed hem that can be customized for your liking.
Worked from bottom up in rounds, the top looks great paired with jeans or shorts–or put on a cardigan for a cozy evening look. The kind feather yarn ensures your crop top will be super soft, anti-pilling, and stretchy all season long. Get ready for sunny days ahead with this trendy DIY project! crochetwithcarrie
31. Simple Crochet Summer Vibes Tank Top Pattern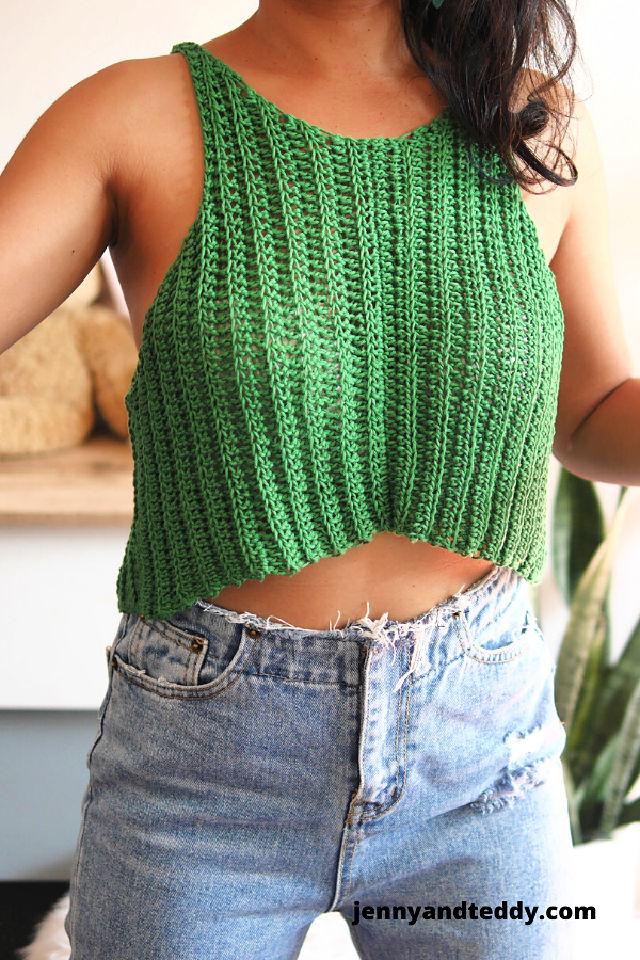 Stay cool in the summer with this beginner-friendly, simple crochet tank top! With a half double crochet stitch in the back loop creating a beautiful ribbed effect, it's perfect for everyday wear. The easy step-by-step video tutorial makes constructing it a breeze, and bright colors will lift your mood. Featuring a U-neckline and comfortable fit, this tank requires around 500 yards of DK weight cotton or plant fiber yarn, a 4mm crochet hook, and a sewing yarn needle. Make sure to check out more summer patterns on our blog! jennyandteddy
32. How to Crochet Rose Filet Top – Free Pattern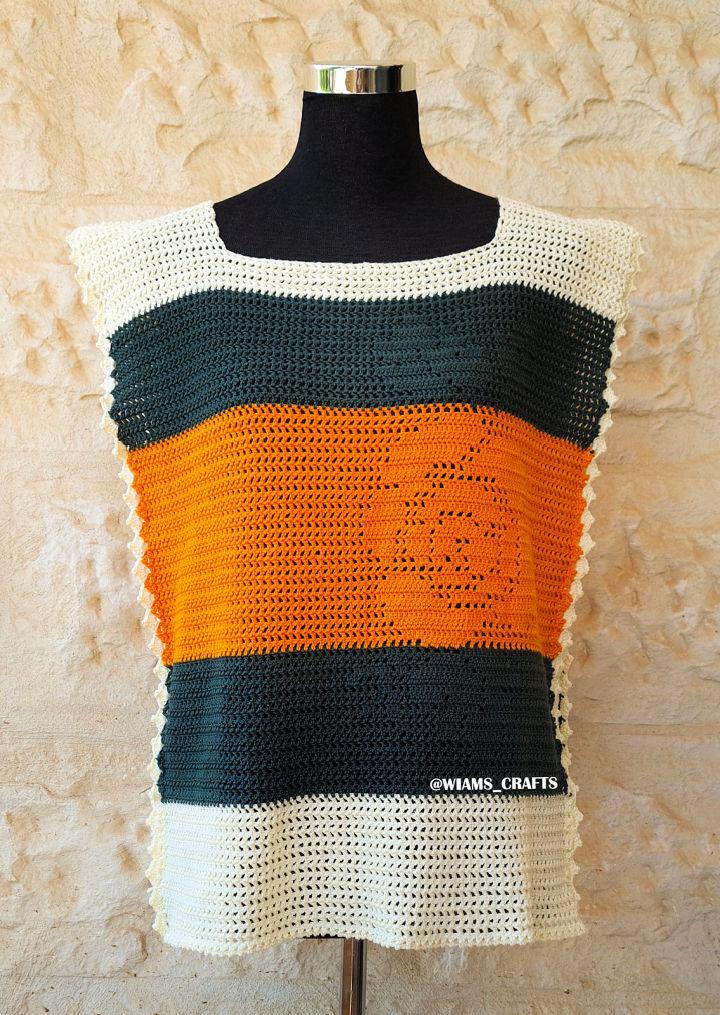 This rose filet top is the perfect way to add a unique style to your wardrobe! Crafted with alize diva silky effect yarn in cream, dark green, and orange, this intermediate-level project features an elegant design. Follow the step-by-step tutorial video to learn the basics of filet crochet and create your top. You'll need a size US D (3mm) crochet hook, tapestry needle, and alize diva yarn in whichever colors you choose – get creative! Once complete, enjoy wearing your creation as a statement piece or gift it to someone special. wiamscrafts
33. Crochet the Lennon Tank Clothing – Free Pattern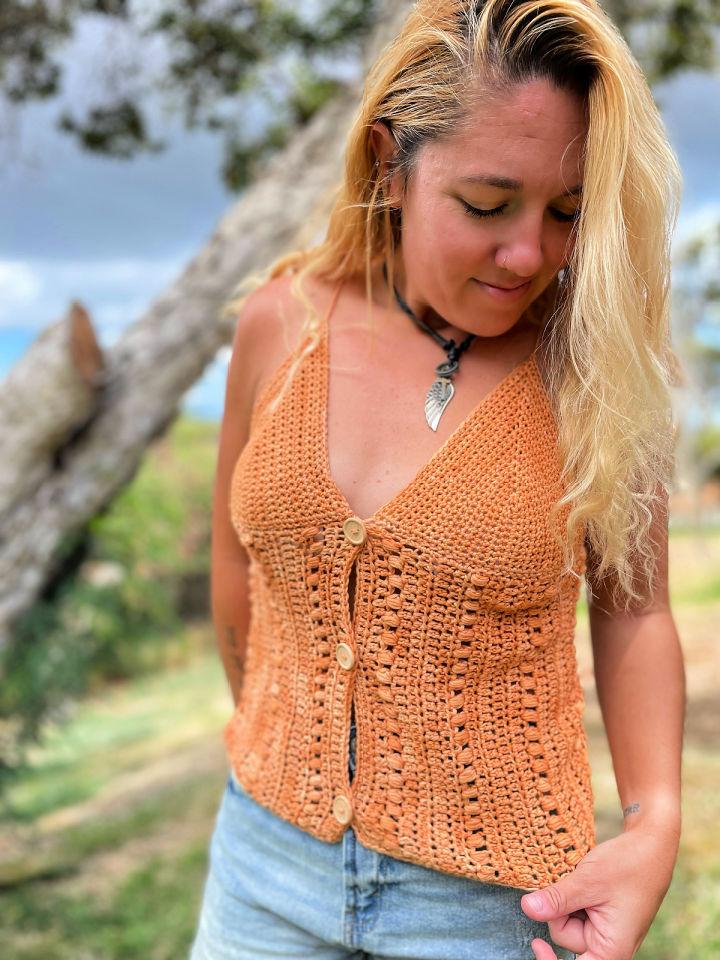 This tank top is ideal for those starting to crochet, as it's very easy to make. It's perfect for mastering the basics of crocheting and making a stylish piece of clothing simultaneously. It's made in two pieces: a long rectangle and two cups, both easily modifiable to fit your measurements.
This pattern features the extended half double crochet, puff stitch, and cotton/bamboo blend yarn. You'll need size H (5.0 mm) & G (4.25 mm) hooks, yarn needles, stitch markers and buttons to complete this project! So stop waiting – make your lennon tank today for the perfect fit every time! cactusandlace
34. DIY Summer Lace Sweater Top – Free Crochet Pattern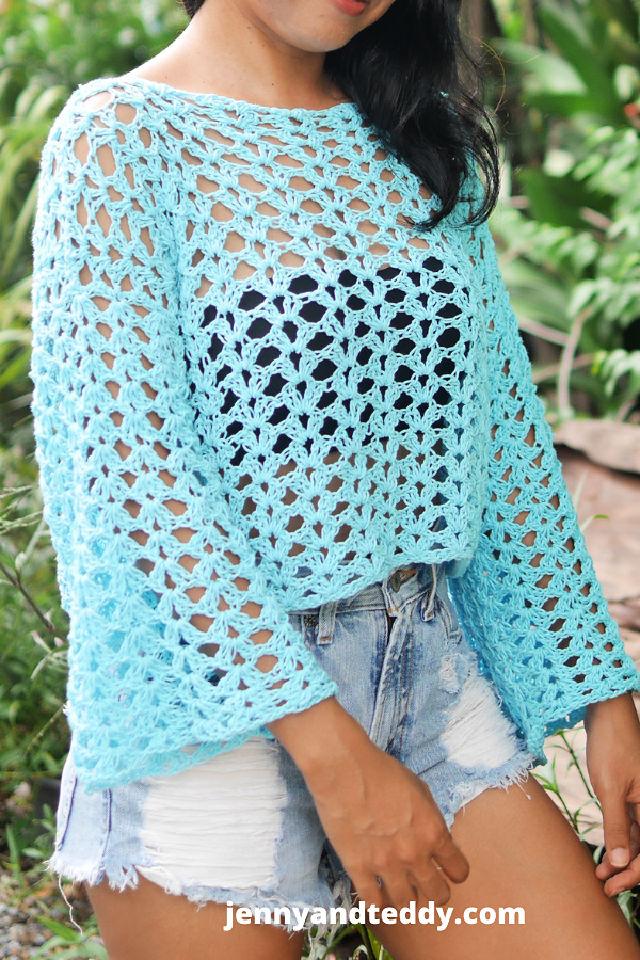 Keep up with the latest summer fashion trend with this free crochet patterned sweater. You'll look chic and stylish in the beautiful lace design. This beginner-friendly top is made from lightweight cotton DK-weight yarn and features a beautiful fancy lace stitch. The free video tutorial helps you customize the size from XS to XXXXL. Crochet two identical rectangles for the front and back joined with a yarn needle. Use a 4.0 mm crochet hook & 100% cotton or cotton blend yarn for the best results. Ready to look fashionable while feeling comfy? Get your hands on this easy summer pullover project now! jennyandteddy
35. Crochet Tide Pool Tank Top Pattern For Women

Tired of wearing the same old t-shirts? Add fun and flair to your wardrobe with the tide pool tank crochet pattern! This free pattern is perfect for summer and made using sport-weight cotton or other breathable natural fiber, so it keeps you cool. Plus, it's a great way to show off your skills at crocheting. Grab a hook size F/3.75mm and get ready to make something chic and stylish – this tank top will turn heads! Get the free pattern now while supplies last! twobrothersblankets
36. Crochet Gucci Inspired Top Design – Free Pattern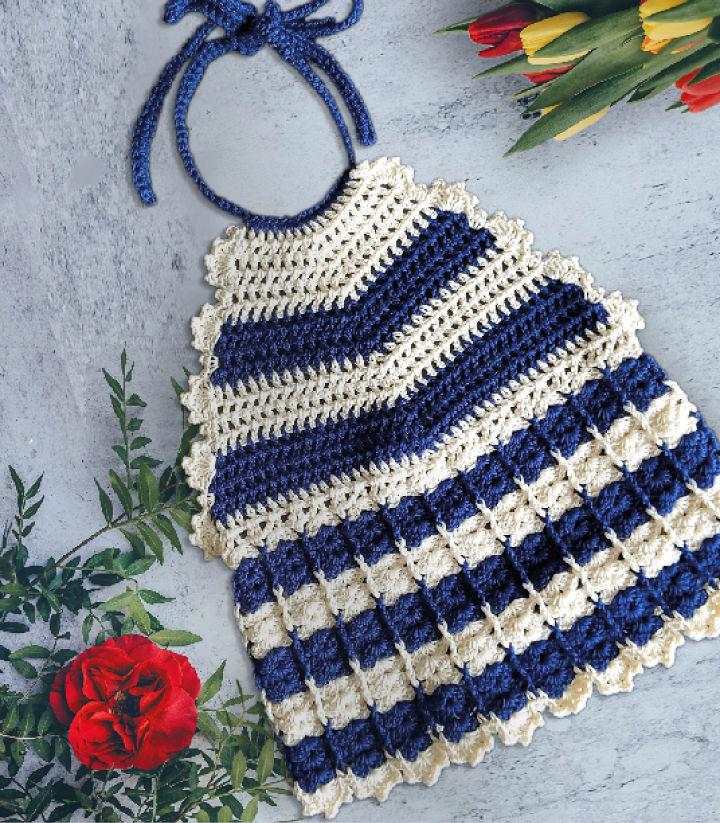 Every style lover will love this chic and breezy Gucci-inspired crochet top that is perfect for summer! The halter neck crop features a two-tone striped pattern that you can work from the top down. It has tie fastenings at the nape and waist to fit any size. Crochet it with DK weight yarn using a 2.25mm or 3.0 mm hook – whichever suits your style best! Stunning, sophisticated and lightweight – this crocheted dream of a top will surely be loved by everyone who wears it! ravelry
37. Crochet Dayglow Off-Shoulder Tee Idea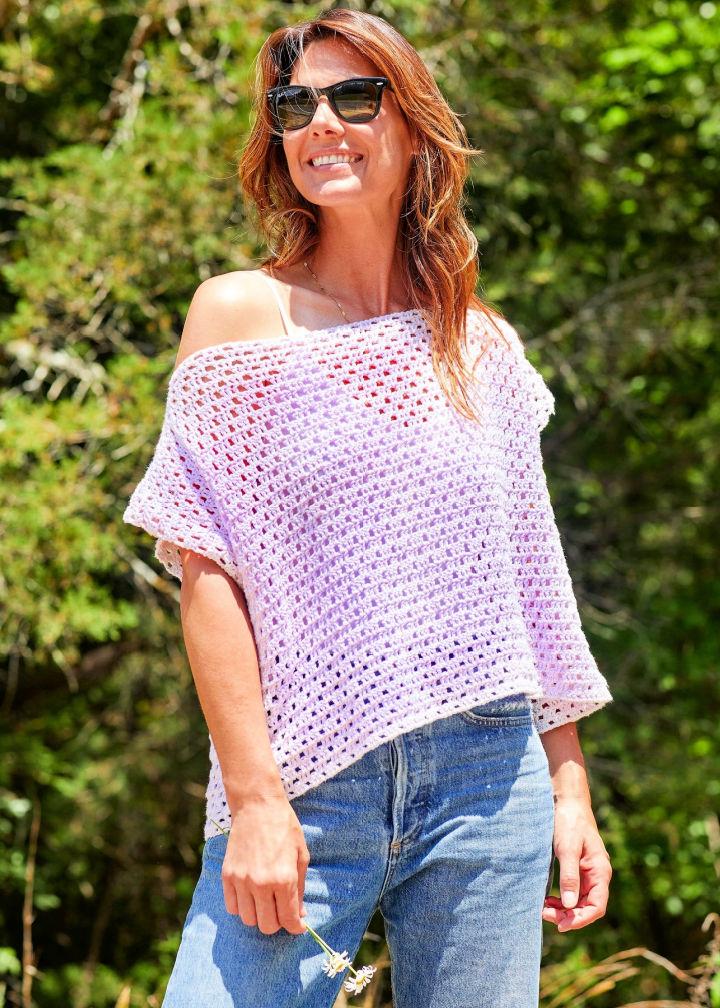 Add color to your wardrobe with this dayglow off-shoulder tee! This easy-level crochet pattern is made from 100% cotton yarn and features an oversized fit perfect for any body type. The bright colors transition from white to purple, giving you a unique look that everyone will love. With the US size G-6 (4mm) crochet hook included in the pattern, you can quickly whip up this tee for use on any occasion! Let your style shine with this beautiful off-shoulder tee that is perfect for your collection. premieryarns
38. Crocheting a Polo Shirt – Free Pattern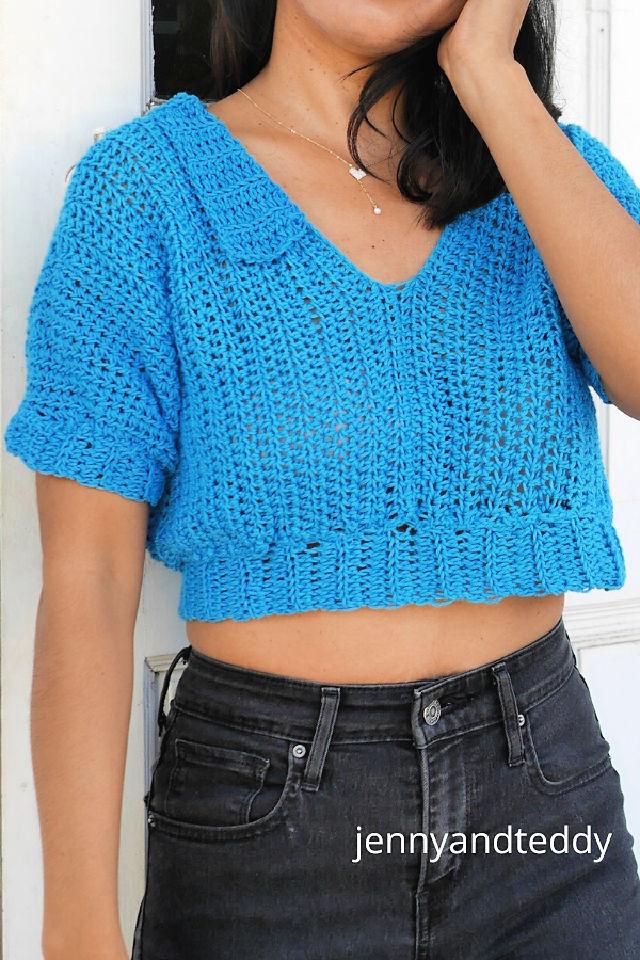 Upgrade your wardrobe with this easy and simple crochet cropped polo shirt pattern! This beginner-friendly shirt features a stylish collar, can be measured in any size and comes complete with a full step-by-step video tutorial. Choose cotton or polyester blend yarn for a soft, comfortable feel that is perfect for hot and humid weather or chilly days.
Make use of 1000 yards of DK weight yarn and a 4.0mm crochet hook to create the trendiest tops, including the summer lace sweater top, cowl neck sweater, bobble stitch oversize sweater, knit look oversize sweater and easy v neck sweater. Refresh your style with this stunning design today! jennyandteddy
39. New Crochet Garden Party Top Pattern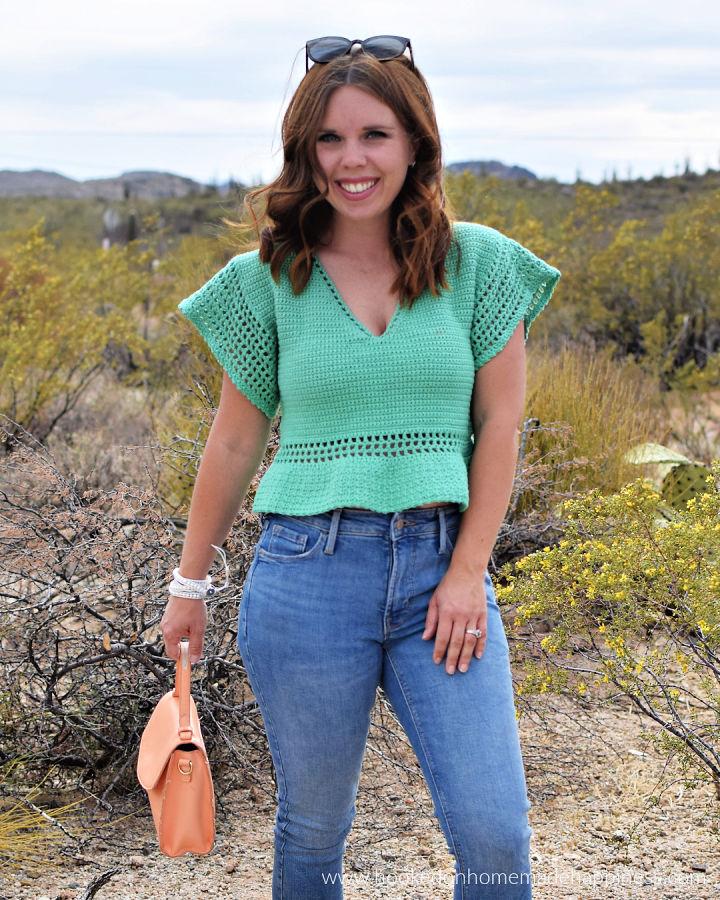 For those who are looking to dress up their wardrobe in a stylish way. This top pattern is created using light cotton yarn, so it's perfect for the warmer months! Crafted with wecrochet cotlin, it features delightful details like eyelets, a v-neck and ruffles for an extra touch of charm. Get creative with this intermediate-level pattern and make something unique for your wardrobe today using a 3.75 mm crochet hook. Enjoy crocheting this beautiful piece to spruce up any outfit! hookedonhome
40. Crochet Summer Vibes Bikini Top for Beach

Get ready for a sunny beach day with this stunning crochet bikini top. It's a perfect look for the summer season! It's designed to be beginner friendly with just a combination of single and double crochet stitches. Whether you're heading off on holiday, to the beach or to a music festival in the summer, this free pattern will have you stylishly attired and looking great in no time.
Complete with a step-by-step video tutorial, using lion brand 24/7 cotton yarn and a 3.5mm hook – you can make it up in one afternoon for an easy project that looks fantastic every time! There's also detailed gauge info: 4 single crochet stitches x 4 rows = 1 square inch, so you know when you've got it right! So why not give this beautiful summer crochet bikini top a try today – get ready to channel those incredible summer vibes! jennyandteddy
41. How to Crochet Chevron Blouse – Free Pattern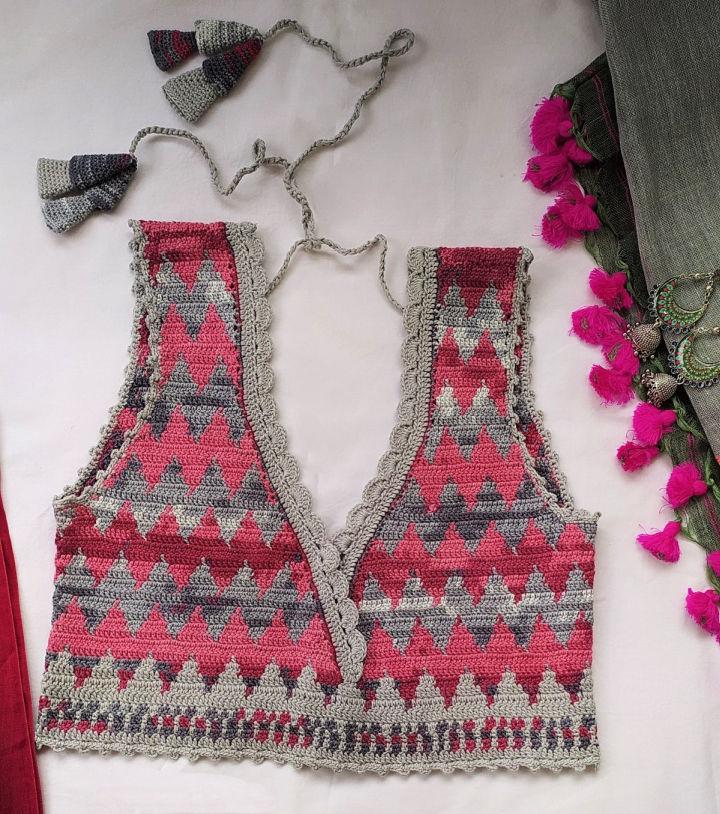 Create the stunning Indian blouse of your dreams with this chevron pattern crochet blouse! With a 3mm hook and a mix of light grey cotton yarn and pink & red twin shade cake yarn, it features a V-neck, open back and is secured with a button closure at the back. Perfect for any sambhalpuri saree, get creative and add your touch to this stunning piece using the given US crochet chart and stitches. Make sure to choose size S when working top down – feature it in your wardrobe today! crochetmia
42. Free Crochet Feja Corset Crop Top Pattern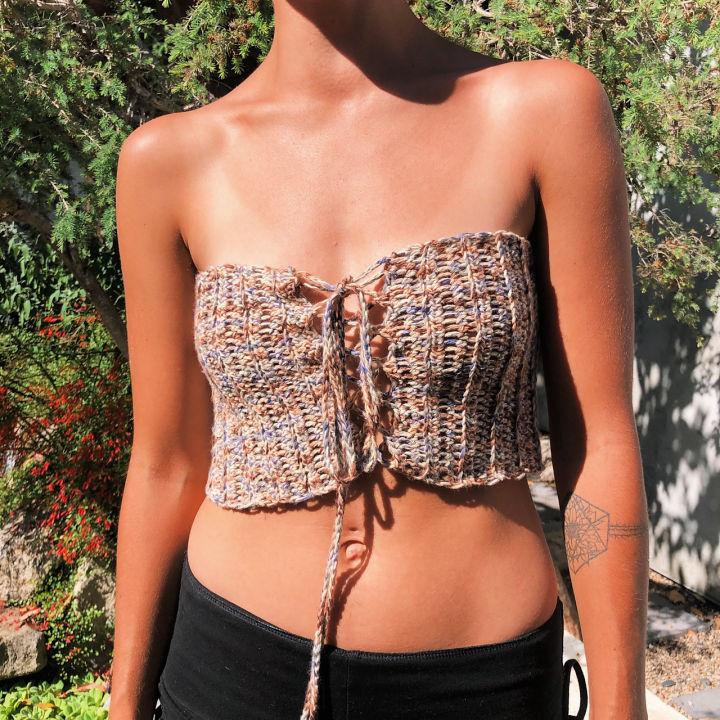 Transform your wardrobe with the stylish and versatile feja corset crop top! Made of aran weight yarn and a 4.5mm hook, this top comes in sizes XXS to XXL and can even be made for children. Its adjustable corset ties make it perfect for ever-changing fashion trends – no bra required! Customize the piece with your unique touches by adjusting foundation chain stitches and crochet rows until there's a 4-inch gap for the corset. Make heads turn wherever you go: get the feja corset crop top today for an unforgettable look! ravelry
43. Crochet Off the Shoulder White Crop Top Pattern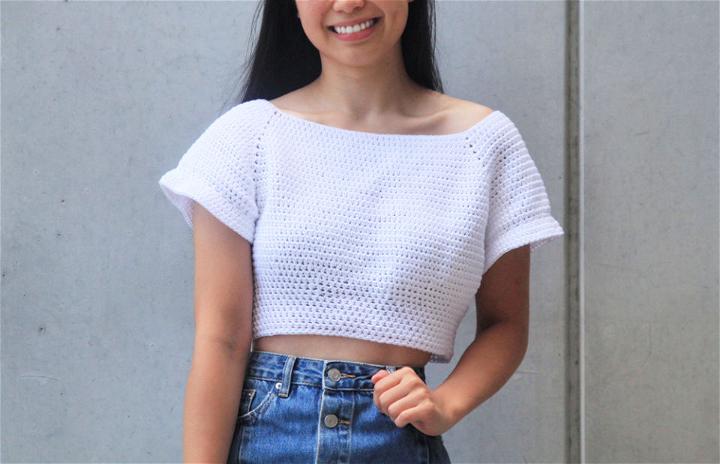 Summer is coming, and you want to take advantage of the off-the-shoulder crop top! This stylish crochet top is easy to make and perfect for warm weather. With a step-by-step video tutorial, it can be adjusted to whatever length you desire. Using lion brand's 24/7 cotton yarn in white gives this top a breezy, airy feel that will perfectly show off your summer tan! Suitable for easy-level crocheters with a 4mm crochet hook, this off-the-shoulder crop top will give you a fabulous look no matter what size sample you make. Get creative this summer with the beautiful off-shoulder crop top pattern today! forthefrills
44. How Do You Crochet a Pixel Top

Mix and match your way to a modern wardrobe with the pixel top pattern. You can easily construct this comfortable crop top with detailed photo, video and diagram instructions from sport weight yarn. The pattern provides sizing for medium size (chest circumference of 90-92cm), plus the length is adjustable to your preference. The back section is reinforced with ribbing for additional comfort – perfect for those hot summer days! Grab your 3.5mm crochet hook and sport-weight yarn to get started on the fashionable pixel top! ravelry
45. Free Crochet Lacy Camisole Pattern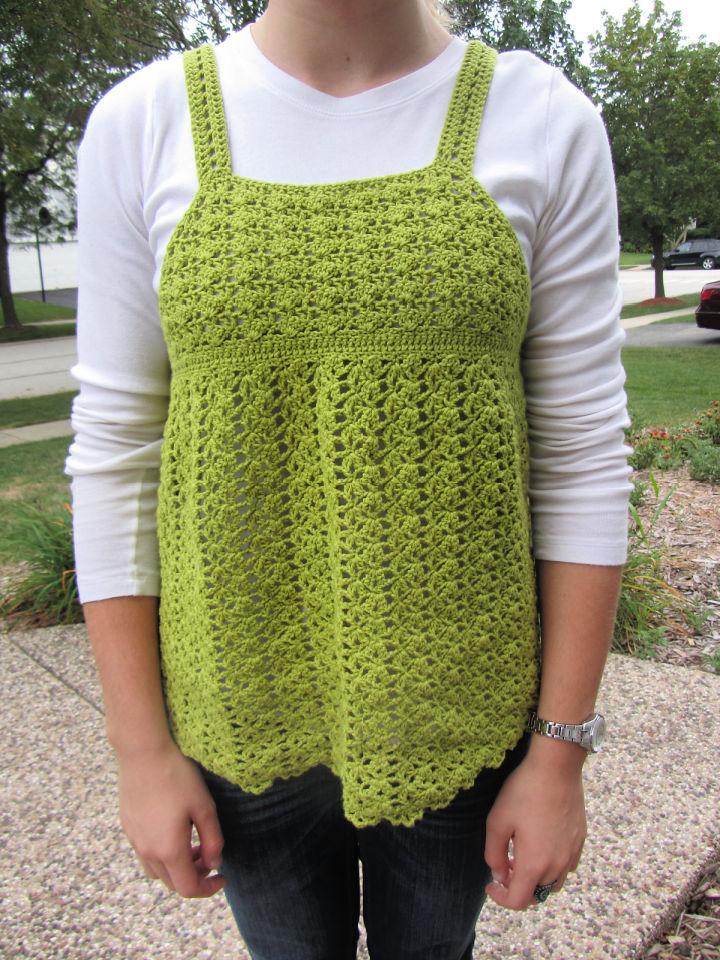 Stitch a stylish lacy camisole with this free crochet pattern. Perfect for summer weather, the camisole is made from 100% organic cotton and requires 3.0mm (US C or D) and 3.5mm (US E) crochet hooks to complete. The finished measurements have a length of 56cm/20.0″. It's a great project for all skill levels – perfect for those looking to refine their crochet skills or create something special for themselves! Download this free pattern today and start crafting your beautiful lacy camisole! gosyo
46. Crochet Spring Valley Bandeau Top Pattern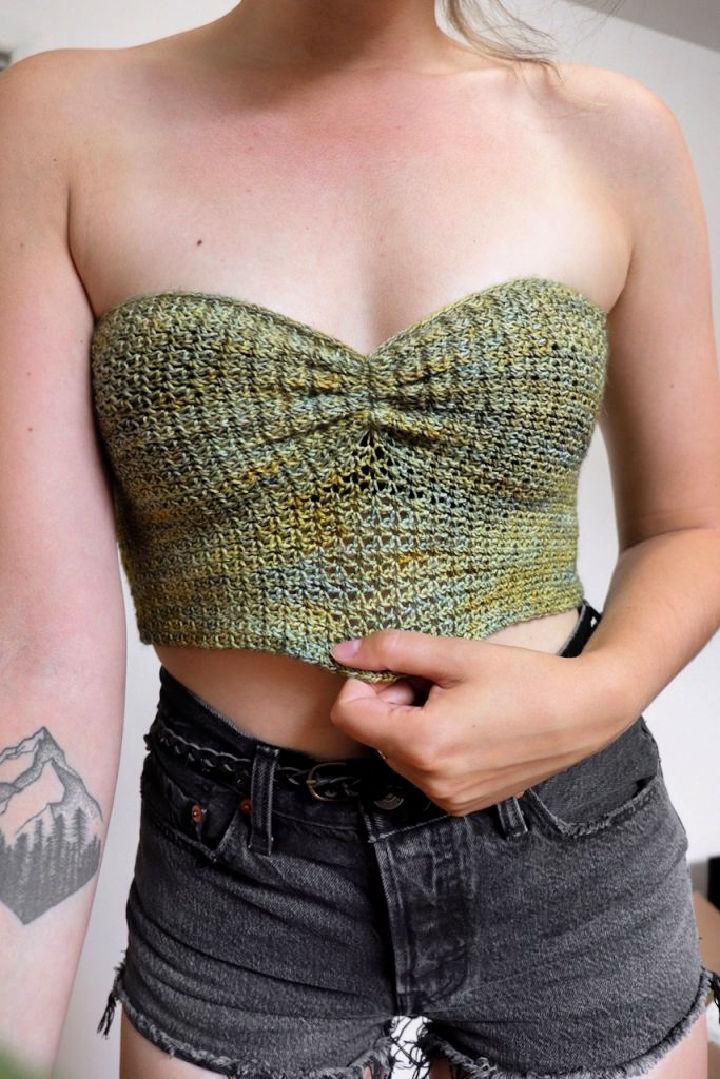 Crochet a stylish summer top with the ruched summer tube top pattern! This free, easy-to-make crochet pattern is customizable to fit any body type. Follow the tutorial-style instructions and use your measurements for a perfect fit. The ruching at the front is simple to make by weaving yarn and pulling tight. Wear as is, or add a bra or pasties for extra coverage – you can adjust it by adding more fabric if needed. Get creative with stitch patterns and yarn weights – start crafting your custom look today! knitsnknots
47. Top Down Crochet Sweater Pattern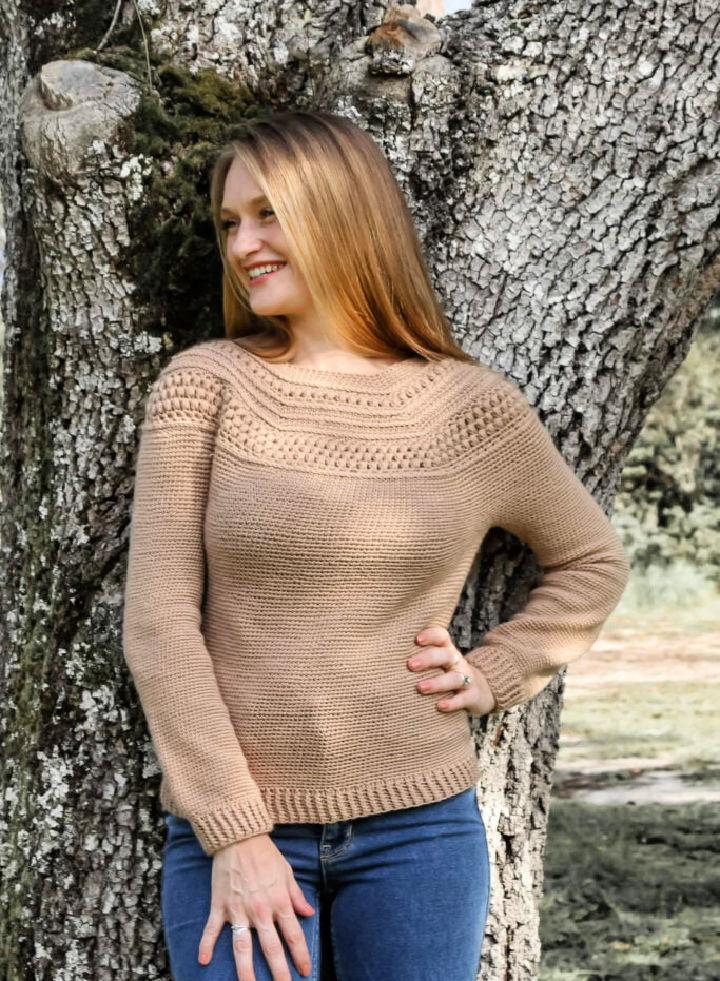 All fashion lovers will love this top-down yoke sweater, a handmade, seamless beauty that looks store-bought. Inspired by the need for a lightweight, detailed sweater that is easily washable, this 100% acrylic yarn piece in taupe will keep you both soft and warm. Available in many colors and perfect for those with allergies, its advanced beginner crochet pattern can be made by even the most novice crocheter with just #3 DK weight yarn & 4.50 mm crochet hook! With sizes XS to 5X available w/ detailed measurements included, make your own stylish & easy-care sweater today – totally free! lifeandyarn
48. Crochet Granny Squares Summer Tank Top – Step-By-Step Instructions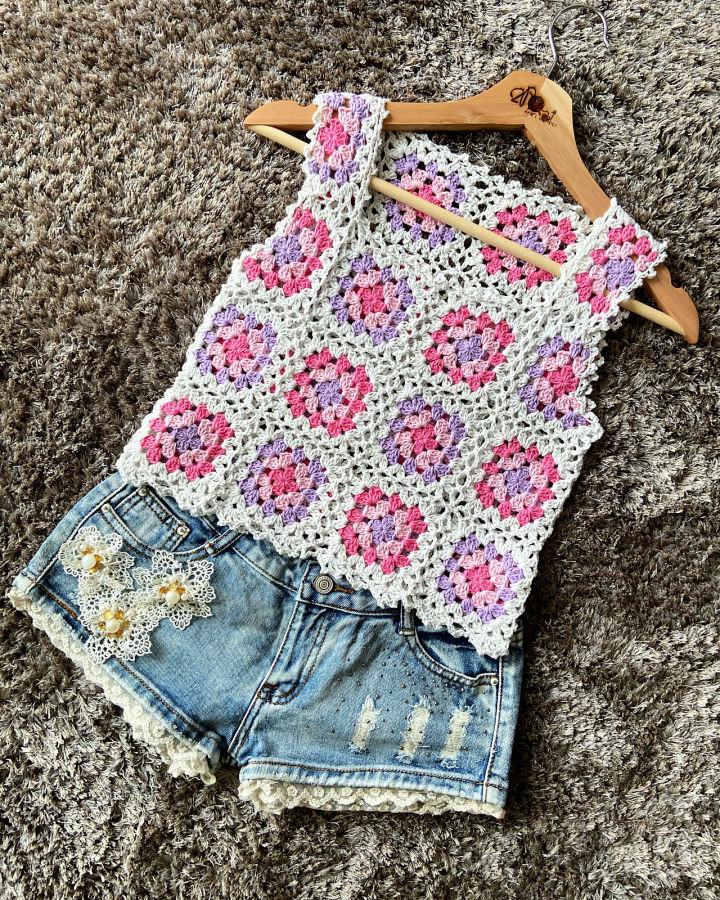 Look unique yet stylish this summer with this easy granny square top! Perfect for beginner crocheters, no need to worry about shaping squares – they're easy to make by changing rows and colors. With a 4.0mm crochet hook, organic cotton yarn in 4 colors, measuring tape, a tapestry needle and scissors, you'll be all set to craft your special piece of clothing.
Make it any size by adjusting the hook size or adding more rows of squares – finished measurements are bust 36cm, length 41cm and weighs 120 grams. The gauge is 1 square equals 9cm x 9cm (including the joining row). Get started now and enjoy creating your very own granny square summer top! znooicraftcorner
49. Meadow Tie Top Crochet Bralette – Free PDF Pattern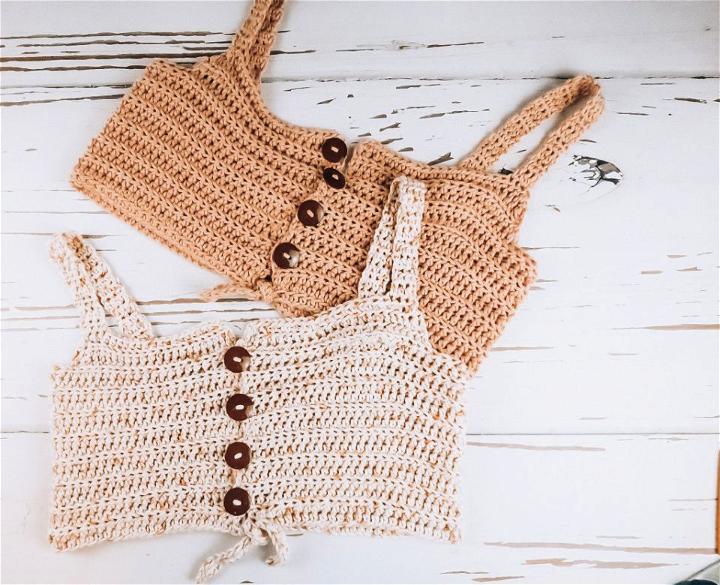 Get ready for summer with the meadow tie-top crochet bralette! This easy to the intermediate level pattern is perfect for any summer activity – from a day at the beach to a music festival. Available exclusively in hobby lobby's "I love this yarn" warm blush or other 4-weight cotton substitutes, you'll need a 5.0mm crochet hook and 4-5 buttons. Progress photos guide you along your project so that this crochet bralette can become your new summer staple wardrobe item! Get started now and have fun creating yours today! taylor lynn
50. How to Make a Neith Top – Free Crochet Pattern

Brighten your spring wardrobe with the new top – a must-have for any summer wardrobe. This crocheted top is easy to make and customize, featuring a colorful Granny stitch that can be made to any size. Crafted with hobbii twister solid yarn in shades of light purple, iceberg, green apple, pineapple and tangerine, you'll need only a 3mm and 3.5mm hook and 6 stitch markers, a yarn needle and measuring tape. Make sure to have it on hand, brightening even gloomy January days! crochetwithcarrie
51. Crochet Granny Square Flower Top Pattern to Print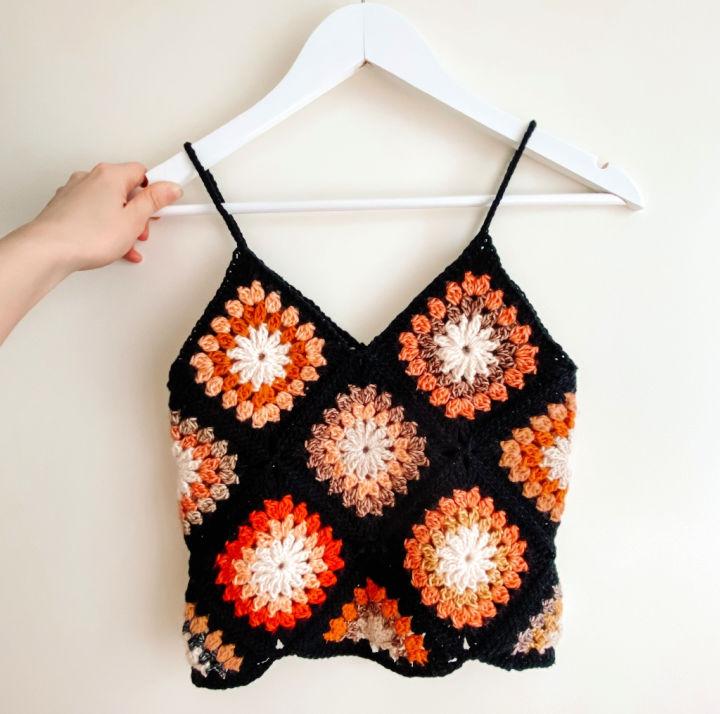 Inject some color into your closet with the summer flower top pattern! This striking design will make you stand out from the crowd and is easy to crochet. Featuring colorful flower granny squares and triangles, this stylish top is crocheted with scheepjes stone-washed and river-washed yarns and novice cotton soft yarn for comfort. Available in two sizes (XS/S or S/M), it's perfect for any summer occasion, with a finished size of approximately 71 cm for XS/S & 80 cm for S/M. Add a unique touch to your outfit with this beautiful and eye-catching design – get creative & crochet the summer flower top today! swoolnordicdesign
52. Quick And Easy Crochet Bra Top Pattern

Whip a chic and stylish crop top in your favorite cotton yarn with this easy-to-follow crochet pattern! All you need is weight 4 cotton yarn, a 3mm crochet hook and some basic knowledge of stitches. The pattern includes instructions for making two cups, connecting them with a chain and adding an optional stitch pattern to achieve the desired length. Finish off the corners with 250 chains each for added detail. Perfect for beginners, this fun project can be completed in no time, so grab your supplies today and start crocheting your own fashionable piece! crochetwithcarrie
53. Crochet Striped Hippie Halter Top Pattern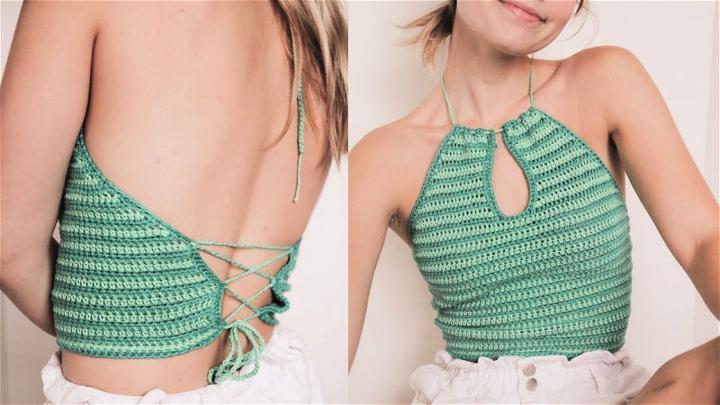 Learn how to make this cute and stylish 90s aesthetic crochet striped halter top with a keyhole cut-out! Perfect for advanced beginner crocheters, this easy-to-follow tutorial will show you step-by-step instructions on how to make the perfect DIY crochet garment. All you need is some cotton DK yarn and a 3.5mm crochet hook, so grab your materials and get ready to create something amazing! Show off your creative side in style – try making a 90s aesthetic crochet striped halter top today!
54. DIY Shelly Butterfly Top – Free Crochet Pattern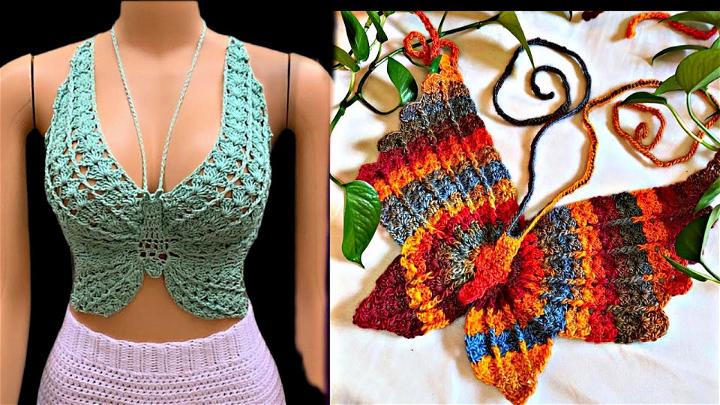 This stylish crochet top adds a unique touch to any wardrobe. The shelly butterfly pattern is elegant and unique, helping you stand out from the crowd.! This stylish and versatile top is constructed from a shell stitch pattern, creating a beautiful lace effect. Perfect for any season, you'll be rocking this top in style on summer days or when snuggling up for winter. It's fast to make and adds a feminine touch to any outfit. Try out the shelly butterfly crochet top today for an updated, fashionable look all year long!
55. Easy Crochet Tube Top Tutorial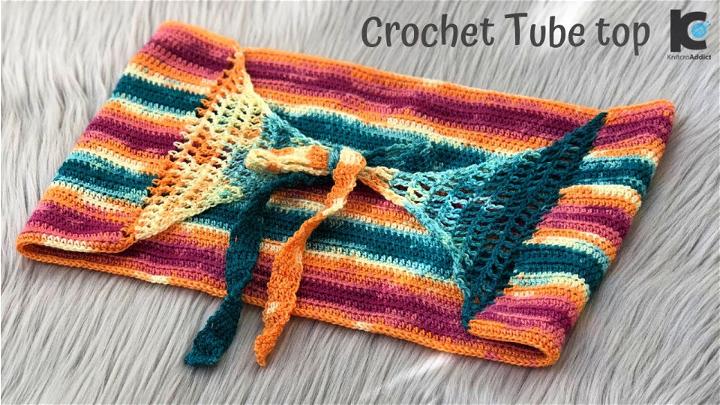 Get busy with your hook and crochet your stylish crochet tube top with this free pattern! The measurements provide a small fit to busts of 32-34 inches and a length of 8.17 inches. All you need is sport weight #2 yarn, a crochet hook size 2.3mm, and the gauge blocked is 27 hdc x 23 rows = 4″ for best results. Make sure to tie the straps to achieve the desired width for your perfect look!
Related Free Crochet Patterns:
Unlock the creative world of crochet and discover something new with our amazing selection of free crochet patterns! From easy to expert designs, there's something for everyone.
Related Easy Crochet Patterns for Beginners:
Discover beginner-friendly crochet patterns that are simple and fun to create with our selection of easy patterns.
Conclusion: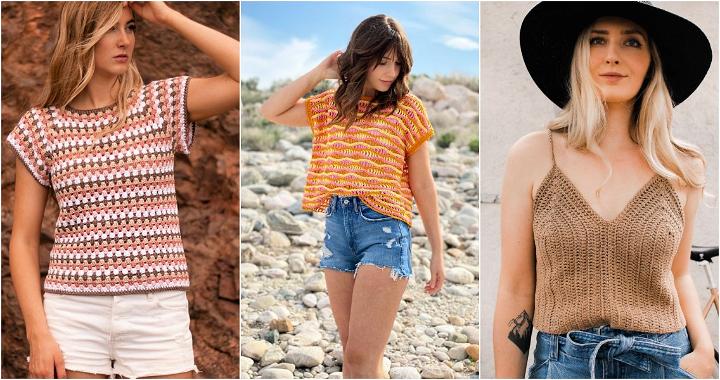 Crochet tops are an easy and fun way to add a stylish touch to your wardrobe. With 55 free crochet top patterns, you have plenty of options, whether a crop top, tank top, shirt or halter top. These patterns come with detailed instructions and step-by-step guides for beginners. Some require basic stitches while others may take more advanced skills – but all can be created quickly with simple supplies. Crocheting is an enjoyable hobby that can help you to create beautiful crochet top patterns that last for years! So get started today and give yourself the gift of fashion-forward handmade crochet tops!