Looking for a stylish and simple crochet bucket hat to keep your head safe from the elements? Our list of crochet bucket hats is here to save the day! Find 30 easy and free crochet bucket hat patterns with step by step instructions. With its classic shape and versatile design, a bucket hat is perfect for all seasons and occasions. Crocheting your own bucket hat allows you to customize the size, color, and texture. These crochet bucket hat patterns range from easy and basic to more advanced patterns and are just what you need and perfect for a beginner wanting to learn how to crochet their first pattern.
Everyone is embracing the timeless style of the bucket hat these days, and it's no surprise why: they look great and are incredibly easy to make. If you are looking for an easy bucket hat crochet pattern that crafters of all levels can master, then look no further than the 30 free crochet bucket hat pattern collection. This comprehensive guide offers detailed tutorials on making classic and aesthetic bucket hats for adults and children.
For your convenience, many crochet bucket hat tutorial comes with step-by-step instructions in both written and video format so that you will get all the stitch regardless of your preferred learning style. Whether you're a total crochet beginner or a seasoned pro, with this collection of free crochet bucket hat patterns, making beautiful and trendy bucket hats could not get easier! So, grab your crochet hook and start crocheting your own bucket hat today!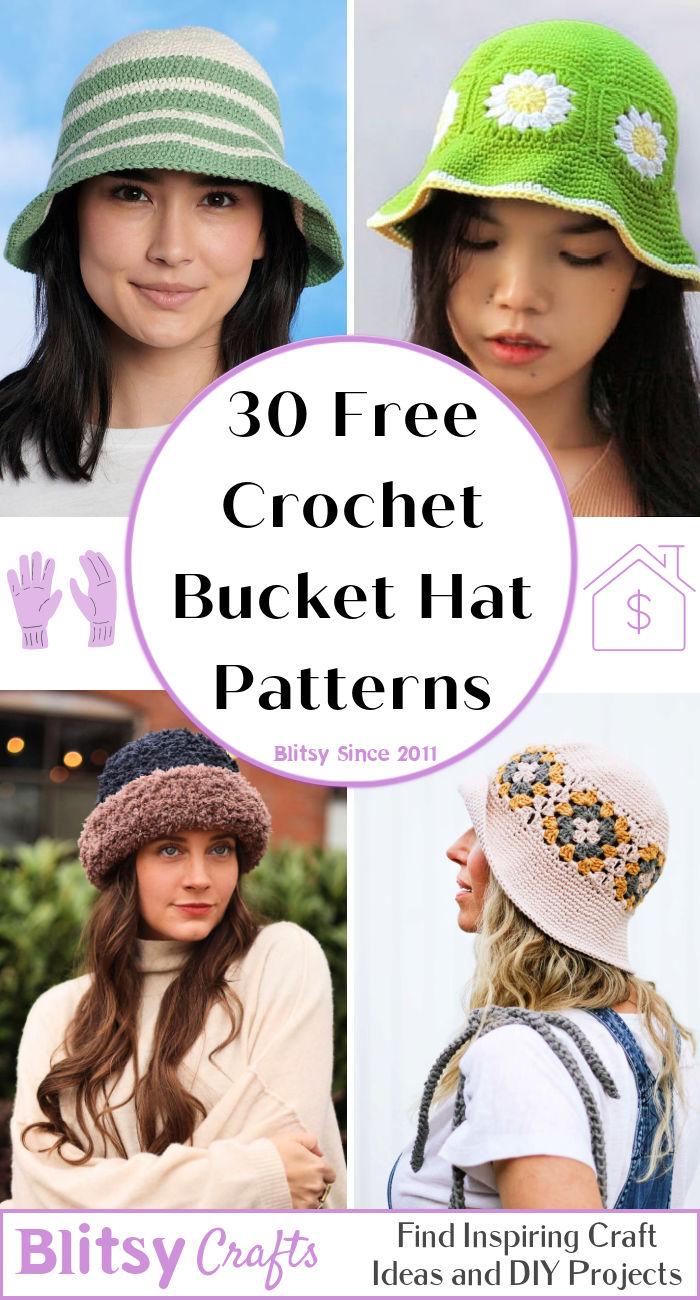 Materials You'll Need for Crochet Bucket Hat
Before you start, ensure you have the materials for this project, including yarn, a crochet hook, and a tapestry needle. You can choose any yarn and crochet hook size you prefer to create your hat.
Crochet Bucket Hat Pattern: Tips and Tricks
Find below some additional tips and tricks to help you create the perfect crochet bucket hat.
Choose a yarn appropriate for the season and style of the hat you want to make.
Experiment with different crochet stitches to create unique and interesting textures.
Measure your head before starting to ensure the hat fits properly.
Use blocking techniques to help maintain the shape of the hat.
Add embellishments like a ribbon or bow to personalize your hat.
Creating your own crochet bucket hat is a fun and easy way to express your style and creativity. With this step-by-step guide and free pattern, you can easily make your own stylish and trendy hat that will turn heads wherever you go.
1. Summer Stripes Crochet Bucket Hat PDF Pattern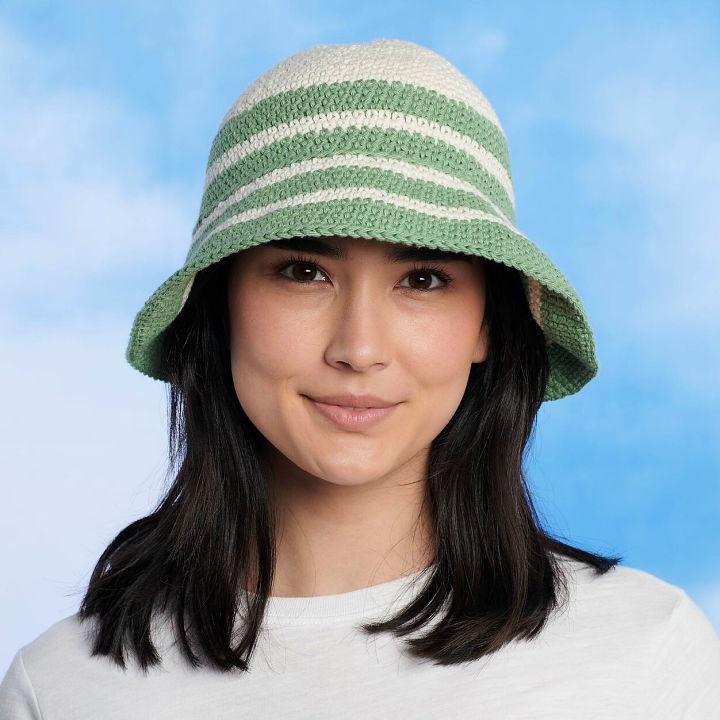 Stay cool and stylish this summer with the summer striped crochet bucket hat! This easy, one-size project is perfect for crochet enthusiasts. Made from lily sugar'n cream yarn selected in soft ecru and meadow yarn and a US 7 (4.5 mm) crochet hook, it fits head circumferences of 21 inches for extra comfort. Accessorize your summer wardrobe with this trendy and practical bucket hat – you won't regret it! yarnspirations
2. Easy Crochet Theo Bucket Hat Tutorial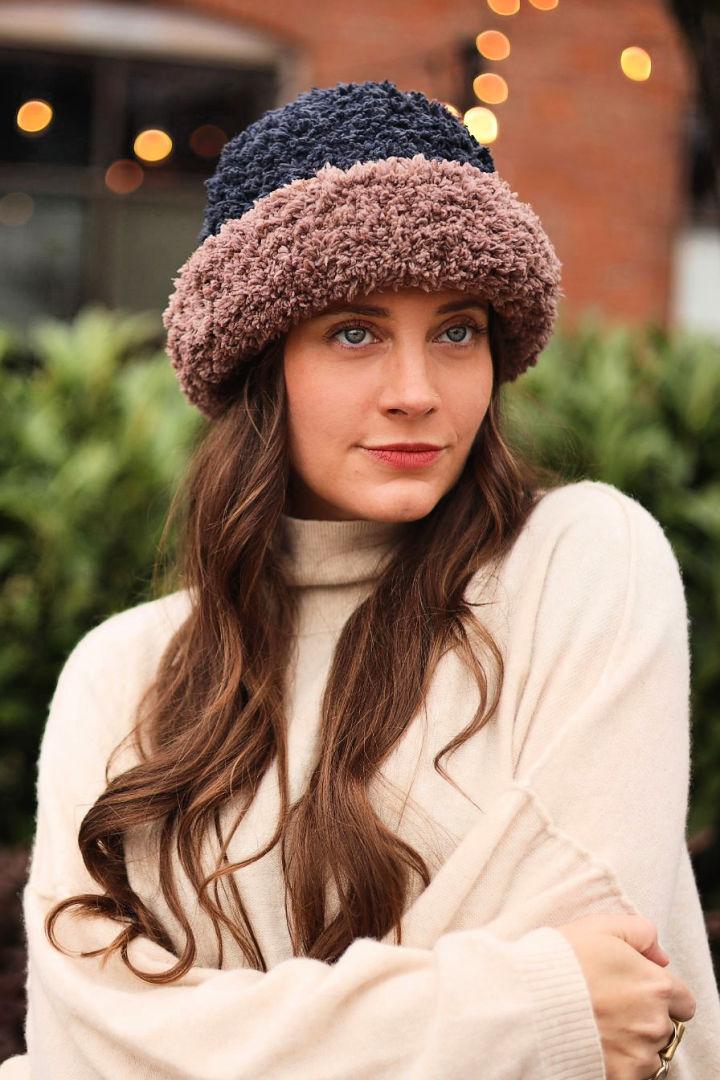 Keep warm this winter with the theo bucket hat! It's the perfect accessory to keep snug when temperatures drop. Crochet it using the lion brand's go for fleece sherpa yarn. This fast-crocheting accessory is perfect to wear outdoors. The hat pattern comes in four sizes and features color blocking.
With a head circumference of 14-23.5 inches and a crown height of 4-7 inches, you can easily make your own with one skein each of clay (color B) and slate (color A), plus a US N/P crochet hook, stitch marker, and tapestry needle. Get ready to strut your stuff – get the free pattern today! twoofwands
3. Women's Crochet Granny Bucket Hat Pattern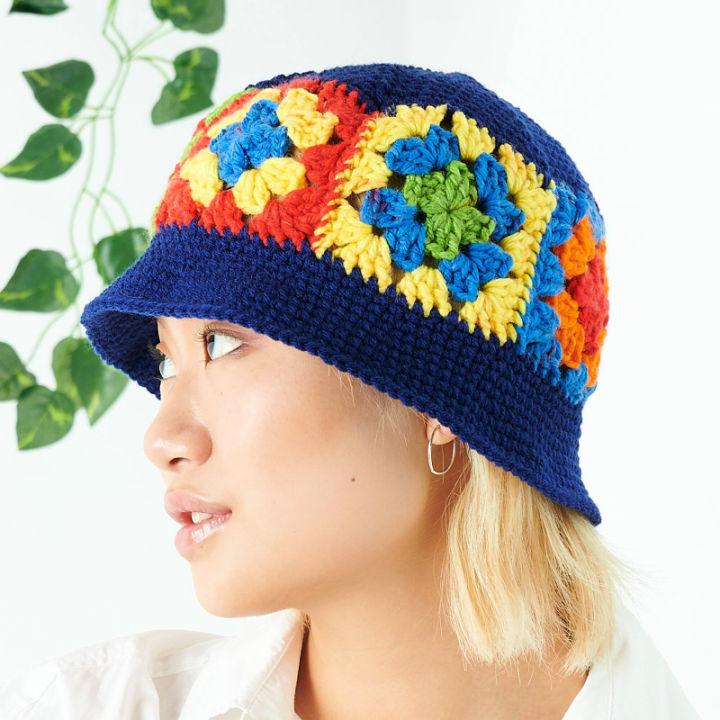 This crochet granny bucket hat is an easy-level hat designed to fit adults. It's perfect for any outfit, made with worsted weight, 4 acrylic yarn in soft Navy and five contrast colors of the rainbow. Simple to make using a US G/6 (4mm) hook, the pattern has a gauge of 16 single crochets and 18 rows = 4 inches. With its colorful granny stitch pattern, you can make this cozy and stylish accessory today! Get your supplies ready and start stitching – it's sure to be your new favorite go-to hat! yarnspirations
4. Crochet Granny Square Bucket Hat Pattern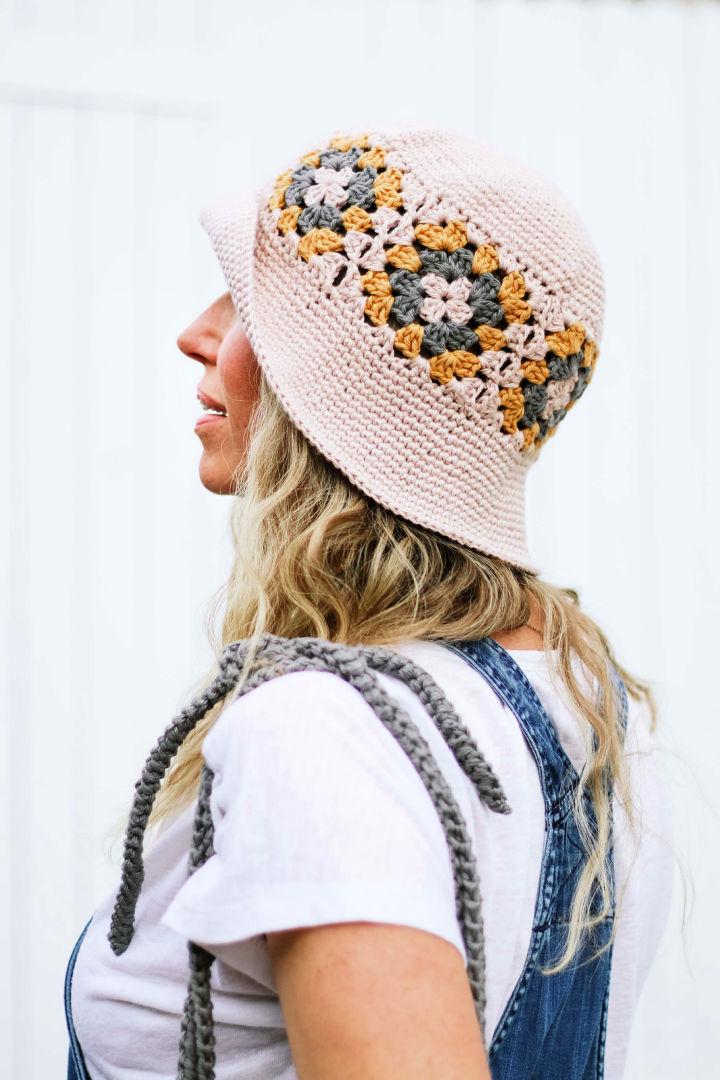 This free crochet granny square bucket hat pattern is the stylish hat for a look that's both nostalgic and current! Flip the brim for a cute peek-a-boo, or wear it down for maximum shade. This pattern uses six crochet granny squares to make the hat and includes an easy tutorial. Get creative by adding extra rounds in the brim section for a longer, floppier look – keep in mind you'll need more yarn than mentioned in the pattern! Check out this free halcyon granny square bucket hat pattern now! makeanddocrew
5. Free Crochet Annie Bucket Hat Pattern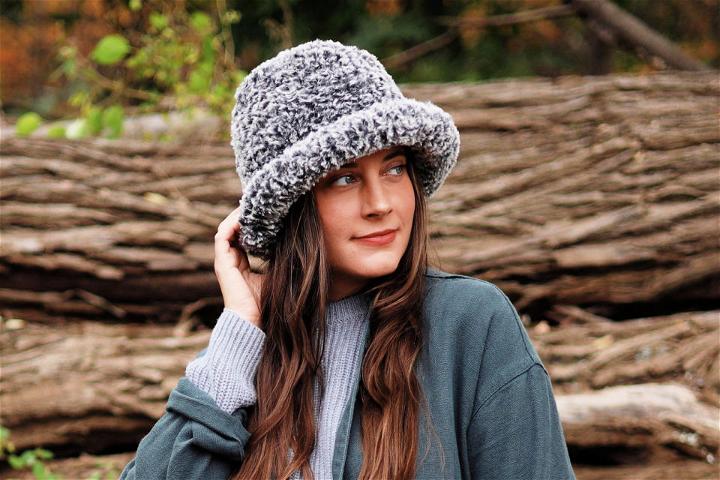 Introducing the Annie bucket hat, a fluffy and soft faux fur hat that will keep you feeling cozy all winter long. This free crochet pattern is easy to follow and results in a beautiful finished product! Get creative with colors for an extra pop of style. Grab the free pattern now. Make one for yourself today – it will become your go-to, cozy accessory this season! twoofwands
6. Easy Bucket Hat Crochet Pattern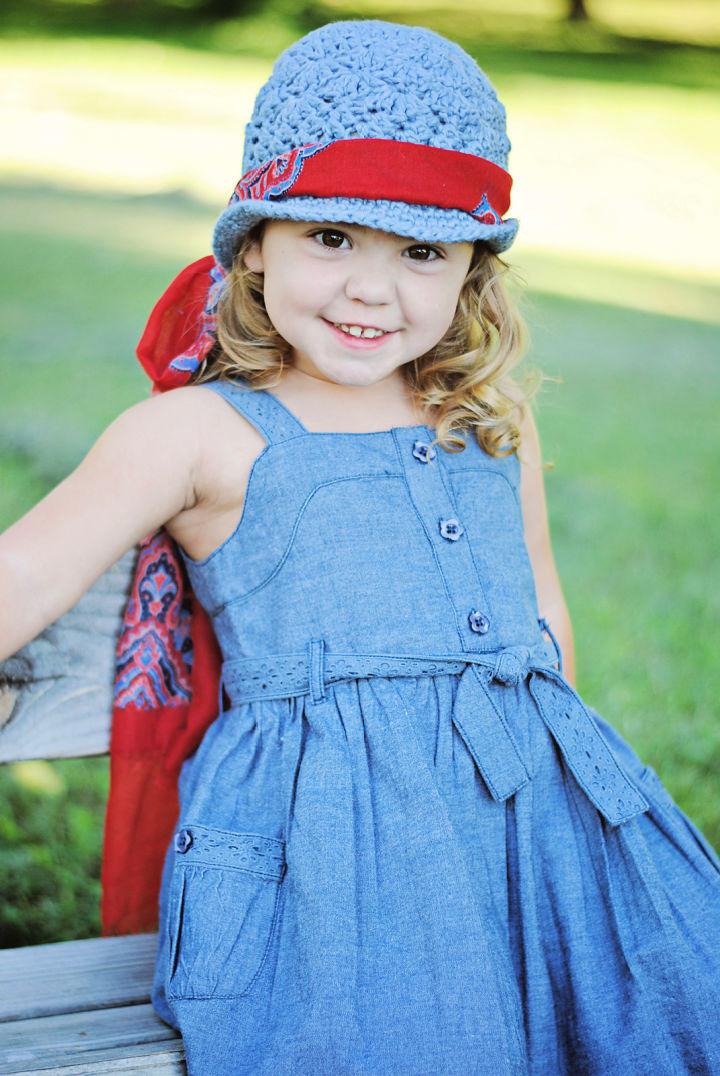 Opt for this free crochet hat pattern that keeps your head warm and stylish! It's a classic bucket-style hat with aran yarn weight, using a 6.0 mm (J) hook size. Available in three sizes: toddler, children, and adult one-size-fits-most. Create a unique look by choosing from endless color options. Get this easy-to-follow pattern today and start crocheting the perfect hat for you or someone special! ravelry
7. How to Crochet a Bucket Hat – Free Pattern

Beat the summer heat with a weekend crochet bucket hat! This stylish accessory shields you from the sun, allowing you to stay cool and comfortable during the warmest months. The hat is made from DK weight yarn in an eye-catching silver color. The pattern is easy to follow, using only single crochet stitches for a fun and easy project perfect for any level of crocheter.
It fits adult women with a head circumference between 21-23 inches so that you can start your weekend in style no matter your size. Beat the heat and look good – get the weekend crochet bucket hat today! leeleeknits
8. Crocheted Beach Day Bucket Hat – Free Pattern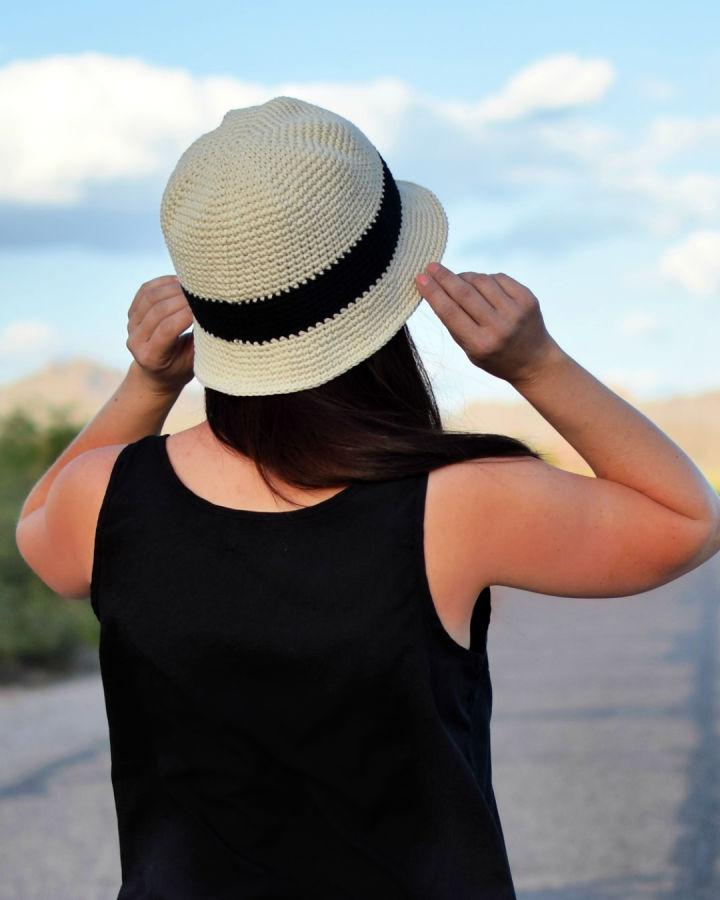 Try this beach day bucket hat crochet pattern that is the perfect way to stay shaded and stylish! Crocheted with worsted-weight yarn, this beginner-level project offers complete head coverage with an extra-long brim.
You'll need a 4.5mm hook for the main body of the hat and a 3.5 mm hook for completing the brim. The finished size measures 8.5″ lengthwise and 21″ circumference above the brim. Get started on your summer look today with this beach day bucket hat crochet pattern! hookedonhome
9. Easy Printable Bucket Hat Crochet Pattern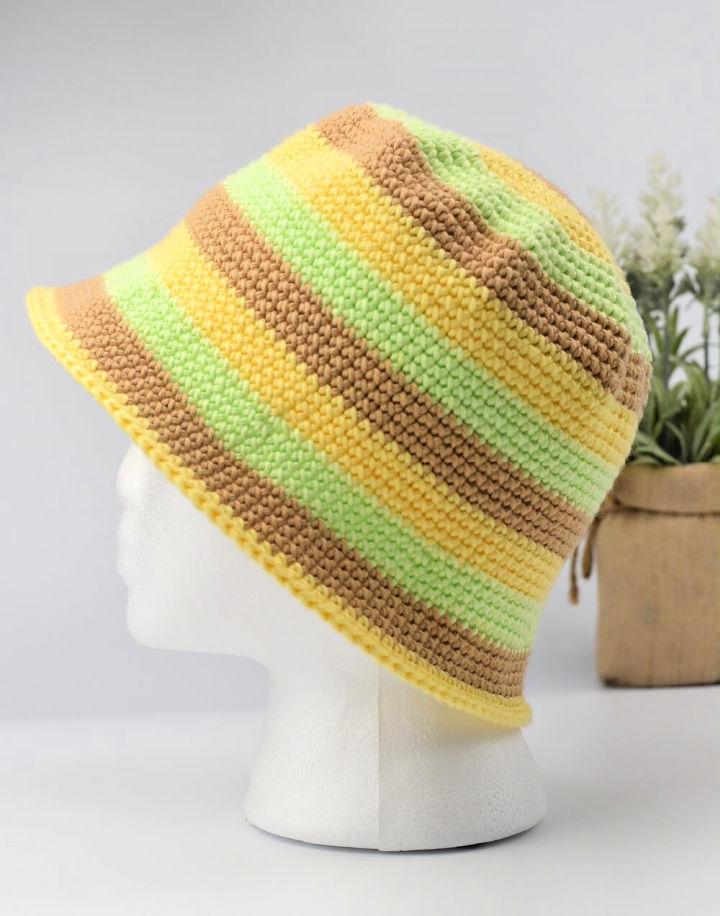 Turn heads with this iconic 90's trend! Cute, stylish and simple bucket hats are the perfect accessory for your warmer-weather outfits. Cotton or cotton blend yarn is ideal for making fisherman-style sun hats as they absorb moisture and keep you cool in hot climates. Look online to find celebrities rocking this must-have look – 100% cotton yarn makes it easy to recreate at home. Grab the worsted weight (4) 100% cotton yarn to crochet this perfect summertime hat that won't get too hot in the sun! Get the free bucket hat pattern that is totally friendly to advanced beginners now! zamiguz
10. Crocheting a Bobble Granny Square Bucket Hat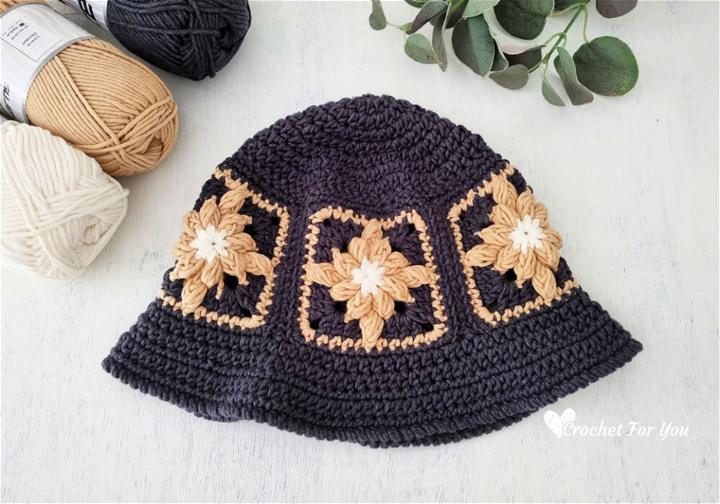 Crochet a chic summer bucket hat with this easy-to-follow crochet pattern! With its classic black base color, the hat can be customized to your unique style by adding more colors to the granny squares.
The skill level is intermediate and designed to fit an adult woman with a circumference of 21-22 inches and a height of 7.25 inches without the brim. Get 4-medium cotton blend yarns in 3 colors plus a US H 8/5mm crochet hook for a perfect start! Let's show off your creative fashion sense this summer with this fashionable bobble granny square bucket hat – it's sure to turn heads! crochetforyou
11. Beautiful Crochet Daisy Flower Bucket Hat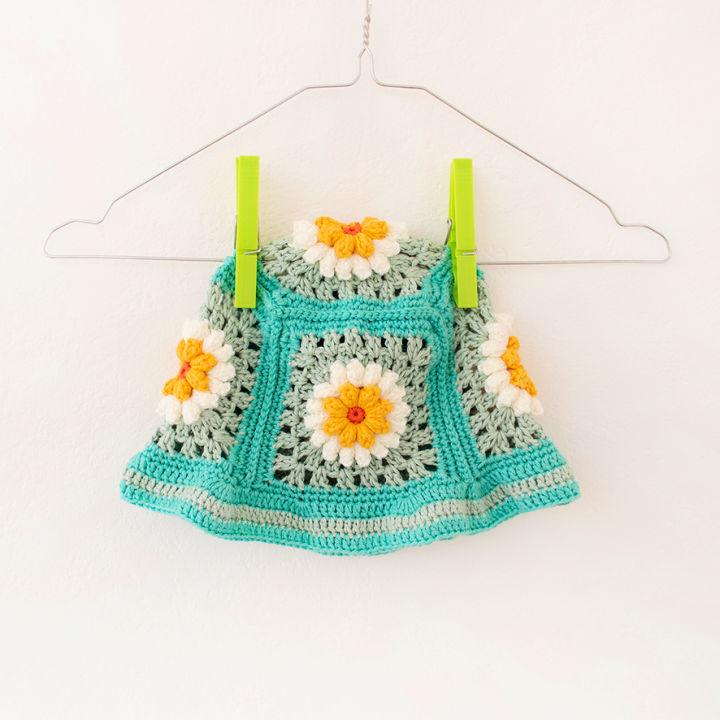 Make a statement with this beautiful crochet daisy flower bucket hat. It's perfect for the beach or any outdoor activity during the summer. Enjoy making this entertaining yet challenging project that is both fun and rewarding! Materials needed to create this stunning piece include Dk/light worsted cotton yarn and 5mm (H8 in US) and 4mm (G6 in US) crochet hooks – perfect for beginner-intermediate levels of experience. Get started on your stylish look today – you'll be so proud when you see your unique creation! myaccessorybox
12. Cotton Crochet Bucket Hat – Free Pattern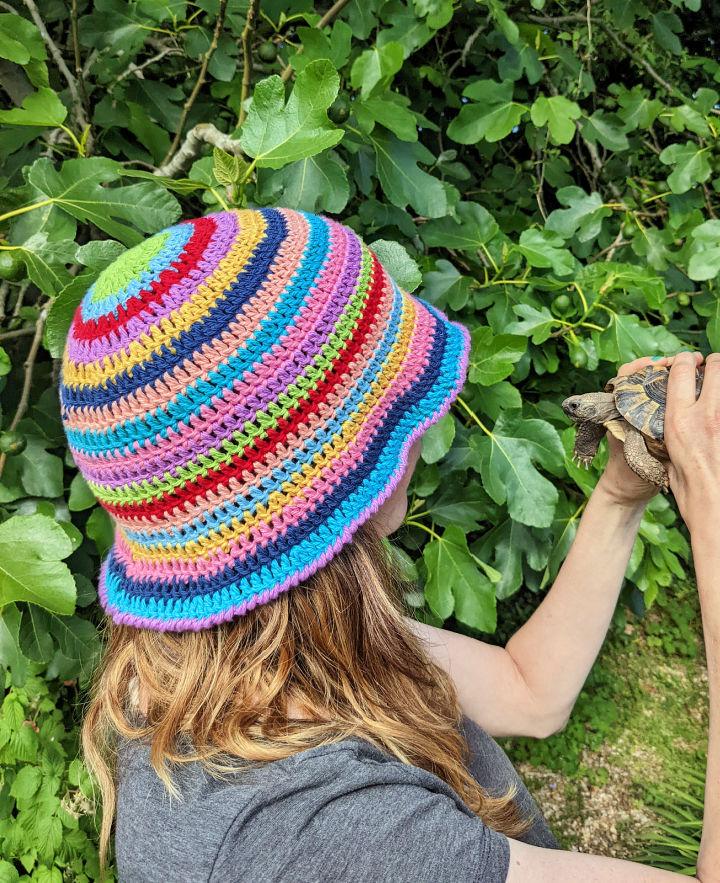 This cozy crochet bucket hat is perfect for keeping you stylish and cool in the summer! Featuring a unique color-changing design, soft cotton fabric and adjustable fit, it's an accessory that will make heads turn. With instructions suitable for intermediate crocheters using US DC (UK treble) stitches and DK cotton yarn, plus the reverse US single crochet or crab stitch edging to give a spiral effect, this pattern is sure to become your go-to hat. Get creative with colors and grab your materials now – start crocheting today! zeensandroger
13. Aesthetic Crochet Denim Bucket Hat Pattern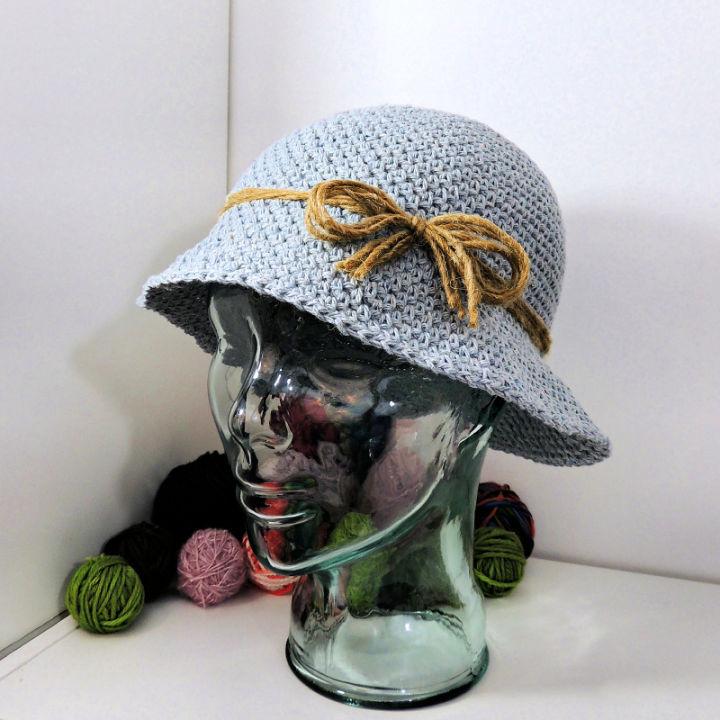 Willing to crochet a summer hat? This free crochet hat pattern is perfect for sunny days! It's quick & easy to make and comes in 4 sizes. With just one skein of medium/worsted weight yarn, you can get a denim-look bucket hat with an impressive gauge of 22 sts x 22 rows = 4″ (10 cm) when worked in linen stitch. Use a 4.5mm hook & personalize the hat with trim or contrasting yarn for your own unique style. Suitable for head circumferences between 18-24 inches, it's great for both kids and adults! jessieathome
14. Crocheted Sun and Sand Bucket Hat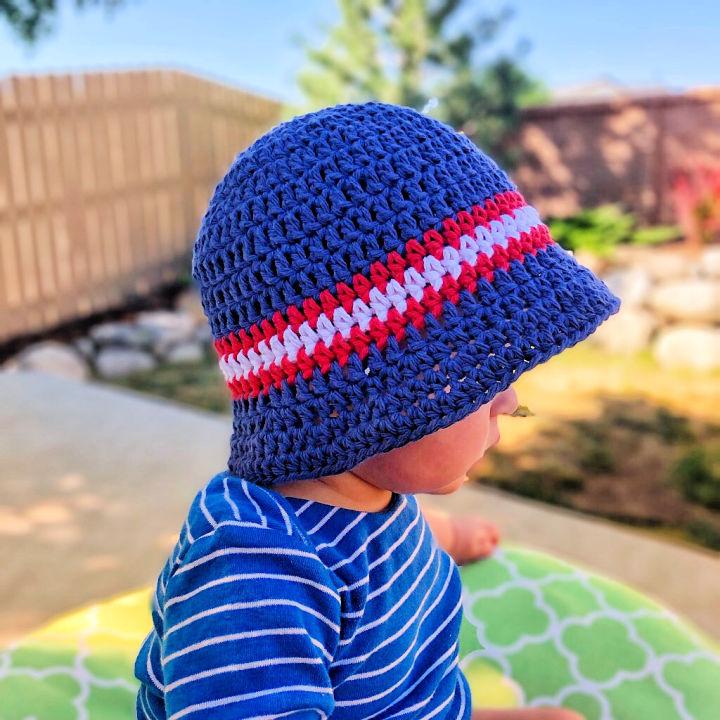 Protect your little one from the sun with this free crochet pattern for a super simple kid's sun hat! Perfect for walks to the park and pool days, this beginner-friendly pattern is made using a US size G (4.25 mm) crochet hook and can be used to create hats that will shade your child's eyes while still allowing them to explore the world around them. Available in stripes or without, this versatile design is suitable for children aged 3-6 months with a head circumference of 16-17 inches. Download the pattern now and keep your little explorer safe in style! madewithatwist
15. How to Crochet a Granny Square Bucket Hat Step By Step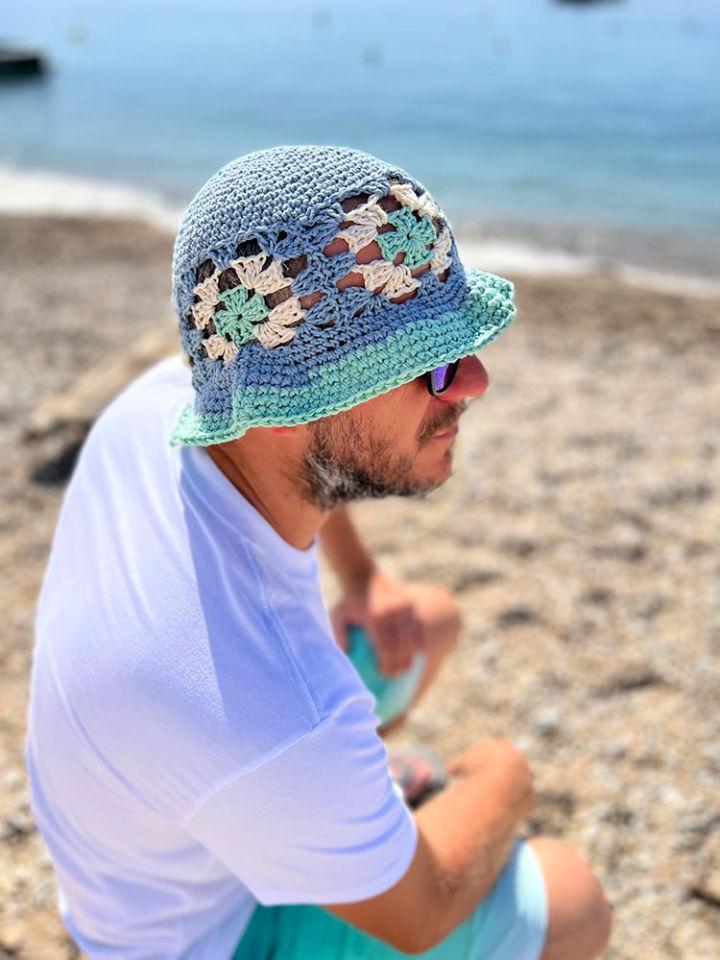 Whip up this easy, stylish granny square bucket hat with this free crochet pattern, perfect for summer days! Crocheted from cotton in three colors, it's a great stash buster and only needs a few hours to make. The brim can be turned up or down, depending on your style preference. With the cotton fabric, this hat holds its shape well and is easily folded for packing. Skill level: easy (advanced beginner). Measurements/sizes – circumference: 18 inches; top of the hat to edge of brim: 9 inches; fits head circumference 22-24″ inches. Get creative and adjust the size as needed! handylittleme
16. Crochet Blossom Bucket Hat Written Pattern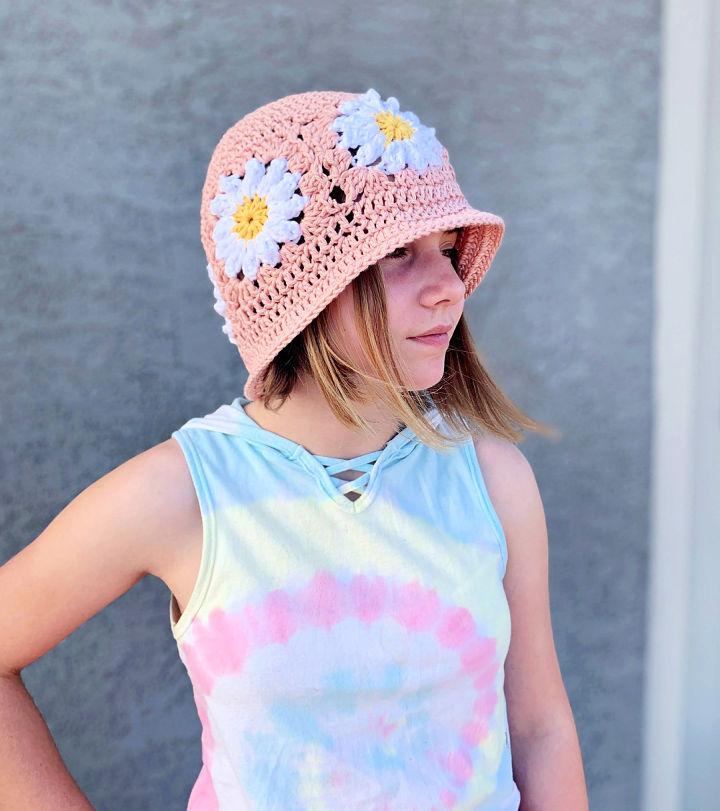 Make your summer days even better with the blossom bucket hat crochet pattern! This intermediate-level project is easy and fun to make, and it's perfect for a day at the beach or any sunny outdoor activity. Start with a simple flower granny square pattern, then add the top of the hat and brim for an eye-catching look. Use 3 colors of worsted-weight acrylic or cotton yarn, h/5.0 mm and e/3.5 mm crochet hooks, plus a yarn needle to complete this stylish bucket hat that will be sure to turn heads! Get ready for some summertime fun with this blossom bucket hat crochet pattern! hookedonhomemade
17. Summer Crochet Bucket Hat Pattern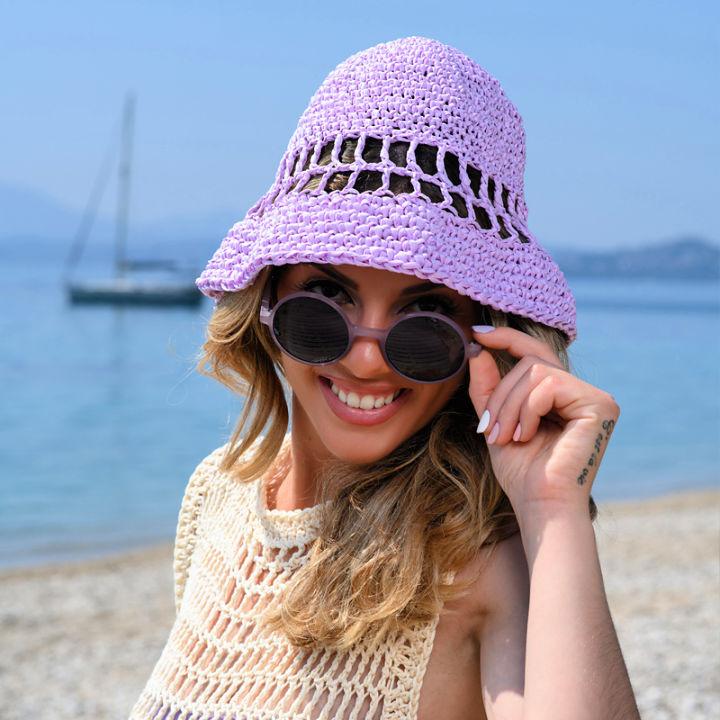 Get ready for summer in style with this beautiful crochet bucket hat pattern! It features single crochet, increasing and treble crochet stitches, perfect for advanced beginners. Made from either a sturdy lilac raffia or a softer cotton material, the finished hat measures 49cm in circumference and 25cm top to brim – fitting head circumferences of 56-61 cm. All you need is 5mm and 6mm crochet hooks and 2 hours of your time! Get creative this summer with this easy-to-follow bucket hat pattern – update your wardrobe on your terms today! handylittleme
18. Striped Bucket Hat Crocheting Pattern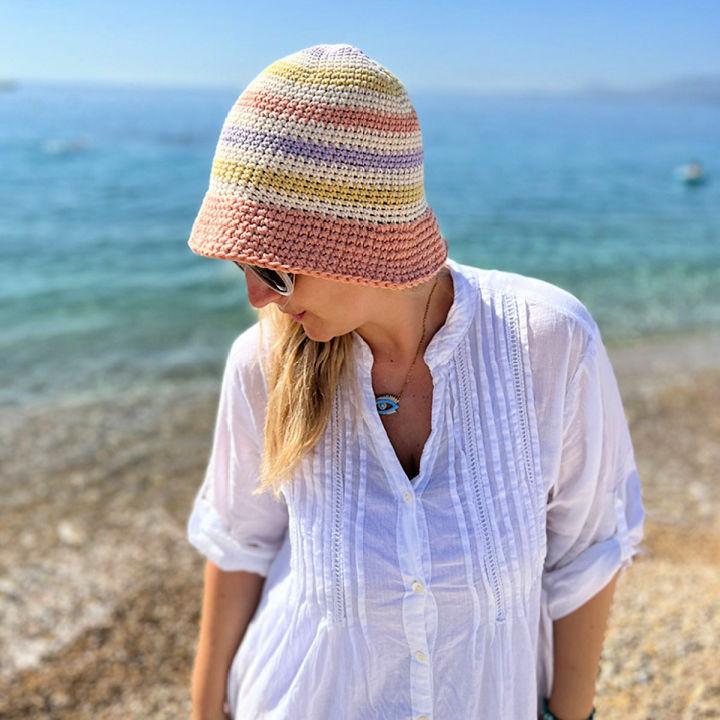 This easy-to-follow crocheted Striped Bucket Hat pattern keeps your head looking great and comfortable on those hot summer days! This chic design is ideal for keeping you cool in the sunshine while maintaining a fashionable edge. Perfect for advanced beginners, it takes only a few hours to make and is made from cotton in 4 colors – great for using up your stash. The hat holds its shape well and can be easily folded away when not in use. It's ideal for those with a head circumference of 22-24 inches. Download now to create the perfect accessory that will make all your friends jealous! handylittleme
19. Easy Basic Bucket Hat Crochet Pattern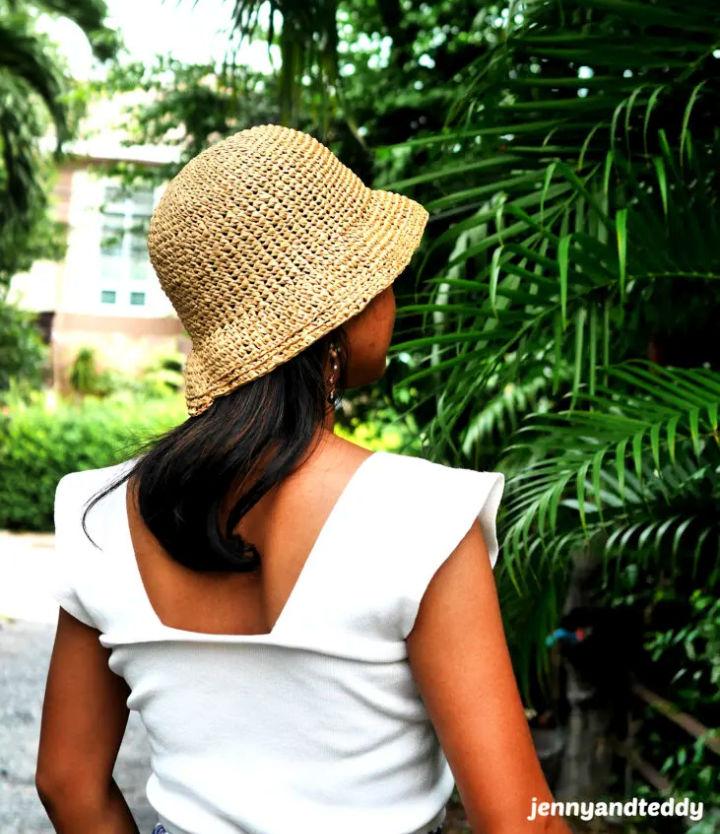 Here's your chance to prepare for summer with this straightforward, delightful crochet bucket hat pattern! Perfect for beginners, the crown, the bucket, and the brim are made with 3 simple parts. Choose a comfortable yarn like cotton, raffia or bamboo to keep cool in the sun.
A full video tutorial makes it easy-expect to finish in 2-3 hours or less using 250-300 yards of yarn. Remember to try it on as you go to get a perfect fit. Need help if the brim is floppy? Switching to half-double crochet will give you tighter stitches and make your unique hat look great! Get ready to crochet your summer accessory today! jennyandteddy
20. Men's Crochet Bucket Hat Pattern

This unisex bucket hat crochet pattern is the perfect summer accessory. It's an advanced beginner-level pattern that takes only a few hours to make and uses single crochet and increasing stitches for shaping. The finished product has a circumference of 51 cm and fits head sizes 56/61 cm, making it ideal for most adults. Use up your stash yarn with this easy-to-follow pattern – grab 3 colors of cotton and use the 5mm hook in 14 sts/20 rounds per 4×4 inches gauge! handylittleme
21. Faux Fur Bucket Hat Crocheting Pattern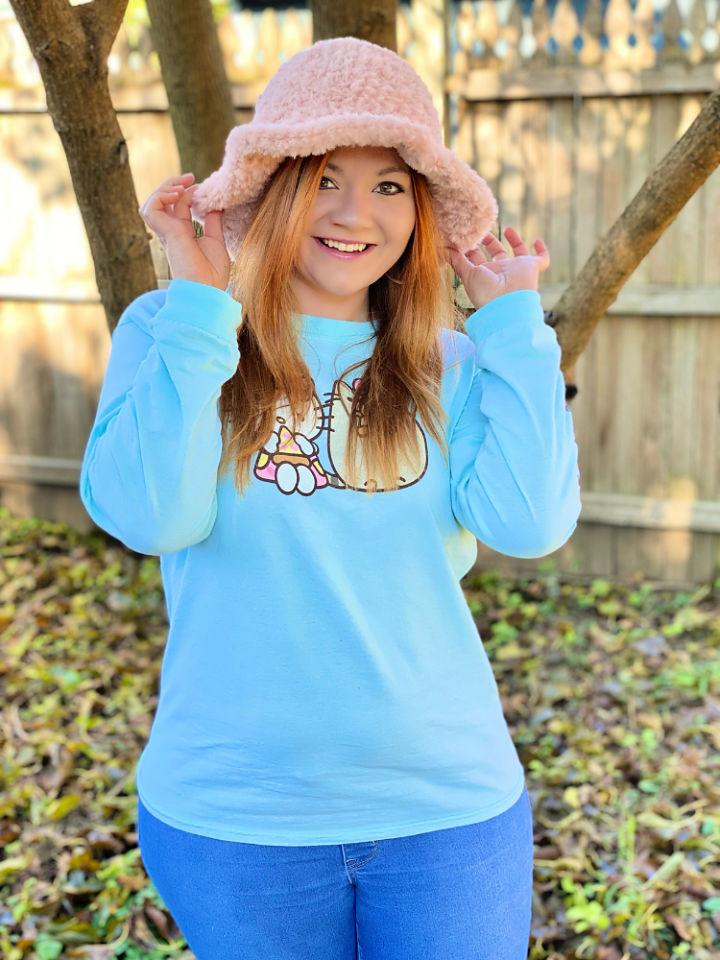 Experience the ultimate in winter coziness with the faux fur bucket hat! This easy, quick crochet pattern uses lion brand go for faux yarn for a cozy and retro-inspired accessory. It only takes an hour to make, so you can whip up several hats in time or create a special one as a gift. The intricate pom-pom detail adds the perfect finishing touch to transport you back to the days of body glitter and butterfly hair clips. Get ready for winter with this adorable faux fur hat – it's sure to bring warmth and "warm fuzzies" into your life! craftykittycrochet
22. Crochet Frog Bucket Beanie Pattern

Crochet your way to a unique style statement with this frog bucket hat. It's perfect for adults and teens alike – even beginners can attempt this fun and the simple pattern! Made with 100% cotton yarn, hot green, white, black and rose pink colors give it a lovely look. All you need is 1 skein of sugar & cream yarn in hot green, a 4mm crochet hook, scissors, stitch marker – and you'll be ready to go! Show off your creativity by making this amazing crochet frog bucket hat. Get started today on this whimsical project with everyone asking where you got it from! theyarnbowlcrochet
23. Free Crochet Fishing Hat Pattern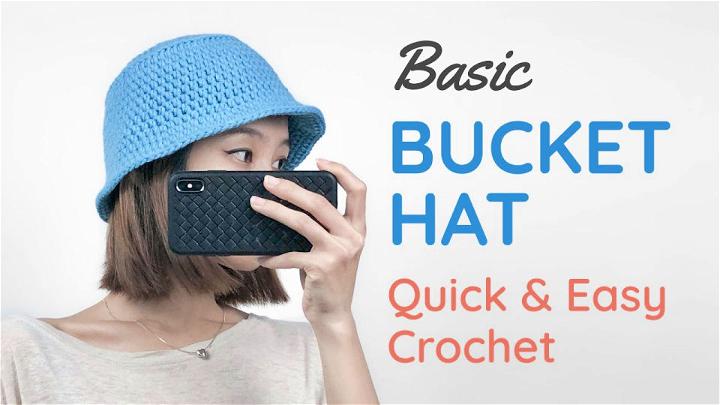 Let your fashion blossom with this crochet bucket hat! Perfect for beginners, this in-depth tutorial provides everything you need to know about the project: from yarn and hooks sizing tips to step-by-step instructions. Whether you use big or small yarn, this simple pattern will have you looking great in no time. Make sure to create a fashionable look that's perfect for any occasion – try this crochet basic bucket hat tutorial today!
24. Korean Crochet Bucket Hat Tutorial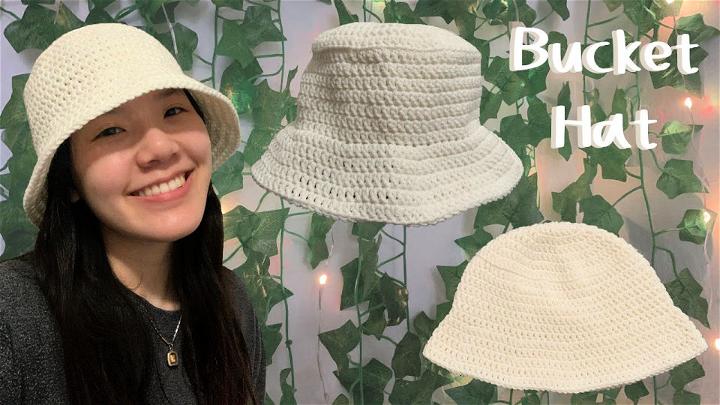 Sorting out a beginner crochet hat pattern? This quick & easy crochet bucket hat tutorial is perfect for beginners, as it requires just a few basic stitches and concepts. With this pattern, you can easily adjust the size to fit anyone and customize the design with any yarn. You will need 4ply acrylic yarn, a 5 mm crochet hook, and a yarn needle. Follow along step-by-step in this simple tutorial to learn how to create your unique bucket hat! It's quick, easy and sure to be loved by all!
25. Super Easy DIY Chunky Bucket Hat – Free Pattern

Looking for an easy way to make a stylish chunky bucket hat? This super easy crochet chunky bucket hat tutorial is perfect for beginners and only requires basic supplies. All you need is chunky yarn/number 5, 10mm hook, as well as measurements of 6in (crown – 3 rows), 4.5in (sides – 5 rows) and 2.5in (brim). Follow this DIY tutorial, and you'll have the cutest bulky & trendy bucket hat ever in no time!
26. Crochet Ruffle Bucket Hat Pattern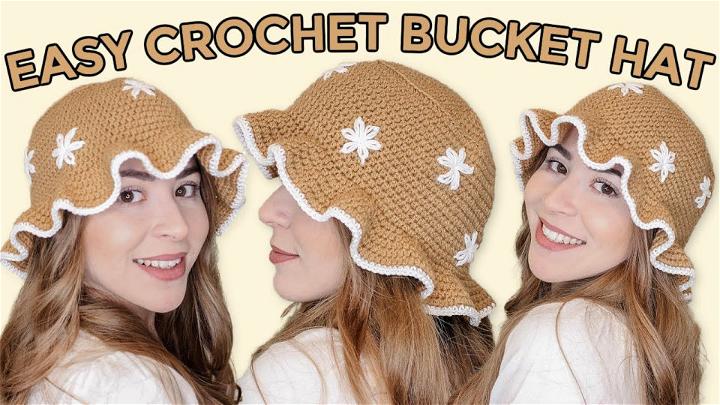 Take your crafty side for a spin and learn how to crochet an unforgettable chunky bucket hat! Perfect for beginners, this simple pattern uses just two materials: acrylic cotton white yarn and a 3.5mm hook. Step-by-step instructions and video tutorials make it easy to craft the perfect hat in no time! Whether you're an experienced crafter or just getting started with crochet, this project will surely bring you success. By following this quick and easy pattern, learn how to create your own custom look!
27. Easy Crochet Daisy Bucket Hat Tutorial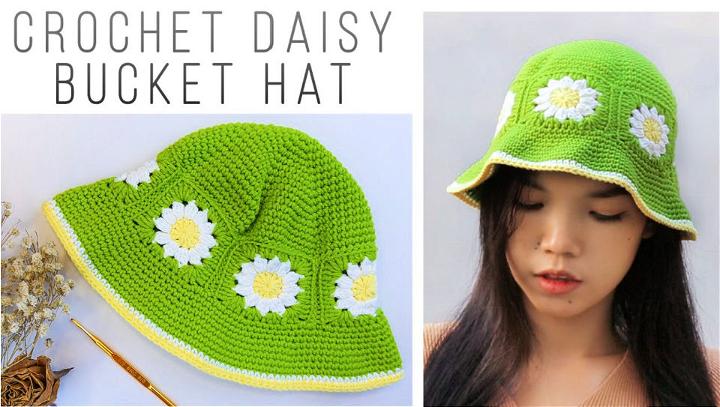 Add a summer flair to your wardrobe with this DIY daisy bucket hat! All you need is 4-ply cotton yarn in green, white and yellow colors, a 4.5mm crochet hook and a 3.5mm crochet hook. This DIY hat will look beautiful and professional – perfect for sunny days at the beach or a casual summer look! With a few simple stitches, you can make this gorgeous designed hat for yourself or as a one-of-a-kind gift for someone special. Watch and learn how to crochet a daisy bucket hat from the comfort of your home today!
28. Crocheted Bucket Hat Step By-Step Instructions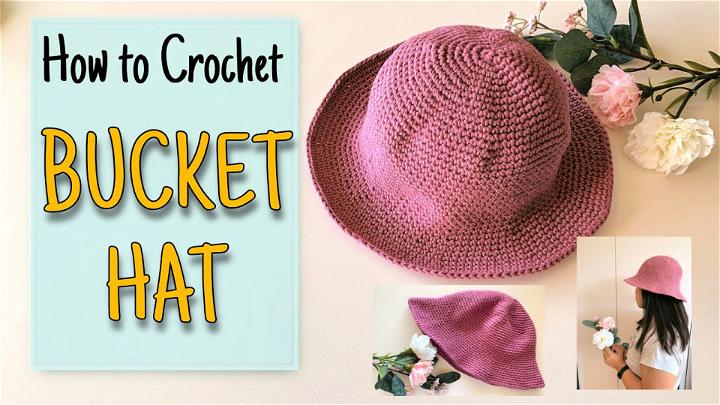 Learn how to crochet a stylish bucket hat using only a single crochet stitch. With just 2 skeins of drops paris yarn and a 5mm hook, you can create the perfect accessory for any outfit! Measurements for your handmade hat include 16.5cm top part circumference, 56cm total circumference and 22cm when folded in half from the side part length. Follow this step-by-step instruction to achieve this simple yet fashionable design with all kinds of outfits!
29. Easy Crochet Striped Bucket Hat Tutorial

Elevate your style with a handmade piece that is sure to turn heads! With just some basic supplies like a 3.5mm crochet hook and milk cotton yarn, you can create a unique piece of handmade apparel that is perfect for any season. Follow the step-by-step instructions to make your colorful striped bucket hat in no time! Get creative by choosing different colors or adding details like pom poms, fringes or tassels. Whether knitting as a hobby or simply looking for an accessory to complete your outfit, this project will give you great results every time.
30. How to Crochet a Strawberry Bucket Hat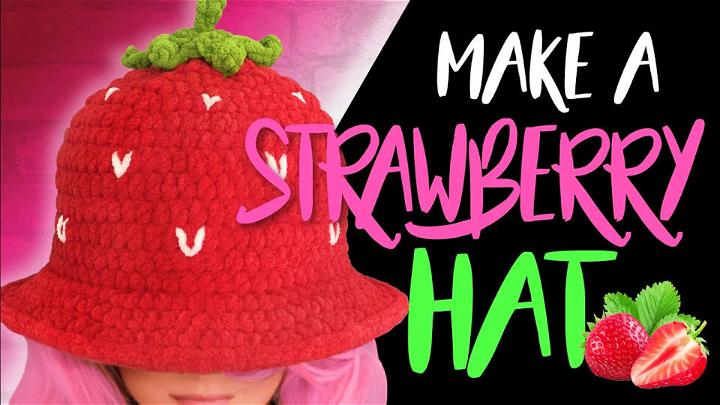 Turn heads on your next outing with a unique, strawberry-inspired bucket hat. Follow this DIY video tutorial step-by-step, using your choice's basic stitches and yarn. The clear instructions make it simple to complete the project in no time at all – perfect for beginners or experienced crocheters looking for a fun challenge! Get creative by adding stripes, pom poms, or other decorations while creating an accessory that is sure to impress!
Related Free Crochet Patterns:
Discover an array of free crochet patterns for all skill levels and projects, from beginner to advanced and everything in between.
Related Free Crochet Hat Patterns:
Crochet Cat Hat Patterns: Be creative and crafty with our free crochet cat hat patterns! Perfect for kids, tweens, and adults alike. Get the purrr-fect look today!
Crochet Hat Patterns for Cats: Make your cat look extra purr-fect with these fun and easy crochet hat patterns! Choose from a variety of styles and colors to create the perfect accessory for your furry friend.
Free Crochet Baby Hat Patterns: Find beautiful free crochet baby hat patterns to create charming, comfortable hats for your little bundle of joy!
Conclusion: