Creating your own stylish crochet poncho is easy with a free crochet pattern! These crochet ponchos are perfect for various occasions and can be made in various styles and designs. This article will explore 40 of the best free crochet poncho patterns for beginners, with detailed instructions and a step-by-step pdf pattern to help you create the perfect look.
These free crochet poncho patterns include vintage and modern designs, and from classic square ponchos to lacy and lightweight designs, get a unique crochet poncho pattern for everyone. So why wait? Get your crochet hook and some yarn, and create your own unique and stylish crocheted ponchos today. With these free crochet poncho patterns, you'll have plenty of options to choose from and can create a look that's perfect for any occasion.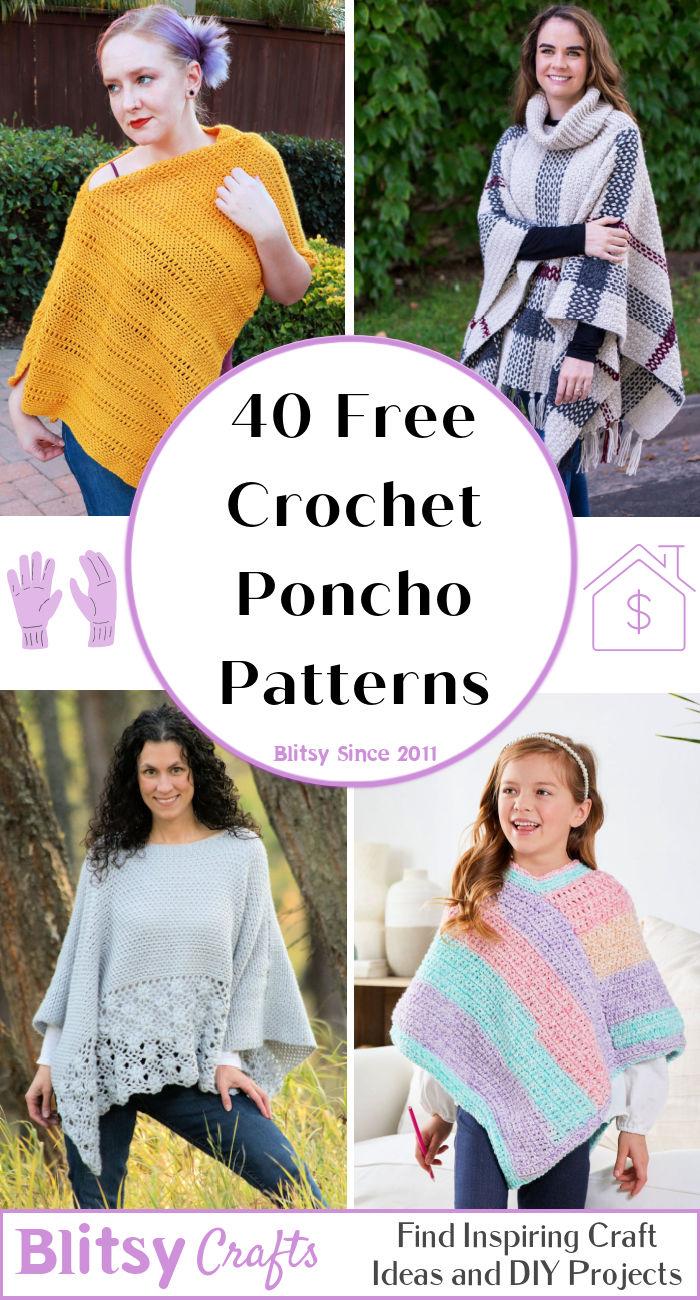 40 Easy and Free Crochet Poncho Patterns
These free crochet poncho patterns allow all skill levels to create fashionable outfits. Regardless of your crochet skill level, we have a free poncho crochet pattern that fits your needs. From vintage designs to modern styles, these free crochet poncho patterns will fill your wardrobe with handmade pieces that are unique and one-of-a-kind. With so many free crochet poncho patterns available below, you can create comfortable, wearable items every day of the week!
Unique Features of Crochet Ponchos
Crochet ponchos offer a unique blend of style and comfort with various designs, colors, and yarns. Whether you prefer classic square ponchos or lacy and lightweight designs, you can find a poncho that suits your taste and needs. Crochet ponchos are versatile and can be worn in various seasons and for different occasions.
Benefits of Crochet Ponchos
One of the primary benefits of crochet ponchos is their versatility to be dressed up or down, making them easy to wear for various occasions. They are also comfortable and allow for a full range of movement, which is ideal for everyday wear. Additionally, crochet ponchos are perfect for layering and can be worn over different outfits to add a unique touch to your wardrobe.
Purpose of Crochet Ponchos
The purpose of crochet ponchos is to provide a stylish and comfortable garment that can be worn in various seasons and for different occasions. They offer a unique way to add a touch of color and texture to your clothing while keeping you cozy and comfortable. Whether you prefer to wear them over jeans and a t-shirt or dress them up for a night out, crochet ponchos are a versatile addition to your wardrobe.
How to Choose the Perfect Crochet Poncho Pattern
When choosing a crochet poncho pattern, beginners and experts should consider the design, color, and suitability for the occasion and season. Beginners should start with simple designs and easy-to-follow instructions to build their confidence and skill level, while experts can experiment with more complex designs and advanced techniques. Both you should choose high-quality yarn and the correct hook size to achieve the desired outcome. Anyone can create a beautiful and unique crochet poncho with the right pattern and materials.
Find Free and Easy Crochet Poncho Patterns
We've gathered 40 free and easy crochet poncho patterns available below to help you create your own unique poncho. Look for easy patterns suitable for your skill level and include clear instructions and step-by-step guides. Start exploring the world of crochet ponchos today, and add a touch of warmth and style to your wardrobe!
1. Free Crochet Whitney Poncho Pattern
Are you looking for something to wrap around yourself and feel cozy and comforted? Look no further than the free crochet Whitney poncho pattern! You'll love the linen texture, plus this design is so easy that it can be both a poncho or a shawl depending on how you seam it. Make this pattern your own today – perfect for all skill levels! divinedebris
2. Gorgeous Crochet Glencoe Tartan Poncho Pattern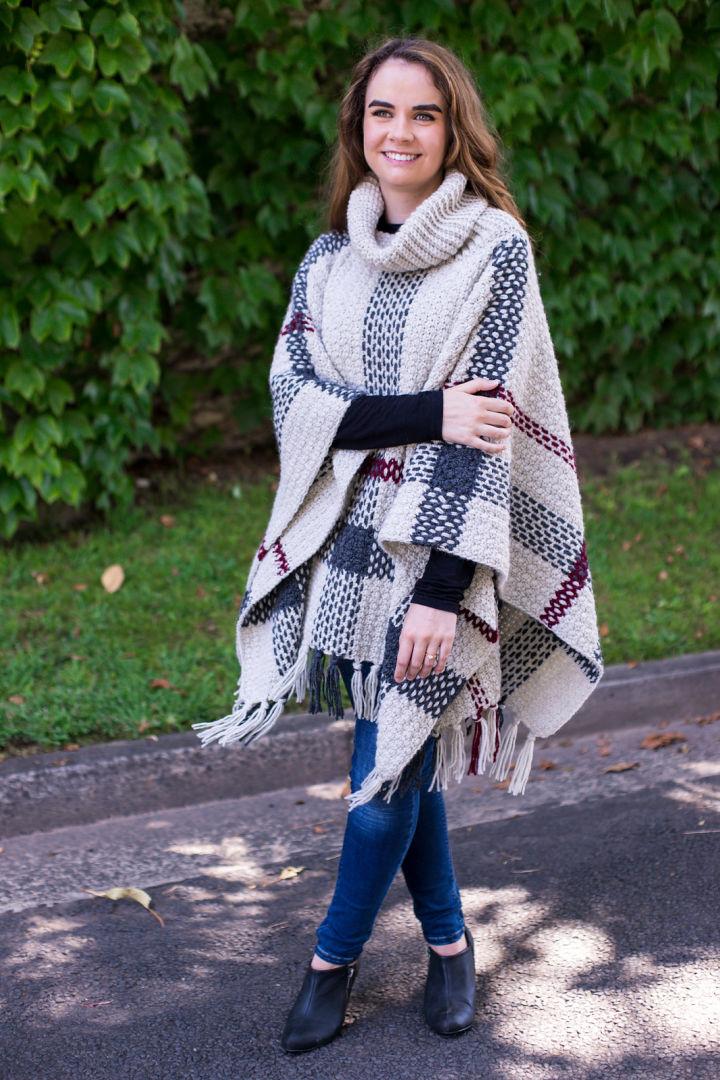 Keep cozy and stylish with the Glencoe tartan poncho crochet pattern! This timeless garment features a turtleneck, side vents for easy style, and an oversized fit that provides ample room for comfort. The mirrored tartan design adds a classic feel to this modern piece. Enjoy winter months bundled up in this soft garment with lasting appeal – perfect for on-the-go retreats! hopefulhoney
3. Crochet Frost Petals Lace Poncho Pattern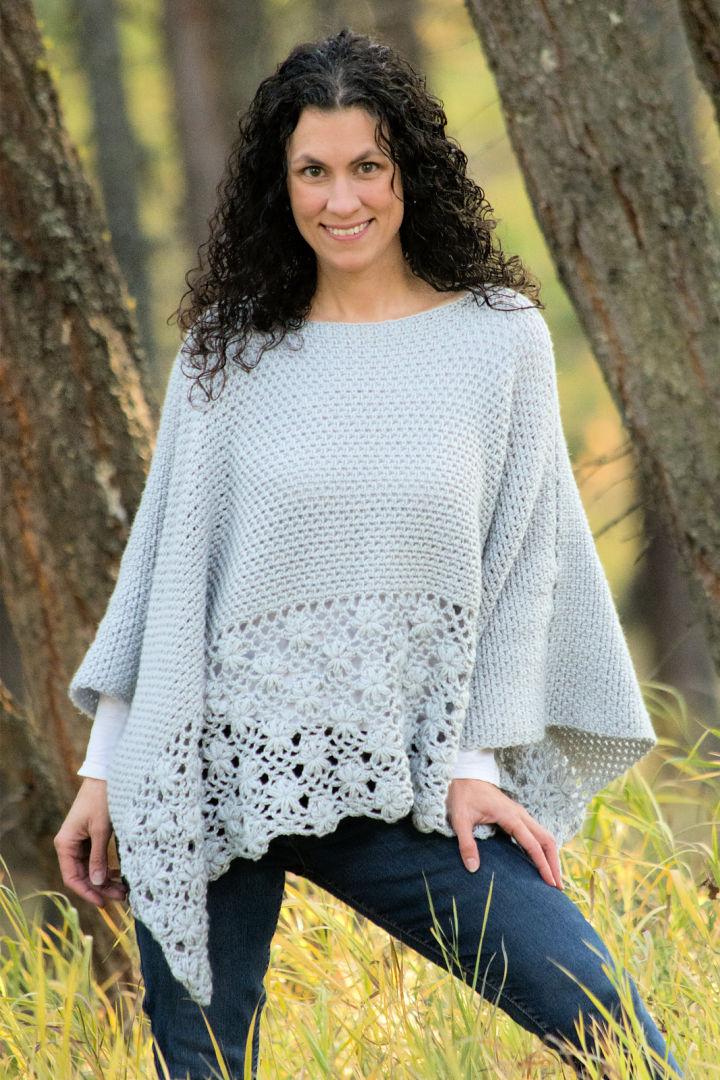 Beautify your look with the frost petals lace poncho! This free crochet pattern from Kirsten Holloway designs comes in 4 sizes, is highly customizable and includes a step-by-step picture tutorial for easy crafting. It's important to maintain relaxed tension when working on the lace part of this poncho to achieve the lacy look – if you're struggling, try increasing your hook size! Create this beautiful flower lace poncho and make it uniquely yours today. kirstenhollowa
4. Free Crochet Sugarplum Poncho Pattern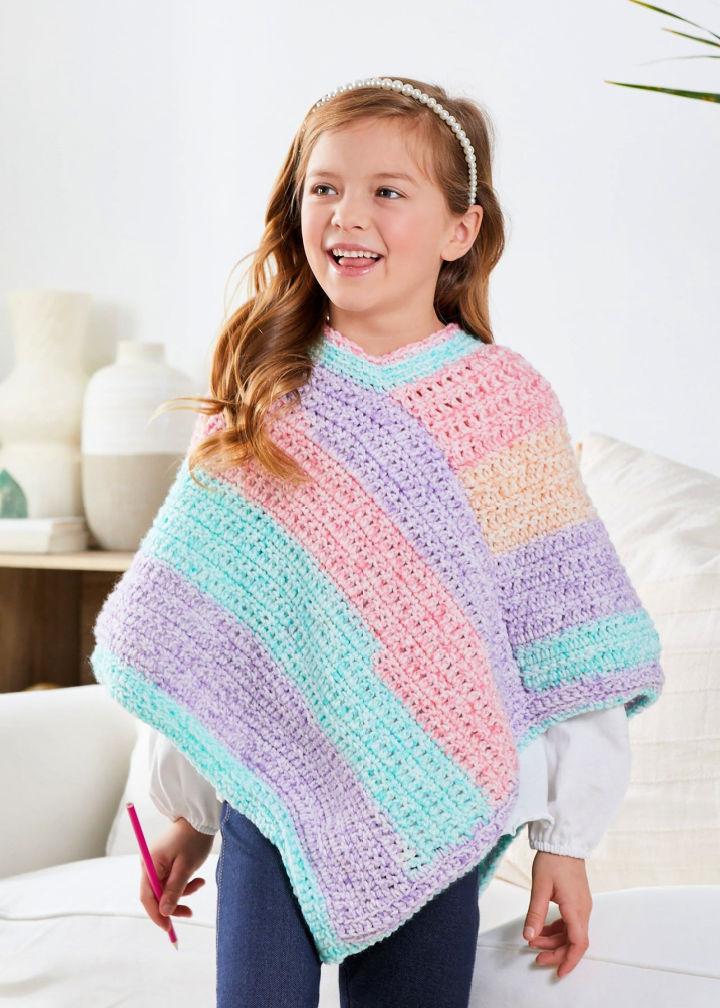 Welcome to the sugarplum poncho! A delightfully soft and cozy poncho that adds a touch of holiday cheer. With just 98 Sc sts along its right-side edge, this is a project you can easily complete in no time. Attach yarn at the front center point, then turn and work back and forth in rows until it's the perfect size for your winter wardrobe. Enjoy the warmth and comfort of this beautiful handmade piece all season long! premieryarns
5. Colorful Crochet Tweed Poncho Pattern Looks Woven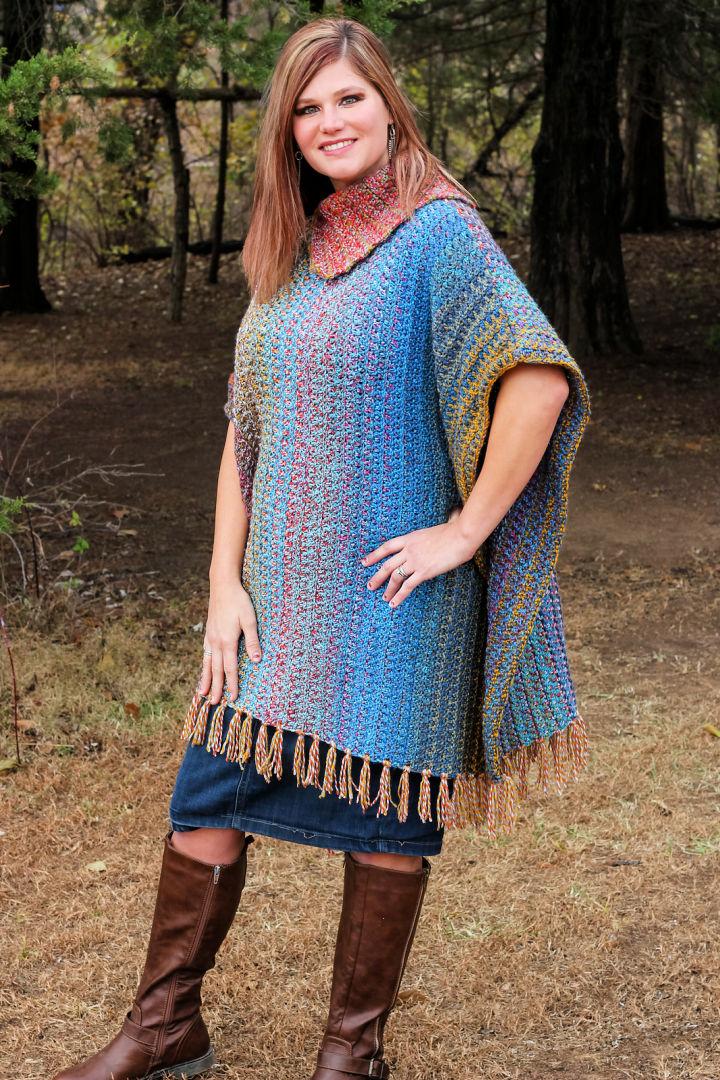 If you want a unique twist to your wardrobe, try this easy crochet tweed poncho pattern that looks woven! It's fun and simple to make using three rectangles seamed together. The two identical panels form the main poncho body while the third rectangle is seamed into the neck opening for a split cowl look. Adding fringe along the bottom edge adds a touch of flirty fun. So why not give it a go and show off your DIY skills with this amazing crocheted tweed poncho? nanascraftyhome
6. Free Crochet Waffle Stitch Poncho Pattern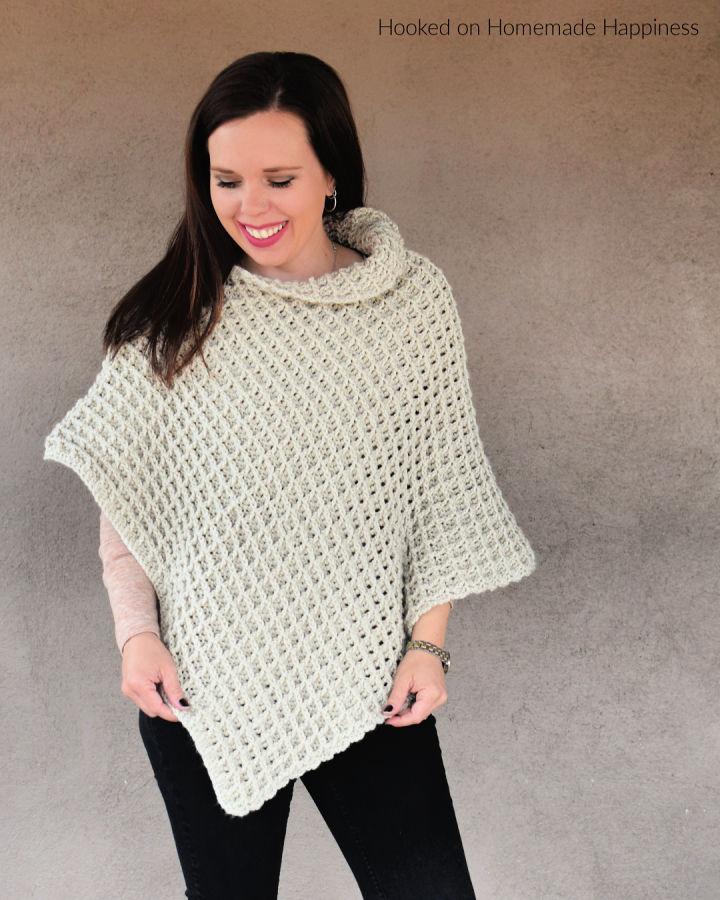 Discover the waffle stitch poncho crochet pattern and make a fashionable statement with this eye-catching garment! This pattern creates one big rectangle featuring the gorgeously textured waffle stitch. It's easy to customize for any size and can be made in any worsted weight yarn – You can use style craft special Aran in the color parchment. Get creative with your colors and textures as you create this favorite pattern of many crafters! hookedonhome
7. Light and Lacy Crochet Poncho Pattern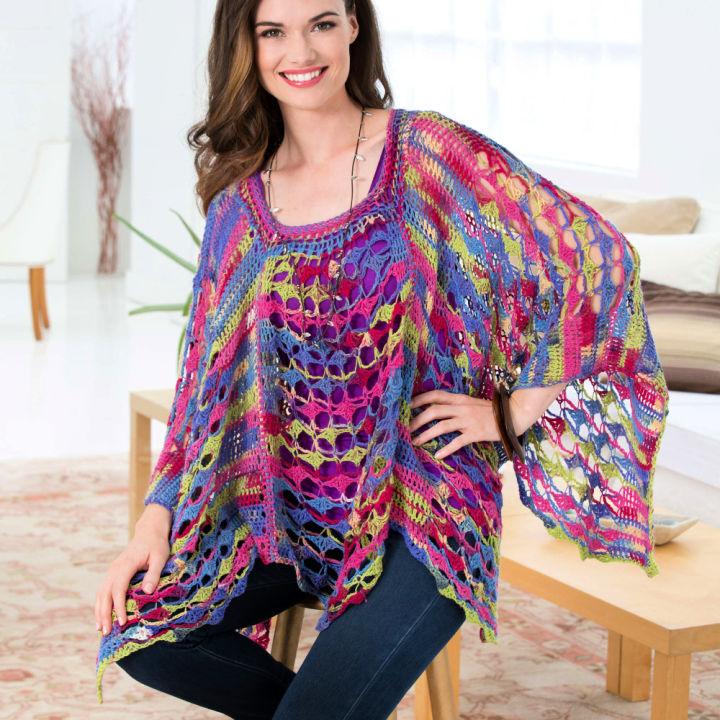 Make a statement with this light and lacy poncho! This unique piece is the perfect way to add color and style to your look. Made from red heart yarn, you'll love how soft and lightweight it feels. So remember that sock yarn isn't just for socks -knitting or crocheting a poncho can be much more fun! All you need is some size 8 crochet hook for an amazing finish. Get creative with colors today -you won't regret it! yarnspirations
8. Pretty Crochet Londonberry Poncho Pattern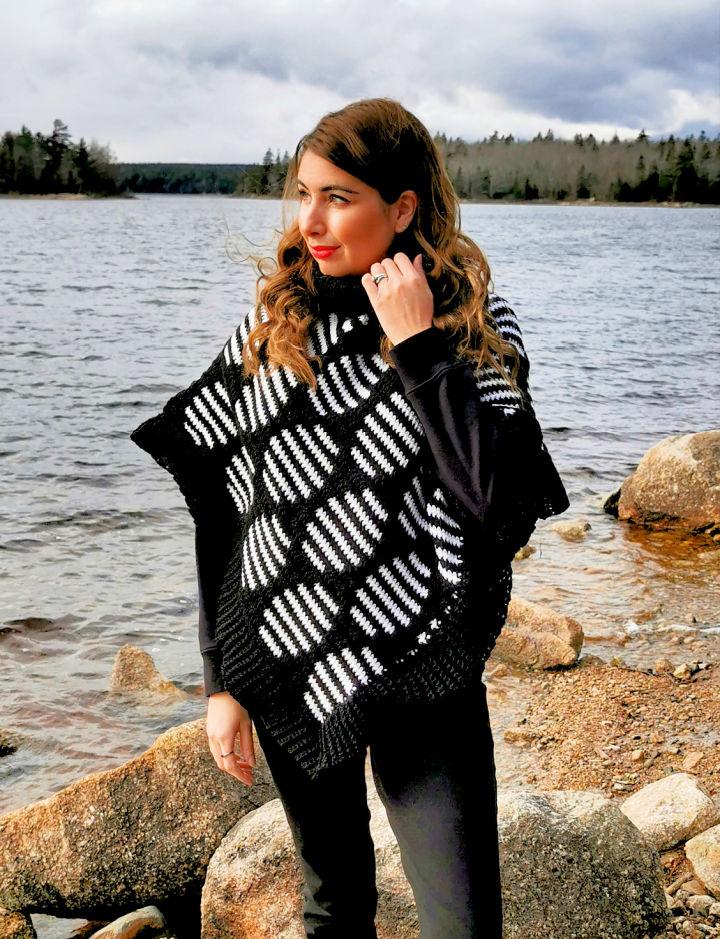 Complete the perfect winter look with this cozy and stylish London berry poncho. Featuring a unique mosaic crochet technique, this easy pattern is sure to be your favorite for beginner-friendly crochet projects. With only basic crochet stitches, you can create a beautiful poncho that will keep you warm throughout the season. Get ready to join the crochet-along community in creating something special! Available as a lion brand yarn kit, get everything you need at once and start crocheting today! cococrochetlee
9. Beautiful Crochet Sand and Ocean Poncho Pattern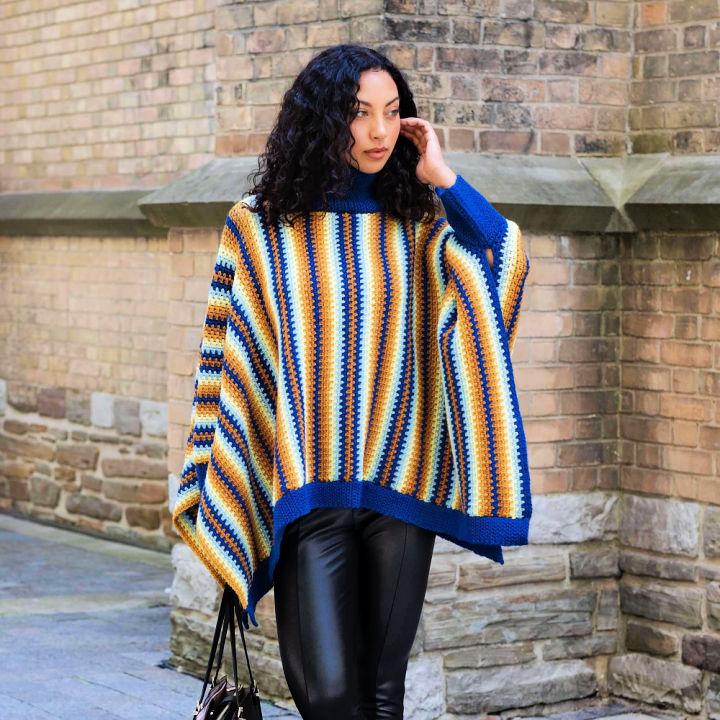 Create your own unique style with this one-of-a-kind sand & ocean crochet poncho! The instructions are easy to follow, and you can easily add a personal touch of color by changing colors throughout the poncho. All you have to do is work to the last loops on the hook of the stitch and draw new color through the last loops before proceeding with it. You can conveniently carry the unused color alongside the edge of the work. Make sure that your wardrobe stands out in all seasons with this amazing piece! yarnspirations
10. The Vintage Crochet Grey Capelet Pattern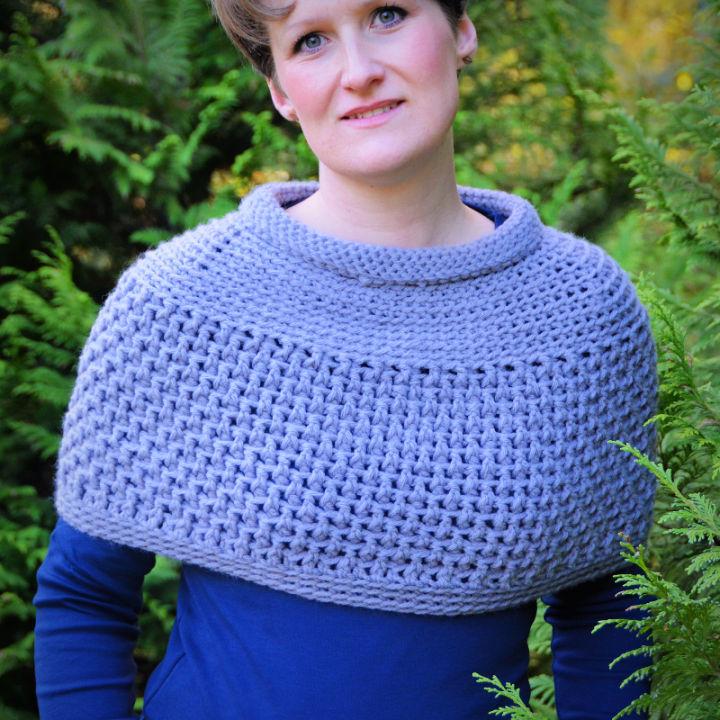 Add style to your wardrobe with the vintage grey capelet! This free crochet pattern is perfect for cooler weather, designed with chunky yarn that makes up in a flash. It's soft and cozy – just what you need when there's a chill in the air. If you're looking for something unique, this capelet will be your new favorite. Get creative and try it out today! hanjancrochet
11. Crocheting a Tunisian Lace Poncho – Free Pattern
Take your style up a notch with this beautiful Tunisian lace poncho. Crafted from soft yarn in various colors, the poncho features a two-step Tunisian simple stitch and crocheted edge for a unique look. Enjoy wearing this drapey poncho, and be ready to receive compliments! The lacey crochet edging adds to the beauty of the plain Tunisian crochet simple stitch worked on each row, creating an eye-catching piece you'll love wearing all season long. yarnspirations
12. Crocheted Sweater Poncho With Sleeves – Free Pattern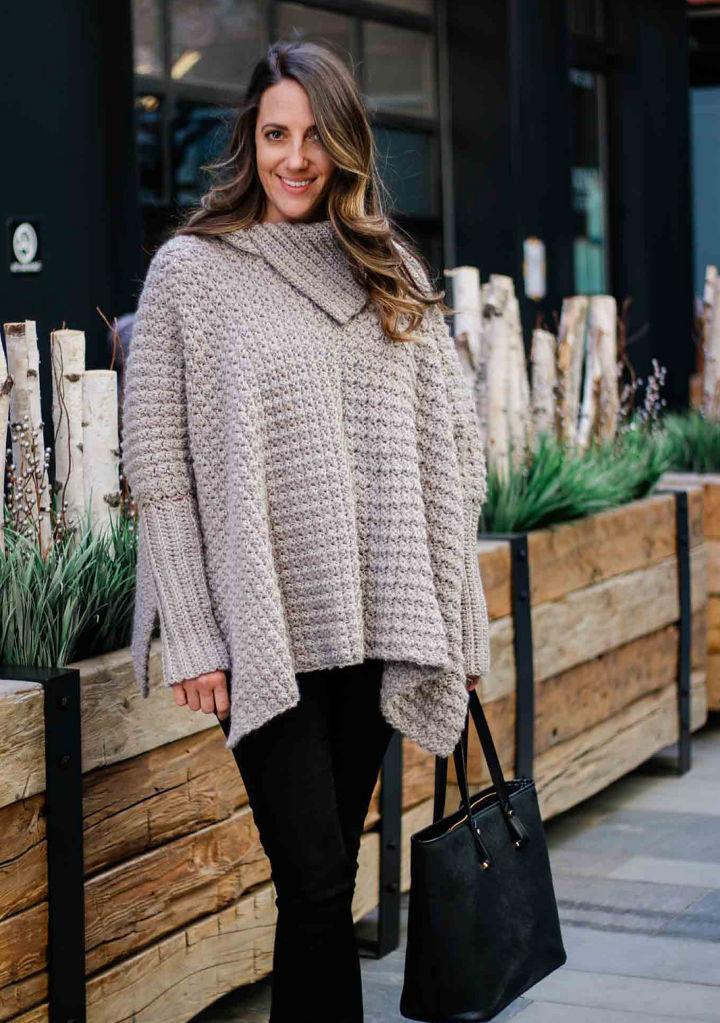 Crochet a stylish sweater poncho with sleeves in just five simple rectangles! This easy-free pattern makes creating a cozy and flattering piece no problem. No increasing or decreasing required – all you need to do is make those basic rectangles and get ready to stay warm with this beautiful crochet garment. Try it out now for the perfect addition to your wardrobe! makeanddocrew
13. How Do You Crochet an Amelia Poncho
Unlock your creative potential with this gorgeous and stylish Amelia poncho crochet pattern! This beginner-friendly piece is made using lion brand heartland yarn, perfect for creating an effortless look. With easy instructions and a full photo tutorial to guide you every step of the way, learn how to make this free pullover crochet poncho today! For modern style in no time, choose the Amelia poncho – the perfect choice for any crafter's wardrobe. lifeandyarn
14. Cute Crochet V-neck Cover-Up Poncho Pattern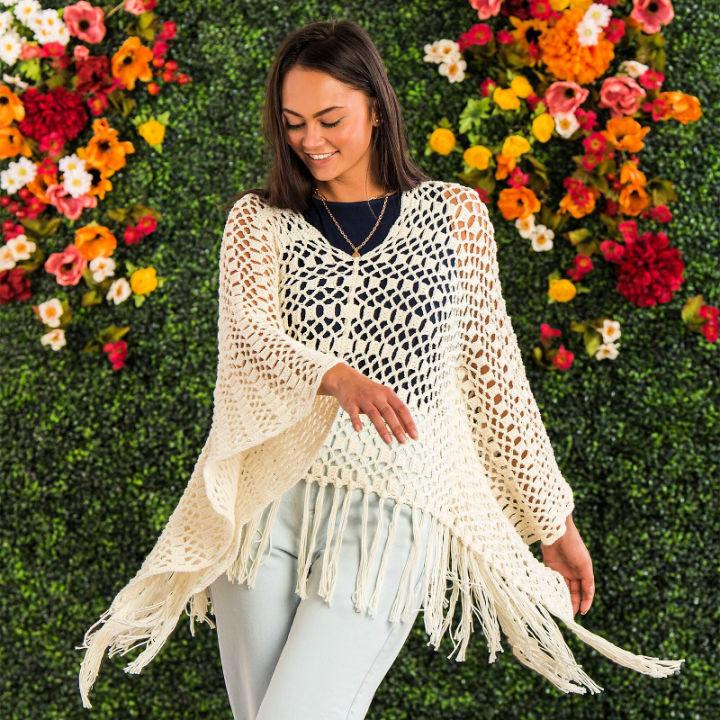 Are you looking for a beautiful, easy-to-make and comfortable crochet cover-up? Look no further than this V-neck crochet cover-up! Made from Bernat softie cotton with a size US g/6 (4mm) crochet hook, it is the perfect combination of simple stitches and cozy comfort. You can dress it up or down depending on your needs. Ready for a day at the beach or an evening out on the town, this V-neck crochet cover-up is one of your favorite go-to pieces! yarnspirations
15. Modern Crochet Seamless Poncho Pattern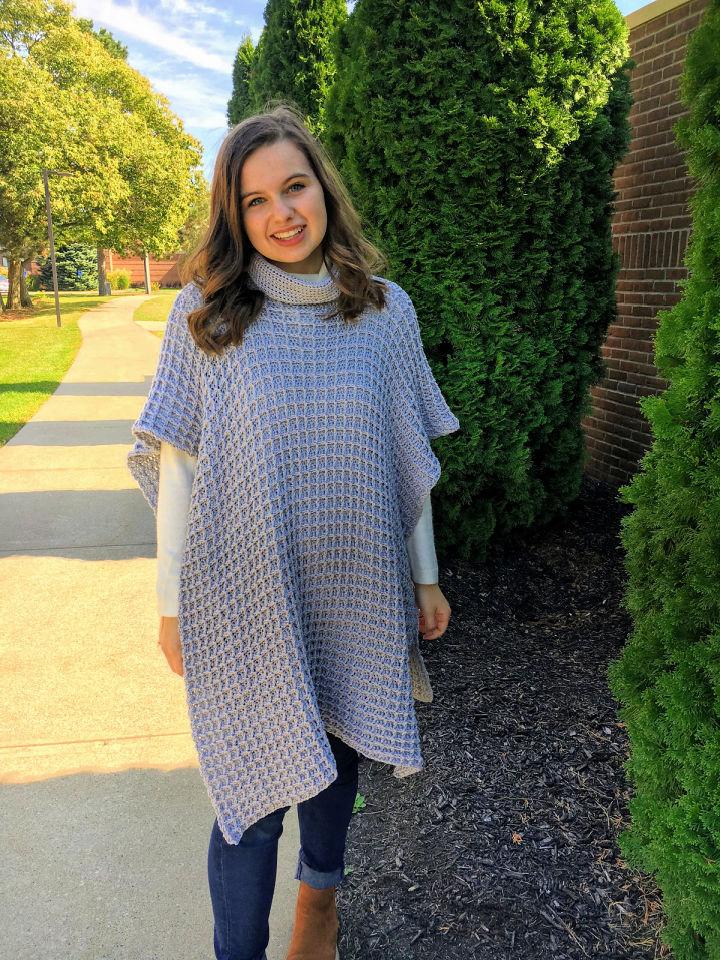 Stay fashionable and cozy with a beautiful, seamless crochet poncho! With stitch berry's free pattern, you can easily craft an elegant on-trend blanket-like garment using the simple waffle stitch. This project is perfect for anyone from beginner to advanced crafters looking for a modern twist on traditional crochet patterns. Get ready to stay warm in style- download the free seamless crochet poncho pattern today and start crafting your own unique look! makeanddocrew
16. Best Summer Poncho Crochet Pattern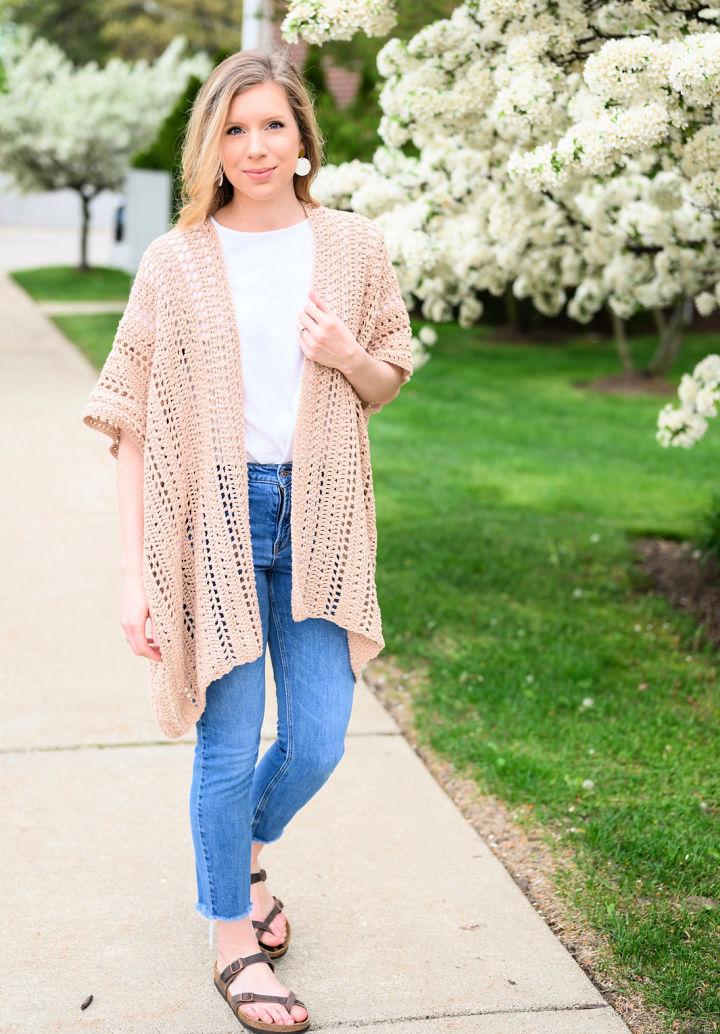 Crochet a perfect summer poncho with this free pattern! This project is easy and interesting, using simple stitches and mindless repeats. It's super fun to work up and fast, too – you can make it in no time! Crochet two rectangles, then a few easy seams, and you've got your first garment. Perfect for beginners, get the free pattern to create your unique summer look! woodsandwool
17. Crochet Poncho With Collar – Free Pattern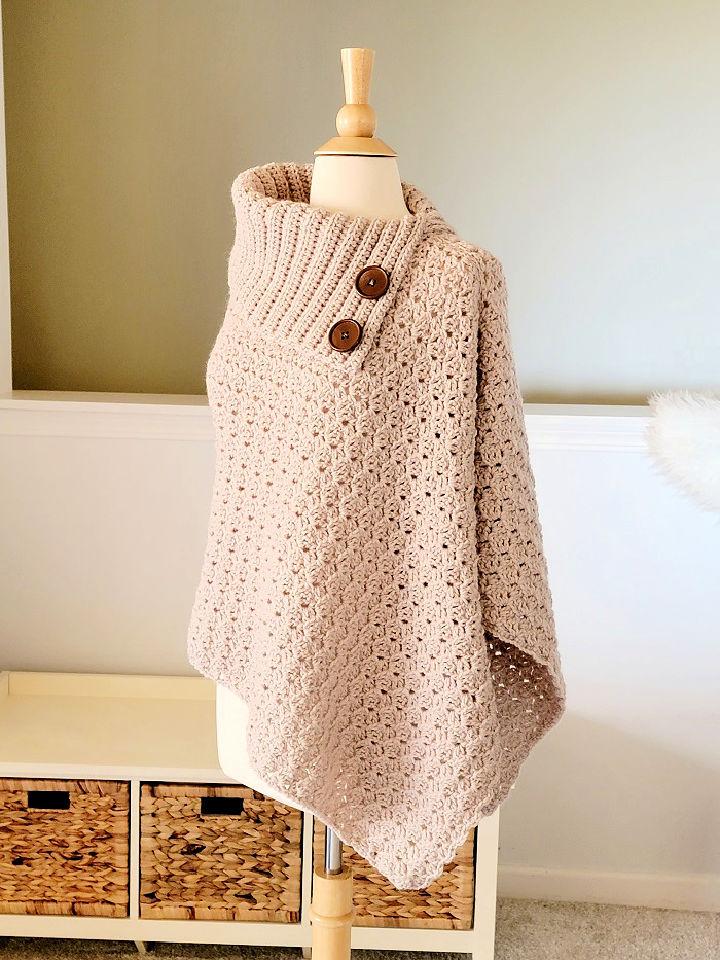 Make a stylish and effortless statement with this Vienna wrap poncho from a crochet poncho with a collar pattern. Perfect for beginners, the pattern is simple to follow and comes in sizes small up to 3xl. This beautiful poncho is made from two separate rectangles—one for the collar and one for the body of the wrap—making it an easy project even for those just learning how to crochet! Show off your unique style while staying warm with this must-have accessory – a crochet poncho with a collar is your best bet! crochetdreamz
18. Free Crochet Kaleidoscope Poncho Pattern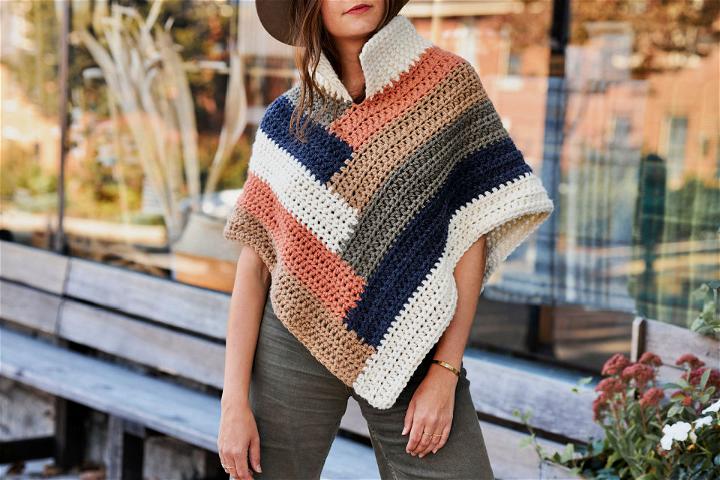 HUE + ME's Kaleidoscope poncho is the perfect combination of style and practicality! This classic poncho silhouette features bold, cascading stripes created with a simple log cabin technique. The addition of the collar makes this piece unique and stylish – one of our favorite parts. Worked up in a cool reversible stitch, you can wear it on either side to reveal the ribbing when the collar pops up or fold over. Quick, easy and striking – what more could you want? twoofwands
19. Palomino Diamond Crochet Poncho Pattern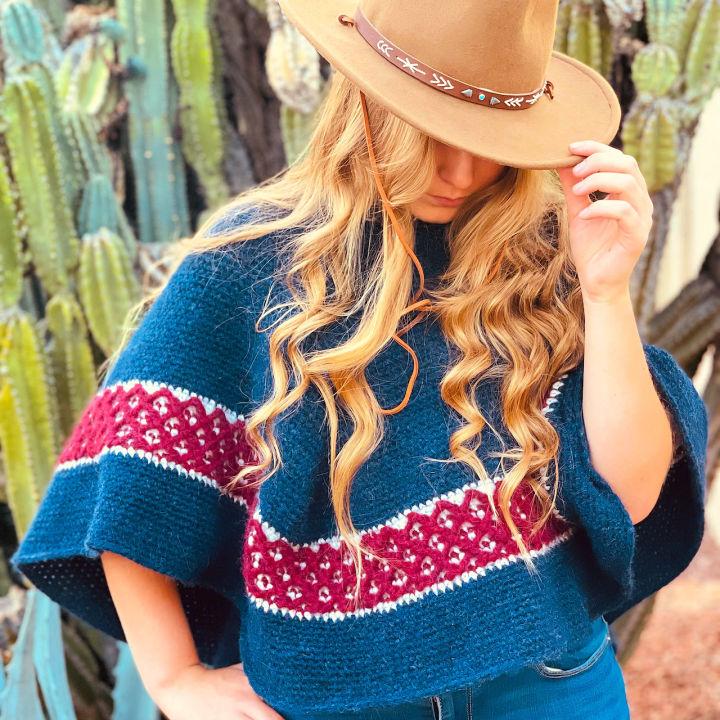 Give yourself a luxurious look with the palomino diamond crochet poncho. This statement piece is designed with basic crochet stitches and an elegant diamond trellis pattern. This lovely poncho will quickly become one of your favorites, perfect for transitioning from fall to winter. Its rated level 3 – intermediate pattern keeps you warm while adding style and sophistication to any outfit. itchinforsomestitch
20. Crochet Rancher Poncho Design – Free Pattern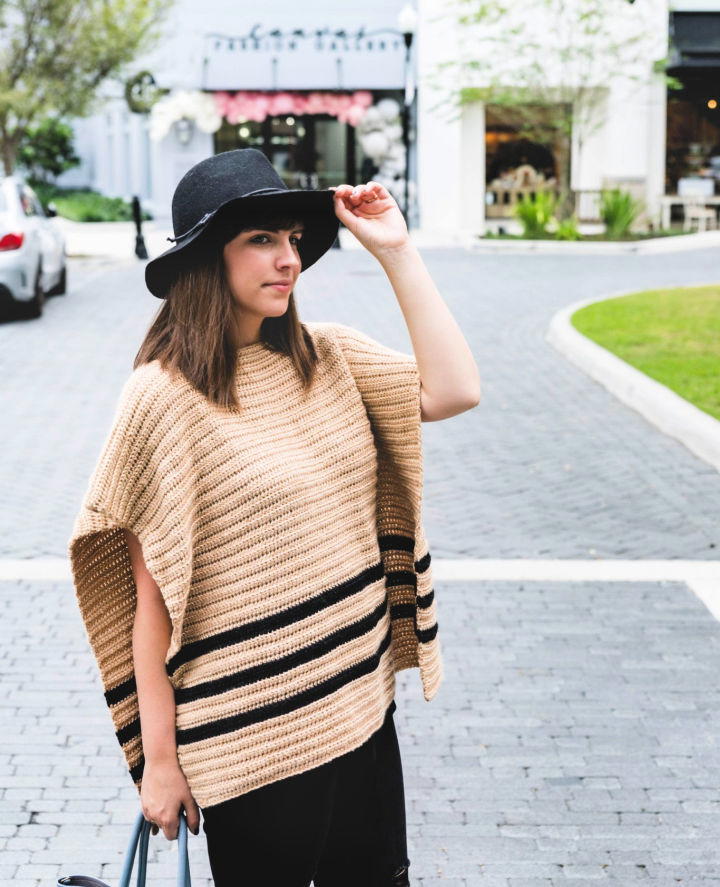 Crochet up the stylish rancher poncho with this free pattern. It looks complex but is deceptively simple to make – all you need to do is work regular half-double crochets in the back loop only! Perfect for any level of a crocheter, it's one gigantic rectangle with a hole in the middle for your head to pop through. Choose your yarn choice, and other details, then get started making this chic poncho today! sewrella
Impressive Crochet Poncho Patterns for Everyone
Crochet ponchos are a versatile and stylish addition to any wardrobe, and the best part is that they are easy to make! Whether you're a novice or a skilled crocheter, plenty of free crochet poncho patterns are available below. To find the perfect pattern, start by considering the style, yarn, and difficulty level that best fits your needs. Some popular styles include boho, oversized, and lightweight ponchos for summer.
Additionally, there is a wide choice of yarns, such as cotton, wool, or acrylic, depending on the season and your personal preferences. Additionally, many patterns offer customization options, such as adding fringes or adjusting the length. By following a free crochet poncho pattern, you can create a unique and fashionable garment that is both comfortable and practical.
21. How to Crochet Asymmetrical Poncho – Free Pattern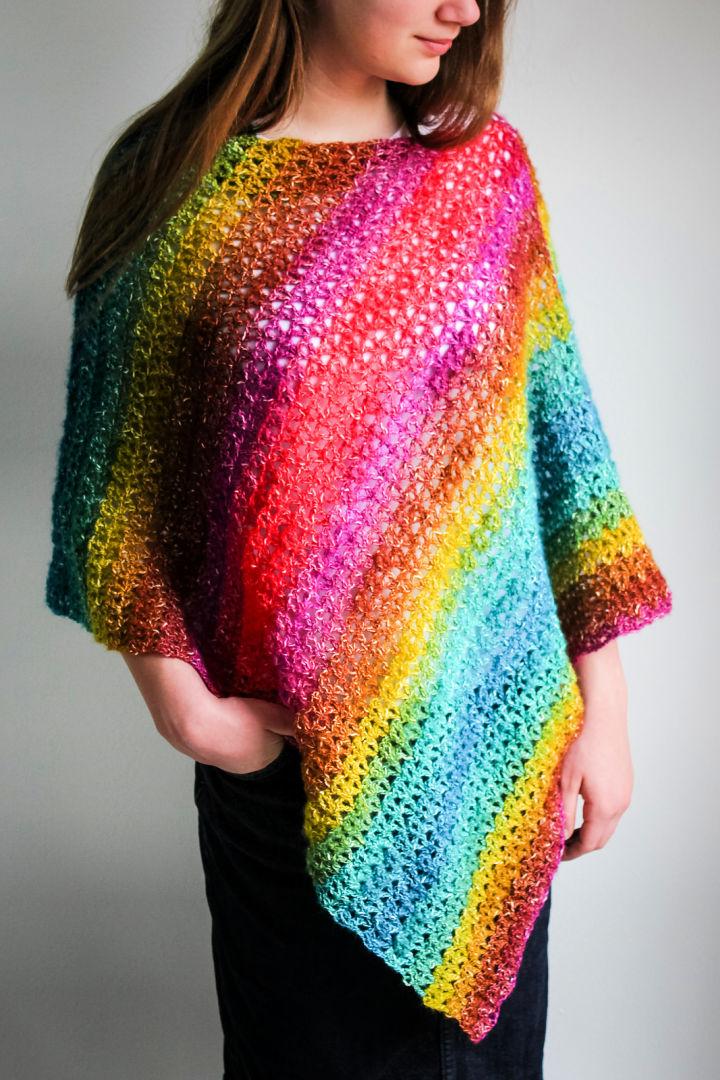 Crochet beginners, this free poncho pattern is perfect for you! Create a stylish and asymmetrical poncho from just one rectangle. An easy stitching and construction process makes it quick to make with simple stitches so you can have an eye-catching look in no time. Get creative and enjoy the fun of experimenting with this beginner-friendly crochet poncho pattern. nanascraftyhome
22. Crochet Scrappy Squares Poncho – Free PDF Pattern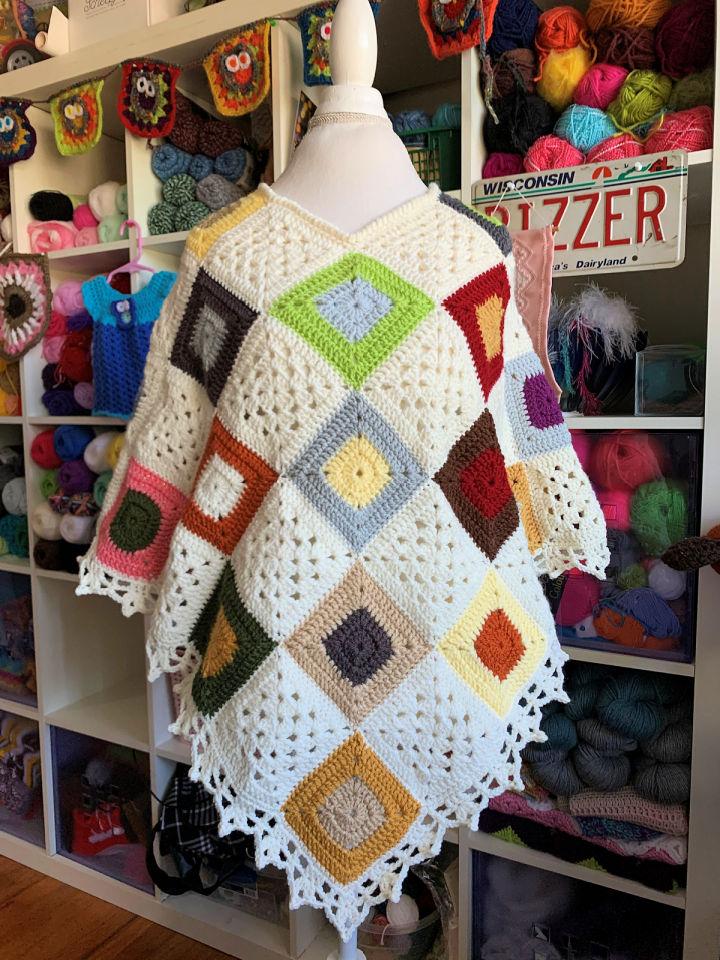 Create something unique with this scrappy square poncho pattern! This fun project or pattern is perfect for using up all your fabric scraps, allowing plenty of space to customize it. With clear instructions included, you'll be able to personalize the poncho however you want – make it your own! Get creative and finish this project in any way that expresses who you are – the possibilities are endless! bizzycrochet
23. Simple Crochet Misty Grey Tunisian Poncho Pattern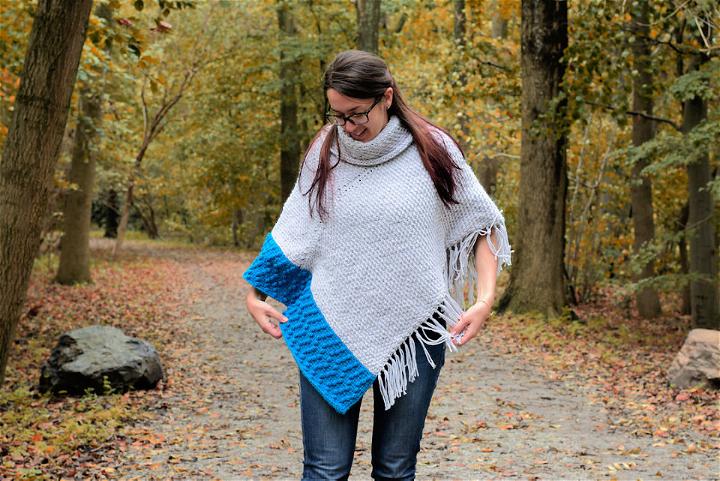 Create an eye-catching look with the misty grey Tunisian crochet poncho! This very first design is made using two different stitch combinations in blue. Along the bottom of the poncho, a simple Tunisian stitch band is used along with some Tunisian puff stitch details to create a zigzag effect that will turn heads. Get ready for compliments when wearing this unique and stylish poncho! raffamusadesigns
24. Free Crochet Pattern for Fallen Leaves Poncho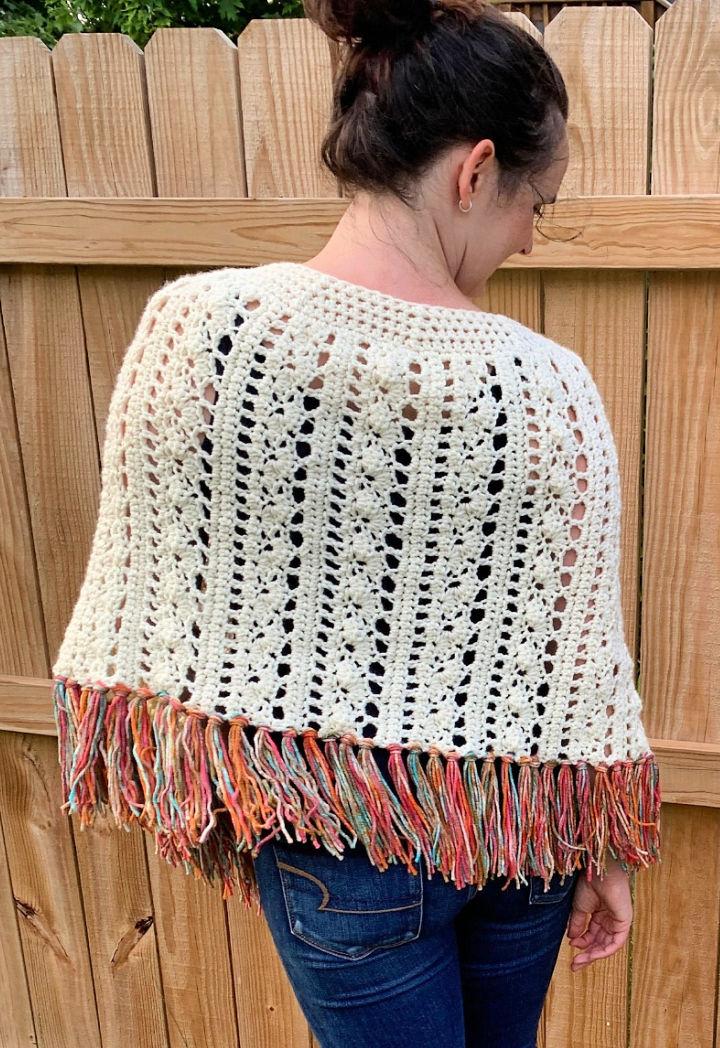 Stay cozy and stylish this season with the newly fallen leaf poncho crochet pattern. This I/9 hook pattern is an easy-level project featuring written and image tutorials. With approximately 756 yards of yarn needed, you'll love the lace look of this poncho with a bohemian vibe too! The pattern is a simple 7-row repeat, making it easy to memorize as you create your chic fall outerwear. Add scissors and a yarn needle to complete your project! offthehookbychriss
25. Cool Crochet The Color Block Cape Pattern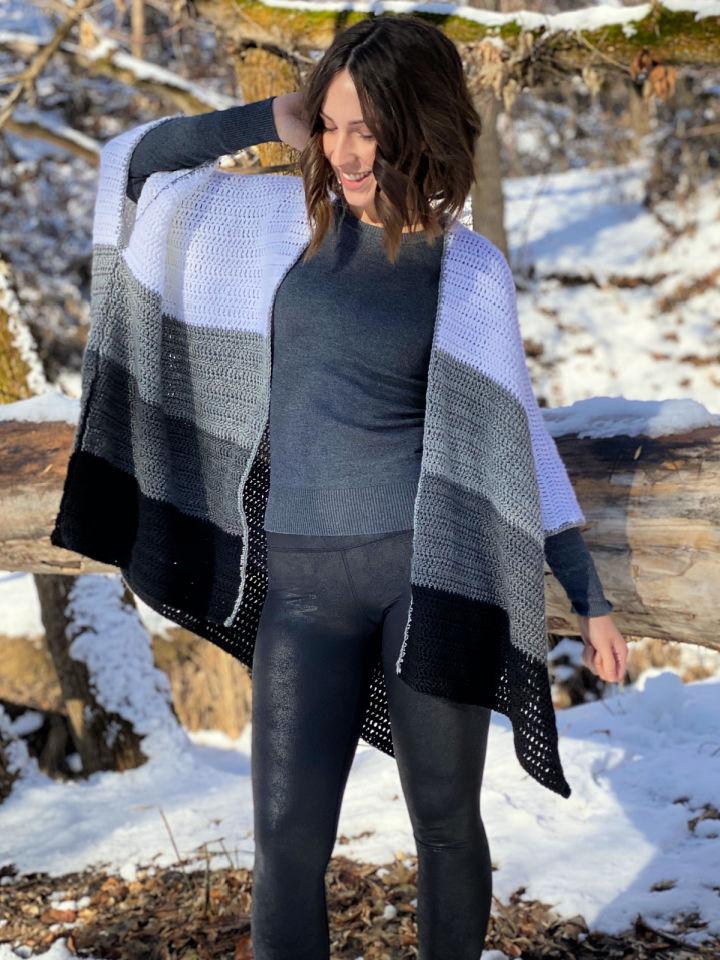 The color block cape crochet pattern is the perfect way to chill out and work on something at the end of a long day. This pattern uses a double crochet stitch throughout, with minimal seaming, making it an easy project that can be completed quickly. The cape is oversized enough to provide warmth for all body types – plus, it's a size fits! If you want your project longer, add more rows before splitting off the front panels and add the same number of rows to both front panels too! eandpcrochet
26. New Crochet Temperance Rauncho Pattern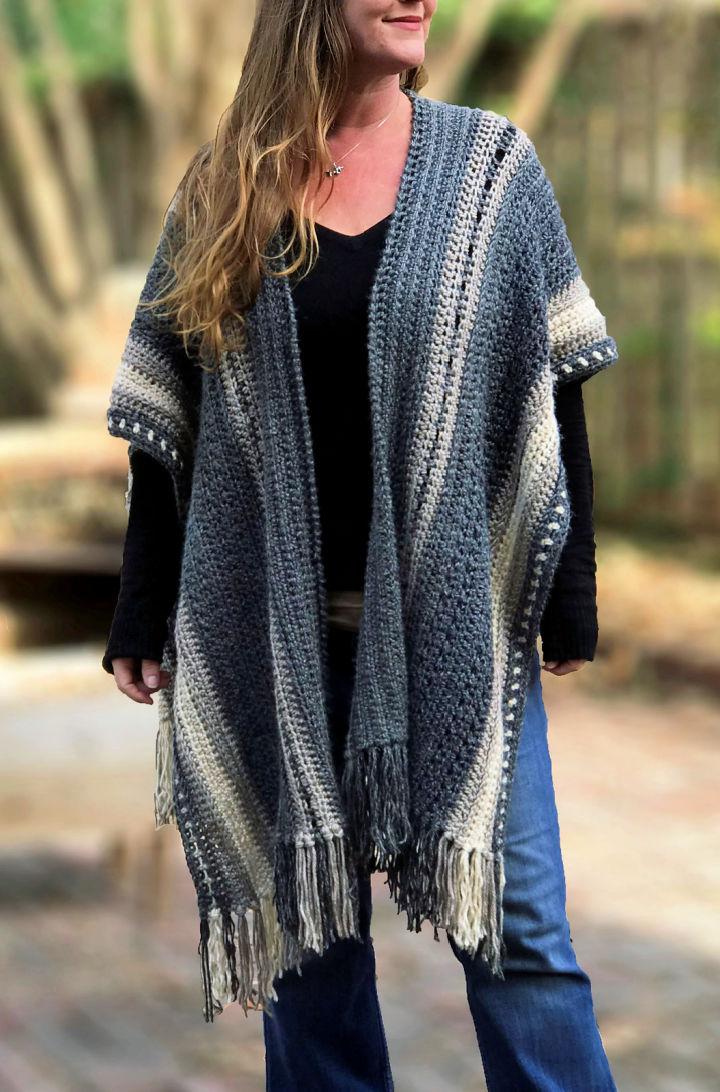 Treat yourself to this elegant temperance Rauncho-free crochet pattern by stardust gold crochet! Perfect for any occasion – dress it up or down with jeans and make it you're go-to when going out. You can also wear it around the house or to the office. You will love how easy it is to work with lion brand's heartland yarn. Its earthy color selection makes it a great choice for this design. Get started on your own temperance Rauncho today! stardustgoldcrochet
27. Free Crochet Thea Poncho Pattern for Beginners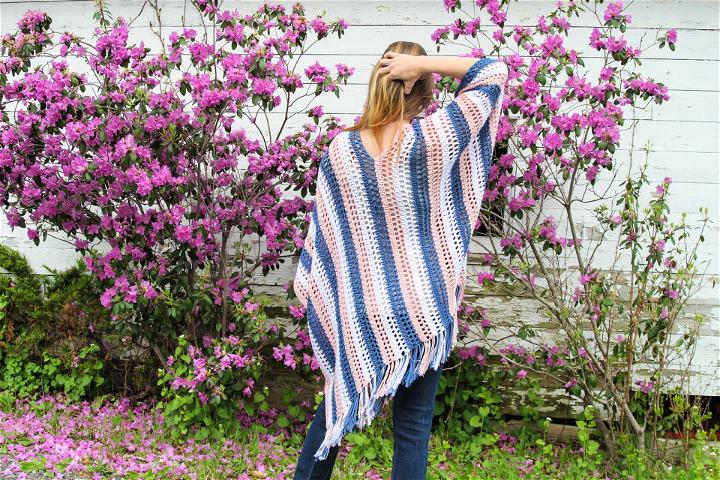 Looking for a stylish crochet project to make this season? The free crochet poncho pattern – Thea is the perfect one! It features beautiful fair isle port yarn and can be worked up quickly with just a size 6.00 mm crochet hook, scissors, yarn needle, and your crafty skills. Add this pattern to your favorites now, and start making this gorgeous poncho! lifeandyarn
28. Easy Crochet Poncho Pattern From Two Rectangles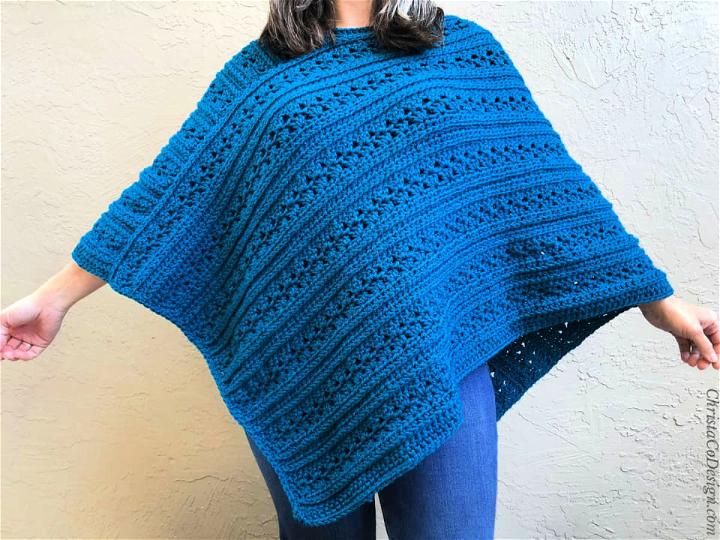 Stay warm and cozy with the camellia poncho, a beautiful and easy-to-crochet poncho made from two rectangles. Perfect for winter weather, this stylish design can be easily styled with virtually any outfit. With its pretty stitch pattern, you are sure to find any color imaginable available for the perfect look! So why not throw over your favorite winter outfits and keep warm in style – get your camellia poncho today! christacodesign
29. Crochet Driftwood Oversized Hooded Poncho Pattern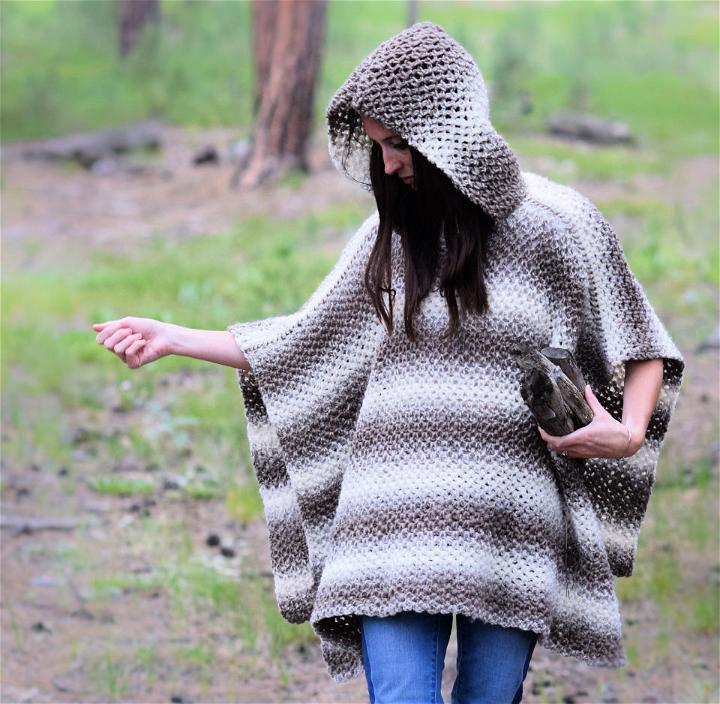 Stay warm and comfortable this fall season with the driftwood oversized crochet hooded poncho pattern! This easy-to-follow crochet pattern is perfect for creating a piece that reminds you of the colors of the forest while adding beauty to your mountain environment. The oversized poncho will keep you cozy when you head out in whatever you're wearing into the cold winter chill. So, grab your needles and join in on all the fun with fall crochet fever! mamainastitch
30. Funky Chunky Crochet Poncho Pattern
Love the look of a retro hippie? Create the funky chunky poncho crochet pattern to get that vintage vibe. This quick and easy pattern will make you feel comfortable and fashionable in no time! Super bulky yarn is recommended for this project to keep you warm all season long. You'll love wearing this roomy, fun poncho! poshpoochdesigns
31. Crochet White Rectangle Poncho – Step-By-Step Instructions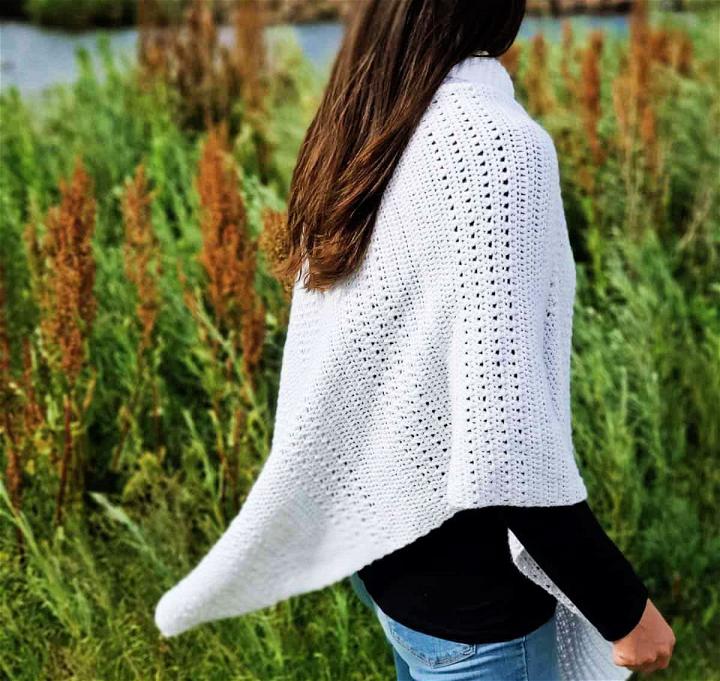 This crochet rectangle poncho from stitch & hound will have you looking and feeling fashionably cozy! Easily constructed with a rectangle, the delicate drape and cruise-control stitches make this pattern perfect for even beginners. Don't let using lace-weight yarns intimidate you, as our free crochet pattern makes it easy to create your own stylish poncho. Try out this free pattern now and get ready to look fabulous! makeanddocrew
32. Crochet Time Curve Poncho V Shawl Pattern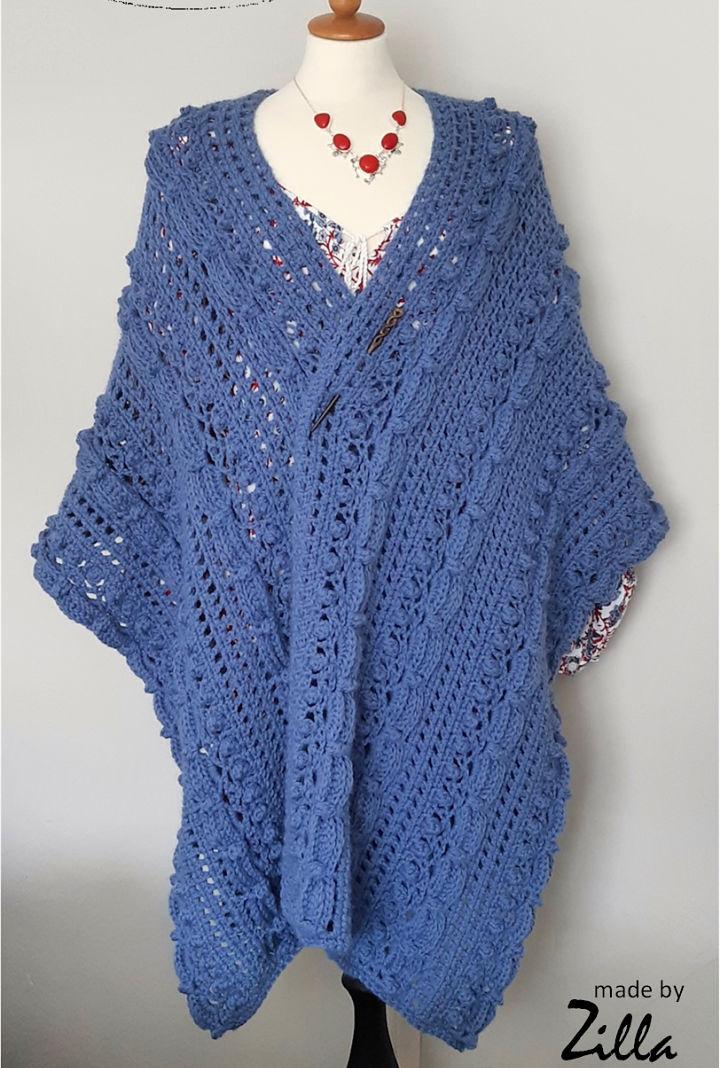 Make a stylish statement with the unique time curve v-shawl! This poncho is based on an original pattern, making it one of a kind. With the corner stitches provided, you can easily modify this model to create a custom look that will make you stand out from the crowd. Get your hands on this v-shawl and turn heads wherever you go – no other fashion accessory has such an eye-catching design! madeinassen
33. Unique Free Crochet Ava Fringed Poncho Pattern
Feel the bohemian comfort and chic style while wearing a unique crochet ava fringed poncho. This fashion-forward poncho is surprisingly easy to make with only two large rectangles you sew together; add neckline edging, hemline edging, and some tassel fringe for an eye-catching look. Perfect for brand-new crochet beginners looking for something delicate yet pretty with a flowy romantic feel. sewrella
34. How to Crochet Alsace Poncho – Free Pattern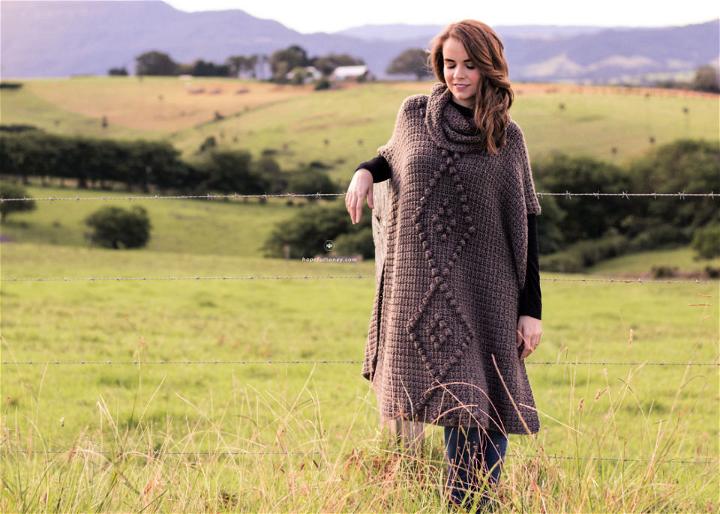 Flaunt your style with the luxurious Alsace poncho! This classic crochet pattern adds a fashionable accent to any ensemble. It features a cowl neck and boxy silhouette, plus an extra touch of charm from its unique bobble design. This dramatic layering piece will keep you warm or cold days while still looking stunning. With the Alsace poncho, you'll be sure to make heads turn when you walk into any room! hopefulhoney
35. Free Crochet Transitions Poncho Pattern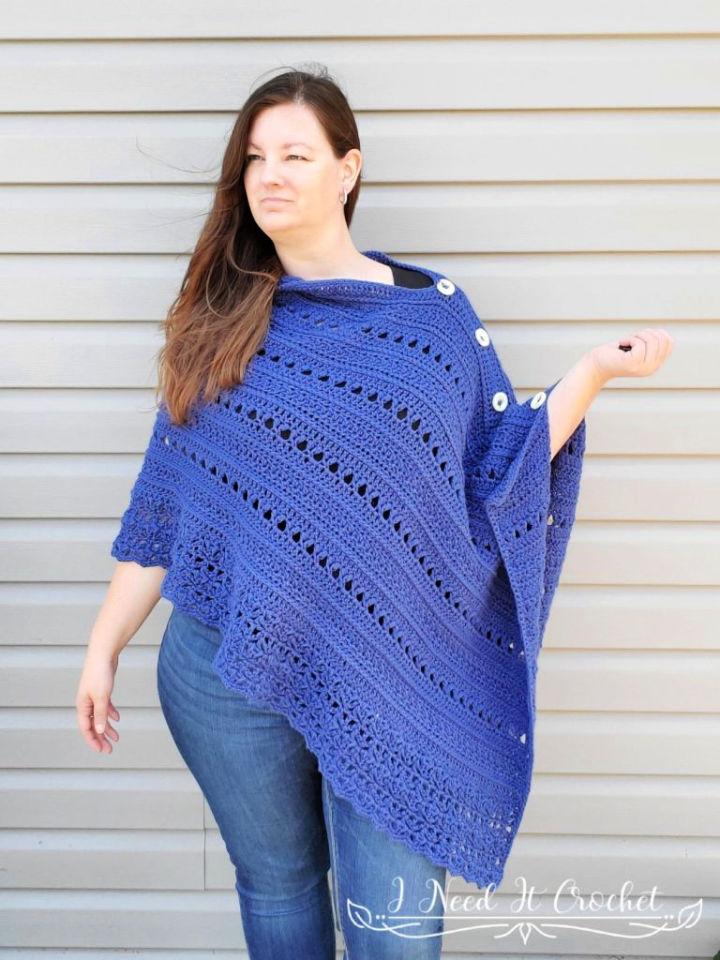 Looking for an easy and comfortable crochet project? Then you will love this free crochet transitions poncho pattern! It contains free, printable patterns that are easy to follow and complete within a few stitches. Make yourself a cozy poncho in no time. Get the pattern now and start crocheting your stylish poncho today with comfort & style! ineeditcrochet
36. Spring Breeze Crochet Poncho Pattern for Beginners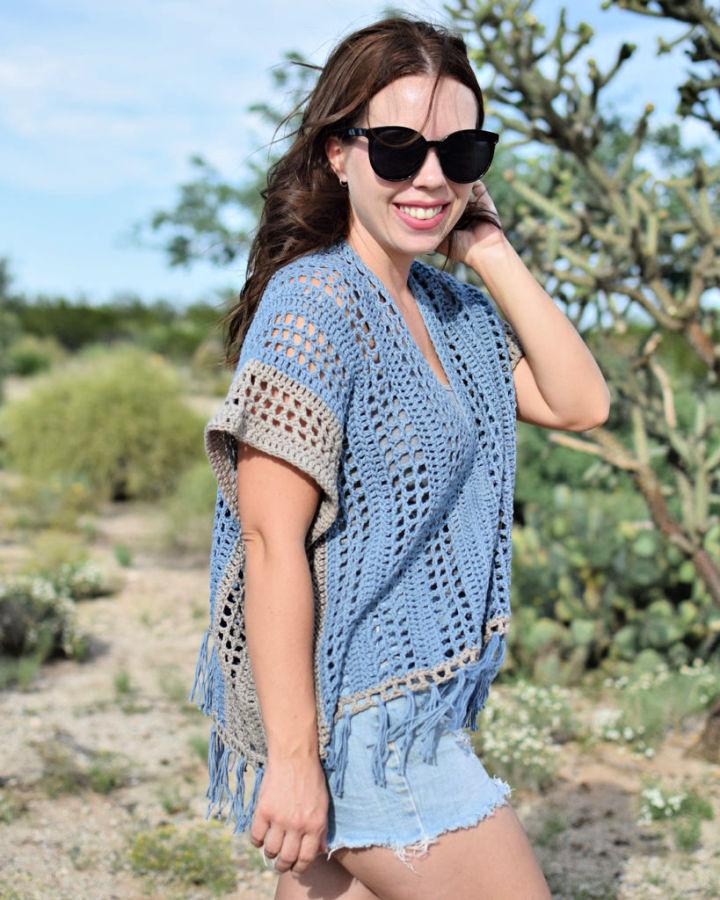 Create a beautiful garment for the spring season with the spring breeze crochet poncho! This easy-to-follow pattern requires only basic stitches and two rectangles, making it perfect for beginners. Use any DK-weight cotton yarn from one of the many great color options available. Make yourself or someone special a unique poncho in no time at all with this fun project. Enjoy crafting something special with this simple yet stylish design – get started on your spring breeze crochet poncho today! hookedonhome
37. The Skittles Summer Crochet Poncho Pattern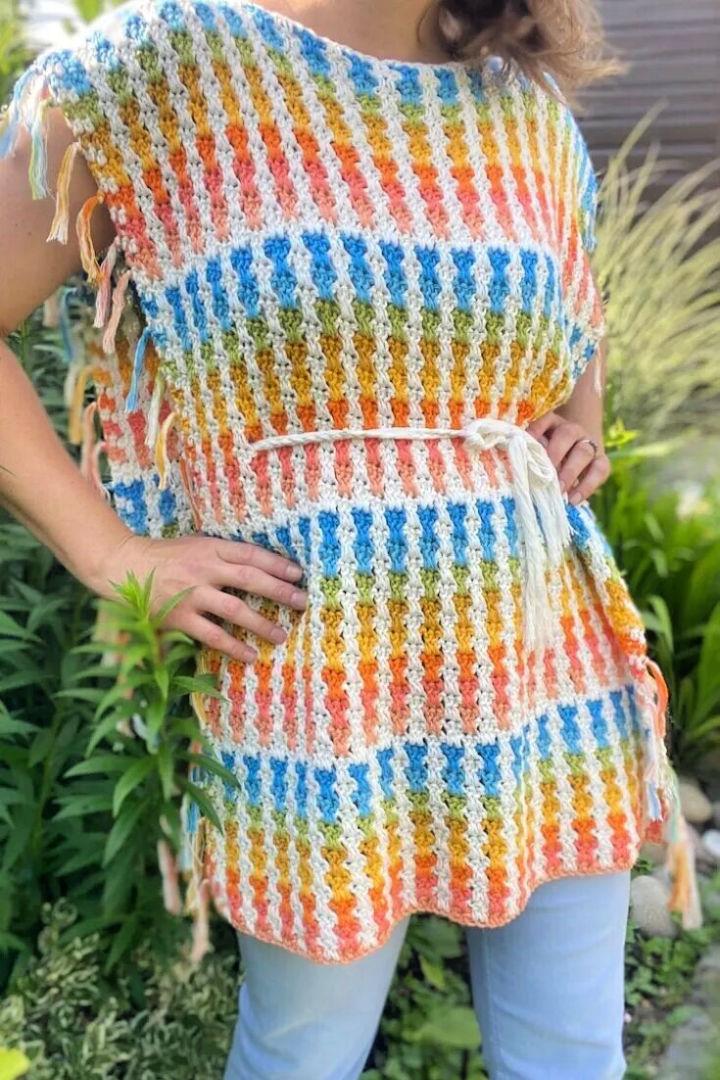 Bring sunshine and rainbows into your wardrobe with the skittles summer crochet poncho! This free pattern can be used to make a beautiful poncho that is size inclusive from xs-5x, plus includes instructions for customizing it and making a braided belt for securing it. Add some brightness to your summer days with this cheerful crochet project! hanjancrochet
38. Free Crochet the Vincent Cloak Pattern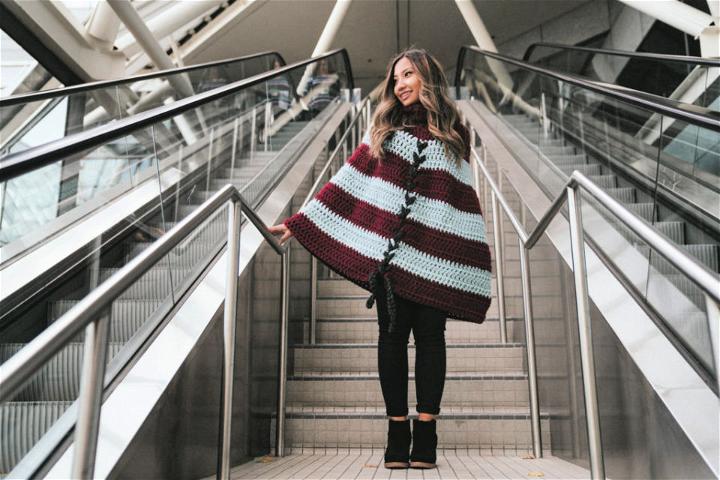 Stay cozy and warm with Vincent's cloak! This comfy blanket is made using lion brand's thick & quick yarn, so it works reasonably fast. With a seamed middle, you can use your arms to keep the pattern working in color changes while keeping yourself super toasty during the cold winter. Add some spice to your life this season with Vincent cloak – no matter how chilly it gets outside! knotbadami
39. Quick and Easy Crochet Butterfly Breeze Poncho Pattern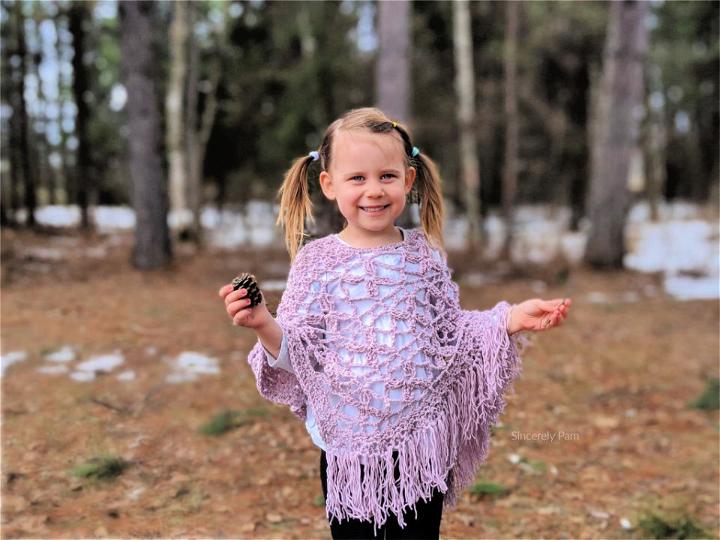 Create the perfect boho-chic accessory with this free crochet pattern for a butterfly breeze poncho! This poncho has won the honor of being the best crochet pattern and comes with lots of color inspiration. The best part? You can download it as a free pdf and make your own! All you need is 60/40 cotton/acrylic blend worsted weight yarn, so don't wait – get started today on making your beautiful new poncho! sincerelypam
40. Crochet Boho Granny Square Poncho Pattern to Print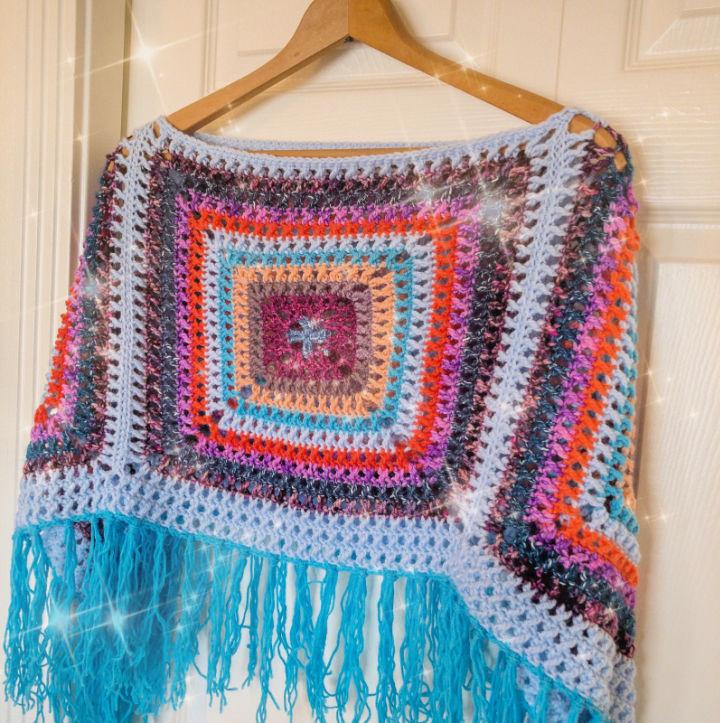 Welcome the perfect addition to your wardrobe: This boho granny square poncho! This unique poncho is made from DK weight yarn and includes instructions for sizes Xs – 5x, making it customizable for any size. Plus, you can use whatever yarn you'd like! Get creative with colors and patterns as you make each granny square—it's easy and fun. With this stylish poncho, you'll look trendy in no time. Grab yours today! ravelry
Related Free Crochet Patterns:
Create beautiful and unique handmade gifts with our free crochet patterns. From blankets to sweaters – find the perfect pattern for any occasion!
Related Easy Crochet Patterns for Beginners:
Discover simple crochet patterns perfect for beginners, and start creating beautiful projects easily.
Conclusion: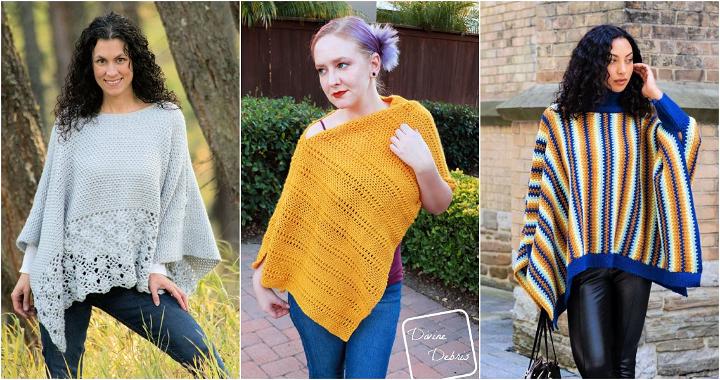 In conclusion, creating your own stylish crochet poncho is a fun and easy way to add unique pieces to your wardrobe. Whether you're a beginner or an experienced crocheter, these 40 free crochet poncho patterns offer something for everyone, with a range of vintage and modern designs to choose from. With detailed instructions and step-by-step free crochet poncho patterns, you'll be able to create beautiful crocheted ponchos that are perfect for any occasion. So, get your crochet hook and yarn, and start crocheting your own fashionable and cozy crochet ponchos today!