Crochet earrings can add a unique and stylish touch to any outfit. For crochet enthusiasts looking to start on their jewelry-making journey, there is no better place than with crochet earrings. Crochet earrings are a relatively easy and small project, so they are ideal for crochet beginners. Find 25 free crochet earrings pattern with step by step instructions, crocheters of any skill level can design the perfect accessory that is stylish yet understated. These free crochet earring patterns provide detailed step-by-step instructions and helpful pdfs for visual guidance throughout the process. These crochet earring patterns will surely help any budding crochet lover create unique and fashionable pieces of crochet jewelry.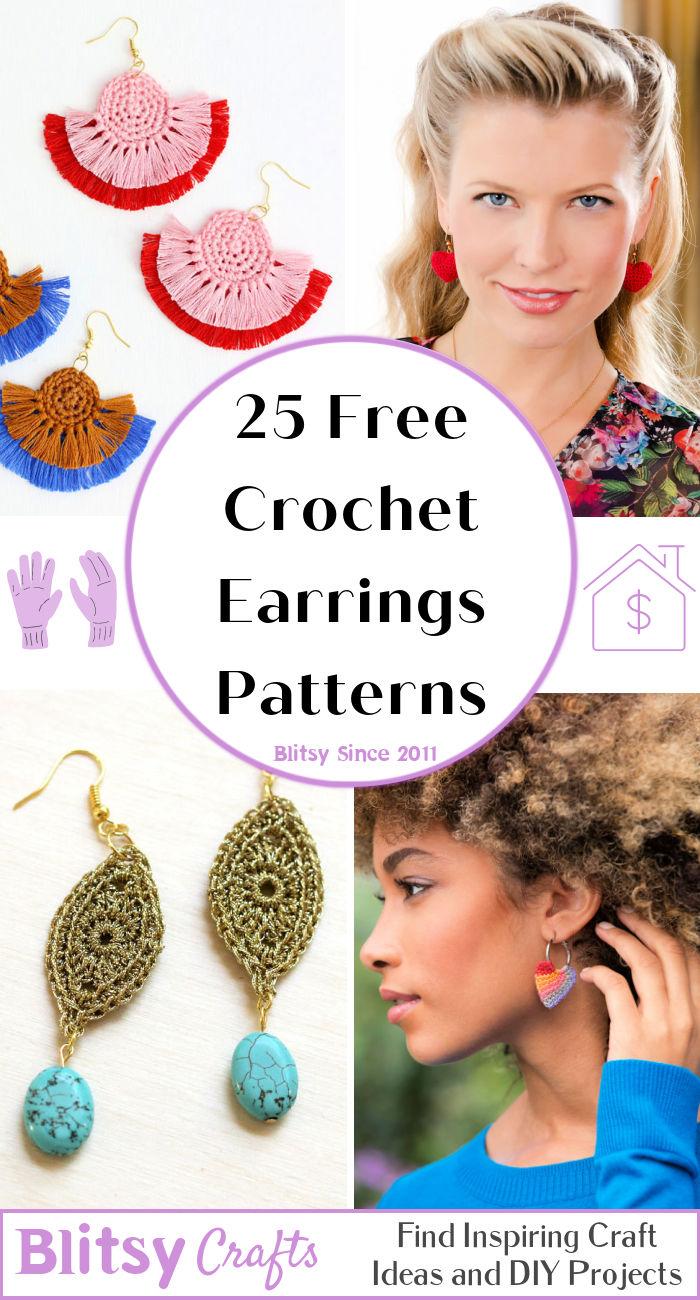 Free Crochet Earring Patterns
Unlock the creative potential of your crochet skills by creating beautiful and unique earrings with this collection of 25 free crochet earring patterns! With easy instructions, both beginner and experienced crocheters can make lovely accessories quickly. Each crochet earring pattern includes a PDF download to provide detailed instructions for recreating each set of earrings. Whether you're interested in learning how to crochet small hoop earrings or exploring different materials like beads, try these free crochet jewelry patterns today and add some style to your wardrobe!
Whether it's for being fashionable or adding a cute touch to an outfit, crochet earrings are one way to get creative with accessories. If you're looking for crochet earring patterns, then look no further! There are 25 free crochet earring patterns available below that can help you explore different crocheted earrings style and get more creative with crochet designs. From vibrant ethnic crochet drops to elegant pearl drops, these crochet earring patterns can provide you with the perfect accessory that will stand out in any crowd. So if you're into accessorizing with crochet, this collection of free crochet earring patterns will provide you with tons of inspiration and great ideas.
How do you crochet an easy earring?
Creating crochet earrings is a simple and fun crochet project. Start with a basic pattern like the half double crochet, chain three, then double crochet in each of the chain stitches. Work your way around until you have the desired size of the earring. You can also use other crochet patterns or add beads to make unique designs. To finish, attach hooks or posts before wearing your handmade crochet earrings! With this easy crochet earring pattern, crafting beautiful accessories has never been easier.
Which yarn is best for crochet earrings?
When it comes to crochet earrings, cotton or acrylic yarn is often the best choice due to its lightweight and easy-to-work-with properties. Cotton yarn is particularly popular for crochet earrings because of its strength and durability, while acrylic offers a variety of colors with excellent drapes. For crochet projects requiring more texture or detail, finer crochet threads may also be used. Each material has unique characteristics that make them ideal for crochet earring patterns, so choose the one that works best for your project!
What do you need to make crochet earrings?
Crochet earrings can be made with a crochet hook, yarn or thread, scissors, and a needle. Depending on the pattern chosen, you may also need beads and other decorative materials to complete the project. With these supplies in hand, you'll be ready to make your own crochet earrings using any crochet earring pattern of your choice! Have fun creating something unique and stylish for yourself or as a gift for someone else.
How do you add beads to crochet earrings?
Adding beads to crochet earrings is a simple way to add texture and visual interest to the finished product. You can use several different crochet stitches, such as single crochet, slip stitch and chain stitch, to create an eye-catching design. You can crochet over the bead when adding it to your pattern for extra security. Once complete, you'll have an elegant pair of crochet earrings that will be sure to turn heads!
What is the easiest thing to start crocheting?
One of the easiest crochet projects to start with is creating crochet earrings. All you need is some yarn, a crochet hook, and a basic crochet pattern. You can find plenty of free crochet earring patterns online or create your own design for a unique look. With just these simple supplies, you'll be able to craft beautiful crochet earrings in no time! Get started today and see what creative designs you come up with.
What size yarn do I need to crochet earrings?
For crochet earring patterns, you will need lightweight yarn. This type of yarn is usually labeled as a size 3; however, different crochet patterns may require different sizes. It is important to read the pattern carefully to determine which type and size of yarn are suitable for each project. Additionally, it is recommended that you use crochet thread or crochet cotton for creating crochet earrings. This ensures that the finished product is light and durable.
How can I design my own earrings?
Crochet earrings can be a fun and creative way to showcase your style. There are plenty of free crochet earring patterns online, so you can easily find one that matches your vision. Whether you prefer intricate designs or something more simple and minimalistic, there's sure to be an option that fits perfectly with your style. With the right materials, crochet techniques, and creativity, you'll soon have some beautiful crochet earrings to show off!
How do you add pearls to crochet?
Pearls can easily be added to crochet pieces, whether you are making earrings, a necklace or other crochet accessories. To add pearls to crochet items, first, crochet the item of your choice following a crochet pattern. Once finished, choose where you would like the pearl and thread a needle with a strong thread. Sew the pearl through all loops of crochet stitches and back out again, securing it in place. You now have successfully added a pearl to your crochet earring pattern!
How do you seal crochet earrings?
Sealing crochet earrings is important for protecting the crochet thread used in their construction. To seal crochet earrings, you can use a clear acrylic spray to seal the threads and ensure the crochet pattern stays intact. Apply the spray from a distance of 10-12 inches away, and cover all areas of your crochet pieces evenly. Once dry, your crochet earring pattern will be preserved and ready to wear!
Crochet Earrings Benefits
Crochet earrings are a unique and stylish accessory that can transform a look. Whether you want something dainty, colorful, or boho-inspired, crochet earrings are the perfect way to add a touch of personality to any outfit. Not only are these beautiful pieces of jewelry an affordable option for fashionable looks, but they are also extremely easy to make with just a few basic crochet tools. This article will explore the benefits of crocheting earrings and provide free crochet earring patterns that you can use to create your own unique designs.
1: Affordable
One of the primary benefits of crochet earrings is that they are an incredibly affordable way to accessorize any look. Whether you're looking for a statement piece or something more subtle, crochet earrings can be made using inexpensive supplies like thread and beads that won't break the bank. Plus, the time investment required to make them is minimal, so you can create several pairs of unique earrings with minimal effort and cost.
2: Versatile
Another great benefit of crochet earrings is their versatility. Thanks to our wide variety of free crochet earring patterns available below, you can customize your look by using different colors, materials, or stitches. From statement beaded earrings to delicate filigree designs, crochet earrings can be tailored to fit whatever aesthetic you're trying to achieve.
3: Easy to Design
Lastly, crochet earrings are incredibly easy to design and make. With just a few tools, like a crochet hook and some thread or yarn, you can easily create your own unique designs in no time. Plus, free crochet earring patterns are widely available online, so whether you're a beginner or an experienced crocheter, we have a free crochet pattern for everyone to enjoy.
Crochet earrings offer a unique and stylish way to accessorize any look. They are incredibly affordable, highly versatile, and easy to design – making them a perfect choice for anyone looking to add a touch of creativity and personality to their wardrobe. Plus, with free crochet earring patterns available online, it's never been easier to begin creating your own unique designs. So if you're in the market for some new jewelry, why not try crochet earrings and start crafting your own beautiful pieces today?
1. How to Crochet Flower Earrings – Free Pattern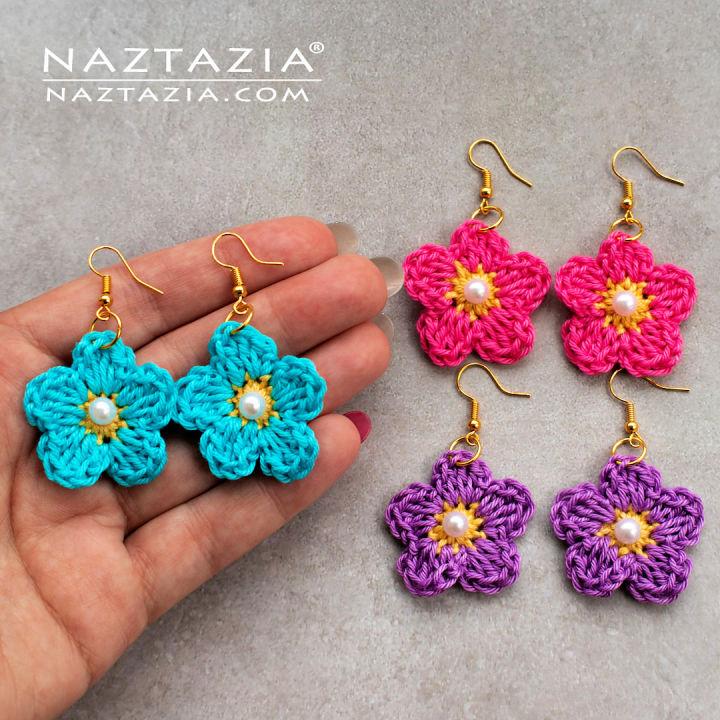 Looking for a quick and easy way to make your earrings? Check out these crochet flower earrings – they're cute, fun, and simple enough for beginners to make! You only need a size C 2.75 mm crochet hook and lightweight yarn. Plus, you can customize them with any metal wire findings like gold, silver, brass or antique. They're sure to be the perfect addition to any outfit, so get crocheting now! naztazia
2. Gorgeous Crochet Heart Earrings Pattern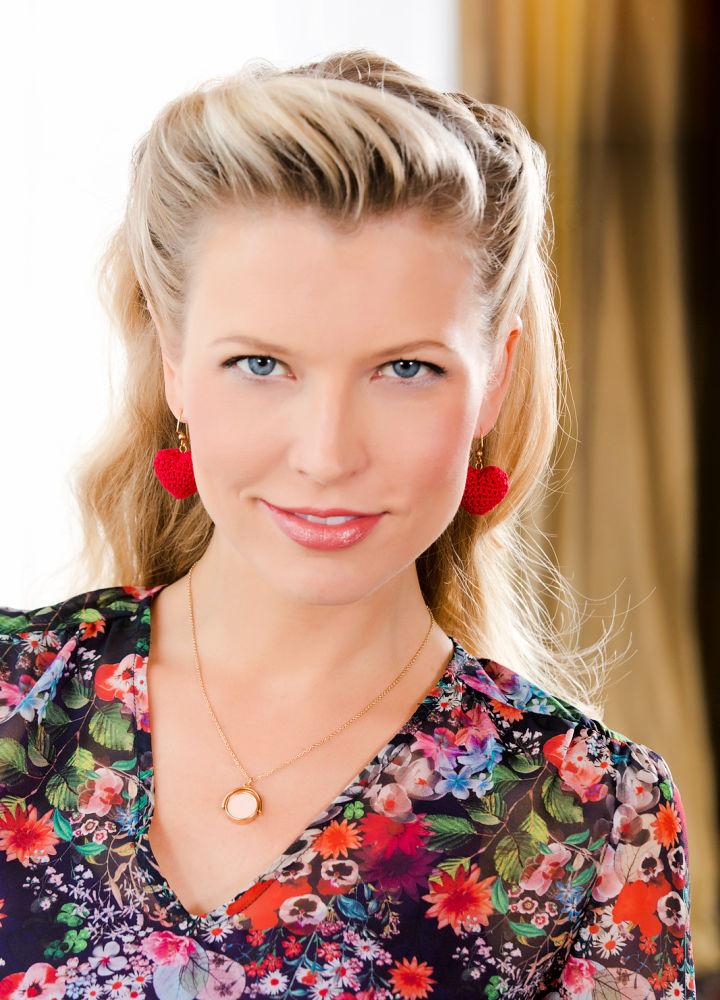 Beautiful and stylish, these crocheted heart-shaped earrings will complete any look. Made with 100% mercerized cotton thread in a 3-ply weight yarn, they are perfect for Valentine's Day gifting or just as a special treat to yourself. The earring measures 1″ x 1¼" and is worked up quickly using a size US 7 steel crochet hook for an easy skill level. Don't wait – buy Be Still My Heart Earrings today! yarnspirations
3. Easy Crochet Snowflake Earrings Tutorial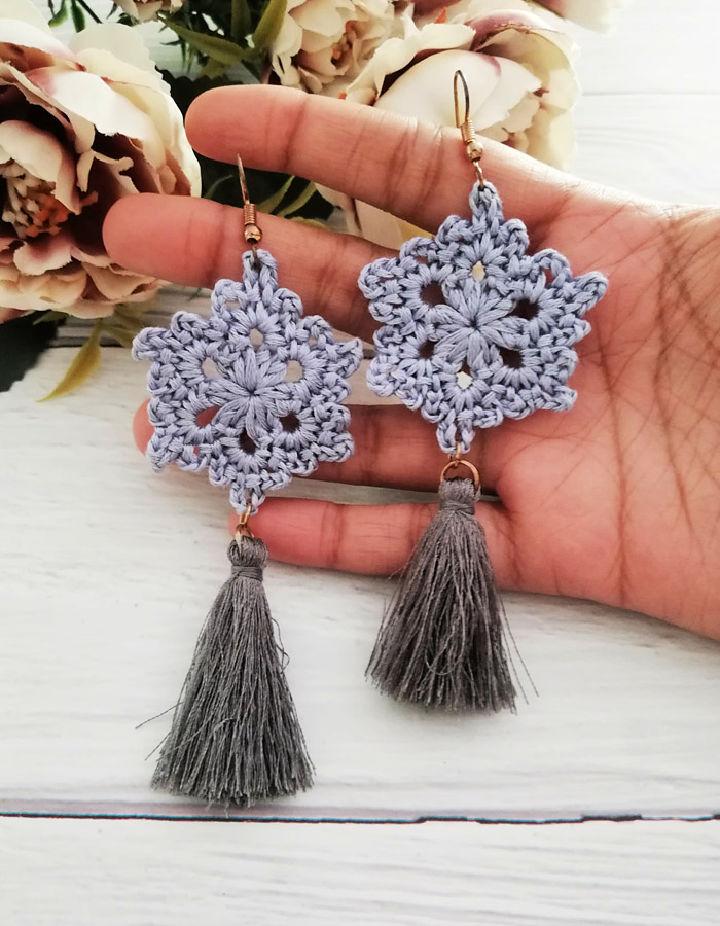 Are you looking for a quick, easy crochet earring pattern for this holiday season? Check out this free pattern for creating unique snowflake earrings! The skill level is rated as easy, with the finished size of the snowflakes measuring 1.5″ wide. You will need 6-strand embroidery floss, mini tassels for earrings, a 3mm crochet hook, jump rings and jewelry pliers to complete your project. Make these festive snowflake earrings and show off your creativity! crochetforyou
4. Cool Crochet Rainbow Puff Earrings Pattern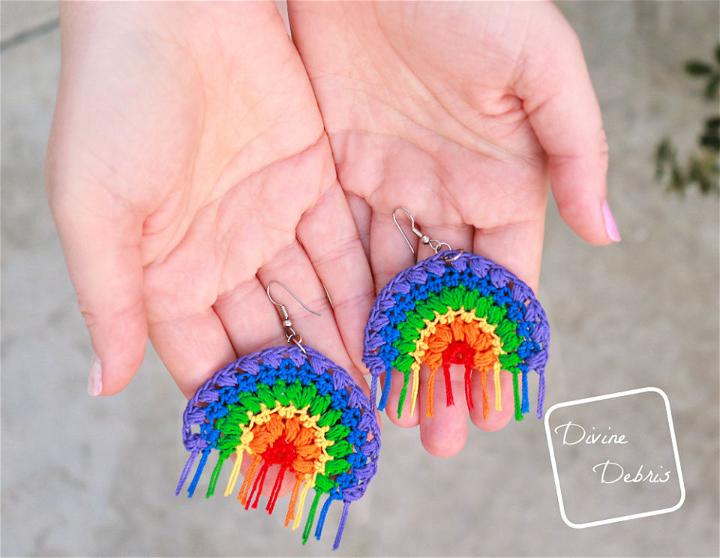 Add a bit of fun to your wardrobe with these free crochet puff rainbow earrings! This easy project is perfect for beginners and will only take an afternoon. You'll need a 2.25mm crochet hook, size 10 crochet thread in 6 or fewer colors, fabric stiffener, jump rings, French metal hooks and jewelry pliers. Follow the pattern to create these bright, cheery earrings that won't break the bank! Add this DIY accessory to complete any look – dress up or down – and make sure everyone notices your one-of-a-kind style! divinedebris
5. Free Crochet Gold Earrings Pattern
Go for a big style statement with these DIY gold crochet earrings! They're easy to make with the right materials and a free crochet pattern. Get ready with thin gold lame thread, a 2.75mm crochet hook and gold jump rings (4mm and 7 mm), turquoise beads, gold head pins, gold fishhook earring wires, and a jewelry plier set. Create your unique look in no time – perfect for any occasion or as a special gift! So get crafting now and show off your new eye-catching design. persialou
6. Wonderful Crochet Watermelon Earrings Pattern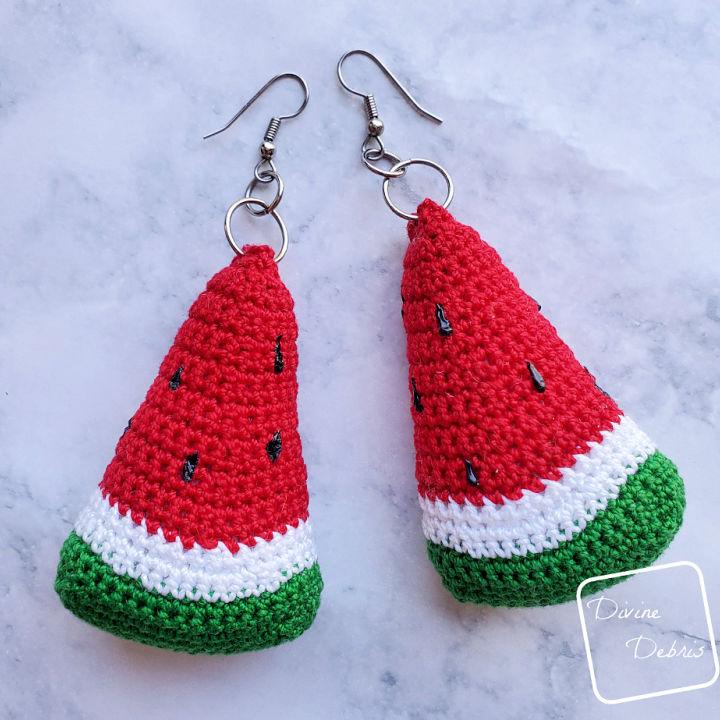 Get creative with your hook and make an eye-catching accessory with this free crochet pattern for wonderful watermelon earrings! With materials like a 2.00mm crochet hook, size 10 crochet thread in 3 colors, amigurumi stuffing, puffy paint and more – you can create a unique statement piece. Plus, the gauge used is 10 sc x 11 rows = 1″! Get started on your DIY project today by downloading this detailed pattern – perfect for all skill levels and great for gifting too. divinedebris
7. Unique Free Crochet Fringe Statement Earrings Pattern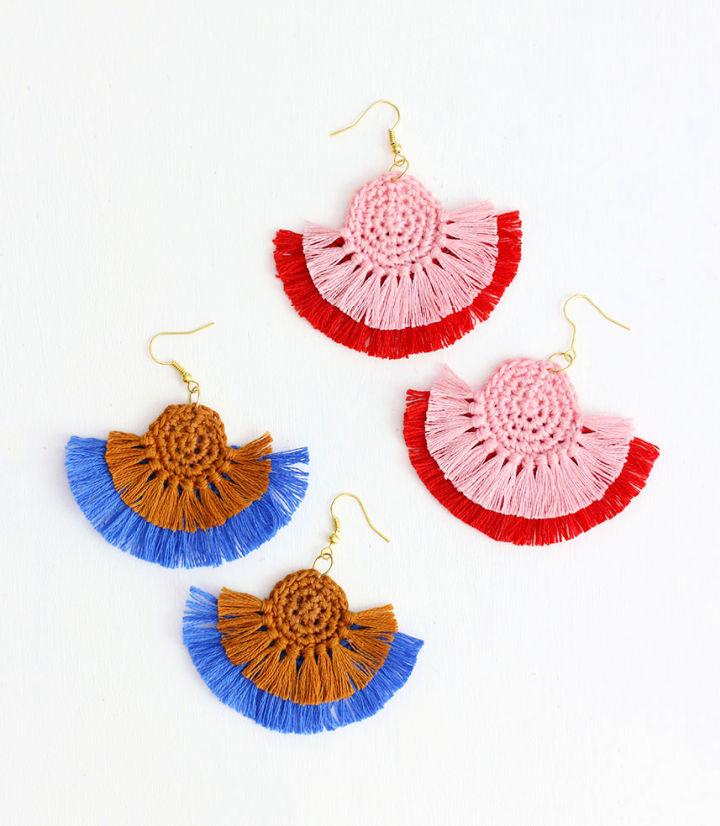 Time to create a unique, eye-catching look with this DIY fringe statement earrings crochet pattern. Easily crochet colorful and bold statement earrings at home using the supplies listed: cotton embroidery floss, 3.00 mm crochet hook, scissors, fabric stiffener (optional), permanent glue, jewelry pliers, jump rings and earring wires! With these items, you can make stylish big fringed earrings for yourself or give them as an unforgettable gift. Get creative and start crocheting today! persialou
8. Tunisian Crochet Hoop Earrings Pattern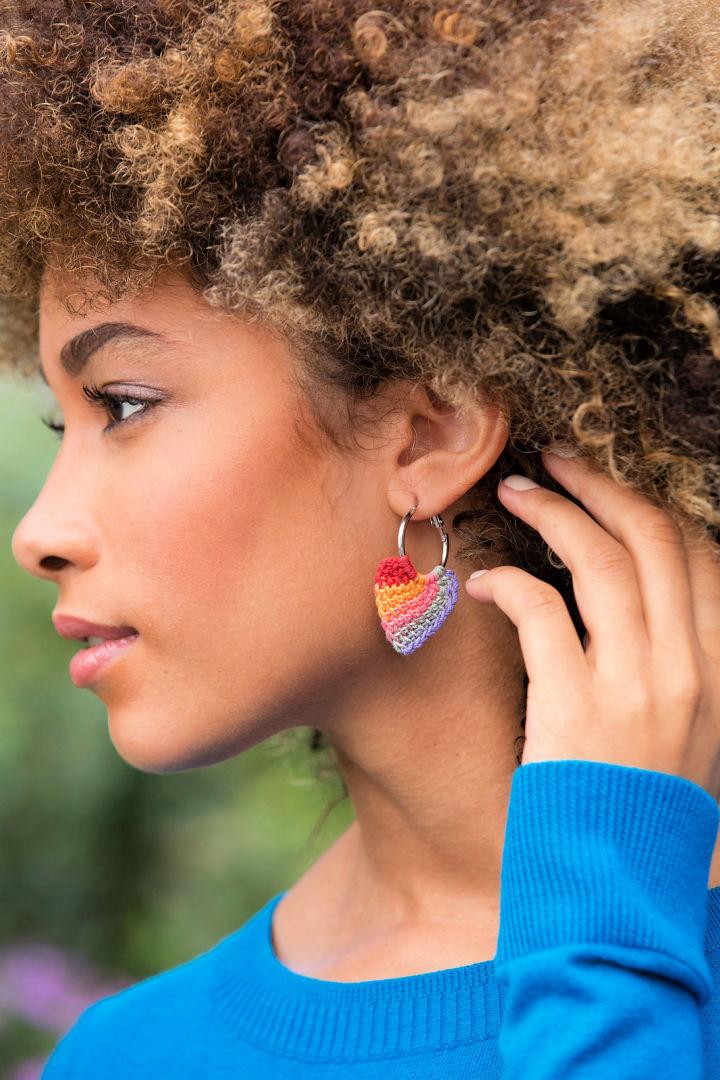 Enhance your look with these handmade Tunisian Hoop Earrings! Made from multi-colored crochet thread, they feature a rainbow effect that will draw attention. They are crocheted using the simple Tunisian stitch and measure 1¾" (4.5 cm) long, including the hoop. For those who have intermediate crochet skills and use size 10 cotton thread with a 2mm "US 1" hook, these earrings make a great jewelry collection addition or gift! Get yourself or someone special this beautiful pair of 35 mm latch-back hoop earrings today! yarnspirations
9. Free Crochet Boho Style Earrings Pattern
Style up your jewelry collection with handmade crochet earrings. Get a beginner-friendly pattern that uses only single crochet stitches and takes 45 minutes to complete. With minimal yarn, you can easily customize the design of your Boho-style earrings to fit your fashion preference. The project provides free patterns and step-by-step instructions, so you'll have a perfect pair in no time! Grab this easy pattern now and start crafting beautiful crocheted accessories for yourself or as gifts. crochetforyou
10. Crochet Archimedes Spiral Earrings Design – Free Pattern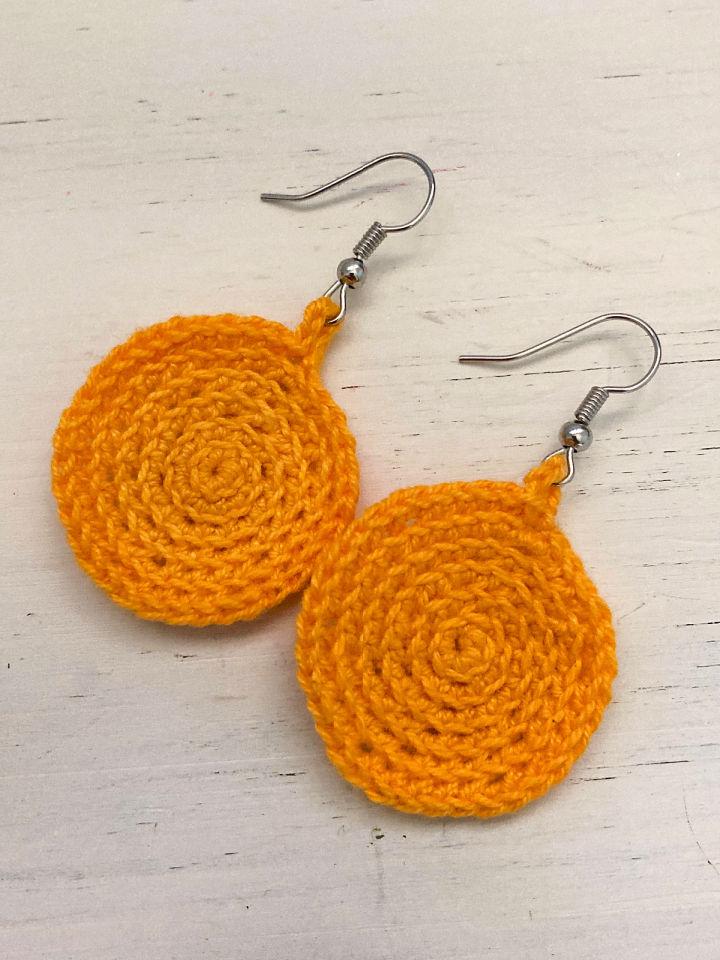 Make a statement with these beautiful archimedes spiral earrings – an elegant and lightweight accessory perfect for any occasion. This quick and easy crochet pattern uses #10 cotton thread, a 1.50mm hook, and fishhook earring hooks to create the iconic spiral design. Perfect for accessorizing your own wardrobe or making a thoughtful gift, these unique earrings are sure to impress – so make sure you get your pair today! yarn bending
11. Crochet Petal Pop Earrings – Free PDF Pattern
Get ready to add a perfect pop of color to your look with these petal pop crochet earrings! They make the ideal statement piece at 2 inches in diameter and 2.5 inches long. Easily create a pair of these fashion-forward earrings using Aunt Lydia's Classic Crochet Thread in Aqua, size 2mm crochet hook and fish hook ear wires – making this easy pattern suitable for even beginner crocheters! Not only are these earrings great for yourself, but they also make an excellent gift idea for someone special. yarnspirations
12. Crochet Mint Spirit Earrings With Beads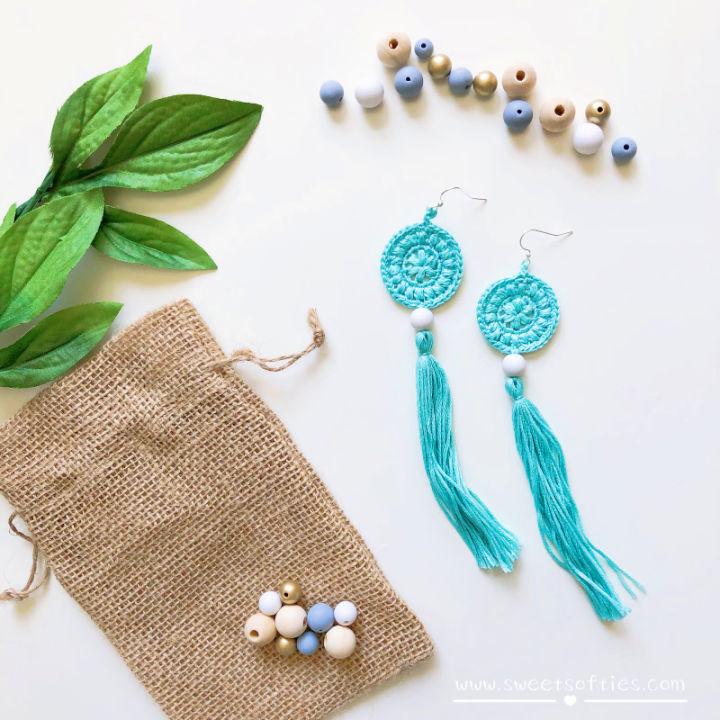 Welcome the summer season with these beautiful mint spirit earrings! Perfect for anyone on a budget, this simple crochet tutorial only requires two skeins of DMC embroidery thread, packs of fishhook earrings and beads. Create multiple pairs in no time with this budget-friendly option! The dreamcatcher-inspired design and turquoise color will make you look fashionable without breaking the bank. Give yourself or someone special these trendy earrings as a great gift for any warm weather season. sweetsofties
13. Quick and Elegant Crochet Earrings Pattern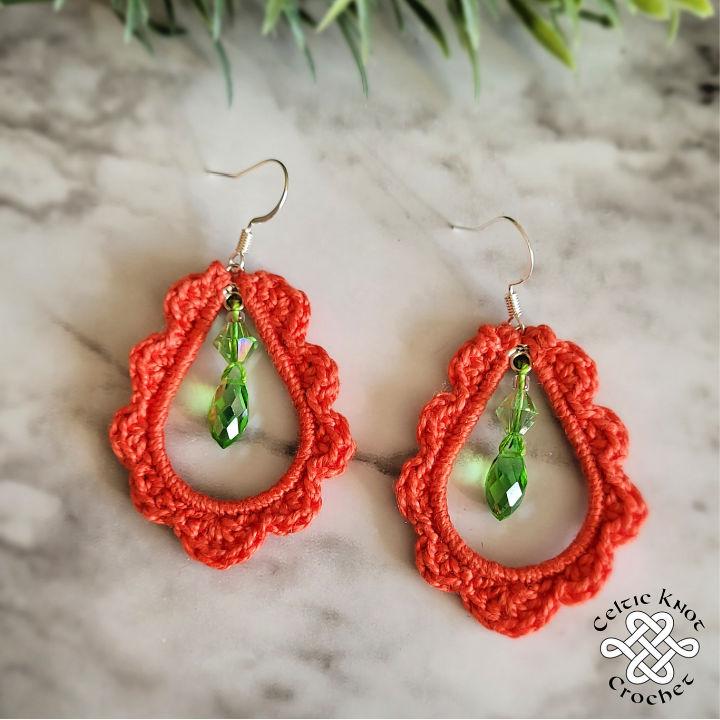 Catch more eyeballs with these quick and elegant crochet earrings! This easy pattern requires basic crochet stitches and minimal materials, like size 10 cotton thread, a 1.5mm hook and beads of your choice. In only 2 rounds, you can create stunning jewelry for yourself or as gifts – choose from various colors and styles to suit any taste. Add a touch of elegance to your wardrobe by crocheting these gorgeous earrings today! celticknotcrochet
14. Simple Crochet Boho Earring Pattern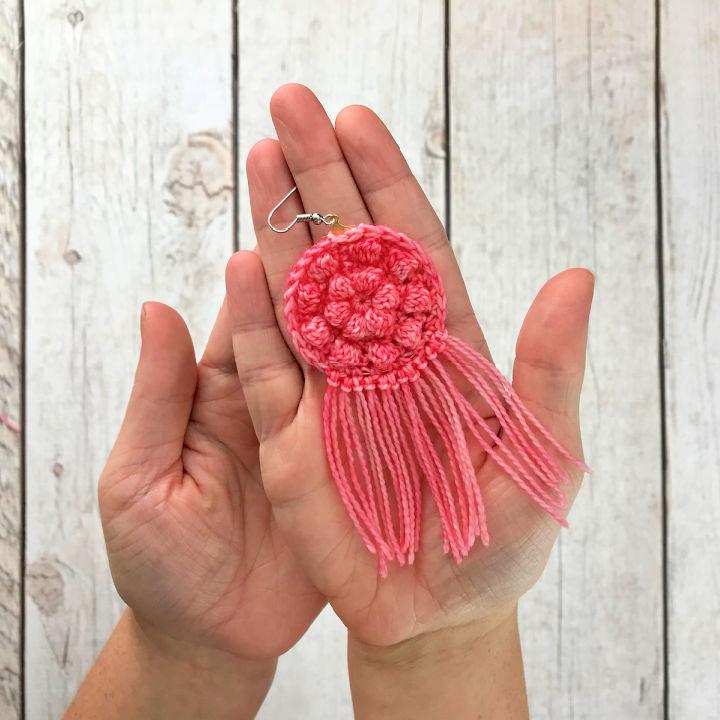 Are you highly obsessed with bohemian fashion? Add boho style to your wardrobe with this free crochet pattern for easy-to-crochet earrings. With a 2.25mm crochet hook, hoop earring findings, fish hook earring findings, super fine fingering weight yarn and tools like round nose pliers, tapestry needle and scissors, you can create beautiful pair of bobble stitch texture earrings with trendy fringe. Get creative and elevate your style today! acraftyconcept
15. How to Make Torro Jewelry – Free Crochet Pattern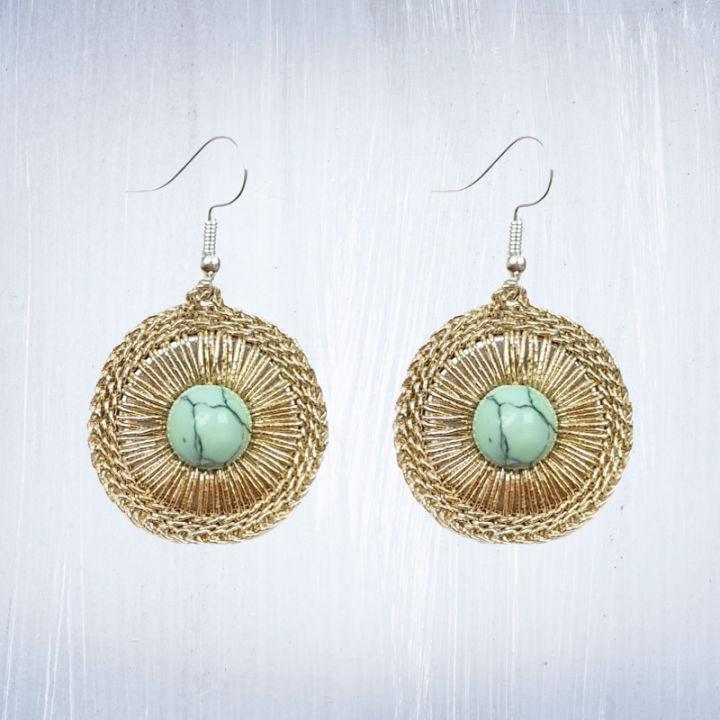 Give a touch of elegance to your accessory collection with these simple yet sophisticated toro earrings. This moderate-level crochet project uses a 1.5mm hook and lace weight or metallic yarn for a wire-crochet-like finish without the added difficulty. With only 25-50 yards required for each pair, you can craft multiple creations in different colors.
Add washers and earring hooks to complete the look, and get ready to turn heads with your handcrafted jewelry! Perfect for small amounts of yarn, this pattern is great for any skill level, from beginner crocheters to experts alike – so don't wait any longer to start making beautiful accessories that will make you stand out! poppyshop
16. Crochet Caribbean Wave Hoop Earrings Pattern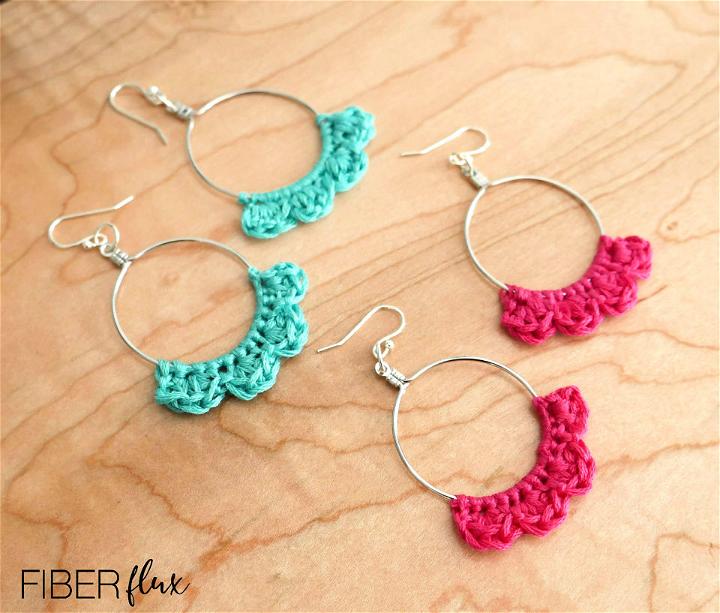 Let the colors of the Caribbean wash over you with these gorgeous wave hoop earrings! This free crochet pattern will guide you through creating beautiful scallops adorning your earring hoops. With a 3.25mm crochet hook, some cotton embroidery floss, and a small tapestry needle, craft these stunning earrings in no time – they'll be perfect for that beachy vibe look!
The glossy sheen provided by the satiny thread will make them stand out from all your other accessories this season. Make one pair for yourself and another for a friend or upcycle an old pair of hoops – either way, you'll enjoy wearing these unique creations wherever the sun takes you! fiberflux
17. Small Crochet Pineapple Fruit Earrings Pattern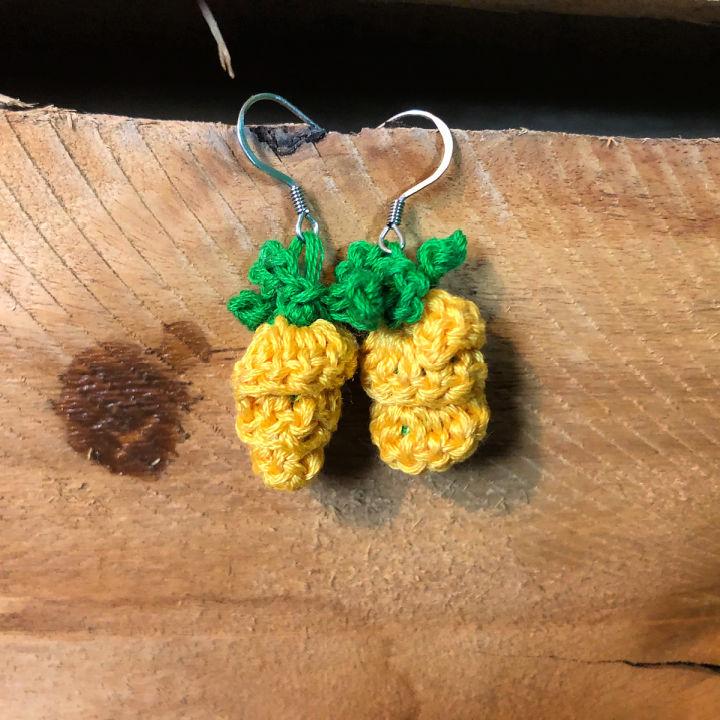 Step into summer with these dazzling pineapple earrings! This crochet pattern comes with full photo and video tutorials, guiding you through creating them in less than an hour. All you need is dmc floss (in yellow and green), a 2.25mm crochet hook, a tapestry needle and fishhook earring wires for this fun summer project! With these colorful pineapple earrings in your wardrobe, you can easily add a pop of color and style for any occasion. sewhomey
18. Crochet Crocodile Teardrop Earring Pattern
Make a bold statement with this one-of-a-kind crocodile teardrop earring design. This budget-friendly option only requires one embroidery floss, fish hook earring wire, needle nose pliers, sewing needle and the color of your choice. The vertical crocodile stitch is easy to learn, and you'll be able to make two earrings from start to finish in no time. With countless colors available, the possibilities are endless! Try out this pattern today for an eye-catching addition to any ensemble. ravelry
19. Free Crochet Paw Print Earrings Pattern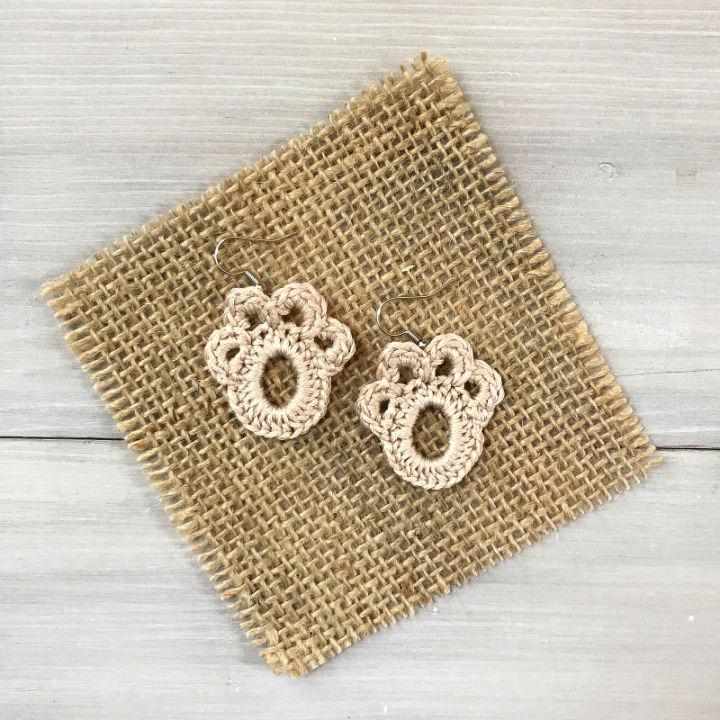 Show off your love for furry friends with these adorable paw print earrings! Perfect for animal lovers, the pattern is simple to follow and requires just a small crochet hook, some thread or embroidery floss, plus basic tools to make. It's also an ideal crochet project for beginners – why not make a pair for yourself or as a quick gift for a dog-lover friend? simplyhooked
20. Crochet Micro Heart Earrings Diagram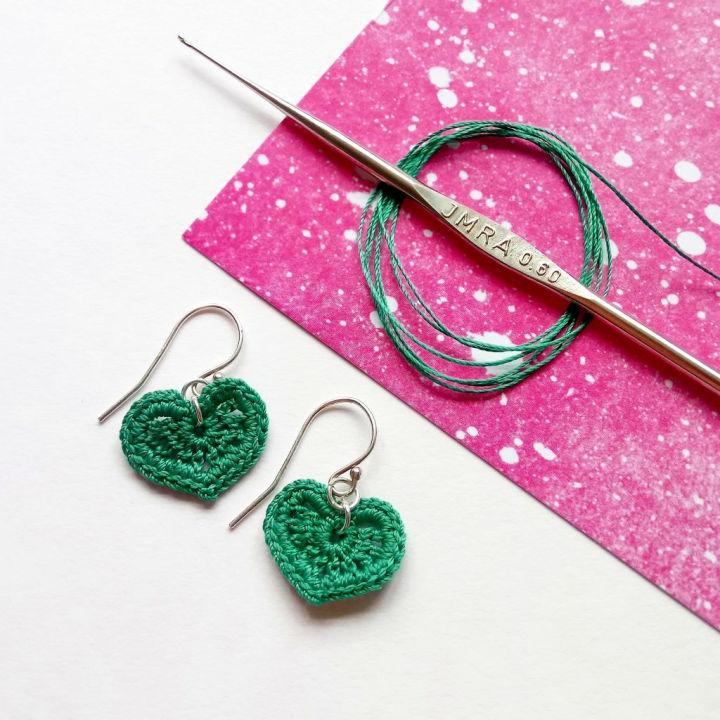 Crochet a unique and special gift this Valentine's Day or for someone special with these easy-to-make micro crochet heart earrings. With just some simple materials like thread, jump rings, ear wires, jewelry pliers and free crochet patterns, you can make your own handmade earrings. Use the green thread to add a fun pop of color but feel free to use any color or embellishments you want! Show off your crochet skills and make something special by crafting these adorable micro crochet heart earrings today! yarnpunk
21. Crocheted Little Pumpkin Earrings Pattern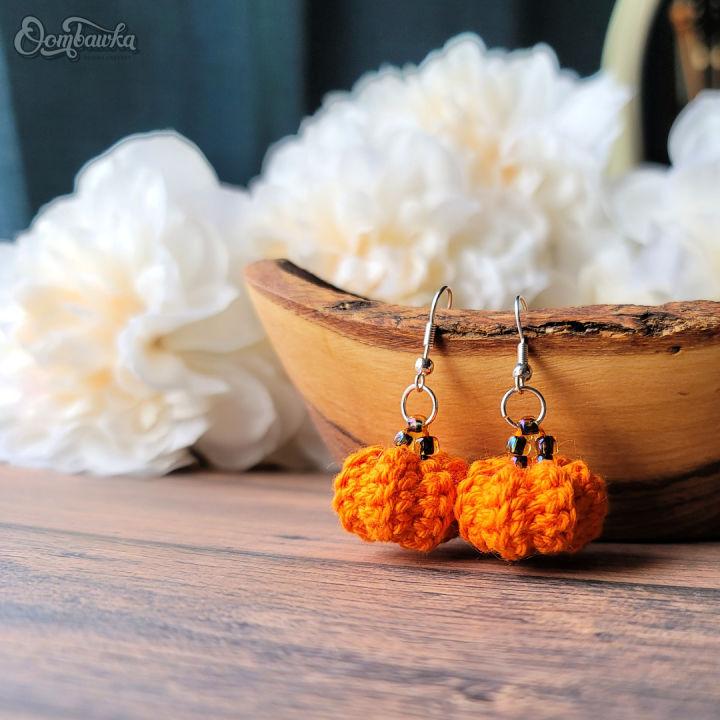 Looking for some fall or Halloween special pair of crochet earrings? Create your unique pumpkin earrings with this easy crochet pattern! In less than an hour, you can craft a pair of 1.5 cm tall by 2 cm wide earrings 4 cm from the top to the base of the pumpkin.
Gather materials like fine (sport) weight yarn [2] in orange, a 2.75 mm crochet hook, scissors, yarn needle, jump rings, fish hook earrings and beads for decoration. For stuffing inside the pumpkins, use poly-fil stuffing or batting to give them dimension. Follow this step-by-step instruction today and craft a special one-of-a-kind set of pumpkin earrings just in time for autumn! oombawkadesign
22. Cool Crochet Bliss This Star Earrings Pattern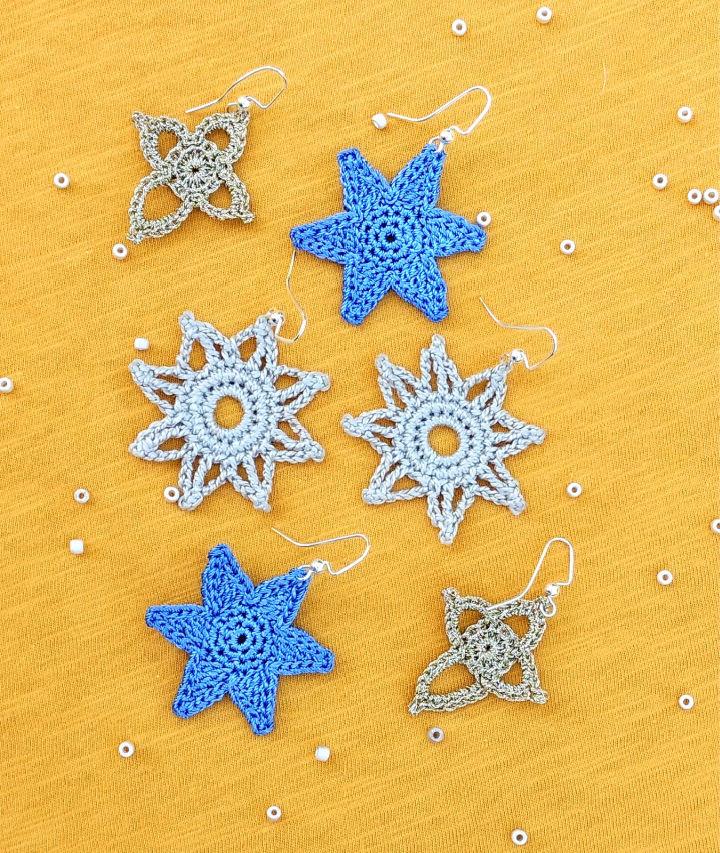 Want to take your style to the next level by wearing some yarn adornments? Create your stylish accessories with these 3 free crochet patterns for making earrings in the shape of stars. Given as free PDF downloads, they are perfect for beginner crocheters. With only a 1.75mm hook, a small needle, 2 fish hook ear-wires per pair, and the fabric stiffening spray needed to complete each pair in one day, you'll have enough pairs of trendy star earrings to last all week! Get crafty with these quick and easy patterns today! madewithatwist
23. Free Crochet Flower Earrings Pattern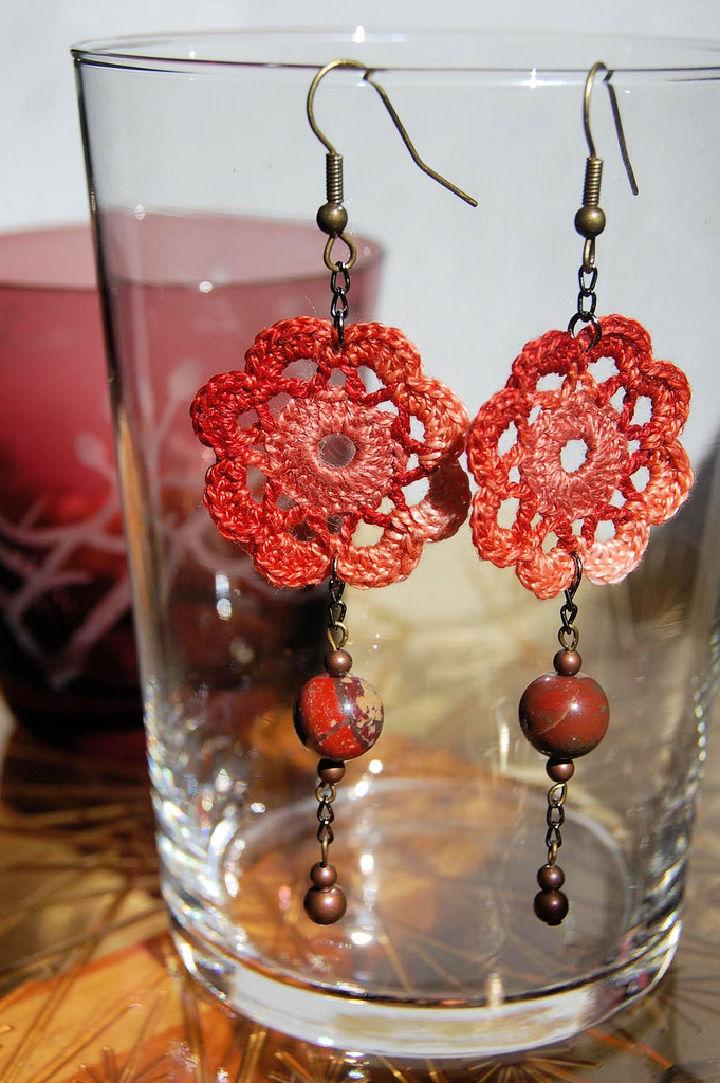 Get busy with beginner crochet experience and skills to make beautiful flower earrings with this easy crochet and beading pattern. The pattern includes both written and drawn instructions, so even if you are a beginner in crochet, you can make these stunning earrings.
All you need is a cotton thread (DMC or similar) in various colors, plus a 1mm crochet hook. Don't worry about the exact thread thickness; any cotton thread will do! Show off your creativity with these handmade flower-shaped earrings – perfect for adding a special touch to any outfit! unjardindehilo
24. Beautiful Crochet Totally Turkey Earrings Pattern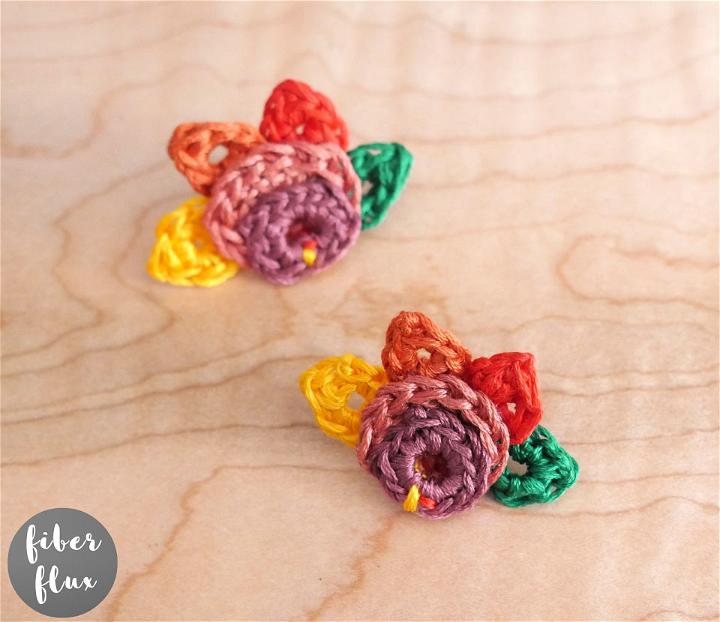 This free crochet pattern is perfect for a Thanksgiving hostess gift! Create fun turkey earrings with this easy-to-follow video tutorial using the materials you need, such as dmc embroidery floss, 3.5mm E crochet hook, tape measure, tapestry needle, scissors, earring posts and backs and hot glue. The finished product will be 1.5 inches wide and 1 inch tall – make sure to wow your guests at the holiday gathering with these unique handmade gifts! fiberflux
25. DIY Coco Earrings – Free Crochet Pattern
Enhance your wardrobe with these coco earrings! This free crochet pattern is easy to follow and a great starting point for working with thread and simple color work. The earrings are designed to complement the coco top, making them perfect for dinner or respectfully celebrating the Day of the Dead.
Materials needed include cotton thread in 4 colors (black, yellow, purple and white), a 2.25mm crochet hook, and large hoop earrings (approximate diameter 80mm). The gauge is 9 stitches = 1″ & 8 rows = 1″; the finished size of the earrings is 2.25 inches by 2.25 inches. Instructions included for the chain, single crochet, slip stitch & stitch – get creative & make your unique pair today! creationsbycourt
Related Free Crochet Patterns:
Explore the joy of creating unique and beautiful handmade items with our free crochet patterns! From simple to intricate, there's something for everyone.
Conclusion: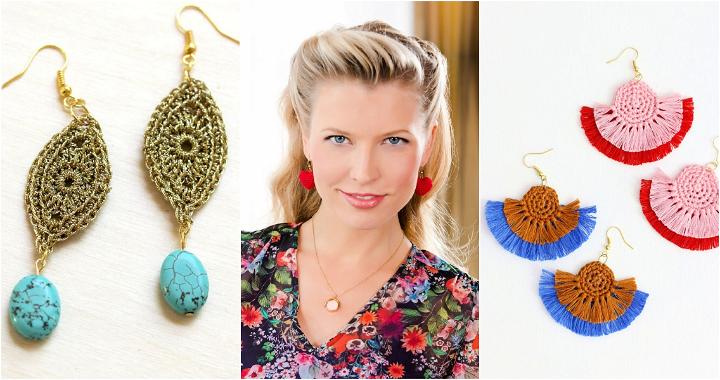 Crochet earrings are a great way to add your own personal style and flair to any outfit. With these 25 free crochet earring patterns, you can find the perfect pattern for whatever occasion or look you want. The patterns range from easy step-by-step instructions for beginners to detailed PDFs with pictures and diagrams or more advanced designs that include beads and other embellishments. Whatever your skill level is, there is sure to be something here for everyone! All of these crochet earring patterns are free, making them even better – no need to worry about purchasing expensive supplies! So grab some yarn, look at the selection of free crochet earring patterns we have provided and get crocheting today!