Looking for a crocheted cell phone case to make for your own or as a gift? You can learn how to crochet a phone case in just a few simple steps with 25 free crochet phone case patterns with step by step instructions. From classic cell phone cases to modern and colorful designs, these free crochet phone case patterns suit every style and skill level – including detailed instructions with step-by-step images, making the projects easy enough for beginners. Whether you want to make a traditional cell phone holder, a pouch to slip over your cell phone, or an intricately crocheted iPhone case, these free crochet phone case patterns will provide you with everything you need. Have fun working up your project and finding the perfect pattern for your needs!
Free Crochet Phone Case Patterns
Crochet phone cases offer various benefits to keep your device safe and secure. Not only are crochet phone cases cozy and colorful, but they are also simple to make and easy on the wallet. Anyone can crochet a case – no matter if you're a beginner or an advanced crocheter. A crochet phone case adds flare to your everyday look, with options for personalization like selecting the colors, yarns, and details that will fit your style best. When it comes to protecting your device, crochet phone cases provide a unique way to keep your device looking sleek while also having peace of mind it's well taken care of!
Discover 25 free crochet phone case patterns that are perfect for beginners! You can easily create beautiful crocheted cell phone holders and cases with easy-to-follow step-by-step instructions, detailed diagrams, and photographs. Whether you are looking for how to crochet an iPhone case or a simple cell phone pouch, the selection of projects is sure to provide plenty of inspiration. Make a crocheted cell phone case truly unique for yourself or someone special today with these amazing free crochet phone case patterns!
1. Free Crochet Chromatic Phone Case Pattern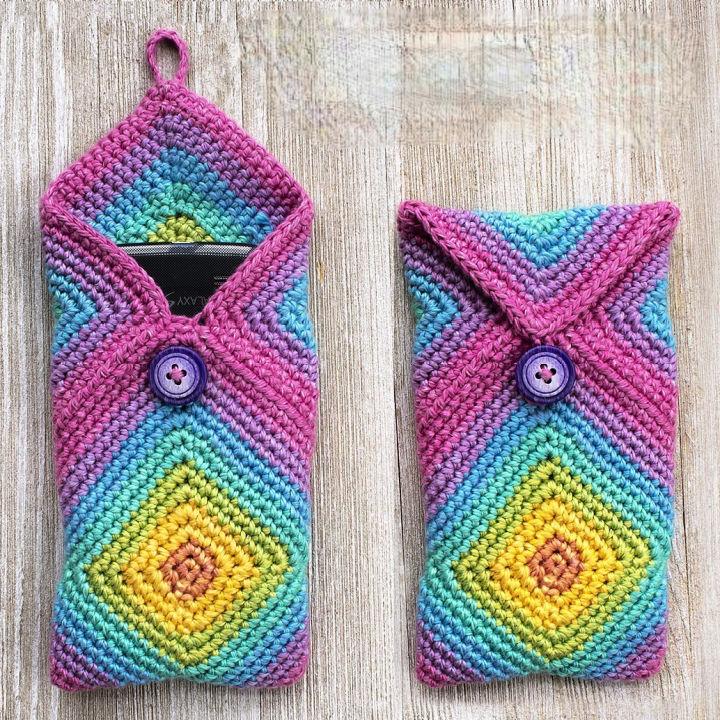 Step up your crochet game by crocheting your unique phone case with this DIY Chromatic Phone Case tutorial! You can add a splash of color to any cell phone with just two granny squares and some basic crochet stitches. Perfect for both beginners and experienced crocheters alike, this project teaches you how to work in the round, sew granny squares together, and customize your design with cake yarn. Create a fun and functional gift or treat yourself – learn how to make this colorful phone case today! naztazia
2. How to Crochet Phone Case – Free Pattern
This easy-to-follow mobile phone cozy or case crochet pattern is perfect for beginners. Customize it to any phone size and work in a single color or two colors like the one shown here. Use those leftover yarns to make unique gifts for your family and friends. With a hook and some worsted-weight yarn, create a cozy and sleek phone case that will give your phone protection and style! Give your phone an upgrade with this crochet pattern – you won't regret it! crochetdreamz
3. Crochet Cell Phone Case Pattern With Strap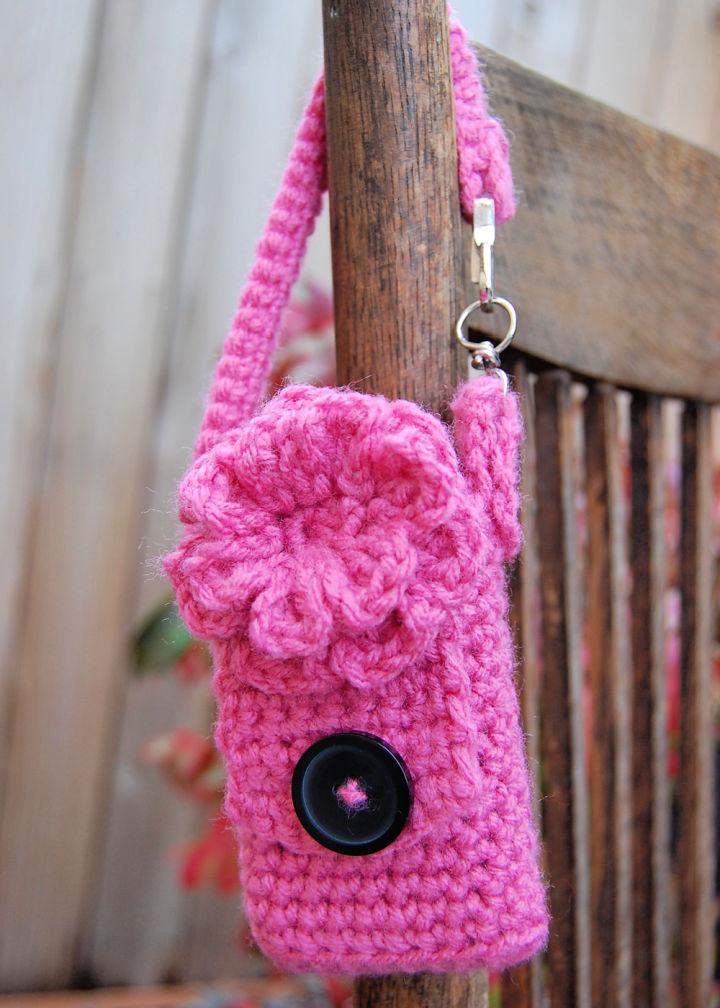 Are you looking for a way to stay organized and on the go? Look no further than this versatile Crochet Cell Phone Case! An easy-to-follow pattern makes it adjustable to any size phone and simple enough for beginners.
All you need is a G – 6, 4.25mm hook and worsted weight yarn like Red Heart Acrylic. Get your custom-fit case today. Perfect for attaching easily to your purse or belt loop so you can take your phone with you wherever you go! Don't wait – make the convenient cell phone case that fits all your needs today. thecraftycottage
4. Unique Free Crochet Phone Case Pattern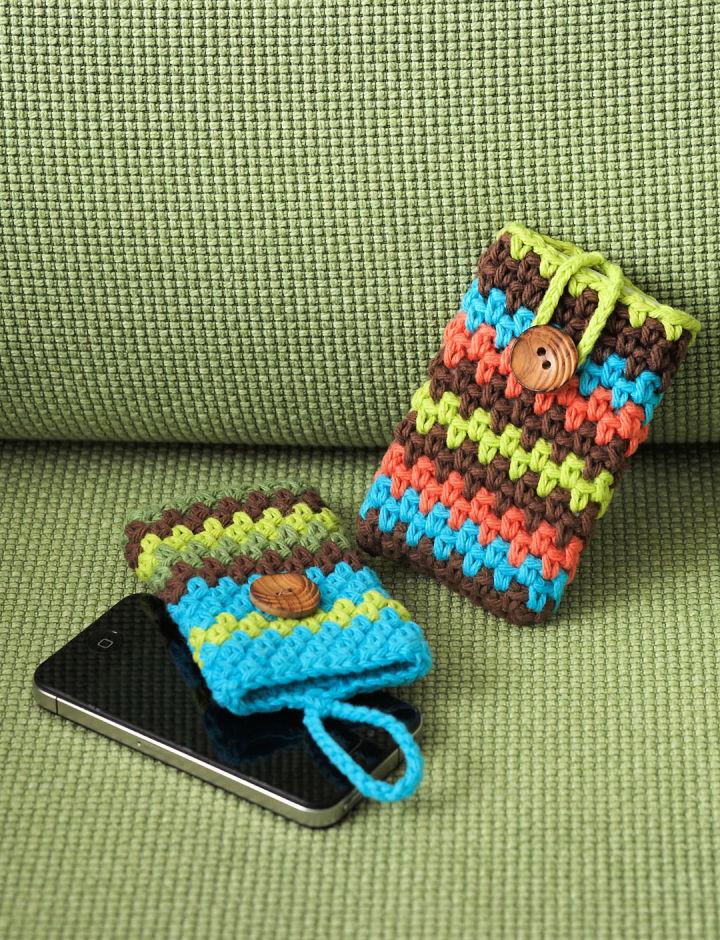 Protect and accessorize your phone with this stylish crochet phone case pattern. Easily crafted using Lily sugar'n cream, the pattern is designed to fit phones approximately 2.5 inches x 4.5 inches, giving them personal style while keeping them safe from harm. Whether you're new to crochet or an experienced pro, get the materials you need and create a unique phone case today! Show off your handmade piece of art that will be admired by all who see it. yarnspirations
5. Gorgeous Crochet Phone Sling Bag – Free Pattern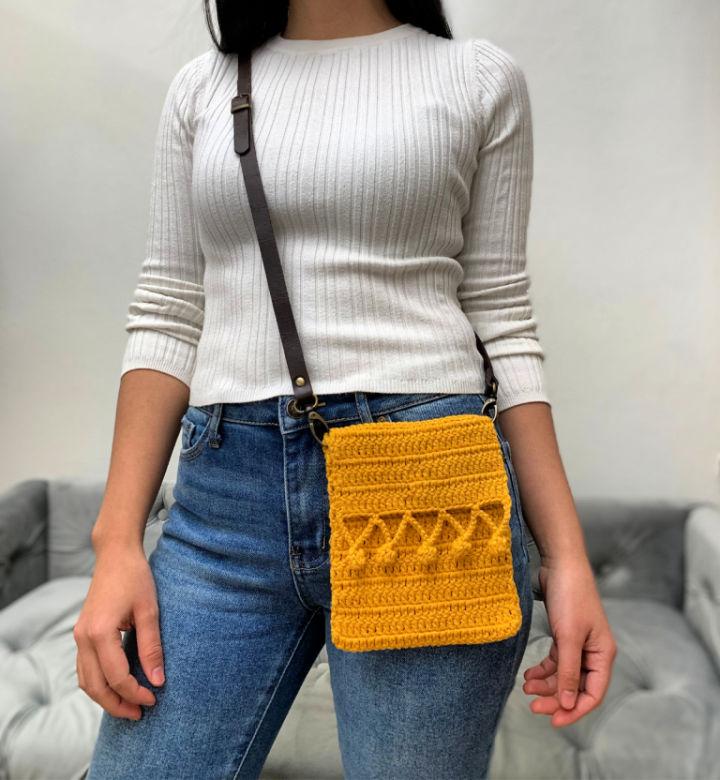 Never worry about losing your small items while on the go again! This crochet pouch pattern is perfect for beginners and easy to adapt to your specific needs. Made with #4 medium-weight yarn and a 3mm crochet hook, it can be used as a phone sling bag or for any other essentials you need to keep handy. Spice up the pouch with pom-pom trim, magnetic snap closures or leather strap for added personal style. Download the printable PDF pattern today and start making your very own pouch! knitcroaddict
6. Crochet Cell Phone Cover With Detachable Strap
This midnight rainbow phone cover adds a unique and stylish touch to your everyday essentials! This practical phone cover features a detachable strap, allowing you to keep your phone safe in your bag or wear it hands-free around your neck. It's worked with single crochet in continuous spiral rounds, using the Trinity stitch on the upper side and changing colors after each round for a seamless finish.
Made with cotton yarn in 6 beautiful colors and a 3.5 mm crochet hook, this cover is perfect for anyone who wants to take their look up a notch while keeping their phone secure. Get started on creating your own midnight rainbow phone cover today! myhobbyiscrochet
7. Beautiful Crochet Mobile Device Case Pattern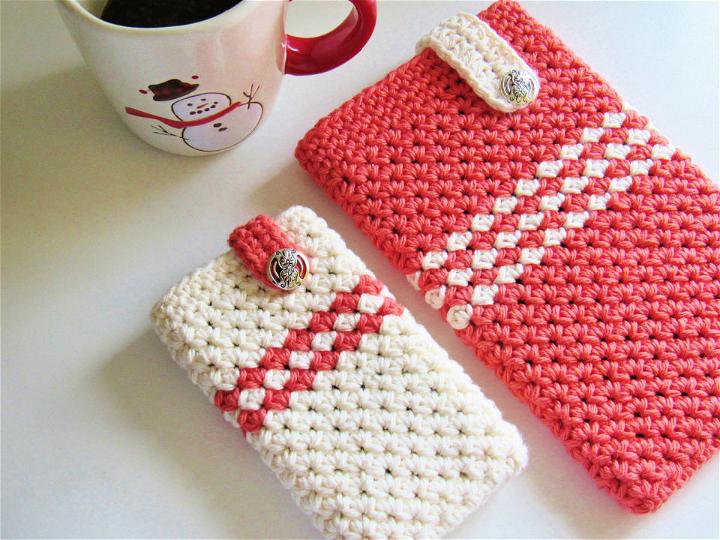 Are you looking for a great gift to give this holiday season? Look no further than this free crochet pattern! Perfect for any age, this mobile device cozy or case crochet pattern is customizable to any device – including android, iPhone and iPad.
The simple single crochet variation creates an eye-catching star stitch design with a great stitch definition that will make your phone and tablet cases stand out from the crowd. With 100% cotton yarn like Lily Sugar n Cream and a 5mm hook, it's easy to follow and adjust to fit any mobile device size. Get organized on the go with these unique cases today – download now! crochetdreamz
8. Free Crochet Sage Phone Pouch Pattern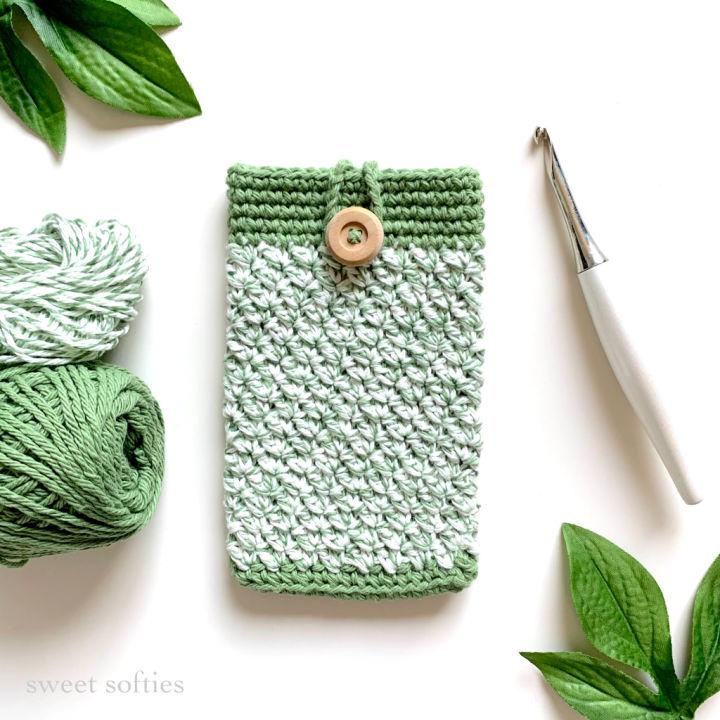 Keep your phone safe and accessible with this free crochet pattern for a sage phone pouch! This simple yet elegant design is perfect for everyday use. Crocheted with sage green yarn, you won't have to worry about extra steps as the fastening off occurs only at the end. The pouch begins from the base and is worked in one piece, all in joined rounds. Get started on your own sage phone pouch today – protect and easily access your phone wherever you go! sweetsofties
9. Simple Crochet Secret Pearl Phone Cozy Pattern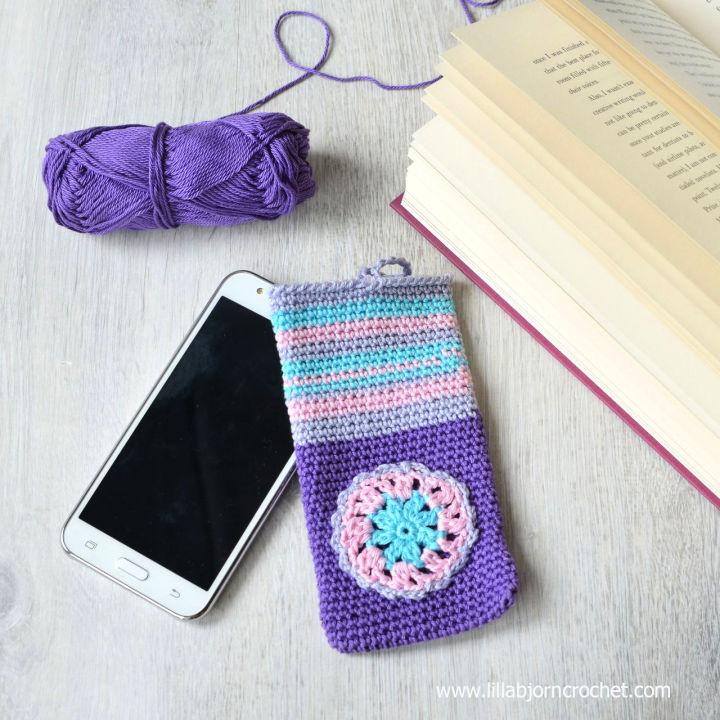 Update the look of your mobile device with this secret pearl phone cozy. Easy to make, it features a small mandala decor for added personality. This free pattern requires Catona yarn by Scheepjes and some basic tools – a 2.5mm or 2.75mm crochet hook, button, scissors and tapestry needle to weave in ends. Enjoy making this cozy in the color of your choice, as it's available in various shades! Get started on your own secret pearl phone cozy today and let creativity blossom! lillabjorncrochet
10. Adorable Crocheted iPhone Case Pattern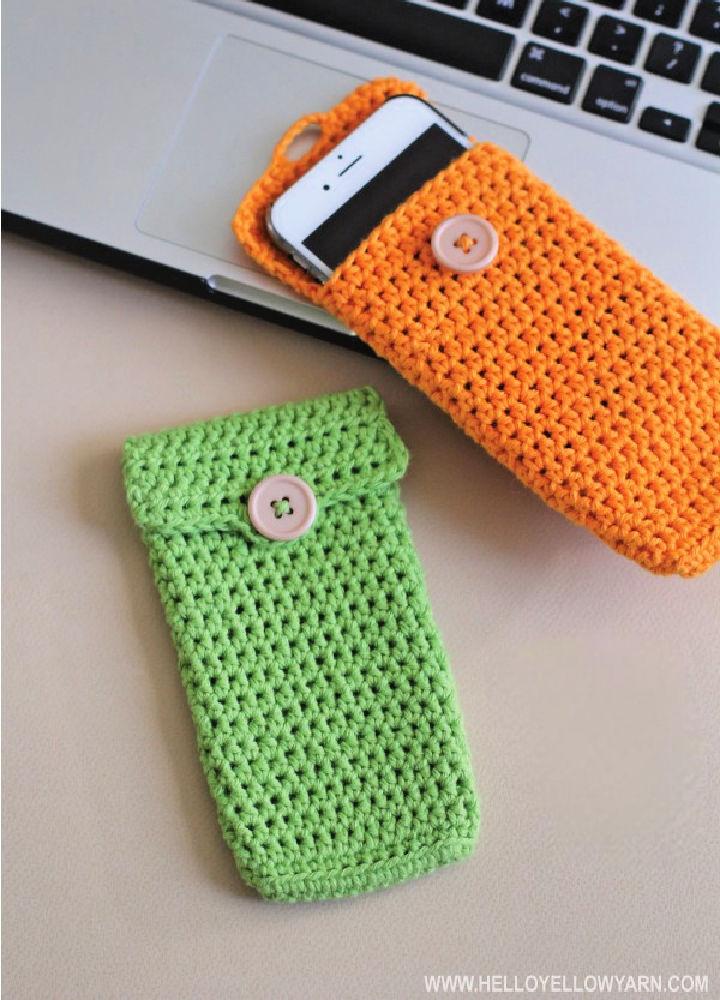 This simple iPhone crocheted sleeve keeps your new iPhone 6 protected and stylish! This easy-to-follow tutorial makes it possible to customize the size of your sleeve to suit any smartphone. Working with 8-ply cotton yarn, a 3.5mm crochet hook and adjusting the number of stitches and rounds according to the size of your phone, it is simple to make this extra protective sleeve. Slip in as you go for an exact fit every time! Get started on creating your own stylish Simple iPhone crocheted sleeve today – perfect for those wanting added protection for their phones. helloyellowyarn
11. Free Crochet Pattern for Pikachu Cell Phone Case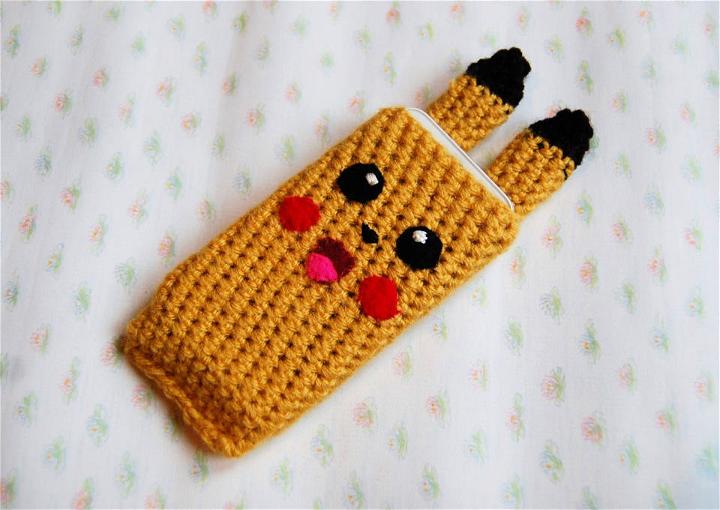 Satisfy your pokemon love while styling up your phone by creating a unique and fun phone cover with this free crochet pattern! It provides instructions for a Pikachu phone cover! Perfect for any iPhone 4/4s or similarly sized phone. Add more chains to fit wider phones and extra rounds for longer ones. Crafted with a 4mm crochet hook, Aran weight yarn in yellow and black, felt in various colors, fabric glue, needle & embroidery thread. Not only will your phone look cool, but it won't protect if dropped, so be careful! Make your own Pikachu phone cover today with this free crochet pattern. thegeekyknitter
12. How Do You Crochet a Phone Pouch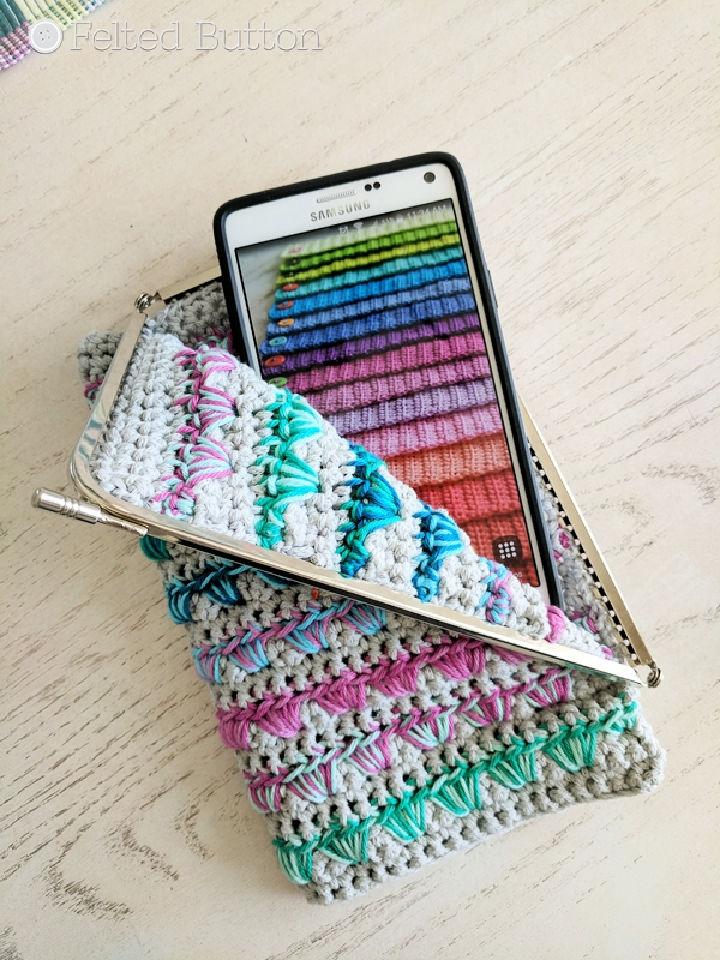 This free crochet pattern is the perfect way to add a touch of elegance to your phone. Using a 5mm hook and scheepjes whirl, bloom and catona yarn, you can easily customize this phone pouch to fit any phone size! With instructions on how to use a purse frame for an extra finished look, it's the perfect project for carrying your phone, lipstick, cash and small tools.
Plus, with various colors available and adjustable widths and heights – you'll be sure to keep your device safe and stylish in no time. Get started now with this free crochet pattern! feltedbutton
13. Best BMO Mobile Back Cover Crochet Pattern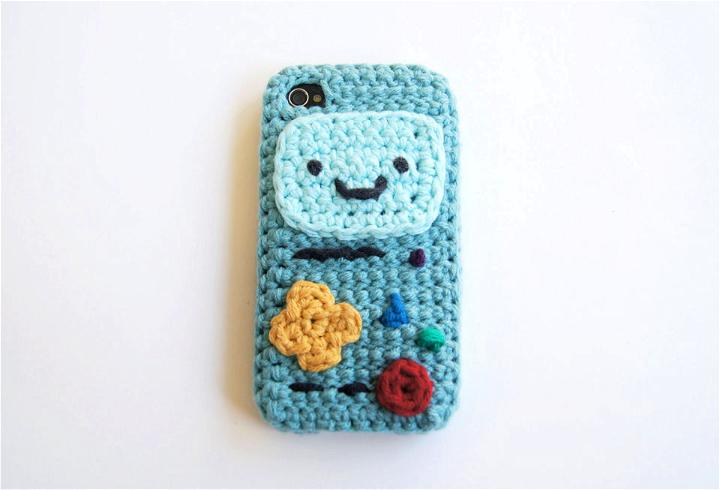 Go crochet and make your very own BMO with this written crochet pattern! The instructions will guide the creation of the body, buttons, and screen. With included directions for assembling the parts and attaching them to a phone case of your choice, you'll have a one-of-a-kind creation in no time. You'll need basic crochet stitches such as single crochet, increase/decrease stitches, & working in rounds. Pick up black, blue, green, white & pink yarn to complete the project! Recommended for those with some previous experience in crocheting. louiesloops
14. Free Crochet Cell Phone Case Pattern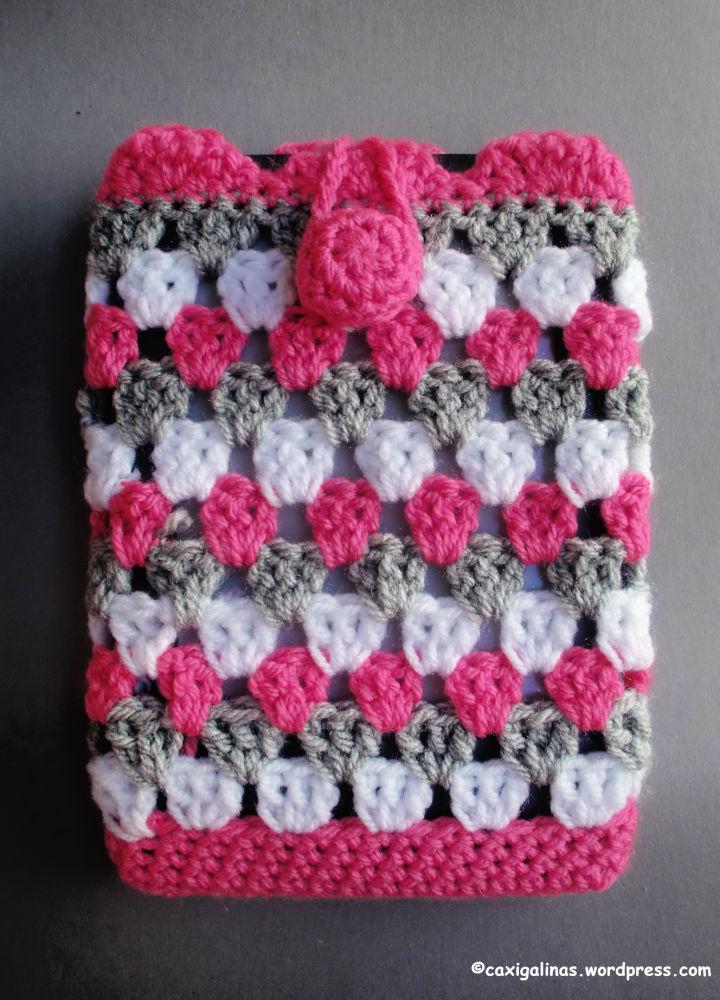 This simple crochet cover pattern protects your e-book, smartphone, or other devices. Adjustable to fit any size and can be worked with a single color or multiple colors. Adding a button is optional but gives extra security. Just chain the necessary stitches for the width of your device, work single crochets in each row, add a button if desired and sew closed with a tapestry needle. Weave in ends to complete! Try out this easy DIY project today! caxigalinas
15. Easy Crochet Olivia Phone Case Pattern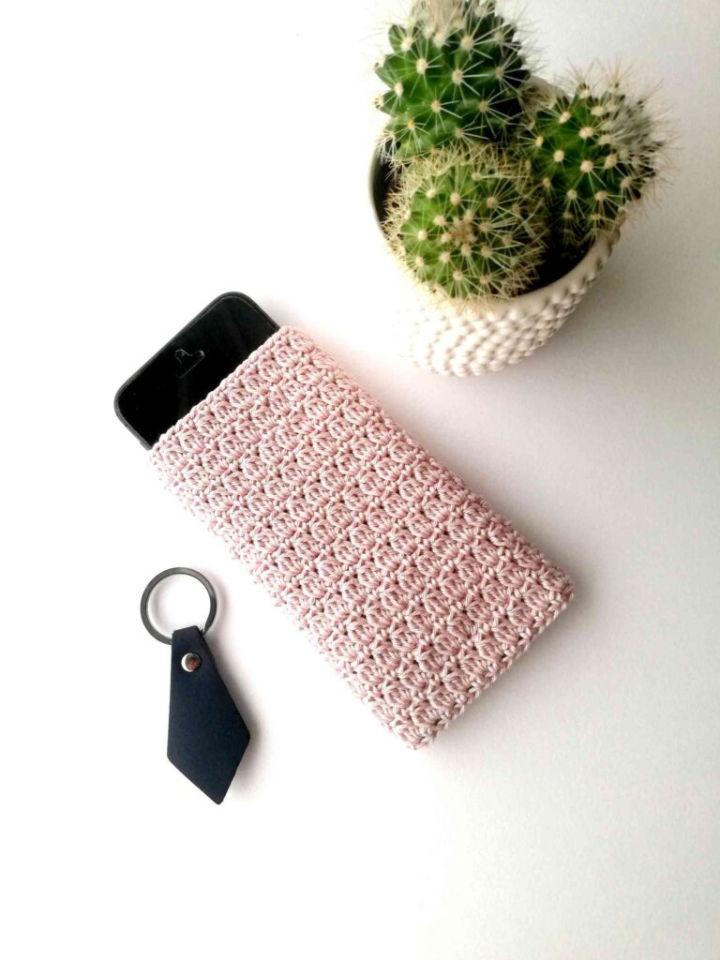 Make your phone look stylish and functional with this free crochet pattern! This easy project uses thin yarn and a size 2.0 hook to create a beautiful texture with the cluster stitch, perfect for beginners and crocheters of all skill levels. Download the printable PDF pattern, then mix & match colors for a unique look -or stick with one classic style. Elevate your phone game today with this free crochet phone case pattern! nordichook
16. Single Stitch Crochet Mobile Phone Cover Pattern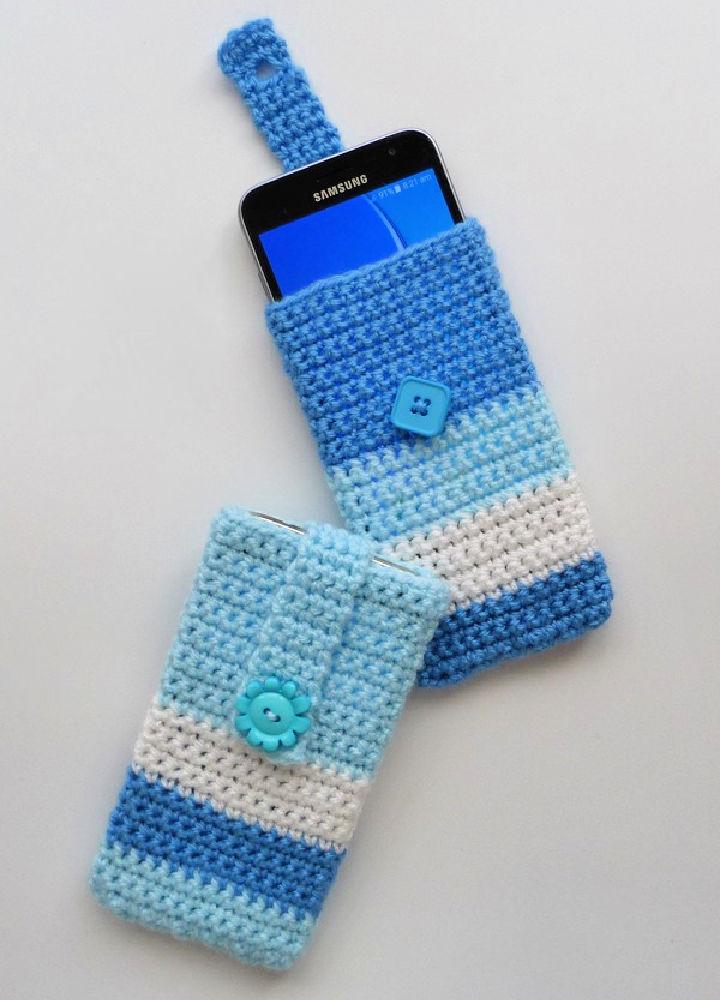 This easy-to-crochet phone pouch is the perfect way to unleash your creativity and protect your phone. Made with DK yarn and a 4.00mm clover crochet hook, this pattern is ideal for beginners. The detailed instructions will help you craft a stylish yet functional 2.75 x 5-inch pouch in no time! Don't wait – give it a try today and be amazed by the results! crochetncreate
17. Crocheting a Phone Hip Pouch – Free Pattern
Stay stylish and hands-free with this easy-to-crochet hip pouch! Perfect for days when you don't want to bring your purse, it's great for holding your phone and money while adding a unique texture that makes it perfect for dressing up. Get the cotton yarn, size H 5mm crochet hook, and yarn needle and follow the given free pattern, video tutorial & instructions – all you need to make a quick & convenient project. Try out this hip pouch now so you can explore without worrying about carrying a purse! windingroadcrochet
18. Simple and Easy Crochet Phone Case Pattern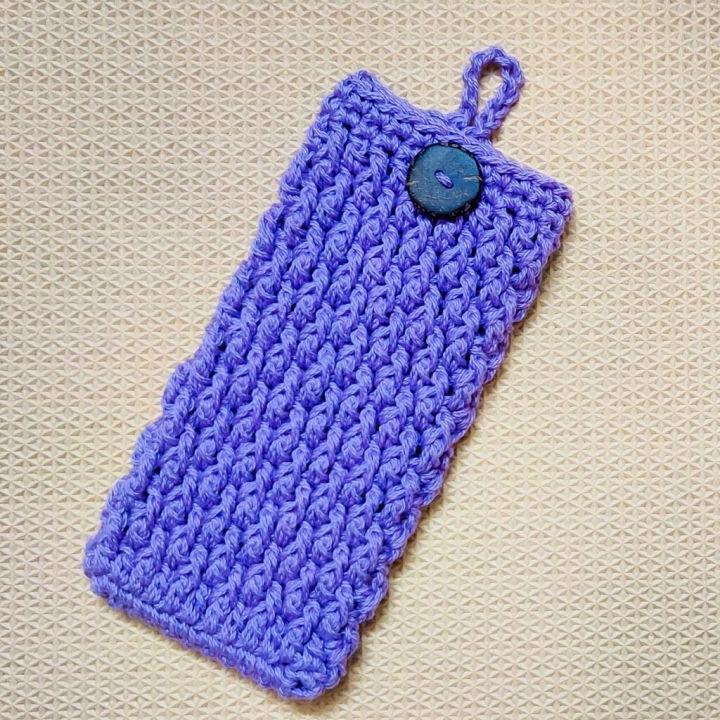 This simple and easy crochet mobile cover keeps your mobile phone safe and stylish! This pattern is perfect whether you want a personalized fit or something to give as a gift. Made out of 4-ply cotton yarn with a 4mm crochet hook, double crochets and front post double crochets create an elegant textured look. And it will take you only a short time to make – why not use leftover yarn for this versatile crocheted organizer? Protect your electronic gadgets in style now with this incredible pattern! rajiscrafthobby
19. Free Crochet Smartphone Case Pattern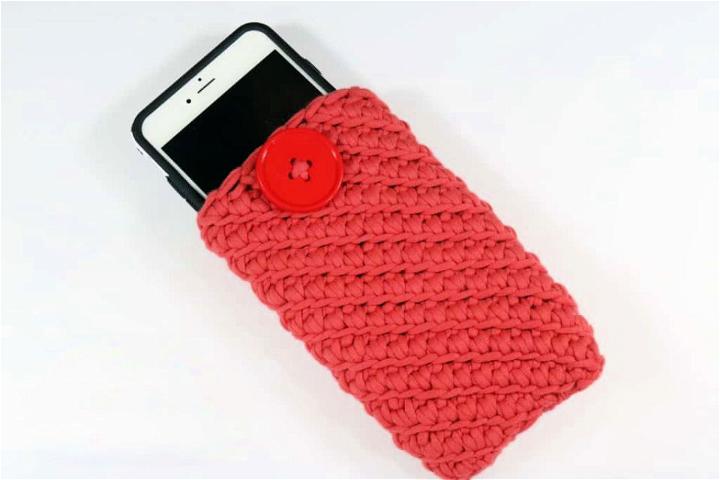 Time to make your phone safe and stylish with this free crochet pattern to make a cell phone pouch! This pouch is specially designed to protect your mobile device from dirt, scratches, and accidental falls. And the best part? It features an extra hole on the bottom for you to plug in your headphone jack while still keeping it in the pouch!
Plus, you can hang it over a charging plug when connected to an outlet for easy access. With this helpful guide, learn how to crochet a fancy and stylish cell phone pouch using Turkish Star Stitch – perfect for anyone who loves DIY projects! nickishomemade
20. Crochet Cell Phone Holder Design – Free Pattern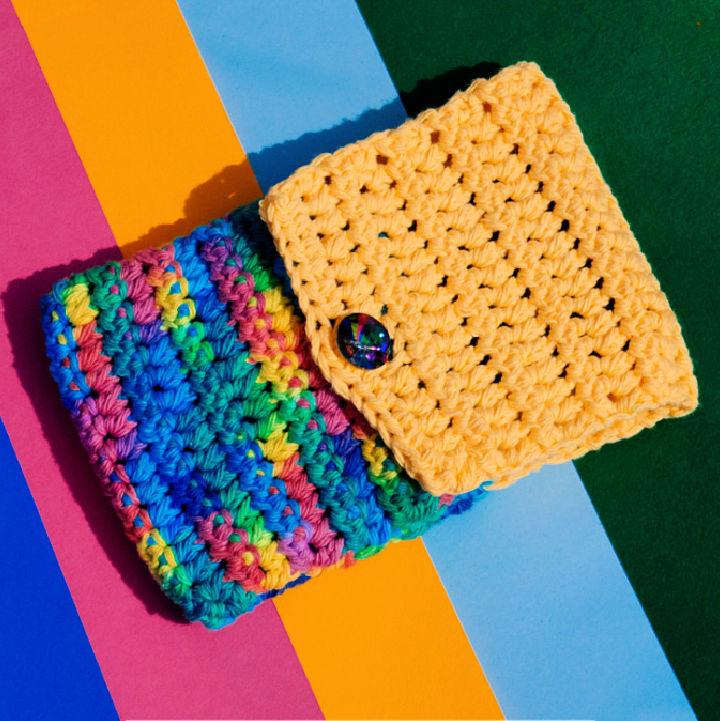 Put a personal touch on phone protection with this crochet cell phone case pattern! Featuring two options – a girly pink one with a sparkly button and a colorful multi-colored version for those looking for something sassier – it's an easy and practical way to use leftover yarn and practice the half-double crochet stitch. Plus, making it so quick that you'll have your stylish protective case in no time. Get the pattern now and start showing off your personalized phone protection wherever you go! sunflowercottage
21. Tapestry Crochet Chevron Phone Case Pattern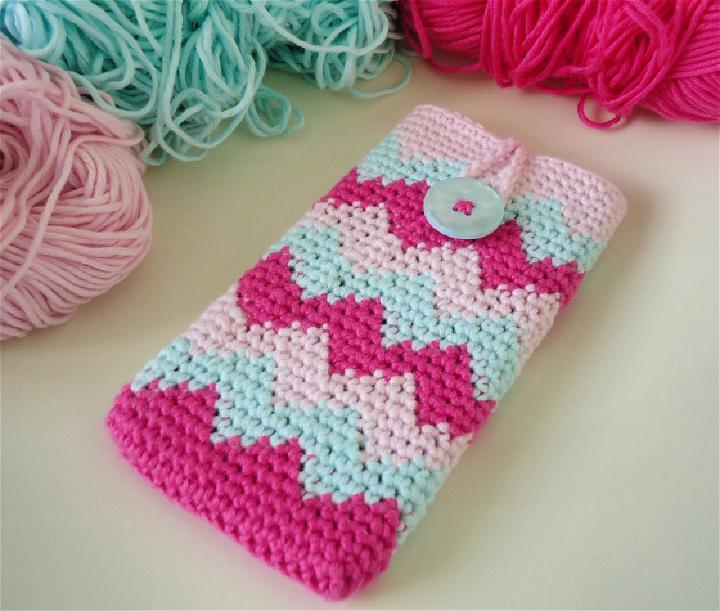 Discover the perfect way to add your creative touch and personality to phone protection with this unique tapestry crochet chevron phone case. With its easy-to-follow pattern, you can use different colors of yarn to create a jaggedy edge design for a truly one-of-a-kind look! The phone case also features a crochet loop and mint button for extra security. Why not give tapestry crochet a try? It's simple yet exciting – explore the possibilities today and bring out your inner creativity! aplayfulstitch
22. Amelia Crochet Phone Case Pattern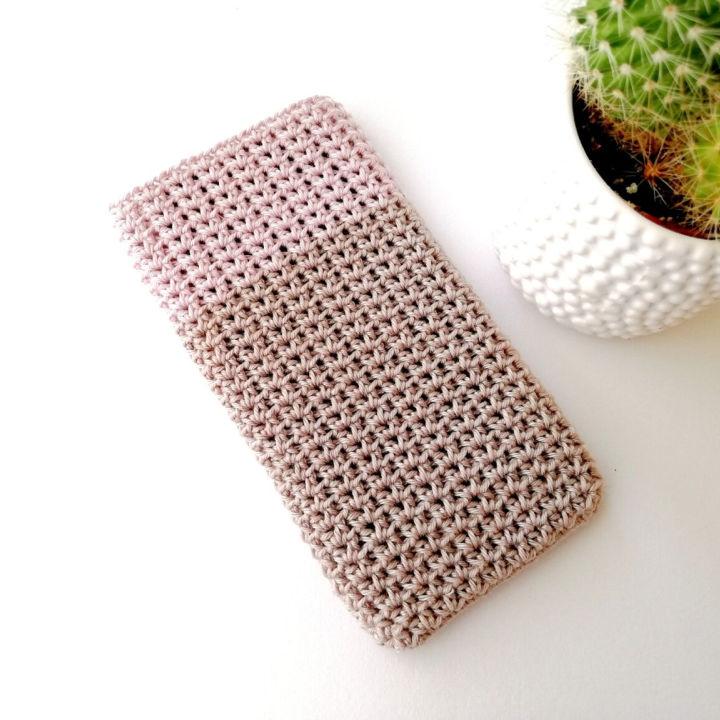 Add tons of protection to your phone in style with the free crochet phone case pattern! Perfect for beginners, this easy-to-follow pattern uses a half-double crochet V stitch to make a beautiful, textured phone case that looks great in any color. Combine two colors or use one – it's up to you! Remember to check out all of my other free crochet patterns here. With this pattern, you can make a stylish and protective case for your phone – good luck and enjoy your new phone case! nordichook
23. New Crochet Mobile Cover Pattern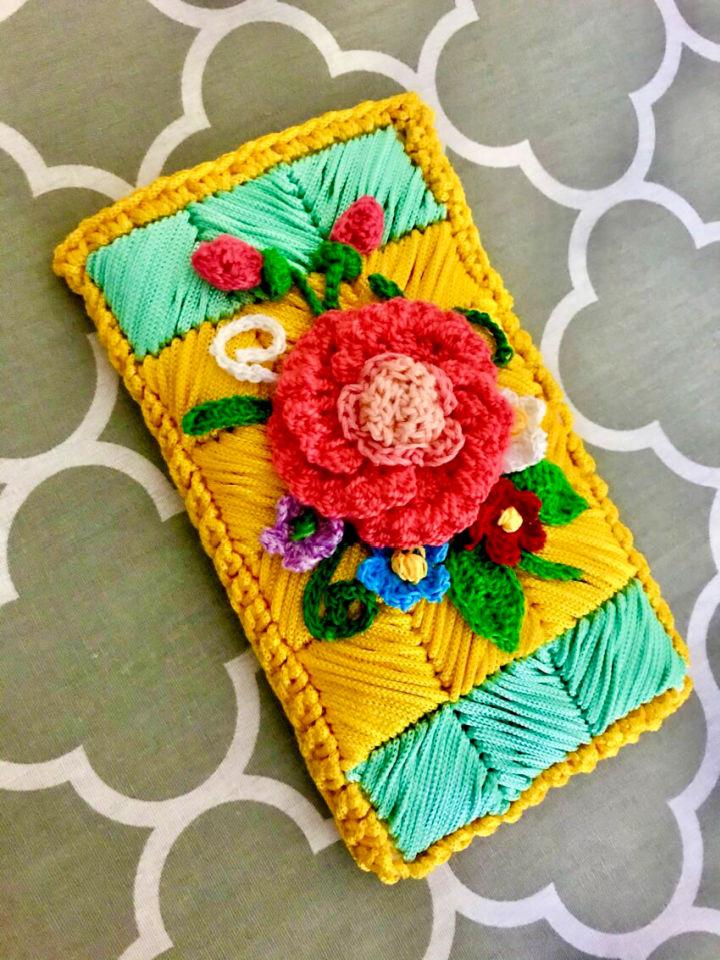 Get creative with your hook and make unique, personalized protection for your mobile phone with this free crochet mobile cozy pattern! Perfect for intermediate crocheters and great as a gift idea, it's easy to make – all you need is plastic canvas, cord, crochet hook 0.50mm, thread no 20 in assorted colors and tapestry needle or yarn cutter. Plus, it uses very little yarn, so you can get creative and craft the perfect cozy now! crochetkrafts
24. Vintage Crochet Phone Case Pattern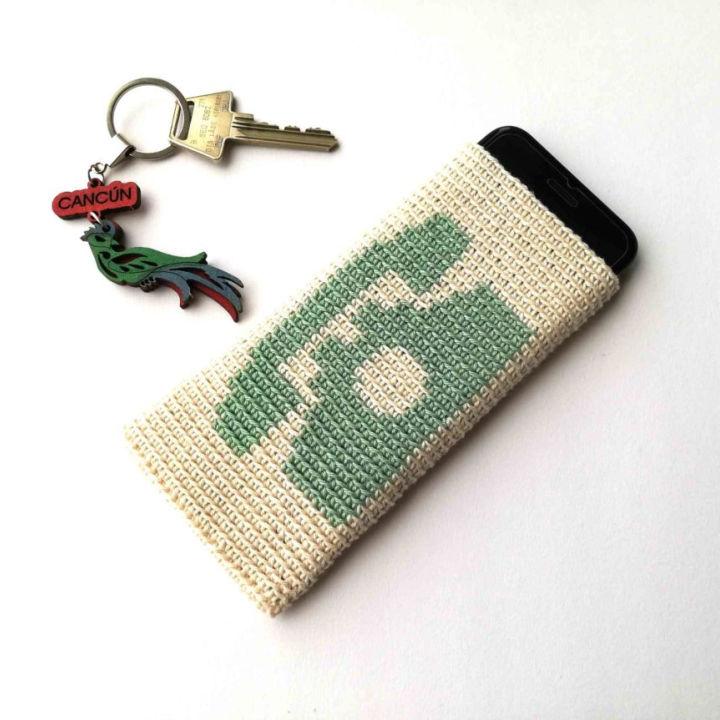 Give a special vintage touch to your phone with this tapestry crochet phone case pattern! Perfect for those looking for something new and stylish, it is also beginner-friendly and easy to make. Keep width consistent in each row, so your phone fits snugly and stays safe from bumps or falls.
Try other projects such as a bag for glasses, music note bag, honey pouch, mini green diamond bag or moon bag – all requiring the same materials: thin yarn and crochet hook as stated on label instructions. Start crocheting today! Give yourself a treat with this unique vintage design crafted carefully by you. nordichook
25. Cool Crochet Rainbow Stripes Phone Cover Pattern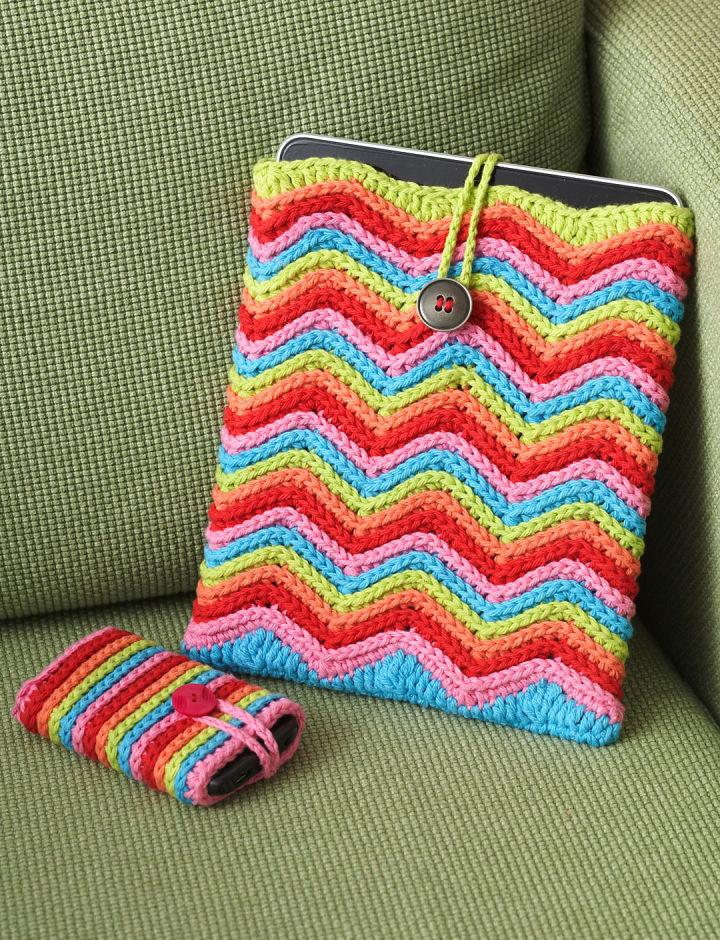 This unique rainbow stripe cover is perfect for brightening up your tablet or mobile phone. It fits your device perfectly in two sizes: small (2 ½ inches x 4 ½ inches) and large (7 ½ inches x 9 ½ inches). Made with lily sugar'n cream yarn and a size 3.5 mm crochet hook, it's easy enough for intermediate crocheters to make. Add a button for security and protection, and show off your crochet skills! Make this colorful cover today; bring fun pops of color to any device without compromising on quality or protection. yarnspirations
Related Free Crochet Patterns:
Unlock your inner artist and explore the world of crochet with our free patterns! Find easy-to-follow step by step guides to help you create beautiful works of art.
Conclusion: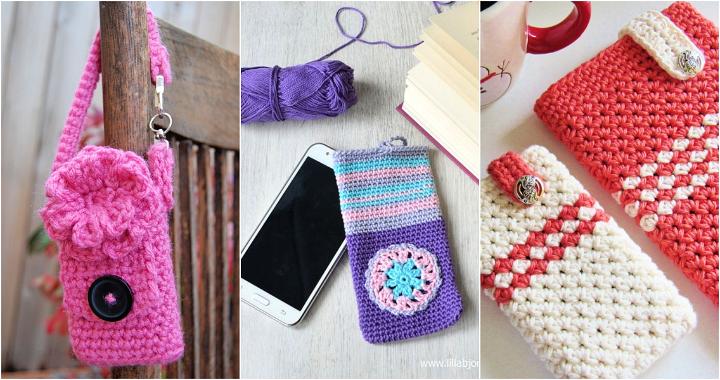 Crocheting your own phone case is a fun and creative way to show off your skills. With the 25 free crochet phone case patterns, you have easy step-by-step instructions for beginners on making detailed crocheted cell phone holders, phone cases and cell phone pouches. With these free crochet phone cases patterns, it's simple for anyone new to crochet or an expert to craft their own unique one-of-a-kind cellphone case.
So why not unleash your inner creativity with these fun and fashionable crochet projects? Whether you want a cozy pouch that matches the color of your eyes or a bright striped pattern that will bring joy every time you take out your phone from its snugly holder – now it's all possible with these 25 free crochet phone case patterns!