Learn how to draw a race car with these 25 easy race car drawing ideas with step by step simple sketch outline, printables and coloring pages. These race car drawing ideas are perfect for those people to follow who spend their entire summer watching racing car competitions and re-watching the old series, as well! Are you a huge fan of racing cars and have respect for the players that work so hard? It could be a great idea to learn how to draw some of these sketches so you can impress your friends and family with your love for racing cars and art skills! There are many things that these sketches can be used for.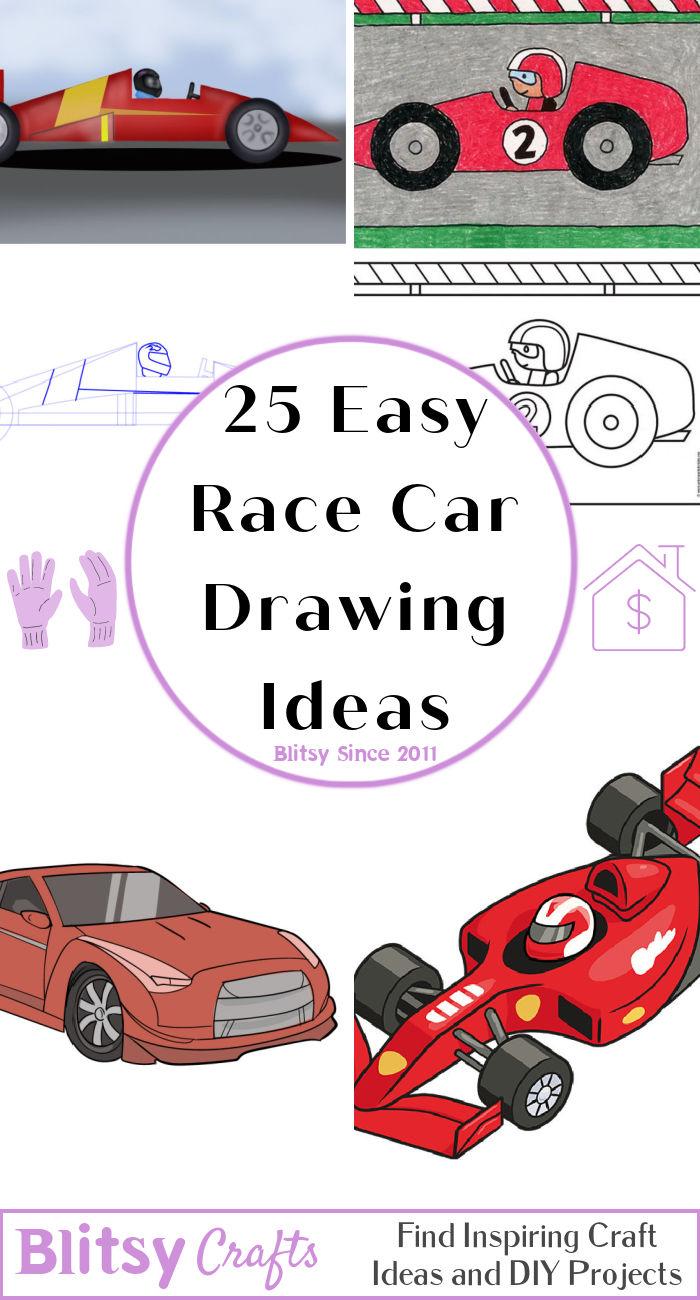 You can draw some of these race car drawing ideas to hang up in your room – as some of these sketches would make great wall posters. Moreover, these sketches would make amazing presents for friends and family who have a love for racing cars, as well. Just make sure to create a neat and nice drawing to use as a gift. You can also keep them in your art portfolio. This guide has many different options for you – cartoonish cars, realistic cars, easy drawings, difficult drawings, Nascar cars, etc.
1. Race Car Drawing – Step by Step Instructions

Here's a classic red racing car for you to draw if you're a huge fan of watching racing cars. These types of cars are made to run very fast and win games! Many people love these cars and want to draw and display them in their living spaces. Follow this guide to learn how to draw this amazing car. drawingwars
2. Racecar Drawing in Just Easy Steps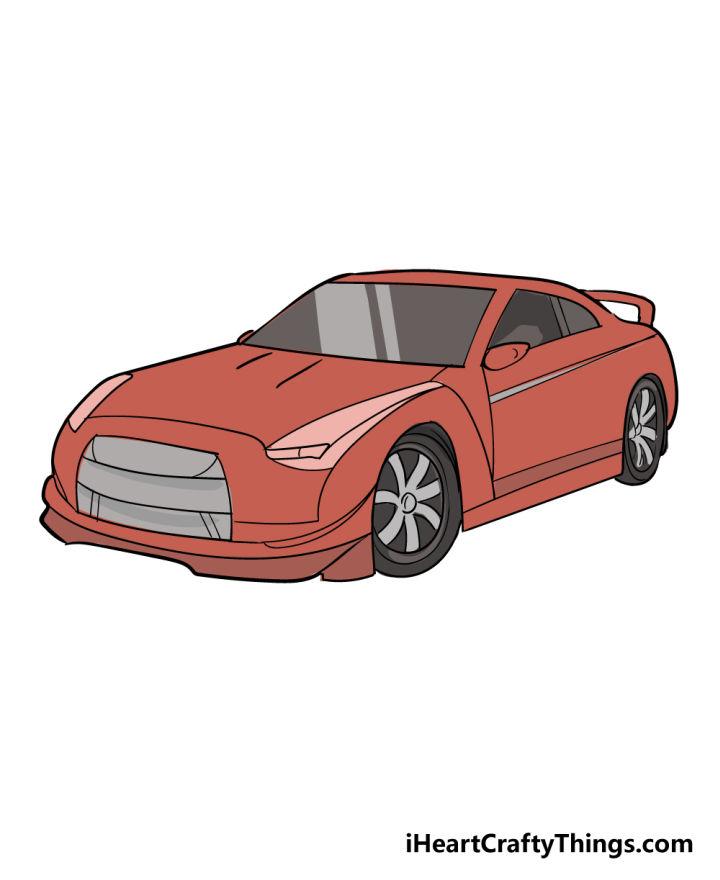 In comparison to the other race car drawing ideas in this guide, this one is a little different as this plan features a car that has a different model and looks plain, but it is one of the fastest running cars! Are you a huge fan of this car? Well, gather your supplies and start following the easy steps! iheartcraftythings
3. Racecar Drawing for Beginners

This guide features an iconic racing car – the type that first comes to your mind when you imagine an actual racing car. You might have seen many hot wheels models in this shape, as well. Do you want to learn how to draw this super cool red car? All you need to do is go step-by-step and learn! easydrawingguides
4. How Do You Draw a Race Car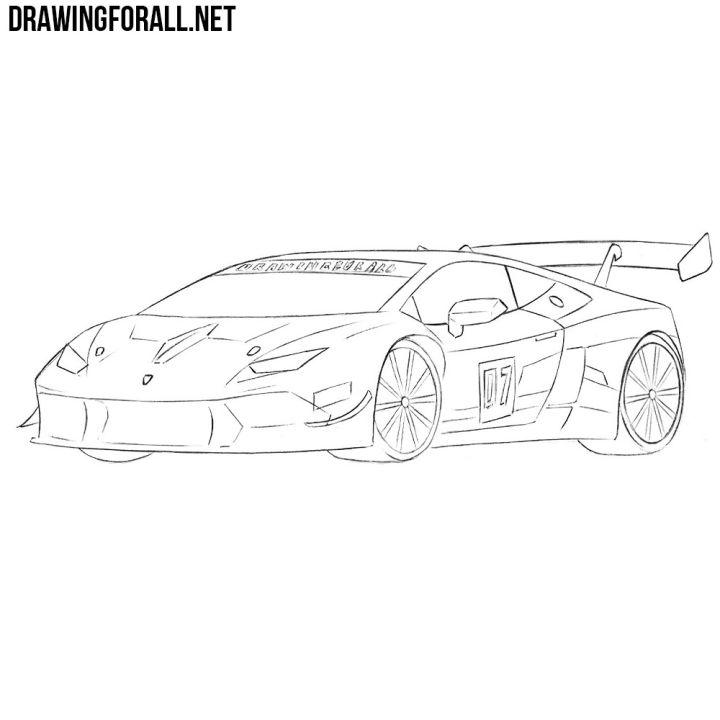 Isn't this racing car just stunning? It had a closed top and a nice style to it with an edgy design all over its exterior. Anyone who is a fan of racing cars would know that this is very common in the racing world! Learn how to draw this sketch in a few steps – easy for beginners. drawingforall
5. Race Car Drawing with Colored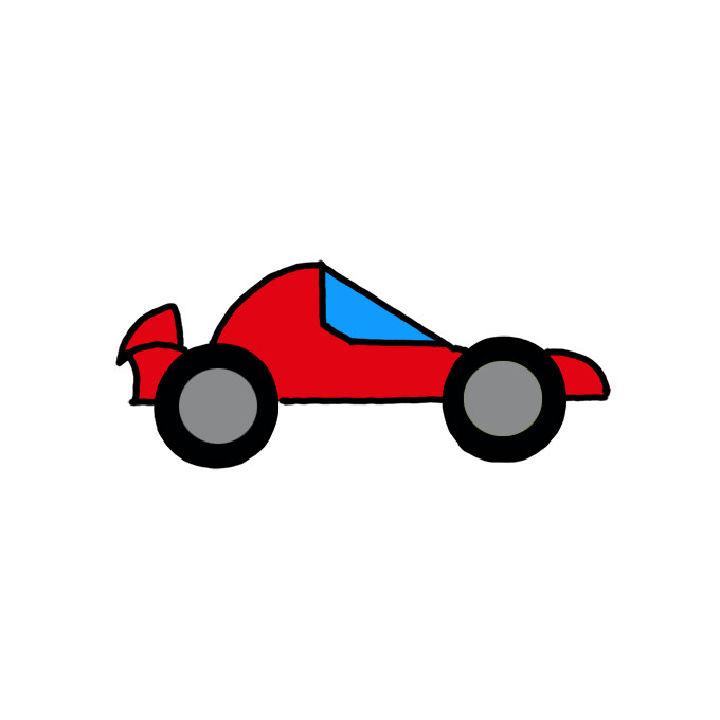 Any good artist is going to love how to draw even the basic stuff such as a cartoonish racing car! This is also a great guide for little kids to follow in comparison to the other race car drawing ideas in this guide, as it features straight lines and simple steps. Just remember to have fun! drawinghowtos
6. Draw a Racing Car for Kindergarten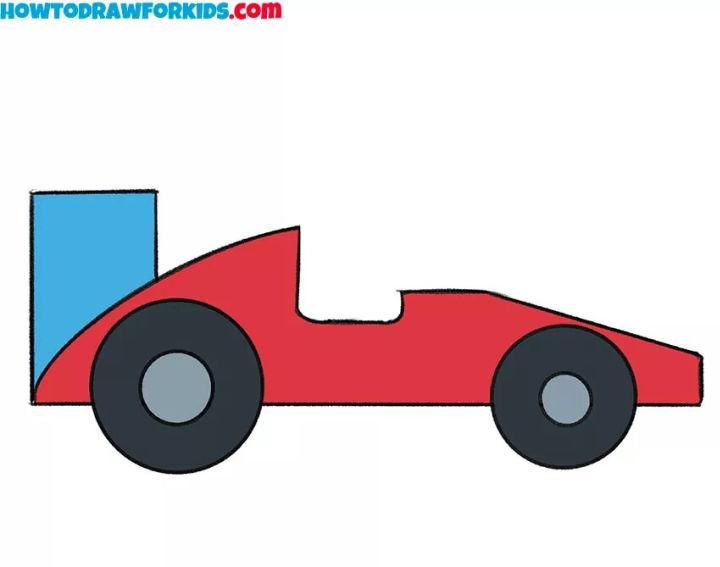 Kindergarten students are still very young and can have a hard time drawing because they haven't fully developed their motor skills yet, which helps to let them draw properly. However, this shouldn't be a problem if you're following a drawing guide like this one which only features straight and easy lines. howtodrawforkids
7. Cool Race Car Drawing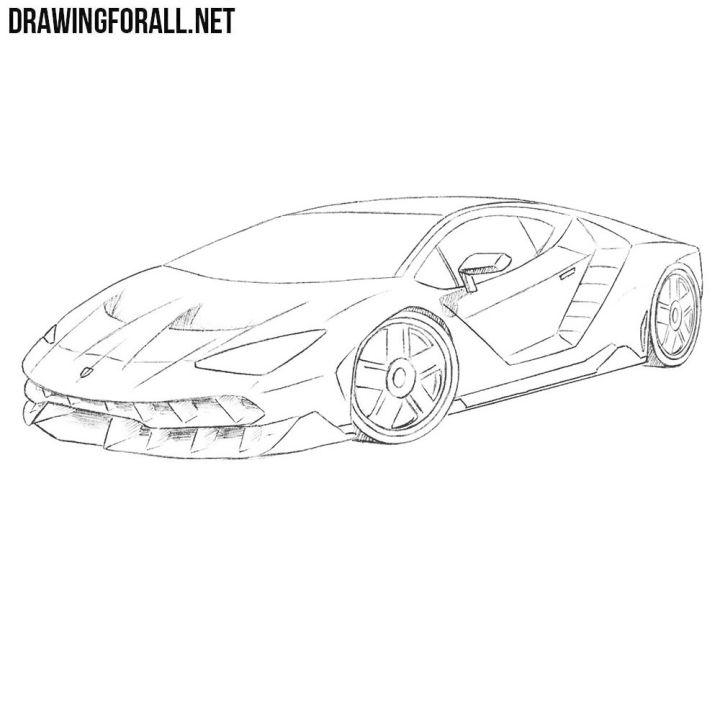 Do you know a friend or a family member who is a huge fan of cars and, in general, sports cars? Well, then, if you're looking for the perfect present for a person like that, look no further! Take a look at this amazing sketch that you can draw even if you're a beginner, and gift it to that friend! drawingforall
8. Race Car Drawing for Kids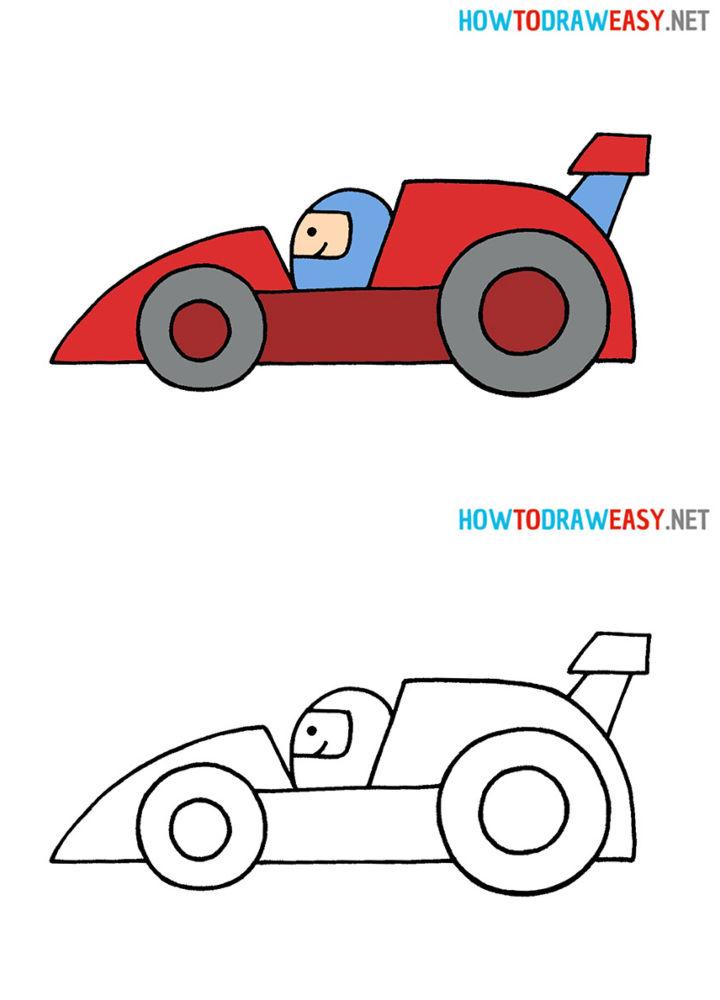 Here's another guide that is ideal to follow for kids and elementary school students. If your child is not good at sketching and art, improve their art skills by assigning them easy projects like these over the summer, and they will soon turn into pros! Isn't this exciting? howtodraweasy
9. How to Draw a Race Car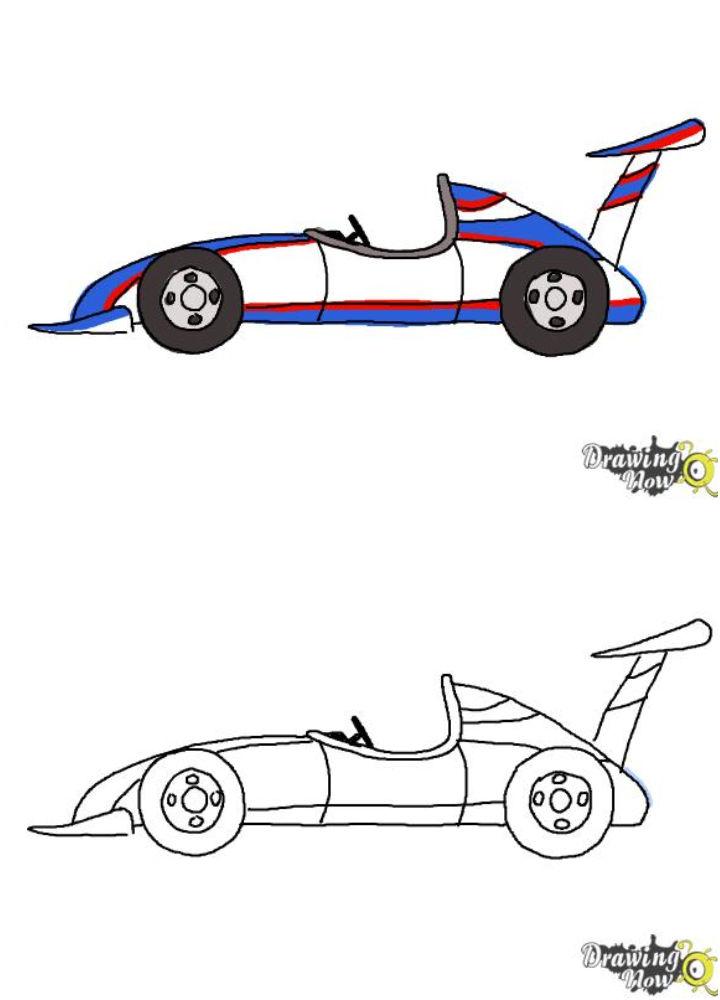 A race car is supposed to look cool and run fast – this drawing plan will show you a car that not only looks iconic but also has a nice shape to keep it stable and fast. The exterior is white with a little pop of colors here and there – such as blue and red! Don't you just love how this looks? drawingnow
10. Easy Way to Draw a Race Car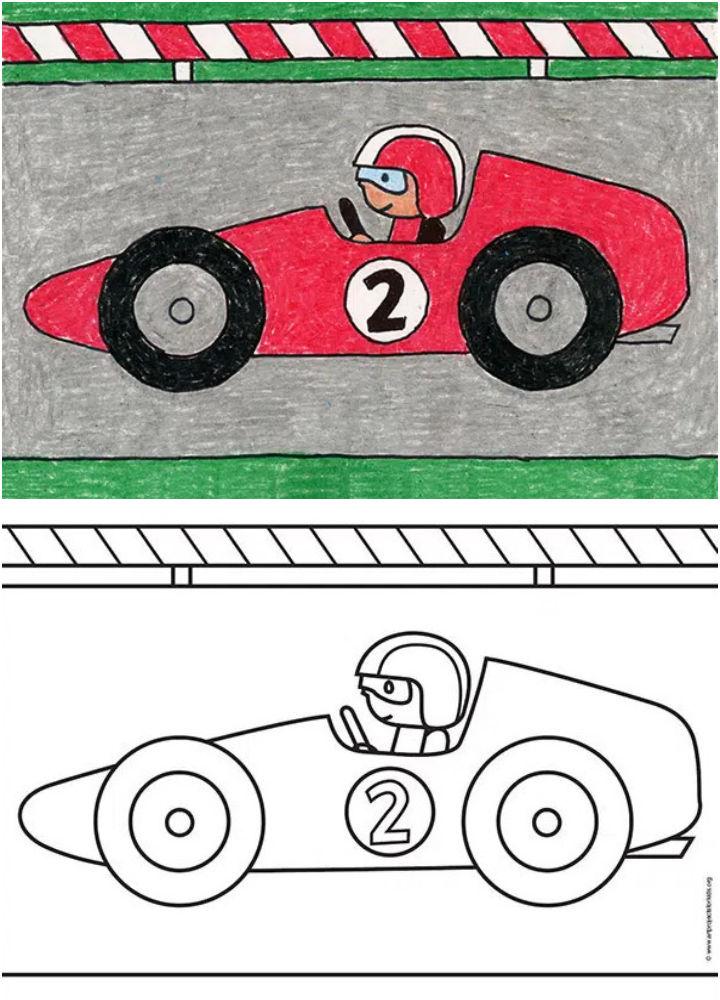 Have a favorite racing player and want to draw him inside a racing car to use as a display piece in your room or gift to a friend who loves racing? Well, then all you need to do is to follow this guide – add your customizations to the player's face, number and car accordingly. artprojectsforkids
11. Simple Race Car Drawing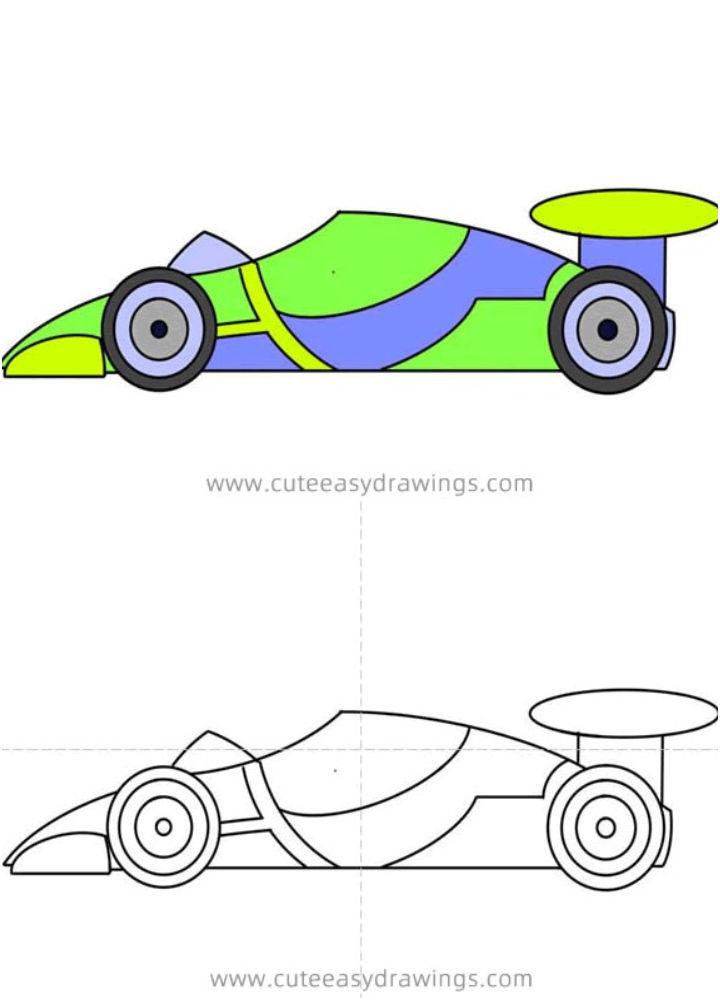 In comparison to the other mostly red race car drawing ideas, this is something that stands out as unique and stunning! Who knew that pastel colors could look this good on a sports car? Well, if you watch racing, you probably know that these types of cars are quite famous and you learn how to draw them to be a good artist! cuteeasydrawings
12. Cartoon Race Car Drawing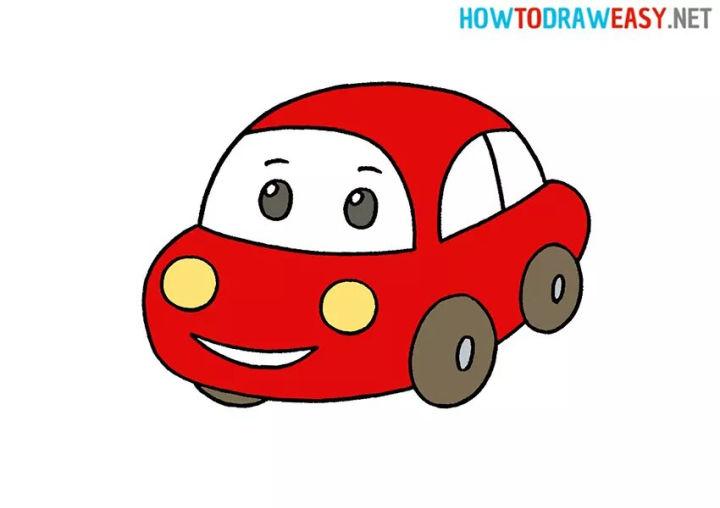 Remember being a kid and watching this car's movie? Have you never gotten over how good it was? Well, then it is the perfect time to draw this art for yourself or even introduce it to your children! It is an old movie, and many new kids don't know about it, but this drawing would get them interested! howtodraweasy
13. Easy Race Car Drawing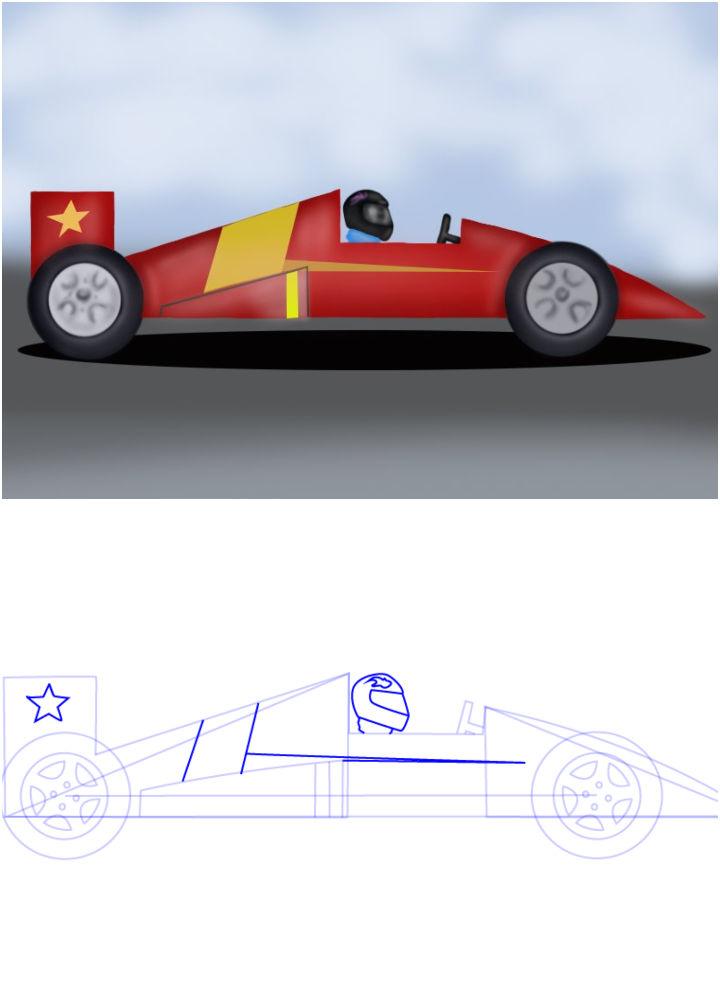 Have you always seen this style of a racing car on television and wanted to draw it? It can be confusing to know where to start, but don't be intimidated by just looking at the image as the steps to draw it are quite straightforward – follow the guide to learn how to draw it. drawingtutorials101
14. Easy to Draw Nascar Race Car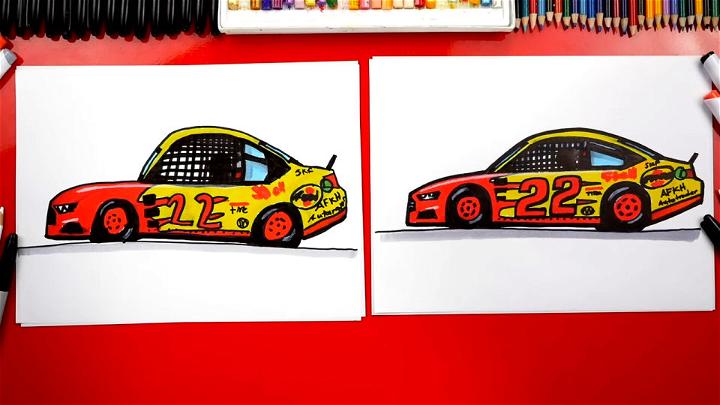 Nascar cars are not only super cool but also really edgy and unique. In comparison to the normal racing cars on television and race car drawing ideas, this one stands out because of its orange and yellow hues and cool design. Learn how to draw this beauty by following the guide.
15. Race Car Sketch Drawing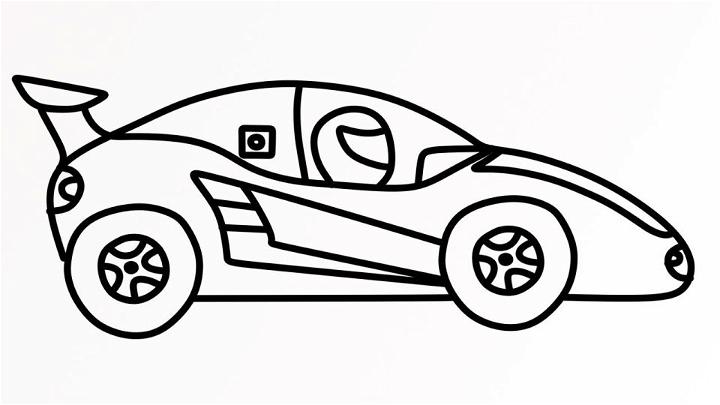 Don't you just love a basic and easy drawing that will feature a unique racing car style in a few steps? Any beginner can easily go to an intermediate level by learning how to draw this beautiful car in just a few minutes. No shading or extra detailing is involved in the process.
16. How to Draw a Race Car – Step by Step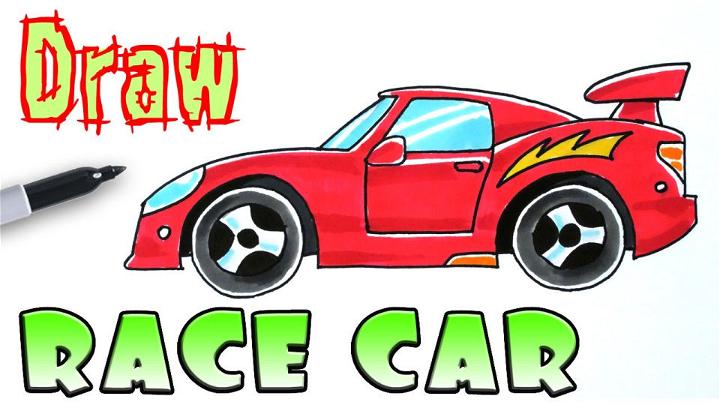 Learn how to draw a red racing car which is not only a classic but also simple and easy to draw. Don't know what to gift to a loved one? A good idea would be to make a sketch like this one for them and get it framed to gift it to them. It'll not only be a fun process, but you love how happy they will get.
17. Race Car Drawing Outline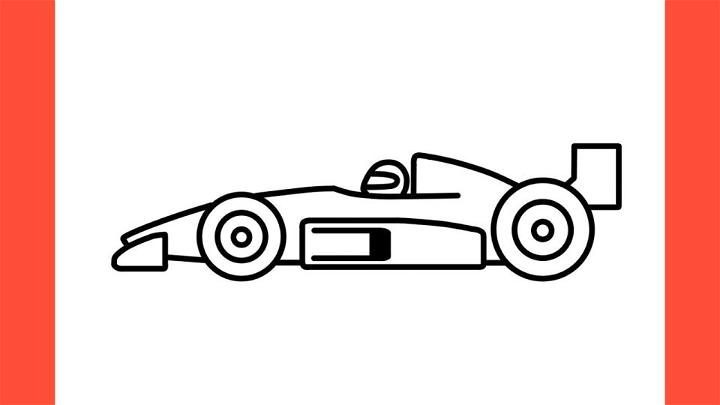 Just want to know how to draw the general outline of a racing car? This can be fun for your doodling sessions whenever you're bored. Learn how to draw these outlines by following the basic and easy guide – any beginner can learn these steps in just a few minutes.
18. Drawing of a Race Car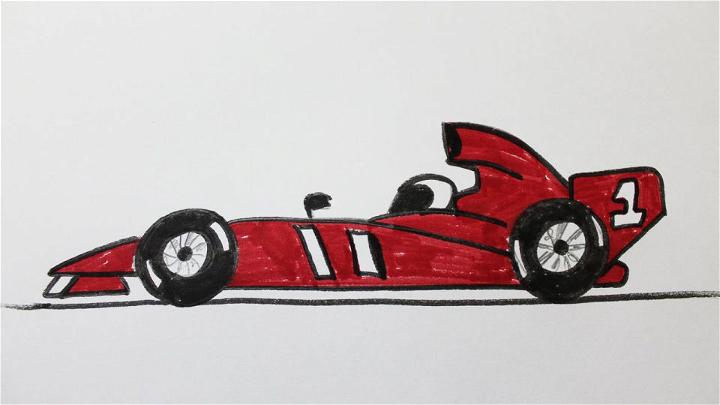 This form of art style can be achieved by doing a few things – knowing what kind of outlining to do, using the proper stationery items which are listed in the guide, and taking it step-by-step. Start by gathering all the essential supplies such as papers, pencils, coloring supplies, etc.
19. Draw Your Own Race Car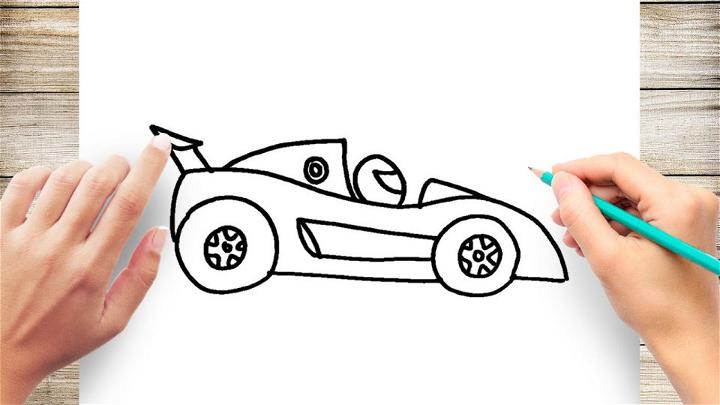 There are indeed many types of racing cars out there, but there is always room for new ones to be modeled and made. Have any special ideas but don't know where to start? No worries! This guide will give you the basic outlines of a sports car and help you add your customizations to it.
20. Race Car Pictures to Draw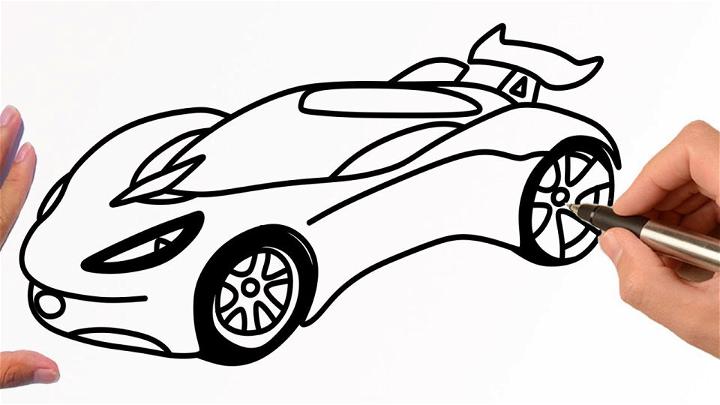 Race car pictures are fun to draw, and you can have a great time looking back on them and analyzing everything you drew. A great artist would find pleasure in drawing such a beautiful car with a great deal of detailing and style to it. So, are you excited to give this a try? youtube
21. Draw Mario on a Racing Car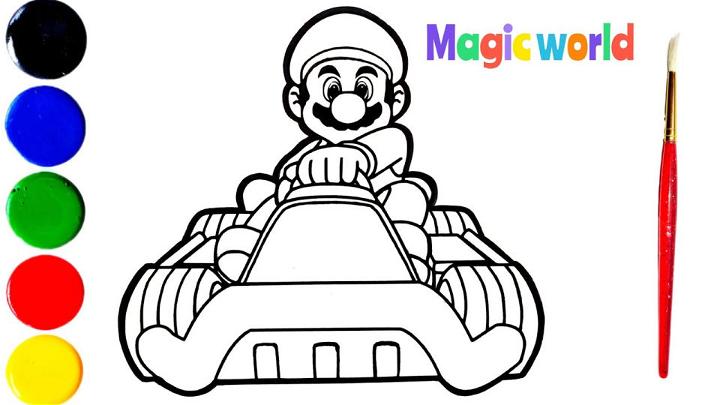 Mario is a famous character, and mostly all new children know about this character from their video games. Do you want to interest your children in learning how to draw to improve their motor skills? Show them this drawing of the car with Mario sitting on it! They will get super excited! youtube
22. Simple Way to Draw a Race Car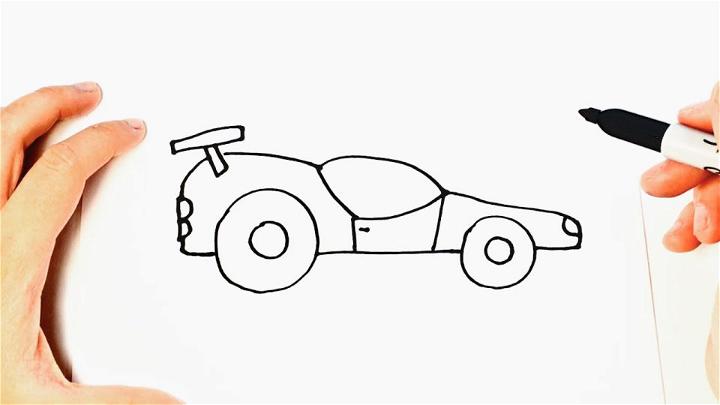 Simple, straight, and easy lines will help you draw this drawing. Your little one would only need to know shapes such as circles, semi-circles, ovals, etc., to draw this type of car. Moreover, you can help them with the outlining and then let them color in everything on their own!
23. Race Car Drawing for Children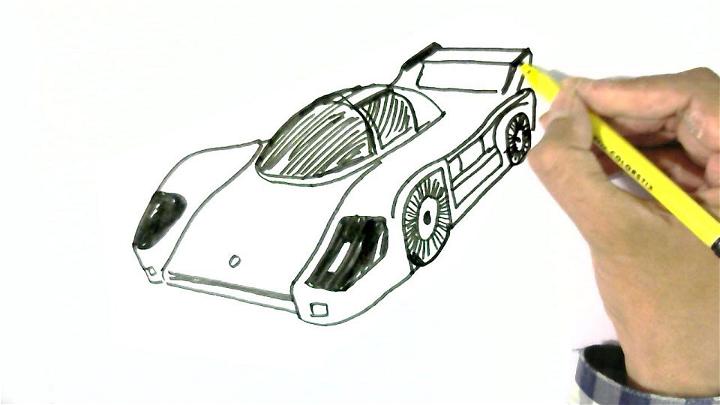 Race car drawing ideas are fun and easy to re-create, and this is just one of those guides! Do you love how marker sketching can look clean and rough at the same time? Well, then here is something you can follow and learn to draw as the results are stunning.
24. Race Car Drawing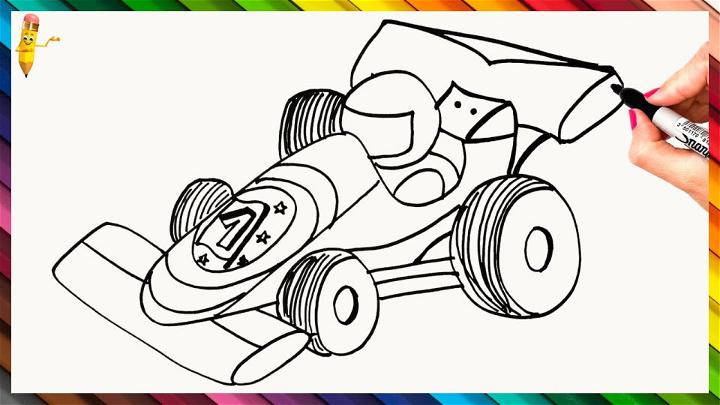 Here's another style of a racing car that is drawn using a marker sketching technique – this style can make your sketch look like a print but also add a little rawness to it. You will love the outcome of this drawing, and it will be really fun to follow the process.
25. Realistic Race Car Drawing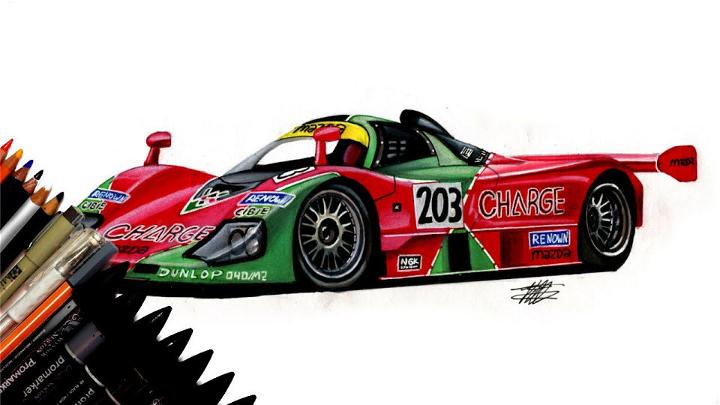 Realistic race cars can be fun to draw, and you need to know exactly what steps to follow to draw one. In comparison to the other race car drawing ideas, this one needs you to be at an intermediate art drawing level as a lot of shading and steps will be involved in the process.
Related Easy Drawing Ideas:
Start your creative journey with these easy drawing ideas! Learn to be an artist – let your imagination run wild and create amazing drawings in no time.
Conclusion: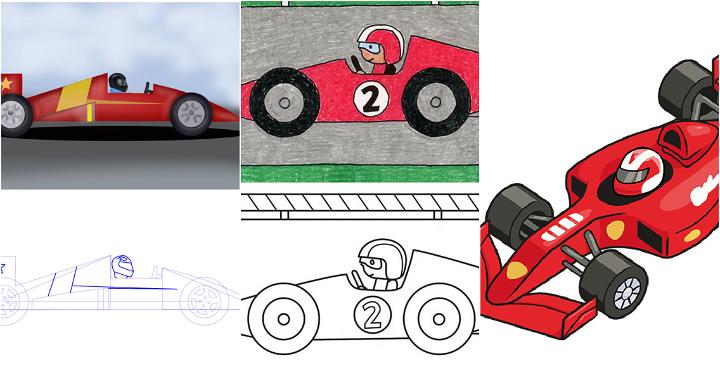 Race car drawing ideas don't need a lot of planning to follow. You just need to do a few things before getting started. Take a look at the guide and gather all the important supplies and then start following the steps to draw your desired sketch. You can tell your little one all about these amazing cars while they are doing their little car drawing assignment. Make sure to have fun throughout the process of drawing!