Learn how to draw a fire truck with these 25 easy fire truck drawing ideas with step by step simple sketch outline, printables and coloring pages. Something we all recognize, a fire truck! It is a type of vehicle that helps in fighting fires wherever they break out. The main purpose of a fire truck is to transport firefighters and water to a place that is a scene of an incident.
These fire truck drawing ideas will make you an expert in drawing fire trucks from scratch. Fire trucks are an important part of a city's defense against disasters that can cause physical and monetary harm. All fire trucks have basic equipment like a water hose, sirens, and emergency vehicle lighting. It also needs communication equipment to be in constant contact with other departments.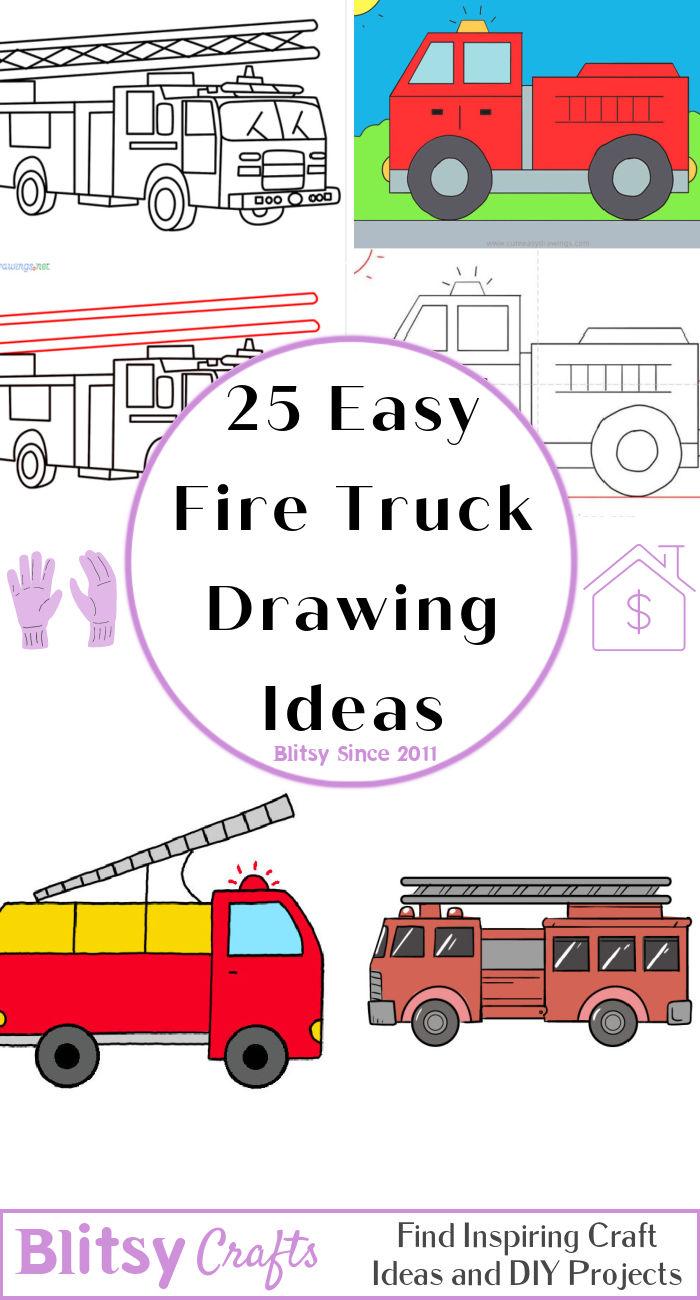 Fire trucks are familiar to all of us since a very young age. They carry a red coat that can be spotted from far away. If you have seen any fire truck speed off, then it was probably to rescue a bunch of people stuck in a disaster. These 25 amazing fire truck drawing ideas is just what you need in order to make your dreams of drawing all type of trucks come true. So just grab your drawing supplies and get ready to draw fire trucks in all sorts of styles. Let's begin!
1. How to Draw a Fire Truck – Step by Step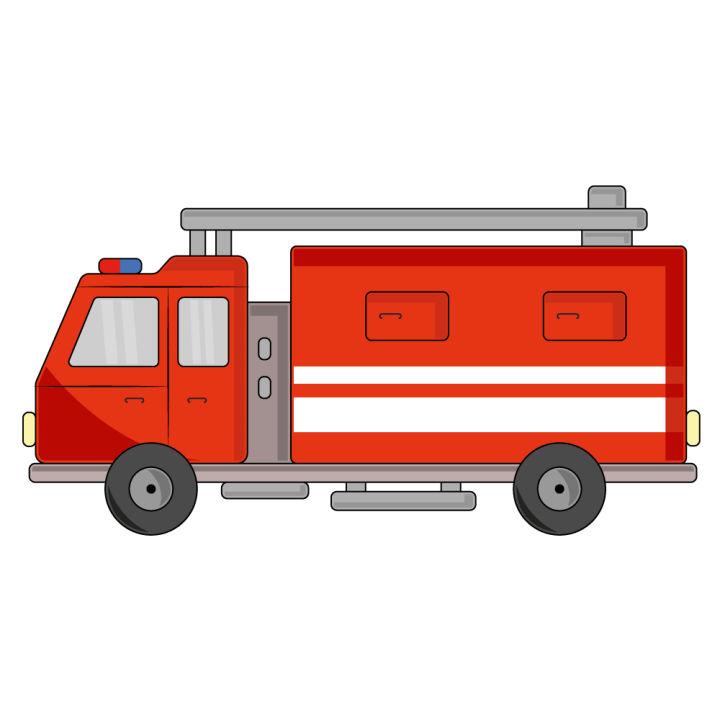 Make a simple drawing of a fire truck with this tutorial! First, begin with the base of the fire truck, attached with two wheels at the bottom. Place the body on top of the base with the tank at the back. Draw equipment above the body connecting to the tank. Finish up the final details like windows, toolboxes, and headlights. drawingwars
2. Fire Truck Drawing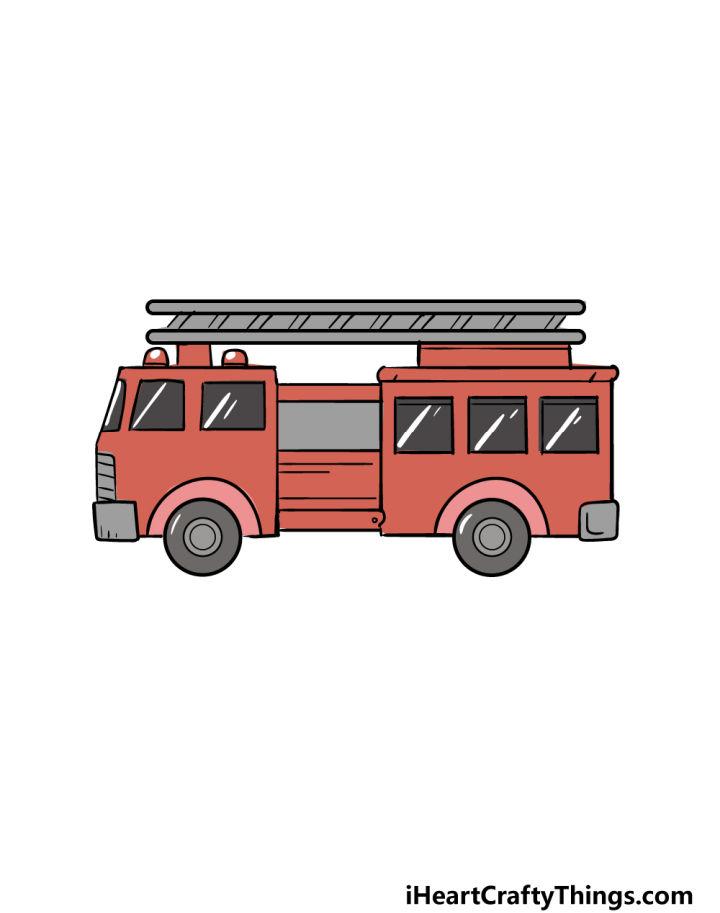 Draw the adventurous fire truck with this tutorial. First, draw only two boxes that are connected in the middle. Attach a couple of wheels at the bottom with a ladder on top. Add other elements of a firetruck like windows and sirens. Lastly, just color it up red from top to bottom. iheartcraftythings
3. Fire Truck Drawing for Kids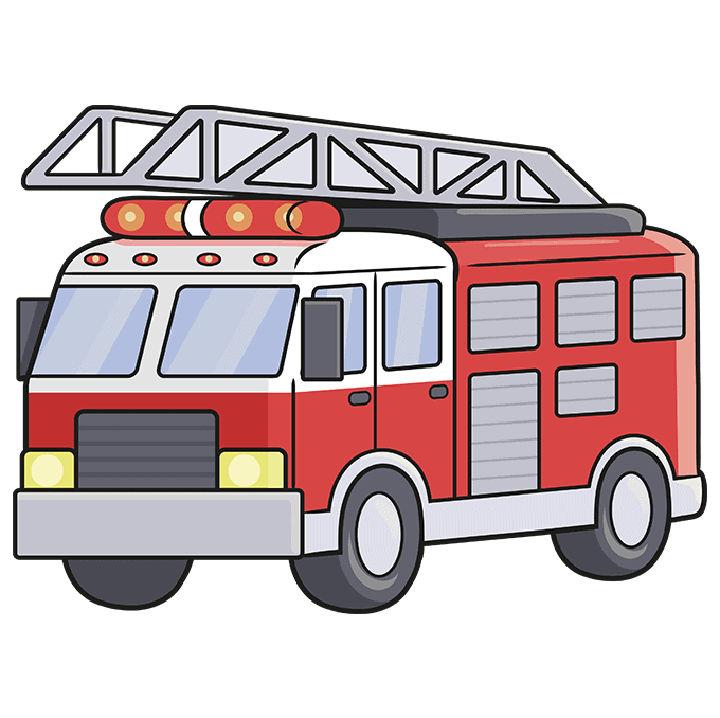 Another striking fire truck drawing idea for our young minds. The first step includes drawing the front of the truck with the grille and headlights. Curve the front end upwards to draw up windows and side view mirrors. Draw up the rest of the body straight with a wheelbase. Install a ladder on top of it, then just color it up! easydrawingguides
4. Drawing of Fire Truck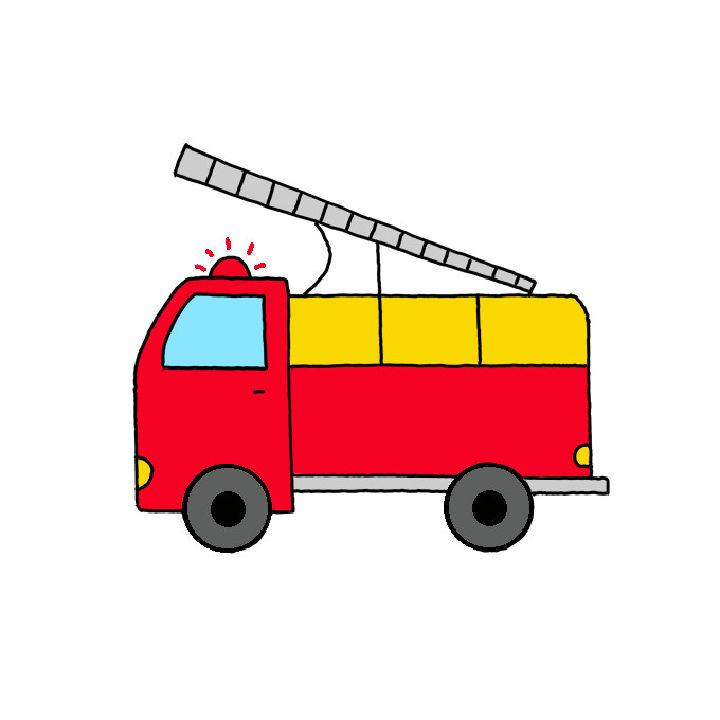 A cute little fire truck that can be completed in no time. You will only need a pencil, markers, or crayons. Just start with the wheels by drawing two circles and the front head of the truck. Draw the rest of the body and design it using lines. Next, draw the headlight on top of the ladder. All done! drawinghowtos
5. Easy Way to Draw a Fire Truck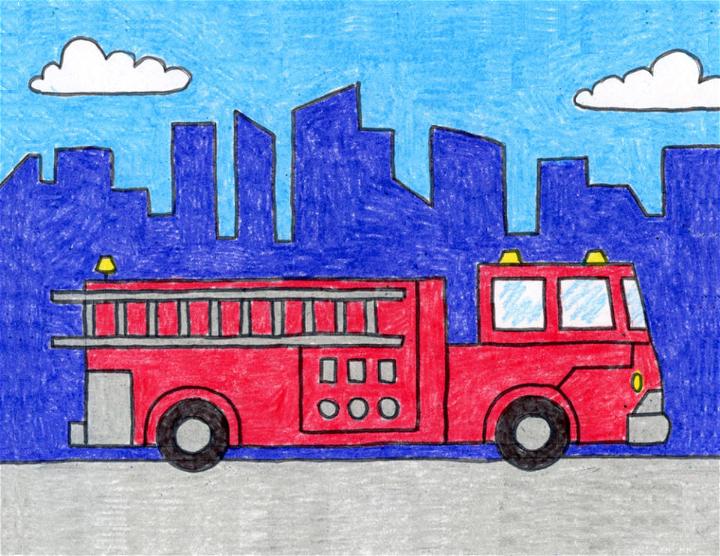 Draw an amazing fire truck drawing with materials such as black sharpie markers and crayons. This one will take 45 minutes to complete. Just grab a paper and draw the back end of the truck. Draw its front with rectangle-shaped sections. Cut out a section for wheels and windows. Add the finishing details, and you're done! artprojectsforkids
6. Draw a Fire Truck for Preschoolers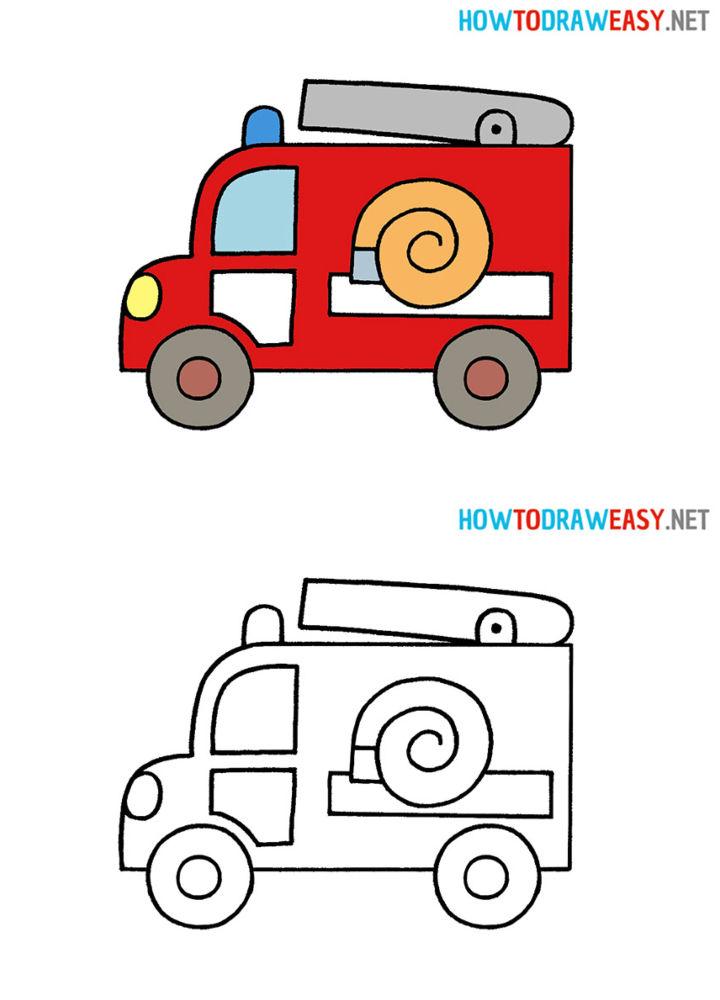 Draw a kid toy car fire truck with this helpful tutorial. It has a simple body with a narrow front. Draw the ladder in a rectangle shape on top of it and a fire hose. Make markings for windows and headlights. When you're done, just color it using red coloring pencils. howtodraweasy
7. How to Draw a Fire Truck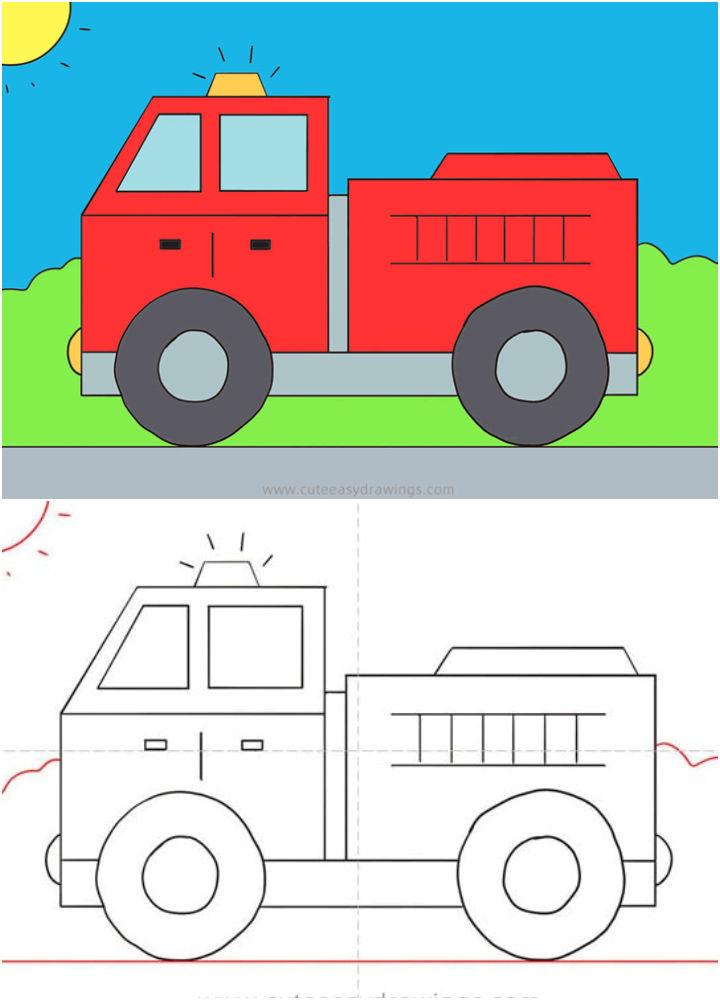 The materials needed for this fire truck drawing are a pdf of a fire truck to look at, a drawing page and some coloring supplies. Begin with a top-down approach by first drawing the headlight on top that is attached to the front of the truck. Draw details like windows and door handle side by side. Extending the truck to the back and adding other important supplies! cuteeasydrawings
8. Draw a Fire Truck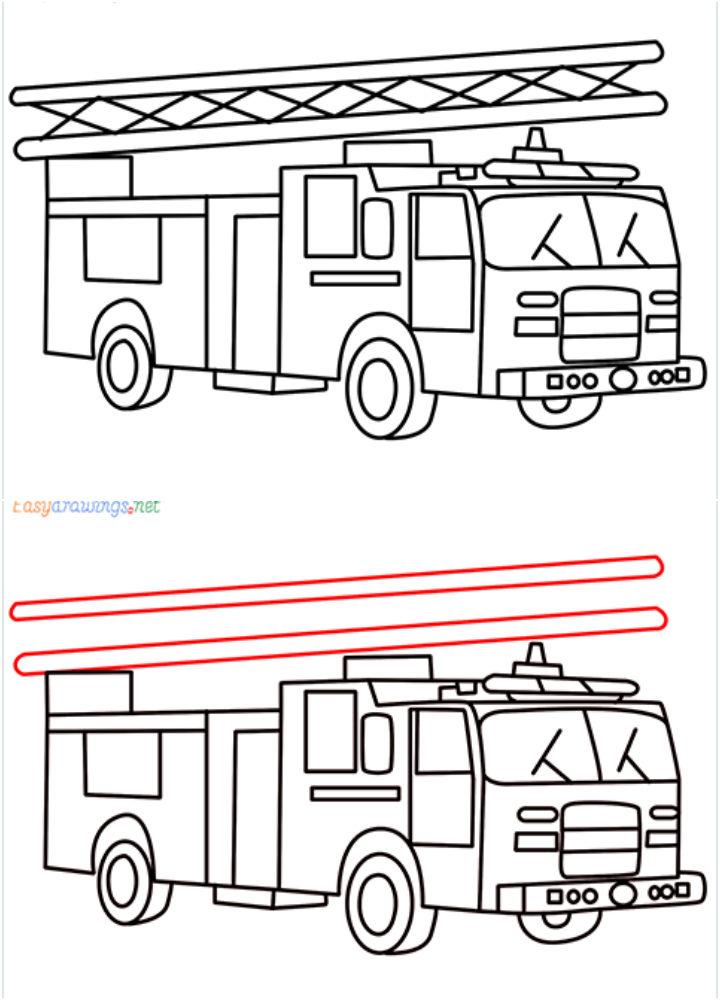 A highly detailed fire truck that is laid out in a simple step-by-step way. Begin with the side and front view of the fire truck. Add squares and rectangles to add detail to the fire truck. In the front, add headlights and a front grill. Place a big ladder on top and wheels at the bottom. That's it! easydrawings
9. Simple and Easy Fire Truck Drawing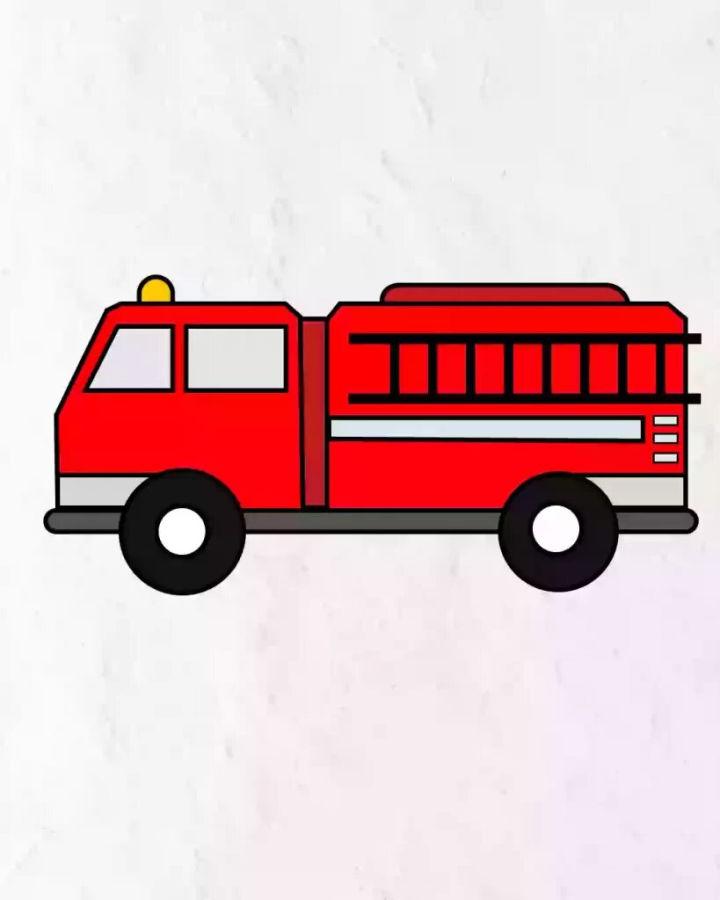 A simple fire truck drawing with a few basic drawing materials needed to complete it. The front and back end are two huge squares with a connecting point in the middle. Add further detail like the design of the fire truck and its various components. Click on the link to get started! storiespub
10. Cute Fire Truck Drawing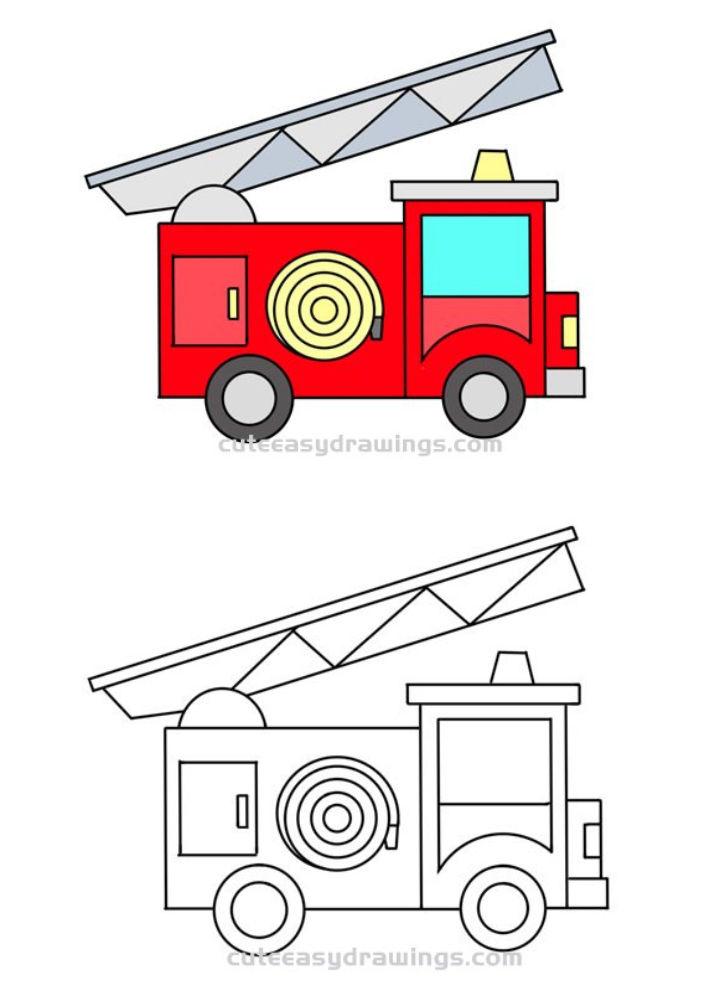 A tutorial tailor-made for kids. Get started with the bottom part with two car-like wheels attached to the bottom part of the truck. Draw up the upper portion with a rectangle shape. Attach to it a ladder on the top and a fire hose to the side. Color the body red and the rest of the truck in silver color. cuteeasydrawings
11. Draw Roy Fire Truck from Robocar Poli

A fire truck from the amazing and entertaining Robocar Poli. With this tutorial, you can draw the Roy fire truck. First, make a large square shape and divide its sections into different parts for the fire truck. Add a large safety helmet on top of his head and a face to the front. Lastly, draw up the details for the truck. drawingtutorials101
12. Draw a Red Firetruck for Children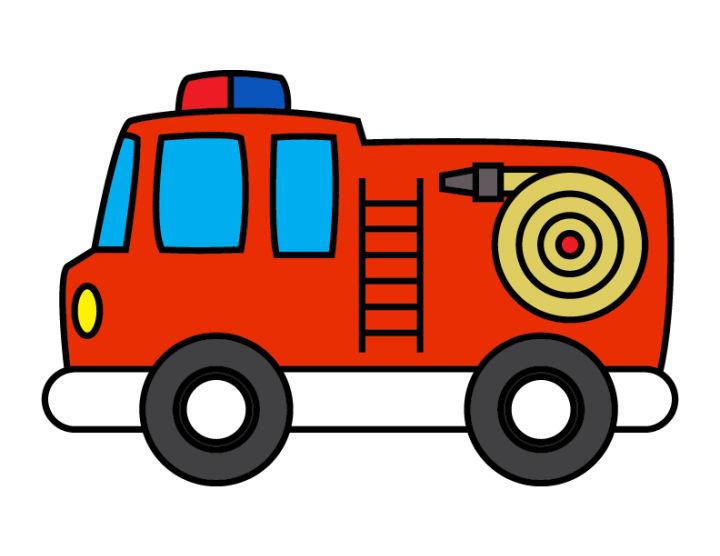 Draw a red fire truck with tools such as a pencil, eraser, and coloring pencils. This one can be completed in 7 steps. Just start with two parallel tires and connect them with a long line. Draw an irregular rectangle shape that is raised from the front. Add a line with a coil shape to the side with a ladder attached to the sides. That's all! rainbowprintables
13. Draw Fire Truck with Ladder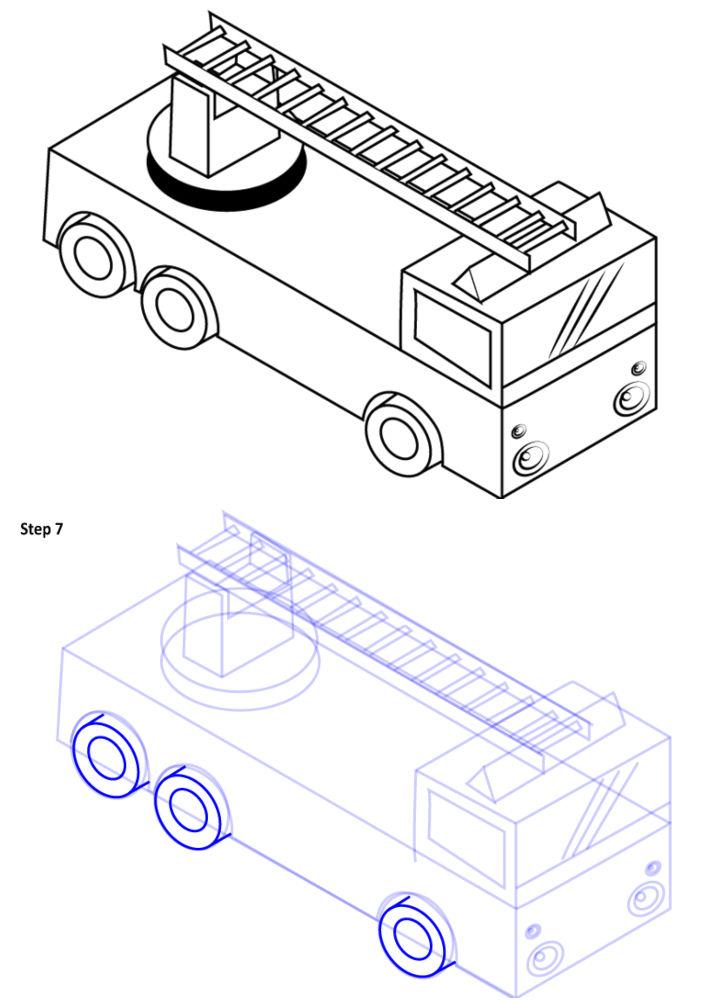 Draw a fire truck with a long, huge ladder. This one is drawn as if we're looking at it from the sky. Just begin with a brick shape and attach a rectangle to the front end. Add various features of a fire truck like sirens and headlights. Make a place holder for the ladder and extend it to the front of the truck. That's all! drawingtutorials101
14. Easy Fire Truck Drawing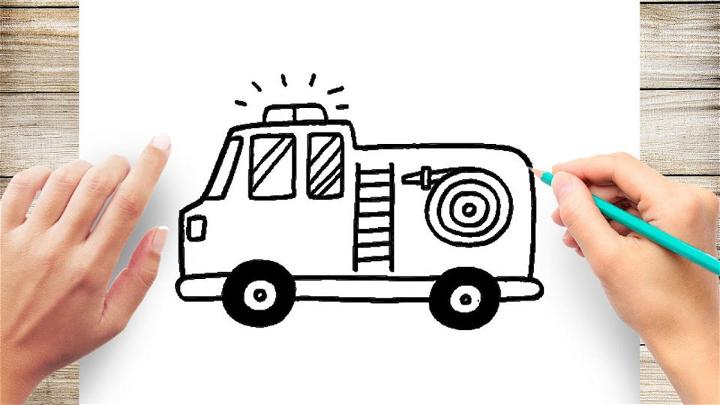 A fun video tutorial showing how t draw a fire truck! Begin with the wheels and color them black. Then draw the body with the black marker with the emergency headlights flashing on top, then make rectangular windows for it. With a ladder to the side with a fire hose, this one is complete!
15. Realistic Fire Truck Drawing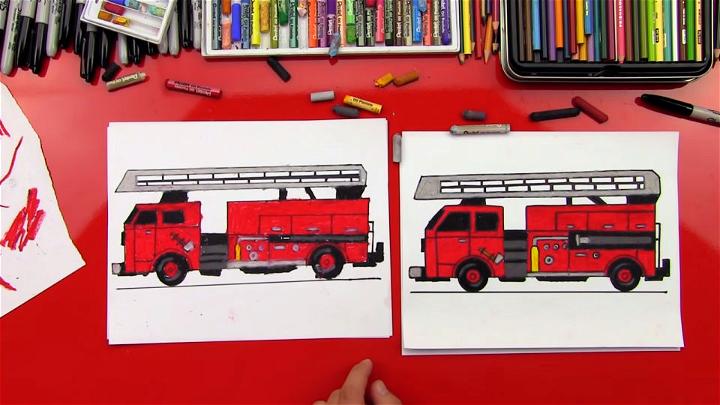 A fire truck straight from the future! Begin with the basic shape of the fire truck and start adding vertical and horizontal lines to the sides. This will make it look modern. Then add a big ladder on top of it. Color it whole using red crayons for the body and a black marker for the rest of the components.
16. How Do You Draw a Fire Truck

Now draw a very smart-looking fire truck with this video tutorial. First, sketch up the body of the fire truck with a pencil. After outlining it whole with a marker, you can begin coloring the entire truck. Make sure to include blue color for the windows and yellow color for the hose. The rest of it will be red.
17. Simple Fire Truck Drawing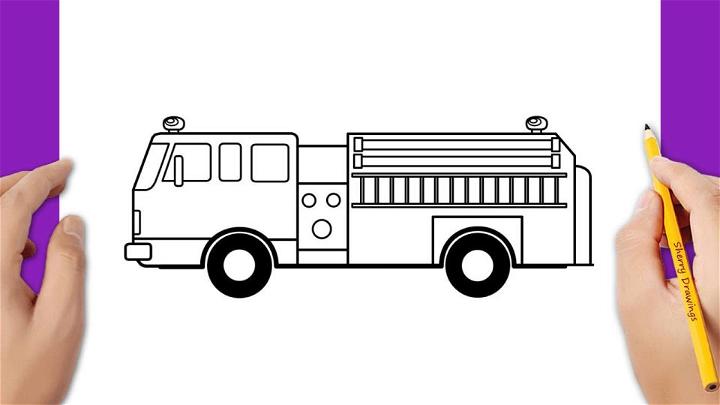 Draw a fire truck with any special drawing software. First of all, design the fire truck in a long slender body shape. Add various components like the front and cabin. Use vertical lines to show the various components of the truck. Click on the link to see the final form!
18. Easy to Draw Fire Truck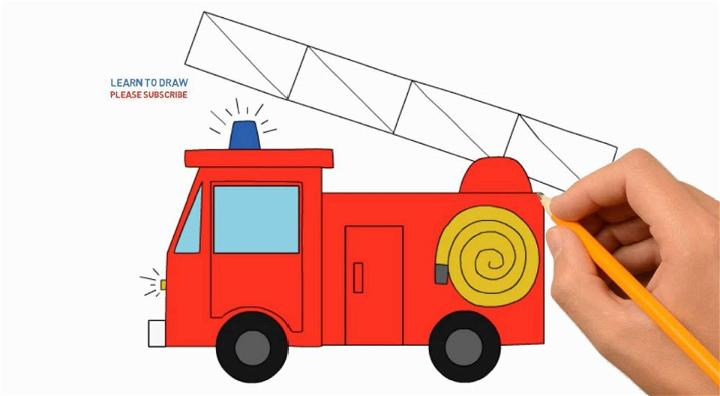 An easy way to learn fire truck tutorial for the kids! Just grab a pencil and follow along with the tutorial to draw the front and end parts of the truck. Then draw the truck door and a fire hose to the end. Lastly, just color the whole thing up, and you're good to go!
19. Draw Your Own Fire Truck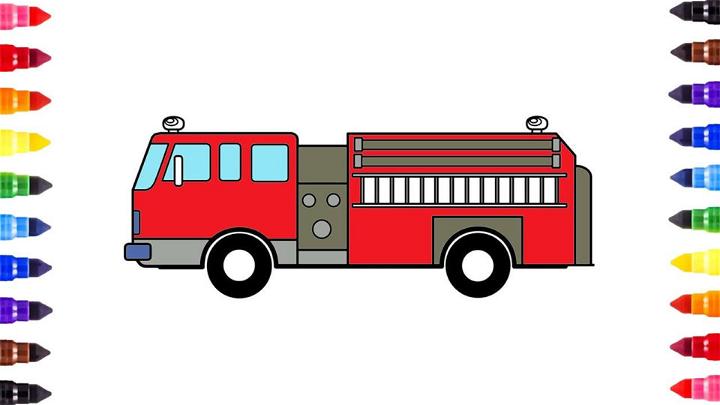 Draw a fire truck as it appears in animated cartoons. It will have a long and wide body with a lot of parts. First, draw the front-end details like windows and doors. Then draw the back end with all the specialized equipment to fire the fire. It will include a ladder and a hose. Color it red for the finishing touches.
20. How to Draw a Fire Truck for Kids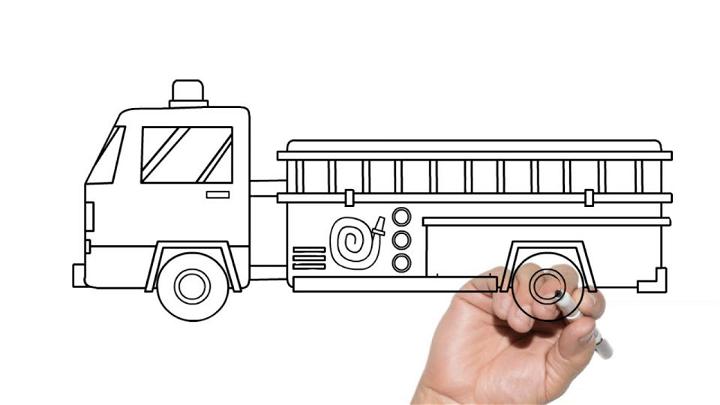 Complete a fire truck drawing under 5 minutes. With this tutorial, you can begin with the front end of the body that houses the driver. Next, draw the cabin situating all the firefighters and their equipment. It will have all of the tools they need to combat the fire. This is it!
21. Fire Engine Drawing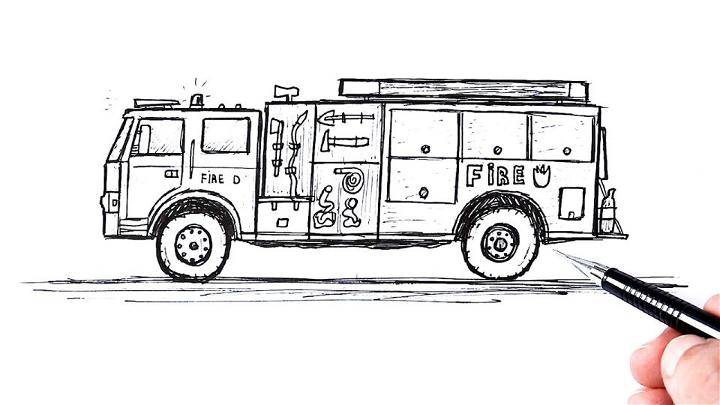 A very gritty-looking fire truck drawing! This one looks as if it's been battling fires demons. First, make the circular tires and the body of the truck that is attached on top. You can use a black pointer to add small lines to add to the aesthetic of the truck. It can rock some weapons on the side with a fire logo next to them. Wicked!
22. Sketch Fire Truck Drawing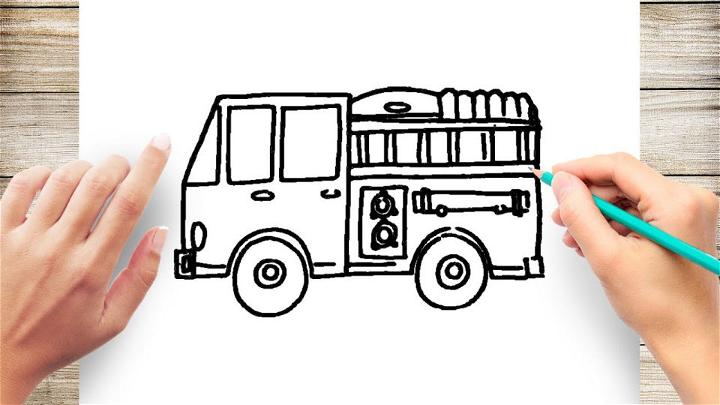 Make the most amazing-looking fire truck drawing with this cool tutorial. You can get started by drawing the outline of the fire truck. Add details such as windows and other important tools. After covering its side with all of the components, you can just color it red with a marker!
23. Fire Truck Drawing – Step by Step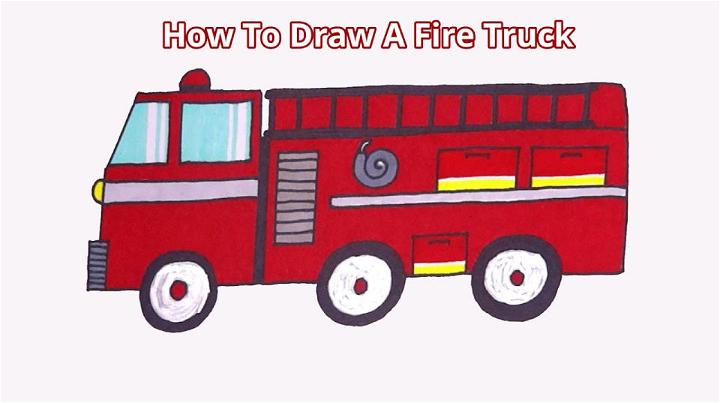 A red fire truck with a cartoonish look. You just have to pay attention to the special dimensions of the back and front parts of the truck. Use your free hand to draw shapes on top of the truck that makes it look like a fire combat machine. This is why you should immediately click on the link!
24. Cartoon Fire Truck Drawing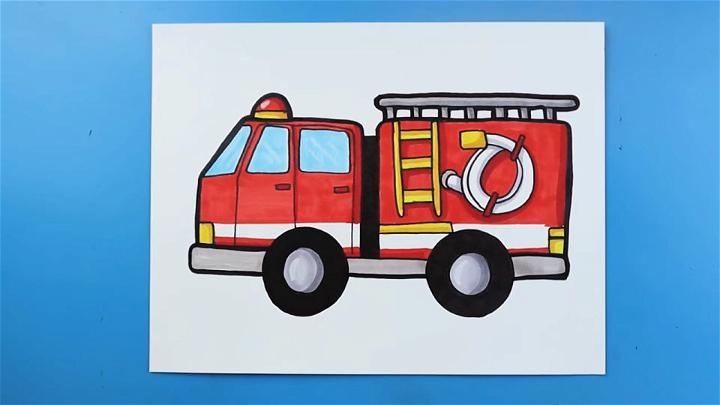 Another amazing fire truck drawing idea for our younger audience. Use a black sharpie pen to complete the front and back ends of the truck. With your hand guiding you from memory, draw up the special equipment that makes a fire truck a fire truck. Color it all up using a marker; that's all!
25. Fire Truck Picture to Draw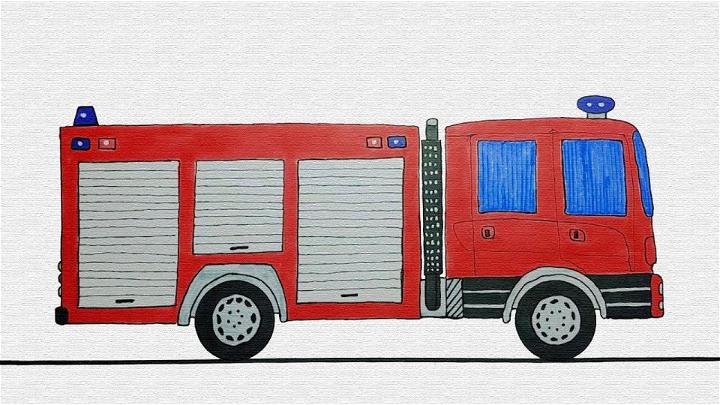 You're going to love drawing this fire truck drawing idea. Use circle cutouts for the wheels and make the base of the truck. Make the door and windows to the front of the truck with some square cutouts for the back. Add some final touches to the truck and start coloring it up. A simple yet amazing outcome!
Related Easy Drawing Ideas:
Unlock your creativity with easy drawing ideas. These step-by-step instructions make it simple to create stunning art, even if you've never picked up a pencil before!
Conclusion: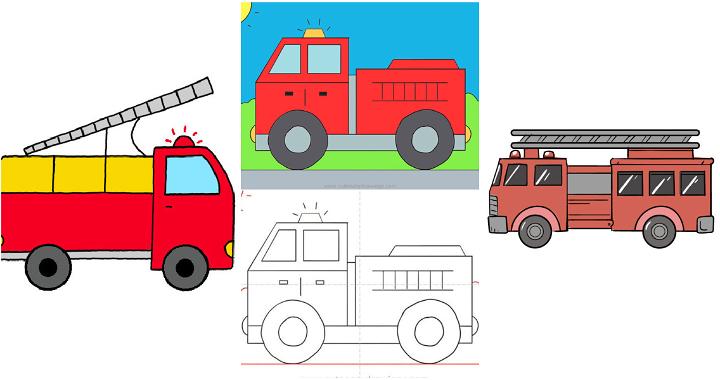 We hope you learn a great deal with this fire truck drawing ideas tutorial. Fire trucks, for most of us are the real daredevil machine that carries real-life heroes to places of destruction. We owe a great deal to these men for putting their lives in danger for our safety on a daily manner. These vehicles are truly something that you'll want to be drawing for a long time. So, open up these links and make the most of your time!