Learn how to draw a room with these 25 easy room drawing ideas with step by step simple sketch outline, printables and coloring pages. Where do you happen to spend most of your day? Where do you sleep, and where do you eat? The answer to this is your room. Rooms occupy an important part of our lives; this is why we've brought in this tutorial full of fun room drawing ideas.
Your house has many rooms, and all of these rooms have distinct functions. One room could be where you eat food, one could be where you watch TV and another one for guests. They all are a necessary part of your house. Every single room is with a number of items that make it unique; it's up to us to save them in our memory through drawings.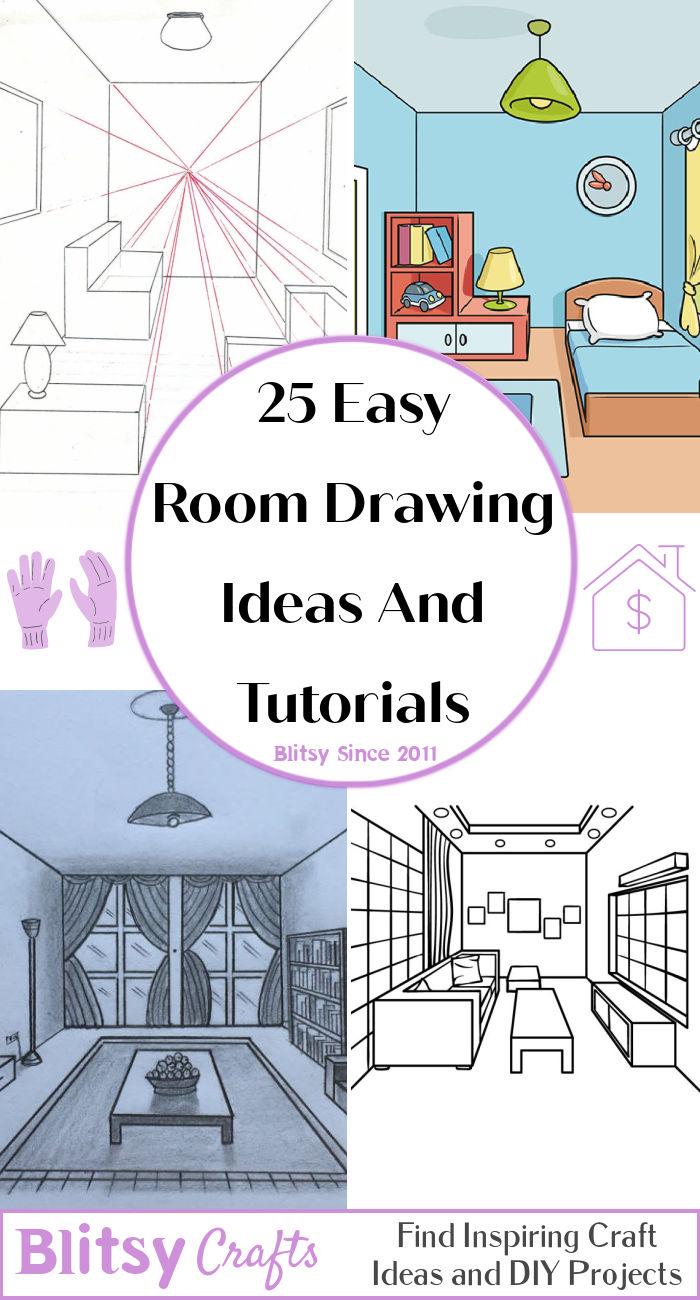 Rooms are easy to draw! That is, if you have access to a tutorial that could help you on your way. These Room drawing ideas are thus necessary for any young artist who wants to draw rooms that look appealing. With a collection of 25 different tutorials, you can find so many different ways to make a room with just a few materials. You can draw rooms with techniques such as a one-point perspective or two-point perspective. You can also draw it using just a pencil or crayons. So, wait for no further and unleash your inner artist!
1. How to Draw a Room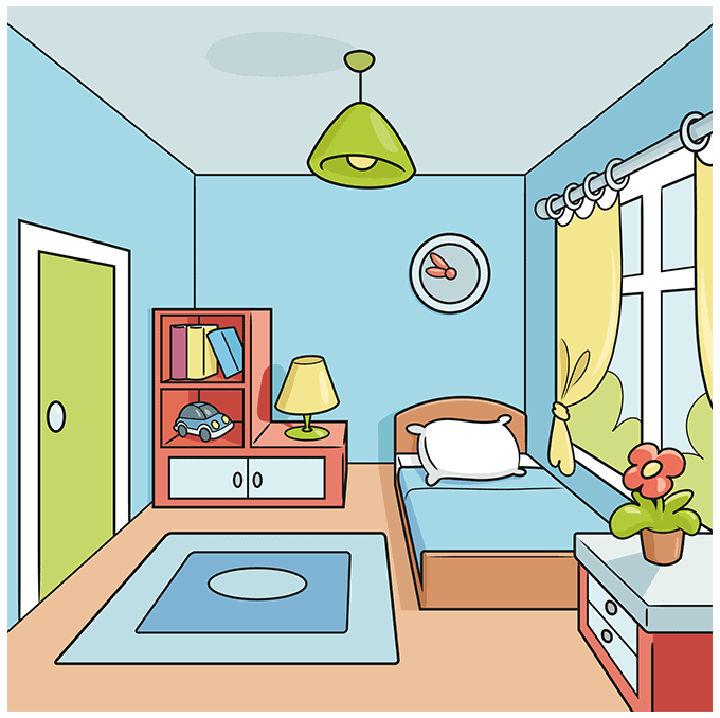 Starting off with this room drawing idea, you first need to draw a bookshelf for the room. Then create a lamp and a bed and detail it. To create the walls, extend lines from each corner with a square in the back. Add more items to your liking, and your room is ready! easydrawingguides
2. Draw a Room Using One Point Perspective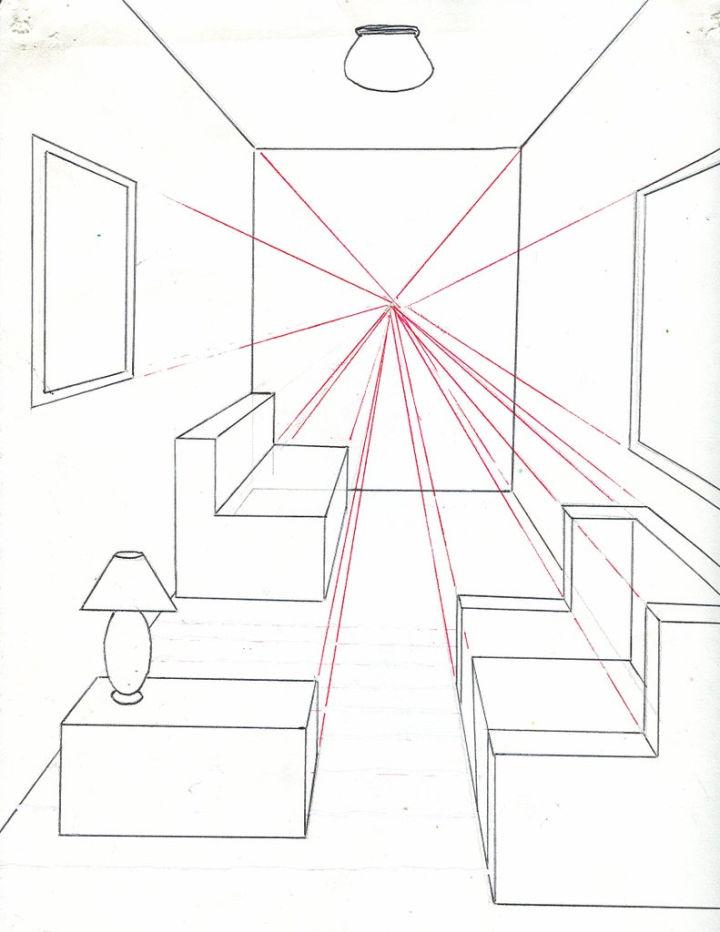 This tutorial comes with making your room with the help of a one-point perspective. Start off by making an X in the middle of your sheet and enclose a square in it. Draw lines from the middle of this square. You can now make the floor and walls and add furniture with little creativity! instructables
3. Drawing of A Room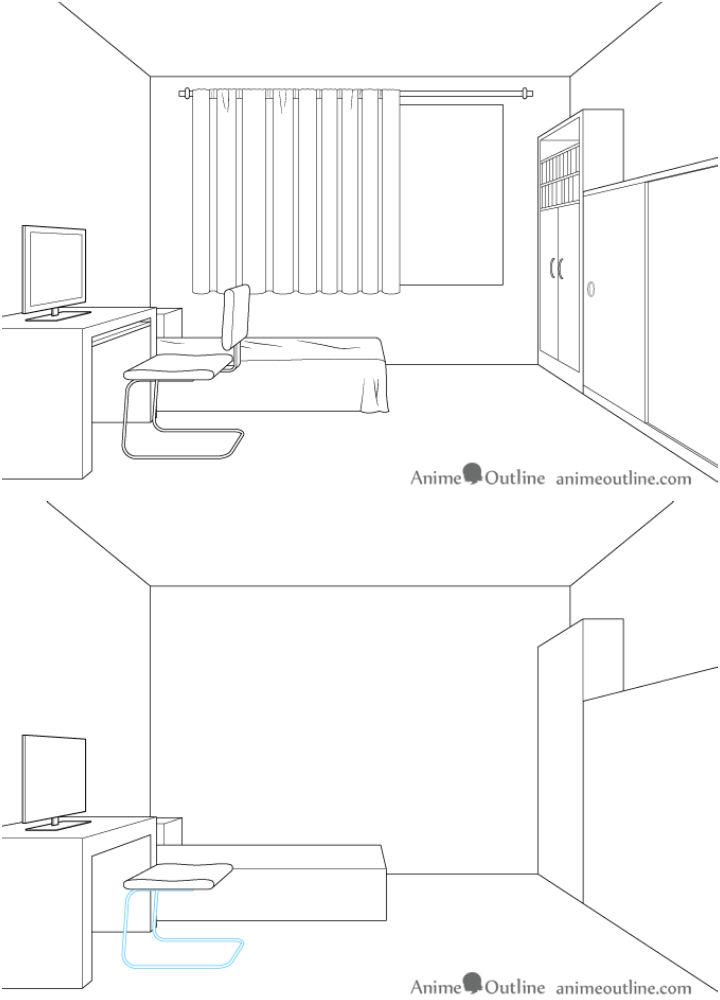 This one also uses a one-point perspective but another face of the room. Create a square and draw in furniture shapes from the mid-pint of the room. Then all you have to do is draw in the details of the objects, and your drawing is ready! animeoutline
4. How to Draw an Interior Room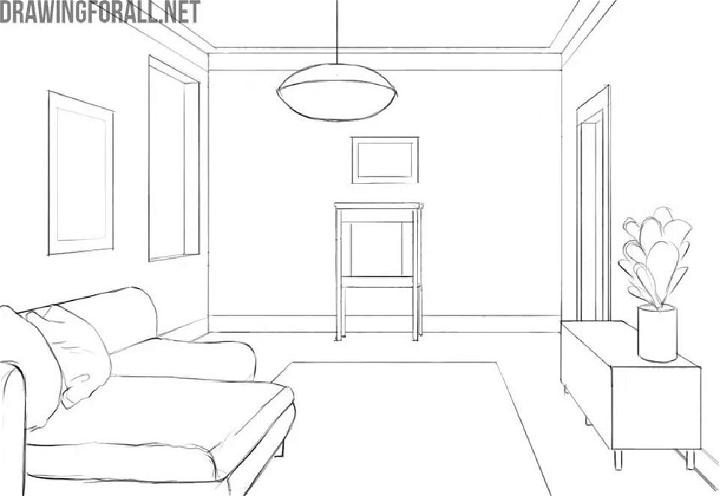 This tutorial shows you how to draw the interior of your room with a linear perspective. Begin with drawing four lines to make the front wall. Make further straight lines to assist you in making doors, windows, and a sofa. Erase these lines to reveal a visually pleasing room! drawingforall
5. How to Draw a Room Perspective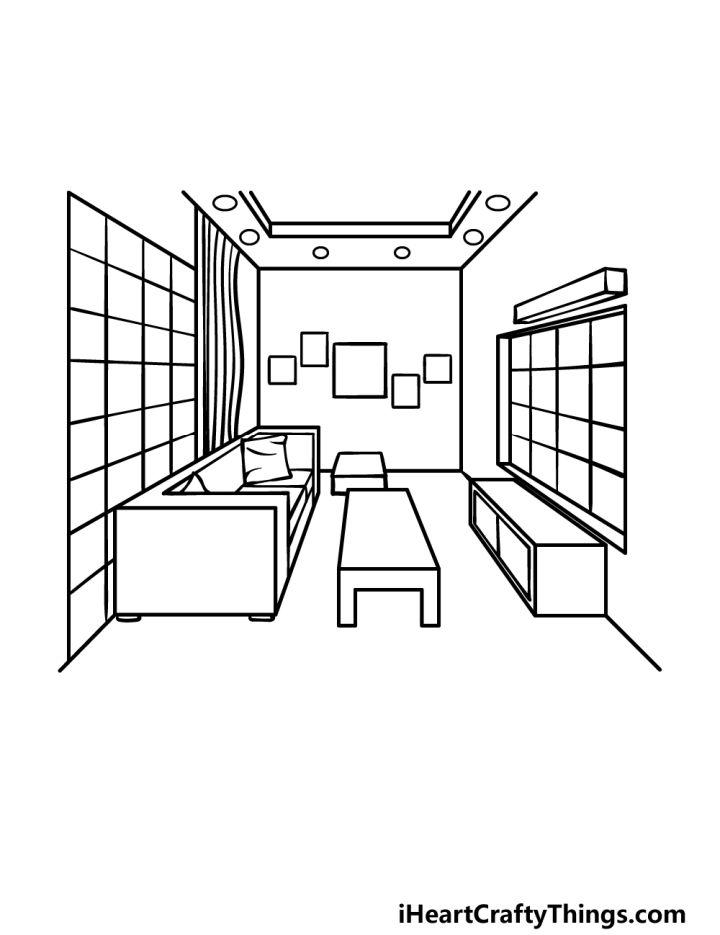 For this tutorial, it is recommended to keep a ruler and a pencil to help you. Firstly, follow the example shown to draw in some straight lines for the walls. Place the furniture next to the wall; your room should look as if it has depth. Add a few last details and color it any way you like! iheartcraftythings
6. One Point Perspective Room Drawing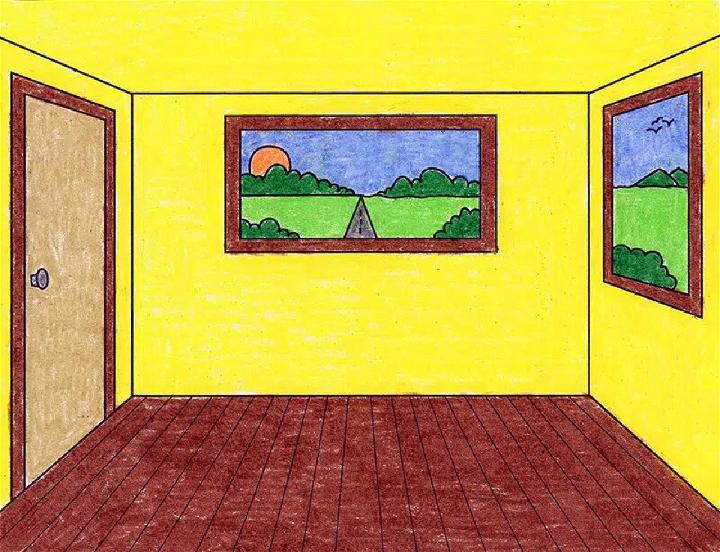 This beginner's guide to drawing a realistic-looking room is all you need! You'll require a sharpie marker and some crayons. It will take a total of 45 minutes, but the end result is worth it. So, head over to the link to see the magic unfold! artprojectsforkids
7. Bedroom Drawing Step by Step Guide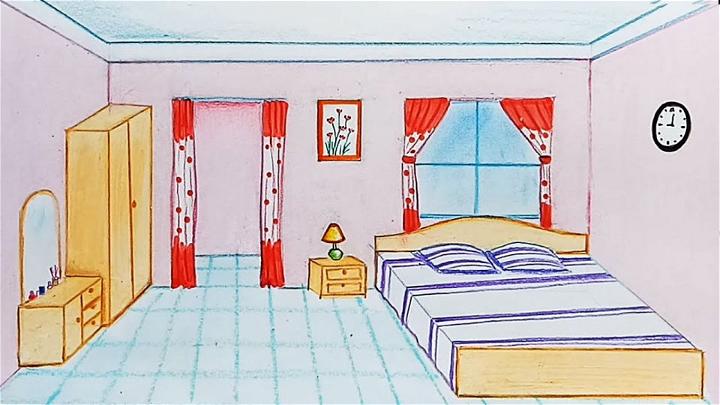 With the help of a ruler, pencil, and an eraser for correction, you can attempt this room drawing idea. Start off with a window and a door in the middle of the room. Place a bed and cabinet on the opposite ends of the room. So, wait no further; open the link to see the final picture!
8. How to Draw Scenery of Drawing Room

Want to show the sitting area of your house? Watch this video tutorial to learn how to do this. Just start with some sofas and a table, and place objects on them. You can decorate the walls as well. Color it to create a cute and cozy look.
9. Two Point Perspective Bedroom Drawing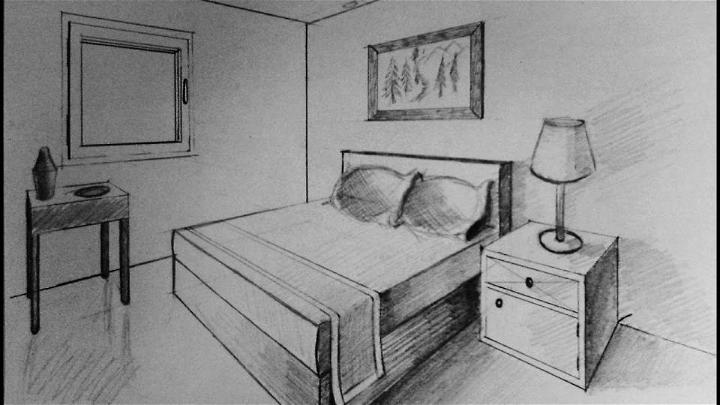 This video tutorial shows you how to draw a room with a two-point perspective. This can give a whole new dimension to your room. Just draw lines from two points to show your walls. Place the bed and side table to fill your room. Shade the items in, and your room is ready!
10. Beautiful Room Drawing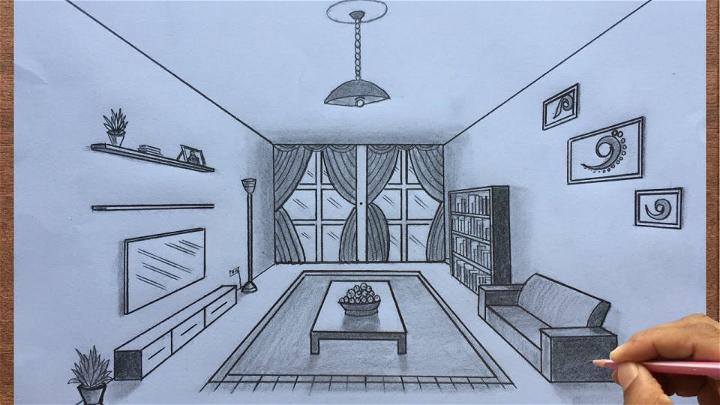 Wondering how you can draw a living room using a one-point perspective? This room drawing idea shows you just how! Draw your TV and wall decoration with the help of a ruler from the mid-point of the room. Fill in details, and you have a living room drawing ready to be shown around!
11. Living Room Drawing for Beginners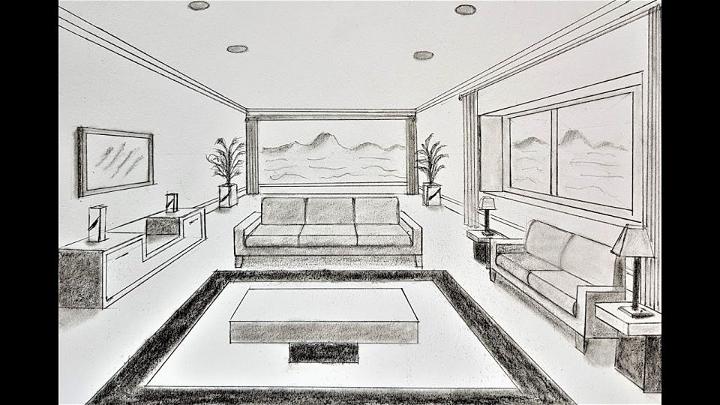 This tutorial for beginners can show you to make a living room drawing in no time. Just make the middle wall and draw four long straight lines from it. This will make your other two walls. Place any furniture you like by the walls, and your room is almost complete. Click on the link now to see the full picture!
12. How to Draw an Office Room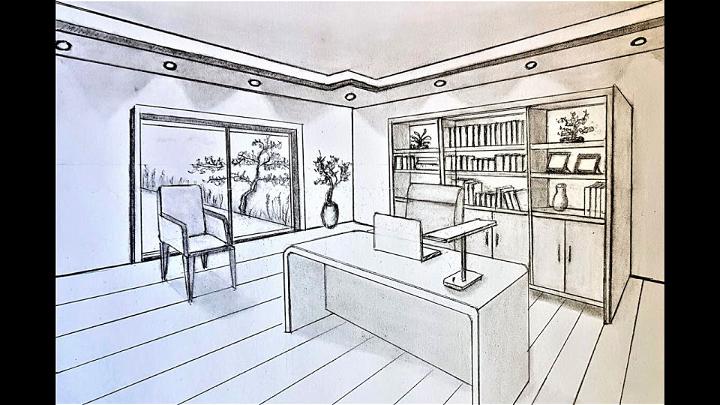 Now, you can draw an office room easily with this tutorial. Make a diagonal line in the middle of your paper; you can use this as a mid-point to create more lines for the room. Create a desk and a bookshelf. With some more touches, your office room will be ready.
13. Bedroom Drawing for Kids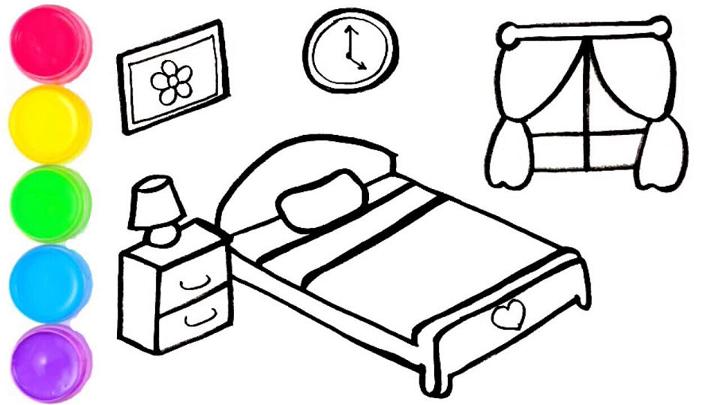 This tutorial is especially for kids who want to make fun drawings! Just draw an outline for your bed, side table, window and wall clock. Now you can add color to them to make them your own! Click on the link and get started!
14. Inside of a Room Drawing in Point Perspective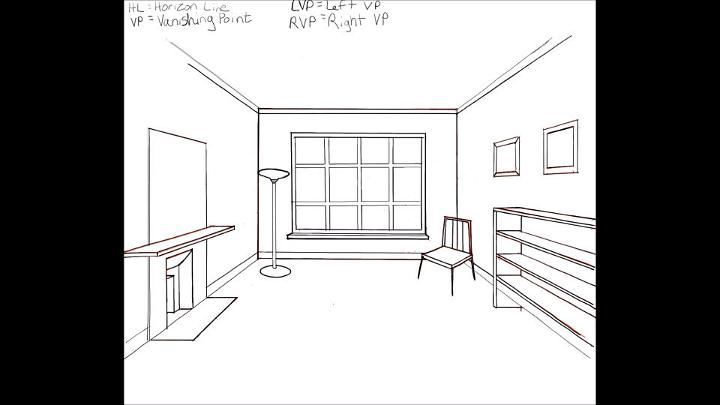 This tutorial uses a three-point perspective to draw a room. First, create a long horizontal line and cross it with two straight lines. This will function as a reference point for your drawing. With the vanishing point in the middle, draw your objects in relation to it. So, visit the link and begin!
15. How to Draw a Room with an Arch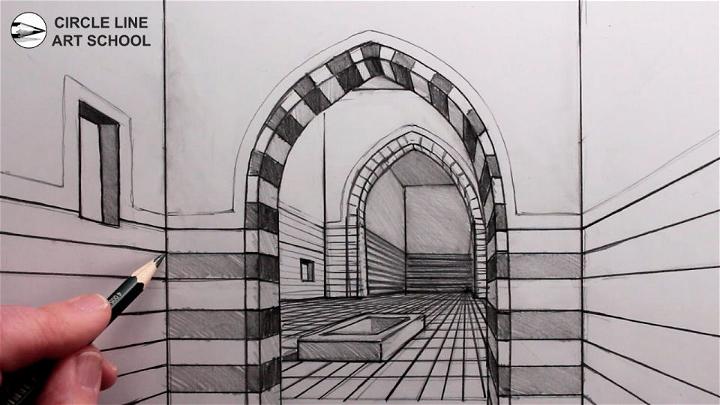 Follow this tutorial to draw a room with an Arch. You can also use a vanishing point in the middle to create this arch. Just connect various lines with the point, and the arch and your room will take form. Wait no further and click on the link!
16. Draw a 3D Room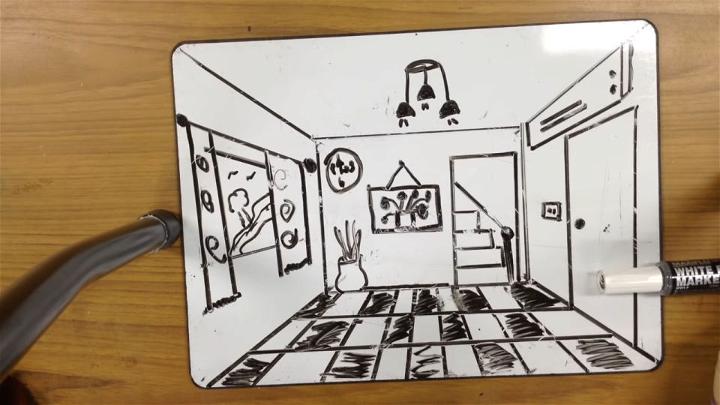 Want to make a 3D room? This video tutorial shows you how to draw objects as if they're getting smaller further away from the room. Just place your door and window with a slight tilt. You can decorate it with any number of objects, so wait for no further and grab a pencil and paper!
17. Isometric Room Drawing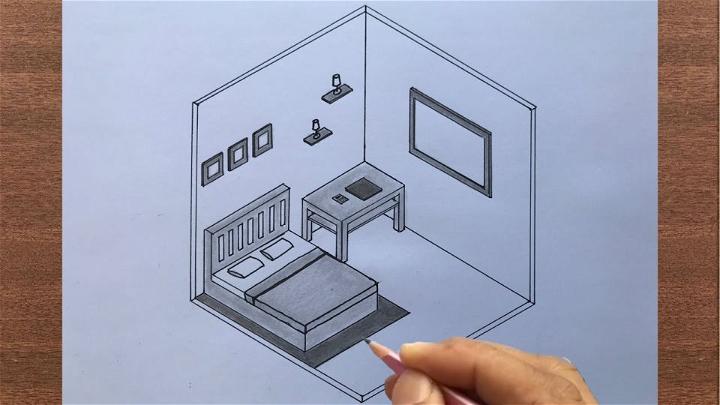 This isometric room drawing tutorial is one of a kind! Start by making a hexagonal shape with your pencil and ruler. Place a bed at the side of the shape and a table in the middle. You can now shade these objects, and your unique room drawing is complete!
18. How to Draw a Hospital Room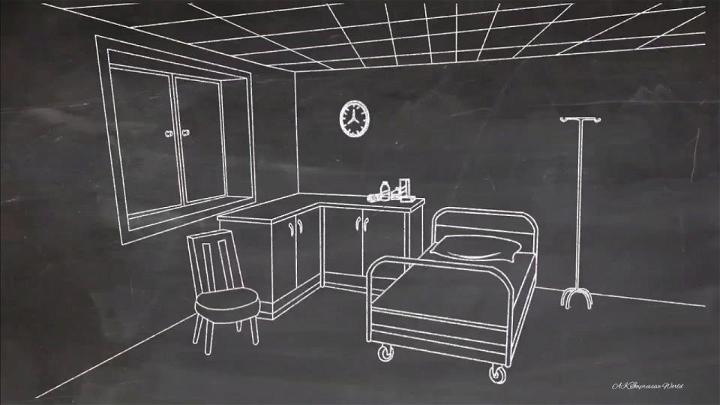 This is a video tutorial of a hospital room. With the help of a blackboard and chalk, create a real-looking hospital room. Make the window and floor first, gradually filling the room with cabinets and a bed. Click on the link to learn how!
19. How to Draw Bedroom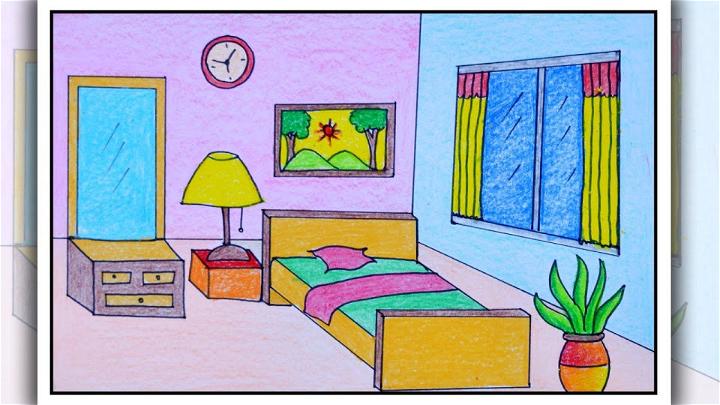 One of our easiest room drawing ideas! Just grab a pen and a ruler to create various items in your room. Draw a window on the adjacent side and a wall picture on the other. Color it in any way you like, and your perfect room is ready! youtube
20. Easy Study Room Drawing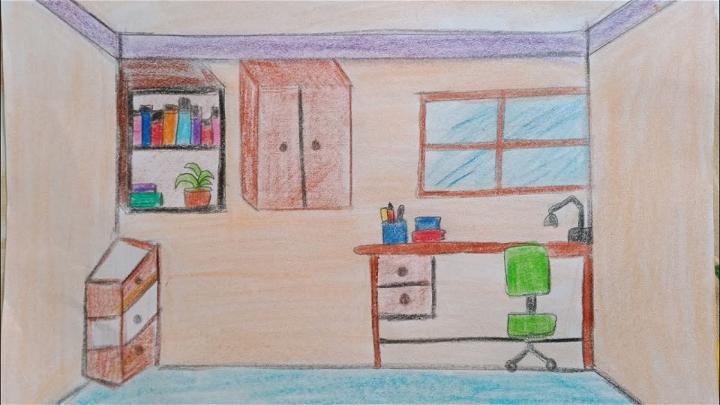 This video tutorial will show you how to make a study room. Start by drawing the front wall and placing some objects on it; you can add as many items as you like to make it personal. Color it up with some coloring pencils, and you're done!
21. Draw a Dining Room in Point Perspective

Learn how to draw a dining room with the help of this tutorial. Just make your room from one point perspective. Place a dining room in the middle of the room and a cabinet. Draw a couple of drapes on one side of the room. To have a better look, open the link!
22. Aesthetic Room Drawing Using Two point Perspective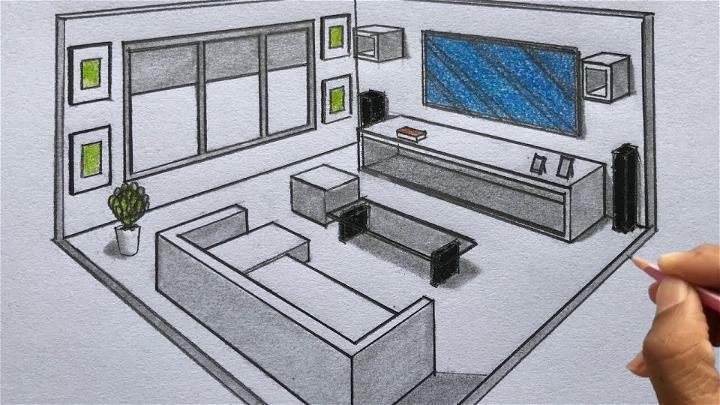 A video tutorial for those into minimalistic room drawings. Divide your room into two parts with a vertical line and draw in reference to it. Sketch in your sofa and wall decorations. What's the wait? Go over to the link to see it unfold!
23. Very Easy Room Drawing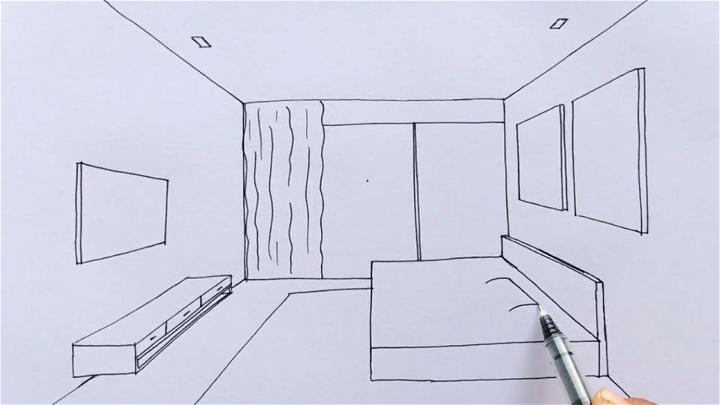 Create the most good-looking room with this easy tutorial. All you need is a black pen to draw the side view of your bed. Connect four lines with the square in the middle to create the walls. Don't miss out on the opportunity and visit the link!
24. How to Draw and Color the Living Room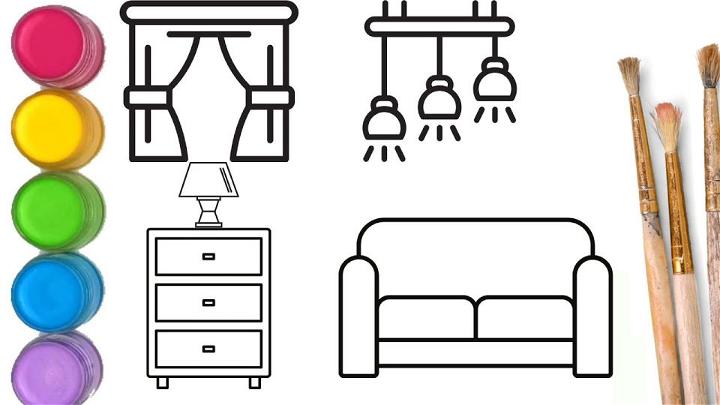 A tutorial tailor-made for beginners, follow along with this tutorial to create the most wholesome drawing of your room in a few minutes. This one is easy and fun to do, so wait for no further and follow up on the link.
25. Draw Your Own Room

A cute tutorial for all the kids out there! Starting with the front wall, you can place the furniture in reference to it. Some details later, and you're done with this room drawing!
Related Easy Drawing Ideas:
Discover your inner artist with these amazing, easy drawing ideas! From still life to abstract art and everything in between, ignite your creativity today.
Solar System Drawings: Explore the universe with these creative solar system drawing ideas! From simple doodles to more complex illustrations, this guide will help you bring your cosmic vision to life.
School Drawing Ideas: Discover a world of creativity with these unique school drawing outlines – perfect for inspiring young minds and teaching students the basics of art.
Fire Truck Drawing Ideas: Get creative! Draw amazing fire truck pictures with ease using this collection of easy tutorials. Perfect for budding artists and experienced sketchers alike.
How to Draw Realistic: Start your journey to becoming an artist with these simple, realistic drawing tutorials! Get the confidence boost you need to create beautiful art that looks just like the real thing.
Diamond Drawing Ideas: Unlock your creativity with these beautiful, sparkling diamond drawings! These unique designs are sure to make any wall come alive and give your space a touch of luxury.
Race Car Drawing Ideas: Bring out your inner speed demon with these free race car drawing printables! Unleash your creativity and get ready to race along the tracks of imagination.
Summer Drawing Ideas: Drawing in the summer sun has never been easier! These easy summer drawings are perfect for all ages, so grab your pencils and sketch your way to creative bliss.
Volcano Drawing Ideas: Unleash your inner picasso with adorable volcano drawing ideas! Get creative and explore limitless possibilities for creating beautiful works of art.
Draw a Police Car: Bring your artistic vision to life with these realistic police car drawings! Get creative and draw a stunningly detailed police car that will leave everyone in awe.
Halloween Drawings: Create spooky halloween masterpieces with simple halloween drawing ideas! Learn how to draw witches, spiders, ghosts, and more for a frightfully fun time.
Conclusion: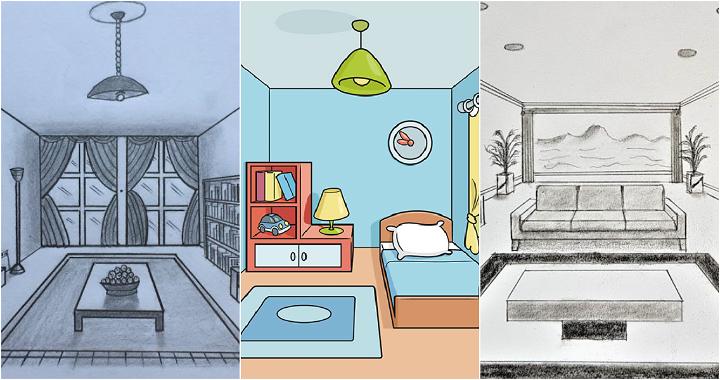 This brings an end to these room drawing ideas. These fun-packed tutorials are sure to make your day brighter. They are filled with a ton of content that can help any young artist. You can show your room drawing skills to your friends and family just by following a couple of them. So, waste no further time and get your art on!