The arrival of warm days calls for outdoor fun, parties and entertainment. So, organize your outdoors with these DIY Outdoor Sectionals sure to transform any patio into a luxury extension of your home. These 25 free diy outdoor sectional sofa plans will transform your outdoor decks, balconies, porches areas and other your favorite outdoor spots into luxurious outdoor entertainment centers where you can sit, eat and enjoy the outdoor weather. Going handmade will be super economical because the prices of the outdoor furnishings are high. There is a sofa set for every patio you want to create that amazing ambiance.
Explore these 25 free DIY diy outdoor sectional plans that involve building various sofa designs, including the modular outdoor sofas, West Elm-inspired L-shape couches, and the restoration hardware-inspired luxury outdoor sectionals. Time to make maximum out of your outdoors for never-ending summer fun with these homemade outdoor couch ideas. You will see here a wide range of designs to choose from.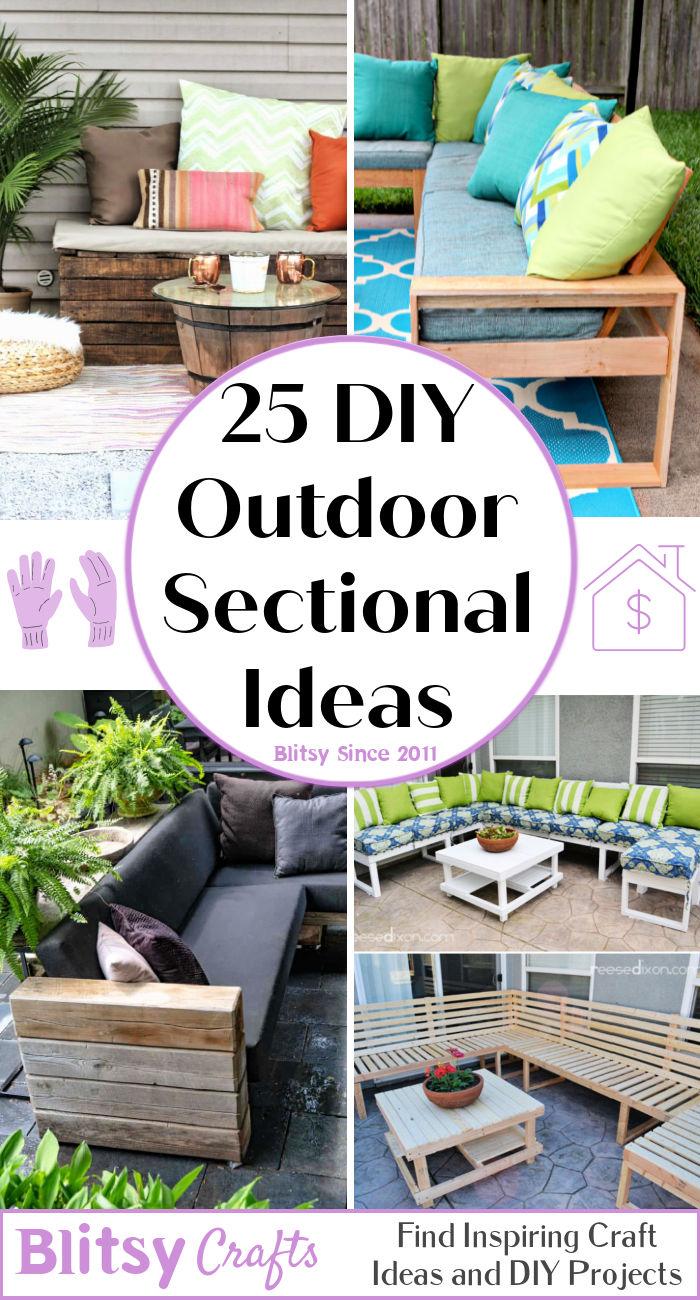 Accomplish both the outdoor seating space and storage desires by building storage-friendly sectionals. Build the separable patio sectional, which can be separated into individual chairs at any time. Moreover, you will also get here instructions for constructing slatted and solid block-style outdoor sectionals.
These sectionals will be best for a patio corner space, and you can add or remove the seats to build a custom, best-fitting design of the sectional. Next, finish the completed model with wood stain or paint, which can be done smartly to match the patio decor theme. Finally, you can finish the sofas with custom soft cushions and seat mattresses. You will get diy outdoor sectional plans that come with cushions making guides.
1. How to Build an Outdoor Sectional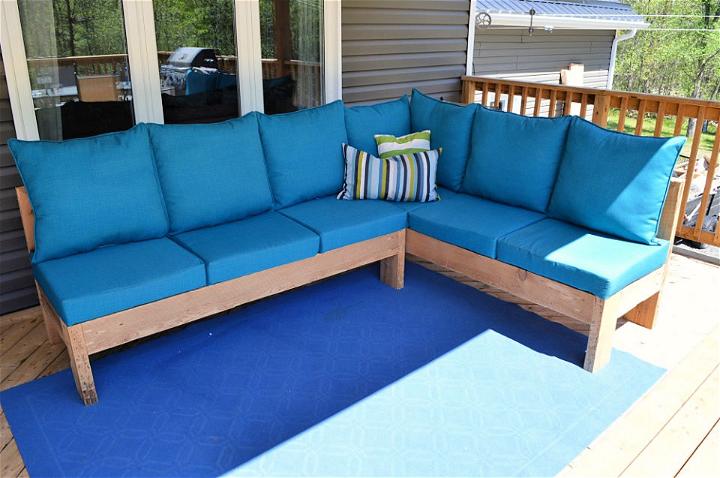 The sectional sofa sets are one of the most expensive items of furniture. The prices are more when you buy them for outdoor patios, gardens and home decks. So, why not build your outdoor sectional sofa at home? This will help save a lot of time and money. Follow here complete guides and instructions to build a lasting longer and more stylish outdoor sectional sofa like a pro. You need 2x6s, 4 deck spindles, 13 feet of deck boards, 2″ deck screws, miter saw, palm sander, pocket hole jig, glue etc., to build this sofa. thevanderveen
2. Modern DIY Outdoor Sofa Sectional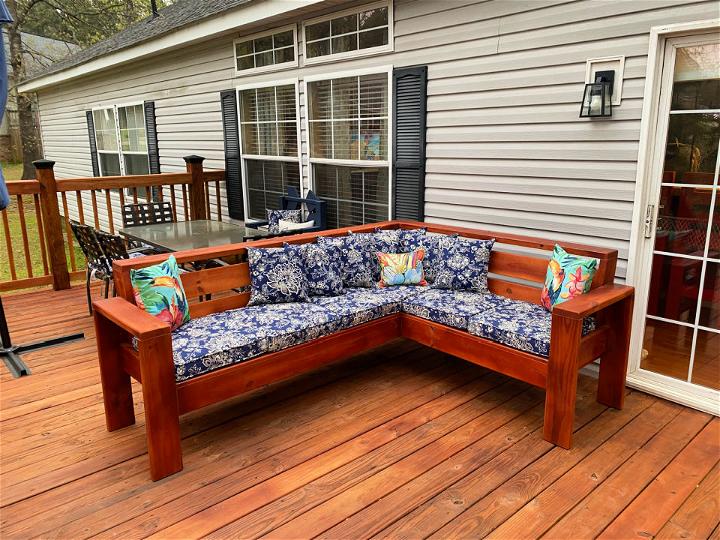 Live the outdoor luxury with this awesome L-shaped sofa. Follow here the free diy outdoor sectional plans instructions and detailed diagrams to build this modern sectional outdoor sofa like a pro. Get crafty with the common lumber like 2x6s and 1x6s to build this awesome-looking outdoor sectional sofa. It will never quit the style trends and will rock for outdoor sitting purposes. In very required tools, you need Massa pocket hole jig, Cabot wood oil, rigid router, whiteside router bit, pocket hole plugs, flush trim saw, and home right paint sprayer etc., to build this outdoor sectional sofa. 731woodworks
DIY Ideas to Upgrade Your Outdoor Space:
Pallet couch: Ever wondered how to make a DIY pallet couch? This easy tutorial will show you how to transform used pallets into inexpensive outdoor pallet sofas.
DIY chair plans for the patio or backyard: Learn how to build a DIY patio Chair with these diy patio chair plans that will help to make this project.
DIY outdoor kitchen: These free, DIY outdoor kitchen ideas will help you plan and build a new outdoor space where you can gather with friends and family to enjoy a meal.
Table plans: These DIY outdoor table plans will show you how to build an outdoor dining table, coffee table, end table, serving or grill cart, bar, and more.
3. 5 Seat Outdoor Sectional Furniture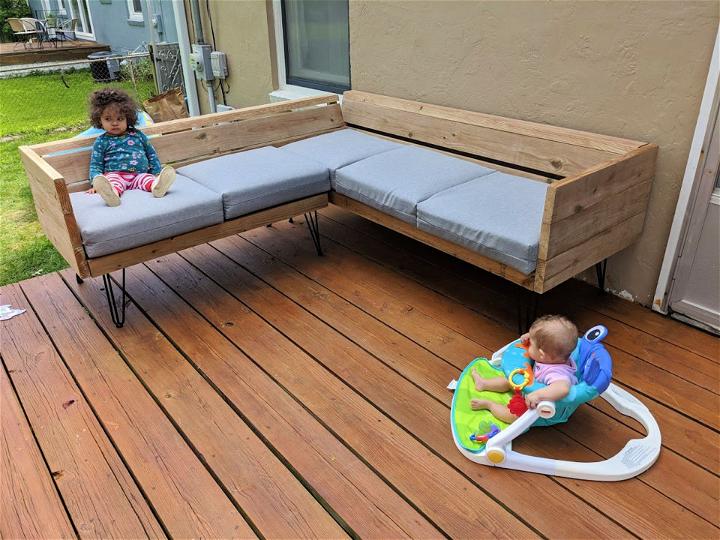 Everyone will keep staring at this outdoor sectional sofa design that stands on the metal hairpin legs. The very well cushioned seats will provide tons of sitting comfort to the user. You need the pressure-treated 2x6s pine wood boards to build this beautiful outdoor sectional sofa, and It will be a big love of all. The best L-shaped 5 seater that will rock for the front porch or deck sitting. The entire sofa is just nothing in construction and will go much easy on your wallet. One of the best DIY outdoor sectional sofas ever built. imgur
4. Ana White Modern Outdoor Sectional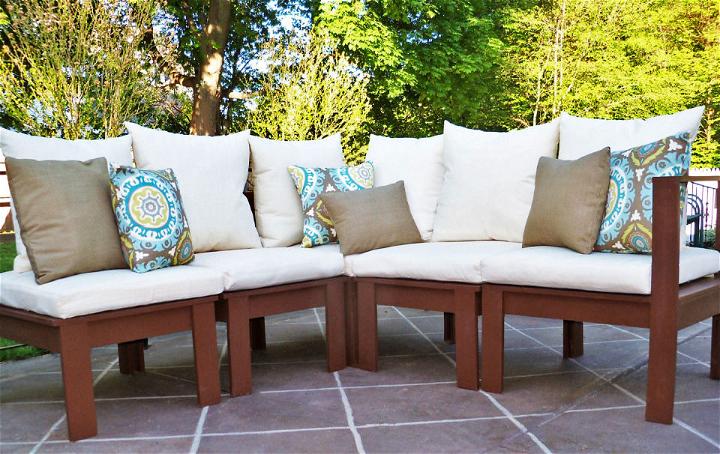 Get here complete plans to build another beautiful and lasting longer outdoor sectional sofa in no time. You will also get detailed diagrams to easily duplicate the given sofa design to expand to any size to provide luxurious sitting comfort easily. You need 2x4s, 2x2s, exterior self-tapping screws, 2x4s, glue, wood filler and sandpaper to build this fetching design of a modern outdoor sectional sofa, will come which ete simply in no time. The whole design is like you have put together 4-5 chairs or seats together. Finish the model with cushion cushions, and that's it. ana white
5. DIY Outdoor Sectional Out of Cedar Fence Planks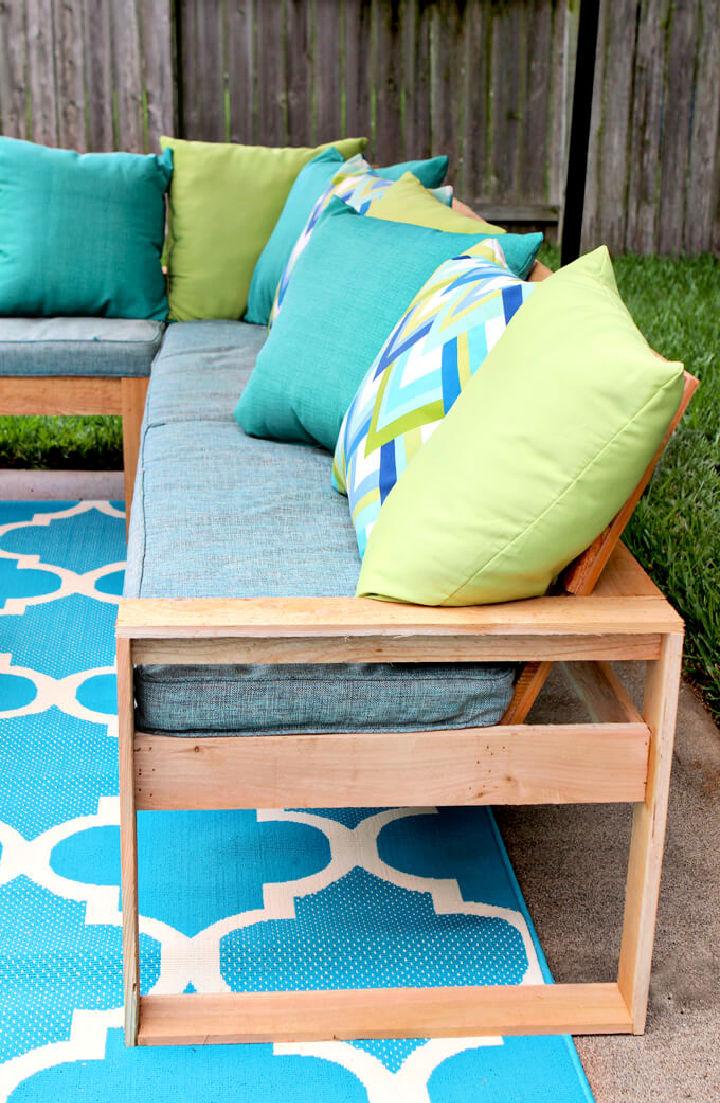 The West Elm-inspired furniture furnishings always cost you an arm and a leg. But you can make the best West Elm furniture knock-offs at home without getting expensive. Get inspired by this West Elm-inspired outdoor sectional sofa that will cost you under $100 and make with cedar fence planks. In other supplies, you need 3 bench cushions, a miter saw, table saw, drill, Kreg jig, nail gun, wood glue, clamps and framing square to build this outdoor sectional sofa. The whole project will be much doable, even for a beginner. It is one of the best DIY sofa projects ever done. grayhousestudio
6. DIY Patio Sectional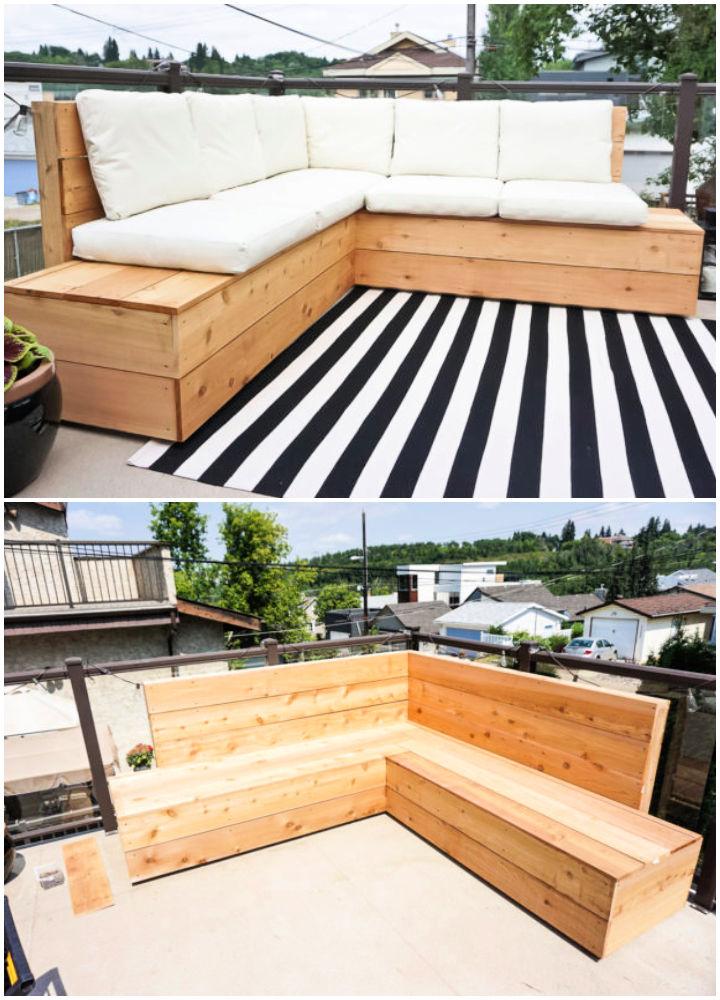 Feel free to duplicate this fetching design of an outdoor sectional sofa that is elegantly beautiful and will surely inspire all the onlookers. The solid block style design is sure to live longer than usual, and you can easily build it even with beginner crafting skills. Go handmade with the 2x4s to build the sectional sofa frame and then fill the frame solid using the 7″ wide cedar wood planks. The final step would be to finish the whole sofa frame with comfy cushions. The sofa will be ideally beautiful for outdoor sitting and entertainment. kristinalynne
Outdoor string lights: String lights and summer just go together like peanut butter and jelly. If you're looking to decorate your outdoor space on the cheap then these outdoor string light ideas will surely help you.
7. DIY L Shape Outdoor Sectional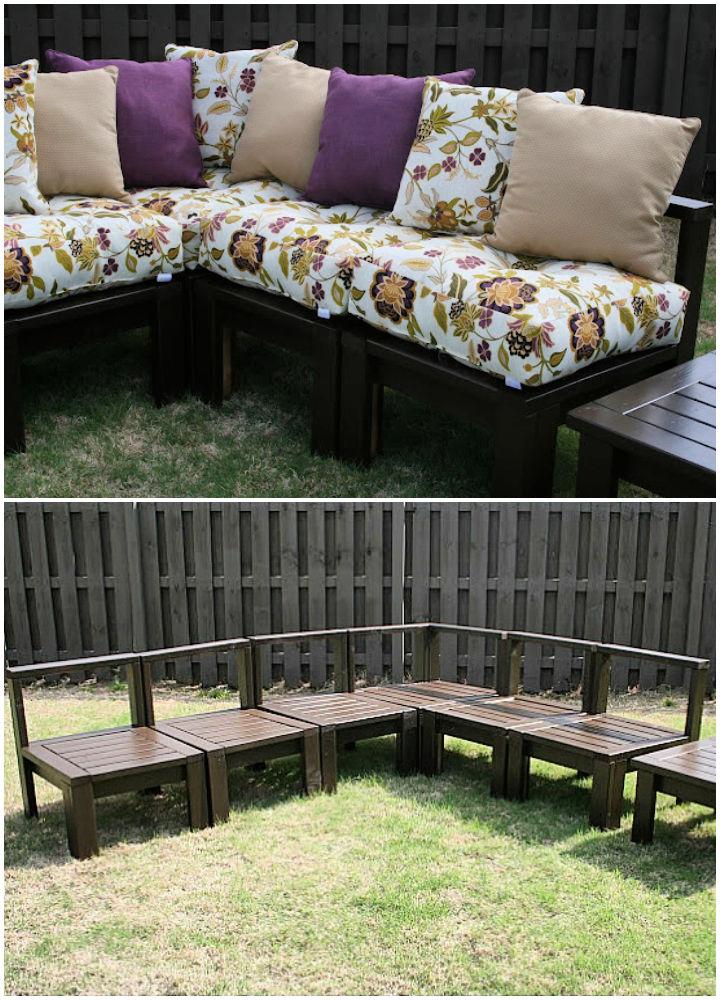 You will love this 5 seaters outdoor sectional sofa that is guaranteed to spice up every patio and outdoor sitting area. The sofa is simple and modern and will provide luxurious sitting comfort to all outdoor lovers. You need 2x4s and 1x4s to build each of the given chairs and then put them all together to gain the L-shaped sofa set. It will be a big love of all outdoor lovers. Use the leftover wood to build the side or central coffee table. Finish the completed chairs with your favorite wood stain or paint and also with custom cushions. One of the best DIY sectional sofas ever built. the36thavenue
8. Build a Restoration Hardware Sectional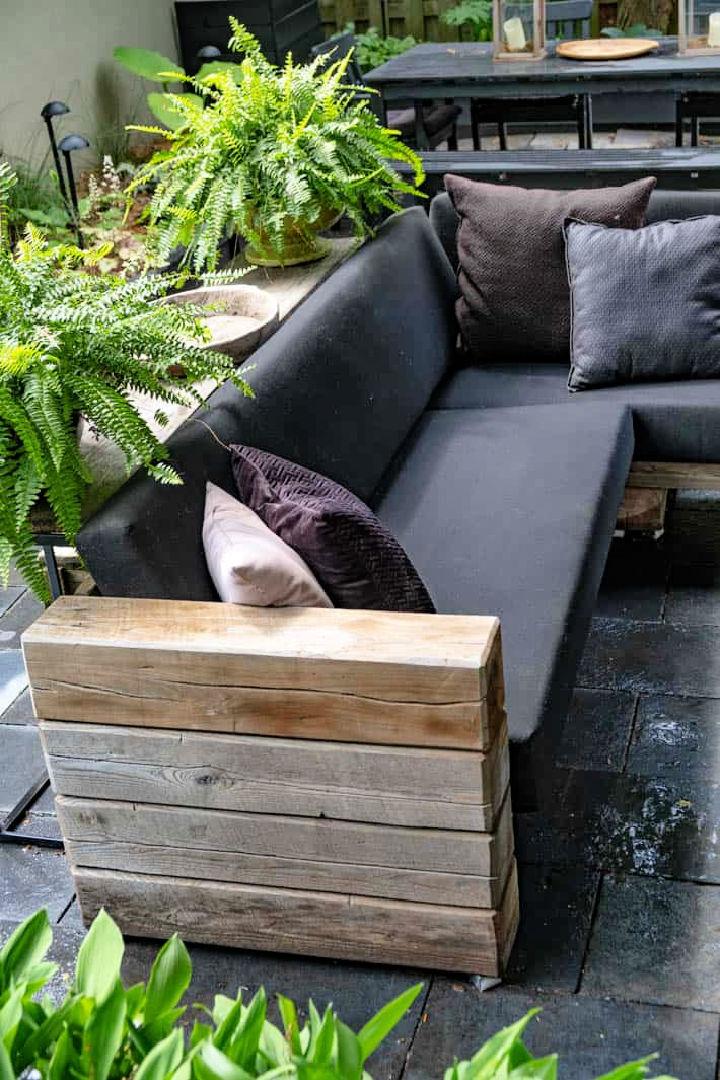 Create an outstanding sitting spot outdoor by building this fabulous restoration hardware sectional sofa, beautifully finished and cushioned. Mainly you need 2x4s, 2x2s, L-brackets, and 6x6s to build. This lasting longer and durable wooden sectional sofa will bring tons of grace and visual attractiveness to any of your outdoor. This sofa comes with a lovely rustic look and impresses with the modern appeal that comes from the comfy cushion or seat mattress. The sofa is a little low, and you can expand it to any size by adding extra seats while using extra wood. theartofdoingstuff
9. DIY Sectional Sofa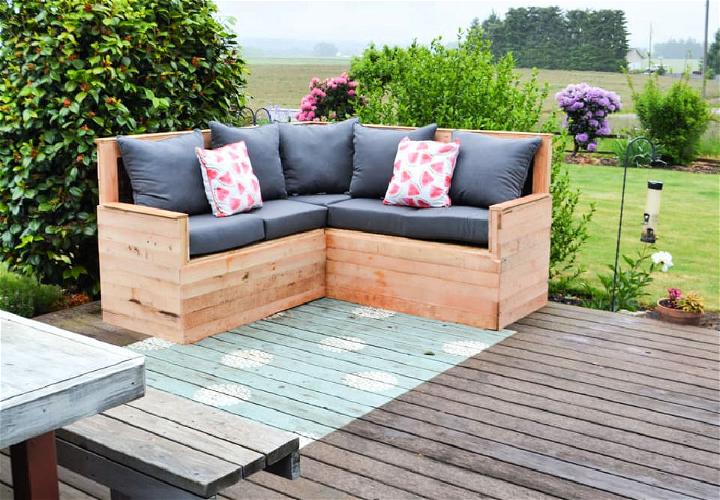 Jazz up your deck or patio with this DIY 6'x6′ outdoor sectional sofa looking solid with the block style design. The whole design impresses with the blank tone of wood and matches beautifully with the wooden deck. Finish the seats with custom foam cushions to enjoy ultimate sitting comfort. The whole diy patio sectional project is more than easier to build, and free provided instructions and free plans will make your work a lot easier and quicker. All intermediate crafters can try building this sectional outdoor sofa, and it will never get out of style. You need pine wood flooring, plywood and custom wood boards to do this project. learn kregtool
10. DIY Outdoor Sectional Couch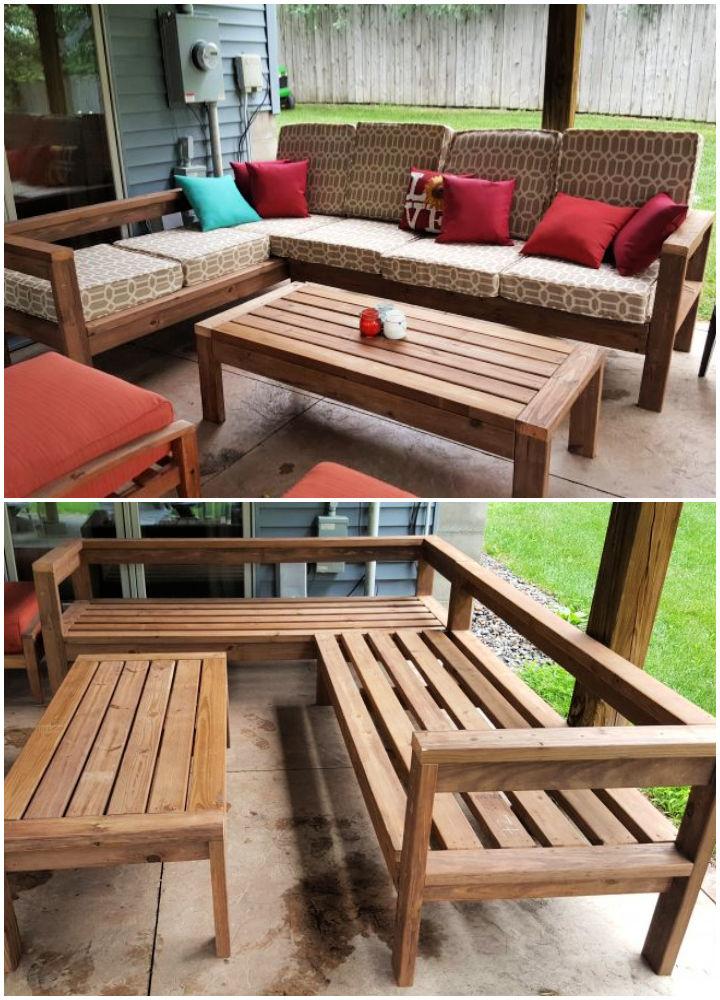 There is simply no end to sectional sofa designs, and check out here another one that will grab one's attention. You will keep on looking at the slatted seats, and the solid design dimensions of this sectional outdoor sofa will spice up all the patios and decks. Build the sofa frame using 2x4s, and then fill the frame solid with slatted arrangements of wood planks. Finish the completed set with custom wood stain or paint, and don't forget to cushion the whole sectional sofa. Adding a matching coffee table in the center will complete the look of this entire sofa set. kindasortasimple
11. DIY 2×4 Outdoor Sectional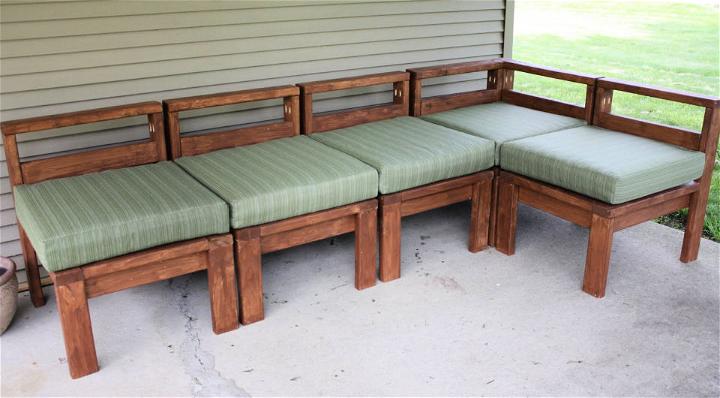 You can build a corner couch for your patio, front porch, or deck area by building separate and individual chairs. So, you will get here free plans and instructions about how to build those separate and sectional sofa chairs that you can combine or put together to make a sectional outdoor couch with desired seating capacity. You need 2x4s to build each chair. Yes, plan the 2x4s to build the backrest, seat, frame and armrests of the chair. Just in case you want a separate sectional couch, put together all the chairs in L-shape and combine their backrests by filling them solid while using extra wood. morelikehome
12. Outdoor Plywood Sectional with Cushion Storage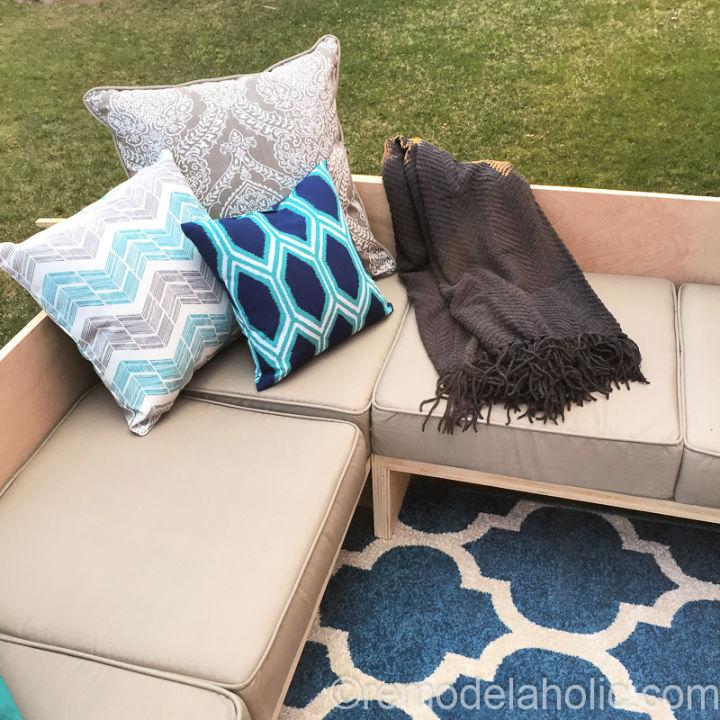 It will be a great pleasure also to sit on this outdoor sectional couch that is too stylish to bring a big wow factor to your patio and any outdoor deck. To build this L-shaped sofa, you need birch plywood, redwood, Kreg jig pocket screws, wood glue, deep patio cushions, and many woodworking tools to duplicate this outdoor sectional sofa. The whole project is much doable for all beginners and will surely bring tons of grace and visual stimulation to any outdoor sitting space. The design is much achievable even for a beginner. remodelaholic
13. Build Your Own Outdoor Sectional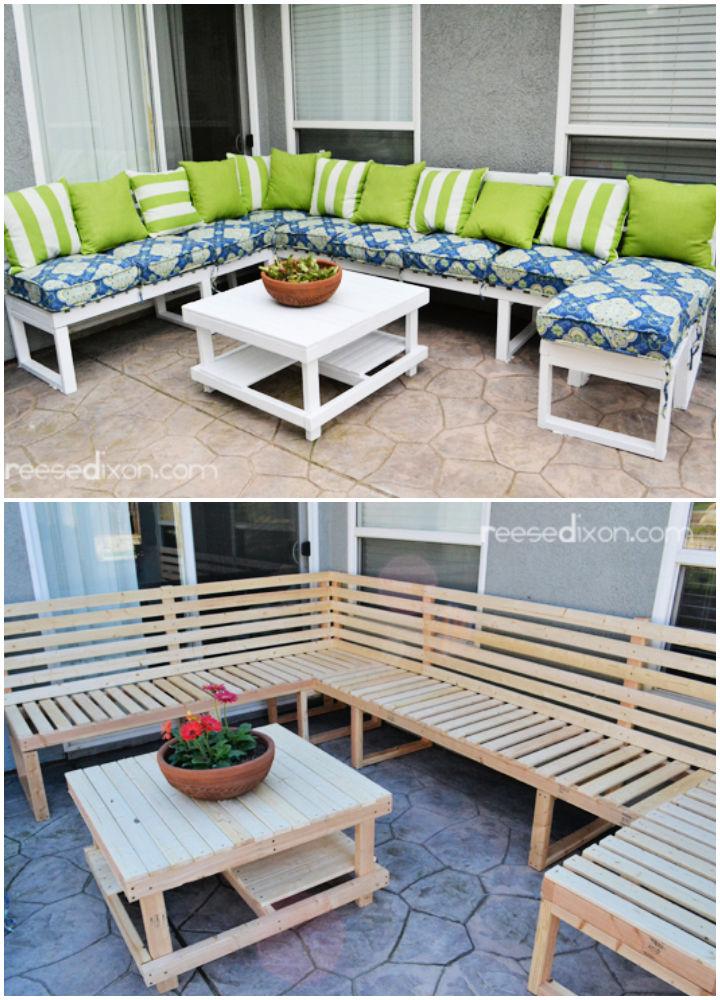 Get here free plans to build another stylish and lasting longer outdoor sectional sofa. The project starts by building the entire sectional sofa design first using the 2x4s or 2x3s. Next, fill the design with the slatted arrangements of 1x3s, which will not take much time. Finish the completed model with custom seat cushions and mattresses and start to live the outdoor luxury. You have the freedom to build any particular size of this outdoor sectional sofa, and it will never get out of style. Use the leftover wood planks to build the central coffee table, and that's it. Here the whole set is painted in white. reesedixon
14. Wooden Sectional for Patio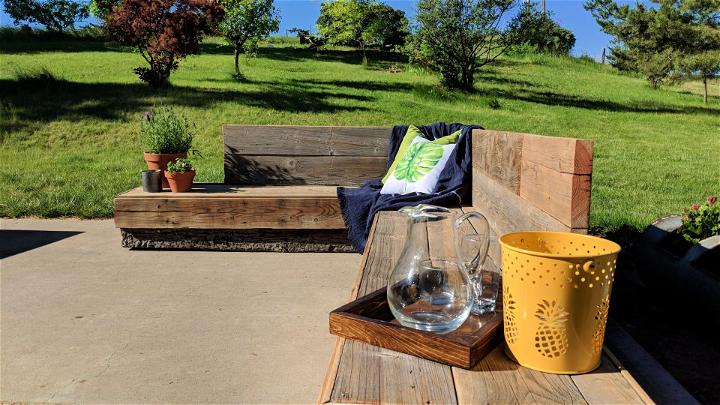 Don't want to get out of the natural rustic theme while adding custom seating plans to your outdoors or patios? Then time to build this solid block-style sectional sofa to any of your targeted outdoor. It is pretty rustic but can be finished with a modern cushion for added visual grace. The design is achievable, and every outdoor lover will drool over this rustic yet modern design of patio sectional. You can even use the old and recycled wooden boards to duplicate this sofa design. First, build the frame and then fill it solid. myhappysimple
15. Build a Pallet Sectional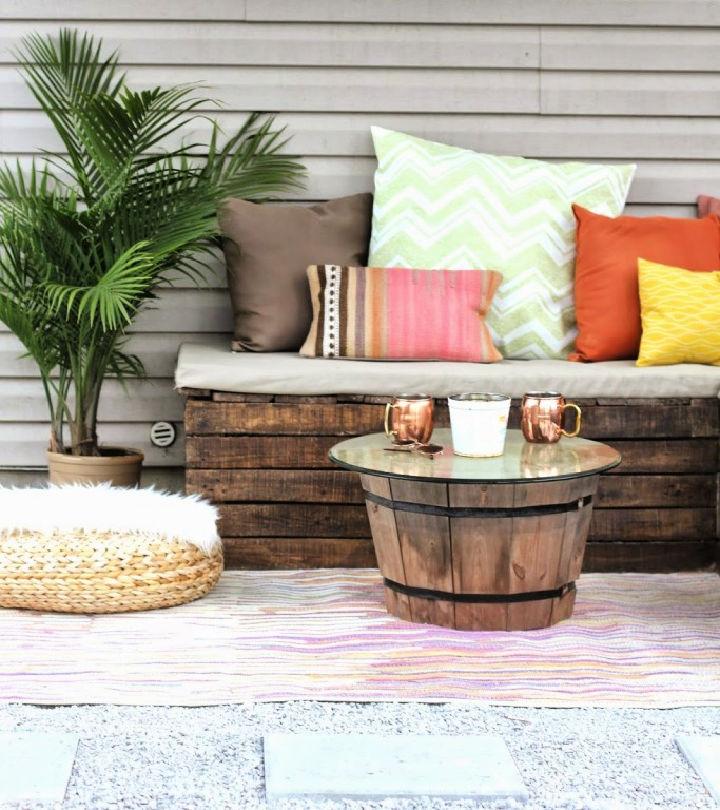 Time to build the no-cost wooden outdoor sectionals at just the drop of the hat. Yes, the idea is to reuse the old pallets to build this outstanding-looking outdoor sectional. Depending on the quality and quantity of pallet wood, you can expand this pallet sectional to any particular size. The whole sectional sofa will never get out of style, and you will love the way it will grace up your patio. You will get here guides to make the seat cushions also. The best part is that the seats are hinged and can be opened to reveal the built-in storage space. One of the best DIY sectional sofa that everyone can build in no time. liketheyogurt
16. DIY Outdoor Couch

Organizing your outdoor patios can be an expensive affair, especially when you buy furniture for space. So, you can save tons of your costs by learning to build your beautiful diy patio sectional and sofas. You will get here instructions to build a three-seater outdoor couch, will rock for making gossip outdoor. The design comes with a solid wooden frame, and you can make the seat cushions too at home. Finish the wood frame using custom paint and wood stain for added visual grace???one of the best DIY couches to make at home in no time. The entire project is much doable for all beginners. loveandrenovations
17. Outdoor Sectional Sofa Plan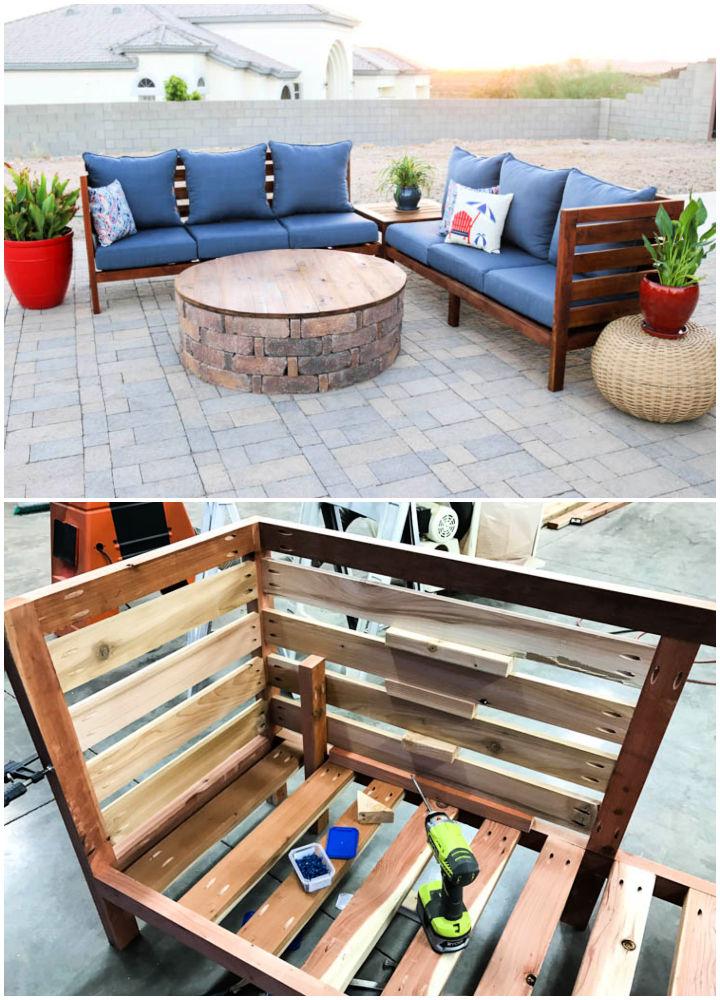 Maybe you are sorting out the best ways to build a lasting longer, and a stylish outdoor couch that will amaze the outdoor audience. The couch is built for a brick floored patio where a brick round table with a wooden round top has also been installed in the center. The couch comes with a little low height for extra luxurious sitting comfort. Use the 2x2s and 2x4s to build the overall frame of the sofa. They fill the frame solid with the slatted arrangements of slats. Next, you can add the cushions and finish the whole frame using custom wood stain and paint. addicted2diy
18. Modular Outdoor Sectional Seating

This modular outdoor seating will get ten out of ten in style, comfort, and design. A brilliant sectional sitting sofa is built with luxurious black seats and a solid wooden frame, and this creates a great focal point to the targeted patio area. Go handmade with the 2x3s to build the overall frame for the sectional and then fill it up solid using the 1x4s. Assemble the whole frame and design using the pocket-hole joinery system so the no hardware will be visible. Complete the design by giving a nice wood finish and also by adding luxury cushions of choice. shanty 2 chic
19. Build Your Own Deck Sectional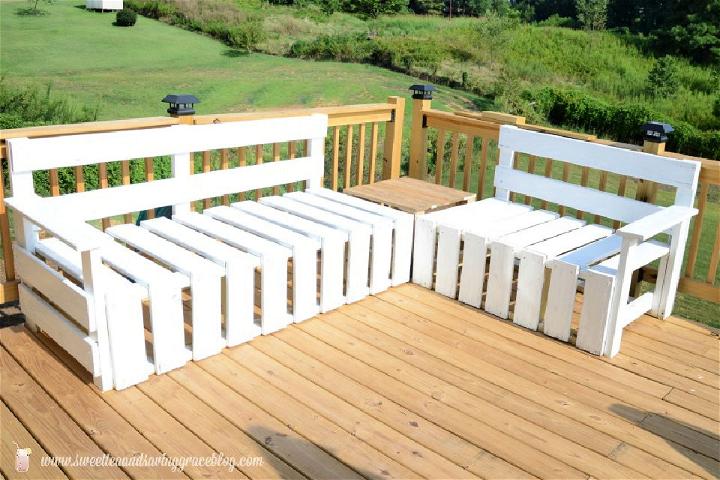 Accomplish your deck sitting space needs by building this sectional deck sofa appearing in the chic white yarn color. This sectional sofa matches beautifully with the slatted wooden floor and back fence walls, and it provides a side or end table right in the corner. Again use the 2x4s to build the design frame and then use custom decking boards and back supports to complete this outdoor L-shape couch design. Finish the whole cushion with your favorite kind of mattress. The project is much doable for all, even for a person who is a decided beginner. sweetteaandsaving
20. Armless 2×4 Outdoor Sofa Sectional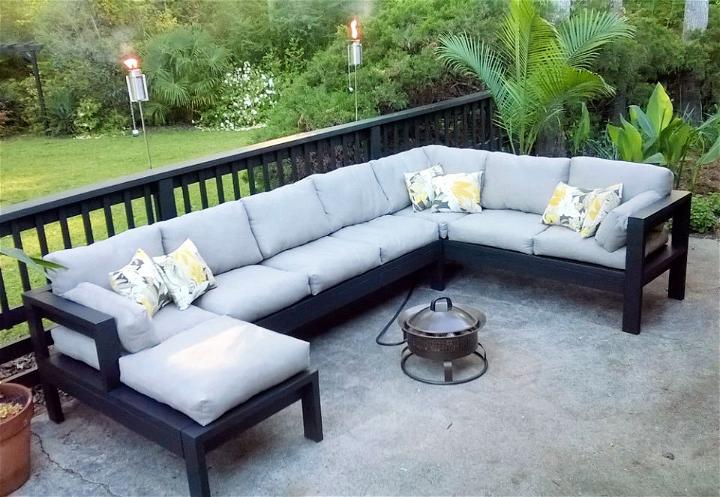 Being a beginner does not mean that you can build outdoor sitting furniture. With the help of these free plans, you can build a modern patio couch. The design of the couch is matched with the deck fence wall that is painted in black. The light grey cushioned seats look just adorable and create a luxurious appeal for this entire outdoor sofa. Complete this couch sitting plan with a coffee table in the center for summers and a firepit in the center for chilly evenings. Use the 2x4s to duplicate this entire model of the couch. The bigger seat is 72″ long, 27″ tall and 25″ wide. ana white
21. DIY Outdoor Seating Sectional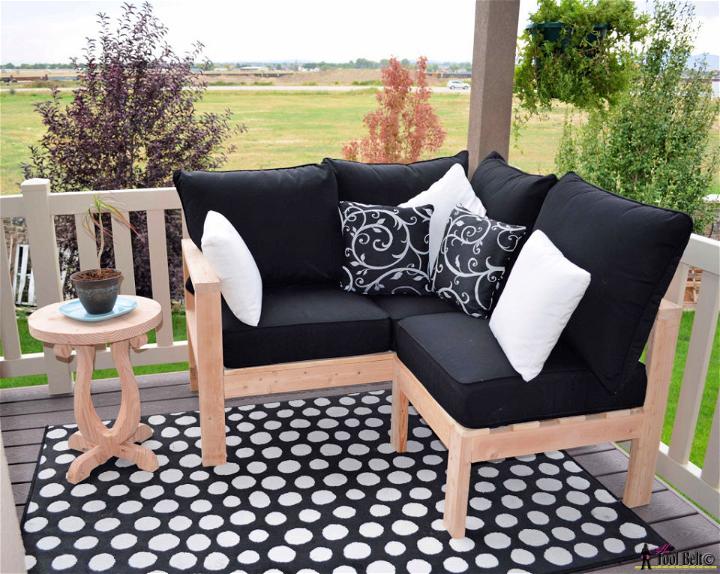 Building outdoor furniture pieces were never so easier. Get here the ultimate hack to build stylish outdoor seating. Build both the individual seats and the sofa seats with 2x4s and 1x4s, which will not take much time. Build the couch and seat frames using the 2x4s and then use the 1x4s to fill the frames solid to get the seat and backrest surfaces. So, if you have a stock of 2x4s and 1x4s, you can easily clone this outdoor sofa set and never get out of style. Going with the pocket hole joinery system is recommended for this project. hertoolbelt
22. DIY Outdoor Sectional On Budget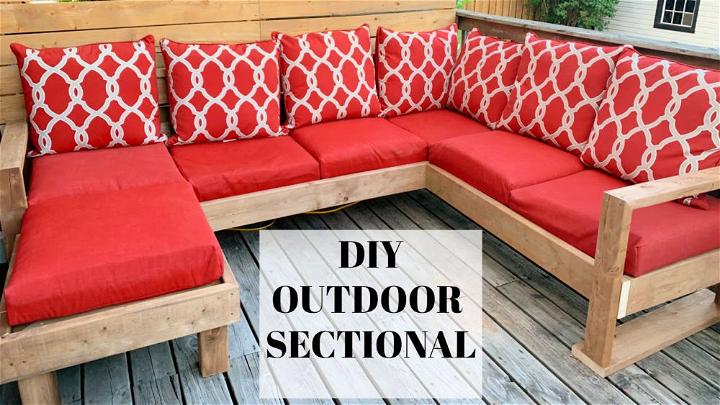 Puzzling at how to build an outdoor sectional? Get here the complete video guides and instructions to build one that will make you live the outdoor luxury for sure. This sectional is custom-built and fits best to the targeted corner, and you can also build a custom size to fit best to your space. You need 2x6s, 2x4s, screws, circular saw, tape measure, drill, square and pencil to duplicate this fabulous-looking sectional sofa. It will never get out of style. The entire couch will be a big outdoor entertainer and will be more than easier to build also. youtube
23. Build A Backyard Sectional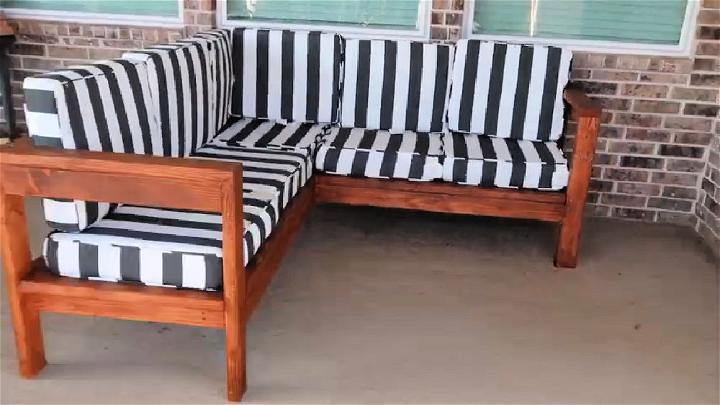 Lacking backyard sitting space? Learn here to build a backyard sectional couch that will help accomplish all your outdoor sitting desires. The whole project will be a great inspiration for all garden and backyard lovers, and you will love how it will serve the backyard fun and entertainment. Just plan a stock of recycled wooden boards like 2x4s and 1x3s or 1x4s to build this one of the best solid and modern designs of outdoor sectional.?? The zebra-lined seat cushions create a stunning appeal to this entire backyard couch. The couch will rock for outdoor parties and part-time outdoor sitting. Give the entire couch frame a cushion wood finish to prevent early weathering. youtube
24. DIY Outdoor Cedar Sectional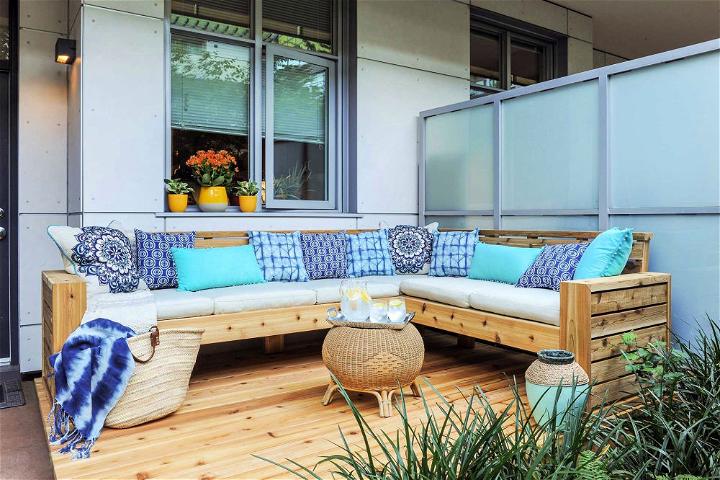 Want to build a professional-style outdoor sectional that will amaze and impress the outdoor audience? Then, learn to build a one at home from scratch. The design is extra large and will rock 5-6 people sitting. The whole frame appears in the blank wood of and natural-colored seats go just amazing with the frame of this sectional outdoor couch. Inwood supplies, you need 2x6s, 2x4s, 6x6s, 2x3s and 1x4s to build this lasting longer and beautiful looking outdoor sectional. It enchants with the big design and fine dimensions, and adding a cushion, will bring luxury to this awesome couch design. youtube
25. DIY Outdoor Sectional For Under $200

Here you will get completely free plans for an outdoor sectional that will cost you less than $200. The project starts by building the frame, and then you can build the surfaces. Plan the 2x4s to build this entire sofa. Also, pick your favorite seat cushions for this couch that provide ultimate grace and sitting comfort to this awesome-looking sectional couch. You can adjust the length and height of this sectional when building a custom patio space. The best one-arm 2×4 outdoor sectional sofa makes a tremendous handmade gift to all outdoor lovers.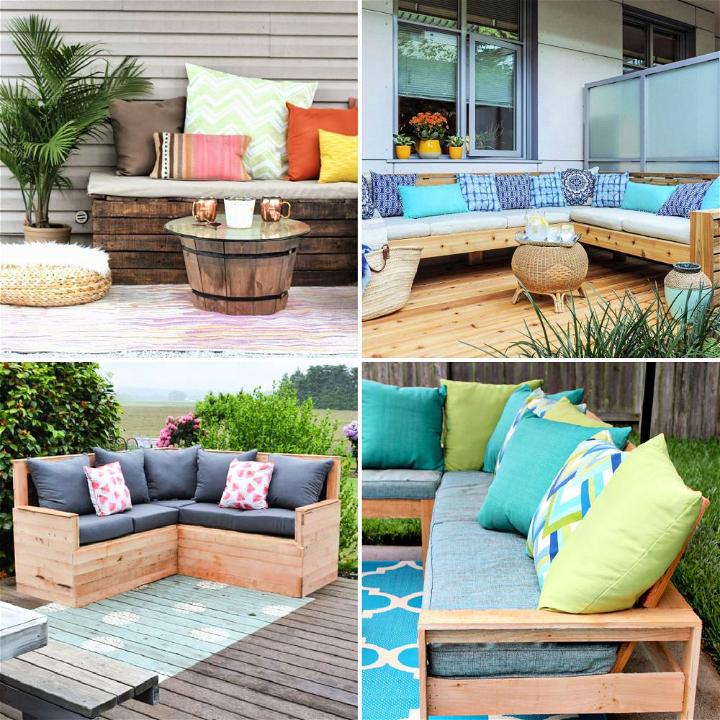 Conclusion:
Intending to transform your backyard, garden or any patio into a place of luxurious comfort and never-ending entertainments, this summer season? Then it should start by organizing your patios and other outdoor spaces. So, this episode will teach you about how to build lasting longer and more durable outdoor sectionals. Hence, saving tons of your outdoor furniture costs. So, look through these diy outdoor sectional plans one by one and learn to build all sorts of outdoor sectionals you have been buying expensive.
These diy outdoor sectional plans here will share complete step-by-step instructions, detailed diagrams, complete material lists, tool lists, and hardware lists to make you easily build any targeted model you have been fallen in love with. So, taking a quick tour of these DIY outdoor sectional projects will surely make you an expert in outdoor sofa making.