Are you thinking about having the perfect and comfortable DIY outdoor bench plan in your home garden, patio or backyard? If yes, you are at the right post. It may look hard or tricky to make a bench yourself. But it's not too much difficult as you think. You can easily build an outdoor bench in your home garden with these 25 free DIY outdoor bench plans include simple instructions, a material list and a pdf guide. Choose the right diy outdoor bench plan that suits your needs and according to your sitting requirement. With these outdoor bench ideas, you don't need to invest higher in store-bought benches. You can make them yourself without breaking your bank.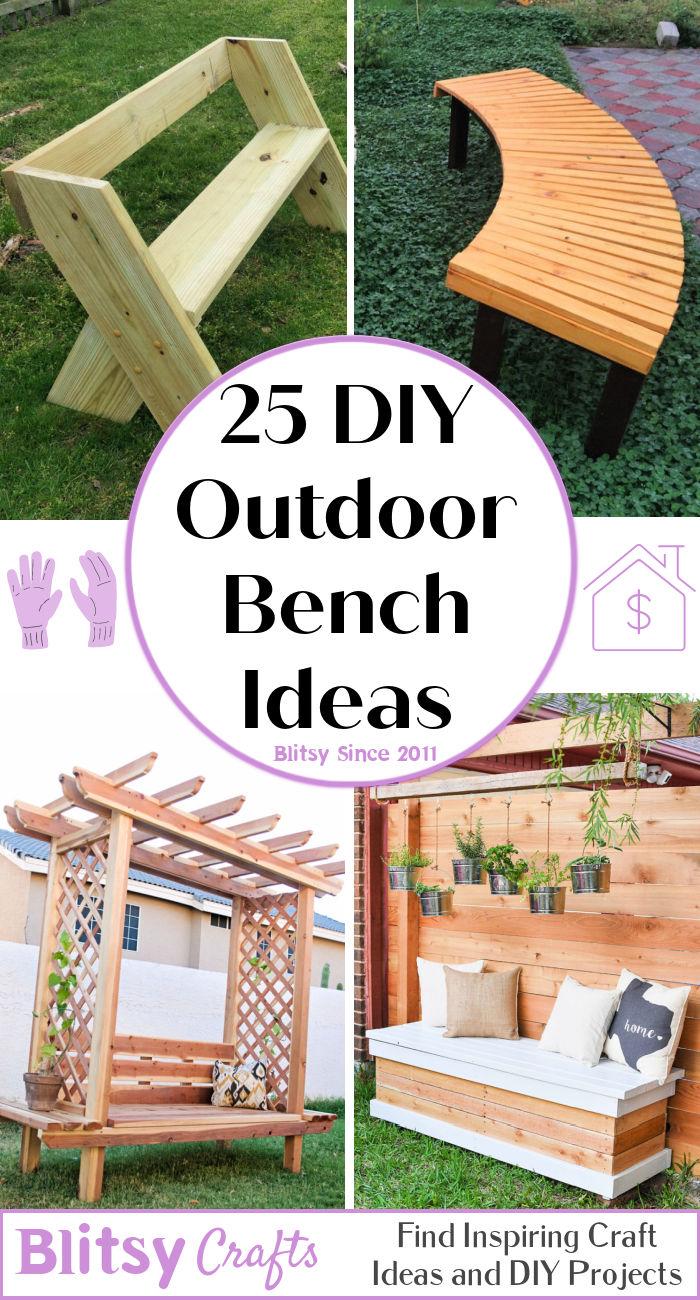 Excitingly! You can even consider the scrap and thrift store materials to use in these DIY outdoor bench plans. It's totally up to you. Go to make your own outdoor bench with whatever you have in your craft collection! Let's start seeing each diy garden bench to choose the most suitable for your desirable version of the outdoor bench plan.
1. DIY West Elm Knock Off Bench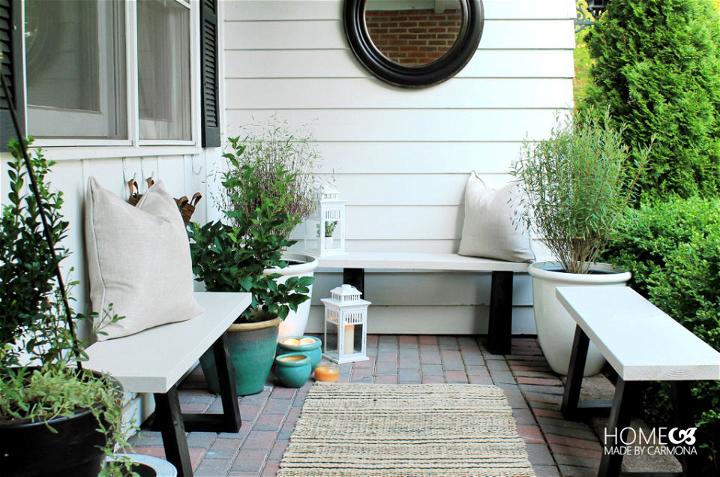 Instead of buying the expensive and overrated outdoor furniture pieces from West Elm catalogs, create them yourself with affordable supplies. Excitingly! You can build your own West Elm outdoor bench using treated lumber, studs, construction screw, black, and any other desirable paint spray. Furthermore, it would be best if you had a polyurethane, miter saw, power drill, measure tape, screwdriver and painting tools of your choice. Start making this West Elm bench with specified cut-treated lumber. You wouldn't believe it, but this bench will not cost you more than $15. homemadebycar
2. DIY Outdoor Bench With Planters

DIY a versatile and modern-looking outdoor bench with planters using available wood supply. To make this bench, you will need timber from your own garden, wood screws, wood stain, polyurethane, wooden dowels, wood glue, miter or manual saw, sander and plants with soil. This outdoor bench plan is all about drilling, screwing and gluing the cut timber. One more thing, don't stain the planter from inside for the ideal growth of plants. instructables
3. Farmhouse Style DIY Patio Bench With Crates Storage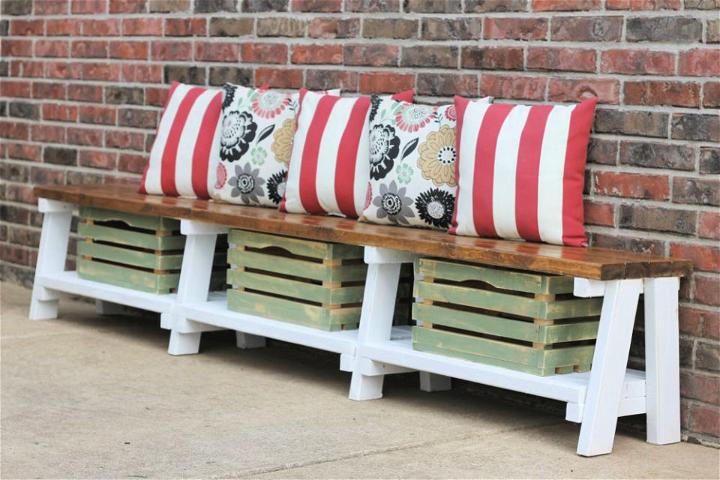 Do you have crates and any other wood scrap in your thrift collection? If yes, nothing would be a better option than using these scrap supplies to create an outdoor bench for perfect sitting. Moreover, it would be easier for the beginner to work on this project because of the easy handling of crates and wood scrap. Apart from these two supplies, you also need a mitre saw, wood glue, wood screws, tape measure, wood stain, paint of your choice, power drill and upholstery couches. lifestorage
4. Small Outdoor Bench Plan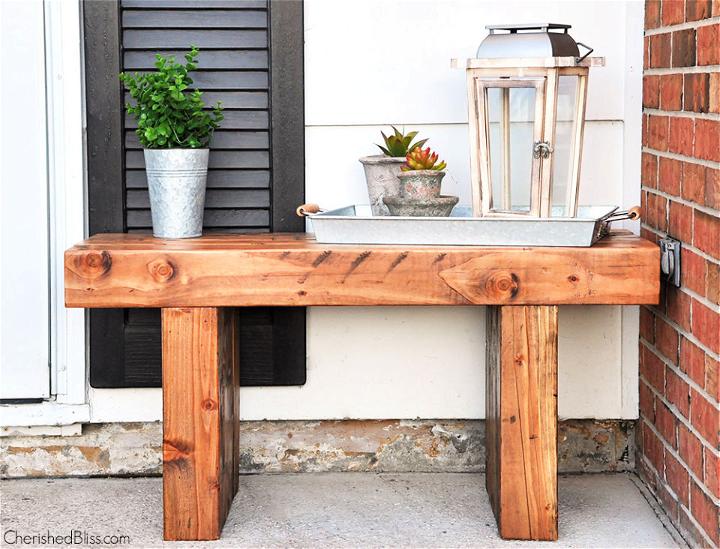 A small outdoor bench plan is an ideal option for placing the gardening items and also for sitting. DIY this bench super easily using 4*4 wooden boards, Kreg jigsaw, wood screws, glue and pocket hole screws. Excitingly! The difficulty level for making this bench is easy, even for beginners. However, it would be better for the professional wood-crafter to get their hand on this project with a specific plan and design. ryobitools
5. Building A DIY Garden Bench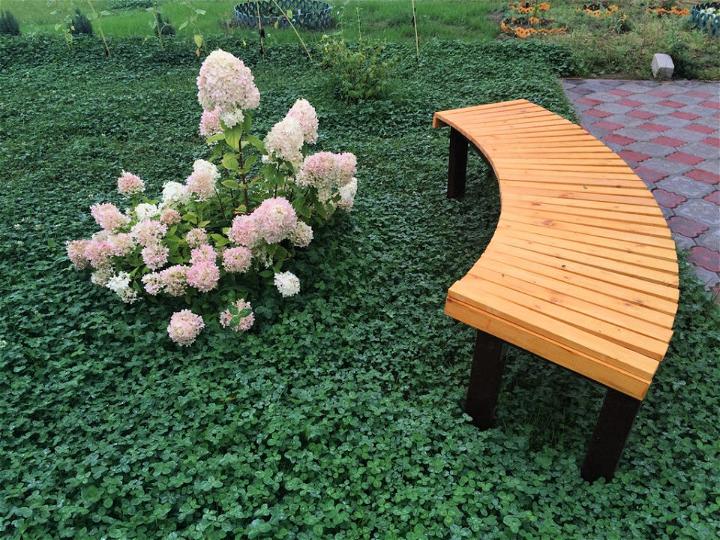 DIY a versatile and good-looking DIY garden bench to complete the perfect look of your home garden. The best thing is to make the small benches first and join them to get a half-circle shape garden bench. To make this half-circle garden bench, you can use seat boards, wooden legs, connecting boards, wood stain or paint, miter saw, wood screws and paper scotch. Not only for the garden, but this semi-circle bench is also a viable option for your patio. instructables
DIY Projects for Your Outdoor Space:
DIY outdoor chair: Learn how to build an outdoor chair with these full video tutorials, and downloadable diy outdoor chair plans to make this project a breeze.
Chaise lounge plans: Learn how to build a chaise lounge chair with these free lounge chair plans.
DIY outdoor kitchen: Get our best ideas for outdoor kitchens, including charming outdoor kitchen decor, backyard kitchen design, and pictures of outdoor kitchens.
Outdoor table plans: Love dining outdoors? Then a cool outdoor dining table is what you need! Let's build a DIY outdoor table for your garden and patio dining area.
6. Simple Outdoor Wooden Bench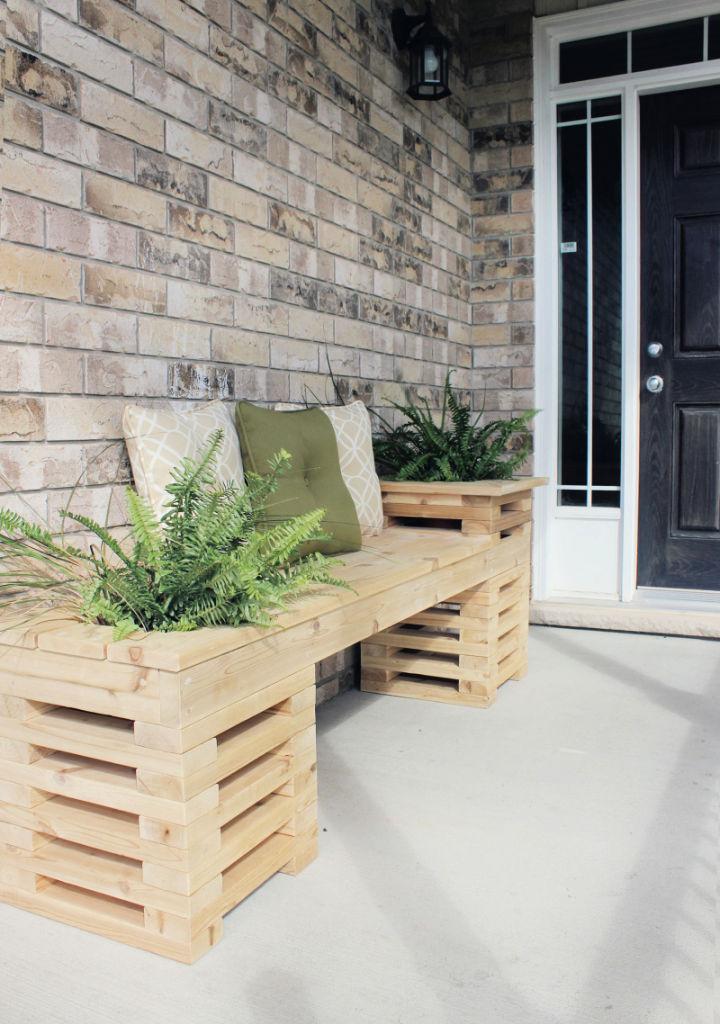 Make a simple and quick DIY outdoor wooden bench with crates and wooden pallets. You don't need to buy the new pallets and crates; use recycled shipping pallets or wooden scrap for this budget-friendly project. Moreover, you also require pocket hole screws, wood glue, screws, power drill, circular saw and soil for planters. Complete the overall look of this stylish wooden bench with planters with upholstery couches. One more thing, consider the cedar posts if you don't have pallets. brittanystager
7. Build Your Own Curved Fire Pit Bench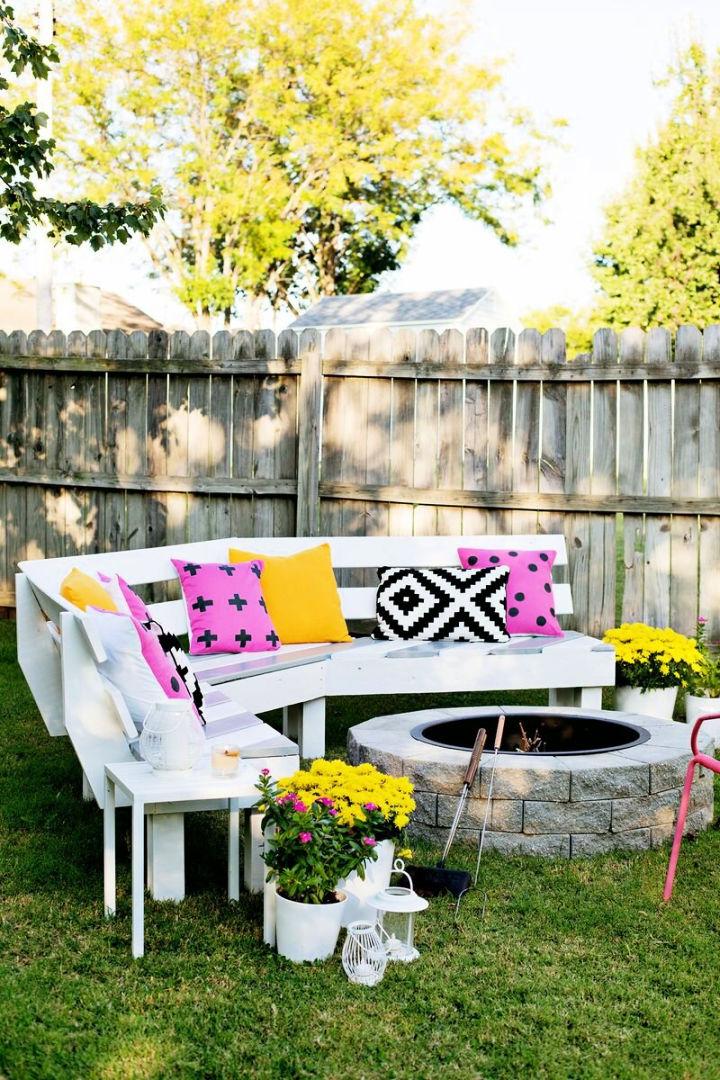 Enjoy a cold evening while sitting together with your friends or family members around a firepit on a comfortable DIY outdoor bench. This curved fire pit bench is an ideal option for all-season to enjoy outdoor sitting and gatherings. The supplies required to work on this bench plan are pressure-treated lumber, screws, lag bolts, miter saw, speed square, drill and sandpaper. The most important thing is figuring out the heck to start work on this aesthetic-looking bench with a designed plan. abeautifulmess
8. Build Trashed DIY Park Bench With Back

Happy weekend! It's time for the crafter to raid their thrift collection or store to find some treasure supplies. Do you have wood trash or scrap in your collection? If yes, consider it for making a garden-style trashed park bench. The other materials you will need to work on this plan are bolts, screws, power drill, saw, wood stain, desirable paint and grit sandpaper. A lot of sanding will give this trashed park bench a smooth and final finishing look with more versatility. instructables
9. DIY $20 Outdoor Patio Bench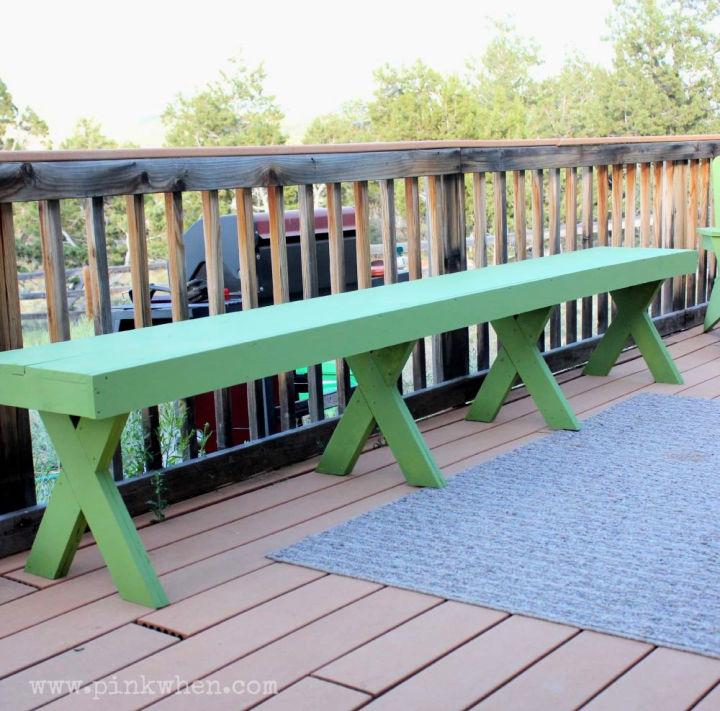 The summer season is all about spending time and chilling outdoor. Make your outdoor sitting or gatherings more comfortable with a DIY outdoor bench plan. You can build an affordable under $20 patio bench super easily with a specifically measured or cut wooden board, wood supply for legs, woo screws in different sizes, mitre saw, power drill, wood glue and paint spray of your choice. This project is all about assembling the cut wood pieces using screws. Lastly, paint or wood stain will complete the smooth and final look of this patio bench. pinkwhen
10. DIY Outdoor Bench with Arbor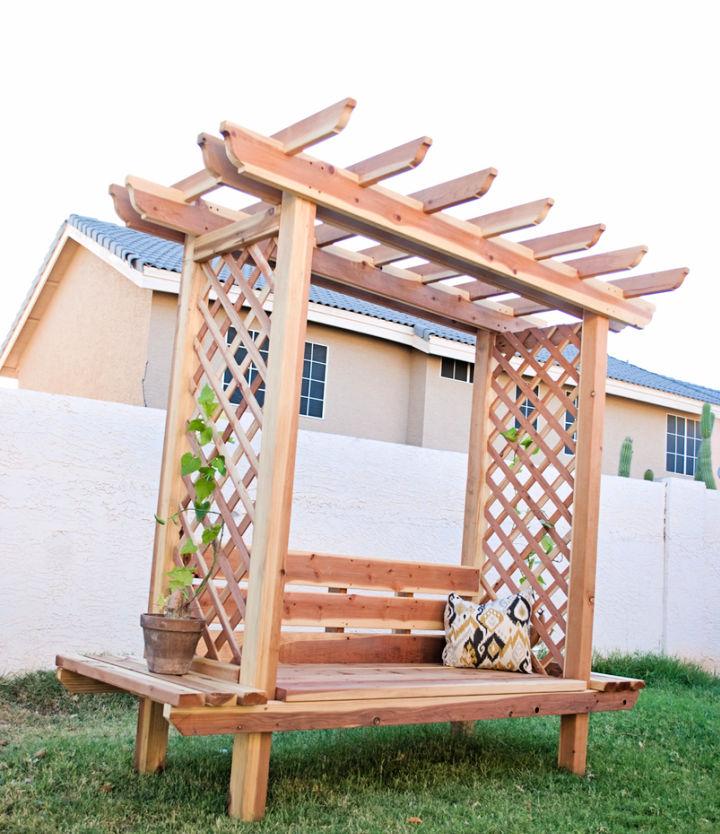 Build a versatile and impressive Arbor outdoor bench effortlessly by involving your friend with yourself. You can make this bench easily using cedar posts, exterior screws, pocket hole screws, drill bit, miter saw, Kreg jig, spade square and sander. Keep in mind, measurements of all dimensions according to specifications are really important to get your hand on this inspiring piece of outdoor furniture. ana white
11. Wood Bench Project For Outdoors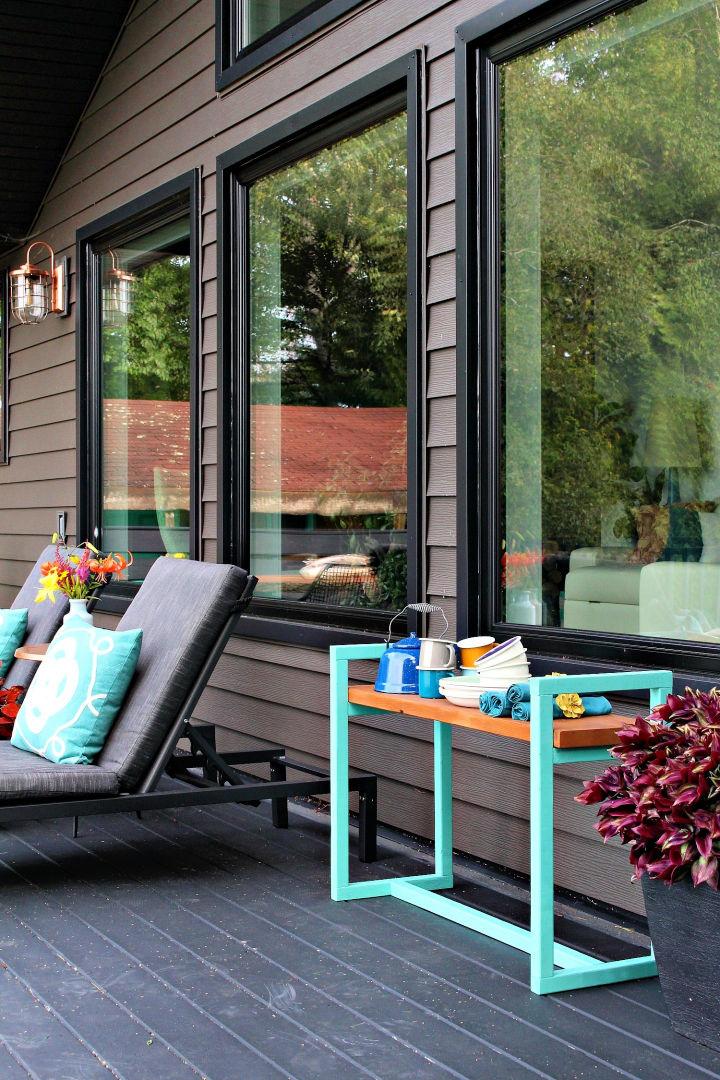 Are you looking for modern and versatile outdoor wood bench plans? If yes, this wood bench plan is an ideal option to consider, especially for beginners. They can work on this project effortlessly and efficiently with framing lumber, dimensional lumber, miter saw, belt sander, wood screws, wood glue, drill, exterior paint, wood stain and deck screws. Excitingly! You can make the benchtop with a larger piece of treated lumber that is already cut according to your specifications. danslelakehouse
12. Chimney Block Benches

Recycle and reuse chimney blocks to make a new style outdoor bench. It would be easier for you to work on this project with recycled supplies most affordably. So, if you also have useless wooden chimney blocks in your collection, use them for building this productive outdoor bench. The materials and tools you will need to work on this DIY are chimney blocks, pressure-treated wooden boards, deck screws, exterior paint, power drill, clamps, paintbrush and band clamps. instructables
13. Outdoor Patio Bench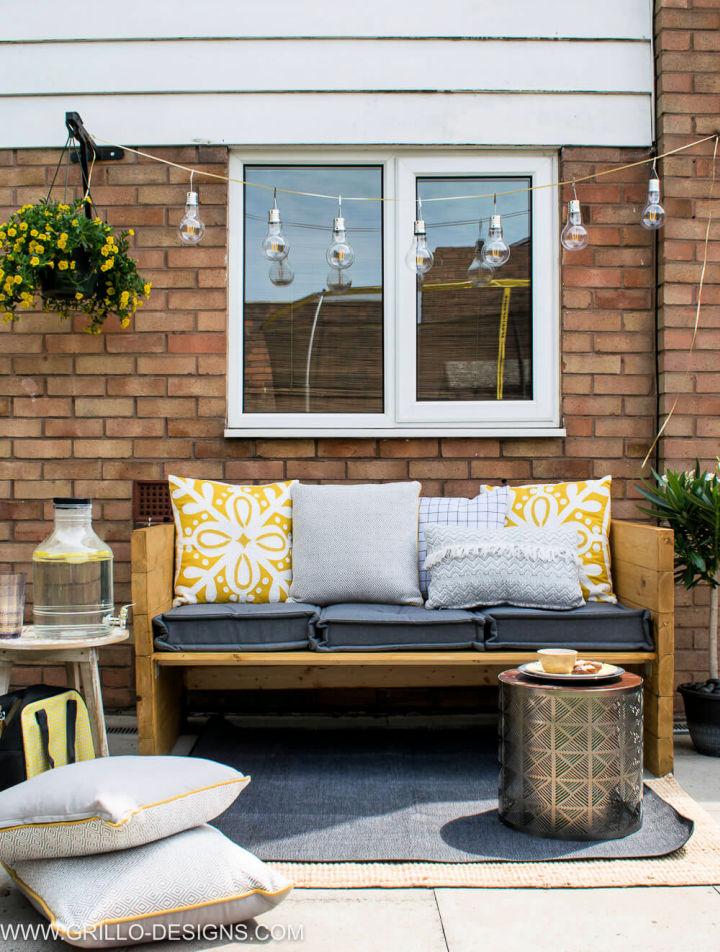 Makeover and upgrade your patio by adding new pieces of furniture. Well, you don't need to buy expensive furniture from wood stores, especially when you can make them yourself by following this list of patio benches ideas. DIY a beautiful and striking outdoor bench for your patio using treated timber wood, wood glue, L shape brackets, lacquer, sander, power drill, saw and upholstery couches. Additionally, you can change the look and overall design of this bench plan desirably but specify the dimensions. grillo designs
14. Upcycled Chair Bench For Your Backyard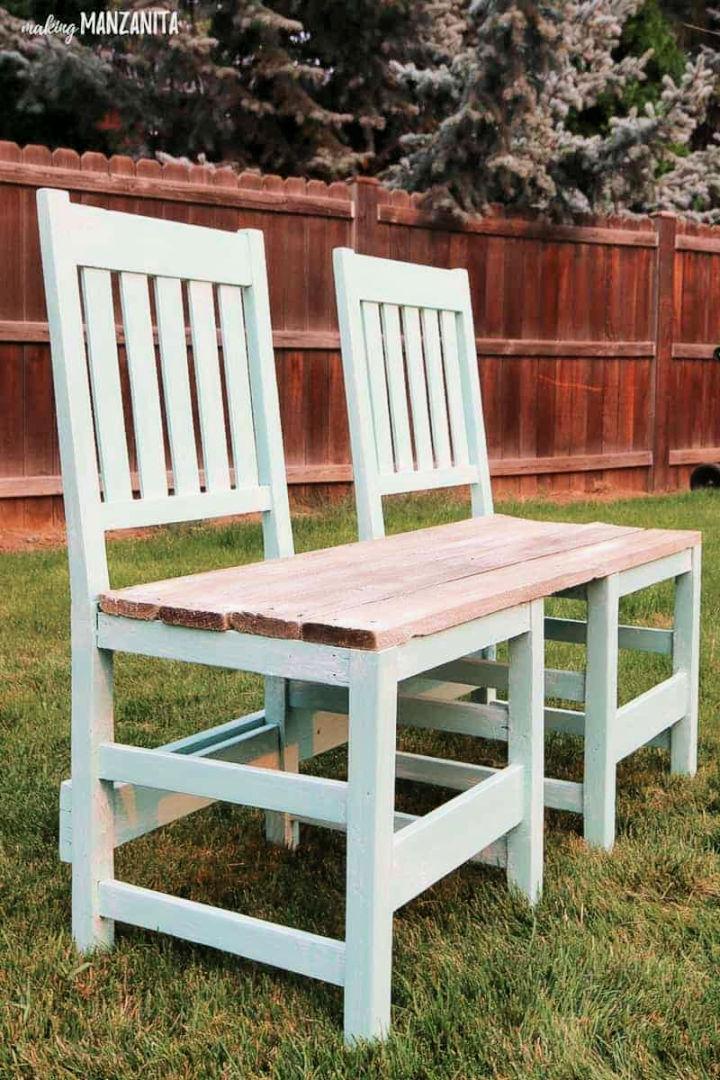 Sometimes you can find the treasure out of trash. Similarly, you can use the trashed and useless chairs from your thrift collection for building a comfortable outdoor bench. Making this garden bench with recycled chairs is easy if you start with an appropriate bench plan. So, you will need a hand sander, repurposed chairs, pallet wood for the bench top, nails and hammer. Gather all repurposed supplies and clean them thoroughly before using them for this transformed bench plan. makingmanzanita
15. DIY Flower Garden Bench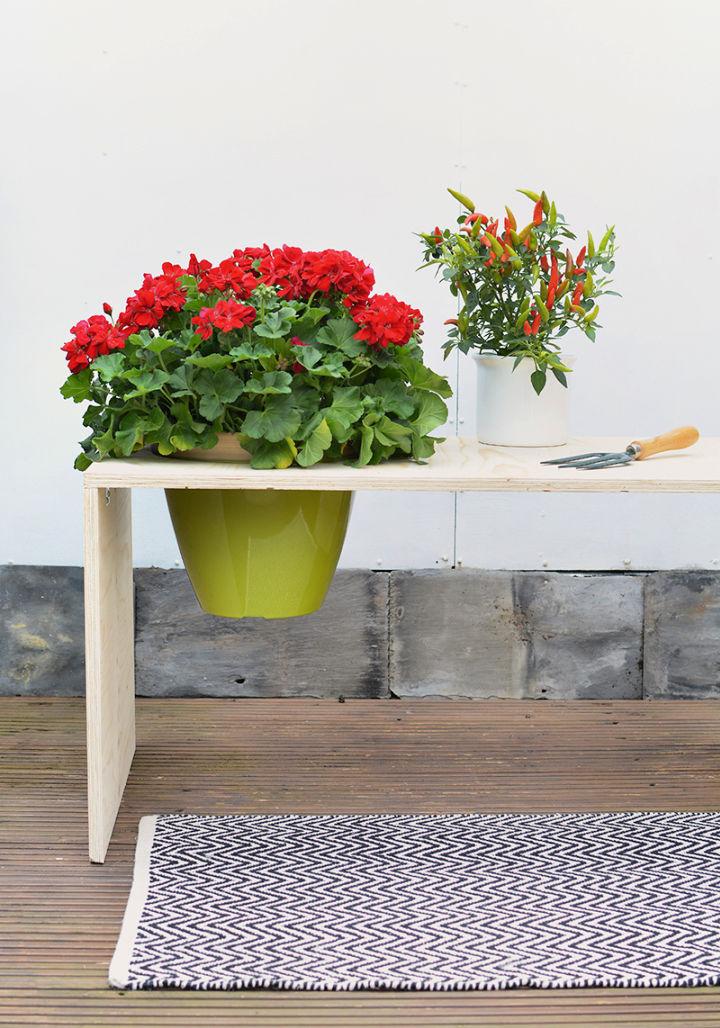 Are you looking for a space-saving outdoor option to plant your favorite flowers? If your answer is yes, work on this DIY flower bench. Excitingly! You can use this bench for sitting and planting flowers at the same time. Make this flower bench effortlessly with plywood boards, wood screws, wood glue, power drill and miter saw. You don't need to paint the boards to enjoy the original rustic look of this flower bench. burkatron
16. How To Make An Outdoor Bench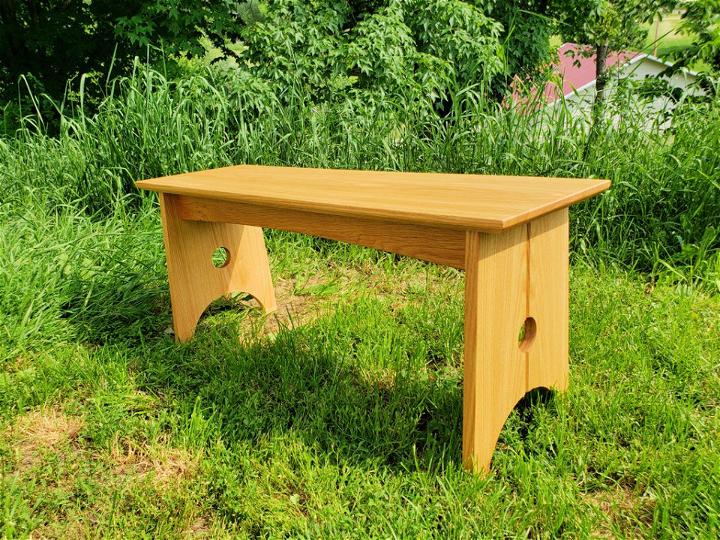 Making an outdoor bench is not hype. Indeed, everyone can build and work on a DIY outdoor bench plan easily. To make this bench, you can use Oak plywood, saw, wood glue, wood screws, wood stain, wood filler and power drill. The best thing about this project is that you can use the same oak boards to customize the side supports or legs of the outdoor bench. instructables
17. Make Outdoor Bench with Back

In these winter holidays, place the working on a DIY outdoor bench plan at the top priority of your crafting list. You should consider this project to get a comfortable sitting space in your home garden. To work on this bench, come up with the right plan and affordable supplies to get your hand on this outdoor bench with your back. So, use pressure-treated lumber, oak, exterior wood screws, miter saw, drill, tape measure, spade square and circular saw. rogueengineer
18. Simple Timber DIY Garden Bench PLan

Style your home garden with a rustic-looking yet modern style DIY garden bench using simple lumber. Well, working on this outdoor bench is not messy at all. You can get your hand on this chic-style bench easily with affordable supplies. To build this bench, you can use lumber, lag screws, washers, power drill, circular saw, spade Square and tape measure. Additionally, 4*6 lumber would be the ideal option to consider for this simple outdoor bench plan. familyhandyman
19. Easy DIY Outdoor Bench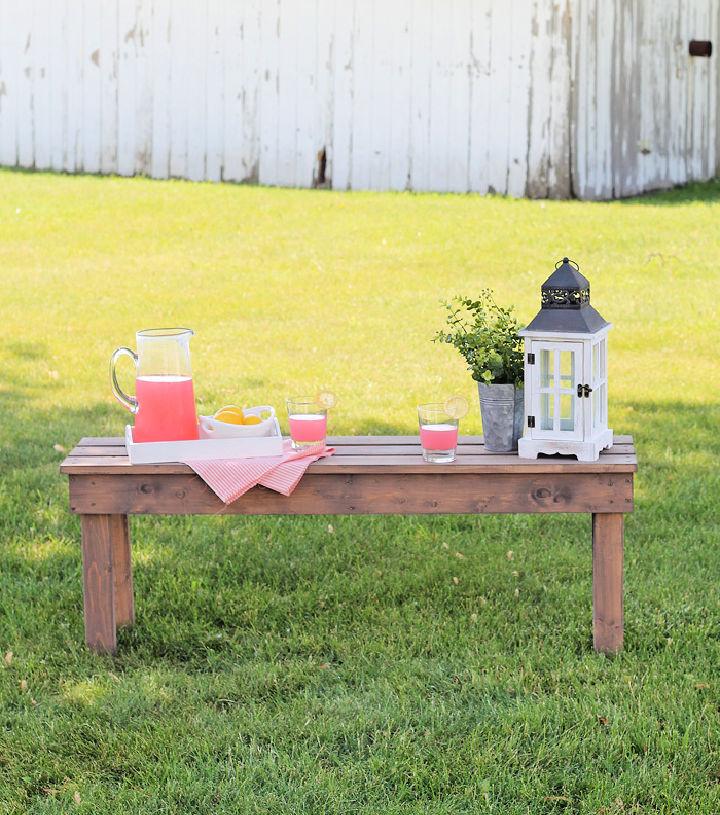 Enjoy working on your art project while sitting in your garden on a comfortable and modern outdoor bench. DIY this outdoor bench yourself instead of investing higher on traditional store-bought benches. You can build this bench using cut wood pieces, deck screws, clamps, drill bit, and paint spray. Moreover, you can also use the wood sealer or lacquer to save this outdoor bench from environmental effects. lovegrowswild
20. Modern Outdoor Patio Bench Design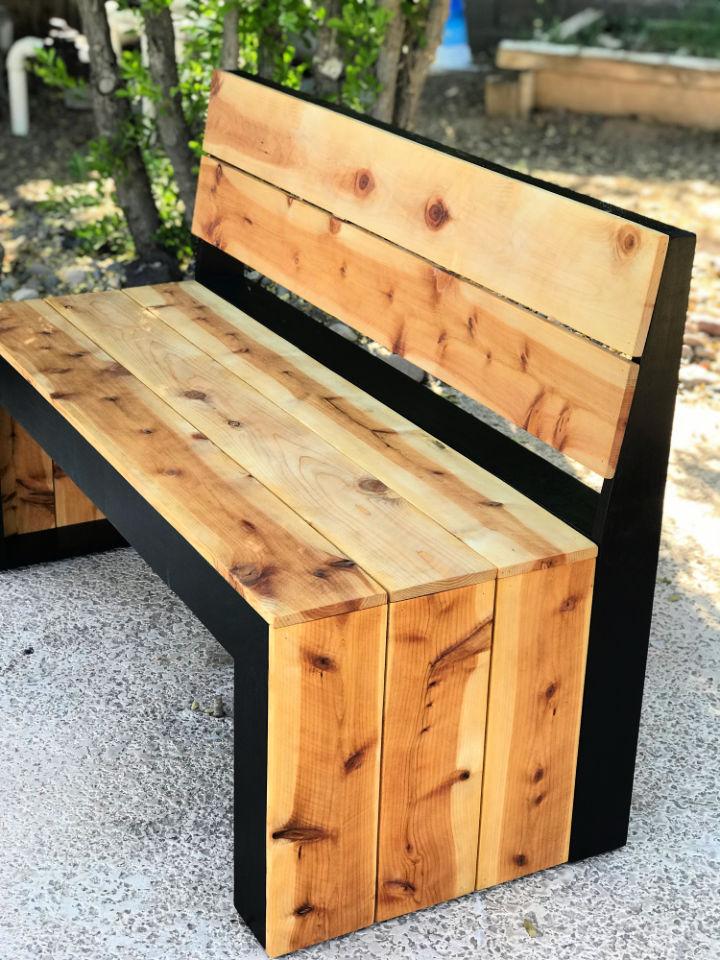 One of the best free outdoor bench plans that give a hype and more stylish look to your home garden with this modern design outdoor bench. Make this versatile bench using cut wood, hand saw, jigsaw, wood glue, pocket hole screws, drill, sander, and wood stain in a desirable color. Moreover, this outdoor bench may look difficult to create because of its modern design, but beginners can also work on it with less effort and time. Moreover, you can also consider the lumber to keep this project more budget-friendly. theawesomeorange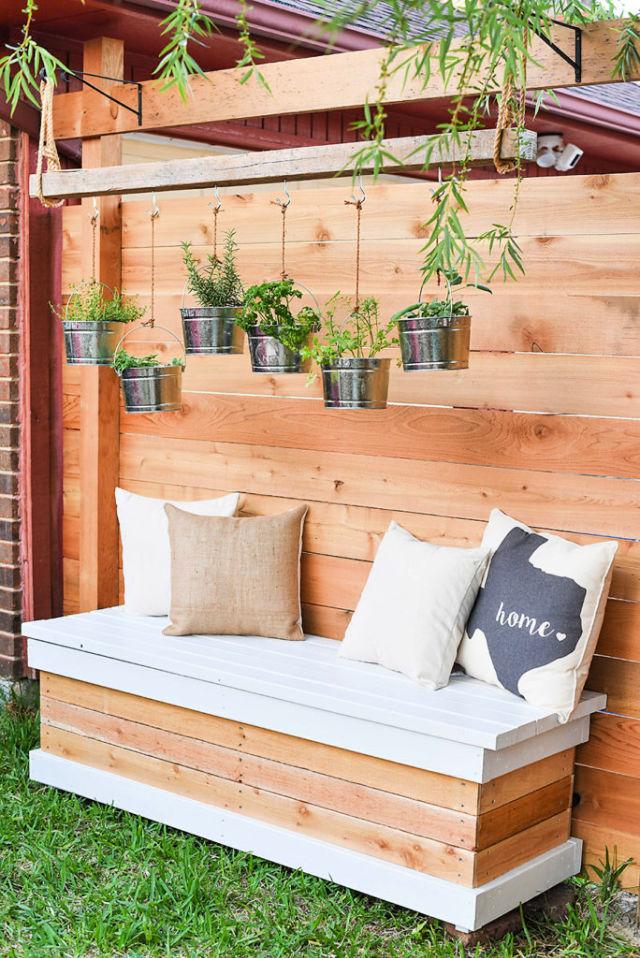 Add more twist to your outdoor pieces of furniture by making this versatile and productive outdoor bench with secret storage. For this, you can use this hidden storage for organizing or placing your important stuff while chilling outdoor. To make this multipurpose outdoor bench, you will need 2*4 wood boards cut in specified measurements, wood screws, T-strap hinges, screws, mitre saw, power drill, white paint and impact driver. ourhandcrafted
22. Outdoor Privacy Bench With Concrete Seat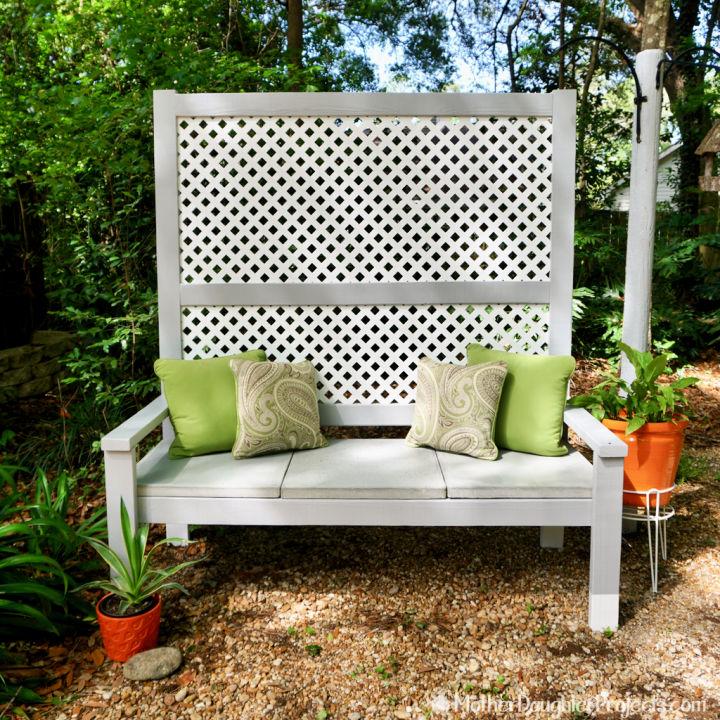 Modify and DIY an outdoor bench plan according to your needs and priorities. You can enjoy your privacy and alone sitting while chilling with other family members in the home garden with this outdoor privacy bench. Build this bench seat using a concrete mixture. Moreover, you will also require a plastic lattice for privacy, pressure-treated lumber, wood filler, wood primer, pocket hole jig, circular saw, orbital sander, spade square, sandpaper, and tie brackets. instructables
23. Scrap Wood Outdoor Bench Seat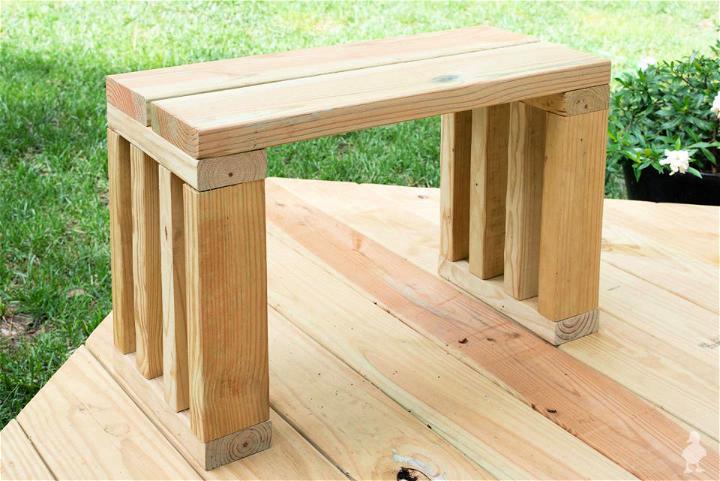 Add more sitting space to your home garden and outdoor with this scrap wood outdoor bench seat. This scrap wood seat is made up of 2*4 wooden scrap and deck boards. Interestingly! You can build this seat in a day once you have got all supplies on your hands. To make this seat, you require scrap wood, deck boards, screws, miter saw and desirable exterior paint. Additionally, you can create this seat in a specified length and width according to your needs and current wood scrap. uglyducklinghouse
24. Metal Outdoor Bench

Repurpose or reuse craft metal from your thrift and leftover collection to make a versatile and rustic-looking outdoor bench. You can use the craft metal as the back support of the outdoor bench. Apart from a repurpose craft metal, you will also need lag bolts, wood screws, woodcut for benchtop, wood glue, circular saw, clamps, wood stain and power drill for this DIY outdoor bench plan. You would surely love the final look of this turned-out outdoor bench. southernrevivals
25. Build A Corner Bench With Built In Table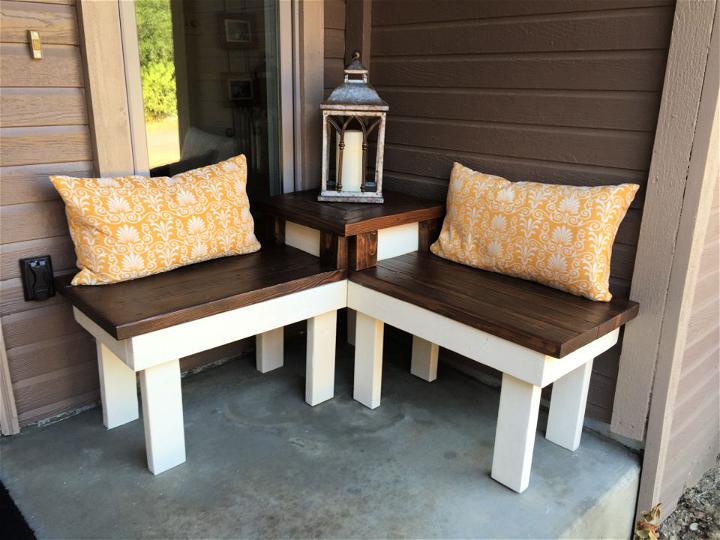 Give your true home vibes like a home with modern style and DIY pieces of furniture. You don't only need to focus on the indoor home decor but also outdoor. If you are looking for a unique piece of furniture to boost the outdoor look, this corner bench with a built-in table plan is for you. DIY this decor furniture using cut wood, wood screws, pocket hole screws, Kreg jig and power drill. remodelaholic
26. DIY L-Shape Patio Bench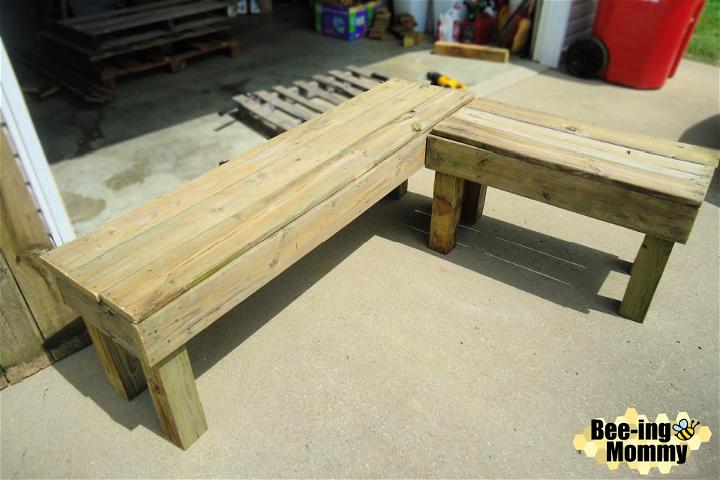 We all are familiar with L shape benches in the gardens. But have you ever thought about making this bench for outdoor or your home garden? If not, the weekend is the right time to consider this DIY to uplift your outdoor decor. Build this L-shaped bench with cut wood, wood screws, sander, hammer, nails, wood stain, and circular saw. Enjoy partying together with your family while having a more sitting place with this outdoor bench! bee ingmommy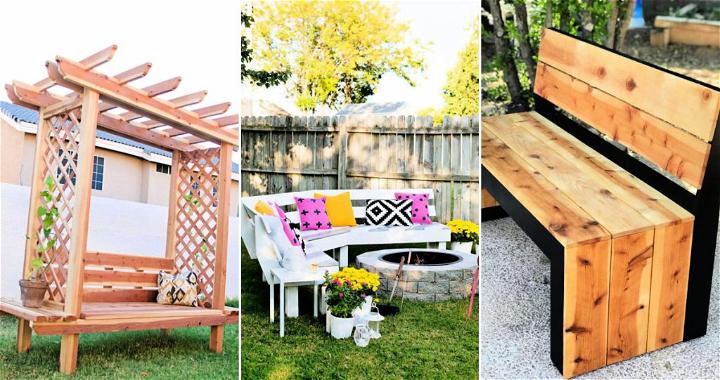 Conclusion:
Indeed, all the mentioned above FREE DIY outdoor bench plans are truly inspiring and impressive from all perspectives. But you still have to consider the right one and most suitable diy garden bench plan according to your needs. So, you can enjoy a better and relaxing outdoor sitting place without stepping out of your budget. Hopefully, you will enjoy and have to work on all DIY outdoor bench plans for your home garden!