Even though cats are indoor pets, they love to enjoy some time outside roaming freely here and there. For this reason, you can build an outdoor cat shelter, for which we have 25 fun and easy DIY outdoor cat house plans compiled below. We all know that pet furniture dominates the market. Now, there are multiple DIY cat houses that you can find in the market, but making it yourself at home will give you the liberty to customize it in your own way, even if you are not a professional at woodwork! These outdoor cat house plans are a great way to cozy up your four-legged furry friend and help them relax in it after a long day of binge eating and playing around. So unleash the creativity in you and get crafty with your imagination by making a nice and comfy place for your cats.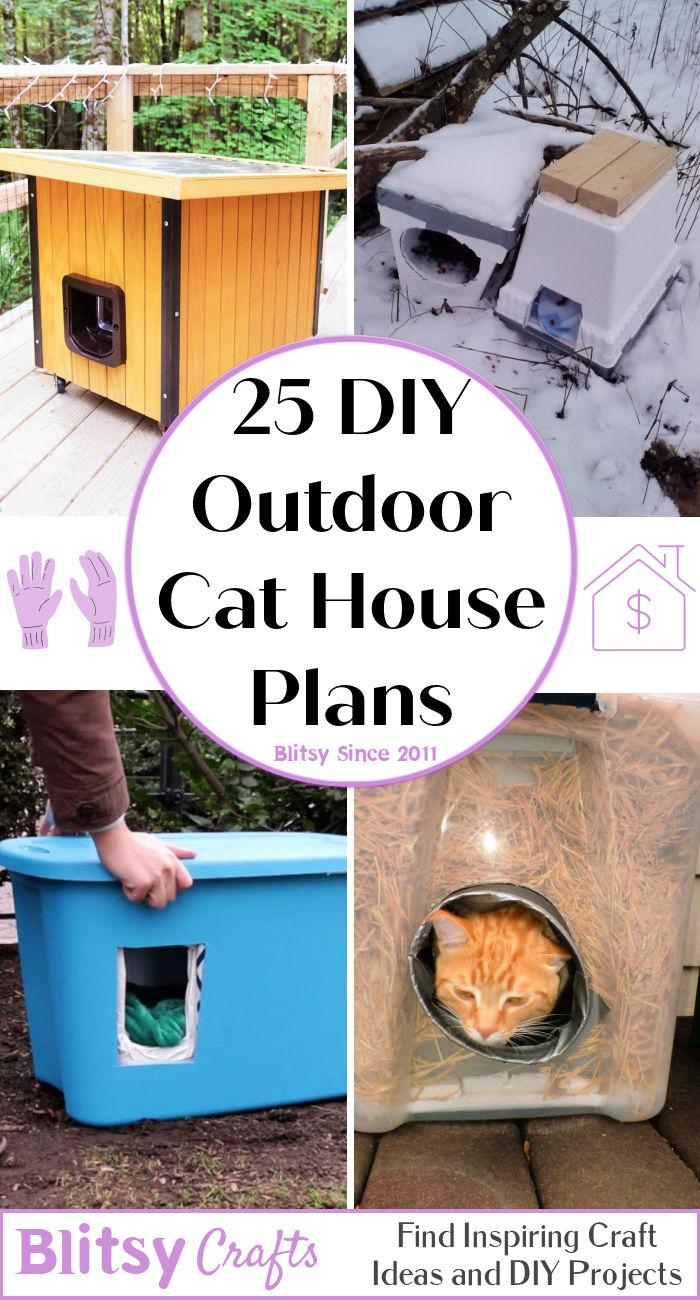 In this guide, we will be covering all the possible ways to build your own DIY outdoor cat house at home with the help of few easily available supplies. You will find everything here! These easy-to-make houses are quite inexpensive, and you will surely have a lot of fun making these. So take out some time for your beloved pets and bless them with these super convenient, crafty, and comfy new homes! All you need to do is, pick up your favorite plan that suits your convenience and budget perfectly, and then start building your own cute outdoor cat house to save some bucks. The most crucial part is to choose the perfect material for your cats, especially for an outdoor cat shelter. So without further ado, let's start making these incredible DIY outdoor cat house plans mentioned below already!
1. DIY Outdoor Cat House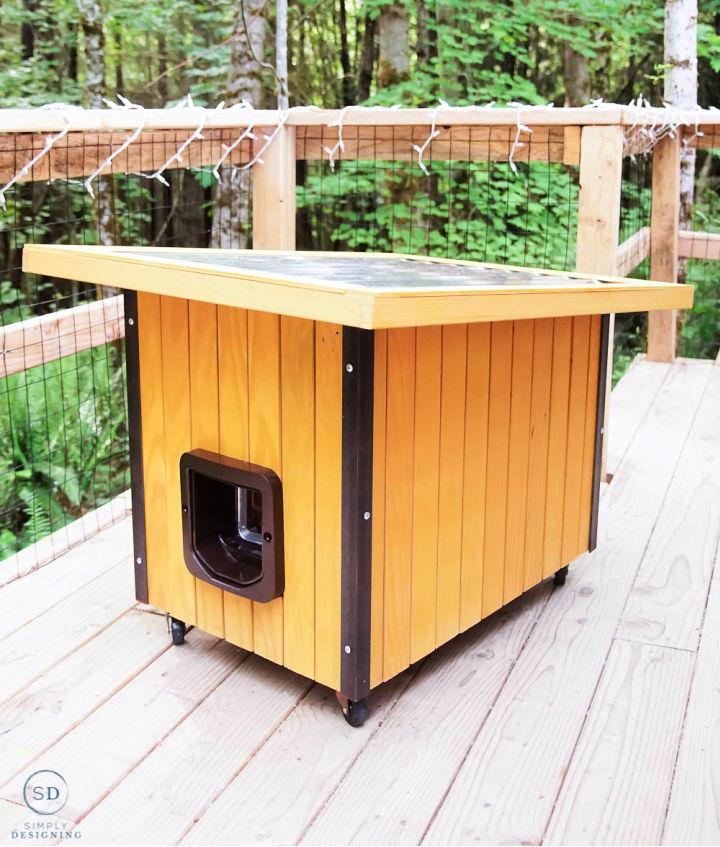 There's always that one member of the house who rules overall – it's the cat! Are you someone who is always looking for fun and creative DIY cat house ideas to make your kitty happy' Then this DIY outdoor cat house is perfect for you to make? This is a safe place for your cat to eat, drink water, and sleep while being able to be an outdoor cat as well. You can customize it according to your taste, paint it with funky colors, and unleash your artistic mind. The supplies you will be needing are spray paint, spray shelter, compound miter saw, clamp, drill and drill bits, metal cut-off tools, air nail gun and nails, electric sander, Kreg jig and screws, and a strainer. simplydesigning
2. Build a Outdoor Cat House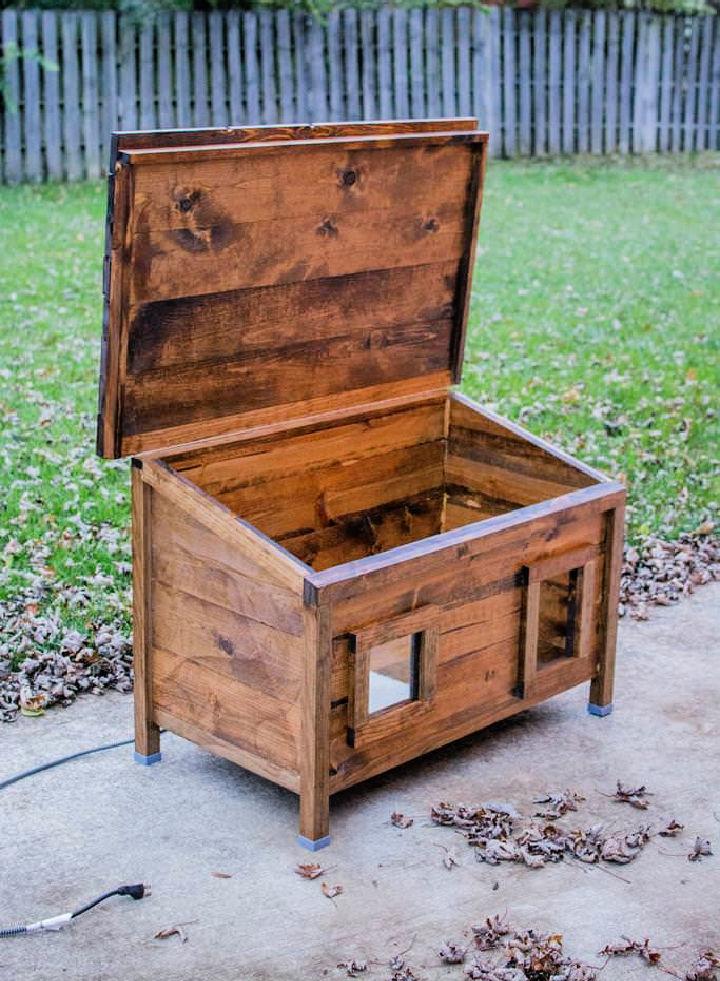 Having a cat is surely fun, but let's be honest, none of us like our pretty leather couches and carpets to be scratched. Don't worry, and we have the perfect DIY outdoor cat house solution for you. Since cats love their personal space and time, this cat house will let your furball relax for hours, especially in extreme winters when it's too cold for outside for your cats. Ready to get started? Supplies that you will need include Irwin quick grip clamps, gorilla wood glue, Makita table saw heated cat pad, glass squares, honey-colored wood stain, and polyurethane. clutttercom
3. DIY Heated Outdoor Cat House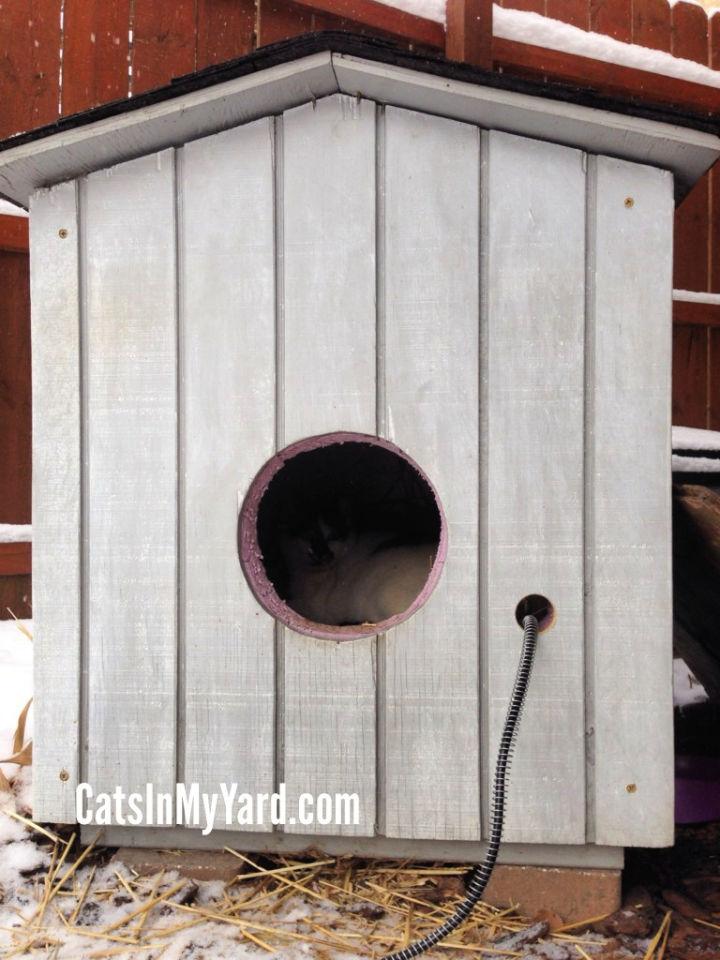 As much as we love our cats, it's completely natural to be worried and conscious about their safety. If they are outdoors, especially with so many predators around them, it becomes more worrisome. With this DIY outdoor cat house, you don't have to worry about your cat falling into the wrong hands! It will also allow your cat to have a peaceful and warm nap. After all, we are all aware of how lazy cats can be! To build this cat house, all you need is some basic supplies like wood glue, wood, clamps, hinges, screws, and paint, oh and an afternoon to spare. catsinmyyard
4. Weatherproof Insulated Cat House / Outdoor Cat Shelter

Extreme hot and cold weather can be very difficult for cats. If your cat mostly stays outdoor, it will end up shivering from the cold, or you have to shave its thick fur because of the scorching heat, which is why we know that this DIY weatherproof cat house is going to be a lifesaver for you! It will allow your cat to have an insulated shelter and be safe from harsh climatic conditions. The supplies you need to build this cat house are a plastic storage bin, marker, box cutter, Styrofoam cooler, old blankets, insulated reusable shopping bags, duct tape, and straw. The best part is that you recycle materials in this DIY and help the earth as well! buzzfeed
Cardboard Cat House: A standard cardboard cat playhouse reduces stress in cats by providing them a quiet, tightly enclosed spaces for hiding and napping, so learn how to build a cardboard cat house at home!
5. How to Make an Outdoor Cat House

Cats are one the cutest pets to keep, but if you are a cat owner, you are well aware of the great responsibility that comes with them. Winters can be really tough for cats, so they are mostly brought indoors during the winters; however, not all cat owners are comfortable having their cats indoors. If you also feel this way, this DIY heated outdoor cat house is just what you need. With this cat house, your cats can be cozy and warm outdoors even in winters, and when summer arrives, all you have to do is plug it out. Nevertheless, it will provide a good shelter for your cats. The supplies you need for this are a cooler, rope light, mounting bases, long wood screws, carpet, thick foam pad, and a rug or blanket. instructables
6. Insulated Outdoor Cat Shelter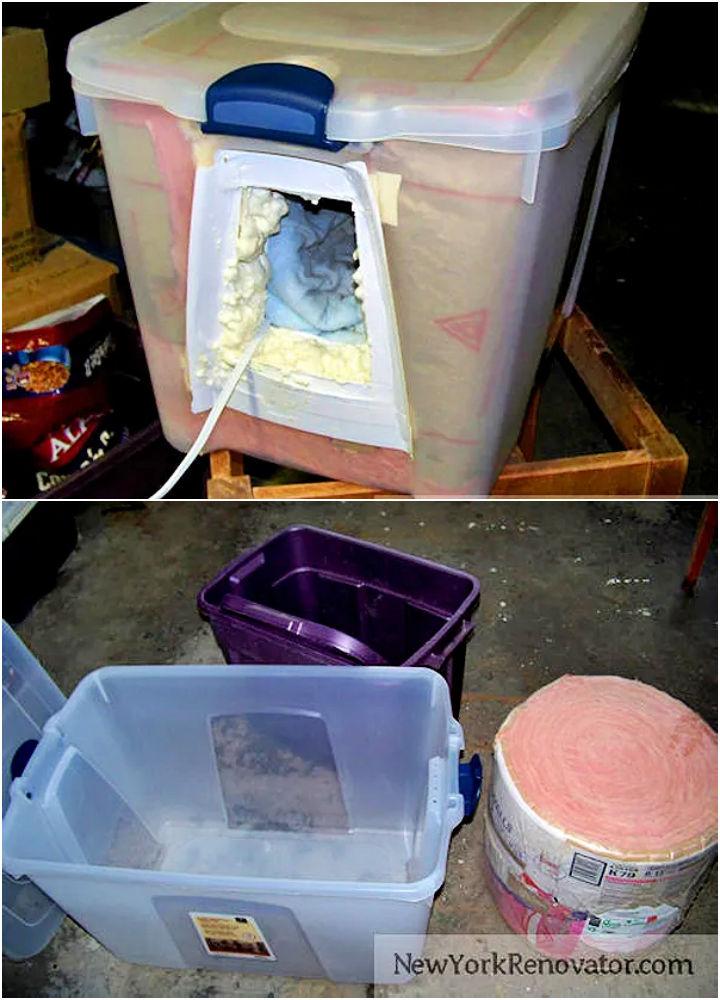 Do you like to help and feed stray cats on the streets or the ones who sit near your doorstep every day? But did you know that cats require an insulated shelter in winters? We sure understand that keeping cats inside your houses is not always easy! This is why we bring you an awesome alternative to help these kitties. This DIY insulated outdoor cat shelter will keep your cats warm and cozy in the cold winters. Trust us, and the cats are going to love you forever for this super amazing idea. The supplies that you need to build this cat house are a plastic tub, fiberglass insulation, duct tape, a box cutter, and a bottle of great stuff. catster
7. Outdoor Cat House for Winter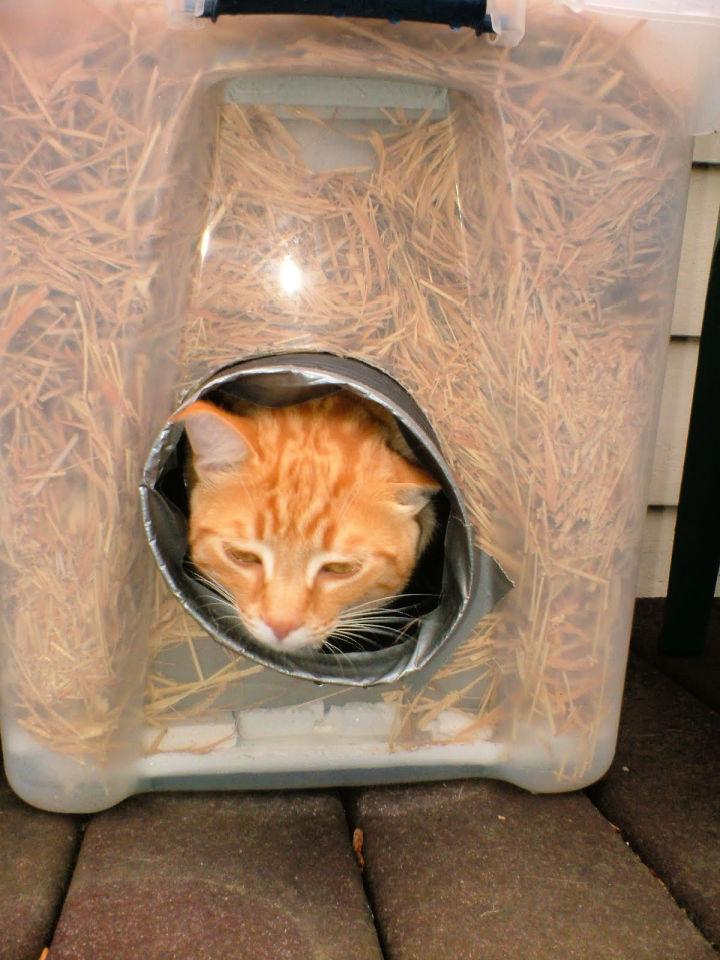 If you have an outdoor cat, there is a great possibility that your cat might catch a cold during extreme winters. If you are looking for a shelter for your cats, then you're going to love this plan. It will help your cats stay warm and cozy as well as enjoy their afternoon naps. This shelter can be kept anywhere from your garage to your bedrooms. You don't even have to worry about keeping a litter box around, as this will solve all your problems. The supplies required to make this plan are a plastic tub, box cutter, and a thick foam pad. theverybestcats
8. DIY Outside Cat House for Feral Cats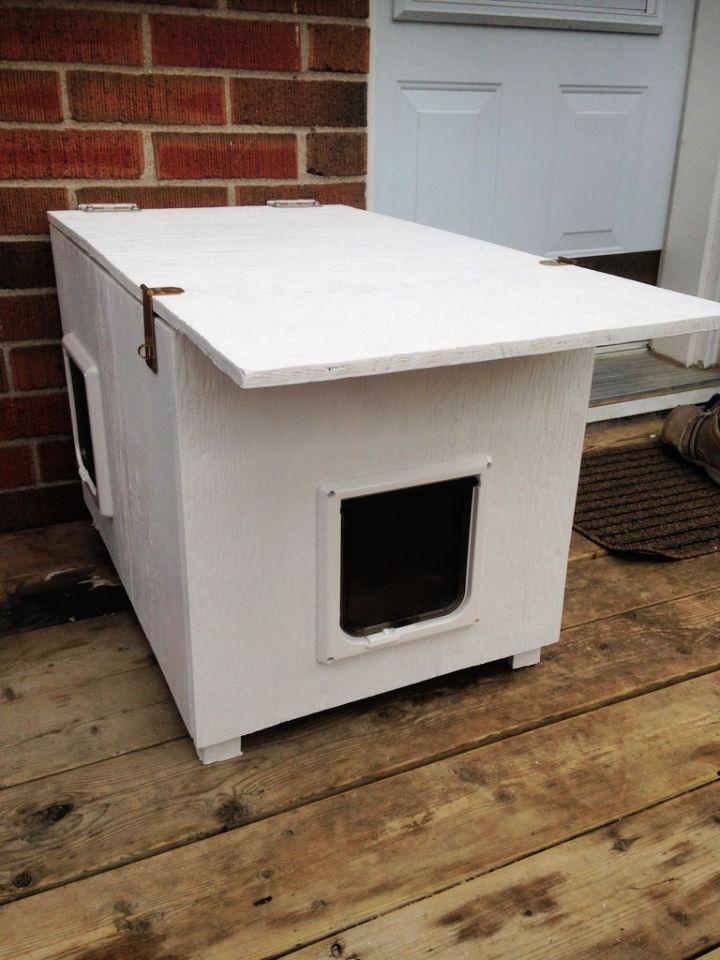 Are you someone who loves trying out new DIYs and creative handmade things? Well, then what's better than using your skills to help some feral cats this time? This DIY outdoor cat house is an amazing idea to keep feral cats safe from the brutally cold weather, and it will also keep them cozy and safe. Oh, and it has enough room to keep a litter tray and some cat food inside this ' amazing, right? So now you can rescue a poor kitty with this simple DIY. To make this cat house, you need plywood, screws, nails, insulation board, weather stripping, glue, hinges, latches, solar lights, paint, and a straw. instructables
9. DIY Wood Pallet Cat House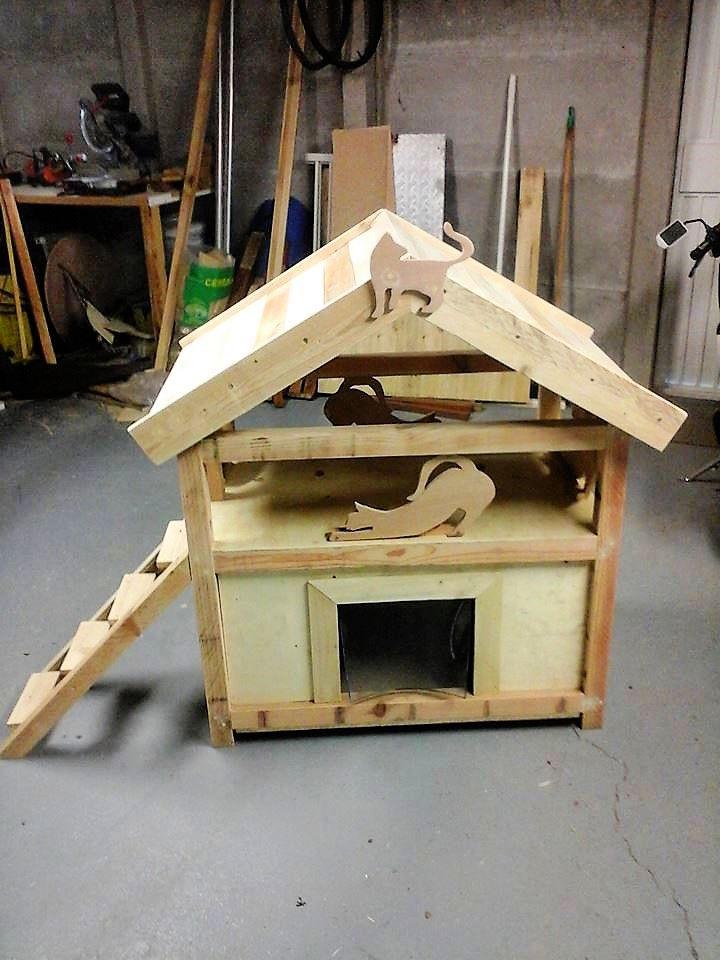 Are you looking for a cat house for your pet cat, but you're tight on budget? Then it is not a big issue because anyone can make this plan at home by arranging some wood pallets. This will save you a lot of money as well as polish your woodworking skills. Also, to mention that your cat will definitely love its new home. You can customize it by painting it, and a personal recommendation is to use chalk paint to look super cute! You can also fill the cat house with all of the cat's favorite toys and snacks. For the preparation of this cat house, all you need is wood, nails, woodcutter, paint and, hammer, etc. woodpalletsfurniture
10. Cheap DIY Outdoor Cat House for Multiple Cats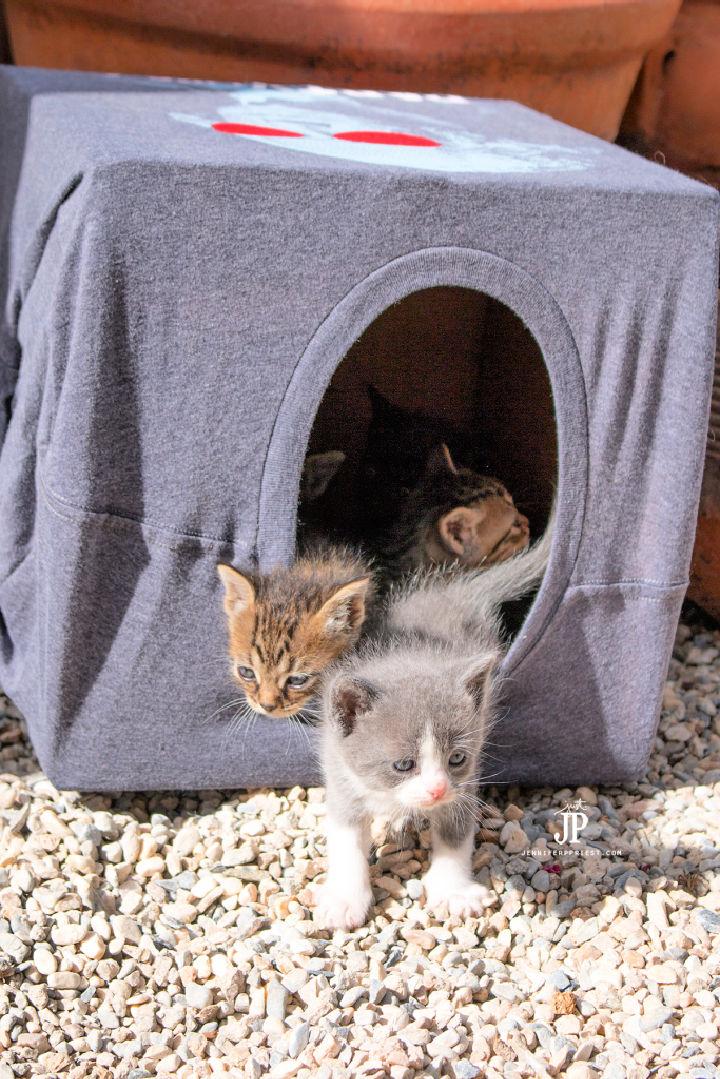 Have you ever looked up the prices of cat condos? Highway robbery, right? Do they really think we have our wallets splayed wide open because we have heart eyes for our cats? Not to mention that it sure does put you in an awkward situation. But don't worry, there is a way! BUILD IT YOURSELF! This DIY outdoor cat house for multiple cats is the cheapest and most fun to make! Moreover, the supplies include a cardboard box, a t-shirt, and a pair of scissors, and that it! You'll have your cat house ready in no time, and you can even wear your t-shirt back when your cat is not using it. smartfundiy
DIY Cat Bed: Why buy an expensive bed at the store when you can make your own DIY cat bed? Find unique DIY cat bed ideas that your feline friend is sure to love!
11. Homemade Outdoor Cat House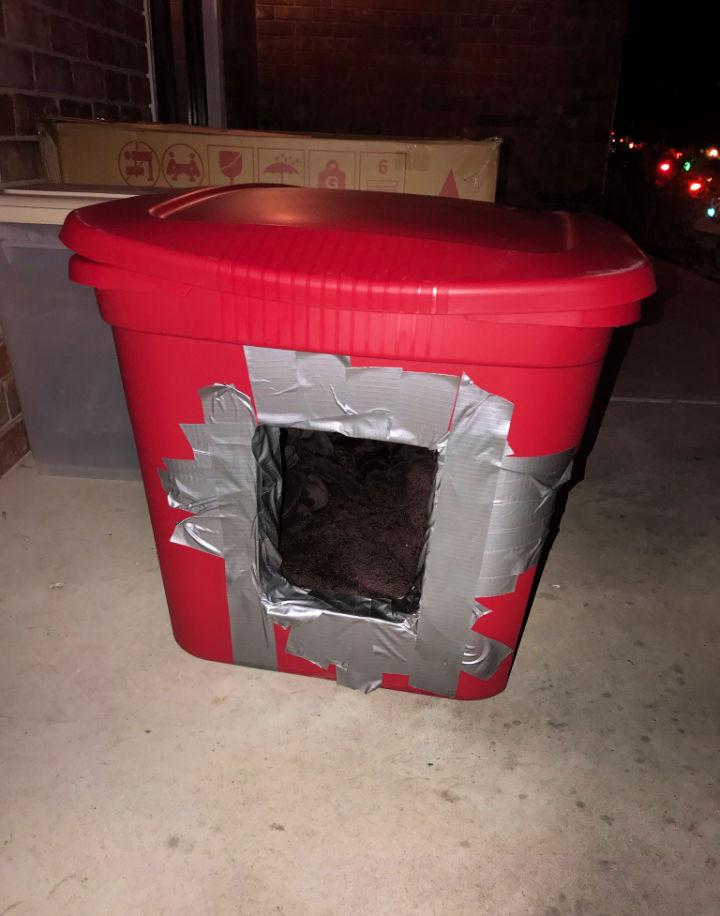 Does the extreme weather situation has really got all of us stuck inside our houses? So, what to do when you are looking for a cat house but can't get out of your own house? Simple, you make it! Collect supplies and tools like a plastic box, spray paint, cutter, and insulation sheets from around the house and get to work! It will not only give your kitty a new home but also save you from getting bored at home ' amazing, isn't it? imgur
12. Wooden Cube Cat House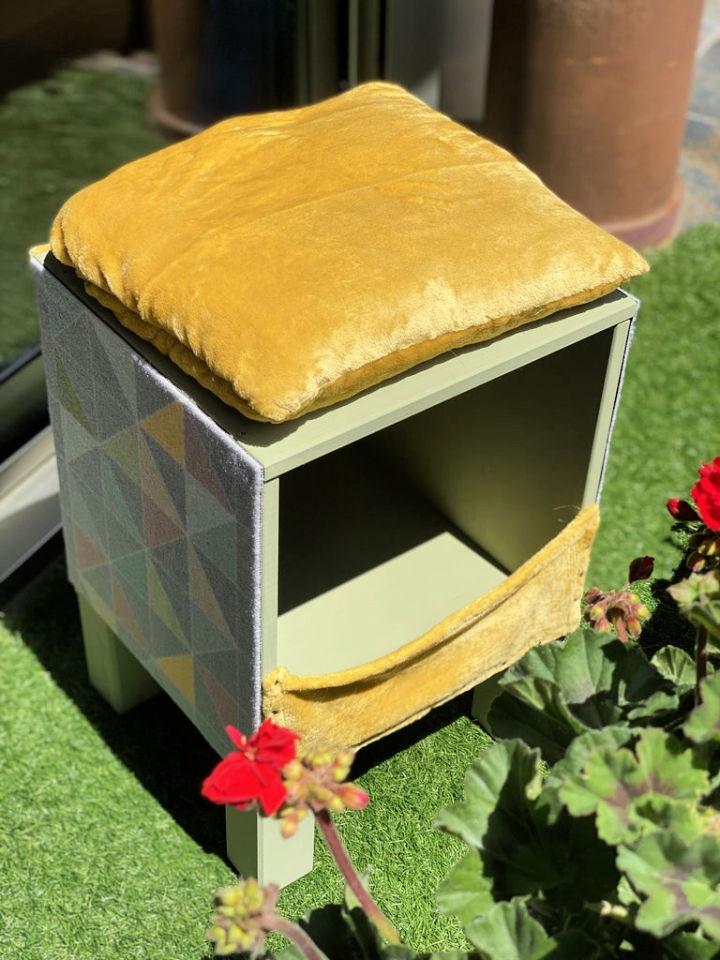 Do you also want a creative and unique cat house but never manage to find a cat house in the markets like the one you have in your mind? Then we have the perfect solution for you! Here is this DIY outdoor cat house which is modern and a better alternative for a cardboard box! Make a cat house, paint it, and design it according to your living room or bedroom theme and give your house a new look. The supplies that you need are a cube shelf unit, 4pc legs, doormat, blanket, rubber glue, nails, screws, scissors, drill, hammer, paint, and brush. instructables
13. Outdoor Heated Igloo Cat House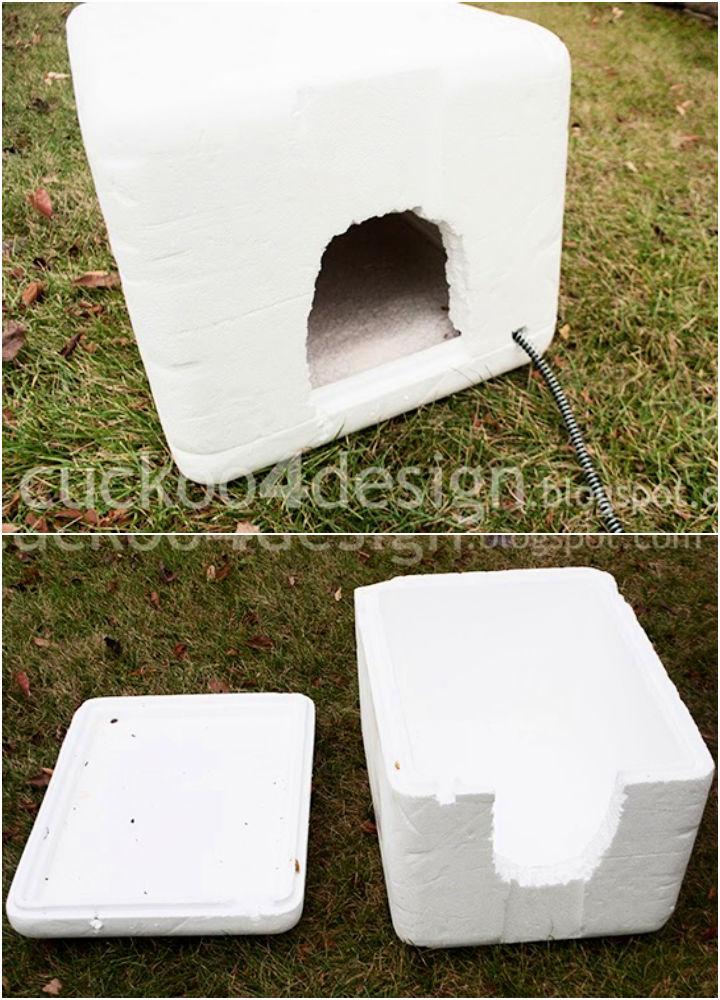 Thinking of the perfect gift for a cat owner last minute? This DIY outdoor cat house is all you need! You can easily make it at home by finding some basic supplies and skills. Moreover, if you want to help the cats in your neighborhood, this will be the best shelter, especially in harsh weather. All you need to make this cat house is a weather kitty pad with a fleece cover, a Styrofoam box, and a plastic tarp. cuckoo4design
14. DIY Winter Cat Shelter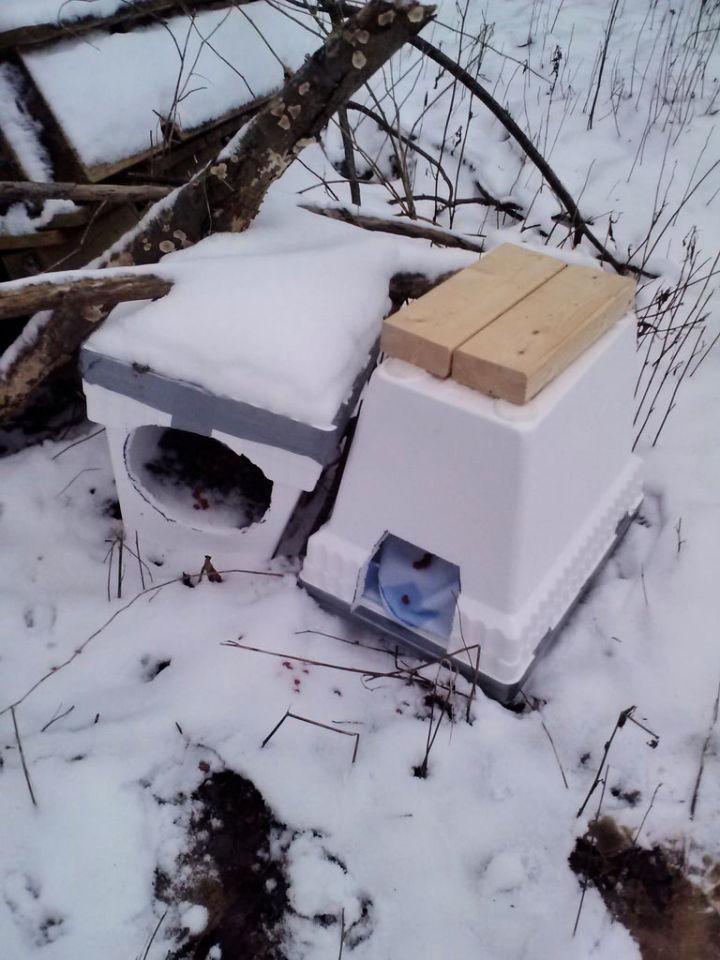 This easily constructed DIY cat shelter is perfect for outdoor feral friends during those cold months. From start to finish, it will take you less than an hour to complete. You need to place an insulation sheet inside it to keep your cats safe from the cold. Moreover, you also need a Styrofoam cooler, tape, plastic bags, and scrap fabric. The best part about this DIY outdoor cat house is that it is super pocket-friendly, and you will find almost all the supplies lying around in your house. instructables
15. DIY Disco Outdoor Cat House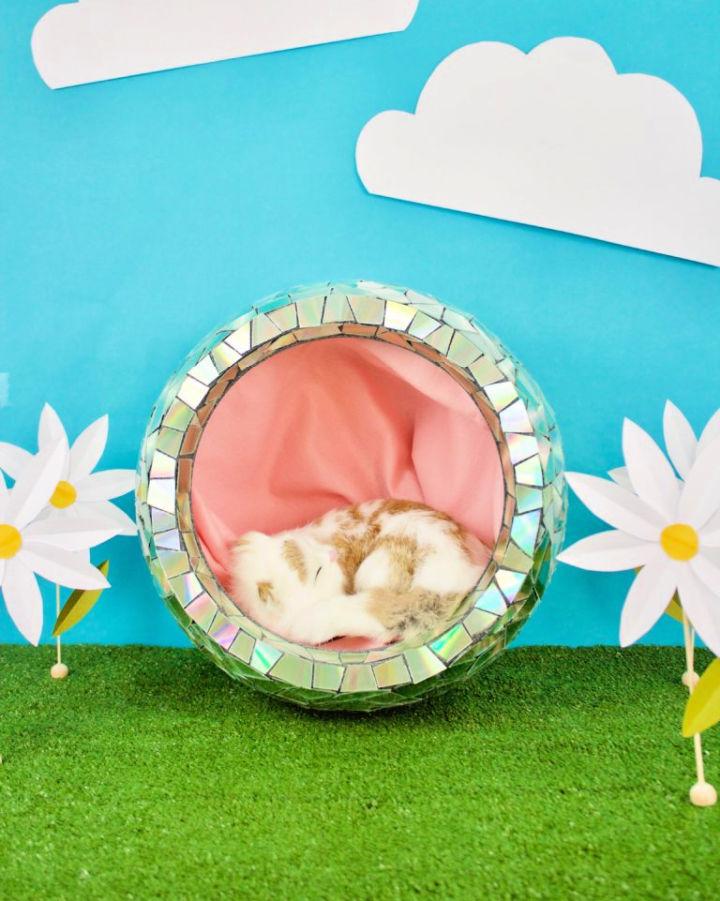 It's time to get funky! This seller disco-inspired DIY outdoor cat house is going to have all neighborhood felines wanting to crash at your place. This DIY cathouse is super fun and has a functional cat bed that will keep your kitty cat warm on cold days and feeling frisky on the cold ones! It will also give your garage or backyard a whole new look. The supplies you will need for this project are a plastic planter, a drill, a large screw eye with a nut, CDs, and hot glue. asubtlerevelry
16. How to Build an Outdoor Cat Shelter

All cat owners out there are well aware of how pampered our cats are! However, if you do not own a cat and want to help the feral ones in your neighborhood when winter comes, cats could appreciate your help. You could lend a paw by creating this DIY outdoor cat shelter. It's cheap, fun, and super easy. All you will need is a large plastic tub, box cutter, straw, permanent marker, scissors, hairdryer, thin slab of Styrofoam, and a plastic flowerpot. alleycat
17. Wooden Cat House Plan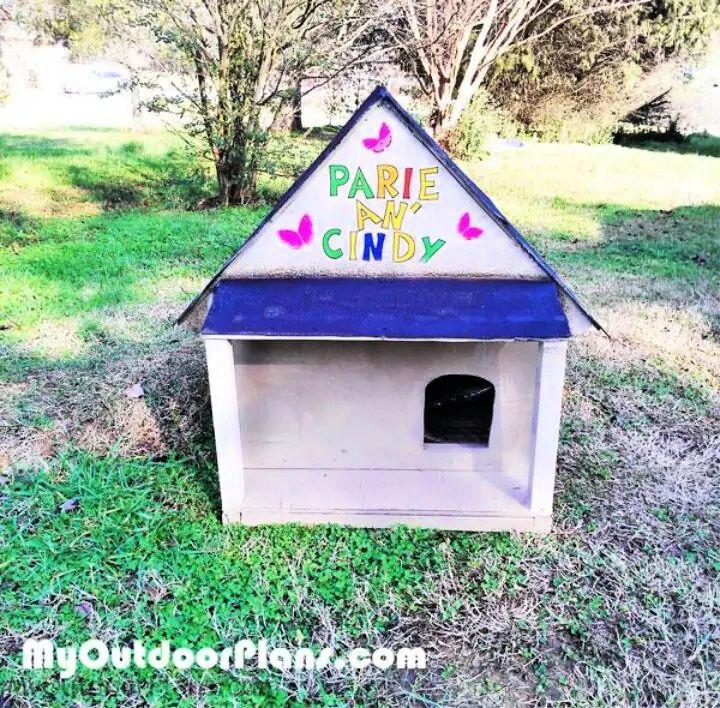 Do you want to surprise your cat with a cute cat house, but the prices are really uneconomical? Well, it is time to get to work and build a wooden house for your cat; it will protect it from the bad weather, in addition. If you know basic woodworking techniques and have the proper tools, you can get the job done only in a few hours. All you will need is plywood, lumber, rafters, roofing sheets and roofing, screws, and tar paper. myoutdoorplans
18. Make an Outdoor Cat House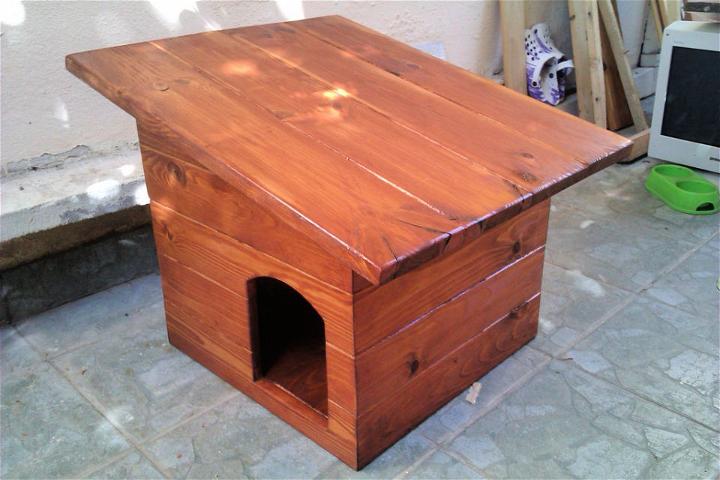 Do you walk by your house sometimes and see the stray kitties helplessly lying in a corner or trying to hide from the stray dogs? Let's be honest, we all sympathize with them, and well, there is a way to help them! Yes, you heard right. This DIY cat house for stray cats is the perfect way to show your love for these cats. It will provide them shelter and safety, and you can also feed them inside the house if you want. All you need is pine wood boards, cushions, dowels, varnish, and wood glue. instructables
19. Outdoor Heated Cat House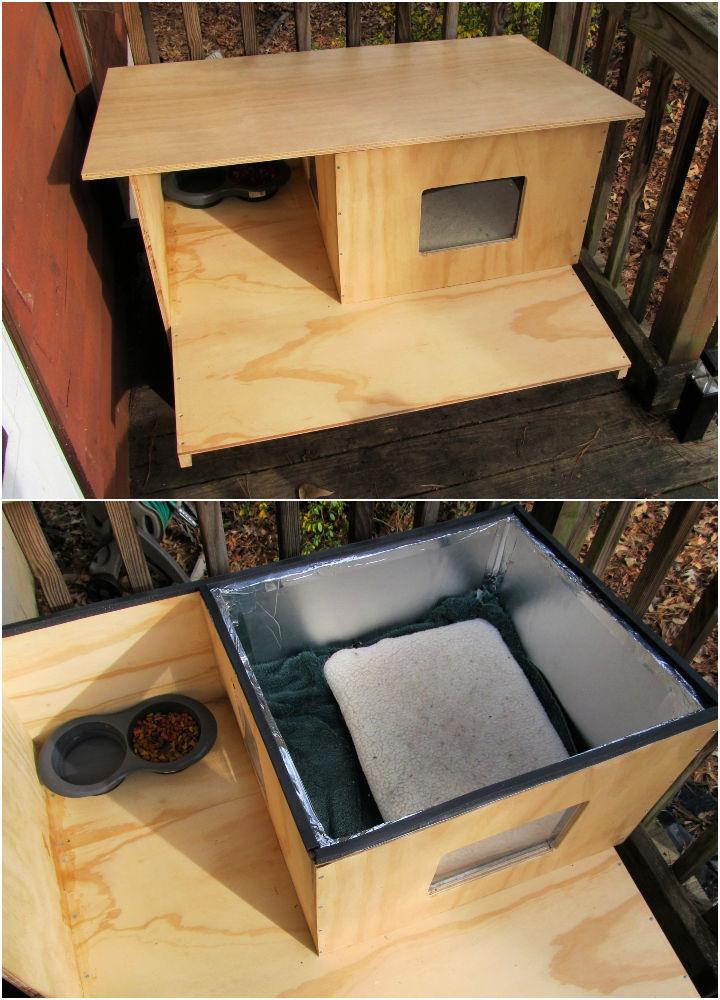 We all know how difficult winters can be for outdoor cats, and especially if you are a teenager, we know how infuriating it can be when parents do not let you keep the kitties inside your bedroom. This DIY outdoor cat house will keep your cat warm and cozy in winters as well as safe. The best part is that you can carry it anywhere, so the next time you are traveling, you do not have to worry about your cat's safety. Sounds cool, right? The supplies you need to get started are sanded plywood, southern yellow pine, rigid insulation, polycarbonate sheet, weather-stripping, Nashua foil tape, cedar transparent weather proof finishing, flat head wood screws, wood glue, liquid nails, clear silicone adhesive, and a heated pad. imgur
20. DIY Kitty Cat House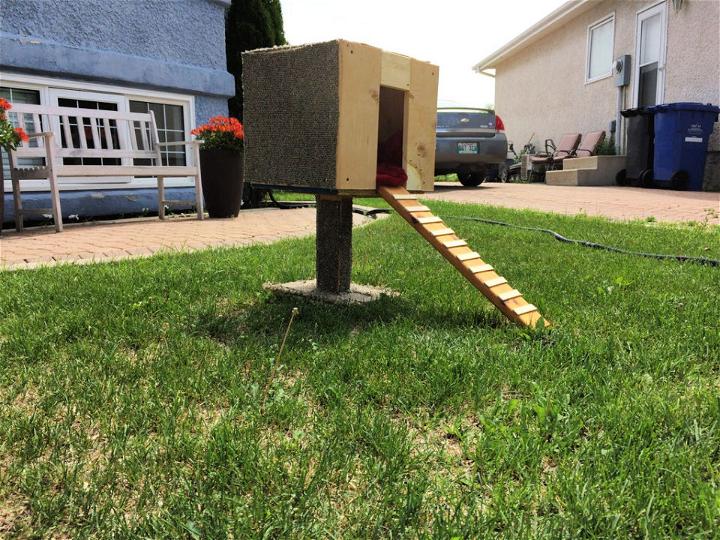 This DIY cat house is a great activity for all those teenagers who like to do woodwork, and it will polish your skills, help you spend some productive time, and make your cats love you. This cat house will keep their cats warm and snuggled up in winters and safe from any predators or the scorching heat in the summers. It is easy to carry, and on days when it's raining, or you want to play indoors with your kitty, bring the cat house in your room. To build this, you will need plywood, carpet, a blanket, wood, wood glue, screws, nails, and thin wood. instructables
21. Easy to Make Outdoor Cat Shelter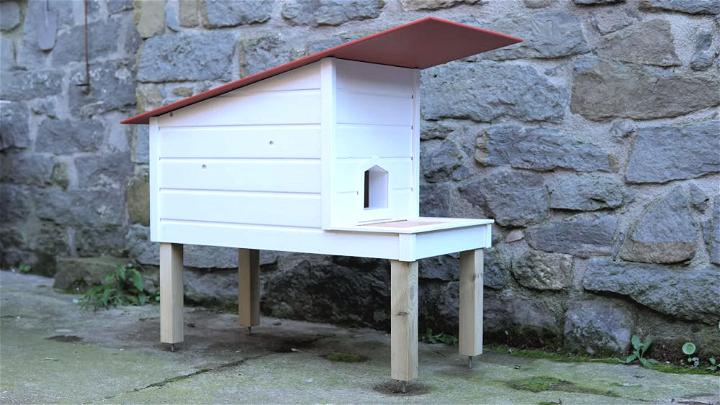 Are you looking for a DIY cat house that is also super cute and stylish? Then, you will love this DIY outdoor cat shelter, which has the shape of a cute hut, and your cat will surely love to play around in this. It will also spice up your garage and going to get all the cat owners in the street to wonder where you bought it from. You will need some power tools, plywood, clamps, and other basic woodworking tools. Good luck! youtube
22. Building a House Wooden Kitten for Cats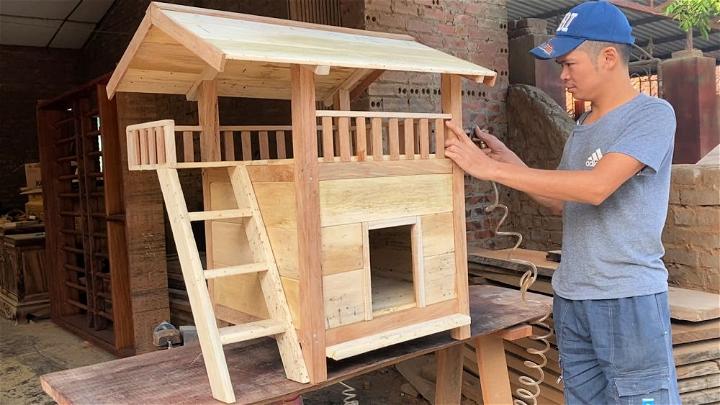 Did your cat have little kittens? The little munchkins sure need a good and well-protected shelter as well as a bigger room for the mother cat. It's time that you build this cool DIY outdoor cat house in which your cats can be safe, and you can also feed them in there. Customize it with your favorite chalk paints and make a statement. All you need to build this cat house is some power tools, plywood, clamps, and other basic woodworking tools. youtube
23. Recycled Plywood Pallet Cat House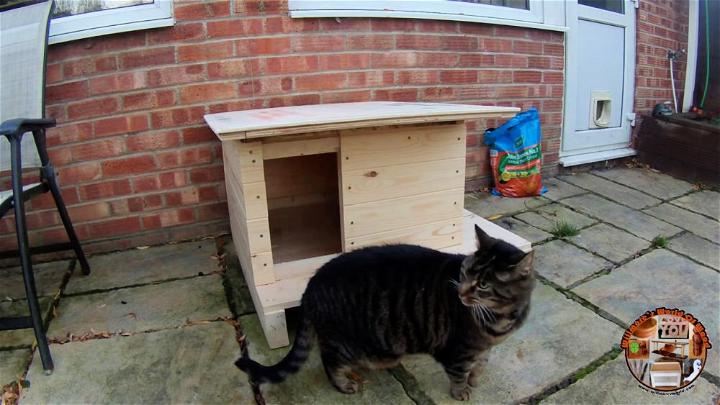 Do you love to do recycling crafts? Well, what's better than helping the earth and your cats at the same time? This DIY cat house will keep your cat warm in the winters and some alone time when your cats need it. It is also a great activity to do with your teenage children and students, and it will surely encourage them to help stray cats in the neighborhood. All you need to make this cat house is wood, plywood, wood glue, screws, nails, and paint some paint if you like. youtube
24. Outdoor House for Multiple Cats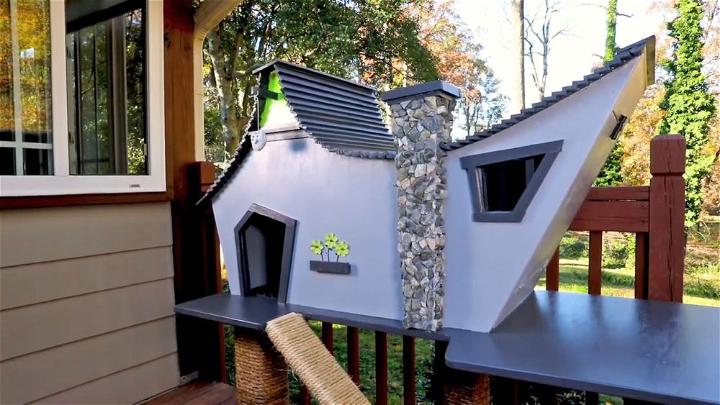 This DIY cat house is the cutest and most creative thing to build for your cats. It will not only keep them warm and safe but will also encourage them to play around. This will also be a great addition to your garden or garage. All you need to make this cat house is a heating pad, traffic master mat, wood glue, construction adhesive, jigsaw, Skilsaw table saw. youtube
25. Easy DIY Outdoor Cat House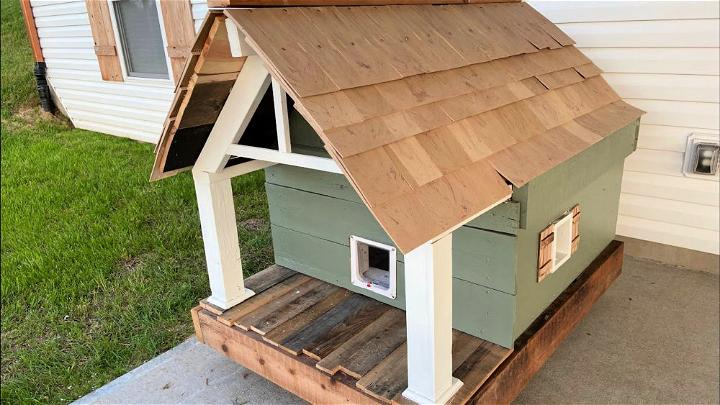 The perfect way to make use of your leftover scraps that may have been left behind during the construction of your house is to build a home for your cat. This way, when you leave your cat at one of your friend's or relative's house, you won't have to worry about where it will sleep and feed constantly. In addition, it will also keep your cat safe and protected during the cold months. All you need to build this cat house is wood scraps, screws, nails, wood glue, and an insulating sheet. youtube
DIY Cat Shelves – Take a look at how you can easily and affordably make DIY cat shelves for your cats and include them in your home decor.
Conclusion:
So, now we hope that after going through the plans above, you're quite inspired and have a lot of new and innovative ideas for creating DIY outdoor cat houses for your furry friends as well! You do not need to spend a lot of money on these outdoor cat house plans but make sure that you use good quality materials to make sturdy houses that can last long. Most of the projects are very easy and simple to DIY, and you do not need to be experienced in crafting things for these as anyone can try making them. Just decide the size, shape, and design of the house that you want to make. Then, have a good look through all of the given outdoor cat house ideas above, choose the ones you like the most, gather up all the essential supplies needed, and start working on them! Happy crafting!