During the hot days and cool evenings of the summer season, it's a great option to add outdoor chairs for comfortable sitting in your home garden or backyard. So, you can enjoy the fresh air for a healthy routine. Why don't you think of building your own DIY outdoor chair instead of buying them from furniture stores at higher rates? If you are looking for ideas and inspiration, find these 25 DIY outdoor chair plans with simple instructions and a PDF guide to building your own outdoor chairs for a more relaxing and calm outdoor seating.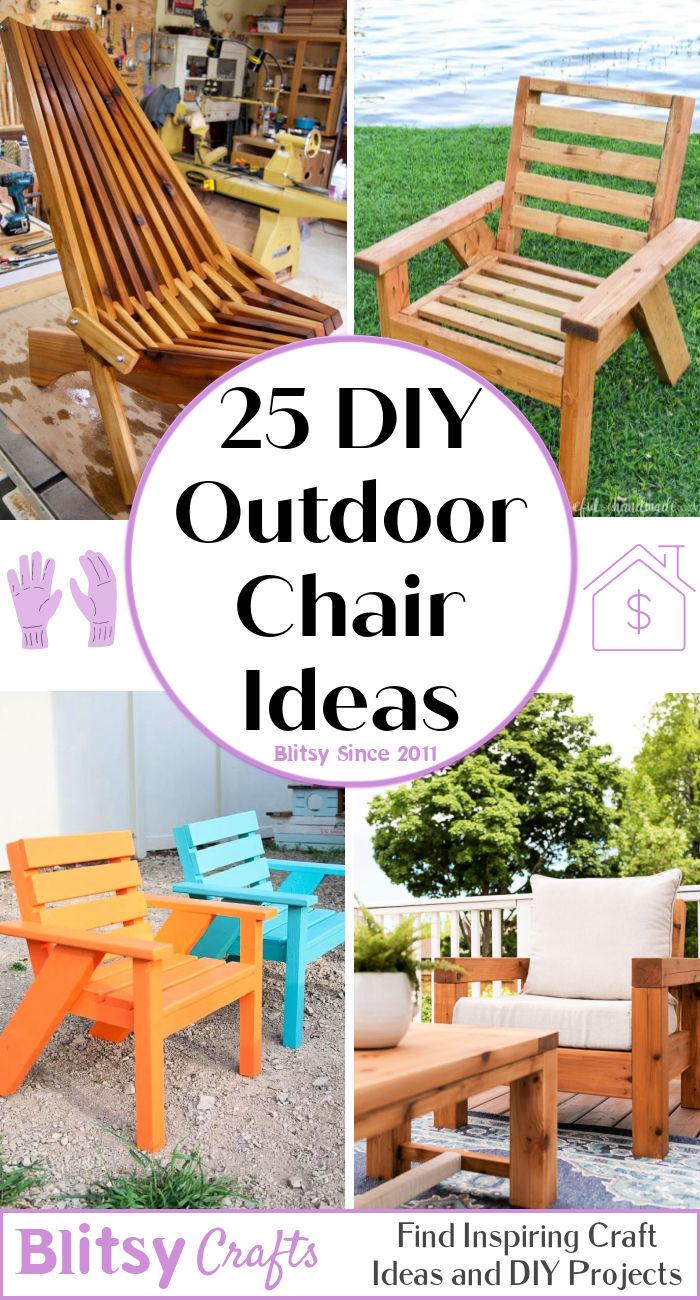 Excitingly! You can work on these free outdoor chair plans in your home without leaving your comfort zone. All you need to do is pick the right supplies and start working on these diy outdoor chair plans. These diy outdoor chairs include all information and details required to fulfill the project like a pro. Be a successful wood crafter by working on these wooden outdoor chairs plan, including all step-by-step guidelines, material lists, and videos!
1. DIY Patio Chairs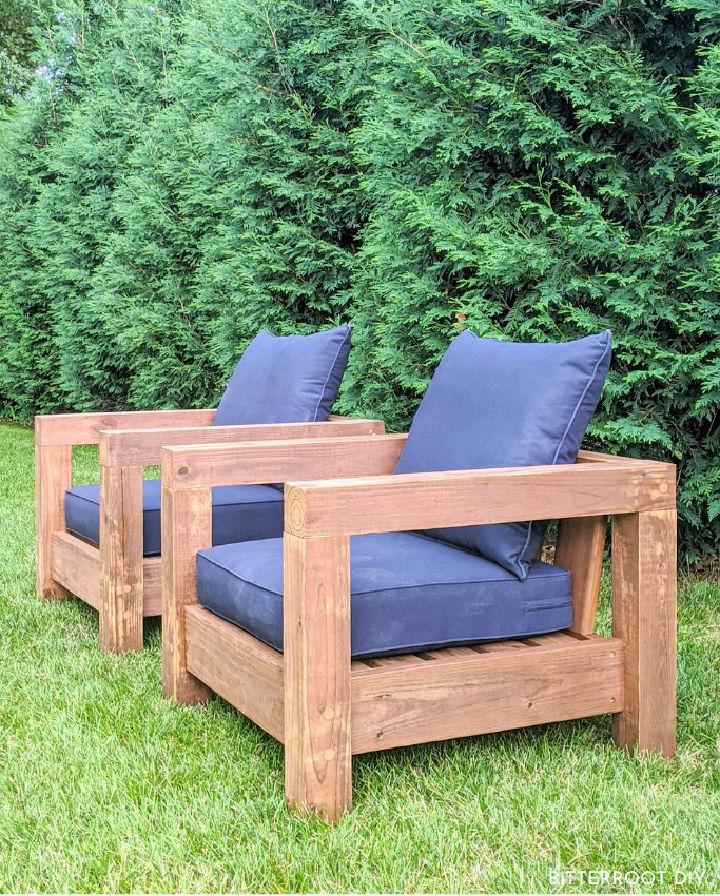 DIY diy patio chair plans for your outdoor decor using a free plan. For sure, these chairs would be the best option to customize and add to your patio. To work on this outdoor chair plan, you will need treated lumber, exterior screws, drill, drill bit, Kreg pocket hole jig, tape measure, wood glue, brad nailer and wood stain. For ease of work, make the arm first before cutting and creating the chair base. Give these chairs a more stylish look by painting with different colors. bitterrootdiy
2. Easy to Build wOODEN Patio Chairs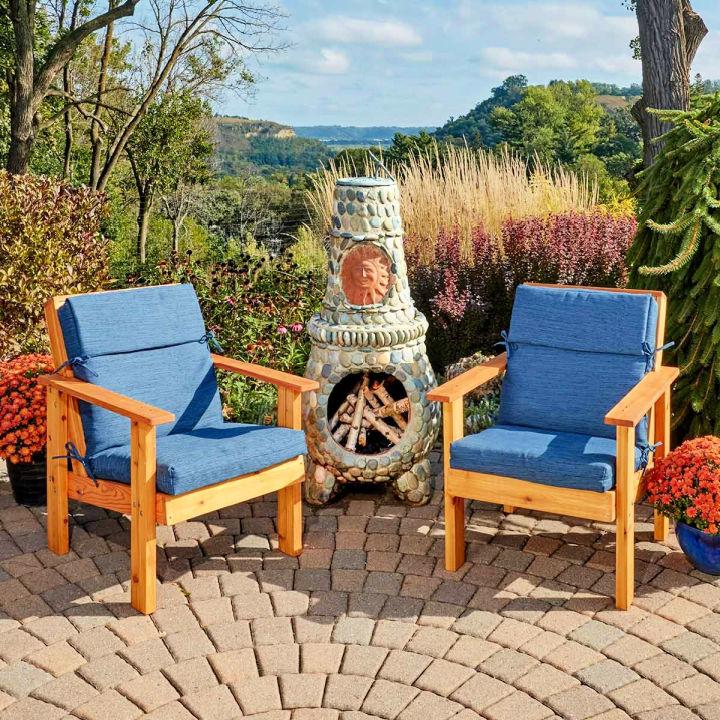 No doubt, nothing would be a better option than working on these patio chairs plan without breaking your bank. Instead of a lower budget, you don't need to compromise over the comfort level. For working on this project, you require beginner to intermediate level skills. Moreover, you also require lumber, cedar posts, wood screws, glue, power drill, miter saw and wood stain. One more thing, you can make this chair more durable by assembling the two posts. familyhandyman
3. Modern DIY Wooden Outdoor Chairs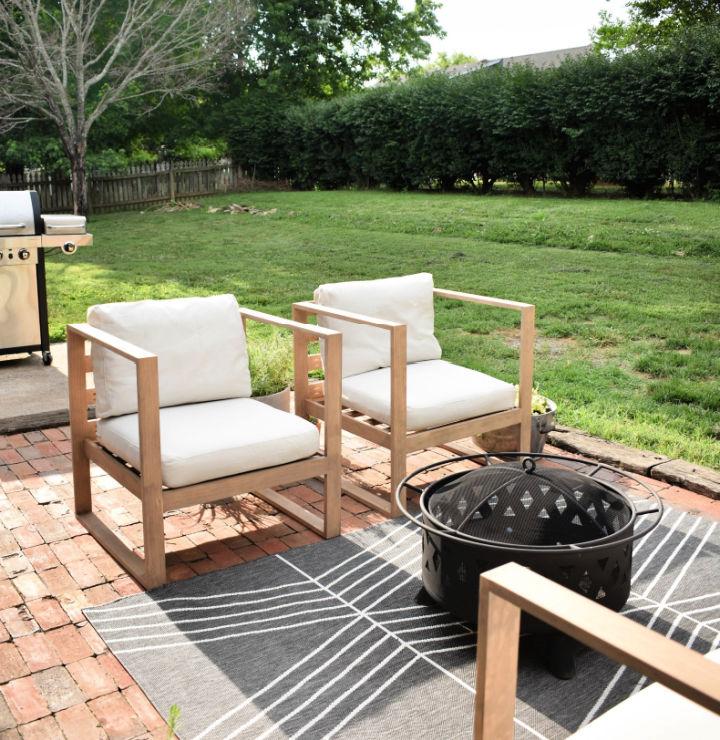 Why do you spend several dollars on store-bought outdoor furniture? Especially when you can build modern style outdoor furniture yourself. No wonder everyone loves and drooling over outdoor furniture, specifically in the summer season. You can also build your own DIY wooden outdoor chairs using lumber pocket hole screws, Kreg jig, wooden boards, power drill and wood stain. Additionally, you can also use rust control paint to save these pieces of furniture from environmental conditions. houseonlongwood
4. Outdoor Chair Using Cedar Wood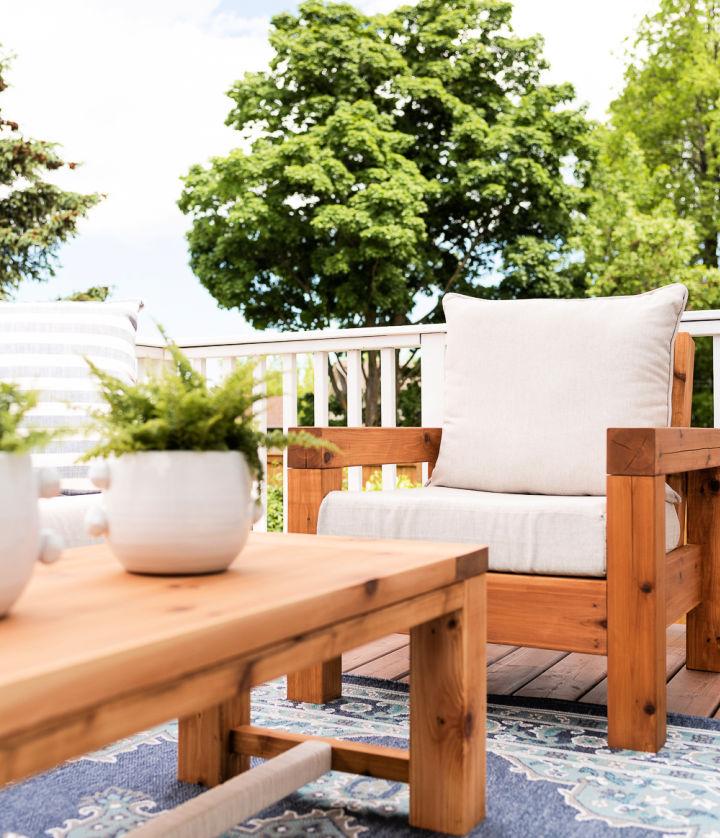 Cedarwood is the best and sturdy option to work on outdoor DIY furniture plans. You can also use this supply for making your own style of patio chairs. Indeed, these chairs would be the perfect addition to your patio decor. Besides using cedar posts, you also need deck screws, Kreg jigsaw, pocket hole screws and exterior glue. Once you have cut the legs and base, assemble them using pocket hole screws. nickandalicia
5. Affordable Outdoor Chairs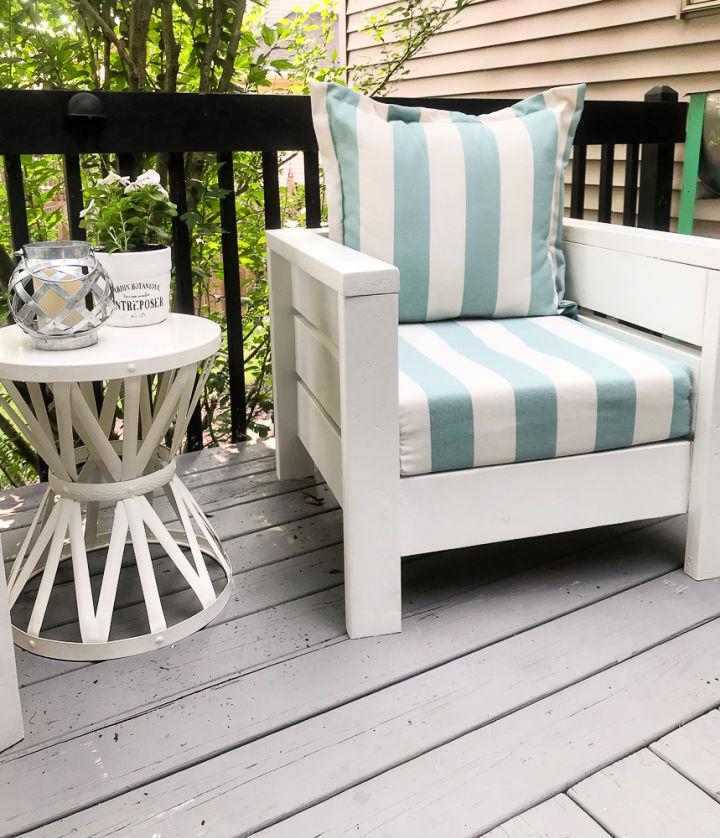 Are you looking for stylish and heavy-duty patio chairs? If yes, these chairs made up of treated lumber would be the option for the deck. Excitingly! These chairs are the perfect and most productive sitting project for your patio. To work on these pair of deck chairs, you need specifically cut lumber, miter saw, drill, sander, wood glue and screws. Let's start working on these chairs to showcase your crafting skills to your friends! repurposelife
6. Modern Outdoor Lounge Chair

DIY an outdoor lounge chair to uplift your deck and patio decor. Building this chair is super easy with the help of cedar posts. Still, if you need guidelines, get them from tutorials with all step-by-step instructions. Moreover, you can use a miter saw, gauge, clamps, sander, push stick and glue for this super functional sitting project. Additionally, increase or lower the height of this lounge chair according to cut cedar or lumber. makergray
DIY Ideas for Your Outdoor Space:
DIY lounge chair: If you want to learn how to build a beautiful chaise lounge chair, then follow these DIY lounge chair plans that are beginner-friendly.
Outdoor table plans: Build this DIY Outdoor Table featuring a Herringbone Top and X Brace Legs! It would work as a great Rustic Dining Room Table!
DIY outdoor bench: Learn how to build a garden bench with these DIY outdoor bench plans include a free PDF download, cutting list, shopping list, drawings, and measurements.
Outdoor Kitchens: These DIY outdoor kitchen ideas are simple to follow and build and all of them can be achieved in just a single week, days, or even hours!
7. Comfy Outdoor Chairs Using Only 2x4s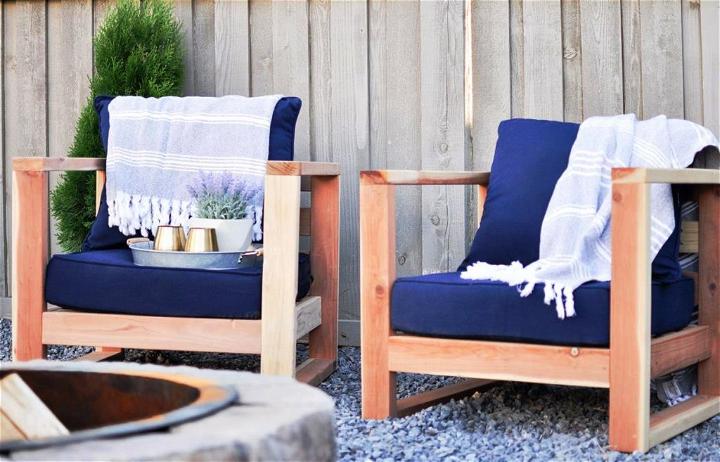 Use 2*4 wooden boards or cut to build the super comfortable pair of outdoor chairs. These chairs are lower than other traditional style patio chairs that make them super comfy for resting up. Craft these chairs and relax on them while sitting around a coffee table. The difficulty level for this project is easy, and you can build it easily within a day. To make these chairs, go with redwood boards, Kreg jig, Kreg screws and outdoor screws. kregtool
8. Build an Outdoor Arm Chair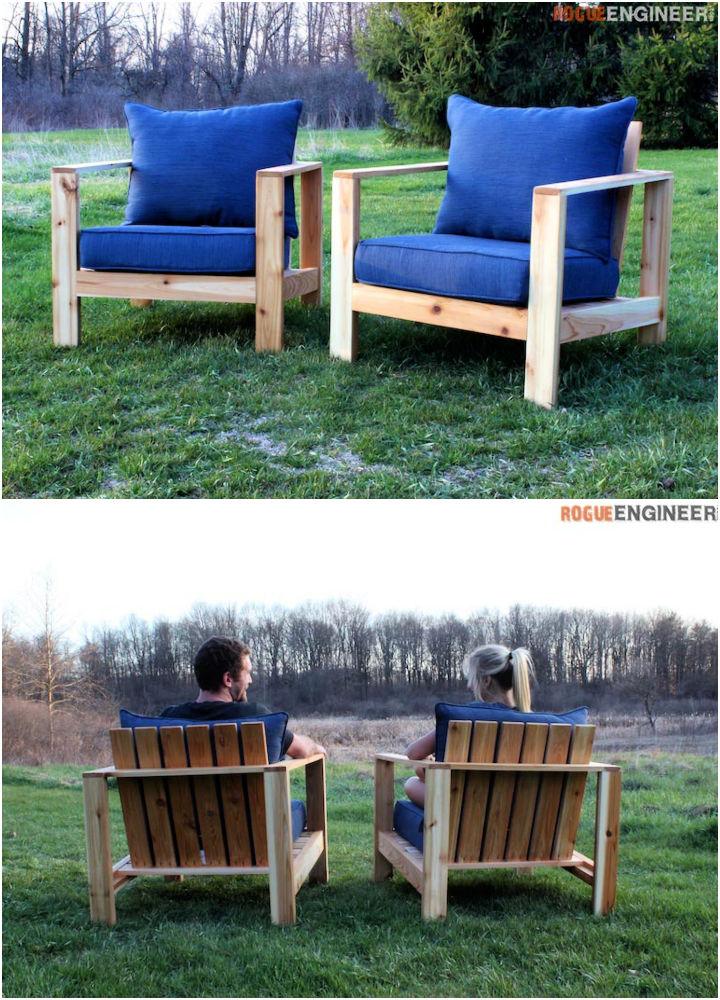 Build an outdoor armchair for relaxing and resting up at the same time in your home garden. You will be surprised to know that you can make this DIY wooden outdoor chair out of cedar posts for less than $150. However, go with treated lumber to make this outdoor armchair more economical and budget-friendly. The materials you will need to craft this chair are a Kreg jig, pocket hole screws, wood screws, wood glue, miter saw, drill and pocket hole jig. The whole thing you need to do is drilling the hole and assemble the boards using pocket hole screws. rogueengineer
9. Homemade Patio Chair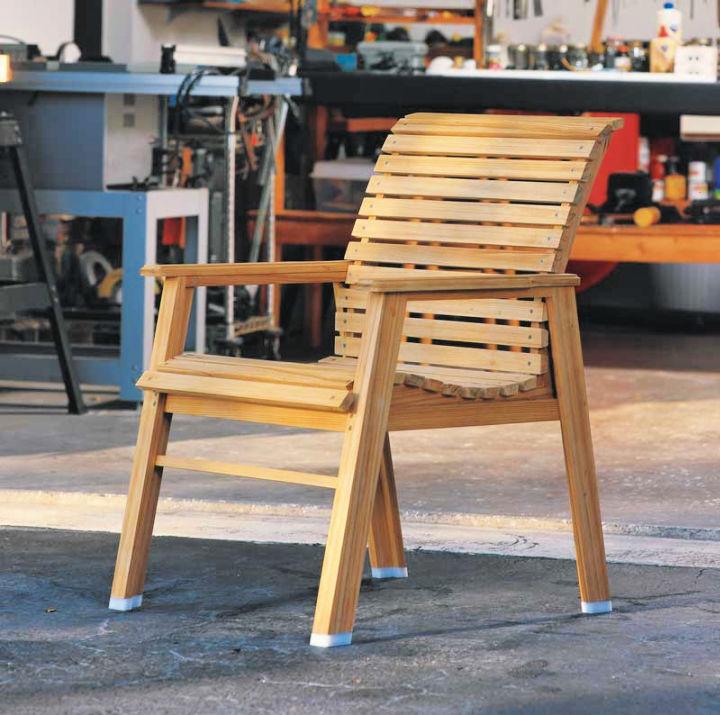 Let your guests and friends enjoy the open air while sitting on these versatile deck chairs. Don't buy these modern-style chairs from a wood store. DIY them yourself with a free plan and affordable wood supply. You would love to make this good-looking chair with L-shaped legs using wide wooden boards. Furthermore, you can also protect this chair from rainwater with plastic feet. However, plastic feet are not essential for this deck chair. popularwoodwork
10. How to Build Outdoor Chair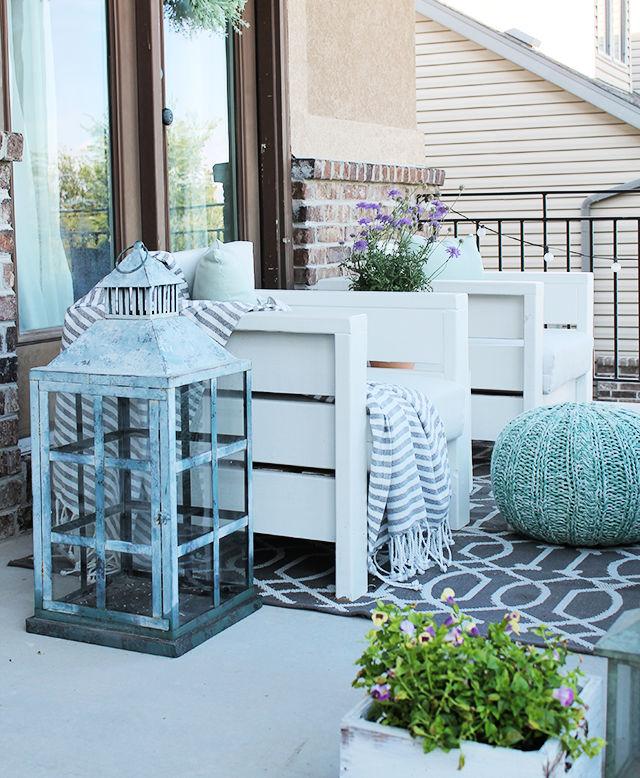 Makeover and redo your porch furniture with the versatile and affordable DIY outdoor chair. You would love and have fun to accommodate your old upholstery cushions on this stylish and worth-crafting chair. For this, you need wooden slats in different sizes for legs, support, base and arms. Apart from these supplies, use a power drill, sanding machine, miter saw, wood screws, pocket hole screws, white paint and tape measure to smooth wood slats. thriftyandchic
11. Outside Wooden Lounge Chairs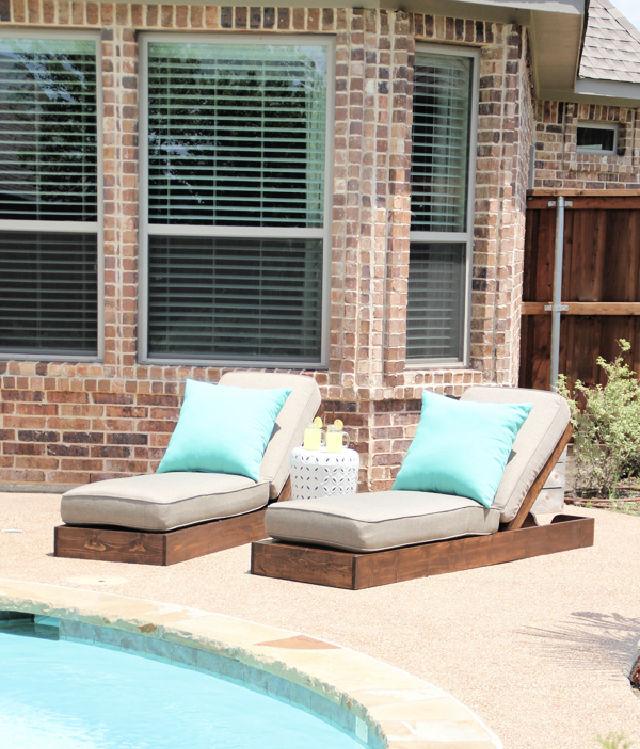 DIY lowest and most relaxing lounge chair near your home swimming pool. The best thing is that you can design or make these chairs according to your lounge cushion's specifications. Interestingly, working on this new style of a lounge chair is much easier with already cut cedar posts or lumber. Apart from this, you need steel hinges, pocket hole screws, pocket hole jig, power drill, miter saw, tape measure and wood stain to complete this lounge chair effortlessly. shanty 2 chic
12. DIY Kids Patio Chairs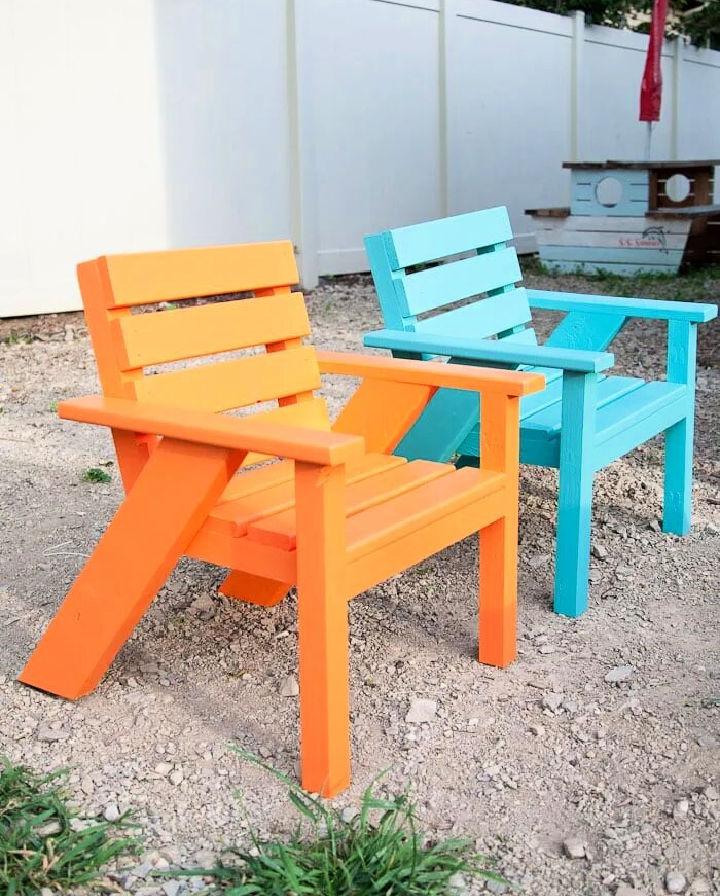 No doubt, kids love spending time outdoors, especially in the summer holidays. If you also have kids, you can offer them a more relaxing sitting space outdoor with these kids' patio chairs. DIY these chairs yourself instead of investing higher in ready-made furniture. The required wood products for this DIY are wooden boards, pocket hole screws, finish nails, colorful paints and waterproof wood adhesive. Ideally, you can make the same style chair for adults using the same plan but with modified dimensions housefulofhand
13. Simple Modern Outdoor Chair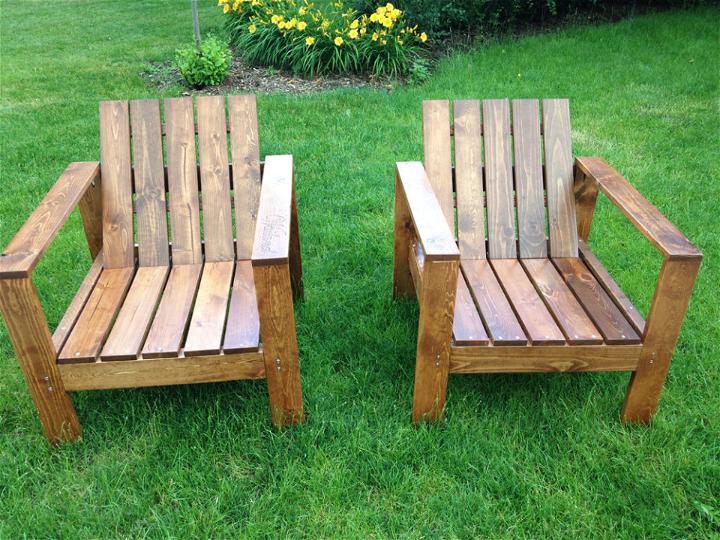 If you are looking for simple yet elegant outdoor decor, nothing will compete for the level of these modern outdoor chairs. The best news is that you can make them yourself with a plan and long wood boards. Moreover, assemble these boards using pocket hole screws, miter saw and wood glue. One more thing, use the longer wood boards for cutting the arms of this modern style chair. ana white
14. DIY Folding Cedar Lawn Chair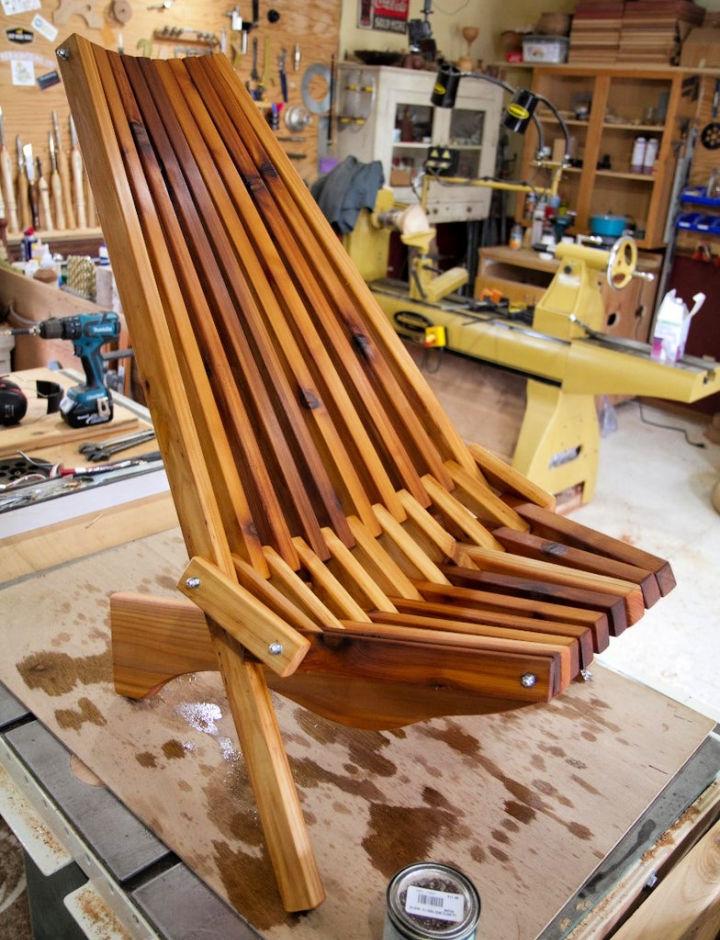 If you want to build your own foldable lumber outdoor chair, choose the right material and appropriate tools for it. The quality of this diy lawn chair project depends on the chosen lumber. Moreover, gather other hardware supplies after designing the plan. You can go for cedar posts as the best option to build this foldable chair. Furthermore, use washers, nuts and caps with a drilling tool. Want to make this outdoor chair durable? Paint or seal it with a finishing sealer. instructables
15. DIY Outdoor Double Lounge Chair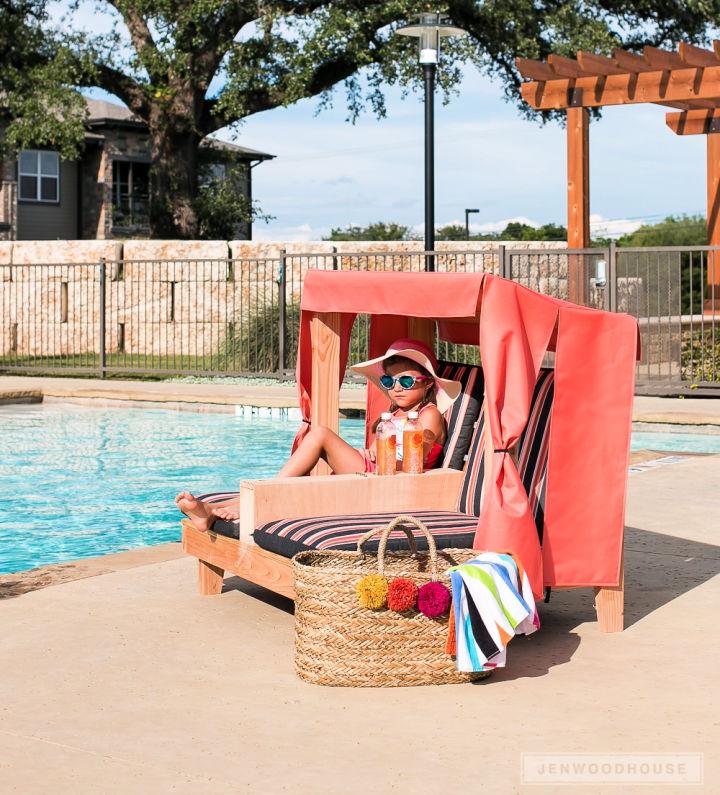 The outdoor double long chair is the perfect DIY for chilling and enjoy sitting together with your friend or partner'no wonder the basic design of this chair is made up for kids. But you can also use it for adults. You are all set to do summer fun with your friends and kids while having this chair in your garden! For this, use wooden boards, wood screws, brad nails, circular saw and impact driver kit. ryobitools
16. DIY Outdoor Lounge Chair with Storage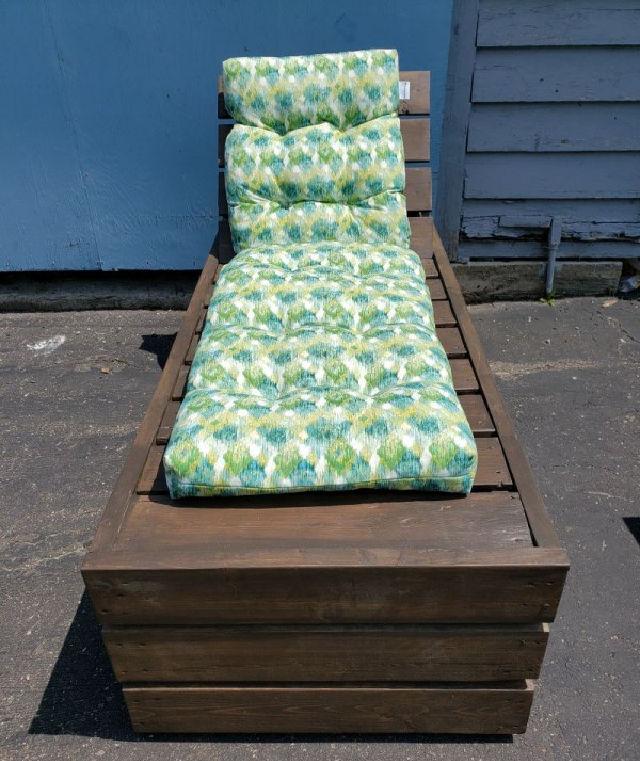 No doubt, we are always in need of more and more storage space in the home. Why don't you think about building a new storage space along with a relaxing space? If the answer is yes, it's the right time to consider this outdoor lounge chair with storage. Wonderfully, you can complete this lounge chair with additional storage space under $100. Get wooden boards, screws, sandpaper; miter saw drill driver and wood sealer. remodelaholic
17. DIY Outdoor Hanging Chair out of Pallet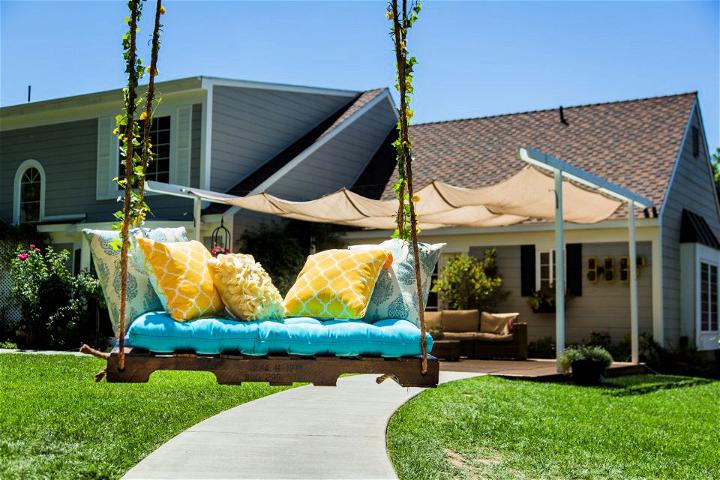 Make your patio and outdoor area more attractive for the kids with a hanging outdoor chair. Your kids would love to swing and relax on this super comfortable and fun-loving hanging chair. Summer holidays are the perfect time to install this chair in your home garden. So, let's start making this swing with a recycled pallet, saw screws, rope, tape measure and upholstery cushion. The whole thing you need to do is drill the holes on the pallets before hanging using the cord. hallmarkchannel
Pallet couch: These indoor and outdoor pallet sofa ideas! Find inspiration from hundreds of clever designs, ranging from rustic to elegant sofas.
18. How to Make a Lounge Chair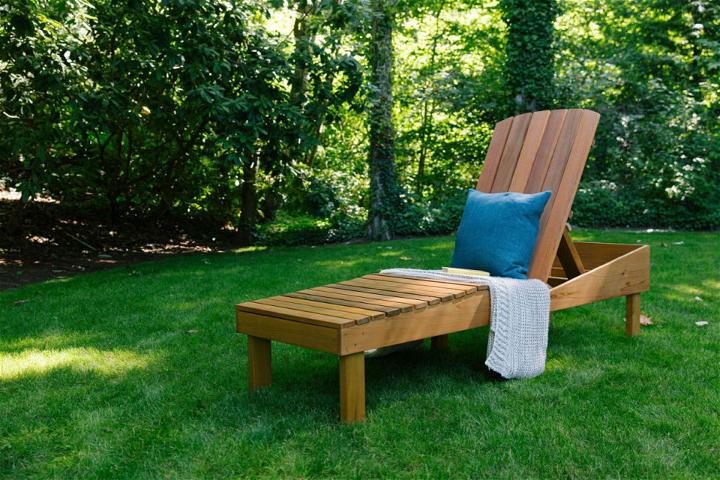 Do you love to add something different and unique to your patio? If yes, you would surely enjoy working on this lounge chair for outdoor decor. This diy lounge chair is the perfect DIY project to add a relaxing space to the patio and decorate your backyard stylishly at the same time. So, bring this lounge chair to your patio using cedar, screws, hinges, exterior wood stain, glue and wood-crafting tools. dunnlumber
19. DIY Outdoor Rocking Chair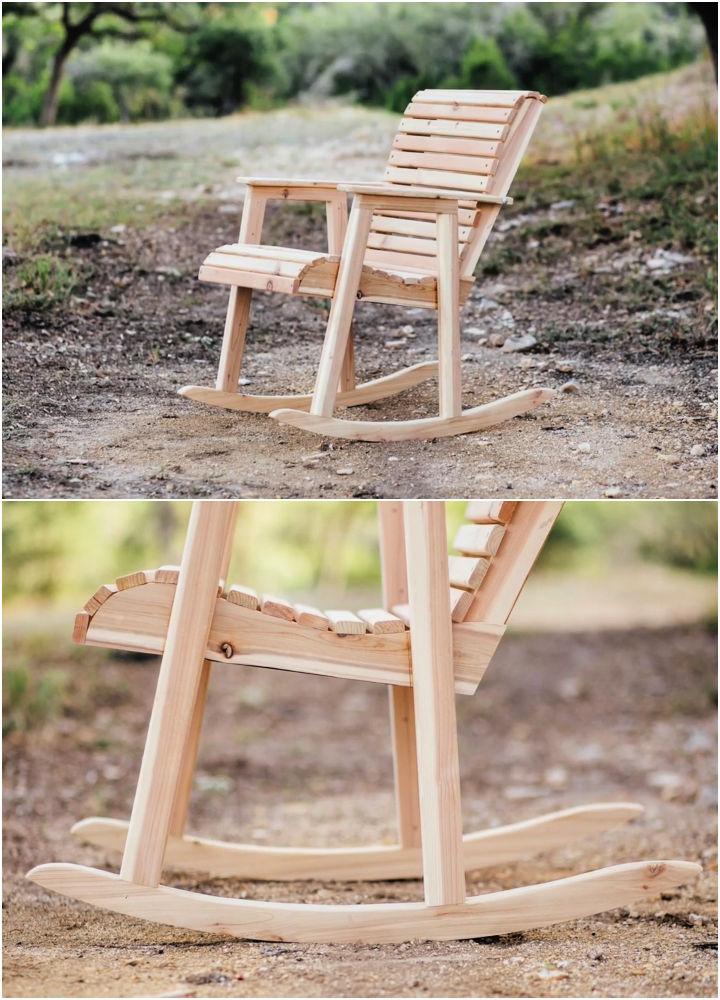 DIY a modern style and rocking outdoor chair with a free plan including all guidelines and step-by-step instructions. It may sound funny to add this chair for relaxing in your backyard. But you would surely enjoy sitting on it in the fresh air. So, add this chair to the deck using clamps, countersink bit, glue, screws, router table, belt sander and cedar leftover. For ease of work, design the model of this rocking chair using 3D modelling software. wilkerdos
20. Front Porch Chair from 2x4s and 2x6s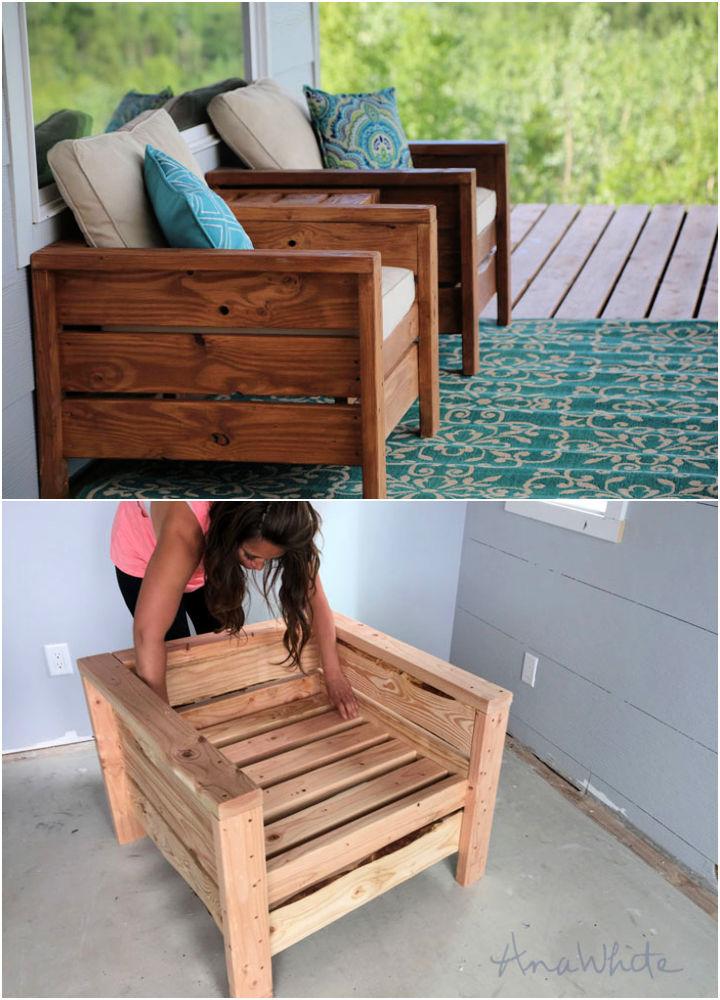 These 2×4 and 2x6s diy wooden outdoor chairs are the perfect options to replace your old or outdated porch furniture. Don't you have pocket hole skills? Don't worry; this project doesn't involve pocket holing. Excitingly! You can save much money and get your desirable patio chair at the same time by working on this sturdy outdoor chair plan. For this, use a wood supply of your choice, deck screws, power drill, screwdriver, wood stain, adhesive and wood paint. ana white
21. Build Your Own Lawn Chair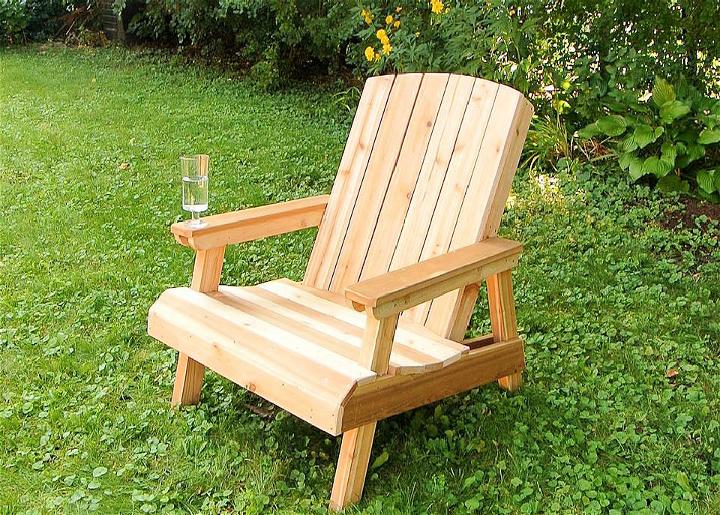 Build a versatile and lowest lawn chair for relaxing and chilling in the fresh air. The overall design of this chair is similar to an Adirondack chair. Make this project more interesting by working on it outdoor instead of indoor. To work on this lawn chair plan, use cedar or treated lumber, bandsaw, wood glue, nails, hammer, miter saw, tape measure and wood filler. Craft this chair perfectly, and enjoy your day! woodgears
22. Wooden Camp Chair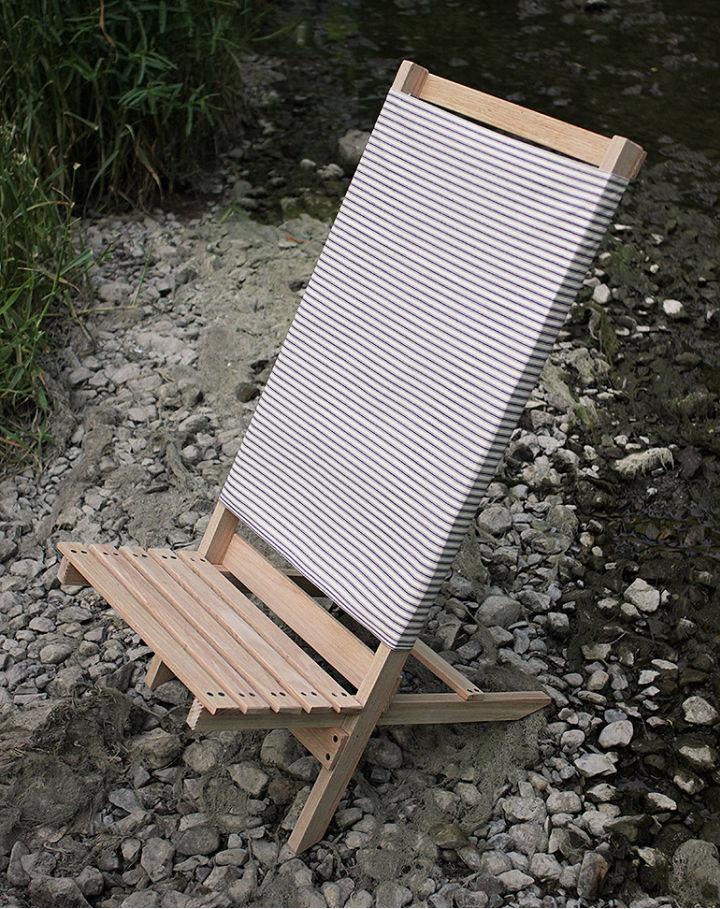 If you love camping and spending your time outdoors while sitting around the fire or in the fresh air, this camp chair would be the best relaxing option for you. Excitingly! You can also keep this chair in the car easily while traveling. Build this camp chair or bench with reclaimed oak, table saw, tape measure, countersink, drill, screws and an orbital sander. Moreover, use an upholstery striped fabric for the back support of this camp chair. themerrythought
23. Build a Garden Chair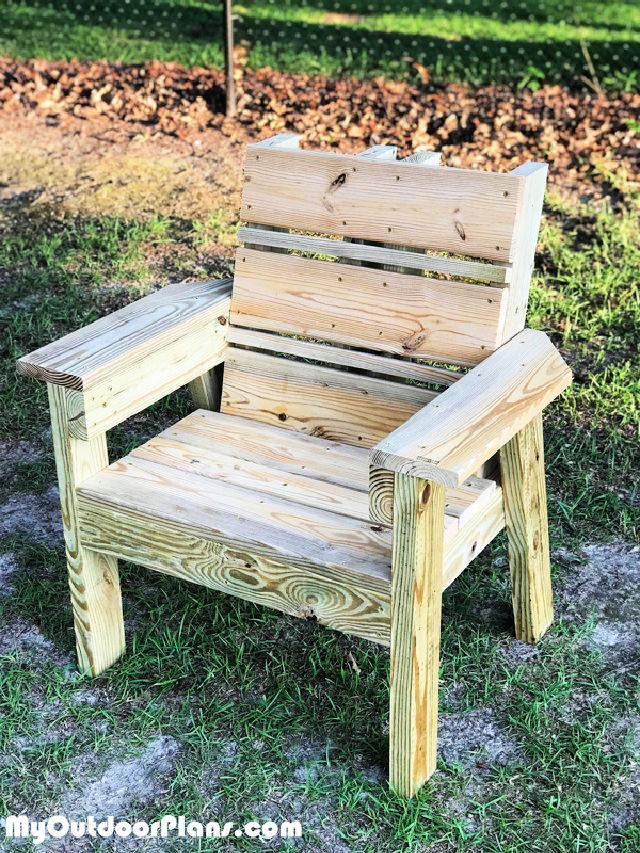 Build a beautiful and affordable garden chair with step-by-step guidelines or instructions for your home garden. The best thing is that you can get this chair in your backyard on the weekend. Keep this project cheap and budget-friendly by considering the lumber. Furthermore, you will also need galvanized screws, a power drill, sandpaper and wood stain to DIY this garden chair. Once you have got all the materials, you can complete this craft project within a day. myoutdoorplan
24. Pallet Wood Oversized Chair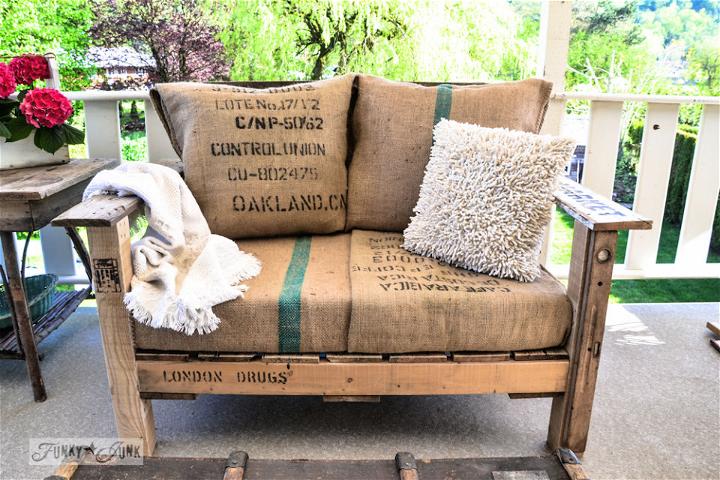 Pallet wood chair is easy to make for all the professional and beginners. Anyone can complete this project within a few hours after gathering all supplies and required material. This oversized pallet chair is for you if you desire to add some affordable but stylish furniture to your patio or deck. DIY it using a wood pallet, wooden rails for back support, wood screws, glue, miter saw, power drill, sandpaper and wood stain(optional). funkyjunkinteriors
25. Outdoor Lounge Chair Plan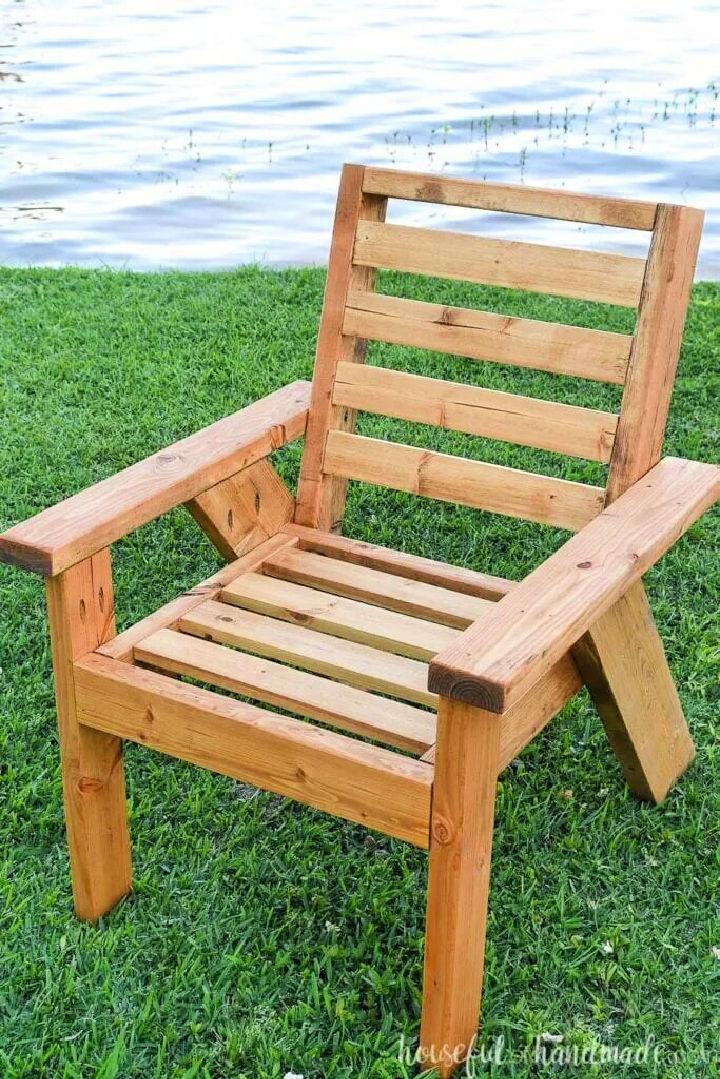 Work on a versatile and durable outdoor lounge chair plan with treated lumber or cedar. The main reason for considering the lumber for this chair is to complete it within a minimal budget. Moreover, start with a plan to build this lounge chair desirably. The materials you will need to work on this chair are wood screws, glue, miter saw, tape measure, power drill and wood stain. housefulofhand
Conclusion: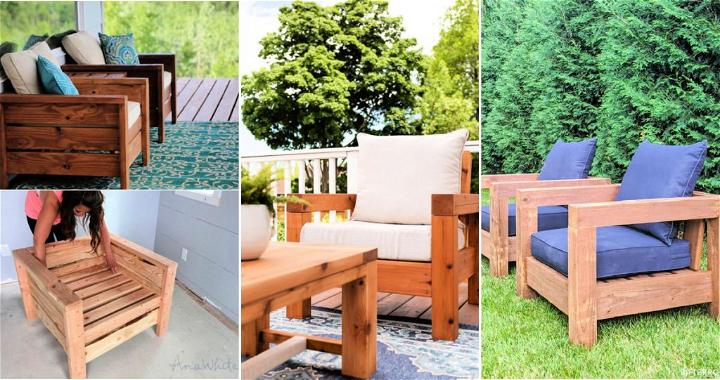 That's all! Thanks for reading and stopping by. It's time to get inspiration from these ideas or plans to build your DIY outdoor chair. We would love to answer your queries regarding mentioned above DIY outdoor chair plans. Have a nice crafting day!