Installing an outdoor shower will surely provide a lot of benefits. An aesthetically pleasing custom shower design will create a big focal point in your backyard. At the same time, it will help boost the summer outdoor water fun also. An outdoor shower can be installed just on the sides of an outdoor pool to remove all the grime before diving into the pool, and it will rock to wash off the pool water chlorine from the body after the pool or lake swimming. They can serve as extra showers to your guests staying at home, and they will be the most luxurious outdoor spas and saunas to rinse off and get relaxed anytime after a long busy day. See these 30 inexpensive diy outdoor shower ideas that will help you to choose the best design to suit your needs and complement your outdoors.
So, we have got these 30 rustic, modern and cheap outdoor shower ideas that you can start looking through for some great inspirations. Whether you want a single pole with a showerhead or want to build a one with full privacy or a diy outdoor shower enclosure, you will learn here to build all the popular varieties of outdoor showers.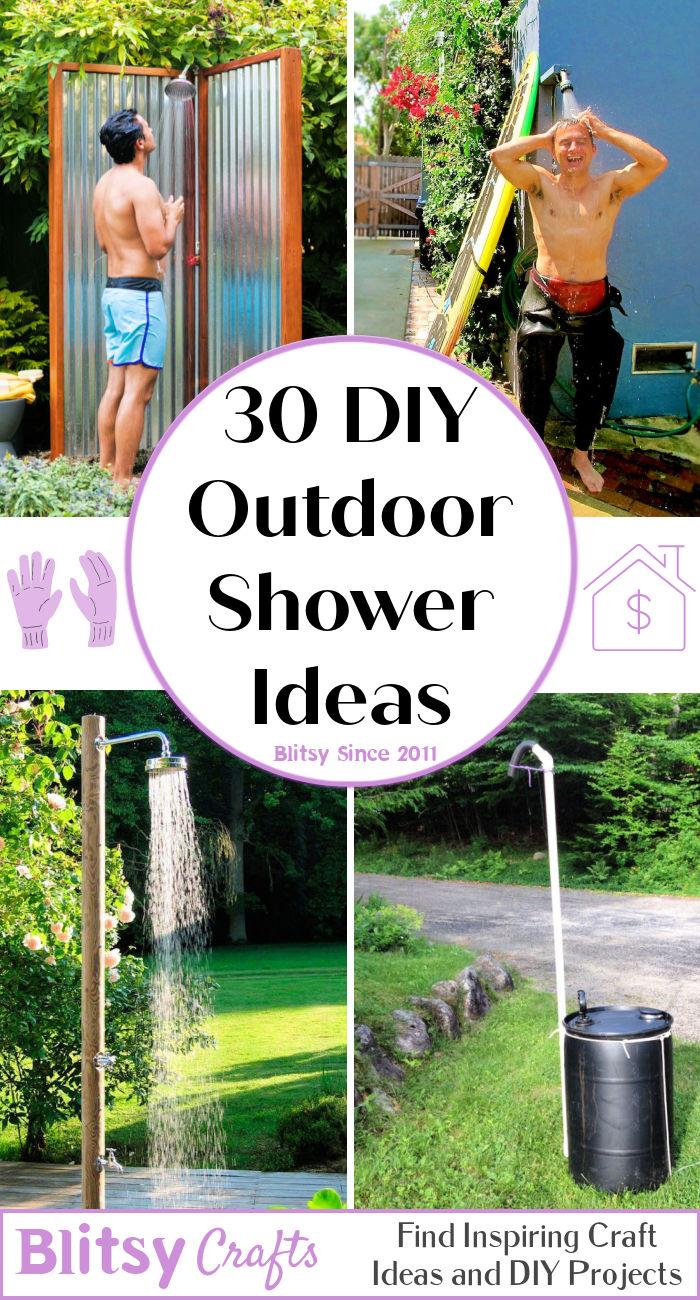 Simple, modern and rustic outdoor shower ideas for your backyard
It can be a big challenge for many of us to build an outdoor shower. At the same time, many of us consider it a matter of bigger investments. But that's not true; with a little knowledge of plumbing and woodworking, everyone can start making an outdoor shower like a pro. Just in case you are adding the metal frames, you must be a little expert in welding. You will get outdoor shower ideas and designs made of PVC pipes also. Finally, you can connect a garden hose or a water tank to start using these showers.
These diy outdoor shower ideas will guide you to install beautiful shower systems for your campers and other camping vehicles also. So, you can feel fresh like home even when being at a far away picnic place. These simple outdoor shower ideas will help you take a bath anywhere at your favorite outdoor, and it will be heaven to relax outdoor with these DIY outdoor shower ideas, shared to amaze, impress and inspire.
1. Outdoor Shower Using Lumber and Corrugated Tin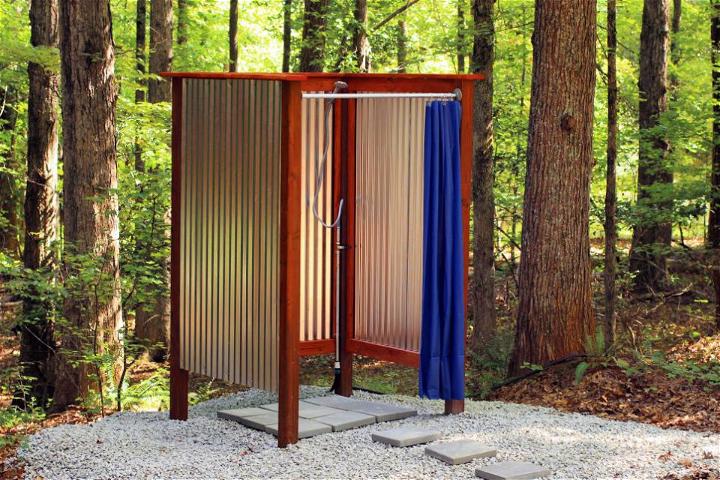 Summers often make you busy with outdoor activities. So, spending a lot of time outdoors will bring lots of dirt to your clothes, shoes and possibly the face and body too. So, stop tracking this dirt to your indoors with this quick-to-build outdoor shower, which helps rinse off all the dirt outdoor, and you go clean and neat in the home. It is not a big hassle to build this outdoor shower that comes with a lot of privacy. You need corrugated metal, curtain rod, curtain, simple lumber, and simple plumbing. Connect a garden house to let the shower work. hgtv
2. Outdoor Shower with a Garden Hose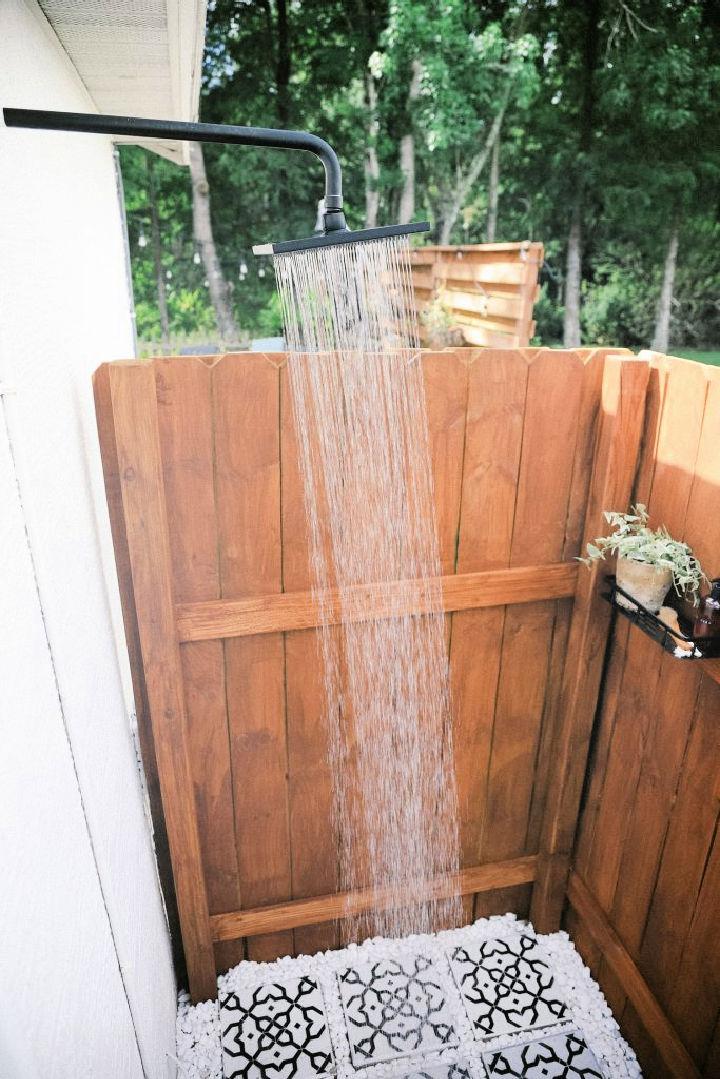 Looking for some budget-friendly outdoor shower ideas? Learn here to set up a fully private outdoor shower for the ultimate backyard oasis, which will help you get clean before you enter the home after doing some great garden repairs and other outdoor tasks. Build the privacy shower walls using fencing boards, create flooring with painted tiles, install drainage with stones, and finish with a rain showerhead. Connect the garden hose to the shower to let the shower work beautifully. The best project is to build an outdoor shower with a garden house. freshmommy
3. DIY Outdoor Shower with Hot Water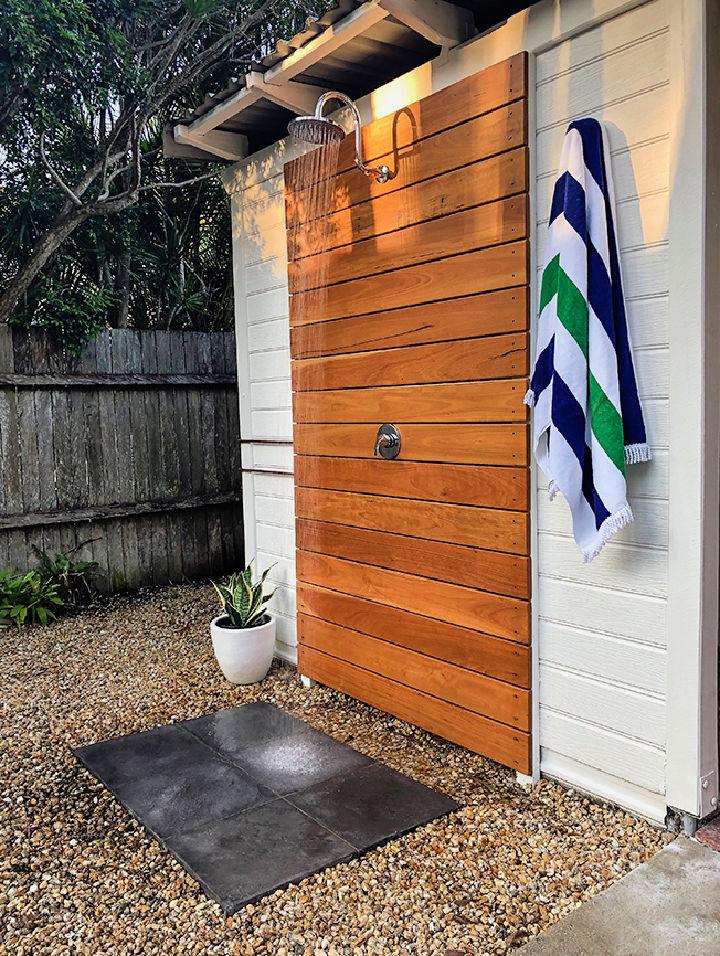 Here you will get instructions about how to plan and build an outdoor shower with hot water. The shower will surely make you live the outdoor luxury and will not cost you as much as you think. You need gripset betta weather seal, paint, treated pine wood, hardware decking, galvanized pattern screws, Bondall in-ground timber protector, stainless steel screws, gold exterior wood varnish in satin, microfibre mini roller & tray, and a showerhead to build this outdoor shower with hot water easily. One of the best DIY outdoor shower projects that everyone can do with ease. littleredindustries
4. How to Install an Outdoor Shower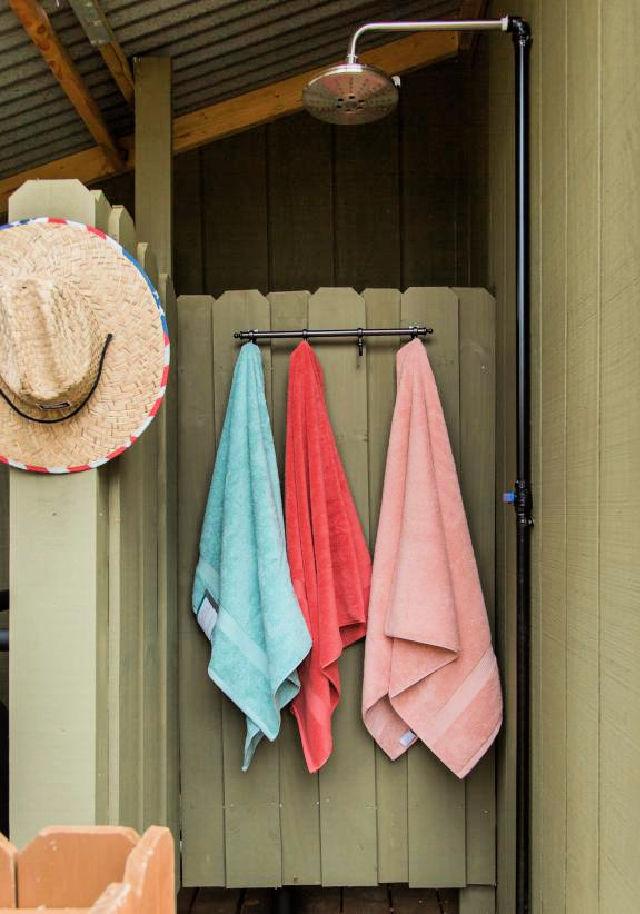 This project will help clear all the points in your mind about building a stylish and lasting longer shower outdoor. The project will complete simply in a day, and you need an intermediate skill level and some minimal investments to build this outdoor luxury. Grab the galvanized pipe, galvanized elbow, brass ball valve, pipe thread to hose thread nipple, pipe clips, 1″ exterior wood screws, shower fixture, Teflon tape, towel hooks, garden house, black spray paint and drop cloth etc. to build this outstanding outdoor shower.
5. Homemade Potable Outdoor Shower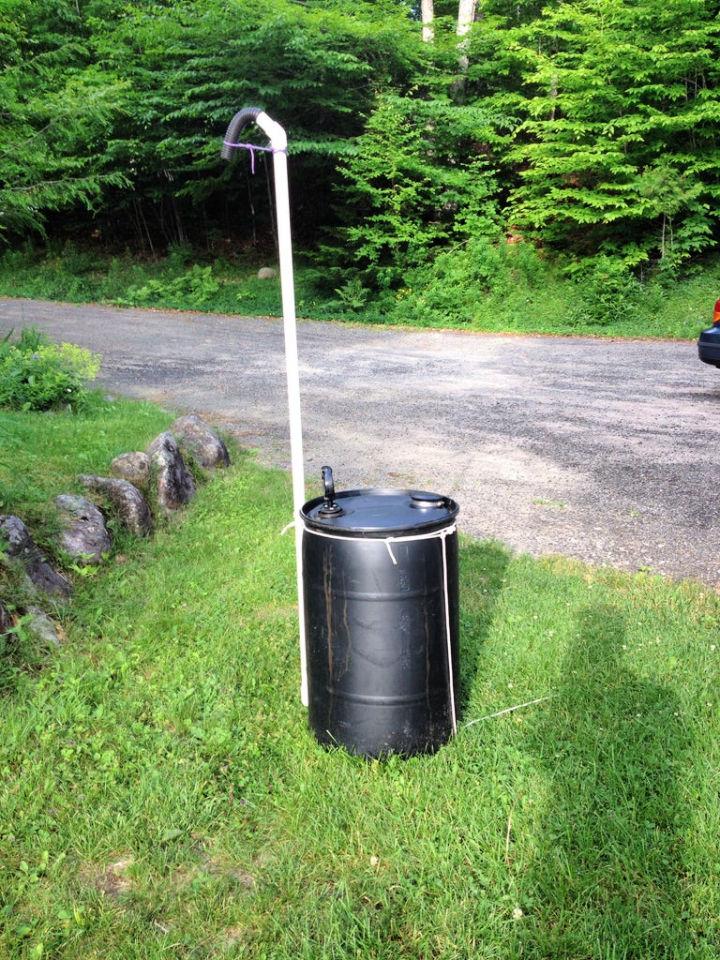 The outdoor showers are one of the best outdoor water funs. They also become crucial when you wish to enter indoor cleaned after getting dirty in the garden or backyard. So, grab the free creative tips and hacks to build a lasting, longer and lovely outdoor shower at a minimal cost. It would be best to have a plastic barrel, pump, cap, PVC pipe for the shower and a showerhead to build this outstanding outdoor shower in no time. It will make you enjoy the summers more. This shower works with a pump that pumps the water from the barrel to the showerhead. You have to fill the barrel again when it gets empty. The best part is that you can drag this shower to any outdoor location. instructables
6. Simple DIY Off Grid Outdoor Shower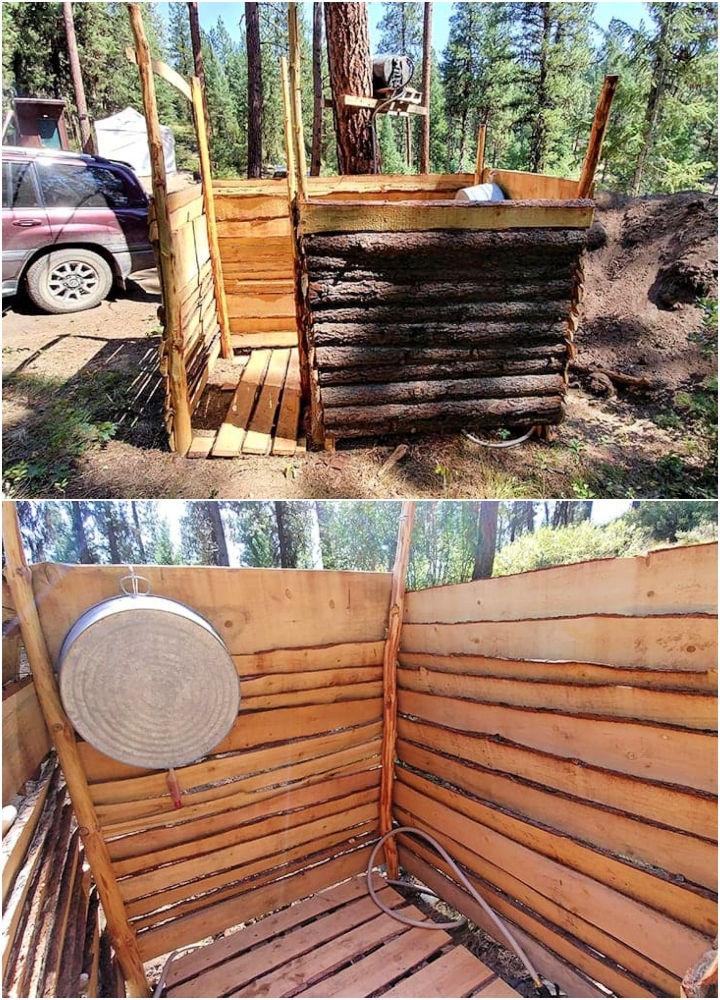 Get here instructions to build an outdoor shower that does not depend on the public utilities or electric supply. It can be set upright in your garden on the sides of a tree or any outdoor forest. Decide the outdoor space and level up the ground. Make the area private by installing the wooden walls all around, and then add some flooring also. Hang the water barrel on a nearby tree and install the water lines to run the water through the shower beautifully. Here a 20-gallon water storage drum is used for this project. One of the best and quick-to-build outdoor off-grid shower ideas that everyone can duplicate with ease. outdoortroop
7. Build an Outdoor Shower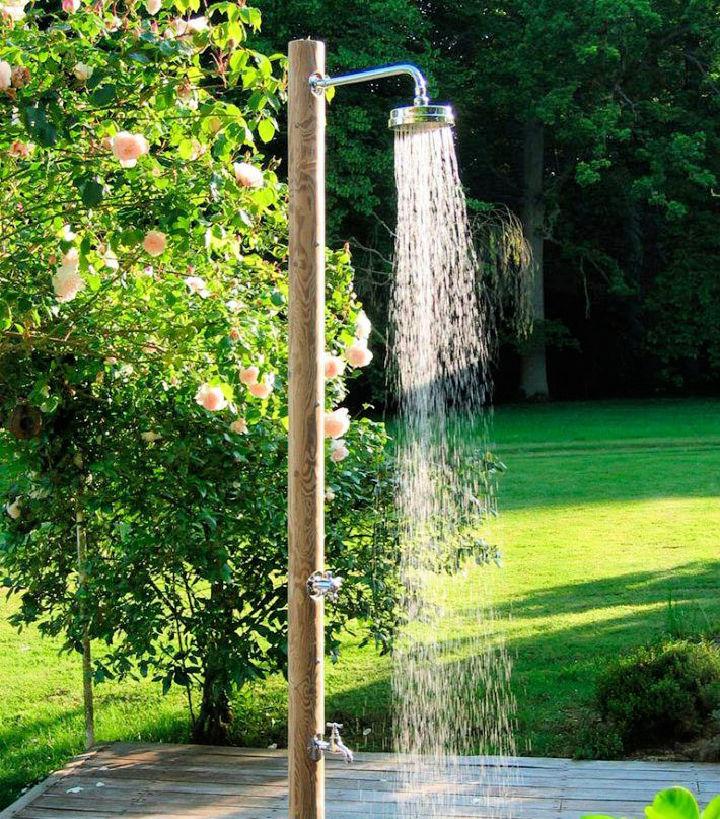 The outdoor shower ideas are never-ending. Rock your cooling off and rinsing off summer routines with this DIY outdoor shower that comes with complete shower controls and a faucet added to the bottom side of the wooden shower pole. Intending to duplicate this one of the best outdoor shower models? Then manage to have 4x4s lumber, 1x4s lumber, deck or galvanized wood screws, outdoor wood sealer, a post hole digger, quick-drying concrete, pea gravel, shower head, shower arm, galvanized pipe in threaded lengths, faucet, electric drill and garden hose etc. to do this project. quiet corner
DIY Ideas for Your Outdoor:
DIY outdoor sectional: Learn how to build this outdoor sectional sofa with these printable and easy DIY outdoor sectional plans. It's perfect for entertaining friends and bringing the indoors out!
Homemade cooler: Entertaining on the deck this summer? Learn how to make a cooler at home to keep your frosty beverages cool with a homemade cooler.
Outdoor seating plans: Do you need inspiration for outdoor seating? Discover creative and unique DIY benches, outdoor chairs, outdoor tables, and outdoor lighting ideas for your backyard that will suit anyone's taste.
8. How to Build an Outdoor Shower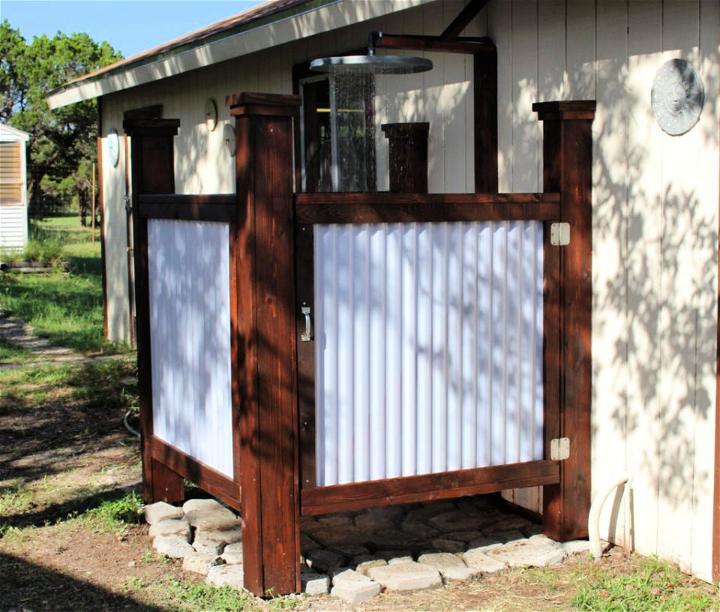 It can be intimidating for many of us to build an outdoor shower. Follow here quick guides if you need to build one professionally and also in a professional style. You need a bunch of tools and materials to duplicate this luxurious outdoor shower. Grab the post hole diggers, concrete, paving molds, circular saw, drills, stain, tuftex panels, shower head and braid nailer etc., to build this fabulous outdoor shower with complete privacy. The project will also guide you to build the showerhead that has a bigger impact on the overall beauty of this outdoor shower. wilkerdos
9. DIY Outdoor Heated Shower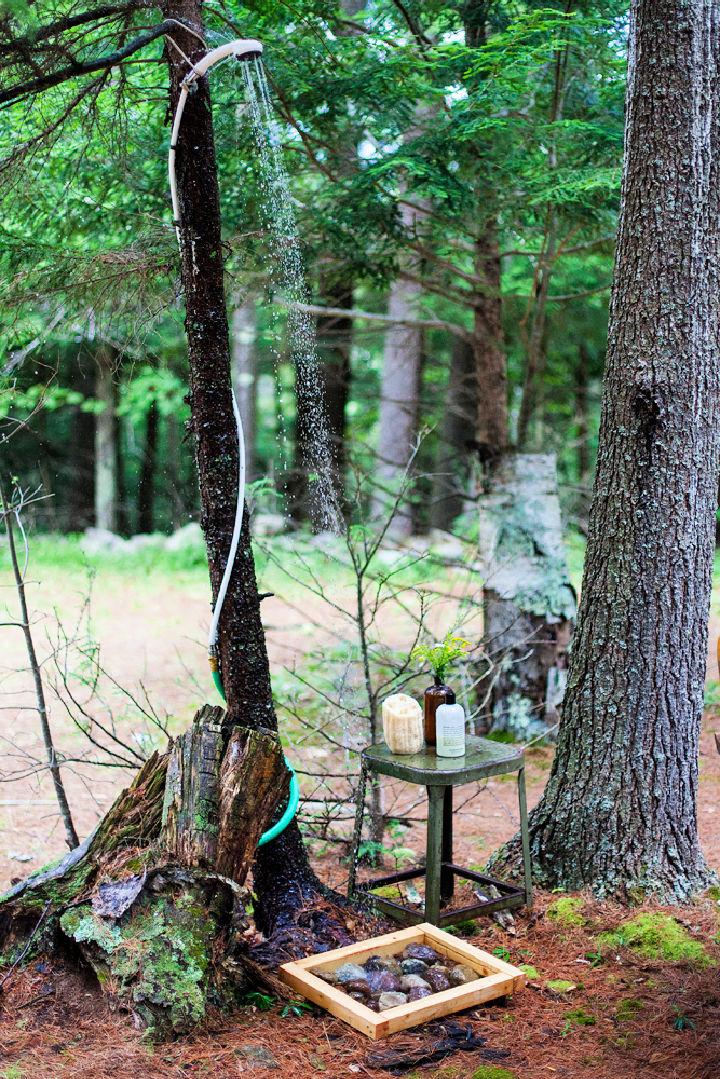 Live the luxury even in the forested outdoors with this outdoor heated shower that is amazingly easy and quick to build. You can easily target an outdoor tree to build this outdoor heated shower in no time. You need 2x4s, smooth stones, a nearby tree, hose, flexible shower head, rope, and adapters to build this fully functional heated outdoor shower in very required supplies. Also, add it up with a side table where you can place your bath essentials, including the soaps and essential oils. It will be big heaven to take a bath under this shower for sure. poppytalk
10. Make Your Own Outdoor Shower

You will love this professionally built outdoor shower that is graceful and provides complete privacy to the users. From leveling the floors to installing the floors to adding the sidewalls and showers, you will get complete guides for building every part of this outdoor shower. In supplies, you need bags of egg stone, polished concrete squares, bags of concrete, outdoor pressure treated timber, outdoor shower fixture, brass hose splitter, heavy-duty garden hose, decking screws, bamboo rolls, bamboo fencing, brass hinges, hook and latch etc. to build this outdoor shower. The very required tools for the project will be a screw gun, and skill saw, a post hole digger, shover and staple gun. greenpapayapalace
11. DIY Camp Shower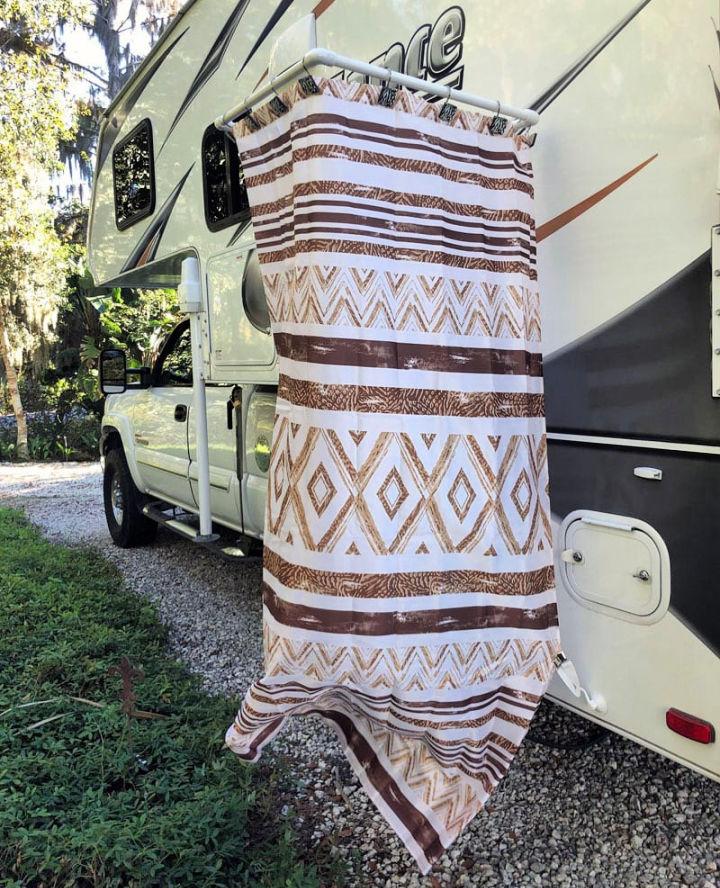 Do you strive for uniqueness in everything? Then presenting here, this fabulous portable outdoor shower will rock for campers. The shower frame is made with PVC pipe, and it also comes with a curtain for full privacy. This portable outdoor shower can easily be installed in a camper truck or van, and it will surely make you live the summer outdoor luxury. The project is for all beginners and will cost you around $12 or less for sure. The project will rock for your camper life and allow you to get cleaned throughout the outdoor camping journey. truckcampermagazine
12. Corrugated Metal Outdoor Shower Plan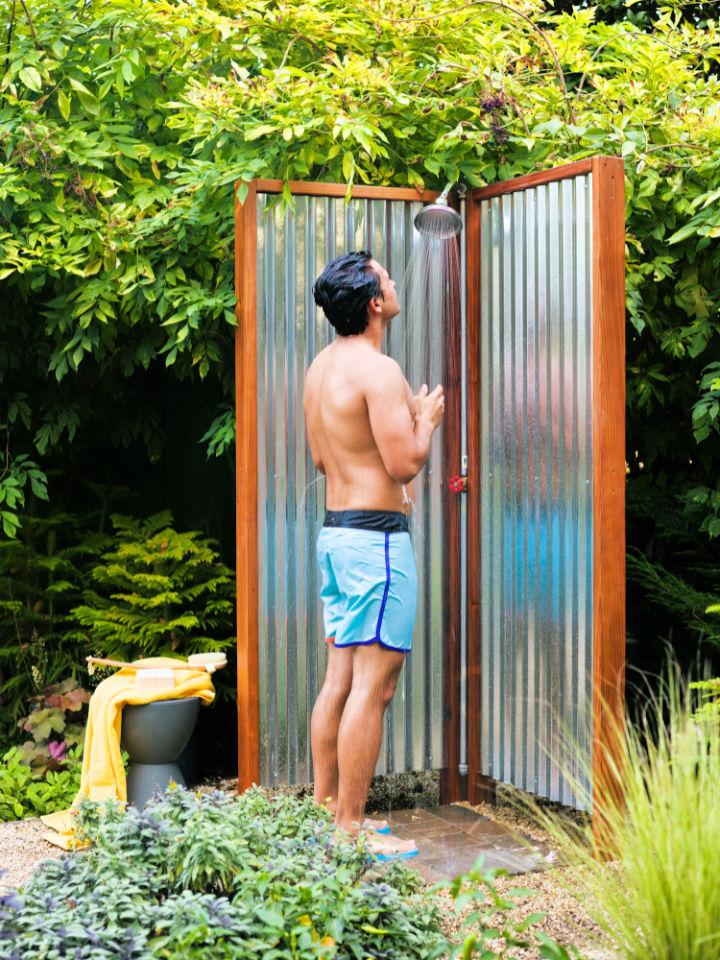 You will not allow your kids and pets to enter your home dirty. So, rinse off your kids and pets with this outdoor shower that is crazily easy and quick to build with minimal supplies. You need corrugated metal panels, 2x4s, peeler-core log, screws, water-based wood sealer and custom screws to build this lasting longer and fully functional outdoor shower. For the shower, use the nylon plumbing pipe, shower head, shower arm, elbows, pipes, gate-valva faucet, hose coupling, C-shaped pipe hangers and a garden hose to build this awesome outdoor shower. The entire project will cost you next to nothing. sunset
13. Simple Freestanding Outdoor Shower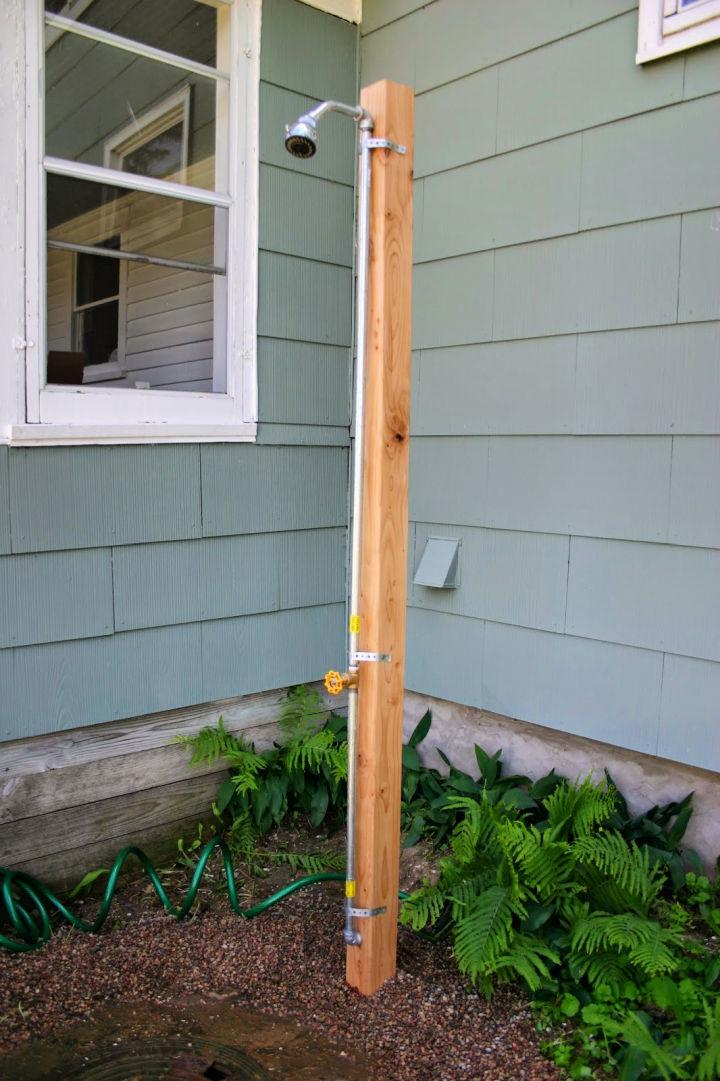 Everyone outdoor lover will fall for this exceptional design of outdoor shower that is fully functional and modern minimalistic. Here the plumbing and shower connections are made on the heavy-duty wooden beams serving vertical shower poles. The 4x4s will rock as the vertical wood frames for this entire outdoor shower installation. You can attach the garden house to operate this brilliant outdoor shower. It will bring lots of fun to your outdoor summer adventures. The project is more than easier to do and will complete simply in no time. ouracreageadventure
14. Make an Outdoor Shower Using Garden Hose

Beat the summer heat by taking outdoor baths and showers. Follow here guides to set up a beautiful outdoor shower, totally budget-friendly to build. You need a 10ft garden hose, spray nozzle, drill, pipe C-clamps, and paintbrush to complete this outdoor shower, sure to make you live the outdoor luxury. The shower will rock to cool off and rinse off the pets and kids also. The project will complete simply at the drop of a hat and will surely boost the outdoor water fun of you. One of the best DIY outdoor showers ever built, and all beginners will take great pleasure in building it. homejelly
15. Car Top Solar Camp Shower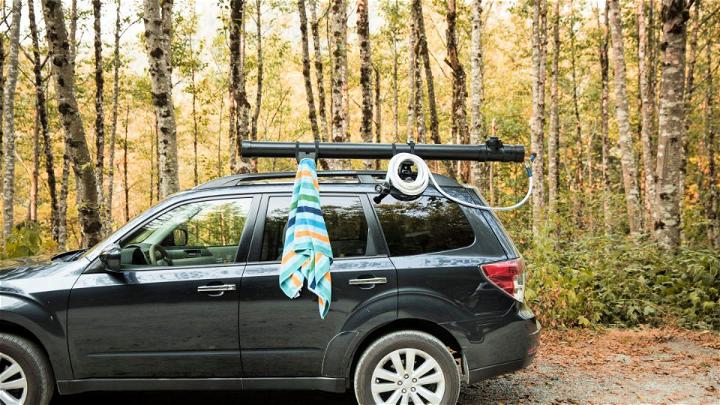 Are you often rent a hotel room during a camping journey to stay cool and fresh? Save tons of your expenditures by installing this car-top solar camp shower that will make you take a shower anywhere during the journey and is not a bit challenging to make. To build this magical shower, you need 10ft length of 4″ schedule 40 ABS pipe, two 4″ ABS end caps, one 4″ T-joints ABS fitting with threaded top opening, 4″ ABS cleanout cap for T-joint, One brass locknut, one flat rubber O-ring, two canoe foam blocks, one Schrader valve from an aluminum wheel and lots of other supplies mentioned in the project. rei
16. Build an Outdoor Shower Stalls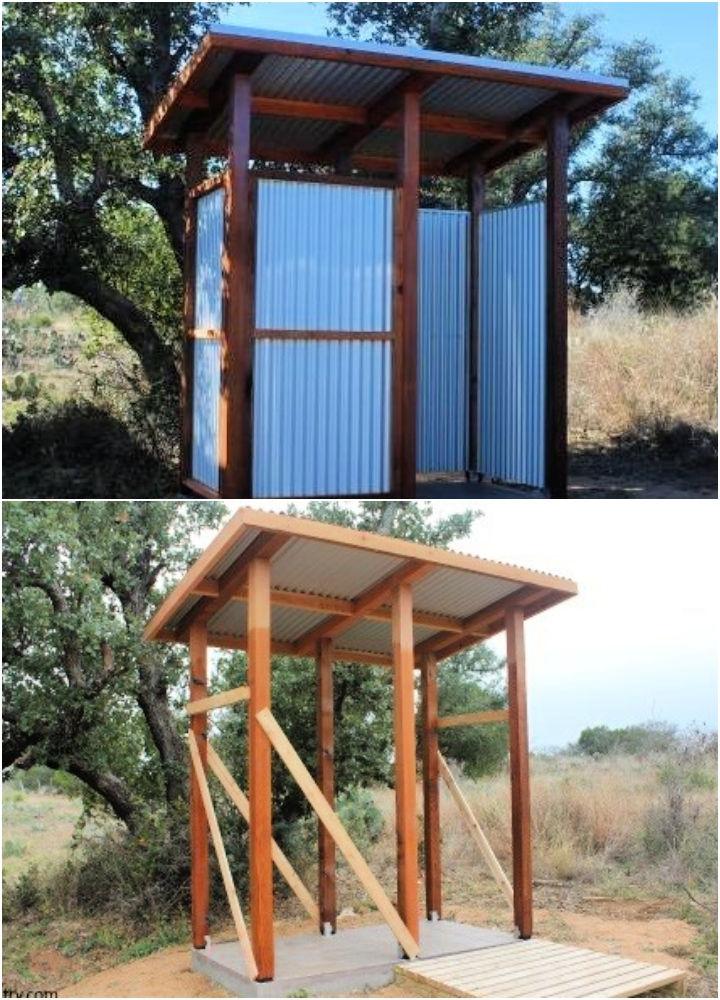 Follow the best outdoor shower ideas and instructions to make quick fixed outdoor shower stalls that come with the tilted roof also. The whole design is a praise-worthy combination of the wood and corrugated panels and looks just amazing. Stain the wood for a dark choco tone and also for weather protection. The whole wooden portion is built with red cedar. Go handmade with the 4x4s, 2x4s, 2x2s to build the wooden portion and frame of the shower stalls. The solid concrete floor can easily be made with the help of the 2x6s mold. Next, install the shower and hooks inside and also come corner seats. mycarpentry
17. Build Your Own Outdoor Shower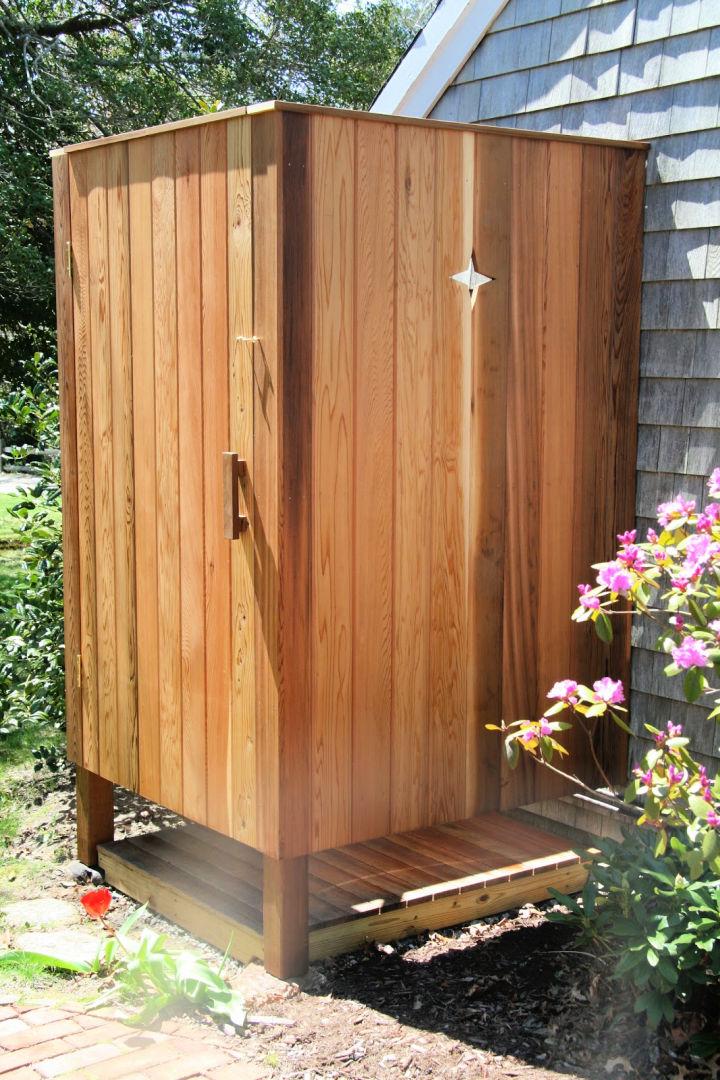 It can be super challenging for many of us to build an outdoor shower that will clean you off before entering the home dirty after some outdoor activities. Follow here the quick and easy guides to build an outdoor shower like a pro, which boosts your outdoor summer fun. This project involves building the wooden floor and then the complete side walls all around the exterior shower to gain full privacy. Make the front panel hinged in place to use as the main door. The project is done with the cedarwood and will cost you around $650. The finished design is 46″ wide, 48″ deep and 7′ tall. anoldfarm
18. PVC Outdoor dog Shower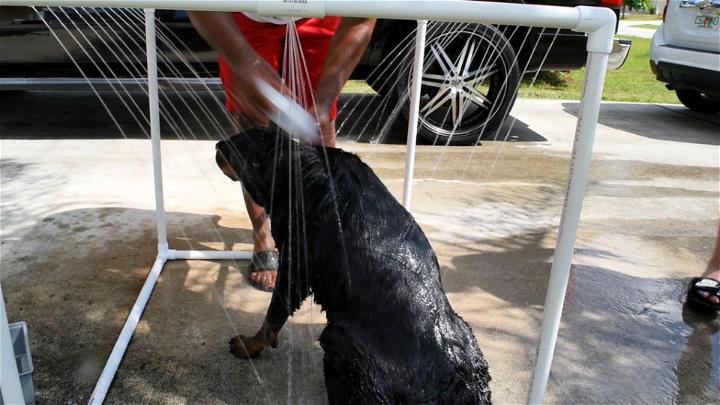 It creates a big mess when a dirty dog pet enters the recently cleaned home interiors. It will be super time-consuming to find the traces of dirt and clean them. So, this outdoor dog shower is a brilliant solution to rinse off and clean off your dogs outdoor. This dog shower is built with PVC pipes and is about 42.5″ wide, 33.5″ tall and 33.5″ deep. You need the PVC pipes, matching elbows, swivel adapters, tees, and other custom tools to build this stunning design of an outdoor dog shower. It will surely make a sweet handmade gift for a dog owner. instructables
19. DIY Outdoor Shower Enclosure Plan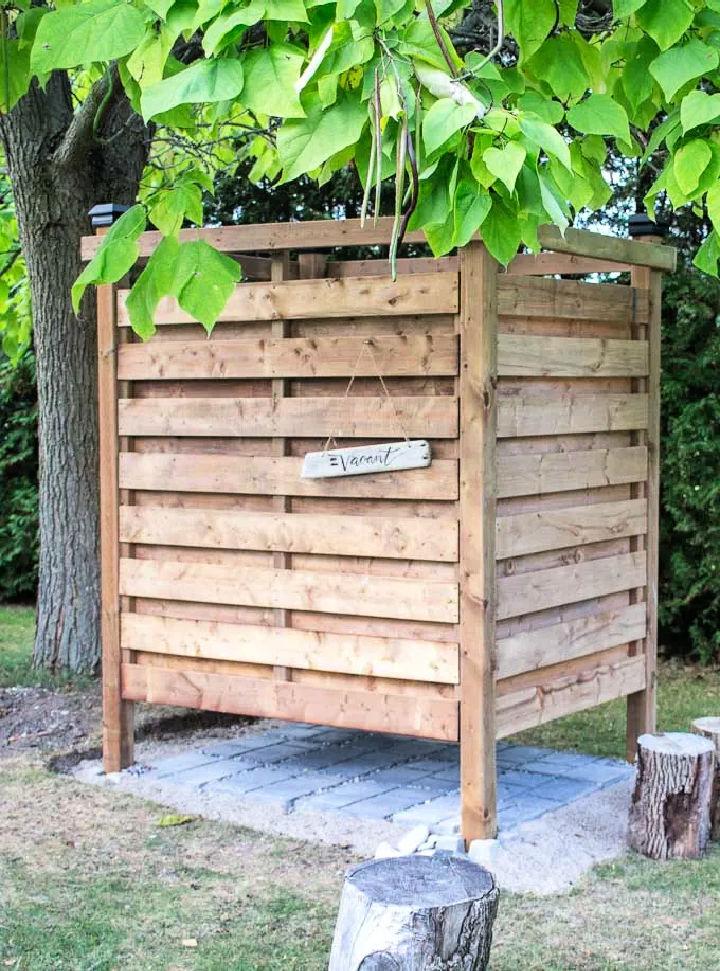 Duplicate this another outstanding outdoor shower that comes with a brilliant wooden enclosure. There is a plate hanging outside that you flip to show whether someone is inside or not. The floor is made with patio stones and deck footing blocks. And veranda 4″x4″ post caps are installed to top corners for amazing visibility. You need 4x4s, 2x4s, 1x6s, concrete deck footing blocks, sand, gravel, patio stones and inverted marking paint to make this lovely shower with enclosure. The project is pretty simple and quick to do and will impress outdoor lovers. sustainmycraft
20. Car Lighter Powered Shower Tutorial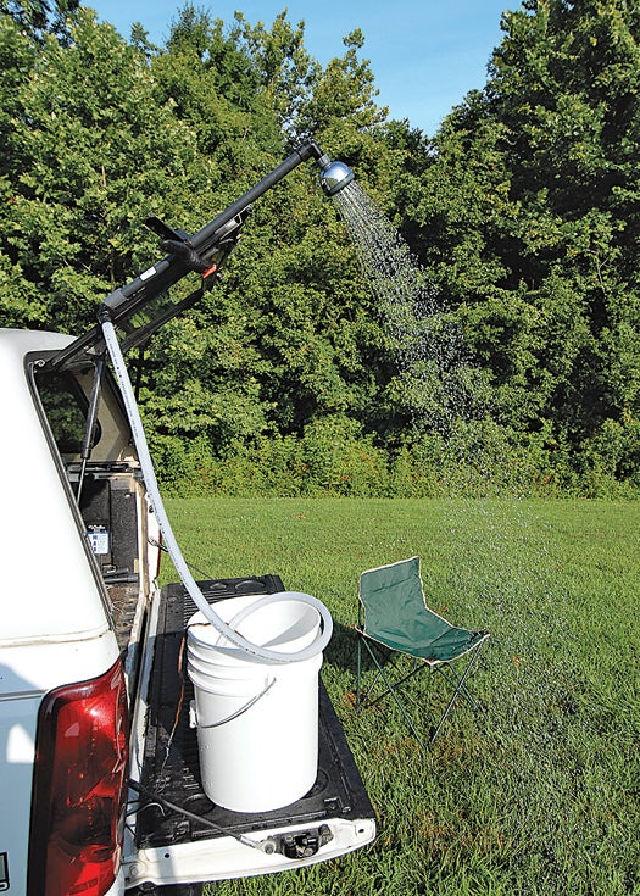 Are you addicted to camper life? And you are in dire need of a shower allowing you to take a shower anywhere outdoor? The project is all about smart fittings so you can easily set up the shower to the back door of your vehicle that will open upward. The bottom folding door will come in handy for the placement of buckets and other bathing essentials. Here you need a 12-volt output pump, tubing with fittings, a bucket of water, and a freestanding shower that you attach to the cooler. The entire shower setup will rock to rinse your off while feeling dirty during the camping adventures. popsci
21. DIY Hanging Outdoor Shower Stall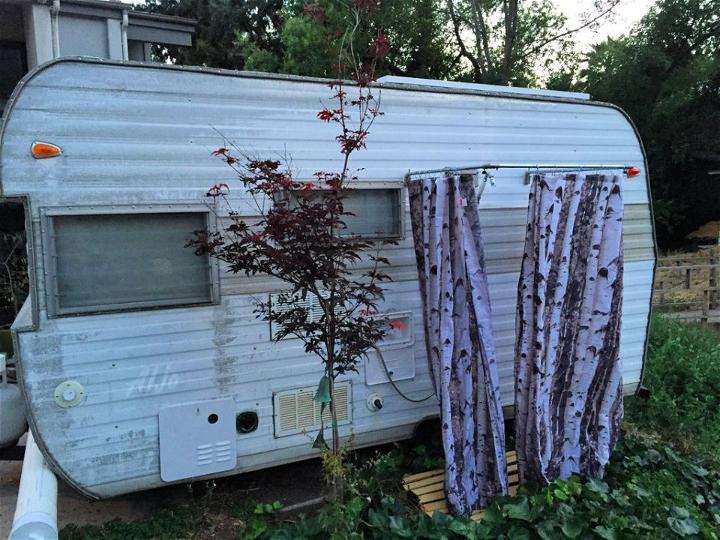 Get here instructions to build the easy hanging outdoor shower that you can easily install outside of your camping van or truck to enjoy outdoor showers in privacy. This project will surely impress camping lovers and is easy and quick to do also. First, you can add the mounts to install the shower stall. After shower head placement, you can move ahead with the plumbing connections and the curtain frame with wood pallet to build the instant beautiful non-slippery floor for the shower. You can make a pallet-like panel also using custom wood slats. instructables
22. Pool Shower Out of Reclaimed Wood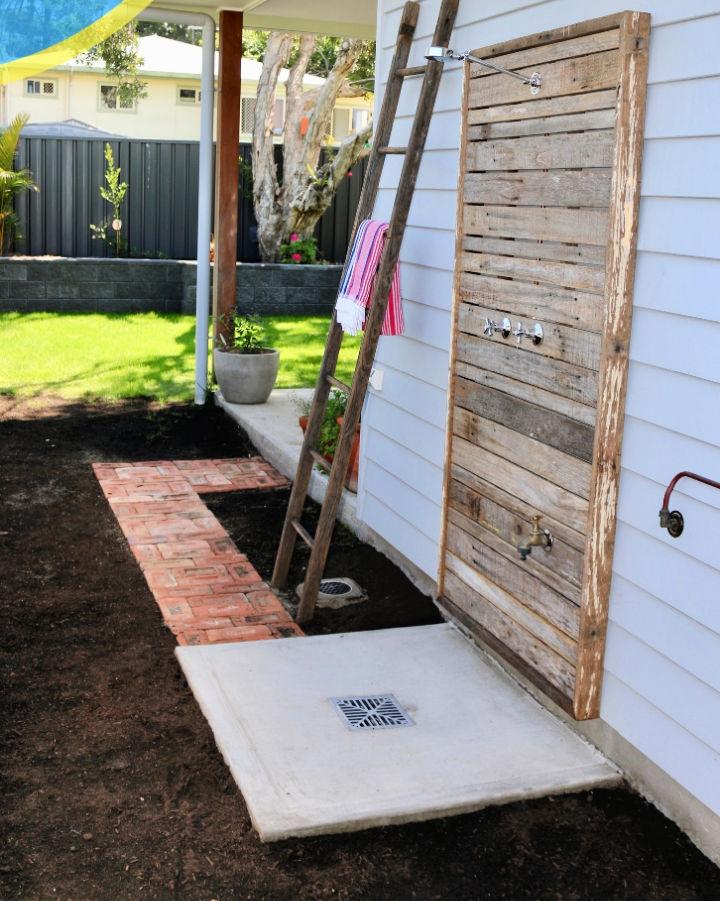 Follow here guides and instructions to build a quick outdoor shower that appears with the rustic wood wall. The faucets, controls and showerhead are installed on the slatted wood wall. You can repurpose the old wood from home trash stores and build this outdoor shower, and It will be a big love of all the outdoor lovers. The hardwood or treated pine will rock for this project. Use the concrete and steel mesh to build the solid floor for the shower. You also need plastic to cover the concrete slab base. One of the best DIY outdoor shower ideas. diyforknuckleheads
23. DIY Outdoor Can Shower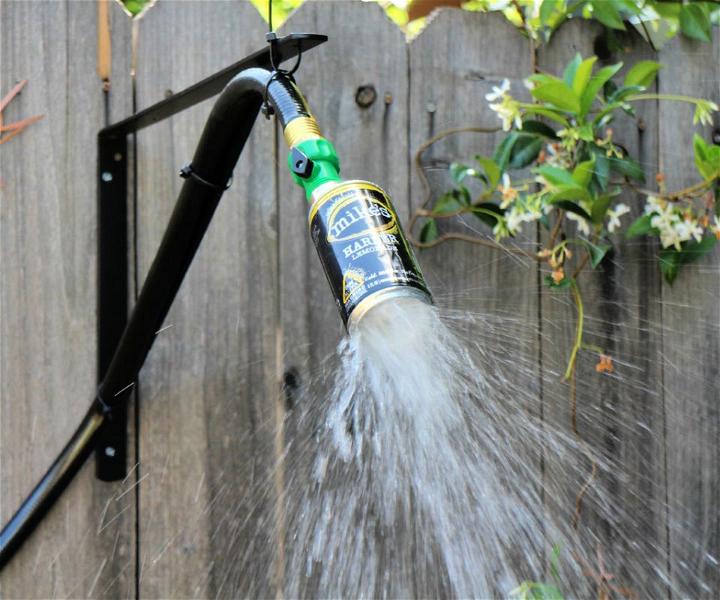 Follow here complete guides about easily building an outdoor shower while using even the recycled items and materials. Here you need 100ft long black garden hose, large shelf bracket, small shelf bracket, ⅝″ stainless wood screws, ¾″ male/female hose fittings, O-ring hose washer, 14″ black zip ties, aluminum can and a bag of large smooth stones to build this outdoor shower with drainage. You need a cordless drill, box cutter with fresh blade, fine tip sharpie pen, and wooden spoon or stick in very required tools. The project uses the aluminum can as the brilliant recycled shower head. instructables
24. How to Make an Outdoor Shower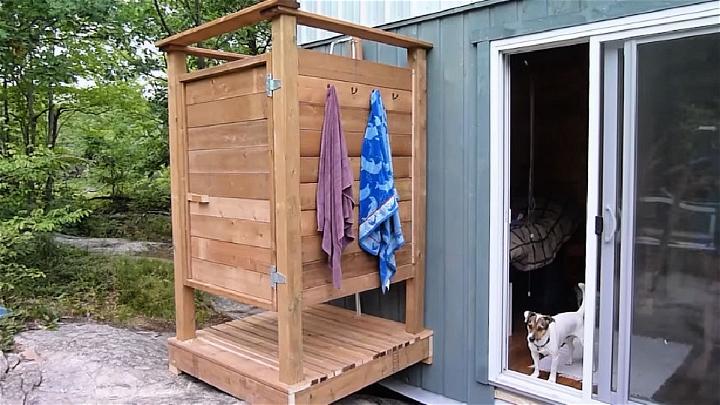 Grab here free guides and instructions about how to build a pretty awesome outdoor shower with an enclosure. You need 2x6s, 4x4s, 1x6s and other custom wooden boards to build this outdoor shower with 4'x4′ base easily. After the base, build the sidewalls that you can put together to gain a lovely wooden enclosure. Install the shower setup using the PVC pipes and finish it off by installing the custom hardware and roof if possible. The whole project will cost you about $200, and you will love building it with your beginner carpentry skills. youtube
25. Backyard Inverted Shower Plan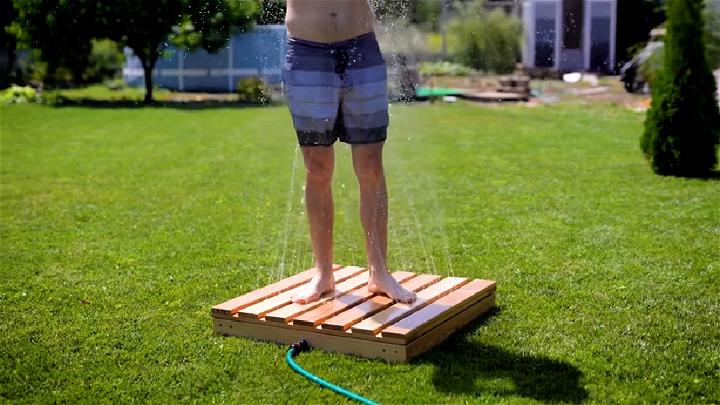 Boost the backyard entertainment and fun with this fabulous inverted shower. This shower installation will also rock for summer water fun, and kids will enjoy it more than anyone else. This project is all about setting up the wooden square slatted floor with all the shower arrangements inside. Use the PVC pipes for building the square shower frame. The project is done with precision and will boost the backyard activities of all the kids. The whole project is beginner-friendly and budget-friendly. You can even build this inverted shower with the leftover wood slats. youtube
26. Elegant and Simple Outdoor Cedar Shower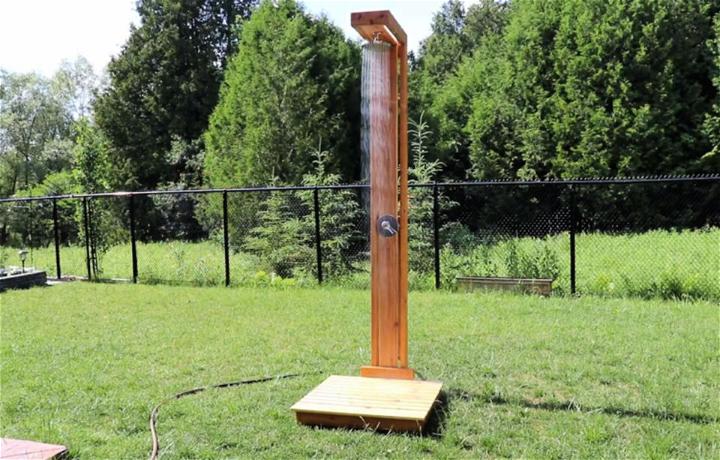 Willing to build an outdoor shower that will not take much space and can be operated by connecting the garden hose? Then head over to this cedarwood shower that is low on maintenance and will also cost you next to nothing. The best part is that it looks pretty awesome and lovely in the blank wooden appeal. You need 2x4s, 1x6s, and other wooden boards to build the wooden portion of the shower. Use the galvanized pipes, elbows, couplers, garden hose adapter and a valve to build this outdoor shower. One of the best outdoor showers ever built at home. youtube
27. Outdoor Bathroom from Bamboo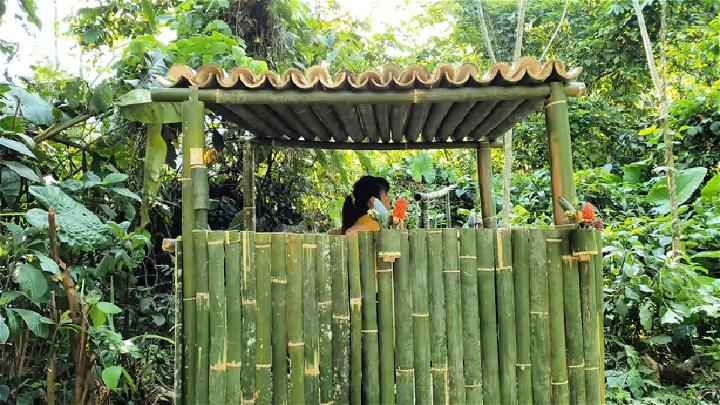 You will love these free instructions for building an outdoor bathroom using bamboo. The project is about to use both full round and vertically half-cut bamboo lengths to build the poles, sidewalls, and roof of this outdoor bathroom. Choosing durable and straight bamboo lengths is recommended for this project. Here the floor of the bathroom is also made of half-cut bamboo lengths. Use the leftover bamboo pieces also to make the corner vases for this outdoor bathroom. Use the garden hose or a bamboo shower for this outdoor bathroom. youtube
28. Outdoor Shower Made of Metal and Wood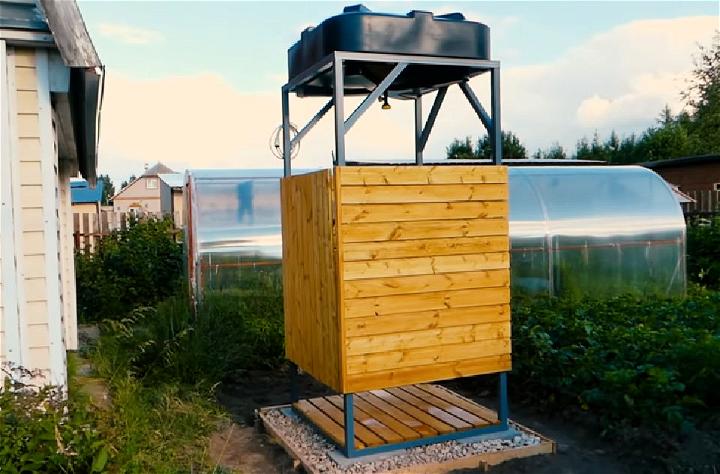 Accomplish your dream of taking baths outdoor with this project. Yes, it will show you that how to build a lovely outdoor shower with metal and wood. The cost prices of the project are highly affordable, and the entire project is also much doable. Use the square metal tubes or solid square dowels to build the overall frame of this outdoor shower. Next, fill the sides and bottom floor with the wood slats that you can screw in place. Place the completed model on the top of the gravel flooring you have already installed and finish the shower by adding a door and a water tank on the top. The most durable and most beautiful outdoor shower ever made, it comes with a lovely enclosure also. youtube
29. DIY Outdoor Shower with Barn Door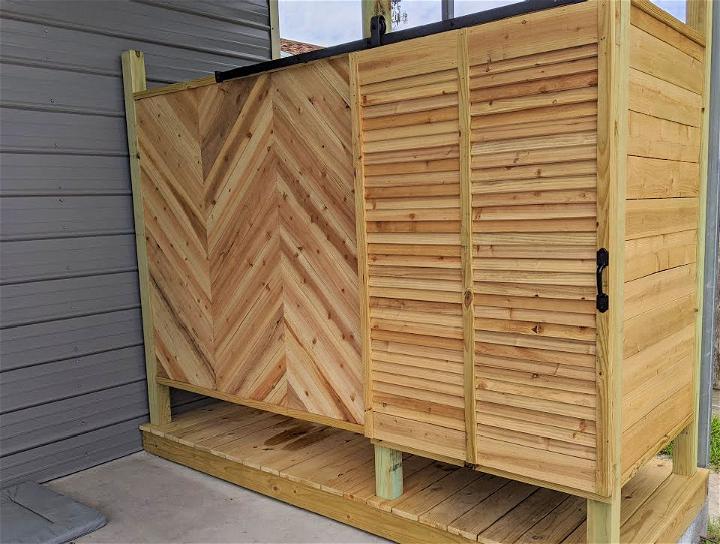 Follow here guides and instructions to build a hot water outdoor shower like a pro. For the main building and enclosure, use the cedar fence planks and opt for the barn door for completing this outdoor shower. This shower comes with a rain shower head and an LP water heater and is guaranteed to make you live the outdoor luxury. Use the heavy-duty hardware to install the barn door that impresses with the amazing sliding phenomenon. Yes, this outdoor bath comes with a sliding barn door. The whole project will surely add a big focal point to one's outdoor. The finished dimensions of this shower are 4'x10'x7′ with a 3′ barn door. youtube
30. Homemade PVC Outdoor Shower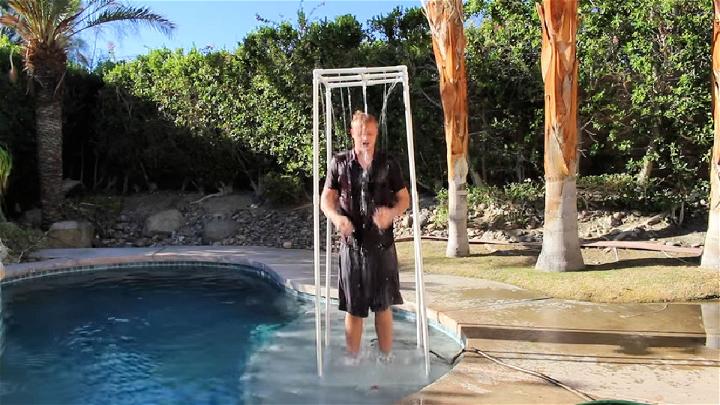 Get here the completely free plan and comprehensive video guides about how to build an outdoor shower! This entire outdoor shower is to make with PVC pipes and fittings and can also be installed in your outdoor pool for taking showers before and after the pool swimming! The project uses 100% PVC pies and hence will go super easy on your wallet! You have to build a PVC pipe cage tall and wide enough to hold inside an adult person! This portable PVC pipe shower can be dragged to any outdoor location and can be turned ON by connecting a hosepipe! youtube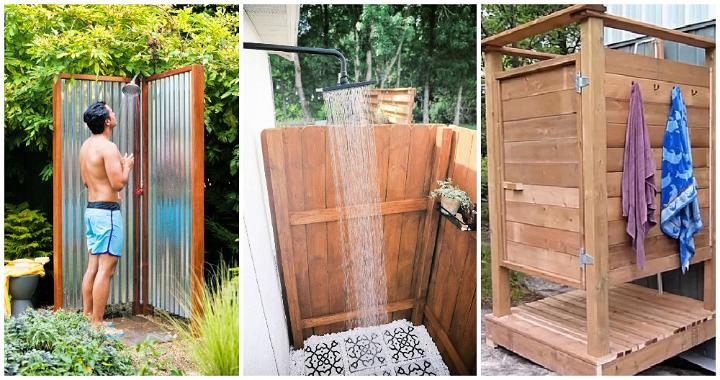 Conclusion:
An outdoor shower is a never-to-skip outdoor luxury, and it can also serve various practical reasons and benefits. So, this roundup of diy outdoor shower ideas will share comprehensive guides, tricks, ideas and lots of creative information about building your beautiful outdoor showers. After looking through these ideas, you will find it super easy to build a one suiting your style and needs. So, this will help save tons of the costs you would have spent on hiring professionals.
These simple outdoor shower ideas will share the complete material lists, tool lists, detailed diagrams, and complete tutorials to build each of the given shower a piece of cake. So, read through all these projects to get all expert opinions about building an outdoor shower easily and quickly.