These 30 unique DIY cat house ideas for outdoor and indoor are a thoughtful way to cozy up your little furry friend and help them relax after a long day of eating and a lot of playtimes. These adorable and easy-to-make indoor and outdoor cat house plans are quite inexpensive and you will surely have a lot of fun making these. So get crafty with your imagination and make a resting, playing, eating, etc. place for your cats. Moreover, they are a great project that you can easily make at home and avoid buying the expensive cat houses available in the stores. The most important and crucial part is to choose the perfect material for your cats either the project will be for an indoor or an outdoor cat house. Take out some time for your beloved pets and bless them with these super convenient, crafty, and comfy new homes!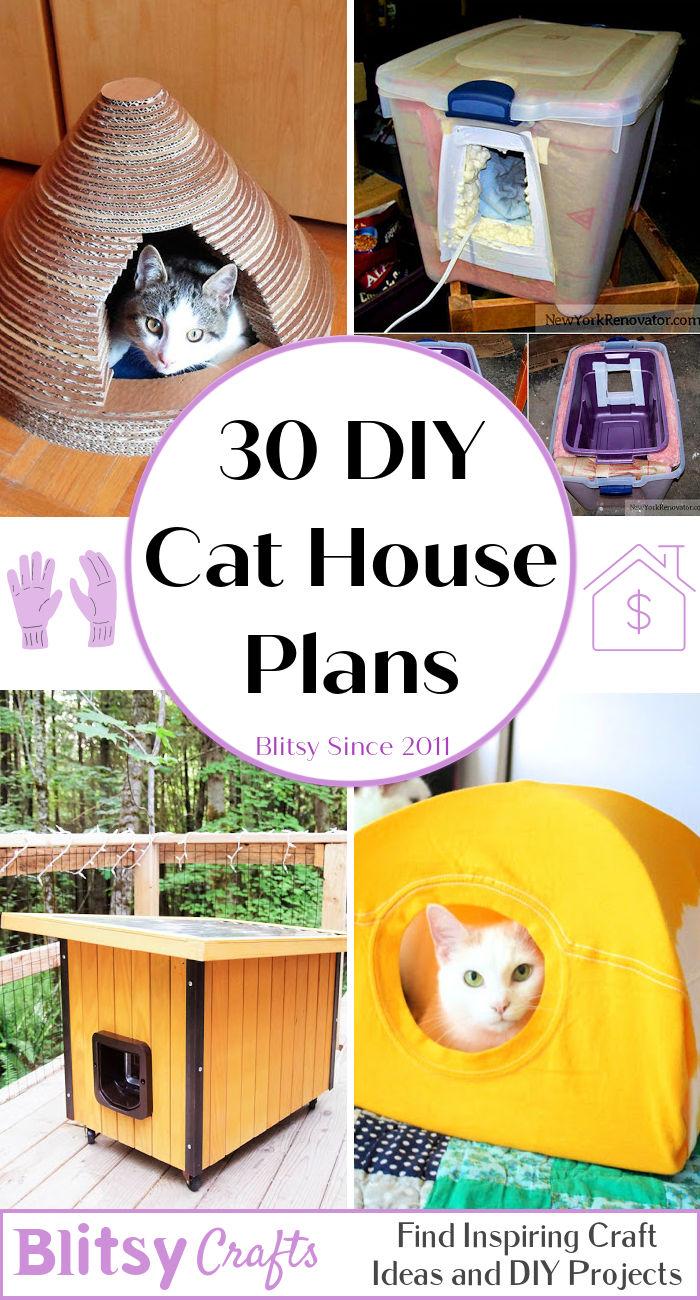 This article helps you to upgrade your cat's sleep into a more relaxed and peaceful place because finally, they will be having their own house. Here we have a wide variety of DIY indoor and outdoor cat house plans ranging from simple wooden boxes to t-shirt tents to teepee to cardboard boxes to tires and even magnetic balls! How cool is that? Additionally, these cat houses mostly use supplies that are already available at your house so you wouldn't need to put in extra investment into these projects and can easily make them with available materials. If you wish to keep it indoors, then you can also match the cat house to your own house interior so it makes a nice decor to display. So without further ado, let's start making these incredible indoor and outdoor cat house plans.
1. Best DIY Little Cat House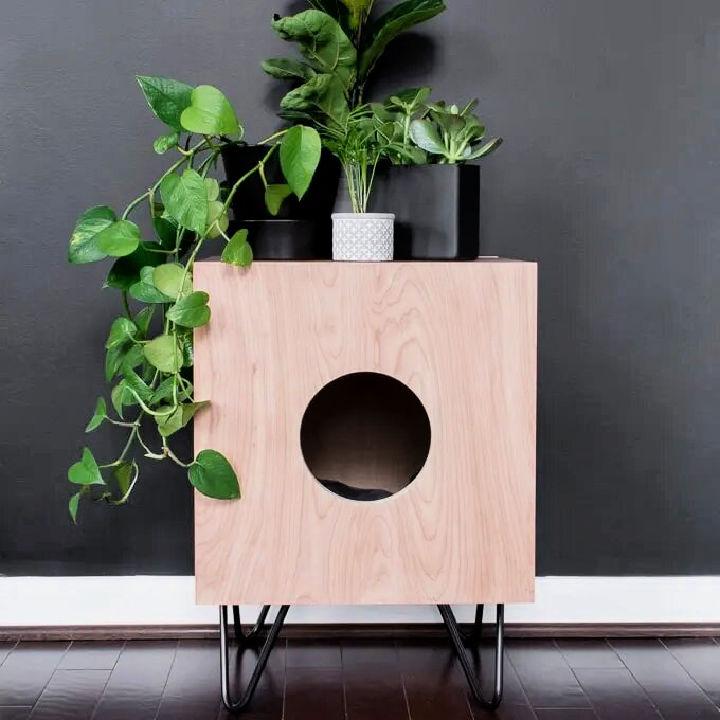 Here is a two in one, cat house and a side table which is a very stylish piece of decor for all the cat lovers out there. This DIY project is not only stunning to look at but is also a great stress reliever. Moreover, you will need supplies like plywood, pocket hole screws, beacon adhesives, grit sandpaper, hole saw tack cloth, drill, table saw and finish nailer etc. bybrittanygold
2. Make An Outdoor Cat House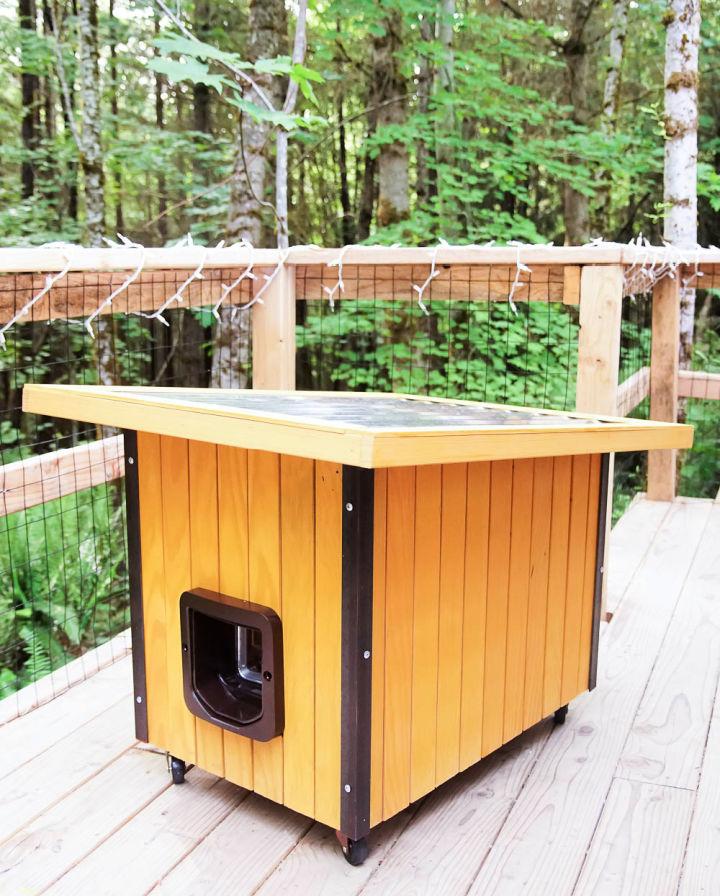 If you own a pet cat and would like something modern and minimalistic that you can make easily yourself then this outdoor cat house plan is the perfect option for you. It is suitable for outdoor cats, protecting them from rain etc. as well. Furthermore, you need to assemble materials like Wagner spray liner cups, stain, clear spray paint, wood glue, drop cloth, swivel casters, hinges, fir boards, framing boards, corrugated metal and few more things to complete this. simplydesigning
3. Cat House Tepee From An Old TV Tray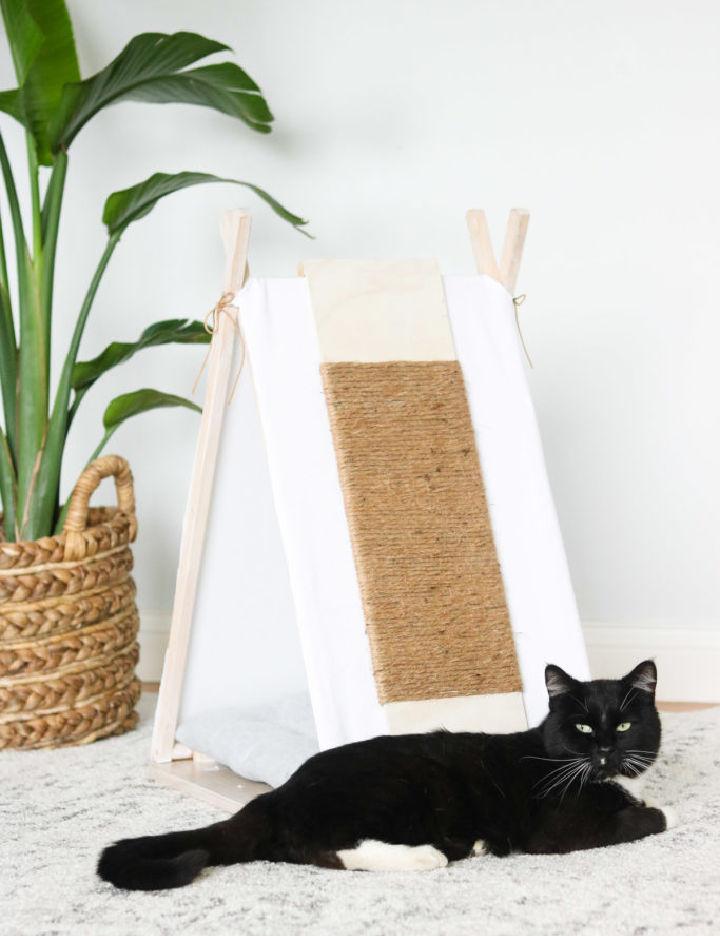 A tepee DIY cat house? Sounds super fun to make! It is quite useful and convenient for cats and can be made easily with some leftover stuff lying in the house. You can customize it according to the size of your cat and it also makes a great decor for the house if placed in one corner in living rooms. Additionally, you will be needing a dowel, TV tray, screws, drill, stain, fabric, string, hot glue, plywood, dowel, jute rope, felt and some pillow stuffing to complete this project. lilyardor
4. T-Shirt Cat Tent Bed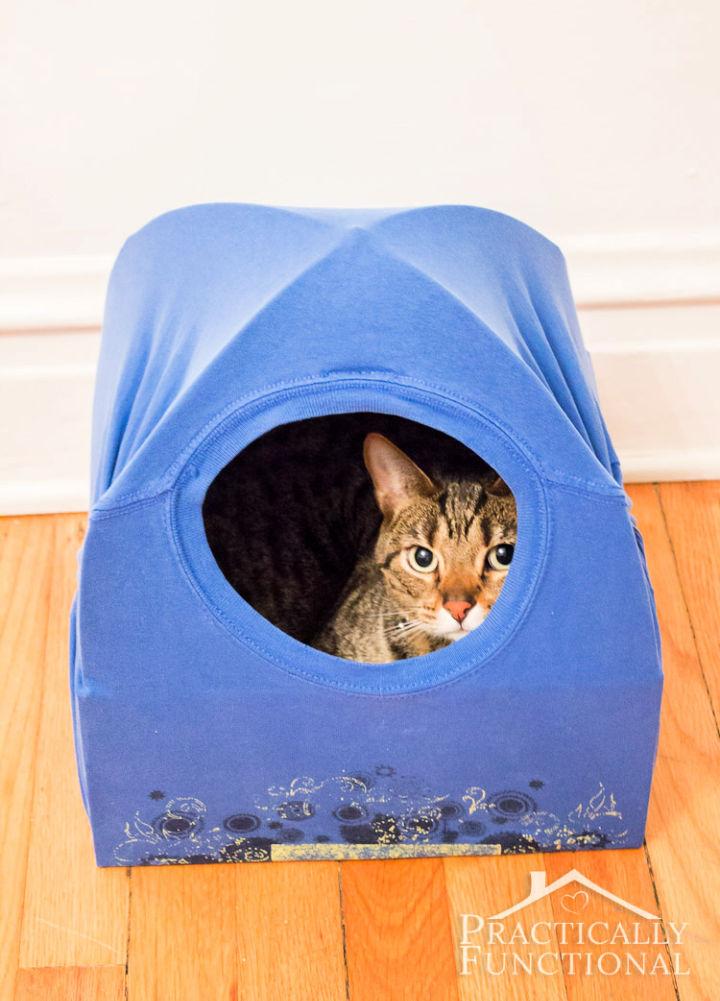 How about using an old t-shirt to make a DIY cat house? It's as interesting as it sounds! This tent cat house is very easy to make and provides a nice and comfy place for your little furball to rest in. in addition to that, you need supplies to assemble like an empty box, two metal coat hangers, an old t-shirt, hot glue, x-acto knife, wire cutters, floral wire and pliers. practicallyfunction
5. How To Build Wooden Cat Bed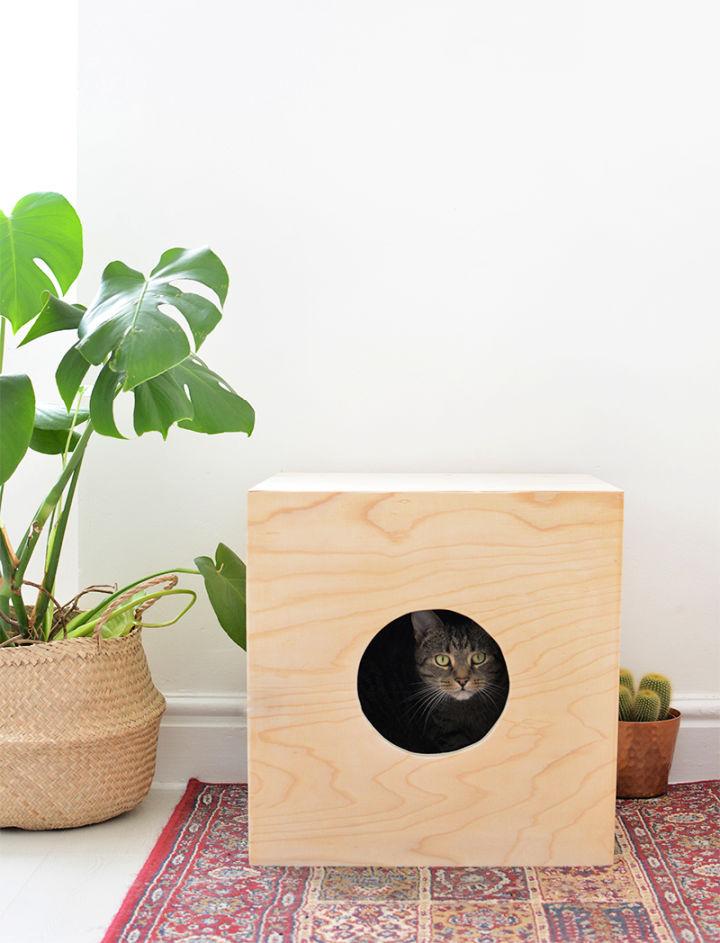 Make your little four-legged friend a modern, wooden DIY cat house which is very simple to make. You can place a comfy bed inside the box which has a quite sleek design and can also be displayed as decor in a corner of the house. Moreover, you just need to attach some wood pieces together and you'll have the DIY house completed in no time! burkatron
6. How To Make A Cat Teepee

Winters are here and you want a nice snuggly and cozy place for your cats to rest in? well, here is an easy yet stunning DIY cat tepee for the sweet little babies. Adding to that, you will be needing supplies like Mexican blanket or any thick fabric, dowels, safety pins and twine or leather cord. localadventurer
7. Palm Springs Kitty Scratch House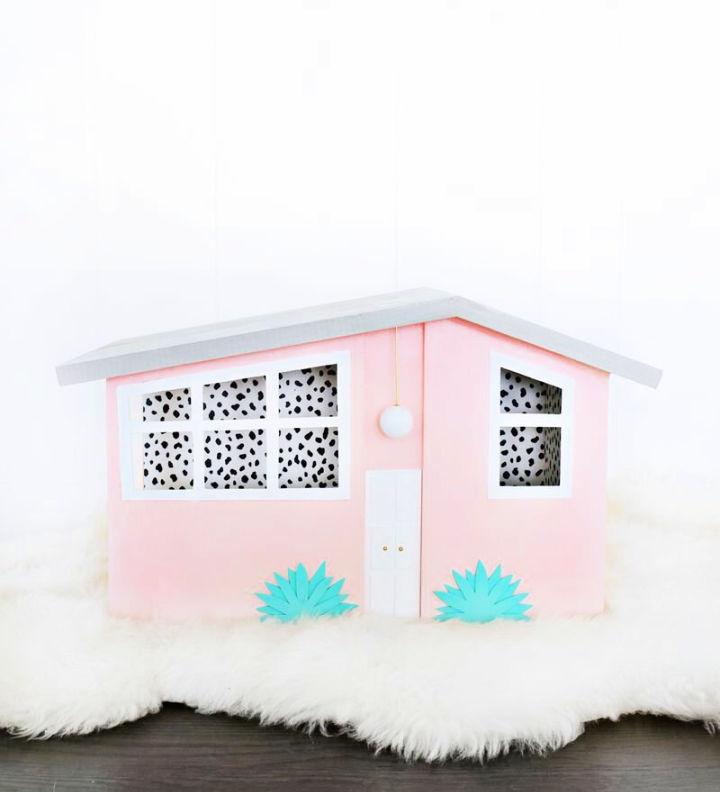 If you are a cat lover, you will definitely have an idea about how cats need a scratcher as an outlet for their animal instinct to sharpen their claws. So, here we have a DIY palm springs kitty scratch house that can easily be customized in colors to match the interior of where you would like to put this. Furthermore, this adorable house is made with supplies like plywood sheets, craft paper, jigsaw, ruler, clamps, wood glue, nails, hammer, paint, scratching pad insert and few more things to complete this. abeautifulmess
8. Homemade Cat Tent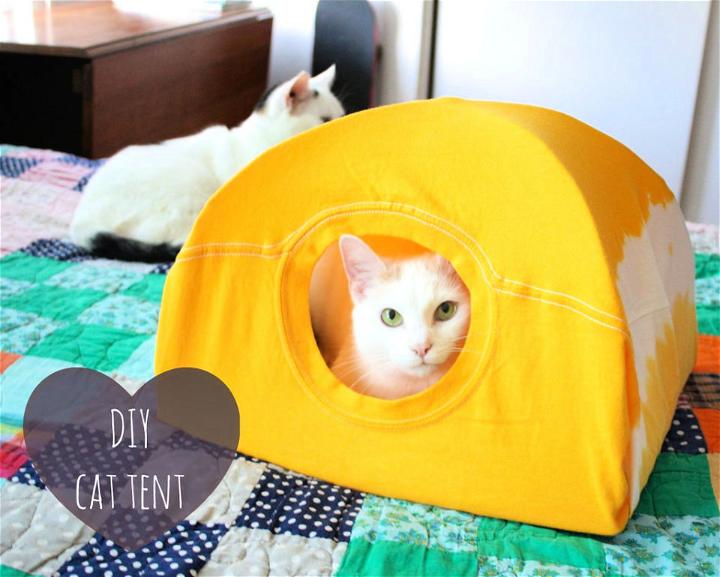 Just like us, our kitties also need the ease and comfort of sleeping peacefully in a secure place. If you have an old t-shirt which is of no use to you then you can use that for this amazing project. This is a DIY cat tent that you can make without putting in much time or effort. Moreover, just make sure you have an old t-shirt, wire hangers and a piece of cardboard for this wonderful new home for your cat. instructables
9. DIY Cardboard Cat House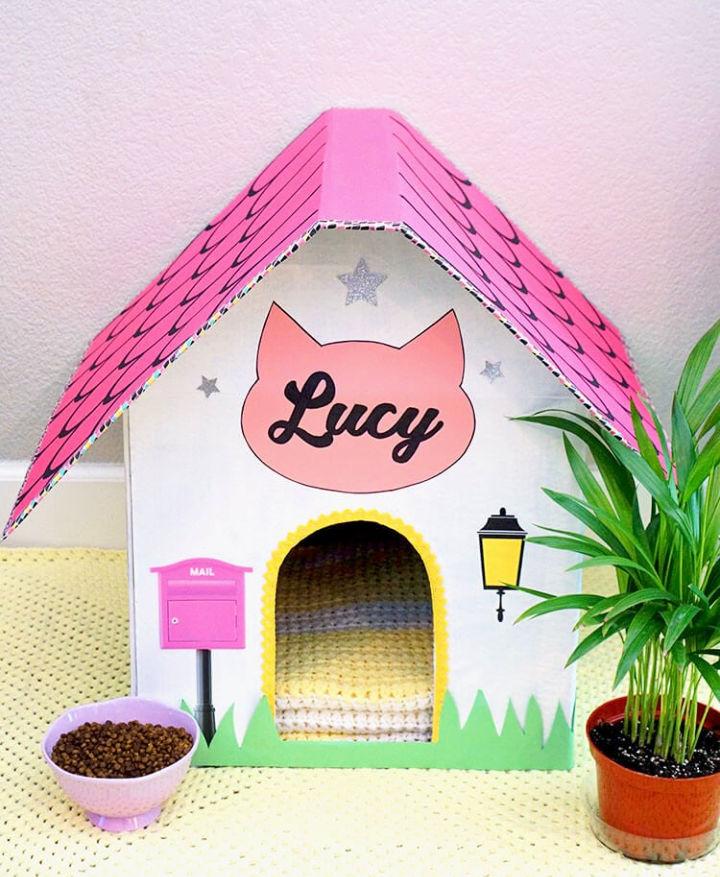 A DIY cardboard cat house is the easiest and most exciting project that you can make for your furry little friend. Moreover, you have a lot of room to go crafty with your imagination and embellish the house with anything that you like. Make sure to gather up supplies like a cardboard box, cardboard sheet, utility knife, metal ruler, hot glue gun and embellishments like craft paint, colored paper or ribbon etc. happinessishome
10. Cardboard Cat Condo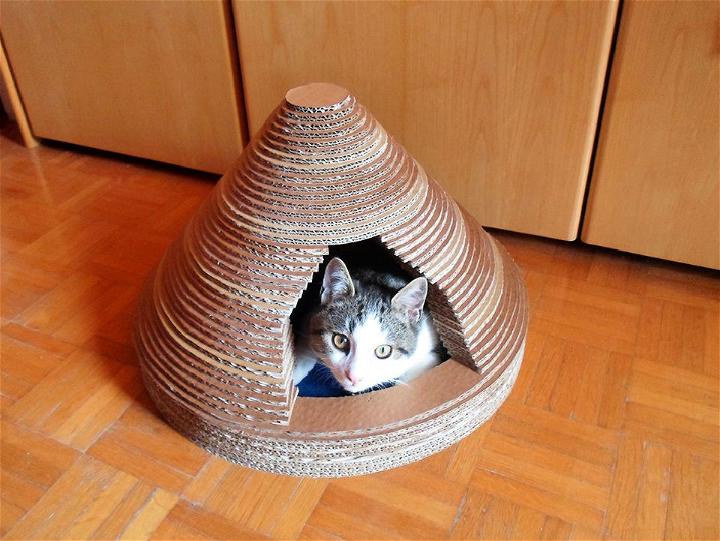 Corrugated cardboard box, cutter, pencil, compass, ruler, white glue and paintbrush are the supplies that you will need to make this cardboard DIY cat house for your lovely little pet. This cone shaped house is really adorable and can be the new favorite place for your cat to sit and rest all the time. even if placed in one corner of the living room, it can make a nice decor piece to match the classic wooden furniture in the house. instructables
11. Indoor Cat House in Basket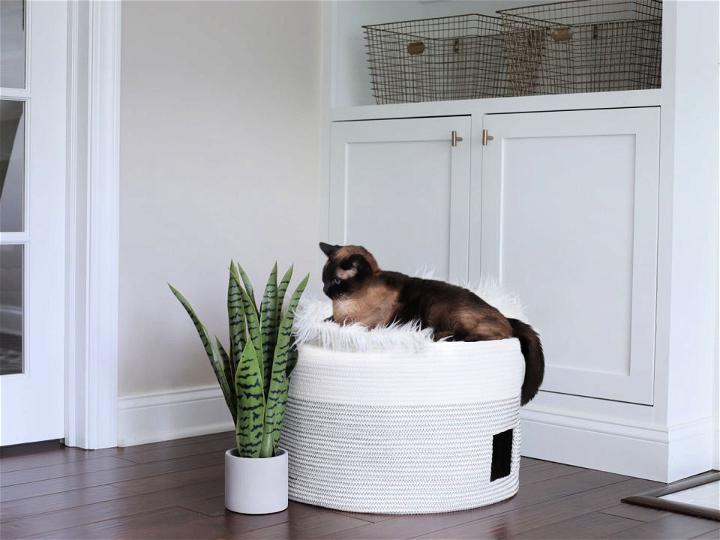 Need a stylish and cozy place for your indoor cat? Well here is an easy and beautiful DIY cat house that will take you about just an hour to make. Your cute little feline friend is definitely going to love this creative house. Additionally, you will need supplies like a large woven basket, board, plywood, wood glue, nails, sanding sponge and blanket or fabric for the top. thisoldhouse
12. How To Build A Cat House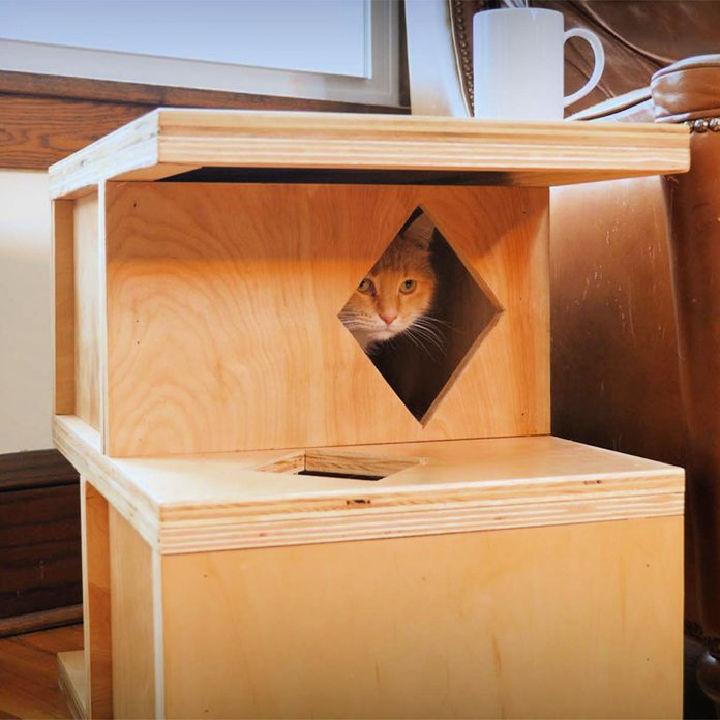 Here is a DIY cat house that can also be transformed into a side table making it functional for both you and your furry feline friend. the cat hole in diamond shape gives this project a nice modern and contemporary look. Moreover, you need to have materials like gauge brad nails, grit sandpaper, trim head screws, fir core birch plywood and wood glue. familyhandyman
13. Outdoor Winter Cat Shelter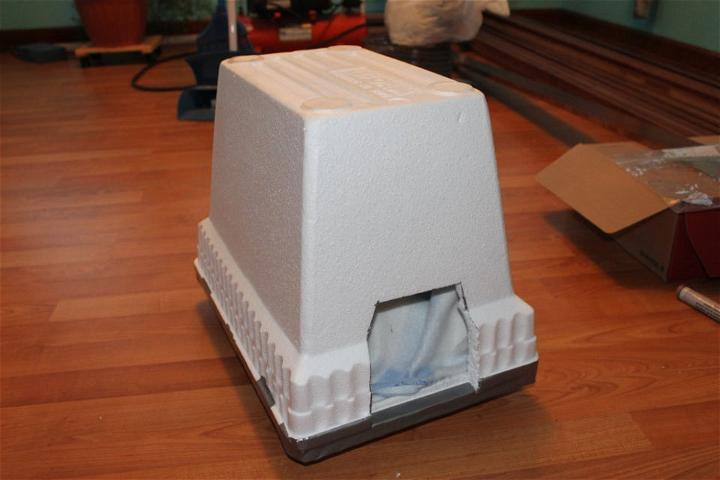 Is winter around the corner and you want to protect the outdoor cats from the snowy, icy days? Here we have an easy DIY winter cat shelter to protect your furry friends that will just take you about an hour to make. In addition to that, you need the essential supplies like Styrofoam cooler, tape, insulation, plastic bags, scrap fabric, box cutter, sharpie and adhesive. instructables
14. Making Cat House to Sell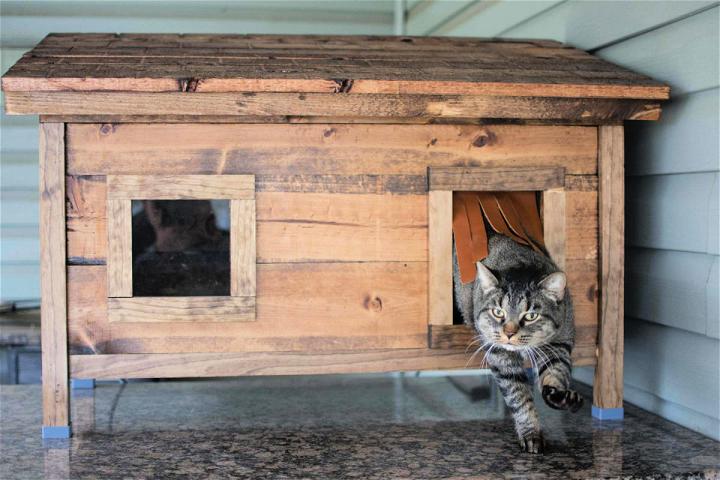 Looking for an enclosed DIY cat house for your furry four-legged friend which is also easy to make? You are at the right place! This cat house is great for you even if you have little or no woodworking skills because it is quite simple to make. To last this a loner time, use durable quality of wood along with other supplies like clamps, wood glue, table saw, heated cat pad, glass squares, wood stain and polyurethane. cluttter
15. How to Make a Cardboard Cat House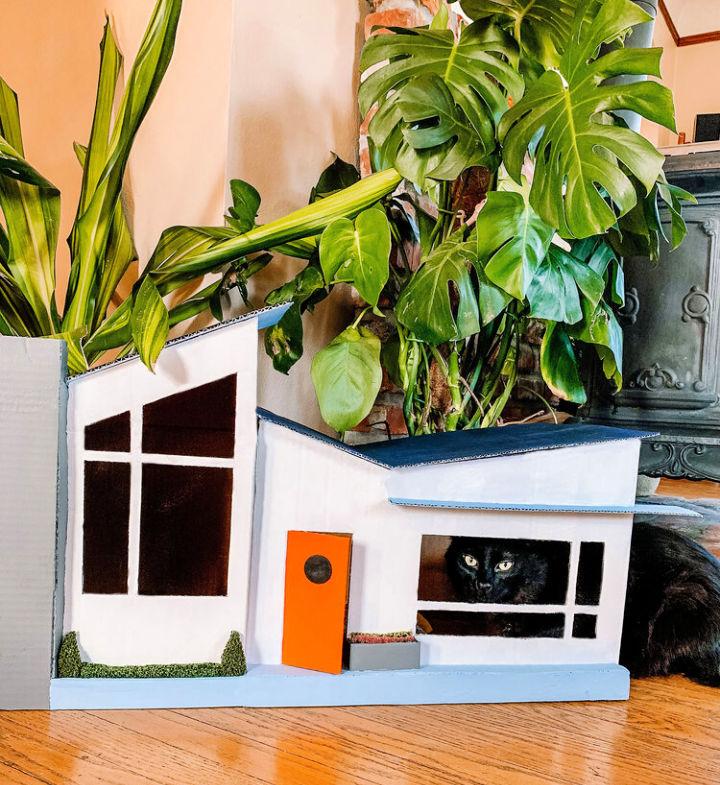 Why spend dollars on cat houses available in stores when we are here to give you the best ideas to make a cat house on your own. Make this cardboard DIY house which has a mid-century inspired vibe to it. It is quite cost efficient and gives you the space to be as creative as you like. Moreover, gather supplies like cardboard, exacto knife, metal ruler, glue, craft paint and measuring tape for this project. thegreenmadhouse
16. DIY Cat House Using Cooler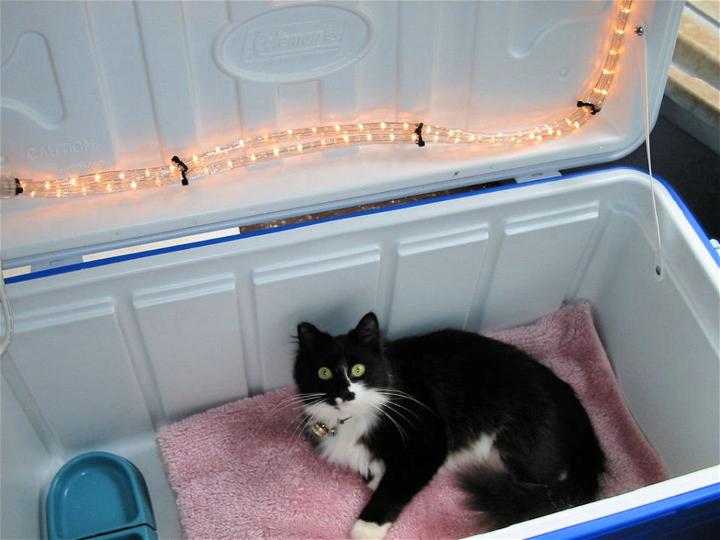 Have a spare cooler at home? Use it to make this highly innovative DIY cat house. It is perfect for the winter season because it will keep your furry friend warm and cozy without their water being frozen even if it is snowing outside. Adding on, the materials you need for this project are cooler, rope light, mounting bases, zip ties, long wood screws, carpet piece, thick foam pad, rug/blanket and thick top lid. instructables
17. Cheap Cat House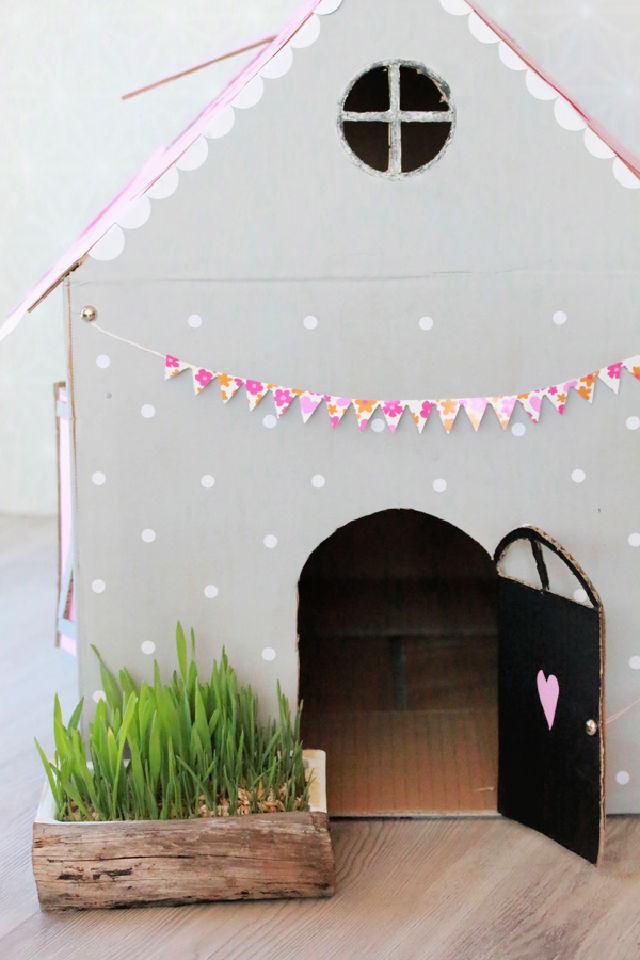 Easy to make and embellished with different cute things, this DIY cat house is a must have if you own a feline friend. it is simply made out of cardboard which can be found in any house lying around in the stores etc. It does not take up much time, you just need your supplies like cardboard, scrapbook rivets, sandpaper, colorful paper, sticker dots, acrylic paints, black chalkboard paint, exacto, ruler, pencil, paintbrush, glue and compass. babasouk
18. Pallet Cat House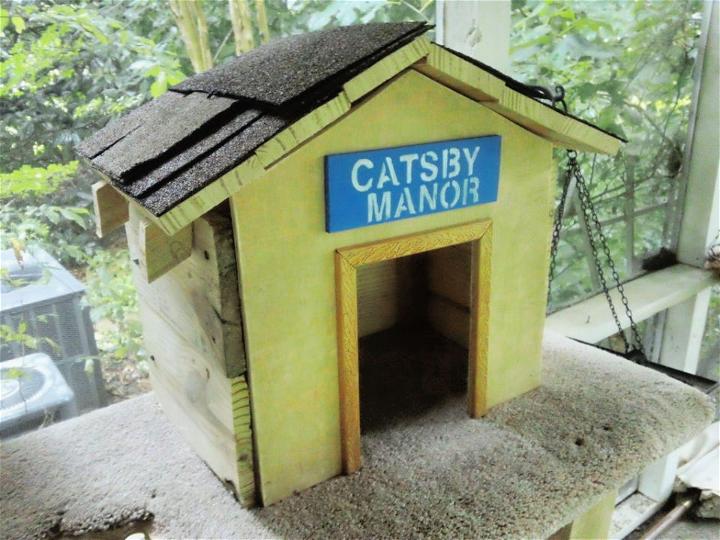 A pallet cat house? How cool and exciting does it sound? Make your furball this durable and long-lasting house which they can rest in after a long and tiring day of eating and playing around. Pallet keeps the house sturdy so your cat can make use of this for a longer time. in addition to that, you need to gather all your materials like a pallet, plywood, carpet, 5-gallon bucket, nails, screws, sisal rope, drill, hammer, saw, sandpaper and few more things. instructables
19. Cat House In The Style Of A VW Bus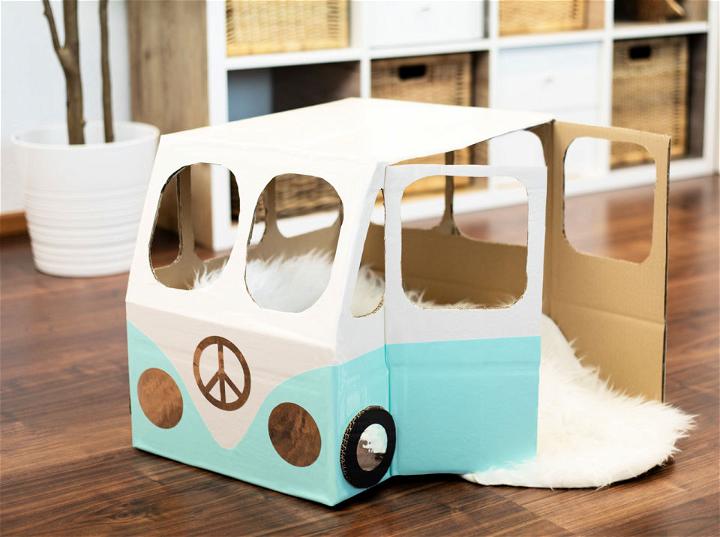 This super adorable and unique DIY cat house is here to steal hearts! Here is a cute cat house made in the style of a VW bus which might seem complicated to make but can be easily made using a cardboard box. Your cat now has a new place to play and rest. This eye-catching house will also look like a nice decor displayed in your apartment. Additionally, make sure to have supplies like rolls of d-c fixed in different colors, scissors, ruler, pencil, adhesive tape and tool kit. dcfixbrand
20. Chewy Box Cat Castle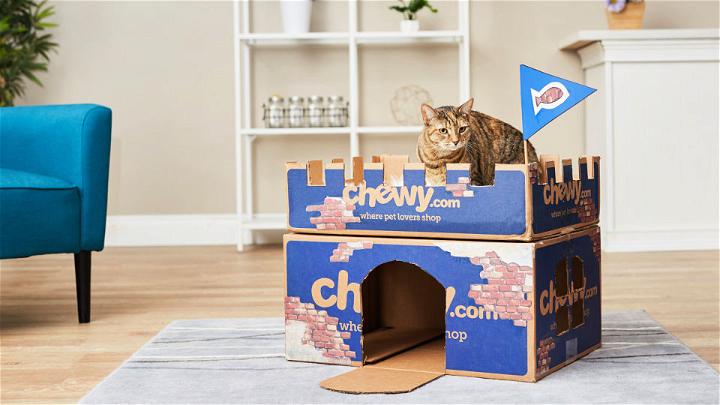 Make your cat feel like a king or queen while daydreaming in this DIY chewy box cat castle. Show off your cat craft skills with this super amazing project by turning a boring box into something so magical. Moreover, you need to gather supplies like chewy boxes, packing tape, black marker, scissors/box cutter, glue gun, craft paint and other few things to further embellish this project. be chewy
21. Cat House for the Winter and for Feral Cats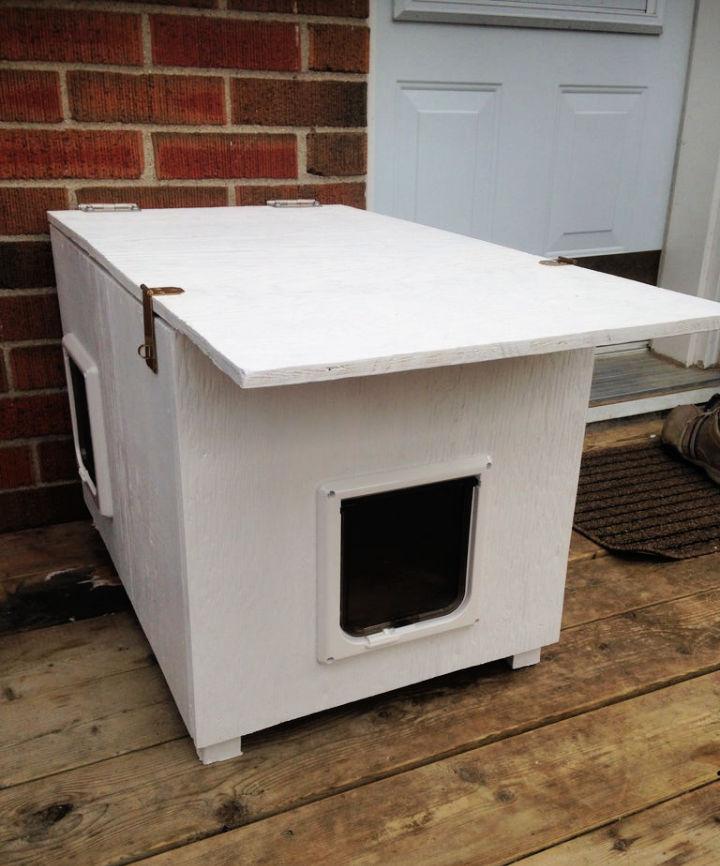 In your free time, you can use your crafting skills to make this DIY cat house for all outdoor or feral cats. Since winters are just around the corner, cats can also get cold so to give them a nice shelter to protect themselves in, this project will be great to make. Adding on, you will need plywood, framing pieces, assorted screws, nails, insulation board, cat doors, weatherstripping, glue, hinges, latches, paint and straw. It is perfect for one or two cats to rest in. instructables
22. DIY Insulated Outdoor Cat House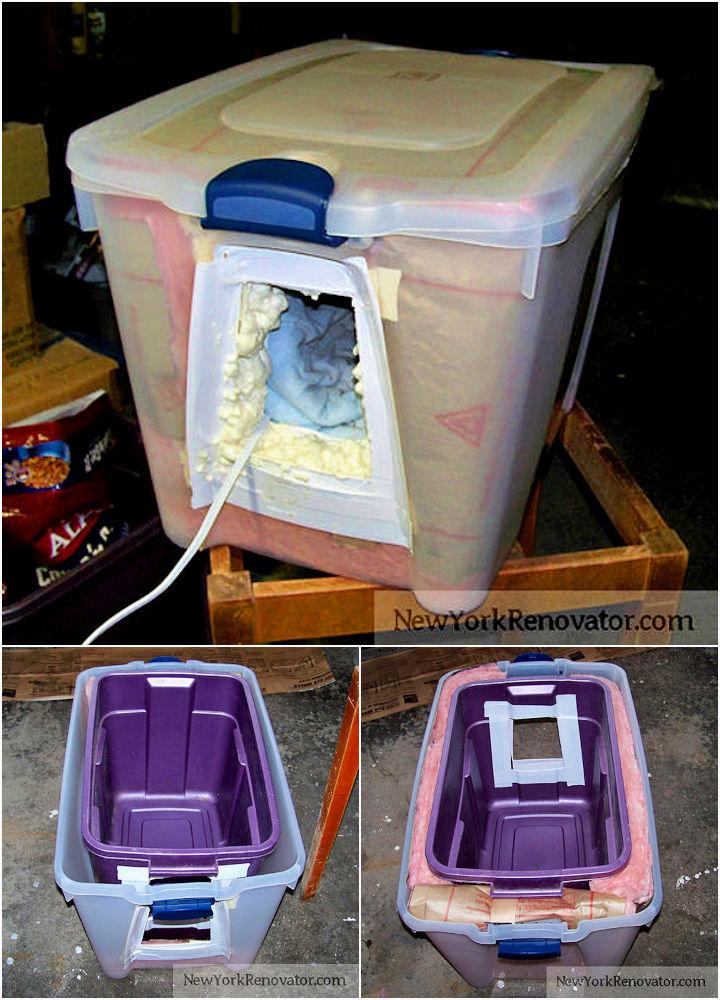 With the cold season approaching, we can make some easy and simple insulated DIY cat houses for our little feline friends to help them keep warm and safe. This will cost you around $40 to make including all the materials used in this which is inexpensive and easy to make as compared to other shelter houses. Furthermore, you will need supplies like 30-gallon plastic tub with lid, 18-gallon plastic tub with lid, fiberglass insulation sheet, duct tape, box cutter and great stuff expanding foam. catster
23. DIY Cat Condo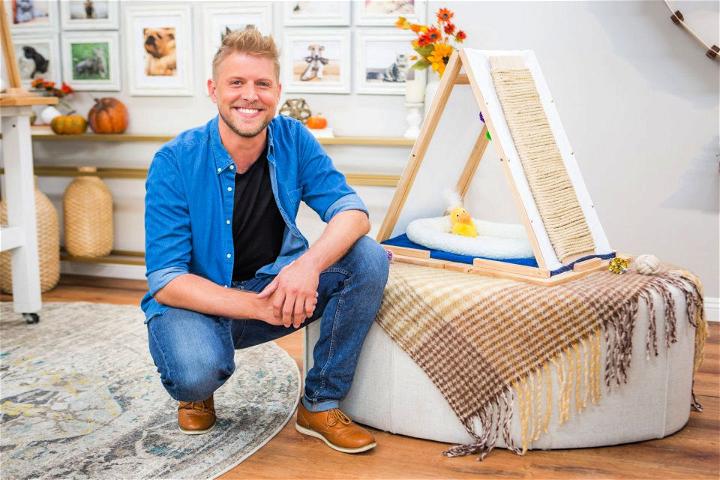 A TV tray can be reused to make this incredible DIY cat condo which is not too difficult to make and makes a great addition to your house decor. It makes a nice little place for cats to play or even rest when tired. Additionally, we will need supplies for this project which includes wooden TV trays, white canvas, fabric scissors, screws, drill, mending plates, sisal rope, plywood panel, circular saw, braided rope trim and few more things as well. hallmarkchannel
24. Bright And Colorful Cat House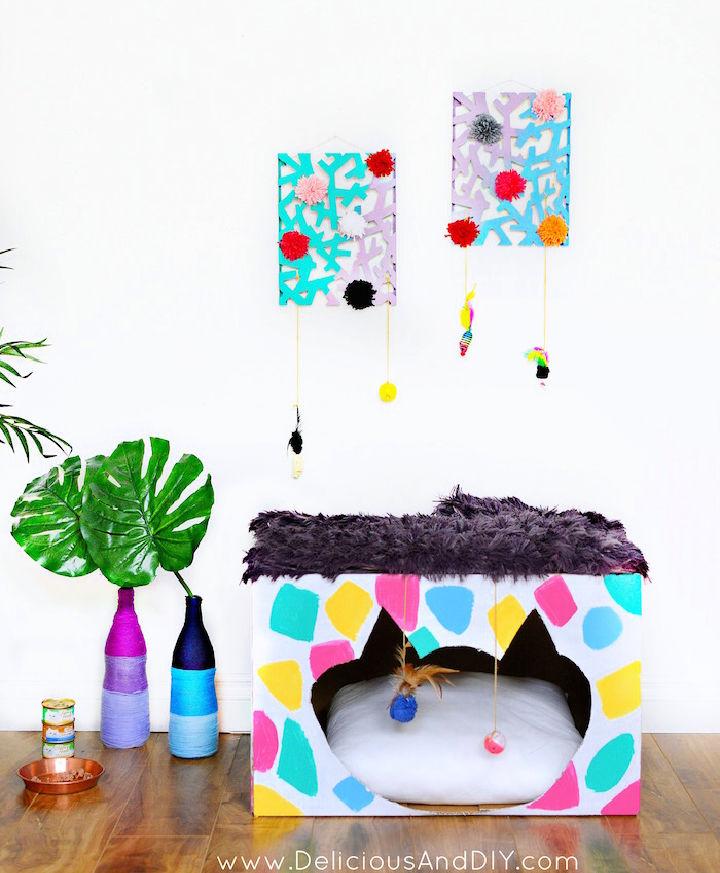 If you have a pet cat at home, who does not dedicate a nice little corner for it in the house? That sounds like an amazing idea! Get crafty and make this colorful and vibrant cat house for your furball and give their space an instant makeover! You can paint the litterbox to any bright color, add some vase and plants to the corner and it will make such a huge difference and brighten up a dull, empty space. deliciousanddiy
25. Vintage Kitty Camper Out Of Cardboard Boxes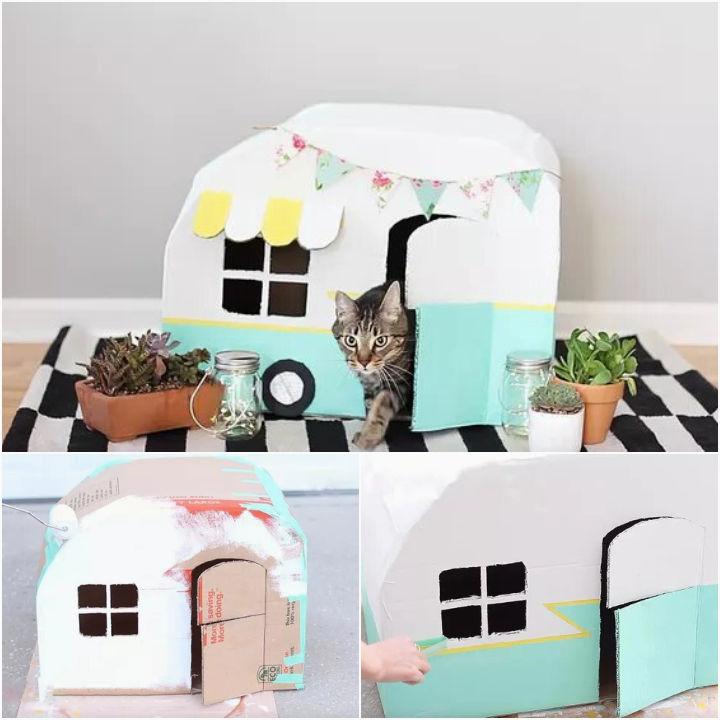 Use simple cardboard boxes and turn them into a super useful vintage-style kitty camper. For this, you will need to gather supplies like large cardboard boxes, box cutters, scissors, poster board, painter's tape, marker, acrylic paint, paintbrush, paint roller, hot glue gun and cardstock. Moreover, you can add extra charm to the project by using more embellishments, mason jar lanterns, some plants and an area rug. cuteness
26. Outdoor Waterproof Cat House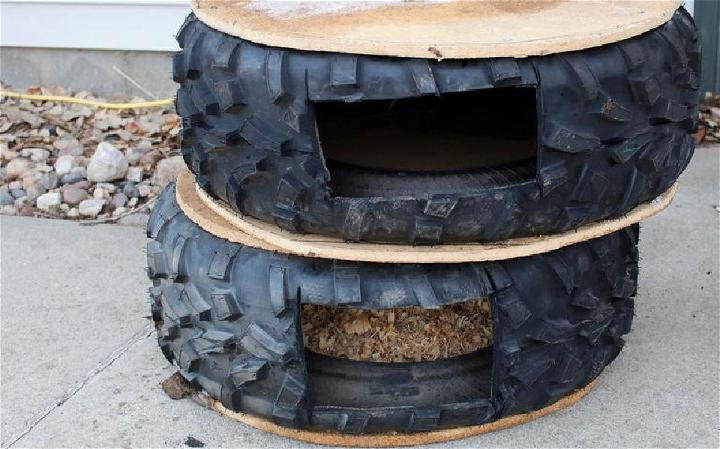 To avoid outdoor cats from getting cold or sick this super creative shelter is made for them to survive easily through this time. This shelter is made with vehicle tires, cutting about 2-foot-wide hole and attaching circle shaped wooden boards to each side for a sturdier look. Then, the tire is filled with wood chipping for providing insulation and warmth to the cute little cats. Moreover, one tire can easily provide shelter for 2 to 3 cats. brainerddispatch
27. How to Build A Cat Castle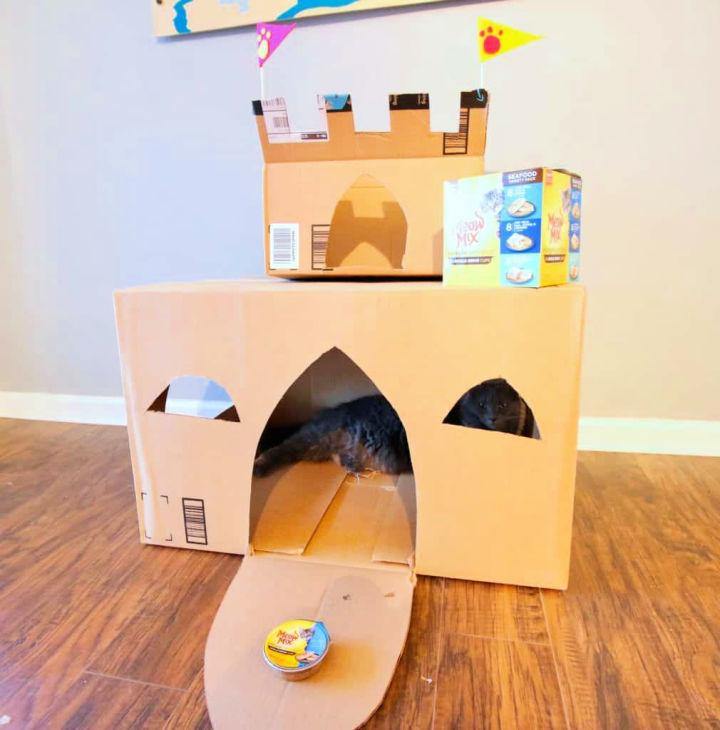 Build this wonderful DIY cardboard castle for your furry little kitty which is quite an eco-friendly option because we use recycled stuff to make this project. It is more useful, convenient and very cost-efficient than the cat houses we see in stores. Without using fancy things, this perfect little project uses supplies like a cardboard box, clear tape, scissors, box cutter, felt, ribbon, hot glue gun and further embellishments to decorate this project. charlestoncraft
28. Plywood Cat House 7 Steps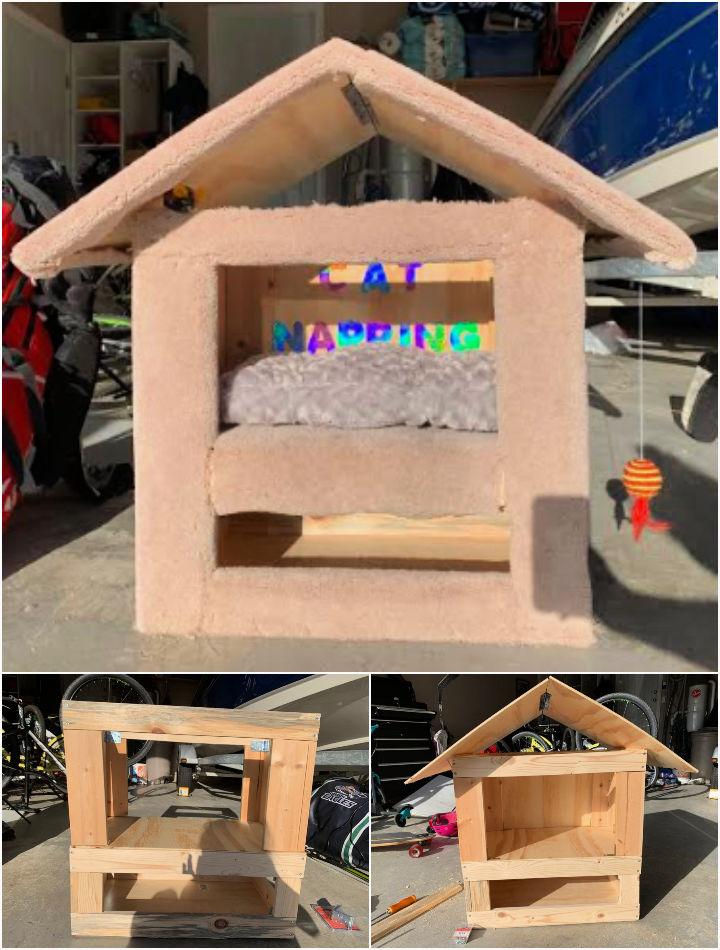 Here is a great DIY cat house project for you to make over the weekend and gift your kitty their new home. It will be a super fun project to make and will surely turn out to be a great house for your cat which they will love to sleep, play, scratch and climb in! you can also add some toys to make it more appealing. Additionally, gather materials like longboards, pieces of plywood, double-wide corner brace, hinge, screws, piece of carpet, cat toys, skill saw, staple gun, measuring tape and a few more supplies to complete this. instructables
29. Building A Small Cat House

If every other cat, your cat also likes to hide out then you definitely need to make this easy and quick DIY modern cat house. It does not require investing lots of time or money and can be made easily in some time. you just need to gather essentials like concrete form tube, hand saw, sandpaper, acrylic paint, wood glue, soft fabric, measuring tape/ruler and a small piece of foam. instructables
30. Build Kitty House From Magnetic Balls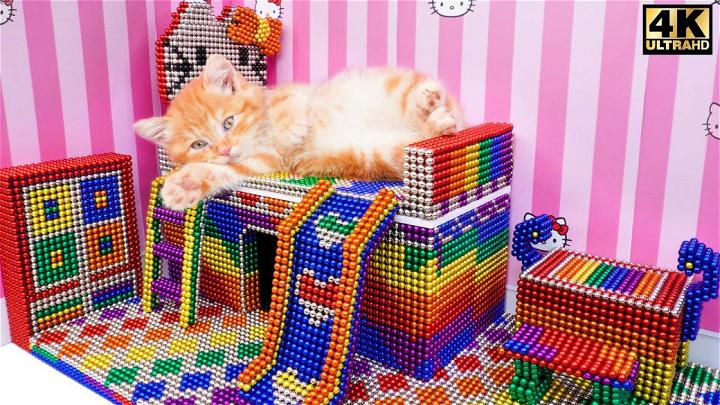 Last, but definitely not least, here is a super cool and fun kitty house made out of magnetic balls. It is ideal for little cats since they are quite lightweight and can easily climb up, play or even sleep in this house without breaking it. Moreover, you need to have multiple colored magnets to make this super bright and vibrant house. youtube
Conlusion:
So, we hope that now you have a lot of new and innovative DIY cat house plans and ideas to create your own cat house. You do not need to spend a lot of money on these cat house plans but make sure to use good quality things to make durable houses that can last you a long time. Most of the cat house plans are very easy and simple to make and you do not need to be experienced in crafting things for these and anyone can try making them. Furthermore, look at all the given ideas above and choose the ones that appeal to you the most, gather up all the needed essential supplies for it and start working on them! Best of luck!