If you have enough outdoor space, why don't you consider building an outdoor kitchen? Find this list of 25 free DIY outdoor kitchen ideas and plans for your inspiration. Excitingly! All these outdoor kitchen plans are budget-friendly and user-friendly to build by yourself. So, beginner crafters can also work on these DIY outdoor kitchen ideas efficiently.
Most homeowners are obsessed with outdoor sitting and dining. If you are also one of them, an outdoor kitchen would be a great addition to uplift the outdoor decor automatically. You can enjoy gatherings with your guests and family members at the same time while cooking outdoor.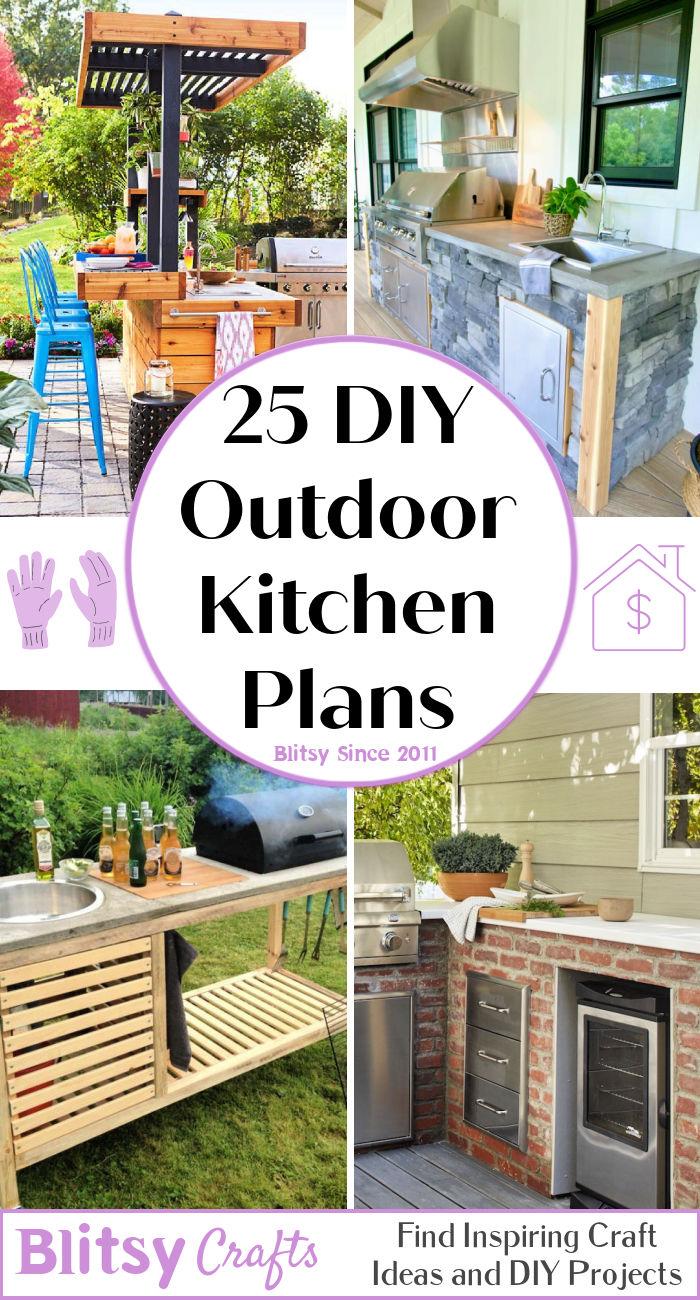 Now, it's the right time to make your DIY outdoor kitchen dream comes true with these FREE plans mentioned below. You can make these diy outdoor kitchens on the patio and also in the backyard. We have mentioned all the steps and guidelines one by one for the ease of readers and crafters.
Enjoy cooking your meal outside and gossiping with your friend's side by side! It's up to you to choose the right and most suitable diy outdoor kitchen plan according to your space specifications and requirements. Let's start working on your favorite outdoor kitchen ideas:
1. How to Make an Outdoor Kitchen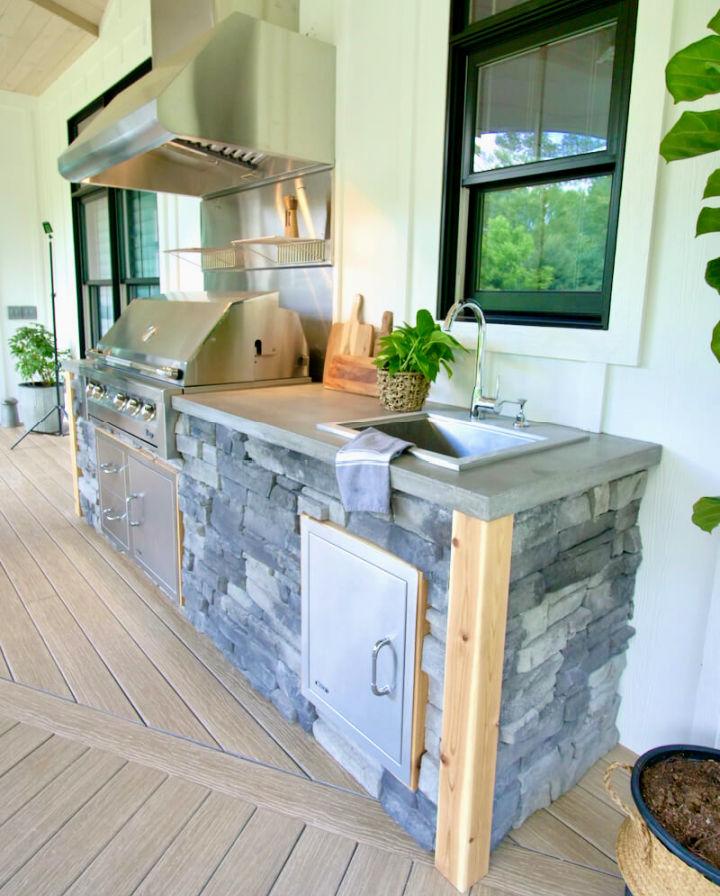 Build a beautiful and modern style outdoor kitchen efficiently by following a free plan including all details and guidelines. You can consider the cedarwood and stone veneer leftover from your collection to make this super stylish and highly productive kitchen. You can also install the sink area in this outdoor kitchen to wash off the dirty dishes. If you also want to include the plumbing services, it's better to install the access panels in cedar frame openings. To give this kitchen a complete look, install the concrete countertops lastly. rogueengineer
DIY outdoor table: These DIY outdoor table plans will guide you on how to build an outdoor dining table, DIY coffee table, end table, serving or grill cart, bar, and more.
2. DIY BBQ Outdoor Kitchen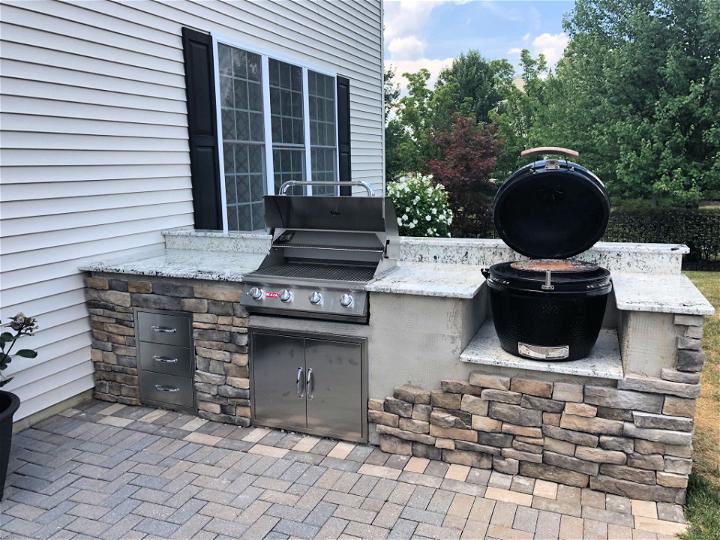 No wonder everyone loves outdoor BBQs night especially, with family members and friends. Now, you don't need to install the new grills and stoves just only for BBQ. You can solve this issue permanently by installing or making a versatile DIY Outdoor kitchen. The whole supplies are stone veneer, metal grills, cement boards, lath screws, and wire mesh. All you need to do is covering the metal grills with mess wire all around. Secondly, cement the stone veneers into all-around meshed metal grills. Once you have cemented the grill, install the stove carefully. imgur
3. Easy DIY Outdoor Kitchen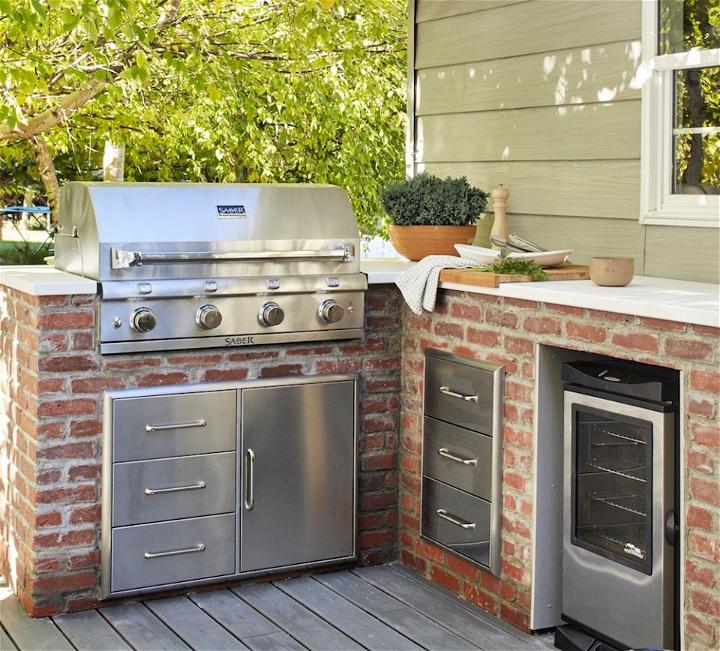 DIY an easy and super productive outdoor kitchen for BBQ and cooking your desired dishes. Installing these stoves and grills is much easier if you start it with an appropriate plan. Use lumber boards for outdoor framing of grills. On the other hand, you require a metal grill, cement, brick veneer, insulation, pressure-treated lumber and wood cutting and assembling tools. You can work on each panel and grill separately for your ease. Once you have completed this DIY, install the granite or marble countertops to make this kitchen looks more adorable. chrislovesjulia
4. DIY Outdoor Grill Station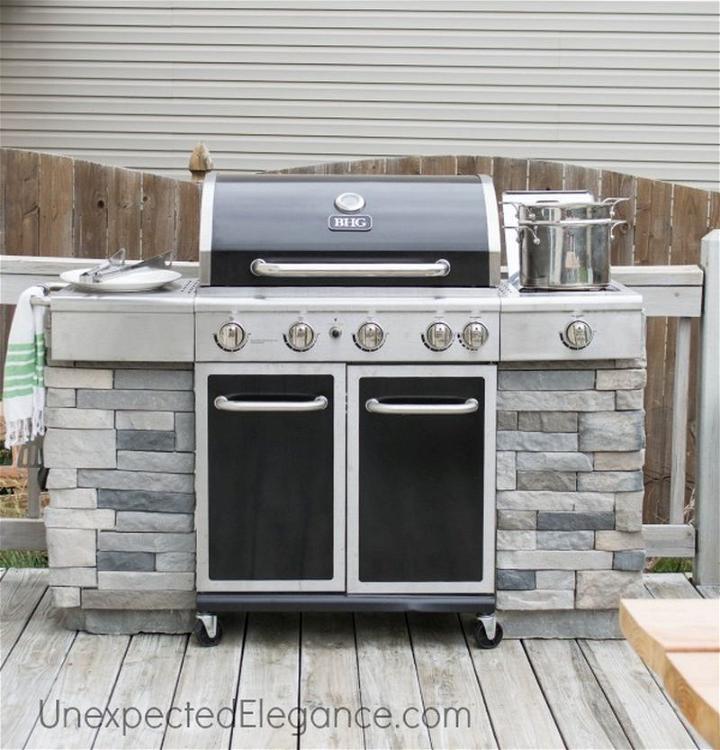 Make an outdoor grill station effortlessly and efficiently with proband, metal grills, lumber and screws. The main reason to consider the proband is to adjust the metal on the lumber firmly. You will be excited to know that this project will cost you less than $150. Moreover, adjust the stone veneer on the metal grills with an adhesive solution instead of gravel for your ease. One more thing, this is not a one-day project. Therefore, it's better to work on this grill station at the weekend or holidays. unexpectedelegance
5. Easy to Make Outdoor Kitchen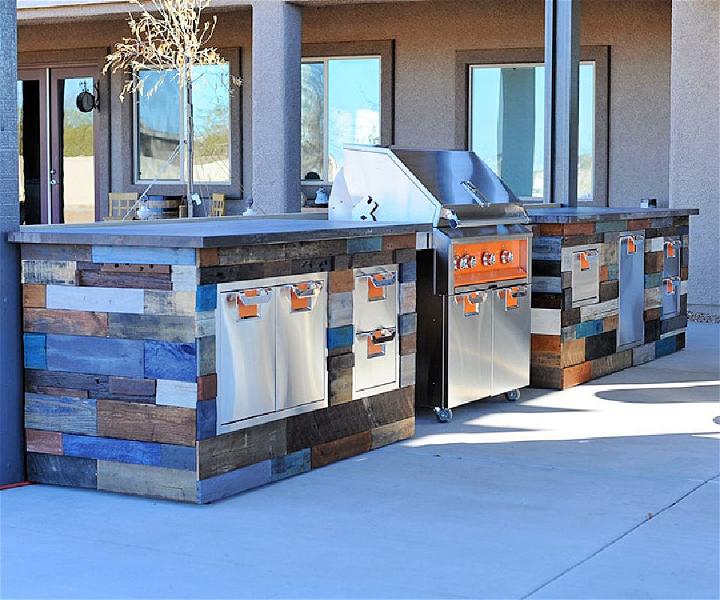 Build a super easy and quick DIY outdoor kitchen by getting help from tutorials and step-by-step provided guidelines. For this, you even don't need to buy kitchen framing. You can make it yourself with granite cabinets. The best thing is that you can buy these cabinets with bolts and all adjusting supplies easily from any craft store. All you need to do is assembling this frame. Once you have done assembling, cover this outdoor kitchen overall frame with a brick veneer using the adhesive solution. girlscangrill
6. Build an Outdoor Kitchen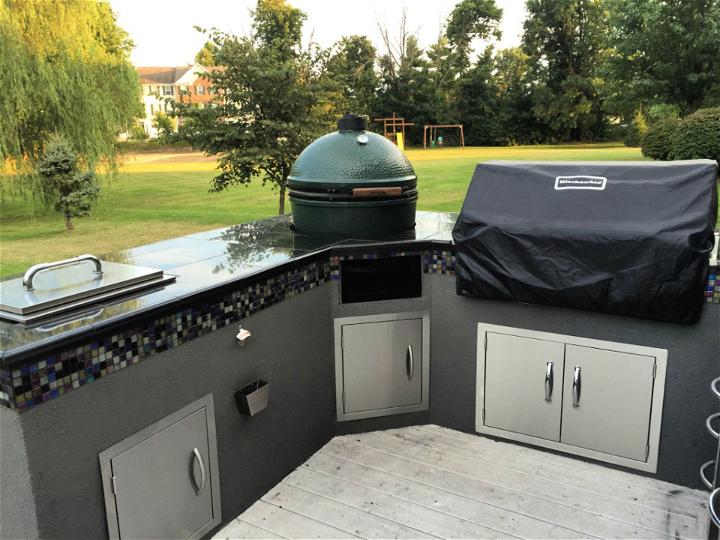 Nothing would better than having an outdoor kitchen to enjoy your summer evening and gatherings with friends or family members. Luckily! You can DIY this super luxurious and comfortable kitchen with wooden bars for framing, Durock sheets, steel grill, cement boards, grey paint for finishing. Additionally, use the black tiles for creating the patterned countertops. You are all set to grill and cook after painting the grilling area with grey paint. buzznicked
7. Outdoor Kitchen and BBQ Island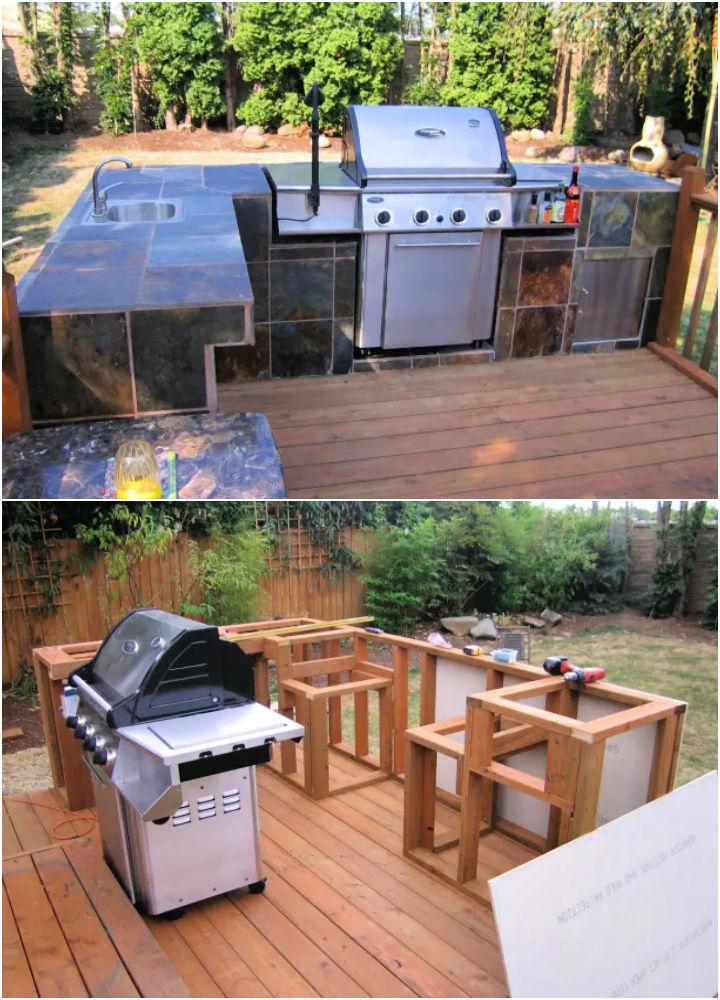 Enjoy winter gatherings and BBQs in your backyard by having your own permanent outdoor kitchen. Don't worry. You don't need to install the store-bought kitchen. You can build your own outdoor BBQ island with the simplest supplies and easy-to-use materials. For this, you require Lumber boards, grill framing, backer boards and stone slates. Start creating this super stylish grilling island with an appropriate plan. So, you can complete it in less time and effort. dengarden
8. Outdoor Kitchen with Concrete Countertops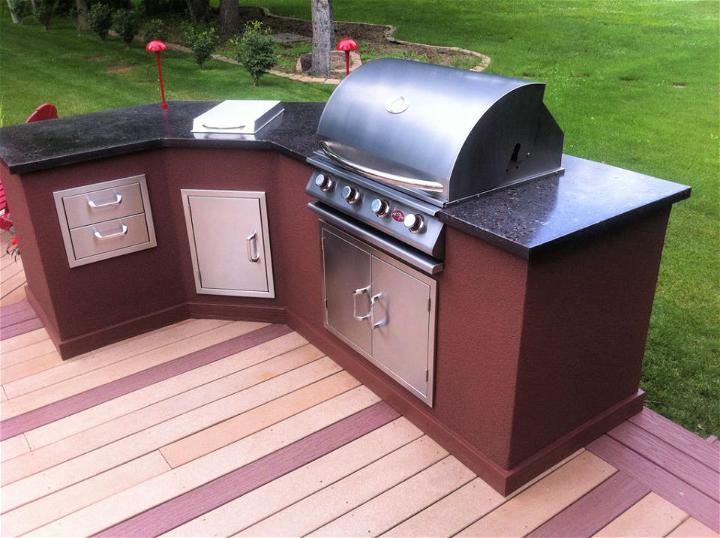 This outdoor kitchen with concrete countertops is an ideal solution for those who love to cook in the fresh air. The best thing is that you can DIY this kitchen in no time and effort with a construction base, steel studs, framing panels and concrete countertops. Measure the size and specify the area requirements where you want to build this kitchen. All you need to do is create the framing panels with steel studs and assemble them in the metric space. Moreover, use stucco to give a smooth finishing to the frame. You can draw the template for countertop adjustment on the panel desirably. instructables
9. Building Outdoor Kitchen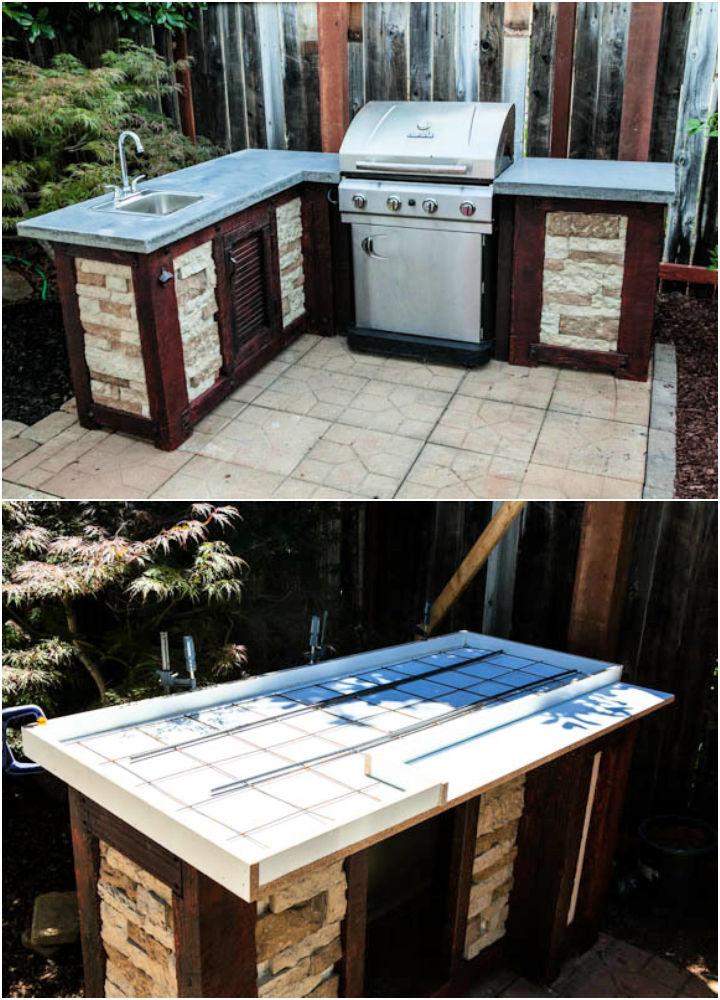 Building an outdoor kitchen is much easier than you think with the help of steel stud panels and lumber. On the other hand, you can use the white brick veneer with an adhesive solution to install in this wooden framing. For a concrete countertop, you can use melamine sheets or other moulding frames. For completing this project, you require two or three days. Thus, it's better to consider DIY this kitchen when you are on vacation. manmadediy
10. How to Build an Outdoor Kitchen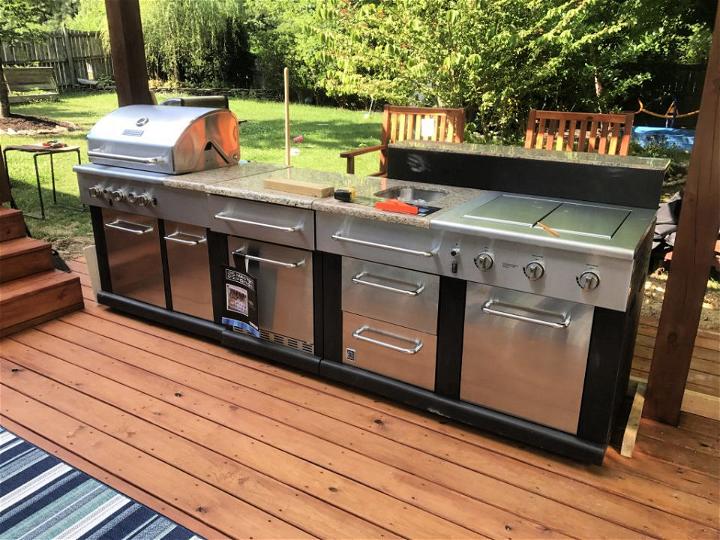 If you are a beginner crafter, building an outdoor kitchen is not a daunting task with the help of tutorials and free outdoor kitchen plans. However, you can choose the plan according to your specifications. For making an outdoor kitchen, you can consider the wooden boards for basing. Furthermore, use stone or brick veneer, adhesive solution, marble or granite countertop, and drilling tool. However, this project is a little bit complicated. So, you can also involve your partner crafter with you to finish it easily and effortlessly. placeofmytaste
11. Cedar Outdoor Kitchen Plan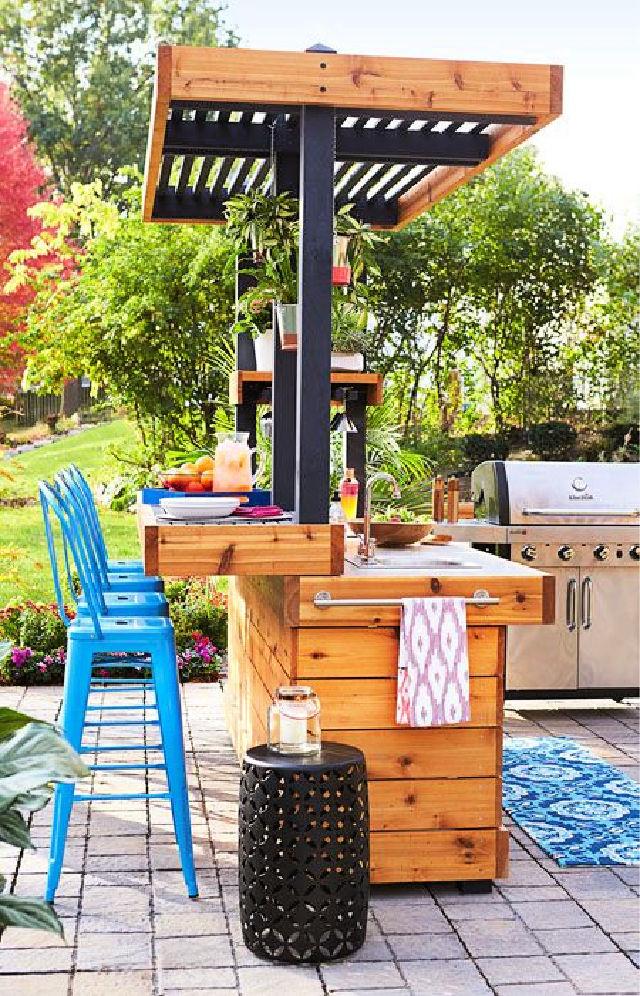 What would be better than creating your own outdoor kitchen for summer evenings and gatherings? This modern style and super comfortable cedar outdoor kitchen include the sink area, sitting space and countertops. You require a laminate board, polystyrene foam, concrete mixture, and cedar posts for making this kitchen. Additionally, the required tools are a miter saw, drill, tape measure and carpenter square. One more thing, you should have advanced-level crafting skills if you want to work on this DIY outdoor kitchen. lowes
12. Outdoor Kitchen on Deck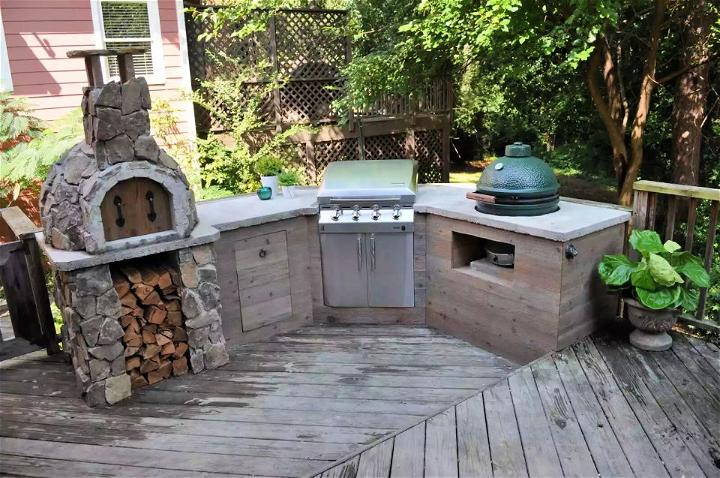 This outdoor kitchen plan will require two weeks to complete appropriately and according to a plan designed. For this, it's better to draw the template for ease of understanding and getting the right supplies to make this kitchen. You can use cinder blocks, plywood sheets for side framing, concrete countertop and cement blocks. Start working on this kitchen by framing the base. One more thing, you can also add more plywood and wood for framing before installing the countertop. In this way, you can build this kitchen more durably. thecowspot
13. Simple DIY Outdoor Kitchen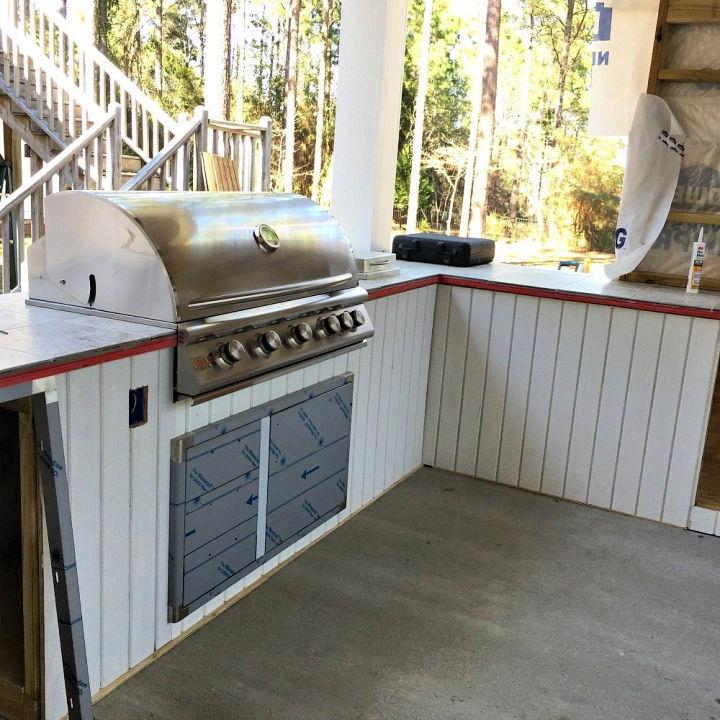 Are you looking for aesthetic outdoor kitchen ideas? If yes, you can also consider a DIY outdoor kitchen plan to add more glam to your backyard. Excitingly! You can make this kitchen super easy and comfortable with a free template. For this, use cedarwood for framing, stone or brick veneer, plywood rails and marble countertop. Start working by cutting the cedar for the framing and creating the kitchen base. Instead of using the stone veneer, you can also cover the kitchen sides and frame with plywood sheets. Give this project a complete and professional look with white painting on the panels. Lastly, install the marble countertops. refreshrestyle
14. DIY Outdoor Kitchen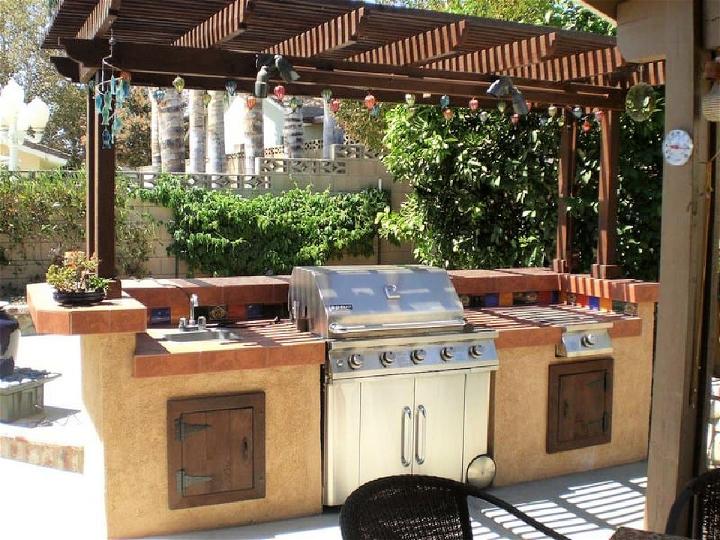 Do you want to add the potential decor outdoor or your backyard? If yes, nothing would be better than working on a DIY outdoor kitchen. Use your crafting and building skills more creatively by customizing your own beautiful outdoor kitchen. For this, use concrete material, gravel, wood boards, tiles with the adhesive, drain pipe, bolts and screws. Even you have designed a complete plan, this project will take more than a week for proper finishing. Therefore, the summer holidays are the best time to work on this DIY. theownerbuild
15. Portable Outdoor Kitchen / DIY Traeger Outdoor Kitchen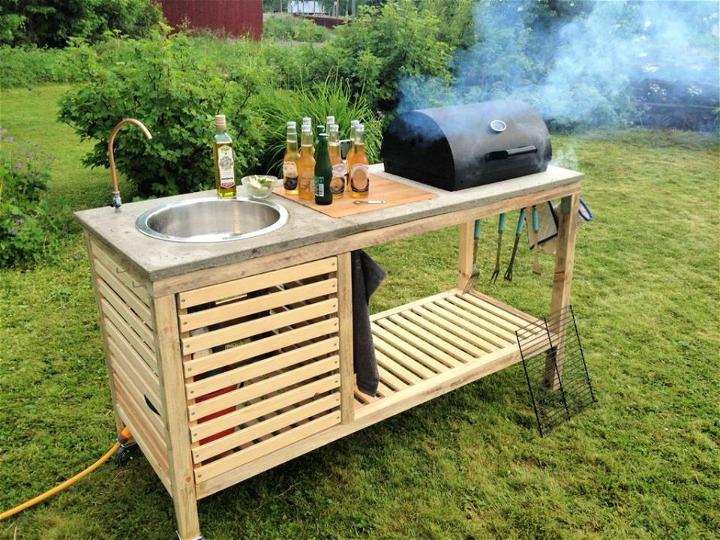 The portable outdoor kitchen OR diy traeger outdoor kitchen is super easy to build and inexpensive. Therefore, if you want to enjoy cooking in your backyard just for a few days or at a gathering, this plan is best to consider. You can make this kitchen super comfortable with a wooden supply according to your design. Add wheels on the ends of this portable kitchen. So, you can move it easily wherever you want after cooking. You can add a BBQ panel and also a sink area. Lastly, add the concrete top comfortably. instructables
16. Make an Outdoor Kitchen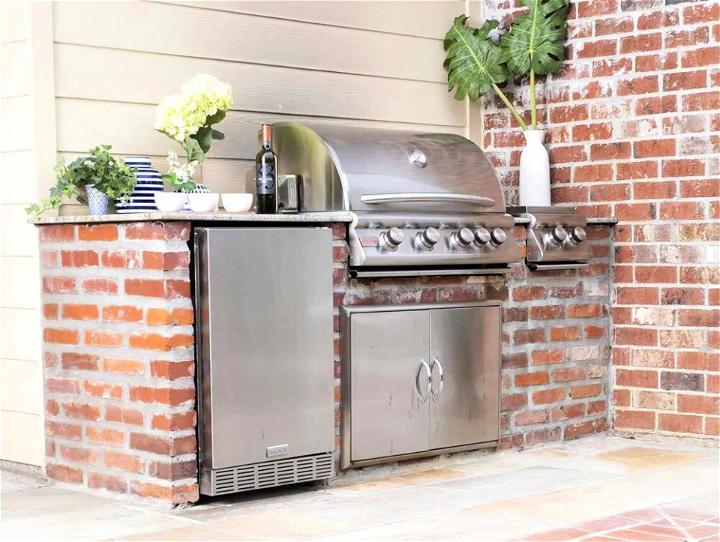 Make a super easy and good-looking outdoor kitchen with your construction leftover. You can add the cooking area according to your design specifications and material. The basic supplies are bricks, cement, gravel, marble, or granite countertop and tools for molding and pouring concrete. However, this provided plan doesn't include the sink area. But if you have larger space, you can also add the sink to wash off the dishes. bbqguys
17. Low Cost Outdoor Kitchen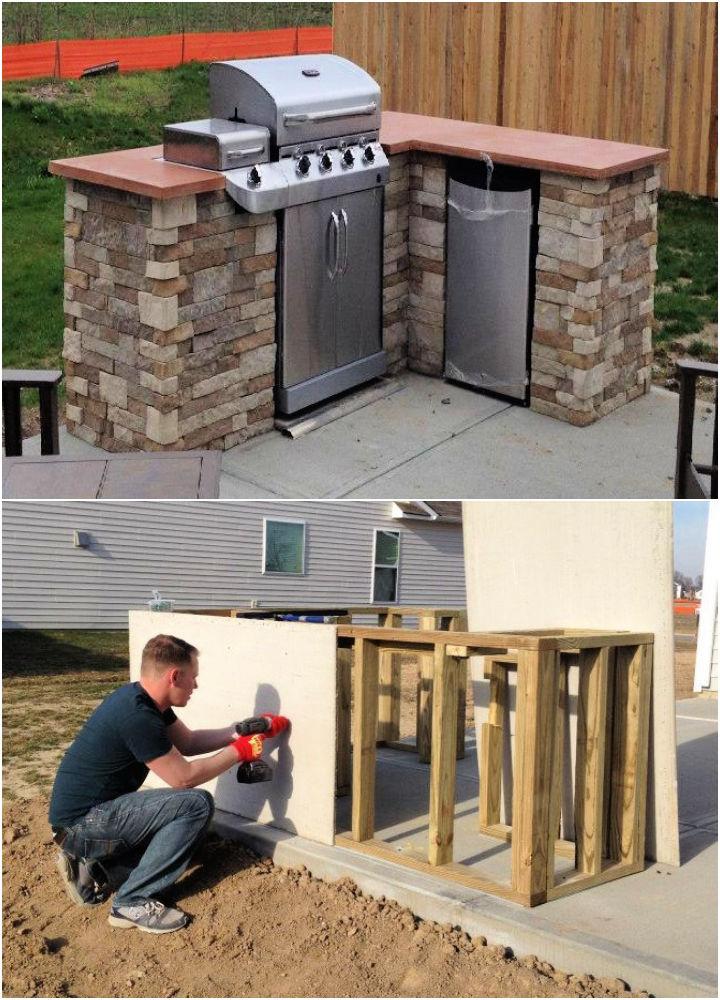 Lumber, cement and stone veneers are the most suitable and affordable option for building an inexpensive DIY outdoor kitchen. This kitchen plan is not only budget-friendly, but you can also customize it in less time and effort according to your needs. If you keep this outdoor kitchen more affordable, use plywood for side framing. Use power drill, screws and adhesive for assembling the boards and brick veneers on the base frame of the kitchen. homeharmonizing
18. Palapa Tiki Hut with Outdoor Kitchen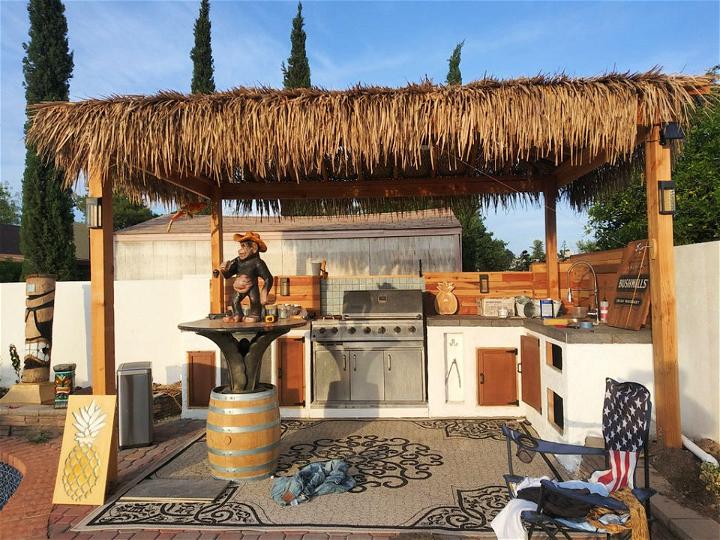 Building the Palapa hut with an outdoor kitchen would be challenging and daunting if you are a beginner crafter. Even for the experienced crafter, this DIY outdoor kitchen would take more than two or three weeks. Therefore, if you have an appropriate plan and all supplies on your hands, involve yourself in this project. Otherwise, get help from professionals. You can use 9*12 wooden boards for basing and framing of this kitchen. The other required tools are tape measure, screws, clamps, miter saw and wooden scrap. instructables
19. Wooden Outdoor Kitchen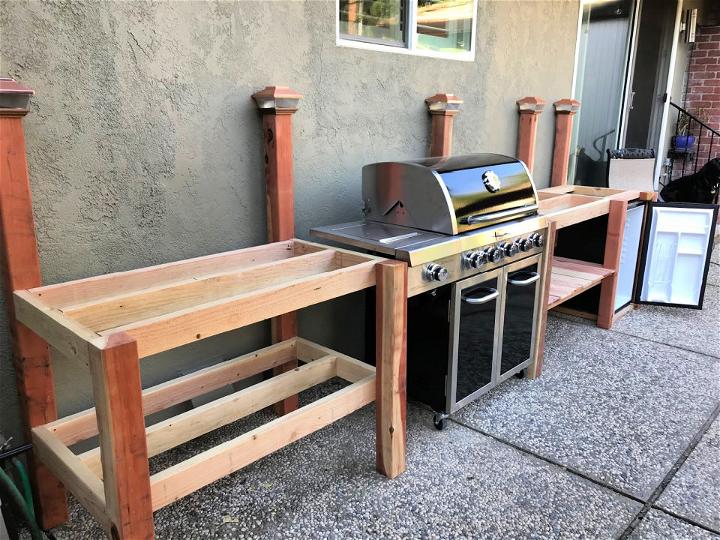 If you want a quick and easy to make an outdoor kitchen, wood will be the best supply for this project. For this kitchen, the whole thing is an appropriate plan and design. Cut and customize the wooden frames for basing, side paneling and vertical support dowels. Once you have done and cutting the boards with screws, install the cooking station. If you are higher on budget, install the countertops. However, the addition of countertops is not essential. norcaldiyers
20. Homemade Outdoor Kitchen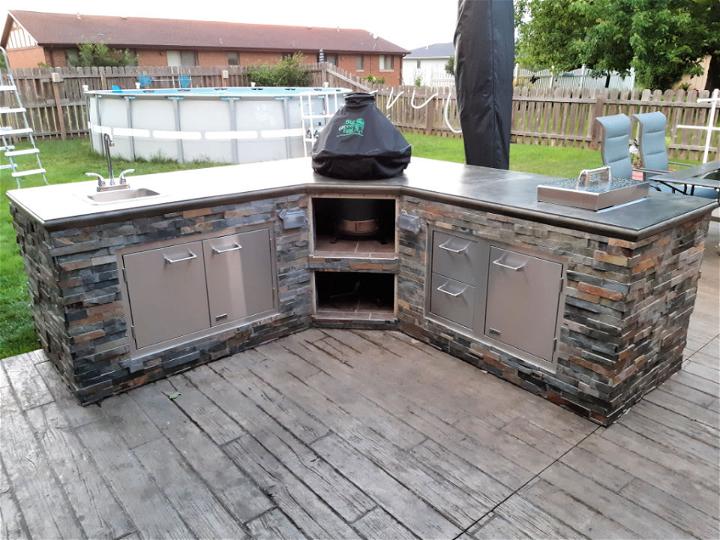 No doubt, homemade outdoor kitchens are more affordable than professionally installed kitchens. If you also want to save more money and want to customize the kitchen desirably. You can create your own outdoor kitchen proficiently with metal grills, plywood framing, and concrete countertops. Consequently, you can also add the sink area and bottom panels for moving out the water easily. imgur
21. Cinder Block Outdoor Kitchen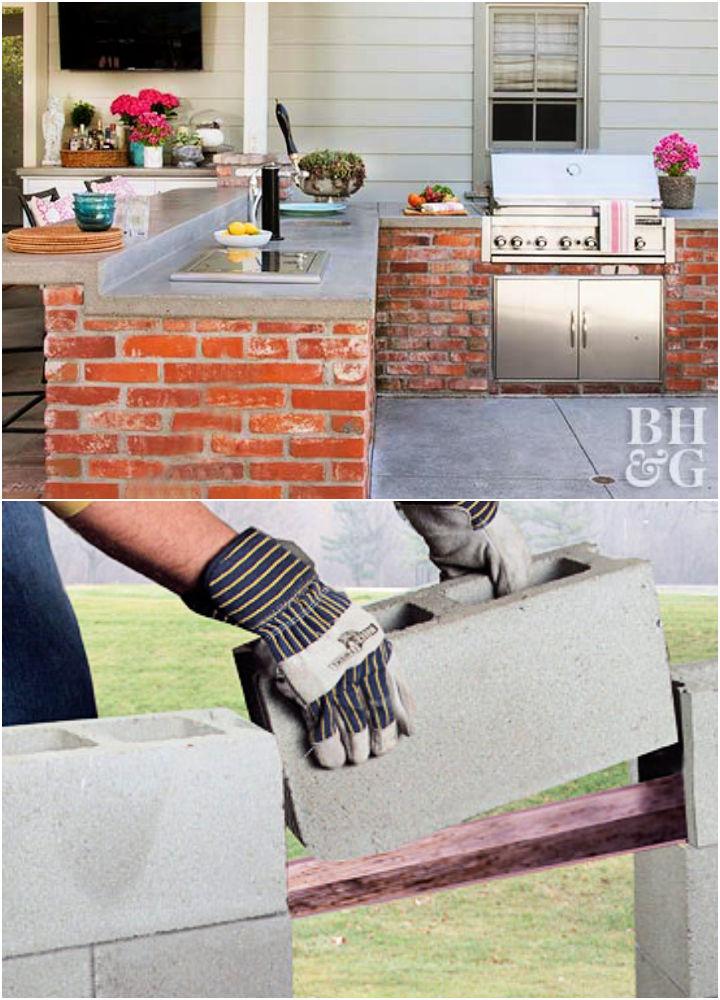 Are you looking for a versatile outdoor kitchen with dining for intimate family or friends gatherings? If yes, don't waste your money on traditional style and store-bought kitchen setups. Make an outdoor cooking setup yourself with concrete blocks, backer boards, screws, thin mortar, plywood, tiles, grout, and brick veneer. Start creating the layout of this DIY kitchen with cement blocks and slabs. While cutting the wood boards for framing, measure the size of the specified kitchen area. So, you can later assemble them with base appropriately. bhg
22. DIY Outdoor Kitchen Island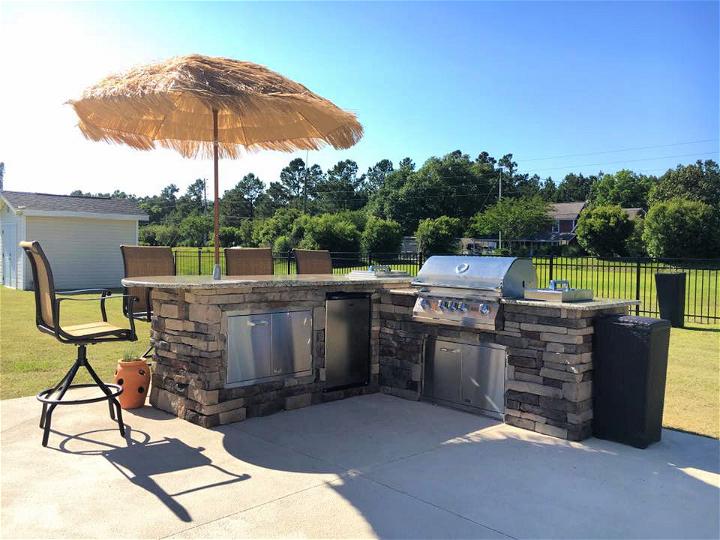 Build a versatile DIY outdoor kitchen island for cooking in the fresh air. You would surely love to cook and gossip with your friends side by side on this customized kitchen island. For making this super adorable kitchen, you can consider steel grills, cement boards, and granite countertops. Draw a plan with specified measurements even before making the frame with steel rails. If you have more space and budget, you can also add up the sink area in this beautiful L-shaped outdoor kitchen. instructables
23. Outdoor Kitchen with Rumblestone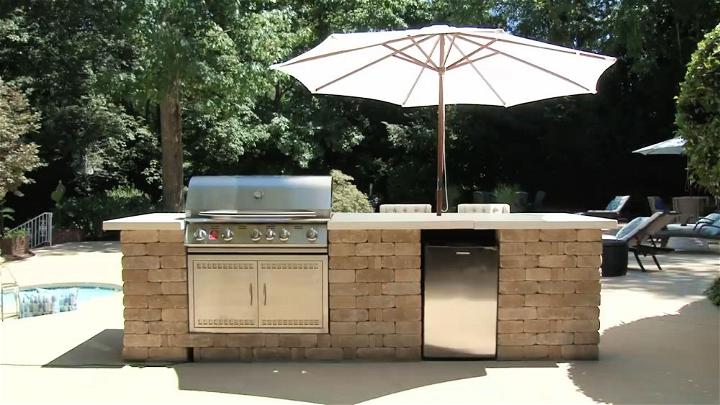 Tumble stones are more affordable and durable than cemented bricks. Therefore, you can also consider them for making an outdoor kitchen. If you are new to this craft project, get help from a video plan and free guidelines. Furthermore, use the marble countertops after installing the cooking area on this custom tumble stones kitchen. This kitchen plan doesn't include the sink area. youtube
24. Customizable Outdoor Kitchen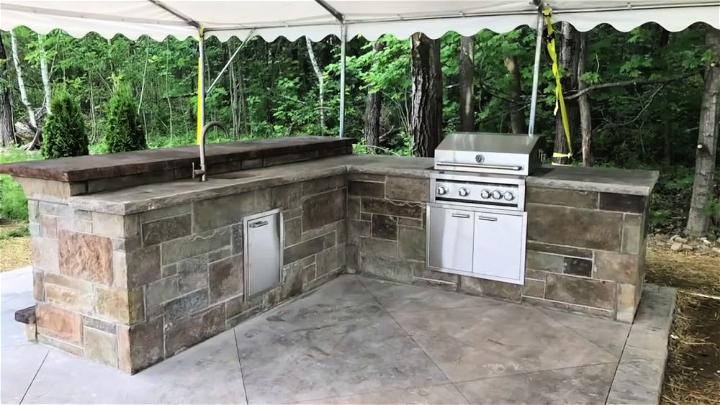 Customize a beautiful and highly durable outdoor kitchen with the help of tutorials and step-by-step guidelines. This kitchen uses wooden frames, larger black brick with veneer, stove appliances, and material for installing the sink. Luckily! You can modify and add more features to this outdoor kitchen according to your desire and planned design. youtube
25. DIY Wood Outdoor Kitchen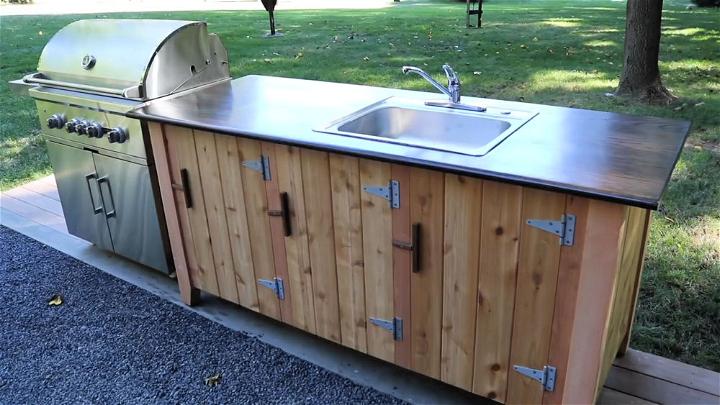 Install outdoor wood kitchen with sink area and all cooking appliances at the same place. Consider the heavy-duty or pressure-treated wood for this project. The basic supplies you will need for this project are steel hinges, screws, wood glue, measure tape, a circular saw, a black stone countertop, and a drill bit. Keep this DIY outdoor kitchen super easy by installing the sink and cooking area separately but side by side.