A crochet cat hat pattern is perfect for adding a bit of warmth and style to any cold day! You can create a cute cat-shaped inspired crochet cat beanie to keep my head warm this winter! Learn how to crochet a cat hat with these 25 free crochet cat hat patterns, including a crochet cat ear hat, a cat beanie, and a kitty hat, with step-by-step instructions and detailed illustrations to guide you through the process.
These free crochet cat hat patterns include all types that are suitable for women, men, girls and kids, so no matter your age or gender, you can rock a unique cat-inspired design. You can easily create adorable and cuddly cat hats for yourself or as gifts for your fellow cat-loving friends. These free crochet cat hat patterns are perfect for kids and adults and can be customized to fit any size or color. So, grab your hooks and make a fun and trendy crochet cat hat today!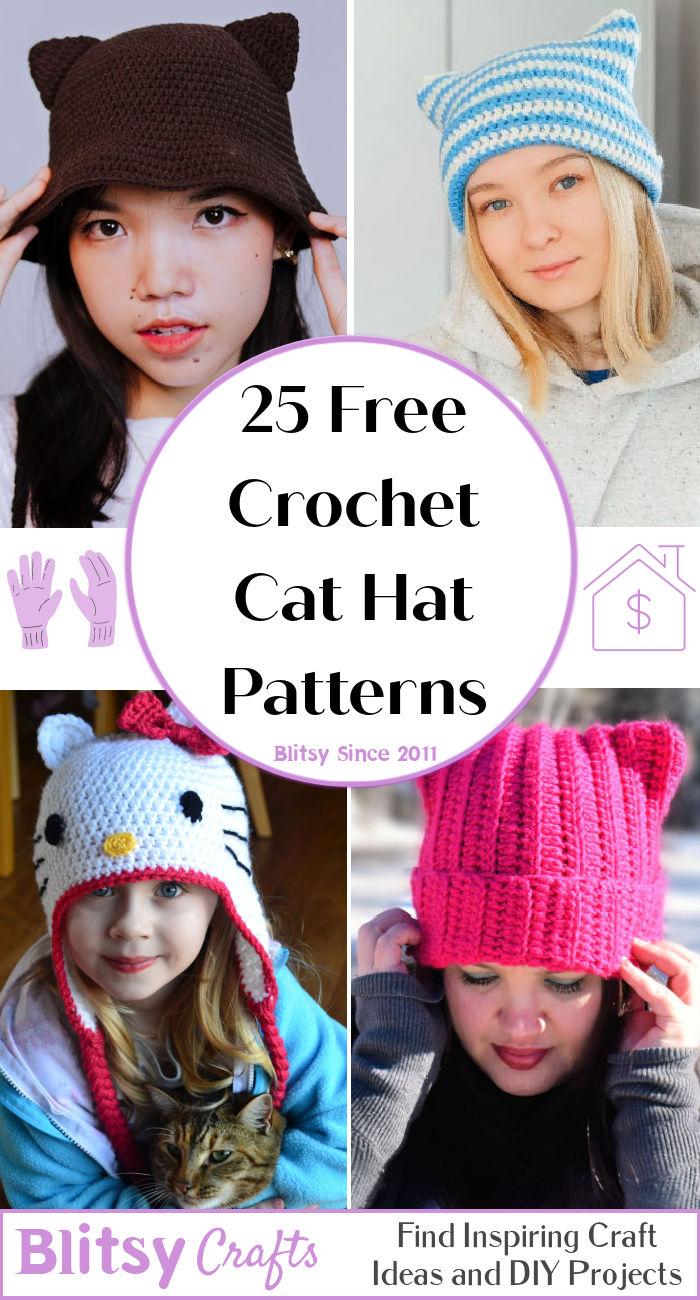 Free Crochet Cat Hat Patterns
Crochet cat hats are a fun and creative way to add a unique and adorable touch to your outfit style. With our 20 free crochet cat hat patterns, you can make a hat for yourself or your family! These crochet cat hat patterns come with easy-to-follow step-by-step instructions, making them perfect for beginners and advanced crocheters.
Whether you want to create a cute and simple cat ear beanie or a more complex design with different colors and textures, a crochet cat hat pattern is perfect for you. These patterns come with a list of supplies and materials required for crocheting, including yarn, hook size, and gauge. You can even choose different stitches and abbreviations to create your unique look.
1. Free Crochet Glam Black Cat Hat Pattern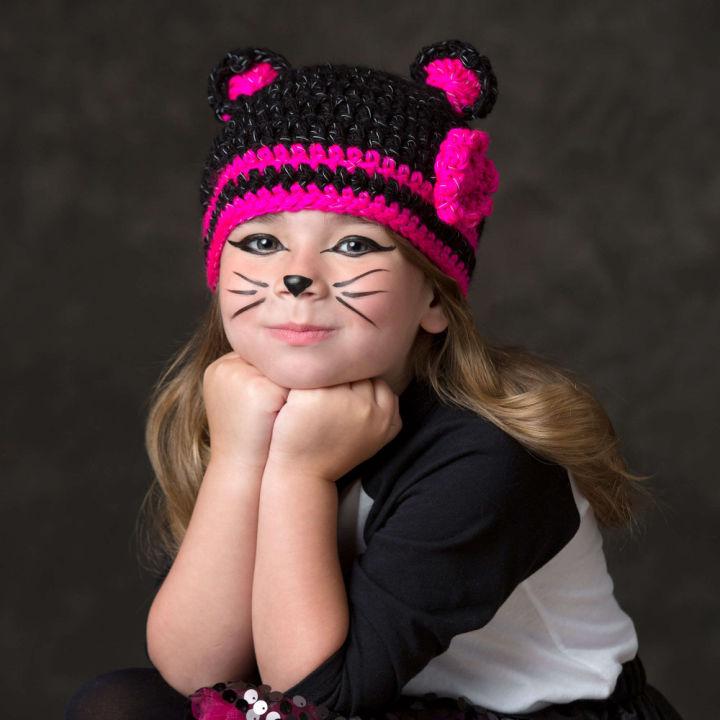 Get ready for Halloween with this adorable crochet black cat hat! This free pattern is perfect for the spooky season and can easily be adjusted to any size using the hat sizing guide. The pumpkin orange and black color combo add a fun element, plus you can add a little bow for an extra special touch.
With an intermediate skill level, all you need is #4-medium / worsted yarn in black and orange, along with small amounts of luminous yellow & pink yarns and I-9 / 5.5mm & H-8/5mm crochet hooks. The finished hat measures 7″ tall & 16″ in circumference – perfect for your little one! yarnspirations
2. Best Black Cat Slouch Hat Crochet Pattern

Create a cozy and adorable black cat slouch hat with this free crochet pattern! Using about 150 yards of size 6 super bulky yarn or strands of size 4 worsted weight yarn held together and a size l (8.0 mm) hook (adjustable to fit your yarn), this hat is quick and easy to make. The chunky ribbing and cute cat ears make it a perfect gift for any cat lover. Check out the accompanying video tutorial for step-by-step instructions. Happy crocheting! persialou
3. Crochet Chunky Cabled Cat Hat Pattern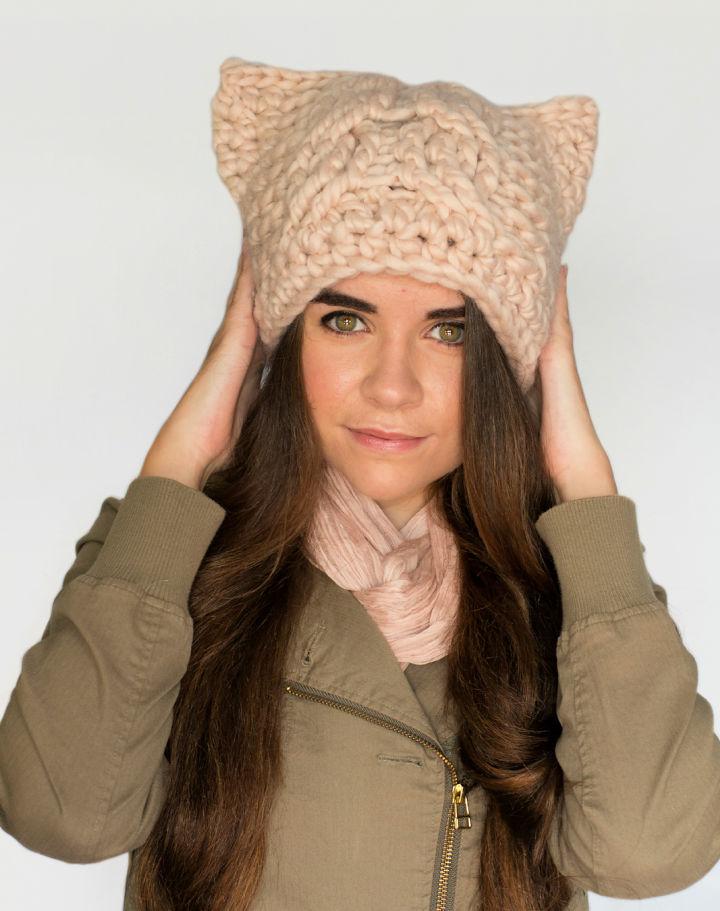 Are you a cat lover who's allergic to cats? Look no further. This crochet pattern will help you create the perfect stylish and cozy chunky cabled cat hat! With this pattern, you'll need a 12.00mm crochet hook, 250g of super bulky yarn, a tapestry/yarn needle and scissors.
The finished hat is designed for ages 13+, with a head circumference of 22 inches. For better accuracy on sizing, use the gauge: 5 rows x 6 stitches in hdc = 4 inches. Follow this easy-to-follow pattern to create your own unique chunky cabled cat hat – perfect for chilly weather and showing off your love for cats! hopefulhoney
4. Cute Crochet Hello Kitty Hat Pattern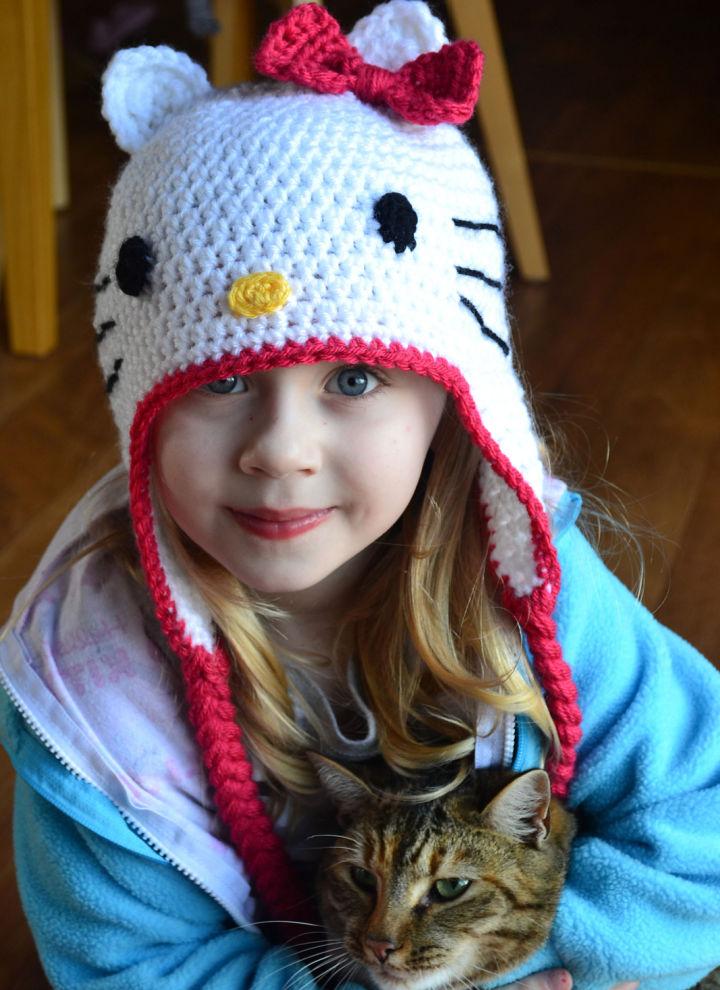 Crochet a cute Hello Kitty hat for your little one with this easy crochet pattern! Using vanna's choice baby yarn in white, cherry, black and yellow. You'll need both G & H crochet hooks to complete the project. Designed to fit a small child up to teen/small adult sizes, but can easily be adjusted by changing increases and even rows. The instructions also include detailed photos for comprehensive help! Get crafting today with this adorable Hello Kitty gat pattern! crochetincolors
5. Free Crochet Kitty Hat Pattern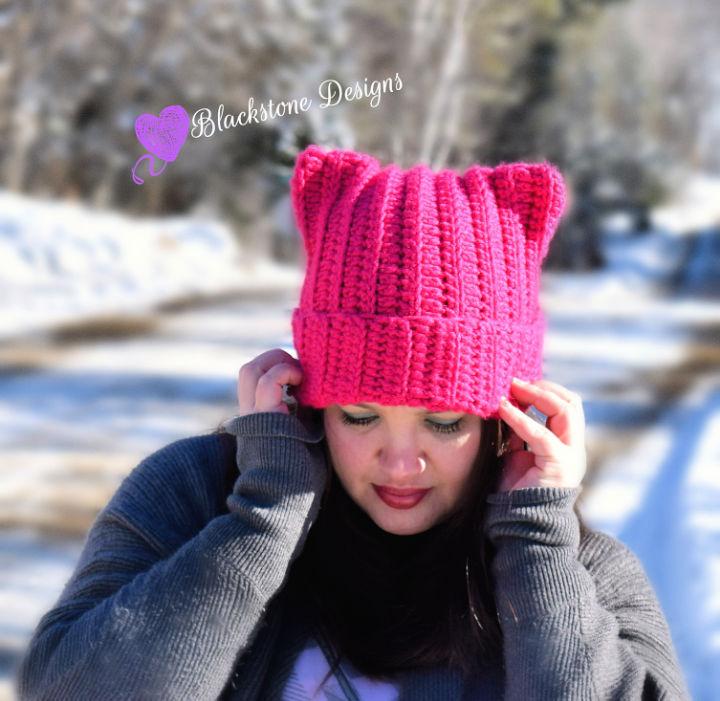 Craft a cozy and cute cat hat with this free crochet pattern! With worsted weight yarn, an I/9/5.5mm hook, and just a few hours of work you can have the perfect accessory to wear or gift to someone special. Whether you want the classic kitty look or something more unique – like pom-poms on the corners – this pattern is suitable for crocheters of any skill level. Start making your cat cap today! blackstone designs
6. How Do You Crochet a Kitty Cat Hat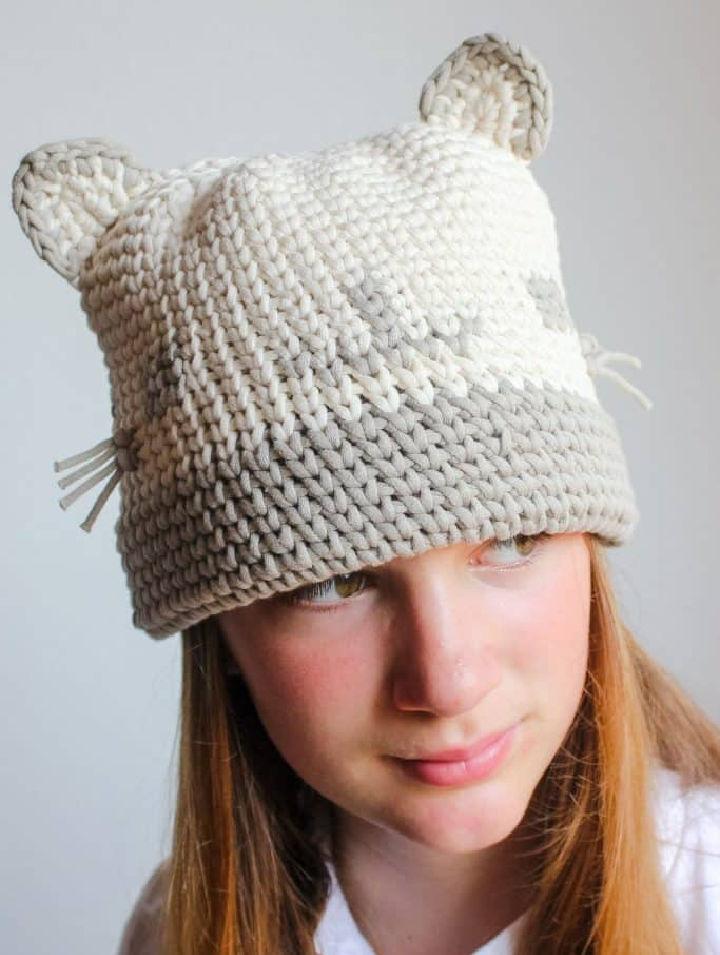 Stitch a cute and cozy hat that looks like a cat face with the free crochet pattern! Despite its knit-like appearance, this hat is crocheted with bernat maker home decor clay (color a) and cream (color b) yarns and a size L (8.0 mm) crochet hook. The finished design measures 10 ½″ wide x 8″ tall without ears – perfect for teens or adults in small to medium sizes. Resizing instructions are included so you can customize your unique creation! Get crafting today to make an adorable kitty cat face hat! nanascraftyhome
7. Cat Ear Crochet Beanie From Rectangle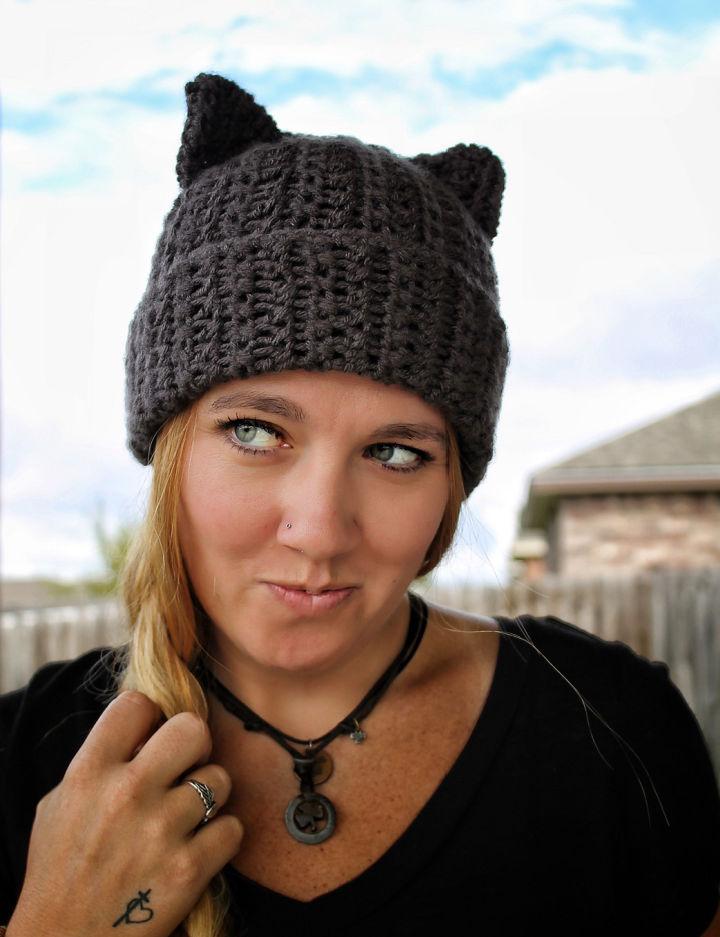 Getting ready for Halloween has always been so challenging and fun. Make this cute, easy cat ear beanie crochet pattern, the binx kitty hat! It's designed using lion brand basic stitch yarn and an I (5.5 mm) hook – perfect for Hocus Pocus fans or cat lovers alike. The pattern includes instructions for both adult (11" tall x 16" wide) and child sizes (9″ tall x 14″ wide). Fits heads with approx 21″-24″ or 18″-21″, respectively. This FREE crochet pattern prepares you to make something unique this Halloween season! cactusandlace
8. How to Make Black Cat Hat – Free Crochet Pattern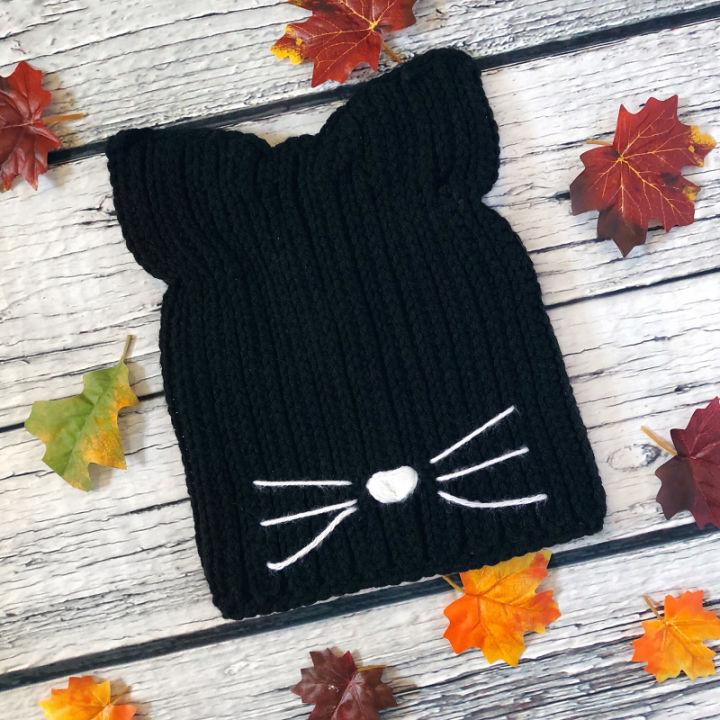 Welcome the spooky season with this free crochet pattern for a black cat hat! Perfect for autumn weather, this cozy and comfortable accessory is easy to make. All you need is one ball of worsted weight yarn, a size H crochet hook, and basic knowledge of crocheting in rows with textured stitches. Get ready to create your festive Halloween hat – download the instructions today and start crafting immediately! withalexofficial
9. Crochet Black Cat Hat Pattern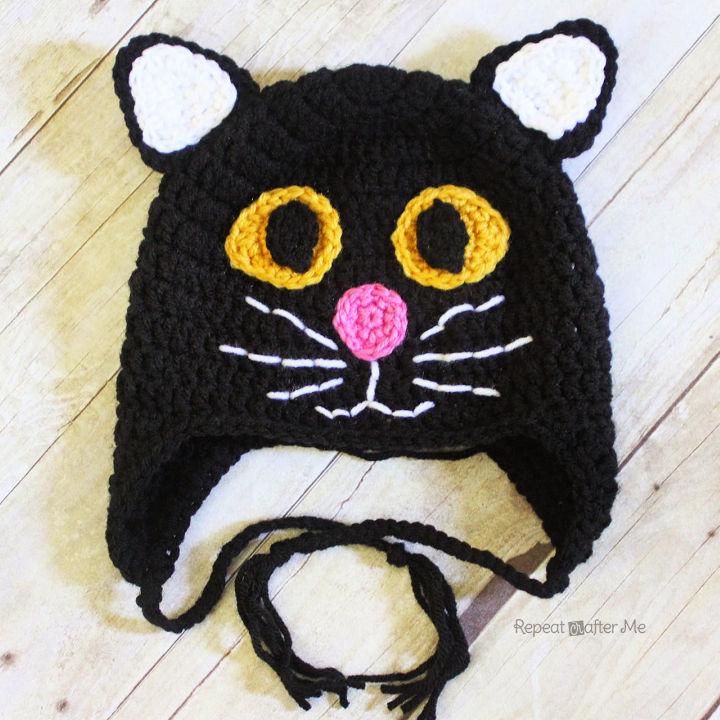 This adorable Crochet Black Cat Hat is perfect for Halloween! This pattern features a cute black cat design that can be made in any color. Materials required are worsted weight yarn in black, yellow, white, and pink, as well as a size H crochet hook. The perfect accessory for all cat lovers to show off their creative skills – make one for yourself or gift it to someone special! Make use of your favorite colors while crafting this stylish hat – an ideal way to flaunt your style! repeatcrafterme
10. Crochet Halloween Black Cat Hat Pattern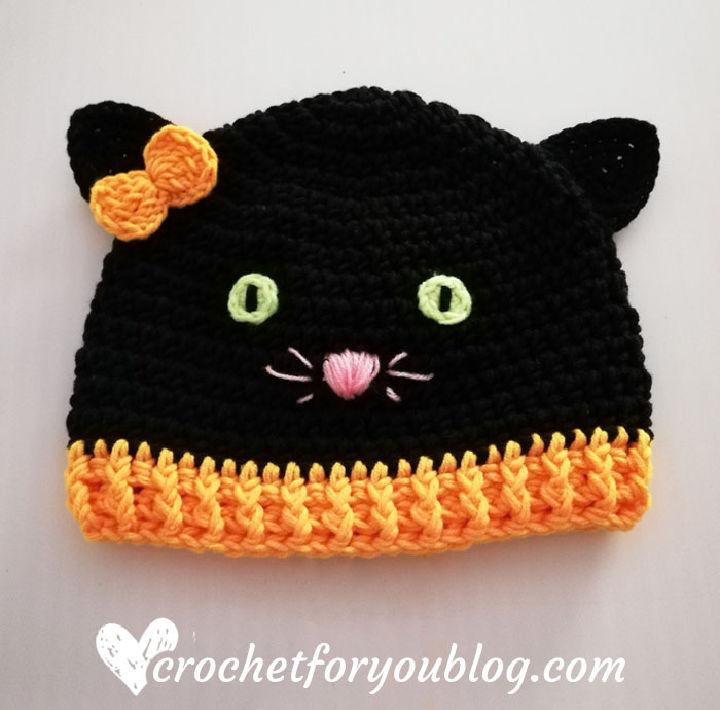 It's time to get spooky! Let this adorable crocheted black cat hat be the perfect addition to your Halloween wardrobe and show off all your creative skills! This free pattern comes in toddler size and is adjustable to any size with the accompanying sizing guide. The black and orange color combination makes it perfect for the spooky season, and you can add a bow for extra cuteness.
With an intermediate skill level, it measures 7″ in height and 16″ in circumference when finished. All you need is #4-medium/worsted yarn in black & orange, along with small amounts of luminous yellow & pink yarns and I-9/5.5mm & H-8/5mm crochet hooks. Get ready for Halloween now! crochetforyou
11. Pretty Crochet Kitten Hat Pattern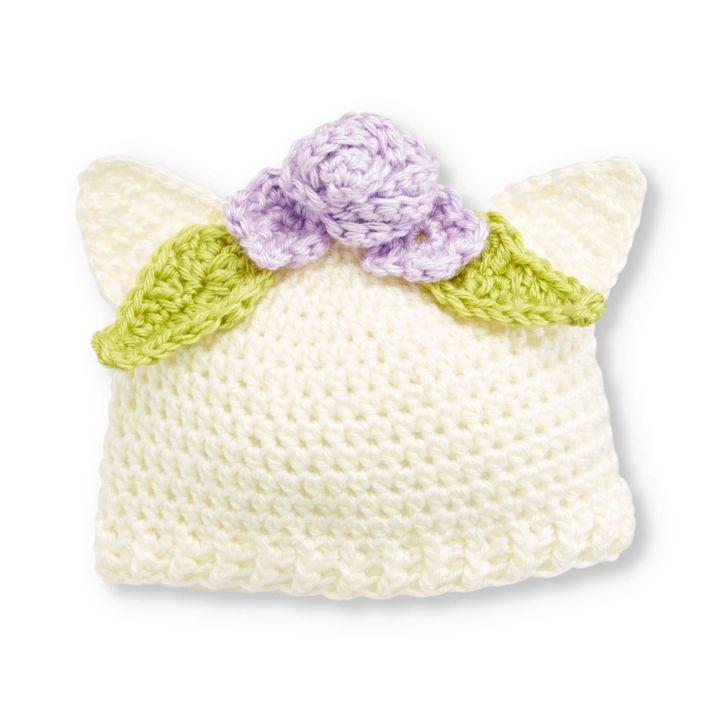 This crochet kitten hat is made with caron, soft selected in off-white, orchid, and chartreuse and requires a U.S. H/8 (5mm) crochet hook to complete. It comes in two sizes, fitting babies aged 6-12 (18-24) months; perfect for your little one! This easy level project allows you to create a wonderfully soft and colorful hat that will look great on your baby! A must-have item for the winter season – make this adorable hat today and keep your baby warm all season long! yarnspirations
12. Crochet Kitty Ear Beanie Pattern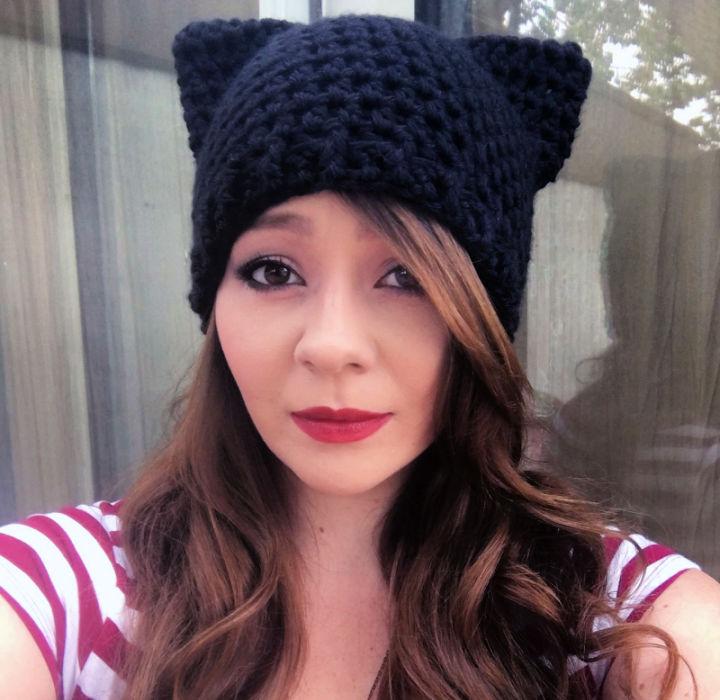 Wear these adorable kitty ear beanies to stay stylish and warm this winter! Crocheted using bulky weight yarn or a double strand of worsted weight, these beanies are super soft and thick yet lightweight and perfect for beginning crocheters. With one size that fits most adults, they make an ideal gift for any cat enthusiast. These hats are made from 2 strands of caron simply soft yarn and require a 9.0 mm (m/n) hook to complete the pattern. Add a playful touch to your wardrobe this season with this easy-to-follow crochet project! ravelry
13. How to Crochet Cat Hat – Free Pattern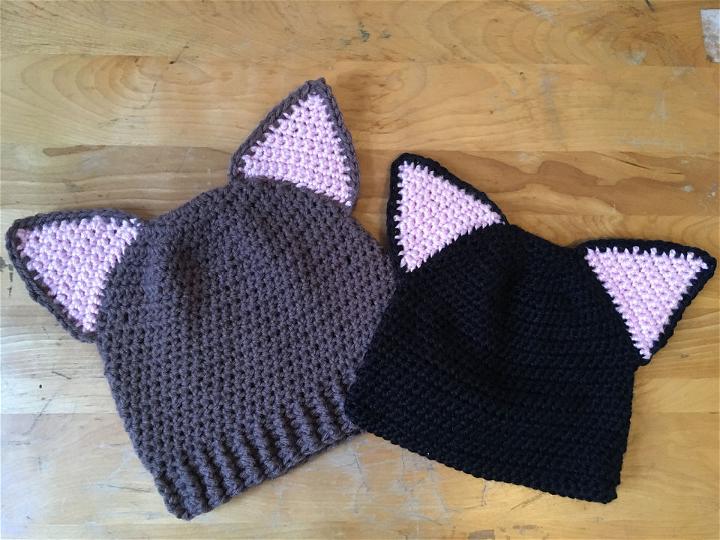 Whip up a cute and cozy crochet cat hat for kids! Perfectly sized at 18 inches in circumference and 7.5 inches in height, this pattern is great for light worsted weight yarn and a 5.5mm crochet hook. Follow the step-by-step instructions to make a basic hat, plus get creative with modification tips for heavier worsted weight yarns. Add your personal touch to the design! Get crafting on your adorable cat hat today! mudpaperscissors
14. Modern Crochet Anime Cat Hat Pattern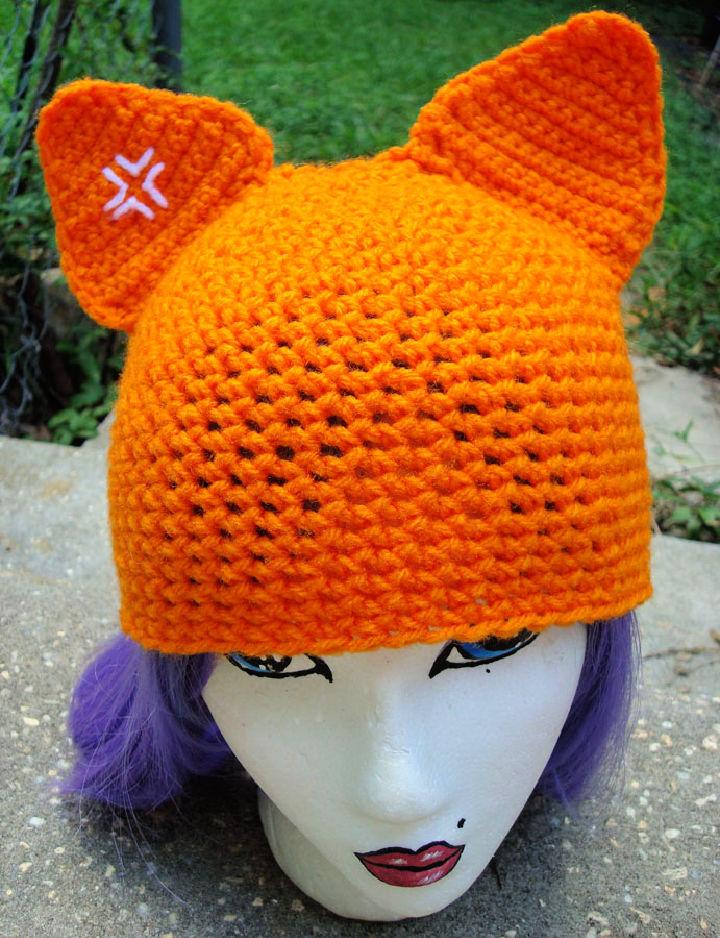 This anime cat hat is perfect for any season! Crafted from two strands of worsted weight acrylic yarn and a size N (10mm) hook, this crocheted hat is designed to keep you both warm and comfortable. A small scrap of contrasting yarn with a size I (5.5mm) hook can be used to add an extra pop of color. Get your essentials today and start channeling your inner anime fan by creating your own unique, cat-inspired accessory in the comfort of your own home! nyanpon
15. Crochet Witchy Cat Hat – Free PDF Pattern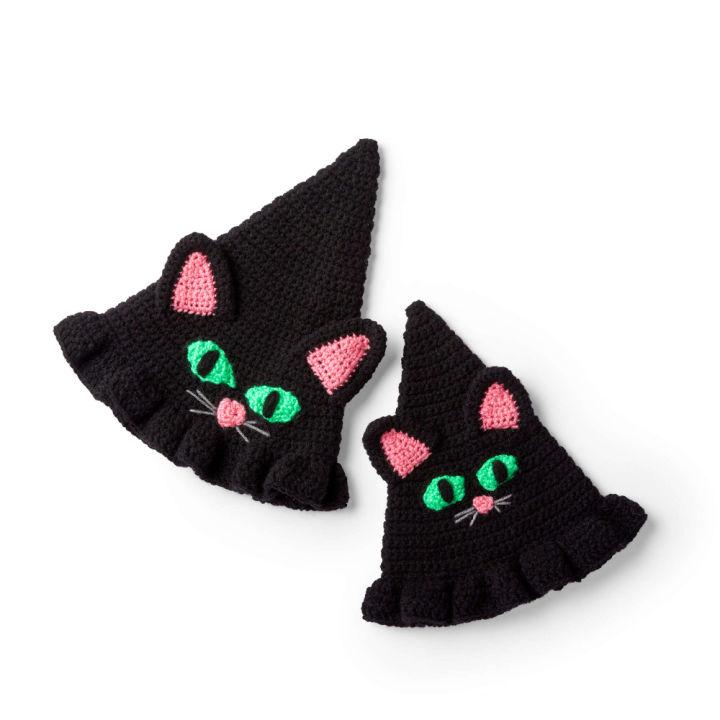 Ready to make a statement this Halloween? Unleash your inner witch with this one-of-a-kind cat hat! Crafted using red heart super saver yarn – 1 skein each of 312 black, 706 perfect pink, glow worm and 400 grey heather – this hat is perfect for all ages and sizes. Master the art of crochet using a 5.5mm "US I-9" Crochet Hook as you follow easy instructions tailored for any skill level. Personalize it further by adding embroidery to the cat's eyes and nose for an extra special look. Get creative this holiday season – grab today for all your essentials and let your unique style shine through! yarnspirations
16. Crochet Womens Chunky Cat Hat Pattern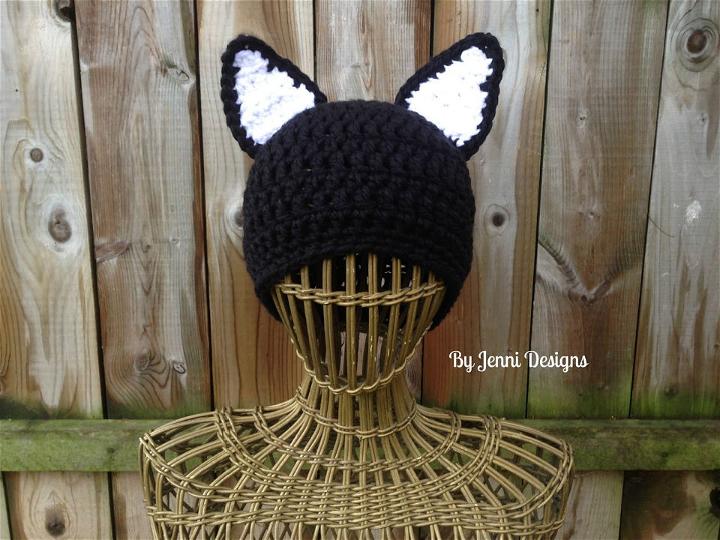 Are you looking for a quick and easy last-minute Halloween costume? Look no further! This chunky crochet cat hat is perfect for teen/women's sizes. Make it with super bulky (6) yarn and size N (9.0 mm) crochet hook, then pair the hat with black pants, a feather boa tail & whiskers to make an inexpensive & adorable costume. The pattern is easy-to-follow and perfectly suited for beginners! Get ready to have a spooky fun time this Halloween! byjennidesigns
17. Crochet Pink Cat Hat for Humans

Looking for a last-minute Halloween costume? Then this chunky cat hat crochet pattern is the perfect project! Using super bulky (6) yarn and a size N (9.0 mm) hook, you'll have an inexpensive and adorable cat costume in no time. It's suitable for teen/women's sizes, easy to follow, and fun to make – what more could you want in a DIY Halloween look? Just pair it with black pants, add some whiskers and a feather boa tail, et voila: your perfectly cute cat costume is ready! stitchandhustle
18. Free Crochet Pattern for Cat Hat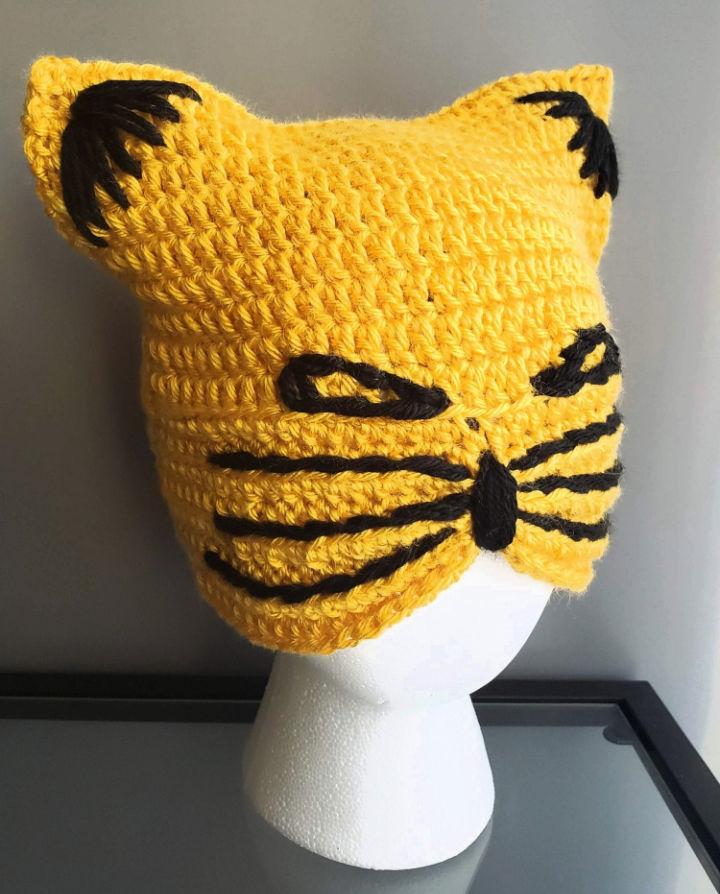 Stay cozy and stylish with this fun crochet cat hat this fall and Halloween! It's a perfect blend of easy-to-follow steps and challenges, making it suitable for beginner and advanced crocheters. All you need is medium weight (size 4) yarn and a 5mm crochet hook to get started. While the crochet part of the hat is easy, stitching up the adorable cat face may be difficult but worth it. Whether you're looking for an accessory or a unique costume, this cat hat will make you stand out. So grab your yarn & hooks now to start crocheting! handmadebyraine
19. Crocheting a Messy Bun Cat Hat – Free Pattern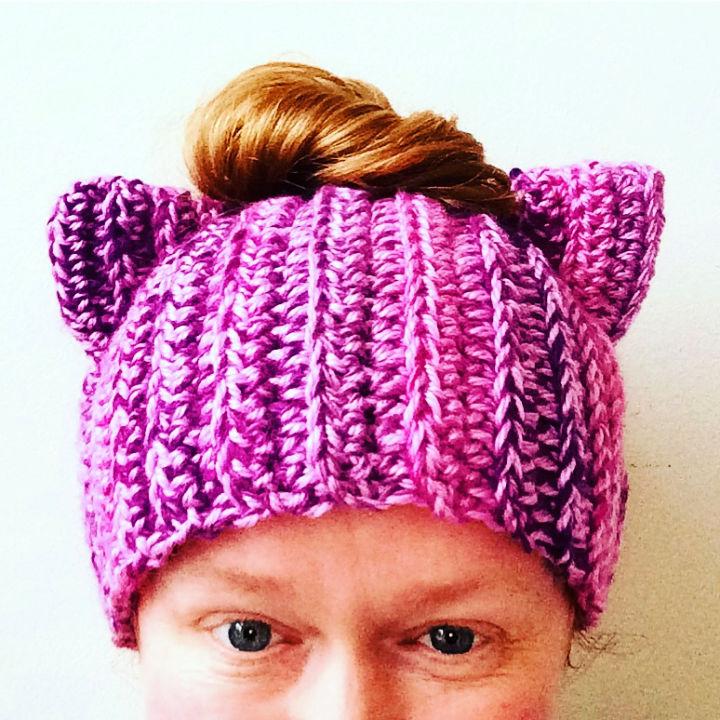 Wrap up and stay chic this winter with a messy bun cat hat! Crafted with 4/medium weight Aran yarn, this versatile hat is perfect for anyone who loves to wear their hair up but still wants a hat. An 8.0mm (L) hook ensures the bulkier feel of the hat while still allowing it to be adjusted easily for the perfect fit. This pattern uses 2 skeins at one time but can be substituted with 1 strand of bulky weight yarn. Whether you're looking for an accessory or a winter staple, this Messy Bun Cat Hat is ideal! Get your hooks ready and start crocheting today! ravelry
20. Cat Ear Crochet Hat Pattern

Add some adorable style to your wardrobe with this cat ear crochet hat! Designed with slouchy fit and cute cat ears, it's the perfect accessory for any cat lover. You'll need isaac mizrahi craft carlyle, lion brand thick & quick in starlight metallic, bernat mega bulky in radiant orchid, and a bamboo handle L (8.00 mm) hook to crochet this hat. With these materials, you'll have an eye-catching winter essential that will keep you cozy all season long. So grab your hooks and start crocheting this amazing cat ear crochet hat today!
21. Free Crochet Hat With Ears Pattern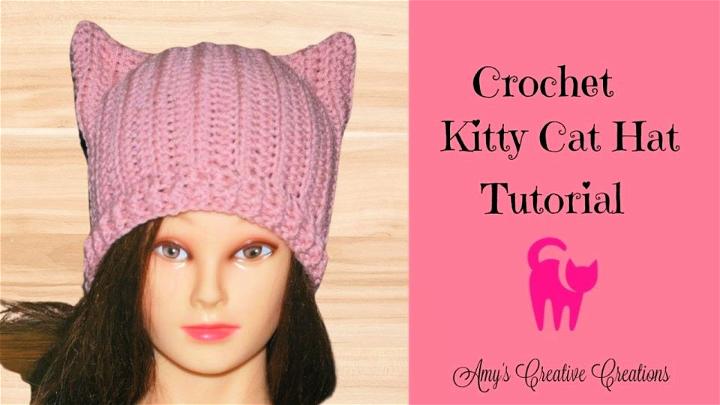 This fun & easy DIY crochet hat with cat ears will help inject a little cat-titude into your wardrobe. Follow the step-by-step video tutorial to create a cozy and stylish piece that is perfect for any cat lover. Gather your supplies – hooks, lion brand yarn, ferris wheel yarn – and start crocheting. Whether you're a beginner or an expert, this tutorial will guide you through each step of the process. Unleash your creativity and put together an adorable handmade item today!
22. Crochet Chunky Pebble Cat Beanie Idea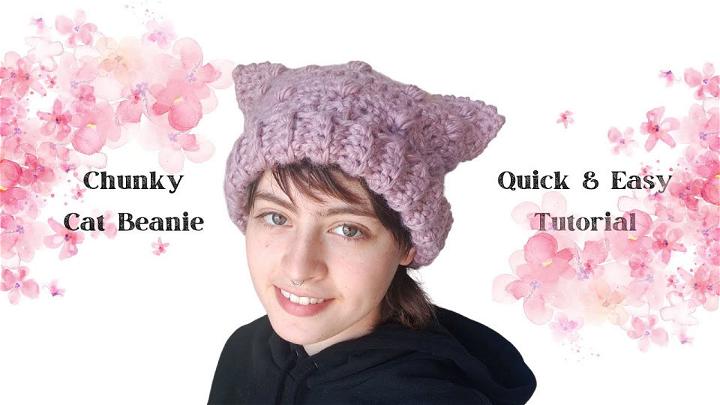 Go wild with this unique chunky pebble cat beanie and make a fashion statement! This easy-to-follow crochet tutorial will help you make your own hat in no time. The chunky pebble stitch gives the beanie a unique texture that any cat lover can appreciate. Whether new to crocheting or more experienced, these step-by-step instructions will have you crafting a warm and cozy beanie in no time. Get your hook and yarn ready, and start making this fun project today!
23. Free Cat Hat Crochet Pattern for Beginners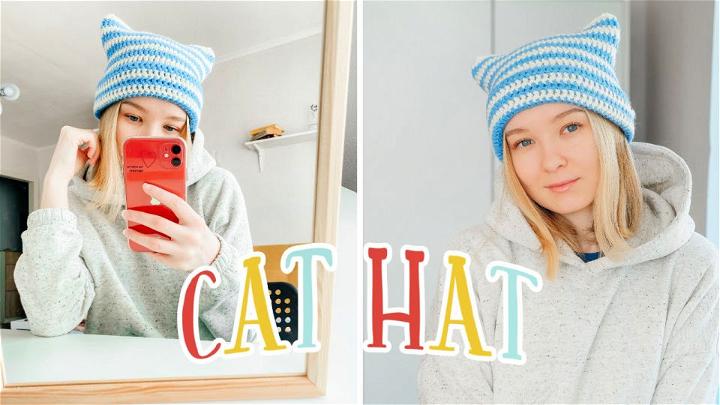 Are you a cat lover? Do you want to learn how to crochet? Then this beginner-friendly cat hat tutorial is perfect for you! With easy-to-follow instructions and materials lists, anyone can create this cozy hat with cute cat ears. It's the perfect accessory to show off your love of cats. Grab your hook and yarn today and start crocheting! In no time, you'll be wearing a fashionable cat hat that shows off your new crochet skills. So what are you waiting for – get ready to perfect your skills now!
24. Easy Crochet Cat Ear Bucket Hat Tutorial

Calling all cat lovers and crochet beginners! Get ready to perfect your skills with this beginner-friendly tutorial for a cat ear bucket hat. All you need is milk cotton yarn in size 4 ply and a 3.5mm crochet hook, and you're good to go! With step-by-step instructions and helpful tips included, it'll be easy to create the perfect cute accessory – full of cat-titude – for your wardrobe. So grab your supplies and get started on this stylish project today!
25. Crochet Hat With Cat Ears – Free Pattern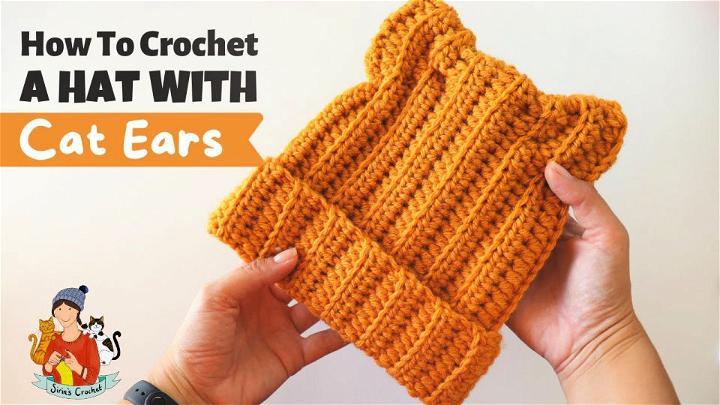 Do you want to add a unique and fun accessory to your wardrobe? Look no further! This DIY tutorial will show you, step by step, how to easily crochet a hat with cat ears. Perfect for all levels from the beginner through seasoned crocheter – with this free pattern and instructions, you'll be able to make your cozy hat in no time. What are you waiting for? Get your crochet hooks and yarn ready, and start creating this perfectly stylish accessory today!
Related Free Crochet Patterns:
Transform your yarn into creative masterpieces with our incredible selection of free crochet patterns. From afghans to amigurumi, we have the perfect project for any skill level!
Conclusion: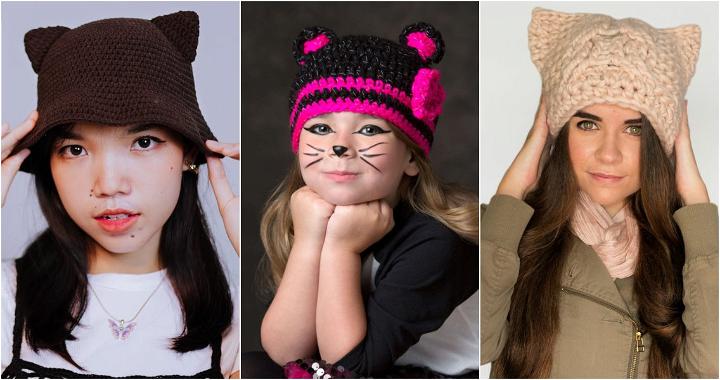 Crocheting cat hats can be an enjoyable and creative activity. With the right practice, even a beginner can master this kitty hat. This article has provided 25 free crochet cat hat patterns (cat beanie pattern). These designs are easy to follow, with step-by-step instructions that are suitable for beginners. In addition, each pattern is detailed and comes with helpful illustrations, so crocheters feel confident in their work. With so many options available, making a unique hat for yourself, your family, and your friends is easy! Whether you're looking for a simple earflap design or something more elaborate like a lion mane, there's sure to be a crochet cat hat pattern that fits anyone. Plus, since all these crochet cat hat patterns are free, you can save money while creating something special for your wardrobe!