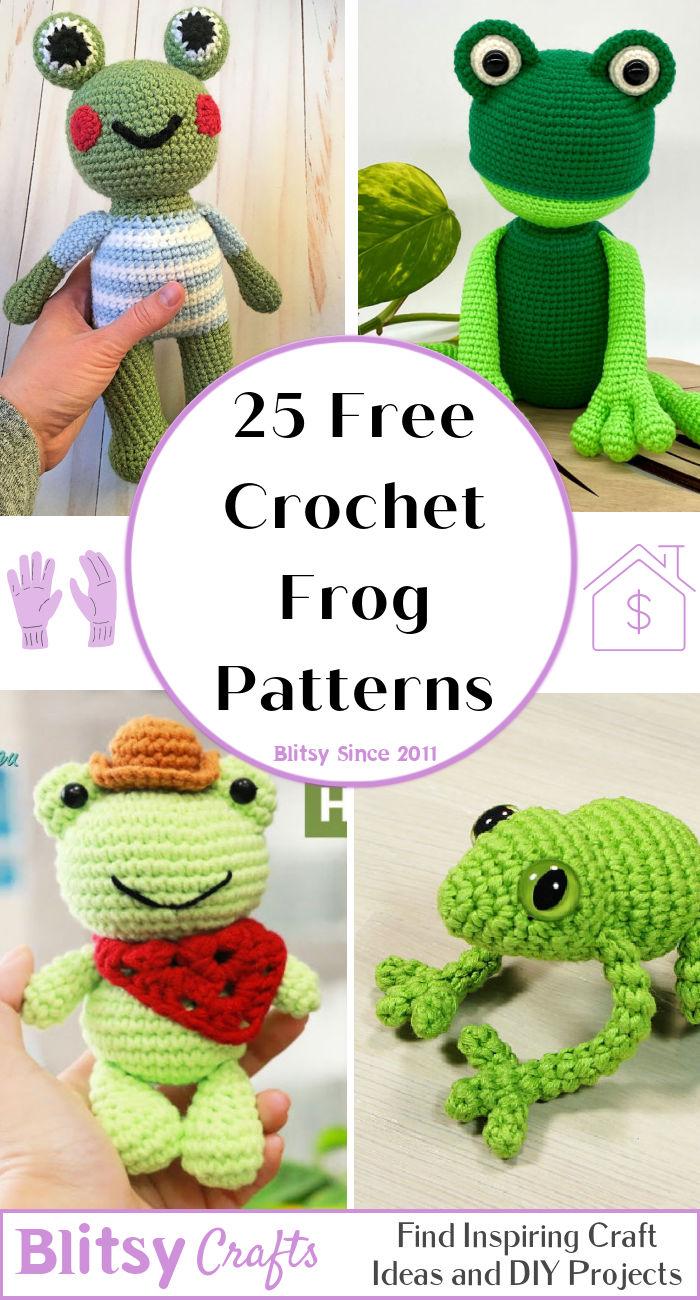 Free Crochet Frog Amigurumi Patterns
Crochet frog patterns are a fun and creative way to bring a little nature into your crafting projects. Amigurumi frogs, in particular, are a popular choice for crochet enthusiasts as they make adorable and playful toys for kids and adults. With various free crochet frog patterns available online, even beginners can get started with this exciting craft. To create your own crochet frog, you'll need basic skills and materials, such as yarn, a crochet hook, and stuffing. You can also add your own personal touches to the pattern to make your frog unique. Whether you're looking for a fun new project or a gift for a loved one, a crochet frog pattern will bring joy and creativity into your life.
Crochet Frog Pattern: How to Make Your Own Amigurumi Frog
Amigurumi frogs are a popular and fun crochet project for crafters of all levels. You'll need a few essential materials and basic crochet skills to make your own crochet frog. Start by choosing a free crochet frog pattern and gathering materials, including yarn, a crochet hook, and stuffing. Follow the pattern's instructions to crochet the frog's body, legs, and arms, and stuff each piece as you go. Once you've completed each piece, sew them together and add the finishing touches, such as the eyes and mouth.
How to Crochet a Frog: Answers to Your Questions
Learn how to crochet a frog with ease by reading this helpful guide, which answers common questions about the process.
1. What materials are required to crochet a frog?
Yarn in green, white, and black
Crochet hook (size recommended in the pattern)
Fiberfill stuffing
Yarn needle
Scissors
2. What stitches do you need to know to crochet a frog?
Single crochet
Half double crochet
Double crochet
Slip stitch
3. What are the basic steps to crochet a frog?
Crochet the head and body separately
Crochet the legs and arms separately
Attach the legs and arms to the body
Embroider the eyes and nostrils
Stuff the frog
Sew the head to the body
4. How do I make the frog's eyes?
Use white yarn to crochet two circles.
Use black yarn to embroider the pupils onto the white circles
Sew the eyes onto the head
5. How do I make the frog's legs and arms?
Crochet a chain and work single crochets around it to make a tube
Increase and decrease stitches to shape the tube into a leg or arm
Stuff the leg or arm lightly before finishing it
6. How do I attach the legs and arms to the body?
Sew the legs and arms to the bottom of the body, ensuring they are evenly spaced.
7. How can I customize my frog?
Change the color of the yarn to make a different species of frog
Add spots or stripes using embroidery or applique
Make the frog larger or smaller by adjusting the yarn weight and hook size
Here are some additional tips and tricks for crocheting a frog:
Keep your project on track with a stitch marker! This handy tool will help you monitor each round of stitches and ensure that your pattern proceeds smoothly, especially when working on the head and body.
When stuffing the frog, use small amounts of fiberfill and stuff firmly, but not too tightly. This will help give your frog a nice shape and prevent any lumps or bumps.
When embroidering the eyes and nostrils, use a small embroidery needle and black yarn to create a neat, even stitch.
If you're having trouble attaching the legs and arms to the body, try using pins or clips to hold them in place before sewing them on.
If you want to make a larger frog, you can use a thicker yarn and a larger hook size. Remember that you may need to adjust the number of stitches and rounds to achieve the right proportions.
If you're new to crochet, consider practicing with simpler patterns before tackling a frog. This will help you get comfortable with the basic stitches and techniques.
Finally, don't be afraid to experiment and have fun with your frog! There are endless ways to customize your creation, from adding a tongue to giving it a bowtie. So let your creativity run wild and see what kind of frog you can create.
1. Adorable Crochet Frederick the Frog Pattern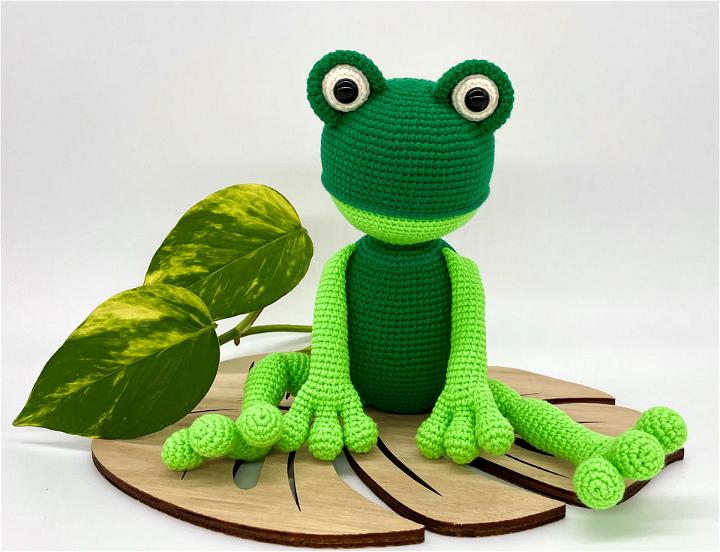 Cuddle up with your very own amigurumi frog! This free crochet frog pattern is perfect for advanced to intermediate crocheters looking for a fun and challenging project. When seated, the frog's finished size measures 20.5 cm/8 inches and 35.5cm/14 inches from eyes to toes. All you need are materials like fine sports #2 yarn, scissors, stuffing and other basic supplies to create your very own cuddly friend! Download this free amigurumi pattern today and start crafting your new companion! cuddlystitchescraft
2. Free Crochet Frankie the Frog Pattern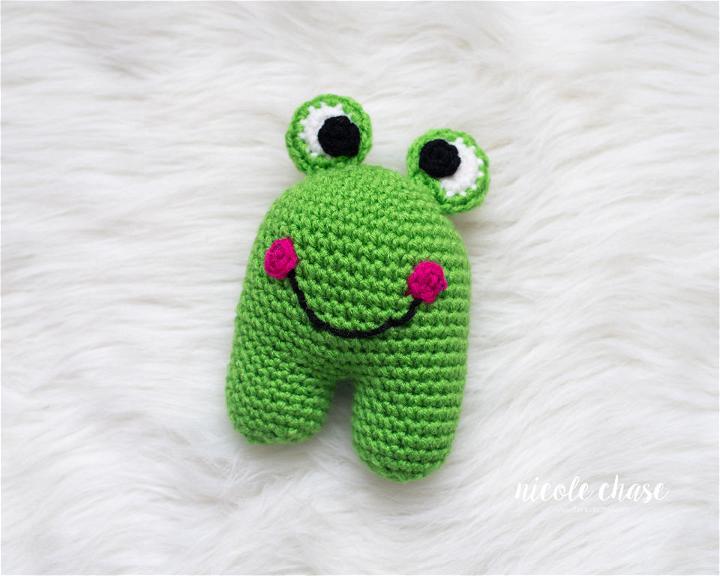 Introducing Frankie the Frog – a free crochet pattern perfect for beginner crocheters! This adorable little amphibian stands at 4 inches tall and is the perfect size to fit in little hands. Use red heart super saver yarn in spring green to create your own frog friend or pick a different color and make something unique. Even if you're an advanced beginner, the special stitches and invisible decrease methods will help you easily complete this project. So grab your hook and get ready to Crochet Frankie The Frog today! thenicolechase
3. Crochet Mia the Frog Amigurumi Pattern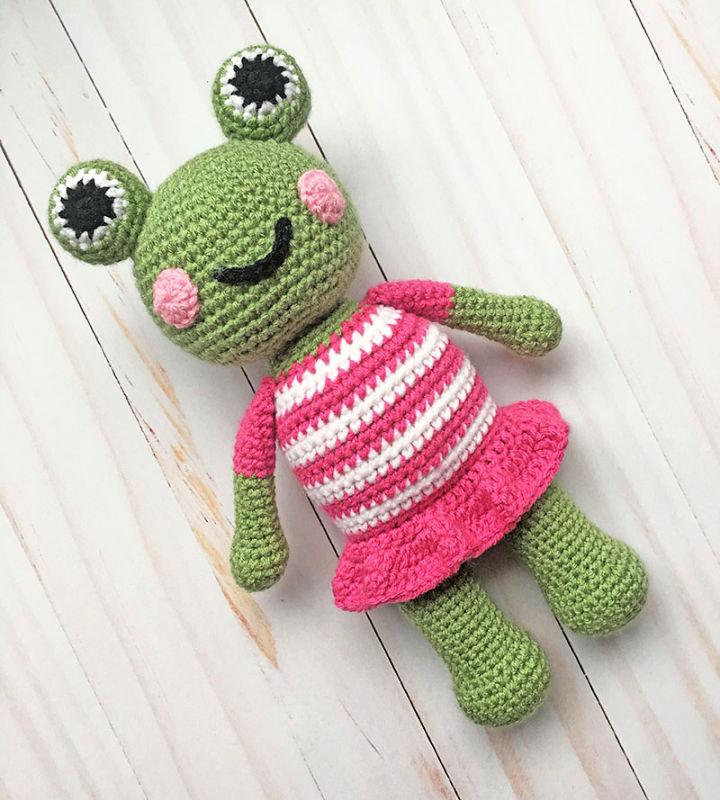 Crochet your cuddly amigo with this free Mia the Frog pattern! Make sure you have size 4 worsted weight yarn, a 3.5 mm crochet hook, stuffing (poly-fil), and a bit of time to make this cute critter. Open up your creative side and create a unique friend that will be beloved for years by using this easy-to-follow pattern. Your frog is guaranteed to bring joy and smiles from all who see it – get started crafting today with Mia the Frog! graceandyarn
4. How to Crochet Tree Frog – Free Pattern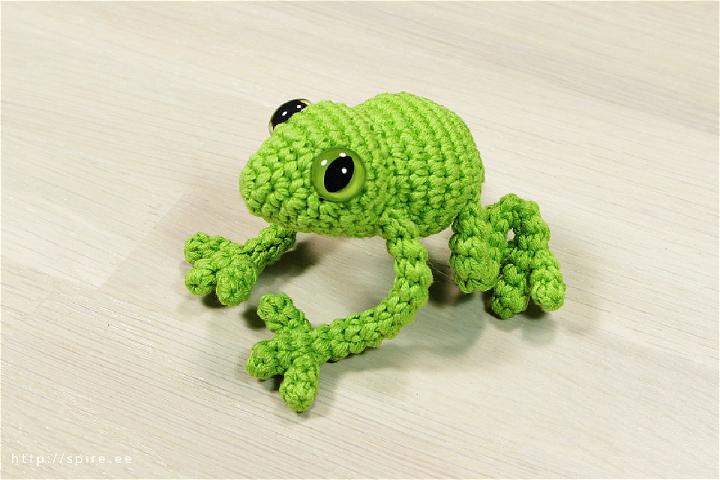 Are you looking for a fun, free crochet pattern to make your tree frog? Look no further! This free crochet pattern is sure to delight – it features tiny details and even wire inside the legs, so it will test your patience but give amazing results. Working with sport weight cotton and a 2mm hook (US size 1/B), you'll create an adorable frog about 12 cm long including legs. For larger or smaller toys, use finer or bulkier yarn and adjust the hook size accordingly – remember to crochet tightly enough so the stuffing won't show through! Get crocheting now with this fantastic free pattern kristitullus
5. Beautiful Crochet Swimming Frog Pattern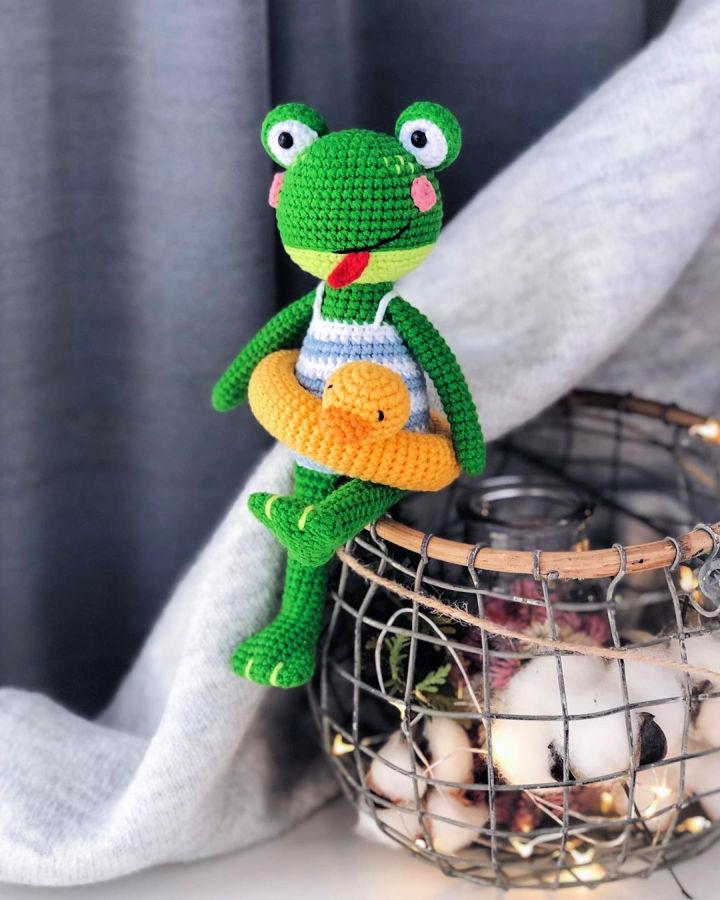 Jump into a new adventure with your swimmer frog, crafted through the magic of crochet! This amigurumi frog stands approximately 20 cm (7.8 inches) tall and uses cotton gold yarn, 2.0 mm and 1.75 mm hooks, black safety eyes, black embroidery floss for the mouth, and fiberfill for stuffing! Get ready to make your swimming frog today! amigurum
6. Free Crochet Flippy the Frog Pattern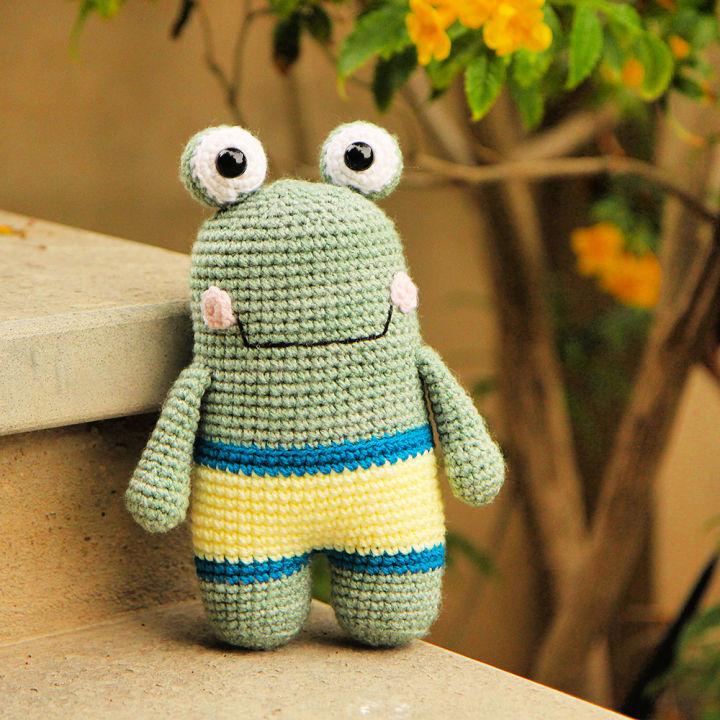 Start crocheting your frog with this easy crochet pattern! Perfect for beginners, this 8-inch tall amigurumi toy will help you practice basic techniques like color changes, back loop crocheting and increases/decreases. You'll need DK yarn, a 3mm crochet hook, polyfill stuffing, two 12 mm safety eyes and black embroidery thread to create the smile. Get creative with colors and make the perfect companion for you or a loved one! Unlock your inner craftiness by stitching up something special today – download this free pattern now! chaicoffeecrochet
7. How to Crochet Pride Frog – Free Pattern
Get busy with your amigurumi crochet skills and make your own Pride Frog with this easy-to-follow amigurumi pattern. With plenty of helpful photos and detailed instructions, you'll be able to create a finished frog that measures 7 inches long by 6 inches wide (arm to arm) in no time! Gather the necessary materials: worsted weight yarn, size 9.00 mm black safety eyes with washers, a scrap of black yarn or thread polyfill stuffing & size G crochet hook. So what are you waiting for? Get creative and make your own unique Pride Frog today! ravelry
8. Best Marshall the Frog Crochet Pattern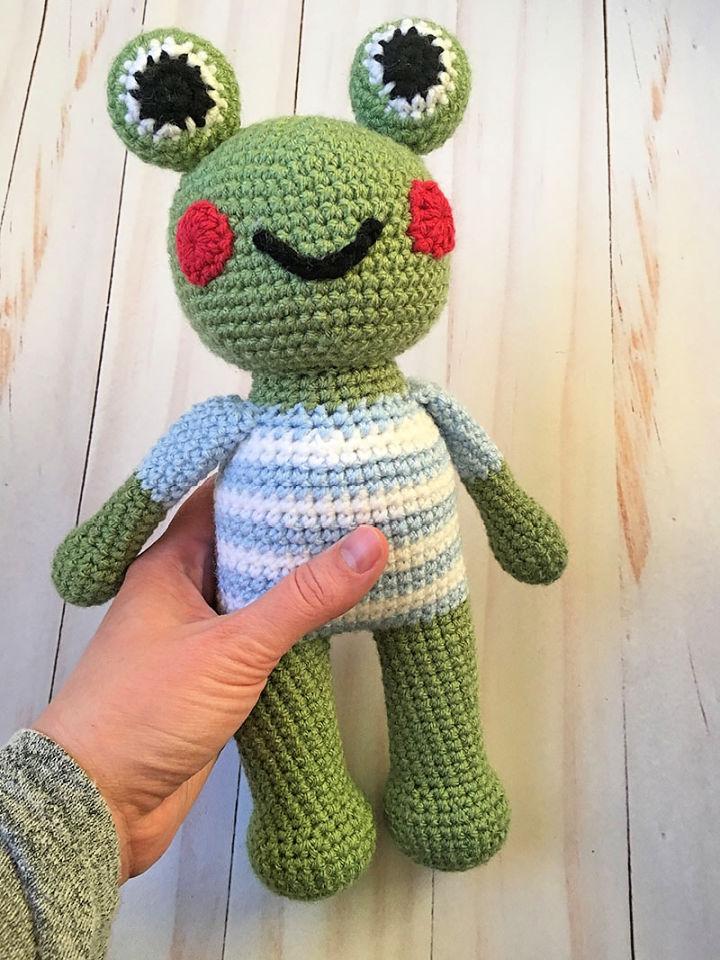 Create a unique gift or craft fair item with this free crochet pattern for Marshall the Frog! He's 13 inches tall and works up quickly using worsted weight yarn. Stuff him with your favorite stuffing to make him soft and cuddly. Perfect size for a little one, Marshall the Frog will surely bring smiles all around! Get creative and see what colors you can use to make this frog extra special. graceandyarn
9. How Do You Crochet an Amigurumi Frog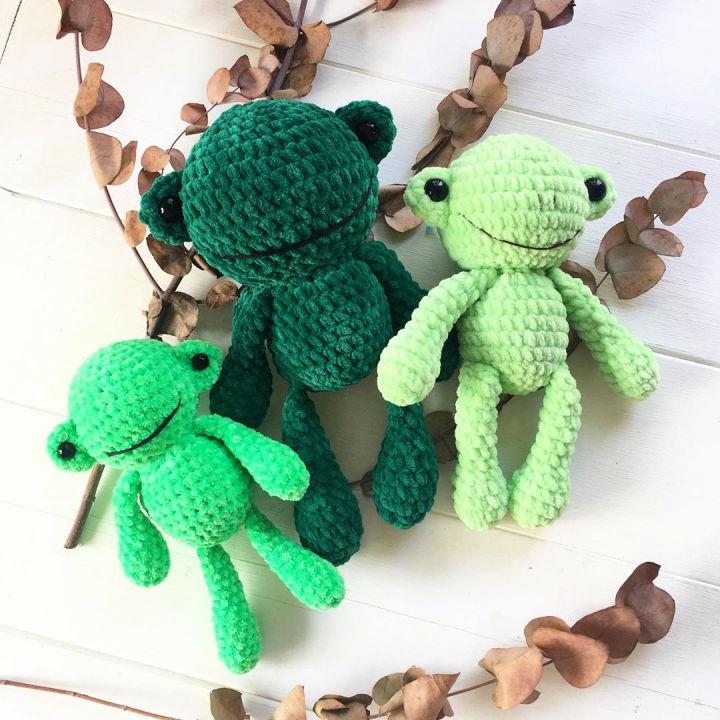 Love crocheting? Bring your funny frog to life with this easy-to-follow amigurumi pattern! All you need is a 4.0 mm crochet hook, Himalaya dolphin baby yarn (0.5 skeins), 15mm beads for eyes and black embroidering floss. With these materials, you can craft an adorable toy that brings so much joy to kids of all ages! Remember the fiberfill stuffing – it gives your finished frog shape and structure. Get creative with colors and patterns and enjoy making something unique. Follow the pattern today for a fun project that will bring smiles for years! amigurum
10. Crochet Fancy Frog Amigurumi Pattern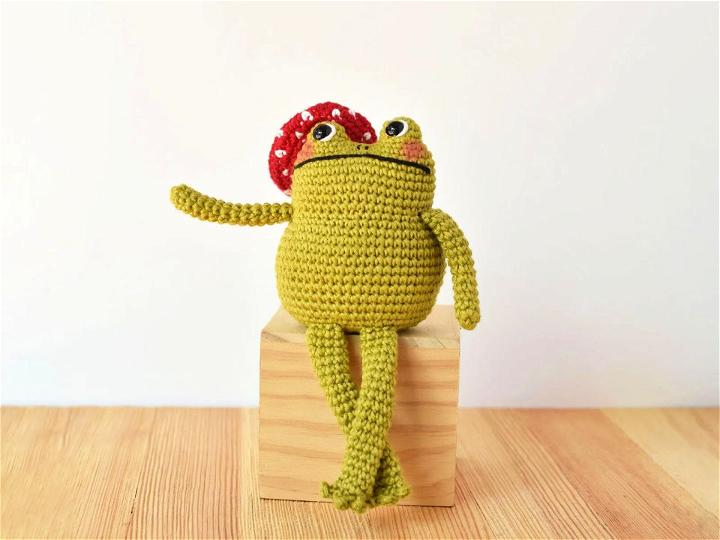 This fancy frog amigurumi crochet pattern is the perfect project for anyone who loves crocheting! You can make your own unique plushie with easy-to-follow instructions and lightweight yarn. All you need are the materials: a 2.75mm (c) hook, lightweight yarn such as light worsted or DK, toy stuffing, safety eyes size 9mm and embroidery floss or lightweight yarn. Get creative and make this handsome frog in any color combination that inspires you! Make it for yourself or give it a gift to someone special – they will love it! tinycurl
11. Crocheted Frog Amigurumi Pattern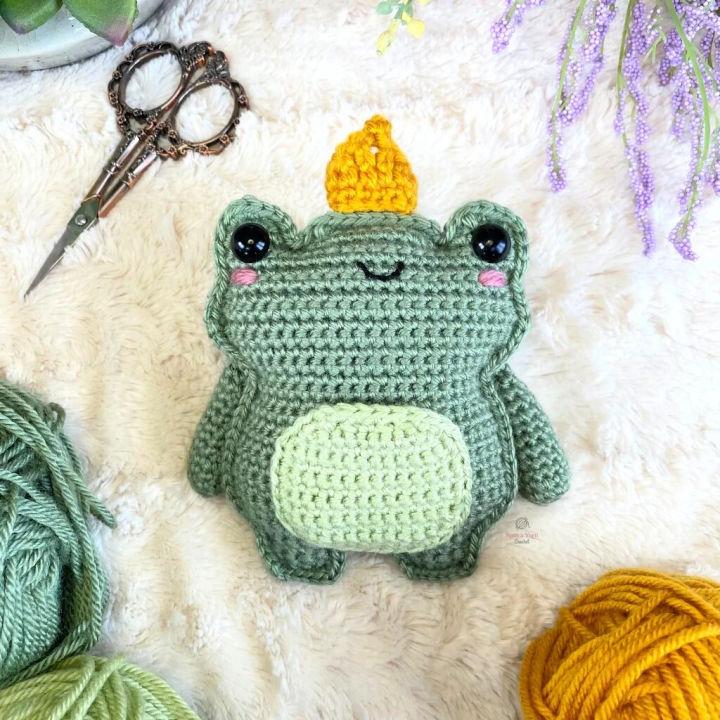 Make the perfect amphibian-inspired addition to your home décor with this frog amigurumi-free crochet pattern! This fun and easy project is great for all skill levels, from beginner to advanced. The unique 2D look of the finished product will be sure to make a statement in any room. After completing your masterpiece, finish it with a tiny crown for an extra special touch! The finished measurements are approximately 6 inches from top to bottom and will add some personality anywhere you choose. Make this adorable frog amigurumi pattern today and bring joy into your world! spinayarncrochet
12. Quick and Easy Crochet Frog Pattern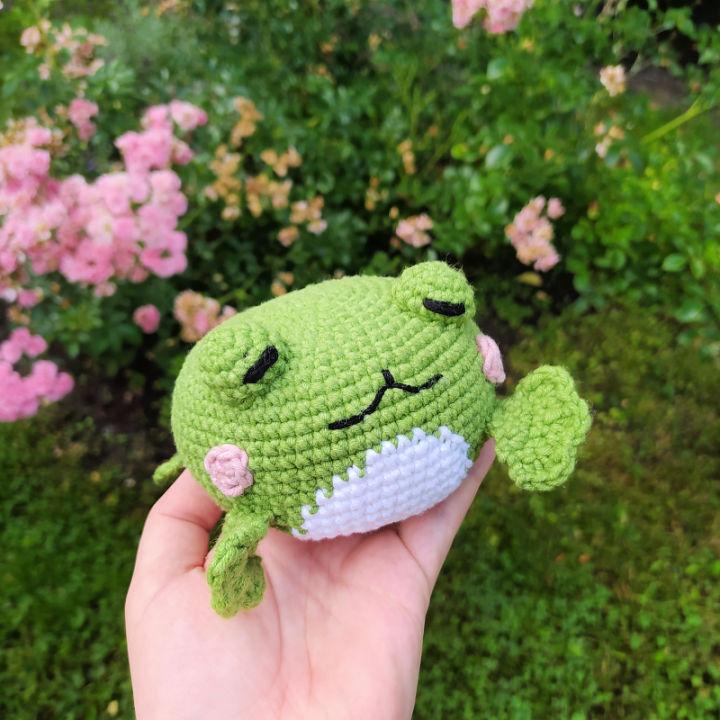 Design a charming crocheted frog toy with this pattern! This project is perfect for bringing out your creativity and making something special that will bring joy. Make it come to life by embroidering the eyes and mouth, adding pink yarn cheeks for extra cuteness.
You need a 3.5mm hook, stuffing, and safety eyes to complete your craft project. The finished product will be around 10cm x 10cm from the top and 6cm tall, though size may vary depending on the type of yarn used. Make this cute frog pattern today and enjoy cuddling up with your favorite amigurumi creation! rustycrochet
13. Crochet Pocket Pal Frog – Free PDF Pattern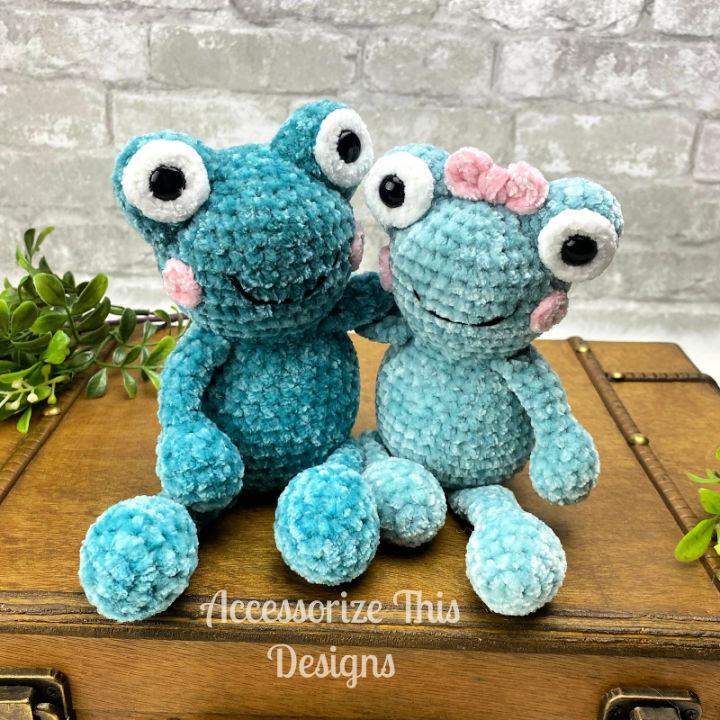 Craft the perfect gift for a special little one with this easy-to-follow pocket pal frog crochet pattern! This fun, quick pattern will help you create an adorable frog friend using medium-weight (4) chenille-style yarn. Your finished project will be approximately 5 inches tall and soft to snuggle up with. Plus, your creation is sure to become a treasured companion that's loved for years to come. Get started on this cute crochet project today! accessorizethis
14. Free Crochet Frog Amigurumi Pattern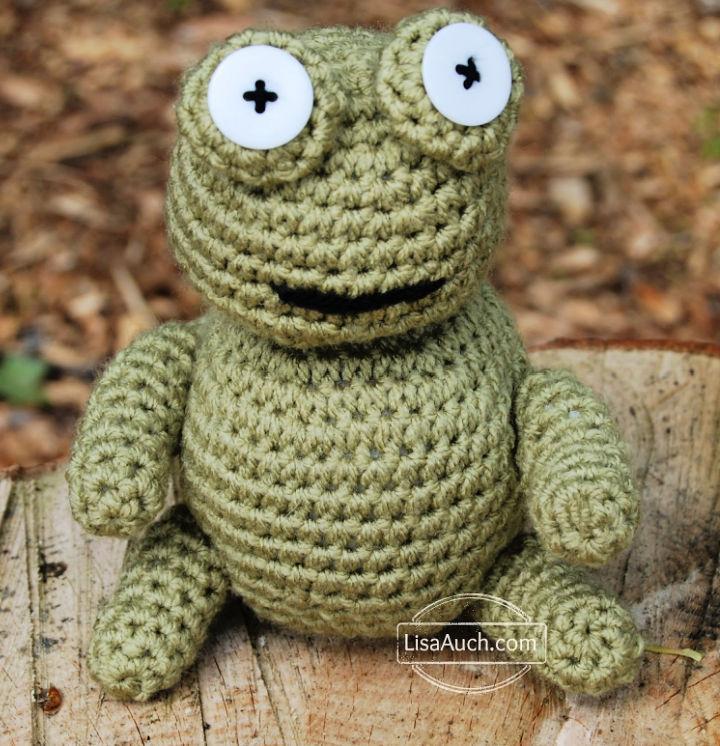 Inject fun into your crochet projects with a Gilbert the Crochet Frog Amigurumi tutorial. This simple pattern is sure to bring excitement to all your creations! All you need is a 4mm hook, Aran weight green yarn (approx 50grms), toy stuffing, 2 white buttons or safety eyes, black yarn for the mouth and a needle.
The pattern uses both US & UK abbreviations and recommends a tight tension for a neat finishing. Get started on your very own Gilbert today! It'll be ready in just one night – perfect for enthusiasts of any skill level! Give life to your creations – grab this pattern today & start crocheting away! crochet patterns
15. Cute Crochet Frog Amigurumi Pattern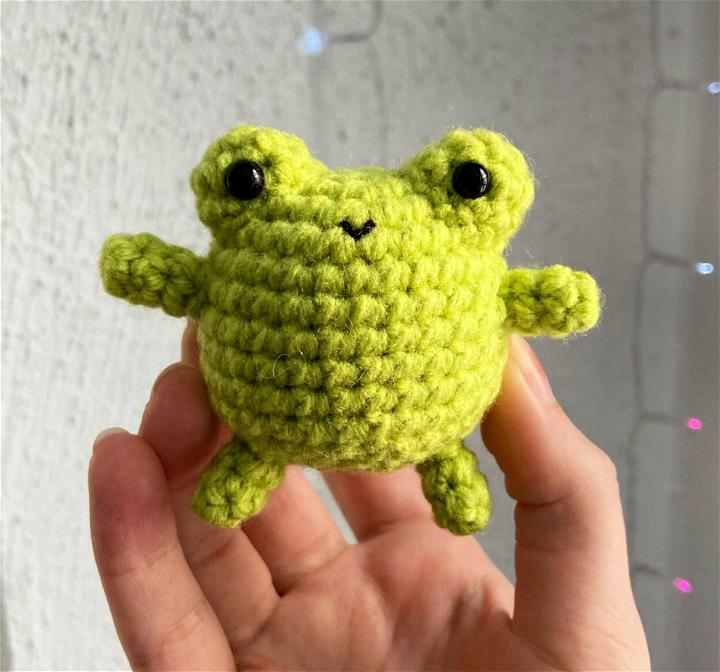 Welcome spring with your very own handmade Froggy Friend! This Amigurumi pattern is perfect for both left and right-handed crocheters. Follow this step-by-step video tutorial or written pattern to create a soft, round friend everyone will love. You'll need a 3.25mm crochet hook, 6mm safety eyes, black embroidery thread, green worsted weight yarn, fiberfill stuffing and a yarn needle – all of which can be found in your local craft store. toristorycreations
16. Crochet Felicity the Frog Amigurumi Pattern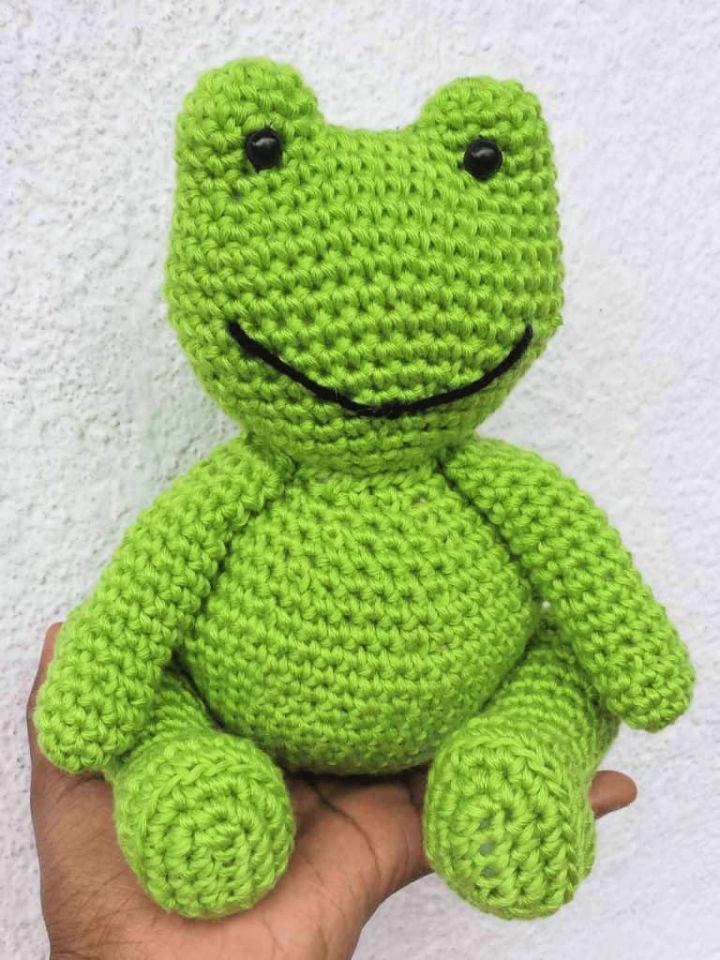 Felicity, the Frog Crochet Pattern, will give your child plenty of joy! This cute and friendly amigurumi-style toy will surely be a hit, even if you're starting. All you need is some DK or worsted weight Green Yarn, a 3.5mm crochet hook, 8-mm black safety eyes, fiber filling and a yarn needle; then get ready for hours of fun! Start crocheting Felicity today with the help of the given free pattern and give your child something special that will last for years – get ready now to bring joy into their playtime! desertblossomcrafts
17. Crochet Small Frog Amigurumi Pattern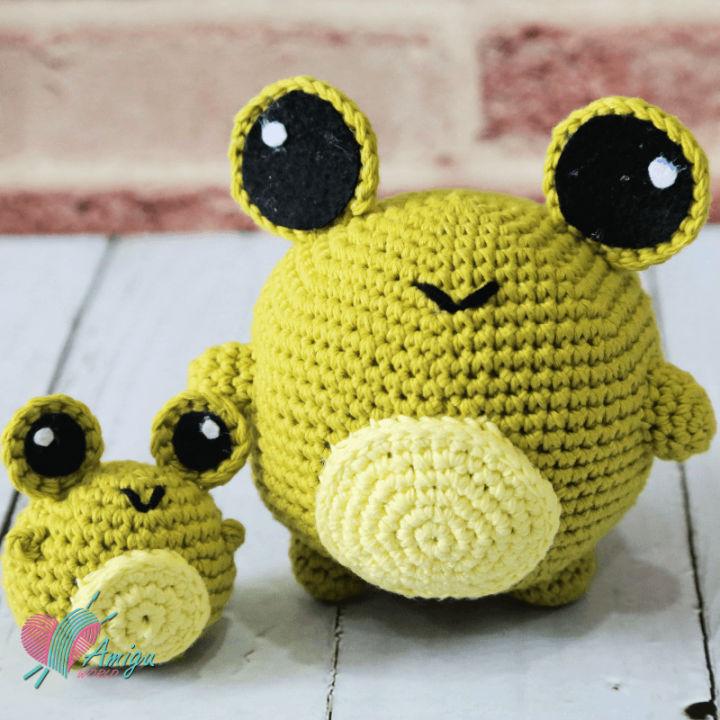 Crochet a special and unique gift for your loved one! This free pattern is easy-to-follow, so even if you're new to crochet, you can make this adorable small amigurumi frog. Create a cuddly companion with green and yellow yarn, a 3mm crochet hook, and fiberfill stuffing. Get started today on the perfect handmade present that will be cherished forever. With this simple pattern, you'll make an amazing gift they won't forget – the perfect way to show them how much they mean to you! amiguworld
18. Free Printable Crochet Frog Pattern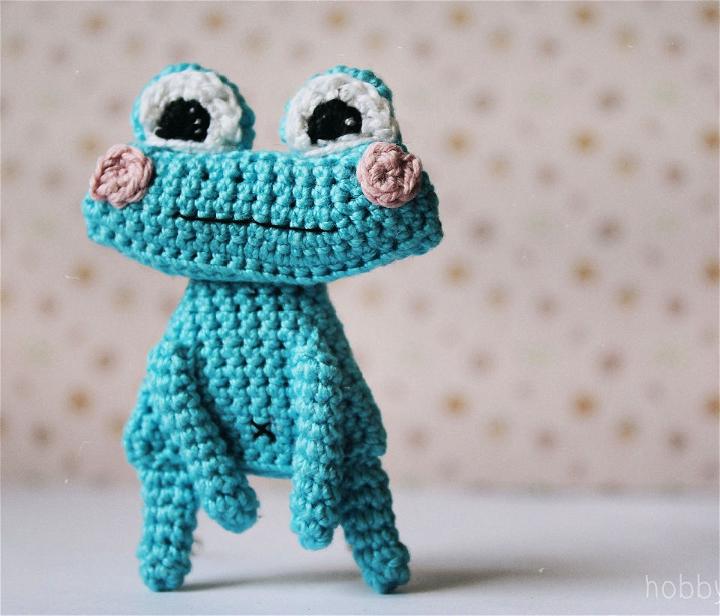 Everyone will love that this crochet pattern allows you to craft a special and snuggly frog softie that is sure to bring a smile to anyone's face. Using Aran weight yarn and a 0.75 mm crochet hook – it only requires 3-18 yards of yarn to create this 5-7 cm plush friend. Make your own lovable frog today for decorating your home or as a thoughtful gift! With this simple pattern, you can craft the perfect snuggly companion in no time – so why not start making your little buddy now? ravelry
19. Crochet Little Princess and Frog Pattern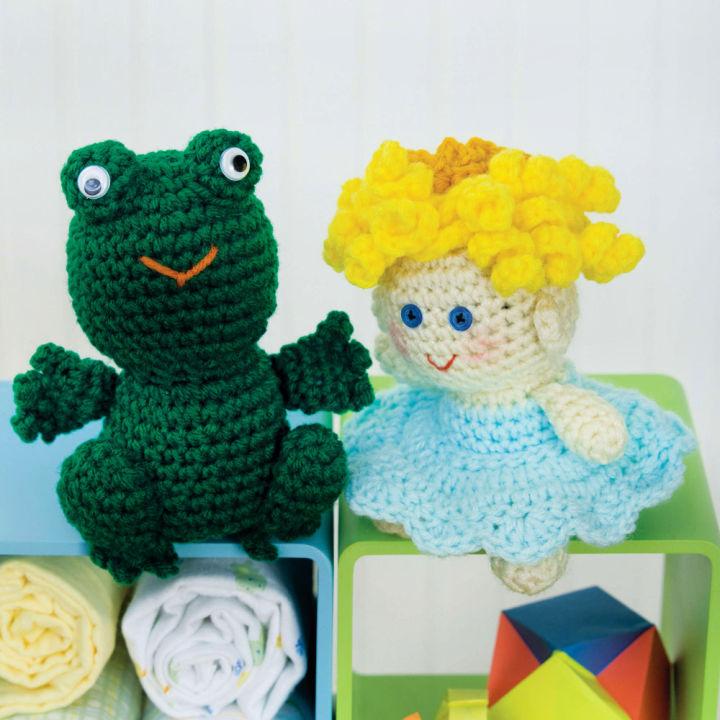 Stitch an adorable little princess and frog with this easy-to-follow crochet pattern! Perfect for kids or those who love cute and soft toys, the little princess and frog will bring joy and love to your home.
Made using Red Heart Super Saver yarn in light blue A, Aran B, gold C, bright yellow D, and paddy green A. The Little Princess stands 6 inches tall while the Frog measures from its eyes to the bottom of its body; a 3.75mm hook is needed along with stuffing for the softies.
Also required are 2 small blue buttons for the eyes on the princess, small amounts of red & black pearl cotton, plus one red crayon for cheeks; 2 12mm wiggle eyes are also necessary for the frog's face! yarnspirations
20. Free Crochet Frog Hat Pattern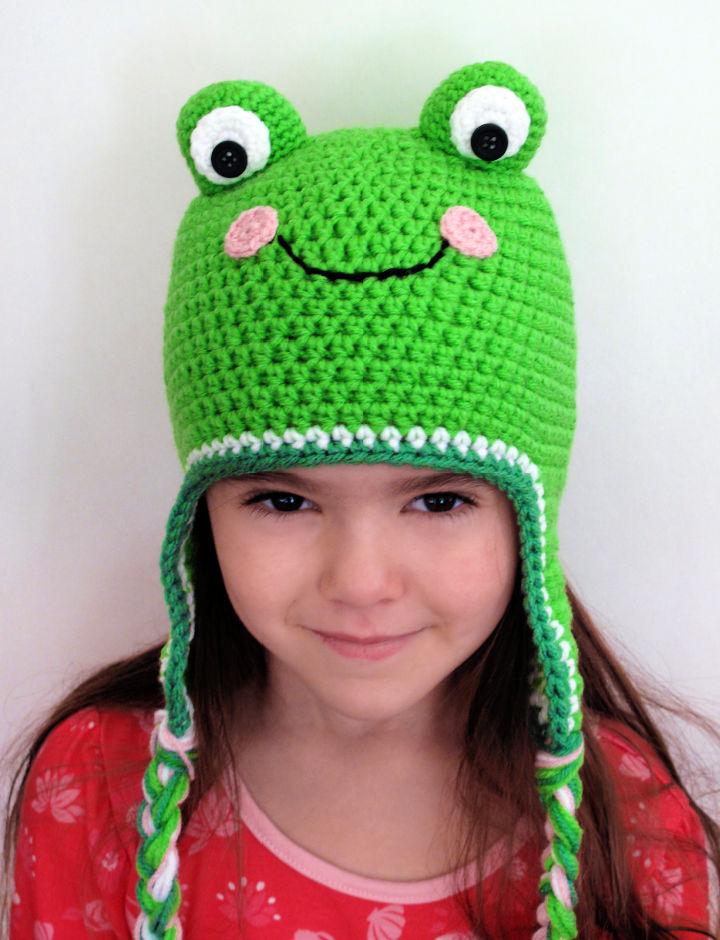 Give your little one some stylish flair with this unique free pattern for a crochet frog hat! They'll look adorable while being on-trend. Featuring a red heart super saver in white, spring green, petal pink, and paddy green yarns for the perfect combination of colors that will make any frog-lover smile. Easy-to-follow instructions will guide you through each step of creating this adorable hat. Make it as a gift or keep it to add flare to your wardrobe – either way, you won't be disappointed with this one-of-a-kind pattern! Get started today and create something special for yourself or someone else. enchanted lady
21. Simple Crochet Amigurumi Frog Tutorial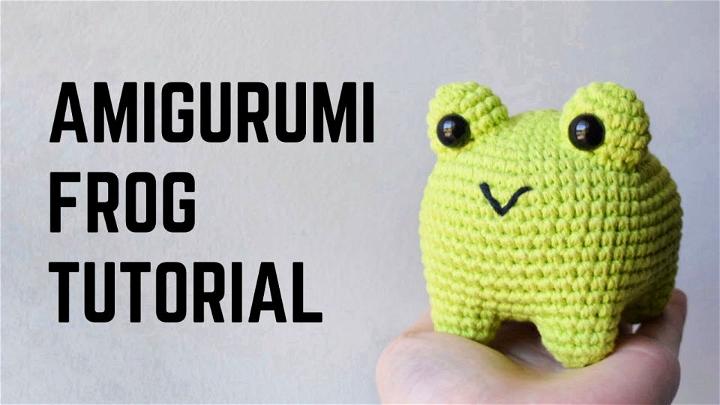 Sorting out the perfect pattern to create a fun and unique crocheted amigurumi frog? This tutorial will walk you through making an adorable, one-of-a-kind froggy friend. All you need is worsted weight 100% cotton yarn in colors hot green and black, size c/2.75mm hook, safety eyes, lighter and polyester fiberfill to get started – everything else comes with this easy-to-follow pattern! So why wait? Get creative today by crafting your very own crochet amigurumi frog!
22. Easy Crochet Frog Pattern for Beginners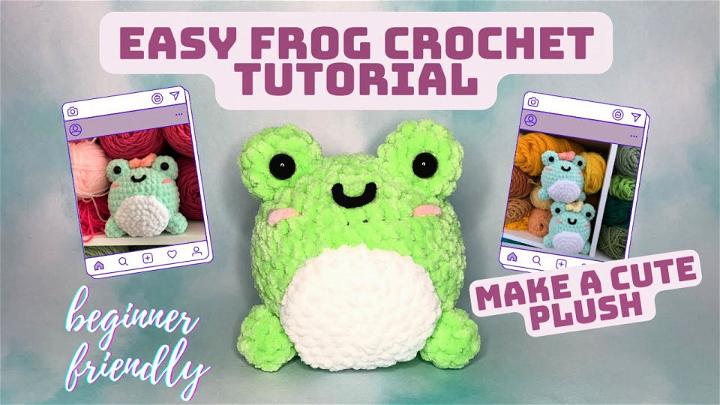 Create your unique frog plush with this easy-to-follow crochet tutorial for beginners! This amigurumi project is perfect for those new to crocheting as it only requires basic knowledge of single crochet and how to increase and decrease. Follow the step-by-step instructions, and you will soon have an adorable frog that would make a great gift or room decoration. So grab your hook and yarn, and start making your own frog plush today!
23. Crochet Giant Frog Amigurumi Pattern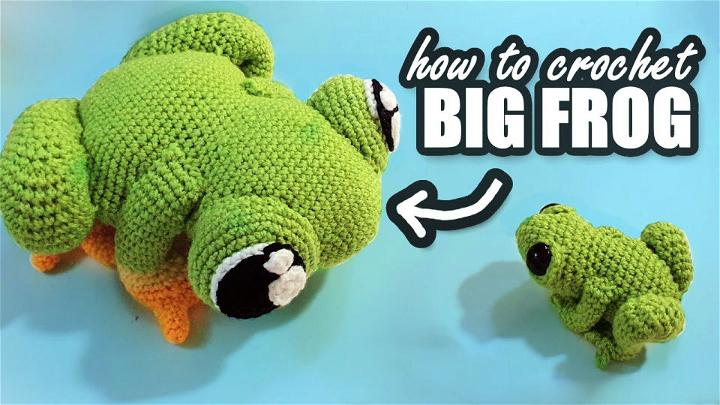 This cute crochet giant frog pattern will have you hopping with joy! Crafted from 8-ply 100% acrylic yarn, this amphibian friend uses a 3.5mm crochet hook and stuffing for an extra-plush feel. Create your unique frog with the perfect combination of colors in several different yarns to make it truly special! Follow this easy step-by-step video guide, and let's start creating wonderful memories together with your crochet frog!
24. Crochet Amigurumi Frog With Hat and Scarf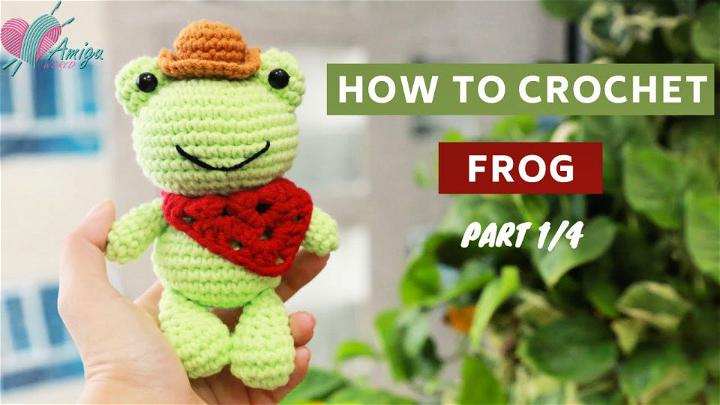 Brighten your home with a handmade amigurumi frog with a hat and scarf! This adorable crochet animal is perfect for adding a pop of color to any room. Crochet it from 4-ply green, red, brown and dark brown colored yarns and using only 4-5 mm crochet hooks, you will be able to whip up this creation in no time. To complete the look, fill it with fiberfill stuffing before proudly displaying it on your shelf or mantlepiece! Get creative today by learning how to make an amigurumi animal – it's sure to bring smiles all around when they see what you have created!
25. Unique Free Crochet Rainbow Frog Pattern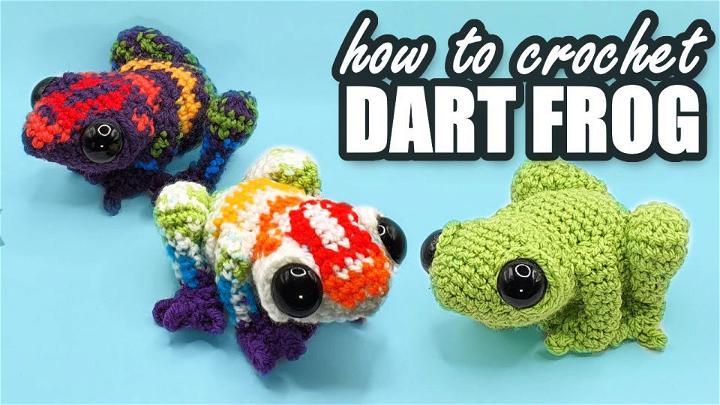 Get creative with your hook and amigurumi skills, and crochet a cute, colorful frog with this easy-to-follow pattern! To complete the project, you'll need 8-ply 100% acrylic yarn in rainbow colors, a 3.5mm hook, and stuffing. 20mm safety eyes are also included so you can give your frog an extra bit of charm. This crafty crochet pattern will make a wonderful addition to any home! Get creative and have fun making your unique frog with this vibrant rainbow yarn – perfect for kids or adults alike!
Related Free Crochet Patterns:
Discover free crochet patterns to create beautiful, handmade items with ease. From accessories and home décor to clothing and toys, find just the pattern for you!
Conclusion: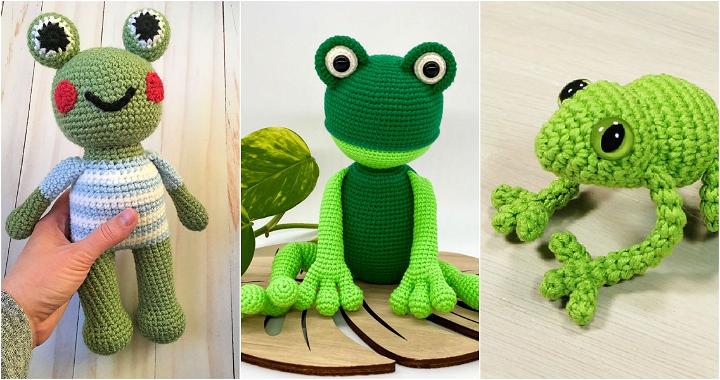 Crocheting frog amigurumi is a fun and rewarding project. With so many free crochet frog patterns, there are endless possibilities when crafting these cute little amphibians. These free crochet frog patterns can help create the perfect stuffed animal for your kids, family or friends. Each free crochet frog pattern provides excellent step-by-step instructions that make them easy enough to follow and create beautiful results. You'll find detailed illustrations showing exactly how each stitch should be done, ensuring success at every stage of the process. For those who wish for more challenge in their creations, some free crochet frog patterns also include unique variations on techniques that will take your projects up to another level! Try out one of these 25 crochet frog amigurumi patterns. It's sure to bring hours of fun and pleasure!