Crochet sunflowers are a wonderful way to add color and cheer to any room or outfit. Here, we have gathered 25 free crochet sunflower patterns for beginners and advanced crocheters. These sunflower patterns range from easy to more advanced, providing options for everyone. Each free crochet sunflower pattern includes detailed step-by-step instructions and, in some cases, free PDF downloads or video tutorials. Whether you're looking to create a sunflower afghan, a sunflower applique, a sunflower bag or a sunflower hat, there is a pattern here for you. Crocheting your own sunflowers allows you to customize the size, color, design and texture, providing a unique and personalized touch. So why wait? Grab your crochet hook and create your beautiful crochet sunflower pattern today!
With our collection of 25 free crochet sunflower patterns, you can easily create beautiful crochet sunflowers that you can use in various projects. From crocheted sunflower hats and bags to sunflower granny squares and blankets, you can find a complete guide to making your own crocheted sunflowers. So, explore the free crochet sunflower patterns below and add color and fun to your next crochet project.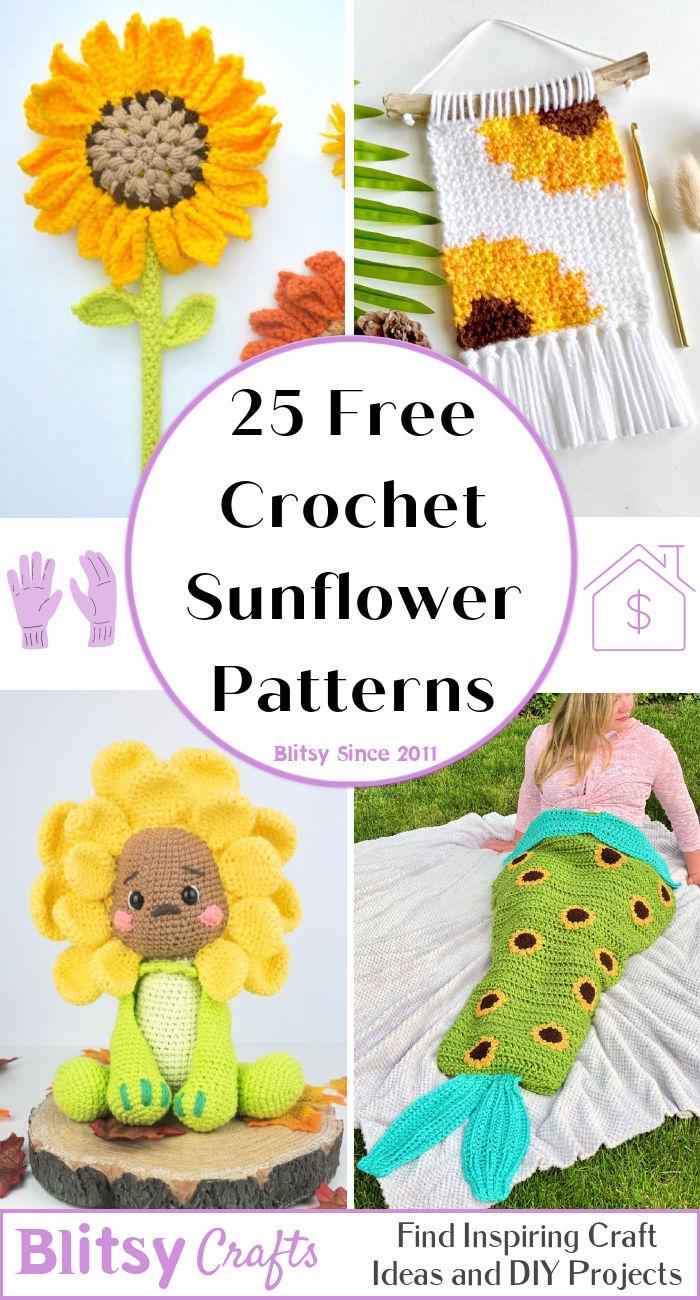 Crochet Sunflowers Uses:
Crochet sunflowers can be used in many different ways to add a touch of beauty and creativity. Here are some ideas on how to use them:
Home Decor: You can make crochet sunflowers into coasters, placemats, table runners, wall hangings or pillow covers to add a charming touch to your home decor.
Accessories: Use crochet sunflowers to make stylish accessories like brooches, hair clips, headbands, shawls, scarves, gloves or bags.
Jewelry: You can create unique and fashionable jewelry pieces such as earrings, necklaces, or bracelets using crochet sunflowers.
Gifts: Give crochet sunflowers as a gift for occasions like birthdays, Mother's day or Teacher Appreciation Day.
Wedding Decor: Crochet sunflowers can add a rustic or boho touch to wedding decor. They can be used as centerpieces, on the bridal bouquet, or as boutonnieres.
Baby Items: Add a fun and colorful touch to baby items like blankets, hats, or booties using crochet sunflowers.
Amigurumi: Crochet Sunflowers can be used to create the center of a flower, such as the face of a sunflower Amigurumi doll. The bright and cheery look of sunflowers makes them perfect for creating Amigurumi toys, especially for children.
Appliques: You can use crochet sunflowers as an applique on a wide range of items, such as clothing, bags, hats, and blankets. Depending on your preference, you can create a single sunflower or a cluster of sun flowers. Crochet sunflowers can be made in various sizes, from small to large, making them a versatile addition to any project.
Crochet sunflowers are versatile and can add a lovely touch to any project. They make for a great addition to any collection of crochet patterns.
How to Choose the Right Crochet Sunflower Patterns
If you're looking for the right crochet sunflower pattern, here are some tips to help you choose:
Consider your skill level: Make sure you choose a sunflower pattern that matches your skill level. If you're a beginner, look for patterns that use basic stitches and simple techniques. Intermediate and advanced crocheters can choose more complex patterns.
Look for clear instructions: The pattern you choose should have clear instructions that are easy to follow. Make sure the pattern has a list of materials needed and gauge information.
Check the finished size: Be sure to check the finished size of the pattern to make sure it's appropriate for the project you have in mind. For example, if you're making a blanket, you'll want to ensure the pattern will result in a blanket of the size you want.
Consider the yarn weight: The pattern should specify the yarn weight and amount required. Make sure the weight of the yarn is appropriate for the project you have in mind. If you're making a delicate item like a doily, you'll want to choose a lighter-weight yarn.
Look for reviews: Before you start a pattern, look for reviews from other crocheters who have already made it. They can give you valuable feedback about the pattern's clarity and any issues they encounter.
By following these tips, you'll be able to choose a crochet sunflower pattern that you'll enjoy making, resulting in a beautiful finished project.
Free Crochet Sunflower Patterns
Learn how to crochet with 25 free crochet sunflower patterns including blankets, accessories, wall-hangings, and more. All you have to do is search and you'll find free crochet sunflower pattern for yourself! Each unique crochet sunflower pattern has its own level of difficulty so you can pick the pattern that best suits your skill level.
1. Free Crochet Sunflower Wand Flower Pattern

Let this crochet sunflower wand fill your home with warmth and joy! Perfect for intermediate crocheters, this free pattern features puff stitches for a textured center head and 21 petals to create a full sunflower look. The 12-inch wooden dowel provides structure, while the stem cover and leaves are made from the same petal pattern. Use your favorite colors from loops & threads and impeccable yarn to add vibrant color to any room in your home. Brighten up your living space with this sunny amigurumi flower – let your imagination run wild and enjoy hours of crafting fun! amiamour
2. Crochet Sunflower Mermaid Blanket Pattern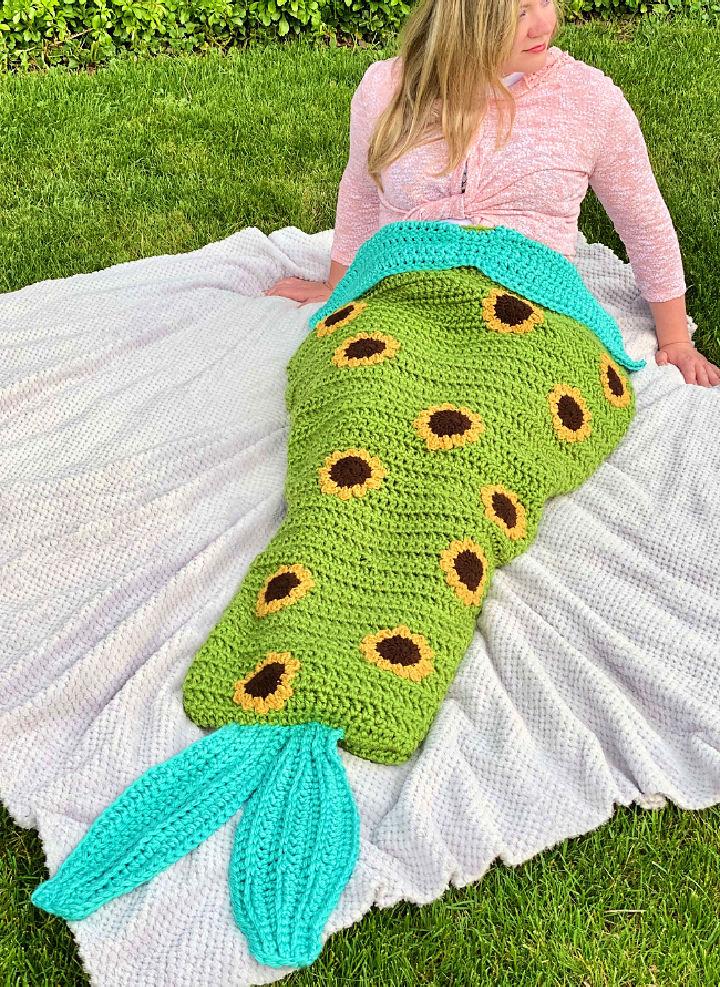 Transform into a mystical mermaid with this easy-to-make sunflower mermaid blanket! Perfect for both beginners and experienced crocheters, this cozy and colorful blanket is the perfect combination of sunflowers and mermaids. Get creative & adjust the sizing to your preference.
Make an eye-catching statement with this stunning mermaid blanket today! The size of this blanket is adjustable to fit Women's S-XL, with a circumference of 29 inches at the bottom and 32.5 inches flat across at the top. The length is about 49 inches (before the fin). craftykittycrochet
3. Beautiful Crochet Autumn Radiance Sunflower Square Pattern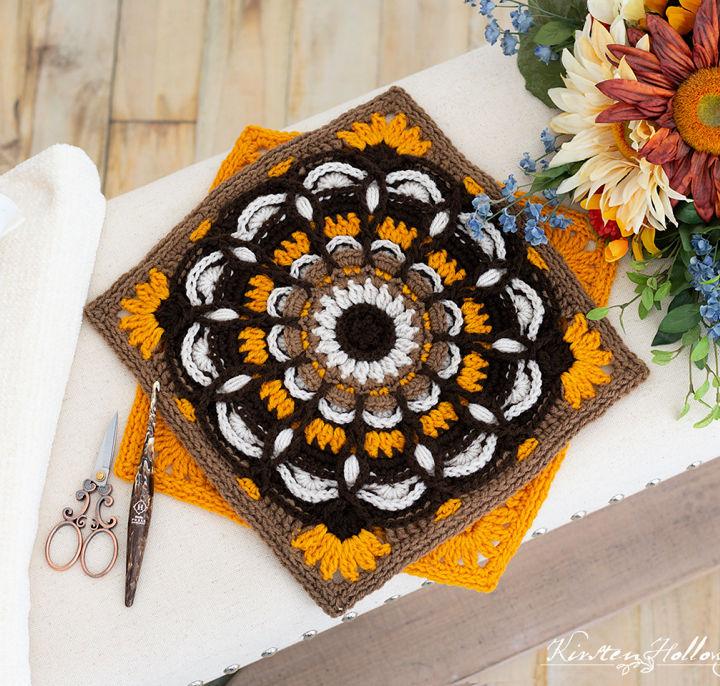 Crochet a beautiful, vibrant sunflower afghan this fall with the free autumn radiance 12″ sunflower square pattern. This intermediate/advanced level project features a bold sunflower motif that can be made in either one solid color or several different hues for an even more vibrant look. All you need is a 5mm crochet hook and #4 worsted weight yarn to join the squares into a stunning blanket worthy of any room! kirstenholloway
4. Crochet Sunflower Lace Crop Top Idea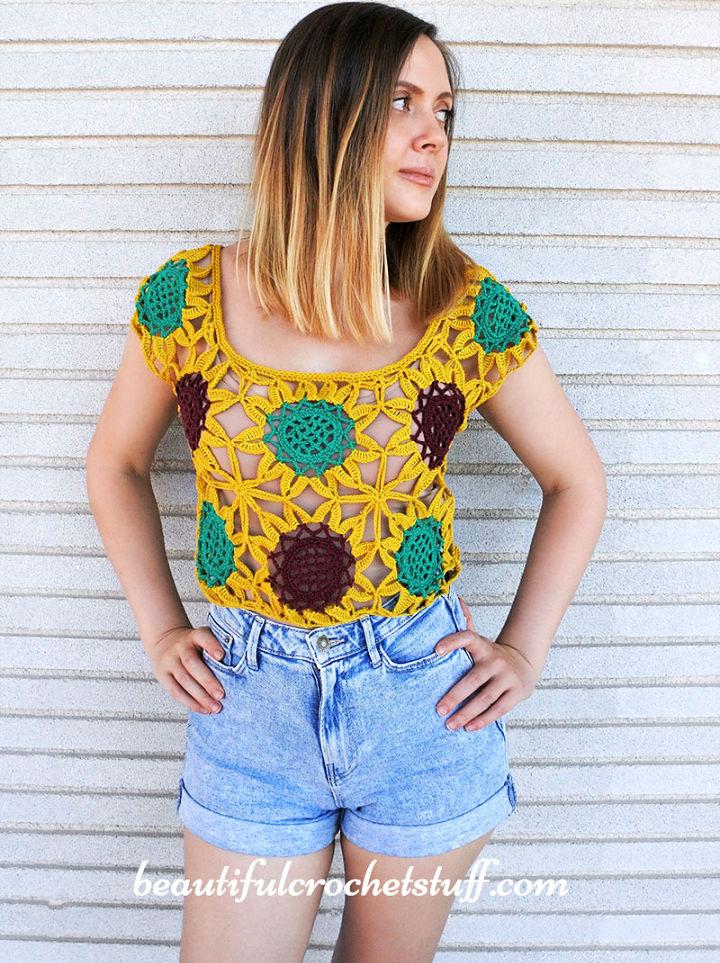 Make a statement at your next outing with this unique crochet sunflower lace crop top! This free pattern will help you create the perfect summer top for a festival, beach day, or just looking cute. Plus, the pattern is adjustable, making it any size you need. All you need are yarn, super fine 100% cotton in 3 respective colors, and a crochet hook (3 mm) to start. With sizes ranging from S-XXL, everyone can join in on the fun of making their own special sunflower lace crop top! beautifulcrochet
5. Crochet Sweet Summer Sunflower Bag – Free Pattern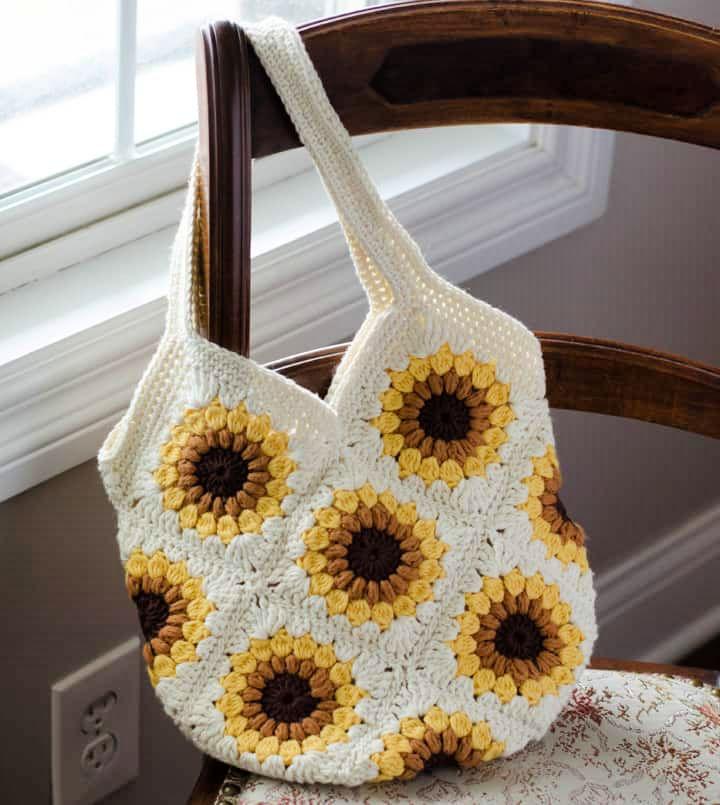 Nothing says summer like a sunflower! Capture the end of the season with this sweet summer sunflower bag. Crafted by hand, 13 granny squares made from off-white, yellow, gold and brown yarn combine to create a beautiful and cheerful bag perfect for everyday use or special gifts. With just 6/4mm crochet hook worsted weight cotton yarn, you can easily make your one-of-a-kind creation in no time! Be sure to get your sweet summer sunflower bag before they're gone! crochet365knit
6. Crocheted Sunflower Granny Square Cardigan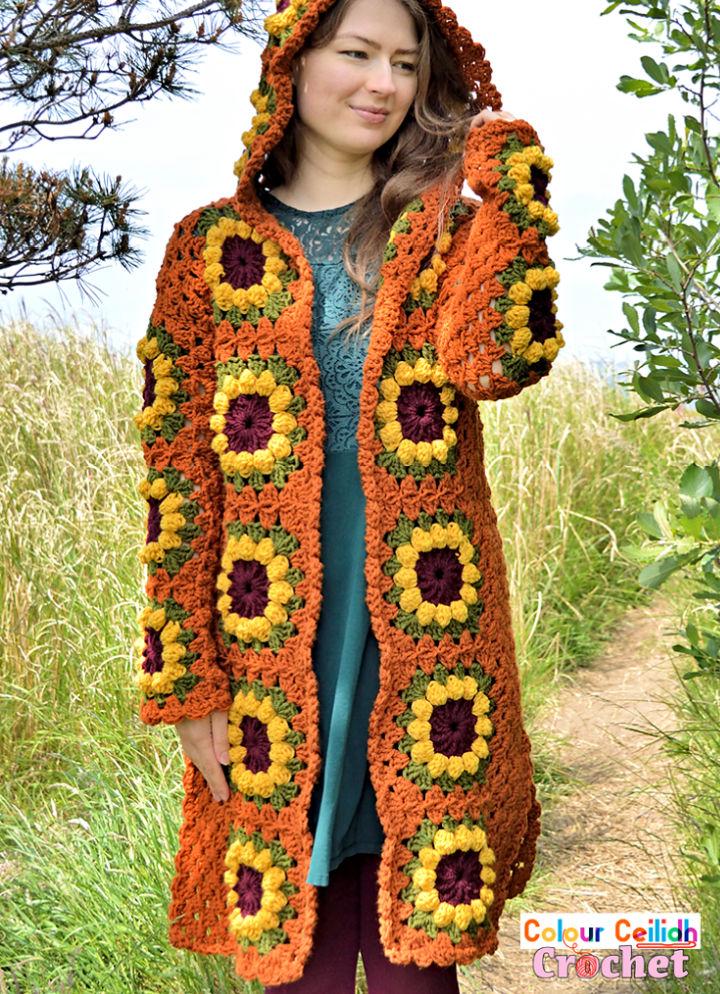 Everyone will love this crochet sunflower cardigan coat pattern that is perfect for all fans of flower granny squares, sunflowers and long hooded cardigans with side slits! It's free and has a video tutorial to help you create this classic fall-themed cardigan. The classic granny stitch helps make the pattern go quickly while lightening the fabric, giving it a nostalgic vintage look.
Plus, these sunflower granny squares are easy to make by combining the granny stitch with bobble stitches for the petals and treble clusters for larger sunflower heads – making it an enjoyable project for new crocheters too! colourceilidhcrochet
7. Large Crochet Sunflower Throw Pattern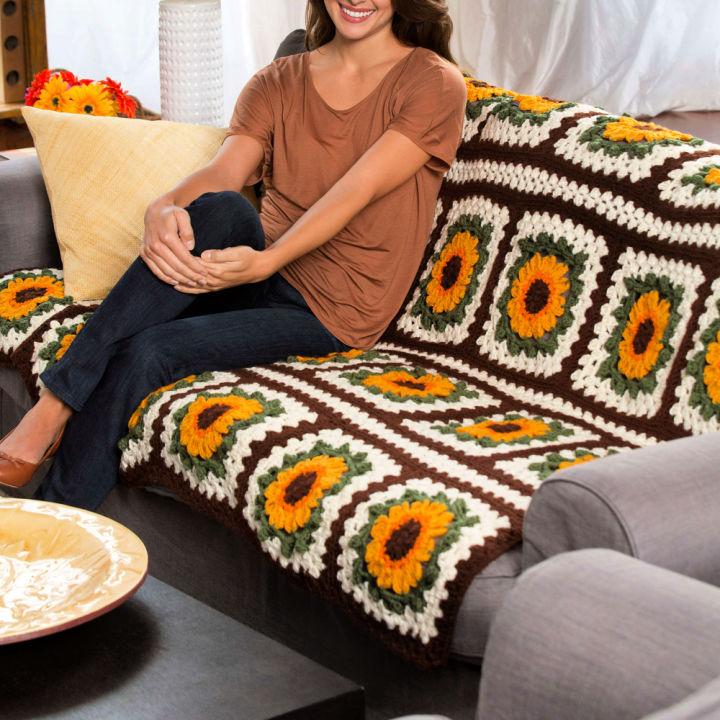 This beautiful sunflower throw brings the warmth of summer into your home all year round! This cozy blanket is perfect for cuddling up and adding color to any living space. Crocheted from red heart super saver yarn, this easy-to-crochet project is enjoyable for both experienced crocheters and those just starting. Choose from aran, coffee, medium thyme, pumpkin or gold colors to craft a 50″ x 64″ throw that's sure to bring the sunshine inside – grab your 6mm crochet hook and get ready to start! yarnspirations
8. Crochet Chunky Sunflower Witch Hat Pattern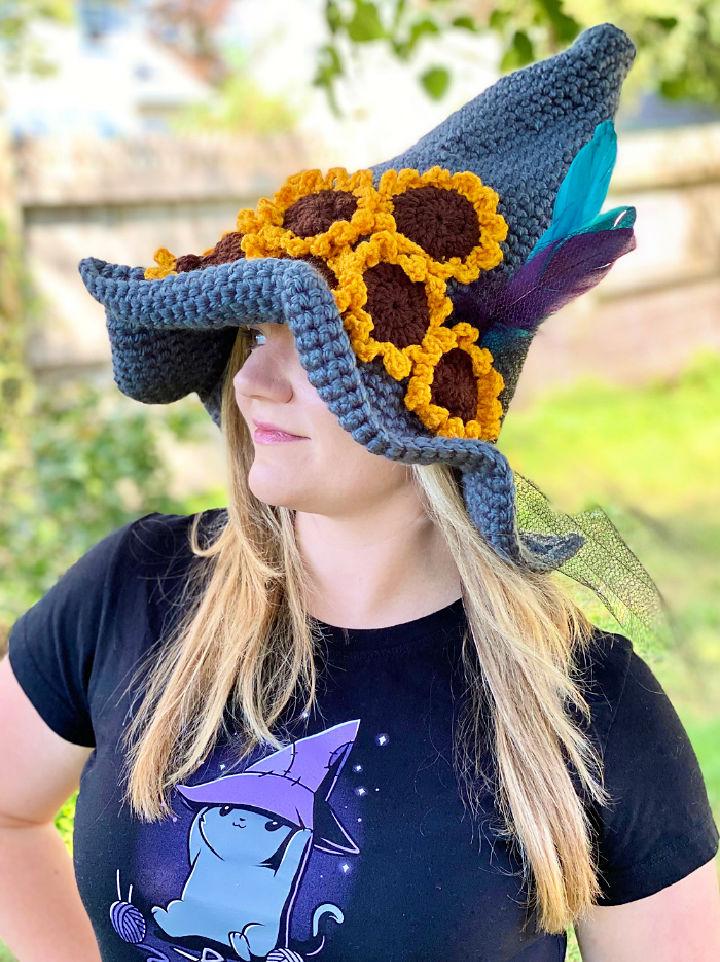 Want to create the perfect Halloween costume this year? Then crochet this sunflower witch hat crochet pattern! With easy-to-follow instructions and sizes for adults, kids and toddlers, this stylish and cozy hat are sure to be a hit. Crocheted from super bulky yarn in ash and medium-weight red heart super saver in coffee and gold, you can embellish your witch hat with optional netting, feathers, or safety pins. Get creative this season with a fun project that will make any Halloween outfit pop! craftykittycrochet
9. Crocheting a Sunflower Table Runner – Free Pattern

Time to bring some sunshine into your home with this beautiful and easy-to-crochet sunflower table runner! You will create a stunning sunflower design using the filet technique and provided chart. Made of thread size 10 in golden yellow and army green, it requires blocking to maintain its shape, but the results are worth it! Watch the included video tutorial for help completing this project – when finished, your sunflower table runner measures 18 inches long by 8.5 inches wide. Get stitching today! handmadebyraine
10. Cute Crochet Sunburst the Sunflower Pattern

Let the beauty of the sunburst. The sunflower illuminates your life! This intermediate-level crochet project is perfect for brightening up any room. Stand at 22cm (8.6 inches), this cheerful friend will be a joy to make and even more fun to display. Get ready with your hooks, and let's bring smiles inside with its sunny disposition – sure to spread happiness wherever it goes! Create something special that will give you a warm feeling of summer all year round – grab the pattern now and start crocheting your sunburst the sunflower! hobbii
11. Beautiful Crochet Sunflower Pillow Pattern

This easy-to-follow crochet pattern will help you create a beautiful sunflower pillow for your home or as a gift! With detailed written instructions and helpful charts, this project is perfect for those with beginner crochet skills. The finished product is a 17″ x 17″ removable pillow cover that fits over an 18″ x 18″ insert. If needed, try using a 16″x16″ insert, so the cover does not come out too small. This cheerful sunflower pillow design adds warmth and beauty to your home decor! jototheworld
12. Simple Crochet Sunflower Coaster Diagram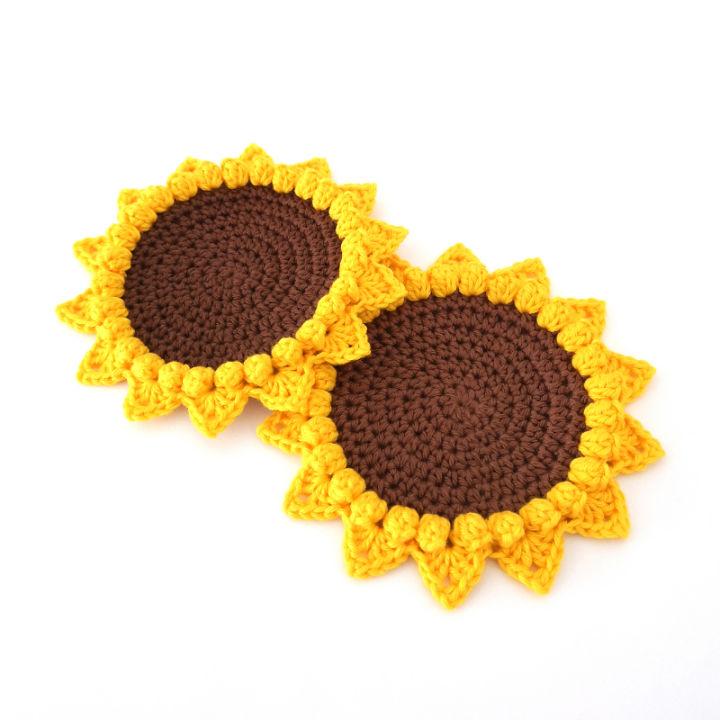 Celebrate the beauty of summer all year round with this cheerful sunflower coaster crochet pattern! Perfect for adding a pop of cheerful color to your home, these coasters make great gifts too. This pattern uses DK-weight cotton yarn in sunny yellow and rich brown to measure 4.75″ x 4.75″ when completed and features special stitches like the popcorn stitch and picot. Get creative and use this pattern to crochet beautiful sunflower coasters for yourself or as meaningful gifts that will brighten up any room! Start crocheting today – bring the sunshine inside! stitchbyfay
13. Easy Crochet Sunflower Fingerless Glove Pattern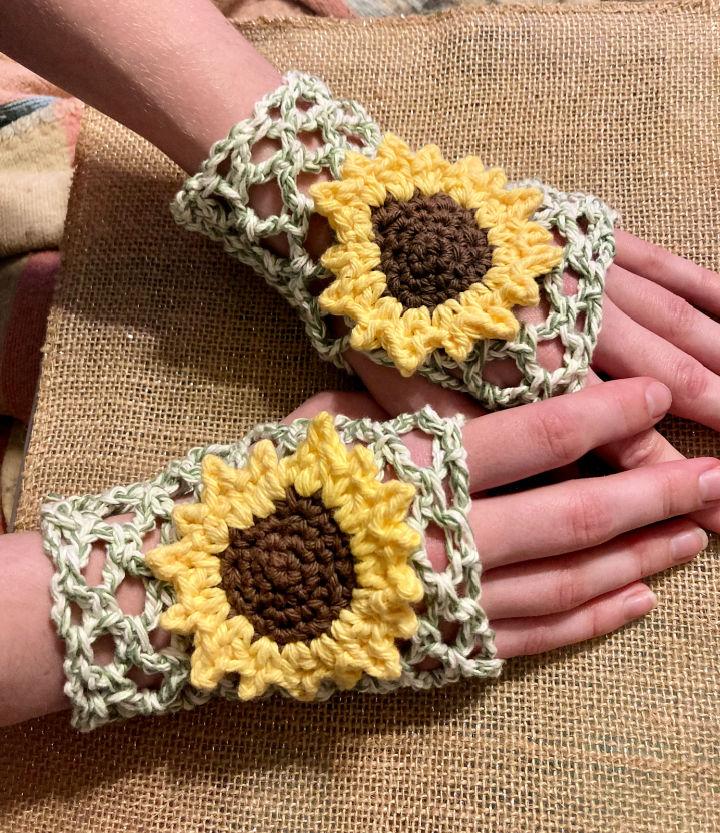 Add a touch of sunshine to your wardrobe with these cheerful sunflowers fingerless gloves! This crochet pattern is suitable for beginners to intermediate-level crocheters and comes with detailed instructions based on the measurement of your hand, so it's highly customizable. The gloves are made using worsted weight yarn and a 4.25mm hook, working as a rectangle joined together with a gap for the thumb and featuring an elegant sunflower applique. Download this free pattern today, and get ready to add sunny vibes to your look! ravelry
14. Cool Sunflower Crochet Placemat Pattern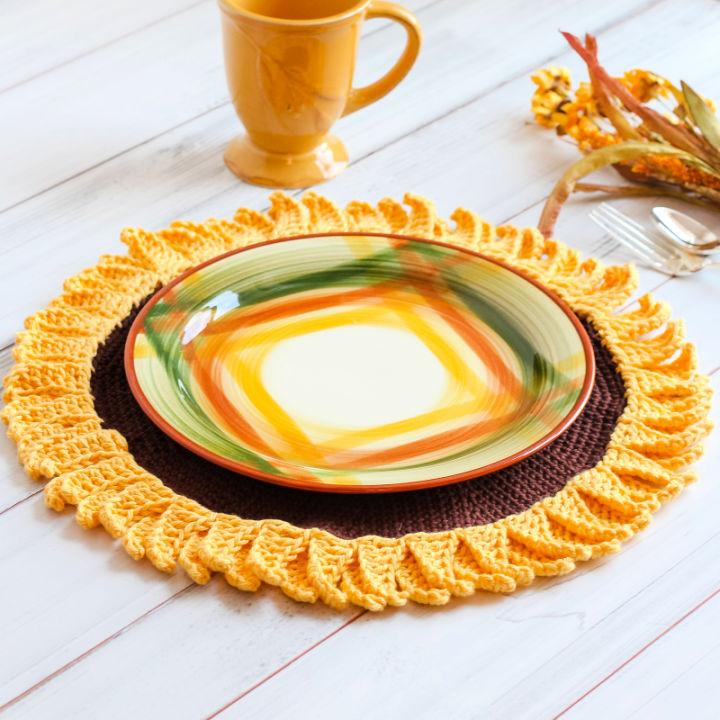 This free crochet pattern for a sunflower placemat gives a cheerful and bright touch to your dining table! With instructions on crocheting the perfect circle and creating beautiful petals, you'll need medium #4 weight yarn and a size H/8 (5.0mm) hook. The finished piece will be around 15 inches in diameter – an eye-catching addition to your sunflower decor. Don't miss out on improving your dining experience – get started crocheting now! nanascraftyhome
15. Crochet the Teeny Weanie Sunflower Wall Hanging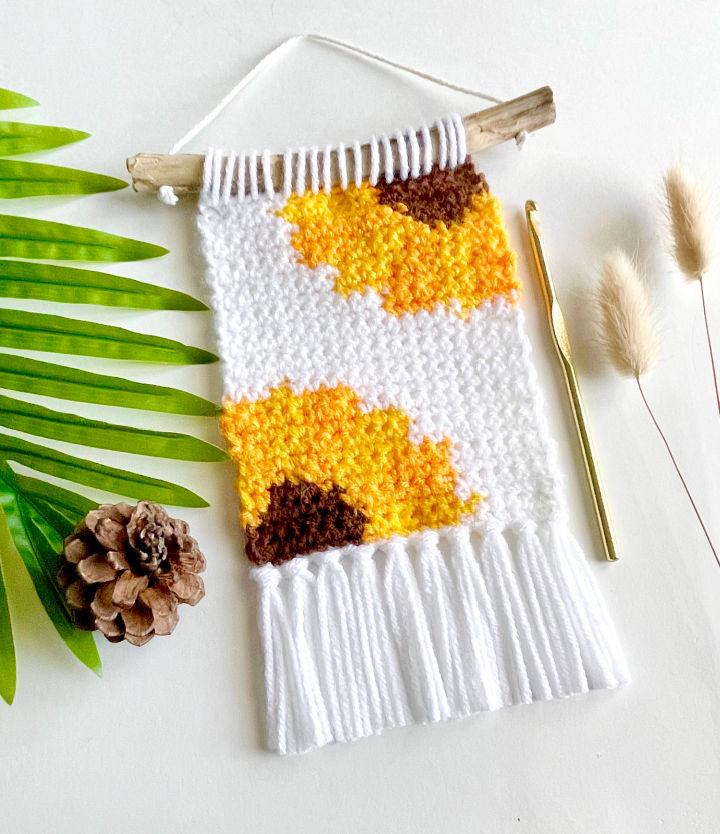 Brighten up your home with this gorgeous sunflower wall hanging! This easy-to-follow pattern is perfect for beginners and experienced crocheters alike. With a 4.5mm crochet hook and worsted-weight yarn, you can create an adorable piece in no time. The step-by-step instructions, along with the chart included in the pattern, will have you making cheerful decor pieces in minutes! Take advantage of this – make this stunning sunflower wall hanging today for your home or as a gift for someone special. Get ready to be crafty – happy crocheting! loveandstitchdesign
16. Small Crochet Sunflower Applique – Free Pattern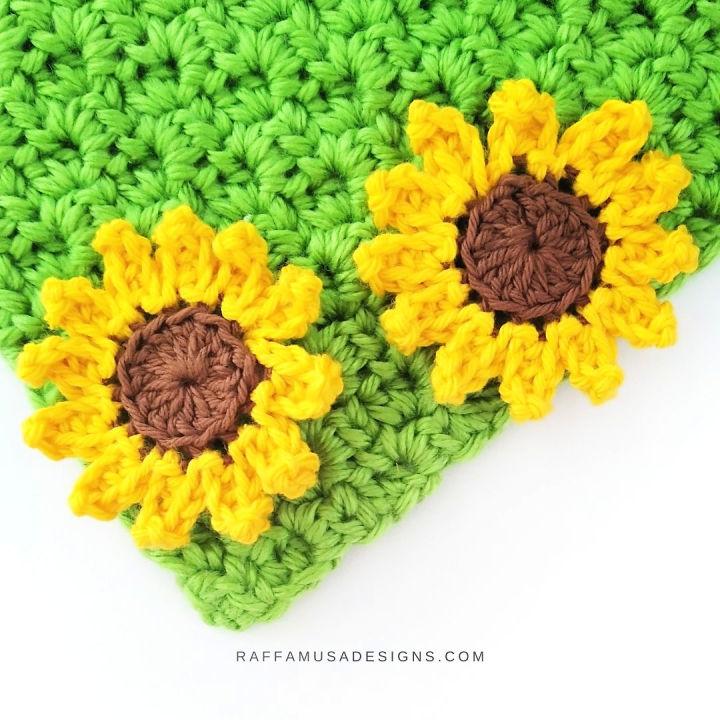 Let the warmth of summer bloom in your home with this sunflower applique! This 2.2-inch sunflower requires only small amounts of yarn and a 3.5 mm crochet hook, perfect for decorating accessories or creating a garland. The pattern includes a video tutorial, color reference when using paintbox yarns cotton DK, and a tapestry needle for finishing the project. Make earrings, cards, magnets or more with these sunflower appliques- start crocheting now! raffamusadesigns
17. How to Crochet a Sunflower Baby Hat – Free Pattern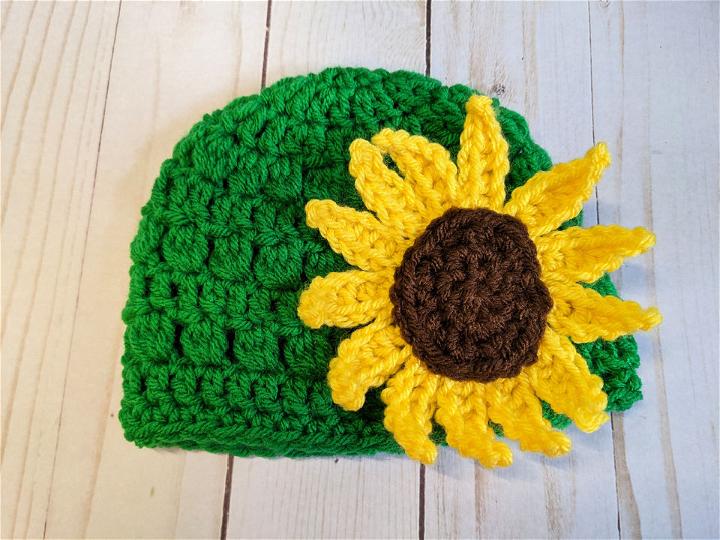 Spread the sunshine with this delightful baby hat! Perfect for celebrating a little girl born in August, this crocheted sunflower-inspired will bring sunshine and happiness into your home. Crafted using a 5.5mm crochet hook and worsted weight yarn in green, yellow, and dark brown – you can add texture through the puff stitch technique. Yarn over, then insert the hook into each stitch until there are 7 loops on the hook; pull them all through to complete it! Get everything ready and follow this simple pattern – you'll be able to make a unique and special first hat for your baby in no time! tocraftahome
18. Free Crochet Sunflower Washcloth Pattern

Make your kitchen bright and cheerful with a beautiful sunflower washcloth or potholder! This quick and easy pattern is perfect for beginners to create in no time. Made with cotton yarn in pink, teal, and orange print for an eye-catching summery look, you can also use this pattern to make other flower designs. Just grab a 5.50mm hook and stitch marker, and get ready to make something special! okiegirlblingnthings
19. Crochet Mini Doily Sunflower Pattern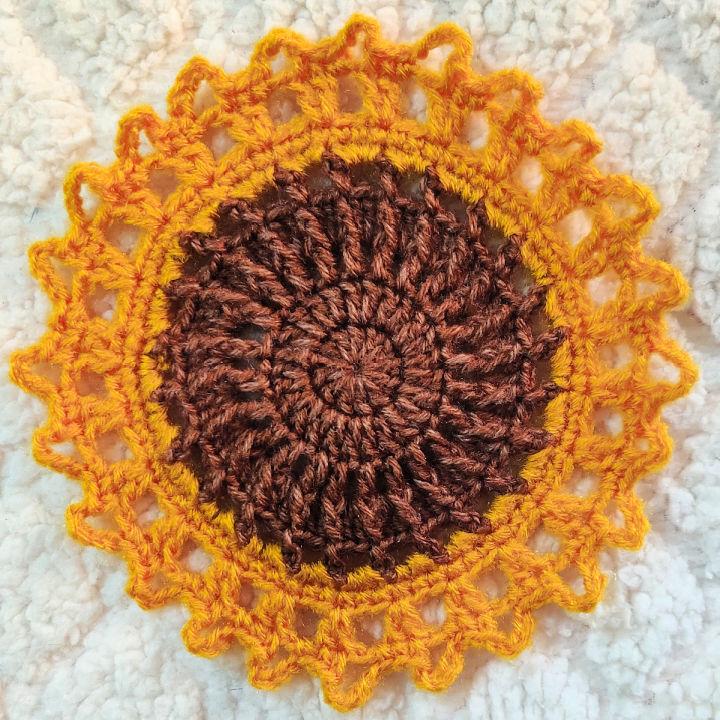 Brighten up your home easily with a lovely crochet sunflower mini doily pattern this spring! It's perfect for adding a touch of color and charm to any room. This cheerful 6" design is easy to make and will bring joy to your decor. All you need is some medium weight yarn in yellow and brown and a 3mm crochet hook. Let's get started creating! You can make some for yourself and share the happiness by giving them as gifts to your loved ones. rajiscrafthobby
20. Best Sunshiny Sunflower Wreath Crochet Pattern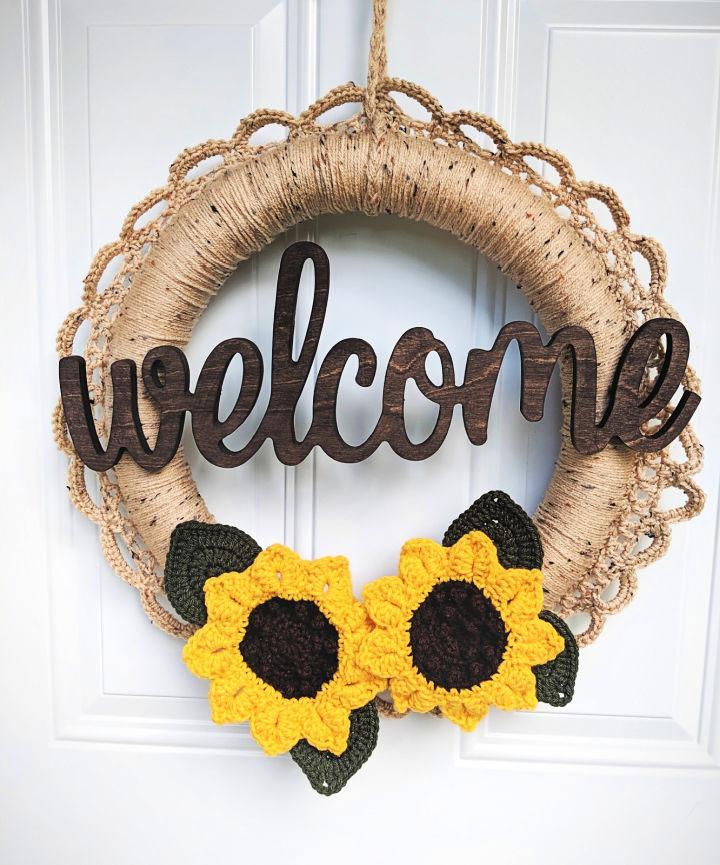 Let the sunshine of these beautiful sunflowers brighten your home! Crocheted with the crocodile stitch and caron one pound in sunflower, red heart super saver in coffee, and loops & threads impeccable deep forest for the leaves-these sunny blooms are sure to brighten any space. With just a 5mm hook and 4.5 mm hook, you can easily create this project and attach it to a wreath or other decorations with bobby pins. Add a pop of sunshine to your living room or bedroom today! darlingdanadesign
21. How to Crochet Sunflower Potholder – Free Pattern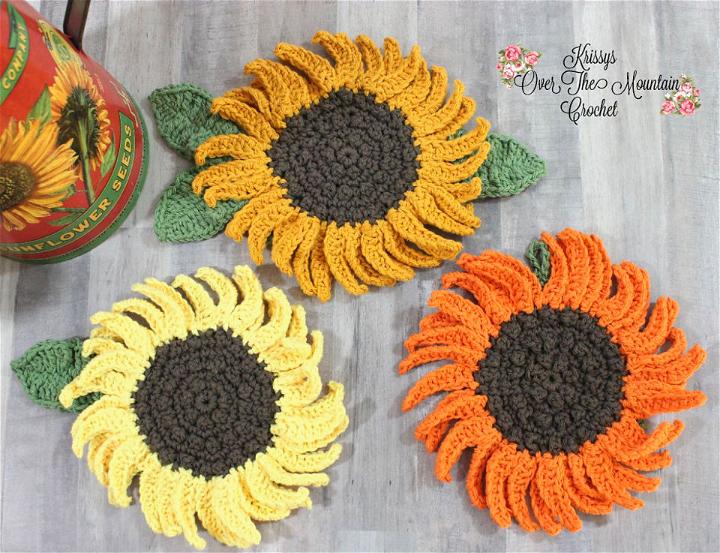 Let a warm sunflower embrace your kitchen with this unique handmade crochet potholder! This unique hotpad features a textured center, beautiful flower petals, and a crocheted hanging loop for a convenient kitchen display.
This project is useful and eye catching, crafted from cotton dishcloth yarn and a 5.00mm crochet hook. For extra heat protection, consider adding a circle of insularity before sewing on the back. Upgrade your kitchen decor today with this charming sunflower hotpad – perfect for gifting or keeping! Get started on your colorful creation now. krissysoverthe
22. Sunflower Amigurumi Crochet Pattern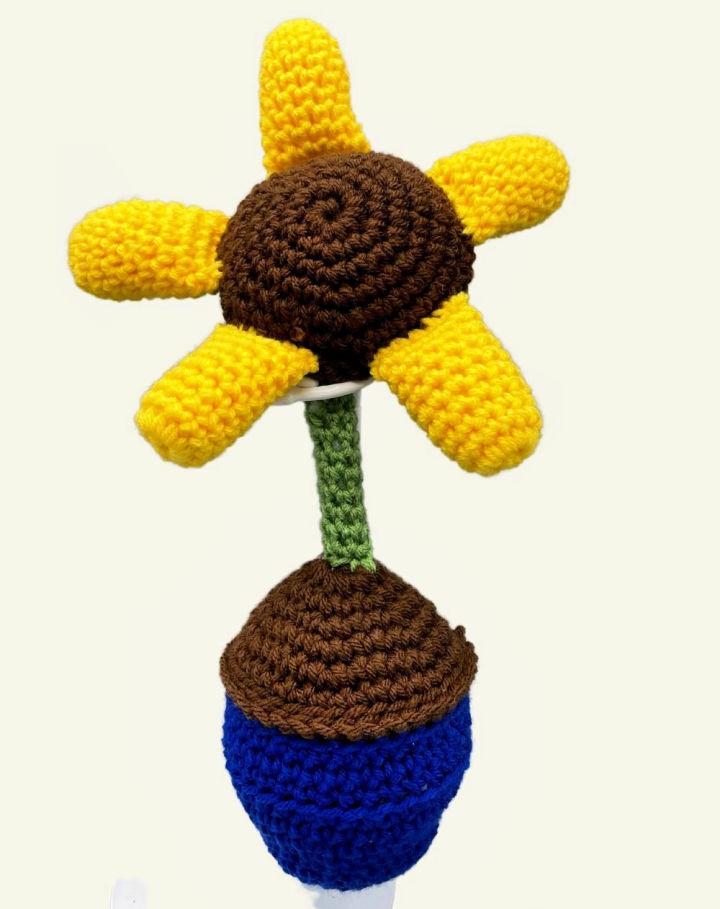 Want to do a quick crochet amigurumi project? This beginner-level sunflower amigurumi is the perfect craft project for anyone looking to bring a little extra sunshine into their home. It's easy to make with worsted size 4 yarn and G/6 4.0 mm hook and polyfill stuffing. The finished piece measures approximately 14″ x 9″ x 3.5″ – brighten up any space with this cheerful handmade creation! creativesnugglies
23. Sunflower Crochet Towel Topper – Free Pattern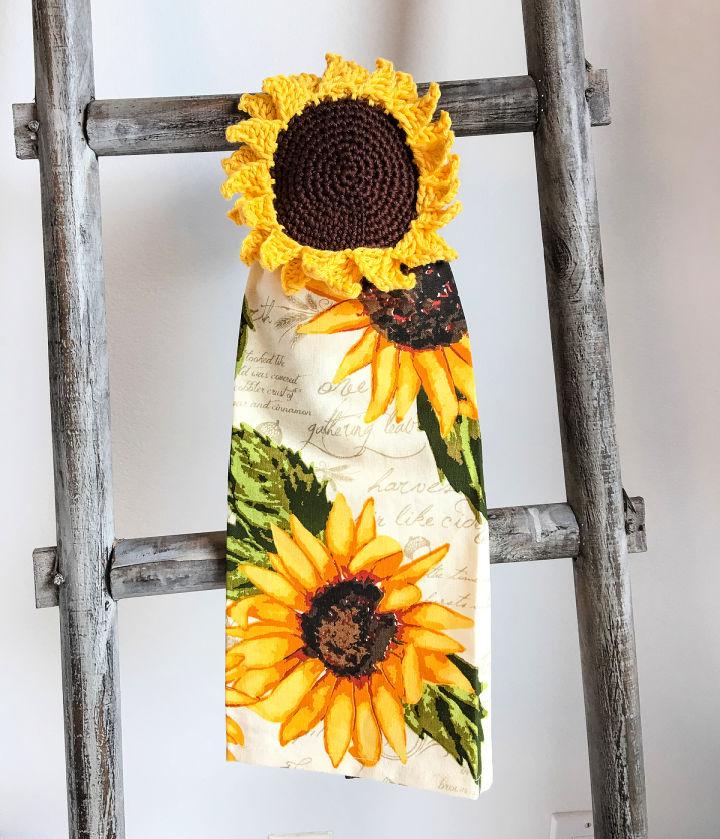 Give your kitchen a beautiful summer makeover with this free crochet sunflower towel topper pattern! You can create an adorable piece that adds color and cheer to any space in just a few hours.
All you need is a size H/8 (5.0mm) crochet hook, 1-3″ plastic ring, 1-¾″ button, embroidery floss, scissors, tapestry needle and stitch markers to craft this fun project.
The finished product will measure approximately 7″ round – perfect for adorning towels or other decorative pieces around the home. Get started today on bringing some sunshine into your space with this free sunflower crochet towel topper pattern! nanascraftyhome
24. Crochet C2C Sunflower Blanket Pattern

Let the summer sun's warmth and cheer fill your home with this stunning sunflower crochet blanket! Featuring blue hues for the darkening sky, contrasted with golden yellow sunflower petals ready to soak up the last bit of sunshine of the day – this blanket will make you smile and wave in the wind.
The finished size measures 40 ½″ wide x 46″ tall, so it's perfect for cuddling up on those chilly evenings. Plus, you can get this free C2C crochet pattern – making it even easier to create this cheerful blanket masterpiece! Start crafting now and enjoy warmth and comfort while bringing sunshine into any room. nanascraftyhome
25. Free Crochet Sunflower Afghan Pattern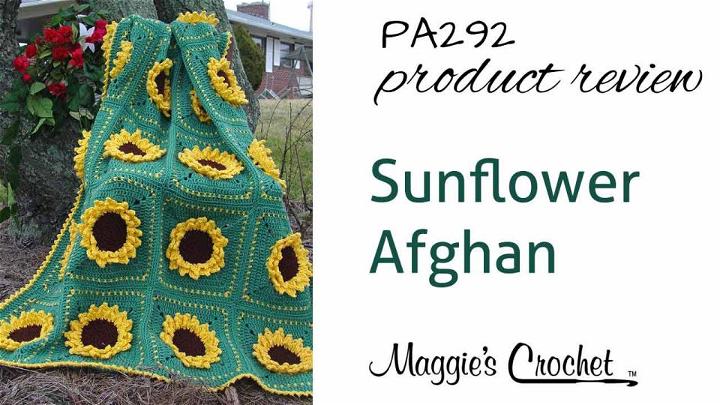 This sunflower afghan crochet pattern is a great way to brighten any room with cheerful colors. The unique design uses bold yellow petals and a chocolate brown center to create a stunning afghan that will look amazingly draped over the back of your sofa or chair.
This project is ideal for intermediate crocheters looking to challenge themselves and add an eye-catching piece to their home decor. With detailed instructions, you'll be able to quickly finish this beautiful throw blanket in no time – perfect for transforming your living space into something truly special!
Related Free Crochet Patterns:
Find the beauty of crochet and unleash your inner artist with our free patterns! Create stunning designs with an array of colors, textures, and shapes.
Conclusion: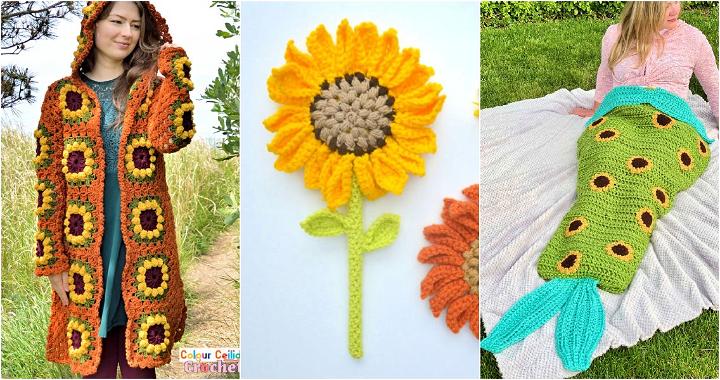 Crocheting sunflowers is a fun and creative way to spruce up your home decor or wardrobe. With 25 free crochet sunflower patterns available in an easy step by step instructions and PDF pattern form, you can explore different sizes, shapes and styles that will give you a unique look. From detailed instructions on how to crochet sunflower decorations for small to large-size patterns that can be used as table centerpieces or wall art – there's something for everyone! These beginner-friendly projects are great for those learning how to crochet and experienced crocheters who want an easy project with beautiful results. Whether you're looking for small motifs or oversized statement pieces, these free crochet sunflower patterns can help bring some sunshine into your life!