Crochet slouchy hats are a trendy and cozy accessory that you can make yourself with some basic crochet skills. They are perfect for adding some flair to your outfit, keeping your head warm, or hiding a bad hair day. Find 40 free crochet slouchy beanie patterns for beginners! From chunky and cozy to light and airy, there's a slouchy beanie pattern for everyone. Each crochet slouchy hat pattern is perfect for beginners and skilled crocheters, with detailed instructions and clear visuals to help you along the way. Learn how to make a simple crochet slouchy hat in 30 minutes or less.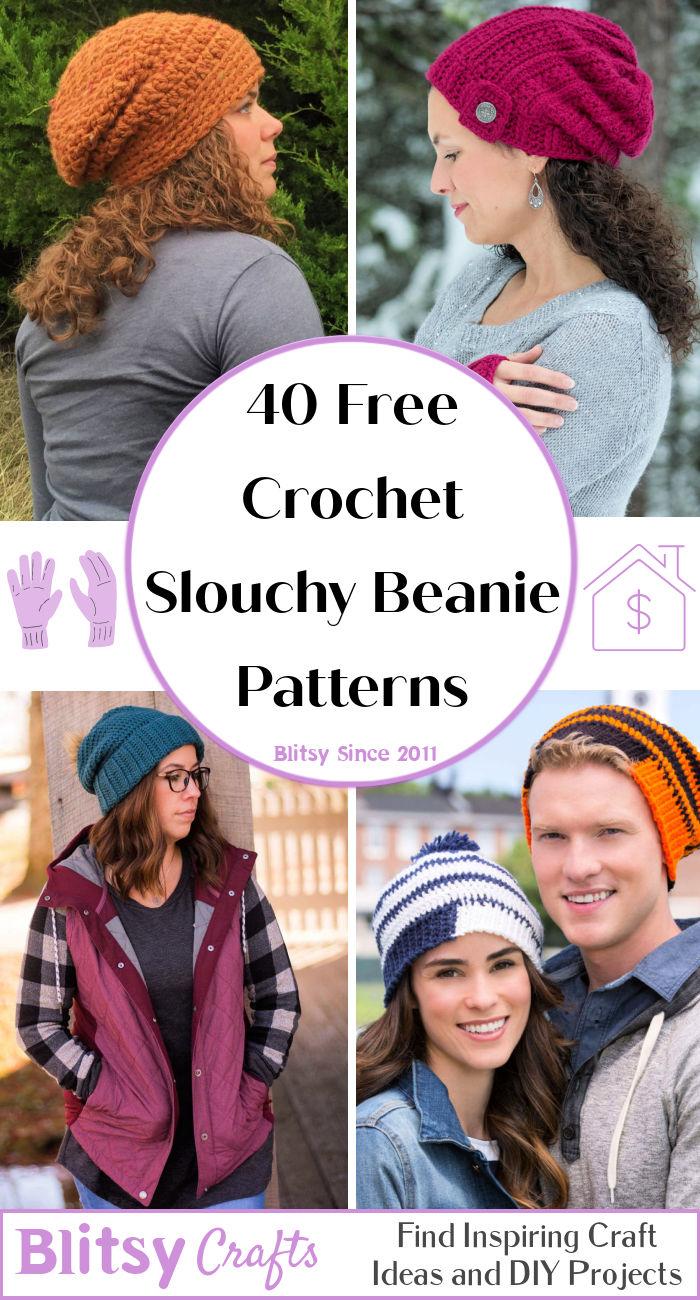 You can customize your crochet slouchy beanie with different yarns and colors to create a unique and personal accessory that is perfect for any outfit. Whether you prefer a classic slouchy hat or a modern design, a crochet slouchy beanie is a perfect way to add some personality and warmth to your winter wardrobe. So why not try making a slouchy beanie today? With these free slouchy hat crochet patterns, you'll have plenty of options to select from and can create a look that's just right for you.
What Is a Crochet Slouchy Hat?
A crochet slouchy hat is a type of hat that has a loose and relaxed fit, giving it a casual and trendy look. Unlike a fitted hat or a beanie, a slouchy hat has some extra fabric at the back, creating a slouchy effect. You can wear it low on your forehead or push it back to show off your hair.
A crochet slouchy hat is not only fashionable but also functional. It can keep your head warm in the cold weather, protect your hair from the sun or wind, or hide a bad hair day. You can also make it in different colors and patterns to match your outfits and mood.
There are many ways to crochet a slouchy hat, depending on your skill level and preference. You can use different stitches, yarns, hooks, and techniques to create different textures and shapes. You can also add embellishments like pom-poms, buttons, flowers, or appliques to make your hat more fun and personalized. Whether you prefer a solid color or stripes, a simple design or a textured one, you have a slouchy beanie crochet pattern.
Uses and Benefits of Crochet Slouchy Beanie
Crochet slouchy beanies are cozy, comfy and stylish accessories that you can make with just one ball of yarn and some basic crochet stitches. Here are some of the uses and benefits of crochet slouchy beanies:
They keep your head and ears warm. Crochet slouchy hats are perfect for chilly days when you need some extra warmth and comfort. They cover your ears and most of your head, preventing heat loss and protecting you from cold winds.
They add some flair to your outfit. Crochet slouchy beanies come in various colors, patterns and textures that can spice up any look. You can choose a marled yarn for a trendy effect, a chunky yarn for a cozy feel, or a solid color for a classic style.
They are easy and fun to make. Crochet slouchy hats are beginner-friendly projects that only require one long rectangle that is folded, seamed and topped with a pom-pom. You can use simple stitches like single crochet, half double crochet and back loop to create different effects on your beanie.
They are customizable. Crochet slouchy hats can be adjusted to fit any head size by changing the number of rows or stitches on your rectangle. You can also change the length of your beanie by folding it more or less before seaming it. You can also add embellishments like buttons, appliques or embroidery to personalize your beanie.
Crochet slouchy beanies are versatile, practical and fashionable accessories that you can enjoy making and wearing all year round!
Free Slouchy Hat Crochet Patterns
If you are looking for some slouchy beanie inspiration for your next crochet project, here are 40 free crochet slouchy hat patterns that you can try:
1. Super Chunky Crochet Slouchy Beanie Pattern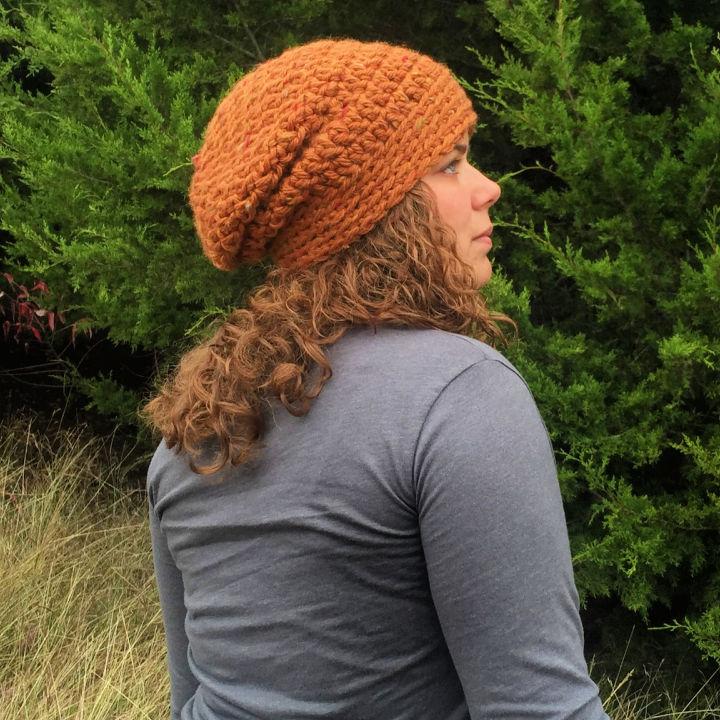 This super chunky slouchy beanie crochet pattern will be your favorite winter project! It's perfect for a beginner as it is quick, simple and easy to follow – no constant watching needed. You can make it quickly with wool-ease yarn that will keep you nice and warm all season long. Get the ad-free, downloadable & printable pdf pattern today and enjoy crafting your cozy beanie! okiegirlblingn
2. Simple Crochet Slouchy Beanie Pattern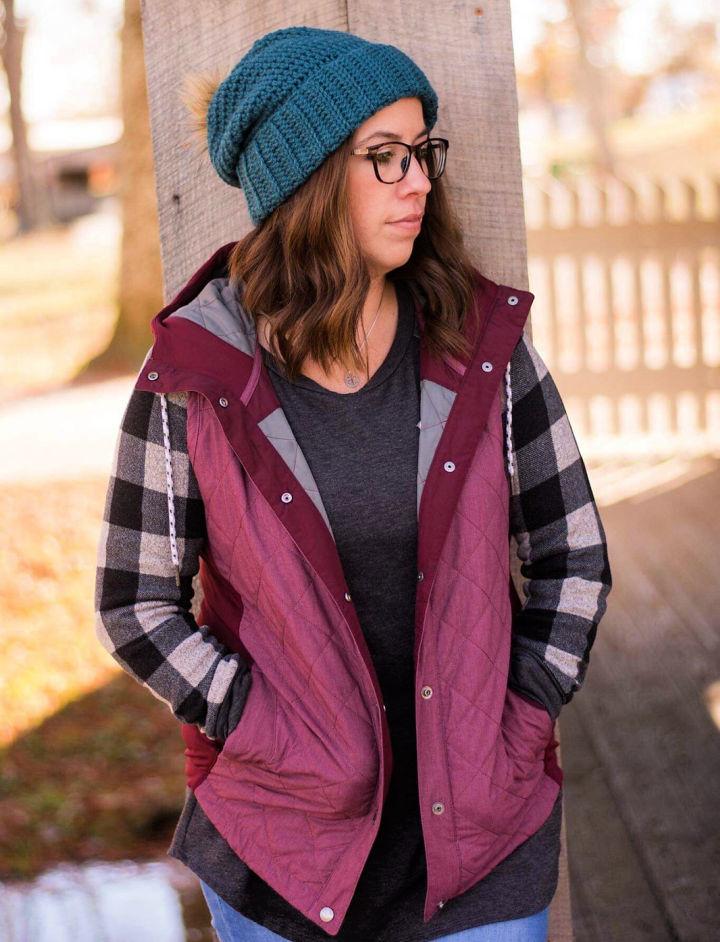 This simple crochet slouchy beanie pattern makes it easy to make a stylish beanie that fits any head size. You can create this cozy accessory with basic crochet stitches in no time. The slouchy fit and simple design offer the perfect mix of style and comfort while keeping your head warm during cold days. Whether you want to use one solid yarn color or add some stripes for a unique look, this pattern covers you! Get creative with different colors and textures. The possibilities are endless! crochetitcreations
3. Crocheted Chunky Willow Tree Slouchy Beanie – Free Pattern

Crafting a stylish slouchy beanie for all sizes has always been challenging. With this chunky willow tree slouchy beanie crochet pattern, you'll have everything you need to create the perfect hat. You will need a crochet hook, super bulky yarn, scissors and a tapestry/wool needle. The finished product will feature an 11″ height that's easily adjustable. You can craft your unique winter accessory in just a few simple steps. Complete it with cozy warmth and unbeatable style! Get started now with this versatile pattern! hopefulhoney
4. Easy Crochet Fired up Slouchy Beanies Pattern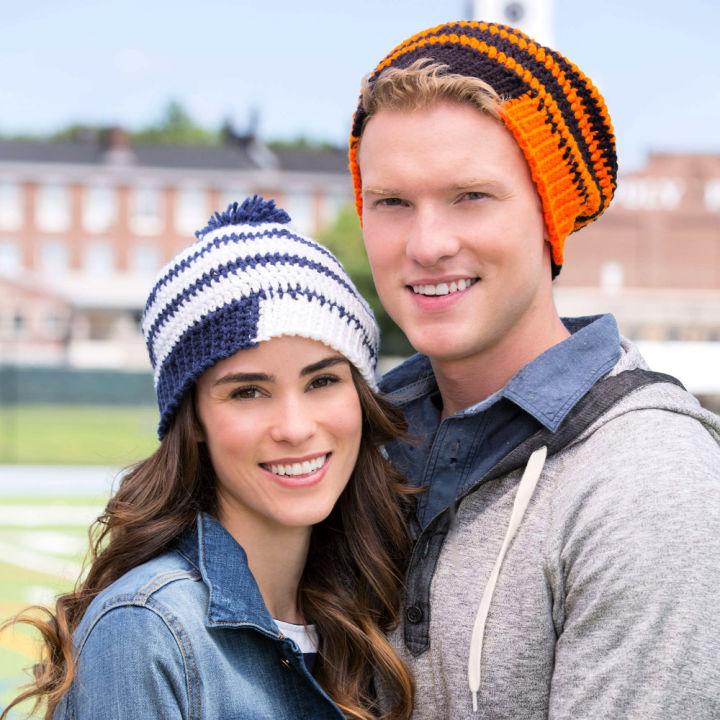 Cheer on your favorite team in comfort and style with fired up! Slouchy beanies. This selection of crochet beanies features a variety of self-striping yarn. So you can find the perfect match for your squad. Get fired up for the game day and show off your spirit with one of our colorful, handmade knits that are easy to wear and love! Crochet now to rev up your fandom fashion before kick-off time! yarnspirations
5. How to Crochet Slouchy Cabled Hat – Free Pattern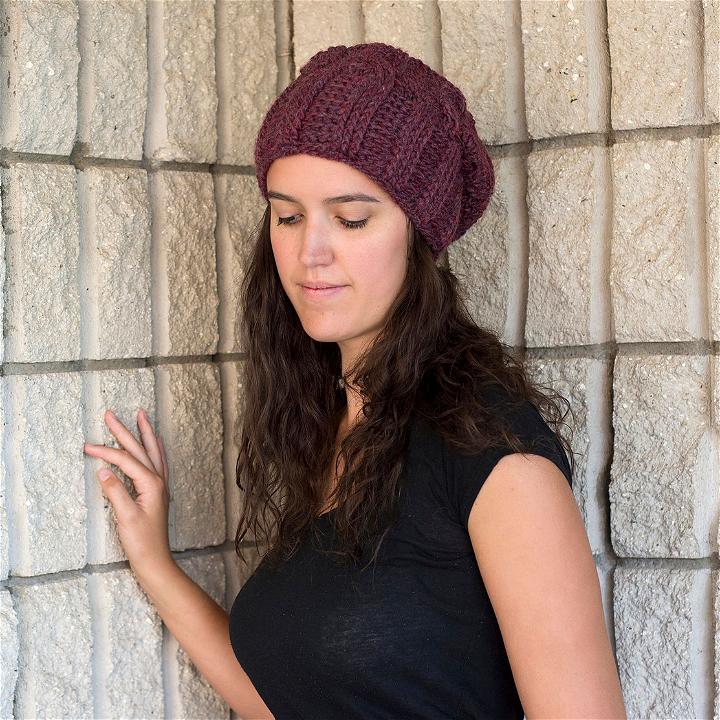 This slouchy cabled hat crochet pattern features a touch of elegance and sophistication. It's perfect for keeping your head warm while looking stylish! The beautiful cabled design adds visual interest, while the bulky weight yarn provides comfort and warmth. This free pattern includes all sizes – child, teen, and adult. So, you can make one for everyone in the family. Add this pattern to your favorites and queue up the listing to help designers connect with new customers! melodys makings
6. How Do You Crochet an Oakley Slouch Hat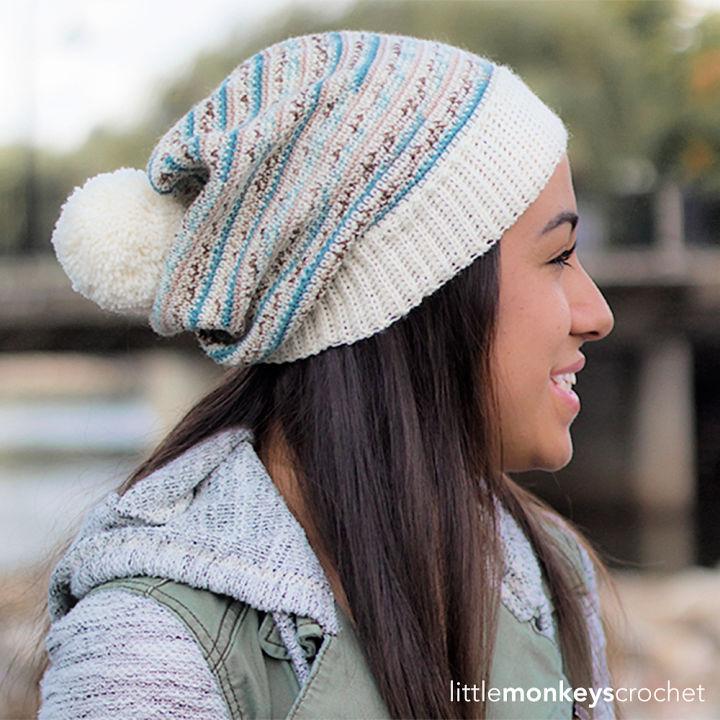 Keep your head stylish and warm this season with the Oakley slouch hat. This easy-to-make hat uses heritage yarn super fine weight yarn for an ultra-soft feel. The pattern is available as a free online version and an ad-free, printable pdf. So you can enjoy working on it wherever you are! You will also need a yarn needle and stitch marker to complete the project. Start crafting now, and be ready to keep the chill away in style with an Oakley slouch hat! yarnandchai
7. Crochet Minute Slouchy Hat Pattern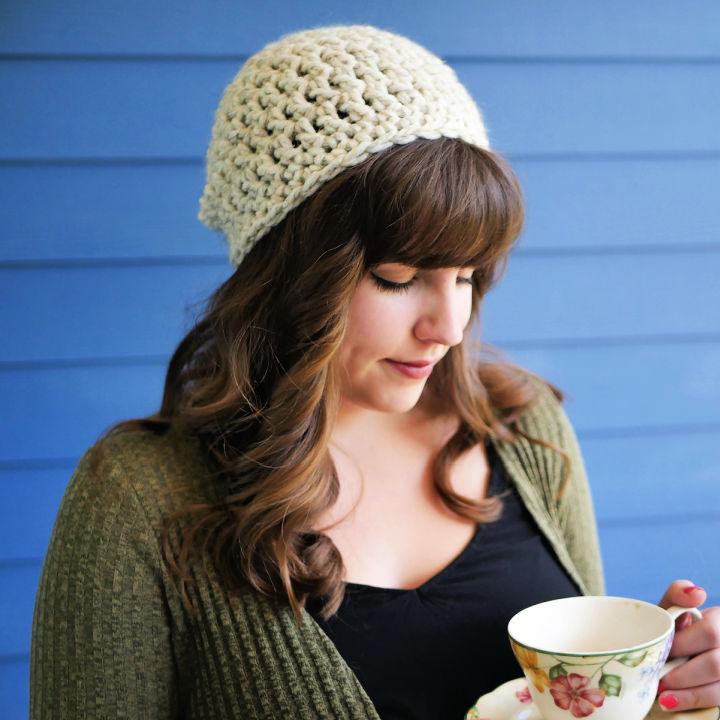 Craft an easy and stylish accessory with this beginner-friendly 30-minute beginner crochet slouchy hat pattern! The hat features basic stitches that even entry-level crocheters can pick up quickly for a fast project using bulky weight yarn. All you need is about 30 minutes of your time to crochet your fashionable slouchy hat. It is perfect for those seeking quick projects or wearable items. Get creative and make one now with this simple crochet pattern! sewrella
8. Modern Crochet Shiplap Slouch Hat Pattern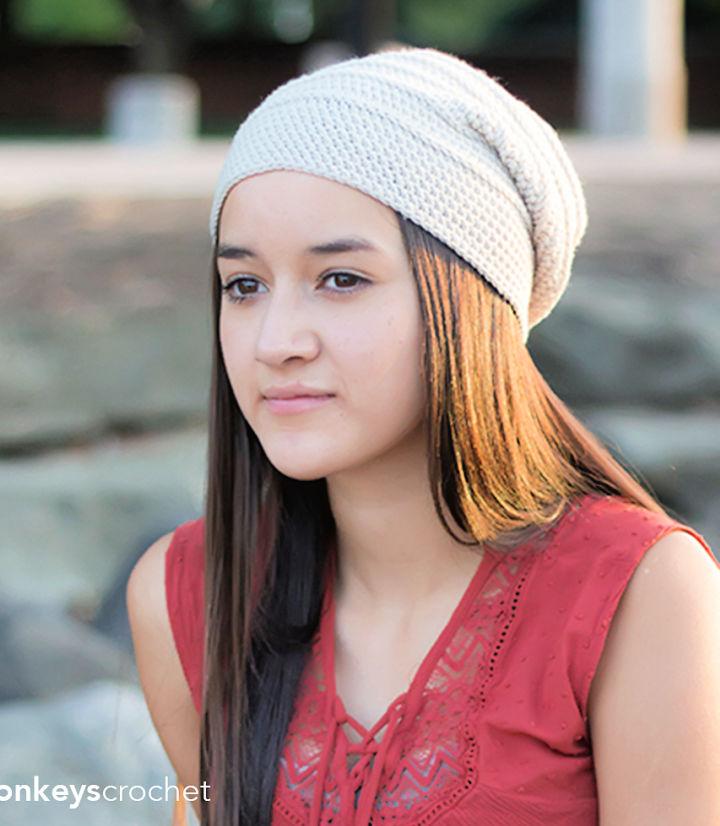 Are you looking for an easy-to-make and stylish accessory? Look no further than the shiplap slouch! You can create this fashionable piece in no time by using cascade longwood sport, a light yarn, and 5.00mm (h) and 4.25mm (g) hooks. The ad-free printable pdf makes it even easier! Grab your yarn needle and stitch marker to start this fabulous project today. yarnandchai
9. Gorgeous Crochet Grey and Rainbow Slouchy Beanie Pattern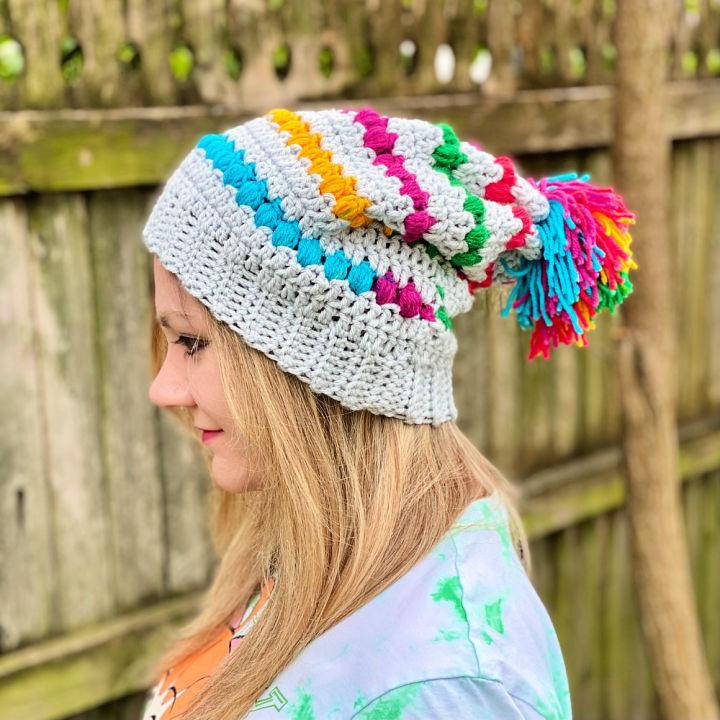 Bring a pop of color and personality to your wardrobe with this rainbow after the storm slouchy hat crochet pattern! This unique beanie is easy to make, flattering for many face shapes and has an eye-catching contrast of grey and rainbow colors. The lovely combination makes it perfect as a gift or addition to your wardrobe that will be treasured for years. Ensure you take the chance to add this cheerful slouchy hat pattern to your rotation! craftykittycrochet
10. New Crochet Heartstrings Slouch Hat Pattern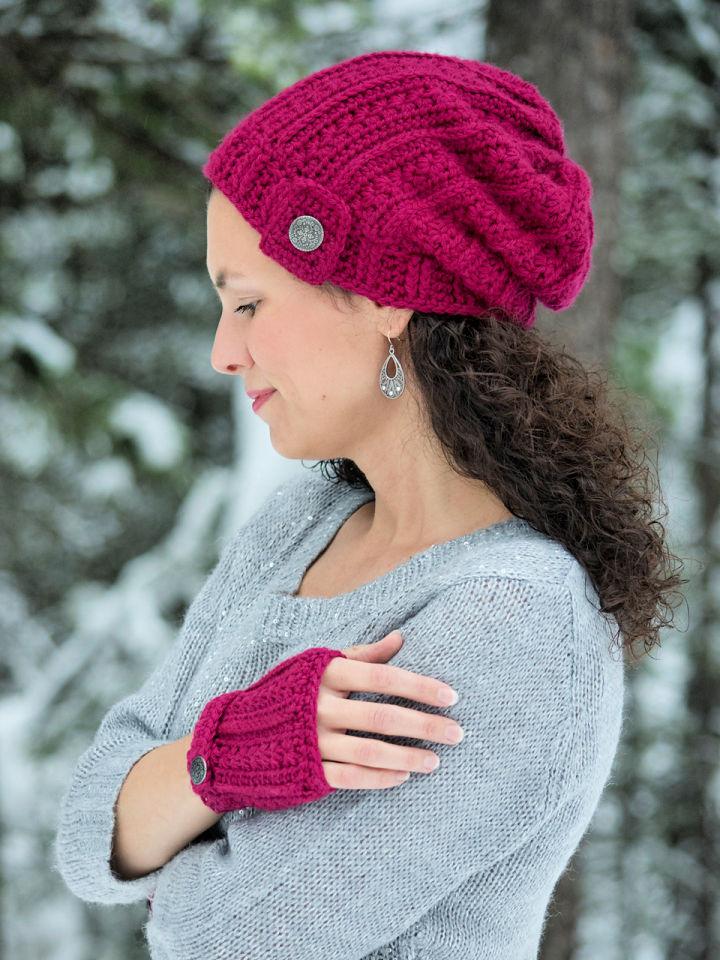 Add a touch of romance to your winter wardrobe with the heartstrings slouch hat. This easy-to-follow free crochet tutorial provides detailed pattern instructions to help you create this beautifully understated design featuring rows of tiny hearts running up the side. Make sure you're ready to take on the cold weather in style, and get your heartstrings slouch hat now! kirstenholloway
11. Best Velvet Slouchy Beanie Crochet Pattern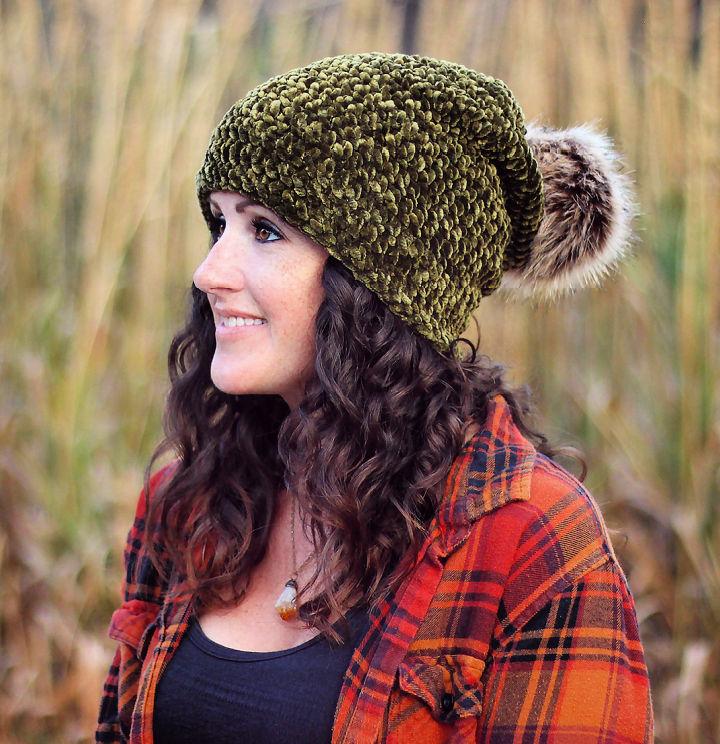 Stay cozy and stylish this winter with this free crochet velvet slouchy beanie pattern! This beautiful beanie is made from velvet yarn, giving it an elegant look that will make you stand out from the crowd. It has a simple design that takes just a few hours to complete, yet looks really nice. Whether you want to stay warm and fashionable while walking around town or dress up your outfit for special occasions, this beanie will do the trick! Plus, follow these step-by-step instructions, and you can make one quickly. gleefulthings
12. Adorable Crochet Serendipity Slouch Beanie Idea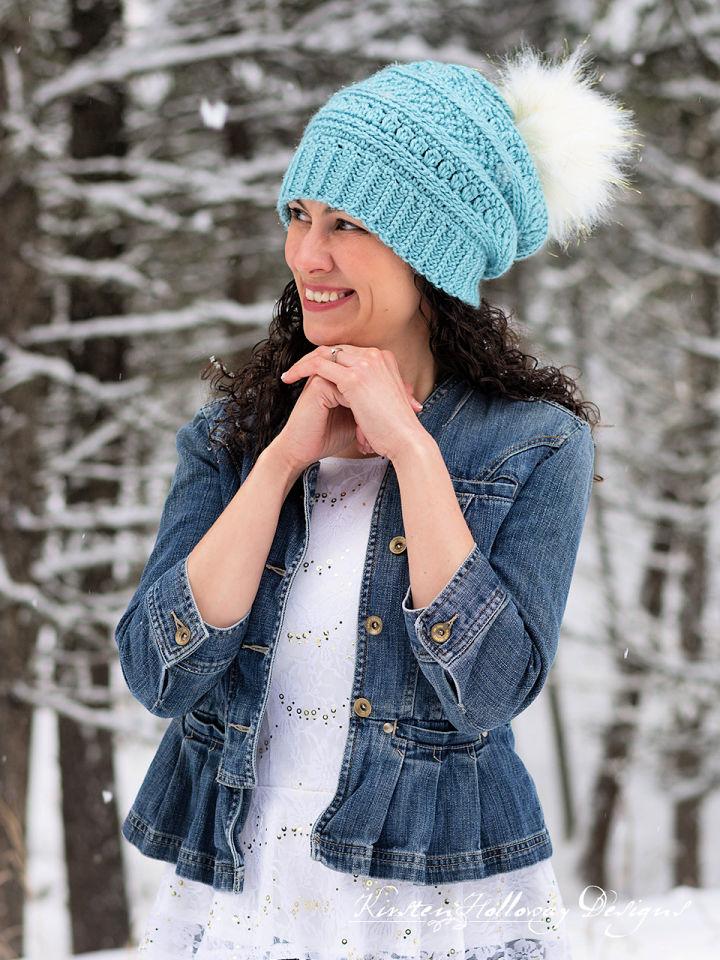 Make a fashion statement with the free crochet pattern of the serendipity slouch hat! This versatile and stylish hat features differing yarn colors to give an individualized sense of style. With detailed instructions and notes on using different types of worsted-weight yarn, this creative pattern will make everyone marvel at your unique look. Get ready for compliments. Download the free crochet pattern now and show off your new slouchy look! kirstenholloway
13. Really Easy Crochet Daddy and Me Slouch Beanie Pattern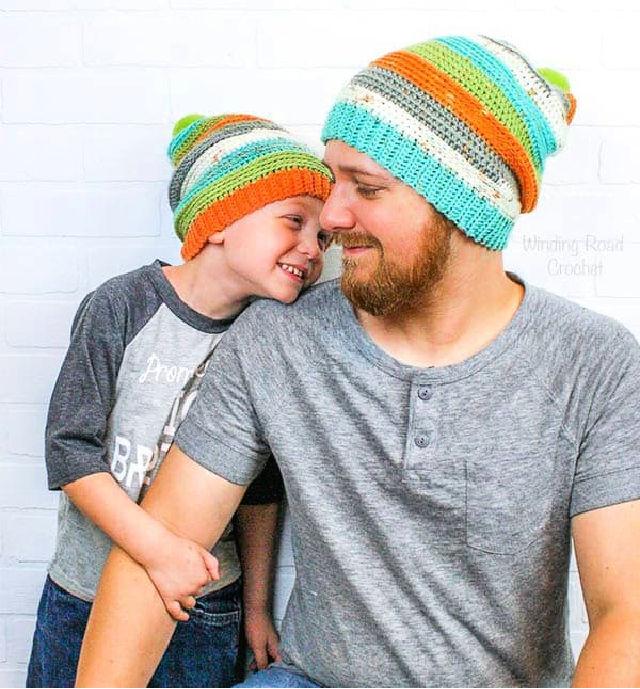 Looking for the perfect gift that works great for men of any age? The daddy and me slouch beanie are just what you need! This casual beanie features a ribbed texture with colorful stripes, giving it tons of character. Whether he likes to keep it simple or add a pom-pom on top, this beanie works up nicely and quickly. With an adult size and child size pattern provided, you can make one for all the guys in your life! Get your daddy and me slouch beanies today. They're lightweight, stylish, and fun! windingroadcrochet
14. Free Crochet Snow Den Beanie Pattern to Print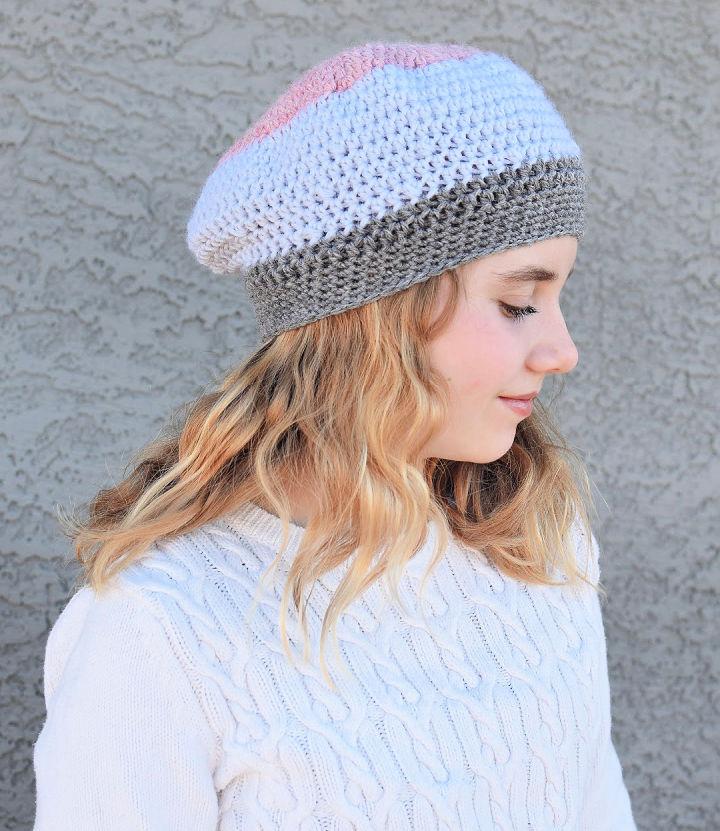 The snow den beanie crochet pattern is a great project for beginners to more experienced crocheters. It's fun slouchy shape makes it easy to customize and make your own. This pattern uses basic stitches and only requires light worsted-weight yarn. Plus, you can easily adjust the size using a heavier-weight yarn and going up in hook size. Give this versatile beanie pattern a try now! hookedonhome
15. Colorful Crochet Ombre Slouchy Beanie – Free Pattern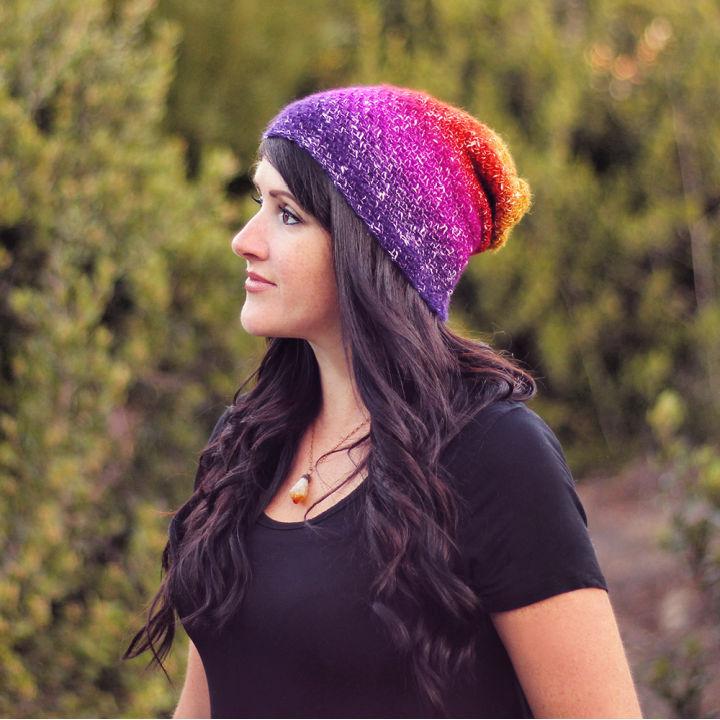 Create a stylish look with this ombre slouchy beanie-free crochet pattern. It's an easy project when you want to relax and not think too hard. You can make the entire hat is made using linen stitch. The pattern offers four different sizes so that you can get at least two hats from each skein of yarn. Pick your favorite colorway, curl up in your favorite spot and watch as each color fades into the next for a unique effect. It will have everyone asking about your knitting skills! gleefulthings
16. How to Crochet a Chunky Slouchy Beanie – Free Pattern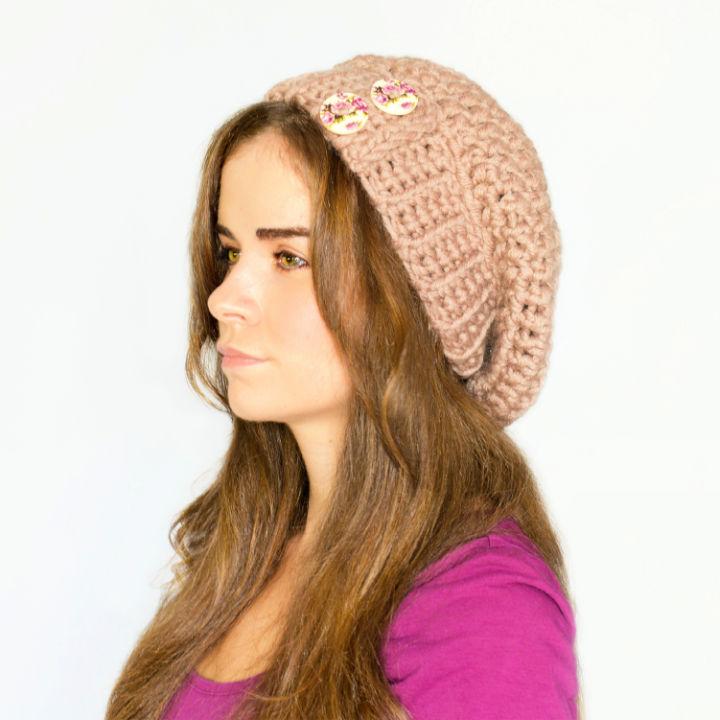 Stay warm this winter with the chunky slouchy beanie crochet pattern! This easy-to-follow pattern is perfect for beginners and experienced crocheters alike.
The step-by-step instructions ensure that even novice crafters can produce a finished slouchy beanie in no time, keeping you cozy all season long. Its adjustable size is also a great way to show off your skills with chunky yarns and jumbo hooks.
It is perfect for making an extra special gift or updating your wardrobe in one afternoon. Get creative and make something beautiful from this chunky slouchy beanie crochet pattern now! hopefulhoney
17. Crochet 3 ML Slouchy Beanie Pattern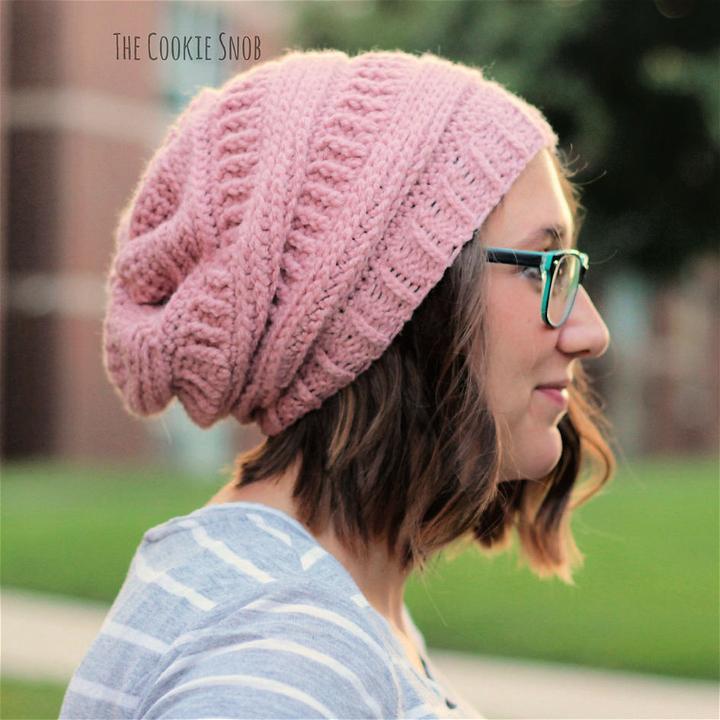 Curl up with this stylish 3 ml slouchy beanie! This knitted beanie hat provides an effortless, chic look that's perfect for all slouchy hat lovers. With a unisex design and three options in size, you can crochet the perfect winter accessory. Get your hooks ready to enjoy a warm, warm slouchy beanie made with love! Pick one today for yourself or as a gift for someone special. Everyone will appreciate this cozily creation. cookiesnobcrochet
18. Free Crochet Back in Brugge Slouchy Beanie Pattern

Craft your own stylish slouchy beanie with this easy-to-follow free crochet pattern from back in Brugge. With detailed instructions for customizing the style and fit to suit any size, you'll be wearing a cozy and comfortable hat that's perfect for winter days. In no time, you'll have crocheted yourself a timeless look that you will fall in love with. Get creative and start crocheting now! hearthookhome
19. Crocheting a Chunky Ribbed Slouchy Beanie – Free Pattern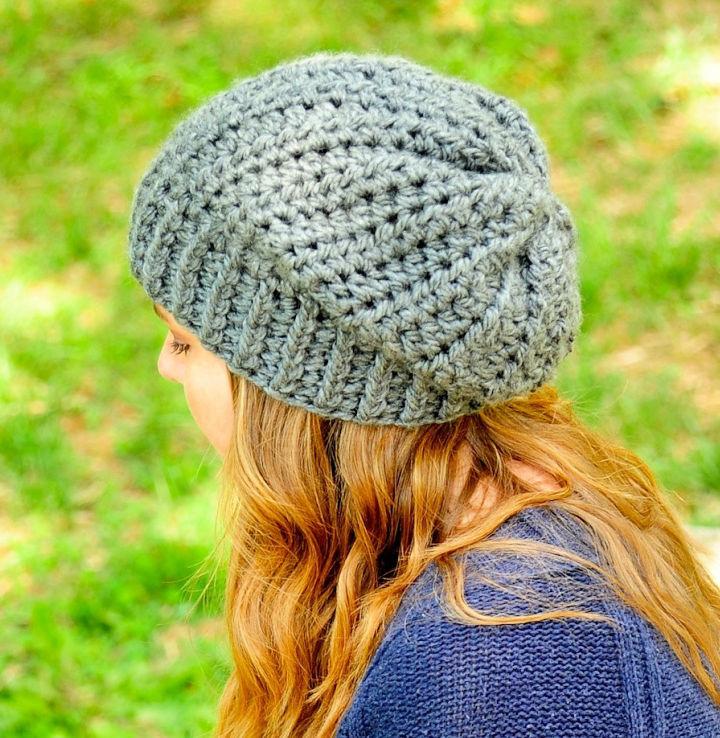 Stay warm and stylish all season long with the chunky ribbed slouchy beanie 019. This easy-to-intermediate pattern is written in standard American terms. These terms make it perfect for crocheters of any skill level. Keep your head cozy and fashionable with this ribbed beanie made from luxuriously thick chunky yarn that will keep you looking good while keeping out the chill. Whether you wear it as a fashion statement or to stay warm outdoors, the chunky ribbed slouchy beanie 019 won't disappoint! ravelry
20. Cool Crochet Autumn Frost Slouchy Hat Pattern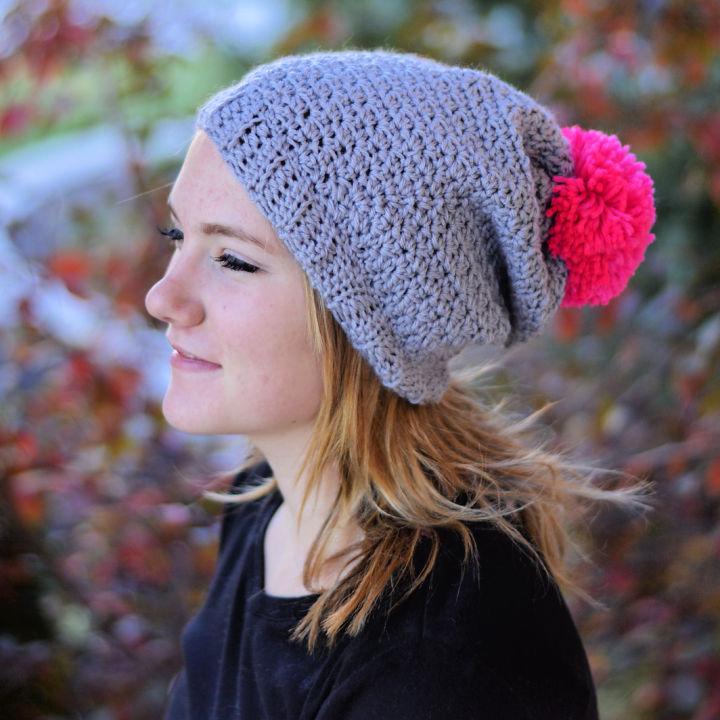 This autumn frost slouchy hat crochet pattern perfectly adds a beautiful color and contrast to your winter wardrobe. With its bright and gorgeous colors, this hat will be a show-stopper! It is a stylish and easy pattern that can be completed quickly. Get ready for the cold weather with this stunning slouchy hat and bring some much-needed cheer to the drab winter months. So why not get creative and wear something colorful this season? Grab your crochet needles today; you won't regret it! whistleandivy
21. How to Crochet a Slouchy Hat With Pictures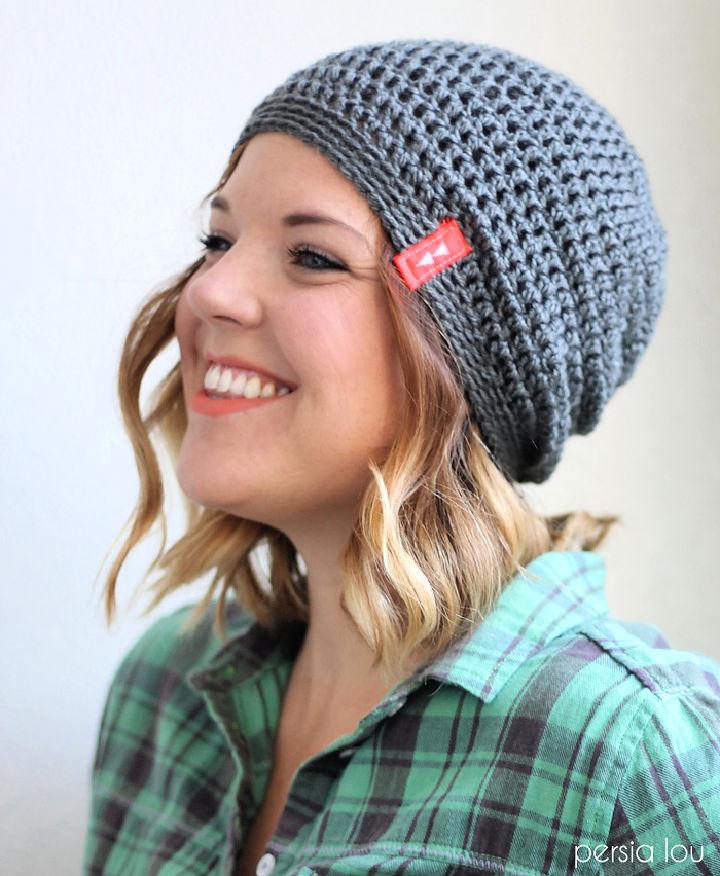 Learn how to crochet a simple slouchy hat with this easy-to-follow pattern. This cute and stylish hat works quickly for beginners and makes a great gift. Follow the step-by-step instructions to master the basics of crocheting in no time! With just basic supplies, you can create your unique slouch beanie to warm your head during those breezy days. Make it yours by adding colors or creating fun stitching patterns. You are sure to be proud of your handmade masterpiece! persialou
22. Bulky Yarn Crochet Slouchy Beanie Pattern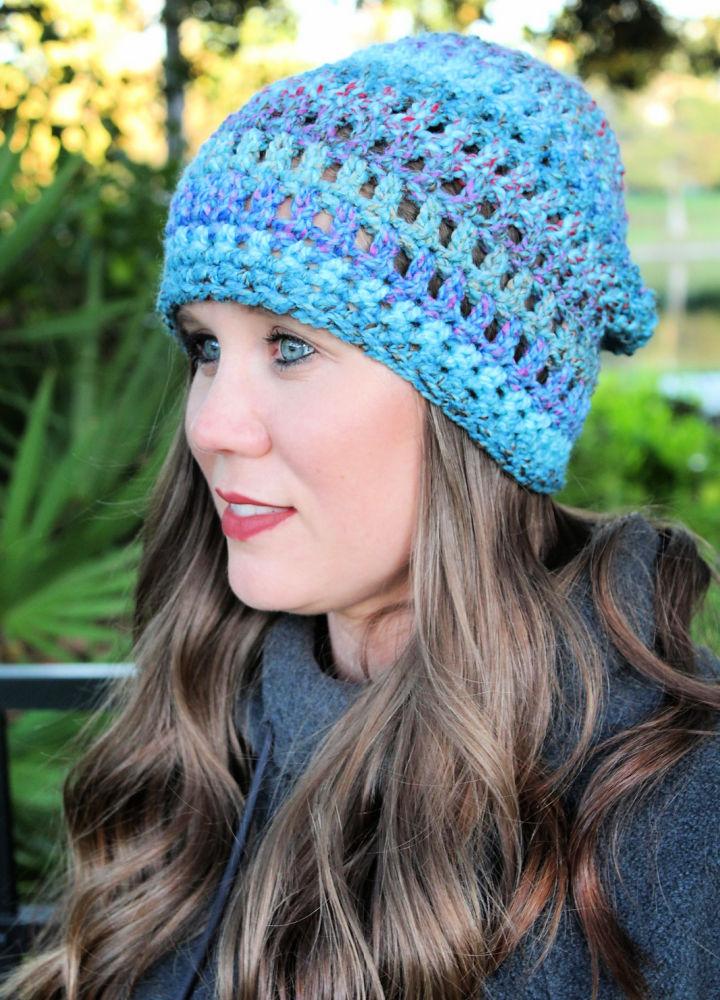 Make a cozy, stylish slouch hat with this free crochet pattern! The easy peasy chunky slouch hat utilizes bulky #5 weight yarn for quick and easy knitting. This beginner-friendly crochet design is perfect for those looking to learn basic stitches and make a fashionable winter accessory. Plus, the luxuriously soft texture of chunky yarn makes it a delight to wear all season long. Follow this step-by-step guide today and prepare to rock your new handmade item! twobrothersblankets
23. How to Make Slouchy Beanie – Free Crochet Pattern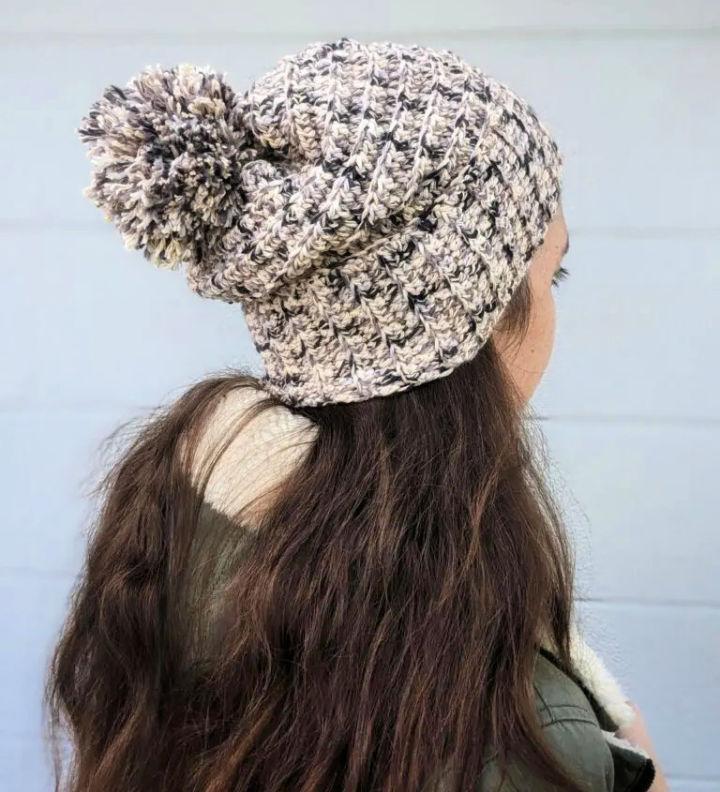 This cozy, comfy crochet slouchy beanie keeps your ears nice and toasty! This free pattern is perfect for beginners. It's easy to make using just two stitches. The video tutorial provides helpful guidance along the way. Ideal for colder months, this simple beanie will keep you looking stylish while keeping warm. Get ready to tackle winter weather in style. Download your free pattern now and start crocheting your own slouchy beanie! jewelsandjones
24. Crochet Slouchy Beanie – Free PDF Pattern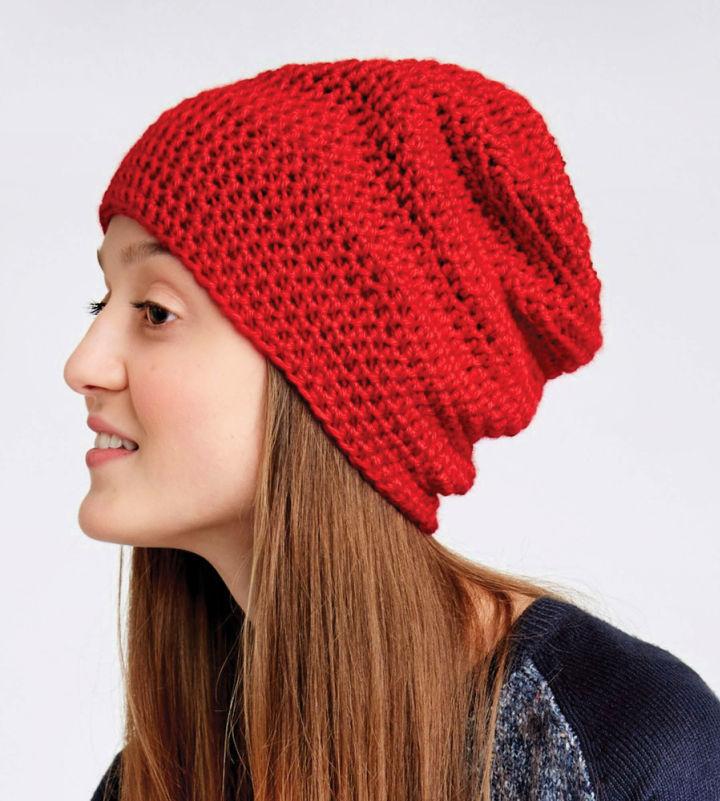 Stay warm and stylish in this easy-to-make crochet slouchy beanie. This free pdf pattern makes it simple to create a fashionable accessory perfect for all ages. With its versatile design, you can choose your own style of yarn and color combinations. So, the possibilities are endless! With minimal skill required, even novice crocheters will have no trouble creating their own cozy winter hat. Get started on your DIY project now with this free crochet slouchy beanie pattern! yarnspirations
25. Beautiful Crochet Slouchy Beanie Pattern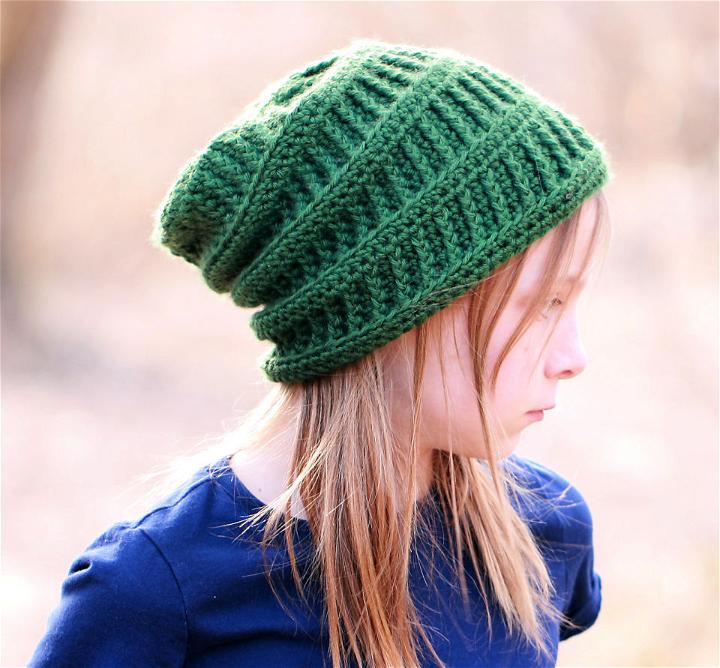 Craft a stylish beanie this season with this slouchy crochet beanie pattern! This easy-to-follow, intermediate-level pattern is perfect for those who have already learned crochet basics. Choose your favorite yarn and hook, and you're ready to get creative. With detailed instructions included, check out our slouchy crochet beanie pattern today. It's the ideal winter accessory for any fashionista! jenhayescreations
Crochet Top: Boost your wardrobe with handmade crochet tops that showcase your individual style. Explore various designs and colors.
26. Free Spiral Slouchy Hat Crochet Pattern for Beginners

Crochet, a stylish Spiral Slouchy Hat, using Yarnspirations Caron X Pantone braided yarn. This soft, smooth and luxurious yarn is perfect to work with. This yarn glides over the hook easily, allowing you to mix and match your favorite colors together. With this free crochet pattern, you can make a unique hat that will surely be admired by friends, family and strangers alike! Get ready for some compliments when you show off your one-of-a-kind accessory! nickishomemade
27. Crochet Upscale Slouchy Hat – Step by Step Instructions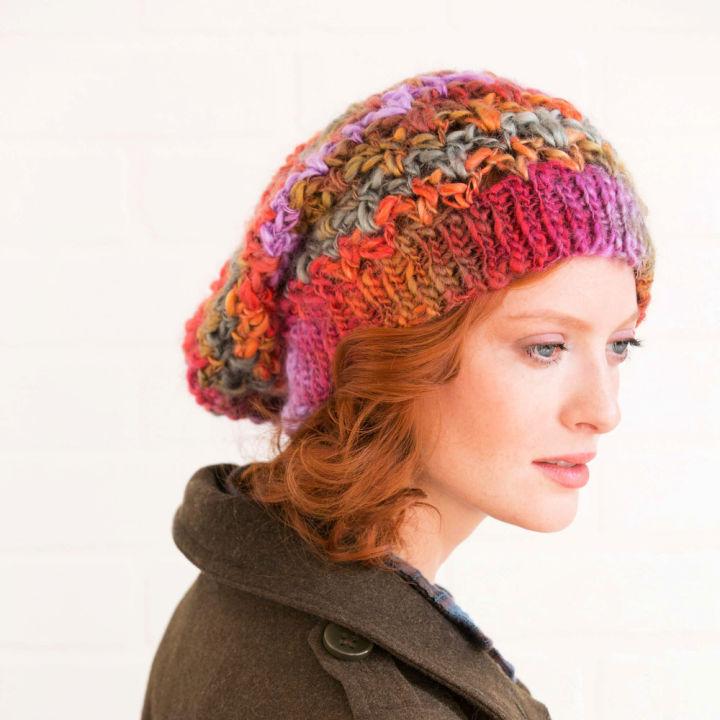 Add an extra layer of style to your look with an upscale slouchy hat. This handmade crocheted hat is made from a thick-and-thin yarn that creates an interesting texture and comes in beautiful shadings. You'll love wearing it to accessorize your outfits and brighten dull days! Get yours now and show off your unique sense of fashion! yarnspirations
28. Unique Free Crochet Unforgettable Slouchy Hat Pattern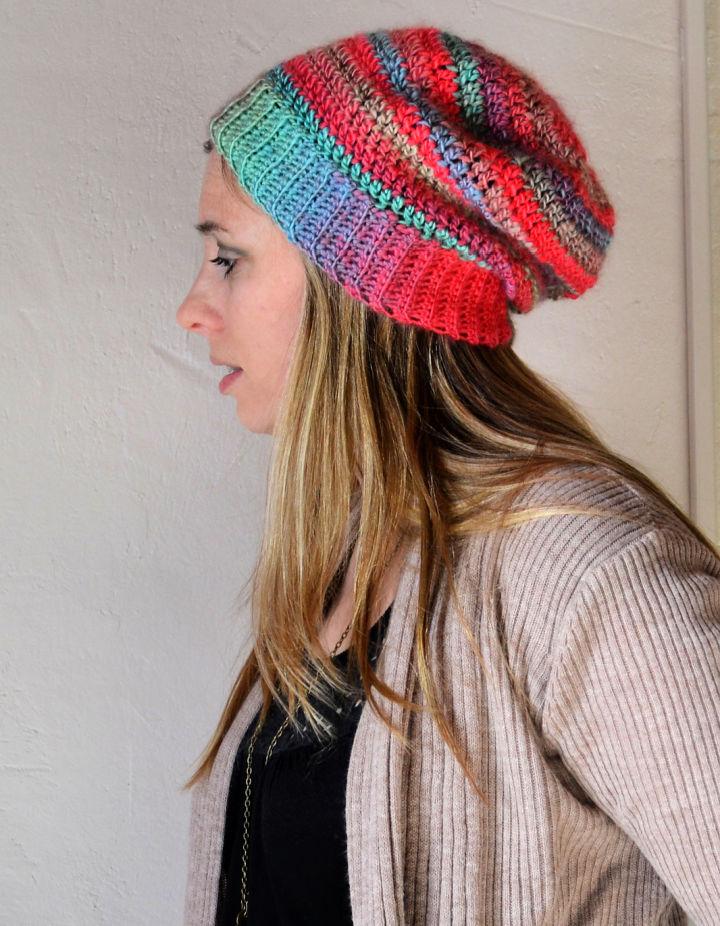 The unforgettable hat is an essential item for any fashionista! The soft acrylic yarn ensures maximum comfort, while the bright colors bring fun to your wardrobe. A size H (5mm) crochet hook and worsted-weight yarn are the only materials needed for this project. Whether you love all one color or mix it with different hues, there's something special about having your own handmade knit hat. Get creative and make this stylish piece "unforgettable." It's time to order skeins of yummy shades now! crochetincolors
29. Crocheted Marion Slouch Hat Pattern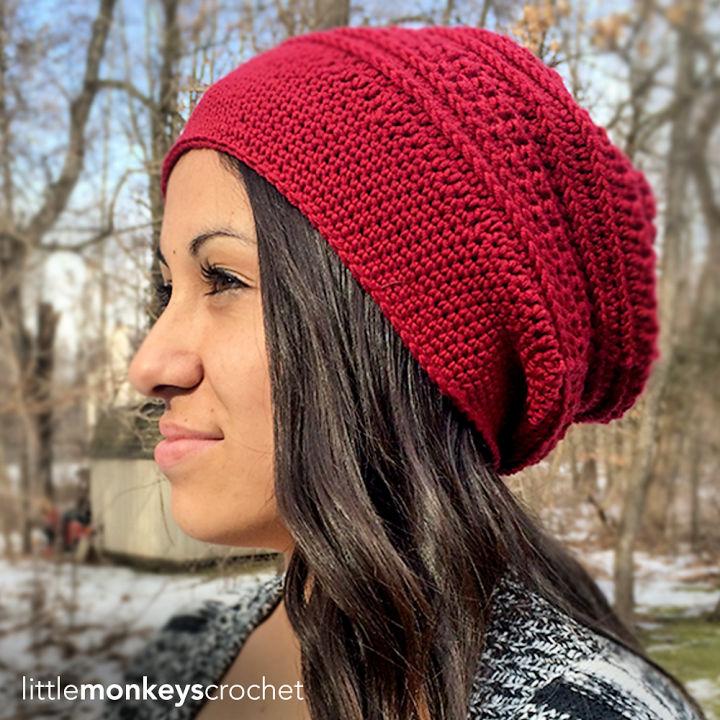 Introducing the newest addition to your growing collection of slouchy patterns. It is the south haven slouch! This pattern uses a basic structure, adding details between ribbing sections for a unique finish. You can choose the lion brand's LB collection, 100% superwash merino wool in "cherry" because it is soft and luxurious for this hat. It is only available on their website. Make this stylish slouch now and show off your knitting skills! yarnandchai
30. Crochet Signature Slouchy Hat Pattern for Womens

Be the envy of your friends with this stylish signature slouchy hat pattern! This pattern features a trendy brim and a two-toned color option. It is easy to crochet when you have basic knowledge of stitches and can follow a pattern. This pattern is written in standard American terms and has been thoroughly tested for accuracy. So, pick up your hooks and get ready to show off your craftiness! ravelry
31. Crochet Rainbow Slouch Hat Pattern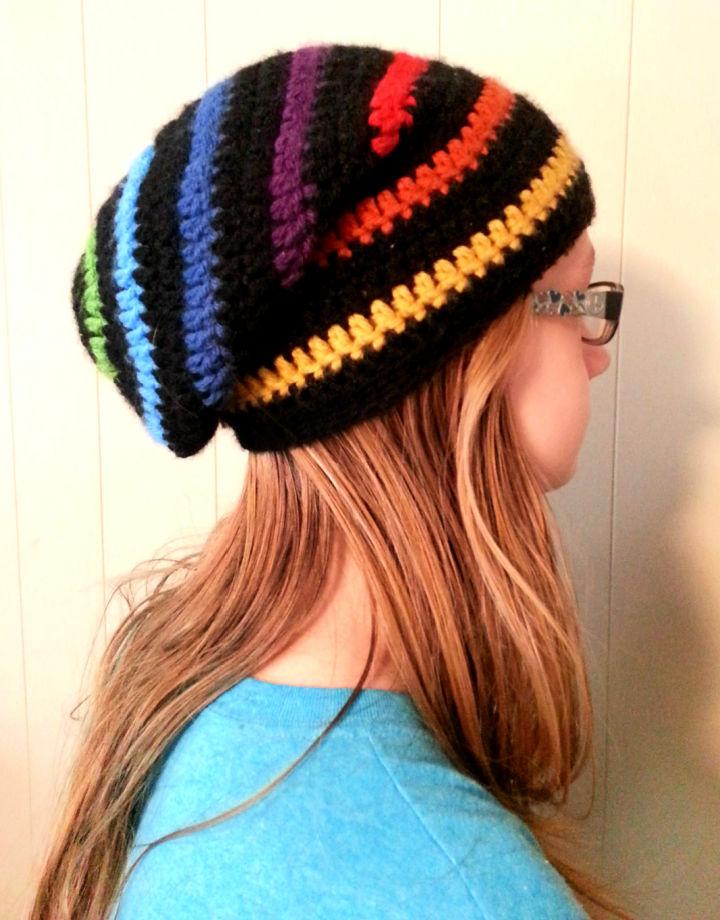 Winter is coming, and it's time to stay warm! You can look stylish while staying cozy with the rainbow slouch crochet hat. This beautiful hat is sure to turn heads with its vibrant colors. The easy-to-wear slouch design makes it perfect for any occasion. Crafted with quality materials, this handmade hat will last through many winters. Get your own rainbow slouch crochet hat now and make winter a little brighter! cuppastitches
32. Crochet Mens Slouchy Beanie Pattern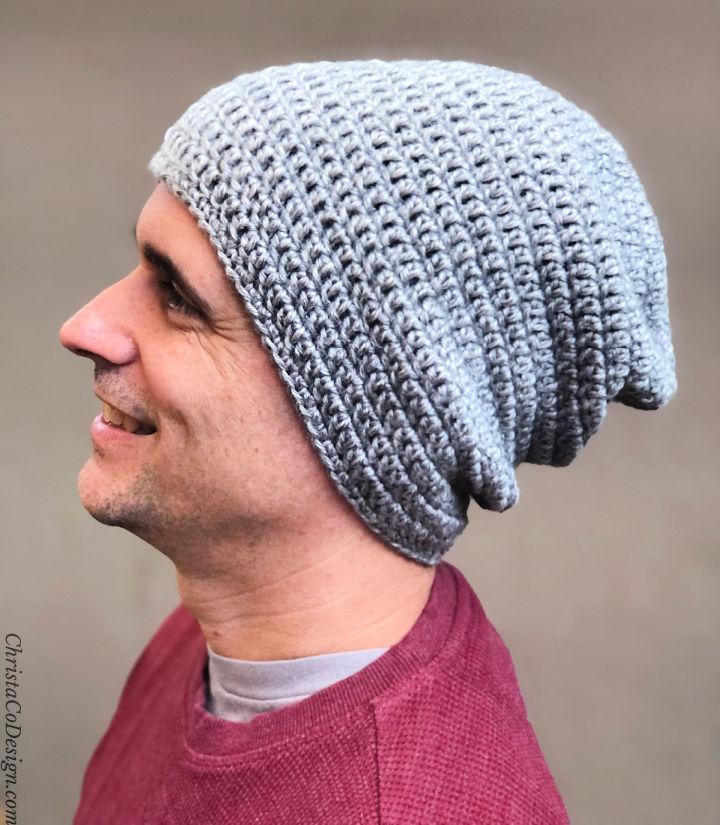 Make a stylish and thoughtful gift for the guys in your life with this free simple slouchy beanie crochet pattern. It's crocheted top down, with extra length to get that slouchy style. This easy pattern includes adjustments to make it fit and different sizes to fit any head size. This hat is perfect for beginners or experienced crocheters! Make one hat for a special someone or multiple hats so the whole family can match! Give them something they'll love in winter! christacodesign
33. Crochet Amora Slouch Hat With Brim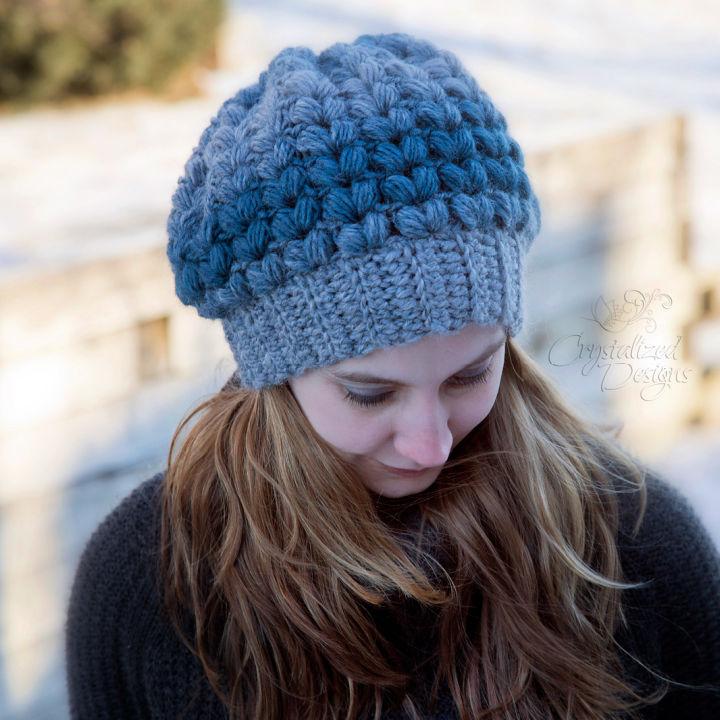 Make a statement and express your love for hats with this free crochet pattern! The amora slouch hat has a unique textured design, perfect for making one to wear yourself or giving as a gift. Anyone can make this stylish hat, whether you're an experienced crocheter or starting.
Create something special to keep you cozy during the fall and winter months. You can pass it down through generations in your family tree or even sell it at craft fairs! Get this free crochet pattern today and start stitching the amora slouch hat now. crystalized designs
34. Crochet Aurora Slouch Hat Pattern for Child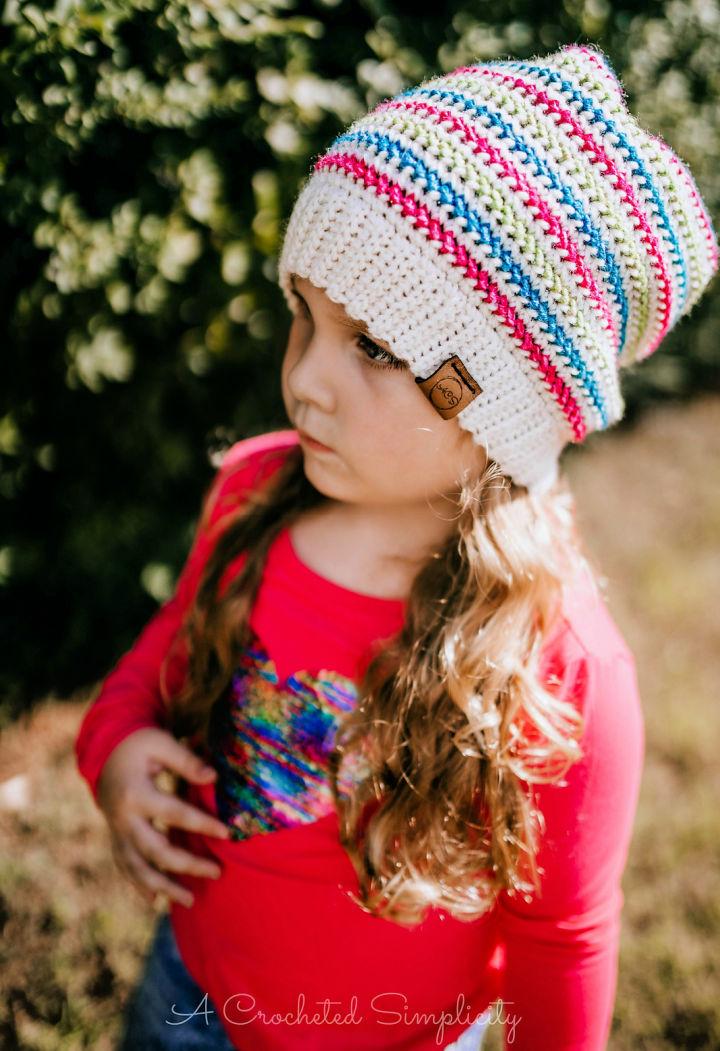 Create the perfect slouchy beanie with our free crochet pattern, the Aurora Slouch. Combining several simple crochet stitches, this hat creates both a nice texture and drape that is stylish and comfortable to wear. Download now for an ad-free, easily printable PDF. You don't need to purchase extra materials! Go with two yarns of similar thickness. You can pick your favorite colors from the great variety available. Enjoy crafting your unique piece! acrochetedsimplicity
35. Crochet Boston Slouch Hat Pattern for Men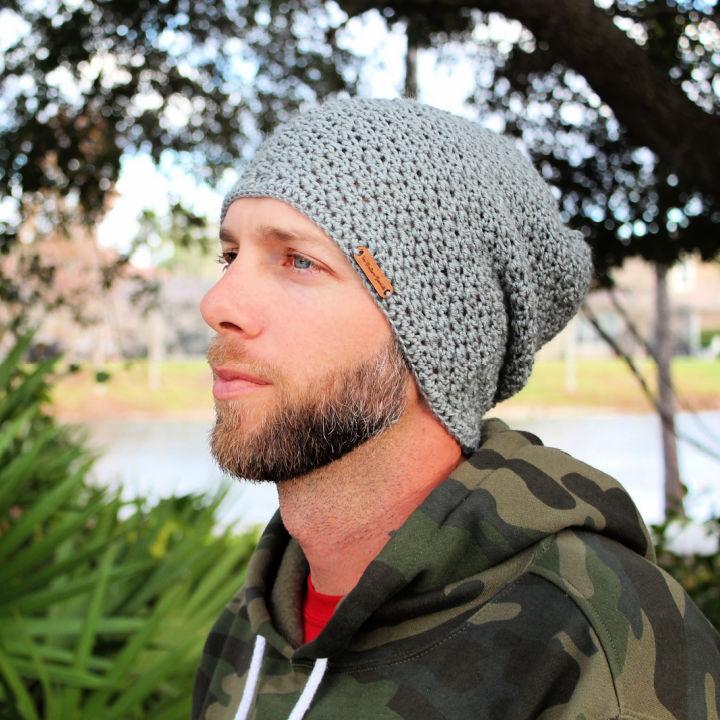 Crochet a stylish and comfortable Boston slouch hat with this easy-to-follow pattern! All you need is 150-200 yards of sport-weight yarn. It would be best to use knit picks brava sport yarn. This affordable acrylic yarn is sturdy but soft and comes in various colors. It is the perfect choice for this hat! With step-by-step instructions and helpful tips, you can make your unique slouch hat quickly. Get started now on your fashionable project! twobrothersblankets
36. Crochet Slouchy Stripe Beanie Pattern for Guys

Create a beautiful and practical slouchy stripe hat with this free crochet pattern from lion brand wool-ease thick & quick. This easy-to-follow pattern creates a wonderful addition to any wardrobe. With the bright colors of wool-ease thick & quick, your finished hat will turn heads! Make it for yourself or as a gift. Everyone will love this stylish accessory. Crochet something unique today with this free lion brand wool-ease thick & quick slouchy stripe hat pattern! lionbrand
37. Crochet Hipster Slouchy Beanie Pattern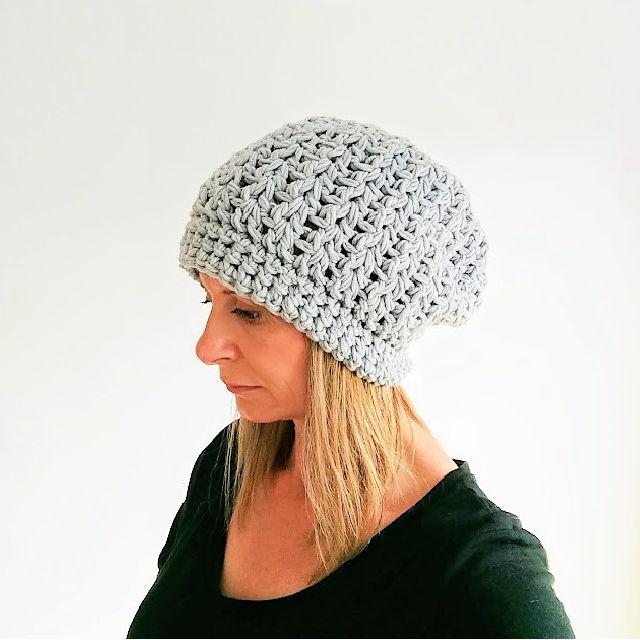 This free crochet pattern for a slouchy hipster hat is designed to be easy to make and look great! Its zig-zag stitch looks deceptively complicated, but with the help of a few simple techniques like the v stitch, you'll have it mastered in no time. This beanie can be crocheted using bulky or chunky yarns. These yarns will give your hat added texture and depth. Plus, this versatile pattern can easily be adapted as a men's or transgender beanie too! Get started on creating your stylish accessory now! kingandeye
38. Adorable Crochet Floppy Sun Hat Pattern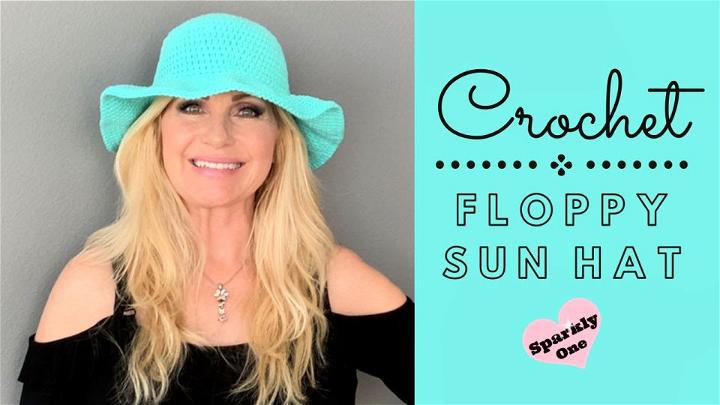 Stay safe and stylish in the sun with this quick, easy crochet floppy sun hat! This versatile design can be crocheted to fit any size head, from a baby to an adult. The pattern is super simple and suitable for even novice stitchers. You'll love how incredibly adorable your hand-crocheted accessory will look on you. You can also make one as a gift for someone special. Get the free crochet pattern to start making your unique floppy sun hat today!
39. Puff Stitch Crochet Slouch Hat Tutorial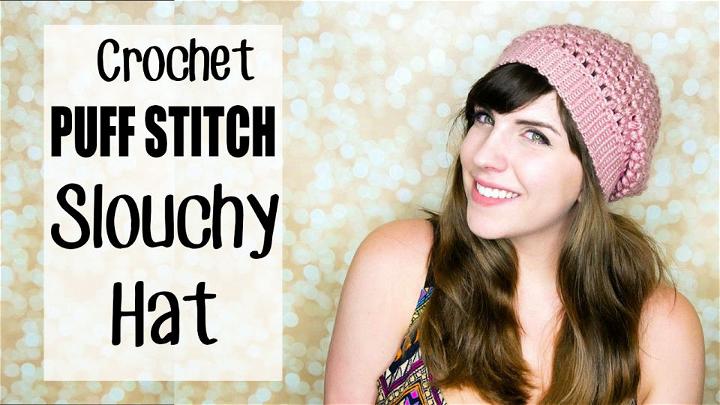 Create an eye-catching and stylish look with this crochet puff stitch beanie hat! This hat is beginner friendly. You can still make it even if you don't know how to do the puff stitch. It's easy to work up and will give you stunning results quickly. This hat is perfect for those cold days; add a unique twist to your winter wardrobe with this crochet beanie hat. Get creative with colors, or keep things simple. You'll be sure to stand out from the crowd!
40. Fastest Crochet Slouchy Hat Pattern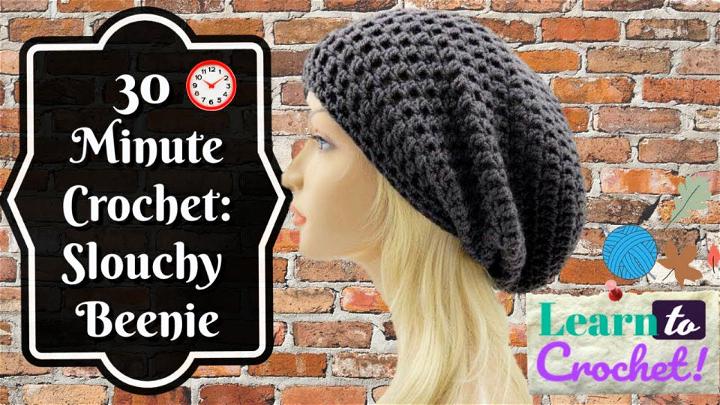 Learn how to crochet a slouchy beanie in just 30 minutes! This easy beginner-level project is an ideal first step for those new to crocheting. This pattern provides clear instructions with helpful tips. So, you'll be able to create your unique hat that fits perfectly. Get creative and add your special touches to personalize this hat. Start now, and soon you'll have a stylish new accessory for any outfit!
Related Free Crochet Hat Patterns
Discover free crochet hat patterns for all levels of crocheters. Find easy to follow tutorials for beanies, baby hats & more! Create stylish cold-weather accessories with help from these free crochet patterns perfect for winter days and nights.
Conclusion: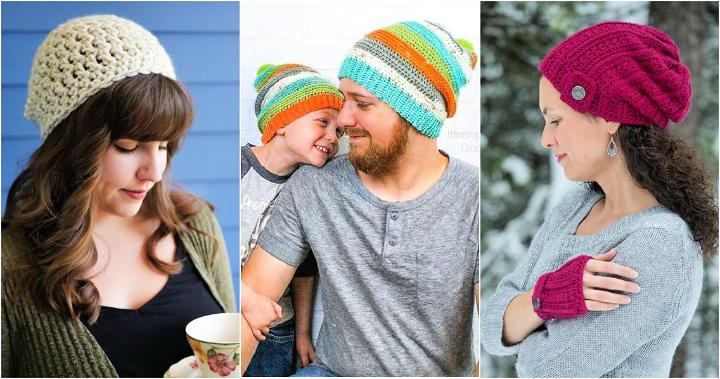 These are just some free slouchy beanie crochet patterns that are perfect for beginners. You can also experiment with different stitches, yarns, hooks, and embellishments to make your own unique slouchy beanie.
Crocheting a slouchy beanie is a fun and rewarding project that will keep you warm and fashionable in the winter. You can also make them as gifts for your friends and family who love handmade items. With so many free slouchy beanie crochet patterns available above, you will never run out of ideas for your next crochet project.