Are you looking for the perfect homemade wedding gift for a special bride and groom? Check out these 25 homemade DIY wedding gifts that will make any bride and groom feel loved. From personalized mugs to handmade photo albums or photo frames to delicate jewelry, we have creative and unique homemade wedding gifts you can make to suit every style and budget. With easy-to-follow instructions, these diy wedding gift ideas can be done in no time – making them ideal last-minute presents too! Show your appreciation with one of these thoughtful, heartfelt diy wedding gifts the couple will cherish forever.
These 25 thoughtful and cheap DIY wedding gifts will make a lasting impression and show the bride and groom just how much their big day means to you. With step by step instructions and detailed tutorials, it is easier than ever to make awesome DIY wedding gifts that truly reflect your love for the newlyweds on their special day.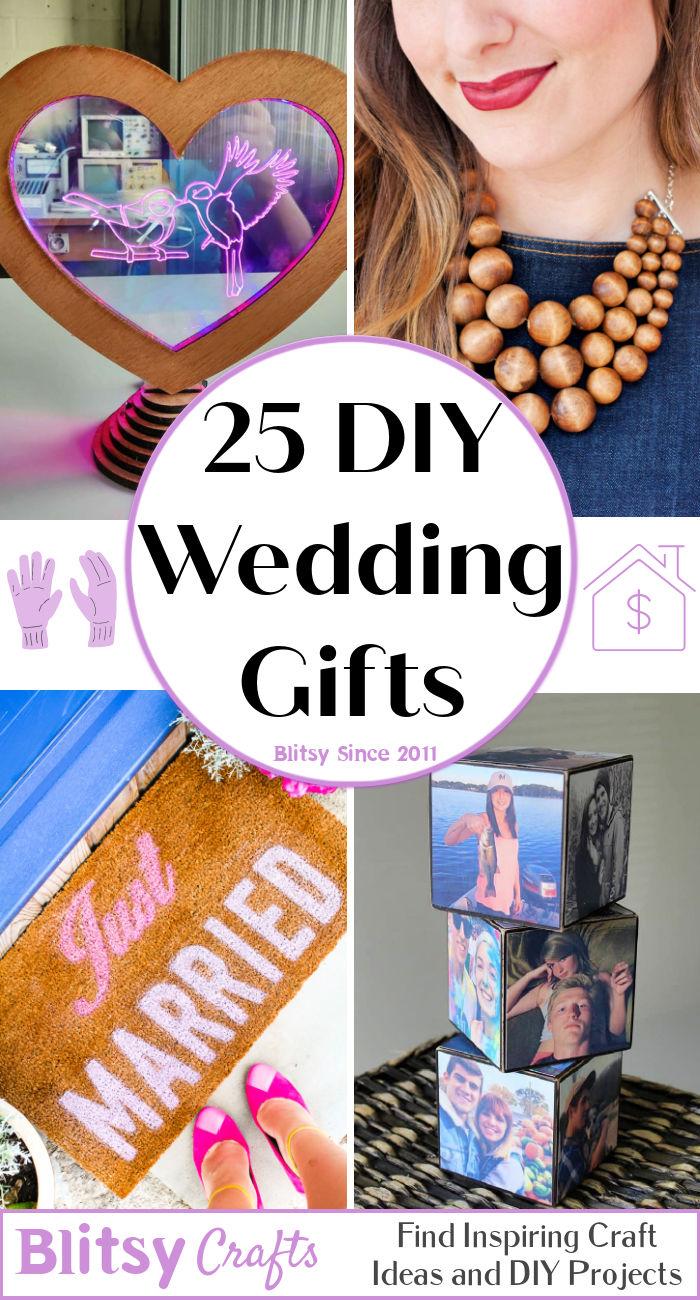 Homemade DIY Wedding Gifts
Coming up with the perfect wedding gift isn't always easy. You have to visit several places, and you end up getting nothing. So why not make personalized diy wedding gifts that perfectly fit all your demands?
Not sure what to get your newlywed friends for their special day? Fear not! We have 25 quick and cheap diy wedding gifts that can help you create a meaningful and thoughtful wedding gift without having to spend too much or devote too much time preparing it.
From a bridal box of goodies and romantic cards to customized clocks, you can easily find numerous diy wedding gift ideas that the couple will cherish for years. Plus, not only are these gifts cheap and easy to make, but many of them have a personalized touch that makes them truly unique. Take some time to browse our list of 25 homemade diy wedding gifts for bride and groom so that you won't be scrambling for a last-minute gift on the big day!
1. Unique DIY Edge Lit Wedding Gift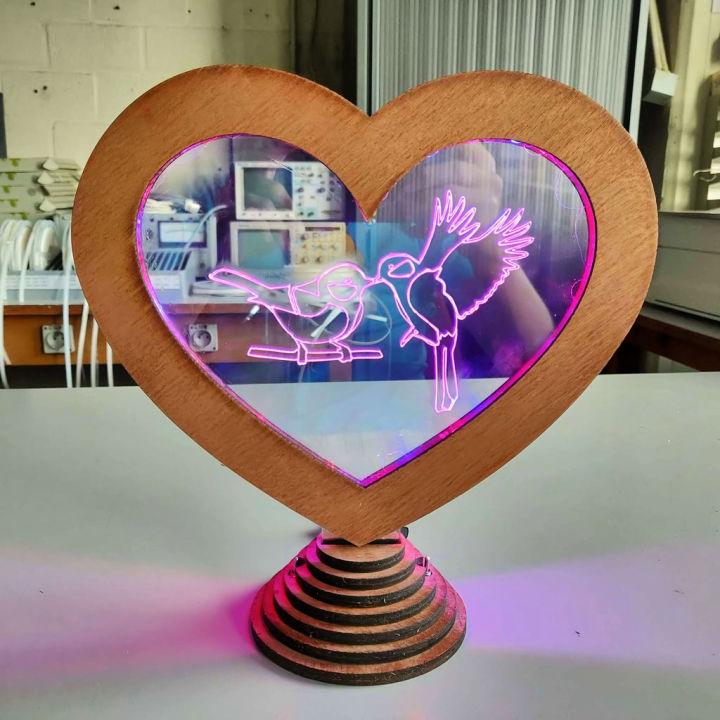 If you want a surprising and heartwarming gift for the next wedded couple around, then get your hands on this unique DIY edge-lit wedding gift. This is a two bird kissing edge-lit sign within a heart wooden frame, and you can easily install it on your own. Get your hands on the things like LED strips, toggle switches, thick hardwood and acrylic, DC jack. Learn more details here! instructables
2. Burlap Monogram Wedding Gift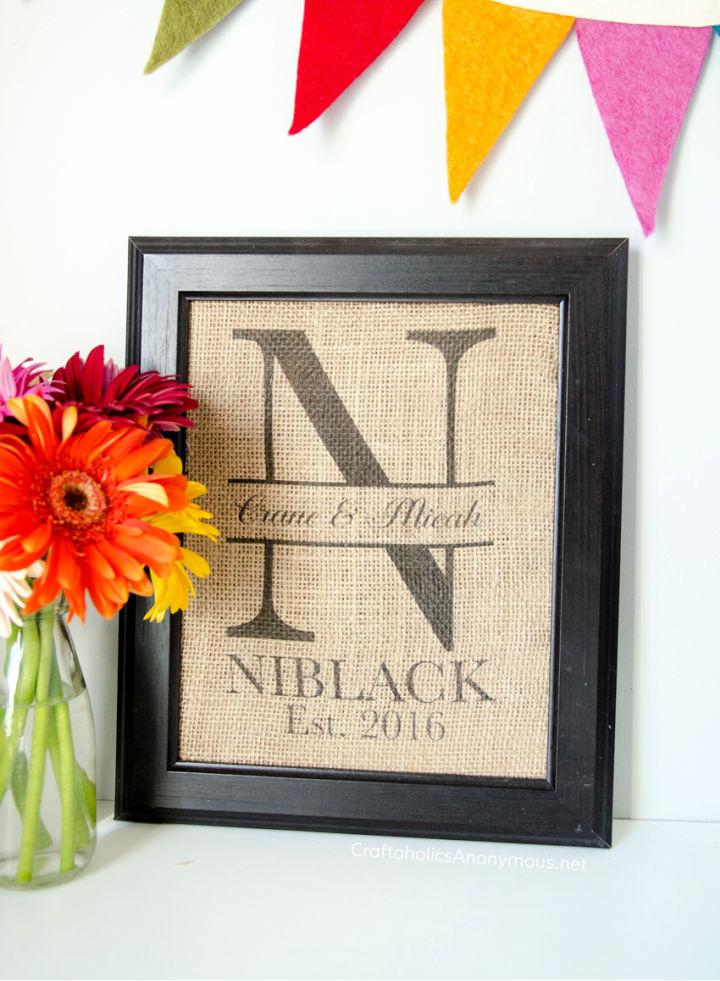 Thinking of a cheap yet beautiful wedding gift idea for your dear ones? If yes, then working up this burlap monogram wedding gift is the best thing to yield on your own. Using the inject printer, burlap, freezer paper, iron and scissors, you can easily create this monogram frame with the date and names of the couple on it. The detailed idea here! craftaholicsanon
3. Wedding Eve Bridal Box of Goodies

Gift baskets are always the most intimidating and fun, and here is this wedding Eve bridal box of goodies to let the bride have so much fun before the wedding. Just take a cute little basket and fill it with the things that you think the new bride needs most at the time, like bath bombs, chocolate bars, wedding gift cards, and so much more. Check out the details here! bespoke bride
4. Hexagon Wedding Coaster Gift for Guests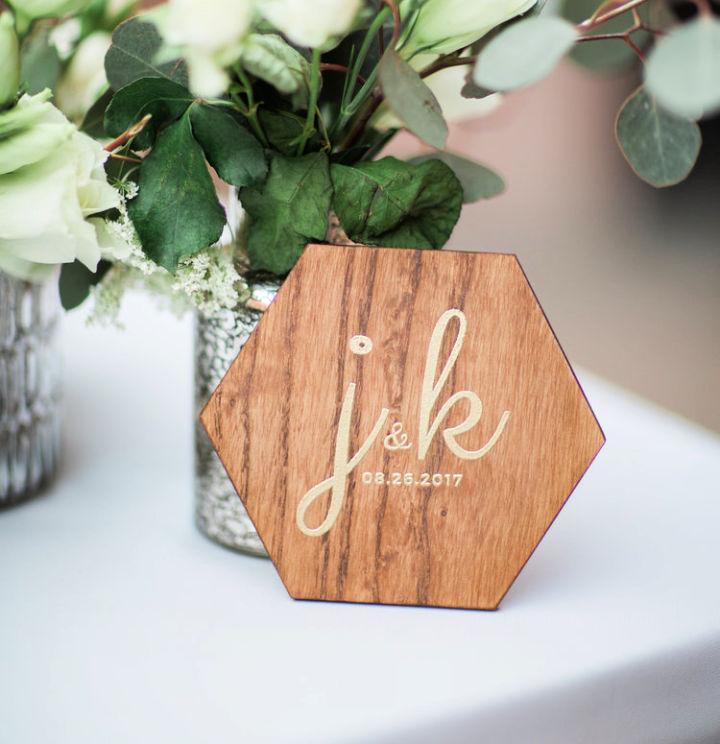 Looking for affordable wedding gift ideas? Here is a hexagon wedding coaster gift idea for guests. You can make this lovely coaster in just a couple of moments with super simple and super cheap things. Put your hand on the wood, select the desired shape, stamp your costar, and that's it. See more details here! osodiy
5. Wedding Cork Keepsake Frame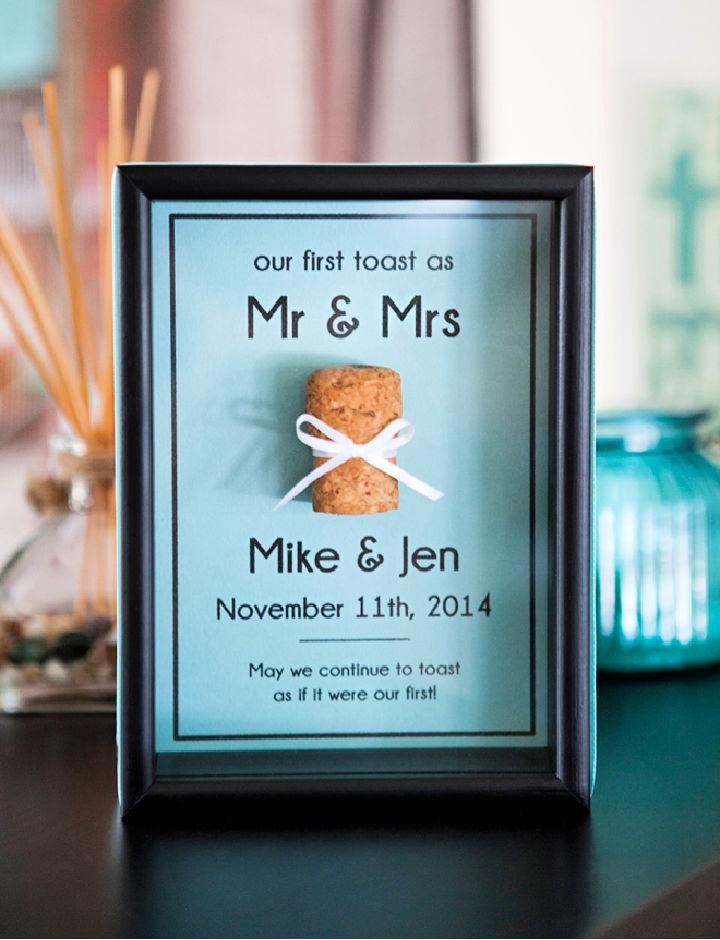 Here is the idea to make a wedding cork keepsake frame for someone special couple going to tie knots nearly. This is the best gift to remember the good time always when you see. This super simple and heart-touching frame is so simple to make. Just pick a cork, embellish it with ribbon and put this into a beautiful frame. See details here. somethingturquoise
6. Meaningful DIY Wedding Wine Box Gift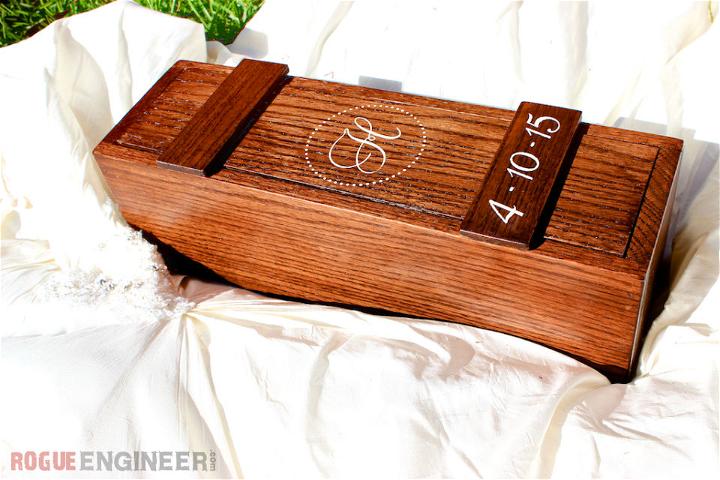 I want to make this meaningful wedding wine box gift because it's a growing trend. You can make this in less than 30 dollars and always a special gift for the recipient. You need to put your hands on wood and make a box. Put wine, and that's a perfect wedding gift. Some supplies are a miter saw, table saw, wood, tape measure and pencil. rogueengineer
7. Unusual Terrarium Wedding Ring Box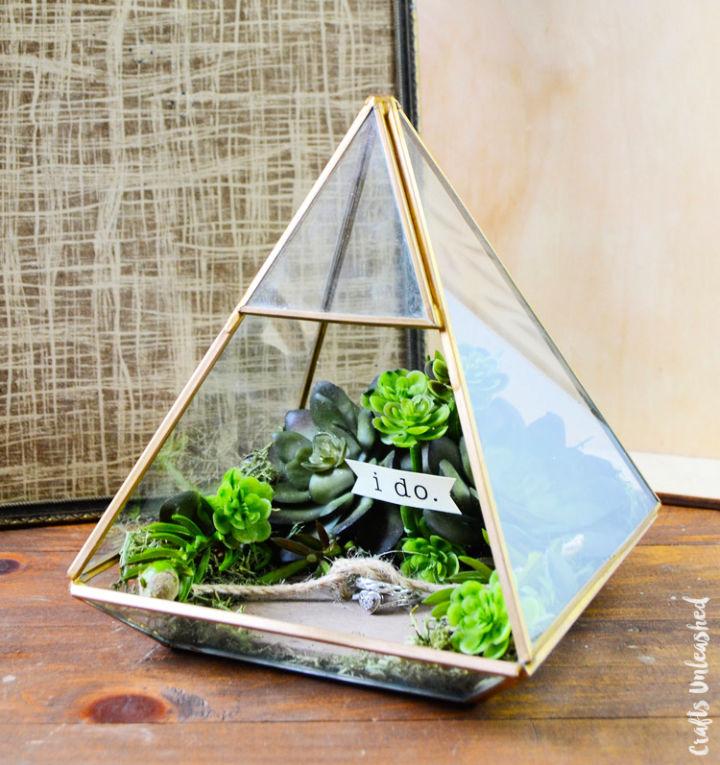 Make this unusual terrarium wedding ring box to make your moments rememberable. This is easy to make with super simple things you can find anywhere. Use a gold pyramid terrarium and make a wooden base in it. Then it's time to place faux succulents in it. After this print, I DO and adhere to it with a succulent stalk. Check details here! consumercrafts
8. Cool Engagement Ring Bowl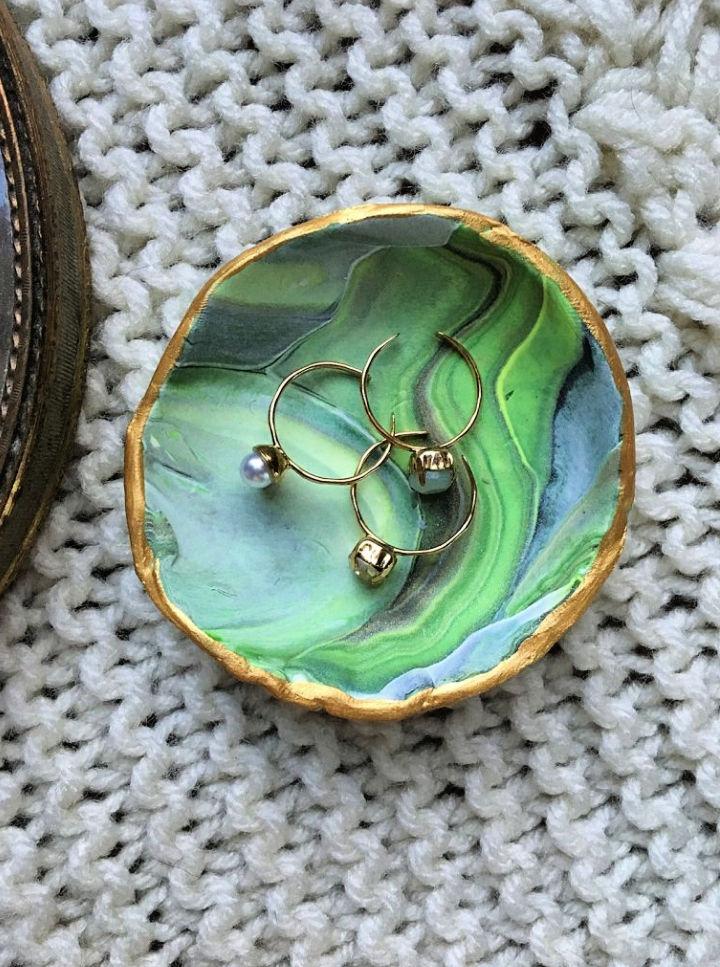 Create this cool engagement ring for yourself or someone you love. This is an easy and significant gift you can make in just moments. Super simple things are required for this. you need a bowl of size and shape you would like, clay in various colors, metallic gold or acrylic paint, paintbrushes and an oven to bake the bowl. Details here! hillcitybride
9. Cheap DIY Terrazzo Cheese Knives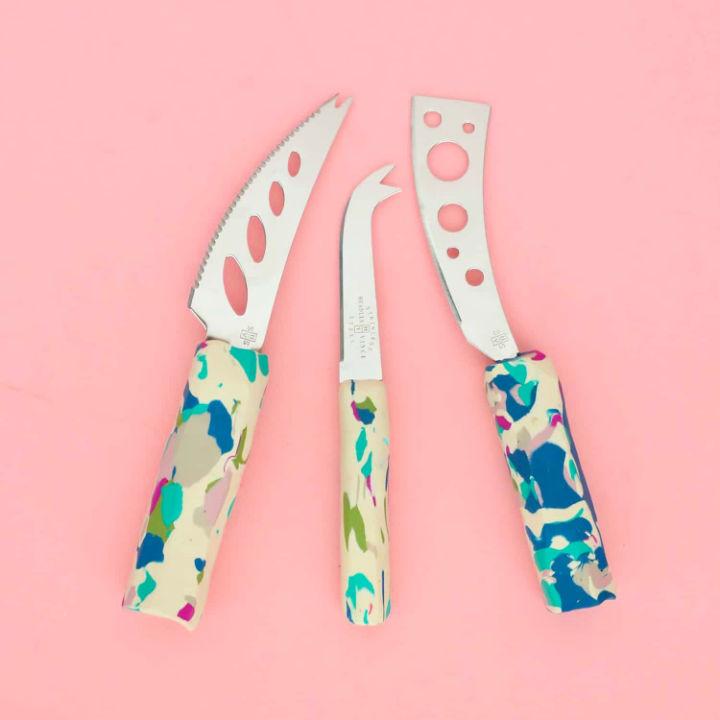 Here is the idea of making cheap DIY terrazzo cheese knives. This is so simple to make with super simple things. Not only are they cute, but also perfect for their function. What if these lovely knives are part of your beautiful cheese board? Yes, it will definitely give you a nice look. You will love to create this to match your d??cor. The basic stuff is cheese knife blanks, polymer clay and a baking sheet. Here are the details! abeautifulmess
10. Just Married Door Mat for Newlyweds

Looking for an adorable idea for newlyweds? Just a married doormat is the best can be the best idea for this. This is such an easy craft to make with super simple things. You need a doormat and spray paint of various colors to provide the look you want. Other supplies are crystal cleat protective coats, a circuit machine, card stock tape and newspaper. bespoke bride
11. Personalized Wedding Gift Tray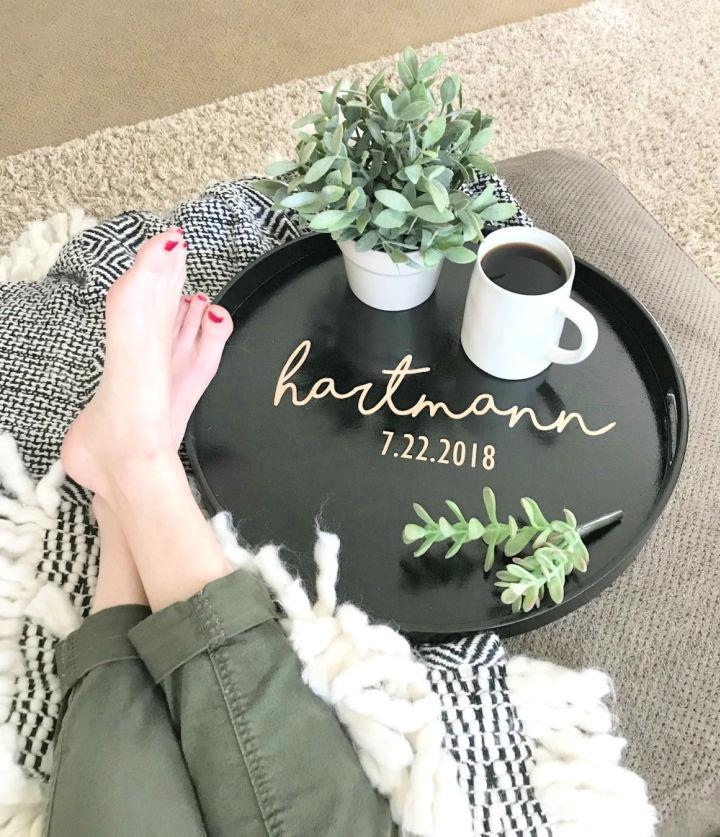 Need an idea to make a special wedding gift for a newly married couple? This is the best idea to commemorate the big day with this personalized wedding gift tray. Make this personalized tray with a name, date monogram. These would be the best keepsakes to be enjoyed every year. See a detailed list of supplies here! rachelteodoro
12. DIY Wood Cutting Board Wall Art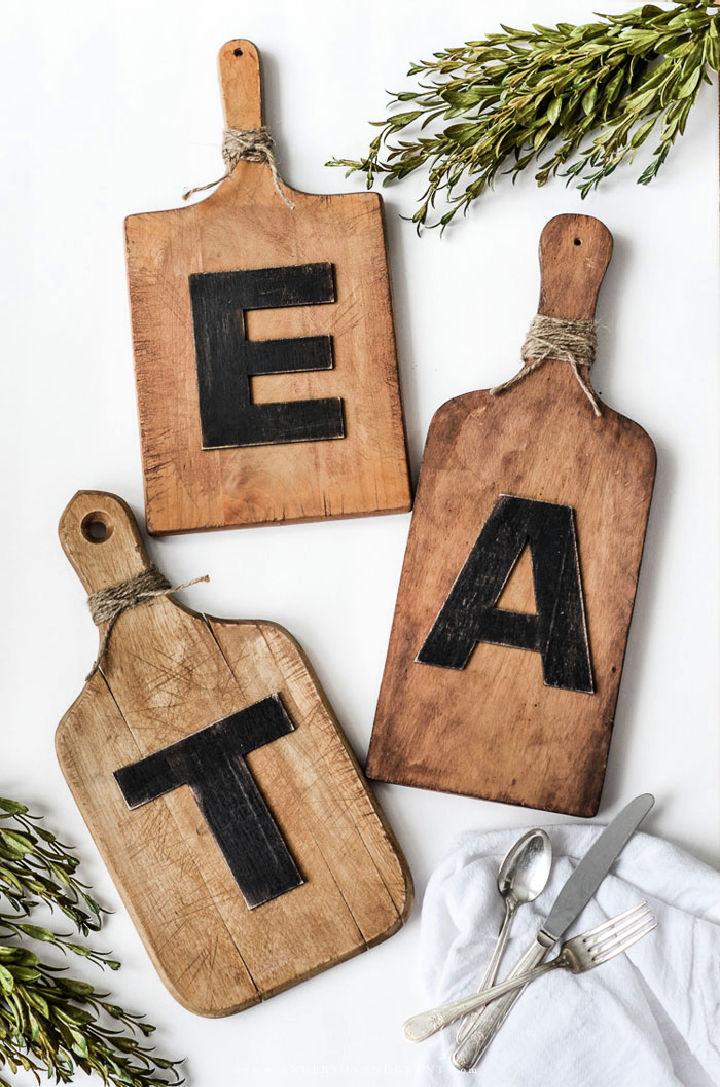 Here is an awesome idea to give your walls a completely new look. DIY wood cutting board wall art is so simple to make in a short time and short budget. You need some wood boards and cut them in the shape you want. You can stain the boards and color the letters you want. Glue the letter onto the boards. To finish this, just wrap twine around the neck to board, and that's it. Details here! andersonandgrant
13. Cute DIY Serving Utensils and Bakers Gift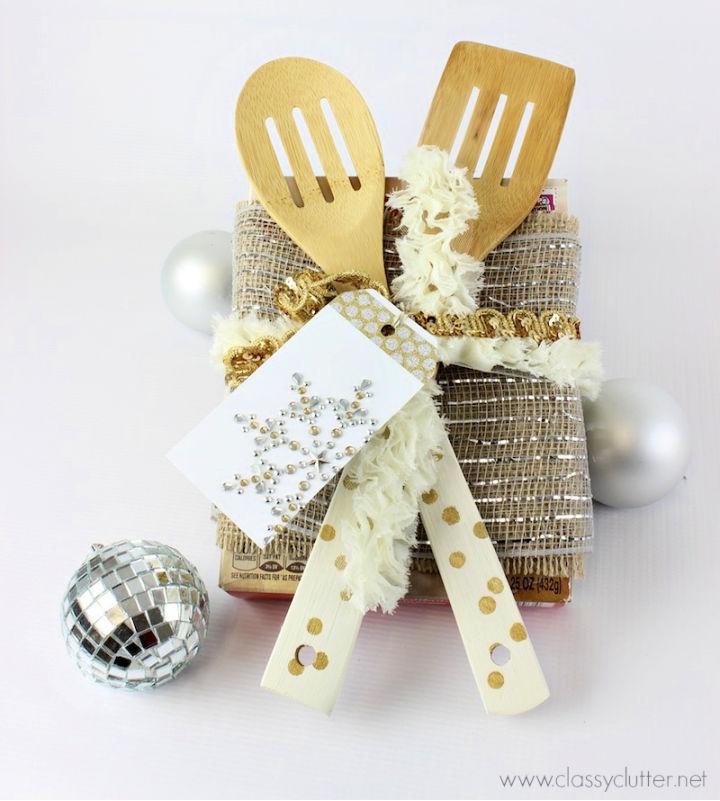 Make this cute DIY serving utensils and baker gift for your loved ones. This is so simple to make with super simple things. You need bamboo utensils and paint them as you want. You can use some gift wraps and cards for embellishment. Supplies are 2 bamboo serving utensils, acrylic paint, painter's tape, gift wraps and other embellishments. See details here! classyclutter
14. Chunky Wooden Bead Statement Necklace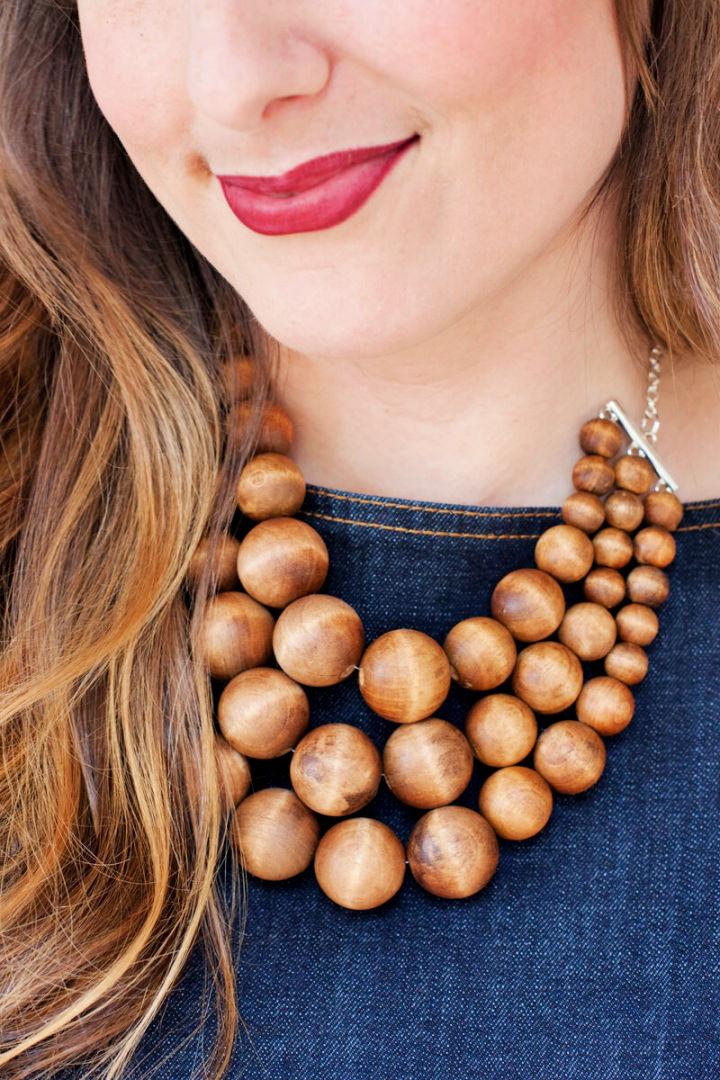 Looking for an idea to make an adorable statement necklace? Make this chunky wooden bead statement necklace. This is so simple to make, and it's really eye-catching. You need some wooden beads of various sizes and string them onto the nylon filament. After this, you need to tie a knot at the end. You can make rings of your choice and done. More details are here! abeautifulmess
15. DIY Mason Jar Bride and Groom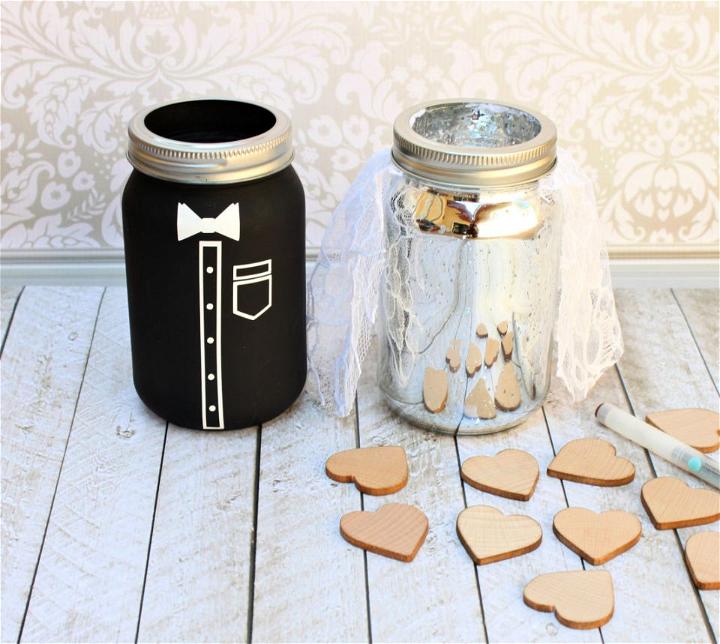 Looking for an idea to create something new instead of an old traditional wedding guest book? Make this DIY Mason jar for bride and groom, which is perfect and beautiful for this. Every guest can sign on the wood heart pieces and drop them into these lovely jars. Needed stuff is a wooden sign of Mr. and Mrs. Plaque, one black finish and one mercury finish mason jar, wood heart pieces and sprays paint. Details here! morenascorner
16. Rustic Candle Holder Wedding Centerpieces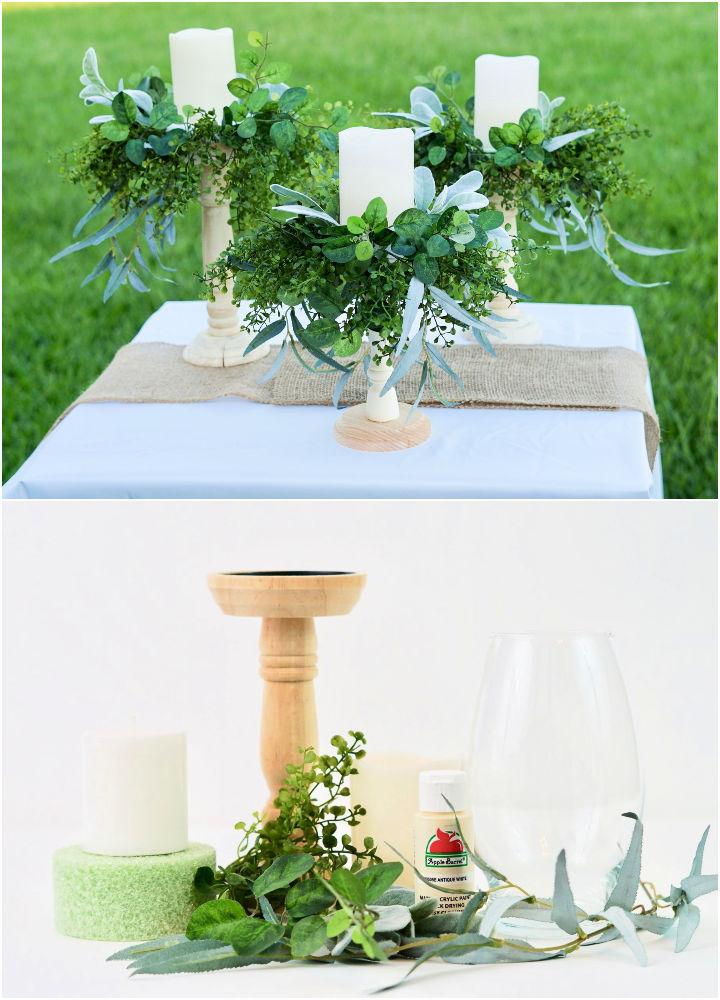 This is the best idea to add something new and impressive to the wedding tables. You can go with this lovely rustic candle holder, perfect for the display of your table. This is simple to make without breaking the bank. You need to rustic candle holders and decorate them with mini leave bushes. Is this the amazing centerpiece? Of course, yes. See the details of supplies here! missplanit
17. Make a DIY Photo Cube for Wedding Gift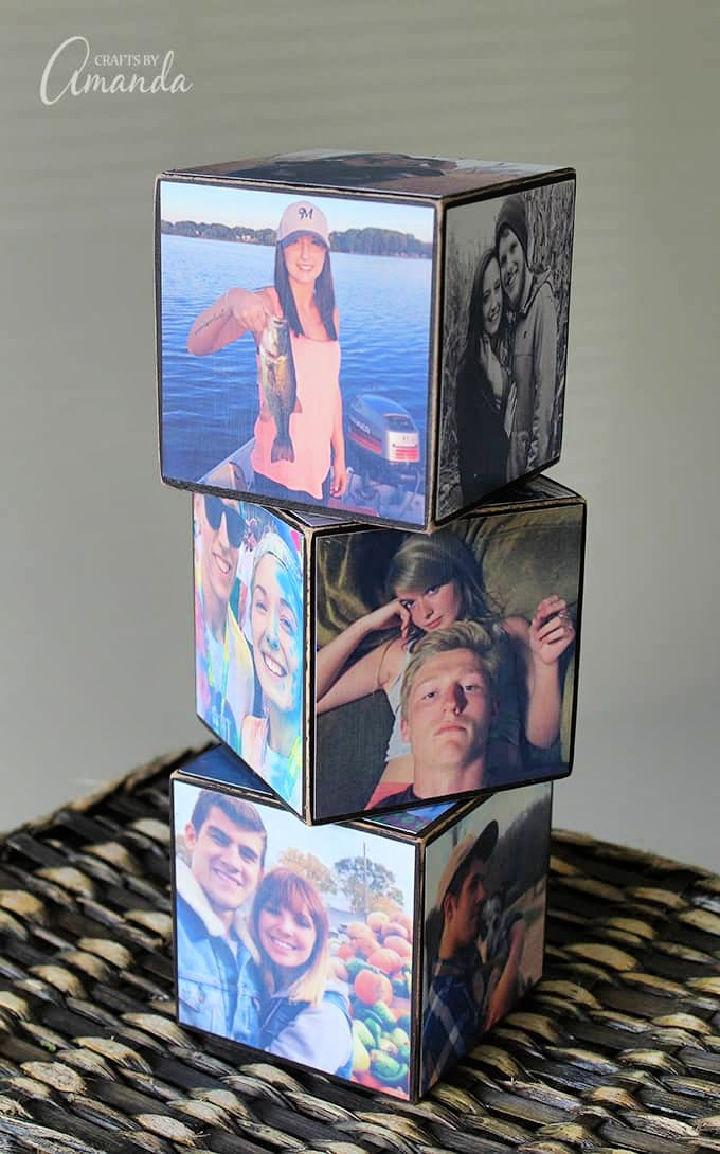 Here is the idea to make a photo cube for the wedding. This is an easy photo craft with no budget. It's also a perfect personalized gift for birthdays and anniversaries. Definitely, you need some pictures for this first. Pick some wood blocks and paint them with the color you want. Finally, attach the pictures, and it's done. Other supplies are paint, sandpaper, and paintbrush. Details here! craftsbyamanda
18. Fun DIY Wedding Countdown Blocks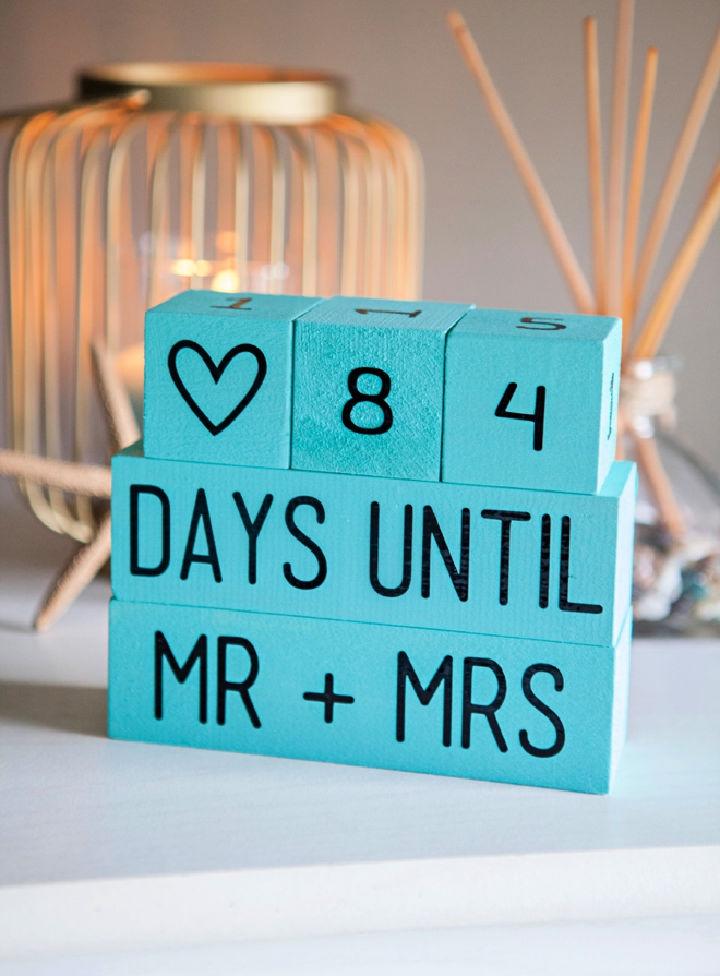 Planning for your big day should be the most special time of your entire life. You can make this even more special by making these lovely countdown blocks. This will remind you of the days left, and you should speed up to get all your required things. Some basic supplies are wood blocks, craft paint, paintbrushes, pencil and waxed paper. Check out more details here! somethingturquoise
19. Homemade Elegant Ring Pillow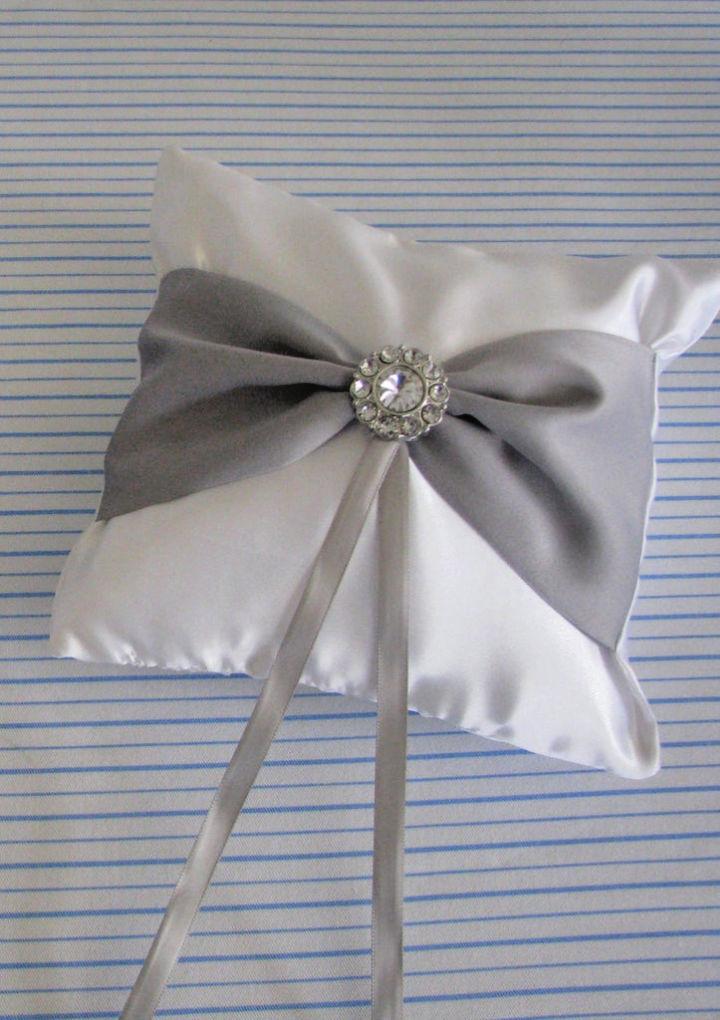 Are you getting married nearly? This will help you to make your special day more special with this homemade elegant pillow. This is so simple to make in a short time. Cut the fabric and prepare the center band. After this, sew this into the center of the white fabric and then sew it all together. Stuff the pillow and attach the button and ribbons. Finally, tie the rings onto the ribbon. Details here! instructables
20. Affordable DIY Wedding Clock Guest Book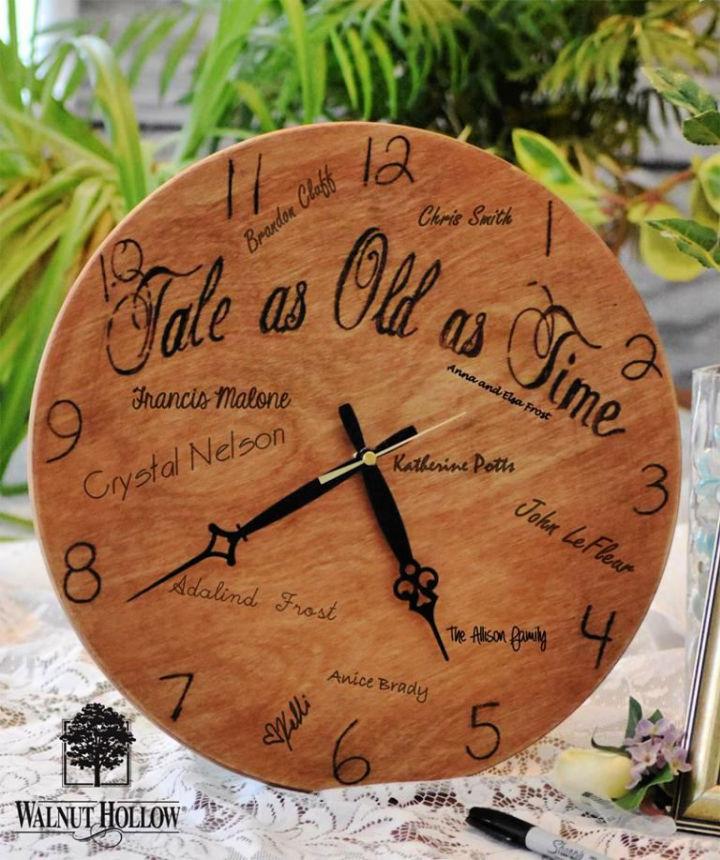 Wondering for something new for the wedding guest book? You are going to love this DIIY wedding clock guest book. This is easy to make and really affordable. Guest can sign onto this clock guest book, and it's a perfect keepsake for newly married couples that could be hung on a wall and cherish forever. Supplies are walnut hollow gallery clock surface, clock movement kit, clock hands, wood stain and pencil. walnuthollowcrafts
21. DIY Cocoa Mug Wedding Favor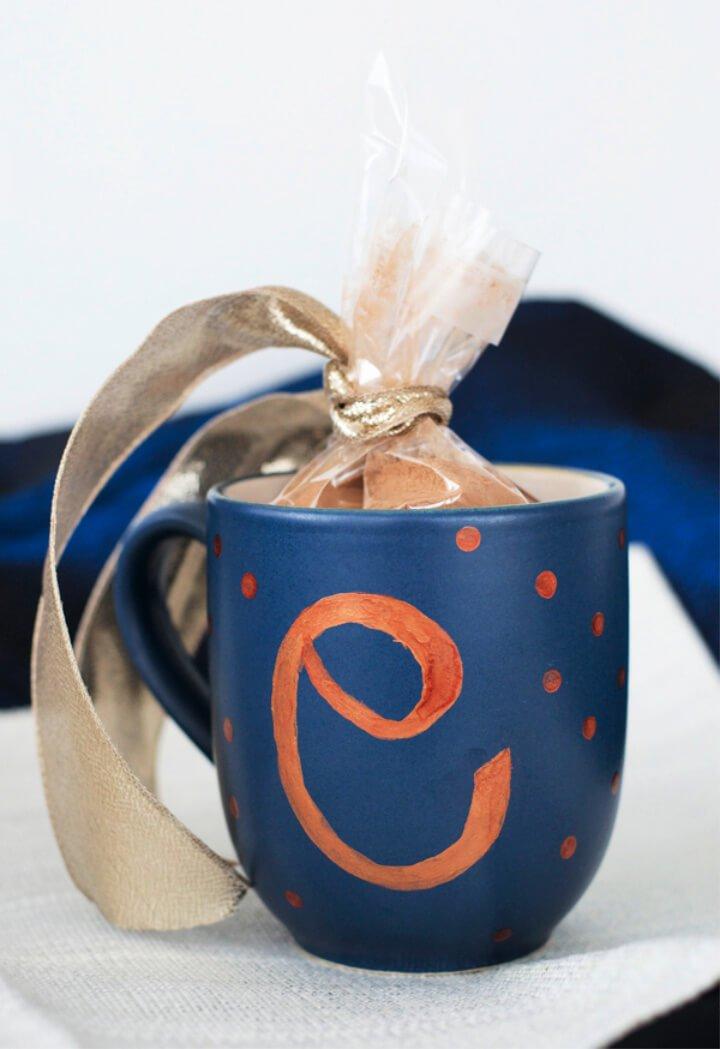 This is the best idea to thanks your wedding guests at your reception. Making this DIY cocoa mug wedding favors is so much fun without breaking the bank. Sketch your letter on the mug and make polka dots with q tips. After they dry, fill them with cellophane bags and tie them with a fabric ribbon. See the detailed list of supplies here! wedpics
22. Personalized Wedding Coasters for Friends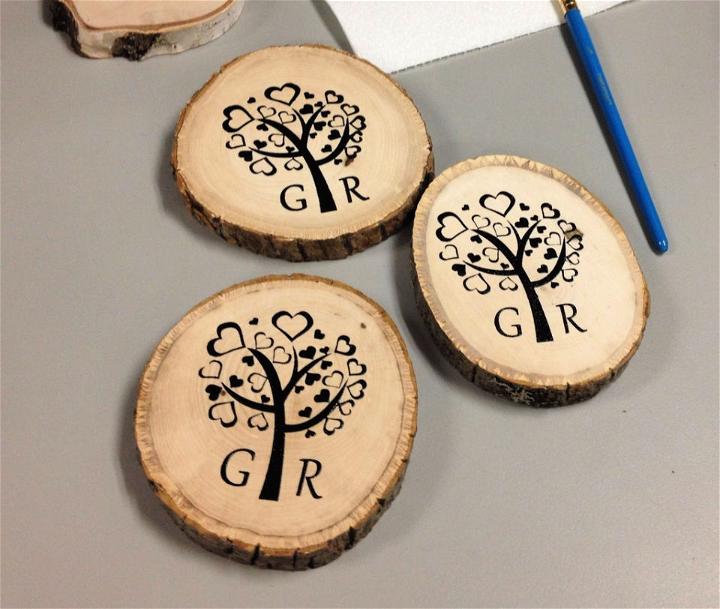 Looking for wedding gift ideas? You will be going to love these little coasters for your friend's wedding. This is simple to make with a small budget. It's a personalized and special way to show your love. For this, you need small wood pieces and some printable images. You can see the details of supplies here! instructables
23. How to Make Sapphire Chandelier Drop Earrings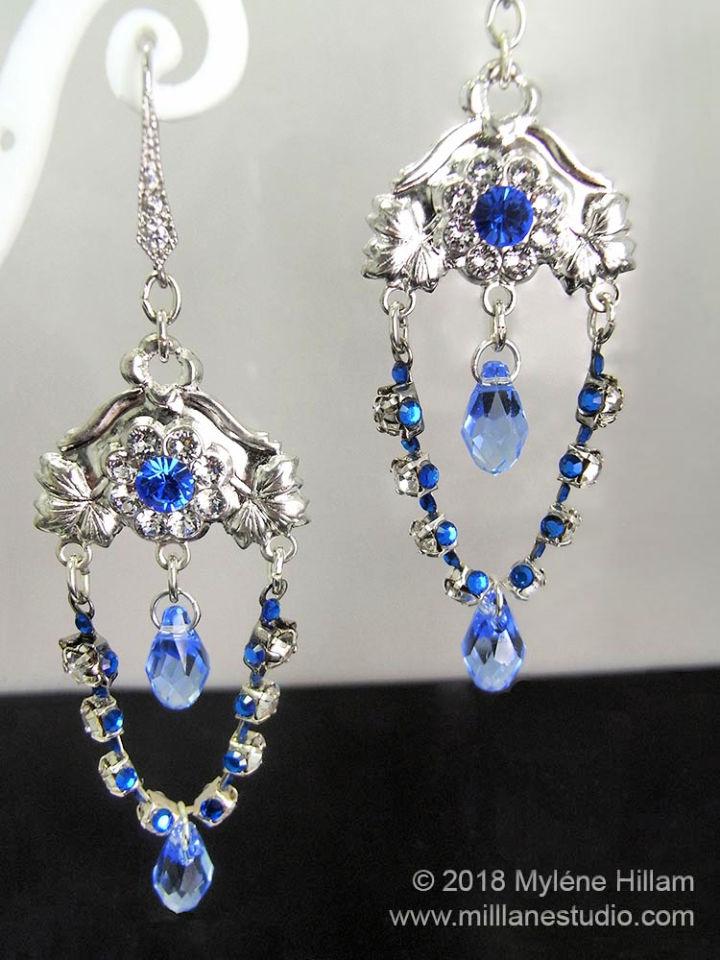 Admiring to look some extra beautiful? make these lovely sapphire chandelier drop earrings. This will provide you a million-dollar look by spending just pennies of dollars. You can see all the eyes staring at your gorgeous earrings. You need some supplies like chatons, sapphire and crystal, silver stamping, silver jump rings and toothpicks. See a detailed list of supplies here! milllanestudio
24. Thoughtful Vintage Window Wedding Sign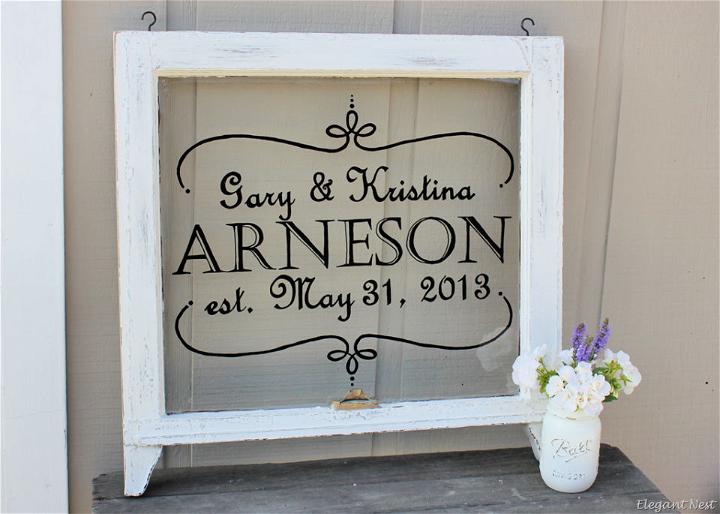 Make this gorgeous sign the perfect wedding gift or the d??cor and enjoy vintage wedding vibes for your spaces. You need a salvaged wooden frame and textured glass to work up this lovely wedding sign on your own. The glass is written off with the name of the couple and the wedding date. Check out the details here! elegantnest
25. Last Minute DIY Wedding Card Box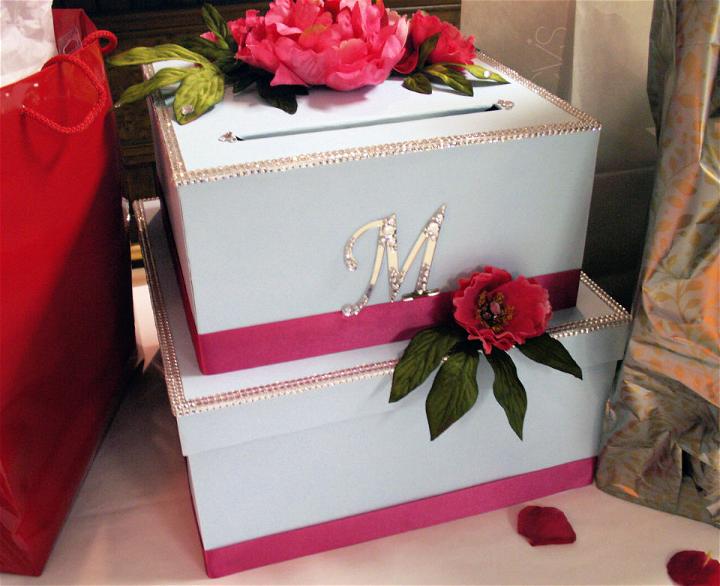 These gorgeous and intimate last-minute wedding card boxes are the best things to make and deliver your cards most beautifully. The lovely card boxes are adorned with the name of the bride or groom's initial letter, flowers and rhinestones. The idea is quite fun to work up but needs a little big list of the supplies to work it up. Details of the idea!
Frequently Asked Questions:
After checking our guide to awesome DIY wedding gifts for the bride and groom, learn about materials, budgets and more with these frequently asked questions. Get inspired and make their big day even more special!
What to make for a wedding gift?
If you're looking for a creative wedding gift with a personal touch, why not try making something yourself? DIY wedding gifts are thoughtful and creative and can be tailored to the couple's special day. Consider handmade decorations, an artisanal food item or even a homemade scrapbook of wedding memories! With some imagination and creativity, you can create a wedding gift that will truly be cherished.
What is an inexpensive wedding gift?
A wedding gift doesn't have to break the bank. Consider making a homemade or DIY present such as framed wedding photos, cross-stitched art, or personalized mugs. These can be thoughtful gifts that are both budget-friendly and memorable. Get creative and make something special for the happy couple!
What is the best gift for a newly married couple?
A wedding gift should be personal and meaningful. A great way to make it so is by creating a DIY project from scratch or giving something homemade. This will show the couple how much you care and provide a unique, special wedding gift they will cherish for many years.
What to send when you can't make it a wedding?
When you can't make it to a wedding, sending a heartfelt card with a meaningful message and gift will show the couple that your thoughts are with them even though you can't be physically present. Make sure to pick something special that reminds them of your bond. Consider making a homemade wedding gift or DIY-ing something meaningful to give them an extra special touch.
What is a rule of thumb for wedding gifts?
A general rule of thumb for wedding gifts is to give something that the couple would appreciate and use. Consider what they have registered for, their lifestyle, and their budget when selecting a gift. Personalized items or handmade gifts are always appreciated as well. Ultimately, your best bet is to choose something meaningful that speaks to the couple's unique relationship.
How much money should you give as a wedding gift?
It depends on your relationship with the couple and your budget. Generally, it is considerate to give a gift equal in value to one plate at the wedding reception or $50-$250. However, you can give more if you are closer and have a higher budget. Ultimately, choose something that fits your means and expresses your love and support for the couple.
What is a generous gift for a wedding?
A simple wedding gift is a great way to show your love and appreciation for the couple. A homemade and thoughtful present, like a DIY memento or trinket, can be an incredibly meaningful wedding gift. If you're feeling creative, why not create a handmade quilt or picture frame as a heartfelt wedding gift that will be cherished forever? Whatever wedding gift you choose, make sure it is made with love and care.
What do you put in a wedding night gift basket?
A wedding night gift basket can be filled with anything the couple would enjoy. It could include homemade items like cookies, chocolates, and jams; DIY crafts such as wedding decorations or personalized home decor; and some wedding accessories like a wedding album or champagne flutes. With a handmade gift basket, you'll have the perfect wedding night gift for the newly married couple.
What can you give instead of a gift basket?
If a gift basket isn't something you can give, consider alternatives such as making a personalized box of goodies or creating your own care package. Instead of pre-made items, fill the boxes with meaningful and heartfelt items. You can also offer experiences like tickets to an event or vouchers for a nice dinner out. Any of these options is sure to make the recipient feel special.
Alternatively, why not give a custom-made gift if you know what the person likes? For a wedding gift, consider making something homemade or DIY. This could be an artwork, recipe book, photo album, or anything else that captures the couple's special memories and celebrates their union. Homemade gifts are unique and can show your thoughtfulness. Plus, they have the added benefit of being more affordable than store-bought gifts!
What is a good wedding gift amount if not attending?
It is only necessary to give a gift if you are able to attend the wedding. However, if you still wish to show your support, a thoughtful card with a small token of appreciation, such as flowers or an online gift, could be a meaningful option. As a general rule of thumb, the amount should reflect what you would spend on a gift if you were attending the wedding.
How much money should you give for a wedding gift in 2023?
The traditional amount for a wedding gift in 2023 is typically between $50 to $250, depending on your relationship with the couple. If you're closer to the couple, feel free to give more. The most important thing is that your gift comes from the heart and shows that you care about their special day.
It's also important to remember that wedding gifts are not mandatory, so if you aren't able to give money, consider a thoughtful gesture instead. Whatever you choose, the couple will surely appreciate it!
Related DIY Gift Ideas
DIY Anniversary Gifts: Make your anniversary extra special with these unique DIY anniversary gifts that will help you create a homemade gift tailored just for him or her.
DIY Anniversary Cards: Celebrate your special day with amazing DIY anniversary card ideas to make a special card that expresses your love for the one you adore.
Baby Shower Gifts: Find the perfect baby shower gift! Check out our amazing DIY baby shower gifts that you can make with love. Let's get crafting from cute nursery decor to creative mementos and much more!
DIY Graduation Gifts: Show your appreciation for the grad in your life with one of these inexpensive DIY graduation gift ideas to make something special that won't break the bank.
Free Printable Gift Tags: Make your gift-giving extra special with our free printable gift tags to add that perfect finishing touch to any present!
Related DIY Gift Ideas:
Find the perfect DIY gift for everyone on your list. Get creative with these easy and budget-friendly homemade gift ideas that will leave a lasting impression.
Conclusion: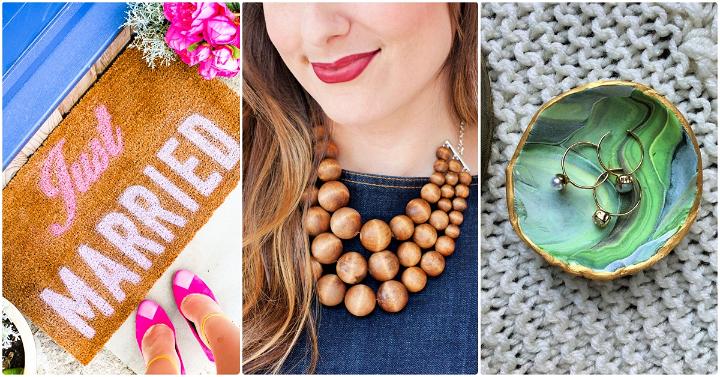 Alright, now that you have gone through this amazing list of diy wedding gifts, we hope they have inspired you to create some. It is best to show off your craftsman skills by gifting these chic wedding presents to the newlywed couple. It is a great way for both passionate crafters and beginners to explore new options and grow. Moreover, registry gifts, cards, and financial contributions are now old-school, so why not jump on to the trend of handmade wedding gifts to celebrate this joyful occasion through a unique and personalized expression? Go grab the supplies, and let's go!