Making homemade gifts for dad is a great way to show Dad how much you care about Father's Day. From practical and functional items to thoughtful keepsakes, there are a variety of handmade DIY father's day gifts customized just for him. This list of 40 last-minute DIY gifts for dad, like personal photo frames, engraved cutting boards, or keychains, can make this special holiday extra meaningful and give your father something he will cherish for years to come. It takes a little time and creativity, and the perfect homemade gifts can be yours! It doesn't have to be hard with the right supplies and step by step instructions!
Show dad you care this Father's Day with personalized and thoughtful diy dad gifts. Whether you're looking for something homemade and easy, or something more creative and fun, we've 40 unique and creative handmade father's day gifts to make dad feel special. From useful items such as homemade wallets and personalized mugs to unique handmade cards and decorative picture frames, you'll be sure to find the perfect diy father's day gifts that will create happy memories that your dad won't forget. Get inspired this Father's Day with these creative and memorable last minute diy father's day gifts.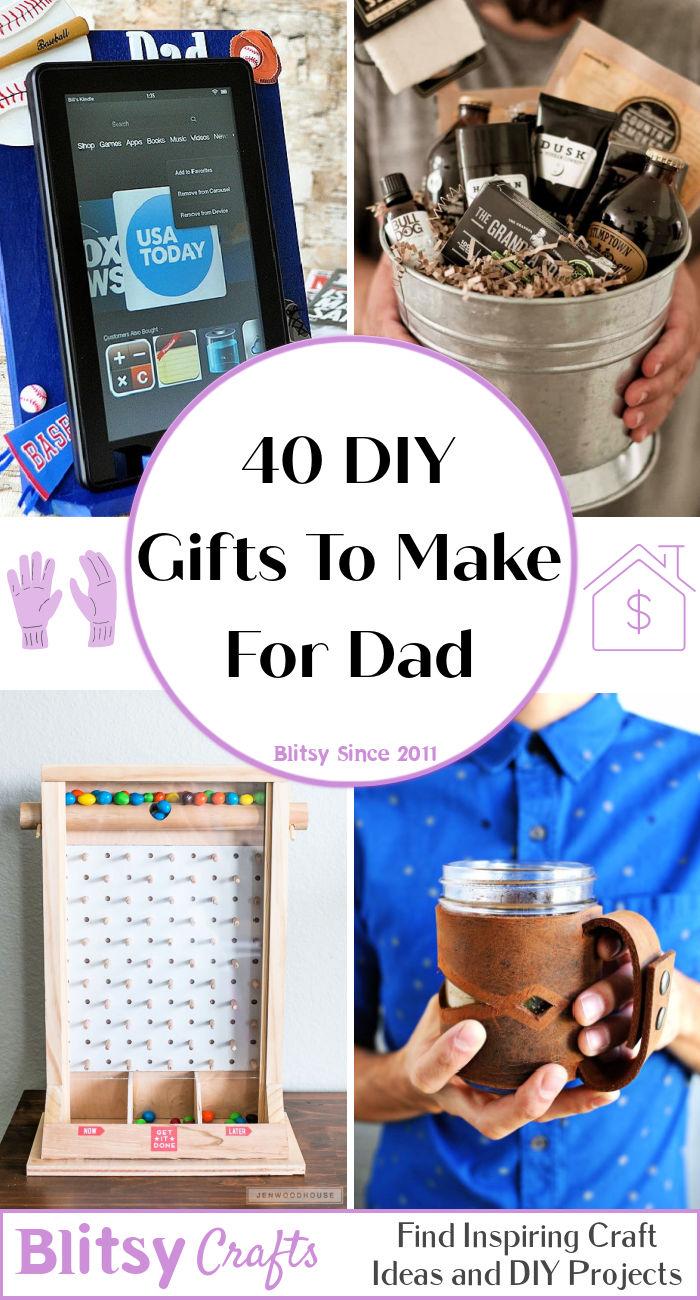 Last Minute DIY Gifts for Dad (Homemade DIY Father's Day Gifts)
Celebrate Father's Day with a special handmade gift showing Dad how much you appreciate him! Crafting DIY gifts for dad is the best way to ensure your presents reflect his unique personality and style.
Create memorable homemade gifts for dad with these 40 DIY Father's Day gift ideas. Whether you are looking for last minute Father's day presents, or want to surprise your dad on his birthday with thoughtful handmade gifts, we've got you covered!
You'll find easy DIY Father's Day Gifts with step-by-step instructions that will make even the pickiest of fathers smile. Make sure he knows just how much you care by crafting one of these clever DIY father's day gifts that surely won't be forgotten any time soon.
How to choose meaningful DIY gifts for dad?
With Father's Day 2023 quickly approaching, DIY gifts are a great way to show your appreciation for dad. With so many options available, it can be difficult to decide what kind of unique gift you should give him. To make it easier, look at this list of 40 last minute diy Father's Day gifts! You can find an array of meaningful and one-of-a-kind gifts that your dad will surely appreciate. From customized drinking glasses and grilling accessories to personalized picture frames, these diy father's day gifts provide the perfect balance of thoughtfulness and craftsmanship. Get creative and make your DIY Father's Day gifts today!
1. DIY Photo Frame for Father's Day Gifts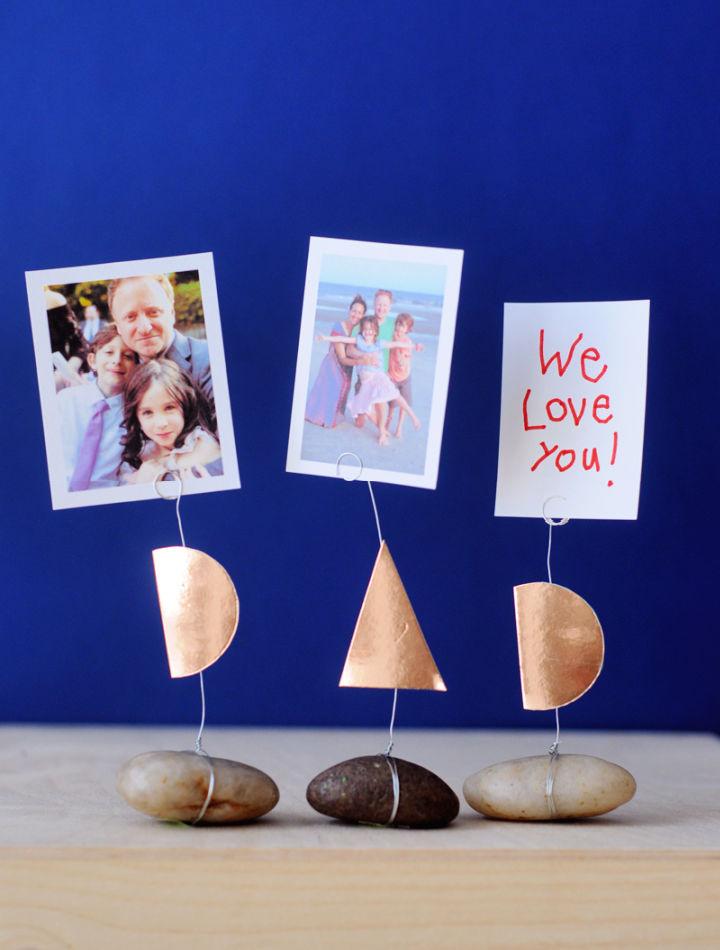 Father's day is around the corner, and you are not sure what to gift your dad? No problem, we've got you covered! Get crafty and make this simplistic but thoughtful photo frame that he can put upon his work desk to remind him of how much you love him constantly. The supplies needed for this project are a metal mash-up craft kit, scissors, scrap paper, rocks, small photos or notes, a pencil, and a wire cutter. projectkid
2. Leather Blanket Carrier for Dad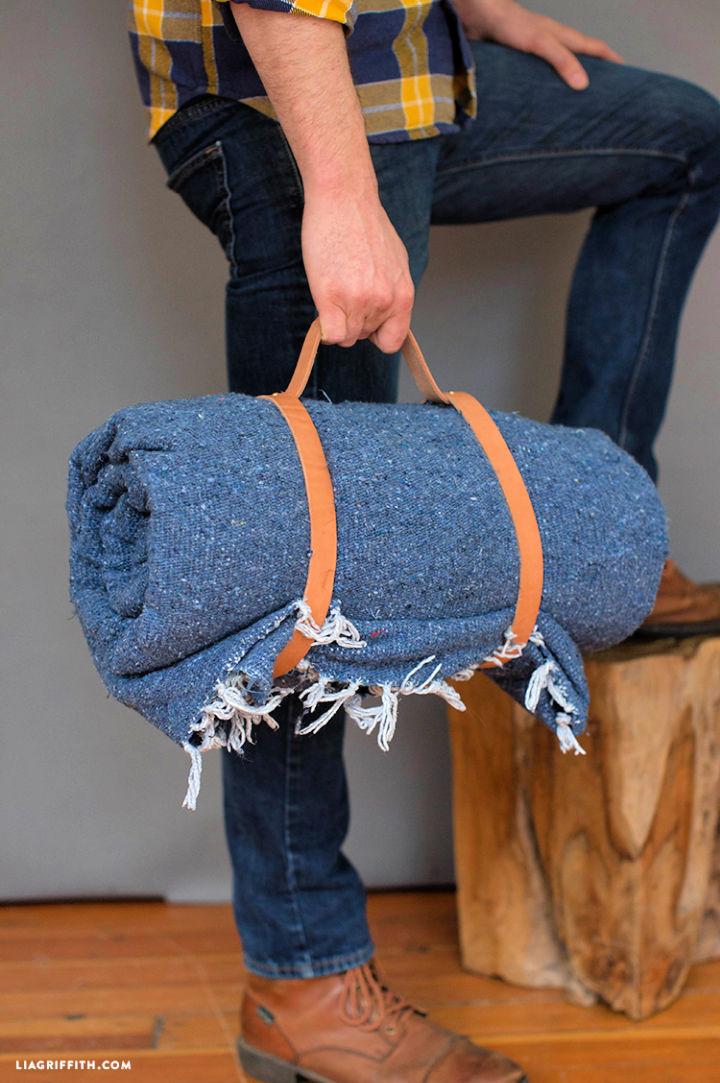 Remind your dad of his outdoorsman spirit by making this leather blanket carrier. It is perfect and quite useful for camping and picnics outdoors. Moreover, it is very easy to make and does not require many supplies or tools apart from scissors, leather hole punch, leather, button stud rivets, and a blanket. liagriffith
3. Handmade Dad Rocks Frame Gift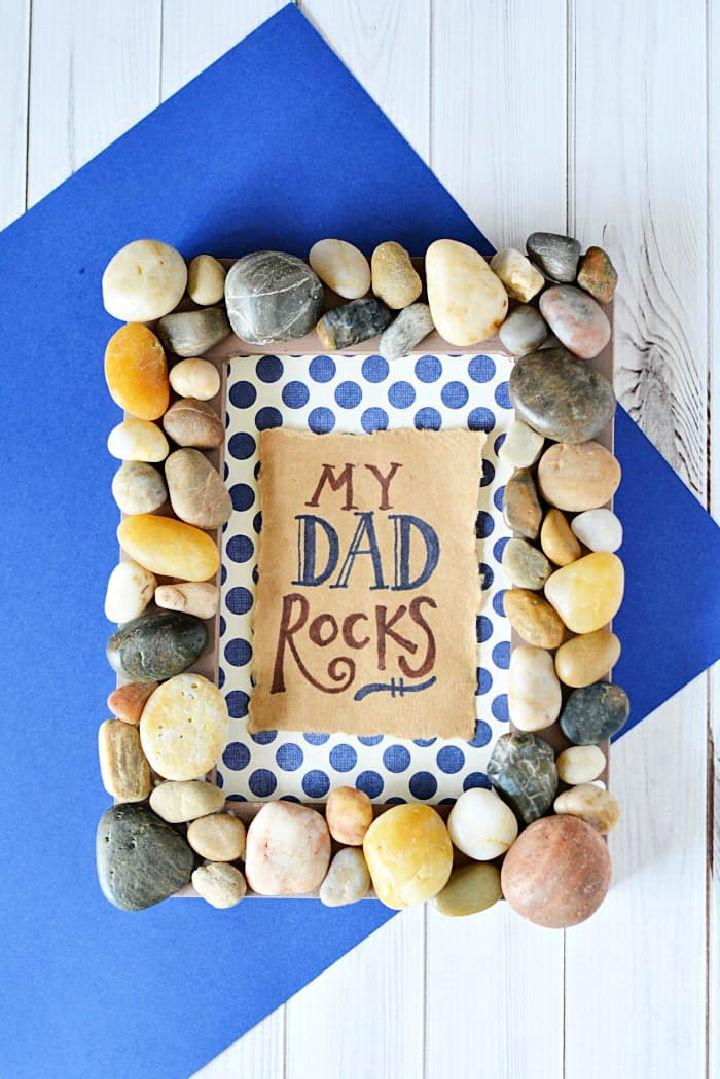 Create this budget-friendly My dad rocks frame using rocks! Sounds fun, right? This DIY gift for dad is very easy to make, which your dad can proudly display on his work desk. Additionally, this project can easily be completed with supplies from a local dollar store, including a wood picture frame, acrylic paint, paintbrush, tacky glue, decorative rocks, scrapbook paper, markers, and a brown paper bag. mommymoment
4. Ereader Holder Gift for Dad

Make your dad's e-reading experience more fun and easier by making this wonderful e-reader holder. This holder is convenient and a much better alternative to the expensive holders you buy from stores, plus handmade craft is always better for a gift, right? Assemble supplies like craft store wooden frame, wood glue, spray paint, small wood blocks, hobby wood, hand saw, pencil, stickers, decorations, and pictures. cleverlyinspired
5. Denim DIY Sunglasses Case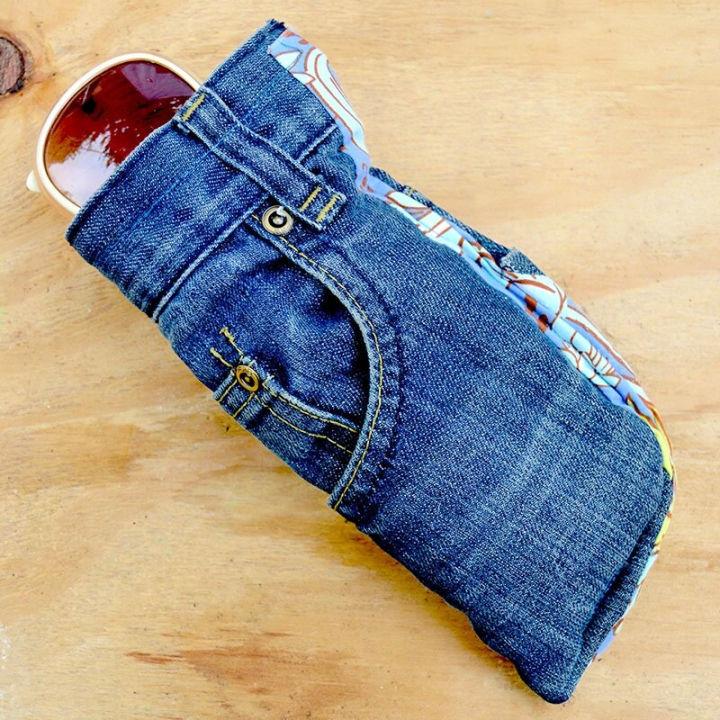 If your dad complains about his sunglasses being damaged a lot, then without any further delay, make him this super cool denim DIY sunglasses case. The upcycled project is useful as it does not require much money! Additionally, we need materials including old jeans, linin fabric, very thin wadding/batting, cotton thread, a sewing machine, pen, pins, a round cup/bowl, and scissors. pillarboxblue
6. Kids Scribble Origami Bowtie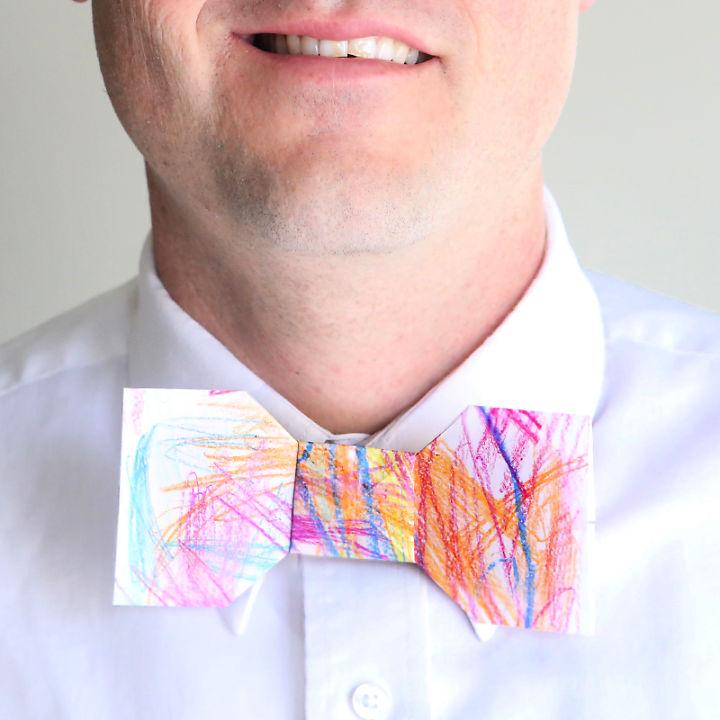 Now you can turn your child's artwork into a gift too! Super amazing, right? This kid's scribble origami bowtie is a super cute and unique idea. All you need is origami made from simple white paper and crayons to color the bowties once they are made! itsalwaysautumn
7. Handmade Garden Toolbox for Father's Day Gifts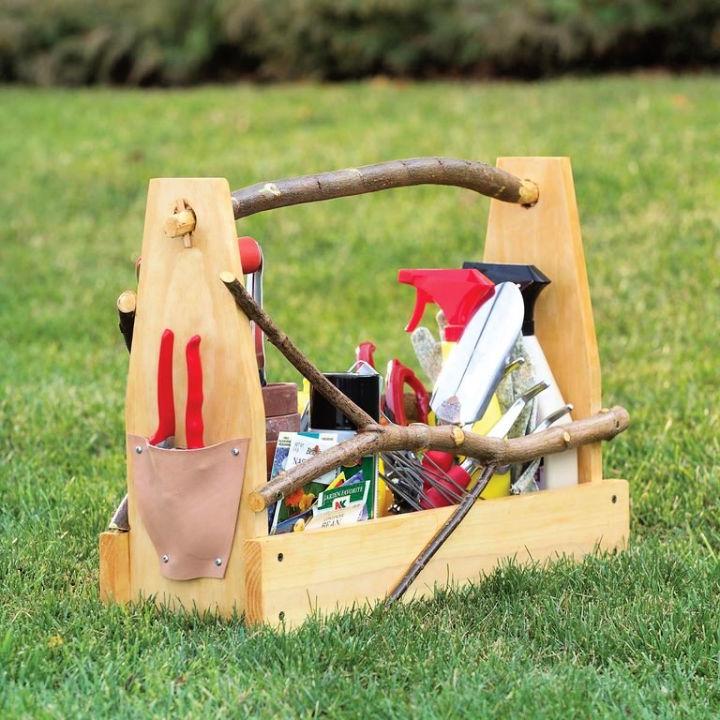 Gift your crafty dad this handy garden toolbox that can hold all the small garden tools for him along with being strong but light. It is a very easy project that can be completed in just a couple of hours. Moreover, its natural charm comes from the branches used to make handles that look super cool and amazing. For this project, you need supplies including deck screws, wooden dowel, pine or cedar, tree branch, circular saw, countersink drill bit, glue, hammer, drill, and utility knife. familyhandyman
8. Leather Mason Jar Mug Coozie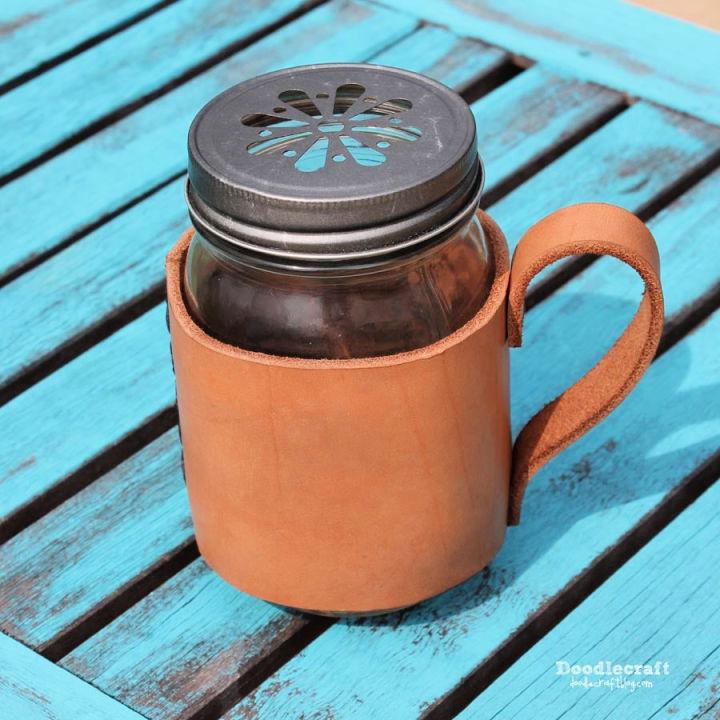 If your dad loves coffee or tea, then this is the perfect gift for him! Turn any of the mason jars into a rustic one with a leather mug coozie. It is ideal for summers when making barbeques on the patio and enjoying the weather. Your dad will surely love this piece with can be made with supplies like a mason jar, carving leather, rivets, cat gut thread, heavy needle, leather hole punch, hammer, and cutting mat. instructables
9. DIY Candy Dispenser Gift for Dad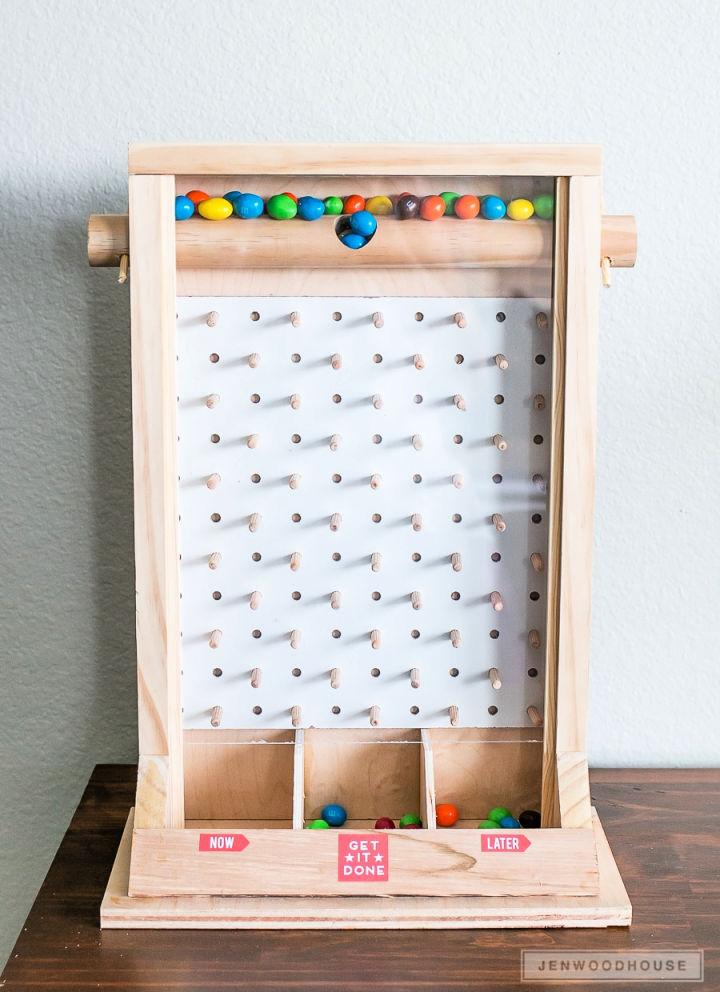 For a candy love dad, this candy dispenser is the best DIY gift ever! It's fun and quite interesting to make, which is not too difficult as well! This exciting DIY candy dispenser is made with supplies including plywood, glue, dowel pins, forstner bit, hinges, mallet, dad's favorite candy, etc. jenwoodhouse
10. Vintage Cocktail Stirrer Clock for Dad

Adding to the list of DIY gifts for dad, here is a mid-century modern-inspired vintage cocktail stirrer. Moreover, it has a clock in the center, so it also works as a nice piece of decor on the table too. This fun project is very easy to make, and the supplies include scrap piece, hole saw, drill, drill bit, sandpaper or sander, angle finder, pencil, 12 vintage cocktail stirrers, Dremel fit with cutting disk, hot glue, craft paint, and clock movement kit. mysocalledcrafty
11. Fathers Day Denim Gift Wrapping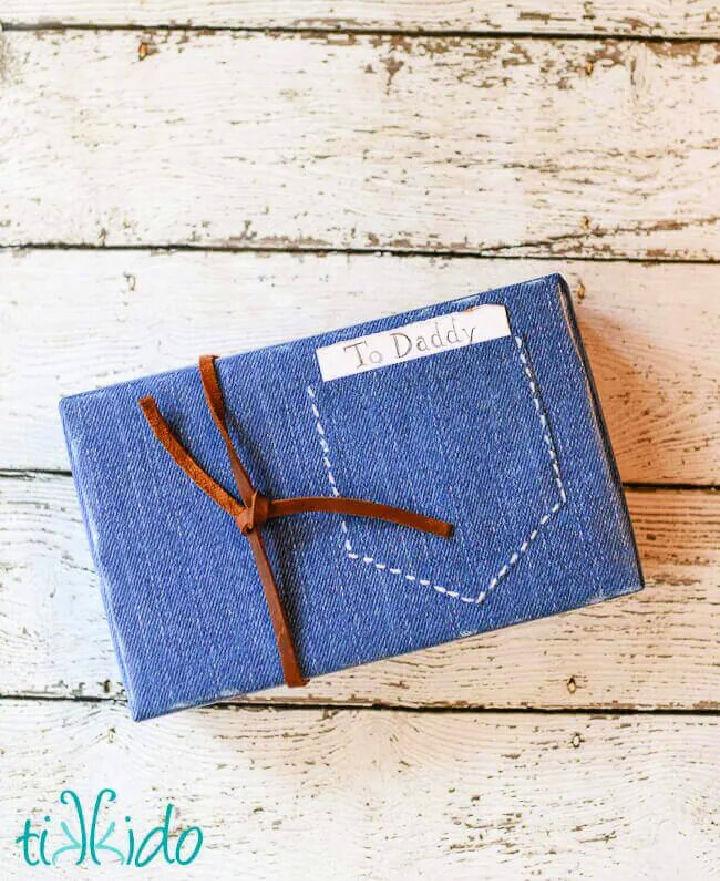 You might have heard of wearing denim jeans, but how much wrapping paper with a denim print? Sounds quite interesting, isn't it? This denim print wrapping paper can be used for a nice DIY gift for dad on his birthday or even Father's day! It is pretty creative and charming too! We are sure your dad is going to love this customized gift paper for himself. tikkido
12. Handprint Baseball Gift for Dad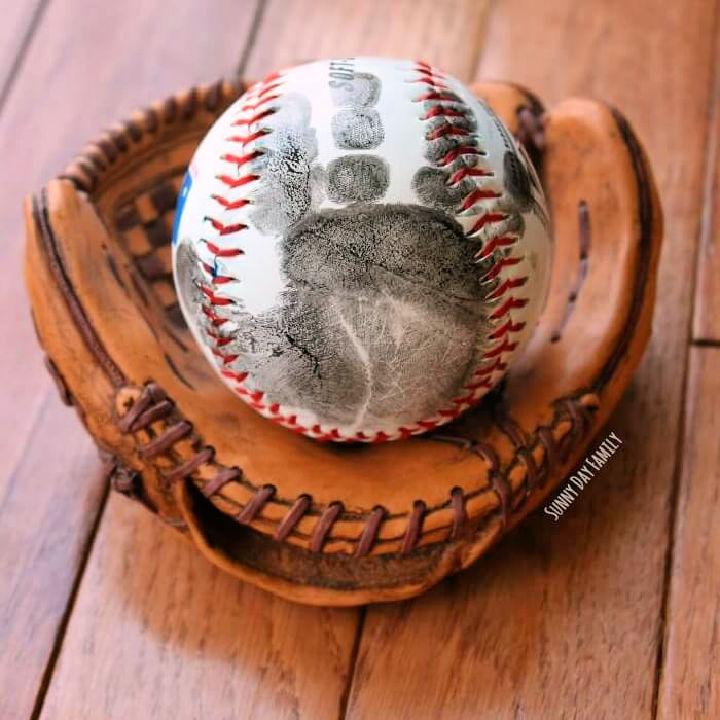 Capture memories and make them treasured with this super amazing idea which might also be a great DIY gift for dads! This handprint baseball keepsake craft will be one of the unique ways to bring back memories from certain days. It is effortless and a perfect last-minute gift. You just need to have a baseball, ink pad, and baseball stand for this project. sunnydayfamily
13. DIY Grill Set Utensil Station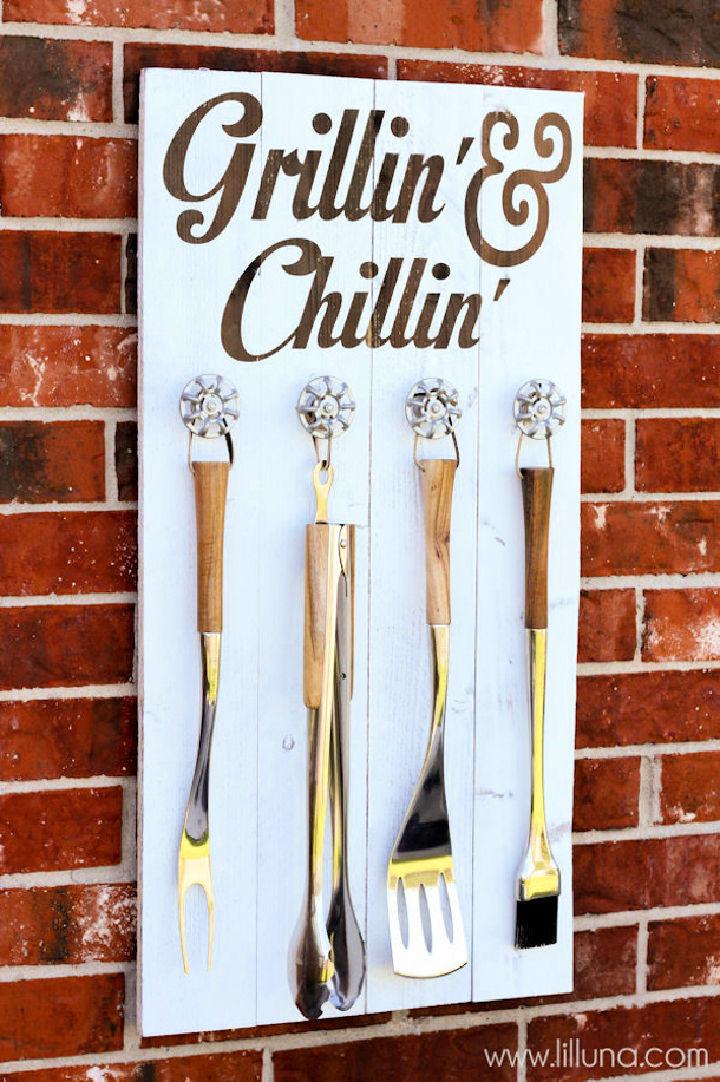 Every dad has his own grilling corner where they love to chill, making that place even better by creating this perfect project DIY grill set holder! It is pretty convenient and makes up a nice decor on the wall if you decide to hang it. Additionally, the supplies required for this are wood, paint, aging solution, screws, knobs, vinyl, spray polyurethane, and grill set. letsdiyitall
14. Slippers Gift Basket for Dad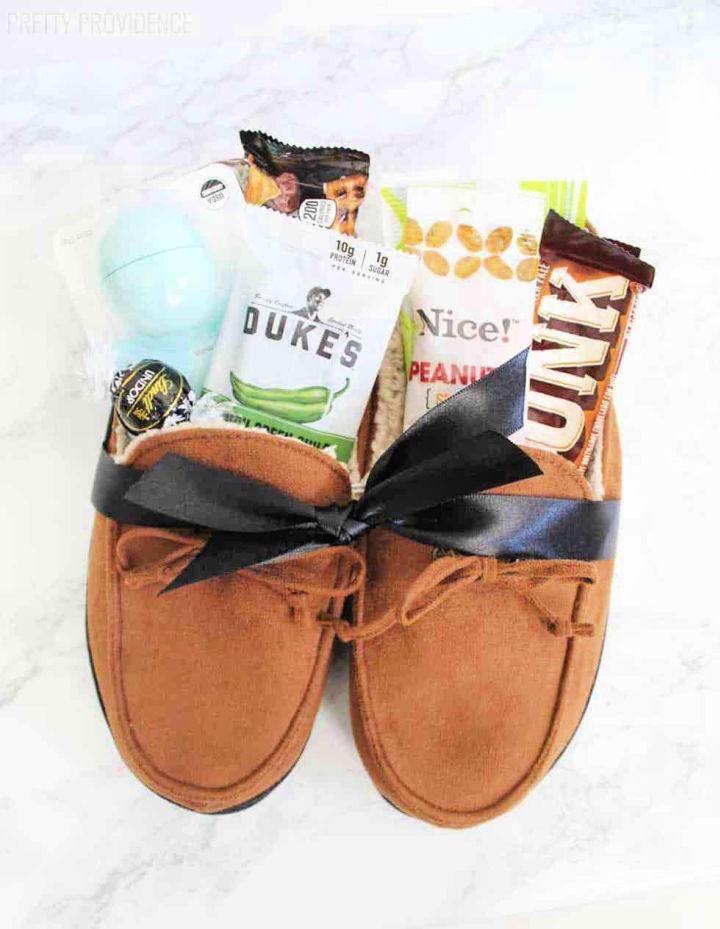 We are sure that it must be challenging for you to decide on a gift for your dad since men are not too much into gifts, so instead of buying something, why not get crafty and make a DIY gift for dad this year? A nice and cozy pair of slippers might be a great idea for a gift, but how about turning it into a gift basket? Yes, you heard it right! A slippers gift basket filled with his favorite treats and snacks! This fun idea is amazingly easy since you have to assemble things! prettyprovidence
15. DIY Gift Basket with Pop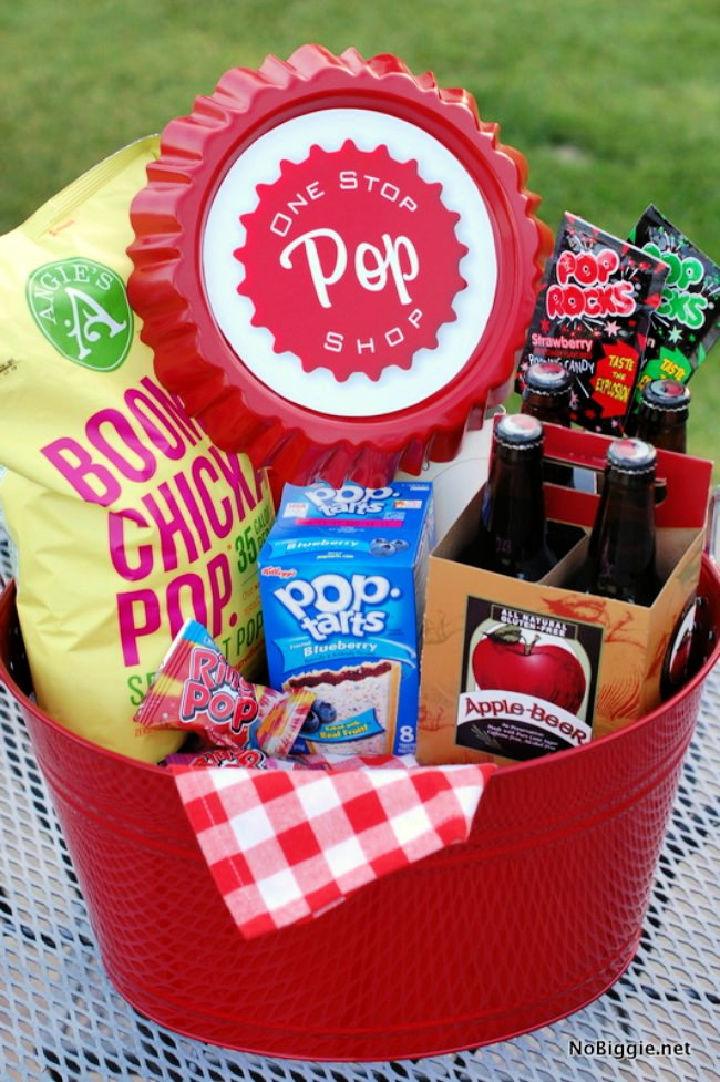 A one-stop pop shop for your wonderful pop! A funny but fascinating idea! Gift your dad a nice gift basket for his birthday this year by filling it up with foods that have the word "pop" in them, for example, popcorn, pop tarts, popsicles, cake pops, etc. This easy and interesting gift idea is also very easy to assemble since we have to get the supplies and place them in a nice basket to gift your dad. nobiggie
16. DIY Father's Day Gift Basket Ideas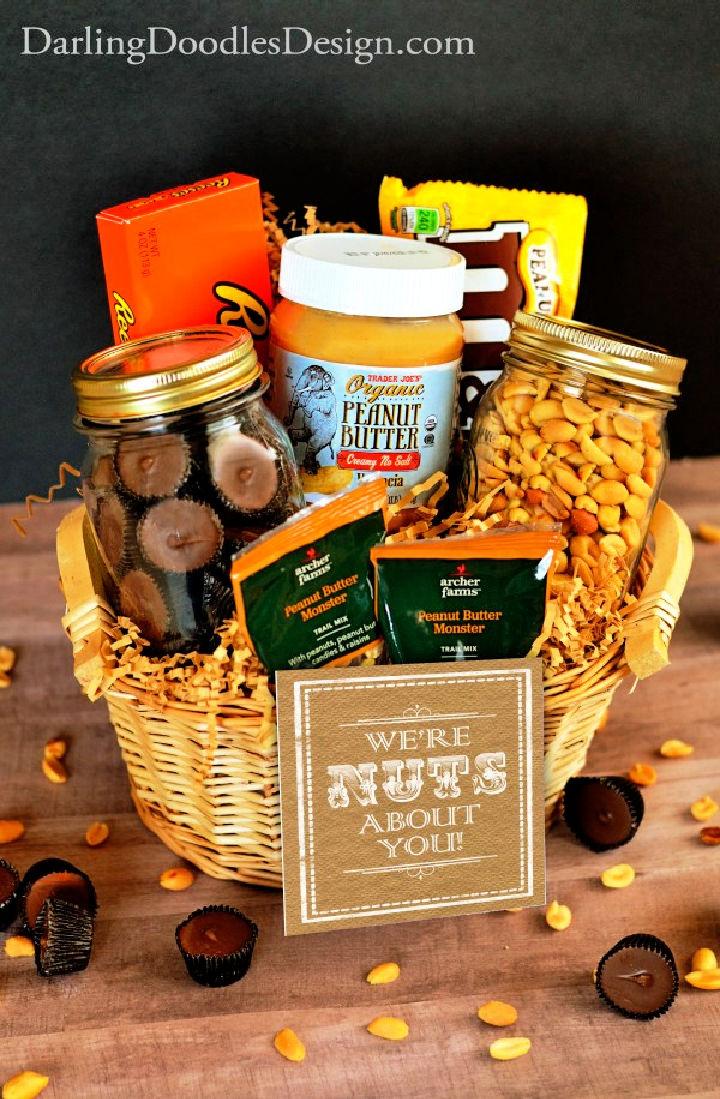 Here is yet another DIY gift idea for dad, including a gift basket that is packed with nuts so you can show your dad that you're absolutely nuts about him! Just fill it up with any treats or snacks made from nuts for example, peanut butter, Reese's cups, different nuts, trail mix, peanut butter cookies, pecan cookies, peanut M&M's, chocolate covered nuts, almond joys, etc. darlingdoodles
17. DIY Necktie Zip Pouches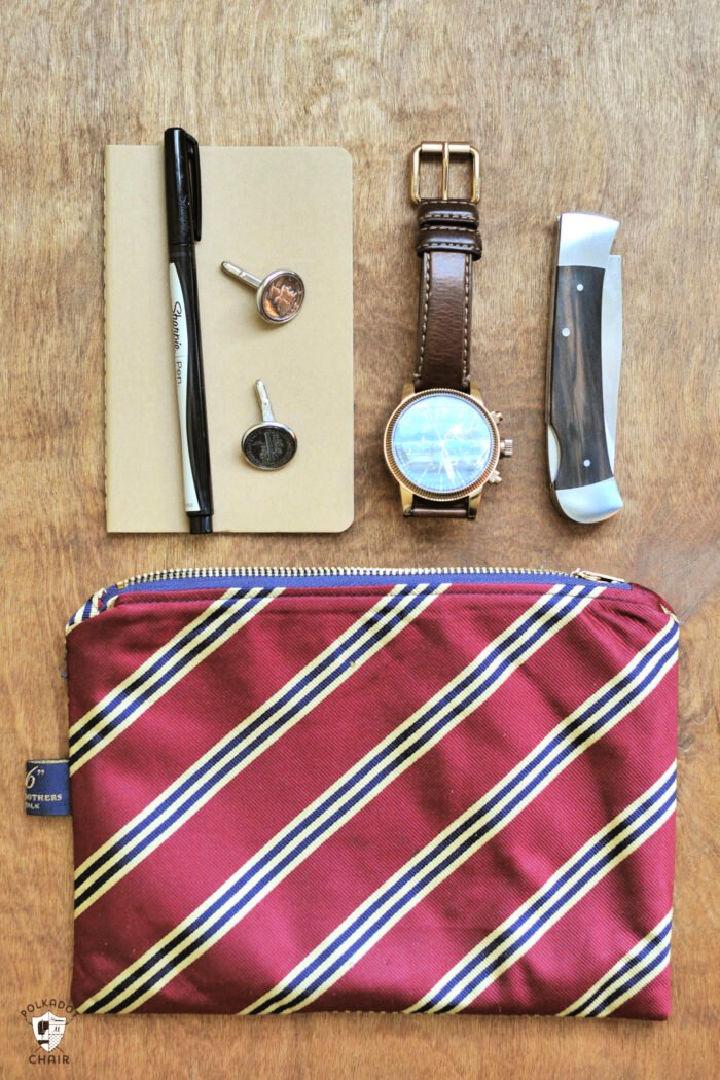 Have some old neckties at home? Use them to make this exciting project and a wonderful DIY gift for dad a zip pouch! It is a very simple project involving basic sewing, which is very easy to do. You can help your dad keep his things in one place and safe, like watches, cufflinks, etc., so he wouldn't lose them again. polkadotchair
18. Leather Mason Jar Sleeve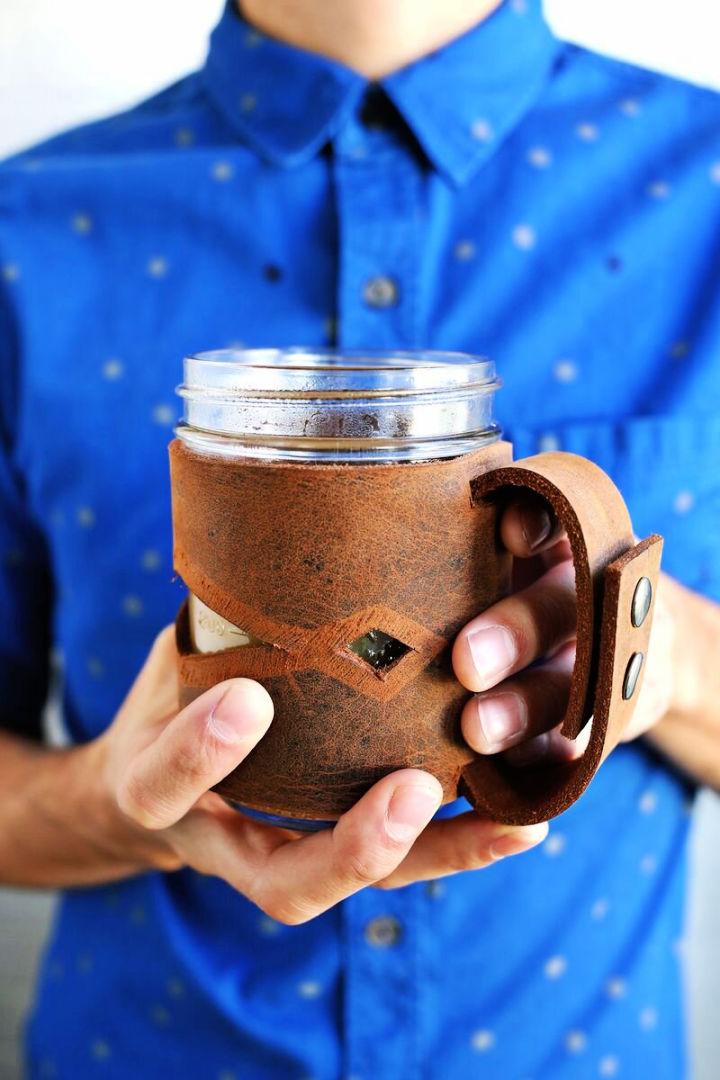 Looking for a project involving leather for your dad? Well, here is a rustic and super cool leather mason jar sleeve craft to make this father's day. This project is very easy and does not require many tools. Additionally, this project requires supplies like heavy-duty leather, snap fasteners, wax cord, leather punch, x-acto knife, metal ruler, setter tool, and hammer. abeautifulmess
19. DIY Father's Day Bouquet Gifts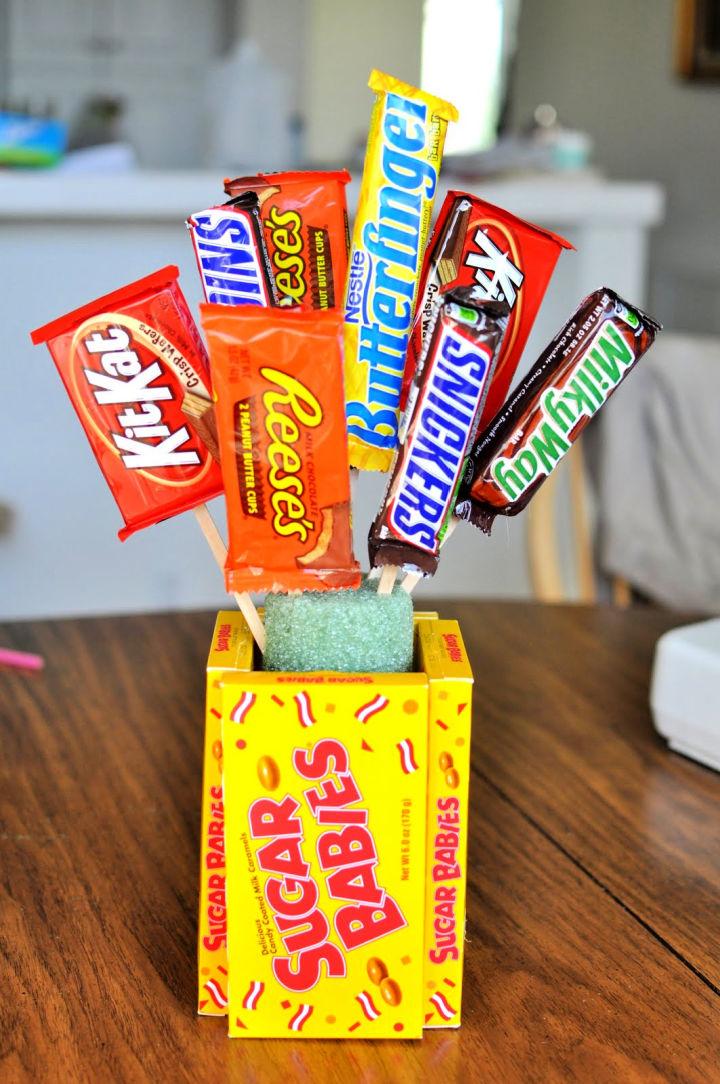 What's better than a flower bouquet? A sweet, candy bouquet! Isn't it? Get crafty this year for father's day and make this super amazing DIY gift which is very easy and delicious to make! You need some chocolates and candies to turn into a bouquet to give it a nice, fancy look for a gift. We are sure that your dad will love the idea and the time you took out to make this for him. Some basic supplies like floral Styrofoam, hot glue, and wooden sticks are also needed. funkypolkadot
20. How to Make a Pre shave Oil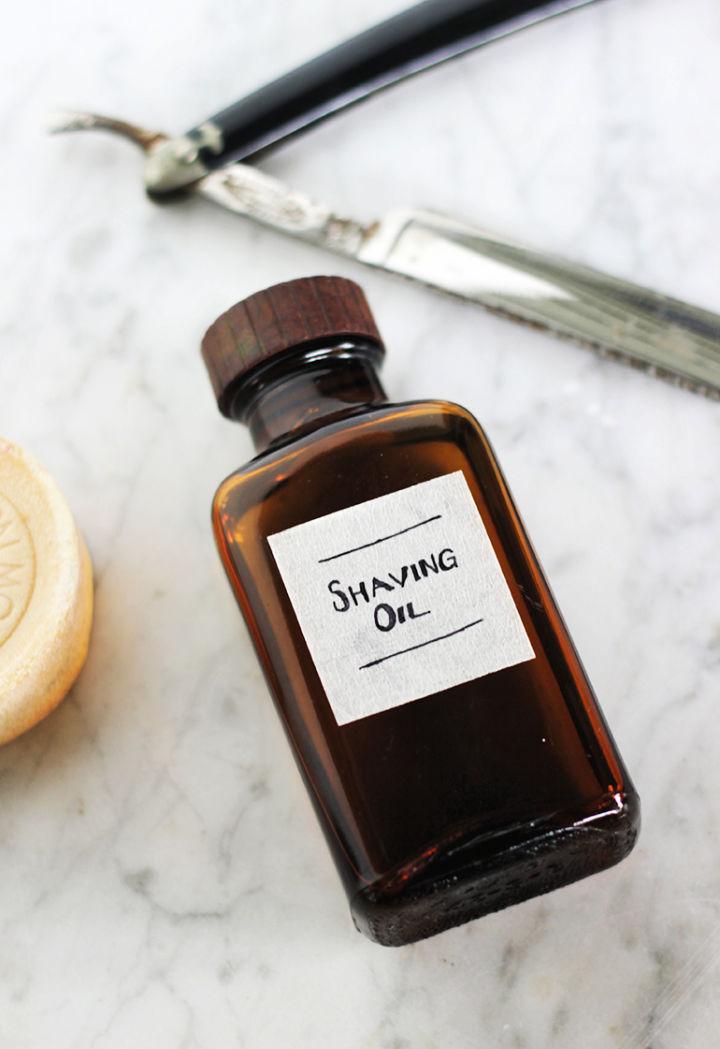 Choosing a gift for dads can get very confusing, but we are here to solve that issue for you. This year, you may go creative and thoughtful to make a DIY gift for dad! Here is a DIY pre-shave oil that you can whip up easily using a few ingredients like grapeseed oil, olive oil, and few drops of essential oil like sandalwood. It is a nice and organic alternative to shaving foams giving a silky smooth feel to the skin what could be better than this? themerrythought
21. Wool Ipad Case Sewing Pattern

Are you in search of a handy but simple DIY gift for dad this year? Without wasting any more time, start working on this wool iPad case sewing pattern. It is perfect not only for traveling but keeps the device protected too. Add an extra pocket for earphones, pens, etc., to make the design even more useful. Make sure to choose the right fabric for the project from any local fabric store. polkadotchair
22. DIY Cordless Drill Storage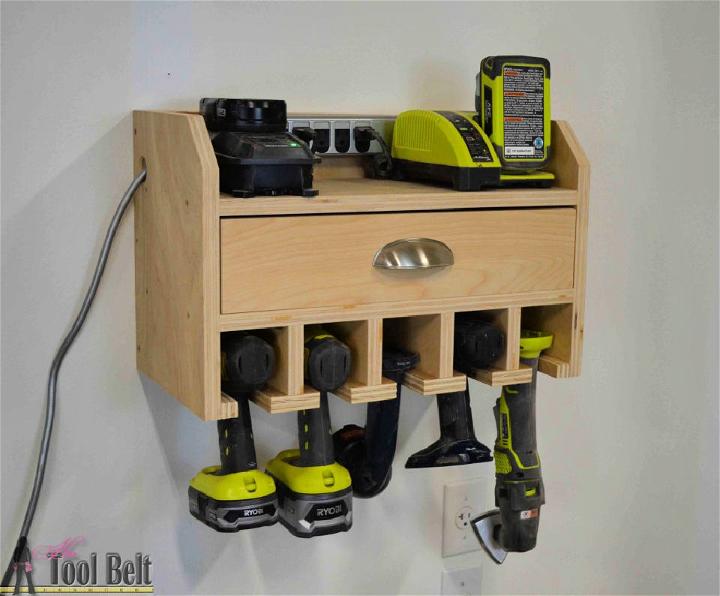 If you are good with woodworking projects, then build this cordless drill organizer and battery charging station, which is a great DIY gift for dad to give him on father's day this year! It is an incredible idea to keep all your drills in one place so using them won't become a hassle anymore. Additionally, you need supplies including plywood sheets, screws, wood glue, sandpaper, screws, and drawer pull. hertoolbelt
23. Measuring Tape Father's Day Gift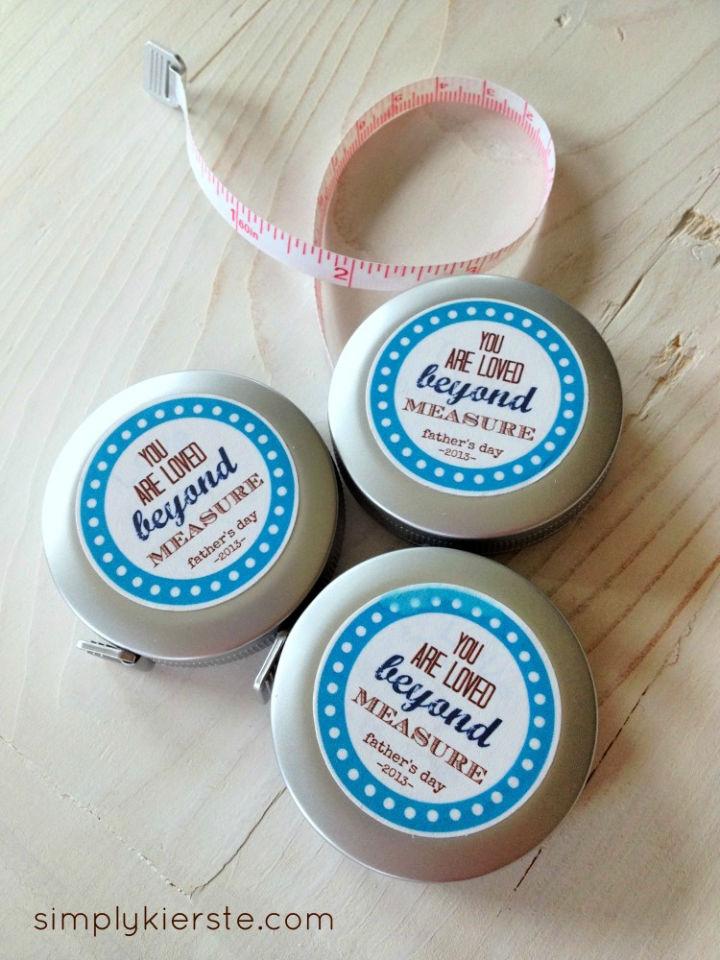 Make woodworking fun for your dad by making this wonderfully customized measuring tape as a DIY gift for upcoming Father's day! It is not only fun to make but also quite simple too! Your dad will definitely love the extra mile you went for him to make this cute customized present for which you will just need a simple measuring tape and a printout that you want to attach to it. oldsaltfarm
24. State Themed Gift Basket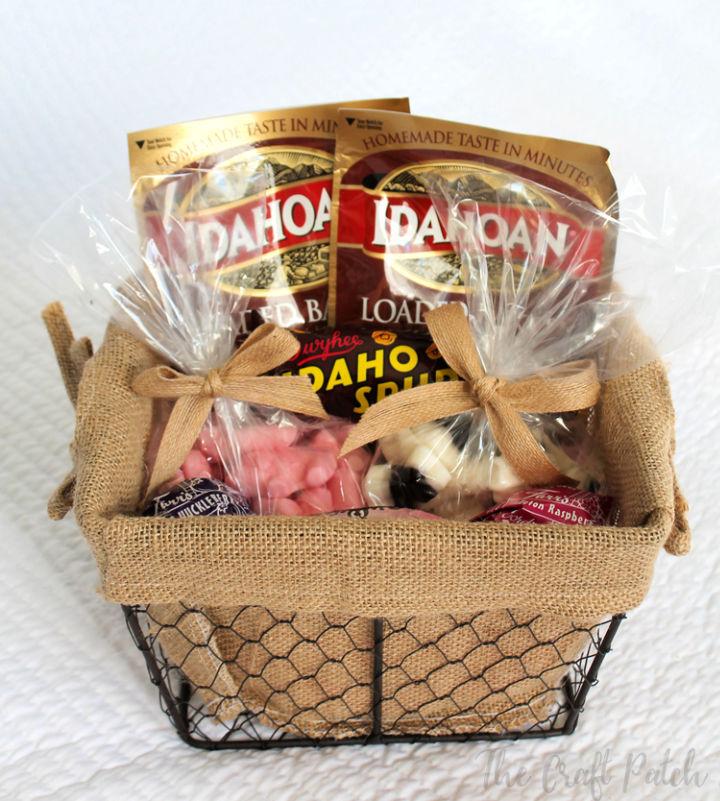 Always on the lookout for creative and adorable gift ideas or gift baskets for special occasions? This year make a DIY gift for dad on his birthday a state-themed gift basket! That sounds like a fun idea, right? Collect some specific items related to the state you chose and place them in a nice little basket with cellophane to make it instantly classy and unique. You can easily find the things from a local candy shop and the basket from a craft store etc. thecraftpatch
25. Fathers Day Coupons Gift from Kids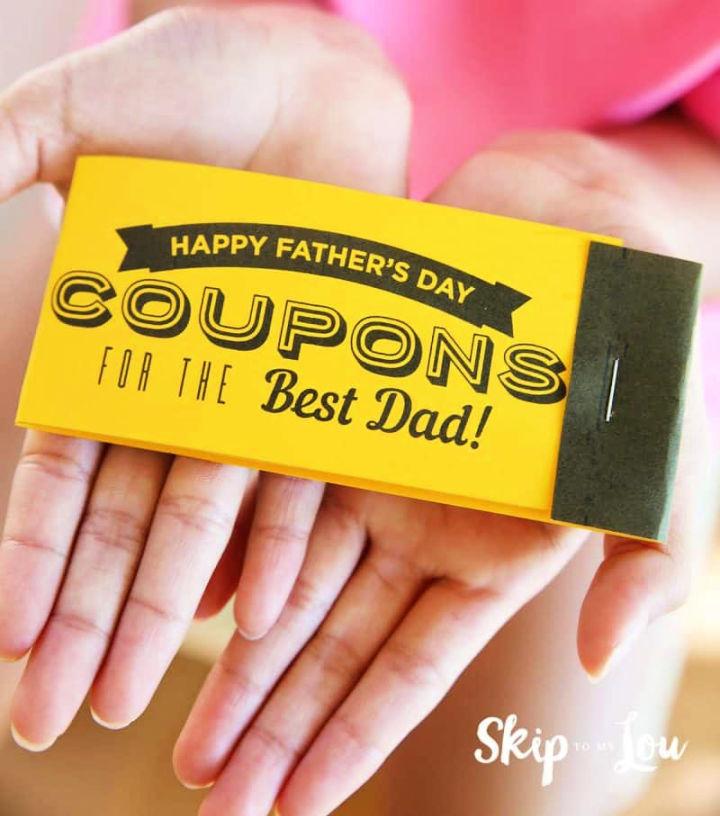 If you want to gift your dad something which he can enjoy the whole year long, you are at the right place! Make these printable coupons for father's day only for him, including coupons to help him with some help around the house like cleaning to hugs or breakfast in bed, etc. Your dad will definitely love this super fun idea is extremely easy to make too! skiptomylou
26. Monster Trail Mix Fathers Day Gift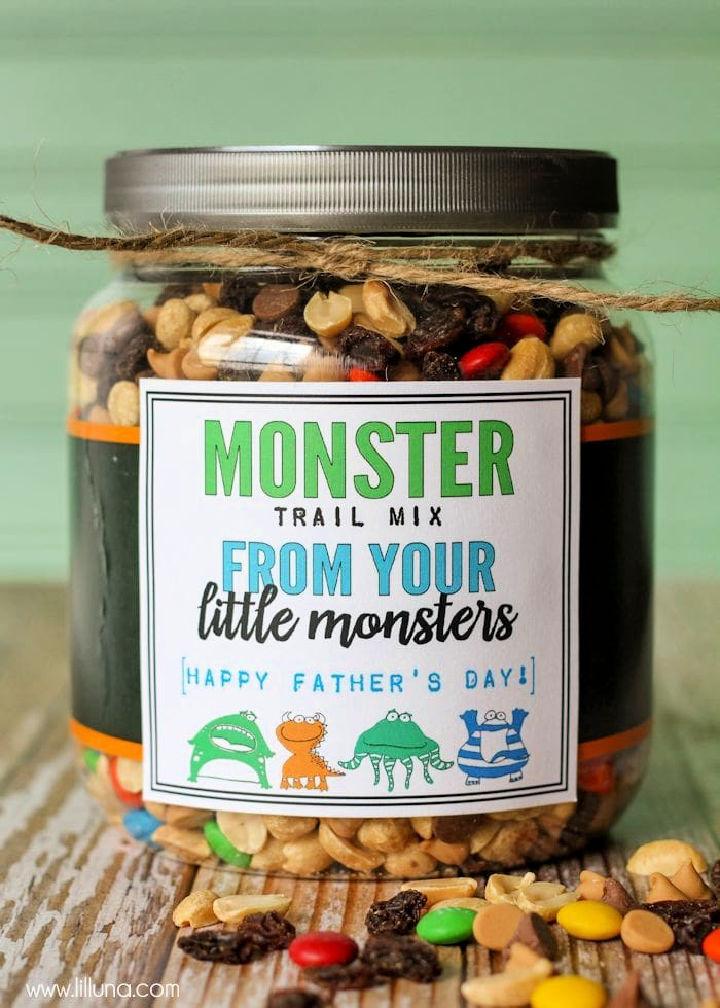 How about making a snack jar as a DIY gift for dad this father's day? This monster trail mix is the perfect idea for you. Customize the label of the trail mix by making one on your own from dad's very own little monsters! Moreover, it is a quick and easy gift with supplies like the monster trail, printable, glue dots, and twine – to give to your dad and make him feel special on his day. letsdiyitall
27. Father's Day Stache Gift from Toddler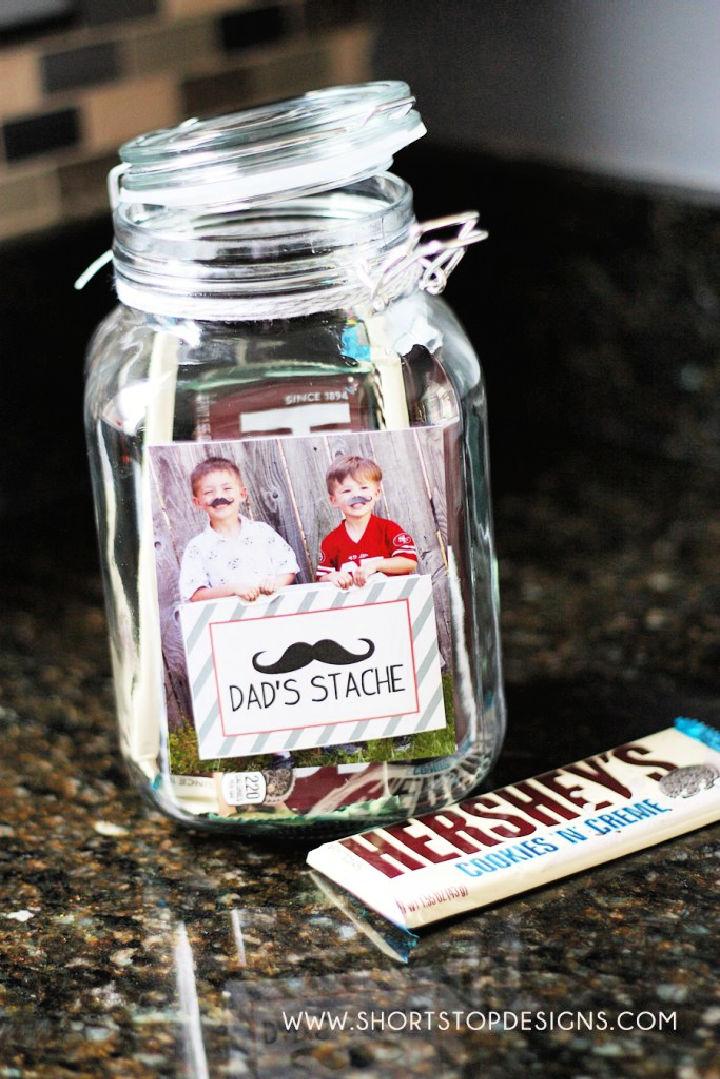 You might have seen the famous Dad's stache gift ideas all over. Jump on the bandwagon and make this DIY gift for dad by adding a personalized touch to the gift by printing a photo of your own. It adds even more fun and exciting touch to the gift. In addition to that, you will need to have supplies like pictures, printables, signs to use as props, a large jar, candy, scissors, glue, and a box cutter or knife. shortstopdesign
28. DIY Wood Grain Flask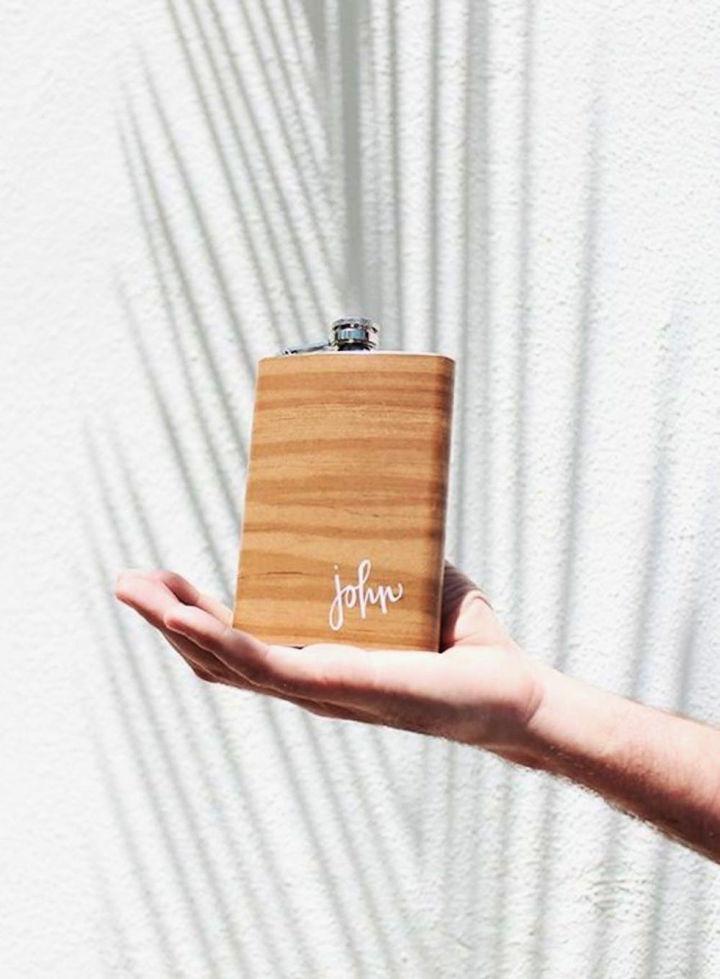 Want something sophisticated and a mature DIY gift for dad this year? Give his old flask a new look with this wood grain flask project. It is very easy to make and does not need many supplies or tools apart from a stainless steel flask, wood grain contact paper, paint marker, scissors, and an xacto knife. almostmakesperfect
29. Last Minute Fathers Day Crate Gift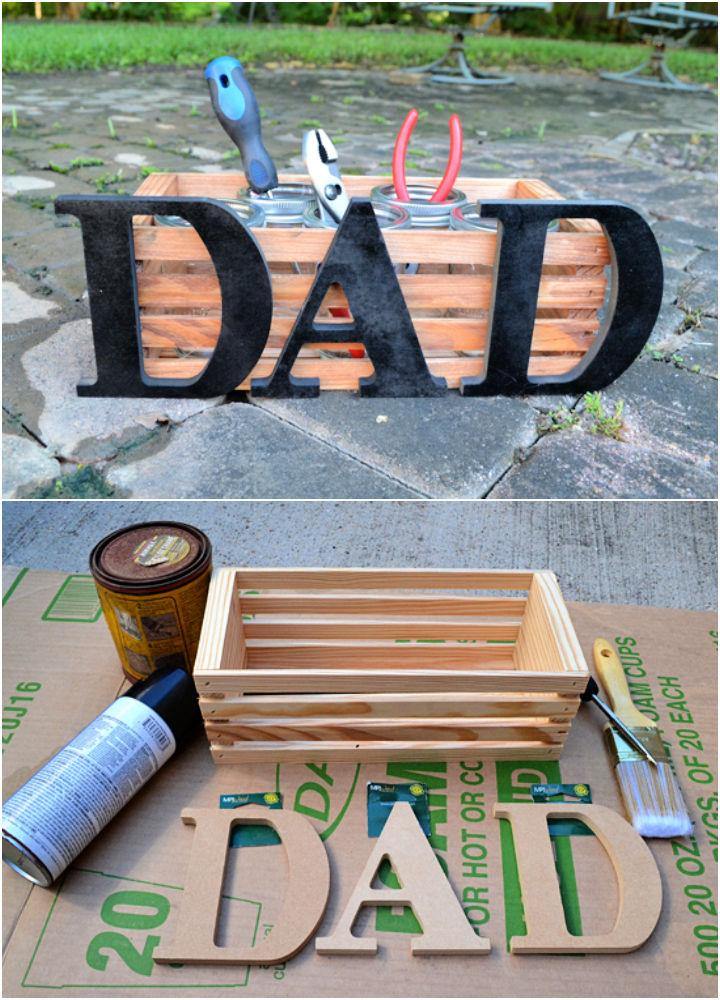 Probably every dad in the world loves to fix stuff up on their own using their tools etc. So this upcoming Father's day, make them a quick and last-minute crate gift to keep and assemble all their tools. Moreover, it has a customized DAD written on it, which will clearly tell anyone that this belongs to dad! For this, you will need supplies like the crate, wood letters, hot glue gun, wood stain, and black paint. momspark
30. Scrabble Tile Picture Frame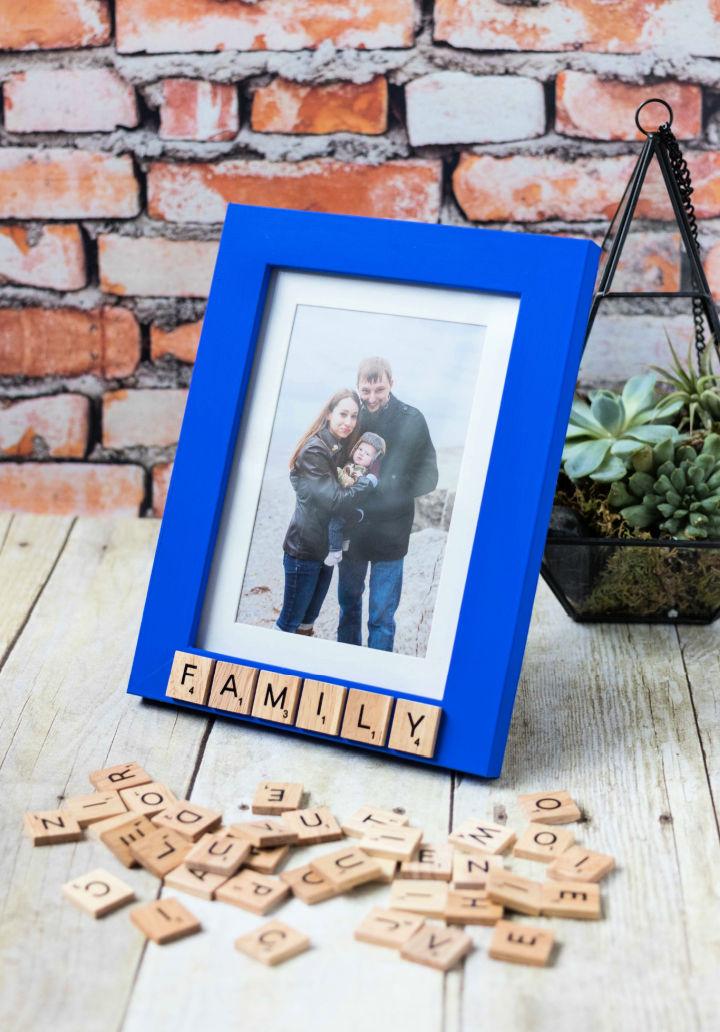 Here is an aesthetic but super fun DIY scrabble tile picture frame to liven up a boring and simple frame in the house. Now you can display your photos in a creative and fun way with this project. So take out your scrabble tiles and start making your frames more exciting with these. Supplies needed for this project are plain wood picture frame, new or used regular sized or mini wood scrabble tiles, acrylic paint, tacky glue, foam brush, and a small paintbrush. roseclearfield
31. DIY Father's Day Gifts Basket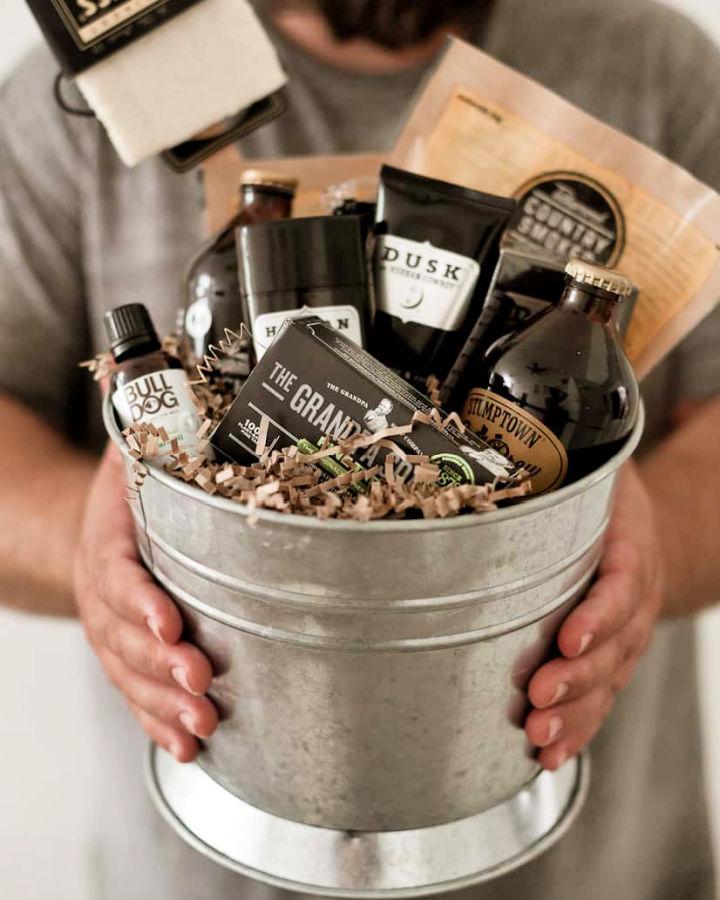 Father's day is just coming up in a few days, and if you haven't found your perfect gift this year, don't worry. We are here for you! A DIY personalized gift basket idea is the perfect go-to when you have a bunch of things that you would want to gift your dad. Moreover, you might add some coffee packs, beef jerky, a cologne, aftershave, beard oil, soap, and more things like these for the basket. sprouts
32. Iphone Tie Phone Cover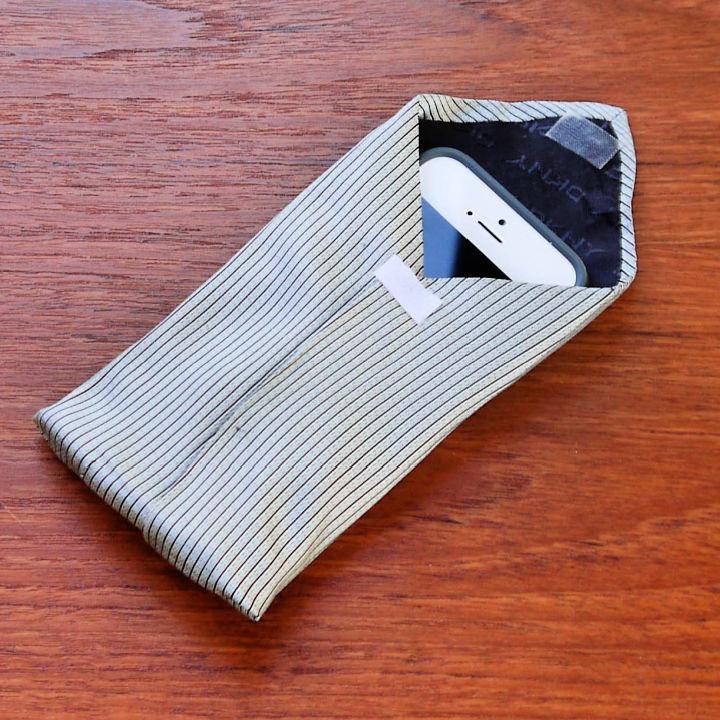 Upcycle an old tie to make a phone case how cool is that? This fun and interesting project is very easy and simple, which gives a whole new life to a tie. You can make this project even without a sewing machine. Adding on, the supplies you will need are a tie, scissors, stick pins, hot glue gun, needle, thread, and self-adhering Velcro. popsugar
33. DIY Gift Basket BBQ Father's Day Gifts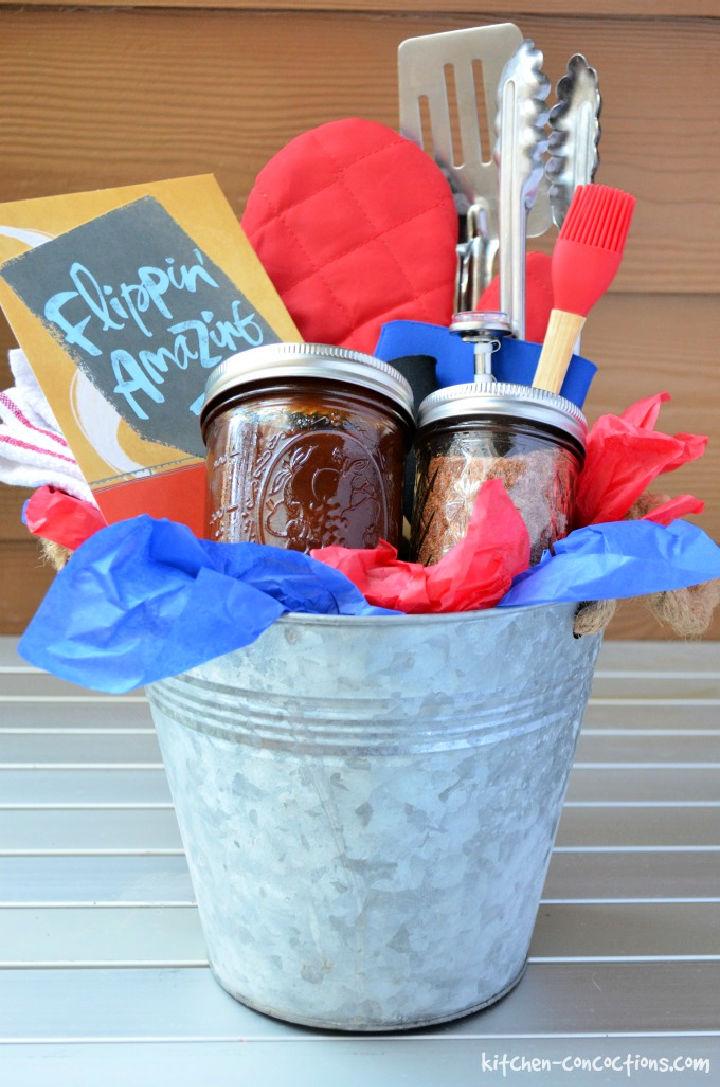 Since most dads love to grill, here is a fun BBQ gift basket idea for Father's day this year. This basket includes store-bought grilling accessories with homemade BBQ sauces and the sweet and smoky BBQ dry rub as well. Moreover, you may include a card in the basket to add a personalized little note for the best dad in the world! Some supplies needed are a large metal bucket, American greetings tissue paper, father's day card, small glass jar with lid, paper gift tags, gift ribbon, large glass jar with lid, oven mitt, thermometer, metal spatula, etc. kitchen concoctions
34. Monogrammed Leather Valet Gift

Turn an old frame and a piece of upcycled leather into a personalized tray, sort of very stylish and ubercool. Moreover, it is perfect for holding your watch, keys, cash, etc., all the important things needed every day while heading out to work. You may customize the design with your favorite color or any size of frame that you want. hgtv
35. Watch Stand Gift For Dad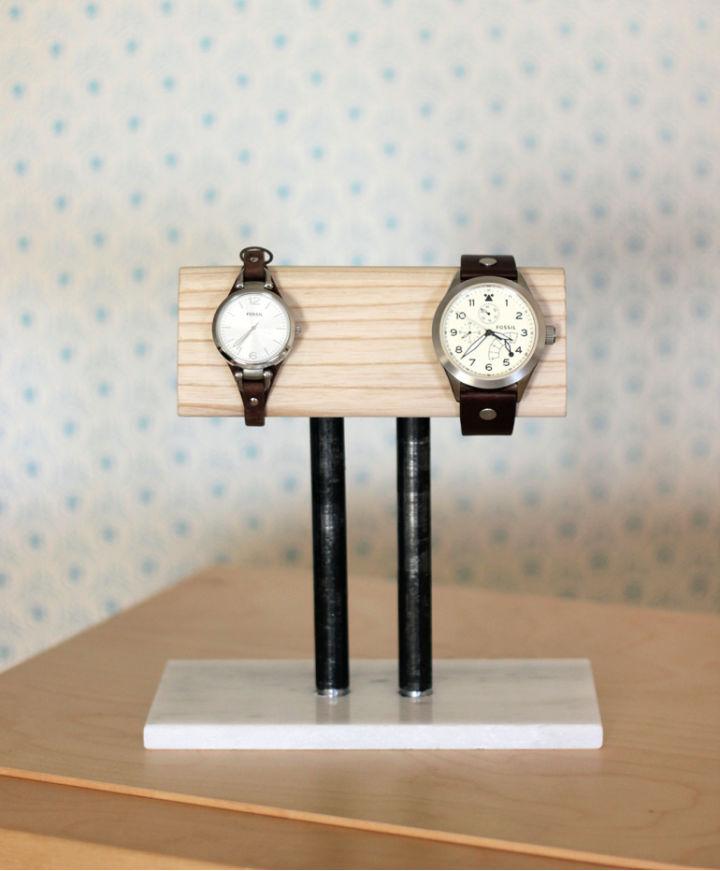 Help your dad organize his space and thins by gifting him this DIY watch stand. The simple and minimalistic natural wood compliments the black pipe, giving a modern and industrial look to the overall piece. Moreover, the materials needed for this project are pieces of wood, black pipe, marble tile, table saw, belt sander, measuring tape, scrap wood, drill, ceramic tile cutter, ceramic drill bit, angle grinder and two parts epoxy. themerrythought
36. Tie Rack for Fathers Day Gift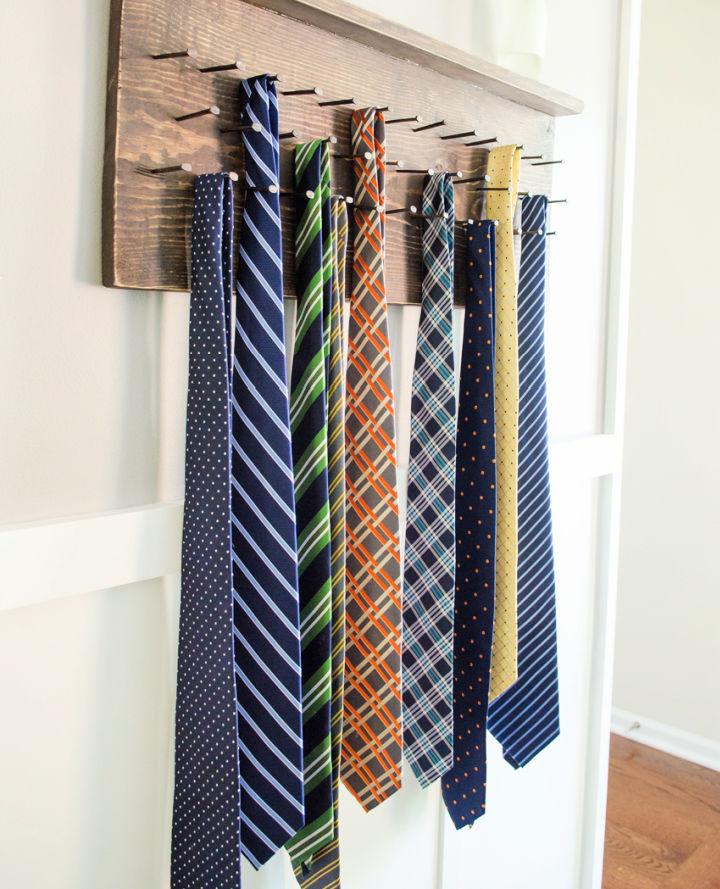 Years after gifting your dad ties for his birthdays or father's day, now make this DIY rustic tie rack to help him keep them organized as well. Isn't it super cool and amazing? The overall design of the tie rack is perfect for any modern man and very easy to make too. It can be made using supplies like the board, wood stain, foam brush, paper towels, wood glue, brad nailer, compound miter saw hammer, old-fashioned nails and few more things. craftaholicsanony
37. Homemade Golf Bookends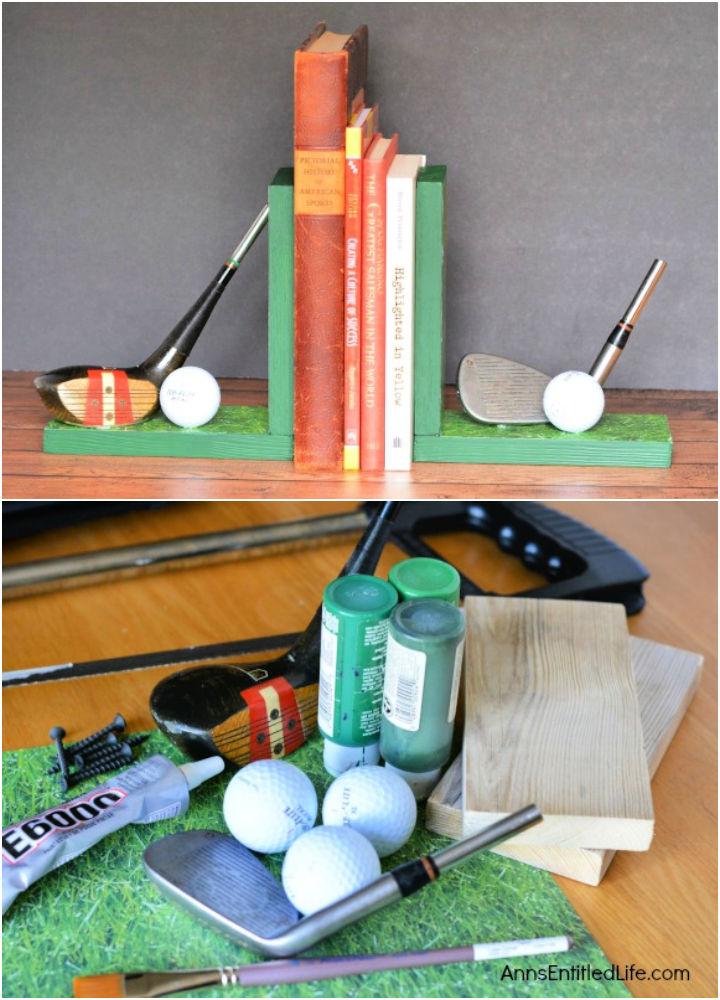 Is your dad a golfer? This father's day makes this charming and fun bookend project. You can use it as a nice decoration piece for your side table or bookshelf to add a stylish and whimsy vibe to any decor. Besides, you need supplies including a hacksaw, metal file, cordless drill, sander, scissors, ruler, wood, foam paintbrush, small paintbrush, E6000 craft adhesive, wood screws, Christmas green paint, thicket paint, mod podge, 2 golf balls, 2 golf clubs, and green felt. annsentitledlife
38. Personalized Spatula for Dad

Personalizing a wooden spatula? Sounds fun, right? Make a special and personalized wooden spatula for your dad as an adorable DIY gift to make him feel special in unique ways. You can write whatever you think about him. Just make sure to have supplied with you including spatula with wooden handle, fine to medium sandpaper, scissors, mod podge, foam brush, and paint pens. skiptomylou
39. 10 Minute Fathers Day Picture Frame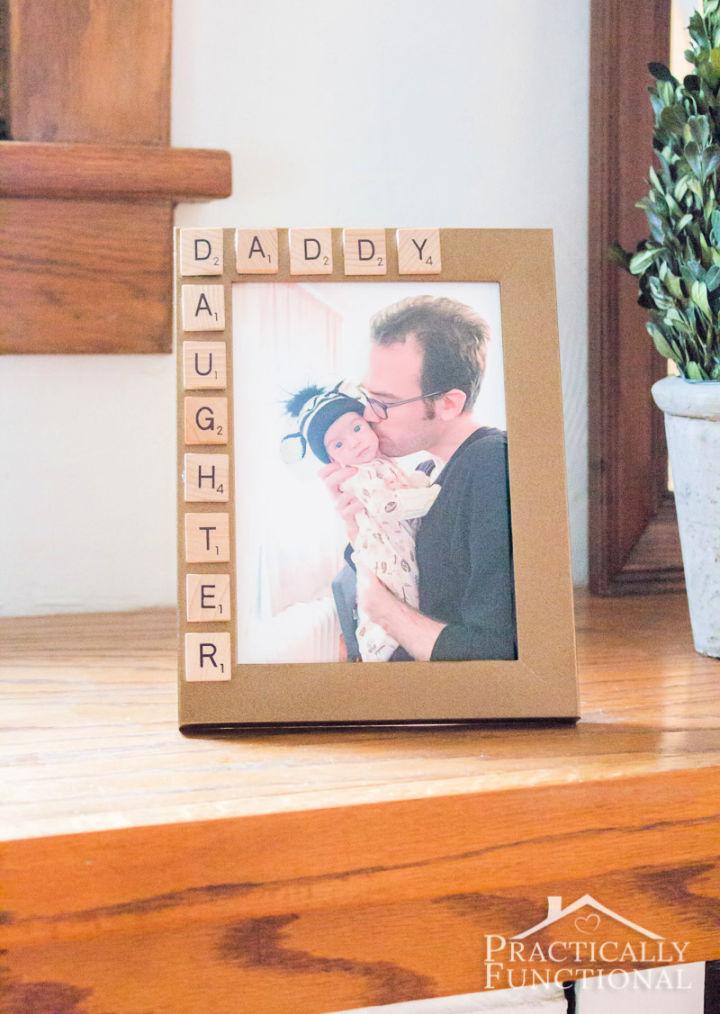 Ever heard of a gift that can be made in just 10 minutes? Well, here you are! This father's day picture frame is a super cute project which will only take up few minutes to complete. It is a great addition to a side table, so it keeps reminding you how much family means to you. Moreover, the materials we will need to complete this project are a picture frame, and wood scrabbles letters, spray paint, and a hot glue gun. practicallyfunction
40. Sports Themed Gift Bucket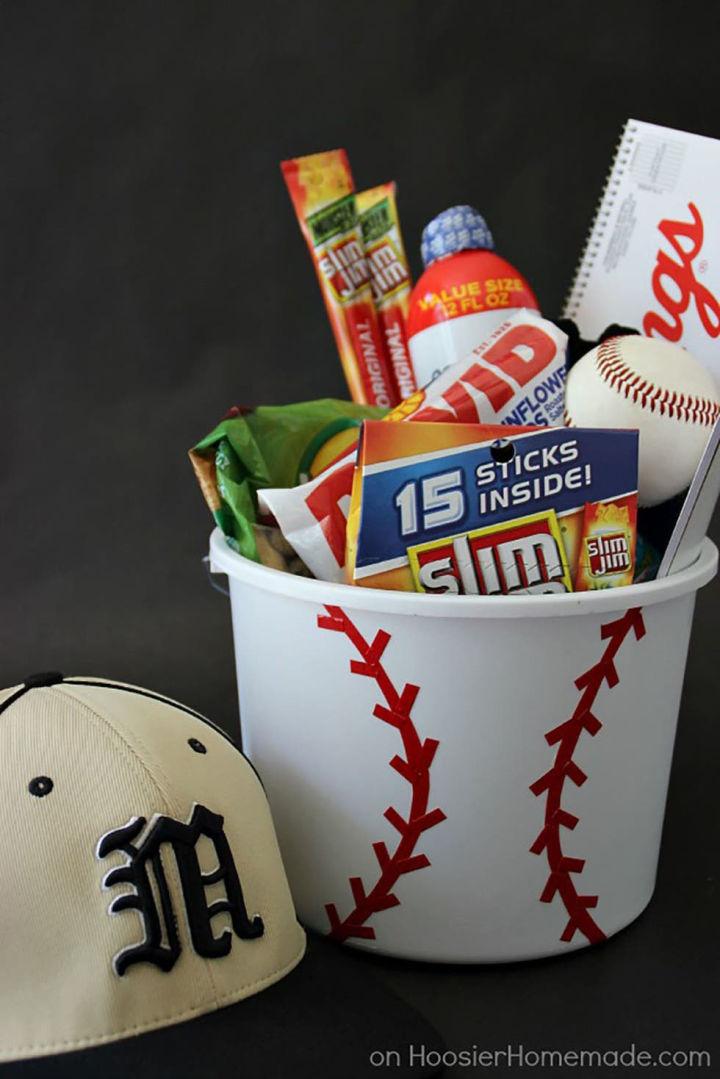 Last but not least, here is another gift basket themed as sports. Since most men absolutely love sports, this makes a great idea for their special days. Fill up the baskets with whatever your dad loves to make this amazing DIY gift especially for him. You can be endlessly creative with your ideas about this project. Use supplies like a white pail, red duct tape, x-acto knife, etc., to do this project. hoosierhomemade
Homemade Gifts for Dad From Daughter
A handmade gift can be personal, meaningful, thoughtful, and unique. We've put together a list of 40 DIY father's day gift ideas perfect for daughters looking to make their dad something special this Father's Day. From sweet cards and edible treats to DIY projects and more, there's plenty of inspiration here for whatever your father may like. Read on for some creative homemade gift ideas for Dad from his loving daughter!
What to consider when choosing a gift for dad
When choosing a gift for dad, consider his interests and hobbies. Is he an outdoorsman? A handyman? A baker? A gardener? Knowing what he likes to do will help you choose a gift that he will appreciate and use.
Think about his favorite things. Does he like coffee, beer, or tea? Does he have a favorite sports team or player? Is there a certain type of food or cuisine that he loves? Consider what he enjoys and incorporate that into your gift.
Think about what would make his life easier or more enjoyable. For example, a new set of gardening tools would be a great gift if he is always working in the yard. If he loves to cook, a new kitchen gadget would surely please him. Whatever you choose, make sure it is something that he will use and appreciate.
What Type of Gifts Does Dad Like?
It may be difficult to determine what type of gifts dad likes. He may not be forthcoming with his likes and dislikes or have a very specific taste. If you are having trouble determining what type of gifts dad would like, consider the following:
1. Does dad prefer heartfelt homemade gifts or store-bought items?
2. What is dad's favorite hobby? You can find unique gifts related to his favorite hobby.
3. What type of music does dad like? There are many music-related gifts available, from concert tickets to CD collections.
4. What is dad's favorite food? Food-related gifts are always a hit, whether it's a gourmet meal or a basket full of his favorite snacks.
5. What is Dad's favorite activity? Whatever his favorite activity, there are bound to be unique gifts that relate to it.
No matter what type of gift you decide on, the most important thing is that it comes from the heart. Dad will appreciate any gift that shows you care and think about him, specifically when creating custom homemade father's day gifts.
Handmade gifts for Dad from daughter are a great way to let him know how much you respect and love him. There's nothing quite like creating something special with your own two hands. From woodworking projects to knitwear, countless DIY gift ideas are shared above to make meaningful gifts for dad that'll show how much he means to you. So get creative and find something unique that'll make dad smile each time he sees it!
Related DIY Gift Ideas:
Make your loved one feel extra special this holiday season with these DIY gift ideas. Find the perfect handmade present for your family, friends or significant other – great for any budget!
Conclusion: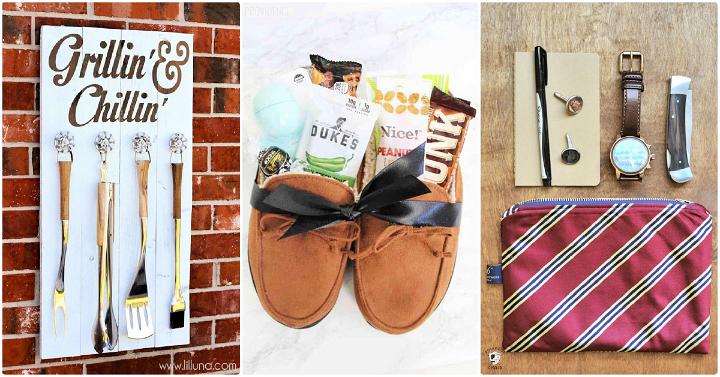 DIY gifts for dads are the perfect way to show your love, appreciation, and admiration on Father's Day. From homemade cards and personalized photo frames to custom cookies or hand-sewn items, all of these DIY dad gifts can be easily crafted at home with limited resources and time.
With creativity and time, you can have unforgettable DIY father's day gifts that he will cherish forever. You don't need special skills or expensive materials; just use what you have around the house! Get creative with these 40 inexpensive DIY father's day gifts for dad and make him feel extra special this year. Surprise him with something heartfelt from the heart – it will definitely put a smile on his face!