DIY gifts are the best way to show someone how much you care. Everyone loves to receive a thoughtful, homemade present, and it can be surprisingly easy to create budget-friendly diy gifts! Learn how to make your own homemade gifts for every occasion and person with these 40 inexpensive and easy diy gift ideas, including step-by-step instructions. Making diy gifts is an especially great option when you need a gift in a pinch; you only need little time, patience, and creativity—plus maybe a few affordable supplies you can find easily at most craft stores. Best of all, diy presents give the recipient something special that is unique and personal – the perfect way to show your love!
Making the perfect gift for someone special to you doesn't have to be difficult or expensive. With these creative homemade gift ideas, some basic supplies, and our helpful guidelines, you can create diy gifts that the recipient will cherish for years! Whether you're looking for unique homemade gift ideas for a birthday or anniversary or something special as an appreciation gesture, a diy gift will show how much thought, love and effort you put into it. Our collection of 45 diy gifts offers something for everyone, with step by step instructions on how to make your own homemade gifts. From personalized decor pieces to cozy accessories and tasty treats, these easy diy gifts will surely be appreciated!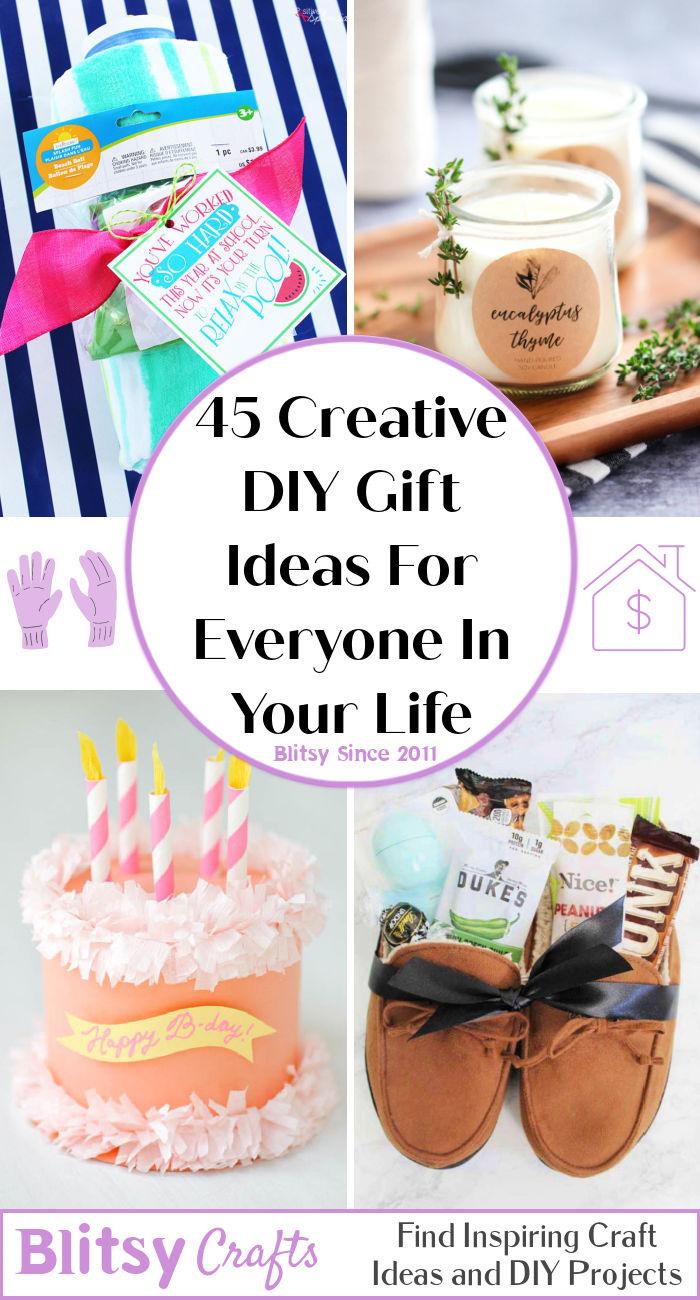 Cheap and Easy DIY Gifts – Homemade Gift Ideas for Everyone
Discover the 40 most useful DIY gifts and homemade gift ideas to make for any occasion with these easy, cute and creative projects! From simple presents like mason jar cookies or flower bouquets to more intricate crafts such as personalized photo frames, we gathered plenty of DIY gifts you can make with minimal supplies. Whether it's a birthday, anniversary or holiday, find inspiring diy gift ideas that will please everyone on your list. Get inspired by our roundup of easy-to-make homemade gifts, including jewelry, decor accessories and handmade cards to spoil friends and family while saving time and money.
Why are handmade gifts special?
Handmade gifts are special because they are crafted with love and care, often made just for the recipient. They reflect thoughtfulness, appreciation and effort on behalf of the giver. Handmade gifts also can be tailored specifically to the tastes and interests of the receiver, making them unique in a way that store-bought items cannot be. Handmade gifts can be cherished for a lifetime and are often seen as the most meaningful presents one can give. They are also often less expensive than store-bought items, making them ideal for budget-conscious gifters. All in all, handmade gifts make special gifts to share with loved ones!
What materials are required for making DIY gifts?
You can make DIY gifts with various materials, such as fabric, paper, wood, clay, leather, and yarn. Additional supplies include glue, paint, ribbons and cords, beads and buttons, craft tools, and decorative items like glitter or sequins. With these materials, you can create many unique and thoughtful gifts.
How can you create unique and affordable DIY gifts?
DIY gifts are a great way to show someone you care. Our list of 40 creative and affordable DIY gift ideas is available below, from personalized mugs to craft kits. Look for ways to add personal touches, such as custom artwork or decorating with special supplies. With a little effort and creativity, you can create unique DIY gifts that your loved ones will cherish forever.
How do I personalize homemade gifts for maximum impact?
Personalizing homemade gifts can add a special touch of thoughtfulness. Add a personal note or draw on the gift wrapping with meaningful quotes, artwork or words to make it unique. Include something sentimental inside, like a photo or cherished item, for an extra special touch. Creative and personal gifts are sure to make a lasting impression.
Which tools should you use when crafting your own DIY gifts?
For DIY gifts, using quality materials and tools such as crafting scissors, a hot glue gun, paintbrushes, various craft papers and fabric, oil pastels and markers are best. Consider investing in high-quality items that will make your creative projects more enjoyable!
How Long does it usually take to make a decent DIY gift idea from scratch?
It depends on the complexity and size of the project. Generally, DIY gifts can be created in as little as a few hours or up to several days. With some patience, creativity and effort, you can create unique, meaningful gifts for your loved ones in no time!
Are there any special tips for wrapping handmade presents?
Yes! Here are some tips for wrapping handmade presents: use unique and creative wraps, like fabric or tissue paper; use ribbons and bows to add a special touch; make sure your presentation is neat, with all the edges folded properly. Have fun experimenting with different colors and decorations – get creative and make it memorable!
Is it cheaper to make a personalized gift or buy one in-store?
While it depends on the gift you want, creating homemade gifts can be much more affordable than purchasing one in-store. Here are some tips for creating diy gifts that will save you money while still being creative and thoughtful:
Take advantage of seasonal sales – keep an eye out for discounts on items like fabric, paper, yarn, paints, or wood that can be used to create a unique gift.
Reuse existing materials – rather than buying new tools and supplies, look around the house for things that can be reused, such as jars, bottles, cans and other materials.
Utilize Our Gift Ideas and tutorials – Follow this guide of free step-by-step instructions below at Blitsy to help you make the best DIY gifts.
Shop thrift stores – you can find treasures in thrift stores that you can use to make original gifts at a fraction of the cost.
Get creative with materials – instead of buying expensive supplies, try using everyday items like paperclips and yarn to create interesting shapes and textures for your projects.
Make multiple Gifts – if you're making multiple homemade gifts, buying bulk supplies or materials may be more cost-effective, so you don't have to keep running back to the store every time you start a new project.
Making personalized DIY gifts doesn't have to be costly – with a little creativity and these money-saving tips, you can make thoughtful gifts at an affordable price.
What DIY gifts make great last-minute presents?
DIY gifts make great last-minute presents because they can be customized to fit the recipient. Consider making candles, bath bombs, wreaths or other decorations, or even gourmet treats like cakes and cookies. With creativity and imagination, you can make special handmade gifts that will bring a smile to your loved one's face!
What are some easy and inexpensive DIY gift ideas?
DIY gifts can be creative and budget-friendly. Get crafty with homemade cards, picture frames, preserves in jars, or even a knitted scarf. Check out Pinterest for great ideas on upcycling items into special presents for your loved ones!
For more ideas, look at the list of 40 easy DIY gifts with instructions and videos below to inspire and create something special! With a little imagination, you can make your loved one an original gift that will be cherished for years. Happy crafting!
Can you suggest recipes for edible homemade gifts?
Homemade gifts are a great way to show your love and appreciation. Consider creating edible treats like brownies, cookies, chocolates, caramels or fudge. Get creative with flavors and decorations! You can also make trail mixes with your favorite nuts, dried fruits and snacks, homemade jams, or preserves for something unique. Whatever you choose, the recipient will surely appreciate your homemade gift's thoughtfulness.
What steps should someone take to ensure your handmade gifts stand out from the crowd?
To ensure handmade gifts stand out, use unique materials, select vibrant colors, add thoughtful details and personalize the gift to the recipient. Think outside of the box and be creative to create something special and memorable. Show your love through your craftsmanship! Make sure it is made with care. That will make all the difference.
1. Simple DIY Origami Heart Flower Bouquet Gift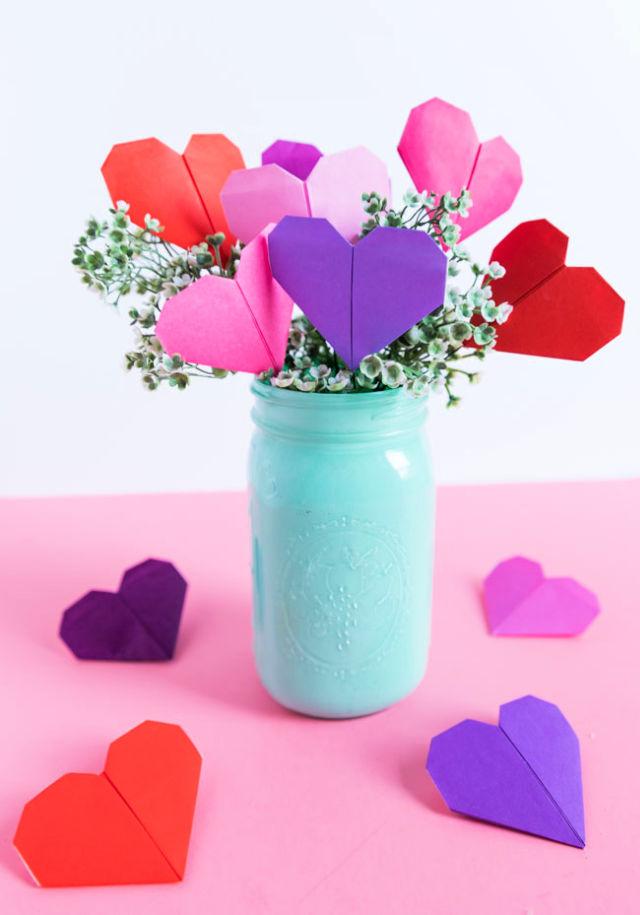 Did you ever try making paper origami hearts while crafting? No? No worries! They are simple and satisfying if you have the right techniques. And here is the best plan for making a perfect origami heart flower bouquet to gift your friends and loved ones. Assemble origami paper, wire cutters, faux greenery, scotch tape, a vase, and scotch tape. designimprovised
2. DIY Felt Fox Coffee Sleeves Cool Birthday Gift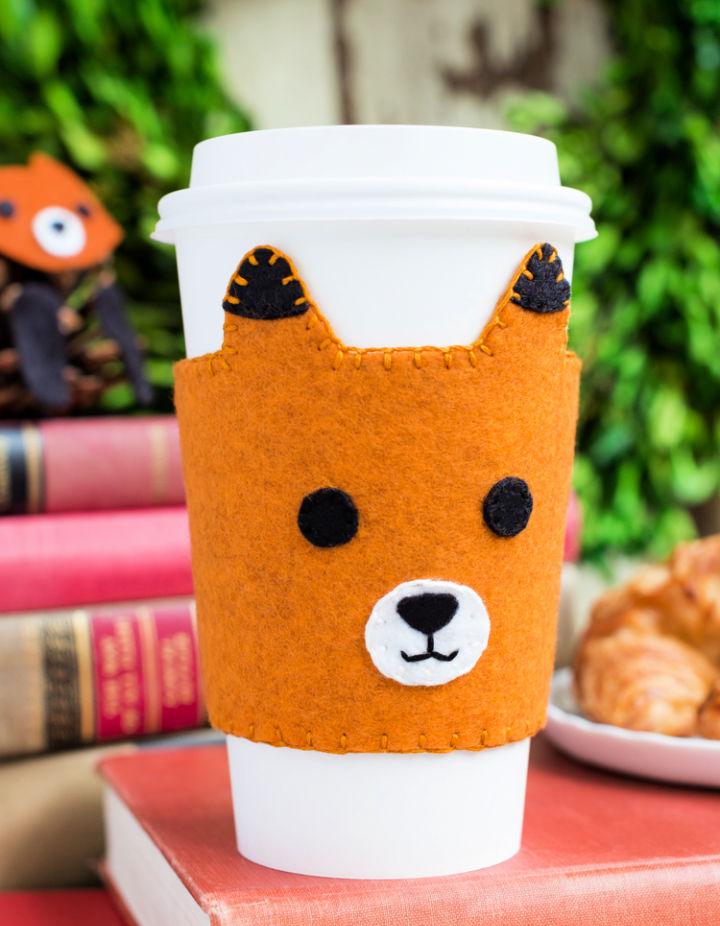 It's the birthday of your best friend who loves coffee and tea? Are you looking to purchase something special for her/him? Why don't you make your make something handmade this time? Make perfect felt fox coffee sleeves. This project needs you to know the running stitch and blanket stitch if you don't know any of them, then go with the hot glue gun or fabric glue. liagriffith
3. Personalized Ruler Wreath Gift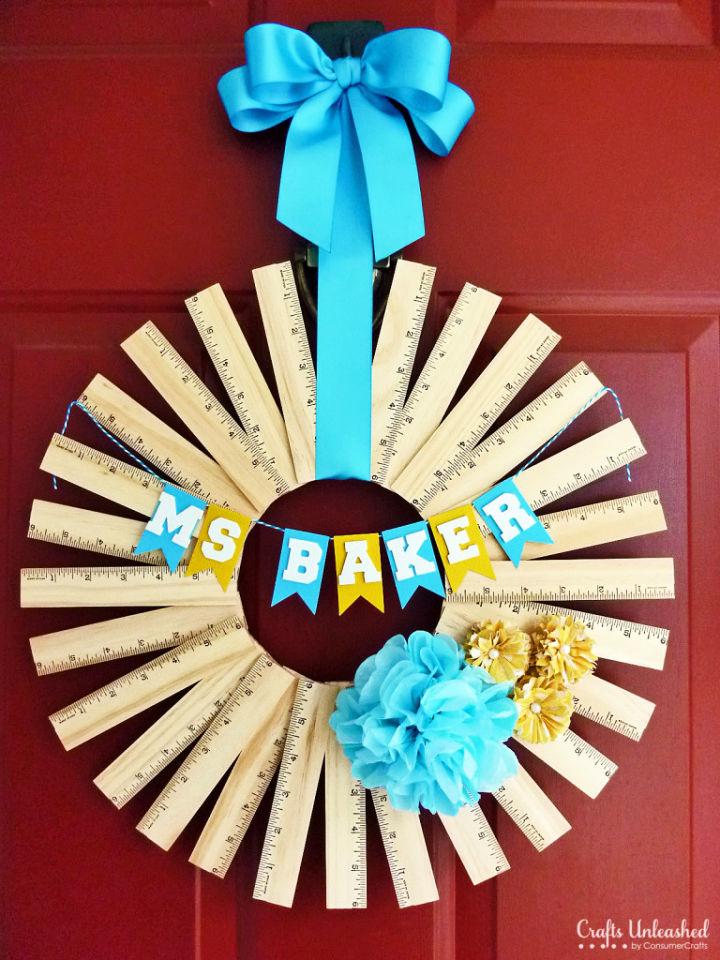 Have you been searching the internet for cute teacher day gift ideas but couldn't find anything aspiring yet? Are you looking for something crafty that can also be used for wall or door decor? Don't go anywhere else because here is the best plan for you! Make a ruler wreath in no time. Assemble rulers, embroidery hoop, glue, cardstock, baker's twine, etc. consumercrafts
4. DIY Conversation Heart Keychain Gift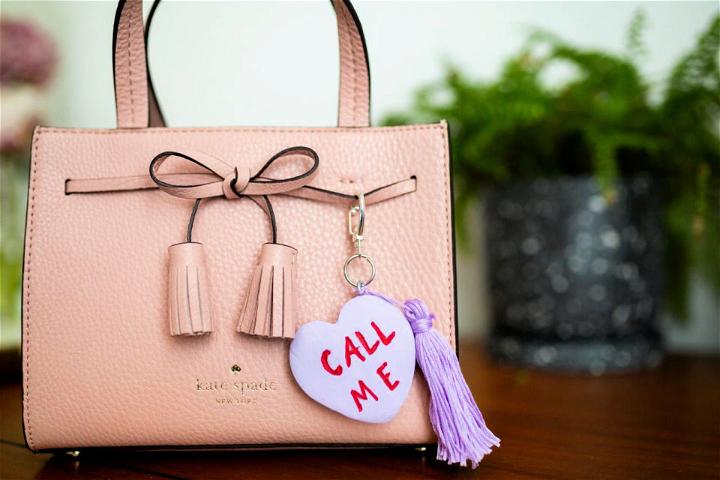 Are you looking for an adorable piece of accessory for your best friend? Let's plan to make him/her feel special by making a perfect conversation heart keychain. Follow this plan and spend some time making this aesthetic present. All you need is a paintbrush, eye hook, metal ring, clay, rolling pin, parchment paper, cookie-cutter, letter stamps, lobster clasp, and tassel. hgtv
5. DIY Sympathy Gift Basket Ideas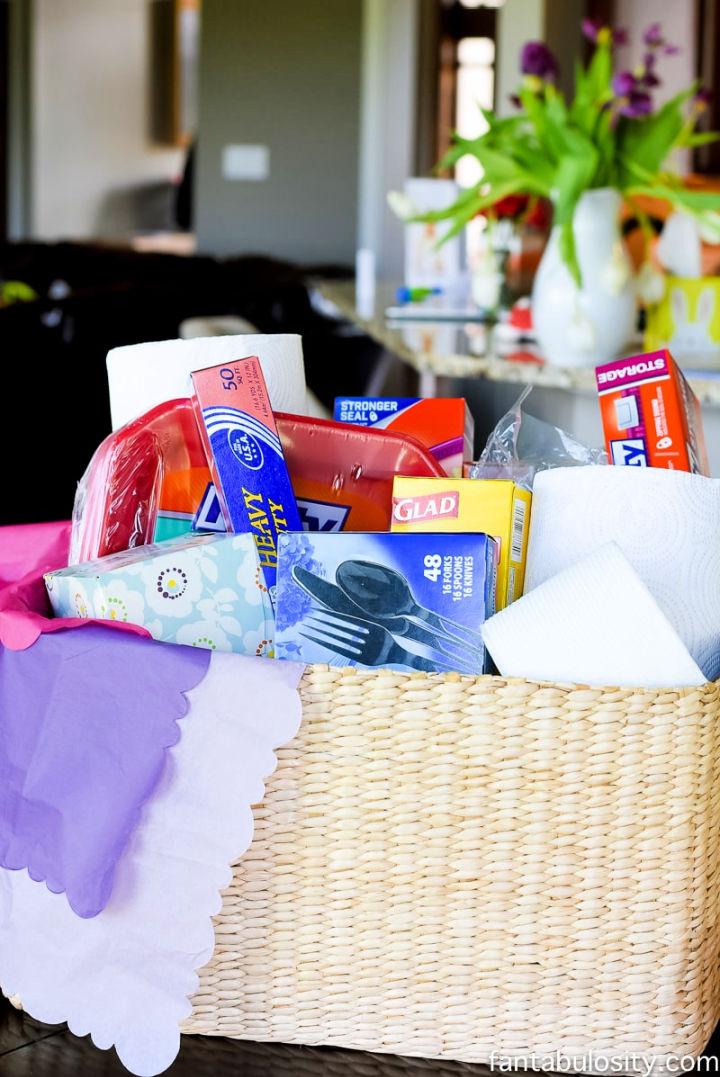 It's almost tricky and time-taking to prepare a sympathy gift for someone because it makes confused what to send and what to not, right? Well, here is easy yet the best plan that you make within an hour or two. Make a perfect sympathy gift basket by assembling these readily available materials, including facial tissues, sweet notecards, disposable silver wear, trash bags, etc. fantabulosity
6. Homemade Mom Survival Kit Mother's Day Gift Idea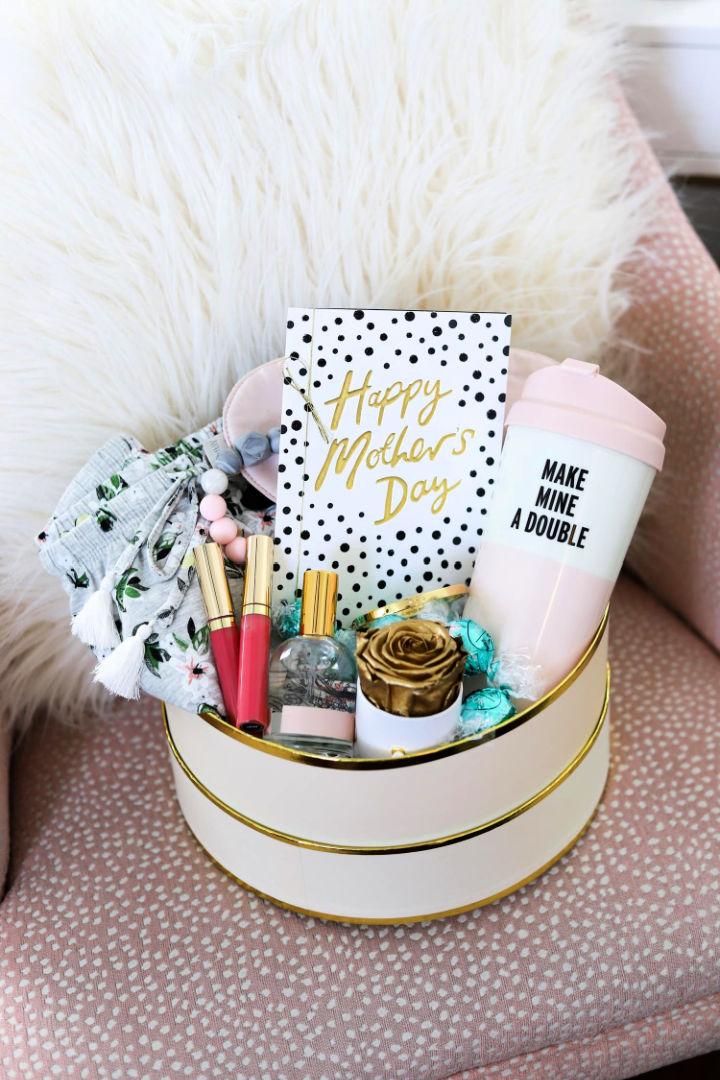 Have you been searching for the best new mom gifts ideas but couldn't find the desired one yet? Wait! Are you looking for something cute like a sort of basket? You are at the right place, then. Make a fabulous new mom survival kit with all the essentials and a few of her pretty favorite cards. All you need is a basket or a bowl, cardboards, scissors, hot glue, perfume, spray paint, etc. ashleybrookenich
7. DIY Bath Tea Gift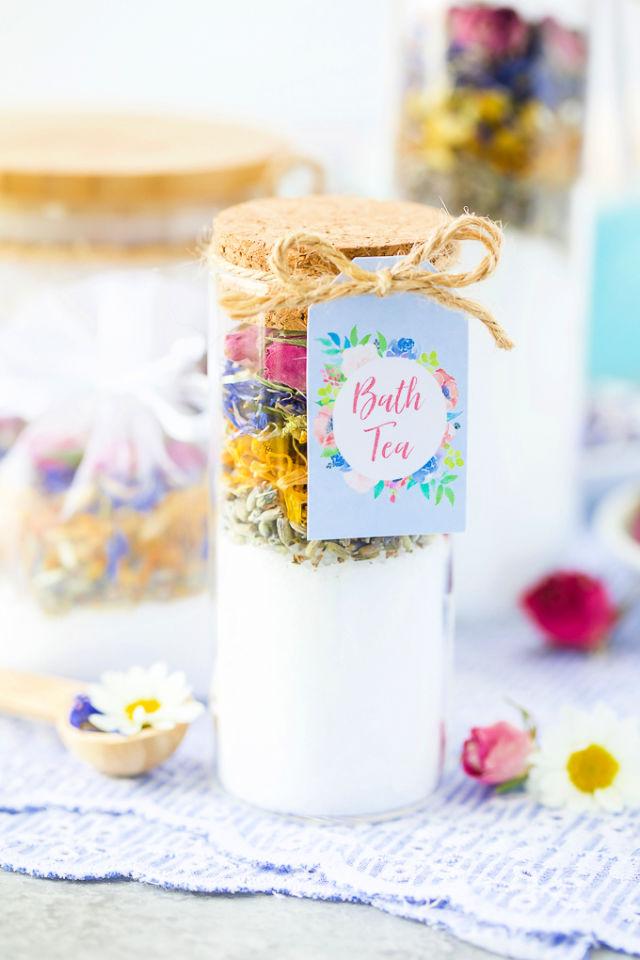 A bath tea is a bag fueled with natural indigents that help reduce stress, muscle pain, etc. If you find bath bombs too trendy for the giftee, then go traditional and make a perfect DIY bath tea, customizing this plan with your favorite scents. All you need is Epsom salt, tea bags, chamomile, lavender, cornflowers, calendula flowers, rosebuds, scissors, hot glue, or adhesive. apumpkinand
8. DIY Tablet Stand Present

The spring break is just over, and you are looking for more small DIY project ideas to work on. Why not something for your kids this time? Does your kid have a tablet and love playing video games too? If yes, make a perfect tablet stand to gift on his annual result. All you need is 12″x24″ birch plywood, a table saw, sandpaper, pocket home screws, and hot glue. themerrythought
9. DIY Summer Reading Bookmarks Gift Ideas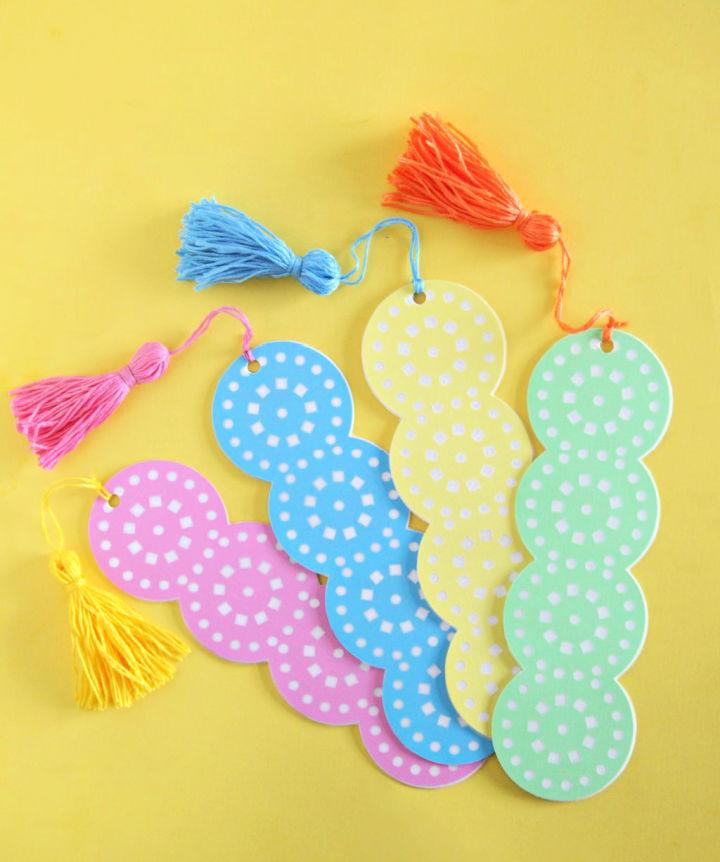 Are you the one who loves reading and have also collected so many books to read this summer? If you and your kids have a reading habit, then these DIY colorful bookmarks will make your reading even more adorable and fun. All you need is a cutting machine, bright cardstock, white cardstock, adhesive, laminator, embroidery floss, glue dots, or hot glue sticks, scissors. consumercrafts
10. DIY Fluffy Earphone Sleeve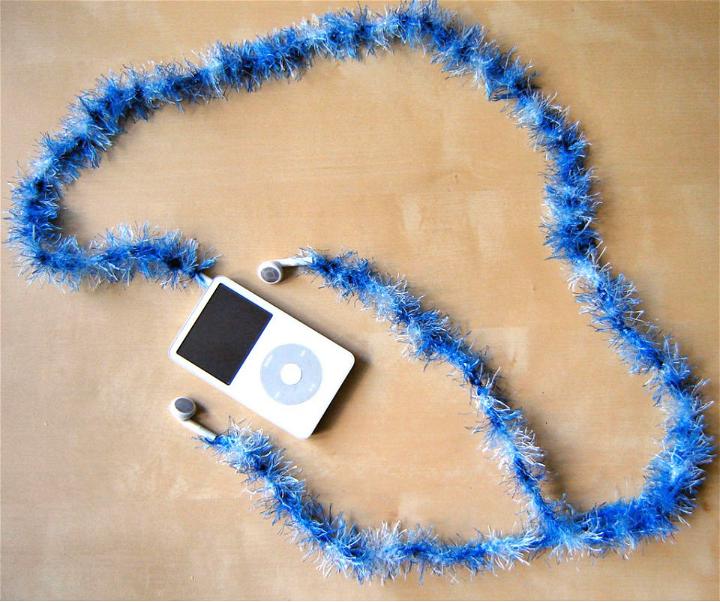 Have you ever seen the knitted headphone sleeves at one of your friend's homes and found it interesting? Are you looking for the same one in the market to purchase but couldn't find the desired one? Let's make it at home in a few easy steps! Assemble these readily available materials, including fluffy yarn, crochet hook, earphones, or headphones, scissors, hot glue, thread, etc. instructables
11. Homemade Marbled Clay Ring Dish Gifts for Her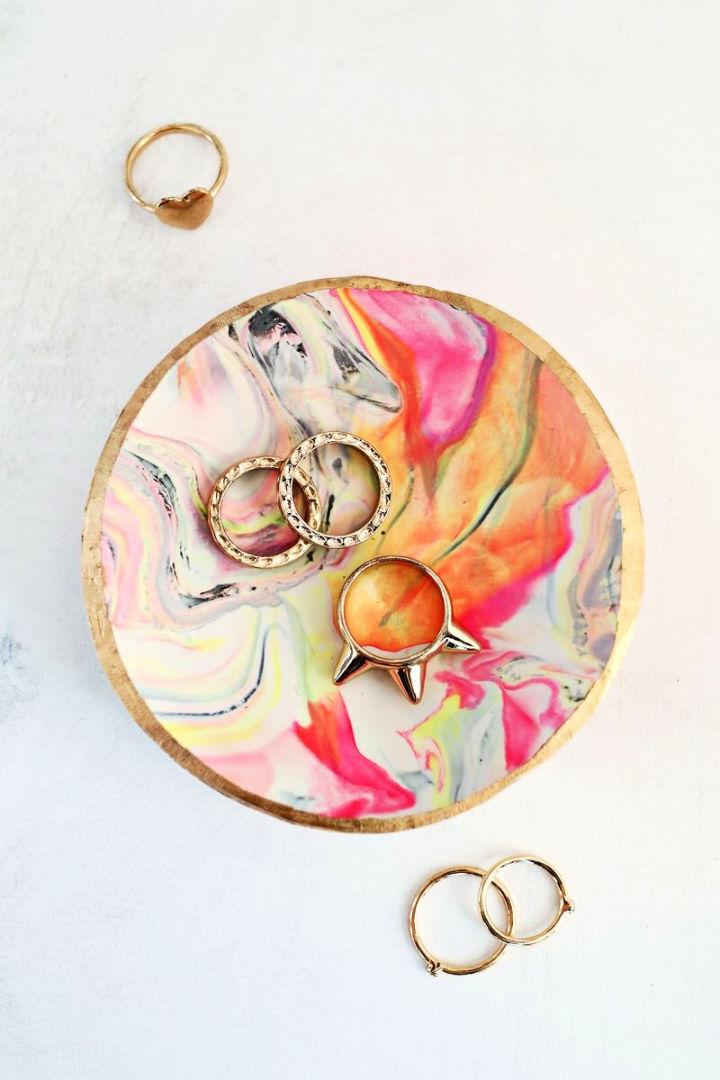 Now, make a fantastic place to store your rings and other jewelry by creating a perfect marble clay ring dish. You may also gift it to the one who is a jewelry person. Spend some time and bake pieces of colored clay into marble patterns to make an adorable jewelry dish. Other supplies are gold liquid gilding, small bowl, x-Acto knife or plastic clay knife, multiple colored clays. abeautifulmess
12. Zippered Wash Bag Pattern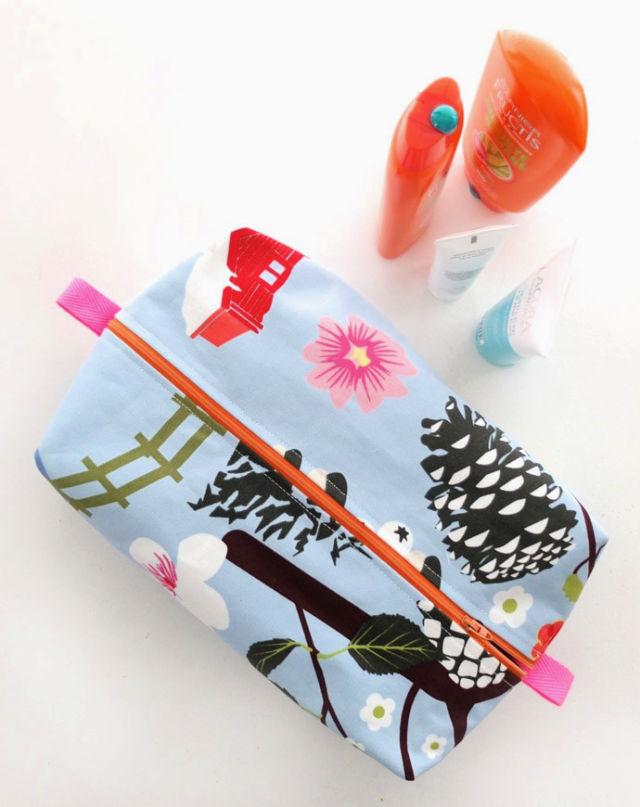 Is mother's day just around? Must you looking for some remarkable gift ideas to purchase? Wait! Why don't you make something at home to make your mother feel special? Make zippered wash bag with inexpensive supplies. All you need is sturdy fabric, waterproof fabric or coated cotton, zipper, a sewing machine with a zipper foot, a cutting mat, a quilting ruler, twill tape, or ribbon. mypoppet
13. Leather Mason Jar Sleeve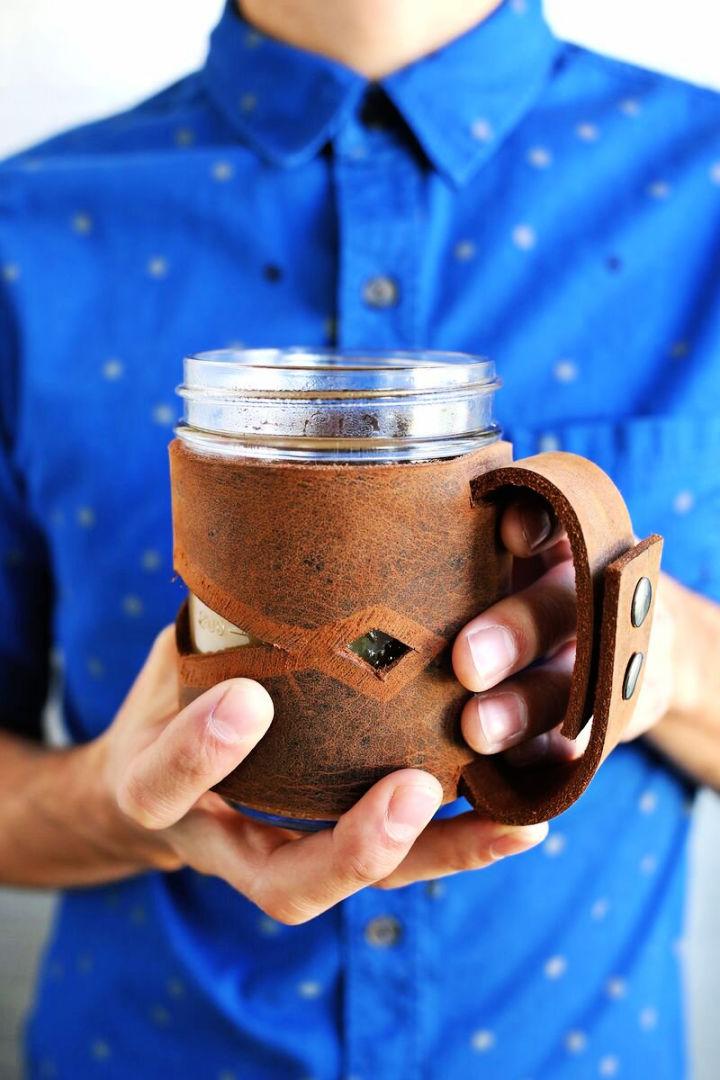 Design a sleeve with a strong handle by using heavy-duty leather. Cut these sleeves in a rectangle or a triangle shape to make a custom personalized look. This is the perfect gift to give someone on a special day. It's super easy and inexpensive too! All you need is leather, snap fasteners, waxed cord, knife, metal ruler, leather punch, hammer, and setter tool or snap tool. abeautifulmess
14. Leather Mouse Pad Fathers Day Gift Idea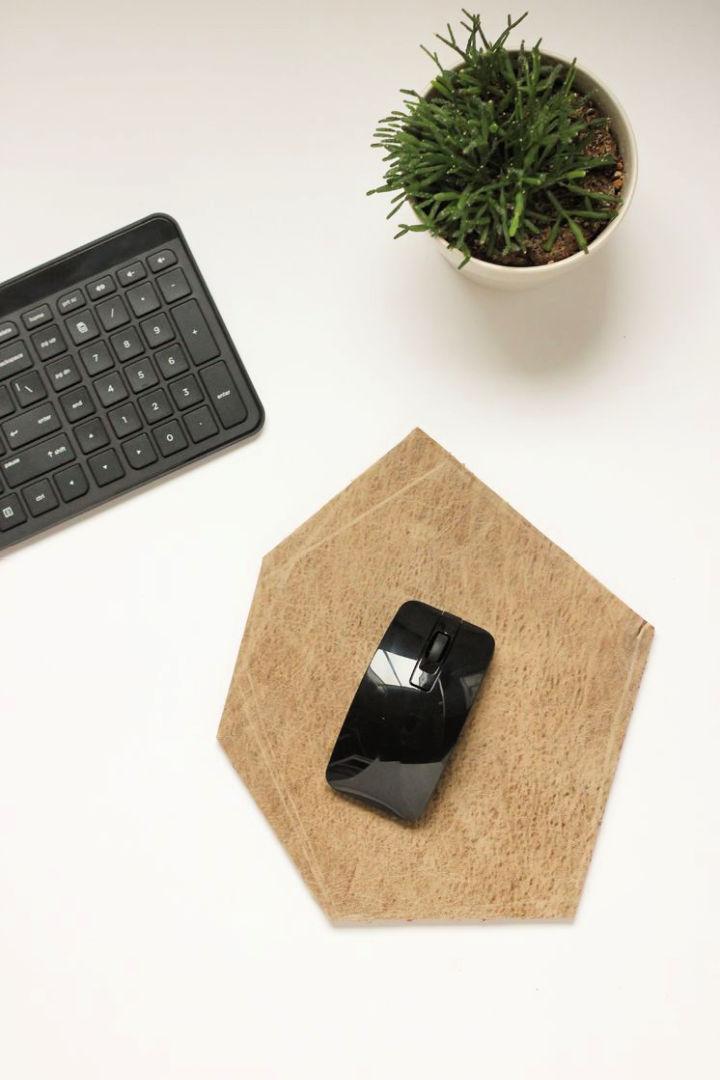 Our fathers always do struggle all over the year and each every day. On this fathers' day how about surprising your father with a special homemade gift? If your father is a businessman, make a perfect leather mouse pad. All you need is a leather scrap, chalk, self-healing mat, long ruler, rotary cutter, spray adhesive, old mouse pad, scissors, hot glue, etc. deliacreates
15. DIY Pour Over Coffee Stand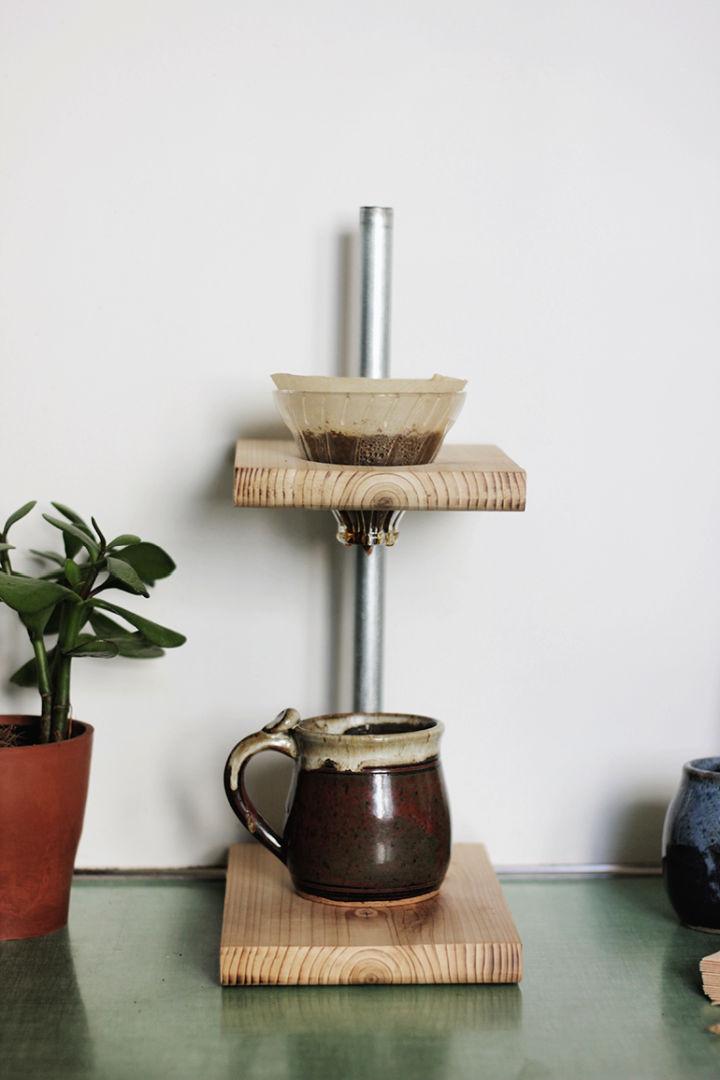 Are you a huge coffee lover? Are you looking for some handmade coffee accessories to put your coffee material all together in a nicer way? Then here is the best plan for you! Follow this fun and simple DIY project to make an adjustable pour-over coffee stand. All you need is wood, hot glue, hole saw, drill press, sandpaper, hacksaw, miter saw, EMT conduit, and screw coupling. themerrythought
16. How To Make A Candy Dispenser

Have you been searching for a perfect father's day present and wondering if you can find a similar DIY project to do this weekend? Do not have much budget; therefore, looking for something affordable and accessible too? Let's make a DIY candy dispense. Assemble hole screws, construction adhesive, wood, woodcutter, clamps, hacksaw, miter saw, measuring tape, and emoji gumballs. jenwoodhouse
17. How to Make a Zip Bag from Old Ties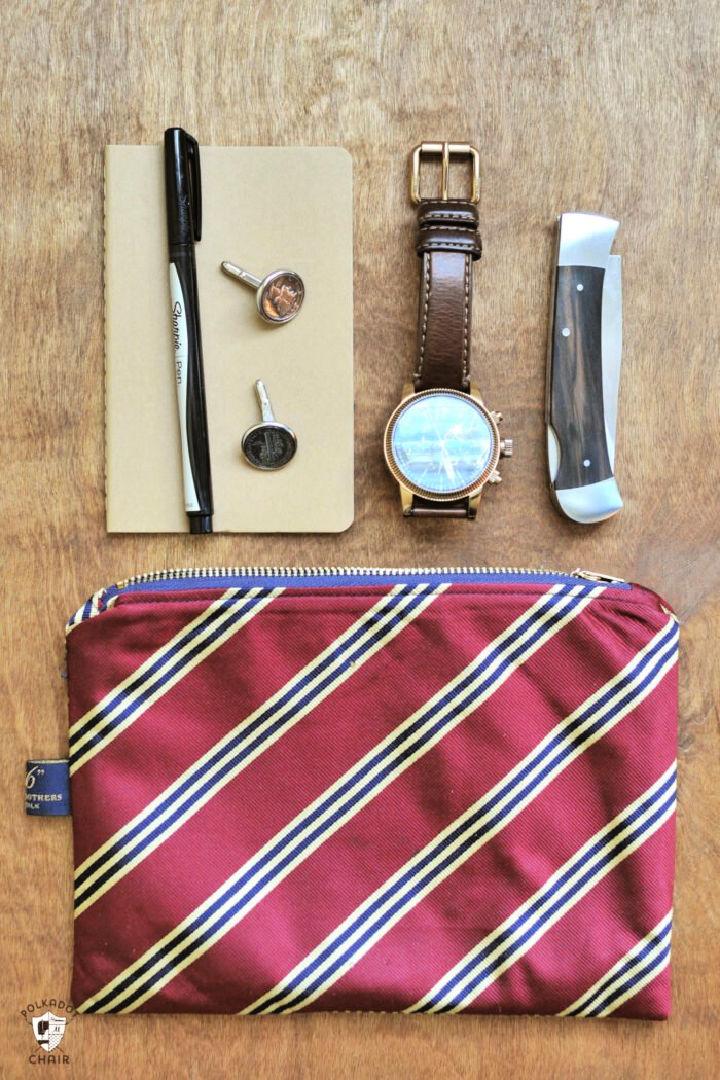 Do you have many old and stained neckties of your husband, and wondering if you could make something creative out of all of them? Why not! Make a perfect DIY necktie zip pouch that you can use yourself and gift to anyone too. It's a pretty simple sewing project. All you need is neckties, one fat quarter for lining, fusible fleece, shape-flex fusible, metal zipper, etc. polkadotchair
18. DIY Geometric Mother's Day Gifts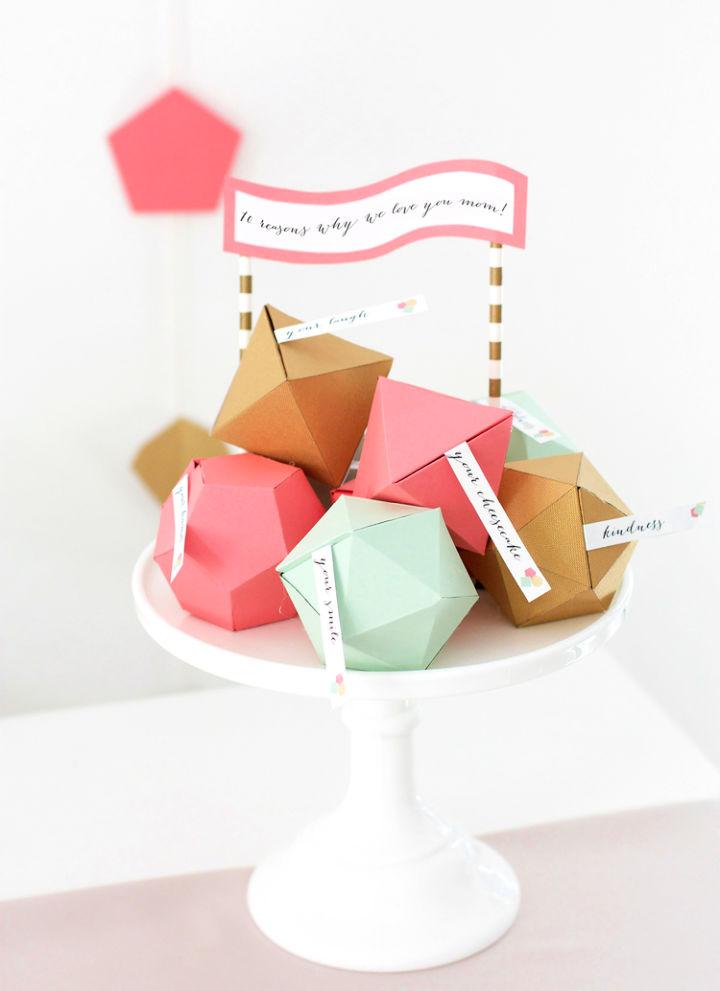 Are you arranging a special evening gathering on Mother's day and inviting all the dearest family members and friends to join in for brunch? Are you looking for some handmade crafty activity to decor the table to gift your mother too? Let's make a perfect geometric mother's day surprise! Assemble glue stick, printable template, striped straws, and colored card stock. kristimurphy
19. DIY Watch Stand Gift for Boyfriend

Does your brother love wearing expensive brand watches and have a huge collection already? Are you looking for DIY ideas to prepare handmade gifts? You are at the right place! Let's plan and make an elegant and formal DIY watch display stand. All you need is a wood piece, black pipe, drill, scrap wood, belt sander, table saw, marble tile, ceramic tile cutter, angle grinder, etc. themerrythought
20. Stitch Your Own Suspenders for Him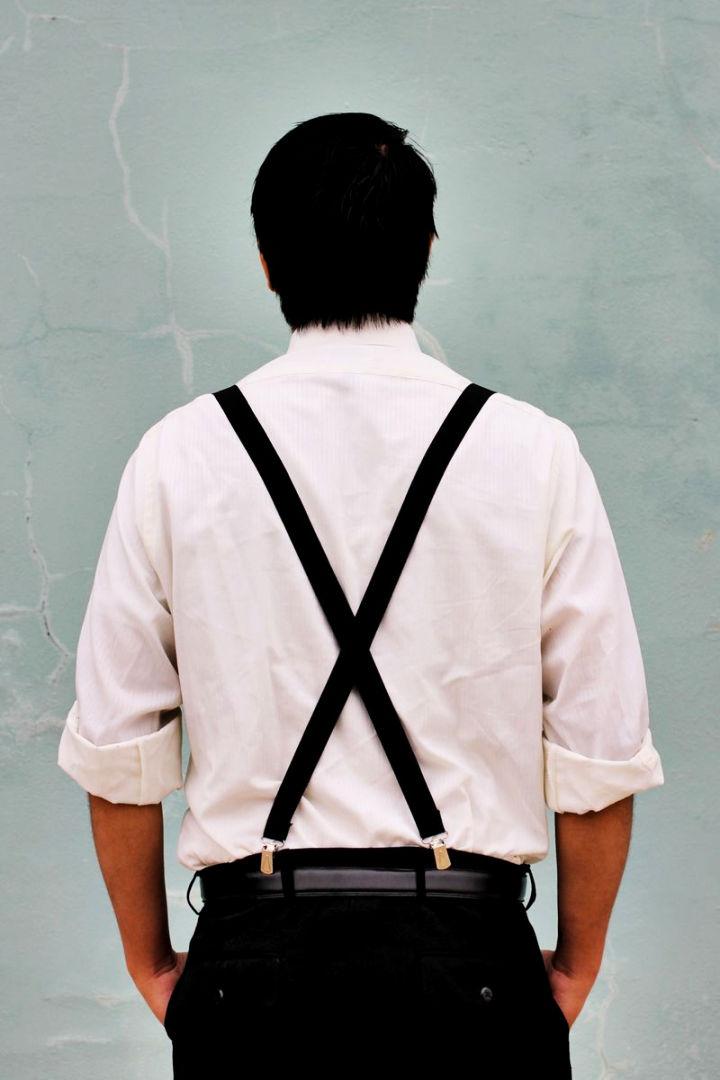 Do you love your man wearing suspenders because they really suit him? Is his special day just around? Why don't you make perfect and customized suspenders yourself for your spouse and make him feel more special by wearing your handmade stuff? All you need is three yards of elastic, suspender clips, sewing machine, thread, and measure the length to start with. abeautifulmess
21. Mens Slippers Gift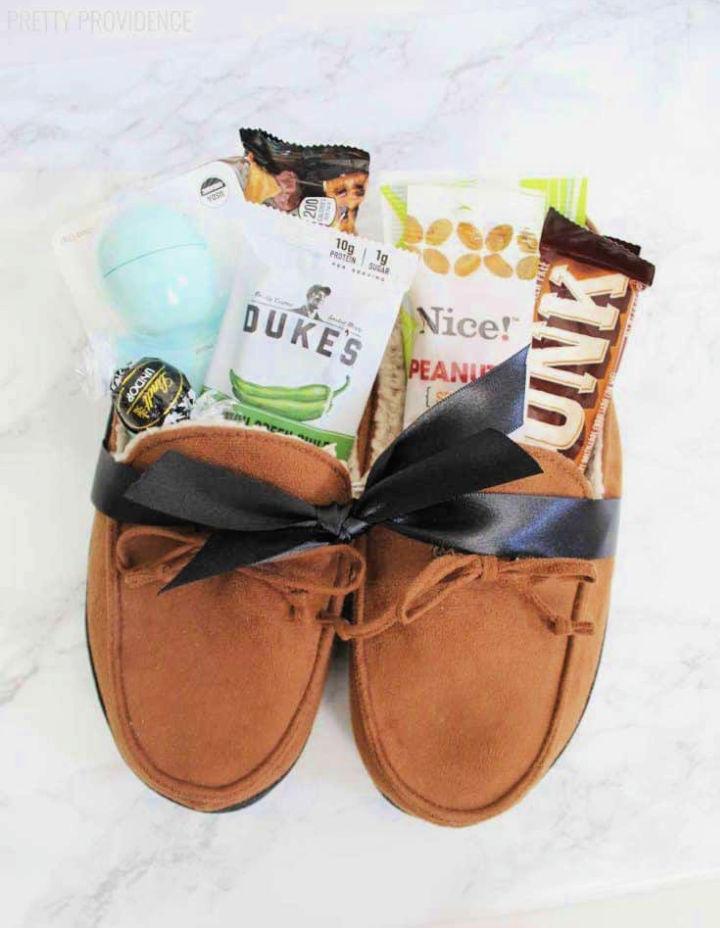 Are you looking for useful and practical gift ideas for men? No matter if you are shopping for your brother, husband, or dad this DIY project would get fit for everyone. Gift something practical by making luxurious slippers at home. They are super easy! Go to the market and assemble these supplies, including leather sheets, heavy twine, scissors, thread, needle, etc. prettyprovidence
22. Homemade Honey Lavender Soap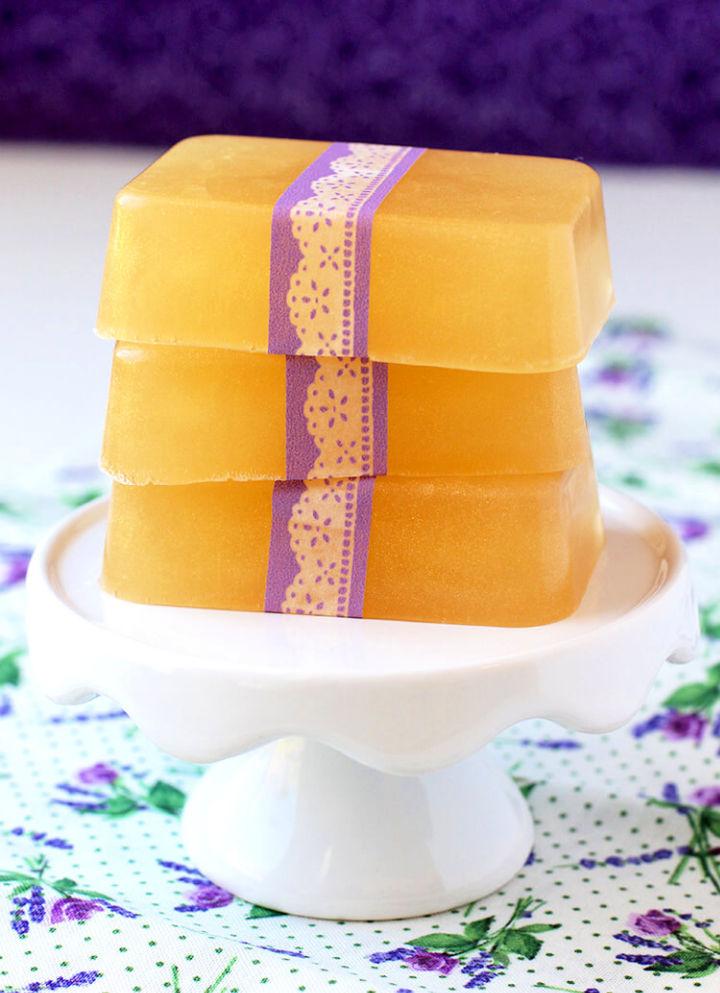 Have you ever used market-bought lavender soaps made from natural ingredients? Are you wondering if you can make one at home too to see how does it work? Why not! Follow this easy DIY plan to make a lavender honey soap that smells incredible. It is a perfect gift choice too. Assemble honey soap base, lavender essential oil, silicone soap mold, Pyrex measuring cup, etc. happinessishome
23. Heart String Art For Boyfriend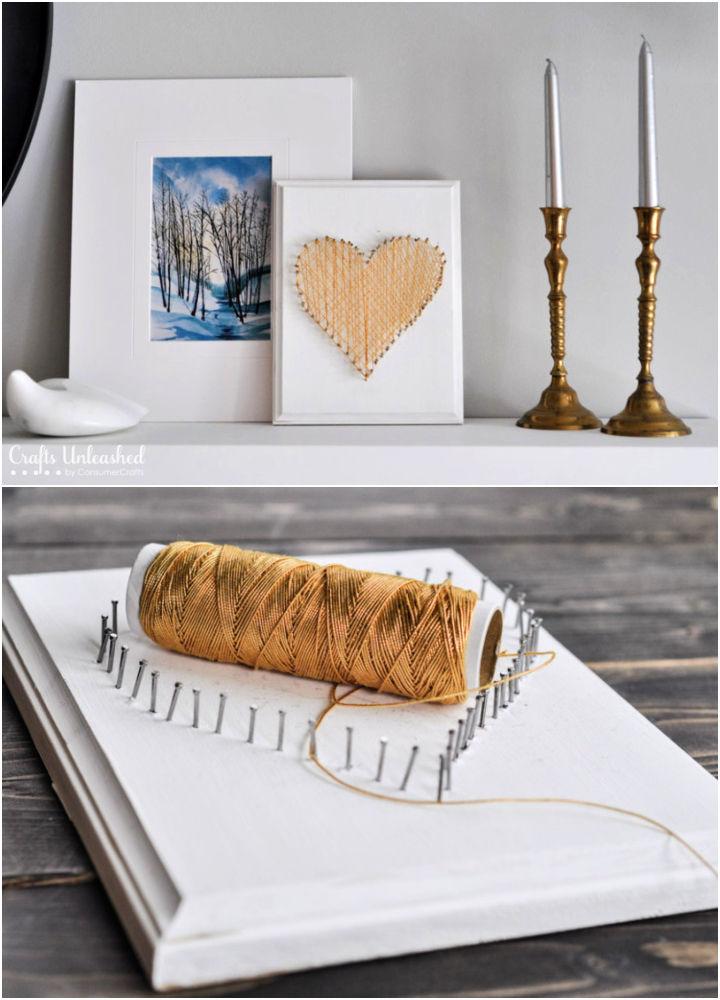 Valentine's day is just around! Are you looking to gift something special, boyfriend but wondering what it should be? Let's do something different this year, something handmade. Make a unique and adorable heartstring in just a few minutes. All you need is scissors, a cord, marker, white paper, finishing nails, sponge paintbrush, Americana decor, chalky paint, and wood plaque. consumercrafts
24. Pool Teacher Gift With Free Printable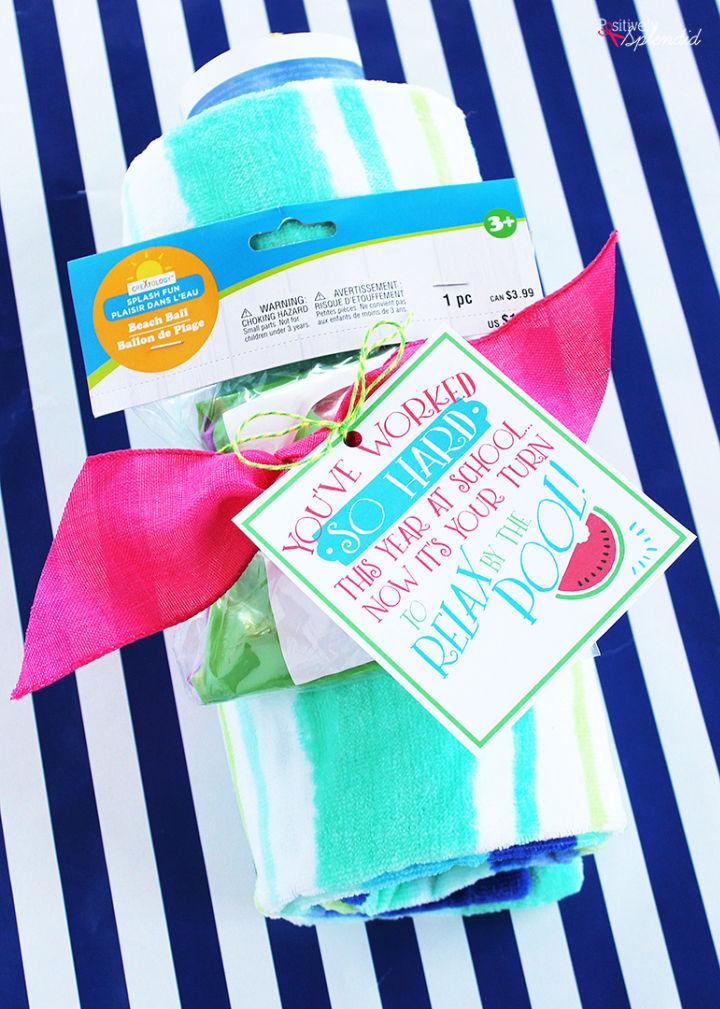 Every teacher needs appreciation and deserves a special gift to let her/him know how you respect them and their hard work during the whole year. Let's make something special this teacher's day. Plan and start this adorable, fun teacher plan. All you need is white cardstock, paper trimmer, twine, ribbon, beach towel, hole punch, magazine, beach toy, and scissors. positivelysplendid
25. Teacher Appreciation Calculator Gift

Teachers are the ones who struggle and do a lot of hard work throughout the for their students to achieve good marks. Don't you think they need a special appreciation too? Make a unique personalized calculator with the sweet note of your choice. All you need is a mod podge, scissors, pencil, patterned paper, a small solar calculator, foam brush, and treat bags. positivelysplendid
26. Mason Jar Pineapple and Tags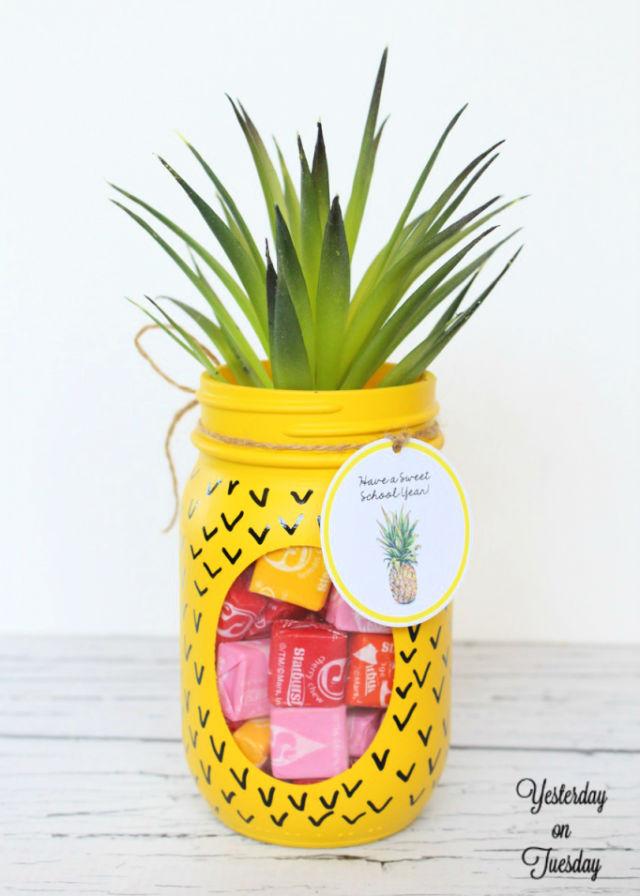 Are you the one who likes pineapples? Do pineapples remind you of the tropical paradise, and you just like eating them? No matter, whatever the case is, here we have a perfect DIY project of mason jar pineapple to gift to your loved ones. It's not only cheap but easy too. Assemble a mid-sized mason jar, succulent card paper to make a tag, glue, scissors, etc. yesterdayontuesday
27. Make a Valentines Day Journal for Teachers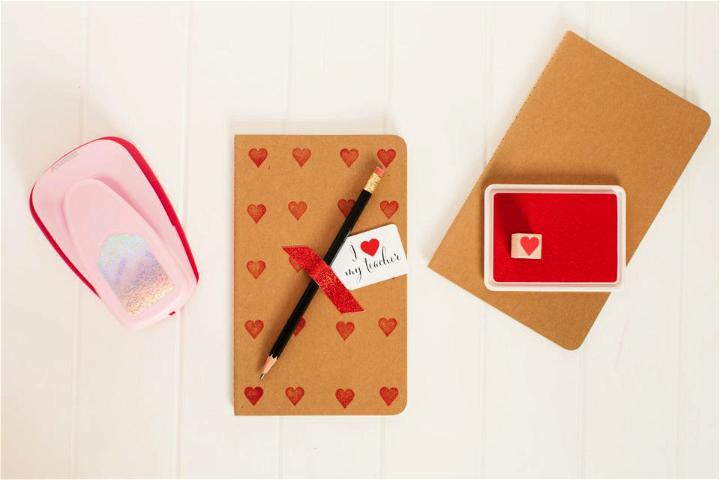 Have you been searching for easy teacher's day gift idea's How if we show you a plan to let your small kid make a thoughtful valentine's day gift for her teacher while you can take a break from handing cards and candies. The required supplies for this project are scissors, a pintable teacher tag, small tag paper punch, plain journal, small heart stamp, red ink, etc. diynetwork
28. Sweet Fabric and Felt Lavender Sachets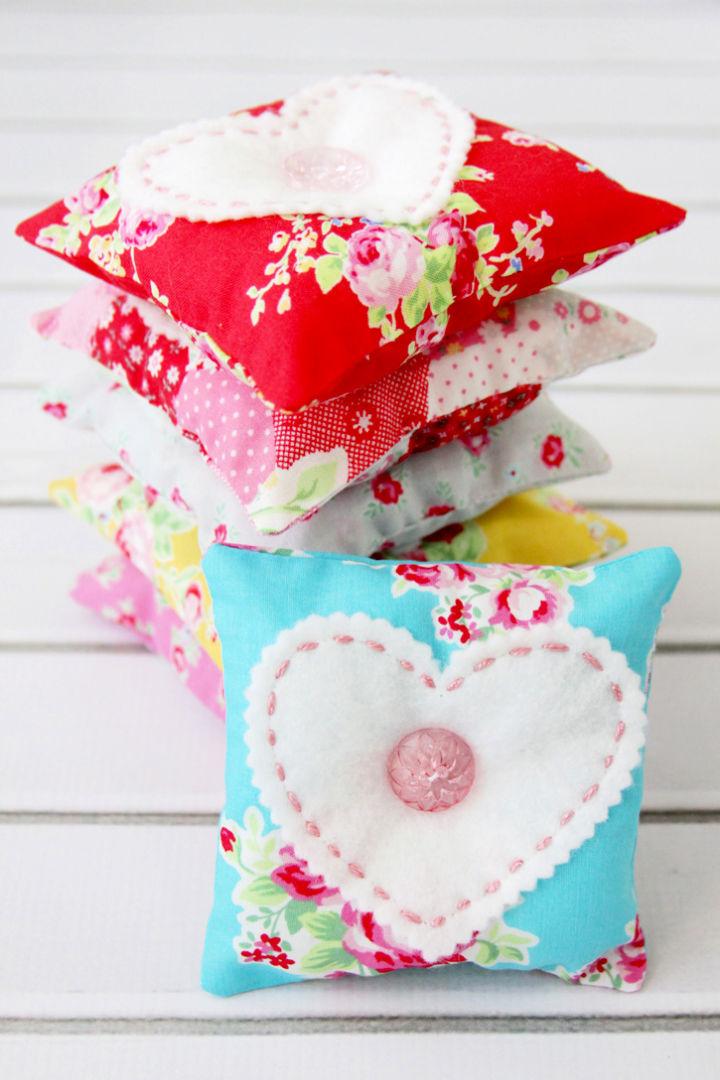 The best time of the year means summers are just there! Are you arranging all the required accessories that you need during the holidays and found you need some new sachets? Save money, and let's make sweet fabric felt lavender sachets at home. All you need is printed fabric of your choice, fiberfill, button, 4″ piece of wool, DMC embroidery floss, and pinking shears. flamingotoes
29. DIY Faux Cross Stitch Socks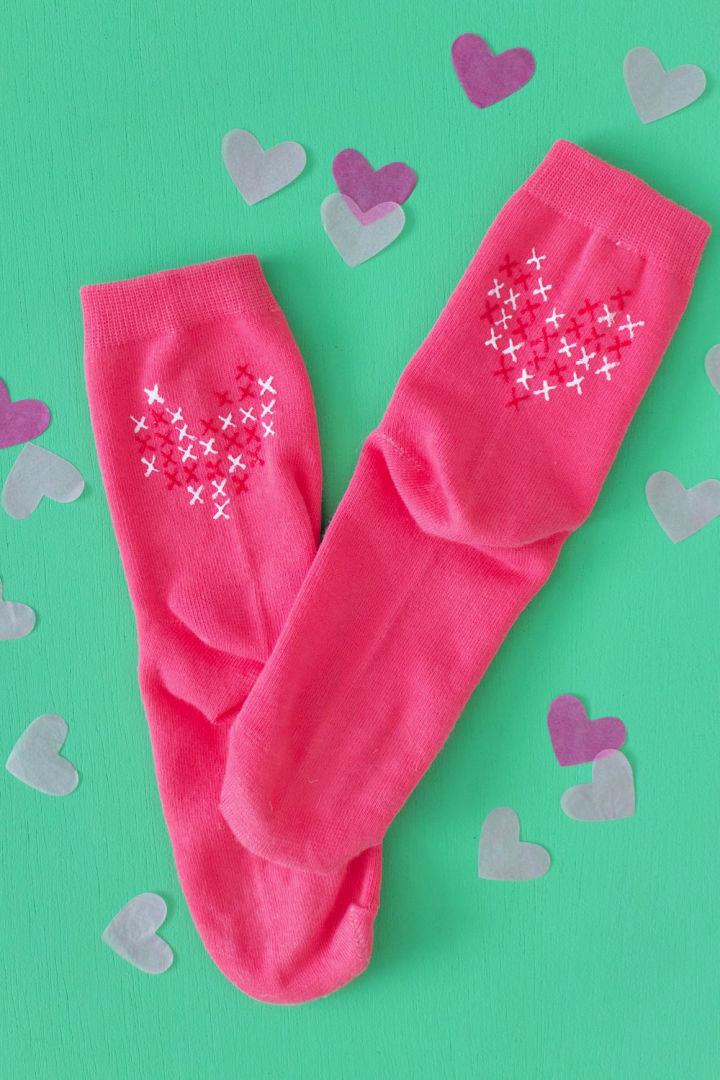 Winters are just around you must be looking to purchase new stylish socks from the market, right? Wait! Why don't you stitch your customized socks at a much cheaper rate? Start making DIY faux cross stitch socks for personalized use or to gift someone. All you need is tulip dimension fabric paints in red or pink color, cardboards, crew socks, scissors, thread, etc. clubcrafted
30. Homemade Nurses Week Gift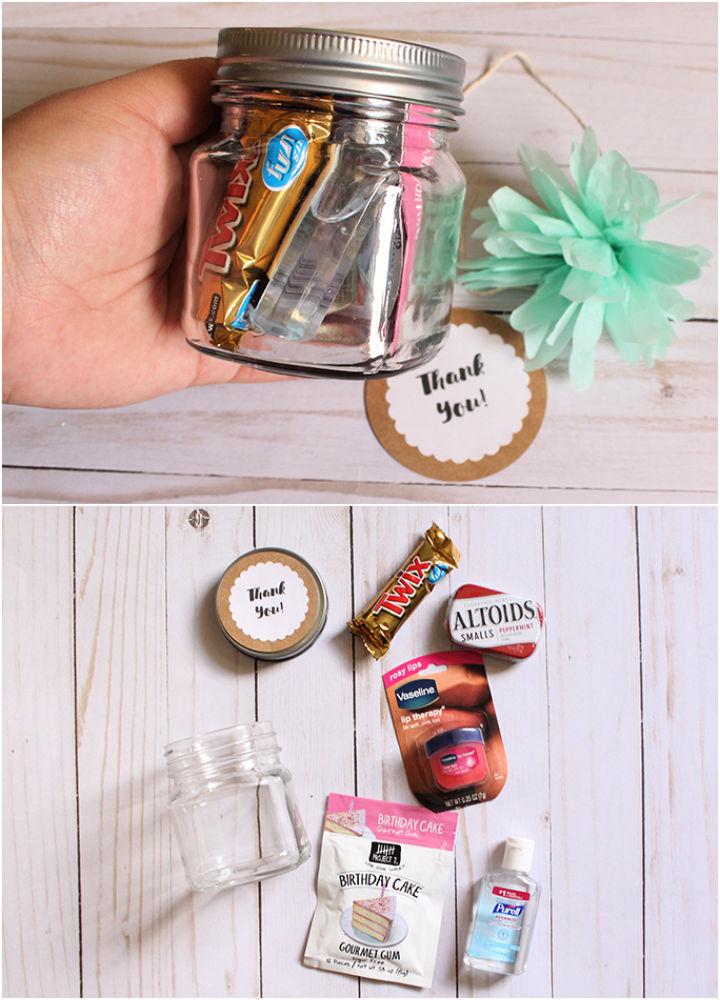 Being a nurse, it's not an easy job. Nurses make day and night efforts to save people's lives and take care of ill patients until they do not get well. Nurses week is just around! Let's appreciate the hard work of a nurse who saved your life someday. Make a perfect thank you box with a jar, appreciation note, hand sanitizer, mints, gum, lip balm, etc. growingupblack
31. Embroidered Mens Eyeglass Case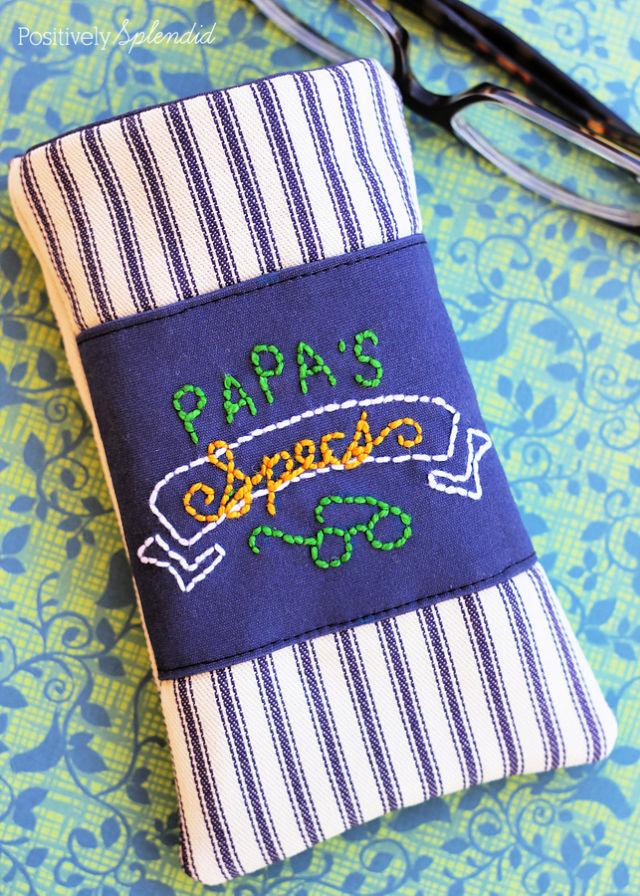 Are you looking for some DIY gift ideas for a special man in your life? You are at the right place then! Make a perfect personalized embroidered case to hold his eyeglasses or sunglasses and make him feel super special. It's pretty simple! All you need is fabric scraps in two patterns, fusible fleece, craft thread, embroidery needle, washable ink marker, thread, and sewing supplies. positivelysplendid
32. Cute DIY Mouse Slippers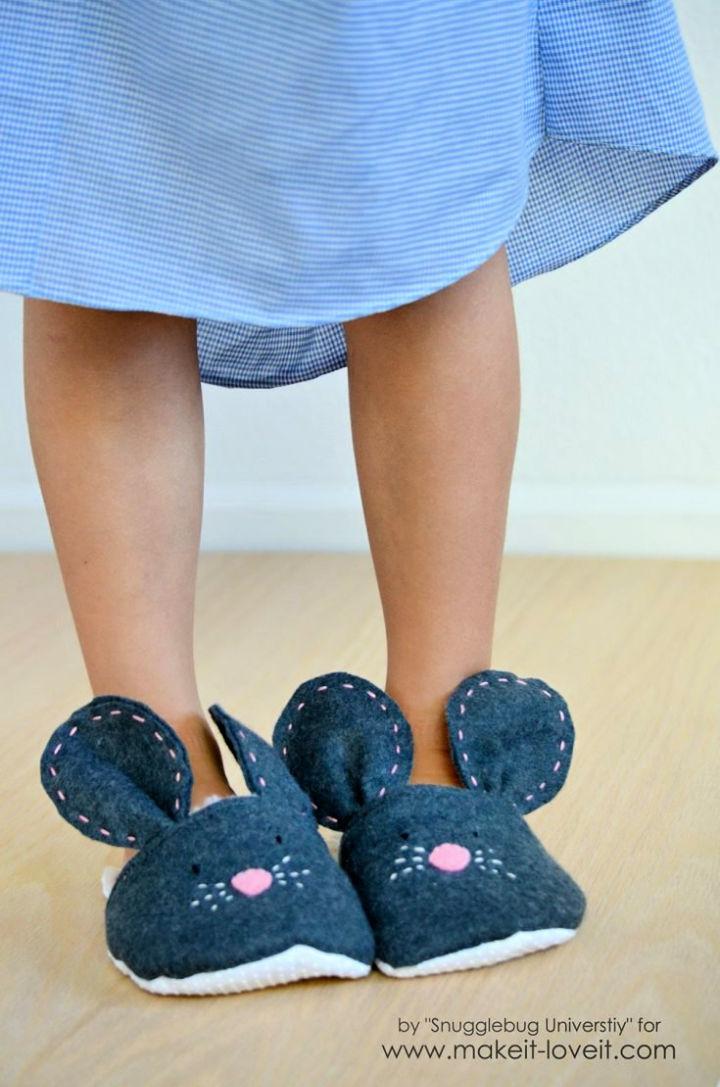 Do you know some basic sewing skills? If yes, then create these adorable mouse slippers, perfect for Christmas, Birthdays, Mother's day, Easter, or any other special day. Assemble ½-inch thick craft foam, embroidery floss and needle, Sherpa fabric for the lining, Footie PJ, non-skid fabric, Felt, sewing machine, and common sewing supplies. makeit loveit
33. Cutting Board Tablet Holder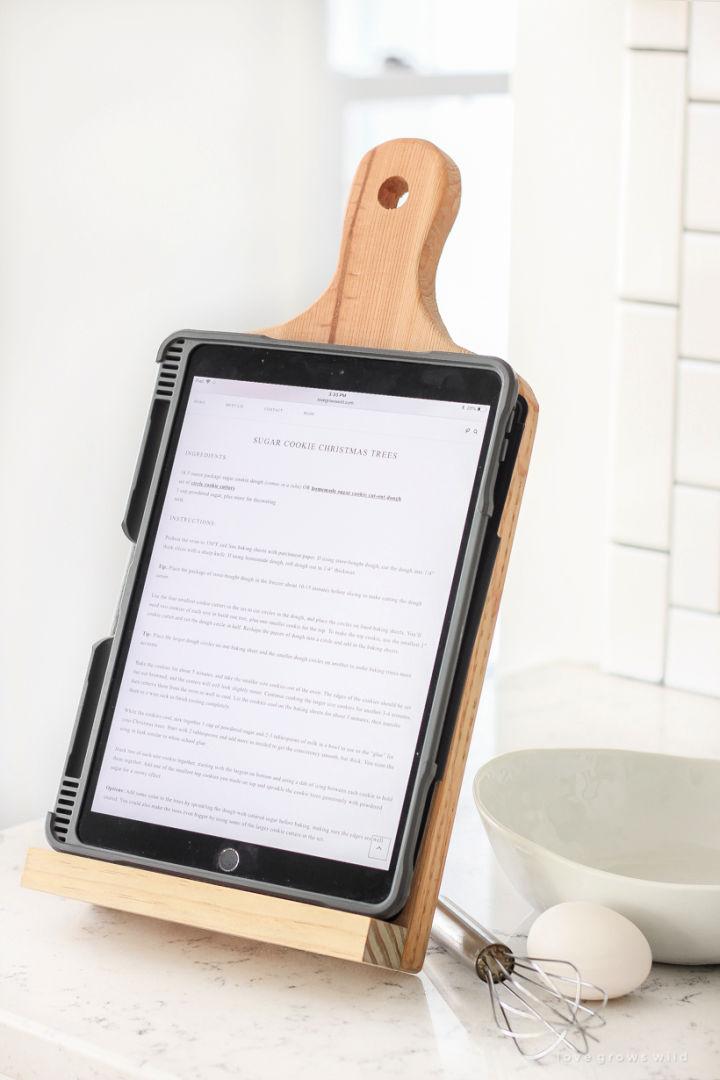 Are you the one who is learning cooking these days through online videos of your favorite recipes? Then you just need a tablet holder to put in your kitchen to make the whole cooking process easier, right? Let's make a handmade holder by using a cutting board. All you need is lumber pieces, brad nail gun, tape measure, wood glue, cutting board, miter saw, and wood stain. lovegrowswild
34. Homemade Candles For Friend

Candles have always been used to add warmth, light, and coziness to cold places, especially winters. Candles are also an excellent piece of gift for almost everyone. Follow this plan and make specially customized candles at home to gift someone special in your life. All you need is two glasses of yogurt, natural soy wax, candlewick, thyme essential oil, scissors, printable label, etc. purelykatie
35. Pom Pom Earrings For Aunts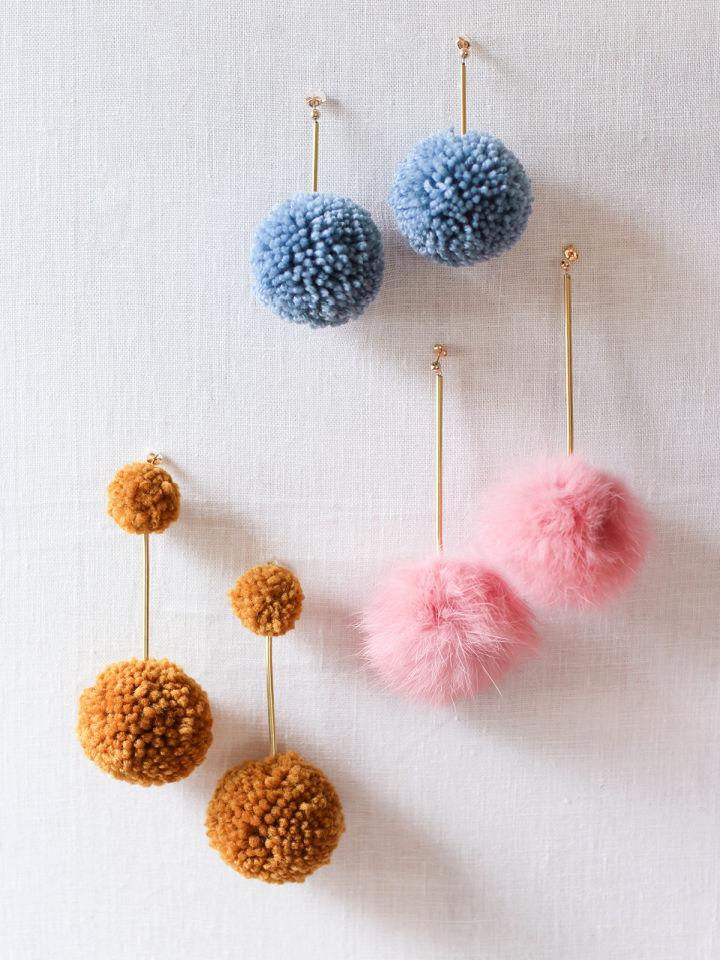 Aunts are just like our second mothers because of the way they care! Let's make your aunt feel special on her special day by showcasing style by gifting handmade pom-pom earnings. This is a fun and creative DIY activity that you can complete within an hour with all the supplies ready. All you need is a brass tube, yarn, hoppy hacksaw, embroidery needle, pom-pom makers, etc. honestlywtf
36. DIY Accordion Photo Box Photography Gift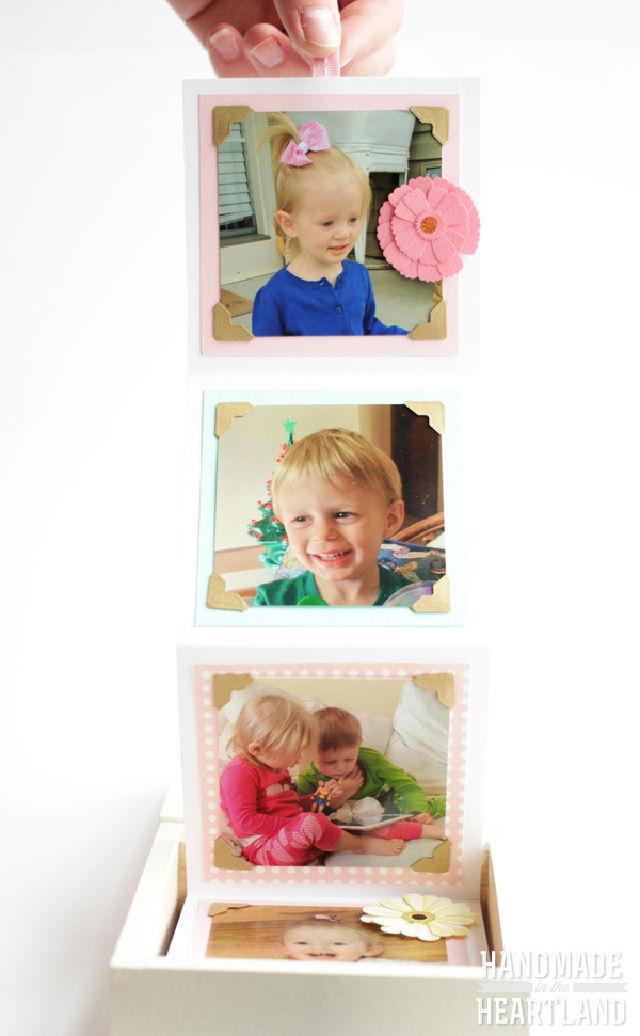 Have you arranged a special gift for your mom to give on a special mother's day? Haven't yet because looking for something to make at home? You are in the right place then! Make a perfect DIY accordion photo box and attach all the grandkids' photos in a photo frame. All you need is a wooden box, stickers, photos, ruler, scissors, one sheet of white cardstock, scotch tape. handmadeintheheart
37. DIY Anniversary Gifts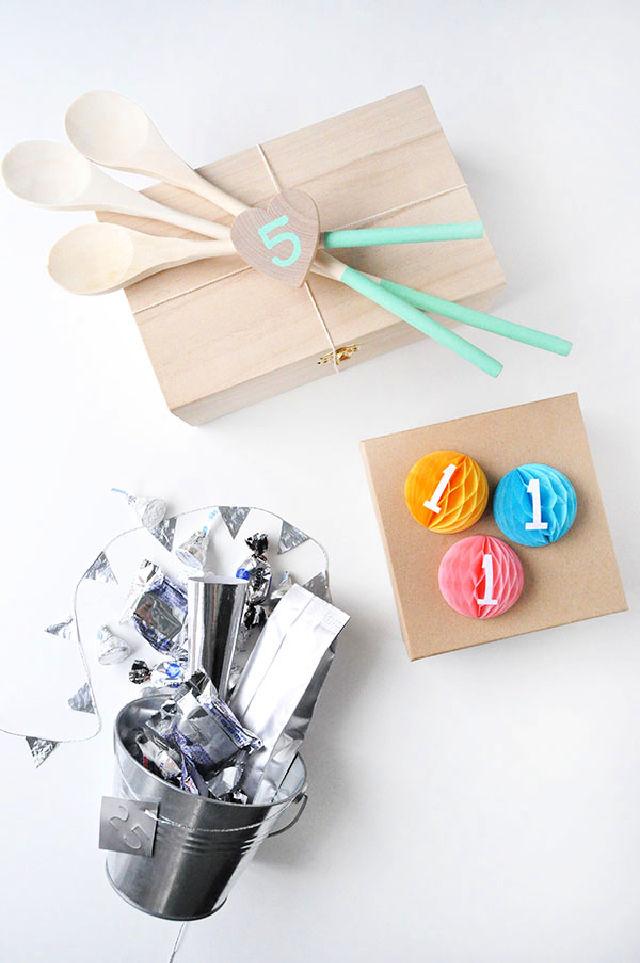 There is no limitation on the gift of a great moment, right? is your wedding anniversary just around and looking for something unique to gift your spouse? Follow this DIY project and make to make your spouse feel special. All you need is a paper box, deck of cards, stick, scissors, tissue paper, mini envelop, glue stick, hot glue gun, miniature honeycomb balls, and white & pink card stock. ohhappyday
38. Personalize Engraved Copper Mugs Gift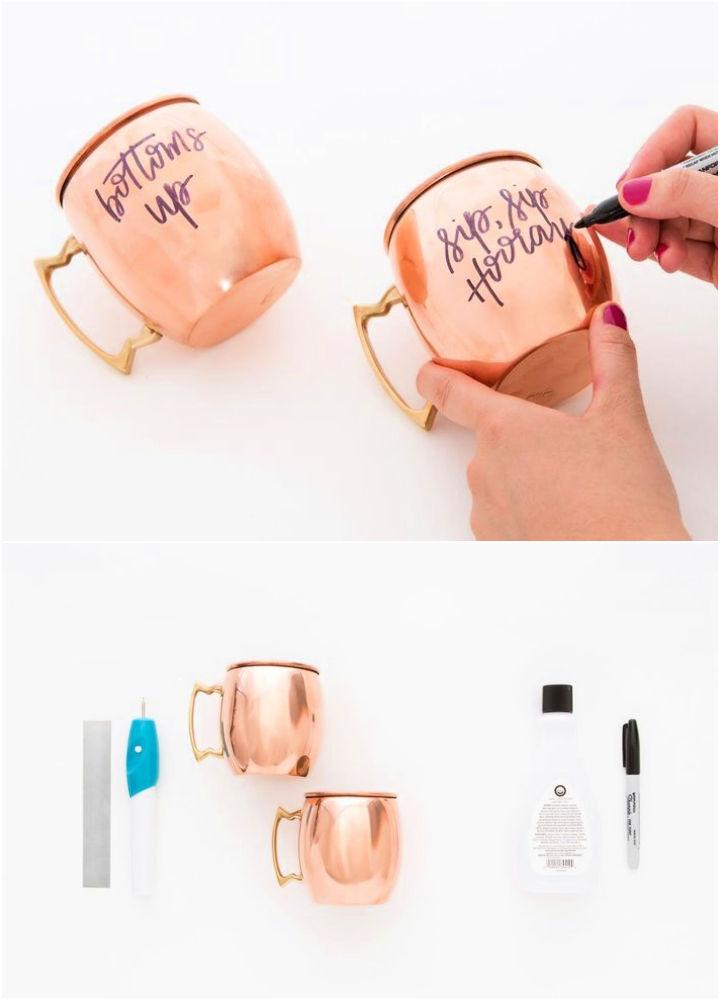 No matter if you are a Moscow mule drink or not but who wouldn't like to add copper mugs to their houseware collections? Let's show you how to add custom engravements to these already adorable mugs. All you need are these readily available supplies like permanent marker, nail polish remover, engraving pen, copper mugs, and practice pieces to start with. brit co
39. Best Homemade Votives Gift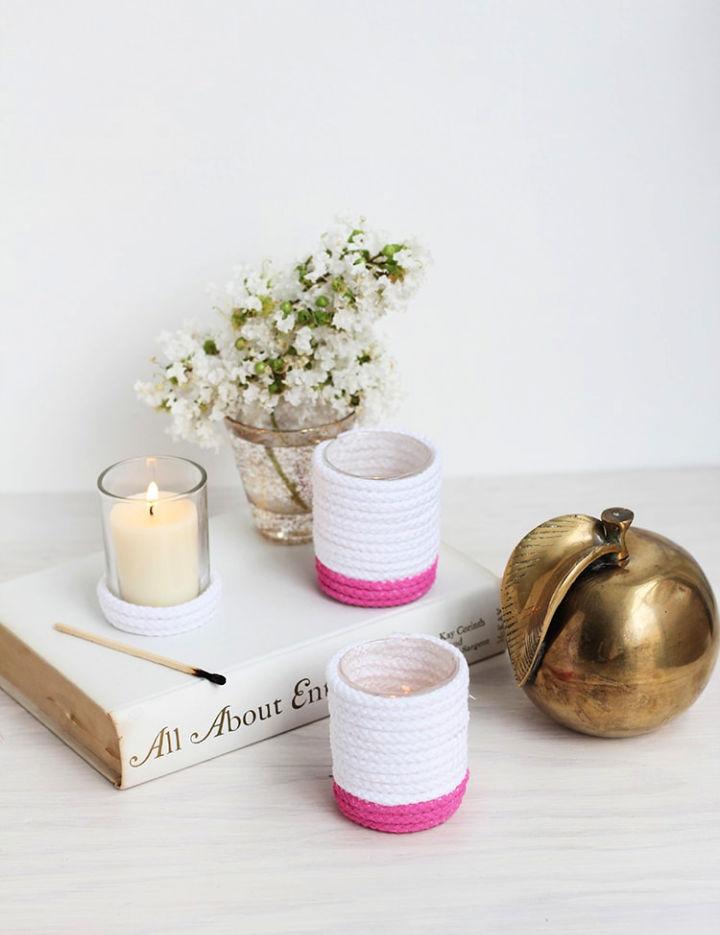 Candles are one of those materials you can gift anyone after a little decoration. Let's try candle holders this time? Follow this plan and make these adorable candle holders that make a perfect gift for almost everyone. All you need is a flamingo, paintbrush, hot glue gun, spools white cotton trim, four clear glass votive holders, tea lights and votives, acrylic paint. freutcake
40. Best Homemade Votives Gift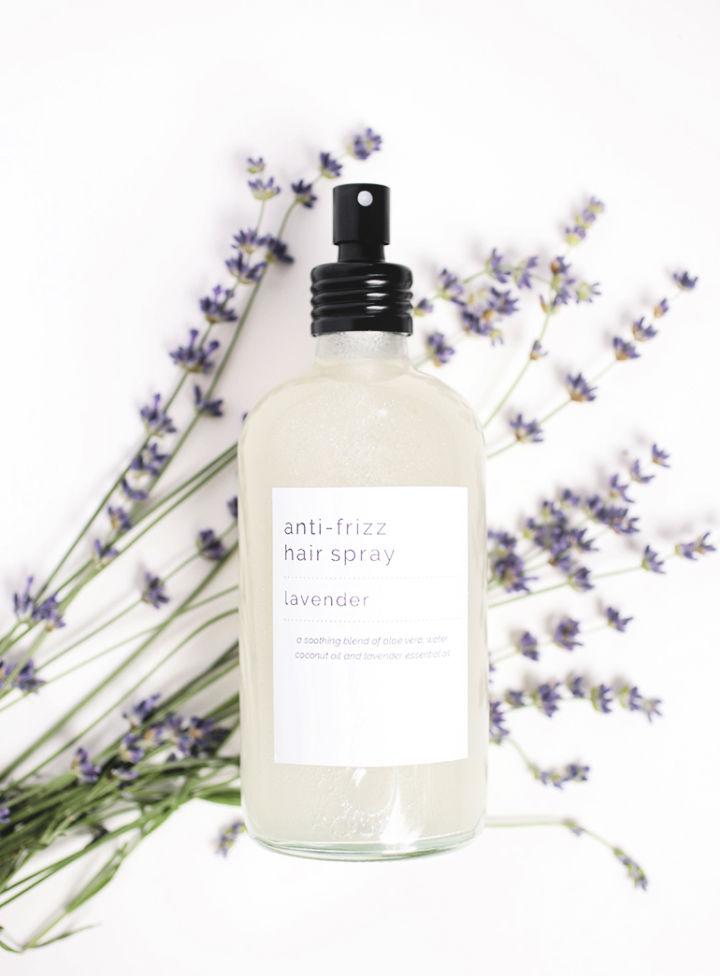 Every single woman is aware of how humidity can be a hair ruiner. Therefore, gift your mother, girlfriend, sister, and wife a perfect DIY lavender anti-frizz spray. This is super to make at home and inexpensive too. All you need is cup of natural aloe vera gel, three tablespoon water, two teaspoons of coconut oil, 5-8 drops of essential oil, a spray bottle, and a label. themerrythought
41. Crochet Cupcake Pincushion Sewing Kit Gift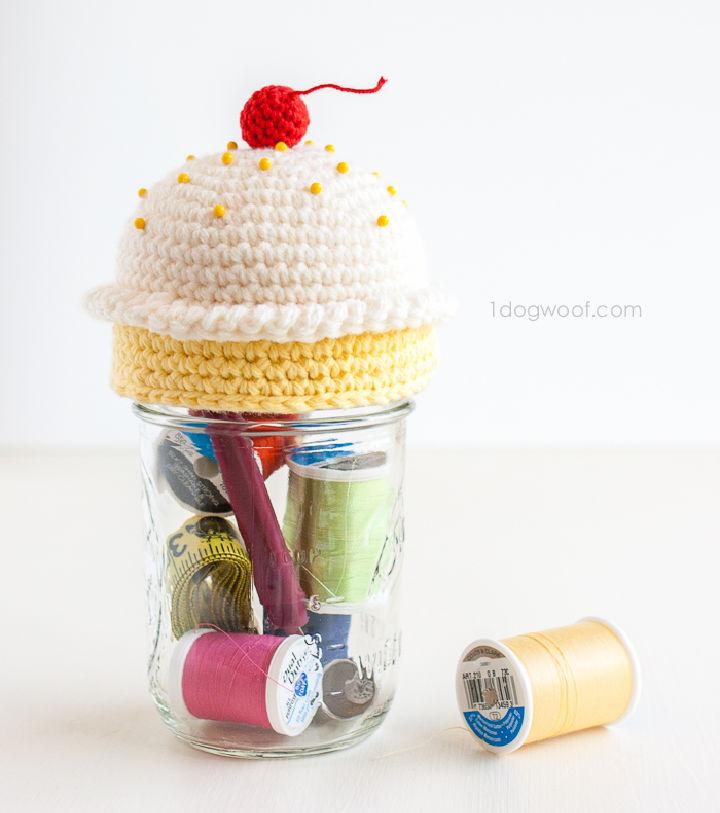 Do you love sewing and love making something new every day? Are you searching for the perfect handmade sewing kit ideas to combine all the sewing material? You are at the right place! Follow this plan and make your desired custom kit at home. Assemble hot glue, fiberfill stuffing, scissors, embroidery needle, Chook, small wooden bed, and G hook (4mm). 1dogwoof
42. Homemade Rose Bath Bombs For Coworkers Gifts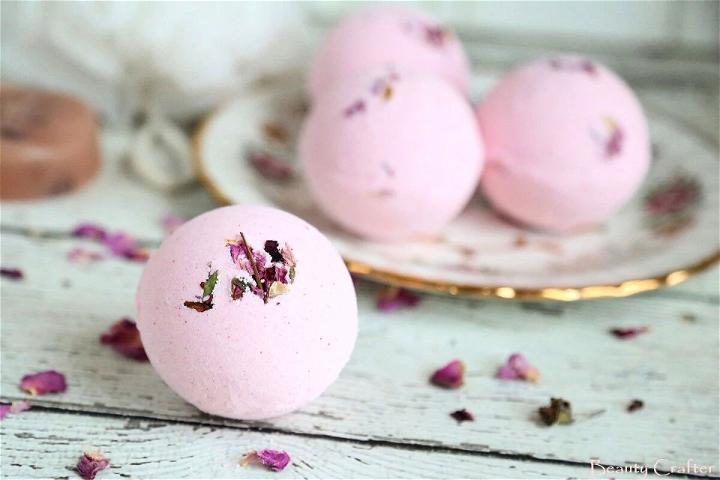 Leave visiting the expensive trendy soap store and follow this easy DIY plan to make perfect DIY bath bombs. These soaps are an excellent choice to gift someone on special occasions like mother's day. This is pretty simple, and you may also gift them paired with a bottle of wine. All you need is a circle soap base, spray color, roses, paintbrush, pencil, crepe paper, etc. beautycrafter
43. Homemade Paper Birthday Cake Box

Do you love crafting and making unique boxes in customized shapes? No doubt that the best presents come in the best packaging too and even good packaging brings more excitement to check what's inside the box, right? Make a perfect paper birthday case box using supplies like crepe paper in your favorite color, craft knife, pencil, fun paper straws, glue pen, etc. ohhappyday
44. Unicorn Spa Jar Gift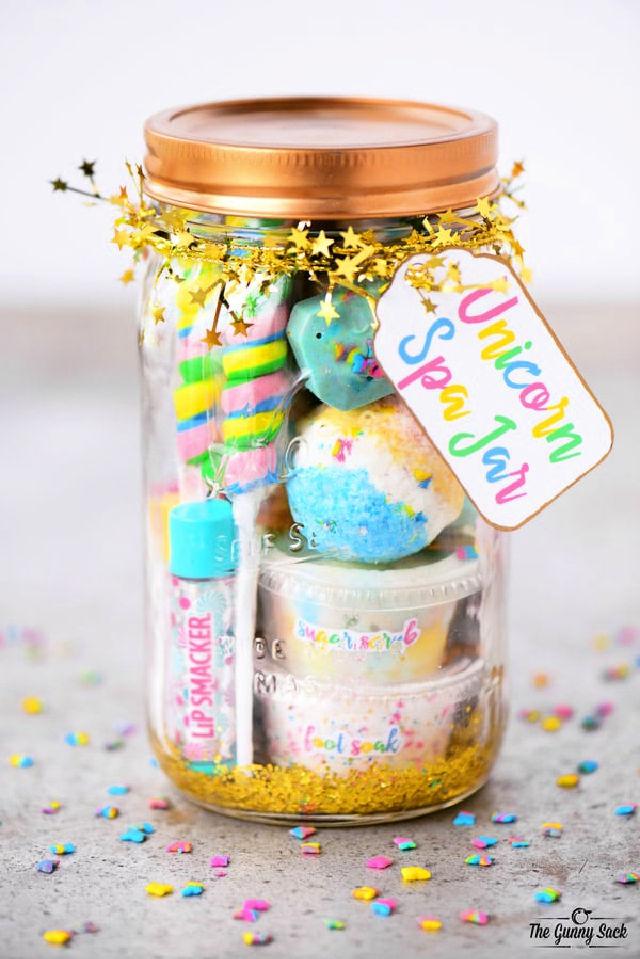 Are you looking for the best DIY gift ideas for your girlfriend? Does your girl love sine, bright, sparkly, and colorful stuff? Don't go anywhere because you are in the right place. Gift your girlfriend a perfect unicorn spa jar on her birthday or Christmas. Assemble mini unicorn soaps and foot soak, rainbow ice gourmet gum, 4 lip smackers lip glosses, mason jar, glitter hair clips. thegunnysack
45. Homemade Mason Jar Birthday Gift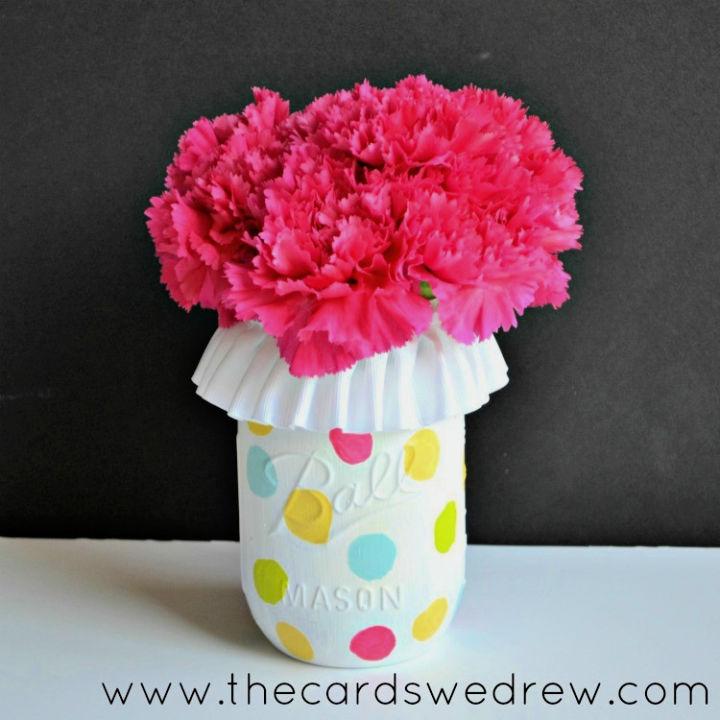 If you are planning to gift someone a lot of fresh flowers, then go one step forward and make these incredibly easy polka dot mason jar vases. Whoever, you want to give- this handmade vase will make them feel special. It's inexpensive and easy too! All you need is these supplies like flowers, paintbrushes, mason jar, white paint, and assorted colored paints. thecardswedrew
Frequently Asked Questions:
Find the perfect DIY gifts for everyone on your list with these easy and creative ideas. To get started today, get answers to your frequently asked questions about affordable DIY Gifts!
How can I make a meaningful DIY gift for someone special?
DIY gifts are a great way to show receiver how much you care and appreciate them. With our list of gift ideas, you can create something unique that will be treasured for years. Try customizing items with special messages or making handmade cards, artwork, jewelry, or personalized gifts. You'll have a wonderful gift that will make your loved one smile!
What are the most creative DIY gifts to make?
DIY gifts are one of the most thoughtful and creative presents you can give. To make a lasting impression, try making homemade candles, soaps, jewelry, knitted scarves or custom artwork. You could also create a gift basket filled with goodies like chocolates, jams or spices for a truly unique gift. With a little imagination and planning, your DIY gifts will be sure to impress!
What DIY gift ideas can I make for the holidays?
DIY gifts are a great way to show your friends and family members how much you care during the holidays. Consider making personalized photo albums, jewelry, mason jar creations, baked goods, or custom artwork for your recipients! With a bit of creativity and imagination, DIY gifts can be both meaningful and cost-effective.
What can I make handmade to gift?
Show your love and affection to someone special in your life by crafting a one-of-a-kind, DIY gift! Get creative and make something special with your own two hands! Whether it's a festive centerpiece, a knitted scarf, or homemade cookies, DIY gifts are thoughtful and unique—and sure to be appreciated. So tap into your inner crafter and get ready to spread some love!
What to give someone who likes DIY?
If you're just looking for a special way to express your love and affection, then DIY gifts are an excellent option. From homemade soaps and candles to hand-painted flowerpots, you can easily craft an amazing gift for the DIY lover in your life. You can even personalize it with their initials or a special message! Remember to add some tools and supplies for their next project too.
What are easy DIY gifts?
Fun and thoughtful DIY gifts are a great way to show you care – all it takes is the right materials! From bath bombs, soap bars, photo frames, jewelry or even a knitted scarf – get creative and make a thoughtful gift for your loved ones! The possibilities are almost endless when it comes to diy gifts. Get inspired and make something special!
What is considered thoughtful gifts?
A thoughtful gift is anything that shows care and appreciation, such as diy gifts or handmade items. These gifts are typically more meaningful and memorable than store-bought ones, as they show a personalized touch. Whether it's for a birthday, anniversary, or to show you care, diy gifts can be the perfect way to express your feelings. By making something with your own hands, you can create something special for someone else that will last a lifetime! Gift giving doesn't have to be complicated – just remember that thoughtfulness always goes a long way.
What is an unforgettable gift?
A diy gift is one of the most unforgettable gifts that can be given. It shows thoughtfulness, creativity and effort, making it an incredibly special present for someone to cherish. Crafting something unique by hand gives a gift a personal touch which makes it truly memorable. Whether it's a scrapbook, mix tape or painting, diy gifts make lasting memories. It's the perfect way to show how much you care!
What handmade gifts can I make?
Personalized homemade presents are the perfect way to show appreciation for those closest to you. Create something unique, like a homemade photo album, personalized mug, or painted canvas. You can also customize everyday items like mugs or t-shirts with fabric pens or create a custom gift basket. Whatever you choose, diy gifts are sure to be appreciated!
What is the best handmade gift for a friend?
A handmade gift is a perfect way to show someone you care. DIY gifts are thoughtful, creative and cost-effective. Whether it's a painted mug, homemade chocolates or an embroidered pillow, your friend will be delighted with something unique and made with love just for them. Let your creativity soar when crafting that special gift!
What are the most popular handmade gifts?
Handmade gifts are unique and creative ways to show someone you care. Popular diy gifts include homemade jewelry, framed pictures, wall art, needlework, pottery, photography prints, candles, and soaps. These handmade items can be personalized and tailored to the recipient's taste for a truly memorable gift. No matter the occasion, diy gifts will surely put a smile on anyone's face!
What are tiny inexpensive gifts called?
Tiny and inexpensive gifts are commonly referred to as "DIY gifts." These small presents range from handmade crafts, trinkets, store-bought items, or even thoughtful gestures. DIY gifts are ideal for occasions such as birthdays, anniversaries, and holidays when you need to show someone you care without spending much money. Creative diy gifts can be memorable and meaningful for the recipient! For ideas on diy gift ideas, check the blog post on diy gift ideas inspiration.
What are small meaningful gifts?
Small meaningful gifts are DIY projects or items that show thoughtfulness and caring. They can be handmade, a book of memories, or a special item with personal significance for the recipient. Such gifts convey your appreciation for the person and will be treasured far more than mere trinkets. Diy gifts offer an opportunity to express creativity while showing how much you care.
What should I gift my best friend cheaply?
DIY gifts are a great way to give your best friend something special and unique without breaking the bank. Get creative with materials around the house and tailor your gift to their interests. From personalized cards and artwork to sweet treats or hand-crafted jewelry, a DIY gift will show them how much you care.
What are simple gifts?
DIY gifts are one of the simplest and most thoughtful gifts to give. They provide a unique, creative way to show someone you care without breaking the bank. DIY gifts such as handmade cards, photo frames and personalized mugs can be fun and meaningful for any occasion. Show your loved ones that you appreciate them by making a special gift with your own two hands!
How to make simple handmade gifts?
Plenty of diy gift ideas are simple enough to make with just a few materials and tools. From knitted scarves and crocheted blankets to hand-painted mugs and decorative vases, you can find all kinds of gifts you can easily create using your own two hands. Get creative and have fun making unique presents for the special people in your life!
What are the easiest things to make for Gifts?
DIY gifts are always a great way to show someone you care. Whether it's something like a photo collage, an embroidered pillow, or even homemade body scrubs, there's so much that can be made with just a few materials and some creativity! DIY gifts are perfect for almost any occasion and will surely make the recipient feel extra special.
Related DIY Gift Ideas:
Create thoughtful and unique gifts for your friends and family with these DIY Gift Ideas. Find creative ways to give meaningful presents without spending a fortune!
Conclusion: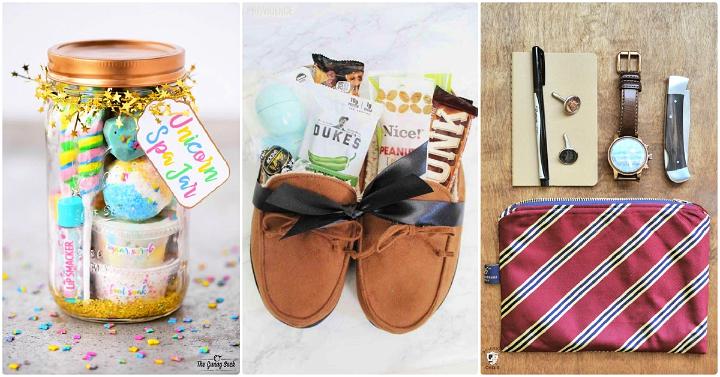 DIY gifts are a great way to show someone you love and care. Not only do they come straight from the heart, but they also allow for some creativity and personal touches that store-bought presents can never offer. Whether you're looking for easy homemade gifts or more unique and meaningful DIY gift ideas, there is an option for everyone.
From simple DIY presents like mugs with funny sayings to intricate handmade crafts such as personalized scrapbooks or quilts, these homemade DIY gifts will surely make your loved ones feel extra special and appreciated.
With so many cute diy gifts available above, it has never been easier to craft something truly unique and memorable! So why not try one of these beautiful homemade gifts this season? It's sure to bring joy into someone's life and keep those fond memories alive forever!