Making your own homemade DIY birthday gifts for your friends and family is a great way to show you care. You can put your heart and soul into handmade birthday gifts that make something truly unique! Plus, it's very budget friendly as well! Find 40 easy DIY birthday gift ideas to help you make the perfect homemade present on any budget. Whether it be a scented candle, a gift basket, a creative photo collage, or anything else that sparks your creativity – all these personal touches will leave your loved one feeling extra special on their special day. Unleash your creativity and make some DIY birthday gifts this year – bring joy, love, and fun to the celebration!
DIY birthday gifts are surprisingly easy to make and provide endless ideas for creating special, thoughtful, personalized presents. From homemade candles to jewelry boxes and customized diaries to edible treats – these meaningful homemade birthday gifts have unique ideas for kids, adults, parents, friends, and everyone you love a lot!
Crafting homemade gifts shows your appreciation and love for a special family member, friend, partner, or colleague. These DIY birthday presents create unforgettable memories and show your loved ones how much you care. Whether selecting one of these easy-to-make diy birthday gifts for a close relative, friend or workspace superior, you'll surely give them something unique and memorable.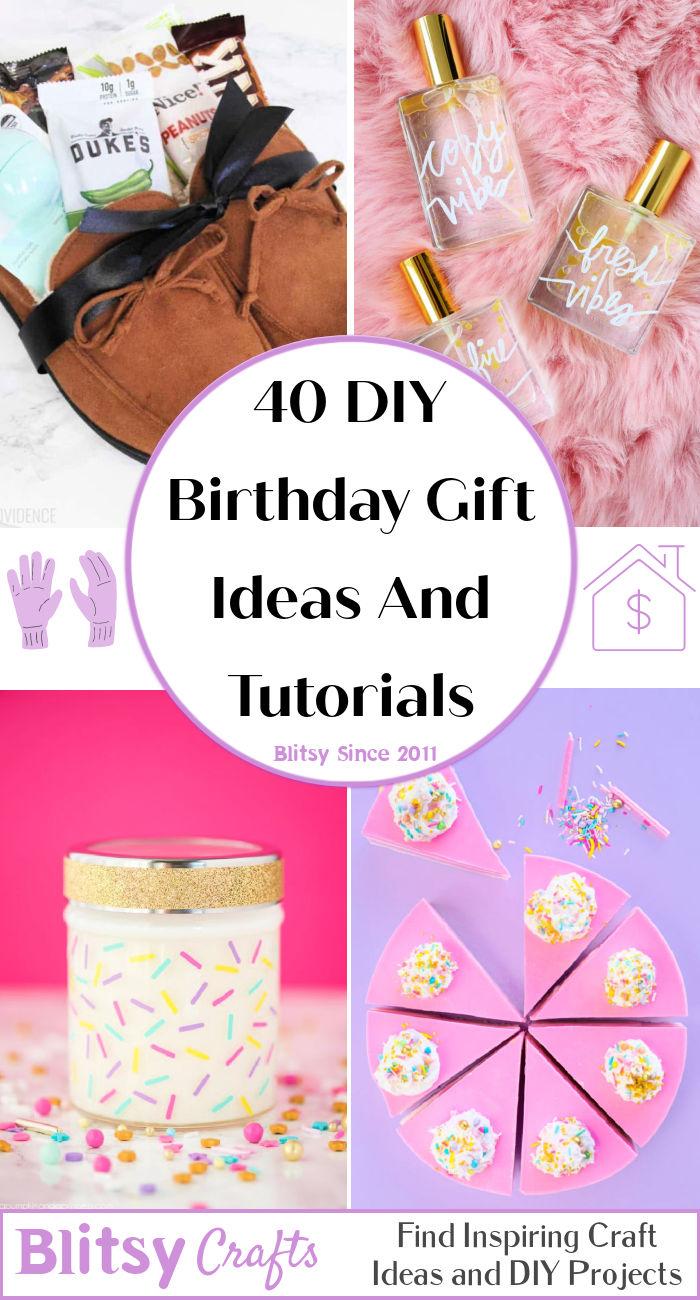 Homemade DIY Birthday Gifts That Are Easy to Make
Are you looking for unique, homemade birthday gifts? Do you want to give something special and memorable to your family and friends that won't break the bank? Look our amazing collection of 40 cheap DIY Birthday Gifts!
These easy-to-make DIY birthday gifts are sure to get a smile on the faces of your loved ones. From cute decor items such as mason jar centerpieces, wine bottle vases, and mini succulent gardens to creative gift ideas like scented candles, personalized photo frames and custom blankets and pillowcases – this list of DIY birthday gift ideas has everything.
Plus, All DIY birthday gifts come with step-by-step instructions so that even beginners can create stunning results. Get inspired by these awesome DIY birthday gift ideas today – it's time to start crafting for those special birthdays!
What Materials Do You Need For DIY Birthday Gifts?
The materials needed for making diy birthday gifts will vary depending on the project you decide to take on. A few common items you may need include art supplies like glue and paper; craft materials like felt and fabric; kitchen supplies such as flour and sugar; tools like scissors and hot glue guns; and other small items that could be used to decorate the gift item you're making.
How Can You Make Cost-Effective DIY Birthday Gifts?
Making cost-effective diy birthday gifts starts by thinking outside the box when selecting materials for your project – look in your local thrift store or dollar store to find inexpensive but still high-quality items! Additionally, consider using recycled goods whenever possible – this helps save money and is also beneficial for the environment! Finally, get creative with repurposing everyday objects into something completely new – upcycling is both budget friendly and fun!
Are There Any Tips To Making My DIY Birthday Gift Special?
Yes, there certainly are! One way to make your diy birthday gift extra special is by personalizing it according to what interests them most: if they love sports add team colors or logos into any decorations of fabrics used in projects; if they're passionate about cooking, insert recipes that would mean something special from inside jokes between friends/family members etc… Anything meaningful added makes all the difference in taking an ordinary present up several levels of awesomeness!
Can You personalize a DIY birthday present further?
Absolutely! Personalizing a homemade item is always easy; you can add custom details — like initials, names or dates — using stamps, stencils or even an engraving machine if necessary, depending on your chosen project's material! Adding special touches like this shows thoughtfulness towards the receiver, which makes them appreciate the gesture even more!
How much time should you allow for creating your own homemade gifts for someone's Birthday?
The amount of time you allocate depends largely on how difficult your chosen project is; however, in general, allowing at least 3-5 days gives plenty of time for sourcing supplies and completing construction in most cases without too much stress involved!
Inspiration for Making Own DIY Birthday Gifts
Make your loved one's next birthday special with DIY birthday gifts. Find below creative ideas for handmade cards, personalized gifts & unique decorations. Show them how much you care and make any recipient feel special on their special day!
1. Breakfast in a Box Surprise DIY Gift Basket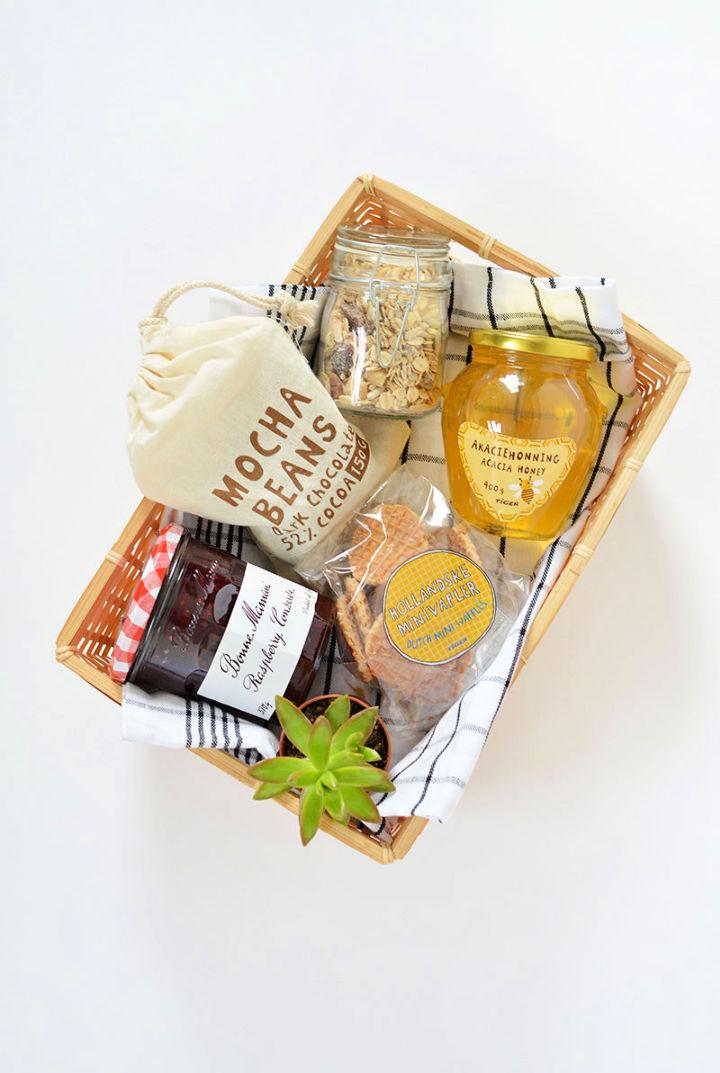 Giving gifs helps you establish great connections with the person you love a lot. So, dive into this cool birthday gift idea that will impress you all. Just pack the breakfast items in a basket and give them to a targeted person. It will be the coolest yet simply DIY birthday gift idea for sure. Pick your favorite items for the basket while keeping in mind the interests of a targeted person. The whole project will also be quick and cost-efficient. So, you need the bamboo basket and your favorite breakfast items to make this gift. burkatron
2. DIY Donut Bouquet Birthday Gift for Bestfriend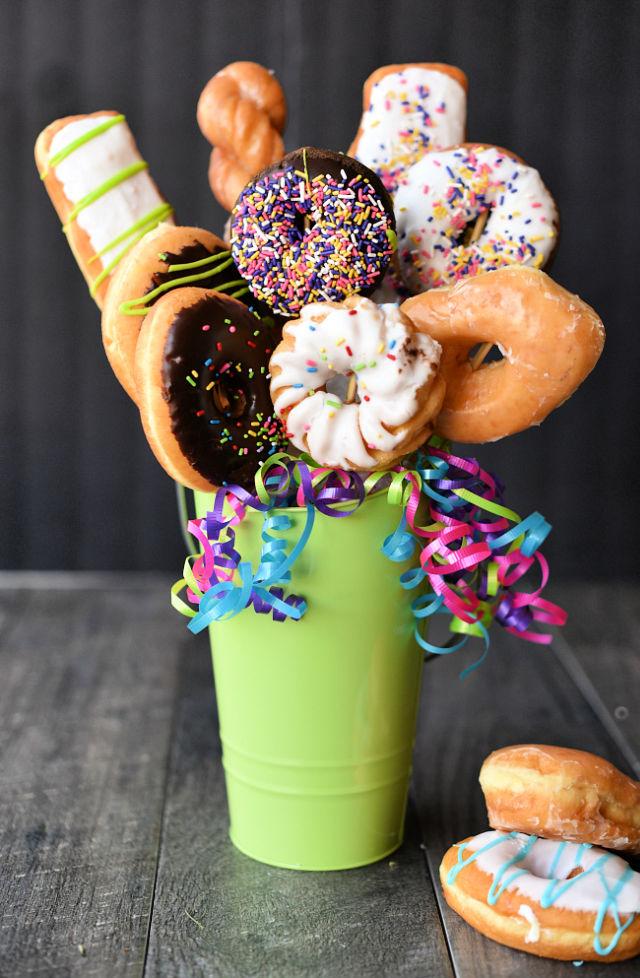 The flower bouquet is often given to congrat someone on a special occasion. So, you will love this food variation of the flower bouquet, and it will surely surprise the birthday girl or person. Just make this donut flower bouquet that is a perfect birthday gift and also for every occasion. Just grab the donuts of any time, skewer sticks, bucket, styrofoam for the bottom of the bucket, tissue paper, ribbon for decorating and tags to complete this super cute and lovely birthday gift. Don't forget to add the custom birthday tags. fun squared
3. DIY Glitter Birthday Candles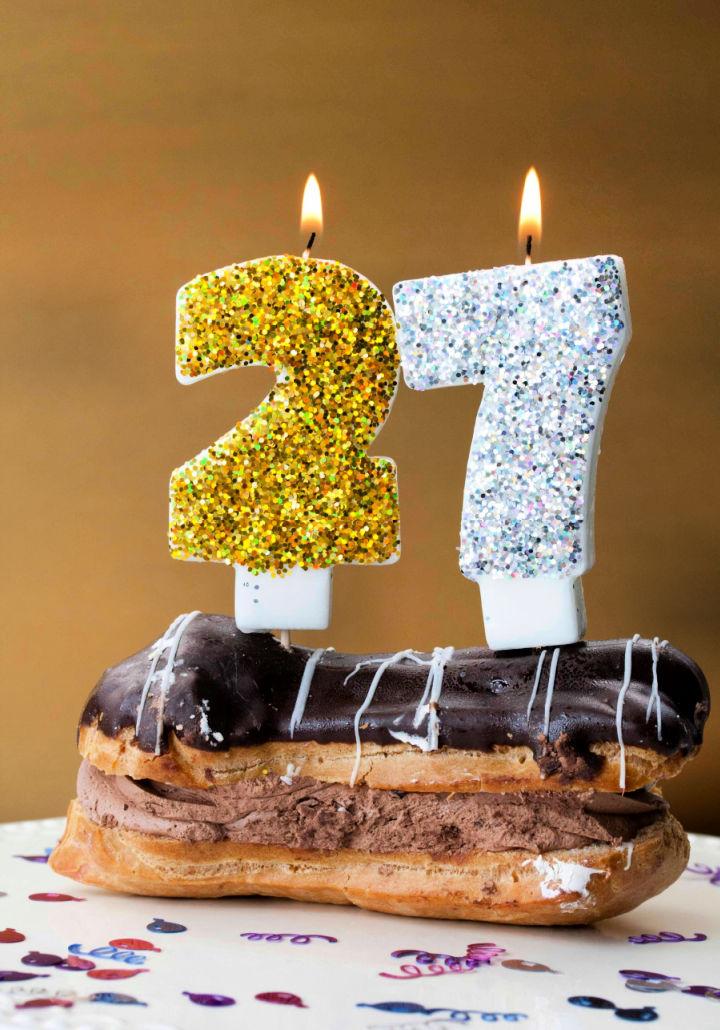 The candlelights are often to birthday parties and birthday tables as a brilliant bright sign of celebration. So, this time make these glitter candles for an upcoming birthday, making a cute handmade birthday gift. Go handmade with birthday candles, glue, glitter and flat utensil to easily complete these glittered number candles. Once you make the birthday number candles, you can layer the mod-podge and then glitter on the candles for added visual stimulation. Try making these candles with any particular number, and they will be amazing in every way for sure. Vary glitter colors also to give cool variations to your candles. jmsentertaining
4. Scandinavian Doodle Flower Decoration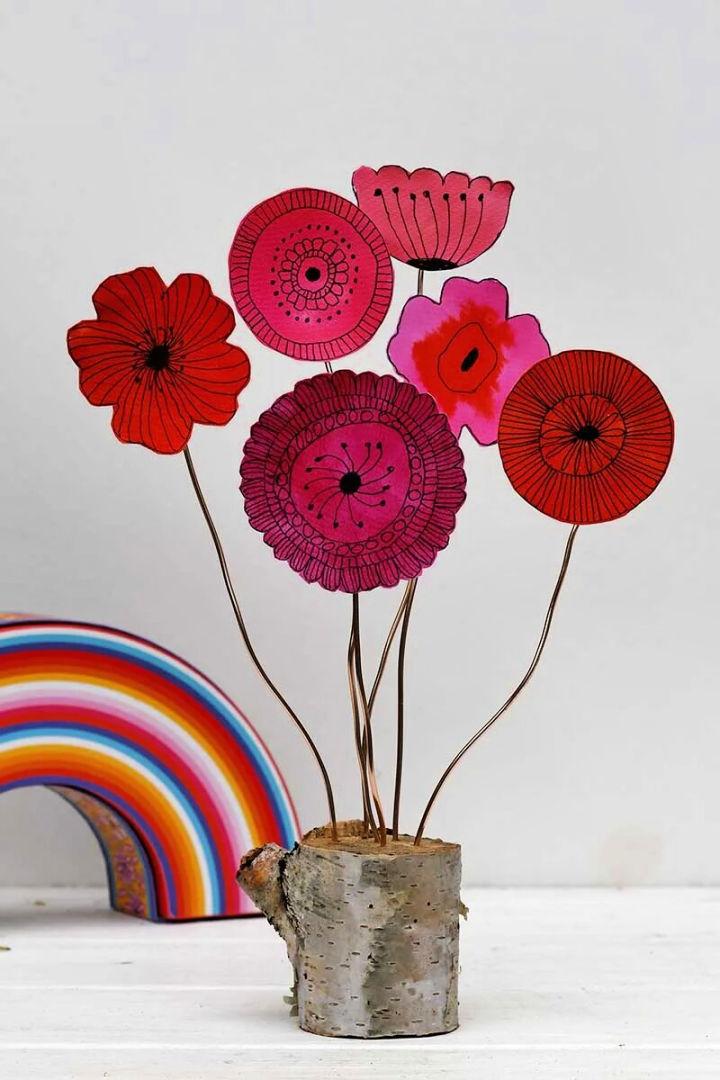 Are you highly obsessed with Scandinavian and Nordic-inspired decors? Go with this fabulous Scandinavian flower decoration that will also make a great birthday gift. It will be both at the same time, a flower vase and a flower bouquet and can be made just at the drop of a hat. Draw and print out the flower doodles and then fill colors in them. Next, cut them out, tape them on a piece of wire, and add a piece of wood with mini holes. pillarboxblue
5. DIY Slippers Great Birthday Gift for Father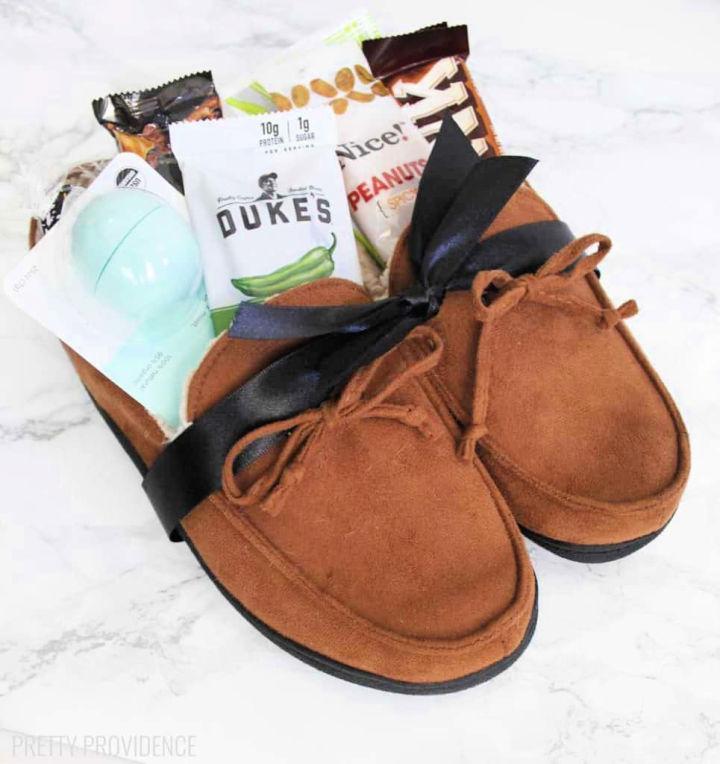 Sorting out the best DIY birthday gifts for an upcoming boy's birthday? Shoes always make a great present for that. To make a lovely shoe gift at home for a man's birthday. Here the project involves adding many other items in the shoes, so you will get a whole gift basket to impress the targeted person. Here you need Moccasin slippers, beef jerky, nuts, candy bar, lip balm, pocket tool, gift card and deck of cards to complete this lovely shoe gift basket for the targeted person. The entire project is much doable, even for a beginner or kid. prettyprovidence
6. DIY Paper Mug Gift Box for Him

The coffee mugs or cups are another great items to consider worthy for birthday gifts. However, you can pack them and decorate them in some lovely ways to jazz them up. Here is the lovely paper mug birthday gift that is cool and lovely and can quickly be made at home. Grab the scrapbook paper or card, a scoreboard and bone folder, scissors, double-sided tape, cellophane bags and ribbon to complete this outstanding birthday gift in no time. The entire project is easier to do and will complete just at the drop of a hat. gatheringbeauty
7. Mini Album in a Pocket Watch for Mom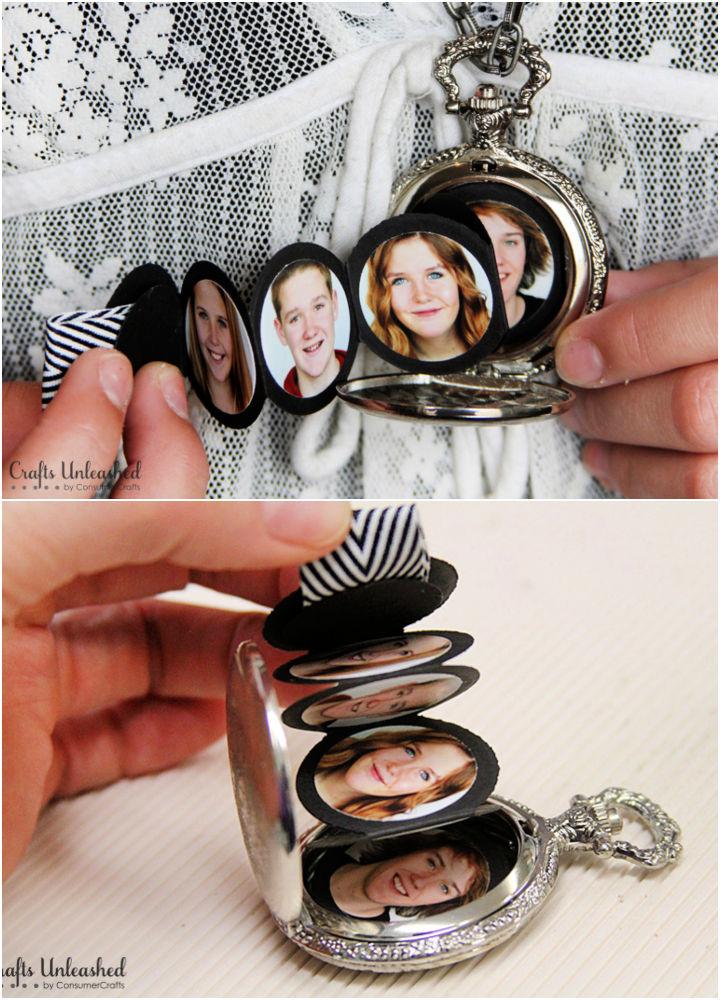 The photo gifts create great memories, and there are tons of smart ways to make them at home. This time go for this mini album in a pocket watch, sure to be the coolest gift to give to a mom, and it will also complete just at the drop of a hat. The project is much doable for all beginners and will complete just at the drop of a hat. Make the folding paper album with the round printed-out photos, and then set the album in the watch. consumercrafts
8. Natural Room Freshener – Last Minute Birthday Gift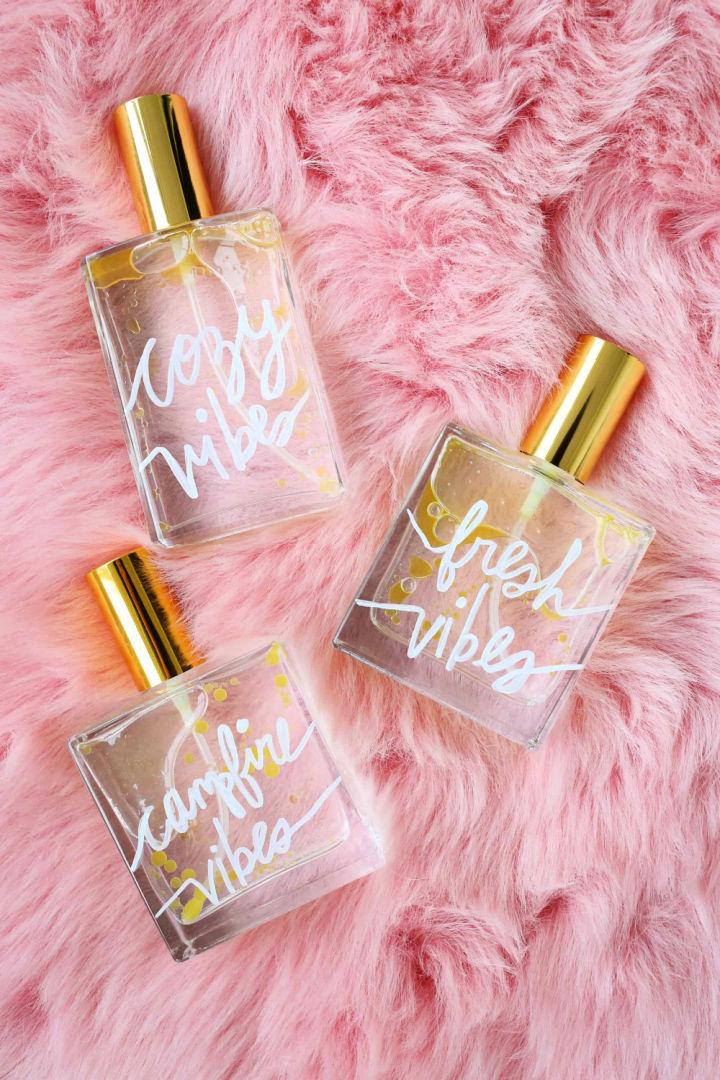 The hidden items that make you popular in the crowd are perfumes and other aromas. So, learn to make the best natural room freshener at home, sure to be the best gift for a birthday girl or person. You need essential oils in various scents, water, witch hazel, mini funnel and pretty perfume bottles to make these natural room fresheners at home. The project will be much doable even for a beginner, and you can choose your favorite essential oils for making this cool birthday gift. abeautifulmess
9. DIY Decoupage Wooden Spoons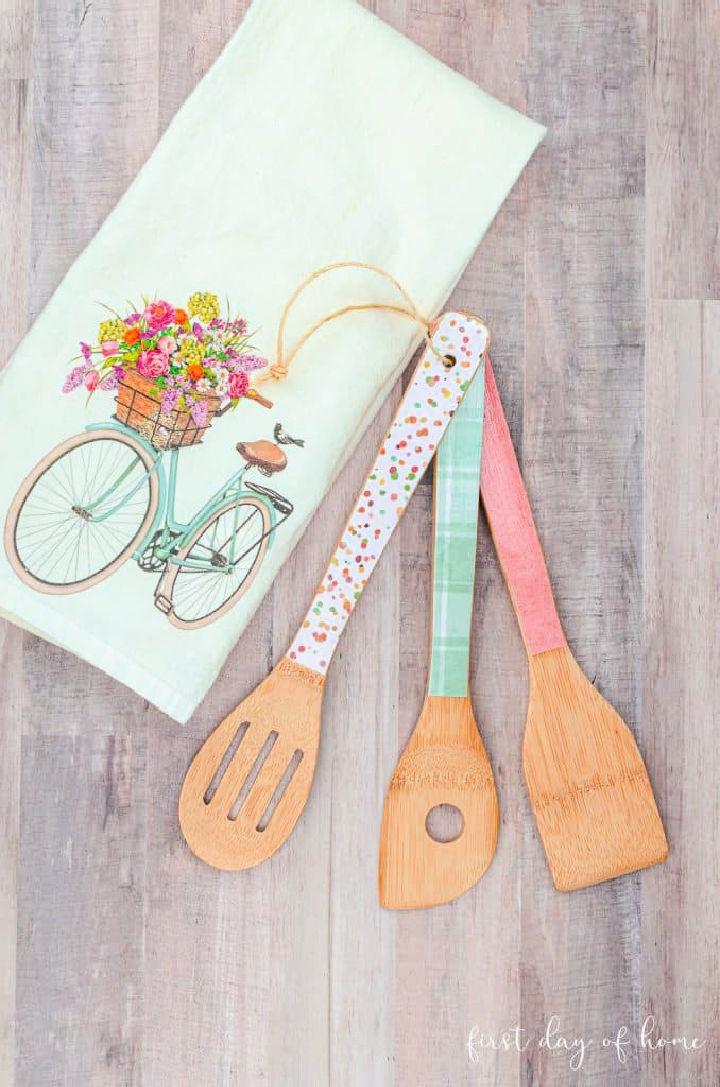 Here is the best gift for cooking, loving mom the decorative wooden spoons. The idea is to decoupage the bamboo wooden utensils with scrapbook paper while using mod-podge as a great decoupaging medium. However, you can use the paintbrush to apply the mod-podge and don't forget to give a clear acrylic sealer finish to those decoupaged handles for amazing results. However, it will also be a smarter way to personalize and update your wooden kitchen tools. The entire project is much doable for all beginners and will be super wallet-friendly. firstdayofhome
10. How to Make a Photo Quilt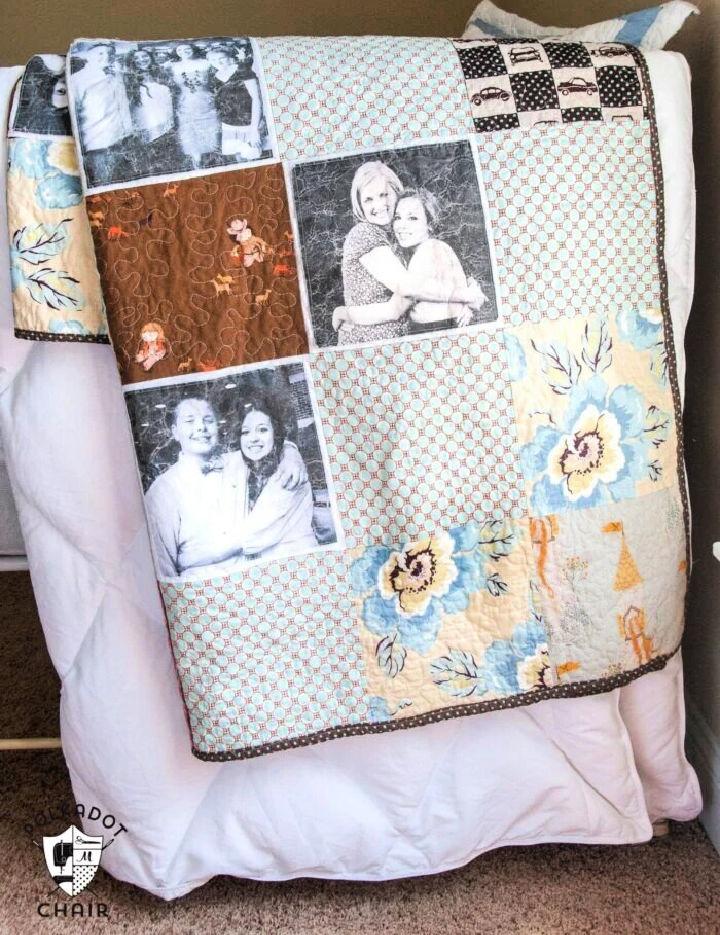 Want the perfect DIY birthday gifts for your friends and family? Make lovely photo quilts for your favorite person as great birthday gifts. So, follow the guides here about making a lovely photo quilt at home like a pro. The project involves 48 squares of various fabric in 9" sizes. Next, you need white fabric, printable fusible fabric, 2 yards 60" wide fabric for backing, binding, batting and thread to whip up this amazing photo quilt. The completed quilt will make a great memory gift and complete just at the drop of a hat. You can even make it with beginner sewing skills. polkadotchair
11. Interchangeable Birthday Sign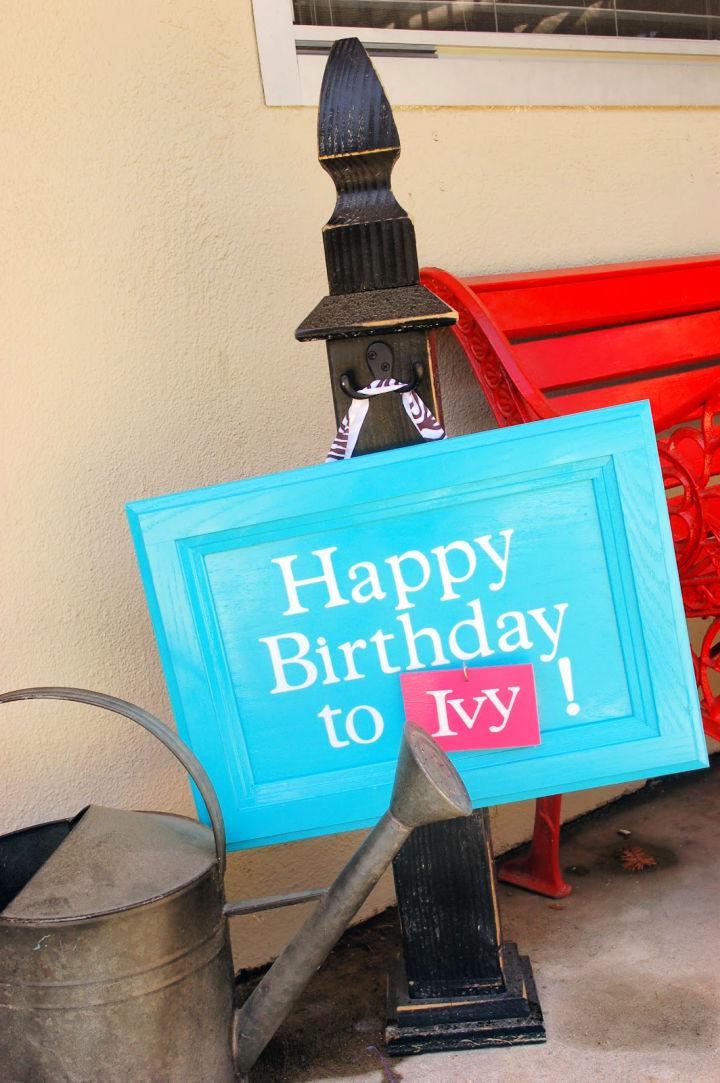 Want to congrat a birthday lady or boy brilliantly? Then consider making the birthday name signs to make the birthday person more prominent. So, follow the guides about making an interchangeable birthday sign at home in a frugal way. Repurpose the old cupboard or cabinet doors also to make this sign. However, the scrap wood pieces will also work great for the project. You need a cupboard door, spray paint, Cricut vinyl, one package of woodies craft plates, outdoor hooks, ribbon or rope and a staple gun to complete this great interchangeable birthday name sign. Use the Cricut to write the name on your favorite colored vinyl easily. icandy handmade
12. DIY Wood Bead Circle Mirror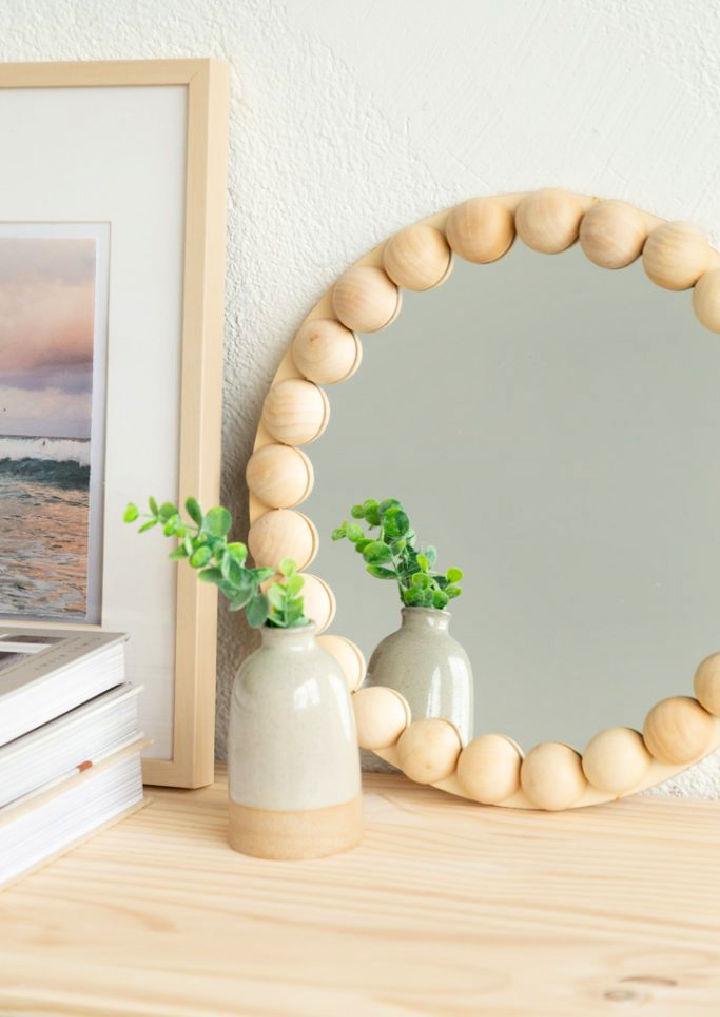 Another beautiful gift to give to a birthday girl is a wooden bead circular mirror. Update your bathroom with it or enhance the home decors by hanging them on any interior wall. Painting the wooden beads can be the best way to give amazing variations to this wooden bead mirror. However, it looks great also in the blank wooden appeal. The project is much doable even for a beginner, and everyone will love making it also. You need wood bead halves, a circle mirror, craft wood circles and a hot glue gun to complete this entire project. aliceandlois
13. Wood and Stone Bead Bracelets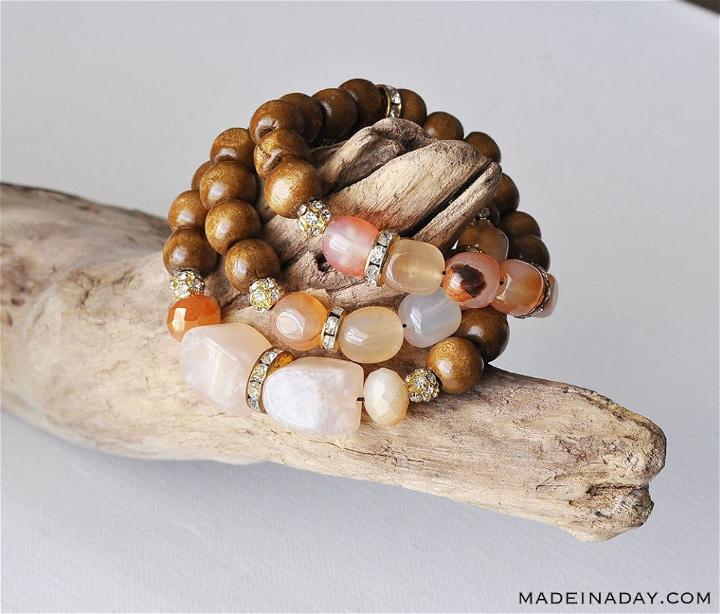 Get here comprehensive guides and instructions about how to whip up the best bead bracelets at home that will be super gift-worthy also. Look at the wood stone bead bracelets that look amazingly cute and will make fun handmade gifts for friends and birthday persons. One can make them at home even with beginner crafting and jewelry-making skills. You need Stretch Magic Elastic .7mm/0.25 in, wood beads 10mm, gold-tone rhinestone beads 7mm, gold-tone rhinestone spacer beads, random colored stone beads, jewelry adhesive and sharp scissors to complete these bracelets. madeinaday
14. Homemade Leather Bracelet for Boyfriend's Birthday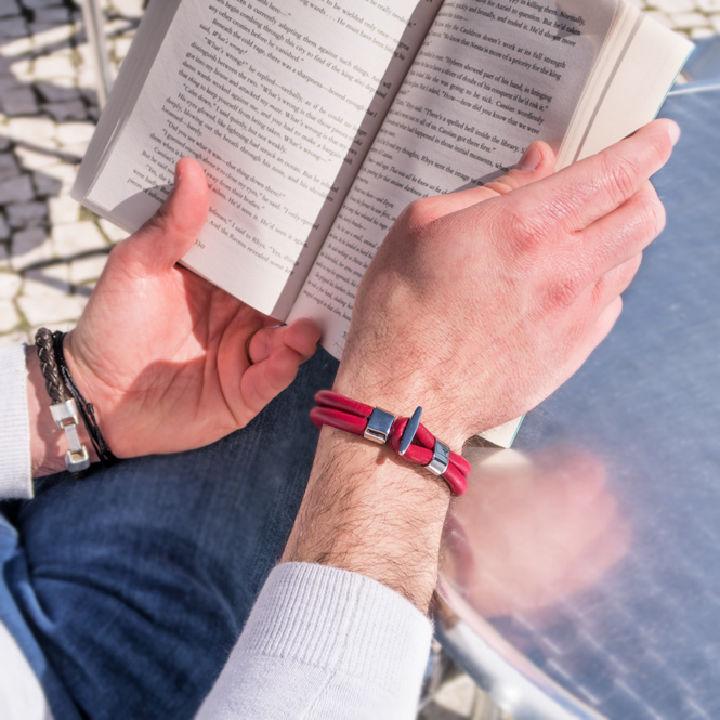 Sorting out the best gifts for the men in the home? Then consider making these leather bracelets, sure to redefine their personality and add to their everyday fashion. They are the perfect gift choice for an upcoming man's birthday also. Choose any from the given leather bracelets, or pack them all to give as a sweet handmade birthday gift. You need stainless steel hook closure, Nappa cord and glue to make a leather hook bracelet. Leather cord, glue, lobster clasp and braided cord will rock for the wrap leather bracelet. Finally, you can choose the magnetic clasp, antique silver, flat brown lace, round cord and glue to complete the infinity knot bracelet. curlymade
15. Lovely Lemonade Buttercream Bouquet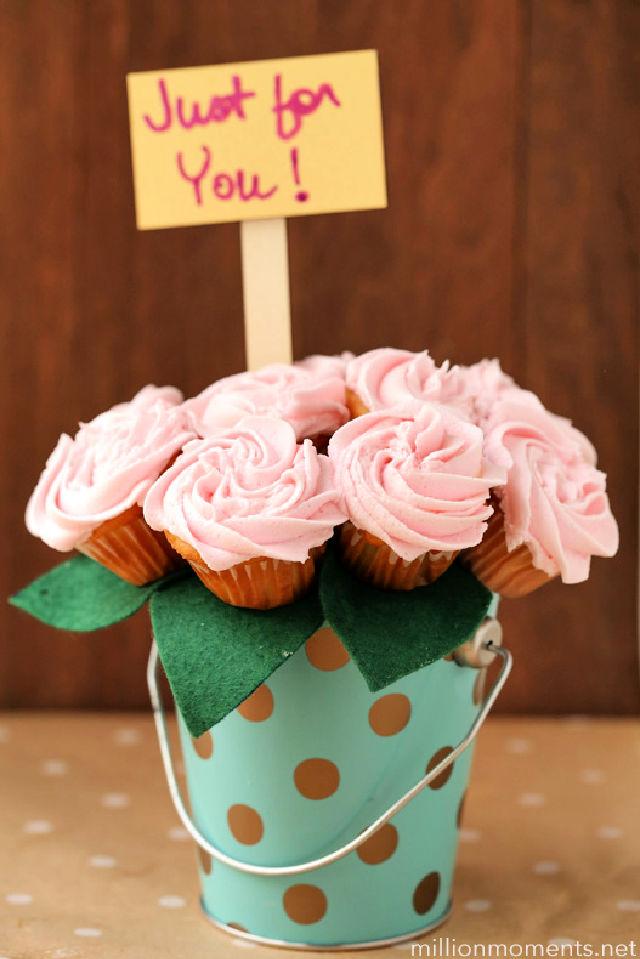 Check this cute food gift to choose for the upcoming birthday. Bring tons of smiles on the face of a birthday person by giving this lovely lemonade buttercream bouquet that is sweet and elegant and also heart-winning. In supplies, you need 1 cup vegetable shortening, ½ stick unsalted softened butter, 3 cups powdered sugar, ⅓ cup Country Time Lemonade Starter, icing bag and piping tip to complete these lemonade buttercream flowers. To complete this project, you also need a small bucket or flower pot, foam insert, fake moss, cookie sticks, green scrapbook paper, and cupcakes. millionmoments
16. DIY Letter Pillows Fun Birthday Gift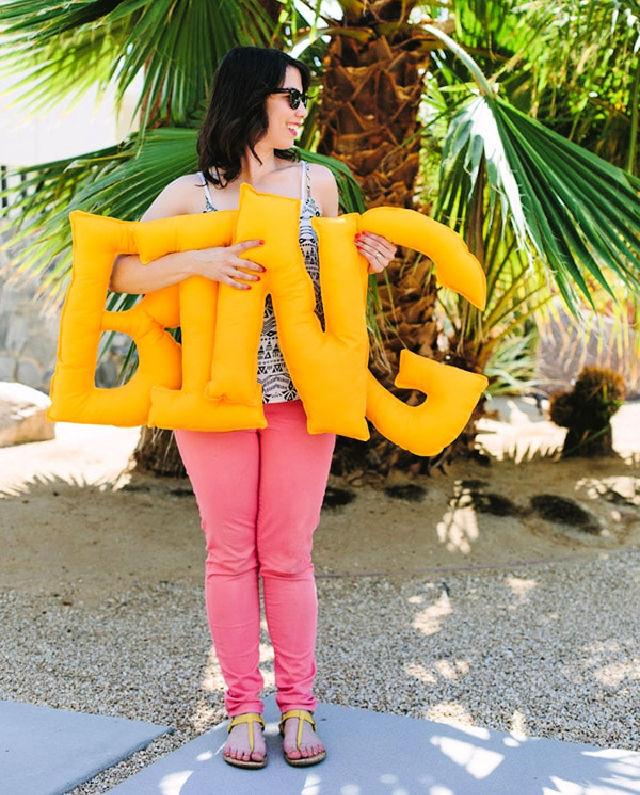 Whether you are crafting an item from scratch or giving something customized, these birthday gifts are guaranteed to stand out from store-bought presents. Give loved ones something truly unique this year with DIY birthday gifts!
Nothing will make a better gift for a birthday, but these alphabet letter pillows can be made for any name. You will surely fall in love with these bright yellow letter pillows made for the word "BING". They can be added to the dessert table backdrop, stage background, and the main entrance of the party area. However, one can also string up these pillows to make a cool name-letter garland for the birthday party. You need fabric, batting, sewing machine and tools, a ruler, pencil and scissors to complete this entire project. lovelyindeed
17. Wood Peg People Birthday Dolls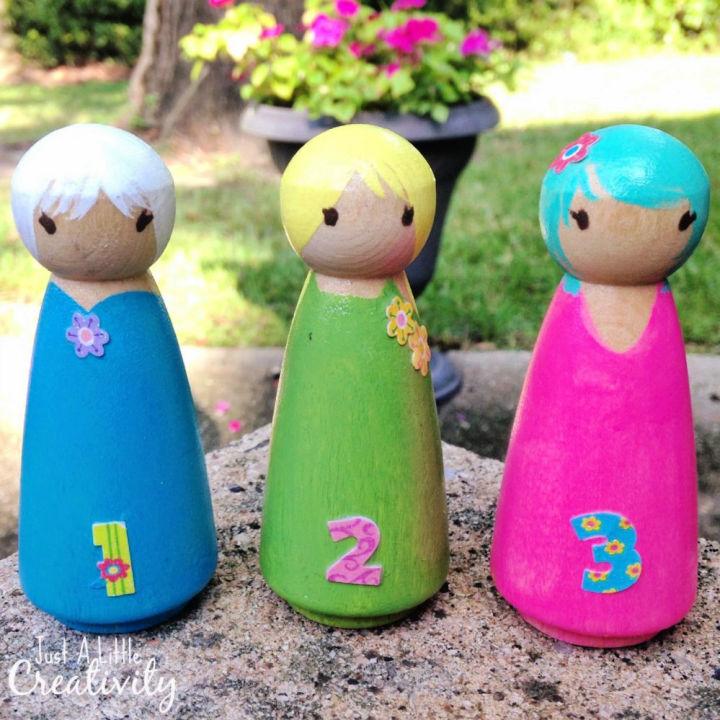 The DIY birthday gift ideas are never-ending. Paint the wooden pegs also into family persons to make cool birthday gifts in a few minutes. Get inspired by the cute wooden peg dolls, and wear some colorful dresses and hairstyles. The addition of decorative numbers makes them appear extra beautiful. You need 3 ½" girl wooden peg dolls, acrylic craft paint, stickers, paint brushes, mod-podge and paint pens to complete these dolls. However, the whole idea will work great also if you need to make some quick doll toys for the little girls at home. justalittlecreativity
18. Handmade Birthday in a Jar Mason Jar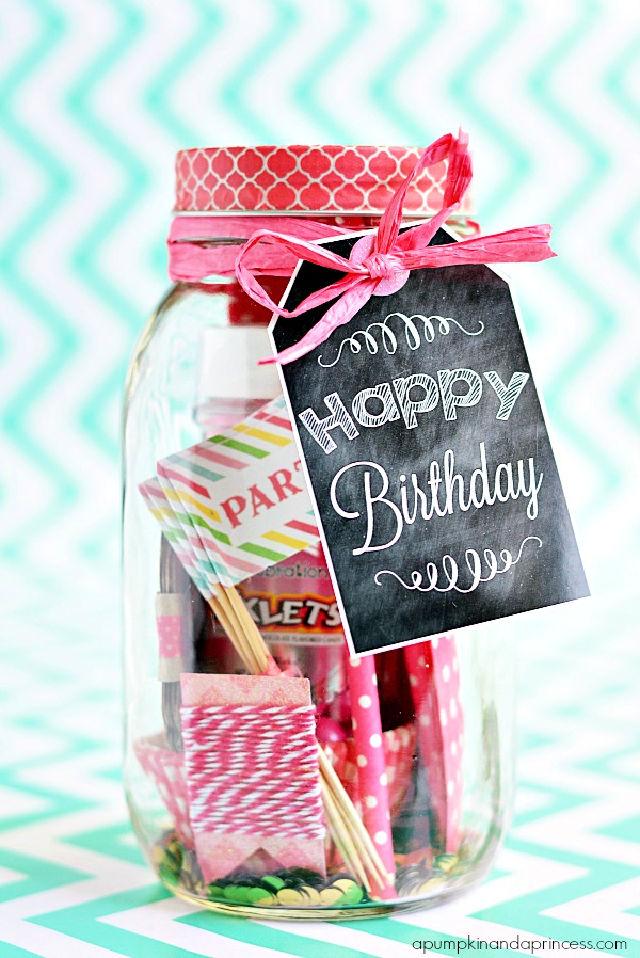 Pack a whole set of treats, gifts, and items in a jar to also make a brilliant birthday gift. Look at this brilliant birthday-in-a-jar gift that will surely win the heart of the birthday person for you. Grab cupcake wrappers, sprinkles, cupcake party picks, twine, gift tags, favor bags, confetti, straws and a printable chalkboard birthday tag to complete this cool birthday gift. However, you will get a free chalkboard birthday card printable here that will make the entire gift look more impressive. One of the best DIY birthday gift ideas ever. apumpkinandaprincess
19. 50th Birthday Wishes Bottle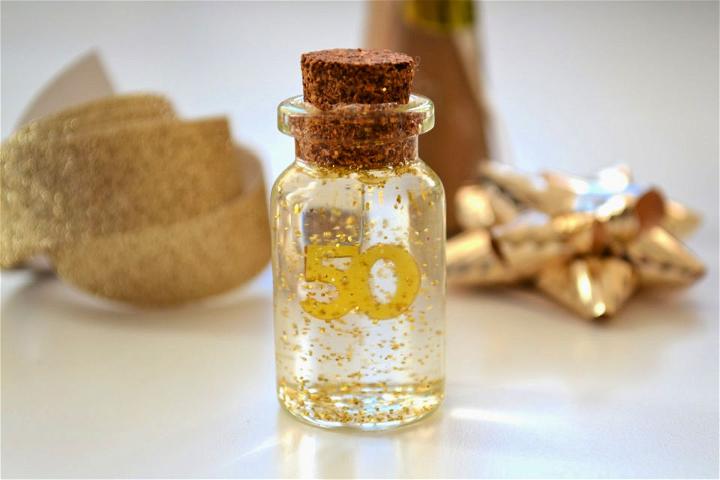 Make someone feel special on his/her birthday by giving these mini bottles. This will surely be another cool gift idea for all who want to say a special happy birthday to a girl or boy. Grab the mini bottle, confetti, thin wire, glue and water to complete this cool and lovely gift that will rock as a perfect snow globe also that you can add to any party celebration. The entire gift is quick and easy to make, and you will love creating it with your favorite hanging letters and glitter. thethingsshemakes
20. DIY Accordion Birthday Card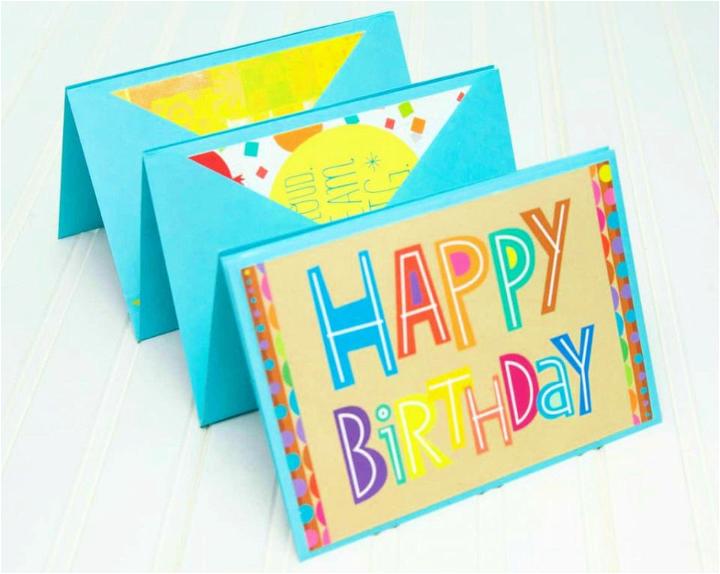 By adding your own personal touch, these DIY birthday gifts will surely leave your recipient feeling touched and special. Take your birthday card game to the next level with this accordion-style birthday card that is visually stimulating and makes a tremendous handmade gift for a person.
The project is all about putting the 7 double-sided cards together and then inserting custom photos, pictures and messages in each of them. This truly makes a cool gift card and a birthday gift for a targeted person, and you will love to make this precious birthday card also. Making this card gift will go much easy on your wallet, and you will love making it in just no time. karacreates
21. Ballerina Cross Body Bag for Birthday Girl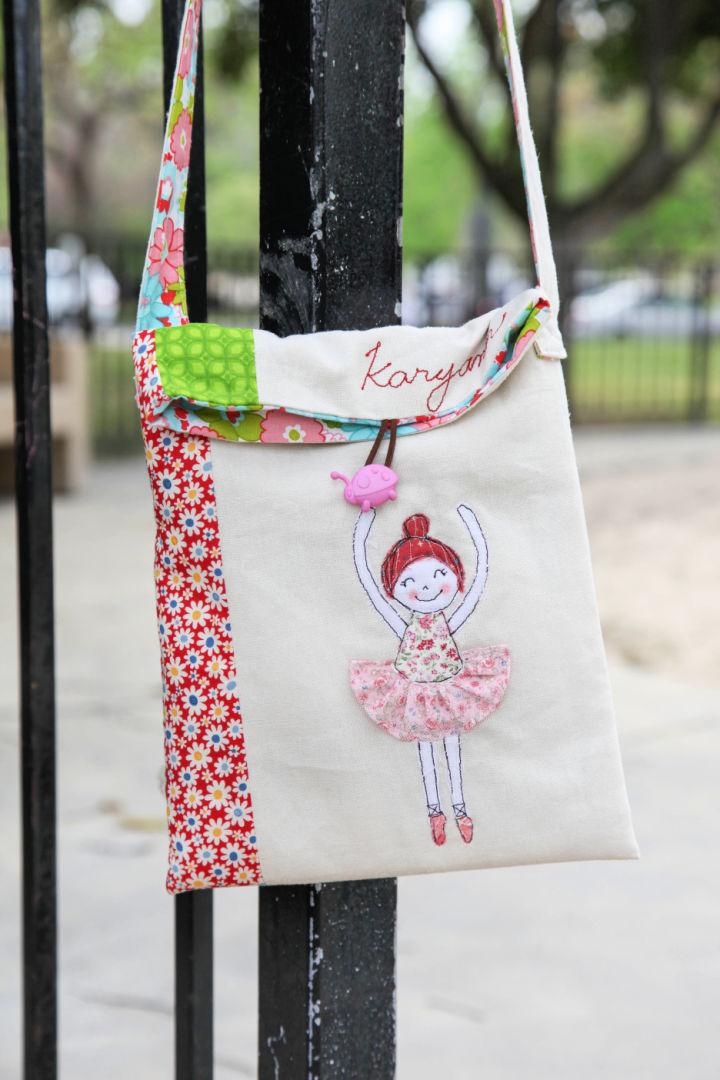 All little girls just love handbags and ballerinas at the same time. So, here is how you can put them together to make a cute surprise birthday gift for a little ballerina fan at home. The finished bag is cute and goes for a cute statement. It will surely help the user to carry a lot of essentials. The best cute cross-body handbag to whip up at home. You can easily cut out the felt or fabric Ballerina pieces to sew on the bag and use a little tulle along with the dress fabric for a brilliant appeal. minkikim
22. Homemade Paper Cake That's Fill with Gifts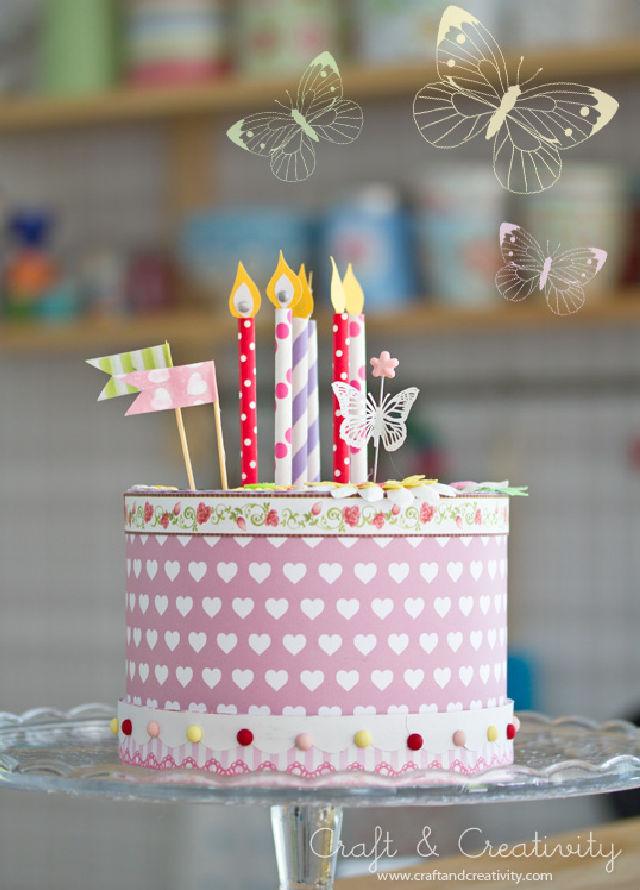 This project will teach you how to make a cute and lovely-looking birthday cake with paper. However, you can use your favorite papers and decorations to fancy up the finally completed cake more, which will be big fun. You need letter brads, sugar dots, glue, washi tape, laser sheet butterflies, round boxes, butterflies, buttons, toothpicks, paper flowers, glitter paper, design paper and paper straws to make entire birthday cake for the person. The completed cake will surely add to the happiness and charm of the celebration and will also cost you next to nothing. craftandcreativity
23. DIY Birthday Cake Jar Candle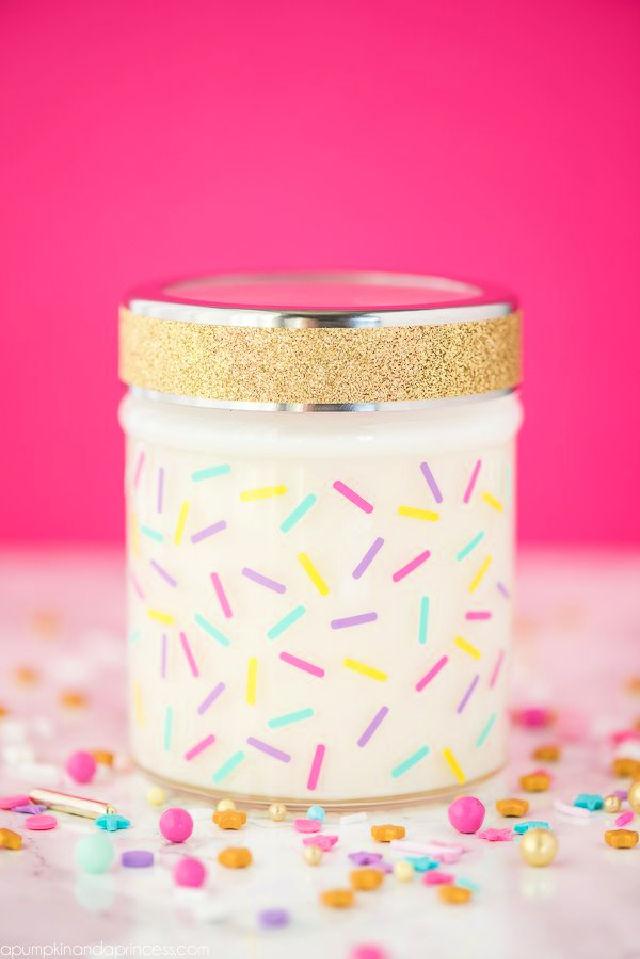 Making your beautiful candles is big fun, and it can also be a great idea to make your own beautiful birthday cake candles at home. Just melt the soy wax flakes, add your favorite fragrances and a little dye and make quick, beautiful candles for the home and festival decorations and the birthday cake. So, this time, make this jar candle for the birthday cake that will look much visually captivating and is easy to make. You need soy candle wax, Mason jar, candlewick, birthday cake fragrance oil, adhesive vinyl in bright colors, a cutting machine, and glitter washi tape to complete this entire project. apumpkinandaprincess
24. DIY Birthday Cake Soap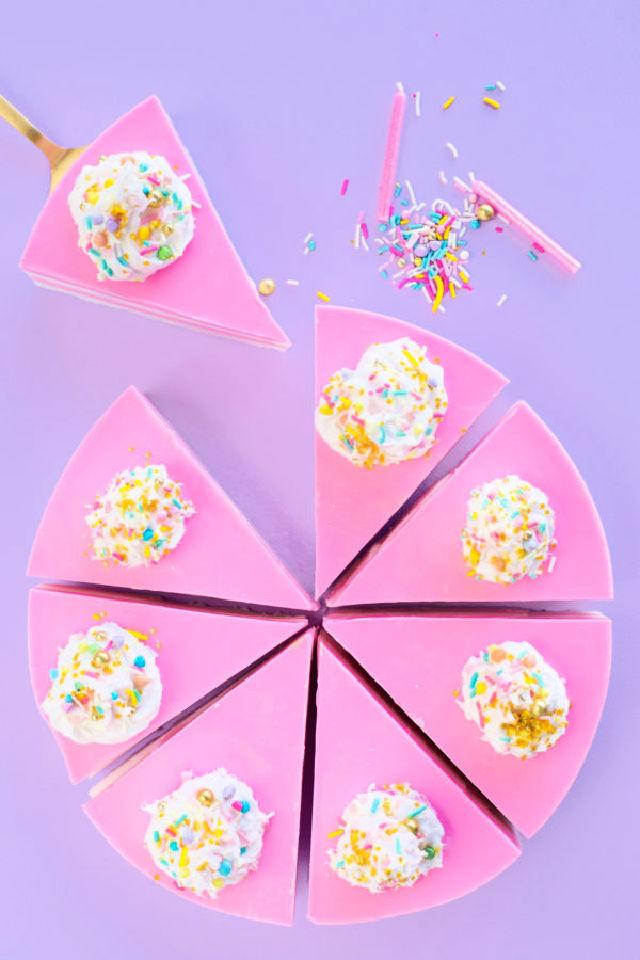 Get raised in a birthday person's or girl's eyes by making this birthday cake soap, enchants with much realistic appeal. You need a 9″ silicone cake pan, pink soap dye, cupcake fragrance, liquid dish soap, ziplock bag, star piping tip, a spray bottle of 99% alcohol, large microwave-safe bowl, large kitchen knife, hand mixer, sprinkles of choice and 6 lb soap base to complete this soap cake. The project is easier to complete and will also go much easier on your wallet. studiodiy
Shopping for the perfect birthday gift can sometimes be a time-consuming and expensive endeavor. Such an important occasion deserves a special present, which is why it's great to have DIY birthday gift options available. The best part about making your own gift is that it allows you to tailor it specifically to the person you're giving it to. Creative DIY birthday gifts can range from simply decorated cakes to homemade jewelry with heartfelt messages attached.
25. DIY Macrame Necklace Gift for Sister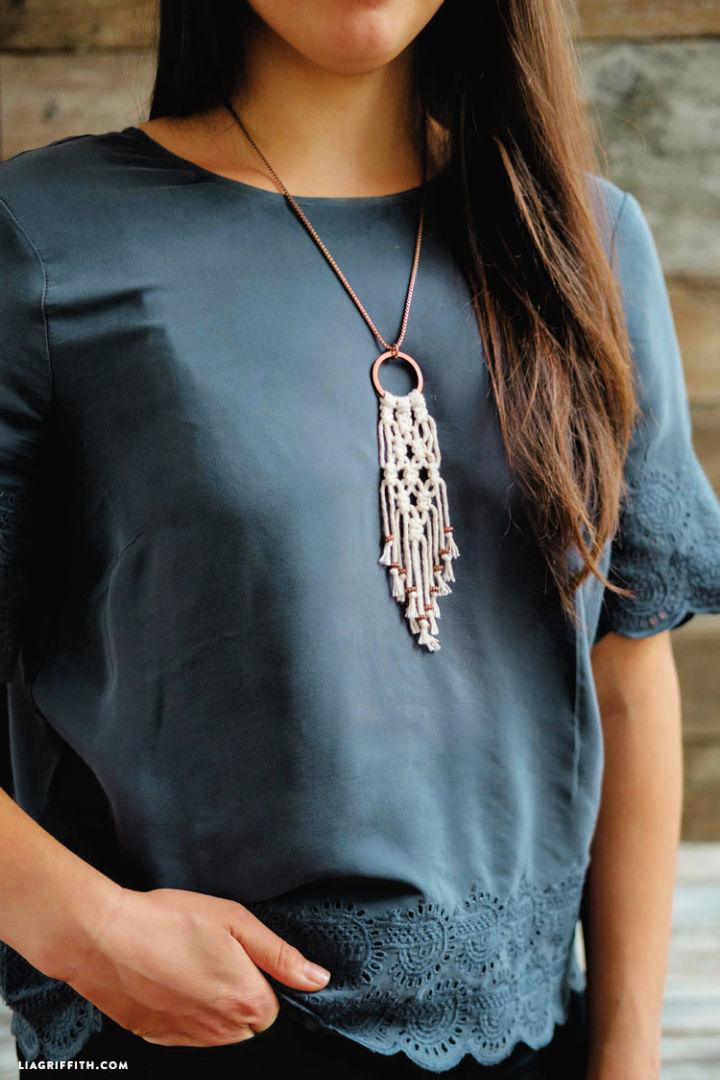 Use the skills you are a little expert in to make quick, beautiful birthday gifts for the targeted persons. So, this time go with your art of macrame-ing and make these quick birthday gifts, the macrame necklaces. However, you can finish the macrame rings with ear wires or hooks also to make super cool earrings. You need custom jewelry findings, macrame rope or string, necklace chain, scissors, a clipboard, pliers and fray check to complete these super beautiful necklaces. The best gift for a sweet girl's birthday. The entire project is easier to do and will surprise all the ladies. liagriffith
26. Easy DIY Photo Cube for Birthday Gift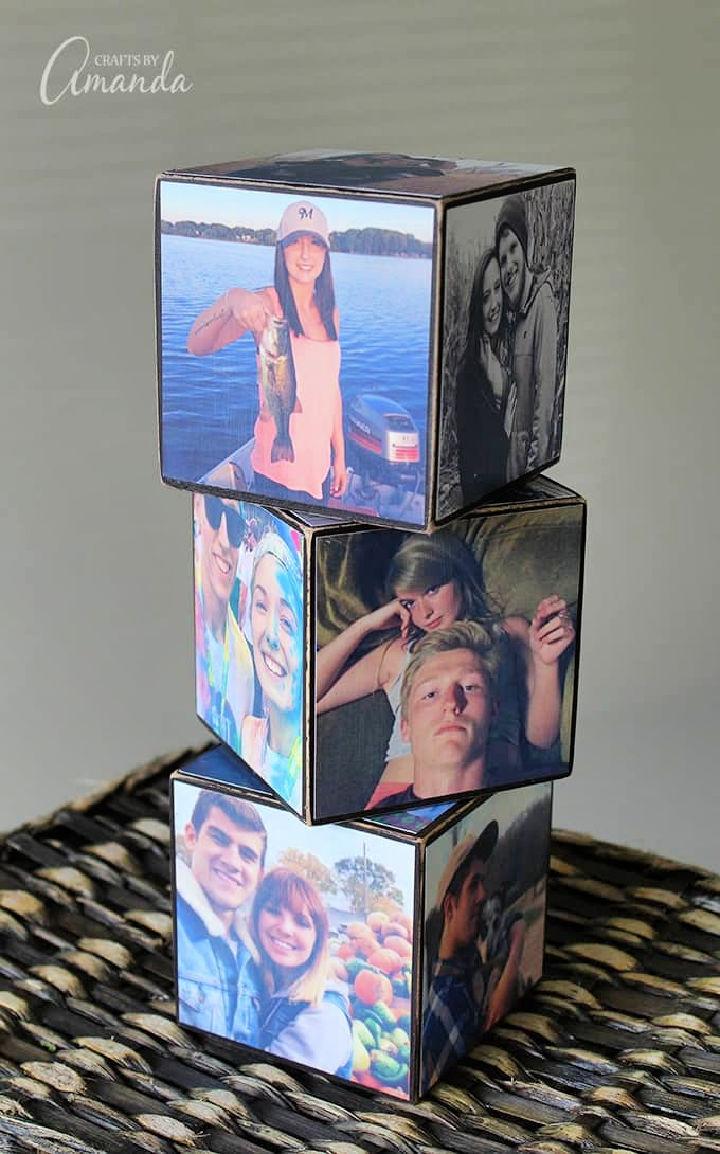 Intending to make the custom photo gifts for the birthday person? Then do make these photo cubes that will provide you with many sides to adhere to your favorite photos. You need 6 photos of choice, 4″ solid wood blocks, black acrylic craft paint, sandpaper, mod-podge matte finish, foam applicator and paintbrush to complete this entire photo cube. These gifts will also make outstanding keepsakes and will be a lovely way to show your love for the targeted person. The project is easy and quick and will be loved dearly by all. craftsbyamanda
27. Pedicure in a Jar Birthday Gift for Her

Is your targeted person a style-loving birthday girl? Then here is what will make the best gift for her, the pedicure in the jar gift. Grab an empty Mason jar or glass jar from home, add custom pedicure essentials, and then give it a beautiful gift wrap. You need wide mouth jars, basic pedicure tools, cotton rounds, custom label and tags, ribbon, and other favorite items to craft this entire pedicure gift. The entire project is much doable for all beginners and will also be a breeze to complete. evermine
28. Homemade Leather Mason Jar Sleeve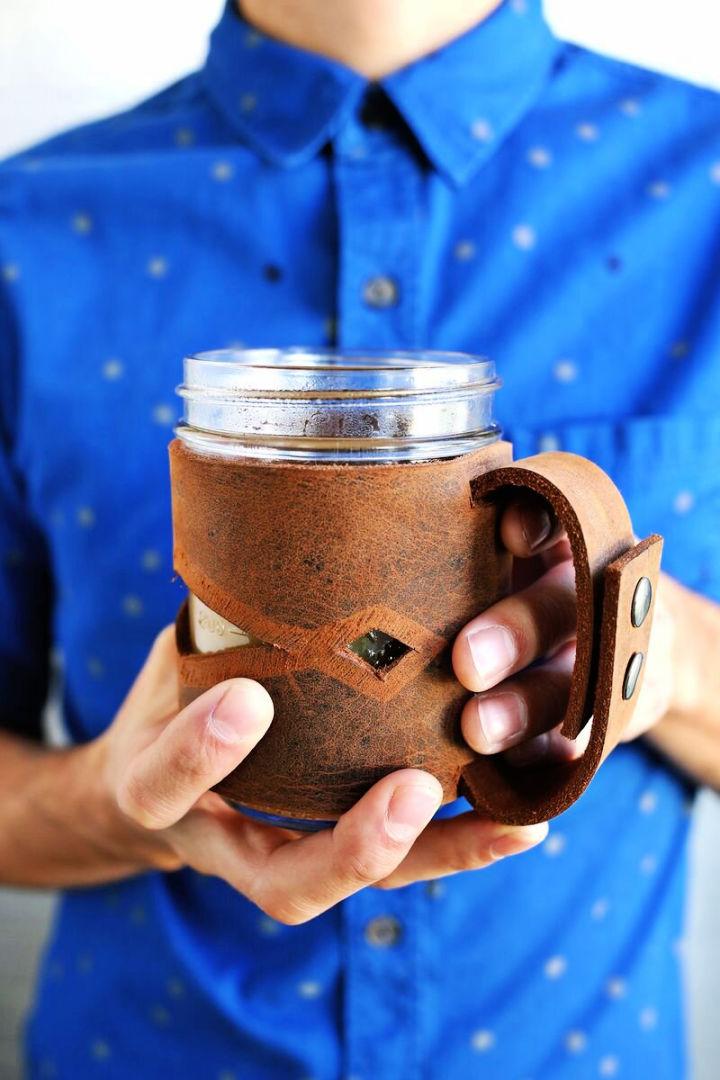 The gifts-ina-jar always go more impressive than any other gift and can't be substituted. So, this time make this leather Mason jar sleeve that may come around your Mason jar gift for added visual stimulation. The sleeve is designed to transform the entire Mason jar into a big mug or cup, and it also provides the handle. The sleeve size is 11 ⅛″ x 3 ⅜″, and the handle is 1 ¼" x 10 ¼" in size. Everyone will just fall in love with this cute and impressive leather Mason jar sleeve gift, and you will love making it with the provided instructions and visual guides. Mainly, you need heavy-duty leather, snap fasteners and waxed cord to complete this project. abeautifulmess
29. DIY Leather Jewelry Dish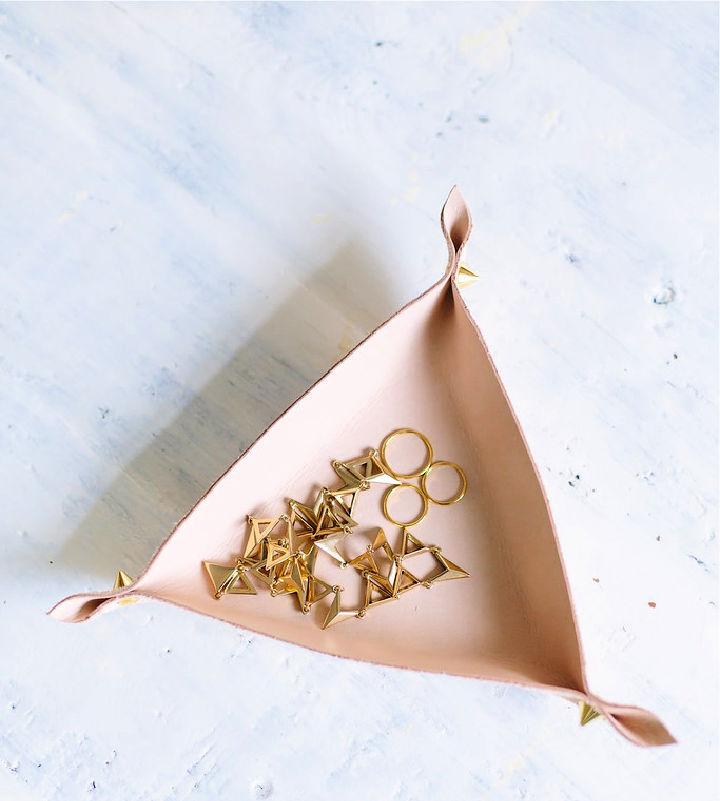 Win extra love and respect from all the big jewelry wearers in the home by giving this lovely gift of a leather jewelry dish. You need leather, a ruler, a multi-hole punch tool, scissors, studs and a pencil to make this birthday gift for a loved person. It will be easier to make this jewelry dish with the right supplies like leather, ruler, multi-hole punch tool, scissors, studs and pencil. Cut a big triangle out of the leather, and half of the work is done. collectivegen
30. DIY Embroidered Pillow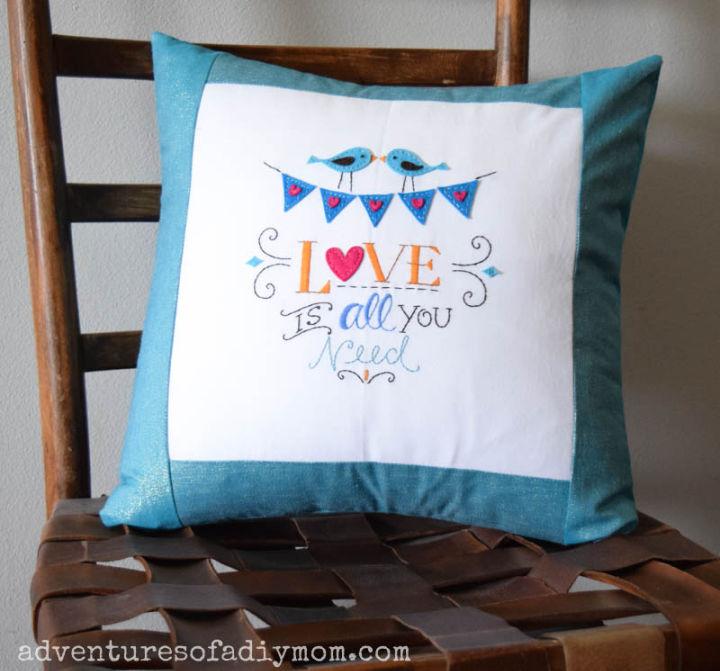 Win the heart of a birthday person by also giving this brilliant embroidered pillow gift, sure to be a great addition to one's bedroom. Give it to your lover and a favorite couple, and it will surely bring those romantic love vibes to the targeted space. The design of the pillow is sweet and elegant and will be loved dearly by all for sure. The lover letters, love quotes, heart-shaped banners, and love birds all come together to make this pillow look heavenly. You need an embroidery kit, pillow form, embroidery hoop, 3.4 yard coordinating fabric, sewing machine, thread, iron and ironing board, rotary cutter, mat and straight edge to complete this entire project. adventuresofadiy
31. Homemade Painted Mosaic Styrofoam Tile Picture Frame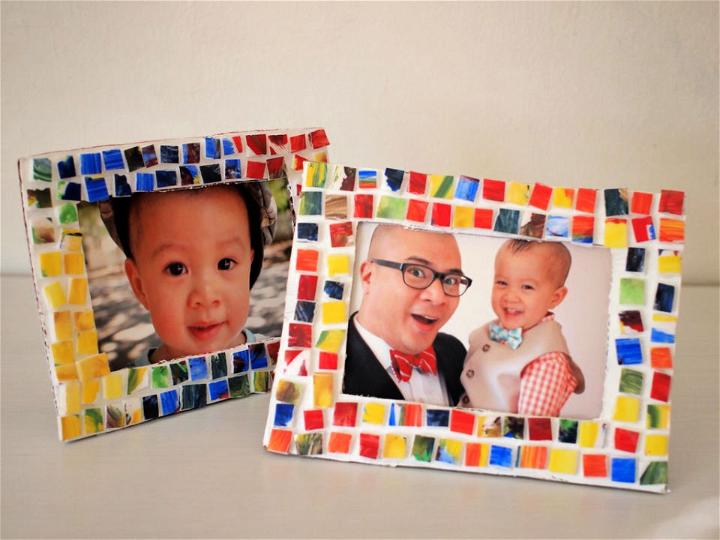 Here is another quick DIY birthday gift idea that will surprise you all. Make the colorful painted mosaic styrofoam tile picture frames that will surely win the heart of a birthday person for you again. Get inspired by the given sample that is cute and colorful and will be loved dearly by all. You need styrofoam plates, cereal box, cardboard, tape, tacky glue, acrylic craft paint, paint brushes, scissors and mod-podge to craft out these colorful photo frame gifts. pinkstripeysocks
32. Poop Emoji Gag Gift for Dad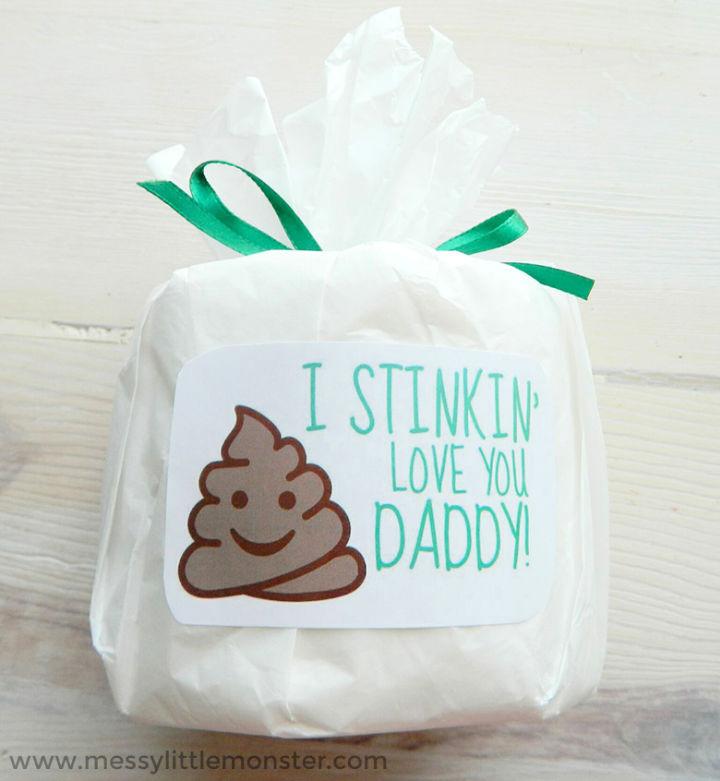 Looking for the best DIY birthday gifts for Father's? Follow here guides to make the best funnyhomemade Father's birthday gifts with the poop emoji and quotes. Just grab the toilet paper, white tissue paper, glue stick, scissors, ribbon and free poop emoji label printables to make these funny father's day gifts. Adding funny quotes or labels brings a smile to everyone's face. However, you can use various items to complete this entire project just at the drop of a hat. One of the best DIY birthday gifts to make at home without getting a bit expensive. messylittlemonster
33. Fish Handprint Card for Dad from Toddler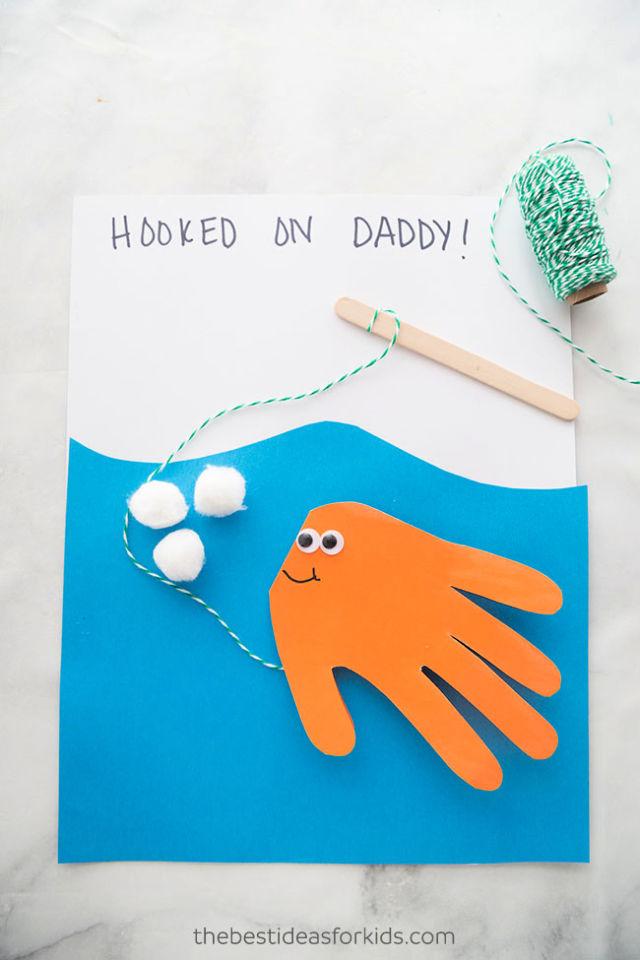 This is where the little kids can easily create the cutest birthday gift and cards with fun hand printing. The project involves making a lovely fish out of the handprint. You need colored cardstock, small googly eyes, glue, fine black sharpie, white pom-poms, popsicle stick, string, cotton twine and some creativity to create this fish handprint birthday gift card easily. All kids can make this card for their father and other beloved persons. Don't forget to write the quote " Hooked on Daddy" on the card for added fun. thebestideasforkids
34. One Man Ping Pong Game 21st Birthday Gift Idea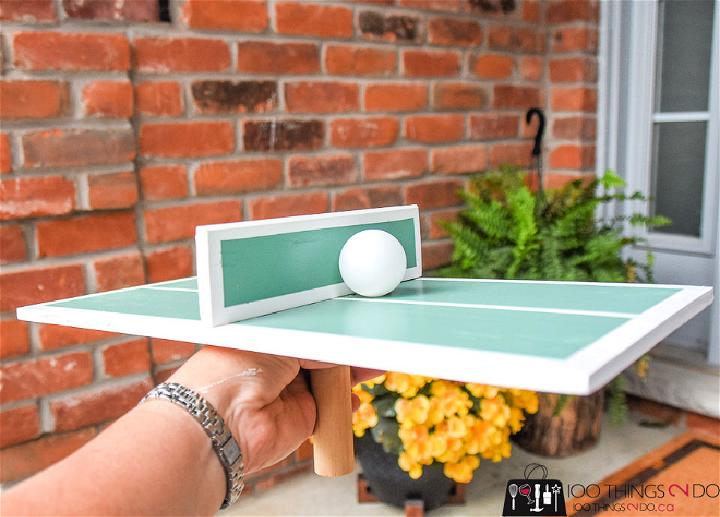 Make a sweet handmade gift for an upcoming birthday, sure to be loved dearly by all. This is a one-man ping-pong game that you can easily build with scrap wood pieces and a piece of wood dowel. Here the ½" plywood and 1 ⅛″ dowel are used for this super handsome and lovely birthday gift. However, it will make a great toy for the kids, also. The wooden dowel is added to the bottom side as a stand and a handle simultaneously, and you can easily paint the wood to gain a game board. 100things2do
35. Bath Bomb 25th Birthday Gift for Daughter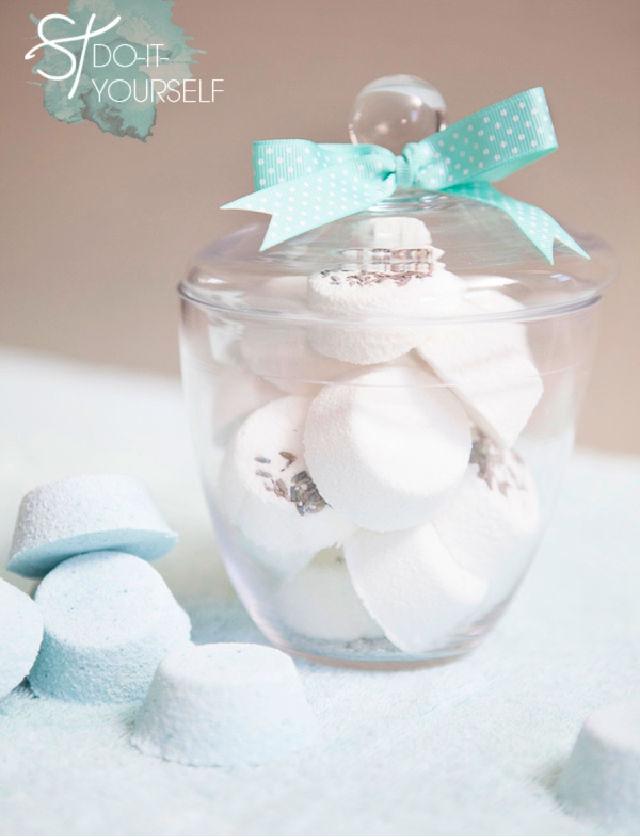 There are tons of creative DIY birthday gifts to make at home for an upcoming birthday. Here is another great inspiration, make this DIY bath bomb favors, sure to rock your entire birthday party, and it will be a total breeze to whip up at home also. You need a measuring cup, baking soda, citric acid, water-free witch hazel, fragrance oil, water-free colorant, pipettes, mini-muffin pan, wax paper, sticker paper and take-out boxes for packaging. To complete this super beautiful and handsome-looking birthday gift. somethingturquoise
36. DIY Self Care Gift Basket for Birthday Presenet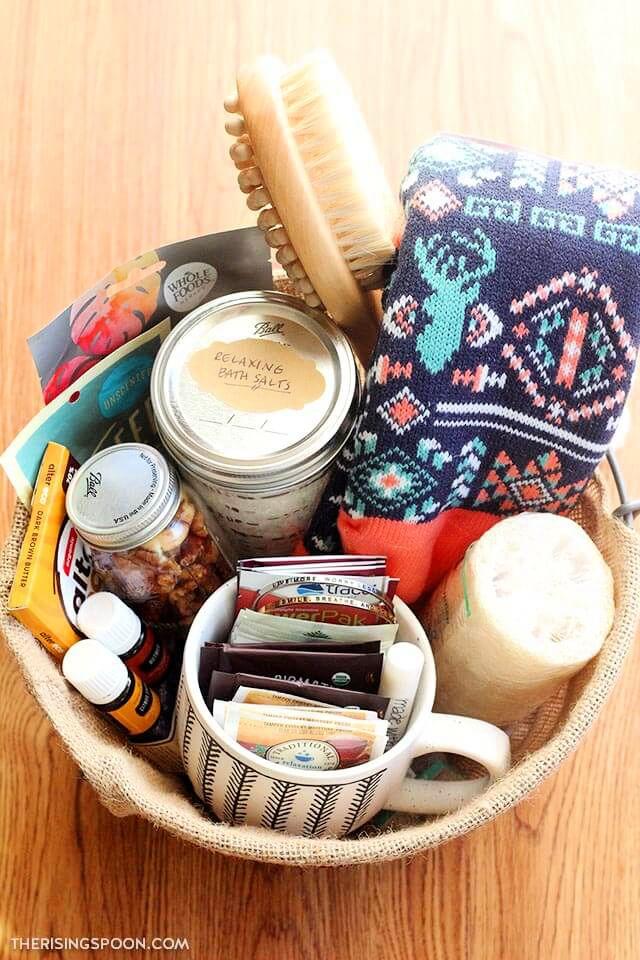 However, some people in the family are too busy not taking good care of themselves. Make the self-care basket to give as a cool birthday gift to those persons so they will benefit from it in the tough routines. Here you can pack a whole set of items you consider crucial for self-care. Add a pair of socks, body soap, lip balm, a face mask, and something to eat to complete the gift package. However, you can also add some funny and inspirational quotes to complete this entire gift basket, which is sure to be a big love of all. The best and easy gift to make at home for your birthday is coming soon. therisingspoon
37. Cute Flower Painted Rocks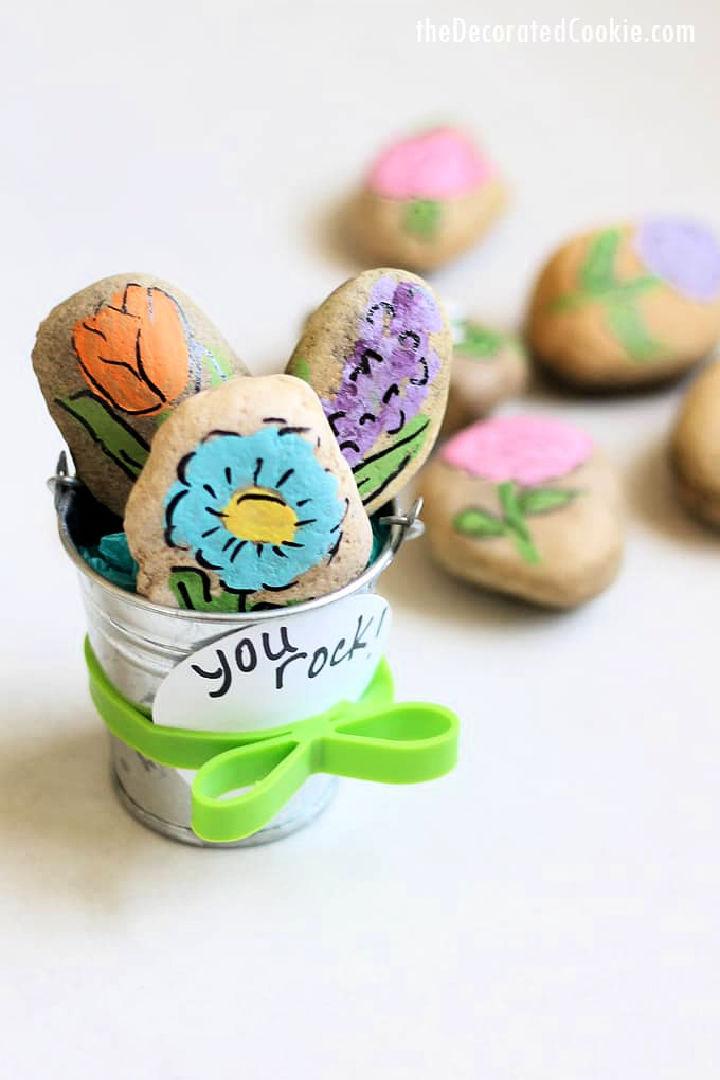 All kids take great pleasure in painting rocks, and it can also be a great sensory activity. So, one can also paint interesting patterns and shapes on the stones to give them a cool handmade gift. Get inspired by the given painted rocks that appear with tons of colorful flowers and other fruit items painted on them. You need rocks, acrylic craft paint, paintbrushes and oil-based paint markers to easily make these painted stones. Painting these rocks will also be a great outdoor craft activity for the kids. thedecoratedcookie
38. Extra Wide Coffee Cozy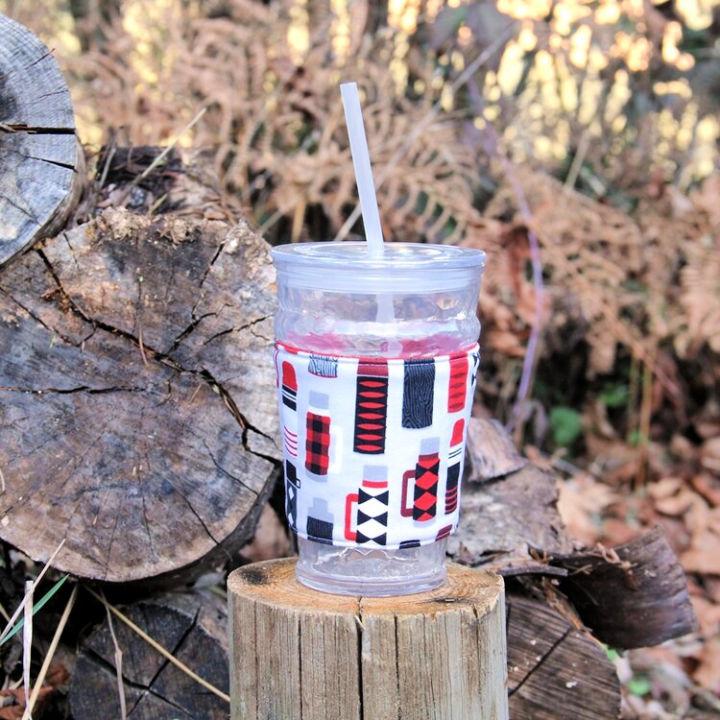 Are you looking for some quick birthday gift ideas? Then consider making these coffee mug sleeves that will surely make it easier to hold those hot and cold mugs in winters. This is here a beginner sewing project that all beginners can do with quite ease. You need two cotton fabrics, 3″ of elastic cord, 1.2″-1″ button and a quick sewing pattern to make these coffee mug sleeves. The entire project is much doable, and you can even use the fabric scraps to complete this fun coffee mug sleeve gift quickly. One of the best and quick-to-do DIY birthday gift projects ever. craftystaci
39. DIY Clay Ring Holders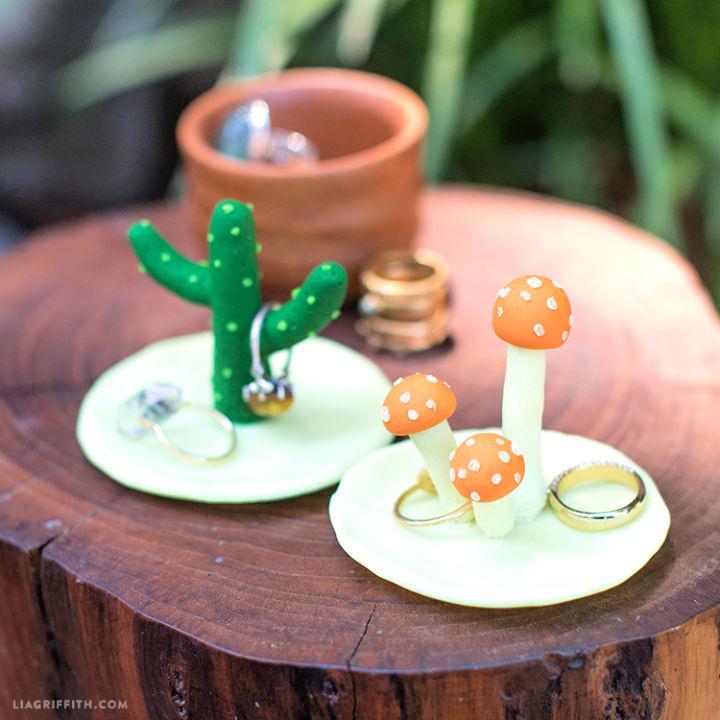 Go handmade with the polymer clay to make these super cute ring holders, make another great birthday gift for jewelry lovers. Here these jewelry holders come inspired by the cactus and mushroom and will be a big love of all. However, you can easily use the clay even in both rolled and flattened forms to create these fantastic jewelry holders, will be a big love of all the jewelry wearers in the home. The entire project is much doable for all beginners and will also cost you next to nothing. liagriffith
40. Homemade Booze Bouquet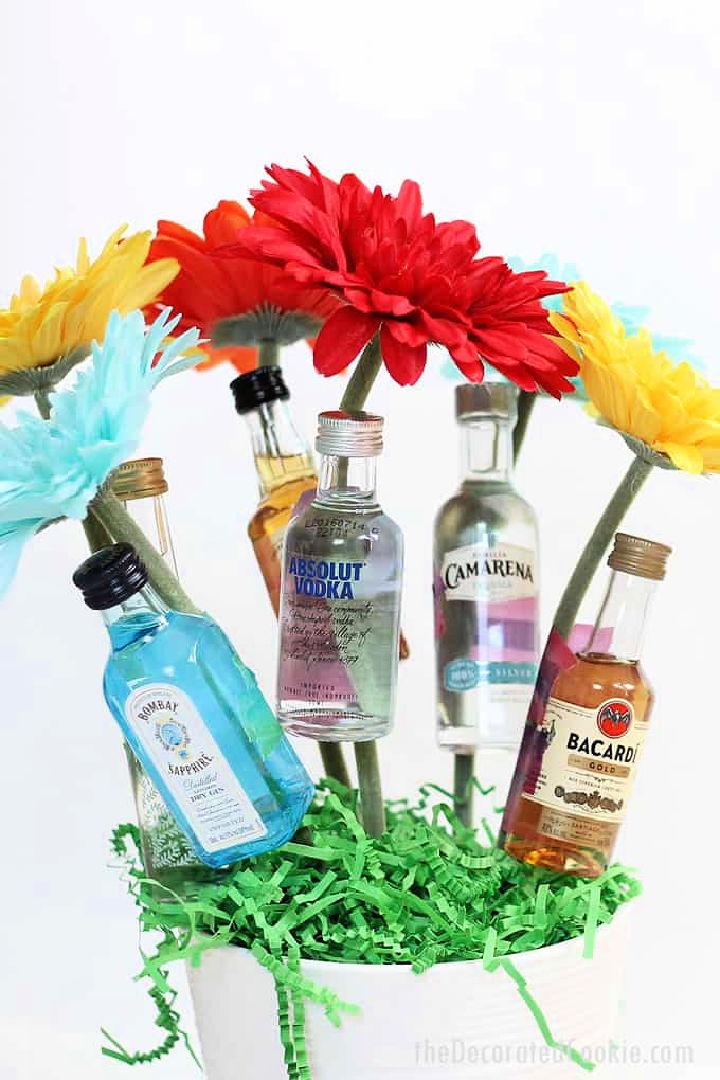 Willing to give the best birthday gifts that will always raise you in the eyes of a targeted person? Then consider making this booze bouquet a fun and unique birthday gift idea. Choose this gift for Mother's Day or Father's Day also. You need mini booze bottles, sturdy containers, styrofoam block, single stem faux flowers, wire cutters or strong scissors, strong decorative tape and filler to top the styrofoam to complete this entire beautiful birthday gift bouquet. First, tightly fit the styrofoam in the container and next push the faux flowers deep in it and then start adding the fillers and other favorite items. thedecoratedcookie
Frequently Asked Questions:
Discover creative and unique homemade DIY birthday gifts for all ages. Get ideas, tips and inspiration from this comprehensive guide to make the perfect gift! Read our frequently asked questions (FAQ) to help you find the perfect present for your loved one.
What are some DIY birthday gifts?
DIY birthday gifts are a great way to show loved ones how much you care. Explore your creative side and make something special with homemade items such as a personalized photo album, cookies decorated with the birthday person's name, or a homemade card with custom designs. With some time and imagination, your DIY birthday gift will surely be appreciated!
What handmade gift can I make?
Why not make something homemade if you're looking for a unique birthday present? Get creative with DIY birthday gifts like personalized photo frames, handmade jewelry, or even an edible birthday cake or basket of treats. With just a few supplies and some imagination, it's easy to make a thoughtful, heartfelt birthday gift from the heart.
How much is an acceptable birthday gift?
The amount of an acceptable birthday gift depends on the relationship between the giver and receiver and personal preferences. It could range from a thoughtful card to a larger, more expensive present; ultimately, it's up to the individual's budget and what they feel comfortable giving or receiving.
Generally, homemade gifts or DIY projects are thoughtful and show effort – they can be just as meaningful as an expensive gift. Regardless of your decision, birthday presents should always come from the heart!
What is a good DIY birthday gift?
A DIY birthday gift can be a great way to show someone you care. It doesn't have to be expensive or complicated; homemade cards, framed photographs, paintings and handcrafted items are all thoughtful presents that your loved one will cherish for years to come. You can make a truly special birthday gift with just a little creativity.
What is the gift giving rules?
Gift giving should be done out of kindness and thoughtfulness. Always try to give something meaningful and appropriate for the occasion or person receiving it. Consider their tastes and preferences when selecting a gift, and show gratitude for any gifts received in return. Be courteous and follow local customs when gifting. Respect budget constraints if applicable. Finally, remember to add a personal touch! DIY birthday gifts or homemade items can be a great way to show your LOVE and thoughtfulness.
What is the psychology of handmade gifts?
Handmade birthday gifts are an incredibly thoughtful way to show someone you care. The psychology behind DIY presents is that the time, effort, and thoughtfulness put into crafting a homemade gift conveys a greater level of appreciation than store-bought items. With homemade birthday presents, the giver and receiver can share the joy of creating something meaningful together. It's an act of love!
What's a reasonable birthday budget?
The birthday budget depends on the type of birthday celebration you want to have. A DIY birthday can be quite inexpensive and creative, while a larger event may require more financial resources. It's important to consider both your budget and the birthday celebrant's wishes when planning for the big day!
What is a reasonable gift amount?
The amount to give for a birthday gift will depend on your budget and relationship with the recipient. Generally, homemade or DIY gifts are an inexpensive way to show you care, while more expensive presents can make a bigger statement of appreciation. Consider what the birthday person would like best when deciding how much to spend.
How much should you spend on a friend's birthday gift?
Regarding birthday gifts for friends, the amount you spend should be based on your budget and how close of a friend they are. Consider making something homemade or trying a DIY project – these can often make for thoughtful and meaningful gifts that don't break the bank. Whatever you choose, DIY birthday gifts should be given from the heart.
What to make as last-minute gift?
If you're looking for a cheap last minute birthday gift, consider making something homemade. With a little creativity and DIY spirit, you can make an inexpensive yet thoughtful present that will surely please your loved one. Consider baking sweet treats or crafting a special card – endless possibilities!
What is the 5 gift rule?
The 5 gift rule is a birthday tradition that encourages parents to give their children five gifts for their birthday: something they want, something they need, something to wear, something to read, and something homemade. This diy birthday idea helps promote creativity and teaches kids the value of homemade gifts. It encourages everyone to have fun while creating items with more meaning behind them. These homemade gifts can be anything from cards or artwork to jewelry or baked goods! A birthday celebration made special with thoughtful and meaningful gifts! These gifts making it easy for birthday celebrators to get creative with their DIY birthday surprises! It's an enjoyable way to make birthdays special without breaking the bank.
What is the most popular handmade item?
Birthday cards are one of the most popular homemade items. Crafting birthday cards is a great way to show someone you care about their special day, and it can be much more meaningful than store-bought options. DIY birthday cards don't have to be complicated either; they can range from simple to elaborate, depending on your skill level and desired outcome. With some creativity, birthday cards can be fun and personal to celebrate someone's birthday!
What handmade items are trending right now?
DIY birthday gifts are a popular trend right now. Homemade items like cards, candles, cakes and cookies make thoughtful presents that show you care. Other creative ideas include scrabble art, jewelry making or photo collages. Get creative and make something special for your loved one's birthday!
What is a thoughtful gift?
A thoughtful birthday gift can be something homemade and crafted with love. DIY gifts are a great way to show someone you were thinking of them on their birthday, such as a photo album or handmade card. These gifts will be even more special when they come from the heart!
What are the easiest things to make?
DIY birthday gifts are a great way to show your special ones how much they mean to you. Homemade cards, party decorations, candles, mugs and jewelry make thoughtful gifts that require little time or supplies. With a few basic materials and some creativity, even the most novice crafter can create something meaningful for birthday celebrations.
What can I sew as a gift?
Sewing a birthday gift is a great way to show someone you care. DIY options include homemade blankets, pillows, and clothing items such as dresses and shirts. Accessories like bags and hats also make thoughtful gifts that can be tailored to the birthday person's taste. With a little creativity, sewing can be an easy and memorable birthday gift.
What is the cheapest gift for friends?
Homemade birthday gifts are one of the simplest and most cost-effective ways to make your friends feel special. DIY birthday presents can be as simple as a homemade birthday card, or you could put together something more creative like a scrapbook or photo collage. With some thought and effort, homemade birthday gifts can be just as meaningful and memorable as store-bought items.
What can I make for my best friend's birthday?
You can make your best friend a birthday present that is meaningful and special! Get creative with DIY projects or homemade gifts. Baked goods, homemade cards, and heartfelt words are thoughtful ways to show appreciation for your friend's birthday. Explore the possibilities of crafting something unique for the birthday celebration!
You can also explore other options like gifting experiences, concert tickets, or personalized items that reflect their interests. There are endless possibilities to choose from when it comes to birthday presents. Make sure you pick something special that will remind them of your friendship!
What gift to give a friend on her birthday?
Birthday gifts don't have to be expensive; DIY or homemade birthday presents can be just as meaningful and special. Consider making a scrapbook of memories, decorating a pot with inspirational messages, or baking her favorite dessert. You can give your friend the perfect birthday gift with creativity and thoughtfulness.
DIY Birthday Gifts and Ideas
Birthdays are a special time for celebration, and what better way to show your loved ones you care than with homemade birthday gifts? DIY gifts can be an incredibly meaningful way to show someone how much you appreciate them. Whether you're looking for something special for a little one or an adult, we have compiled a list of some awesome ideas that will make anyone's special day all the more memorable. From personalized items to practical presents and more, these DIY birthday gifts and ideas are sure to please!
What is the best way to show someone you care?
One of the best ways to show someone you care is to make them a personalized gift. Something that shows you took the time to think about what they would like or need. For example, if your friend is into cooking, you could make them a custom cookbook with their favorite recipes. Or, if they're always on the go, you could put together a care package with their favorite snacks and drinks. It is important to put some thought into it and make it something they'll appreciate.
What are some unique DIY birthday gift ideas?
There are plenty of unique DIY birthday gift ideas that you can make at home without spending a lot of money. Here are some great ideas to get you started:
1. A personalized mug or glass. Get a plain mug or glass and decorate it with a sharpie or paint pen. You can write a special message or design on the mug or glass for the birthday person.
2. A photo collage. Gather up some of your favorite photos of the birthday person and create a collage. You can frame the collage or use tape or magnets to hold it together.
3. A memory jar. This is a great gift for someone who is celebrating a milestone birthday. Fill a jar with items that represent happy memories, such as tickets, photographs, and souvenirs.
4. A homemade cake or dessert. Show off your baking skills by making a special cake or dessert for the birthday person. Add their favorite ingredients or decorations to make it extra special.
5. A coupon book. This is a fun gift you can tailor to the recipient's interests. Make coupons for things like "Good for one night of Netflix binge-watching" or "One afternoon of pampering" (massage, manicure, etc.).
How to make a DIY birthday gift basket?
Making a birthday gift basket is a great way to show someone you care. Not only can you customize the basket to their liking, but you can also add a personal touch with a handwritten note or card.
To make a DIY birthday gift basket:
Start by gathering some supplies. You'll need a basket, tissue paper, packing peanuts or crumpled newspaper, and scissors.
Choose what you'll be filling the basket with.
Consider the recipient's interests and hobbies when selecting items.
For example, if they love baking, include cookies or cake mix. If they're into gardening, add potting soil and seeds. Once you've gathered your supplies and chosen items, it's time to put it all together!
Start by lining the bottom of the basket with tissue paper. This will help protect the items from getting scratched or damaged. Next, add packing peanuts or crumpled newspaper around the sides of the basket. This will help keep everything in place during transit. Finally, arrange the items in the basket however you'd like and add a handwritten note or card before wrapping it up with more tissue paper or cellophane wrap.
DIY gift baskets are a thoughtful and unique way to show someone you care about their birthday. With a little creativity and effort, you can easily create a one-of-a-kind present that they're sure to love!
Related DIY Gift Ideas:
Make the perfect present for your loved ones with these easy and creative DIY Gift Ideas. From homemade cards to thoughtful photo books, find the ideal gift that will show them how much you care.
Conclusion: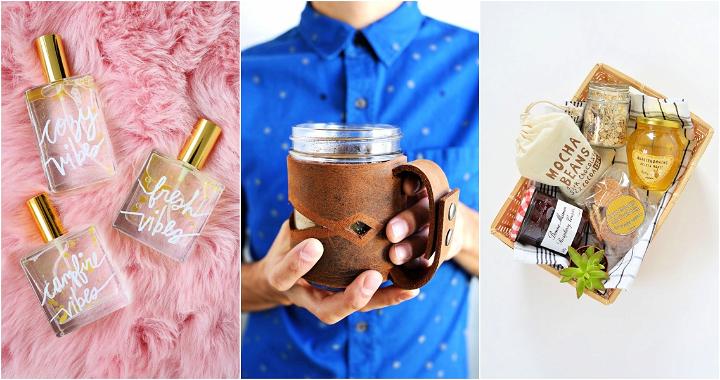 This collection of 40 easy DIY diy birthday gifts aims to make cute presents at home for upcoming birthdays. Making DIY birthday gifts is a great way of showing someone how much you care about them. A homemade gift also has the added benefit of being personalized and full of love.
With these 40 easy-to-make DIY birthday gifts, you can find something that fits your budget while expressing thoughtfulness and creativity. Many ideas involve basic craft items such as paper, paint, fabric or cardboard, but with some effort, they can be transformed into thoughtful keepsakes that your loved one will surely cherish on their special day.
Whether it's scrapbooking photos from previous birthdays or creating a collage out of old postcards, there is sure to be an idea for everyone, no matter what materials you have available at home. So don't worry about spending too much money – show your appreciation with some heartfelt DIY birthday gifts this year!