Graduation is a big day in one's life where one celebrates finishing school and is now ready to step into the new phase of their life. Usually, it's for someone heading to college, but people often celebrate graduation for their little kids as they move into middle or high school. It's quite encouraging for the student and peps them up for the year ahead. However, graduation gifts are also significant for such events. Anything handmade is super special, and they show you took the time from your daily schedule and made an effort to make something special. Therefore, we come up with the 30 best DIY graduation gifts ideas for kids, friends, nieces, nephews, etc. These special occasions and such easy diy graduation gifts are excellent ways to spend quality time together. So, let's grant the graduates some extra feeling on their big day with these diy graduation gift ideas!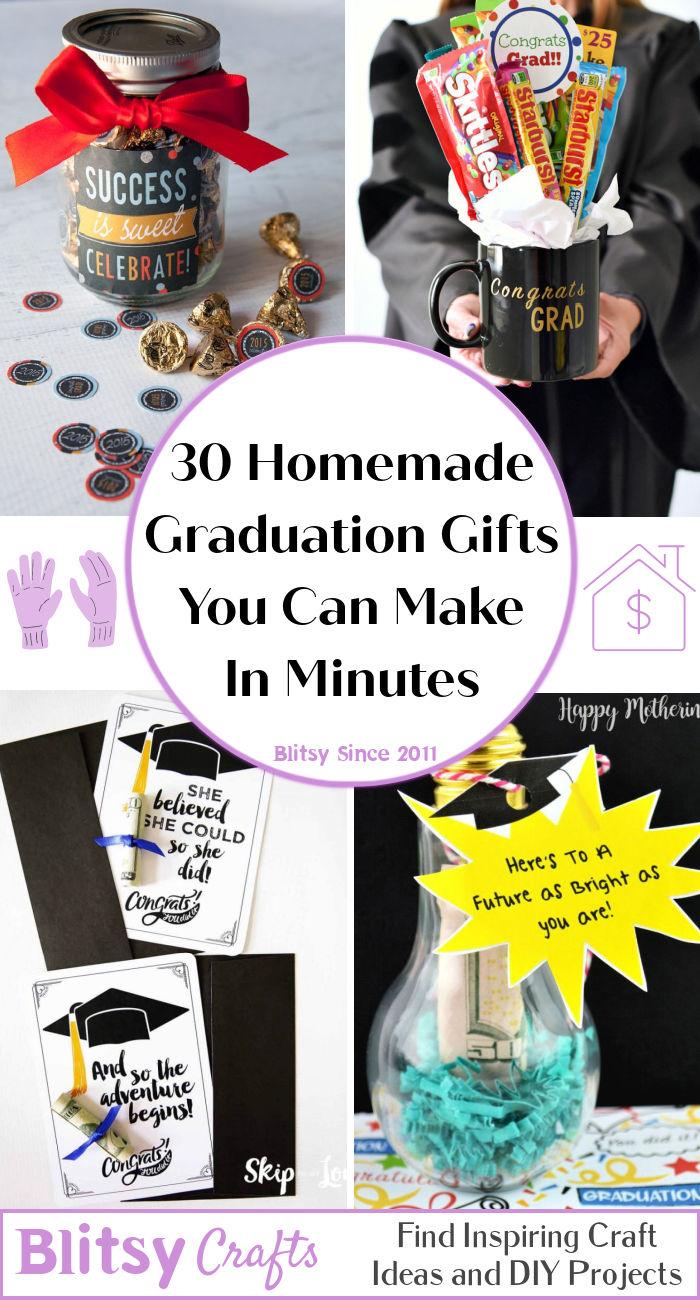 30 best and free diy graduation gifts for everyone!!
Here we have listed 30 DIY graduation gift ideas for you to make easily at home without breaking the bank. Always keep in mind that the best gifts are those that are personalized and practical. From high school graduation gift cup, charm bracelet graduation lei, party in a box graduation basket, graduation money cake, candy bouquet, a card with positive quotes, graduation gift box, light bulb cash holder, pizza box with money, dollar tree gift, giant diploma gift, homemade money necklace, mason jar party gift, wood beaded vase, origami money graduation caps, DIY giant balloon messages, college survival kit, laundry kit to photo frame graduation gift – we have it all here!
All you need to do is – choose the most suitable diy graduation gifts you need to make. You will also find all the required supplies and tools with each plan. So, why wait for more? Let's get started right away!
1. High School Graduation Gift in a Cup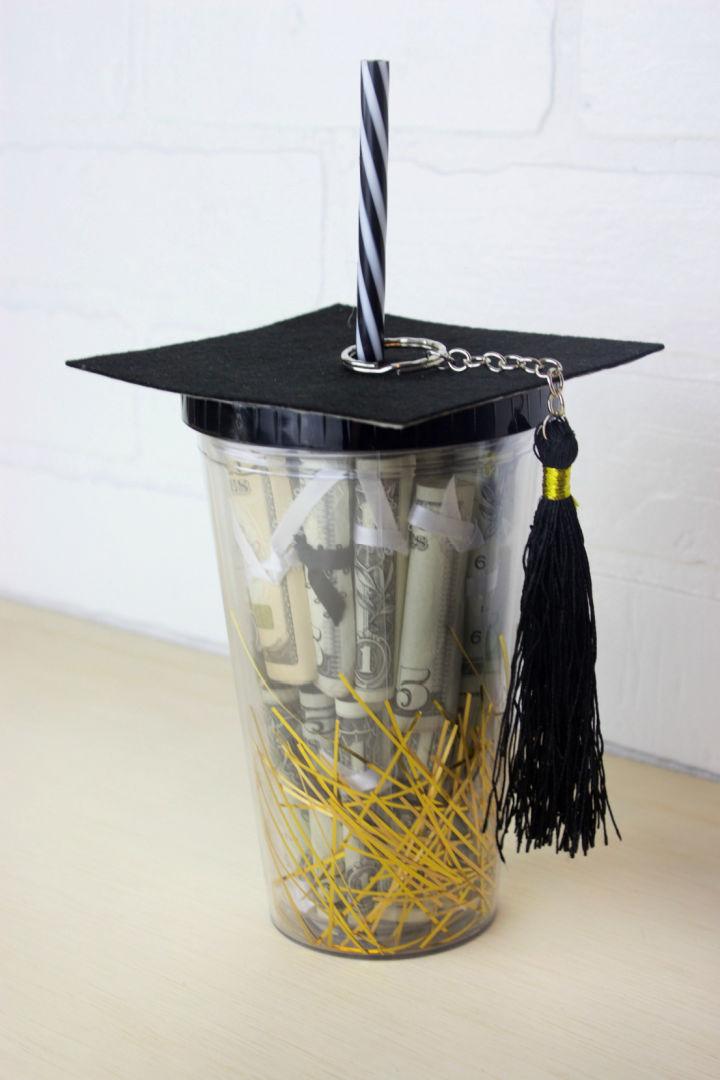 Looking for a DIY graduation gift that is pocket-friendly and thoughtful? Well, you've come to the right place! To make this high school graduation gift in a cup, all you need to do is take a plain cup roll-up dollar bills tie-up with white ribbon put inside the cup assemble with yellow sticks. These supplies can easily be found at home, so they're super quick and easy to make. alittlecraft
2. Charm Bracelet Graduation Lei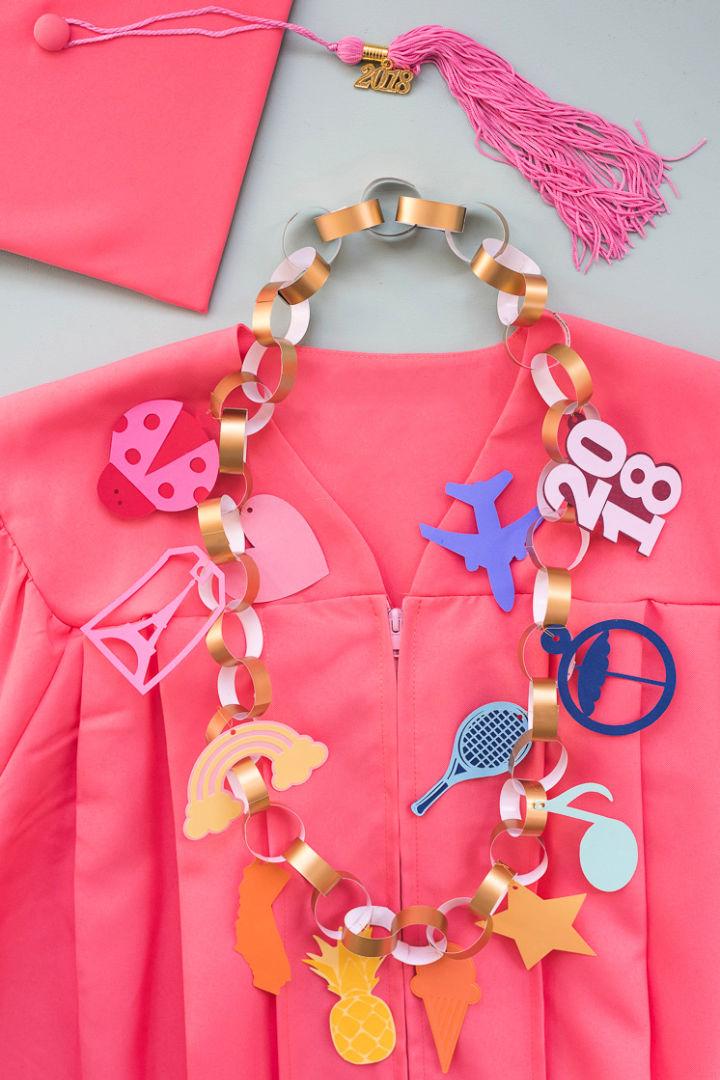 A smart and cute way is to celebrate graduation can be making diy graduation gifts to give the newly graduate. This charm bracelet graduation lei is a quick and cheap idea for last-minute gift-givers. You can decorate it with different things and personalize it for the person you want to give. It will surely be something to remember. Materials needed for this craft include charm templates, gold 12×12″ paper, a variety of colored paper, scissors, a hot glue gun, gold twine, hole punch, and a Cricut or die-cut machine. thehousethatlars
3. Party in a Box Graduation Basket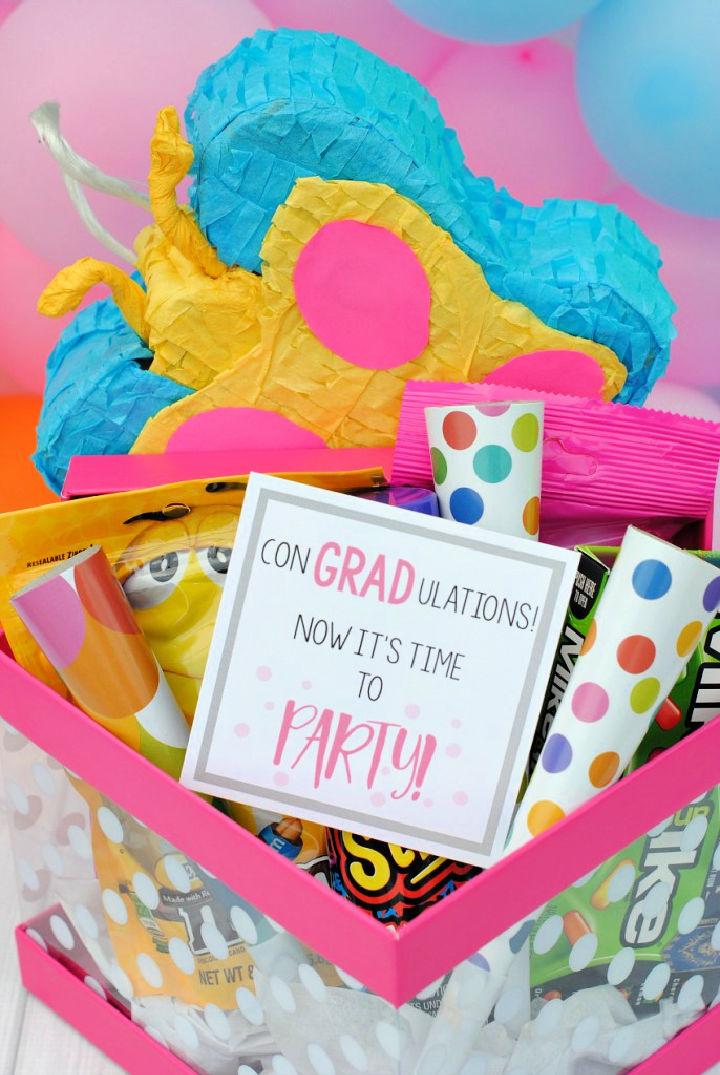 You can impress everyone with a unique way of giving a graduation gift. This party in a box is a fun idea of giving someone a gift by putting it all in one basket. Customize it with any creative idea that you like. You can include all the snacks and candies that your little graduate loves and pack them up in a basket! It is a super simple yet interesting gift. fun squared
4. Graduation Money Cake for Friend

This graduation money cake for a friend is an entertaining and unique surprise to give to your friend at their graduation. Everyone must have heard of a normal cake, but what about money cake? That anyone would love to have, honestly! All you need to take is some roll-up dollar bills that resemble diplomas tie with ribbon, foam discs, pink tissue paper, beaded necklace, toothpicks, glue stick gold charger plate, pink grosgrain ribbon, and some artificial flowers. wholesaleparty
5. DIY Candy Bouquet for 6th Grade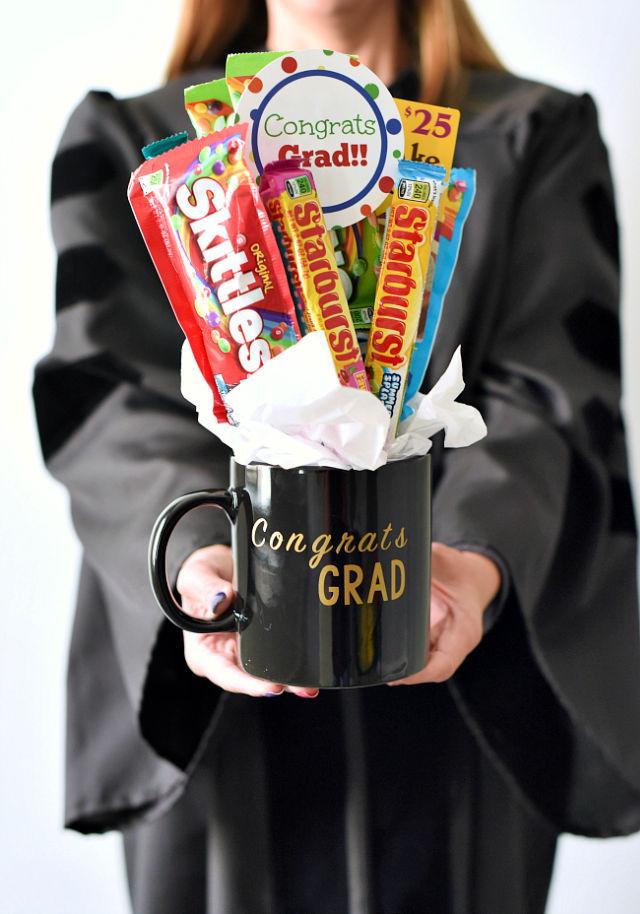 Here we have another great idea to make a DIY candy bouquet for a 6th grader. Graduating is fun, no matter whether your child is still in school or has moved to college. You can encourage your little one and their good results with a nice little party at home. You can make this cute bouquet for a gift, which can be made easily using supplies like a graduation mug, candy bars, skewer sticks, tape, gift cards, floral foam, tissue paper, and tag. fun squared
6. Printable Graduation Cards with Positive Quotes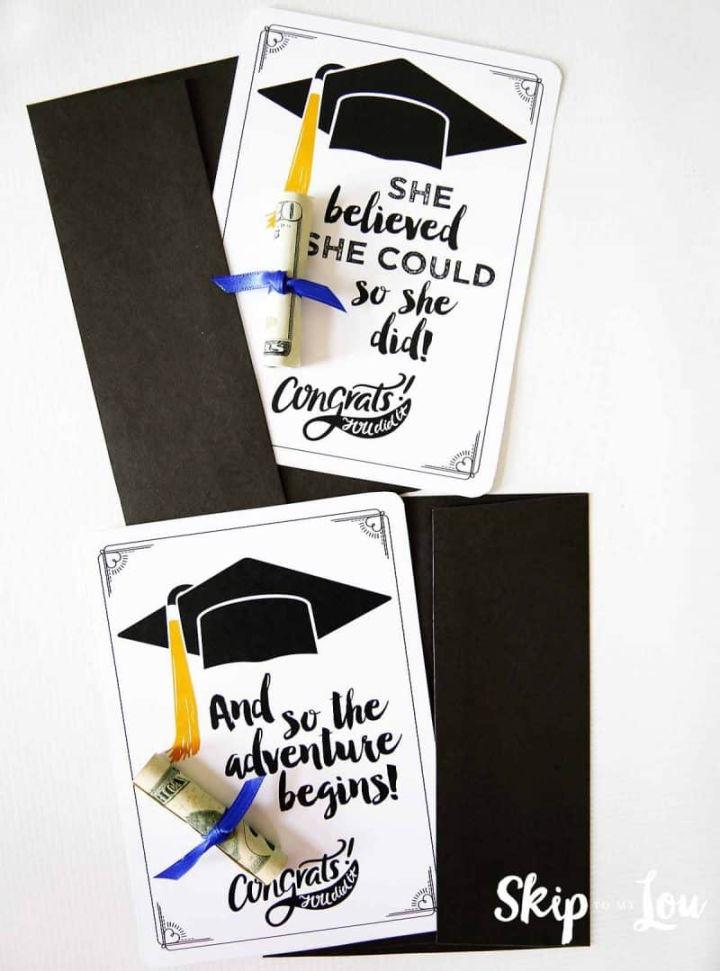 This printable graduation card with positive quotes is perfect for a nice graduation party. They are thoughtful and effortless to make, which gives tells that you have put your creativity in it and made something for someone. It is super sweet and can be customized in your own way using basic supplies easily found at home. skiptomylou
7. DIY Graduation Gift Box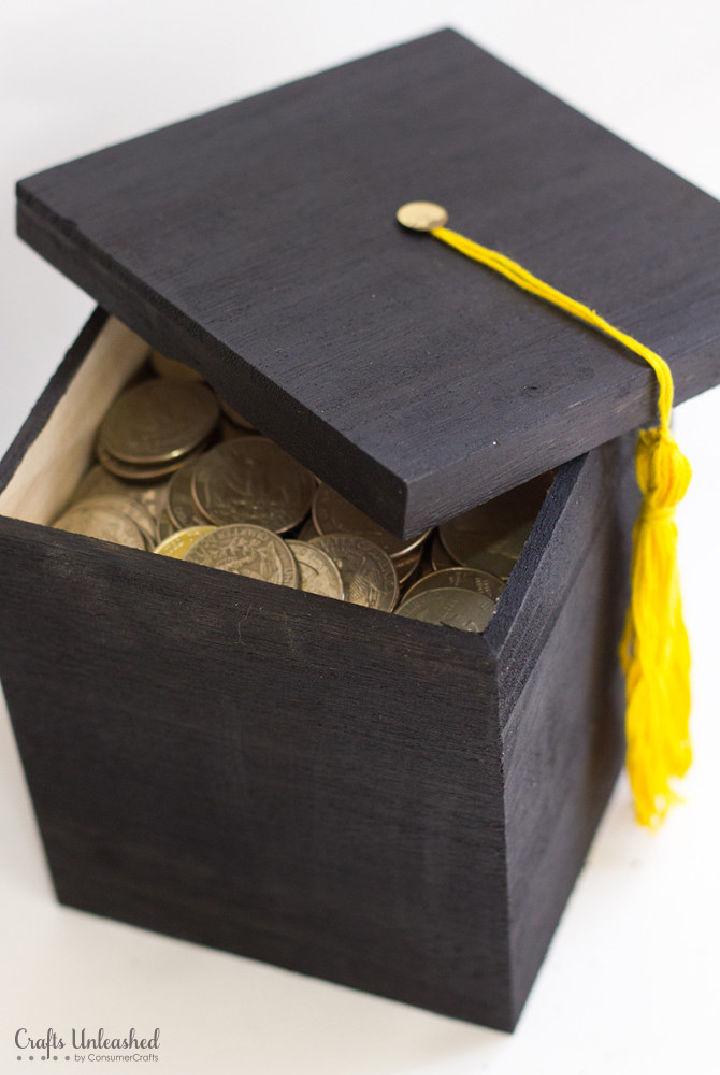 Are you invited to a graduation party but can't think of any idea for a gift? Well, don't worry because we are here to solve this problem. You can unleash the creative person inside you and make this awesome DIY graduation gift box that too under 20 minutes – isn't it amazing? Without breaking the bank, make this super cool gift using supplies like unfinished wood craft box with lid, tie tack post/clutch-brass plated, cotton embroidery floss, and black Americana decor chalky paint. consumercrafts
8. Graduation Cap Mason Jar Filled with Money Diplomas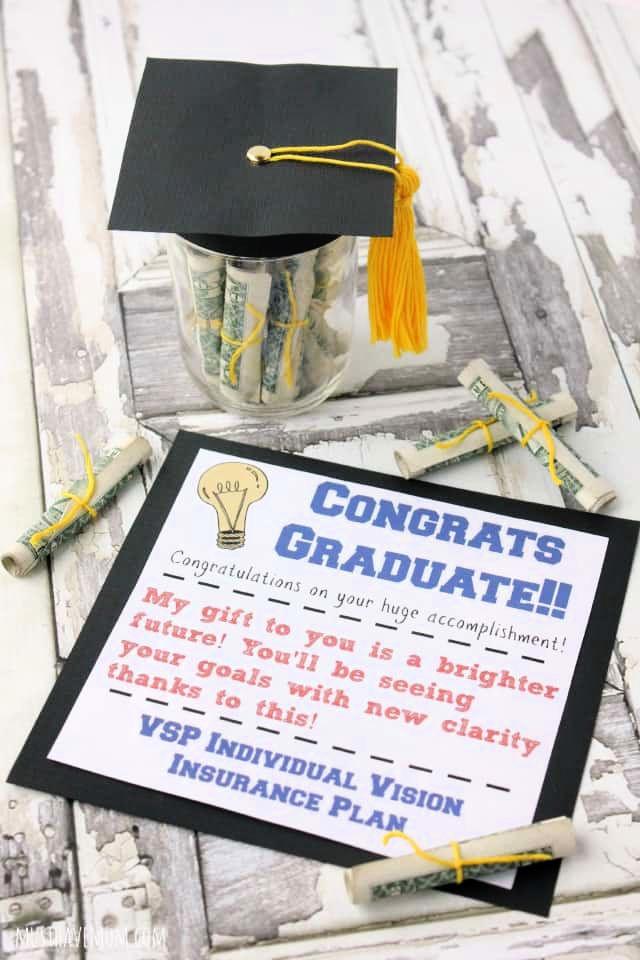 If you're looking for another way to make a handmade gift for someone who just graduated, then this is the perfect idea to try out! This graduation cap mason jar filled with money diplomas is not only a thoughtful and cool gift but also very cost-effective too! We're sure everyone's bored with handing over money packed in an envelope so let's change that up a little! To create this, you need a hot glue gun, pint-size Mason jar with lid, black cardstock paper, one gold-colored embroidery floss, brad, dollar bills, and curling ribbon. musthavemom
9. Unique Light Bulb Cash Holder

You can appreciate a graduate by making this unique light bulb cash holder. The old days are over, and anyone can hand over the money as a gift, but what's fun in that? Tell the graduate that they are as bright as a bulb by making this cute craft at home. Supplies needed to make this include an empty crafting lightbulb, crinkle paper shred, ribbon, money, and a printable gift tag. happy mothering
10. Graduation Pizza Box with Money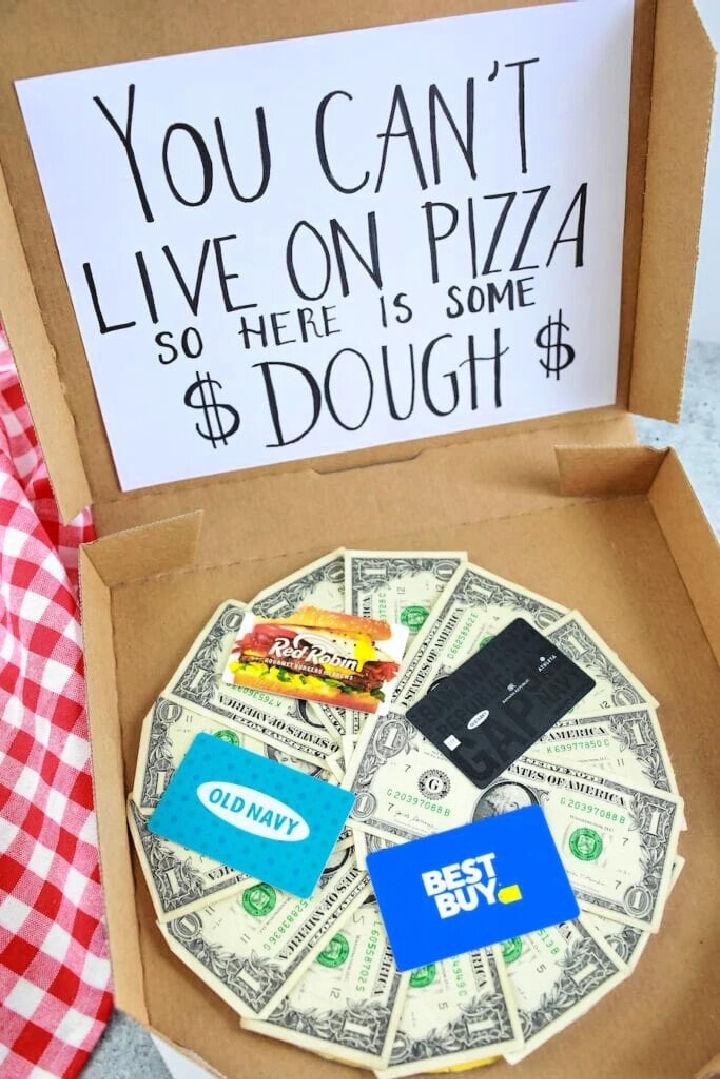 Handmade gifts are thoughtful and represent that you have actually put thought into giving someone a gift. Likewise, here we have a nice and interesting gift idea – a graduation pizza box with money! Something that could actually come in handy for a graduate who has just stepped into their adulthood and embracing the change. The best thing is that you don't even need to spend a lot on this idea! Just a pizza box, some gift cards, and dollar bills – that's it! passionatepenny
11. Sweet and Speedy Graduation Gift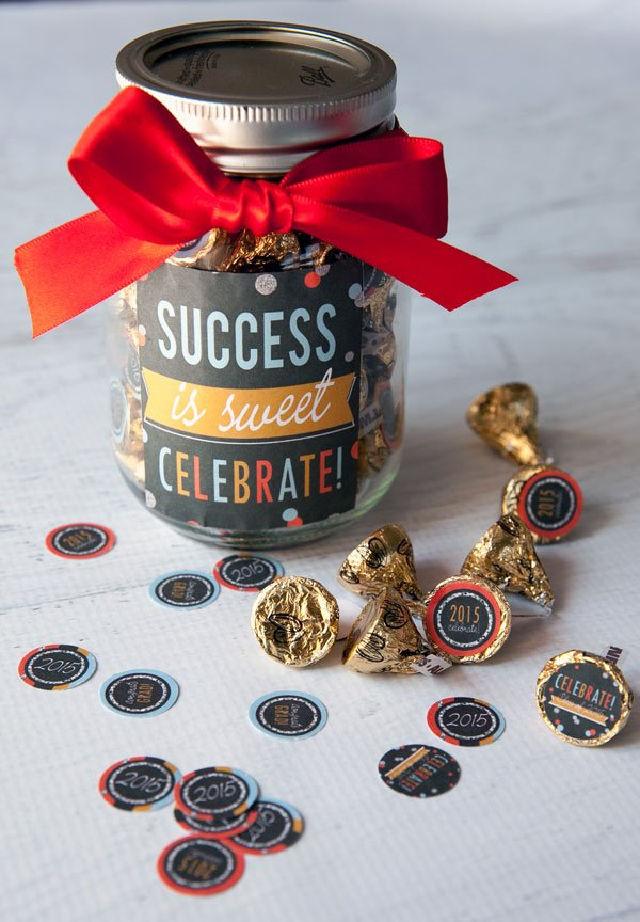 Is your kid or any you know is graduating tomorrow, and you want to make a thoughtful and quick gift for them? Well, then you should try out this sweet and speedy graduation gift. You can fill up a jar with their favorite chocolates, and you're good to go! To make this, you will need supplies including a mason jar, 1 bag of Hershey kisses, ribbon, online labels, blank full sheet labels, graduation printable kiss sticker file, and graduation printable jar label. frogprincepaperie
12. Dollar Tree Graduation Gift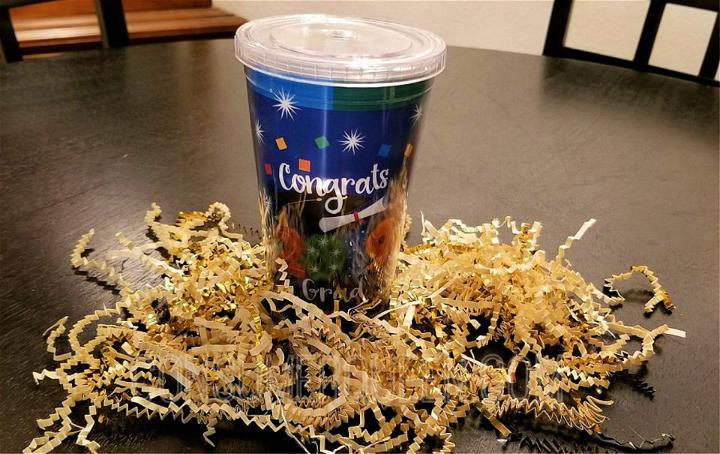 DIY graduation gifts are super fun to make and a very cost-effective way to give your friends and family member. If you have a graduate at home, then you can make this easy DIY gift for them. Add their favorite candies in a cup and decorate it as you like. Supplies needed to make this include a mug, tumbler or non-disposable cup, their favorite candies, confetti, and a gift card. consumerqueen
13. Giant Diploma Graduation Gift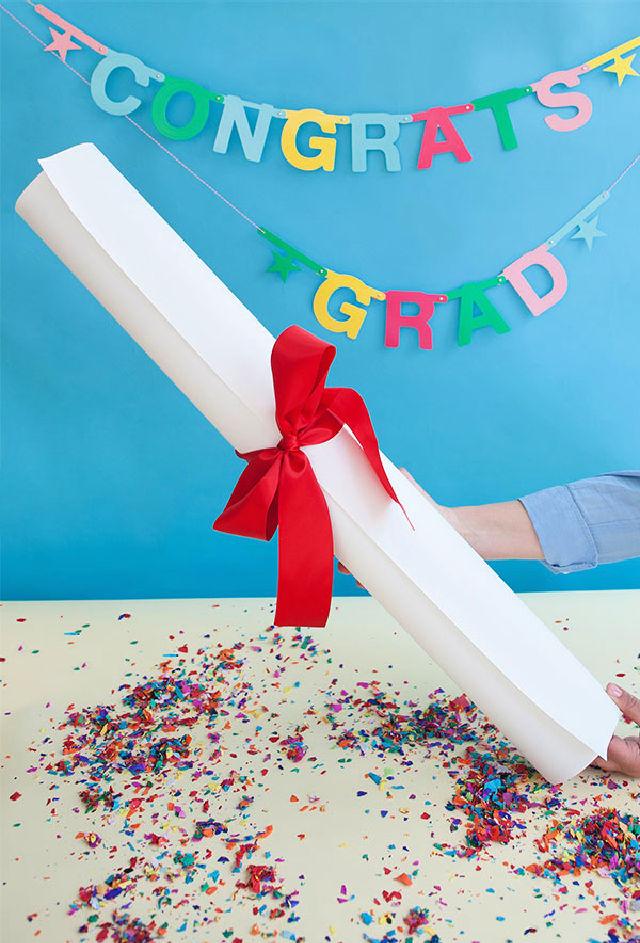 Holding the diploma and clicking pictures is one of the traditional ways to celebrate graduation day! But how about making things fun by gifting a giant diploma to someone on their big day! Add some good luck gifts inside it, and it will make a super fun gift. You need a large cardboard mailing tube, white paper, tape, scissors, red ribbon, and assorted 'Good Luck' gifts. ohhappyday
14. Homemade Money Necklace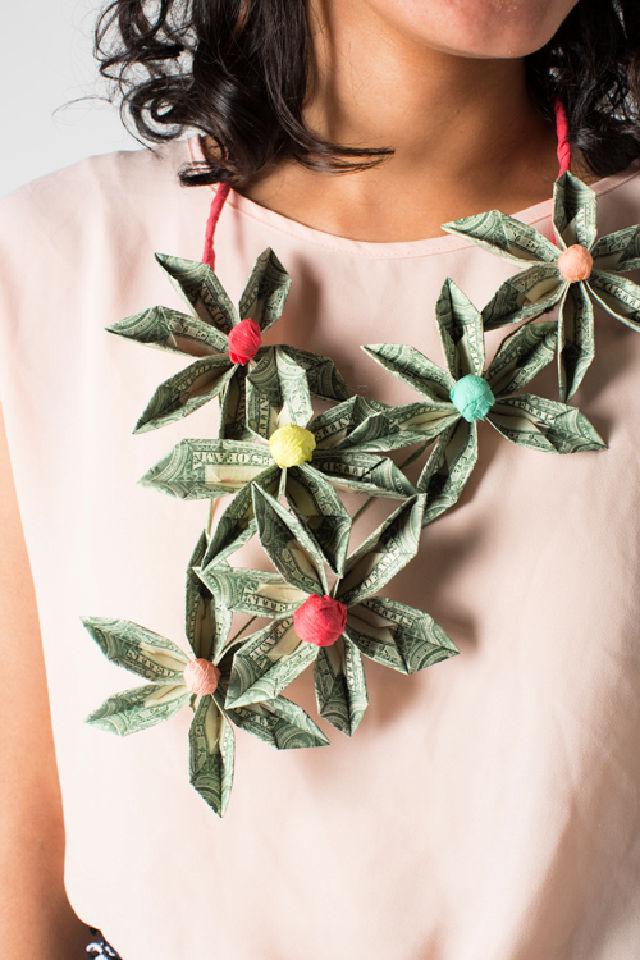 Trying to find fun ways in which you can gift someone money? Then you're at the right place! This beautiful necklace made out of money is a fun and unique craft to make. It can be a nice gift for any graduate so gather the necessary supplies to start, including 3 bills per flower, floral wire, wire cutters or scissors, crepe or tissue paper, and a glue gun. thehousethatlars
15. Graduation Mason Jar Party Gift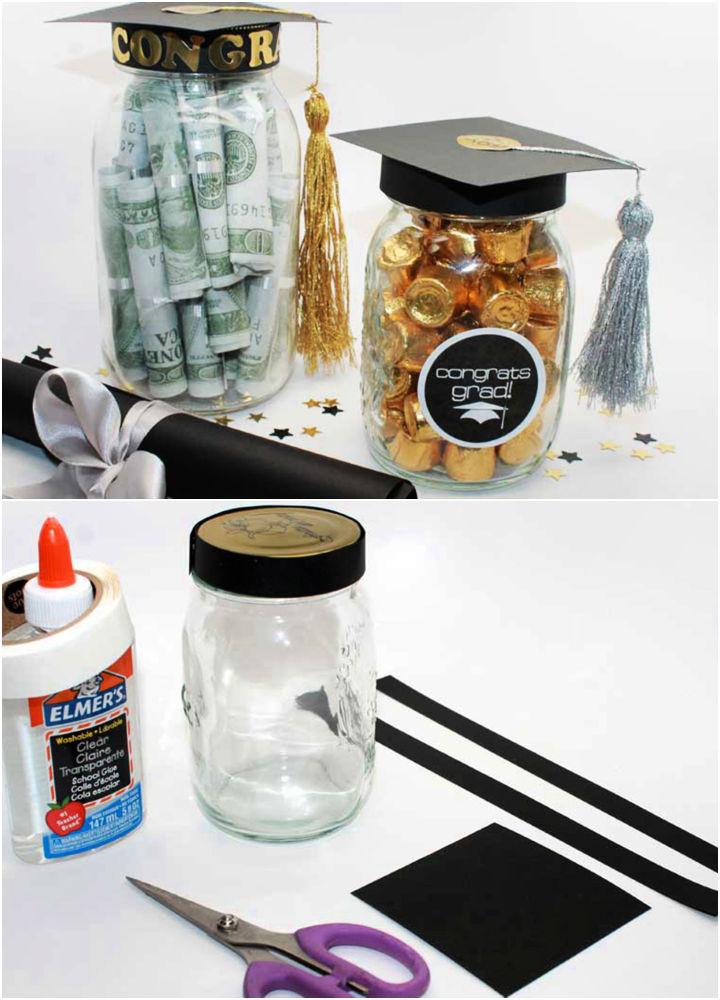 Mason jars have become quite popular nowadays, and you can create many interesting crafts from them. Just like this DIY graduation Mason jar party gift. The best part is that you can customize the jar according to their preferences. To make this, you will need mason jars, black cardstock, scissors, embroidery thread for tassel, glue or glue dots, ruler, labels, and printable label templates. onlinelabels
16. Wood Beaded Vase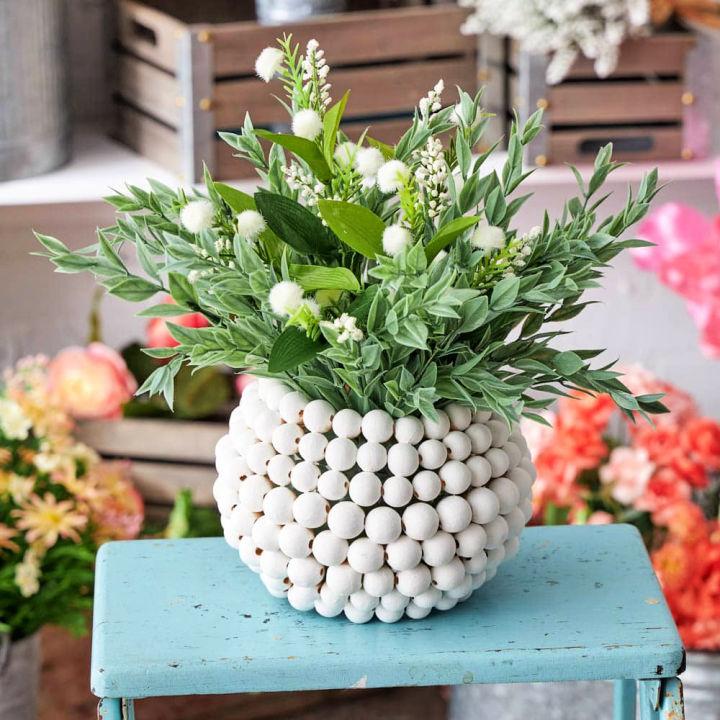 Vases make an elegant decor item in the house, whether in a living room or a study table. If you are looking for a cute and useful graduation gift, try out this DIY wood beaded vase. It is pretty easy to make and low-budget too! The supplies you will need for this include a glass bowl, wood beads, wood filler, glue gun, hot glue, white acrylic paint, paintbrush, faux greenery, and floral foam. ablissfulnest
17. Origami Money Graduation Caps for 8th Grade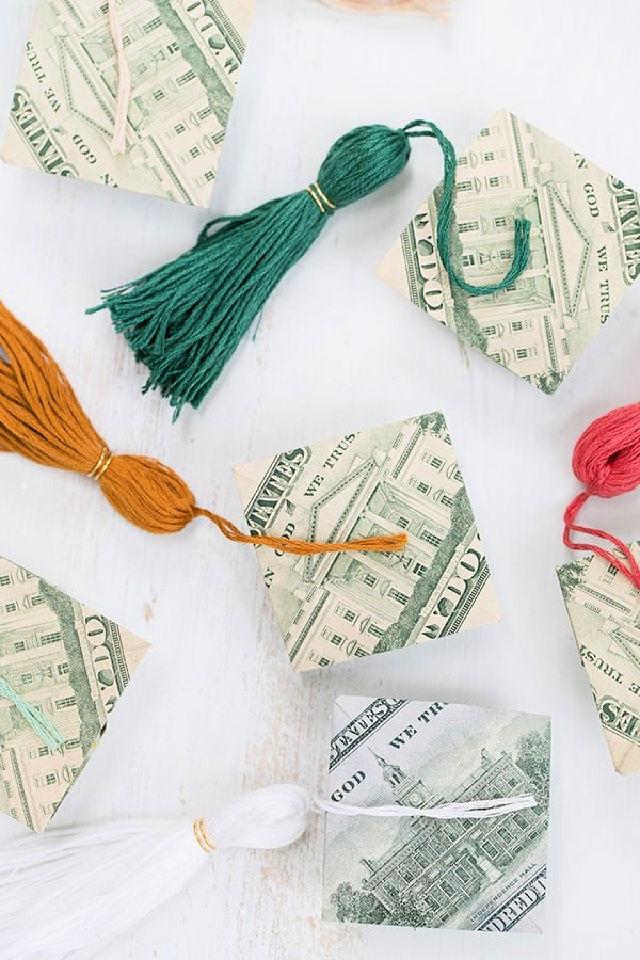 Graduation day is incomplete without a graduation cap! Now you don't have to worry about buying one with this super easy and unique origami money graduation cap! This charming cap will definitely steal hearts and make your kid's graduation pictures more fun. So try making this using supplies like a dollar bill, embroidery floss, glue dots, scissors, and tiny gold rings. sugarandcharm
18. DIY Giant Balloon Messages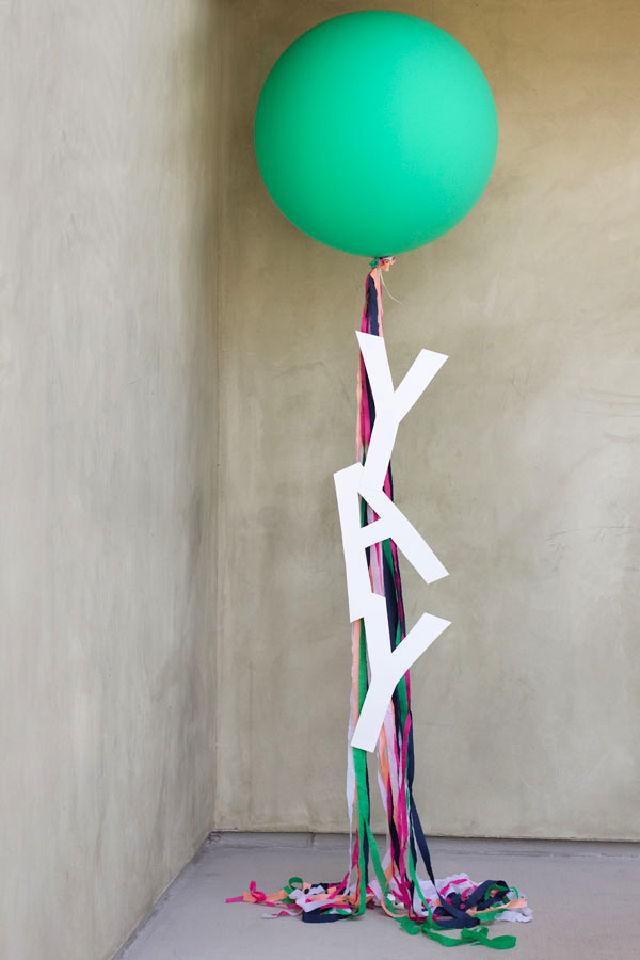 Graduation season is just around the corner, so if you have a kid who's going to graduate, you should definitely look at these cute DIYs. For the party decor, you can make these DIY giant balloon messages. For this, you can customize any message that you want to make and use different colors to make it cheery and bright. Supplies needed for this project are poster board, scissors, ruler, tape, and balloons. studiodiy
19. Printable Funny Graduation Cards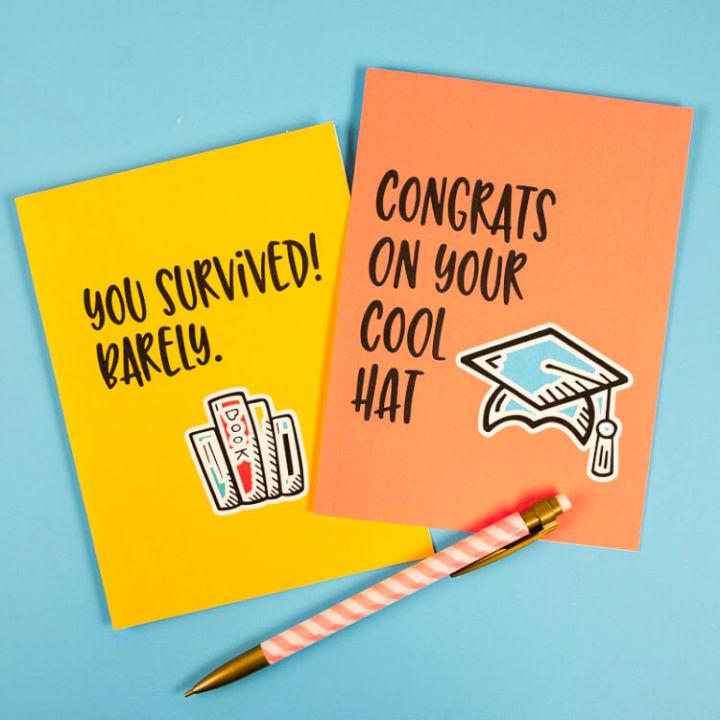 Celebrate the graduate in your house with some funny cards and make the party memorable. Instead of buying from stores, you can easily customize cards at home and write whatever you like on them. For this, you need to have cardstock and a printer, that's it! heyletsmakestuff
20. College Survival Kit Graduation Gift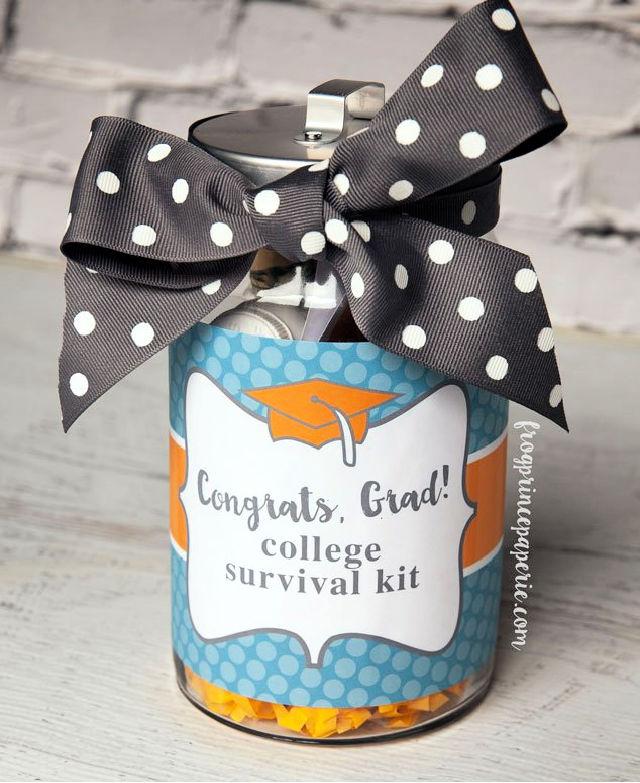 Completing graduation and stepping out for college can be quite a daunting experience for kids! Help them have a better experience with this cute DIY college survival kit as a graduation gift. You can include their favorite go-to items in it and a cute card for some tips. To make this interesting gift, you need a large jar, printable graduation gift label, yellow paper shred, pain killers, tic tacs, energy shots, Starbucks gift card, rolled-up dollar bills, and pens, etc. frogprincepaper
21. Kindergarten Graduation Keepsake Jar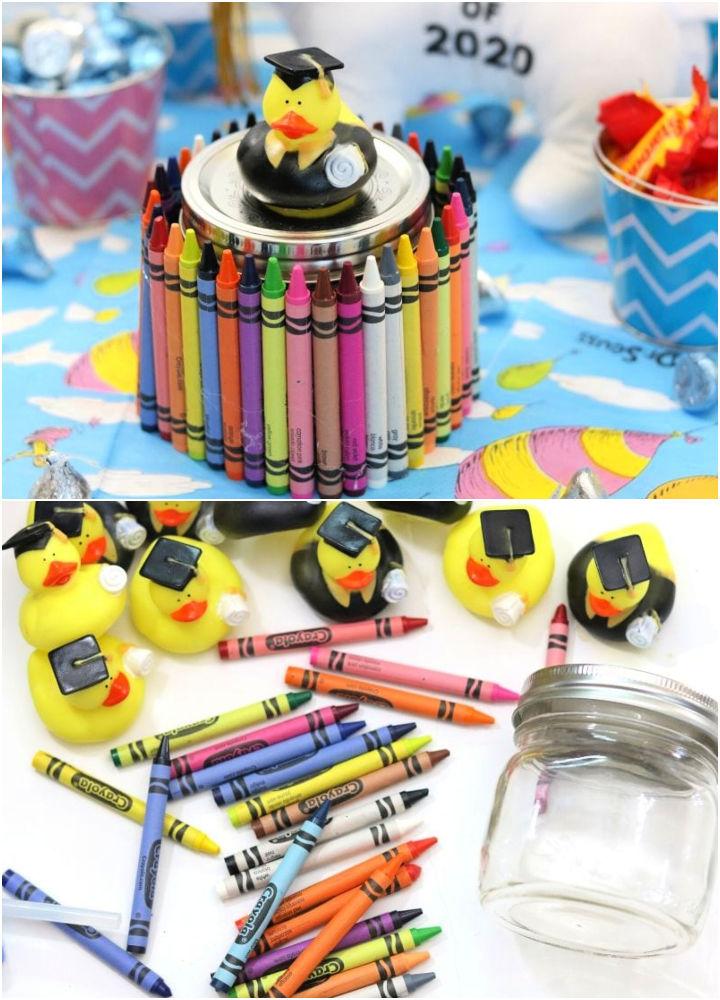 Are you looking for some cute graduation gifts for little kids? If yes, then you will love this DIY keepsake kindergarten graduation gift jar. It can be customized with any decor you want according to a theme. For this one, you will need a pack of crayons, 16 oz: Mason jar, hot glue gun, and graduation duck of your choice. mommysnippets
22. Paper Graduation Cap for Preschool

If you are looking for a graduation cap for your preschooler kid and can't find any in stores, then don't worry! We have an easy and quick DIY here, which you can follow to make a paper graduation cap. It can be customized according to your kid's size. You need black card stock and a tassel for the cap, that's it! liagriffith
23. Survival Kit Gift for Graduating Seniors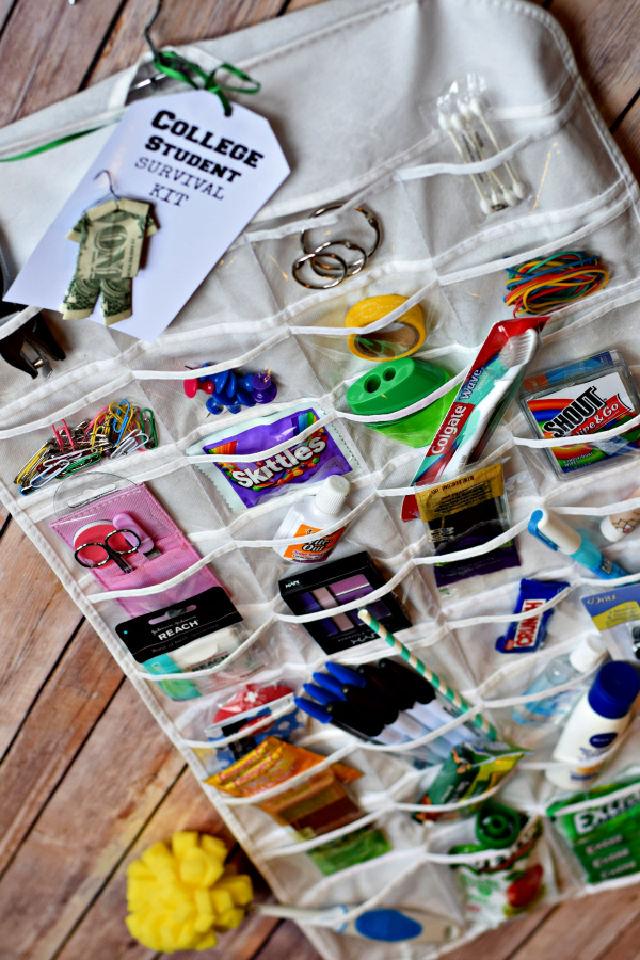 It's officially graduation season, which means parties and having fun! But it also means you will have to think about gifts to give the newly graduates. To help you out, here we have super easy yet thoughtful diy graduation gifts that you can make easily at home. This DIY college survival kit will be essential for the new graduate as they step into their next phase of life. You can include all their favorite things and surprise them with this. We're sure they'll love it! Supplies include a hanging organizer, ribbon, Groupon vouchers, fun snacks, toiletries, school supplies, and dollar bills. mothersniche
24. Boyfriend Graduation Gift with Cricut Joy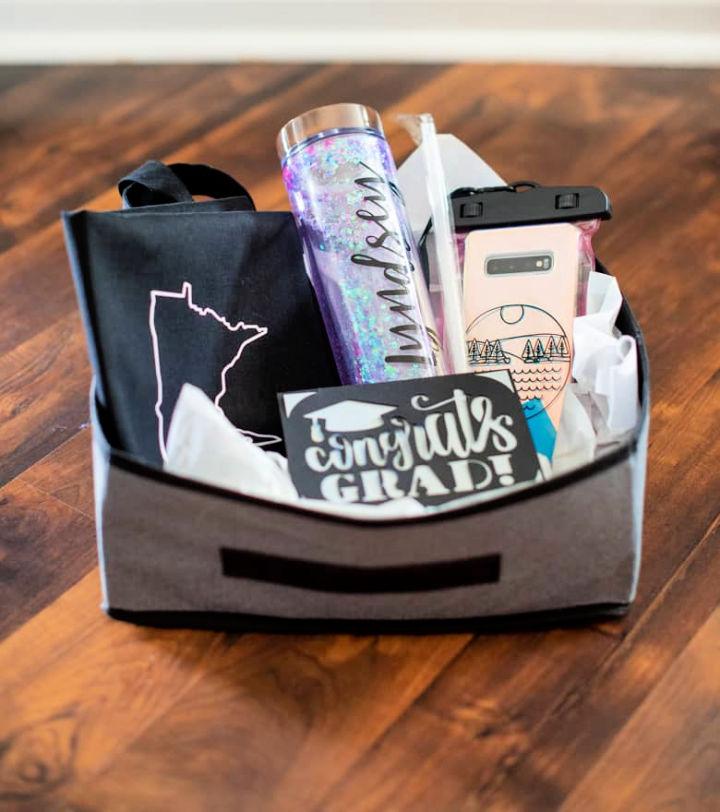 Do you have someone special who's going to graduate in a few days, and you want a gift for them without breaking the bank? Then, without wasting any more time, take a look at this easy and cheap DIY graduation gift idea. A basket is full of their favorite things! That's going to be a success for sure so let's make it and celebrate the beautiful moment. brepea
25. Elementary School Graduation Candy Lei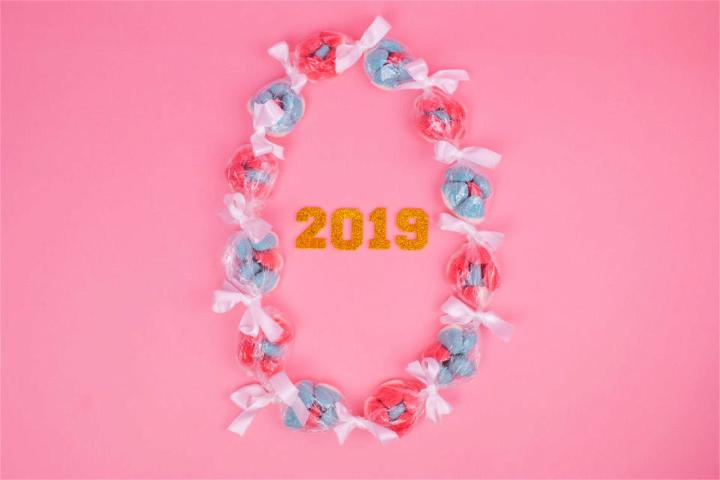 What can be better than a personalized one for someone who has just graduated and celebrated the joyous moment? This elementary school graduation candy lei idea is a super cute and unique gift that you can easily DIY at home a gift to anyone you know who might be graduating soon. To make this, you need supplies like your grad's favorite candies, plastic cling wrap, clear tape, and ribbon. candyclub
26. Laundry Kit with Free Printable Gift Tag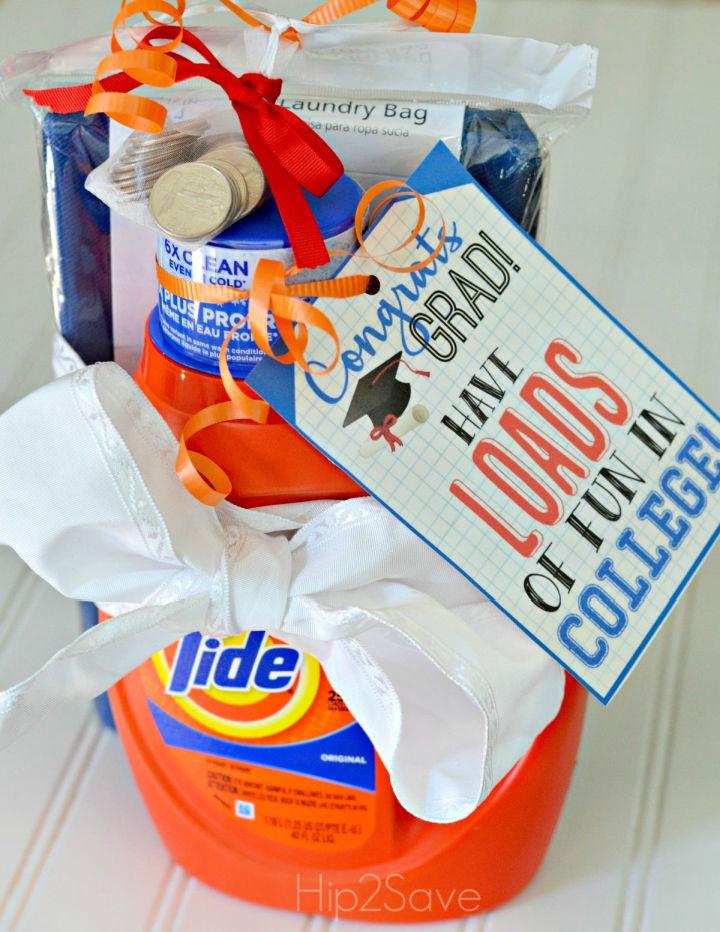 To make a thoughtful and unique gift, this laundry kit with a printable gift tag is the perfect thing to make. This practical and useful thing will help the new graduate sort out their college life and pave their way through adulthood! It is super easy to make which you can DIY using some basic supplies like laundry detergent, a laundry bag, a small bag of quarters, ribbon, and a cute message printable tag. hip2save
27. Photo Frame Graduation Gift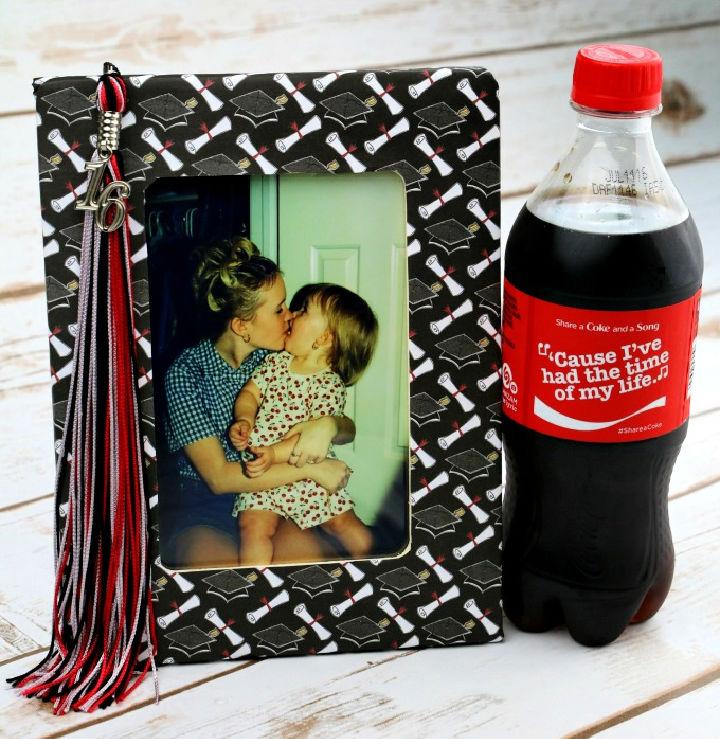 Photos are one of the most popular things when it comes to giving gifts. However, this DIY teaches you to customize a photo frame that you can gift to a new graduate on completing their degree so they can put up their picture and remember the beautiful day! You need some materials like a flat-sided photo frame, scrapbook paper, mod podge or glue, and a sponge brush for this craft. lifefamilyjoy
28. Make a Graduation Wreath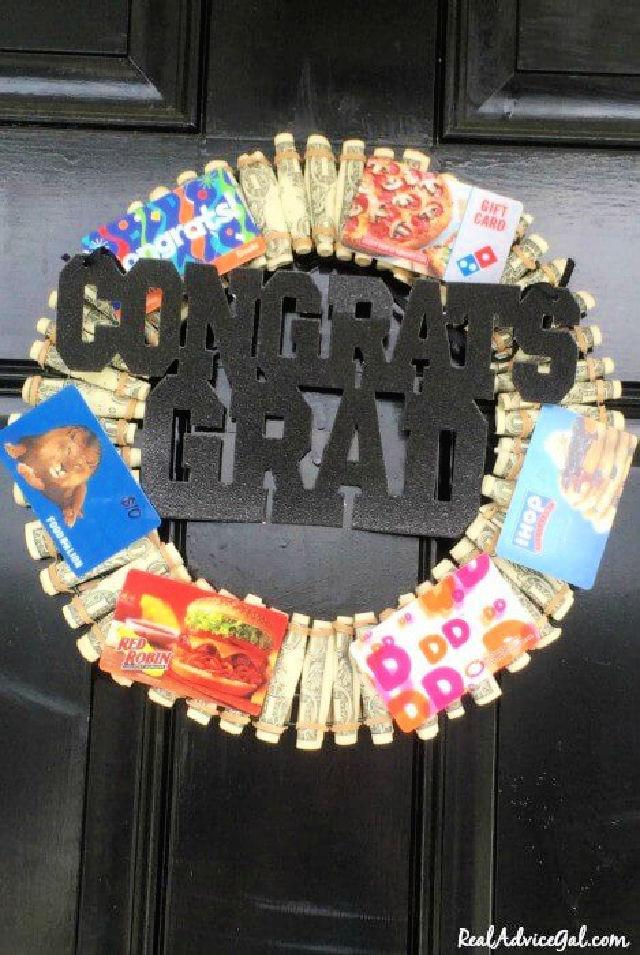 Welcome your newly graduate kid home by making this personalized graduation wreath. Entering this new phase is quite exciting, so it needs to be celebrated as well! This super easy and unique wreath can be made easily using dollar bills rolled up with some gift cards; that's it! realadvicegal
29. Surprise Money Confetti Poppers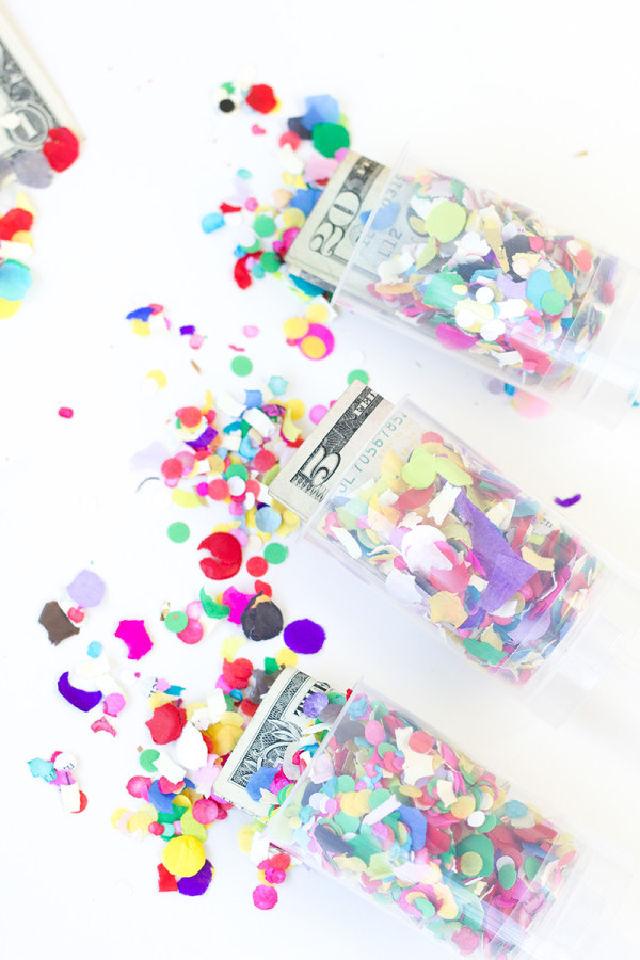 Bring out the creative side in you and DIY these unique surprise money confetti poppers. It is a super fun way to give money to someone on their big day, and it is quite easy to make as well. For this idea, you need some clear cake push-pops, confetti, and some dollar bills rolled up. studiodiy
30. Money in a Jar PhD Graduation Gift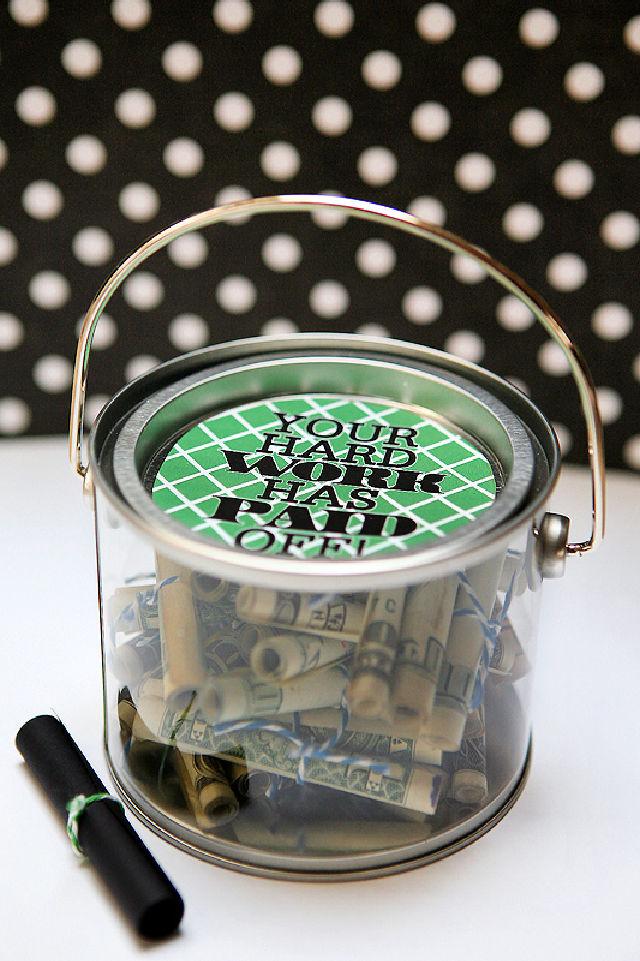 Here is a fun and interesting way to give money as a gift. This money in a jar is a unique way to give a new graduate some gift they will remember fondly since handmade gifts are extra special. You will need supplies like a punch-out tag, glue dots, dollar bills, and twine to make this craft. eighteen25
Conclusion:
Let's wrap up this article here, hoping that you found all of the mentioned diy graduation gifts interesting enough and are ready to make your own now! All the diy graduation gifts mentioned earlier have a unique feel, and there is a wide variety to choose from. So all you need to do is go through all the mentioned plans and find your favorite one. Make the graduate feel special on their day with these cute gifts that do not need much money to make. Doing these homemade graduation gift ideas at home is always better than purchasing the market-bought ones since you can customize your own gifts. So do you have all the supplies ready with you? Then without any further ado, let's pick out the best diy graduation gifts and give them a try right away!