Looking for a unique and personalized way to wrap a gift? DIY gift boxes are a great way to add something special to your present. Not only are they simple and beautiful, but they are also highly affordable! Get creative with your gift box decorations using ribbons, colorful florals, or prints from the free printable template available below. You'll impress the recipient! Learn how to make gift boxes with these 25 cute and creative diy gift box ideas with step-by-step instructions and free printable templates. You can make homemade gift boxes for any present size – cute mini boxes for small items and larger ones for bigger presents. With the right materials, you can definitely make an impressive DIY gift box that is sure to bring joy!
Making your own gift box can be a fun and satisfying way to show your loved ones how much you respect, love and care. With 25 DIY gift box ideas, a printable box template, and step-by-step instructions, you can make a custom and beautiful homemade gift box that will make a lasting impression. Whether you are looking for a cute gift box with fun wrapping paper, or a small, simple box with added decorations, you'll find the perfect DIY gift box inspiration here to create the perfect homemade gift boxes. So gather your supplies, customize your design with a printable template, and get creative!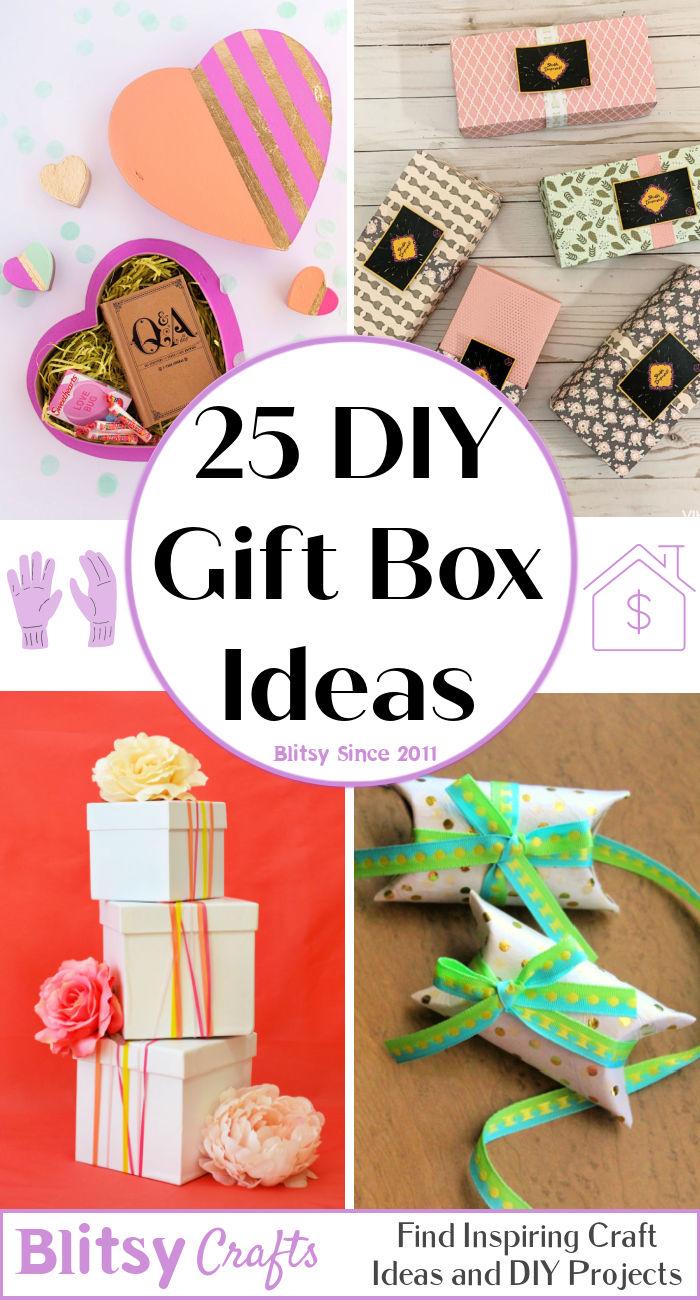 Cute and Creative DIY Gift Box Ideas
Making unique and beautiful gift boxes often requires an artistic eye. But with 25 simple DIY gift box ideas, you can create gorgeous DIY gift boxes in no time. From cleverly folded paper to upcycled cereal boxes, each of these creative diy gift box ideas has a free printable box template perfect for any special occasion. Whether you are making a pretty package for Mother's Day or need a cost-effective way to add some extra cheer to your holiday gifts for friends and family, these cute diy gift box ideas are sure to inspire. Get ready to make delightful little gifts that will put smiles on the faces of everyone lucky enough to receive them!
What is the best way to make a DIY gift box?
Creating a DIY gift box can be an affordable and fun way to give the perfect present. Start by gathering the right materials, such as boxes, decorations, ribbons, fillers, and anything else you may need. Once these are ready, use your imagination to customize the box with creative design options. Choose items that best fit the recipient's personality or interests and thoughtfully arrange them. Finally, don't forget to add a card or small note of appreciation. It'll make all the difference!
What are some common materials used to make DIY gift boxes?
DIY gift boxes can be made with a variety of materials. Cardboard, corrugated cardboard, paper mache, fabric and felt are some of the most popular. Some people may opt for chipboard or heavy-duty cardstock if they want a sturdier box. You can add decorative ribbon or twine to give the box an extra special touch.
How do I make a gift box with a lid?
Gift boxes with lids are easy to make! You'll need scissors, cardstock or light cardboard, double-sided tape, and a lid template. Cut two pieces of paper for the box and lid, then use the template to trace the lid shape onto one piece. Attach the sides using tape before adding your decorative touches. Finally, fold along the lines and assemble the top and bottom pieces together with tape. Voila! Your gift box is ready!
What are some tips for decorating a gift box?
1. Start by measuring up the box, so you know how much material you need to cover it.
2. Choose a wrapping paper or fabric that works with your diy aesthetic and has enough coverage for the box.
3. Use string, ribbons or lace to tie around the box and create interesting patterns, shapes or textures.
4. Accessorise further with things like feathers, beads, gems and natural objects like leaves or flowers for an extra special finished look.
5. Finally, use the glue gun to attach any additional embellishments securely to complete your diy gift box design!
How can I make a gift box more special?
Making a gift box special can be done in many ways. You could make your own gift box by cutting, folding and decorating cardboard or sturdy paper. Decorate with ribbons, sparkles and other embellishments for a truly unique look. Alternatively, you could fill the box with special treats like homemade cookies or candies to add an extra layer of thoughtfulness. DIY projects always have that extra unique touch!
What supplies do I need to make a homemade gift box?
If you want to make a diy gift box, you will need cardboard, a craft knife (or scissors), glue, decorative paper and embellishments. Make sure all your supplies are ready before starting the project, as this will help to ensure that everything goes smoothly! Have fun and get creative with it!
How do I make a box from scratch?
Making a box from scratch is relatively easy. Start by measuring your desired box size, then cut four pieces of cardboard or wood to match those measurements. Join them together with glue or tape, and if desired, decorate with paint or ribbons. With a little diy effort, you can easily create your own unique box!
How do I decorate a homemade gift box?
Creating a homemade gift box is an easy DIY project. Start by measuring and cutting out the pieces of cardboard you need to make your box. Decorate it with colors, patterns, or illustrations that capture the theme of your gift. You could also use wrapping paper, fabric, or even scrapbooking supplies to decorate it. Add embellishments and ribbon for an extra special touch! The result will be unique and memorable!
What size should I make my homemade gift box?
Your homemade gift box size depends on the item(s) you plan to put inside. Measure the largest item and add a few inches for extra room. Remember that you will also need space for packing material, such as tissue paper or shredded paper. DIY gift boxes can be tailored to any size for unique gifts!
How do I add a lid to my homemade gift box?
Adding a lid to your diy gift box is easy! Start by measuring the top of the box and cutting out a piece of card stock that matches its size. Glue the edges together, add decorations if desired, and attach them with tape or glue to the top of your box. You now have a professional-looking lid to complete your homemade gift box!
1. Gift Box with Stained Glass Rose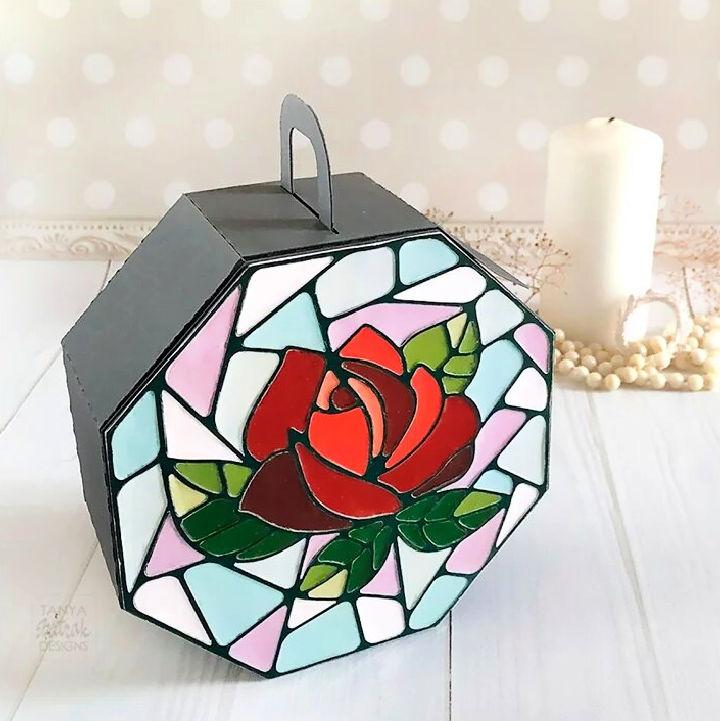 This stained glass rose gift box is all made up of paper. However, the glossy and shiny finishing paints give this box a more representable and attractive look. You can customize this gift box effortlessly with a cameo, card paper and glossy paints. Make this box more proficiently with the help of a printer to print out the stained glass rose pattern. All you need to do is layering and adhering to the card section. Once you have done layering, glue the cut-stained glass rose file and paste it on the box. tanyabatrak
2. Handmade Wood Gift Box

A handmade wood gift box is an ideal option for gifting jewelry and other girlish accessories. Not only for girl's gift, but you can also use this box for boys. Make this wood gift super easily with wooden scrap from your thrift store, wood glue, painter's tape, sandpaper, screw eye and a steel hook as a knob on the box lid. Moreover, give this box a complete and valuable look with a red decorative bow. jaimecostiglio
3. DIY Gold Foil Heart Gift Box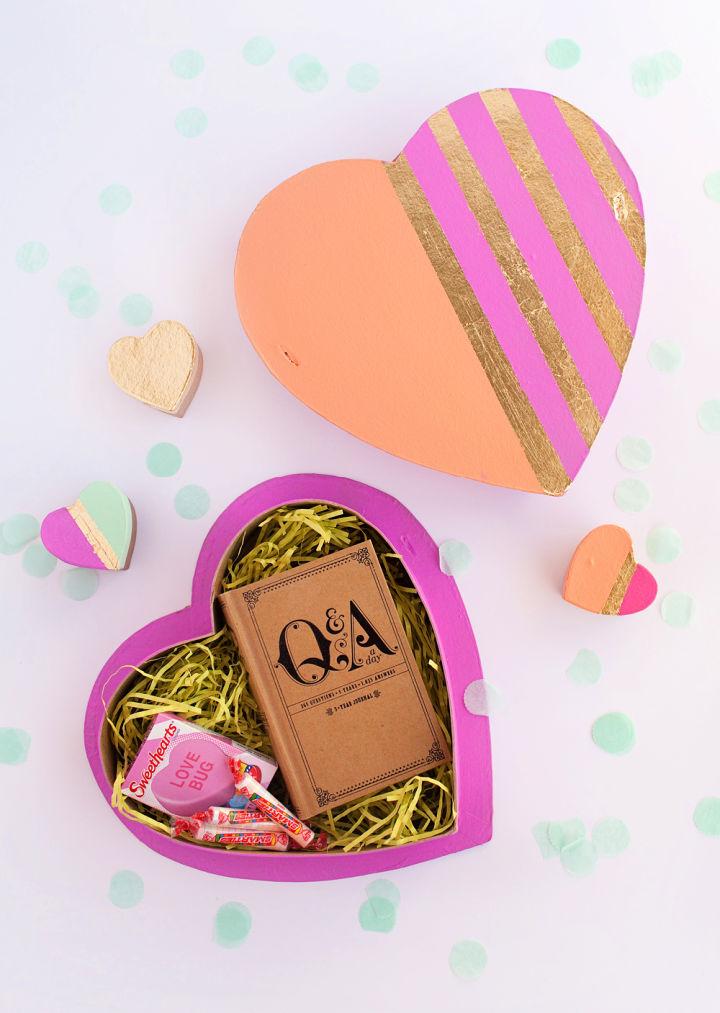 Gold foil is something more mesmerizing and attractive when we talk about using it in gift wrapping in any sense. So, what's about using the gold foil on a gift box? Of course, yes. Start making this super adorable and lovable gift box with a paper heart-shaped box, acrylic craft paints, gliding adhesive, gliding sheets, sponge, paintbrush and adhesive spray(optional). All you need to do is glueing the sheets on the box lid. tellloveandparty
4. Burlap and Floral Rustic Gift Box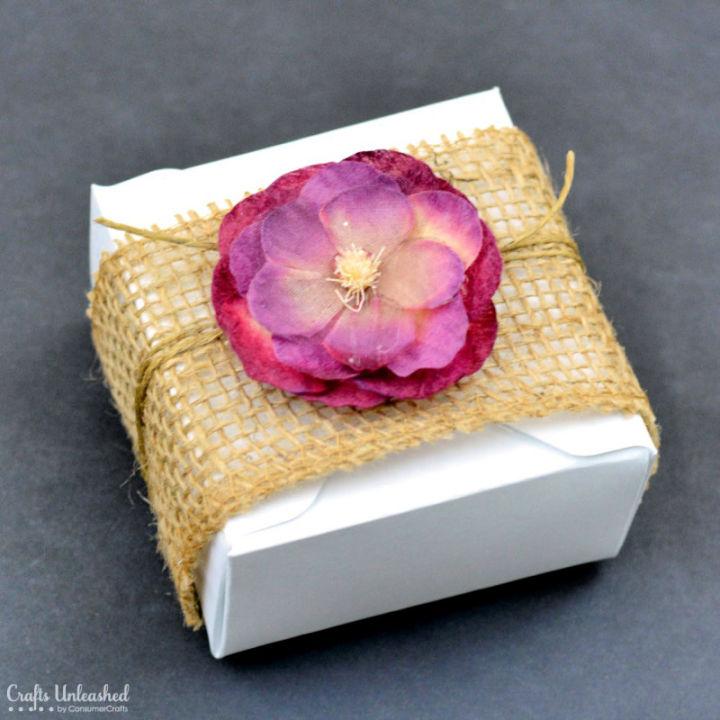 DIY a rustic and farmhouse style gift box a piece of burlap, a faux flower, jute twine, scrapbook paper and punch board for the gift box. Excitingly! You can customize the box using a punch board according to your gift size. This burlap wrapped and glued faux flower gift box is an ideal option for packing wedding, birthday and Christmas gifts ever. consumercrafts
5. Ribbon Wrapped Gift Boxes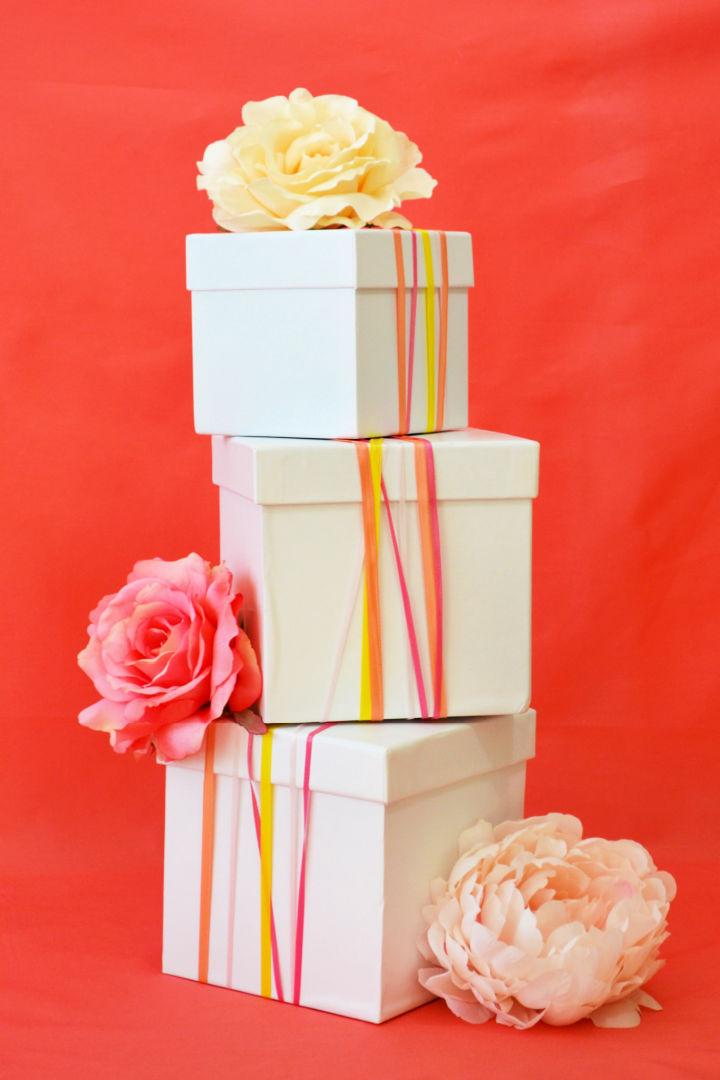 If you are looking for something unique and more elegant to present your gifts to your loved ones, noting would be a more suitable option than these ribbons wrapped gift boxes. Create these boxes super easily with white punch boards. Moreover, use decorative ribbons, faux flowers, twines and a hot glue gun for the appropriate finishing of this DIY gift box. One more thing, you can also consider the gift boxes in whatever colour you want desirably. sparkandchemistry
6. DIY Explosion Gift Box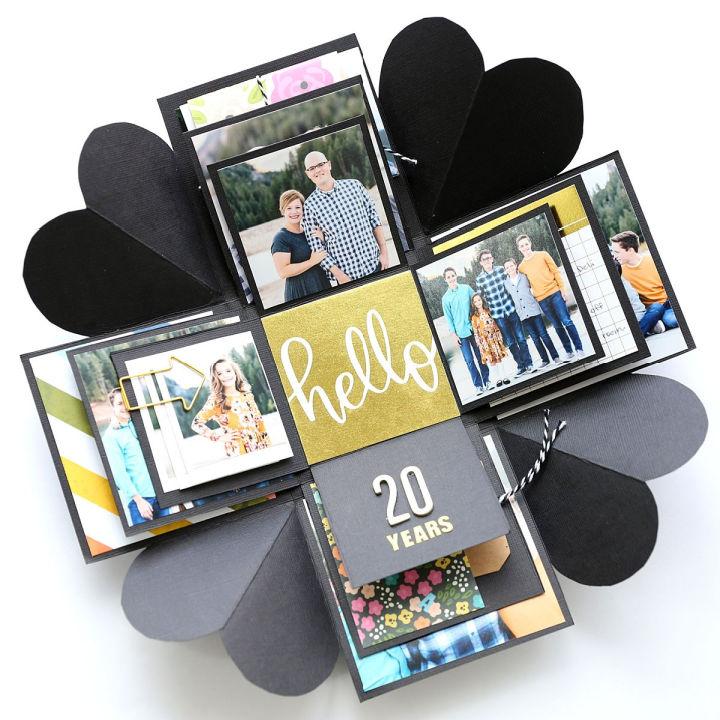 Well, an explosion gift box is an ideal option for gifting on a wedding anniversary or your friend's birthday. You can assemble all your favourite photos with your loved one in this explosion gift box to show the next person your love for him. To make this explosion gift box, you will need coloured card stock, paper adhesive, paper trim, photos, embellishments and printable for the box lid. It may look difficult to make this explosion gift box. But once you have gathered all supplies and printables, it will not take more than an hour for assembling. itsalwaysautumn
7. Fancy Rigid Gift Box Ideas

Fancy rigid gift boxes are suitable for the packaging of gadgets, watches, and other expensive gift items. For making this gift box, use thick cardboard, scissor, ruler, knife, glue, decorative paper and desirable embellishments. Firstly, draw the box template on the cardboard using a led pencil. So, it would be easier for you to cut and customize a rigid gift box with a template. instructables
8. DIY Valentines Day Gift Box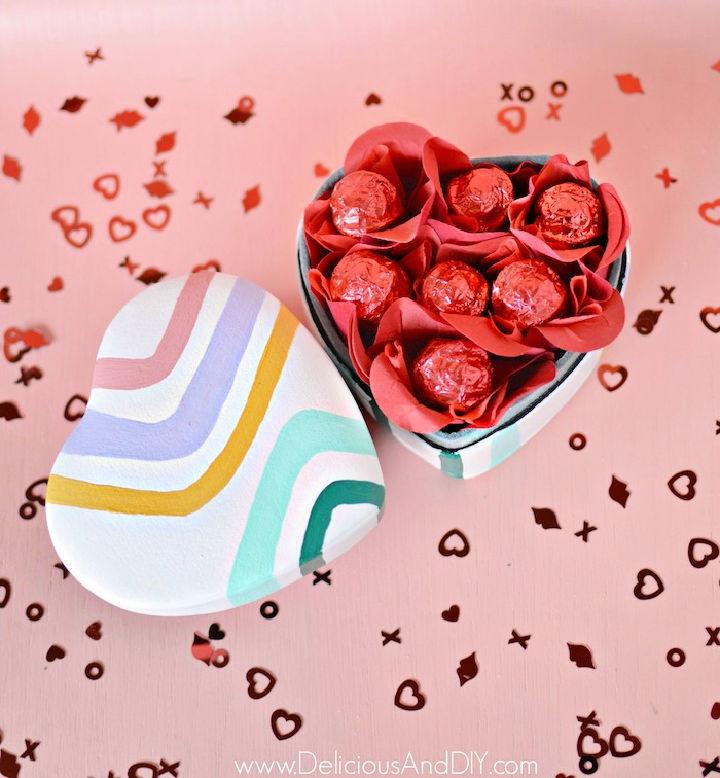 On this Valentine's Day, present your gift to your loved ones in a more lovable and precious way with this heart-shaped gift box. DIY this box yourself with a heart-shaped box, multicolor paints, faux silk flowers, paintbrushes, and chocolate or candies to place inside this customized box. Additionally, you can also add party crackers, ribbons, and colorful embellishments inside this crafted gift box. deliciousanddiy
9. Hand Painted Cat Gift Boxes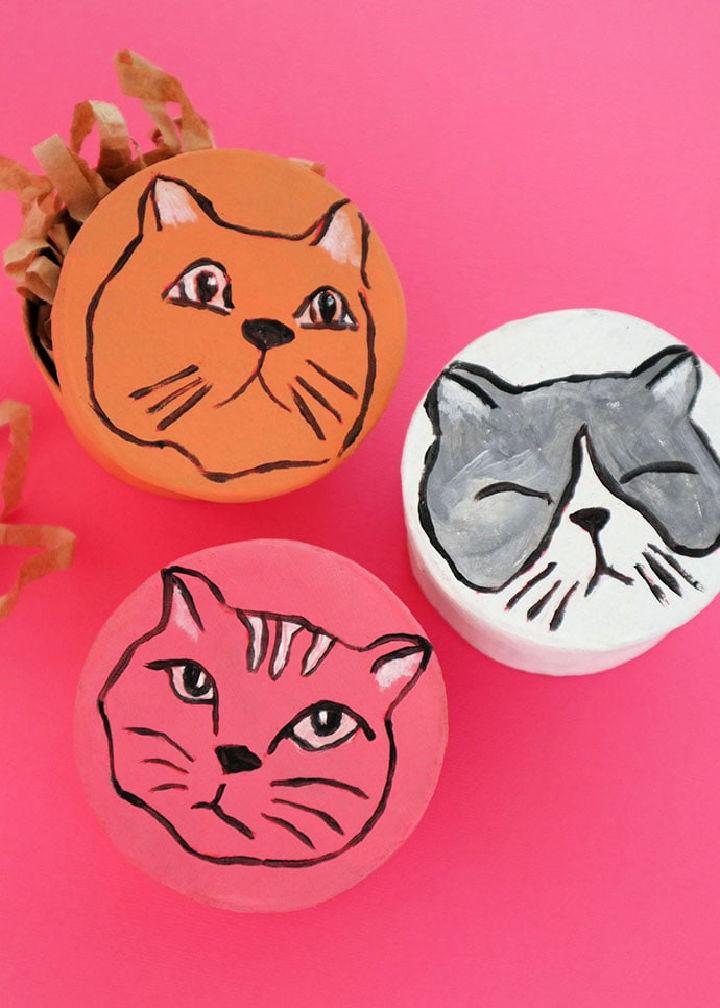 No wonder kids are crazier about their birthday gifts. You can make your kids overjoyed by wrapping their birthday gifts in these super adorable and attractive hand-painted cat gift boxes. You can also let your kids work on this craft activity. They would love to customize these boxes for presenting to their friends. You will need a cat face printable, acrylic paints, round boxes and tracing paper. Furthermore, paint the whole box with desirable colour before tracing the cat face on it. mypoppet
10. How to Make Paper Rainbow Gift Box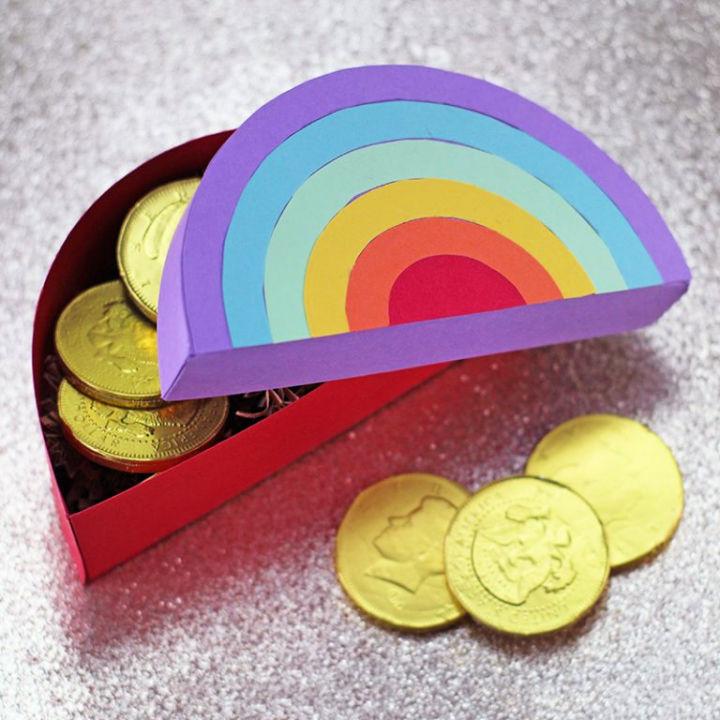 These rainbow gift boxes are ideal for presenting St. Patrick's Day gifts to your loved ones, especially kids. To make this rainbow gift box, use a thick cardstock, ruler, pencil, scissor and rainbow printable. You can also go for an SVG cut rainbow template if you have a cutting machine. Give this rainbow box a more attractive look by printing the box bottom on red and the lid on the purple colour. essyjae
11. Decorative Birthday Cake Gift Boxes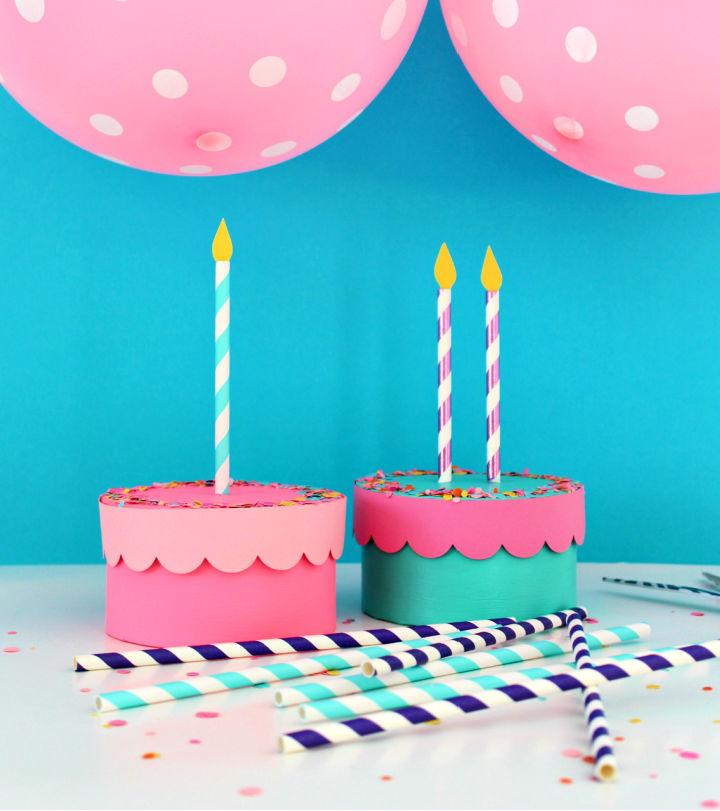 No wonder gift wrapping is super fun and enjoyable activity, especially for kids and teenagers. Experience new wrapping or gift boxing skills by working on this super adorable birthday cake gift box using SVG and a cutting machine. The tools and materials required to make this box are a round-shape box, craft paint, sponge brushes, colourful card stocks, Cameo, cutting mat, hot glue, craft glue and paper. whitehousecrafts
12. DIY Marbled Gift Box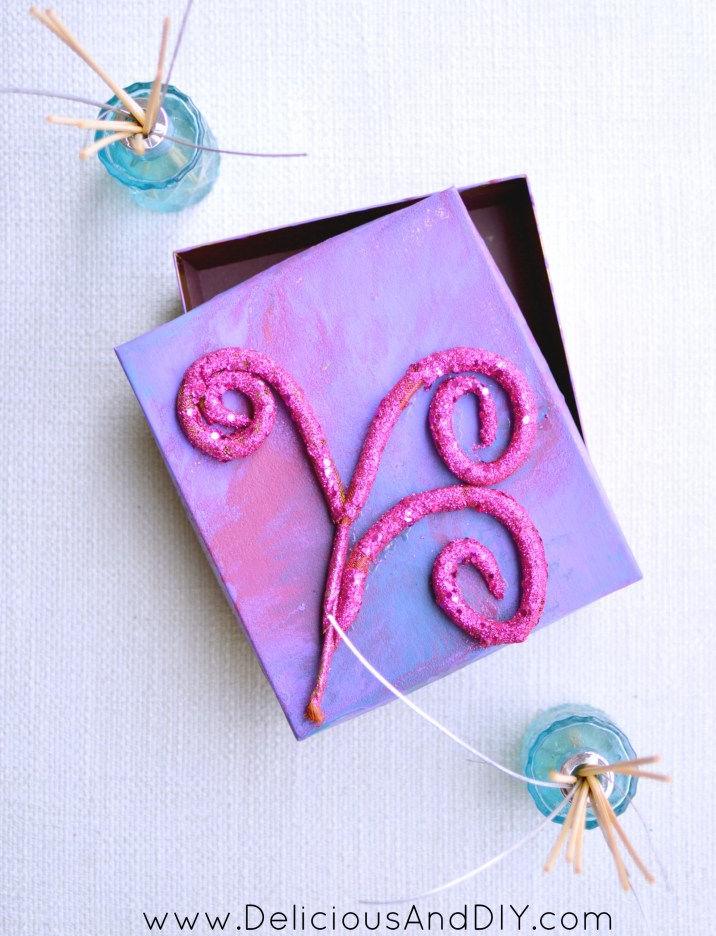 No doubt, marbling is a super fun activity but also comes with a lot of mess. Create a marble-theme gift box to wrap or present your gifts more valuably. To make this box, you will need marble craft colours to paint on the box's lid, a glittery floral arrangement, glue and other desirable embellishments. Keep in mind, let the paint dry out completely before glueing the floral on the box. deliciousanddiy
13. How to Make a Gift Box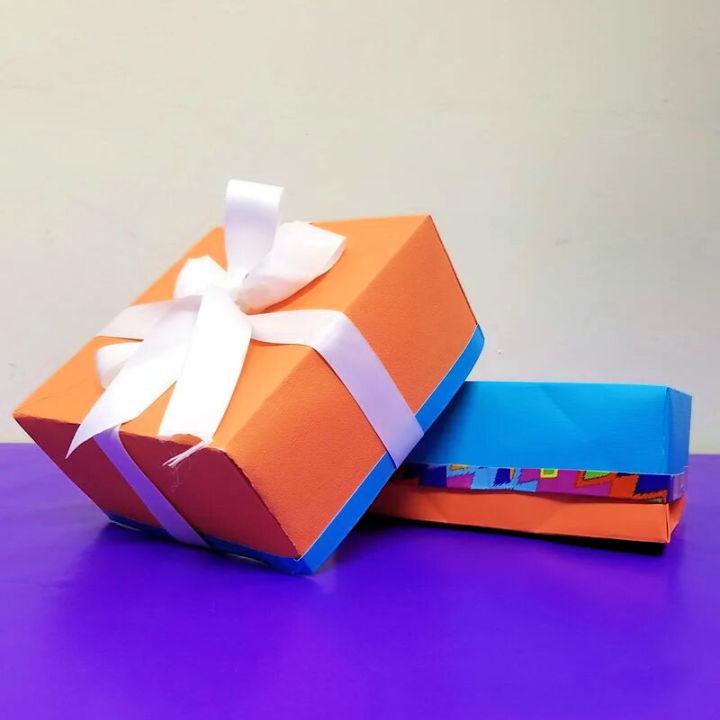 Challenge yourself to make a versatile gift box only with a single scrapbook of paper. Excitingly! You can do it easily. Use thin cardboard for making the box. Once you have done creating the box, all you need to do is wrapping the scrap paper on the box using multi-purpose glue. Moreover, decorate this box with a decorative silk bow. This gift box is an ideal option for boxing jewelry and medium-size gift items. momsandcrafter
14. Handmade Bridesmaid Gift Boxes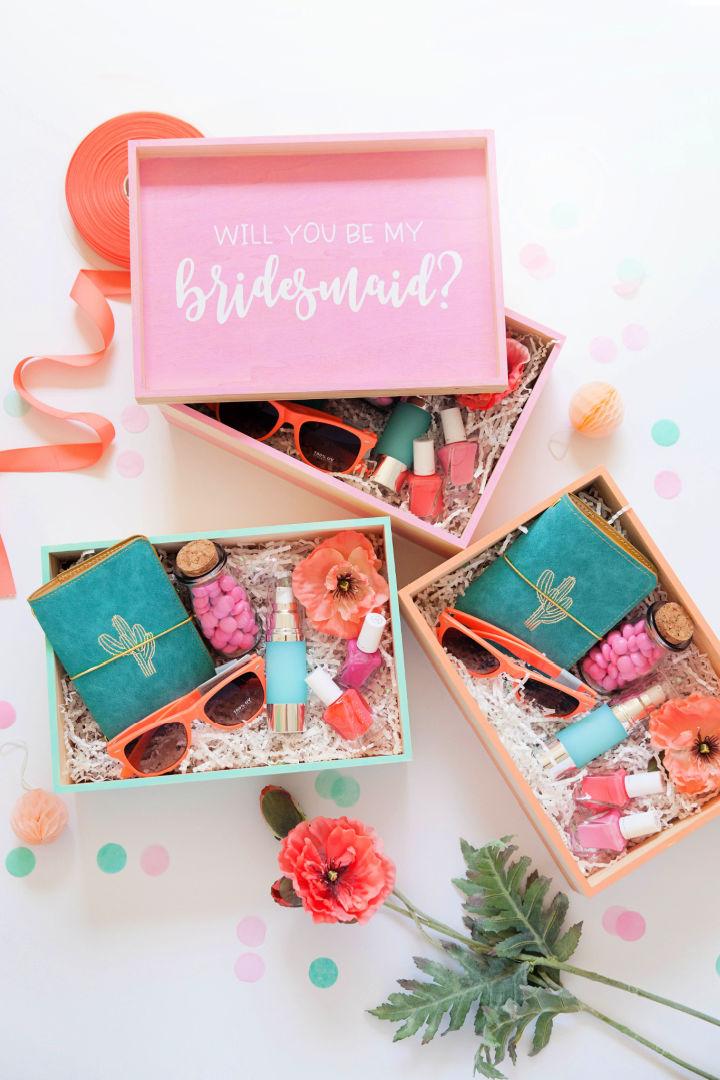 Make your bridesmaids gifts a little bit more interesting and special by boxing them in handmade gift boxes. Don't worry; making these boxes doesn't take too much time and effort. So, you can consider this DIY project even one night before your wedding. The supplies needed to make these boxes are wooden boxes, patterned tapes, acrylic craft paints, paintbrushes, circuit machine with circuit Vinyl and transfer paper. Indeed, your sisters and friends would surely love these gifts. tellloveandparty
15. Small Gift Box with Flower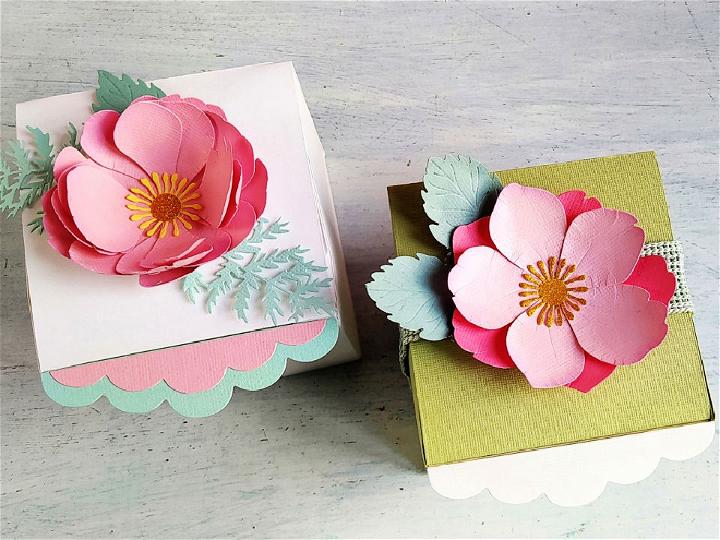 Looking for attractive and something unique to pack your gifts? If yes, do it yourself. Make these super attractive and modern style small gift boxes with flowers. You will need paper sculpting, colourful cardstocks, a small gift box, cardstock sheets and a thin list die set. Get help from the tutorial to start work on this mini flower gift box step by step. sizzix
16. DIY Photo Gift Box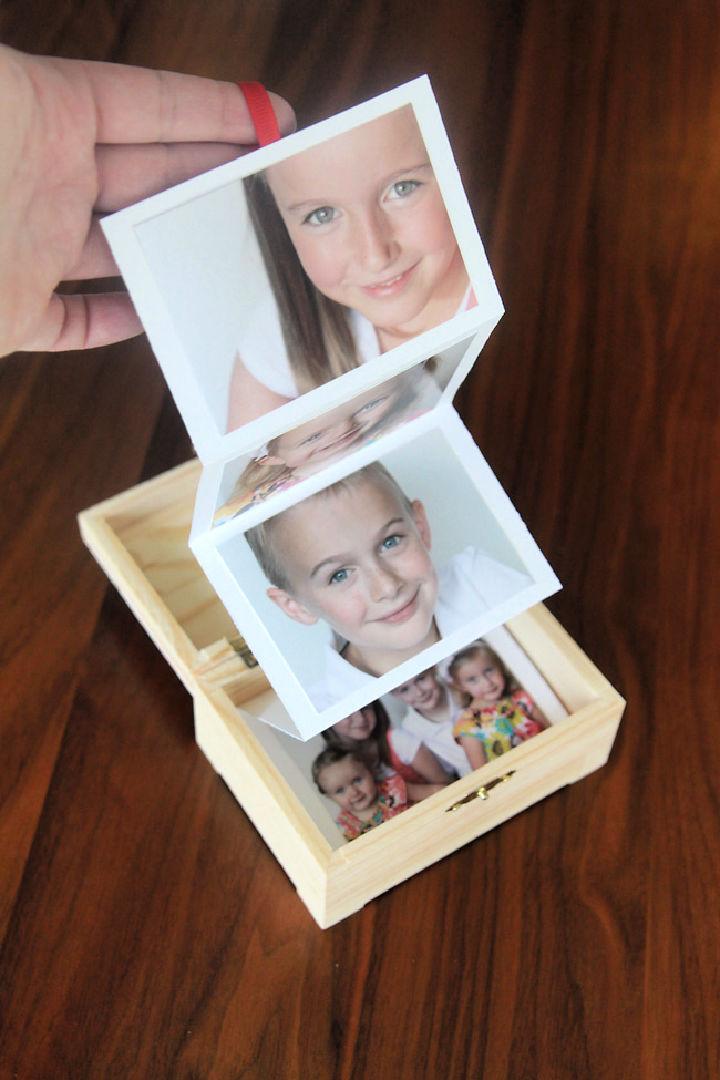 DIY a sliding out photo gift box to gift your kids on their birthdays. It may look tricky or difficult to DIY this gift box. But it's more interesting to DIY this photo box than any other customized gift box. To make this box, you will need a small wooden treasure box, stack paper, photos, ribbon, paper adhesive and scissor. Kids would love to open and slide out their favourite photos one by one without scattering. itsalwaysautumn
17. Make Your Own Gift Box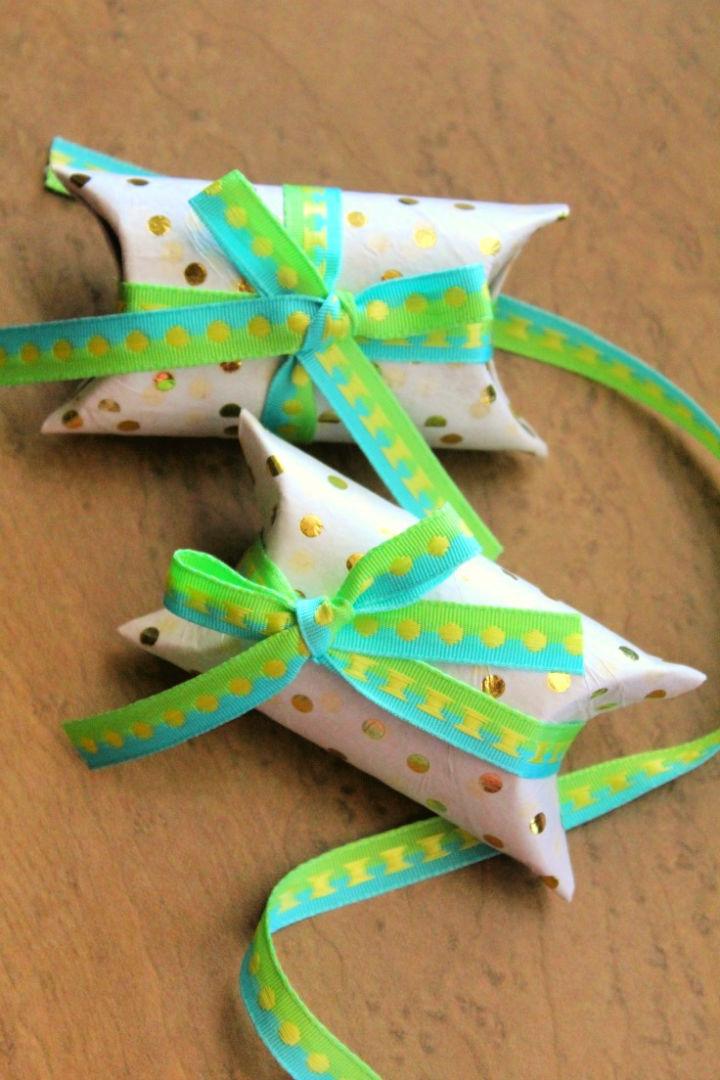 There is no need to invest many pennies on store-bought gift boxes, especially when you can DIY them yourself. Make your own gift box to withstand your gift from others. This curve-shaped gift box is too much easier and quick to DIY within a few minutes. It may sound weird, but you can use the toilet paper roll to make this box. On the other hand, you can utilize craft leftovers, including washi tape, decorative ribbons and decorative scrap. theseamanmom
18. Valentines Heart Gift Boxes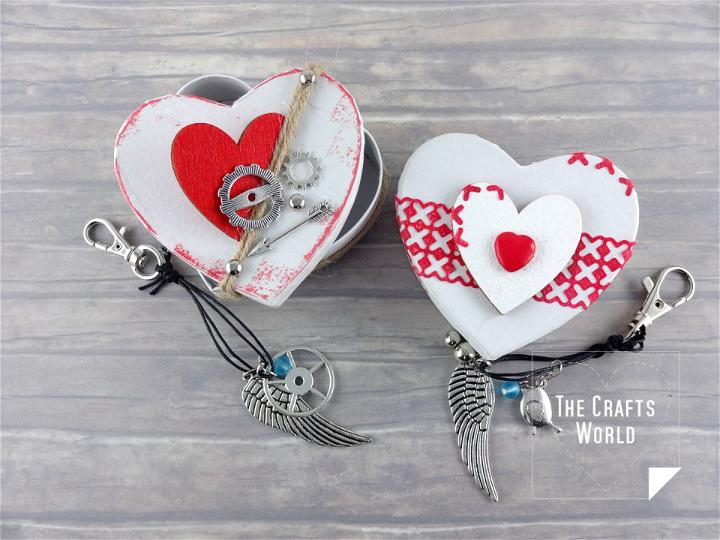 DIY a heart-shaped gift box to present the Valentine's Day gift to your loved one. Craft this box efficiently with an embossing design folder, cardboard box, jute twine, watermark stamp pad, white embossing powder, silver-tone stud rivets, metal charms, crafted wooden hearts, cotton cord and jump rings. Consequently, you can also use the die cutting machine for the effortless embossing of pattern on the box. thecraftsworld
19. DIY Gift Box with Lid

Are you looking for an easier and quick gift box? If yes, use the scrap fabric from your sewing leftovers to customize an affordable and super-efficient gift box. Excitingly! The beginner crafters can also work on this DIY gift box easily. This project is all about wrapping the fabric scrap on the small cardboard box using decoupage material. Not only for a smaller box, but you can choose the same DIY for a larger gift box. modpodgerocks
20. Homemade Rolo Stepper Gift Box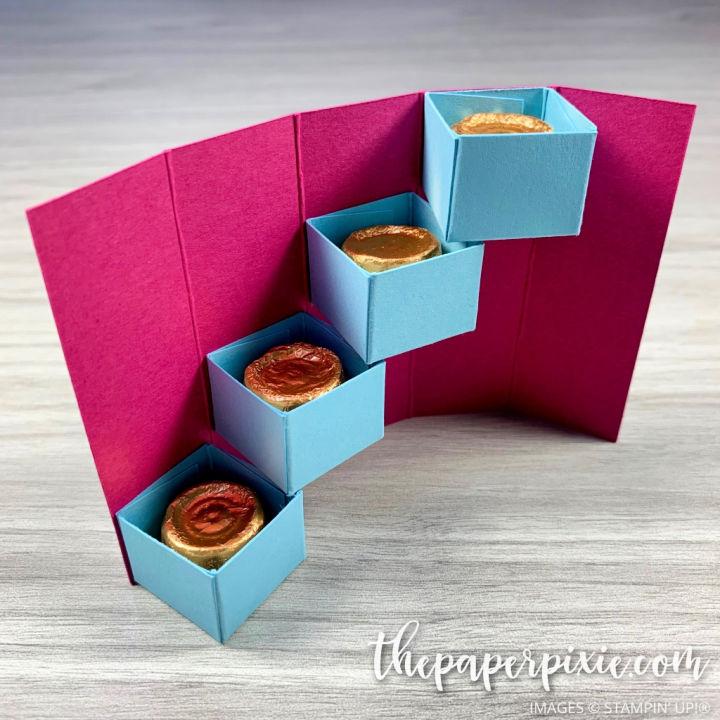 Express your love and sentiments to the next person with this super adorable Rollo Stepper gift box. You can write down or hide your feeling on each layer and step of this stepper gift box. Making this gift box is super fun and easy than you think with the butterfly stamp set, classic Stamping, colourful card stocks, series paper in different patterns, flower puncher, metallic brads, bone folder and glue. Cut each box base or lid with appropriate dimensional measurements. thepaperpixie
21. Folded Paper Gift Box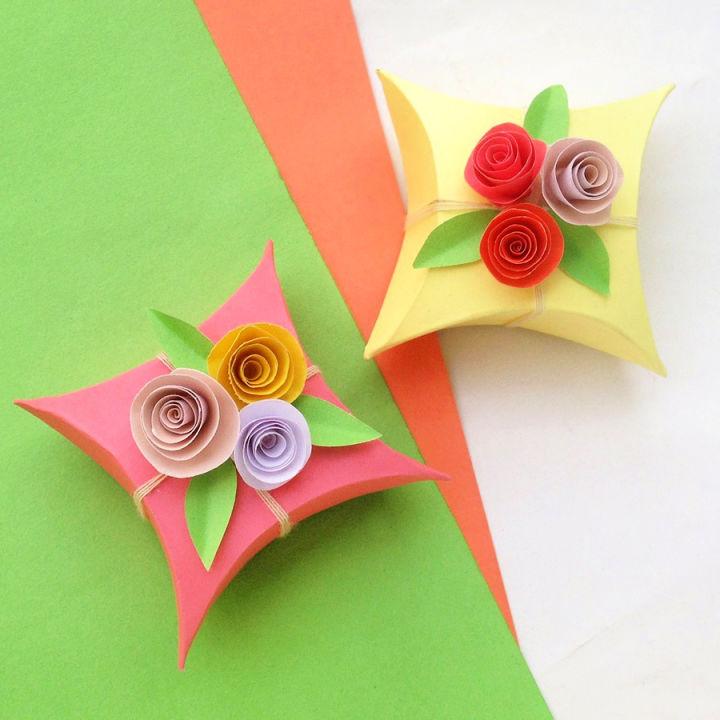 No doubt, handmade gifts with customized packaging look more attractive than traditional style boxes. You can customize this simple paper folded flower gift box using colourful craft paper, embroidery ribbon, scissor, craft glue and pencil. Start making this box by tracing a desired pattern on the thick cardstock. On the other hand, you can also use thin craft paper for ease of folding for flowers. happy mothering
22. DIY Gift Box Using Cardstock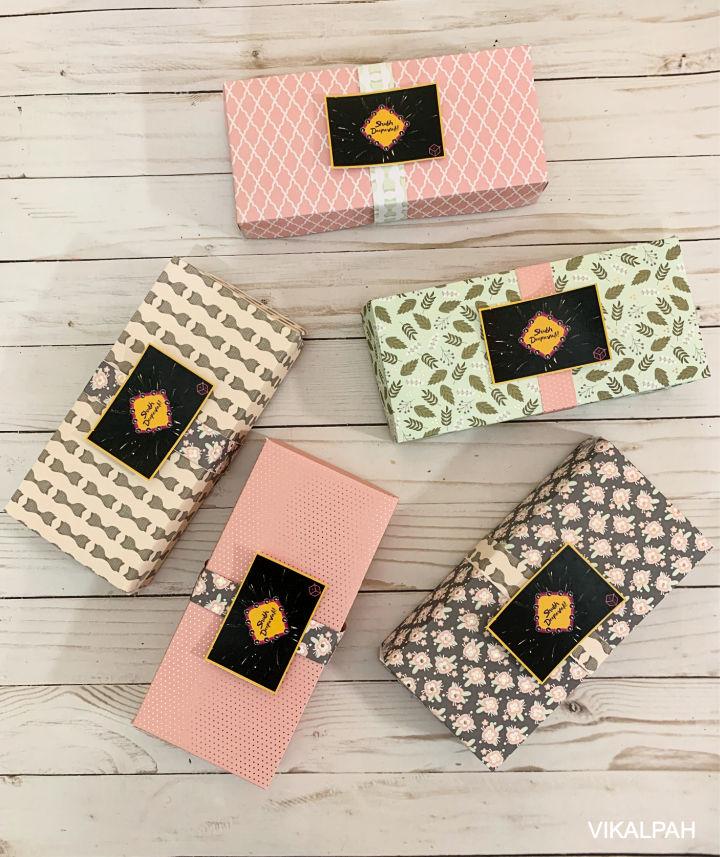 Well, colourful and patterned gift boxes are suitable for presenting the favours, cookies, and sweets to others. Craft these boxes yourself super easily using colourful cardstocks, scissor, craft tape and pencil. One more thing, it's better to use thick cardstock for these DIY gift boxes. So, you can place the food items such as cookies without difficulty and securely. Therefore, draw the measured box design on the cardstock using a pencil before cutting. vikalpah
23. Hexagonal Cardboard Gift Box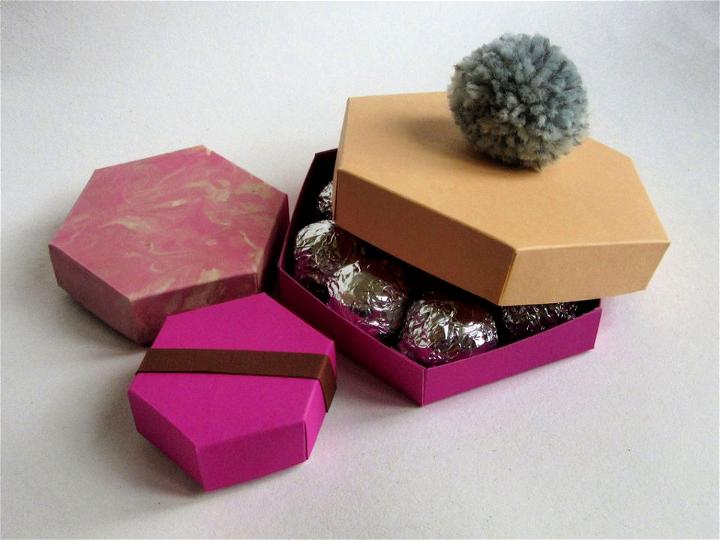 Creating the gift boxes is not too much complicated as we think. Like this hexagonal DIY gift box, this box doesn't involve too much cutting and crafting. The only thing you need to do is creating the template on the cardboard using a led pencil. Moreover, you will need cardboard, strong glue, a ruler, pencil, decorative paper and other desirable embellishments. This Hexagonal box is the best option for boxing jewelry, chocolates, and cookies for gifting your friends and family members. instructables
24. Pillow Gift Box with Cricut Maker

Well, pillow gift boxes are ideal options for the packaging of favors on wedding and other events. Interestingly, making these tiny and super cute boxes doesn't require excessive supplies and time. You can craft these versatile boxes super easily with a circuit maker, standard grip mat, multi-color cardstocks and a glue stick. The best thing is that you can customize the size of this box proficiently according to your gift item. practicallyfunction
25. DIY Pinata Gift Boxes

Pinata boxes are all about surprising the next person! DIY these super stylish and mesmerizing boxes yourself with a simple square gift box, crepe paper fringes, scissors for cutting, paper glue, white tape and decorative twine. Start crafting this box by gluing the fringes or gold strips on the box using paper glue. Pinata boxes are undoubtedly more than enough to make your event and gift special and more valuable than others! studiodiy
Frequently Asked Questions:
Looking for creative and unique DIY gift box ideas? Check out our FAQs to find useful tips & advice on creating memorable homemade gifts boxes that your loved ones will enjoy! Get inspired today and start crafting the perfect gift.
How do you make a cardboard gift box?
Creating a cardboard gift box is an easy and cost-effective way to show someone you care. Start by cutting two pieces of card – one for the base, one for the lid – that are slightly larger than your intended box dimensions. Glue or tape them together, then fold up the sides to create the box shape and secure them with more glue or tape. Decorate as desired and fill with a special gift!
What are the steps in making a gift box?
To make a gift box, first, you need to measure the size and shape of your desired box. Cut out pieces of cardboard according to the measurements. Assemble and tape them together. Decorate with wrapping paper, paint or other adornments. Fill it with your chosen gift and seal the top with tape or glue. Finally, add ribbon or bows for extra flair! Enjoy!
What materials are needed to make a gift box?
All you need to make a perfect gift box is cardboard, scissors, tape (packing or double-sided), ribbon and decorative embellishments of your choice. You may also need some glue if you are adding any intricate decorations. Have fun creating!
How do you make a large gift box?
Cut out two large cardboard squares, one slightly larger than the other. Glue the smaller piece to the bottom of the larger piece, forming a box. The place presents inside and wrap with paper or fabric. Decorate with ribbon, bows, and other trinkets if desired. Seal the lid closed with glue or tape. Congratulations – you've made a beautiful gift box!
The ideal cardboard size for making a large gift box will depend on how much stuff you want to put inside it. For example, an extra-large pizza box can make a great container for bulkier items like clothing or bedding sets! With creativity and careful measurements, you can create a unique and eye-catching gift presentation, no matter the size.
What can I use instead of a cardboard box?
Reusable boxes such as plastic crates, canvas totes and storage bins can be used instead of cardboard boxes. These alternatives are sturdy, eco-friendly and cost-effective for frequent use. Investing in reusable packaging is a great way to reduce your environmental footprint while saving you money in the long run.
Is it cheaper to make your own DIY gift boxes?
Making your own DIY gift boxes can be an affordable way to give someone a special present. With the right supplies, you can save money by crafting the box yourself and filling it with personalized items for the recipient. Gather materials like wrapping paper, ribbon, tape and scissors to create beautiful handmade boxes without breaking your budget. With some creativity and resourcefulness, you'll find that making DIY gift boxes is cheaper than buying pre-made ones!
How do you make a simple decorative box?
Making a decorative box is easy. Gather the necessary supplies, such as cardboard, scissors, and glue. Cut the cardboard into pieces of desired size and shape. Assemble the pieces together with glue. Decorate it with paint, glitter, or other materials to complete the look! Have fun creating your own unique style!
What kind of paper do you use to make gift boxes?
Gift boxes can be made from a variety of papers. Cardstock and corrugated cardboard are both popular choices that are durable and offer great stability. Other options include glossy or matte-coated paper, metallic paper, textured paper, vellum, and recycled paper. Experiment with different types to find the best option for your project!
How do you make a simple surprise box?
Surprise boxes can be easily made with supplies like cardboard, glue, and markers. Start by cutting the cardboard into a box shape and gluing it together. Decorate the outside with colorful designs or messages using markers. Fill the box with fun items like candy, cards, small gifts, confetti or anything else you think your recipient would enjoy! Finally, seal it shut and give your surprise box to someone special!
What material is better than cardboard?
Cardboard is a great material for many packaging and display applications, but for more durability, materials like corrugated plastic or honeycomb paperboard are better suited. These materials provide greater strength and resistance to moisture and temperature changes than cardboard alone. Additionally, they offer superior protection against punctures and tears.
How do you make a kindness box?
Making a kindness box is simple and easy. Start with an empty cardboard box and fill it with items that can be used to help someone in need. Include items like bottled water, snack bars, non-perishable food, blankets, toiletries, or anything else you think could be useful. Place the box in a spot where people in need can easily access it. Then step back and watch your kindness take effect!
How do you fill empty space in gift box DIY?
Filling empty spaces in gift box DIYs can be done using tissue paper, shredded newspaper, packing peanuts or foam pieces. You can also use fabric scraps to fill the gaps and cushion your items. Place any of these materials inside the box before adding fragile items for protection during shipping. Experiment with different combinations to find the right balance of protection and aesthetic appeal for your gifts.
How do you make a gratitude box?
Making a gratitude box is an easy and enjoyable task. Gather some materials such as cardboard, paper, ribbons, and markers; then, decide what items you want to include in your box, like notes of appreciation for others or reminders of positive experiences. Lastly, decorate the outside of your box however you'd like. Place it somewhere special to remind you of all you are thankful for!
What is the best cardstock to make boxes?
Cardboard is a great choice for making DIY gift boxes as it is strong, durable, lightweight and cost-effective. It comes in various thicknesses to suit your project needs, from thin corrugated cardboard to thick double walled cardboard, so you can find the perfect option for making sturdy boxes. Plus, the natural brown color of cardboard goes with any design or decoration.
What is the best material for a box?
The best material for a diy gift box depends on your gift size and weight. Cardboard is an economical option that's lightweight, easily cut and decorated. For something more rigid and durable, consider corrugated plastic or wood. Whatever material you choose, measure up your gift and make sure it fits! You can create beautiful DIY gift boxes with the right materials to make recipients happy.
Can you put cardstock paper in a regular printer?
Yes, you can put cardstock paper in a regular printer. Make sure the printer is well adjusted to accommodate thicker paper, and adjust your settings accordingly. Always check the manufacturer's guidelines for your specific machine before using cardstock. Keep in mind that heavier-weight papers could cause jamming or other issues. If necessary, use a dedicated heavy-duty printer for the job.
Is cardstock better than cardboard?
Cardstock and cardboard are great materials for making gift boxes, but each has its advantages. Cardstock is thicker than cardboard and can provide a sturdier structure for your diy gift box while still being lightweight. However, cardboard is cheaper and easier to cut into shapes and sizes, making it ideal for those new to diy gift-box creation. Ultimately, the best material will depend on your project's needs.
What weight is cardstock for gift boxes?
Cardstock for gift boxes should be heavy enough to hold the items inside but light enough not to add too much weight or bulk. A know rule of thumb is to use cardstock in the 80-90 lbs range. This will provide a sturdy base and make your diy gift box look great! Make sure you select an appropriate type of cardstock paper – like gloss-coated card stock – for a sleek finish.
Related DIY Gift Ideas:
Discover creative and budget-friendly DIY gift ideas that are perfect for any occasion. From homemade soaps to personalized photo frames, find the perfect handmade present!
Homemade Gift Ideas: Make someone feel special this season with these adorable homemade gift ideas that are perfect for everyone.
Valentine's Day Gifts: Find the perfect homemade gift for your special someone this valentine's day! Get creative with these special DIY valentine's day gift ideas for a unique and meaningful present.
Gift Basket Ideas: Check out these awesome DIY gift baskets that are perfect for everyone! These budget-friendly gift baskets are perfect for birthdays to holidays.
Free Printable Gift Tags: Download free, easy DIY templates to design your own printable gift tags. Create unique and beautiful gift tags for any occasion in minutes!
DIY Gift Bag Ideas: Create unique and cute gift bags for any occasion with these easy DIY ideas! Learn how to make personalized gift bags that are guaranteed to be a hit.
DIY Anniversary Gifts: Surprise your partner with these amazing and heartfelt DIY anniversary gift Ideas you make yourself.
Gift Card Holder Ideas: Make a attractive gift card holder with these fun and easy DIY ideas. Get the free printable template to get started!
Homemade Wedding Gifts: Gorgeous and thoughtful DIY gifts for the bride and groom that will make their special day even more memorable!
Money Gift Ideas: Check out this list of creative and fun money gift ideas to make giving cash feel special. From thoughtful DIY projects to gifting experiences, find the perfect way to show the loved ones you care.
DIY Birthday Gifts: Make the perfect birthday gift for your loved ones with these easy and homemade gorgeous gifts! With simple steps and minimal supplies, create something special today.
Handmade Gifts for Men: Discover fabulous DIY gifts for men that are easy to make. Step-by-step instructions for handmade gifts like ties, wallets and mugs!
Father's Day Gifts: Make dad's special day extra memorable with these heartfelt DIY father's day gifts. From homemade cards to man-cave decorations, find the perfect gift for your dad! 
Last Minute Mother's Day Gifts: Surprise mom with these last-minute DIY mother's day gift ideas that will make her smile! Find easy and budget-friendly gifts for all ages. 
Conclusion: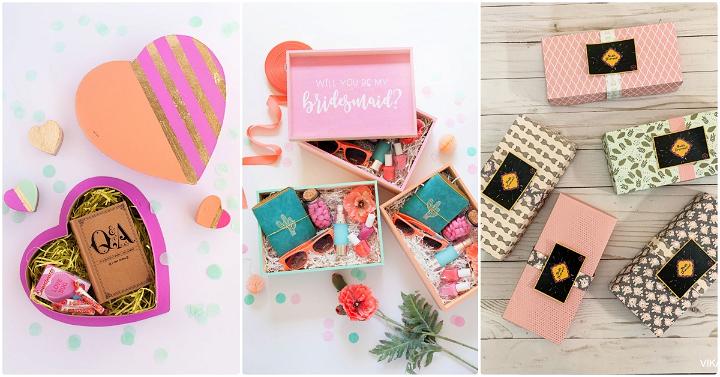 Conclusion:
DIY gift boxes are the perfect way to give a thoughtful and creative present. With 25 creative and cute diy gift box ideas, printable box templates, and countless possibilities for personalization, you can make your special someone feel extra loved with a custom homemade gift box. There is an idea available for everyone, from heart-shaped boxes to rainbows and cupcakes – no matter what their interests are! Plus, using only minimal supplies such as paper or cardstock, you can quickly whip up something unique in just minutes. Whether you're making one of these cute designs for a birthday or another occasion – the recipient will surely love it! Your creativity will shine through when presenting them with this handmade gesture of appreciation that won't soon be forgotten.