Celebrate the amazing mothers in your life this year with these 40 last-minute DIY Mother's Day gifts! Whether you're looking for something special to make your mom smile or need thoughtful, affordable diy mother's day gift ideas for what to give her on her birthday – we have it all here. From pampering bath and body sets to handmade jewelry and home decor pieces, you'll find easy DIY mother's day gifts that are easy to make quickly with minimal supplies. Just show your Mom how much she means to you this year by crafting one of these adorable DIY mother's day gifts – perfect for any budget!
Shopping for the perfect Mother's Day gift can take time, especially when you run out of time. But don't worry! With simple supplies and DIY motivation, you can make last-minute DIY mother's day gifts that your mom will love. From homemade potted succulents to personalized picture frames, find 40 easy and cheap DIY mother's day gifts that you can make in no time. Whether you follow step-by-step instructions or put your creative spin on each item, providing your mom with something made from the heart is sure to help show her how much she means to you this Mother's Day.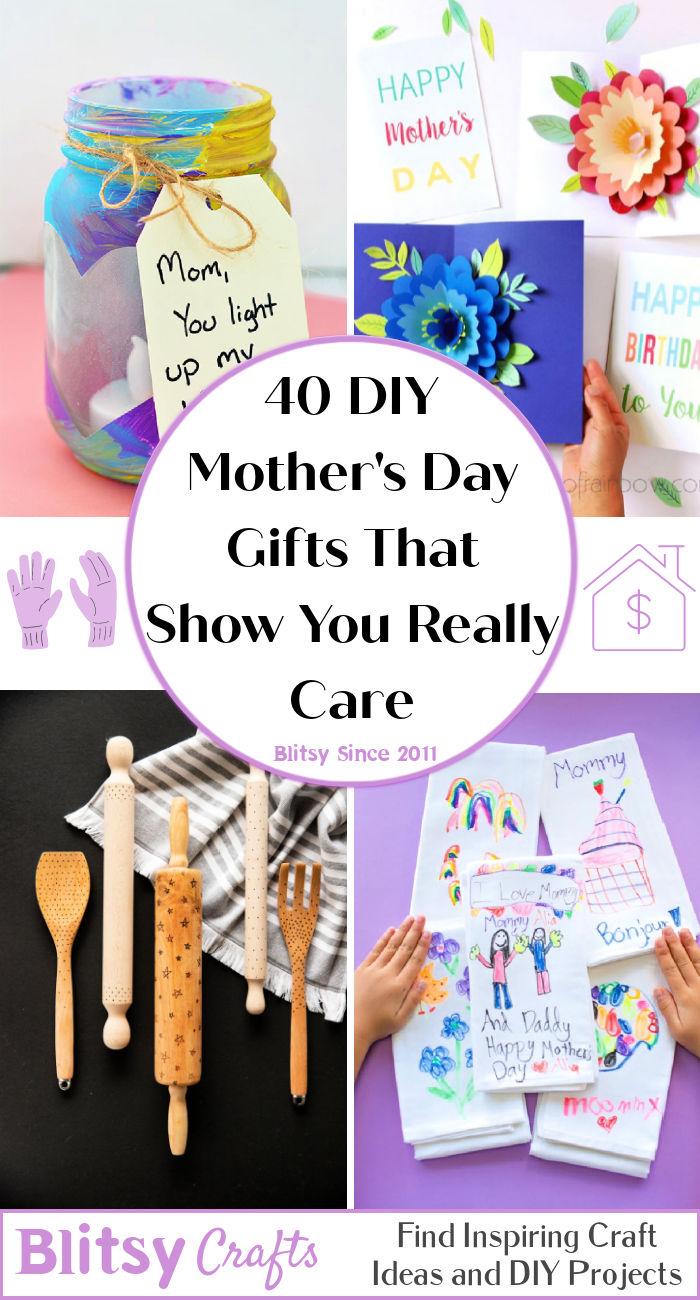 Last Minute DIY Mother's Day Gifts
Finding the perfect Mother's Day gift doesn't need to be stressful. With a little time and a cheap budget, you can create something special for your mom that she will love. Adding a personal touch with heartfelt notes is also an excellent way to show appreciation for all the amazing mothers. Get inspired by our list of diy mother's day gift ideas of your own – whatever you make for your mom, and it's sure to leave your mom feeling loved this Mother's Day!
1. Mini Flower Bouquet for Mother's Day Gift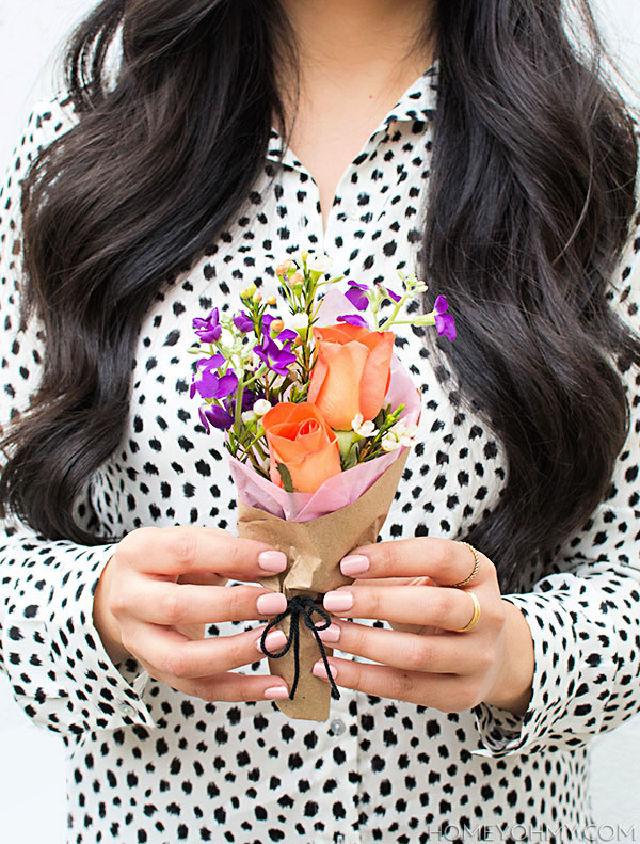 Give your mom the bundles of happiness on Mother's Day by giving these mini flower bouquets, can be used in Mother's day party decors. These are here the simple and quick gifts to make to praise Motherhood. Tie a few flowers together and trim them to size fitting in the wrap. Use the string, ribbon, or rubber band to hold them together tight, and then wrap it up in tissue paper to make a quick flower bouquet. Also, tie the twine around for added grip, and that's it. homeyohmy
2. Handprint Flowers Pillow for Mother's Day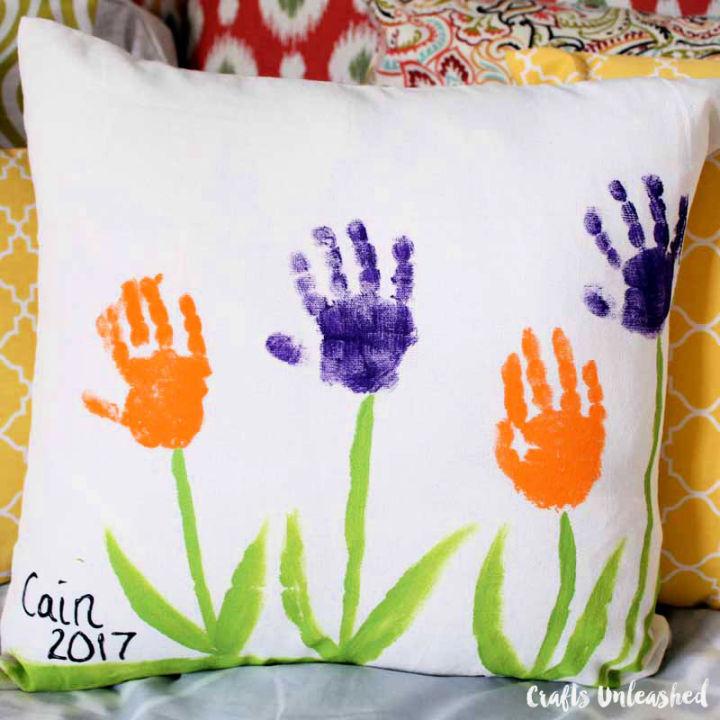 Handmade gifts are more valuable always show your love for the person from the core of your heart. So, make this handprint flower pillow for Mother's Day to win more love of your Mother for you. You need a zipper pillow cover, pillow insert, 3D fabric paint, fabric paint, and paintbrushes to whip up this superb handmade gift for Memorial Day. It will not take much time and effort to complete this gift, and it will be a piece of cake for you if you love to play with colors. countrycottage
3. Fingerprint Butterfly Mug

Do you love to paint with your hands instead of a paintbrush? Then this Mother's Day gift idea will be big fun for you. Paint the colorful butterflies around the mugs using your fingers, which will make a cute gift for Memorial Day. You only need the white mugs and the custom paint colors to quickly whip up these gifts and rock for Teacher's Day. Even the little kids can make this beautiful painted mug gift for the loving moms in the home. thebestideasforkids
4. Colorful Jewelry Box for Mom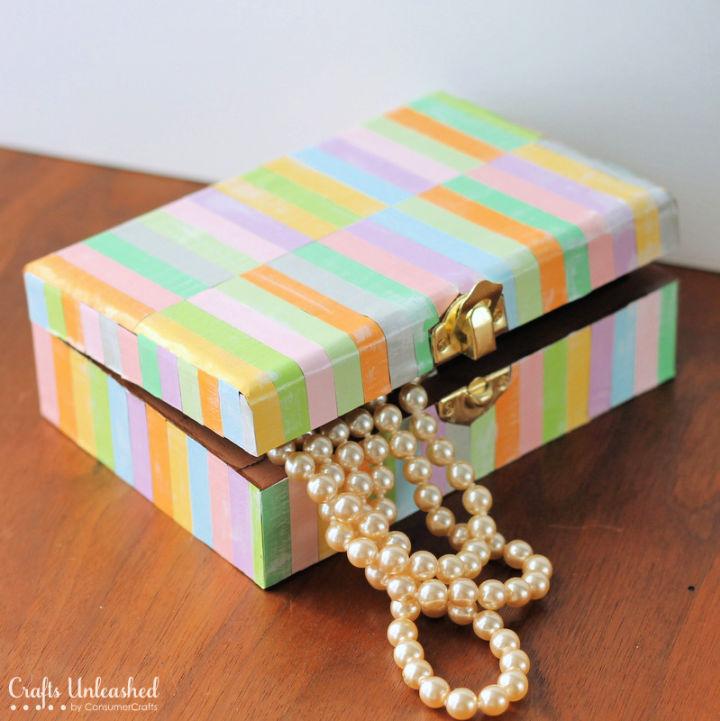 Sorting out the best DIY gifts for Mother's Day? Here is the amazing handmade gift idea for all jewelry-loving moms, the super beautiful jewelry box, quite something quick and easy to build. You need a hinged wooden box, brown craft paint, white craft paint, super gloss mod podge, ⅜″ quilting, and a paintbrush to make this colorful jewelry box a great handmade gift to your Mother. First, paint the wooden box in brown and then cover it with quilling strips to whip up this jewelry box. consumercrafts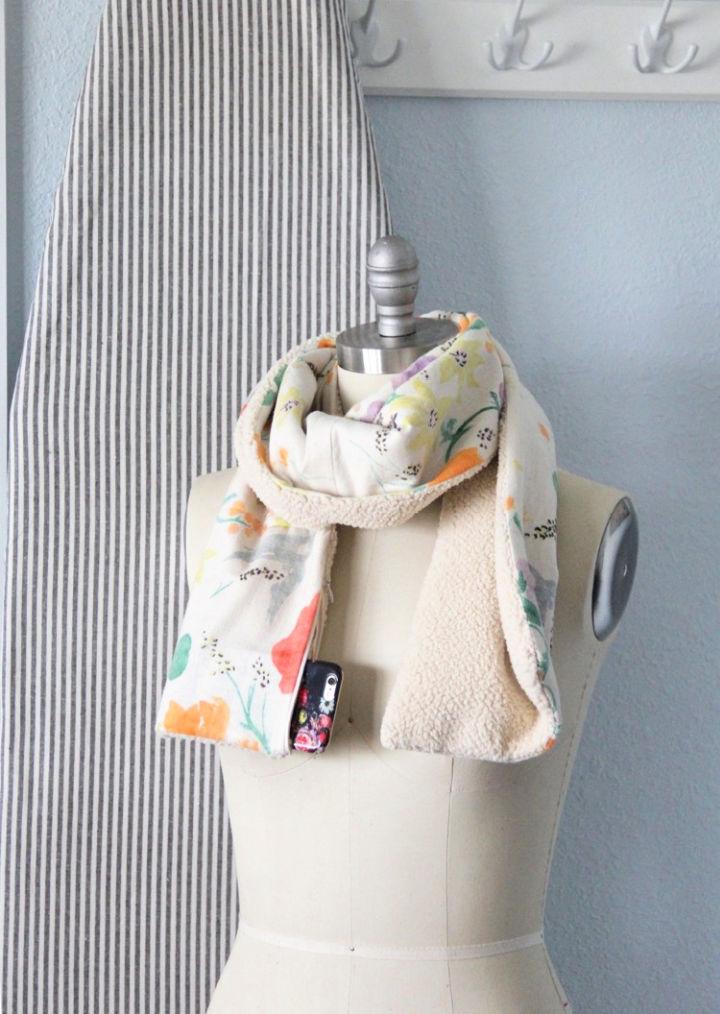 You need an advanced beginner skill level to work up this another crazy DIY mother's day gift for the loving mom. Yes, whip up this pocket scarf with a zipper and will complete in just an hour. The best last-hour gift idea that everyone's mom will love. To make this pocket scarf, you need exterior fabric, lining fabric, zipper, and basic sewing essentials. The scarf will also cover the entire neck warm and be a total breeze to make with minimal sewing skills. mesewcrazy
6. Simple Photo Coasters Mother's Day Gift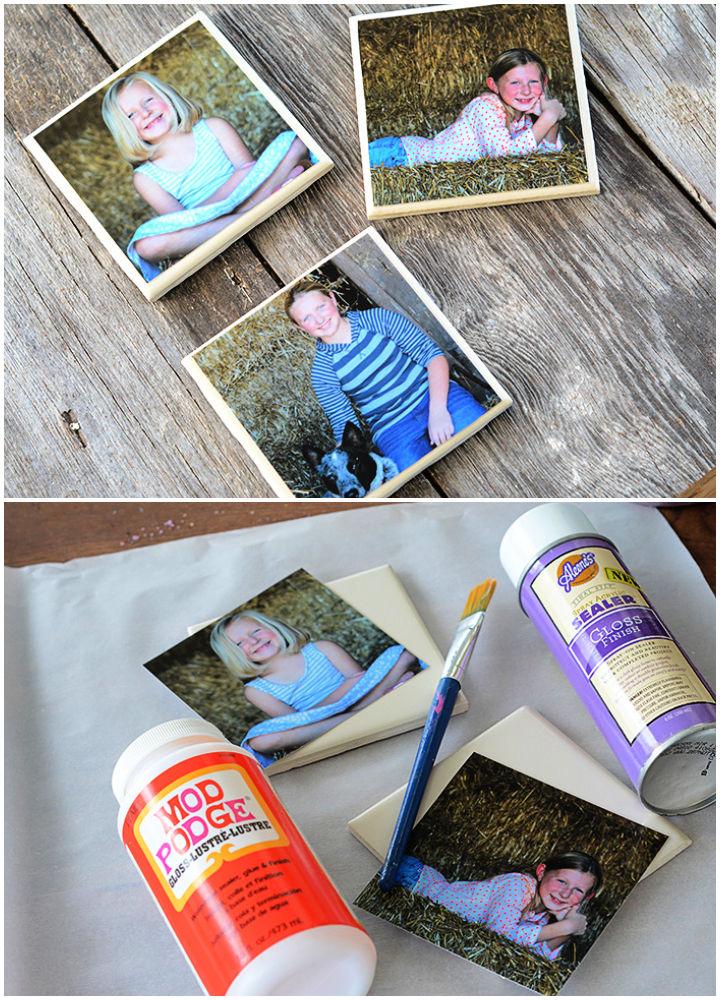 Photo gifts are the hottest trend and instantly make the receiver happy. So, here is ideal if you give your mom a quick photo gift. Here are the super beautiful-looking photo coasters that can be packed as a sweet handmade memorial day gift. It is easy and quick to make these beautiful photo coasters using cheap supplies. The idea is to adhere to the photos on the 4″ x 4″ ceramic tiles using the mod-podge and then seal them with the acrylic sealer. Finish the other side with felt or corkboard. A quick and sweet DIY Mother's Day gift idea. farmwifecrafts
7. Easy Mother's Day Necklace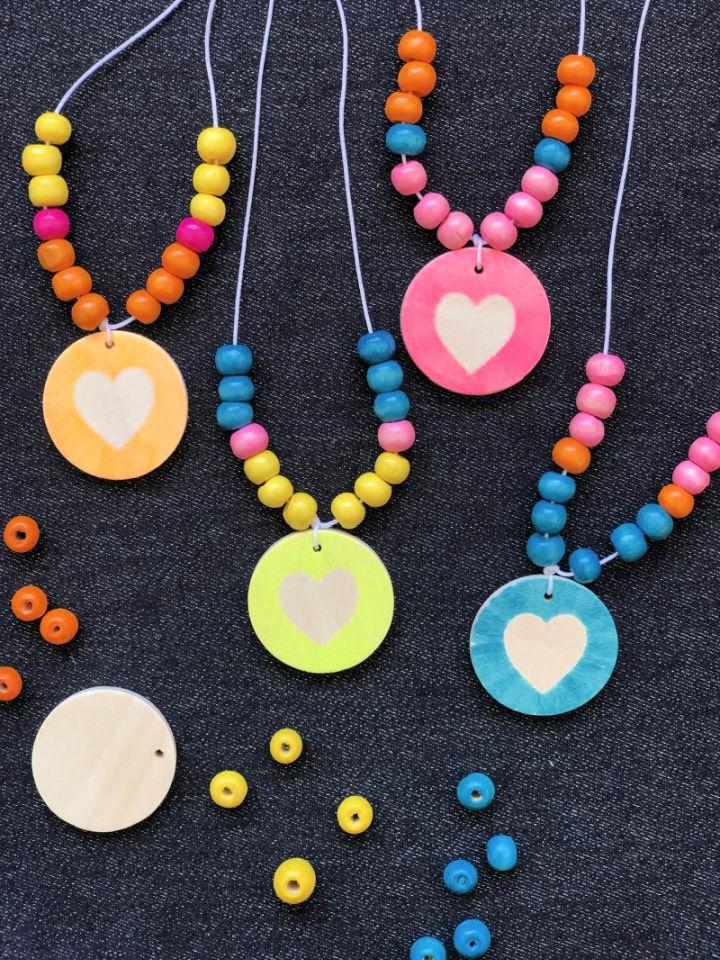 Craft these beautiful jewelry pieces at home and give them as handmade gifts on Mother's Day. You need the wood circles with holes, heart stickers, markers, string, beads, and scissors to do this project easily. Use the heart sticker and marker to make a quick necklace pendant, string up the beads, finish the necklace with the round wood circle pendant, and gain a beautiful love necklace. The best handmade gift for a mom who is a big jewelry wearer. One of the best DIY jewelry gift ideas for Mother's Day. projectkid
8. DIY Dip Dye Pouch for Mom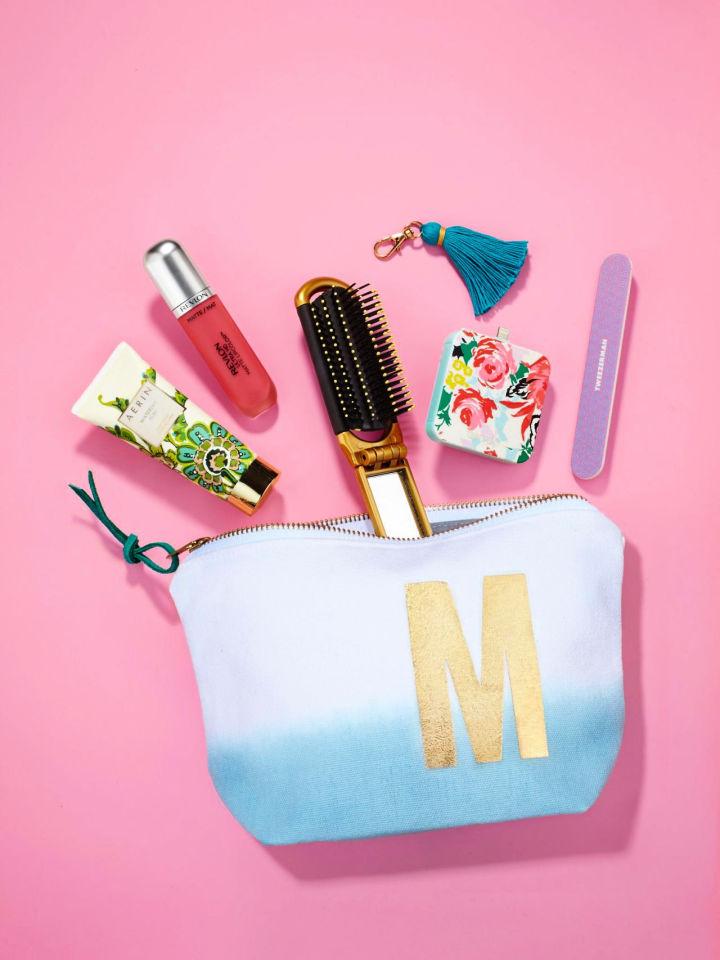 There are tons of gift suggestions for Mother's Day. You can pack any essential a mom needs to give as a gift. To make the gift more valuable, you can pack several essentials. So, follow DIY mother's day gift guides to whip up a lovely dip-dyed pouch and add the custom essentials in the pouch that your Mother will love. For this project, you can easily buy a white canvas cosmetic bag for $24 or less. After you get the pouch dyed perfectly, fill it up with the makeup essentials she needs, and she loves it. An easy peasy gift idea for Mothering Sunday. hgtv
9. Thumbprint Keychain for Mother's Day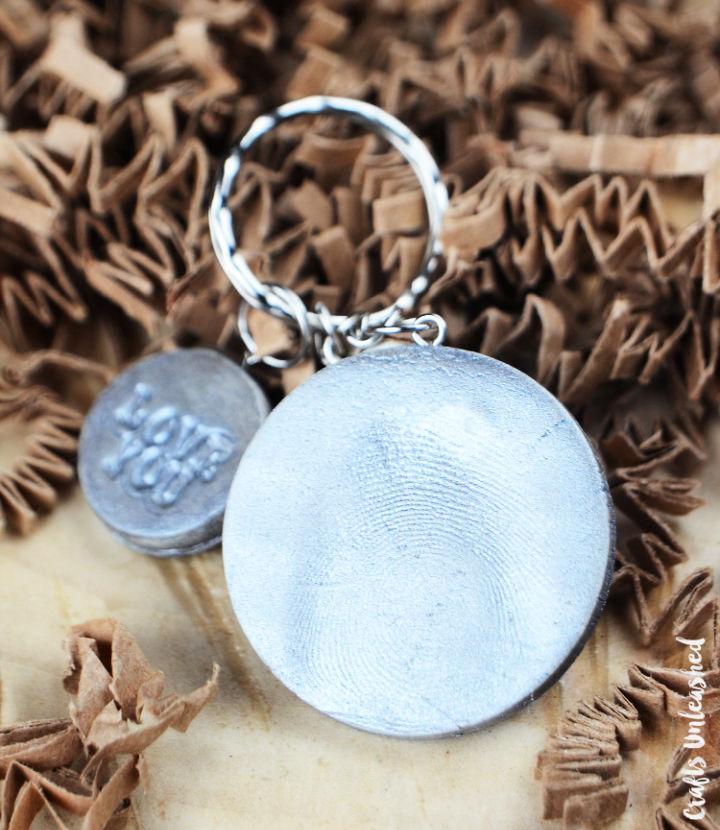 Personalized DIY mother's day gifts always grab more attention and add a lot more sentimental value if you make them with your own hands. So, this thumbprint DIY keyring is presented here that every mom will love if given as a sweet handmade present. This is where the best DIY gift idea for Teacher's Day, Father's Day, and Mother's Day, and the whole project is a breeze to whip up with minimal crafting skills. You need polymer clay, cookie-cutter, jewelry pliers, eye pins, split rings, wax paper, letter stamping tools etc, to whip up this very beautiful and lovely Mother's Day gift. consumercrafts
10. Coloring Page Bracelets Last Minute Mother's Day Gift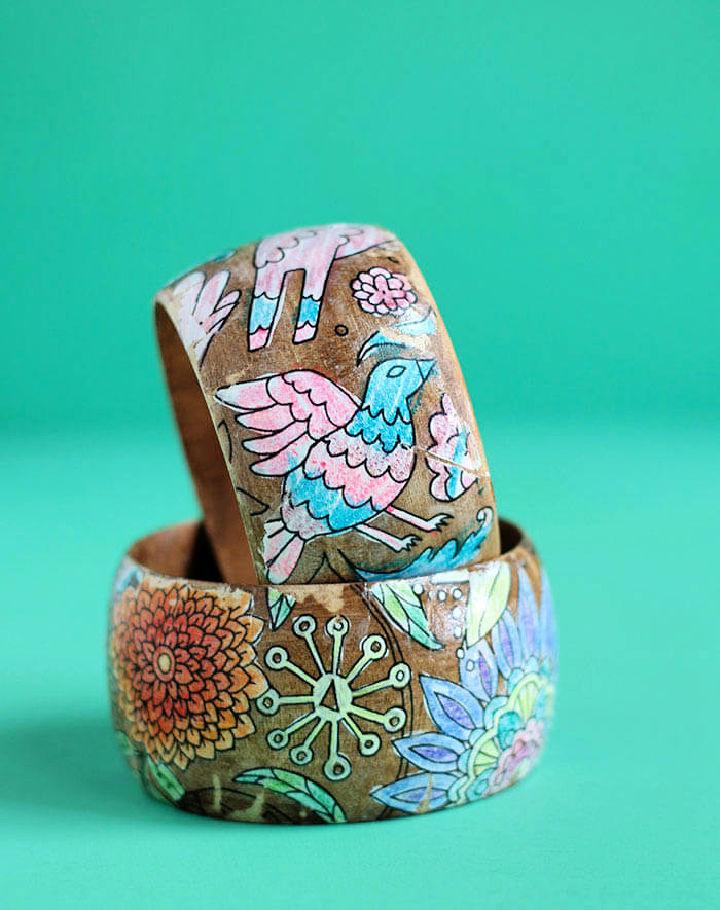 This gift idea will rock for the kids also. Yes, even the kids can whip up these coloring pages bracelets, which will impress all the loving moms. Kids will love to fill colors in the coloring pages pasted all around the bracelets, and this will add tons of colors to the bracelets. You need here the wood bangles, coloring pages, crayons, white craft paint, gloss varnish, wood stain, sponge, and bushes etc to whip up these colorful bangles, will please all the moms for sure. The whole project completes in no time and is much doable even for the little kids. persialou
11. Light Up Mason Jar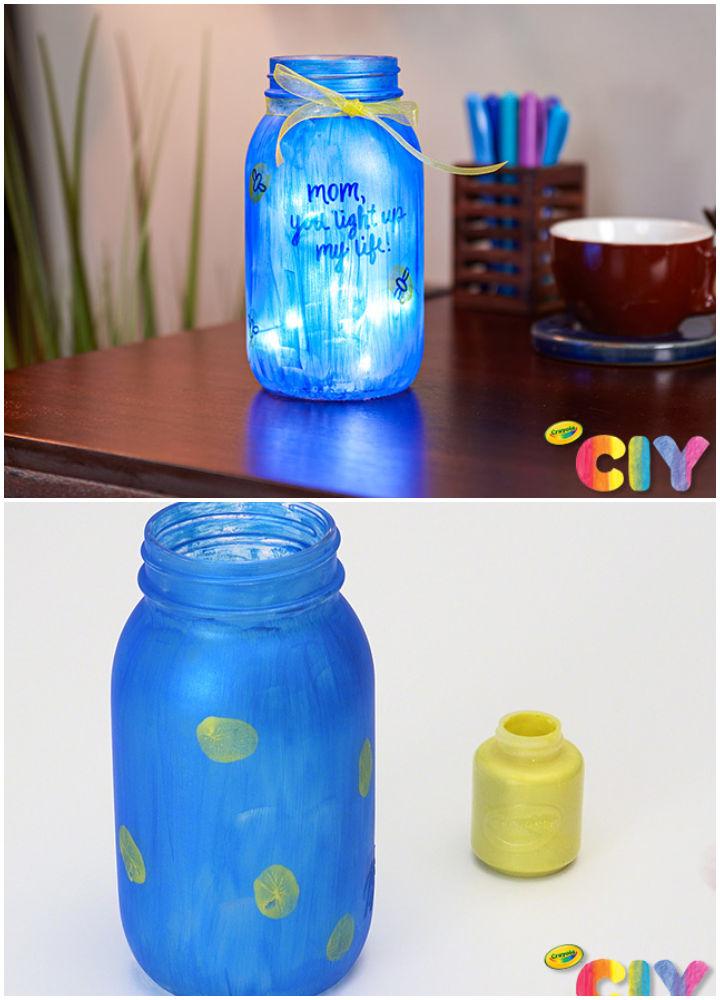 Repurpose the old and empty Mason jars from home to whip up epic new DIY mother's day gifts. Light up your Mother's life with this Mason jar light gift that is quite easy and inexpensive to make with beginner crafting skills. Paint the Mason jar with washable paint and drawer custom shapes or write custom letters on it. Add the battery-operated string lights in the Jars and make a quick Mason jar light gift for Mother's Day. The whole project will complete in minutes and impress all the loving moms. crayola
12. Homemade Throw Blanket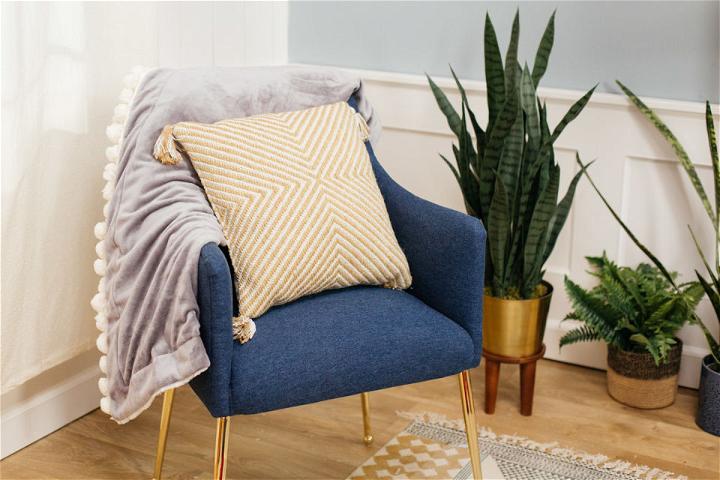 Surprise your mom with this handsome handmade throw blanket gift, which will make your mom super comfortable in the chilly evenings and nights. The blanket comes with white pom-pom edging and is easy and quick to whip up with minimal skills. You need 1 ½ yards of 60″ wide white fabric and 1 ½ yard of 60″ wide grey fabric, and 3 yards of large pom-pom trim to make this throw blanket a big love of all the ladies and moms. The best winter gift for Mother's Day. diy dunnlumber
13. Kid's Art Tea Towels for Mother's Day Gift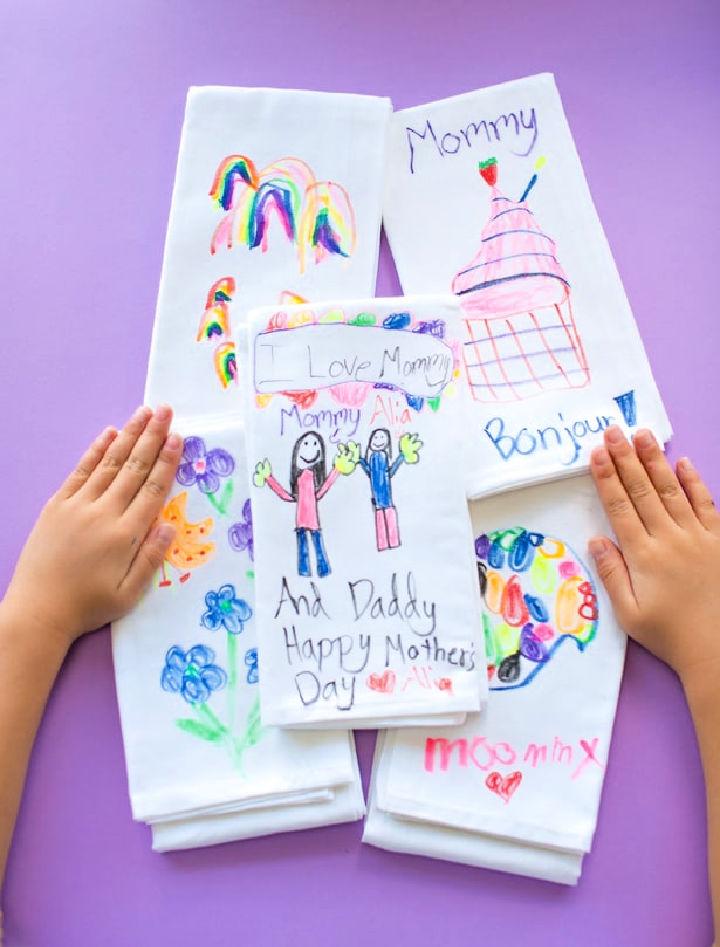 Here is another quick and decent Mother's Day gift idea; all the kids will love to make it with their painting and art skills. The idea is to draw custom shapes and writes custom quotes showing love for your mom and pack them together to whip up a lovely handmade Mother's Day gift. Just tie together all the art towels of the kids together and give a nice wrap to whip up this quick and easy homemade gift in no time. The better Mother's Day gift idea for all the fun and painting-loving kids. You need white tea towels and fabric markers to make this quick Mother's Day gift. hellowonderful
14. Sandals Made with a Scarf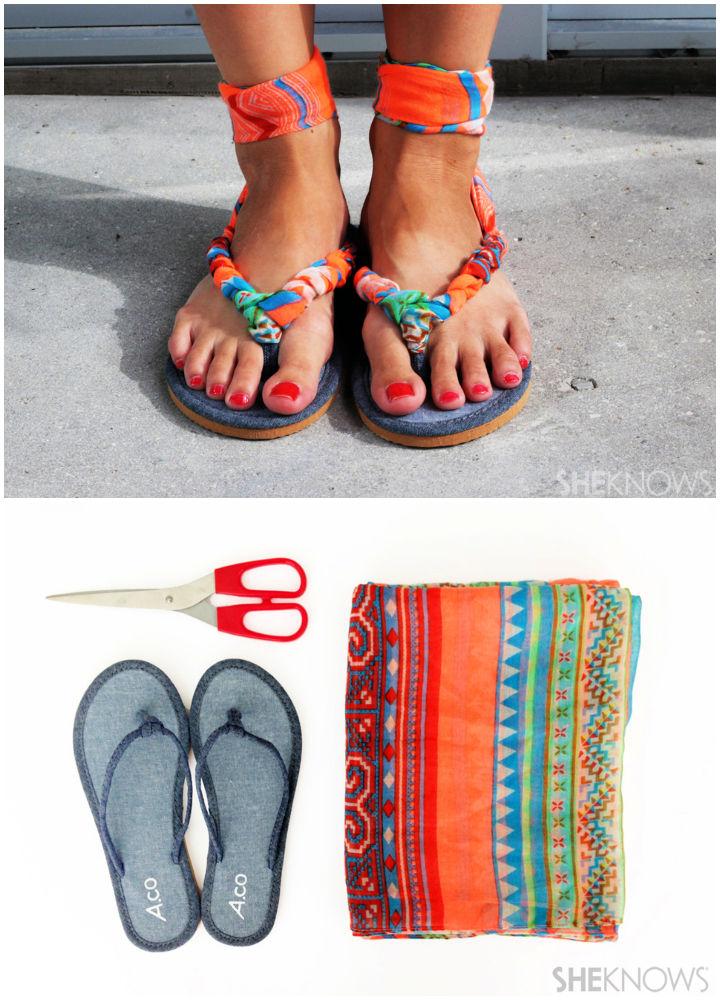 Sorting out the best summer gift for Mother's Day? Time to whip up these DIY scarf sandals that are colorful and soft to wear and are also quite easy and quick to make. You need a pair of flip-flops and a colorful scarf to make these beautiful summer sandals that will never get out of style. The best last 15-minute DIY Mother's Day gift every beginner can make in no time. The idea is to wrap the colorful scarf all around the flip-flop straps, which will not take much time. Leave some tails of the scarf to tie as the ankle straps of the sandals. sheknows
15. DIY Mother's Day Wreath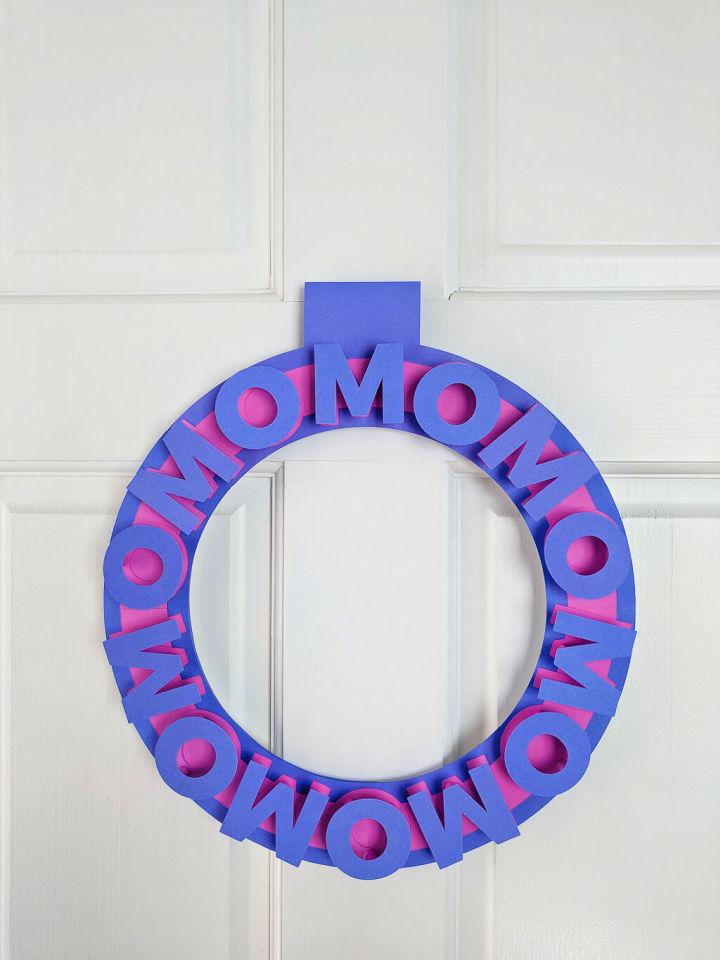 Celebrate Motherhood with this fantastic wreath to make with paper, and it comes with Mother's love quotes. You need colorful papers in two or more colors, foam core, craft knife, glue stick, and paper cutting machine to whip up this Mother's Day wreath, you will never get out of style. Cover the foam core with the papers and then cut the letters with the paper cutting machine. The whole project will cost you next to nothing, and you will love how this wreath says your love to your Mother. merrimentdesign
16. Painted Tile Trivet Unique Mother's Day Gifts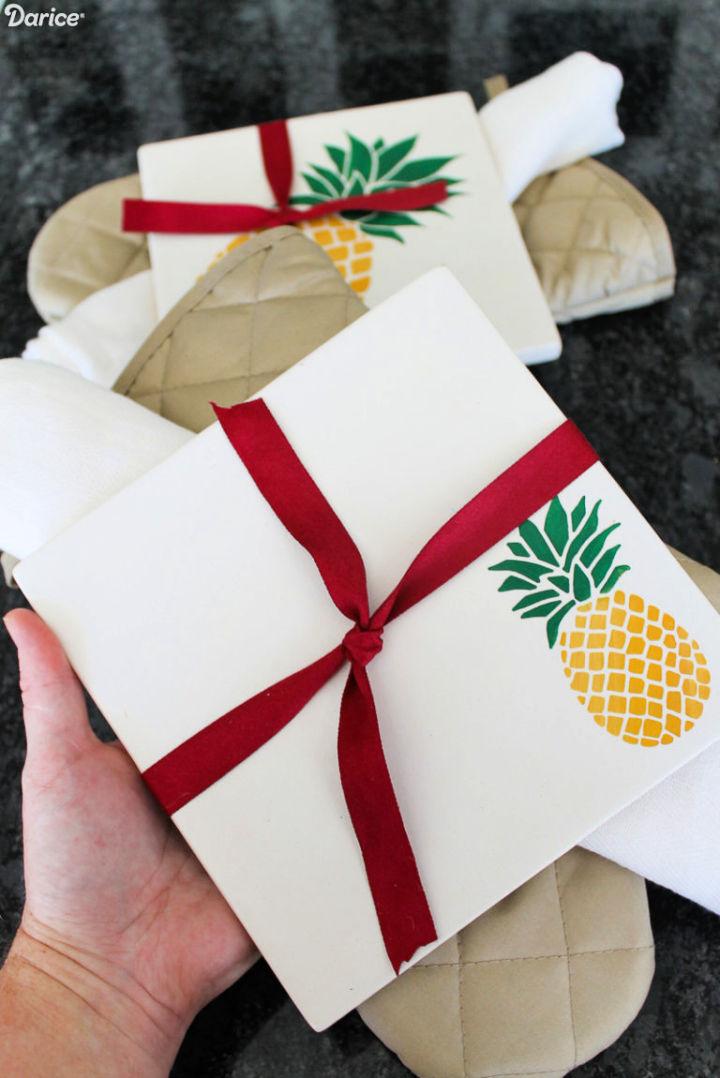 You can give your mother anything on Mother's Day, showing your love for her. So, there are endless suggestions and possibilities for Mother's Day gifts. So, make these trivet gifts for Mother's Day, and it will be ready at just a drop of a hat. You need ceramic square tiles, adhesive stencils, craft paint, mod-podge, paintbrushes, and adhesive felt pads to whip up this precious trivet gift. Experiment with so many different stencils, and then tie a decorative ribbon around the trivets for a nice gift wrap. darice
17. Mason Jar Votives for Mom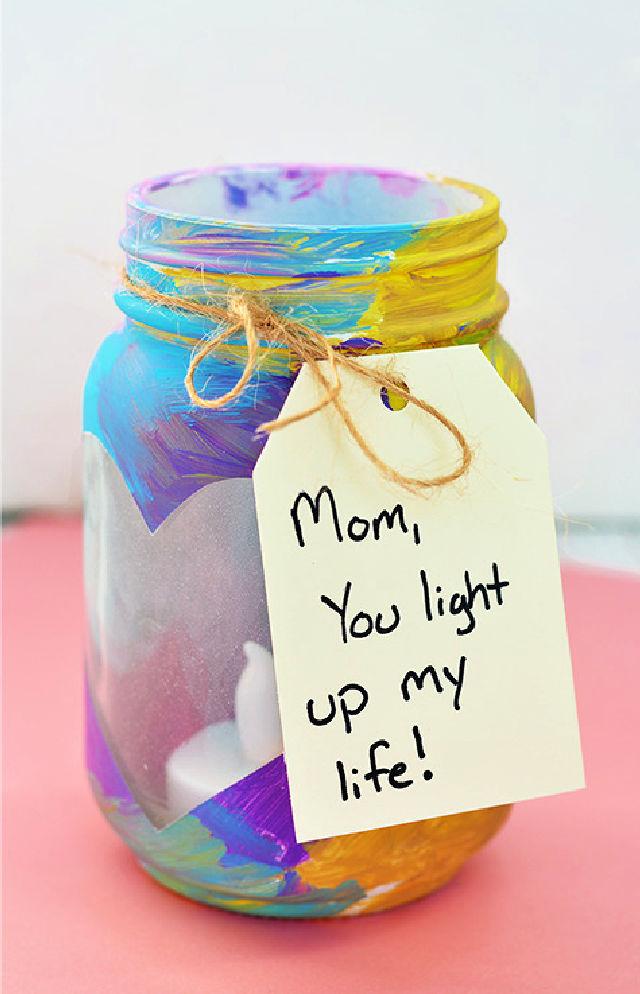 The mothers are really special, and it calls for a special gift when Mother's Day rolls around. So, celebrate the Mother's love by giving this Mason jar votive gift that is quite something quick and easy to whip up. You need a Mason jar, primer, contact paper, acrylic paint, a votive, and a gift tag to quickly complete this light jar gift without getting a bit expensive. Adhere the contact paper on the Mason jar to paint the Mason jars decorative with some portions unpainted. Add the light inside the jar and finish the jar with a gift tag, and that's it. iheartartsncrafts
18. Mother's Day Monogram Journals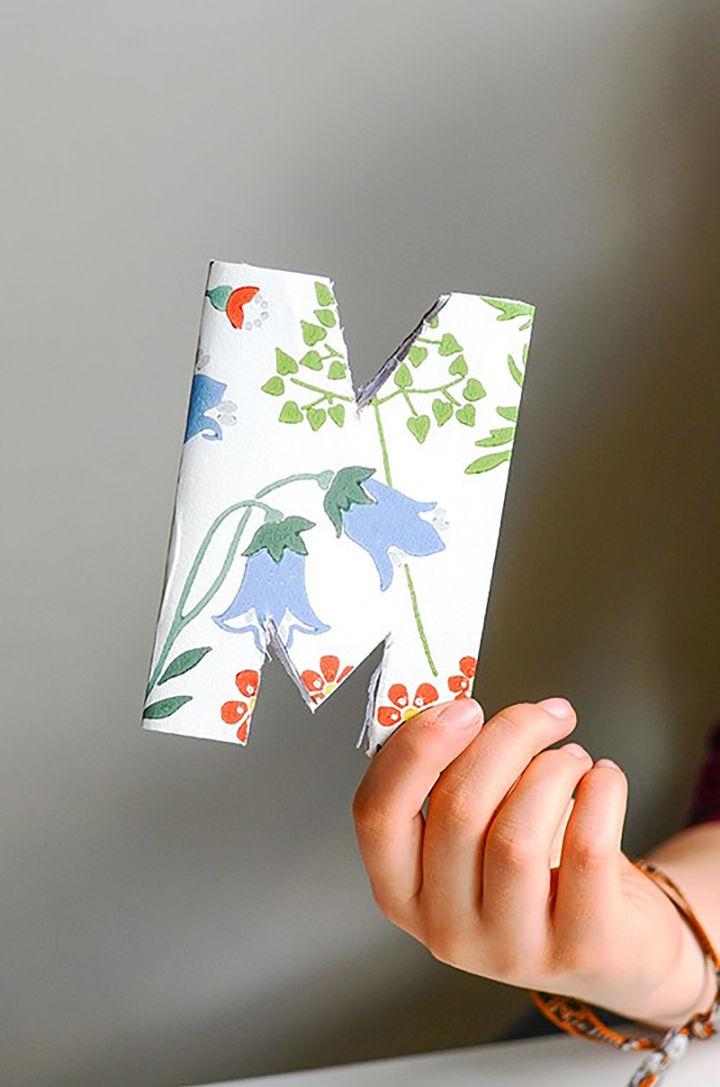 The ideas for Mother's Day gifts are just never-ending, and check out another quick gift idea here that involves making the Mother's Day monogram journals using a few handy tools and materials. You need cover stock, cutting tool, ruler, pencil, double-sided tape, and one thin paper journal to make this very cute gift, which will express your love for the Mother. To whip up this fantastic journal gift, you can experiment with any cover stock that may come with any custom print. Don't forget to give it a nice wrap, and that's it. willowday
19. Mother's Day Painted Rocks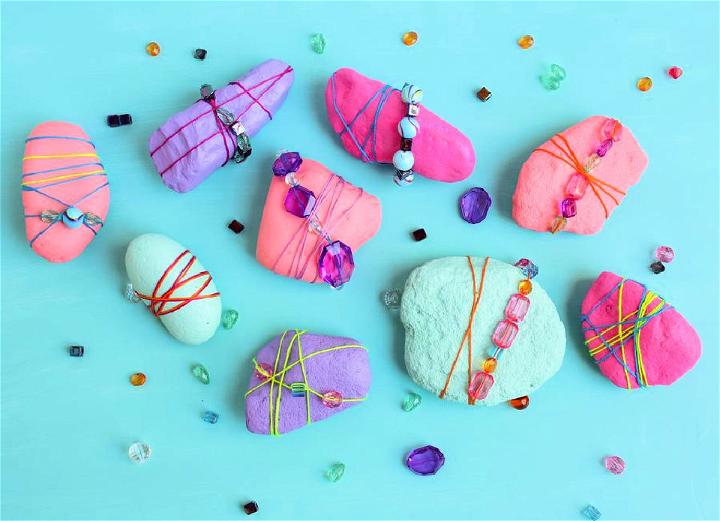 Assign your kids some easy painting projects, and then make beautiful Mother's Day gifts out of them. The time gets busy with your kids and paints the rocks, you have a good stock. Next, wrap them in the beaded strands and also in the twine of choice and make precious Mother's Day painted rocks. It will be super quick to paint a rock, and this will also create great fun for the kids. The best Mother's Day gift idea for kids, and this will be a great kids' summer craft idea. kidmademodern
20. Pampering Mother's Day Gift

You will learn here to make another great and sweet DIY Mother's Day gift at home, sure to please all the moms. Here the idea is to make the Mother's Day spa gift or the pampering gifts, and they will make you raised in the Mother's eye. The project involves making the eye mask, nail kit, candies, tea in a jar, and lots of skincare and makeup products that are on your Mother's need list. You can also make all these gifts to pack in a gift basket, and they will impress all the moms. The Mother's Day gift ideas are just never-ending. madincrafts
21. DIY Planter with Cricut for Mom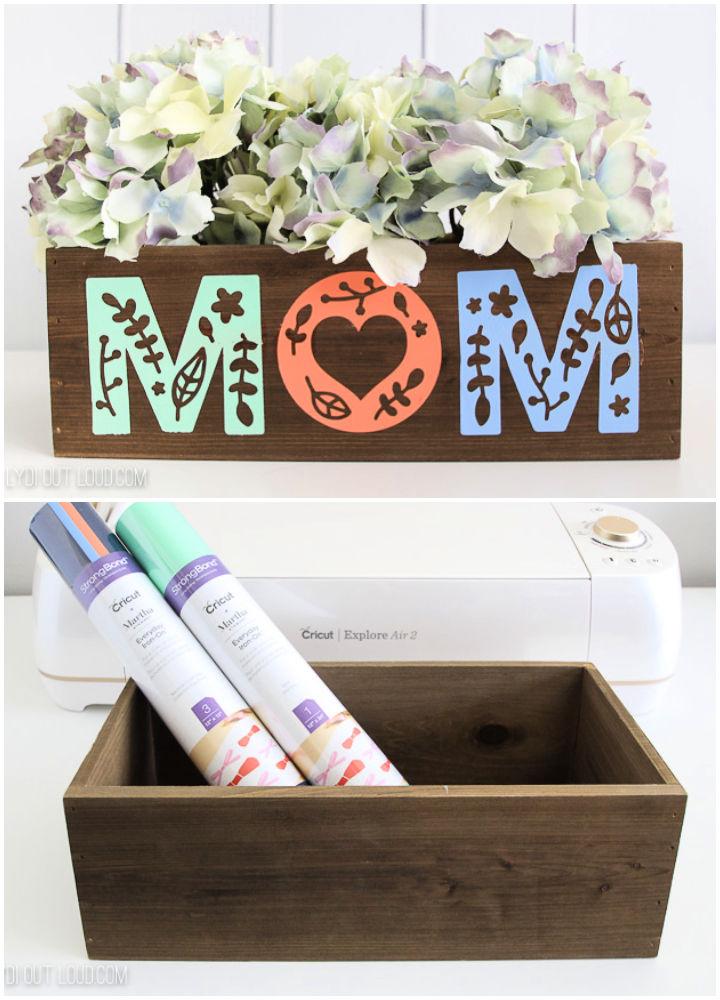 Make beautiful planters for caring moms on Memorial Day, Mother's day or Birthday, and they will make divine handmade gifts. Learn here to make a decorative planter using the Cricut machine. The finally completed decorated planter can be filled with faux or real flowers and the essentials that your Mother will love. You need a wood planter, Cricut machine, Mother's Day planter cut file, weeder tool, iron-on, and EasyPress 2 to make it. The best way to win the heart of your mom. lydioutloud
22. String Art Great Mother's Day Gift Idea

No matter which type of crafts you are interested in, you can simply make a Mother's Day gift in all the crafting ways. So, get here instructions to make a quick Mother's Day string art, you can also hang the favorite photos of you and your Mother on it for boosting the sentimental value of the gift. Grab the yarn, nails, hammer, wood, printables, and wallet size photo prints to whip up this Mother's Day photo gift. Use the printed-out letter templates to make a nailed sketch of letters on the wood. Next, start filling it up with nails, and that's it. lilyardor
23. Flower Cupcake Bouquet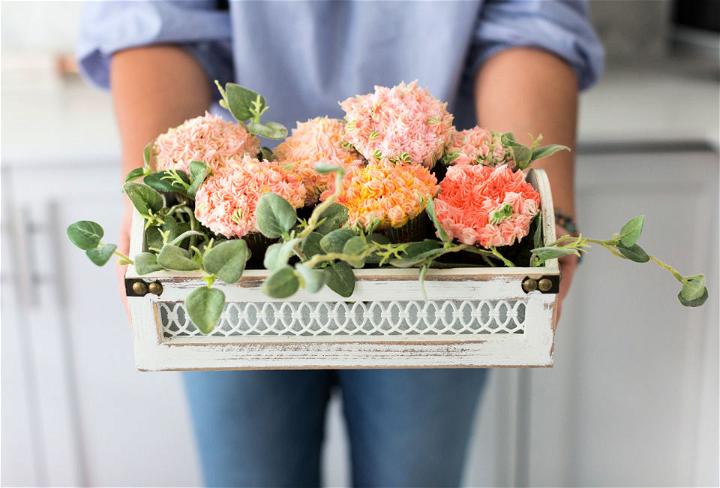 The flower-based gifts always go heart-winning, so why not making a flower gift for Mother's Day? Follow here guides and instructions to make a lovely flower cupcake bouquet for Mother's Day will show your love for the mom. Grab a decorative planter box, fill it up with the foam, and then add a top layer of moss ribbon. Add some faux greenery like leaves and stems, and then poke the flower cupcakes with skewer bottoms in the foam. Fill the box dense with flower cupcakes, and that's it. craftberrybush
24. Fresh Flower Sign Birthday Gift for Mom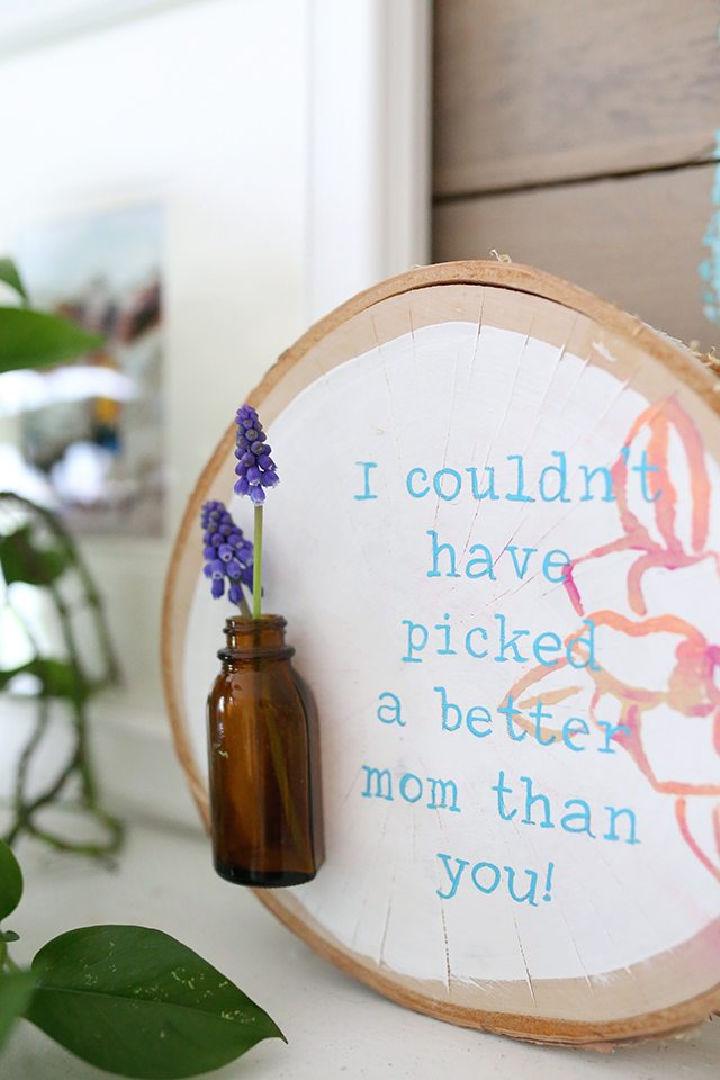 The vases and quoted signs make amazing gifts for Mother's Day, and you can combine both to make a more impressive gift for Memorial Day. So, follow here guides to make a quoted wood round sign for Mother's Day with the real flower vase hanging on its front. Grab a birch log slice and paint it white for a nice background color. Stencil flowers and write custom quotes on it and then mount a small flower vase on it, just insides of letters, and that's it. Add some fresh or faux flower in a mini glass bottle or test tube to make a quick vase for the sign. shrimpsaladcircus
25. Flower Bouquet Corsage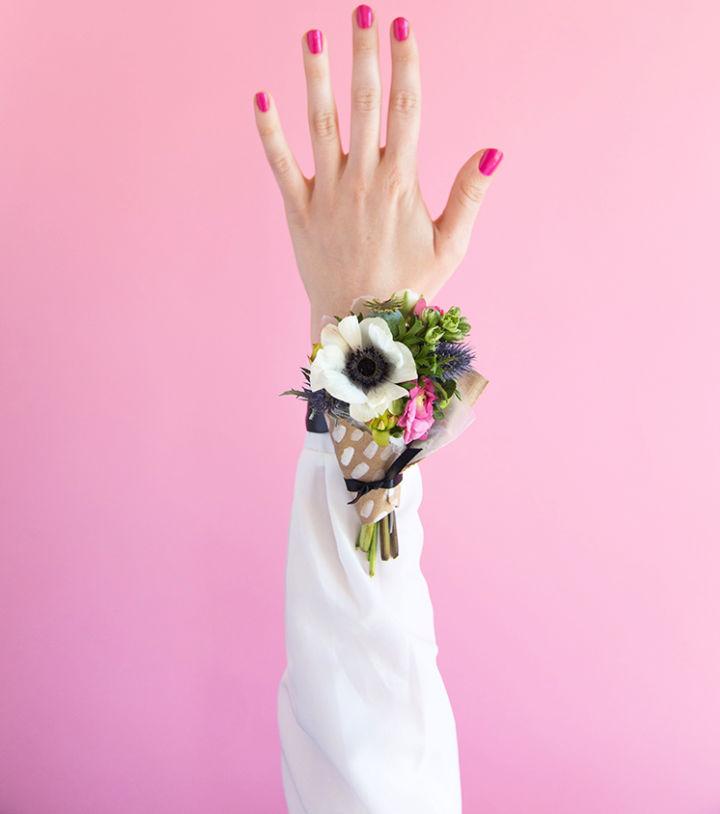 Make your mom feel special on Mother's Day with this handmade bouquet corsage. It will also complement the new dress of your mom she is wearing on the day, and everyone can make it at home for his mom. You need small flowers, wax paper, brown paper bag, ribbon, string, white gouache paint, glue, and brooch pin hardware to whip up this flower corsage. It will cost you big if you buy it from the market. It will not take much time to whip up this quick and easy flower gift for Mothering Sunday. thehousethatlars
26. Pallet Picture Frame – Creative Mother's Day Gift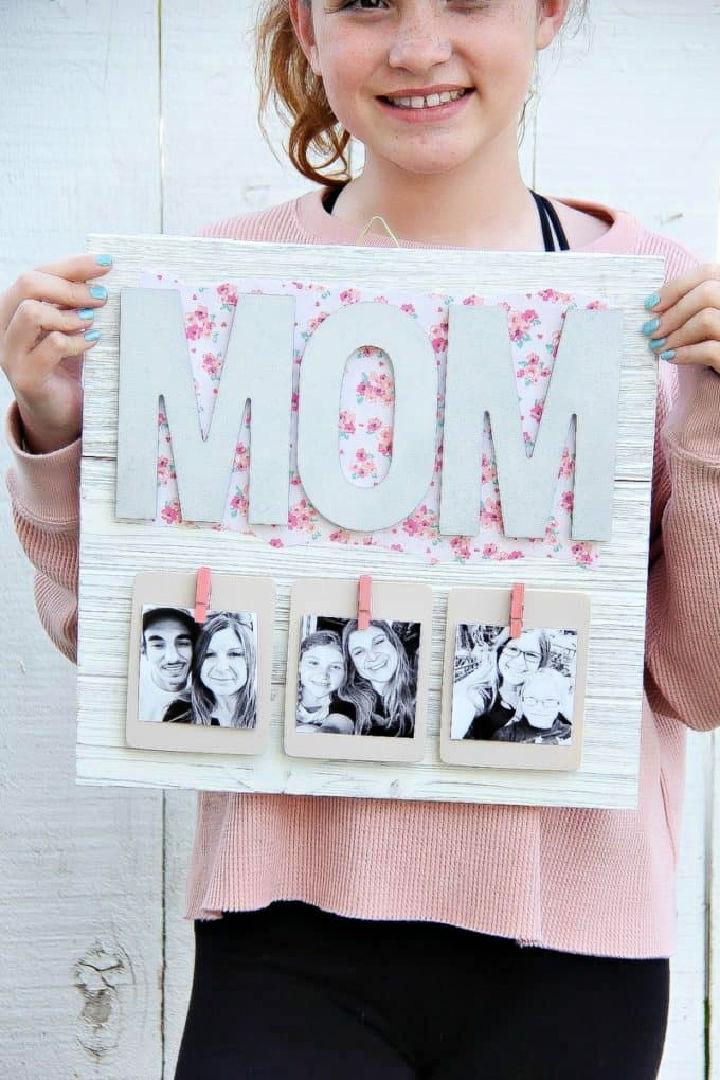 Repurpose the rustic wood pallets to make enchanting Mother's Day gifts, they will always go impressive for sure. So, upcycle the rustic pallets to make this picture frame gift for Mothering Sunday. Build a frame out of pallets, paste the "MOM" wooden letters or spells on it, and also the wood rectangles using the glue and clothespins, respectively. Everyone will love building this picture frame that you can paint in any custom color. The finally completed frame is 14″ x 14″, letters are 5.5″ tall, and wood rectangle photo frames are 3.5″ x 4.5″. The whole project will complete in a few minutes. 5minutesformom
27. Stacking Cubes Tutorial with Free Template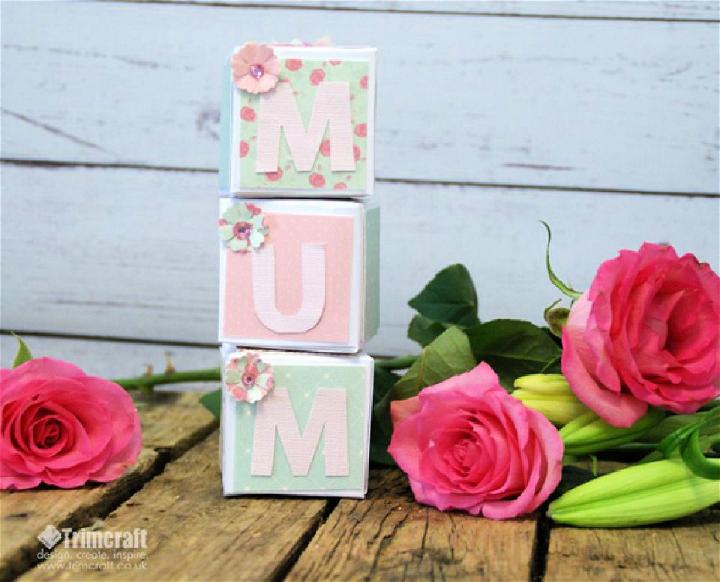 Celebrate Mother's Day by making this quick and fantastic gift, the stacking Mother's Day cubes. You can easily make these paper cubes using the 6×6 premium paper pack, 3 pieces of white Dovecraft A4 cardstock, flower die set, and decorative gems. Place these stacking cubes on any shelf or table and surround them with colorful flowers or roses to make a fabulous Mother's Day centerpiece. The little paper flowers are mounted on the corners of the cubes that come with gem centers. Experiment with this project with your favorite colorful papers. thecraftblog
28. Felt Flowers and Fabric Bouquet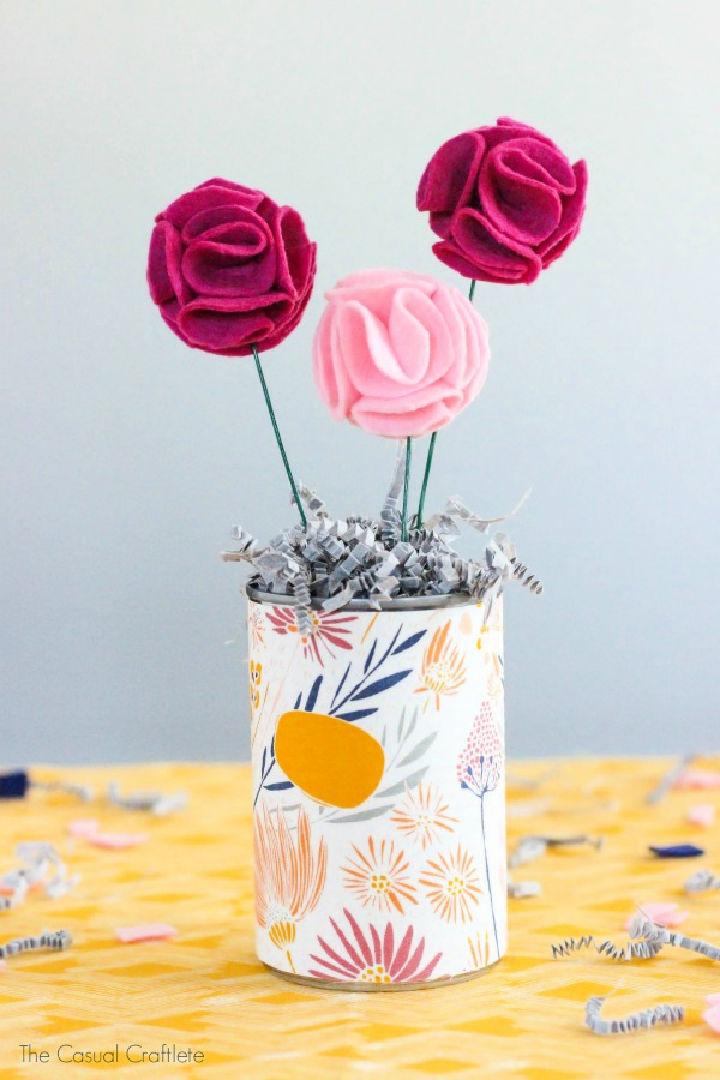 The flower bouquets make interesting gifts for all occasions and celebrations. So, grab here instructions to make beautiful felt flowers and fabric bouquets, that will never wilt or droop, and makes a superb handmade gift for Mothering Sunday also. Make the felt flowers and add them up with the floral wire stems. Next, add them in the vase made of soup tin can and covered with fabric and also filled with decorative gift filler. Use glue where needed and trace small circles on the felt that you could cut out to make beautiful flower petals. purelykatie
29. Mother's Day Gift Basket

Are you willing to give a bunch of gifts to your Mother on a special day? Then it will be better to make a gift basket in which you can pack all the gifts or essentials. Here you need a gift basket, decorative ribbon, and your favorite gift items to fill inside to make this superb Mother's Day gift basket. You can simply make a great spa basket gift by adding the skincare and makeup products inside, and you can also make a treat gift basket by adding custom treats in the basket. Stuff the tissue paper in the basket before you start adding your selected gift items. roomfortuesday
30. Rainbow Ricrac Placemat Clutch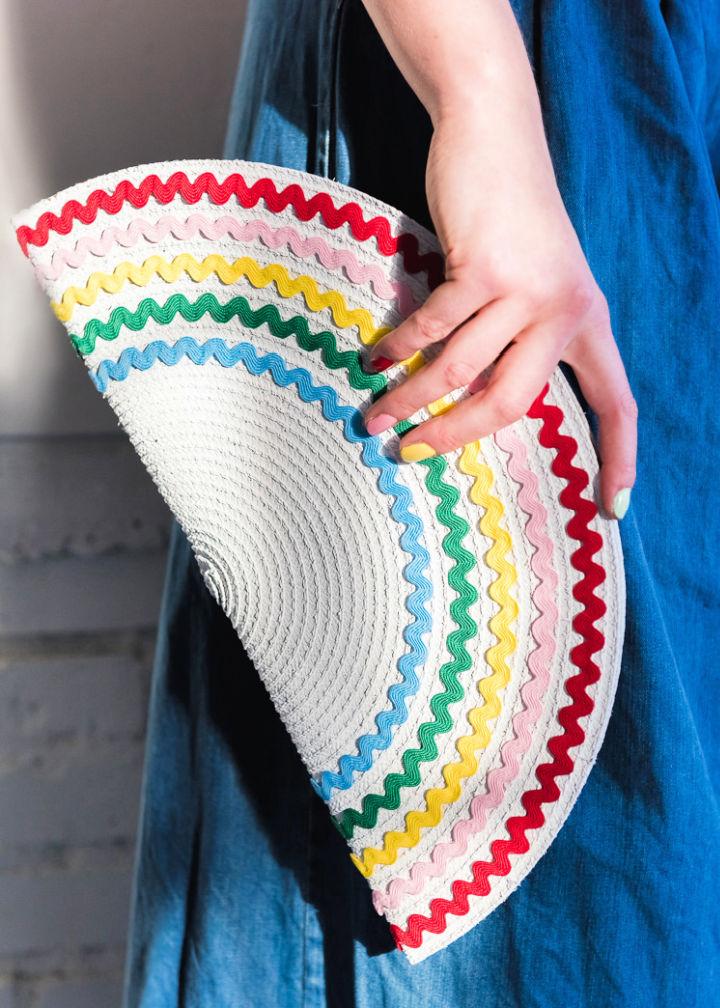 Fashion clutches are the big love of all the ladies and mom. So, make the fashion-forward design of clutches at home for Mother's Day gifts. Take a start by making this rainbow ricrac placemat clutch that impresses the semicircle shape and is easy and quick to whip up. You need a round woven placemat, ricrac in rainbow colors, glue, needle and thread, and white spray paint to make this fantastic clutch for your mom. Add it up with the quoted gift tags and give a decorative ribbon wrap. thehousethatlars
31. Mason Jar Pin Cushion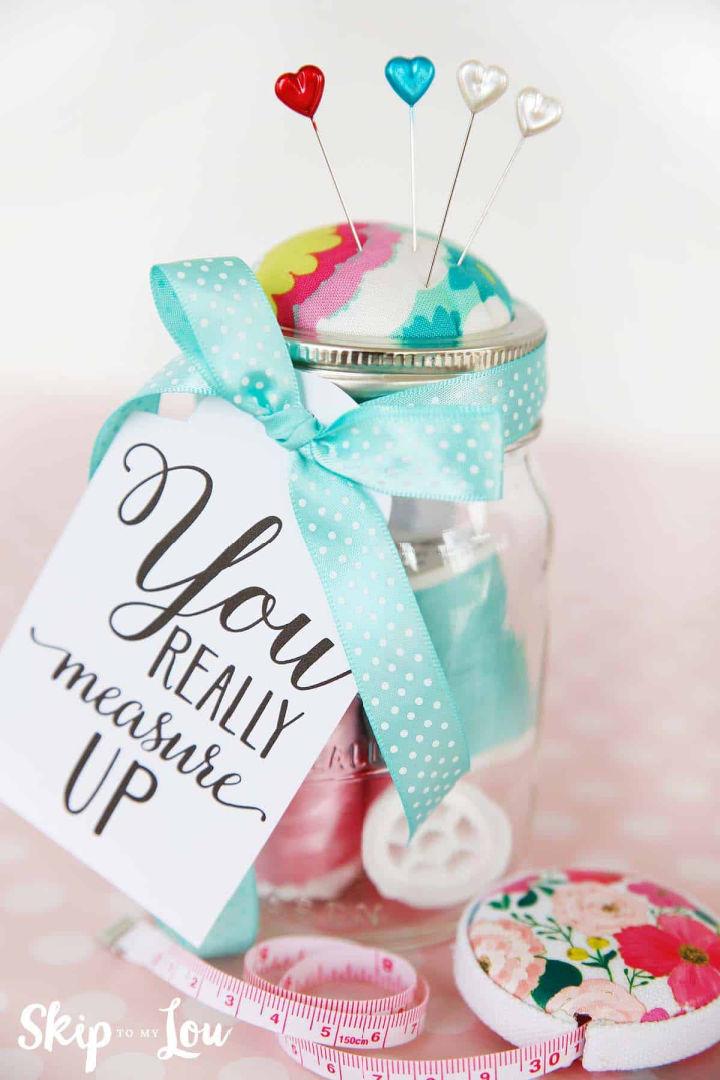 This is where the best gift for a mom who is an avid sewist. The idea is to make a pin cushion out of a recycled Mason jar that you add with a gift tag and ribbon wrap for visual grace and focal stimulation. Make the Mason jar lid tufted using the fabric and fiberfill, fill the Mason jar with the other sewing supplies like needles and buttons etc. Add a custom gift tag and give the Mason jar a nice ribbon wrap to whip up this sweet Mason jar pin cushion gift. The best Mother's Day gift o make out of a recycled Mason jar. skiptomylou
32. Concrete Spice Rack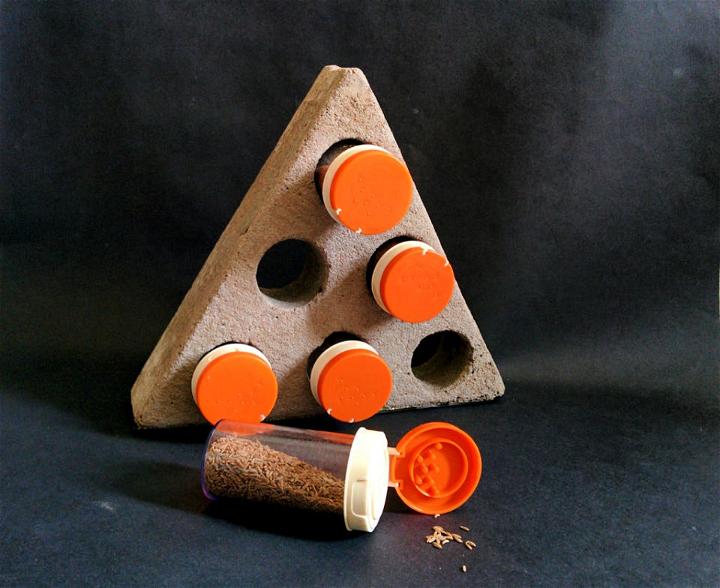 This Mother's Day gift will surely lend your mom a big helping hand in cooking and kitchen organization. These are here the concrete spice racks that are triangular and nicely hold the spice jars. You need toilet roll cardboard, cardboard, bike tyre tube, sandpaper, cement, water, glue, and some plastic to make this triangular concrete spice rack. The whole project is all about making a triangular mold that you can fill up with concrete. The toilet rolls will help create round holes or gaps to fit the spices in the rack. instructables
33. Wood Burned Rolling Pin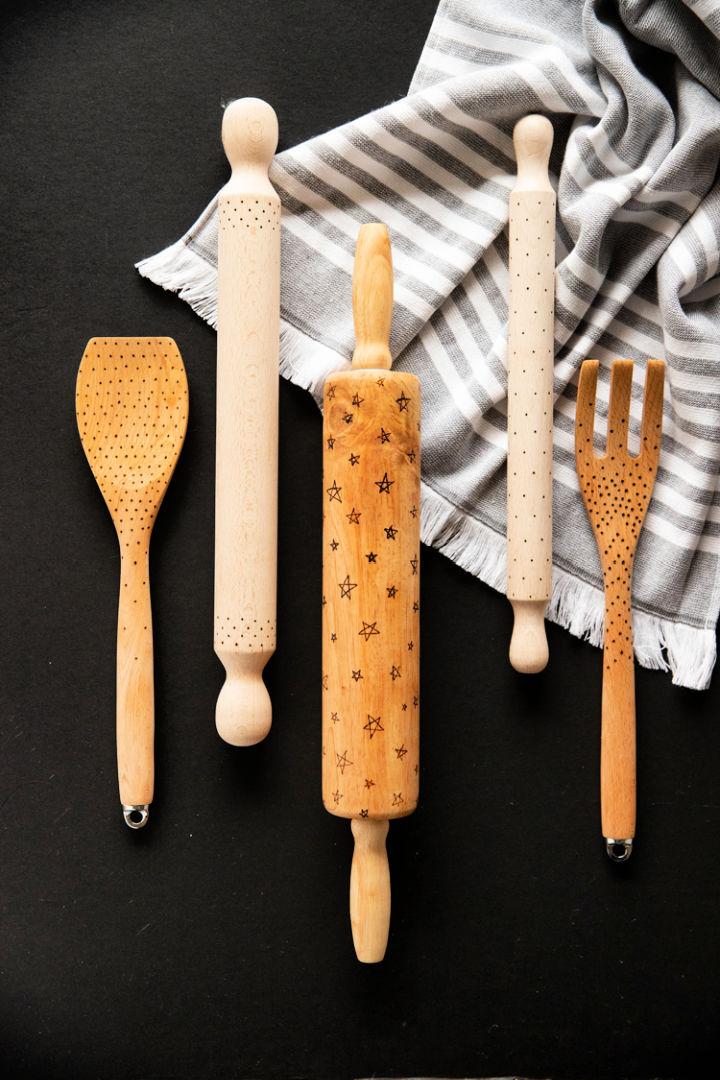 Give the kitchen-related items as sweet Mother's Day gifts, and you can simply give them a personal touch by doing a decorative makeover. Look at these wooden rolling pins and other kitchen tools that have been burned for custom decorative patterns and marks. This Mother's Day gift project will be quicker and create so much fun while using the wood-burning tool. You need a wood burn tool, wooden kitchen tools, and a pencil to do this project. The best gift idea for all kitchen-loving moms, and the whole project will cost you next to nothing. deliacreates
34. Sew a Apron in 10 Minutes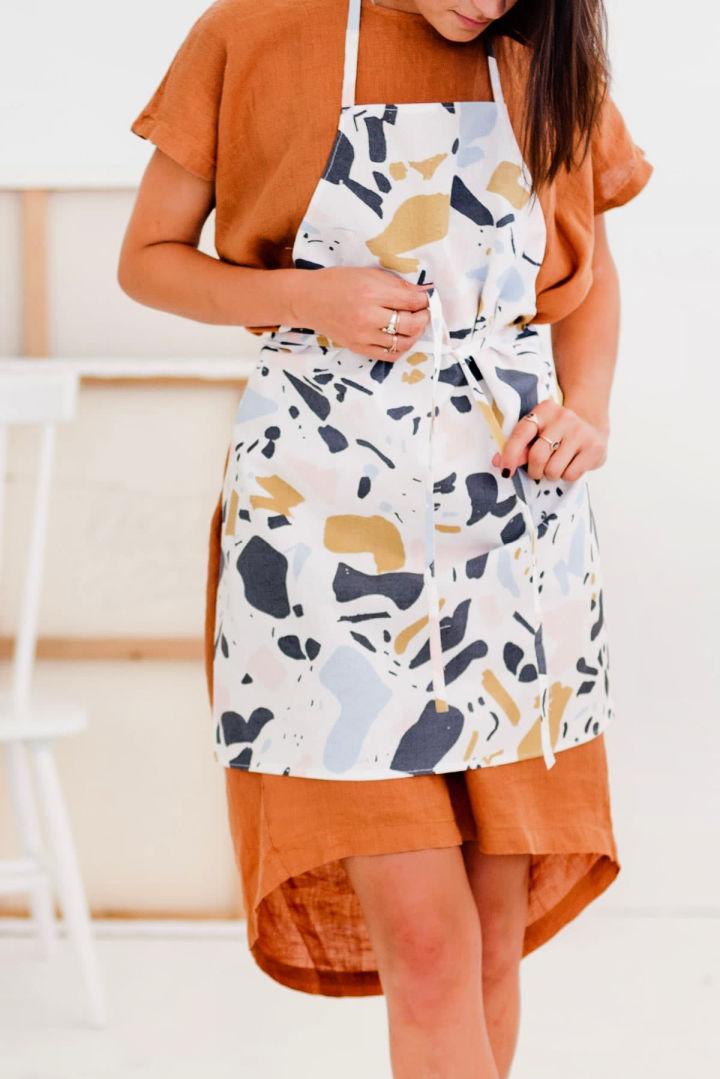 Do you know how to sew? Even if you are a beginner, you can sew this best gift for the mom, the beautiful apron. It will be a big surprise for all the mom chefs and will show you never-ending love for her. It will only take ten minutes or less to sew this beautiful apron. You need one yard of thick fabric, matching thread, a pencil, measuring tape, and a sewing machine to sew this apron in less than 10 minutes. The apron will help keep the clothes safe from getting dirty while cooking, and you can pack it sweet using a nice gift wrap to give to your mom. papernstitch
35. Handmade Mother's Day Card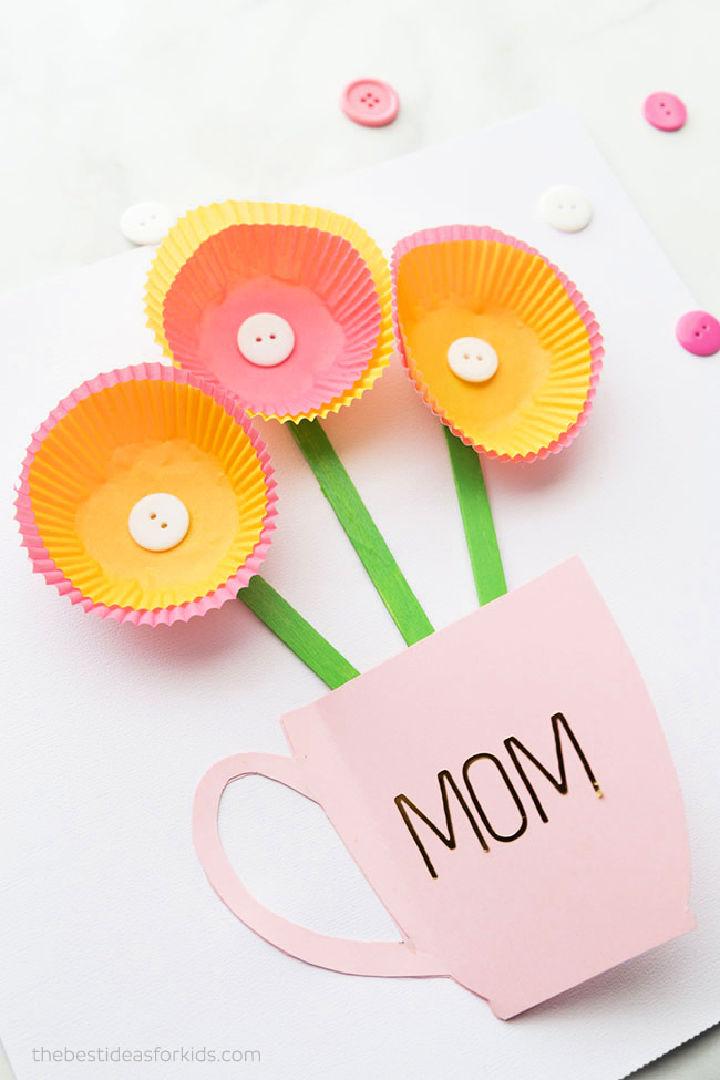 Make beautiful gift cards with custom overwritten Mother's love letters, quotes, and sayings to give on Mother's Day. You need cupcake liners, buttons, popsicle sticks, green paint, gold letter stickers, and white and pink cardstock to make this sweet gift card. Use the cupcake lingers to make gift card flowers and use a template for cutting coffee cups. Add buttons as decorative flower centers, and write your favorite words and quotes on the gift card. The green painted craft sticks will make lovely flower stems. thebestideasforkids
36. Fingerprint Table Runner Mother's Day Kids Craft

Let your kids make this gift for the moms, the fingerprint table runner that is sweet and colorful. Grab a white table runner and then fill it up with the colorful fingerprint dots making the best table runner. The table runner will spice up the entire tablescape settings and impress the guests at first glance. Use the craft paint in coordinating colors, and it will not take much time to fill the whole table runner with colorful fingerprints. One of the quickest, sweetest, and cheapest Mother's Day gift ideas. hgtv
37. Amazing Mother's Day Napkin Holder Gift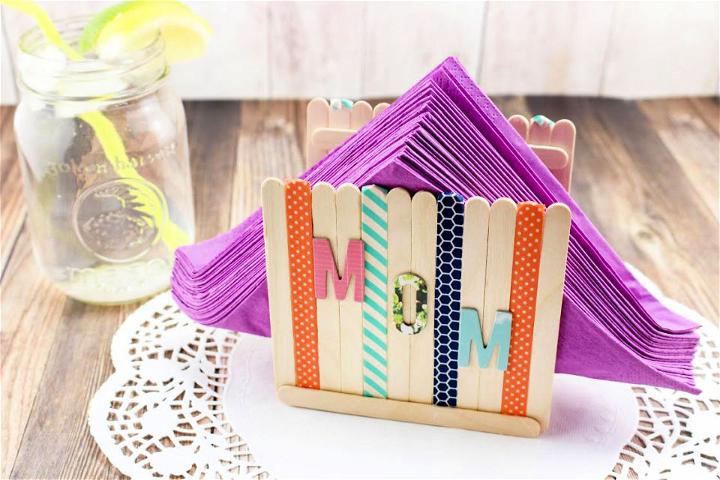 Make anything sweet and beautiful with your hands to easily whip up a Mother's Day gift. This time make this Mother's Day napkin holder that is to make with craft sticks and be a great addition to your dining tablescape. Adding decorative craft sticks and "MOM" letters make this gift a lot more impressive and beautiful. You need 38 wood craft sticks, decorative washi tape, adhesive craft letters, glue, and scissors to make this sweet napkin holder. Add it up with the sweet photos of your mom for added visual grace and style. massholemom
38. Best DIY Mother's Day Wood Sign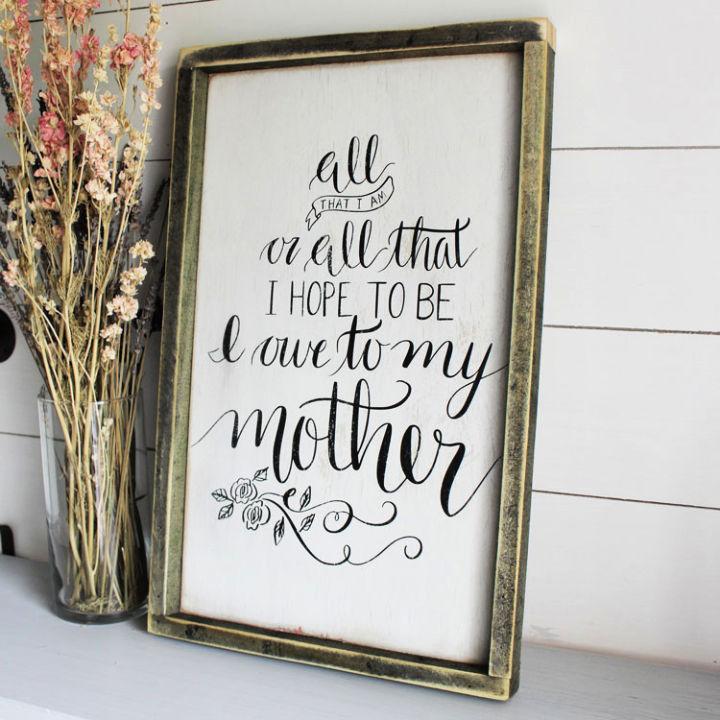 Express your love for the mom by making this quote wood sign. The project is to do with the Silhouette Cameo, and you can use it to write your favorite quotes, words, and sayings on the wooden frames. Cut the vinyl using the machine and make a stencil for your favorite quotes. Paint the stencil on the wooden board and make a lovely Mother's Day wood sign. You need a wood sign, vinyl stencil made of silhouette machine, spray paint, and some wood to frame up the wooden signs to do this project. Experiment with this project with your favorite stencils. thesummeryumbrella
39. $10 Bottle Vase Centerpiece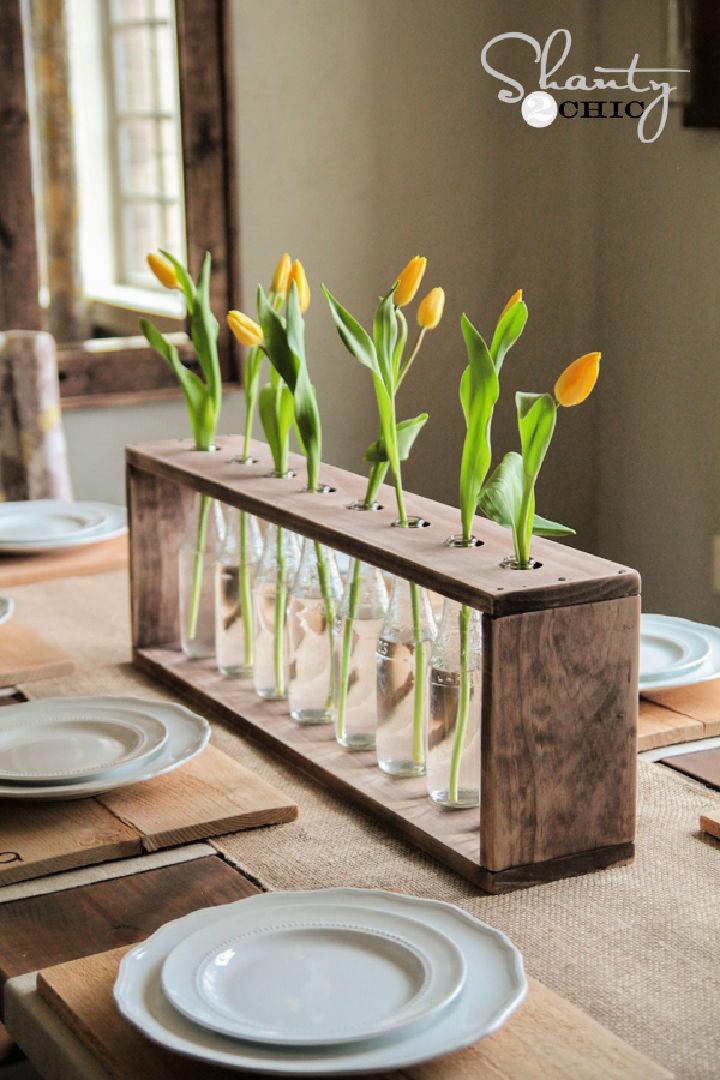 This natural greenwood and glass bottle centerpiece will surprise all the moms if given as a gift. Repurpose the old wood and empty glass bottles to easily whip up this bottle vase, will make a great dining table or coffee table centerpiece. Place it over a decorative mantel also for added visual charm and grace. Make a wooden rectangular frame capable of holding the glass bottles inside. Drill holes in the top side of the frame to fit the narrower glass bottle openings, and then add the cut flowers or custom flowers in the bottles. shanty 2 chic
40. Happy Mother's Day Card with Pop Up Flower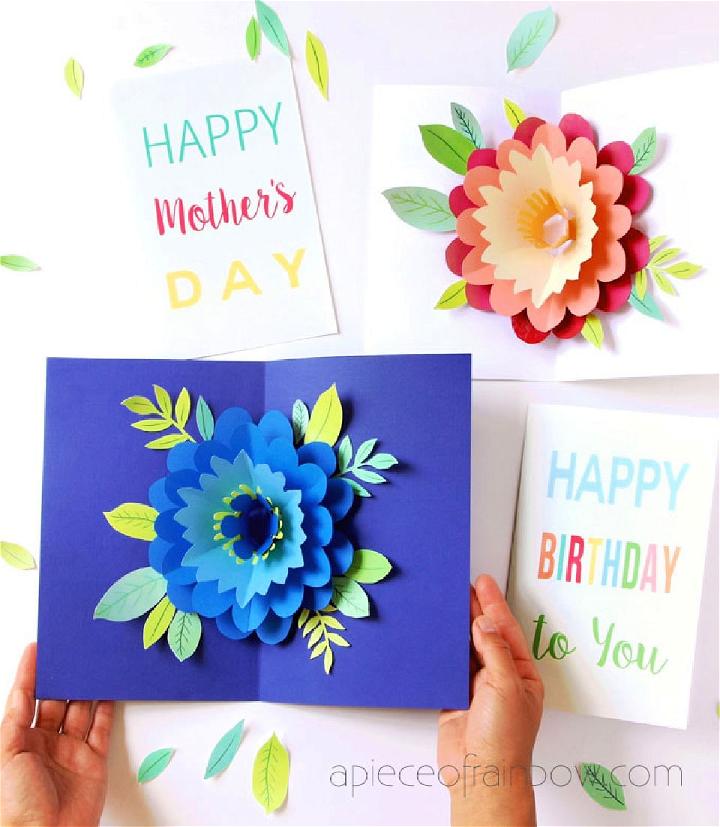 Win more love and respect for your mom by giving this pop-up flower card gift on Mother's Day. It will bring that amazing smile to the face of all the moms and will nicely express your love for her. The project will be easier for you if you are handy at operating the Cricut Maker or Explore. Use the Print-then-Cut feature to easily make this pop-up flower gift card, which will impress all moms. Cut flowers and leaves, layer flowers, and glue in the center of the card to pop up with the opening. The easy yet beautiful Mother's Day gift idea. apieceofrainbow
What to make your mom for her birthday?
Making your mom a special gift for her birthday is a great way to show her how much you really appreciate all she does for you. Depending on your skills and time allowance, plenty of diy projects to choose from that she will love. From easy peasy ones that take no time at all, or upcycling cheap items into something unique and extraordinary – a handmade gift on her birthday is sure to bring a smile to her face.
Why not try an old favorite with a twist, like creating customized tea bags filled with her favorite flavors or making origami roses out of vintage paper book excerpts that include sentimental phrases?
There are so many creative ideas shared above for diy mother's day gifts that, most likely, even if you've seen the idea before, it will be made completely new by putting your own twist on it. Whatever project is chosen, making something memorable for your mom will surely be appreciated and loved!
Related DIY Gift Ideas:
Discover unique and creative DIY gift ideas to surprise your loved ones. Crafting the perfect present can be easy with this comprehensive selection of materials, tutorials, and gifts for any occasion.
Conclusion: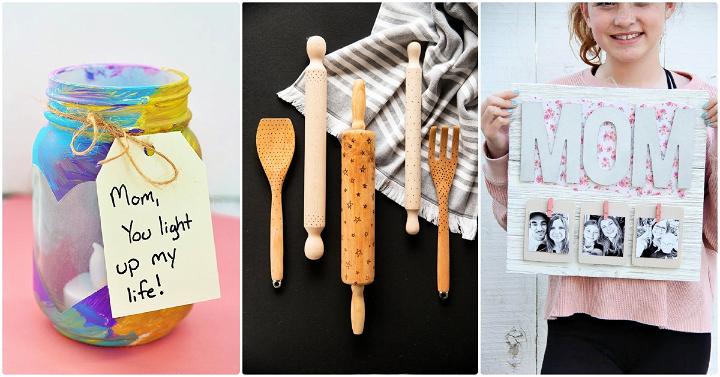 There is no better way to show your mom appreciation than by making her a special DIY gift for Mother's Day! Whether you make something romantic, funny, or simply heartfelt, it will make your mother feel special. With these 40 Last Minute DIY Mother's Day Gifts ideas, you can find the perfect project for any budget and time frame. From homemade greeting cards to plant holders and terrariums – there's an idea your mom is certain to love! Let this list of creative DIY mother's day gift ideas inspire you as you search for the perfect present this year – one that expresses how much she means to you in unique and thoughtful ways.