Looking for a thoughtful and creative anniversary gift? Check out our 25 homemade DIY anniversary gifts for him and her include! From personalized mugs to photo collages and more, these cute homemade anniversary gifts show the special people in your life that you care about them. All these diy anniversary gifts are more meaningful, cheap and easy to make than store-bought presents.
We've compiled 25 of the best homemade DIY anniversary gifts that can be personalized with love. From personalized photo frames to custom mugs and cooking kits, there is something here for every budget and occasion. Whether it's his or her first year together or their silver jubilee, these diy anniversary gift ideas will make any couple feel extra special on their special day! Make this anniversary the best ever with meticulously crafted diy anniversary gifts – don't forget to personalize them with a heartfelt message!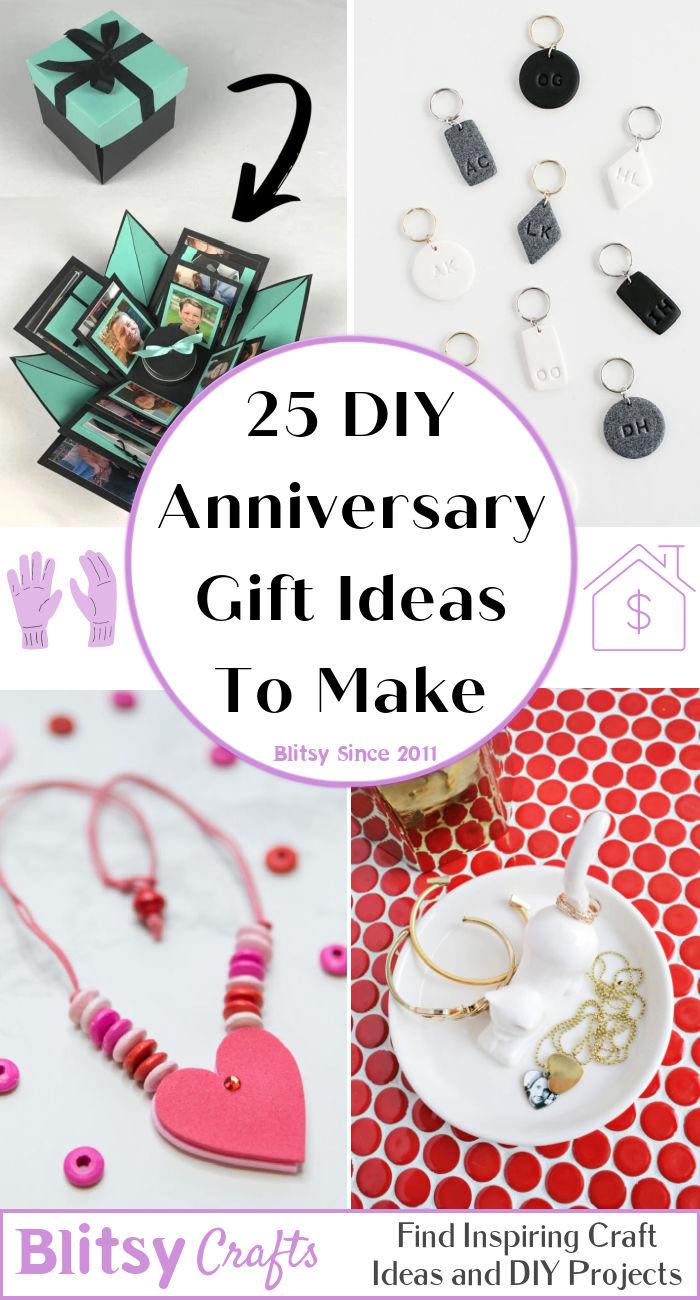 DIY Anniversary Gifts for Him and Her
DIY anniversary gifts are essential to keep your love life alive. Every year, when it's time to celebrate this special day, you can make it even better with little surprises for your loved one. You might have many ideas in your mind, celebrating anniversaries is a special occasion and making DIY anniversary gifts for him and her to show them how much they mean to you and allow you to create something truly personal.
Furthermore, this will not only make you feel satisfied but also put your partner on cloud nine! Use these ideas as a starting point and let your creativity lead the way in creating one-of-a-kind diy anniversary gift ideas for your spouse or partner.
There are many reasons for you to go through these DIY anniversary gifts. Firstly, you will be able to find many unique diy anniversary gift ideas that require little to no supplies. These are great for those who don't want to spend too much money but still want to come up with heart-touching ways to impress their lovers. Secondly, most DIY anniversary gifts are personal and sentimental instead of materialistic. Lastly, there is a huge range – from driftwood signs to cards, keychains to travel albums, gift box frames to bracelets, and much more! Celebrate your love with a unique homemade present this year – browse our selection of DIY anniversary gifts now!
1. Anniversary Date Driftwood Sign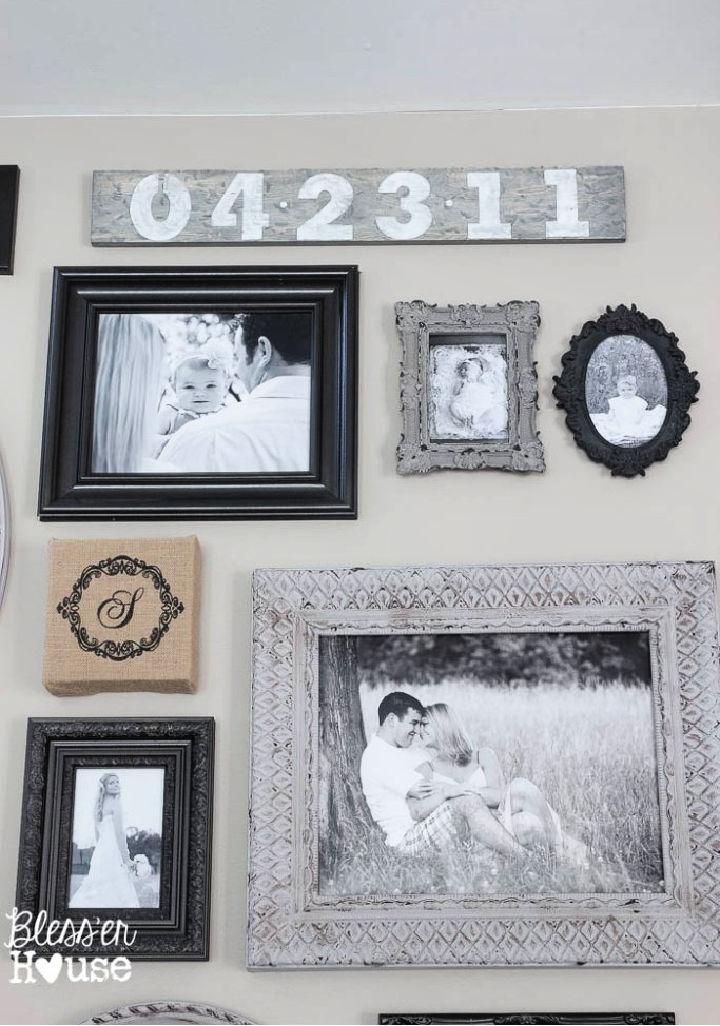 Anniversary dates play an important role in your household. It is the day you and your partner decided to take vows to create a home together. Wedding anniversary should be important and remembered by everyone in the house, and that is why this anniversary date driftwood sign will make a really good gift. blesserhouse
2. DIY Anniversary Card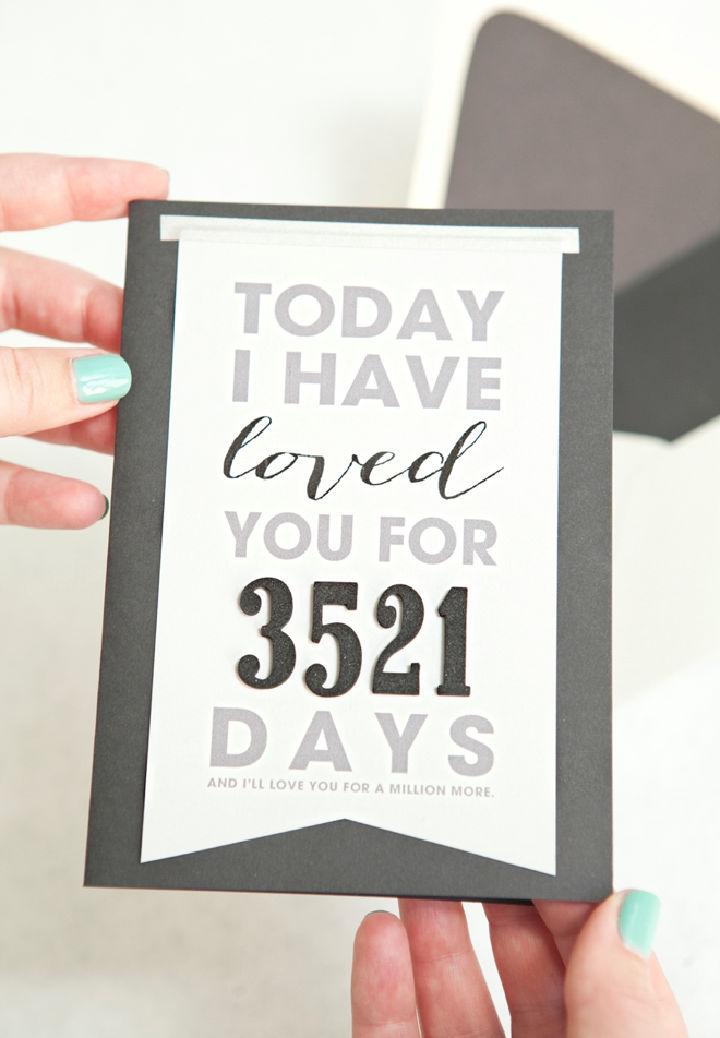 Isn't this the most romantic card you've ever seen? A card that signifies that marriage you have hoke through – the hardships and the love; the happy days and the sad ones. Writing down the number of days you have been married might not be a big deal, but the journey you have had with your partner is what makes it worth writing down! somethingturquoise
3. Stamped Textured Keychain for Anniversary Gift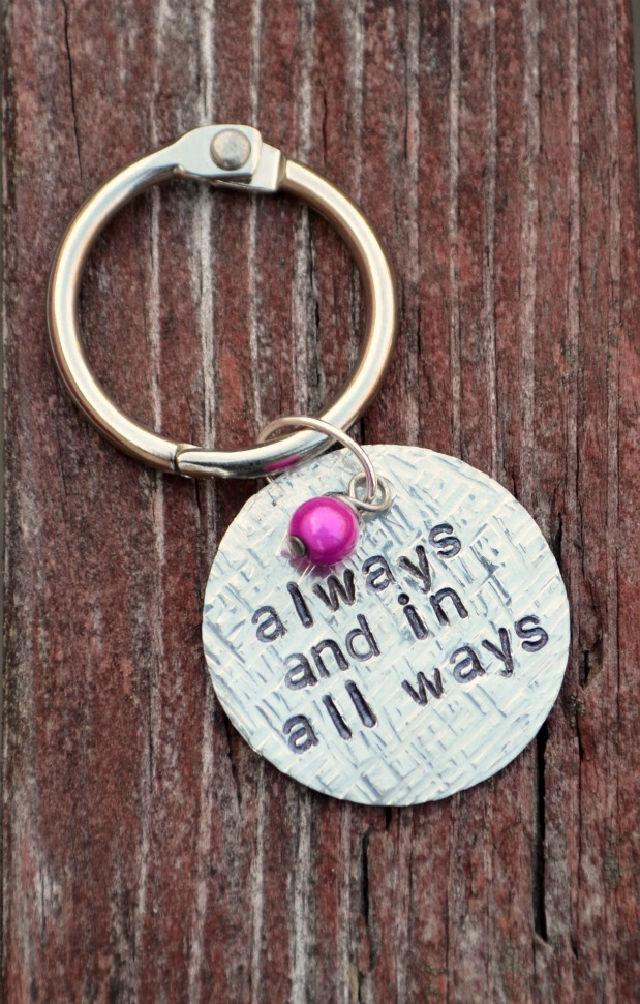 Imagine your significant other grabbing these keys for a practical work day. However, once they see the sweet little message which says "always and in all ways," they will remember you! A sweet and nice way to creep into your partner's everyday routine. amylattacreations
4. Tiny Travel Album in a Box for Him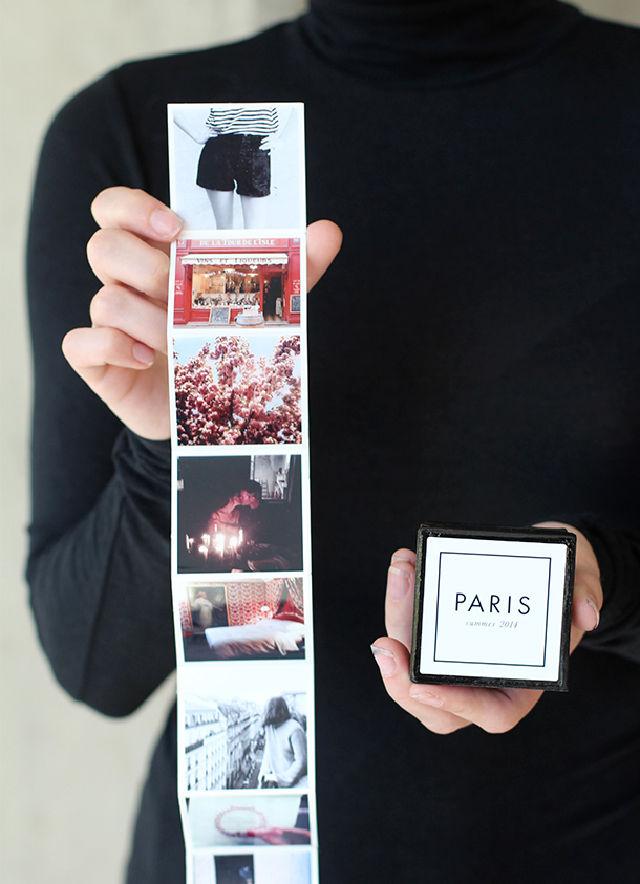 Here is a tiny travel album for all the lovers out there who express their love through photographs. Do you love to take pictures of the moments and look back at them later? Make a little travel album out of them! Gift it to your partner this anniversary and watch their face light up with all the nostalgic memories captured in these photographs. camillestyles
5. Wooden Shadow Box Frame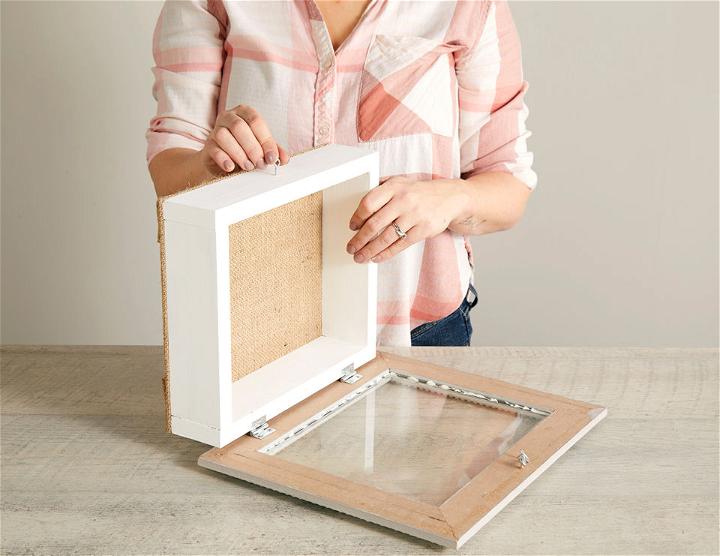 Instead of hiding away the souvenirs from the early days of your marriage or relationship, keep them on display by using these shadow box frames. The working time for the project is one hour, and the skill level is beginner, so almost anyone can ace this project. Tape measure, pencil, chop saw, nail gun, drill, and a few other supplies will be required. bhg
6. DIY Stamped Bar Leather Bracelet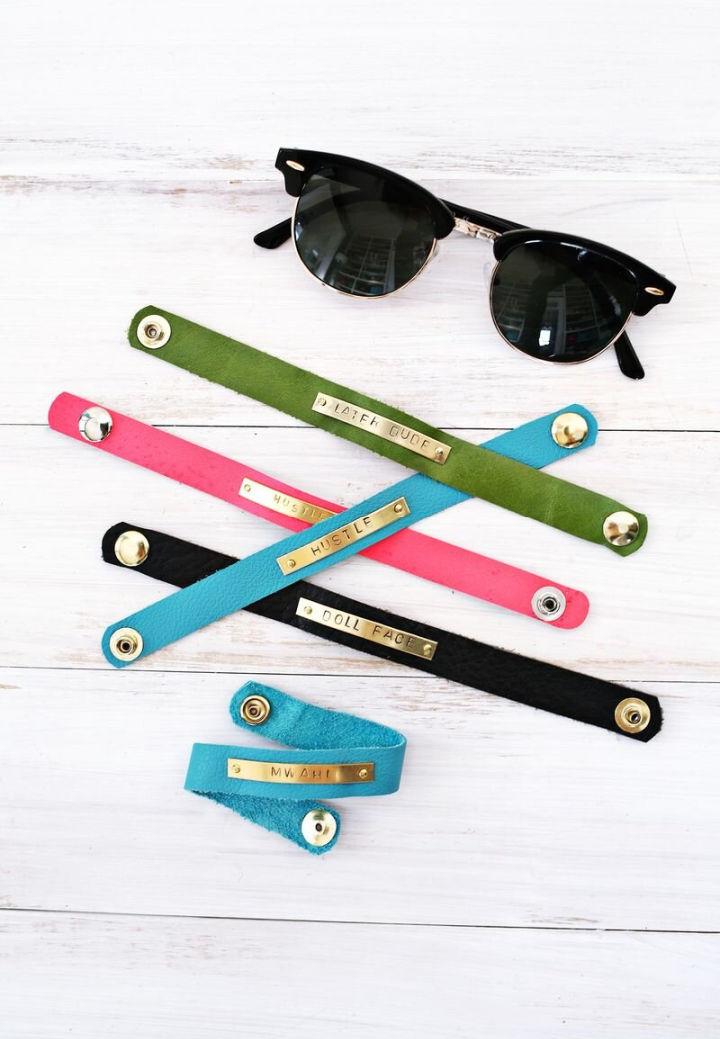 Ever since a young age, we have grown up learning that bracelets signify friendship. Why should you gift it to your partner? Well, friendship is more important than romance in your relationship, so on this anniversary, thank your partner for being a good friend rather than a lover! These bracelets are stunning with golden detailing on them. abeautifulmess
7. Thoughtful Photo Coasters Anniversary Gift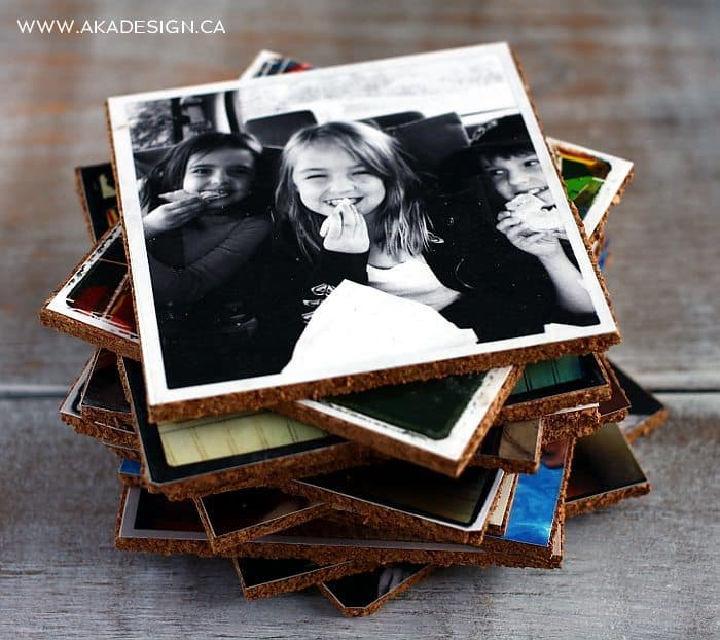 Photo coasters are one of the cutest inventions of these centuries as you can not only use them practically to keep your furniture safe from hot dishes and cups – but also capture memories inside them. Instead of using basic prints and images, follow this guide to learn how to print your memories through pictures onto these coasters! homemadelovely
8. DIY Photo Candles Gift for 10th Year Anniversary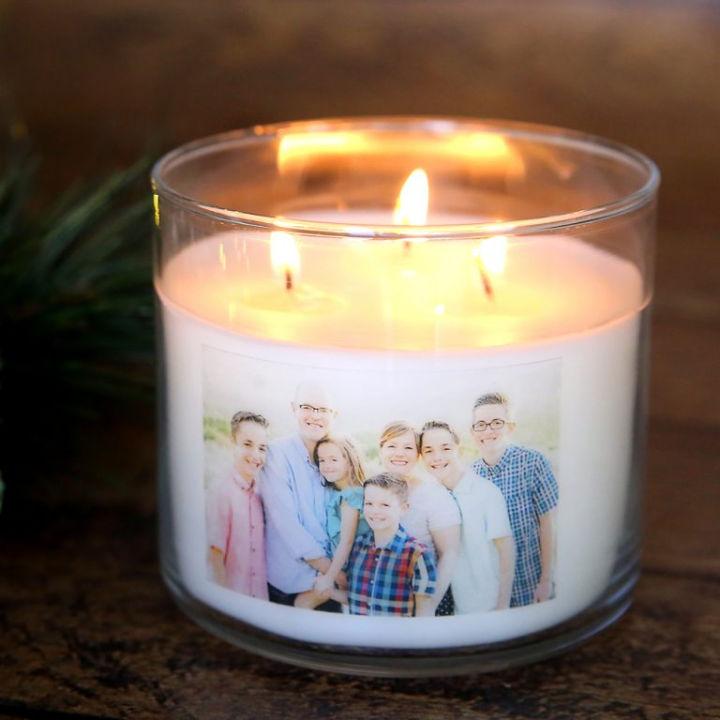 Who knew that a candle could smell this wholesome just because of a picture attached to it? Here is a really good idea for making your partner nostalgic on your anniversary! Add an image of a trip and make the scent smell like that trip – you can add your customizations and switch this up too. itsalwaysautumn
9. Creative Vows Photo Frame

Marriage is a beautiful thing as it brings two humans closer together, and that leads them to create a home and a life. Your home was created because you and your partner chose to take vows on your marriage! Why not display them in a cute picture frame to remember them special moments forever? Here's how you can do so! somethingturquoise
10. Love Map Wall Art Gift for Husband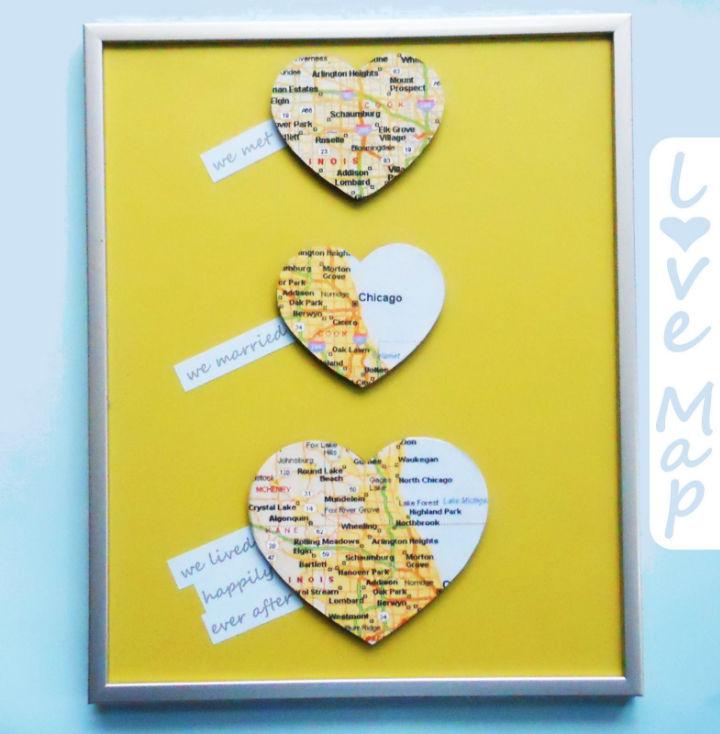 Here is another wholesome gift idea that you can re-create for your wife or husband! You will need to cut three hearts out of the maps – the place you met, the marriage place, and your current home! Sponge, scissors, colored cardstock, picture frame, craft glue, prints off google, and a few other supplies will be required. delightfullynoted
11. DIY Year of Dates Gift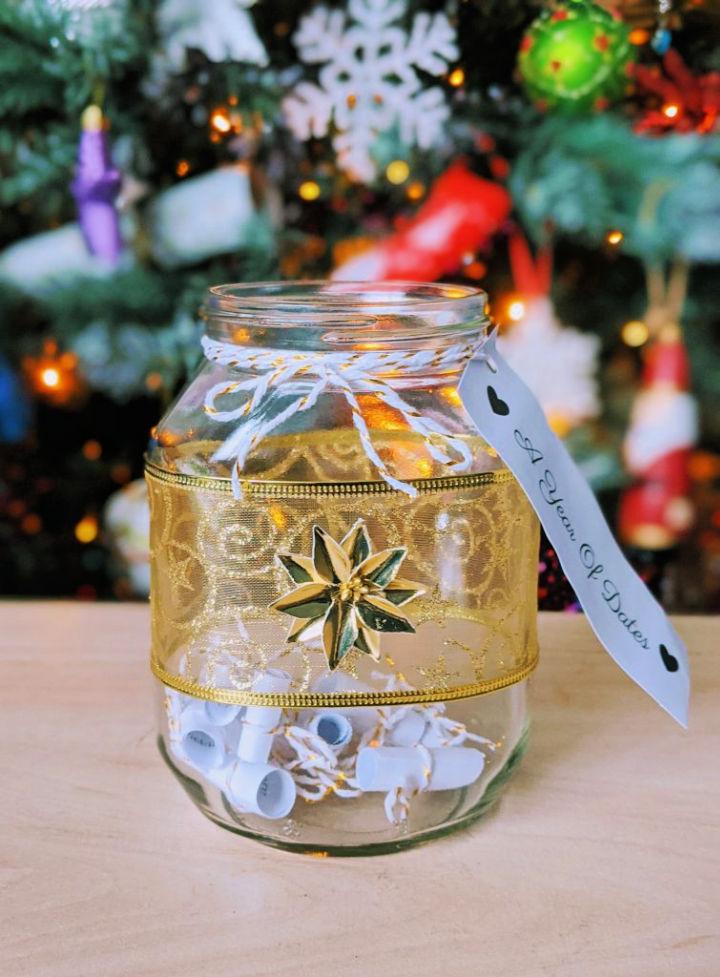 Whether your anniversary is around New Year's or not, this is an anniversary gift idea that could be used all year around! Do you feel like a few more dates with your loved one could make your marriage more exciting and enjoyable? Well, then make a list of fun things and put them in this jar! Choose one every month and do it with your partner. houseofmahalo
12. Conversation Heart Macarons for Her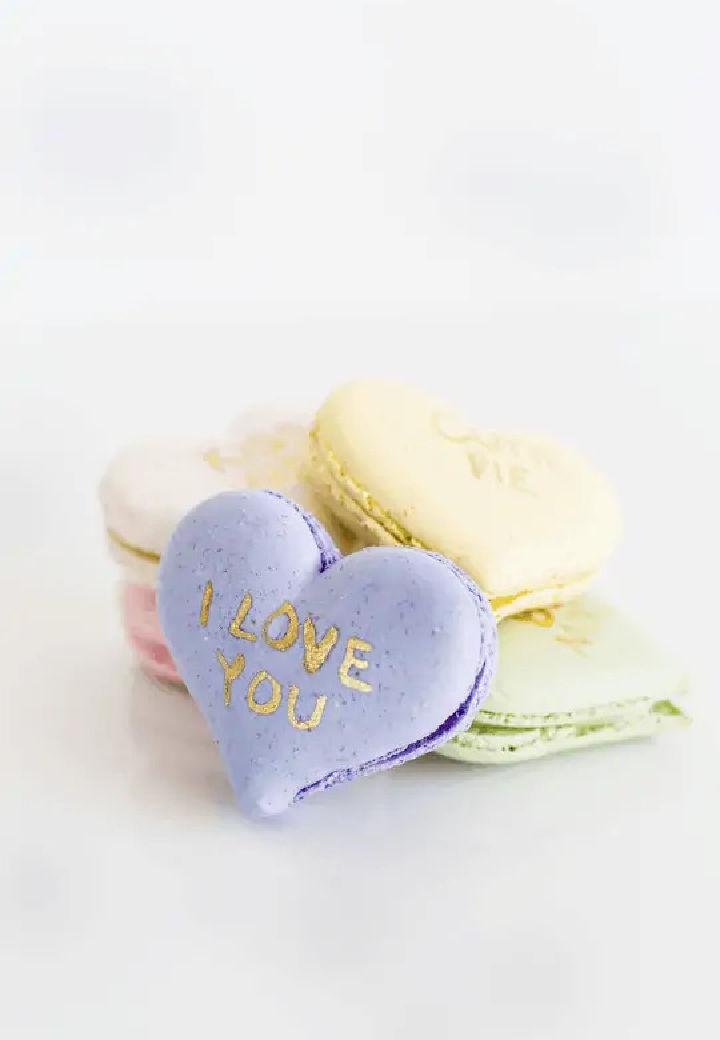 Macarons are sweet, and pillows are soft – a great way to signify your love for your partner would be to gift them these macaron pillows! Isn't this an adorable idea? Moreover, these macarons also have a message written in golden letters which says, "I love you." Gold dust, paintbrush, lemon extract, and a few other supplies will be required. sugarandcloth
13. Last Minute Date Night Game for Boyfriend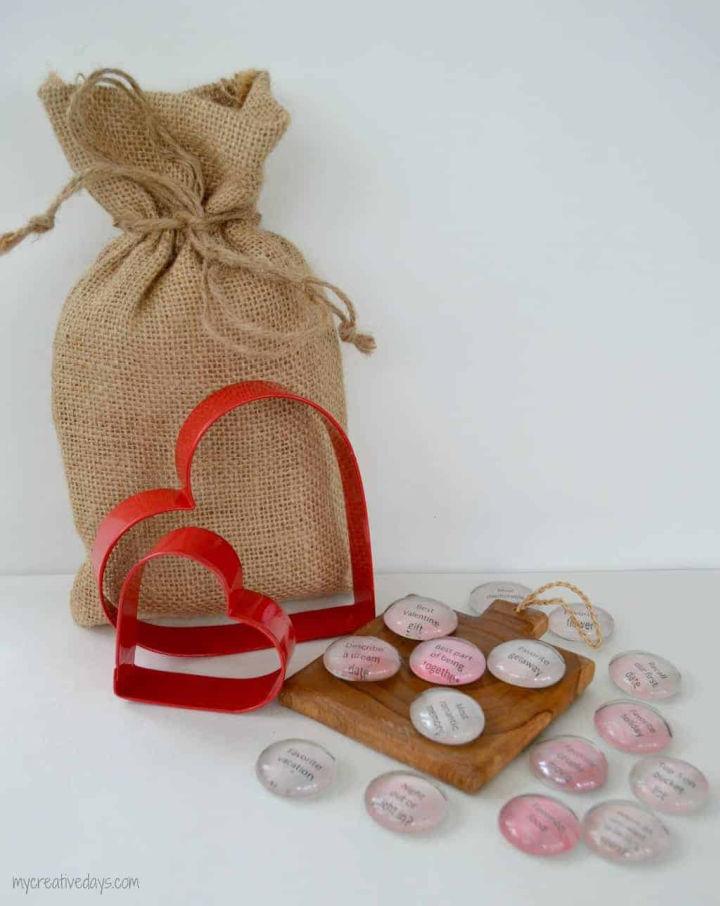 Materialistic gifts and fun dates are important in a relationship, but deep conversations and discussions about your relationship once in a while are just as important! If you want to feel connected to your partner, then re-create these rocks in your free time and play the question game with your girlfriend or boyfriend. mycreativedays
14. DIY Him and Her Mugs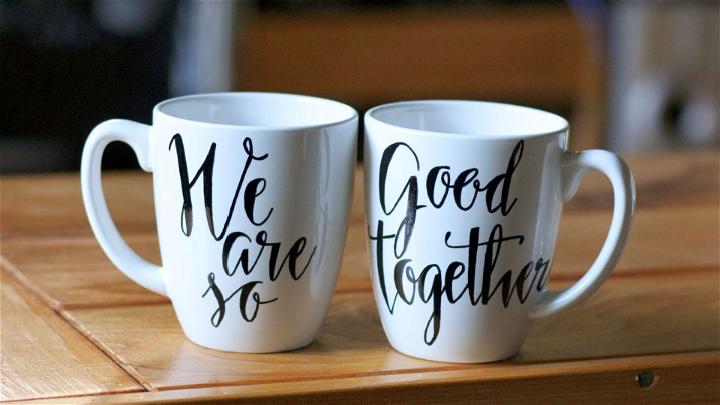 Are you a guest invited to an anniversary party and don't know what to take as a gift? Well, lucky for you, here is an idea! You can never go wrong with a pair of mugs – one for the husband and the other for the wife. This guide will give you some very wholesome ideas to write on to the mug. All you need is a mug and sharpie for this plan. dreamstateinspiration
15. Photo and Message in a Bottle Anniversary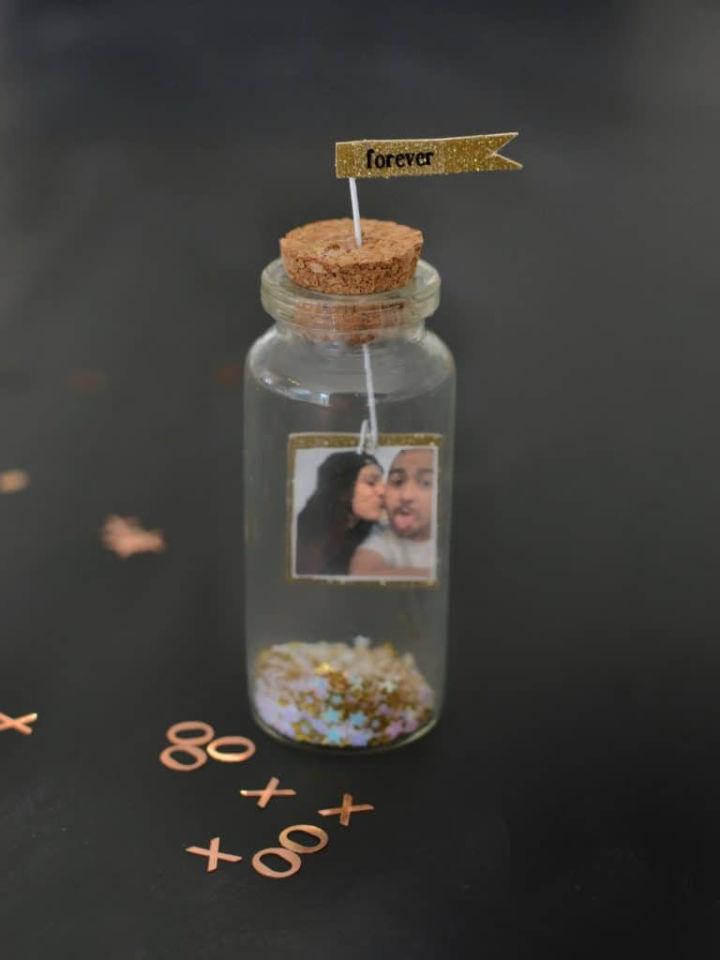 DIY anniversary gifts don't have to be expensive or materialistic, as just a simple moment captured in a bottle is enough for someone who loves you. Here is a very wholesome idea for you to try and re-create for your partner in your free time. Tiny bottles, hot glue, thread, glitter, confetti, and a few other supplies would be required for this project. chrissymarie
16. Handmade Clay Keychains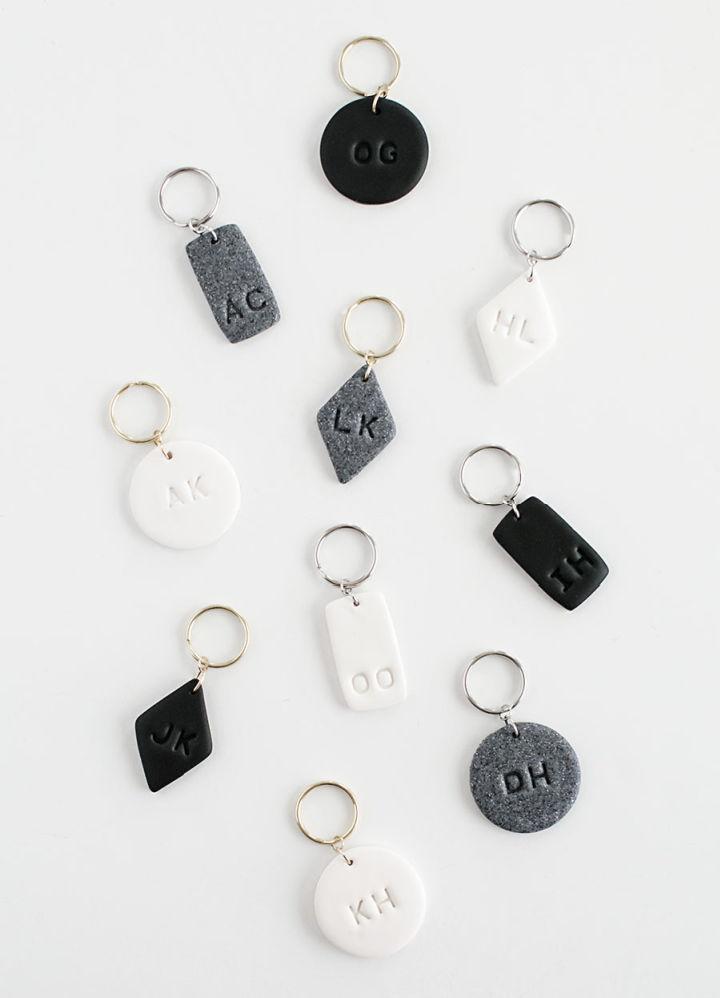 When it comes to DIY anniversary gifts, they count as ten times better than store-bought ones. Why is that? Well, it's simply because the hard work and thought gone into something handmade is much more personal and nice. Create these adorable clay keychains to gift to your lover – carve their initials into them, as well! homeyohmy
17. DIY Heart Shaped Lyrics Picture Frame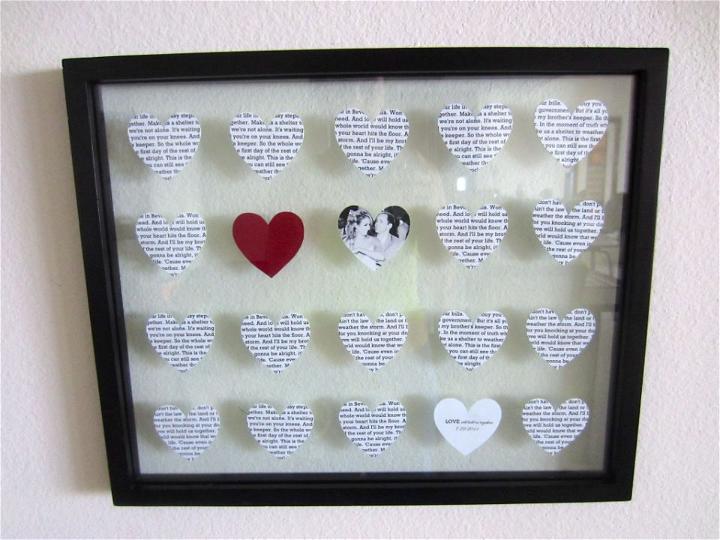 If your relationship bloomed because of music, then it would be a great idea to save up all of the songs that you heard with your lover at the start of your relationship. Find their lyrics and cut out your favorite ones into tiny hearts. After that's done, attach them to a frame and gift it to your partner to make them feel ecstatic! lifeinleggings
18. Mini Book for Wedding Anniversary Gift

Can you imagine how you would feel if you would have received a book like this from someone you love? This guide will show you how you can make a book with the title "What I love about you from A to Z." If you're out of ideas, this guide will also give you many ideas and help you throughout the process of creating this beauty! thinkingcloset
19. Make Your Own Logs Candle Holders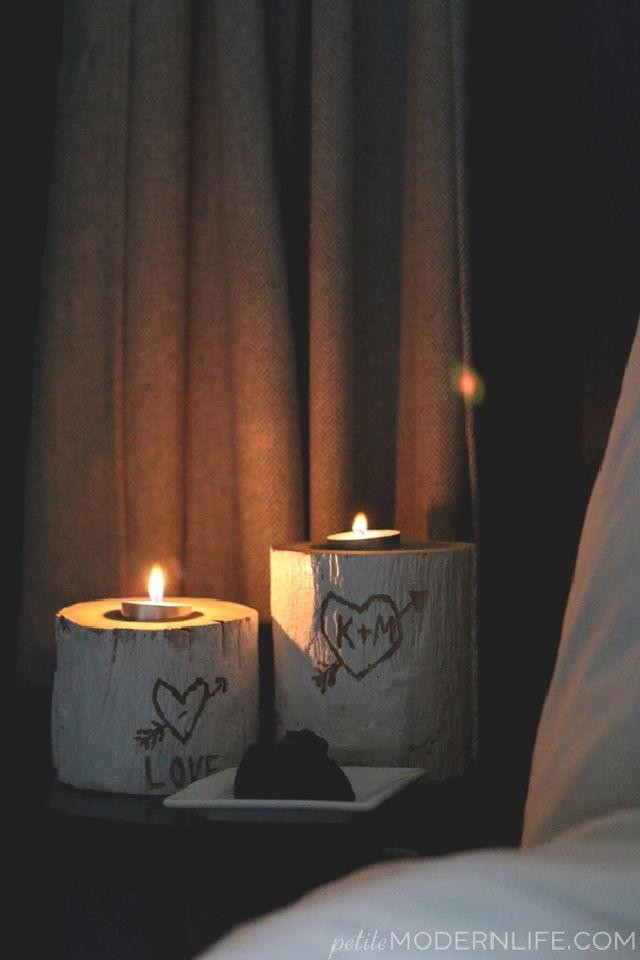 All you need are two logs from your backyard or any store nearby. You will get carving scissors and carve your initials with your lovers, for example, "K + M" in this guide! These initials are drawn inside a heart which looks incredibly cute. Add little candles on top to make them look vintage and pretty. petitemodernlife
20. Explosion Box Month Anniversary Gift for Him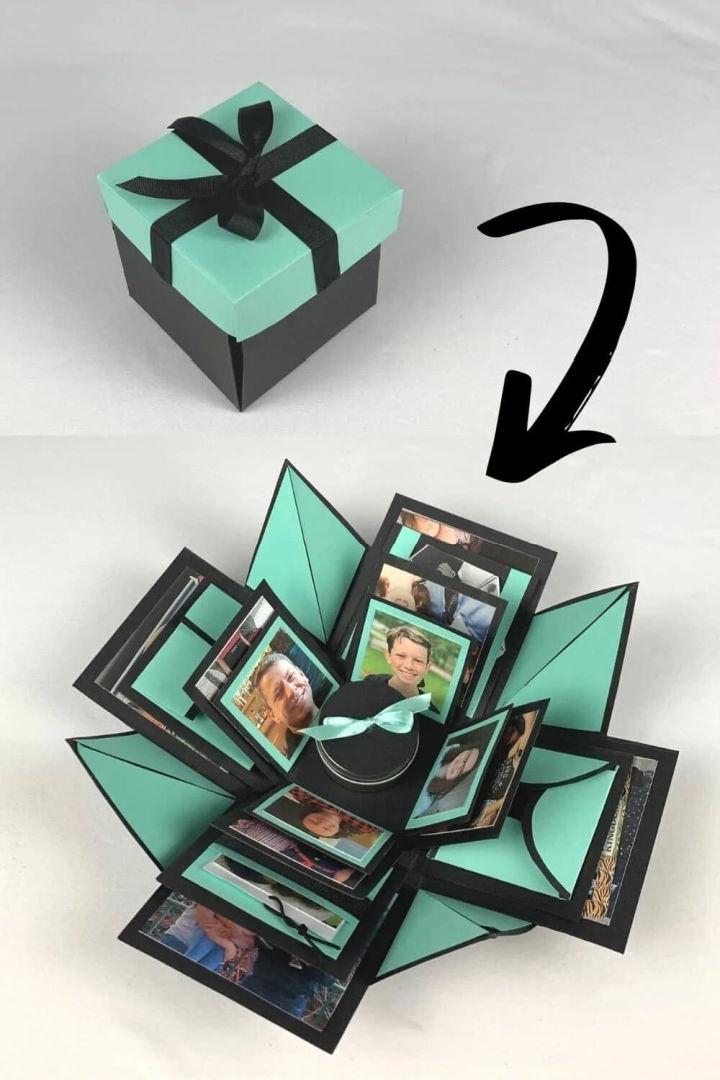 Explosion boxes are famous all over social media these days as these types of gifts can be so wholesome. You can practically add all the pictures you've ever taken with your loved ones, and they will go inside this! The top of the box will be opened, and an explosion of memories and nostalgia will hit them at once. Isn't that adorable? chaoticallyyours
21. Swinging Heart Photo Locket for year Anniversary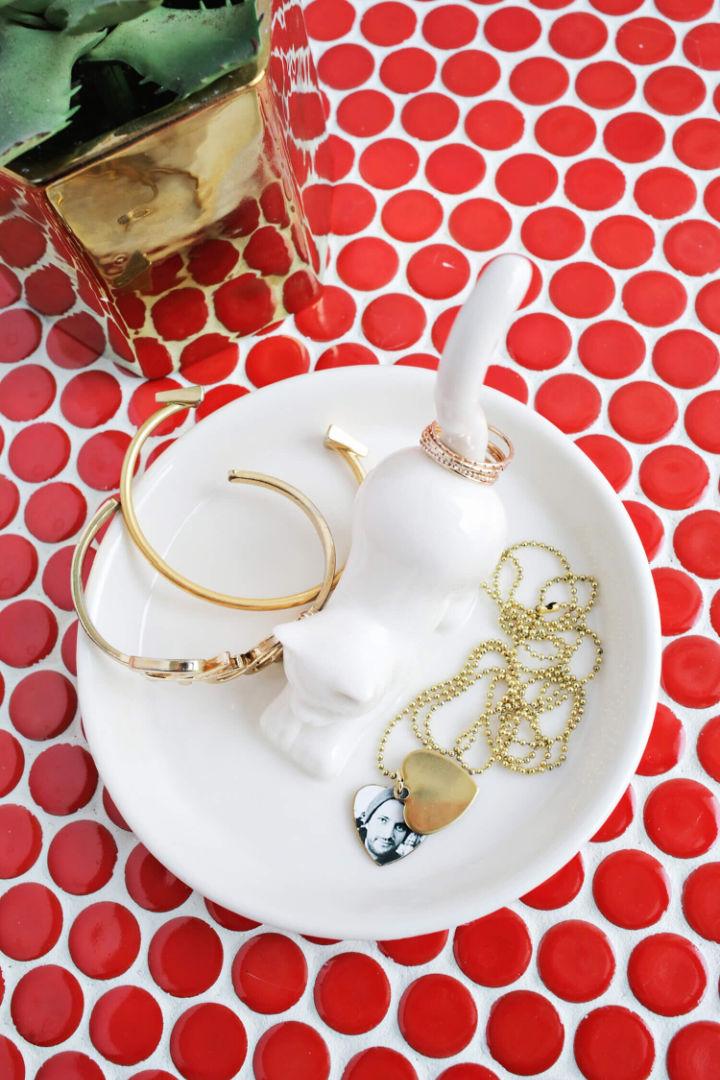 DIY anniversary gifts can be cute and wholesome, but nothing can even come close to this idea – a heart locket! This would be worn by your partner close to their chest with your picture inside it – it doesn't get more intimate than this, does it? You will need a gold chain, a picture, and a few other supplies to work on this project. abeautifulmess
22. Reversible Heart Necklace for One Month Anniversary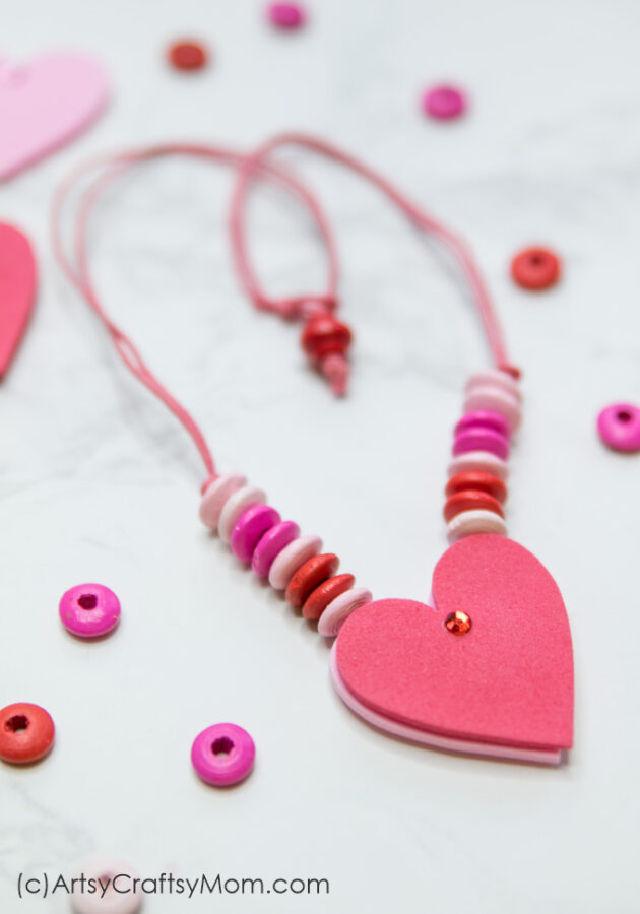 Something about heart necklaces is very vintage and romantic. The whole concept of heart necklaces started back when Titanic was released! If you're a fan of this movie, then make this beautiful reversible necklace for your lover. You will need just a few supplies that you probably have at home – wooden beads, nylon cord, and foam hearts! artsycraftsymom
23. Handmade Romantic Wall Plaque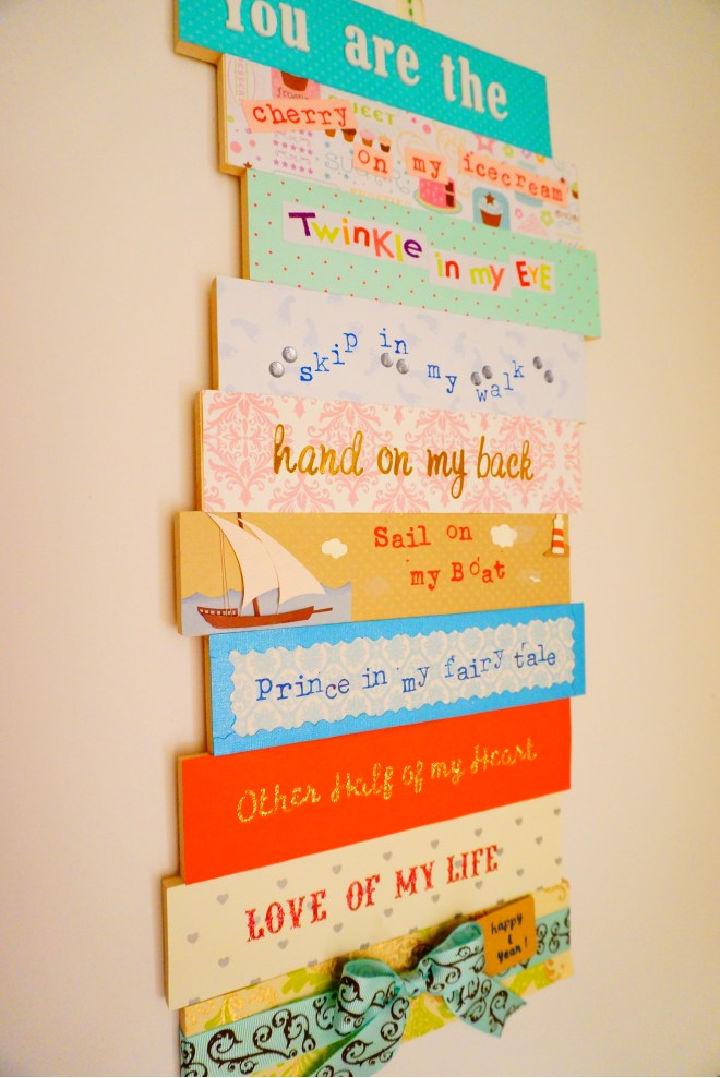 Here's another present that is a little different from the rest of the DIY anniversary gifts as it focuses more on homemaking. This cute little wall plaque has adorable messages on it, which will make your partner smile all day! Some of the messages say "love of my life," "prince in my fairytale," etc. whimsypaper
24. How to Make a Tote Bag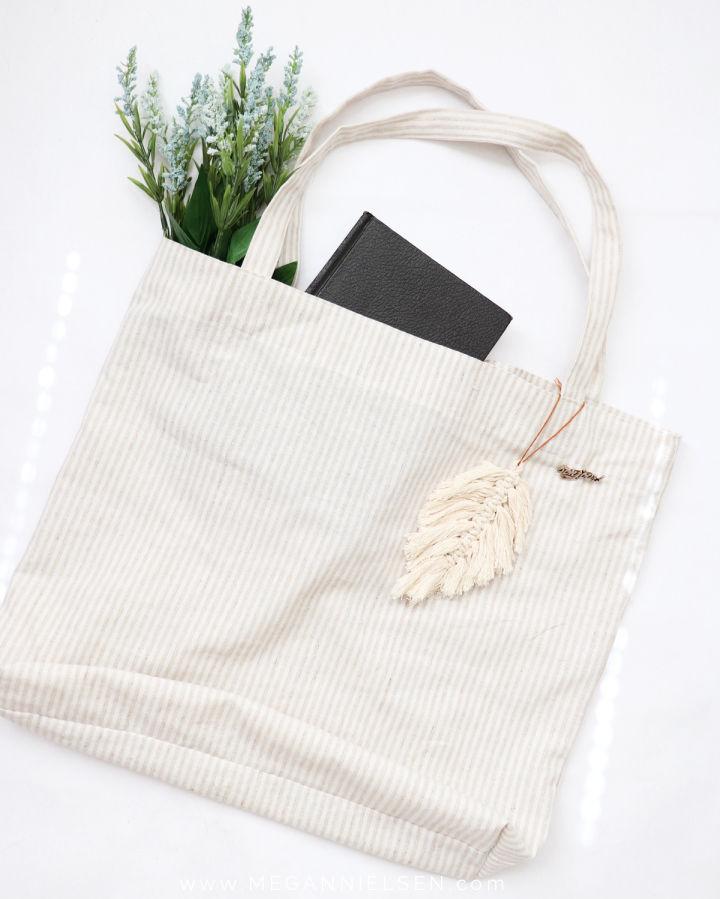 Tote bags are trendy these days, and many people are buying them for college and work. If your loved one needs a new bag, then a tote bag like this one would make the best gift out of all the other DIY anniversary gifts in this guide. You can choose to add your customizations to it – changing up the colors and adding prints. megannielsen
25. Spoon Ring Gift for Year Anniversary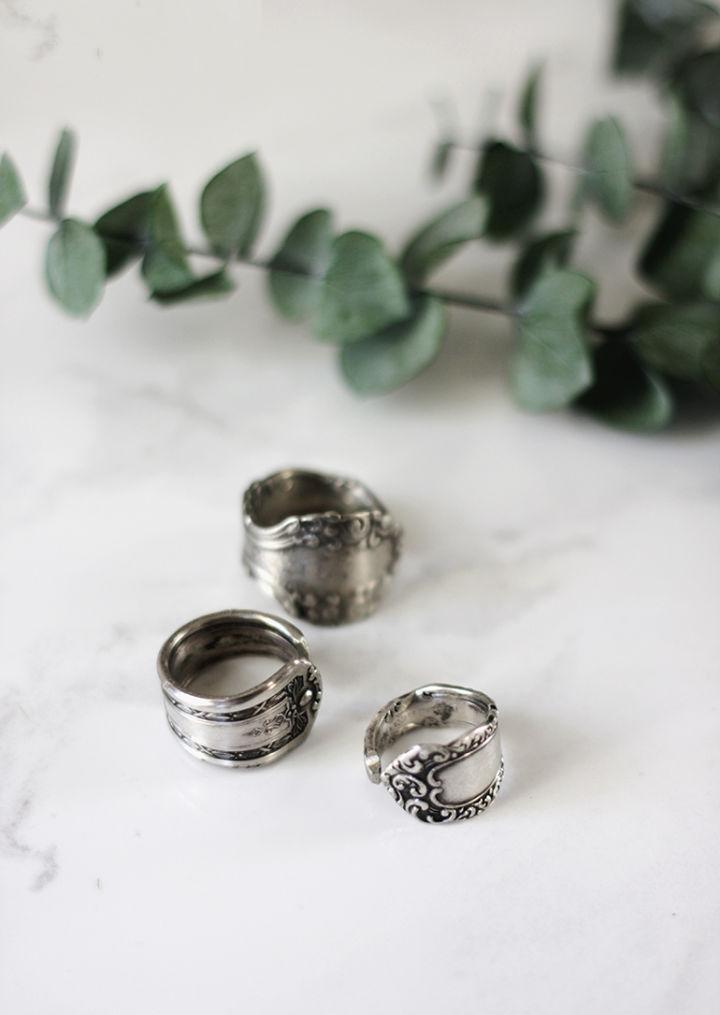 Whenever jewelry is mentioned as a gift for a significant other, it always tends to have a vintage flare to it. Here are these beautiful rings that you can make on your own and gift to your lover just like the Sultans used to do in ancient times! A sterling spoon, file, hack saw, and a few other supplies will be required for you to re-create this ring. themerrythought
Frequently Asked Questions:
Create a special anniversary gift for your loved one with these DIY anniversary gift ideas! From meaningful messages to heartfelt tokens, find great inspiration to help you pick the perfect present. Get answers to all your frequently asked questions about DIY anniversary gifts below:
What materials do I need to make a DIY anniversary gift?
For a DIY anniversary gift, you'll need materials like scissors, glue/tape, paper or fabric to make the base of your project. Supplies such as trinkets and decorations can be used for embellishments. If you plan to make something edible, get the materials necessary for the project. Be creative and have fun creating something unique and special for your anniversary gift!
What are some unique DIY anniversary gift ideas?
Here are some most popular DIY anniversary gifts to make for your loved ones:
1. Photo collage: Create a special photo album or wall poster with memories from your anniversary.
2. Love letters: Compile all your love letters and create a pamphlet to show how much you care.
3. Customized mug: Decorate a mug with images, messages, and quotes representing your relationship.
4. DIY dinner: Make a romantic dinner for your significant other with personalized decorations and meal options.
5. Memory jar: Compile small memories of your anniversary, like ticket stubs, notes or cards and store them in a decorative memory jar.
6. Scrapbook: Create a scrapbook filled with photos, cards and mementos from your anniversary.
7. Love box: Create a special love box filled with items that remind you of each other. Each item should have a personal message!
8. Special outing: Plan a surprise outing or activity that you both can enjoy together.
9. Movie night: Create a special movie night by decorating your living room and finding some of your favorite classic films.
10. Gift basket: Put together a gift basket filled with thoughtful items like chocolates, flowers, and small trinkets.
11. Creative game: Design an interactive game you can play together to celebrate your anniversary.
12. Anniversary cake: Bake a special anniversary cake decorated with messages and symbols of love from the two of you.
13. Massage night: Give each other a massage to show your appreciation and love for each other.
14. Skywatch: Go stargazing together under the night sky and make some special wishes on your anniversary!
15. Souvenir hunt: Plan a scavenger hunt to find little souvenirs that remind you of your anniversary together.
How can I make a budget-friendly DIY anniversary gift?
Start by searching above the DIY anniversary gift ideas within your budget. Look for items that can be made with minimal ingredients or materials. Make a list of things you need and shop around for the best deals to get everything you need. Get creative and have fun crafting something meaningful that your partner will appreciate!
What can I make for an anniversary gift?
Making a DIY anniversary gift is great for showing your love and appreciation. Get creative and make something special that expresses how much you care about your partner. Consider using the anniversary's traditional material associated with the number of years celebrated as inspiration, or select items that reflect memories shared throughout your relationship. Whatever you do, putting thought and effort into making a unique anniversary gift will show your partner just how much they mean to you!
What can I do for my anniversary with no money?
For anniversary celebrations without money, there are plenty of DIY options. Create something special for your partner, like a handmade card or gift basket. There are also plenty of free activities together, such as a romantic picnic in the park or a movie night at home. The best anniversary gifts come from the heart, not from your wallet.
Do couples give gifts on the anniversary?
Yes, anniversary gifts are a meaningful way to celebrate the love and connection of a couple's relationship. Many couples opt for DIY anniversary gifts such as photo albums or handmade cards that express their feelings. These gifts help create lasting memories and show how much each partner cares about the other. Anniversary gifts can be simple but thoughtful, making them special reminders of the anniversary.
What can I make out of paper for anniversary?
For an anniversary, you can make various unique and memorable paper-based gifts. You could create a scrapbook filled with photos, tickets and mementos from your relationship, make a 3D art sculpture out of paper, or write an original song on paper and present it in a handmade card. Paper provides endless opportunities to create heartfelt gifts for your loved one.
How do you make someone's anniversary special?
To make someone's anniversary special:
Think about their interests and consider meaningful gifts that can be personalized.
Show thoughtfulness by planning a special dinner night or taking them somewhere they have always wanted to go.
Let your loved one know you care by writing a heartfelt note or letter expressing all the reasons why you appreciate them.
Celebrate in style with memorable activities that will create lasting memories.
How can I surprise my husband on our anniversary?
A DIY gift is a great way to surprise your husband on your anniversary. Get creative and create something special that reflects your love for him. Whether making a scrapbook of memories or creating something unique, it will be sure to touch his heart and show just how much you care. Let your anniversary gift express all the love you have for your husband! It will be an anniversary to remember.
How do you celebrate an unhappy marriage anniversary?
An anniversary marks a special milestone in any marriage, so celebrating it is recommended even if the current relationship status improves. A great way to celebrate an anniversary during difficult times is to focus on DIY anniversary gifts and gestures that show you care. Write a heartfelt letter expressing your love, cook a romantic meal, or plan a fun activity together – whatever you do, make it about the anniversary, not the marriage. Celebrate your anniversary, even during hard times for a moment of joy and appreciation.
What do you do for a sad anniversary?
A sad anniversary is no time to worry about what gift you should give. Instead, consider making a DIY anniversary gift. This could range from a scrapbook of memories to creating something special together, such as painting or baking. It's a meaningful way to show appreciation for the person and create lasting memories for your anniversary despite being sad.
What can be gifted to the husband on anniversary?
It is important to show your husband how much he means to you on the anniversary. A DIY gift such as a scrapbook with photos and special memories or a handmade card expressing your love is a thoughtful gesture that will make him feel appreciated. Alternatively, consider gifting something practical like a subscription box that caters to his interests or an experience to enjoy together, like a weekend away. No matter what anniversary gift you choose, it is sure to put a smile on his face.
Should a wife make her husband an anniversary gift?
Absolutely! DIY anniversary gifts can be a great way to show your love and appreciation for your spouse. Anniversary gifts can range from something simple, like a heartfelt handwritten note, to a more elaborate surprise, such as an anniversary scavenger hunt or making dinner together. Having the personal touch of crafting something yourself adds extra special meaning to any gift. It's also a great way to spend quality time together!
Whether it be big or small, anniversary gifts crafted with love will always be cherished. Consider what your spouse would enjoy most, and have fun creating something special for your anniversary. That's sure to make a lasting impression that neither of you will ever forget!
How can I make something special for my husband?
If you want to surprise your husband on your anniversary, why not try making him something special? We've plenty of DIY projects that can be tailored to any taste and budget. From photo collages and scrapbooks to homemade paintings or kitchenware – there are endless creative gift ideas for expressing your love. Get creative and show your partner how much you really care!
How can I celebrate my husband's anniversary at home?
Celebrate your anniversary at home with a special DIY gift! Whether you make something yourself or purchase a unique gift online, the thought behind it will be cherished. Show your loved one how much they mean to you, and make the extra anniversary special with this heartfelt gesture. Enjoy spending time together as you reminisce about everything you have accomplished in your relationship. Happy anniversary!
What should I make my boyfriend do for our anniversary DIY?
If you're looking for DIY anniversary gift ideas for your boyfriend, consider making something from the heart. A photo album or collage of memories, a hand-written letter with meaningful words, or a custom scrapbook are all thoughtful and unique anniversary gifts that can be easily crafted at home. With some creativity and love, you can make an anniversary gift that is sure to be cherished for years to come.
What is a good anniversary gift for man?
DIY anniversary gifts are a great way to show your partner how much you care. Create something special and meaningful, like a handmade scrapbook with favorite photos or mementos from your relationship. Alternatively, practical anniversary gifts like personalized items or quality kitchenware are also surefire winners. Whatever the anniversary gift may be, make sure it's something that your partner will cherish for years to come.
What do you get your boyfriend for an anniversary?
Finding anniversary gifts for your boyfriend can be challenging. Why not opt for something special and unique? Consider creating a DIY gift that represents your relationship, such as an anniversary scrapbook filled with memories or a personalized card. Opting for something homemade will ensure the gift is one-of-a-kind and that it comes from the heart!
How can I make my wife's anniversary special?
If you want to make your wife's anniversary extra special, why not get creative and make her a DIY anniversary gift? Show her how much you care by taking the time to create something unique and thoughtful. You can even add a personal touch with photos or memories she'll cherish forever. Make this anniversary one to remember!
What do you get your girlfriend for an anniversary?
Showing your partner you care doesn't have to be expensive. A DIY anniversary gift can be thoughtful and unique. Whether it's a heartfelt letter, handmade card, or custom photo album, taking the time to craft something special shows how much you care. Plus, you'll both get to enjoy the memories for years to come. It's truly a gift that will keep on giving!
Are there any special considerations I should keep in mind when making DIY anniversary gifts?
When making DIY anniversary gifts, it's important to consider the interests of the person you're gifting. Consider their hobbies, passions and favorite things. Think about what materials you have that can be turned into a unique gift. Make sure your homemade anniversary gift is thoughtful and meaningful – something that will make them smile for years. Choose supplies that are easy to work with and don't require so much time that you might miss the anniversary. Have fun, get creative and remember the anniversary card!
Related DIY Gift Ideas
DIY Anniversary Cards: Looking for unique and creative ways to say "I love you" on your anniversary? Check out our homemade DIY anniversary card ideas, these will make the perfect personalized gift.
DIY Wedding Gifts: Looking for the perfect wedding gift? Check out these cheap DIY wedding gifts that impress any bride and groom. From personalized items to thoughtful tokens, find the perfect gift!
Baby Shower Gifts: Looking for the perfect baby shower gift? Check out our unique DIY baby shower ideas to find something special for your new parents!
DIY Graduation Gifts: Celebrate your special one's achievements with these awesome, budget-friendly DIY graduation gifts. Find inexpensive yet creative grad gifts, from homemade photo frames to monogrammed mugs.
DIY Gift Tags: Make your gifts more special with these easy DIY Gift Tags. Follow our simple step-by-step instructions to create unique gift tags for any occasion.
Related DIY Gift Ideas:
Make your gifts extra special with these creative and unique DIY gift ideas. From handmade crafts to custom creations, find the perfect personalized present for anyone on your list.
Conclusion: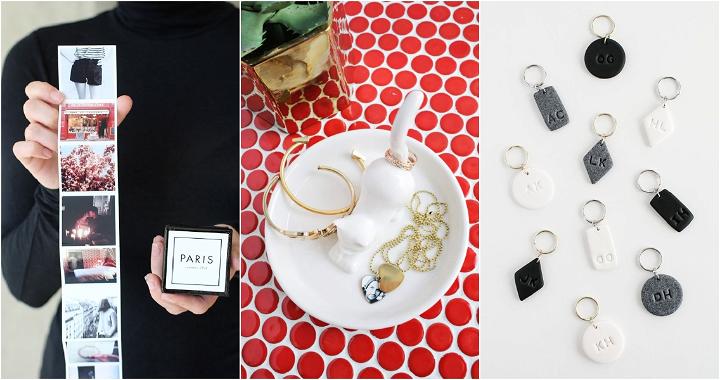 We hope these DIY anniversary gift ideas have inspired you for your next special occasion. Whether you're looking to make a thoughtful handmade gift or something with that personal touch, our tips and tricks should help you create the perfect homemade anniversary gifts for him or her. Celebrate your love in style by crafting unforgettable DIY anniversary gifts and making sure your partner feels extra special on their big day!