Making your own diy gift bag is a unique way to show someone you care! Learn how to make gift bags with these 25 cheap and cute DIY gift bag ideas with step by step instructions and templates for beginners that are sure to please kids and adults also. Whether you use wrapping paper, fabric, felt, or other materials – the possibilities to create diy gift bags are endless. Not only will diy gift bags add a personal touch to any occasion, such as birthdays, holidays, and special events, but they are also budget-friendly and truly one-of-a-kind!
We've shared 25 creative diy goodie bag ideas below, from customized designs to complete mini masterpieces – have fun decorating those diy gift bags with colors and accents that your loved ones will absolutely adore. Creating diy gift bags is enjoyable for all ages so next time you need a unique wrapping solution, consider making your own homemade treasure out of goodie bags!
Creating gift bags can be a simple project. With these 25 cute DIY gift bag ideas, you can craft unique and creative gifts for any occasion without breaking the bank. From simple items like paper bags and wrapping paper to more complex projects such as fabric bags and decoupage boxes, we've compiled a list of 25 great DIY gift bag ideas that will make the recipient feel extra special. Our tutorial videos will help guide you through each step so that you can easily complete your homemade gift bag.
Whether it's for birthdays, anniversaries, holidays, or just because – surprise someone with a one-of-a-kind present they're sure to love! Find everything from how to make a goodie bag out of scrapbook paper and decorations to creating decorative fabric gift pouches filled with goodies; there is a cool DIY gift bag here for everyone! Get ready to amaze your friends and family when you show off your crafting skills by making them their very own personalized DIY gift bag today!

Cute DIY Gift Bag Ideas To Make
Do you need a special and unique way to give gifts? Look no further than diy gift bags! Making diy gift bags is easy, fast, and fun. You can choose any fabric, paper, or decoration to make the perfect gift bag for any party or occasion. From birthday parties to baby showers, our list of diy gift bag ideas will surely be a hit with party guests. With so many cute designs and ideas online, you'll find the perfect diy gift bag. So get creative and craft the cutest diy gift bag the world has ever seen!
1. How to Sew a Gift Bag

Making presents yourself is totally a go-to if you're a crafter. And this DIY gift bag is going to push you onto another level. I mean, why can't be your packaging decked out too? It is easy, fun, and reusable. And is it like another gift for the receiver? Cool, right? Making the entire gift by hand can actually show your loved ones how much you care. SO grab the supplies and let's go! craftsy
2. DIY Wrapping Paper Gift Bag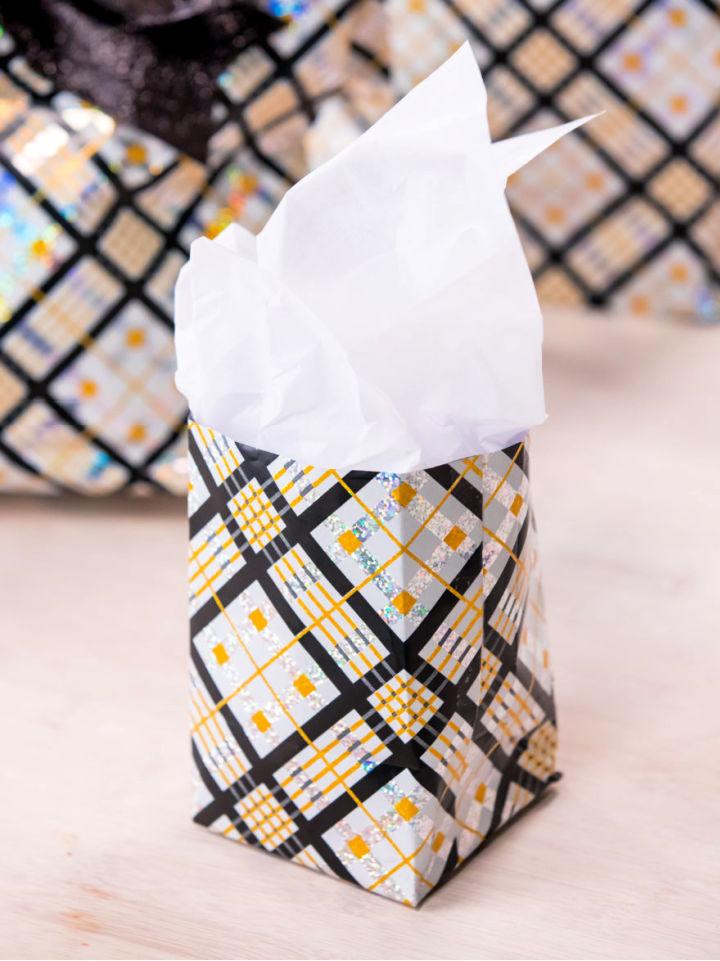 Why not make a matching bag from the wrapping paper you are already using? How amazing, right? Learn how to make a gift bag out of wrapping paper! You can save up some money too. It will look pretty amazing. And, packaging the present all by yourself? That's a meaningful gesture too. You will only need wrapping paper, tape, scissors, and some ribbons. makeitgrateful
3. Cute DIY Halloween Gift Bags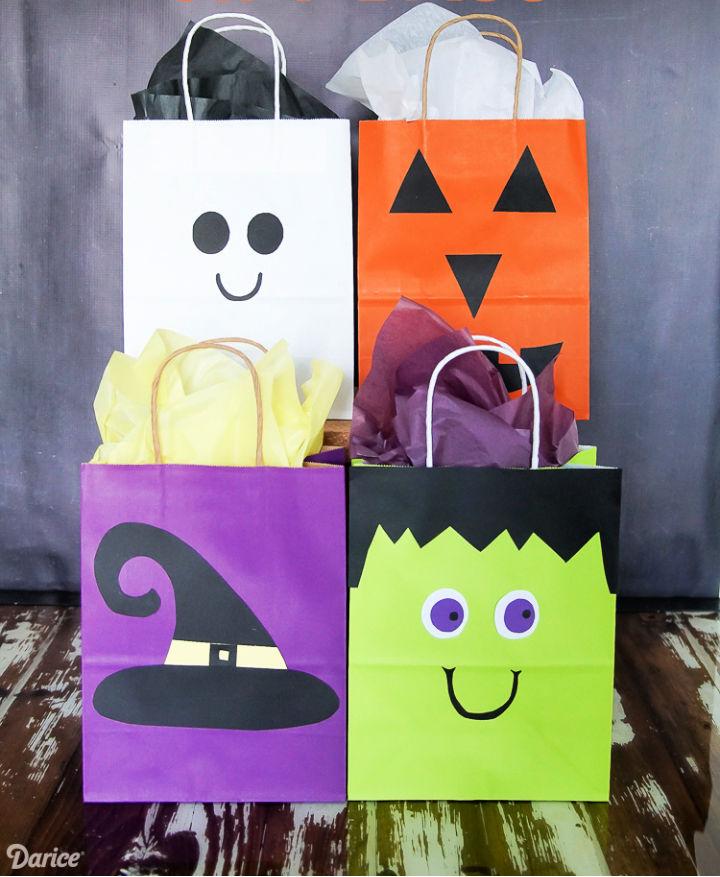 Make your own Halloween gift bags this year! Since it is just around the corner and we have less time to prepare, these are easy to make and fast to put together. Absolutely adorable! And just like you need it. So let's grab the basic supplies and make the cutest trick and treat bags you have ever seen! darice
4. Unique DIY Gift Bag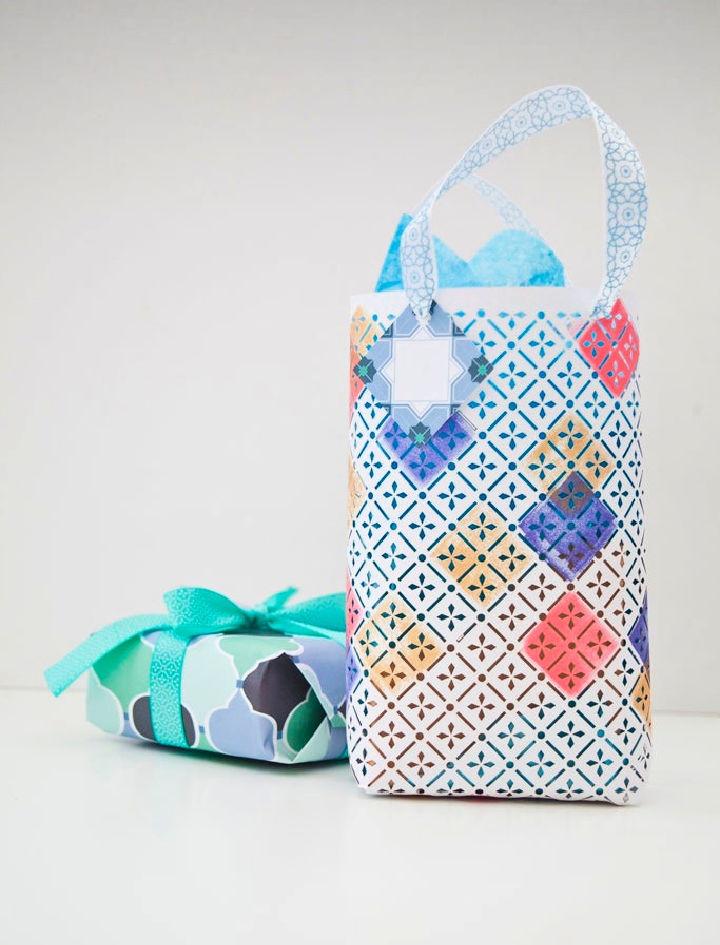 Been looking for a gift bag that complements your gift? Why not make one yourself? Choose a laser-cut sheet, add a pop of color and whip up a nice gift bag. It is super easy to make and you will be shocked by the end results. You are going to be proud of what you made. instructables
5. Making Glitter Dipped Gift Bag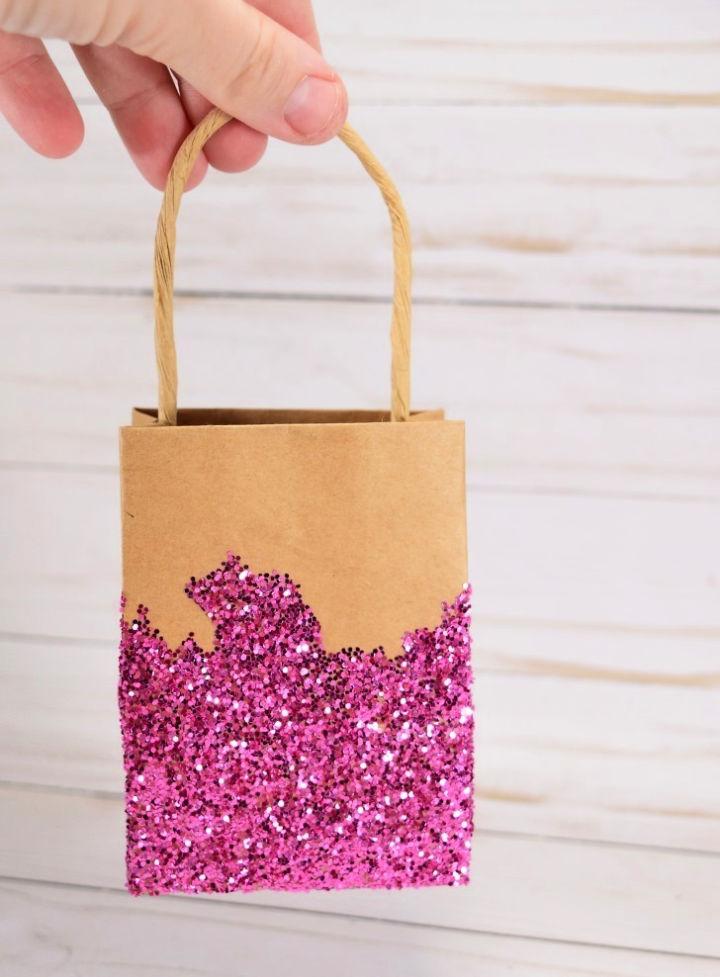 Glitter is absolutely fabulous stuff, isn't it? A part of why I love glitter is how it makes everything shiny and adorable. It is super cheap to buy and super fun to put together. This glitter-dipped bag has my heart. It's as good as a store-bought bag, right? All you will need is a craft paper bag, glitter, and glue, that's it! dreamalittlebig
6. How to Make an Origami Gift Bag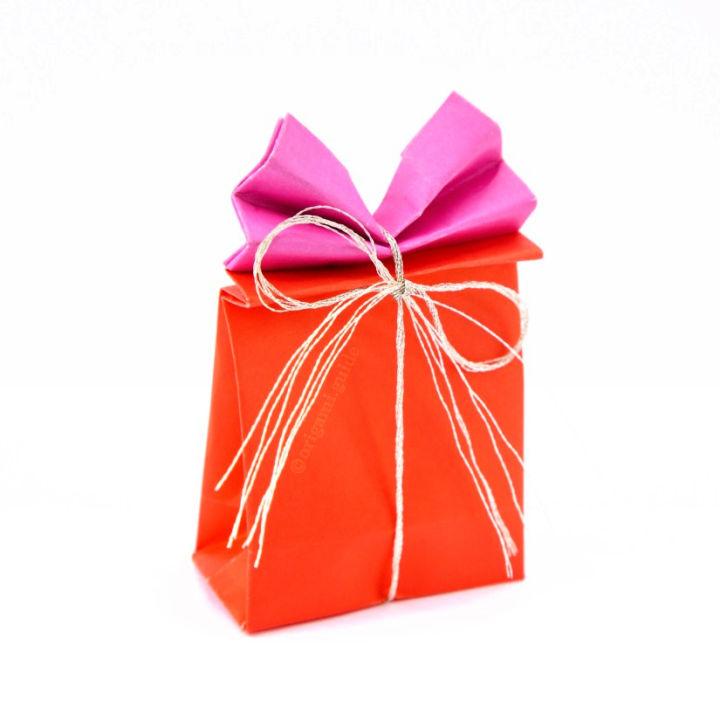 Origami gift bags are quick to make and great for any occasion! This bag can be made with any sized paper, the bigger the better and it doesn't have to be square. You can also go for pattern paper to make it look more adorable. Now that all your questions are cleared, let's do this! origami guide
7. DIY Handle Paper Gift Bag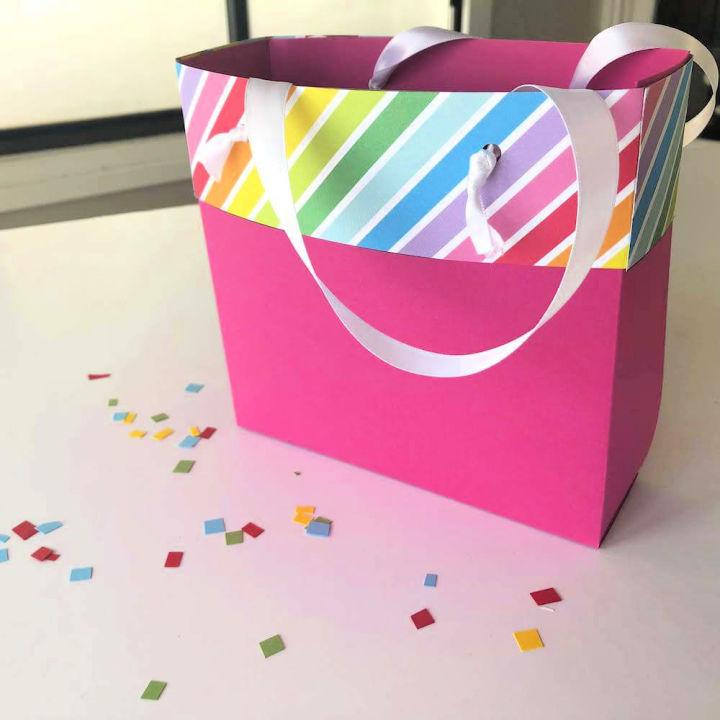 All the bags you bought for the holiday season are near to end and you need a last-minute solution? What about a DIY paper bag you can make all by yourself within few minutes? You will only need cardstock paper, a ruler, hole punch, white ribbon, writing utensils, and scissors. The great thing, all the supplies used are commonly available at your home! So you ready for the last-minute fix! cardstock ware
8. DIY Foil Quill Gift Bag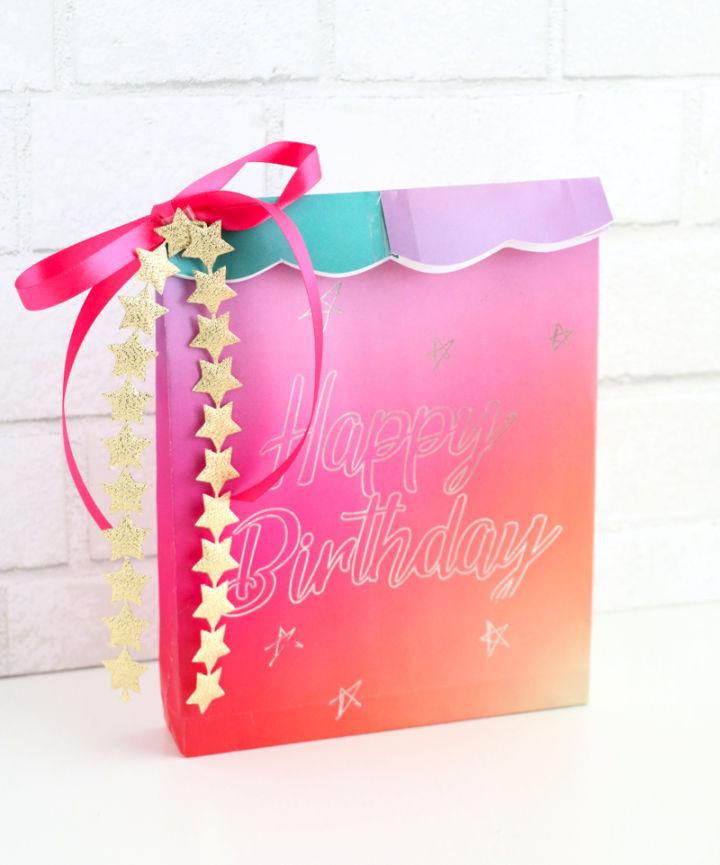 Here is a DIY foil quill gift bag idea for you. It is super cute and fancy which makes it perfect for a birthday or any special event! The foil will give it a fuller look and add more aesthetic feel to it. The materials required are foil quill, heat activated foil, paper, and vinyl cutting machine. akailochiclife
9. Make a Gift Bag Out of Wrapping Paper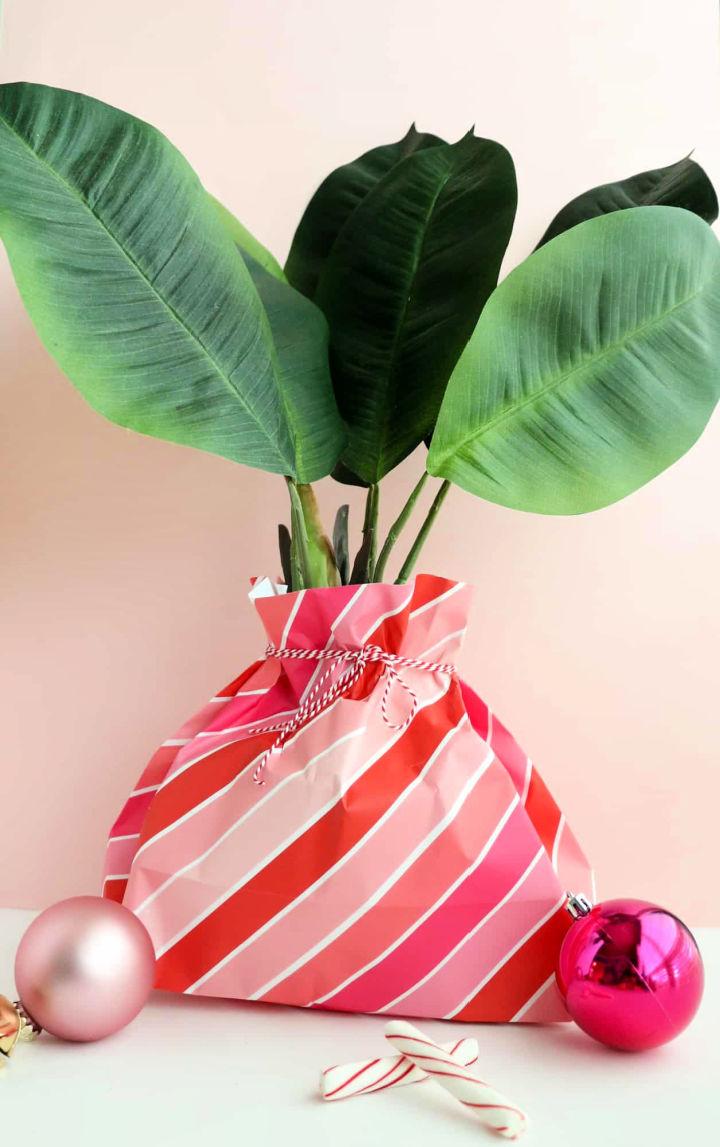 The gift you bought is impossible to wrap? Of course, you can buy a gift bag to put them in, but did you know you could use the wrapping paper you already bought and make a gift bag out of it in just a few minutes?! And, the wrapping paper won't go to waste! For supplies, you will need wrapping paper, tape, scissors, ribbons, and tissue paper. That's it! Pretty easy, right? abeautifulmess
10. Fabric Gift Bags for Bottles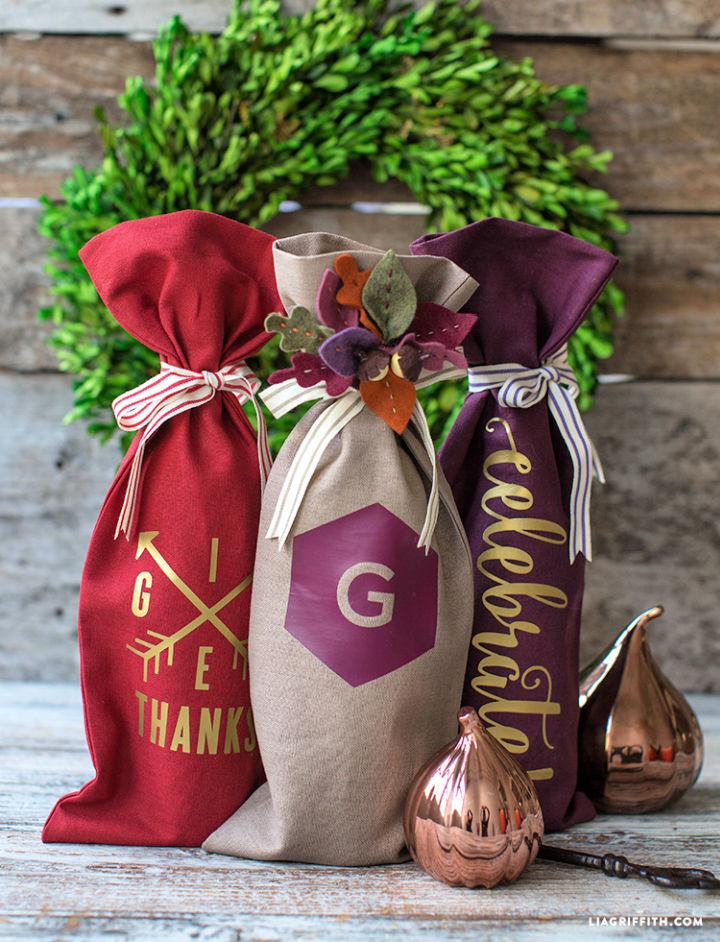 The bottled beverage is a great go-to gift for any occasion and this easy-to-make DIY fabric gift bag for bottles is going to make it pretty looking. Plus, you can also have your guest's initials on the bag for a special personal touch. However, to make your own gift bag, you will need a thick fabric, ribbon, and a PDF template of the design you want as a printable iron-on. And don't forget to reverse the design so it reads correctly! liagriffith
11. Large Professional looking Gift Bags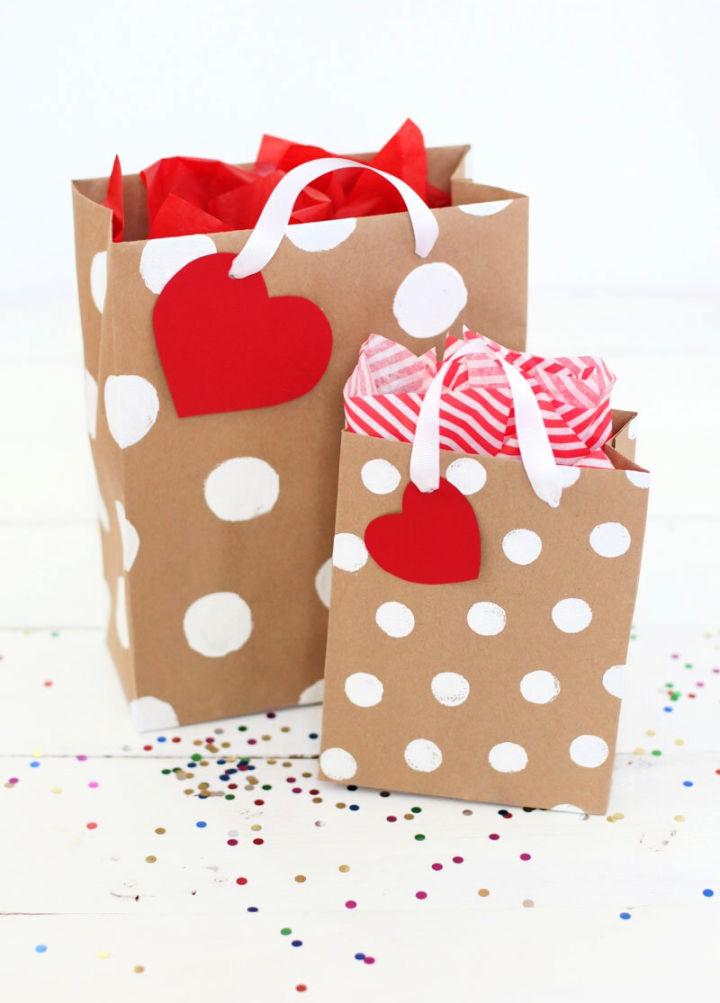 Want a decent-looking gift bag design for someone at work? No problem, we got you! This DIY design is professional-looking and can be fashioned out of any patterned paper you have around, or if not that, you can always paint one! Gather your supplies and check a new skill from your list! abeautifulmess
12. Modern Botanical Brown Paper Gift Bags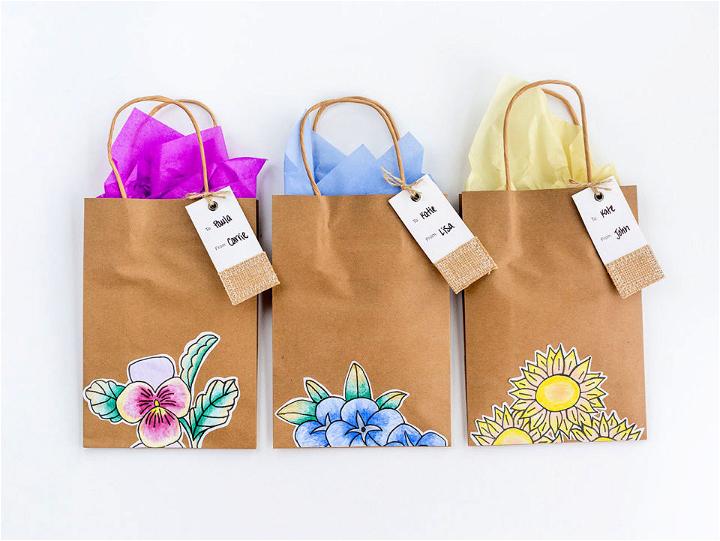 These modern botanical brown paper gift bags are perfect for the friend who is an environmentalist. These are super simple but they look very sophisticated and make great bags for a nice, birthday gift. Moreover, you can add some handmade floral designs on them to beautify them even more. Just assemble the necessary supplies and you'll be good to go for making this bag. orientaltrading
13. Printable Mothers Day Gift Bags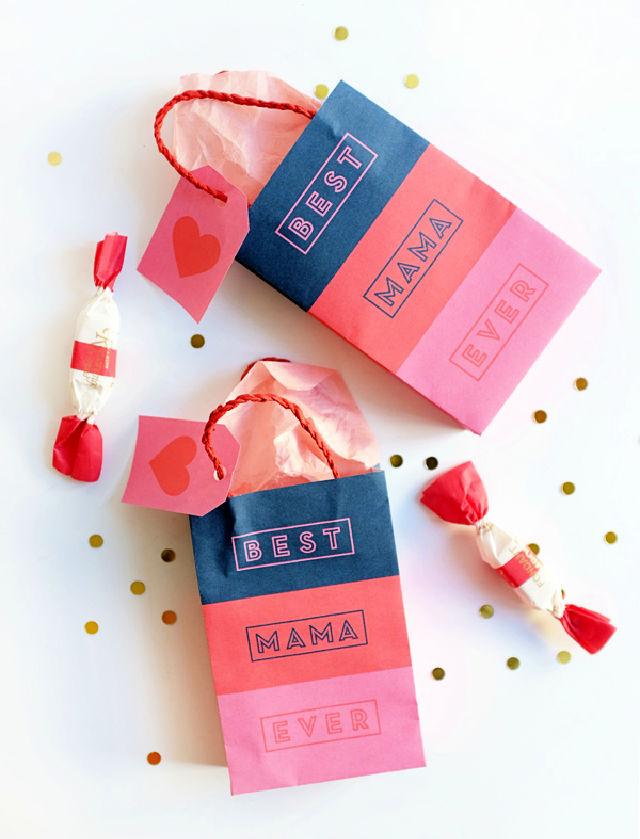 ??Have you ever heard the saying 'Sometimes the best things come in small packages"? This DIY is the perfect indication of it and is a great way to wrap up any small gifts you want to give to your special lady, this mother's day. Printable gift bags save a lot of time and are easy to make. But you must own a printer or have access to one! Other than you might need white paper, glue, ruler, ribbon, and a hole punch. So let's go! ohhappyday
14. Recycled Magazine Gift Bag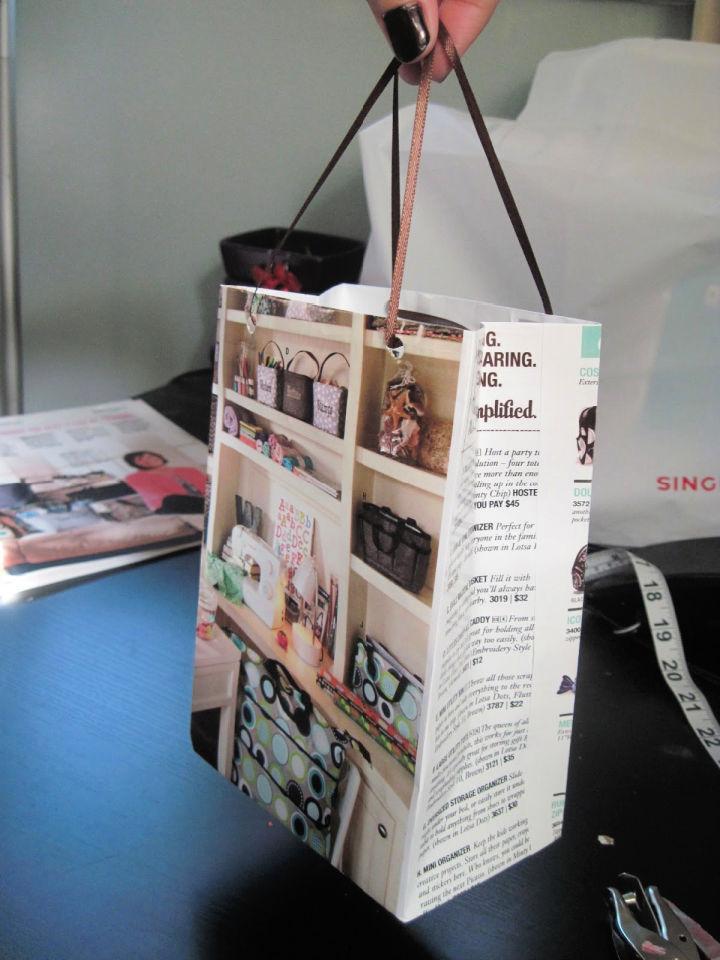 Looking for a gift bag that you can easily make at home, using supplies that are already available? This one is made using newspaper. Looks pretty decent and modern, right? You will need a catalog, staple remover, measuring tape, glue stick, hole punch, and a ribbon of some sort. Gather these and you are ready to begin! lifewithcrazyrachel
15. Monogrammed Valentine Gift Bags

This DIY monogrammed gift bag is super quick and the initials make it a bit special and personal. For this, you will need a white paper gift bag, decorative craft paper, pom pom trim, tape, ribbon, and glue. Craft paper adds a pretty touch to the front of the bag and also creates a pocket for the card to be inserted. You're going to love the end results so let's go! intelligentdomes
16. Cheap DIY Embellished Graduation Gift Bags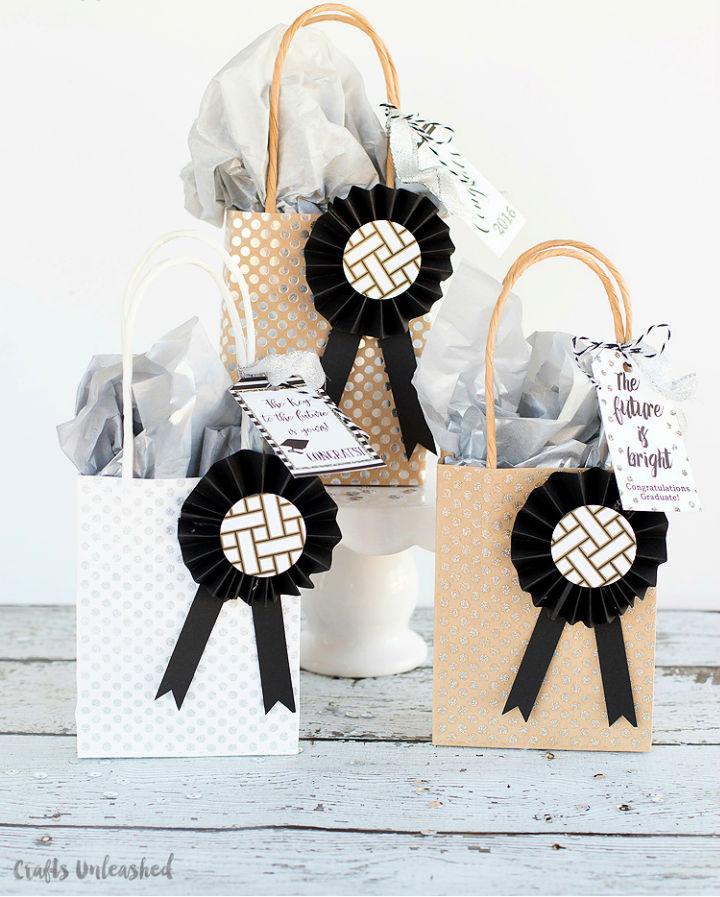 DIY gift bag for your newly graduated kid that you can make all by yourself. This way you can put in some effort and tell them how proud are you. To make this, you will need a few supplies like a gift bag, metallic tissue paper, scissors, glue, silver ribbon, etc. So are you ready to send them off in style, with these adorable embellished DIY graduation gift bags? consumercrafts
17. Colorful Goodie Bags Using Confetti

Arranging a party and need one design goodie bag? Why not make it at home? Easy and plenty! This is a DIY gift bag you can make only with few materials: paper bag, mod podge, and confetti. How cool, right? Quick, but look oh-so-magical! So, let's take your part game to another level with these super adorable goodie bags! modpodgerocks
18. Simple DIY Decorated Gift Bag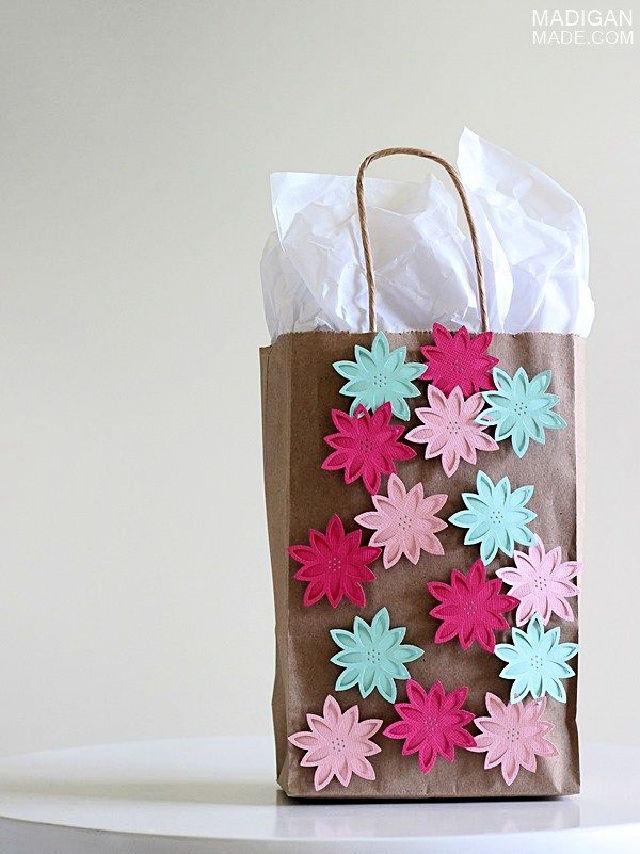 Sometimes you are amazed to know that what is wrapped around the gift costs more than the actual present. So why not make your own gift bags to save up the cost. Another easy way to customize your gift bag so let's begin! You wouldn't need a bunch of stuff but only a plain gift bag, colorful craft paper, flower punch, and 3-D pop-up adhesive dots and that's it! rosyscription
19. Mini Paper Gift Bags with Free Printable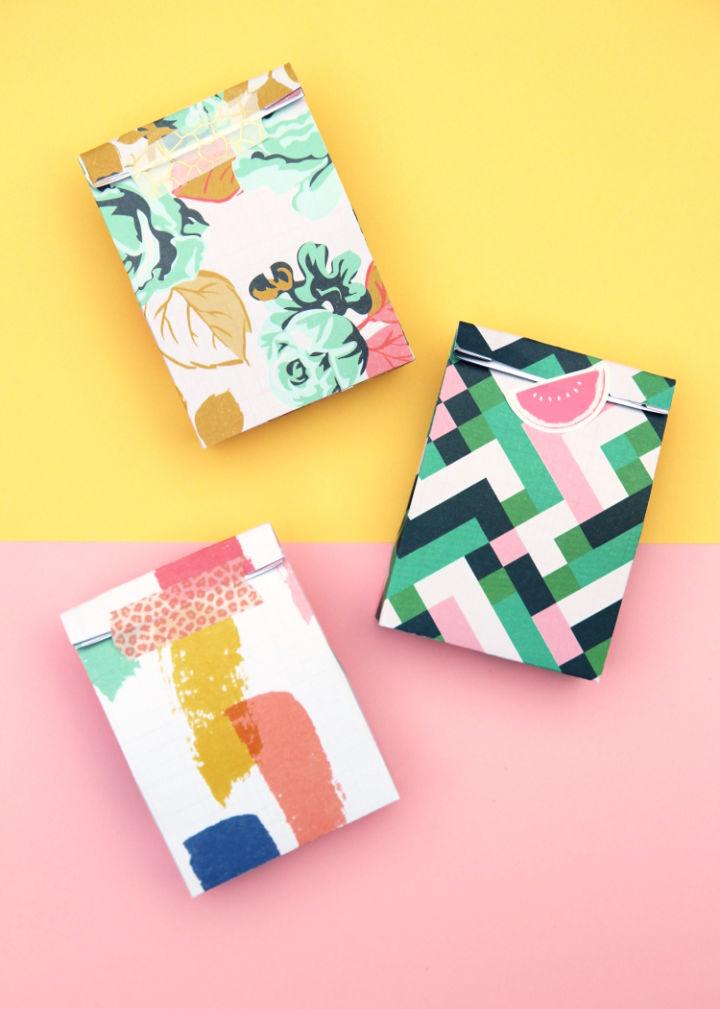 No matter what the occasion a cute gift or party bag never gets old. These mini gift bags can go with any theme and are super adorable. To make these bags, you will need scrapbook paper, scissors, a bone folder, a ruler, tape, and glue. Trust me you are going to love these so let's begin! gatheringbeauty
20. Gift Bag from Waste Cardboard Packet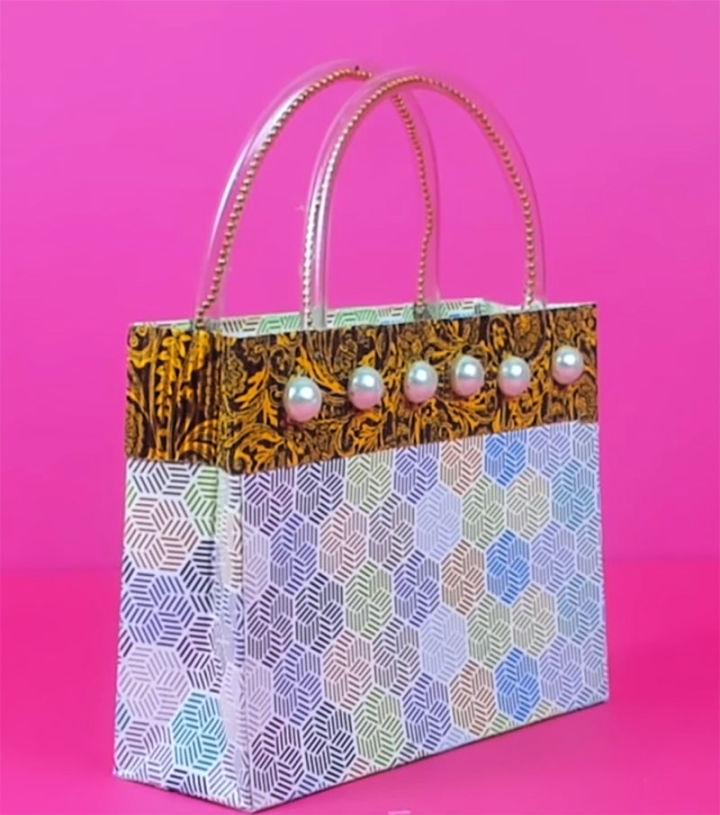 A gift bag from a cereal box you were probably planning to throw. Yes, you heard me right! a cereal box. Isn't it a unique idea for exchanging gifts this season? So gather some basic supplies like beaded lace, pearls, glue, cutter, a plastic pipe and get started with this project! instructables
21. DIY Gift Bags with Boxed Corners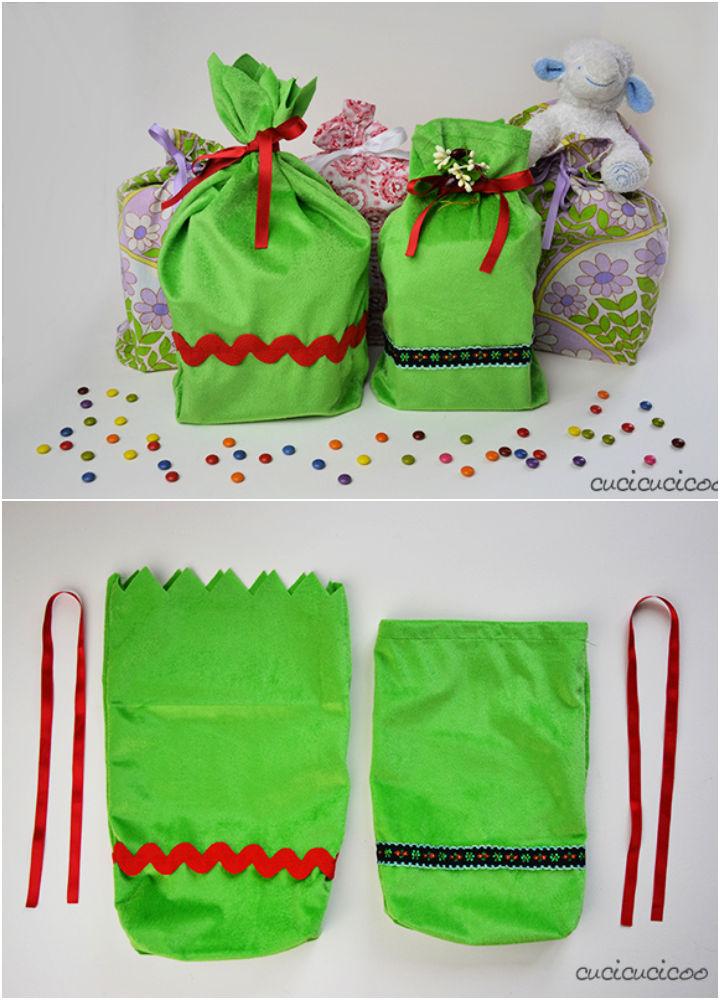 Another unique DIY idea you can use for a holiday present. These gift bags are really fast to sew up and can be personalized in tons of ways. You can also use any ribbon to tie up the sack. Measure and make these bags accordingly- they can be bigger or smaller, as per your gift! cucicucicoo
22. Sew a Paper Gift Bag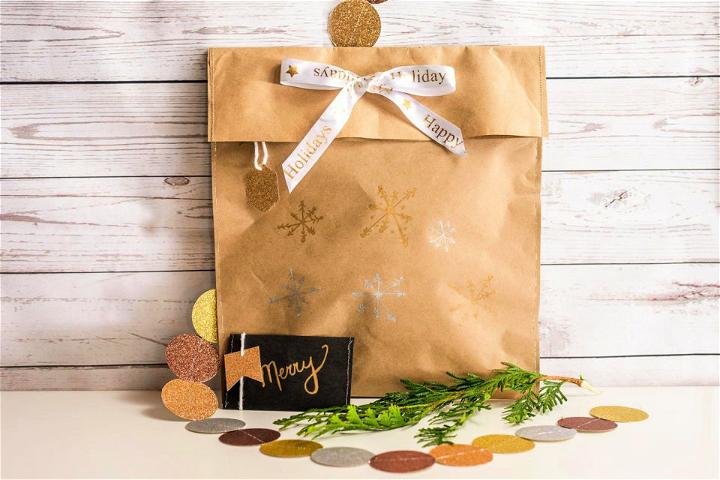 Gift wrap doesn't always need to cost you extra. Use some leftover craft paper, paper bags, and cardstock to create some decent-looking gift wrapping all by yourself! You can also hand sew or stitch it together on a sewing machine – works either way. hgtv
23. Make Your Own Reindeer Gift Bag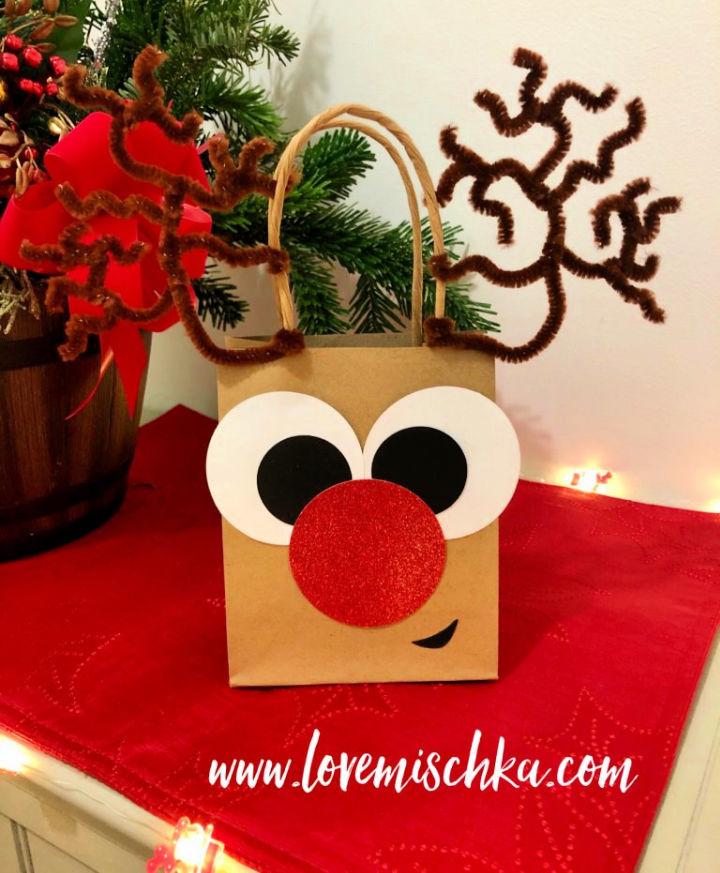 Make your own DIY reindeer gift bags with some simple supplies. A brown bag, red glitter cardstock, white cardstock, black cardstock, glue, brown pipe cleaners, and scissors. It goes perfectly with the holiday season and can be used later on as well. So are you ready to have fun while creating something super cute? lovemischka
24. Thank You Paper Gift Bag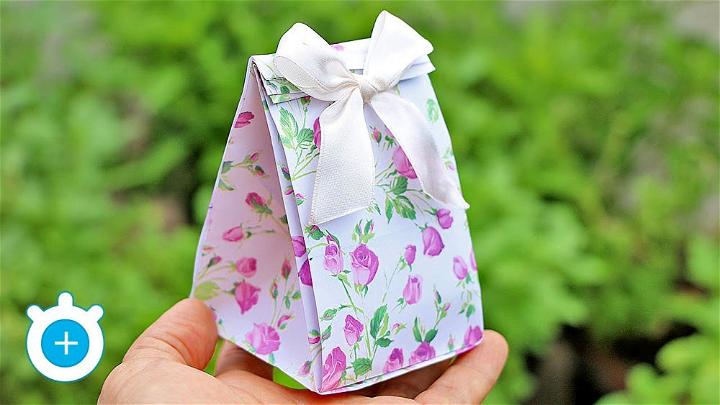 An origami gift bag. Super easy, quick, and works best for last-minute presents. It looks like the ones we get from the store but a lot cheaper. So are you ready to make this? No glue, only an A4 paper! Also, you get to save some cash.
25. DIY Purse Gift Bags using Cricut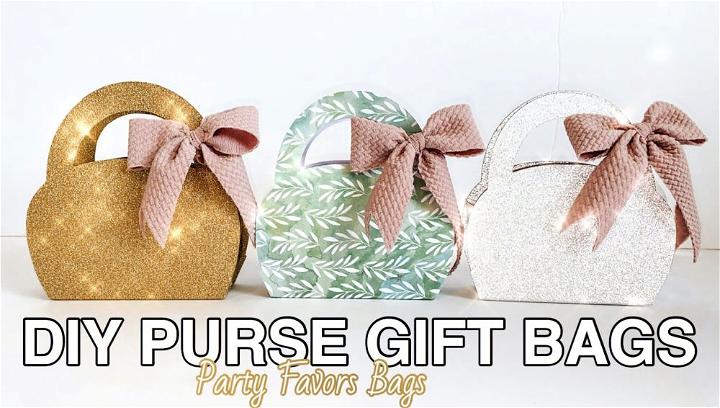 This DIY purse gift bag is perfect for your little princess who is currently obsessing over every girly stuff. It is a pretty complex one but worth the effort. And, you are going to be proud of what you have created. So grab the supplies and let's begin. Surprise your little doll and she's going to burst into tears!
How to Make a Gift Bag Step by Step?
Whether you're looking to spruce up a birthday present or add some extra uniqueness to a special occasion, DIY gift bags are an easy and inexpensive way to do so. You can pick up a bag at the store, but there is something special about making your own. Find how to make your very own gift bag. From choosing the right materials to finishing the edges and more, this guide will help you create a stylish and thoughtful gift bag that will surely put a smile on its recipient's face.
What you will need
To make a gift bag, you will need the following materials:
One sheet of construction paper
Scissors
Tape
Ruler or a straight edge
First, fold the construction paper in half hot dog style. Next, use the scissors to cut out a semicircle at the top of the paper. Once you have done this, open the paper and flatten it out. Then, fold the paper in half hamburger style and crease well. Next, bring both sides of the paper together and tape them together. Finally, use the scissors to cut a small hole at the top of the bag for the handles.
Step-by-step guide
Here is a step-by-step guide about how to make a paper gift bag:
Start with a square piece of paper. If you want a large bag, start with a piece of poster board or construction paper. If you want a small bag, an 8 ½-inch by 11-inch sheet of copy paper works well.
Fold the paper in half vertically. Then, fold it in half again horizontally. You should now have a rectangle that is divided into four smaller rectangles.
Take the top left corner and fold it down to the bottom right corner. Then, take the bottom left corner and fold it up to the top right corner. You should now have a triangle shape.
Fold the triangle in half, so the two pointed ends meet in the middle. You should now have a smaller triangle shape.
Now, open up the triangle and lay it flat on the table. The top two corners are folded inward, so they meet in the middle. Repeat this step with the bottom two corners. You should now have an envelope-like shape with all four corners folded inward.
Fold down the flap that is created in the previous step, and then use tape or glue to secure it shut. This will be the bottom of your bag.
To finish, decorate your bag as desired!
Tips and Tricks
Start with a square piece of tissue paper. Fold the tissue paper in half, then in half again.
Cut a small semicircle out of the center of the folded layer. This will be the opening of your bag.
Unfold the tissue paper and create accordion folds by folding the paper back and forth in 1-inch increments.
Tie a length of ribbon or string around the center of the accordion-folded tissue paper to create the handles for your bag.
Decorate your bag as desired, then fill it with small gifts or treats!
Making a gift bag is easy to add a unique touch to your gifts. Whether you use items from around the house or pretty fabrics and ribbons, these homemade gift bags will surely be appreciated by the lucky recipient. With just a few supplies, some creativity and patience, you can make personalized gift bags for any occasion in no time. So why not give it a try? You'll soon see how simple making a beautiful and thoughtful gift bag can be!
Frequently Asked Questions:
Create meaningful and unique DIY gift bags with these creative ideas and get below the answers to your frequently asked questions. Learn tips for making the perfect bag, choosing items and more. Make your gifts stand out this holiday season!
What can I use if I don't have a gift bag?
If you don't have a gift bag, consider using other containers, such as boxes or baskets. These can be decorated with wrapping paper, tissue paper, ribbon, or other decorative materials to make them look special. Other options include reusable shopping bags or even lined up in the order they will be presented in. Whatever you choose, make sure it fits your needs and looks aesthetically pleasing!
How do you make a homemade goodie bag?
Making a DIY goodie bag is an easy and creative way to put a smile on someone's face. Start with some festive paper, then jam-pack it with treats like candy, chocolates or small trinkets. To give it that extra special touch, make sure to add some handwritten notes! Finish the presentation by sealing the bag with a ribbon or sticker – fun and thoughtful!
How do you fold a paper bag for a gift?
Folding a paper bag for a gift is easy. Begin by opening the bag and flattening it out. Then, fold the sides towards each other until they meet in the middle. Continue folding the bag in half until you reach your desired size and shape. Secure it with tape to ensure it stays in place. Use your creativity to decorate or embellish as desired. Happy gifting!
How do I make an odd-shaped gift bag?
Making an odd-shaped gift bag is relatively easy. Start by cutting the paper to the desired shape, then score the fold lines and tape the edges together using double-sided tape. For extra stability, reinforce it with a few pieces of string or ribbon to secure the bottom flap before filling in your gift! Enjoy your unique handmade gift bag! ​
How do you make goodie bags out of Ziploc bags?
Creating goodie bags out of Ziploc bags is easy! Start by picking a size of the bag that fits your items. Then, use creative materials such as ribbons, stickers and markers to decorate the outside. Fill the inside with treats or small gifts. Lastly, seal the bag and enjoy! It's a simple way to add extra fun to any event or gathering.
How do you stuff a gift bag?
Gift bags are an easy way to give a present. Begin by putting the heaviest items at the bottom of the bag and layer lighter items on top. Fill in any empty space with tissue paper or confetti. Finally, add a gift tag for personalization! Have fun creating your own unique gift bag designs!
What can I put in my party bags for cheap?
Party bags don't have to be expensive. Look for items like stickers, books, small toys, crayons, bubbles or temporary tattoos that are all reasonably priced and can still provide plenty of fun at the party. You could also include homemade cookies or treats for a personal touch. Get creative, and you won't break the bank!
How do you make a simple bag out of plastic bags?
To make a simple bag out of plastic bags, first cut the corner off one bag and then fold it in half. Cut two strips from the other bag to create straps. Attach each strap to the folded bag at opposite sides and secure them with staples or tape. Finally, turn the bag inside out so that all seams are hidden. Your DIY plastic bag is now ready for use. Enjoy!
How do you make a gift bag out of a bottle?
Grab a bottle and some fabric or paper of your choice. Cut the fabric into two circles, one larger than the other. Place the smaller circle over the mouth of the bottle and secure it with either glue or tape. Tuck in the edges of the larger circle around the neck of the bottle and tie it off at the top with ribbon. You now have a lovely gift bag for any occasion!
What should I put in a goodie bag?
Goodie bags are a great way to show appreciation and spread joy! Consider filling them with small items like snacks, chocolates, candles, stationery, and books, as well as bigger items like toys or cards. Whatever you choose should be personalized to each recipient and reflect your unique style. Have fun creating the perfect goodie bag!
What do adults want in a goody bag?
Adults often appreciate practical items in their goody bags, such as personalized pens, mugs, business cards, notepads, and even snacks. They also enjoy creative items, like custom t-shirts, hats or totes, or sentimental gift items that make them feel appreciated. No matter what you choose to put in your goody bag – make sure it is something they will remember!
What do you put in a small business goodie bag?
A small business goodie bag could include branded items such as mugs, pens, notebooks, t-shirts and key chains with the company's logo. It could also contain promotional products like magnets, discount coupons or flyers advertising special offers. Finally, you can add treats like chocolates or candies to sweeten up the experience for your customers!
What do you put in a gifted purse?
A gifted purse can be filled with all sorts of small gifts, such as jewelry, chocolates, flowers, scarves or gloves. It can also include personalized items like a keychain or compact mirror. Ensure you include something that shows how much you care and appreciate the recipient. It's always best to put some thought into it!
Related DIY Gift Ideas:
Discover creative and unique DIY Gifts perfect for any special occasion. From handmade jewelry to homemade cookies, find the perfect present for friends and family.
Conclusion: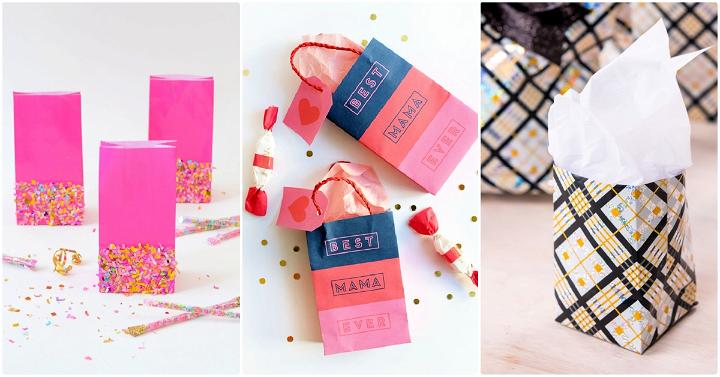 DIY gift bags are a great way to give something unique and creative. You can choose the perfect design and materials and mix all your favorite items for the perfect presentation. With these 25 adorable DIY gift bag ideas, anyone can make their own beautiful gift bag with just a little time and effort. From upcycling old wrapping paper or using fabric scraps to creating an adult-friendly goody bag filled with treats – there's something here for everyone! Once you've made your masterpiece, it will bring smiles all around when given as a thoughtful present. So get out those supplies and have fun making one-of-a-kind gifts this season!