Money is one of the universal gift options for any event or celebration, but it doesn't have to be boring. If you're looking for fun and clever ways to give money as a gift, then look at these 25 unique and creative money gift ideas. Look for something that fits with the recipient's style and personality, such as special boxes for coins or a personalized card that doubles as a money envelope. Alternatively, personalize your money gifts by attaching personalized notes, rolls of coins with individual messages, decorative money holders, and other items so they can be used as part of birthday parties or weddings. With just a little effort, you can easily turn money into an unforgettable gift with these 25 creative gift ideas!
Surprise your loved ones with these creative money gift ideas that make giving cash a lot more fun! From funny gag gifts to thoughtful presents, there are plenty of ways to give money as a present. Whether you're celebrating a birthday or another special occasion, these 25 unique and funny money gift ideas will surely bring smiles all around. Help them save up for the future by putting together their own piggy bank filled with coins and bills, or let them pick out something special with an interesting twist on the traditional envelope method. With so many heartfelt and heartfelt money gift ideas available below, you'll be sure to find just the right way to show your love through money gifts.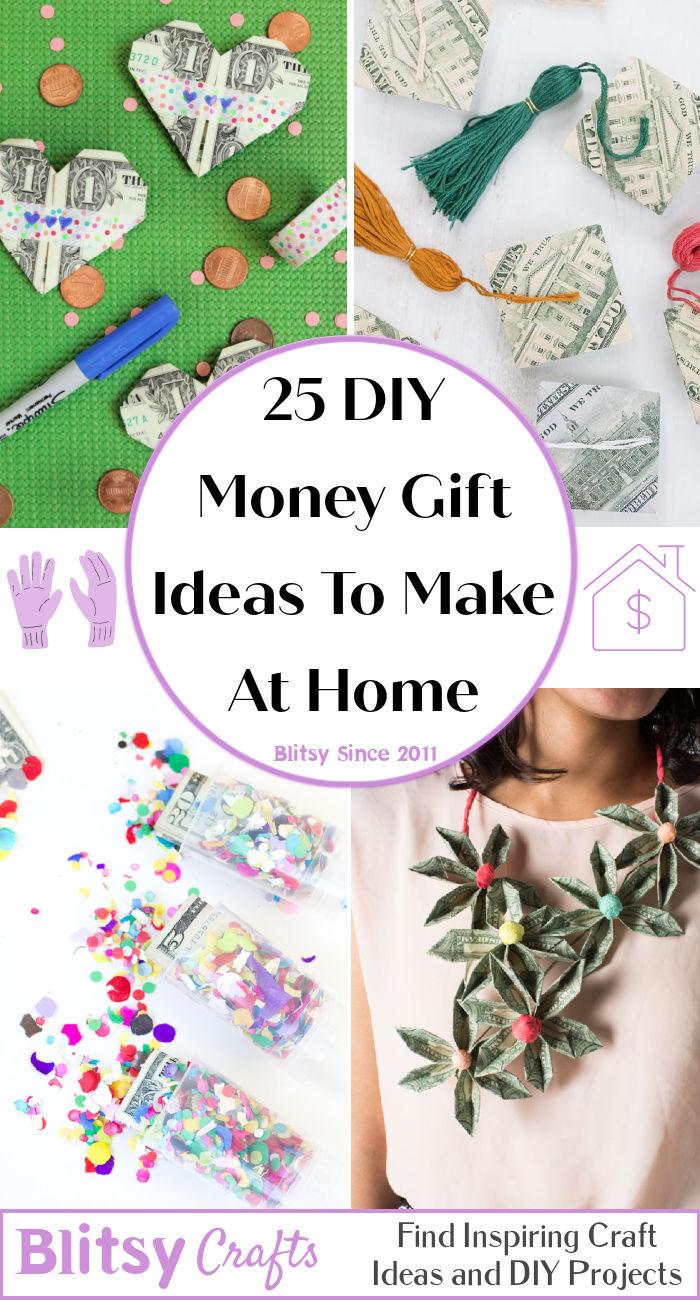 Fun and Creative Money Gift Ideas
We've shared 25 creative money gift ideas below, allowing you to give money gifts in fun and unique ways. Whether you're gifting cash for a graduation, birthday, anniversary or any other occasion, choosing one of these creative money gifts will surely bring a smile to the recipient's face. With clever and funny money gift ideas that range from money tree plants to greeting cards with cash hidden inside, there are plenty of choices that show your thoughtfulness for anyone you may know who needs a little extra financial help.
Money gift ideas are the best for everything, including the day of graduation, birthdays, anniversary, or whatever is coming up. Try different money gift ideas and make cute origami money graduation caps, create origami valentines using dollar gifts, and use a glass block bank to give away money. You could also try making a money gift jar to give away for graduation, create money gift poppers to use as a surprise, or DIY a money tree gift to use for various occasions. Show your creativity by giving one of these inventive money gift ideas and give more than just cash!
1. DIY Money Wreath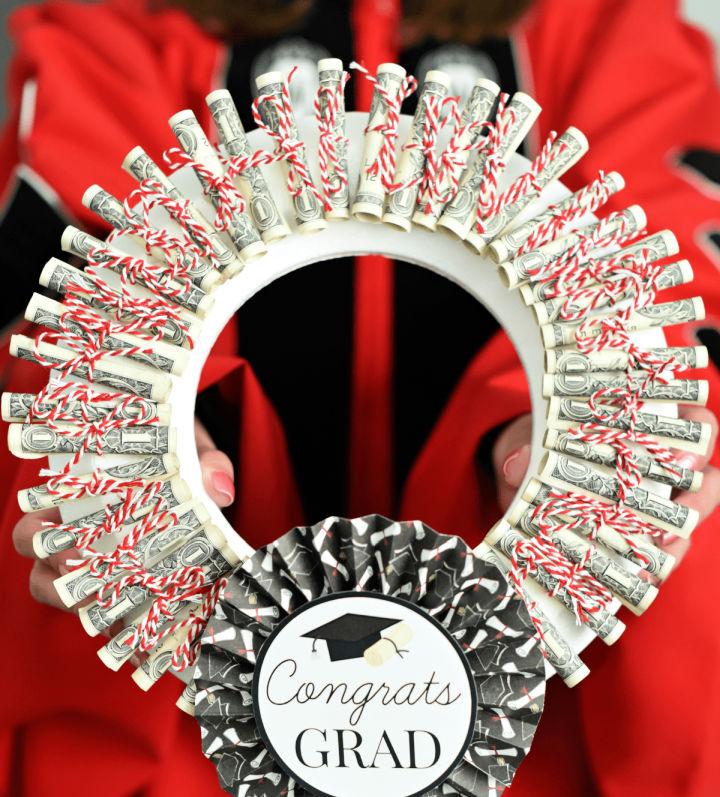 A creative yet simple and fun graduation gift ideas can make anyone's day of graduation more special and memorable. Create a wreath and roll little bills into it making them look like small diplomas. You will require supplies like wreath form, string or twine, any dollar amount bills you want, glue dots, a printable tag, and a paper fan. Put all the supplies together and you've got a great gift. The little grads are going to love this money graduation gift. crazylittleproject
2. How to Make a Money Bouquet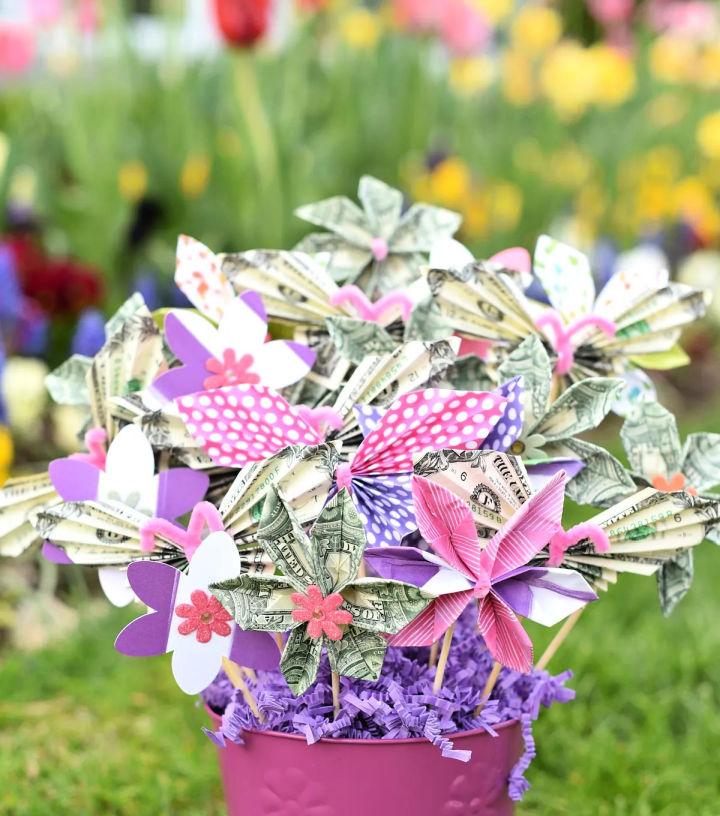 Any occasion like birthday, graduation, or wedding calls for a special gift to be given to make your loved ones feel special. Make a money bouquet that can be a special gift to give away a simple thing as money. You just have to fold up dollar bills and colorful paper to look like flowers and beautiful butterflies. Put together this cute money bouquet using supplies like dollar bills, scrapbook paper, skewer sticks, bucket or cute pot, dry floral foam and pipe cleaners, etc. fun squared
3. Making Your Own Funny Money Necklace Gift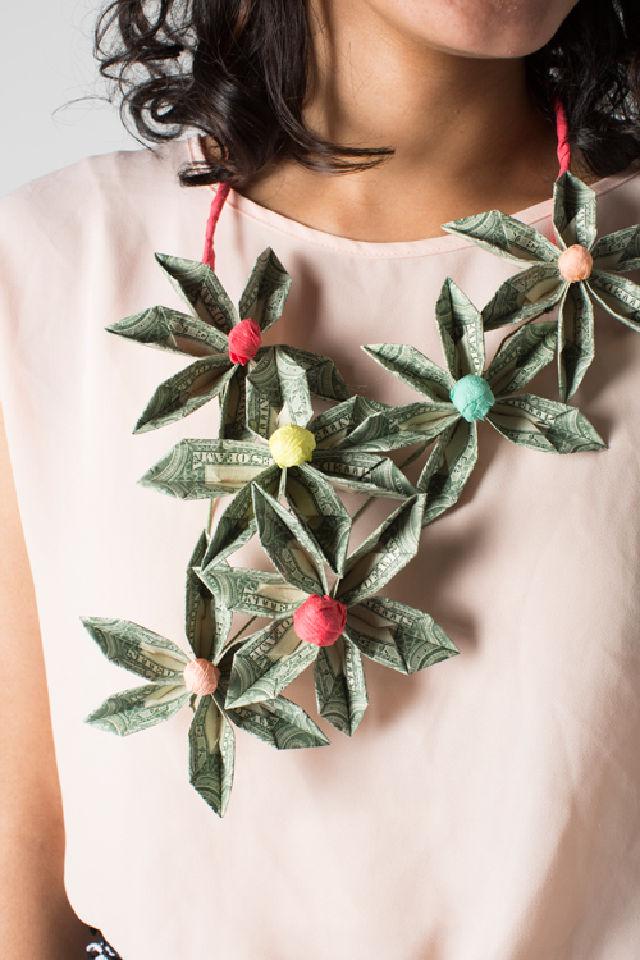 June means it's graduation season – which means time to give away presents. Money really is the best gift for graduates because they need it so much. Make a fun necklace to give away money in a special way by using the origami technique. Create cute little flowers by rolling the large dollar bills using origami and using colorful crepe paper to make the string of the flower. Use foam to fill the crepe paper to make the middle of the dollar bills. thehousethatlarsbuilt
4. Fun Origami Money Graduation Caps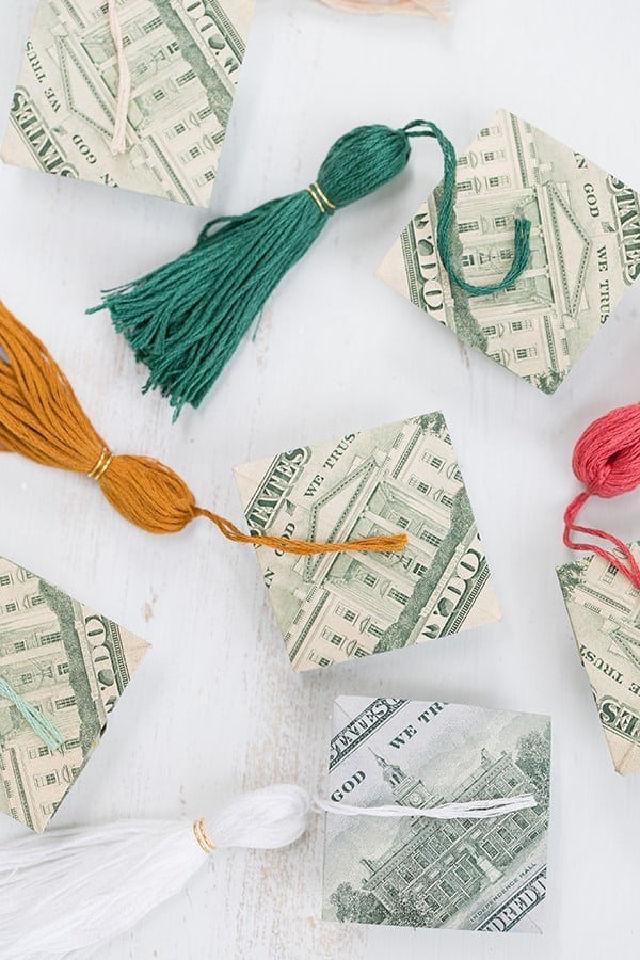 Thinking up unique graduation gifts that involve money is what every student will appreciate and cherish. Try these charming graduation caps with money using the origami technique and add some tassels to them to make them more realistic. You will need supplies like dollar bills, embroidery floss, scissors, tiny gold rings, glue dots to create the tassels. Each package of embroidery floss creates one tassel. The grad caps created are much more fun than simply plopping up cash in a card. sugarandcharm
5. Creative Origami Money Shirt and Tie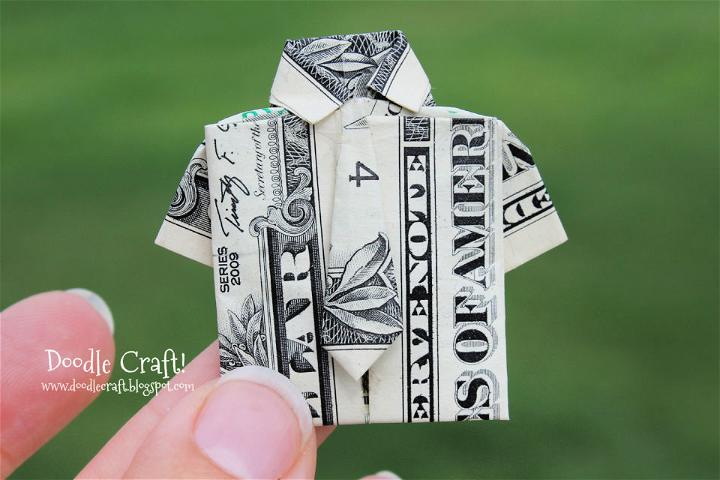 Involve little kids in folding some money and it will turn into a fun game for them. You can help them by folding the money to make a shirt and tie and using it to give away as a gift. This is an origami folding technique that will be super fun to learn for the children. Use a crisp dollar for this purpose but for practicing you can take measurements of specifically sized papers. Start by folding the sheet in half. doodlecraft
6. DIY Money Pizza Pie Gift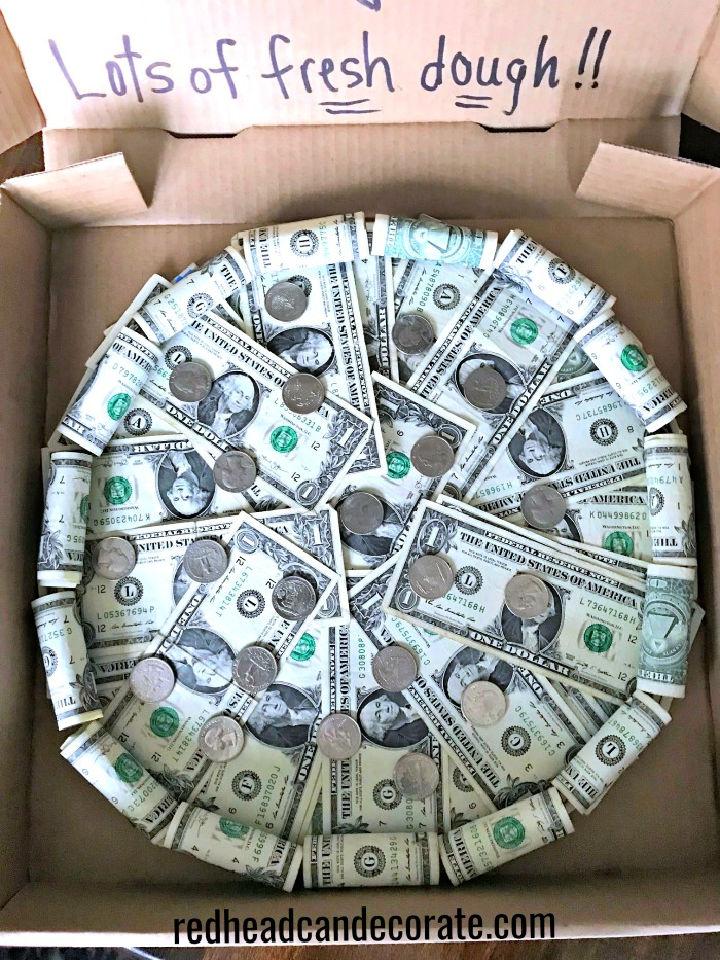 Surprising your loved ones with a gift they least expect is the best as their expression and happiness are priceless. It's time to deliver a pizza to someone you want to give money as a gift for any upcoming occasion. Make a money pizza pie gift and freak out anyone you will be giving it away to. This money gift idea is perfect for birthdays and cute for graduations. Supplies needed are a large pizza box, 50 one-dollar bills, 3 lottery tickets, lots of blue painter's tape, and a black permanent marker. redheadcandecorate
7. Clever Dollar Bill Origami Valentines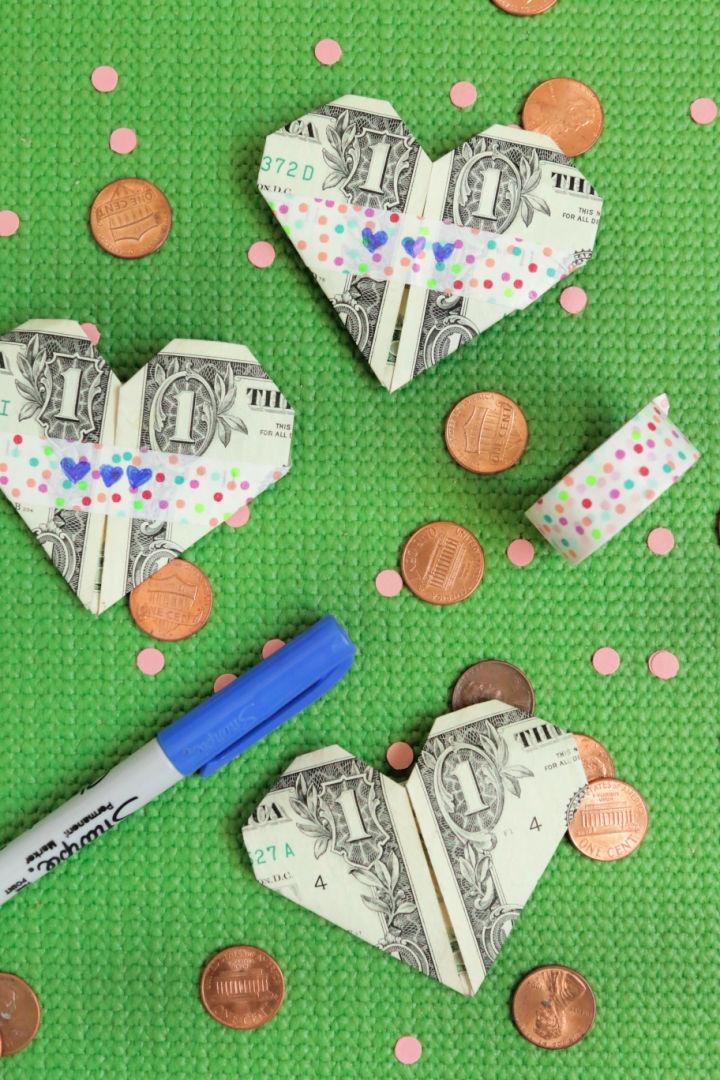 Origami is one technique very hard to master but making cute little origami valentines are so very simple to make. After folding one or two dollar bills, you will be able to memorize the technique by heart. You will need dollar bills, washi tape, and ultra-fine sharpie marker in any color you want. First, lay your dollar bill flat with the face-up, and then you can fold up the bill in half making a crease. molliepop
8. Simple Give Money with a Glass Block Bank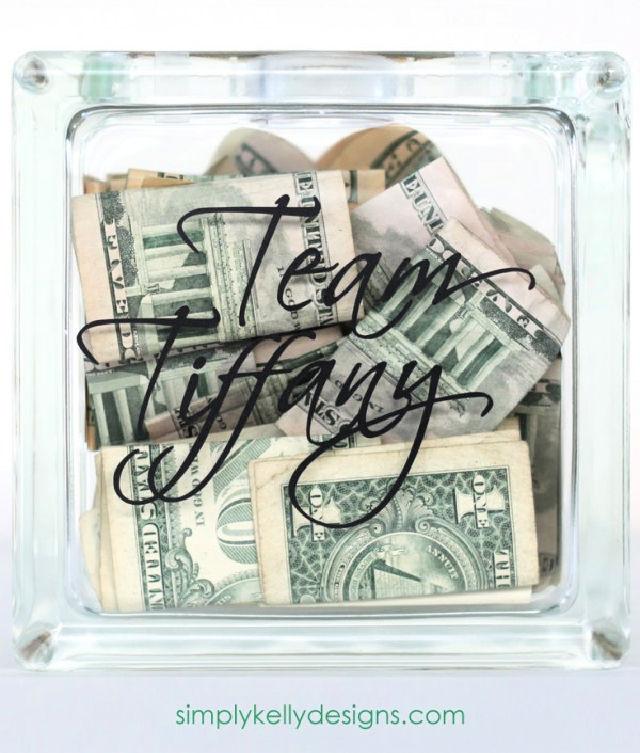 If you want to present cash in a creative way to anyone, make a glass block bank with it. Your friends will be pleasantly surprised to receive money in such a unique way and will surely appreciate your efforts. You will need supplies like a 6-inch glass block bank, silhouette vinyl in black, Cricut transfer paper, silhouette portrait, and silhouette mat. Pull the stopper and drop all the money in the glass block bank. simplykellydesign
9. DIY Graduation Money Gift Jar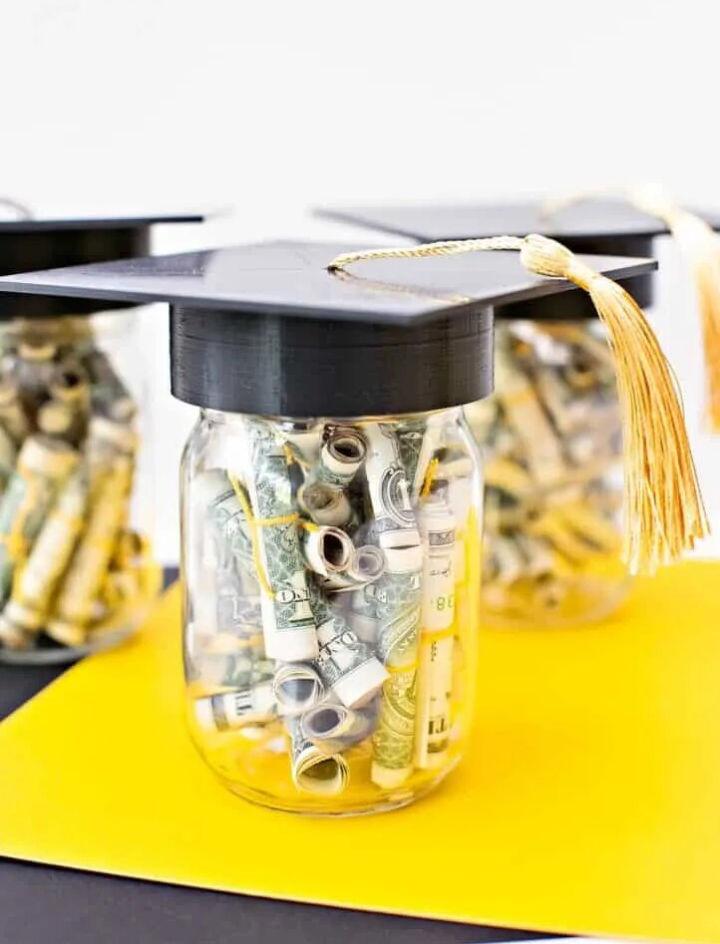 New graduates love receiving presents especially in the form of money. Make a graduation money gift jar that will come in very handy for the students and they will love receiving it. For teens and tweens, it will be a lovely gift idea. You will need supplies like mason jars, graduation caps, dollar bills as many as fit your budget. Use embroidery thread to roll up the bills into a graduation scroll. Remove the lids of mason jars. hellowonderful
10. Surprise Money Confetti Poppers Gift Ideas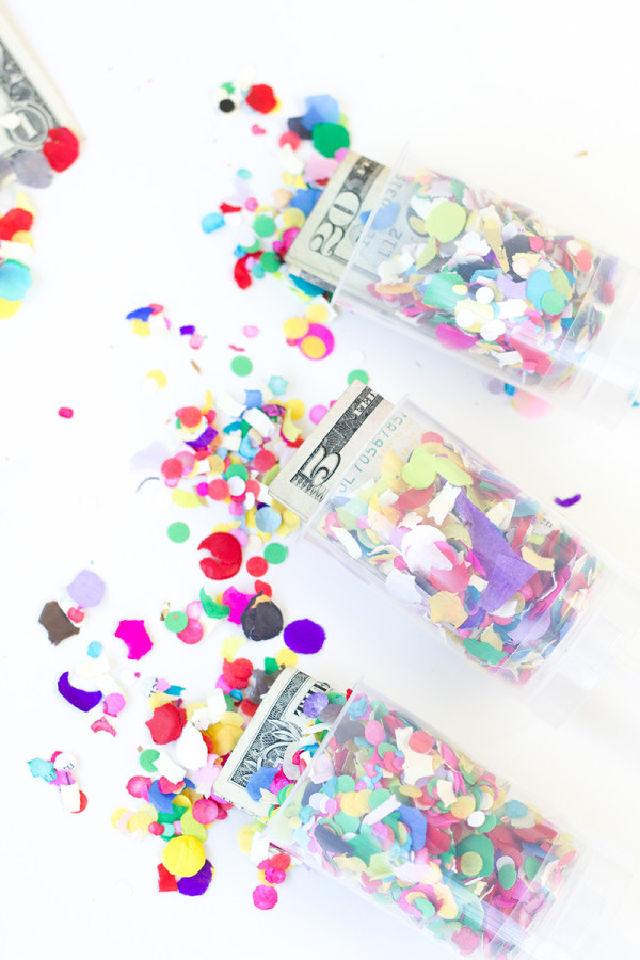 Sometimes cash is the only logical gift to someone especially if it's their graduation. If you have to give money away, it's better to make it fun and awesome rather than just giving it away on a card. Make a unique fun-filled money confetti popper where the recipient is forced to cover others or themselves with confetti in order to retrieve the money. Supplies needed are clear cake push-pops, confetti, and cash. Use multiple poppers and cover them completely with confetti. studiodiy
11. DIY Money Tree Gift

A very fun way to present a gift of cash to teens is by making a money tree. You won't come across any teen turning down cash presented in a fun way or getting bored with it. The supplies you need to make your own money tree are a small flower pot, Styrofoam ball, wooden dowel or plant stake, Styrofoam to fill flower pot, ribbon, T-pins or long straight pins, moss, and cash. 50 or so bills will easily make up the topiary. sotipical
12. Make Your Own Cute Money Cake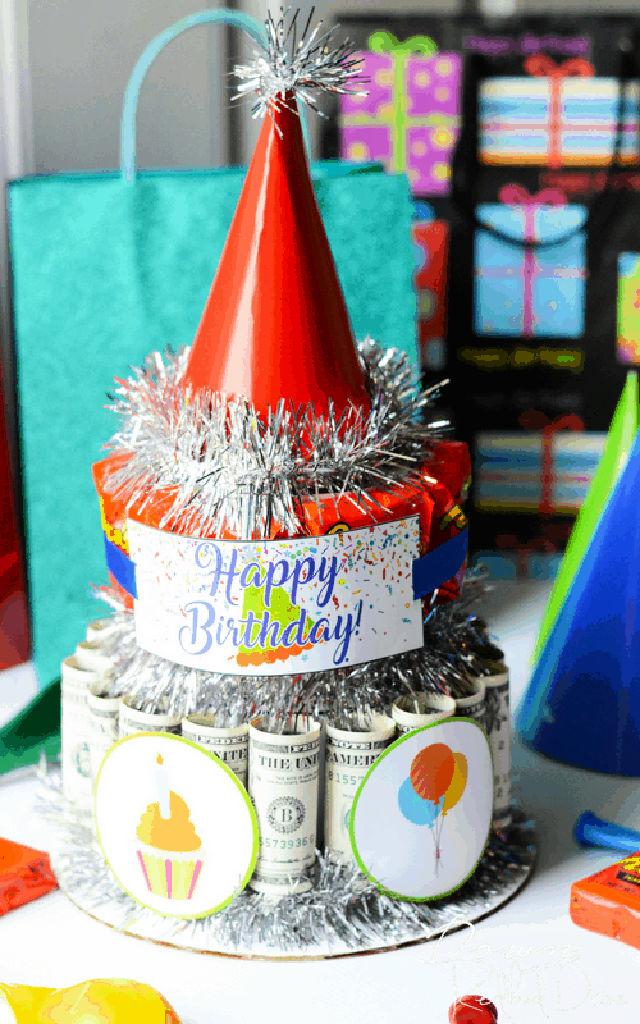 Giving away money doesn't have to be plain or boring every time. Make a money cake so that presenting money can be more personal and fun for everyone. A money cake will make your gift memorable and exciting and everyone will appreciate your gift for sure. To make a money cake you need cardboard cake circles, a white poster board, individually wrapped Reese's candy, garland or ribbon, free birthday printables, scotch tape, glue dots, 1$ bills, and a hot glue gun. downredbuddrive
13. DIY Wedding Cash Gift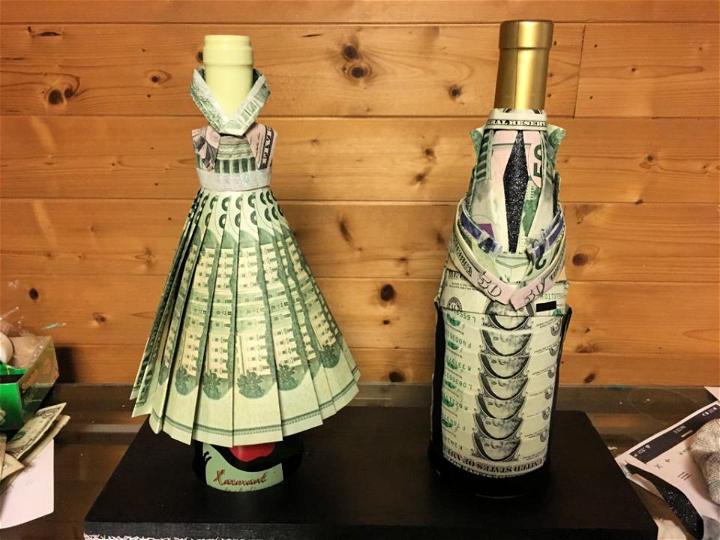 It's so infuriating to find the right gift for anyone so it's better to not waste energy in finding something that someone won't like. Use cash which will eventually be the perfect gift than something the person might actually not need or use. Giving away money might be a little boring or unoriginal so make it fun and exciting by creating wine bottle covers looking like a suit and wedding dress. You can't cut, glue, or sew the dollar bills so use clear tape for attaching them together. emilyseilhamer
14. Tissue Box Money Roll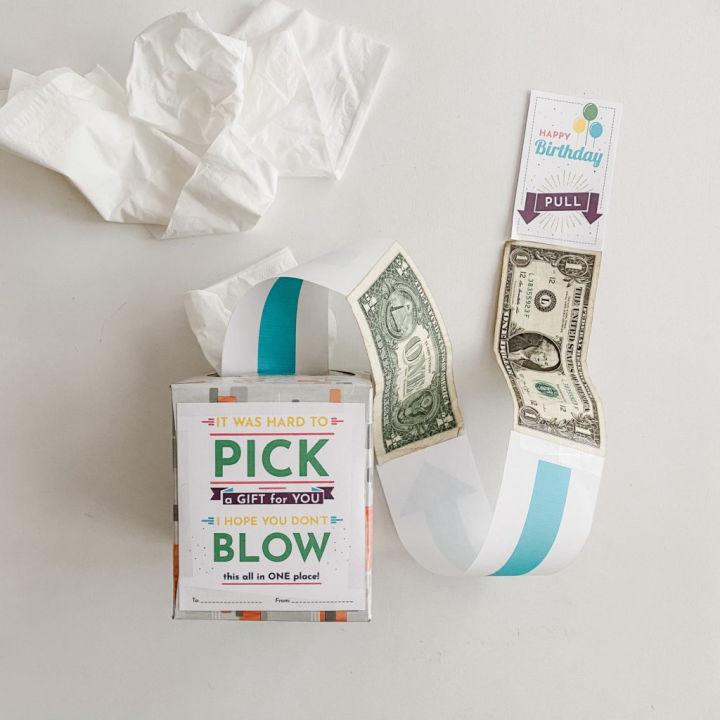 Rushing last minute to figure out a gift idea for birthdays or graduations is something we all do from time to time. A perfect and easy birthday gift to have on hand for next time birthday present is to make a tissue box money roll. You will instantly fall in love with this idea and must create a few to use for emergencies. Supplies needed are 1 square tissue box, printable, dollar bills, scissors, tape, and tissue paper. homeandkind
15. DIY Happy Birthday Money Cake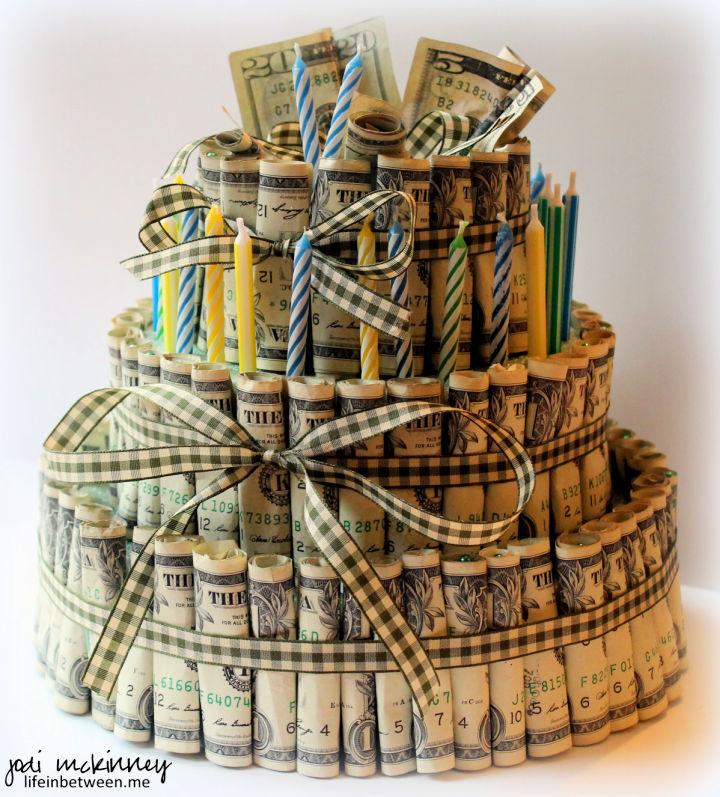 We all know secretly that money is one gift every one of every age appreciates. Enclosing money inside a card or writing a check is so old school so be a bit more creative and personal when giving away money as a present. A money birthday cake is a very unique idea that everyone will love. It's really quite simple to make and you can use Styrofoam discs to create the layers. Roll the dollar bills and use pins to attach them inside. lifeinbetween
16. DIY Cash Gift Box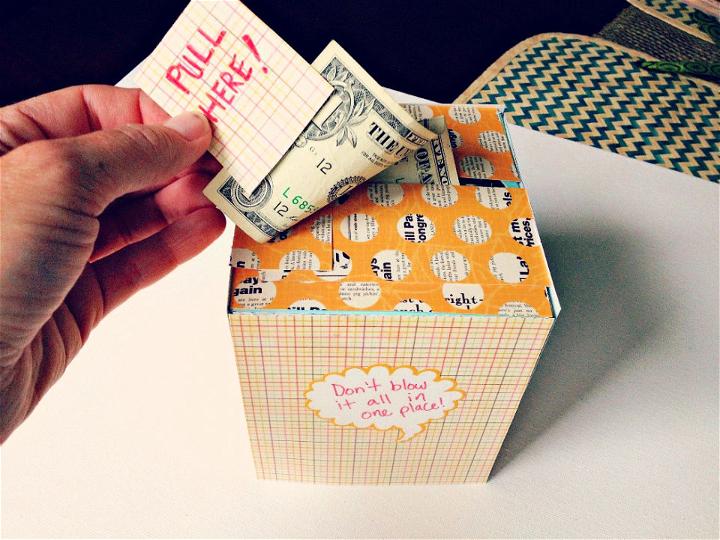 While doing different chores around the house, we might forget an upcoming important event like someone's birthday. This calls for an already prepared emergency gift or something that can be done in a few hours to save the day. Be a cool mom and create a cash gift done in a unique way. Supplies required to create this are an empty Kleenex box, craft paper or cardstock, double-sided tape or glue, scissors, quote stickers, marker, and painter's tape. redefinedmom
17. Make Your Own Lollipops Money Gift Basket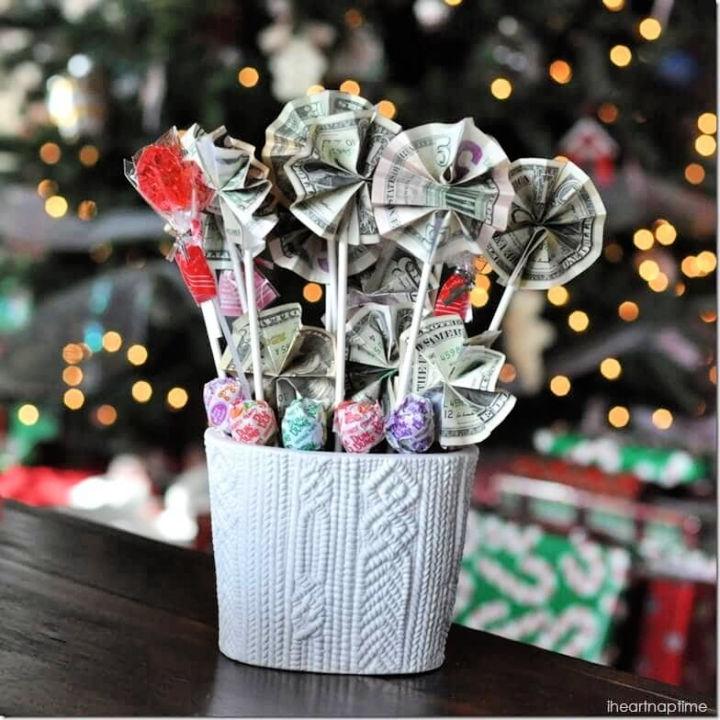 Everyone loves lollipops. Top them up with money and it becomes a killer combo nobody can turn down. Make a craft that's perfect for everyone which means making a little lollipop plant to be used as a gift for a relative. You can make it for any occasion you want and for any age group you desire. Just make it unique every time like while making for a child, place it in a sand bucket. For a teen boy use basketball or golf balls. theinspirationboard
18. How to Make Money Lei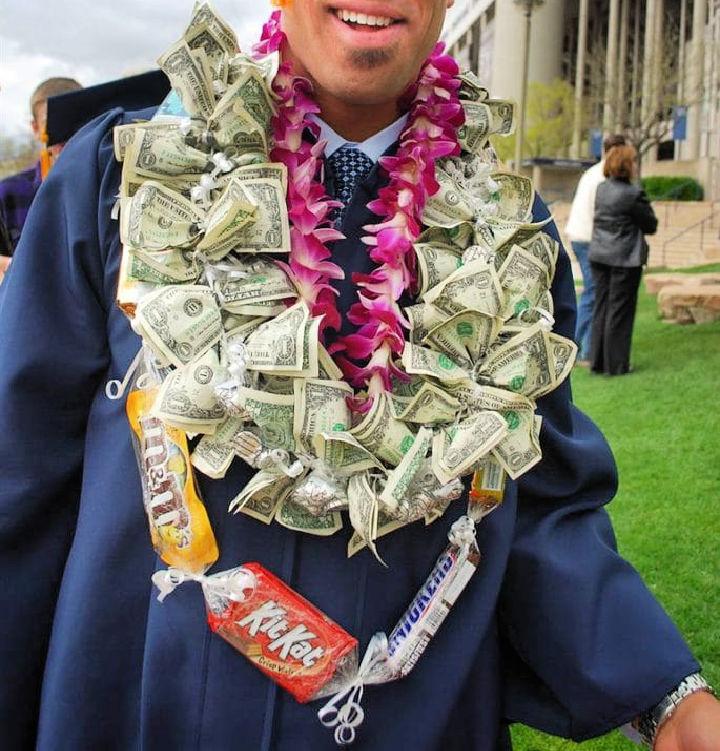 A gift of cash is perfect for every student graduating. Look no further to find the perfect graduation gift idea and use cash but make it interesting for the recipient. Make a money lei using dollar bills and it becomes a perfect graduation gift instead of giving away cash from hand. You need dollar bills tied with a piece of ribbon in the middle, curling ribbon, little bags of Hershey's hugs and kisses, and any other candy you want to add. yourhomebased
19. DIY Heart Money Printable Card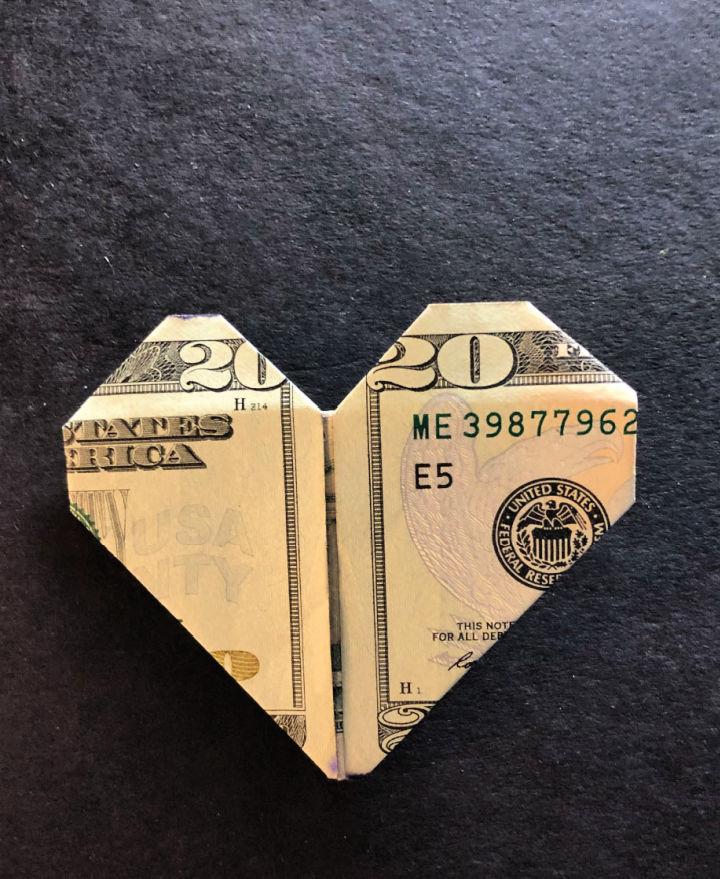 You can't simply put a bill in a card to use as someone's gift and call it a day. Giving away cash must also be interesting and memorable to make someone's day special. You have to show them that you have the recipient's thoughts in mind. Make a heart money printable card which is just a simple way to create an origami heart using a dollar bill. Just get the two printable cards and place your heart money inside them. inspirationmade
20. How to Make Big Money Flower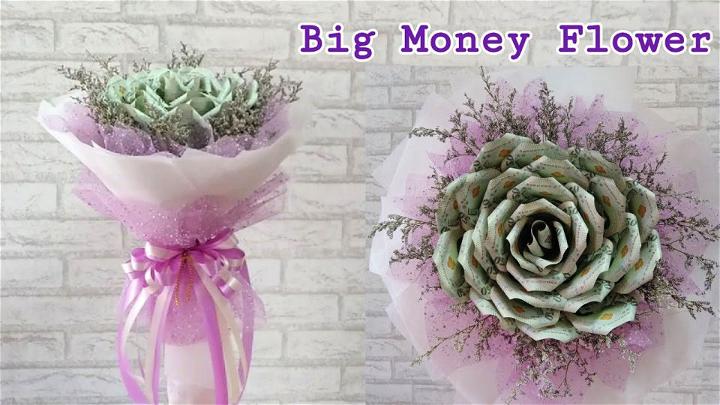 Give your loved ones the perfect gift of cash but do it with a twist to make them feel special. Create a money flower in the form of a bouquet. Make small flowers using banknotes without even damaging the banknotes. Supplies required are scissors, glue, scotch tape, paper cutter, small wooden sticks, a long piece of packing material to attach the dollar bill sticks, small branches to make it look realistic, and wrapping to cover the dollar bill flowers.
21. Creative DIY Explosion Money Box Gift Ideas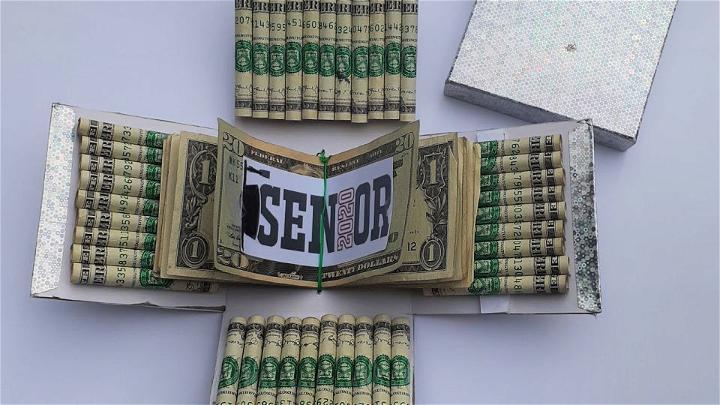 Creative gift ideas are great to let your loved ones know how much you love and appreciate them. Sometimes cash is the only gift idea you are left with so make a money explosion box using it and making it fun for everyone. Supplies required are double-sided tape, regular tape, scissors, Exacto knife, pen, or something else to roll up your dollar bills, dollar bills straight and rolled up pipe cleaner, and a box of your choice.
22. Balloons Pulling Money Gift Ideas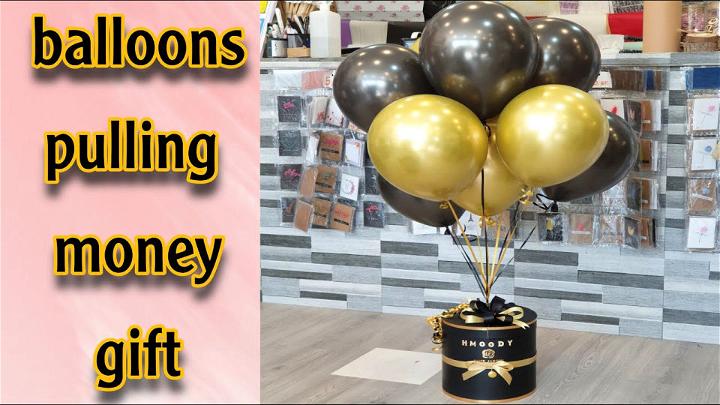 There are so many great and easy money gift ideas that you can use to make a simple gift of cash special for anyone. Try making a money gift box being pulled up with helium balloons to surprise your loved ones with your unique idea. For this project, you need dollar bills, ribbons, scotch tape, a small box to attach the bills to, and helium gas balloons of any color you want. Use different colored ribbons to add to the cake.
23. Money Chocolate Box Gift Ideas

We all love chocolates but let's face it, they are not such a special gift after all. To make a simple gift of chocolates unique add some money to it to make it more expensive. Make a money chocolate box gift that can be used as a gift for anyone of any age. The supplies required are a gift box, mint money as much as you plan to give away, paper tape, and chocolates of your choice. Just roll up the dollar bills using embroidery thread.
24. Money Tie Gift for Fathers Day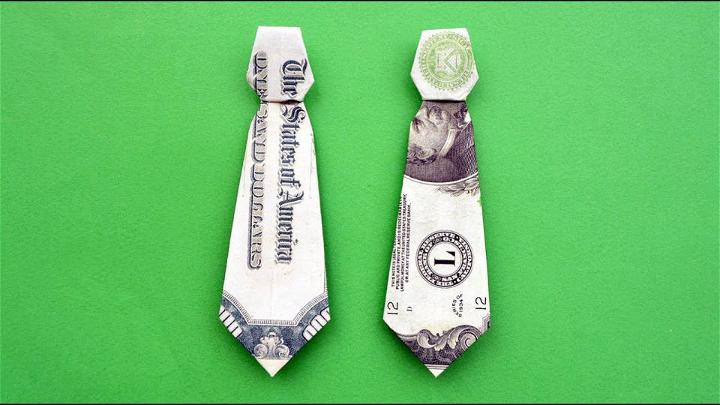 Graduation season is a happy one especially for the students and their parents. It's also the time to give away gifts to your loved ones and cash is the only gift of choice appreciated by all. This father's day, give money away by making it in the form of a tie and dazzle everyone with your style. You will need money, flat iron, water spray bottle, poster board, scissors, pencil, ruler/yardstick, gift wrap/removable scotch tape (regular scotch tape will rip the money), and string or ribbon.
25. How to Make Money Soap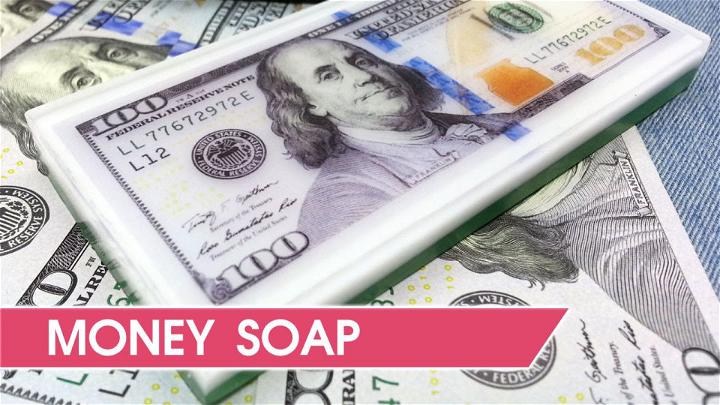 A money gift set that your friends will surely enjoy and appreciate is making a money soap out of it. This idea involves melt and pour soap making and is definitely one gift no one has ever seen before. Supplies required are water-soluble money, titanium dioxide, a plastic water spray bottle, rubbing alcohol, pearl, pigments, fragrances, oil, soap base, silicon mold, and plastic molds. This can be a funny prank idea to be used to enjoy with a bunch of friends while fooling around.
Frequently Asked Questions:
Are you looking for creative ways to give money as a gift? Look no further! Get answers to FAQs about fun and unique money gift ideas.
What are the best money gift ideas for someone who is funny and creative?
For someone who is funny and creative, consider giving a gift card to their favorite store, restaurant or activity. Alternatively, you could get them tickets to a comedy show or art supplies for their next project. Think outside the box for more unique money gifts ideas, such as a personalized caricature or framed comic strip. No matter what you choose, it will be an unforgettable gift!
How can I give a unique money gift without spending too much cash?
You can give a unique money gift without spending too much cash by putting together a thoughtful and creative care package. Fill the box with items that are meaningful to the recipient, such as an inspirational book, handmade item or gourmet treats. Include a card with a heartfelt handwritten message expressing your sentiment. The person receiving it will appreciate the effort you made!
What are some fun ways to present a monetary gift?
Giving a monetary gift can be creative and fun! Consider gifting in unique ways like attaching the money to a bouquet of balloons, hiding it inside a homemade card or wrapping it up as 'lucky lottery tickets.' Get creative with gift-giving, and your recipient will be sure to feel special.
What types of creative money gifts Will impress my recipient?
Creative money gifts can include a personalized card with cash inside, a piggy bank filled with coins, or a unique item such as tickets to an event. You could also create a mason jar gift basket filled with savings tips and budgeting tools. Whatever the case, getting creative with money gifts will impress your recipient!
What is a fun way to give money as a gift?
The creative and fun way to give money as a gift is to make a personalized coupon book with different denominations for the recipient. This allows them to choose what they would like to spend their money on and adds an element of fun and surprise. A money gift is sure to bring a smile to anyone's face!
How do you give money creatively?
Giving money creatively can involve gifting experiences instead of items, such as theatre tickets or donating to a charity in the recipient's name. You could also create a unique gift basket filled with homemade treats or vouchers for special activities and services. Finally, you could interestingly present the money, like using origami and decorative boxes.
How do you creatively wrap money as a gift?
Money can be creatively wrapped as a gift by using decorative paper, ribbons, and adornments. A simple envelope or box can also be decorated to make money present look special. Try creating a unique design that is meaningful to the recipient by adding their favorite colors or symbols. Alternatively, you could use an origami fold to give it a unique shape. Have fun with it!
What to give with money?
Giving money as a gift can be meaningful and personal when paired with something to signify the occasion. Consider giving items such as cards, personalized photo albums, books on their interests, or other thoughtful mementos that will further commemorate the moment. With money, it's important to focus on what your loved one needs and ensure they know you are thinking of them.
How do you show appreciation for money?
Our list of creative money gift ideas will show many ways to an appreciation. Expressing gratitude, budgeting wisely and being generous with others can all demonstrate an attitude of thankfulness. Additionally, use the money to invest in experiences that bring joy and lasting memories rather than buying material items. Finally, be mindful of how we talk about and treat money—it should always be respected.
How do you make a money pad?
To make a money pad, you must purchase appropriate materials such as felt or leather, craft foam, adhesive glue and scissors. Cut the material into the desired dimensions, then use the adhesive glue to fasten together two pieces. Allow it to dry before adding decorations or notes with Sharpie pens. Finally, add elastic straps or buttons for easy closure.
Is it better to give someone some money or some object as gifts?
When deciding on a gift, it is important to consider the recipient's preferences and interests. Money can be used to buy many different items, making it a great gift for those who are hard to shop for. On the other hand, an object or experience may be better in some cases as it allows the giftee to make memories that will last a lifetime. Ultimately, the best option is whatever you think they would enjoy most.
What are the 5 gift wrapping ideas?
1. Use colored paper or tissue paper for a classic look.
2. Wrap gifts with fabric and ribbon for a modern touch.
3. Choose fun patterns to create a unique design for each gift.
4. Add an extra special touch with decorative items like ribbons, confetti, and stickers.
5. Personalize the wrapping with handwritten notes or drawings!
What can I use instead of a gift wrapper?
You can skip the gift wrapper and use other creative materials like scarves, fabric, paper bags, newspaper, or reusable bags. With some imagination and some ribbon or string, you can create beautiful and unique packages for your gifts! Try to be creative and find fun ways to wrap presents that are also environmentally friendly!
What is giving someone money called?
Giving money to someone is called a financial gift or donation. Making a financial contribution can be done in many ways, including cash or check, debit or credit card payments, online transfers, and other payment methods. No matter how you give, ensuring the recipient can access the funds on time is important.
Can you just give someone money?
Yes, you can give someone money as a gift. If it is for a special occasion like a birthday or anniversary, it is always appreciated and could be used for something meaningful to the recipient. For tax reasons, however, keeping records of any cash transactions is important.
What is a simple token of appreciation?
A simple token of appreciation could be something as small as a heartfelt thank you, a thoughtful note, or even a bouquet of flowers. It recognizes someone's hard work and efforts that count, no matter how big or small. It's an act of kindness that can make any recipient feel appreciated and loved.
What is a monetary gift?
A monetary gift is a gift of money given by one person to another. It can be used to show appreciation, express gratitude, or celebrate special occasions such as birthdays and anniversaries. Monetary gifts can range from small sums of cash to large sums depending on the giver's means and the recipient's needs. They are a thoughtful way to show loved ones how much they are appreciated.
How much money should you give for a birthday?
The amount of money you give for a birthday gift depends on your budget and the relationship with the recipient. Finding something meaningful, that won't break the bank but also shows that you care about them is best. Think about their hobbies or interests and select a gift accordingly. A simple card with heartfelt words can often be just as appreciated when in doubt!
What are some gift-giving etiquette?
Gift-giving etiquette considers the recipient's interests, budget, and preferences. Ensure you are at times when sending a gift or thank you note. Don't go overboard with spending, nor should one be expected to do so. Respect religious and cultural customs and show gratitude for any gifts received. Lastly, avoid re-gifting if possible.
Why give gift cards instead of money?
Gift cards are an excellent option for giving money because they give the recipient the freedom to choose what they want. They also make great presents since they provide a tangible item with potential sentimental value and can be tailored to suit individual interests or tastes. Gift cards are both flexible and thoughtful!
Related DIY Gift Ideas:
Make unique and meaningful gifts for your loved ones! Find great DIY gift ideas to show your appreciation and make someone's day special.
Conclusion: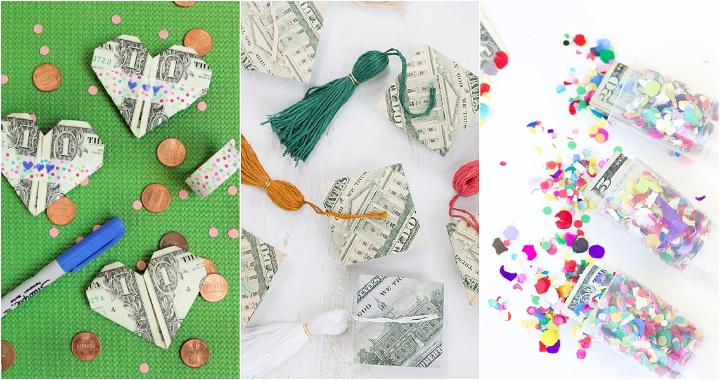 Giving money can be a great gift idea, whether it's for a birthday, a special occasion or simply just to show someone you care. It's also important to make sure the delivery of money is memorable and thoughtful – after all, cash is king! There are so many creative ways to give money that it can easily become an exciting and thought-provoking present. From making your own custom puzzles using bills to creating origami flower arrangements with currency, there really is no limit when it comes to finding fun ways to gift money. With these 25 fun and creative money gift ideas for gifting cash in hand, you'll be sure that the receiver will feel extra special on their big day.