Planning and creating an outdoor space is a lot of fun. Most of us love to sit outside the home, especially in the evening when the weather is good. However, have you ever wondered that you could convert your backyard space into a perfect garden too? Find these 40 cheap, easy and creative DIY garden ideas to upgrade your garden area on a low budget.
Also, did you ever wanted to have a DIY garden at your home, but you can't because of the minimal space? No matter whether you live in a small house or a large one, you may now create a fantastic custom DIY garden at home with a bit of effort. Now make your outdoor space fun for the perfect outdoor activities, BBQ area, and relaxing one. It's always better to do such small creative projects yourself rather than hiring someone else to do it. These kinds of DIY projects also enable you to spend some quality fun time with friends and family.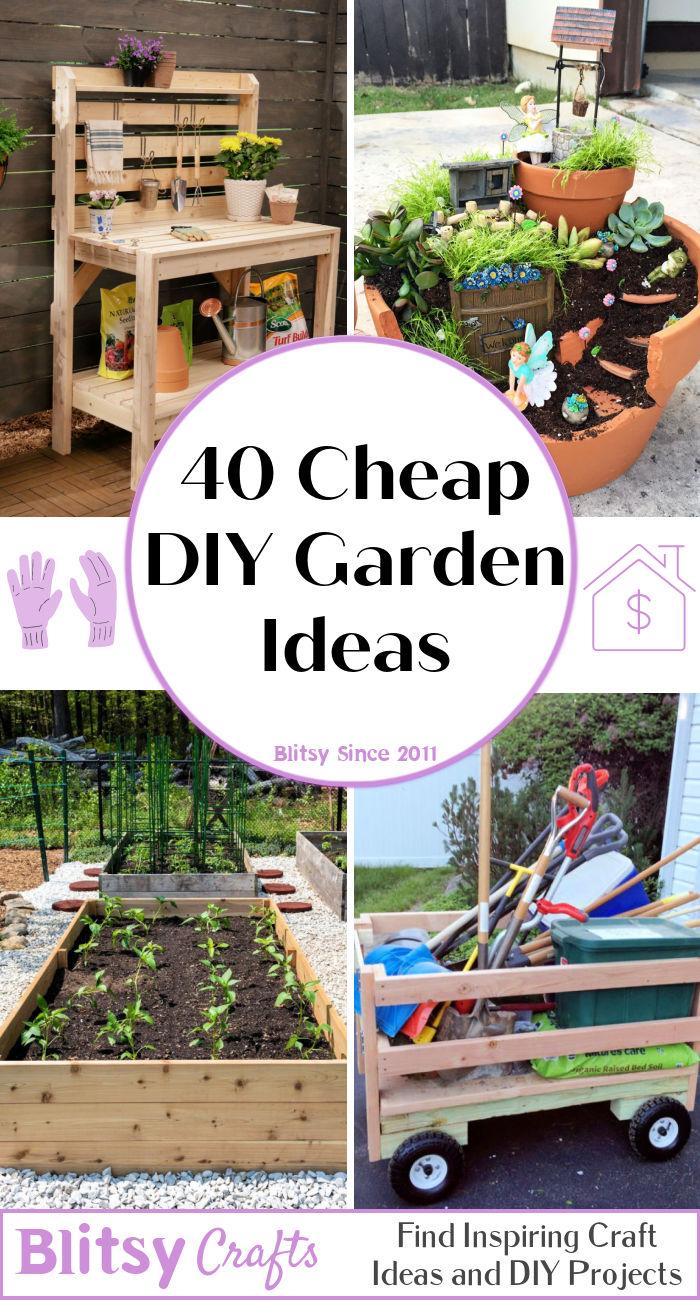 Find Impressive and unique garden ideas to do:
This guide will cover all the significant possible ways to make your outside garden better with these DIY garden ideas. From raised garden bed to terra cotta fountain, from clay garden to homemade garden box, from the DIY herb garden to DIY planters, from fairy garden ideas to stack garden, from pallet one to strawberry tower garden plan, and a lot more! You will find everything in this guide!
Either you are looking to renovate your garden space or want to give your backyard a better look. It's always pleasant to see the change. You will find all the necessary tools and supplies your need with each of the mentioned DIY garden ideas. All you have to do, choose the DIY garden project that suits you, your comfort, your space, and your budget the best. Get it started today, and have fun!
1. How to Build a Raised Garden Bed

Are you looking to plant a vegetable at your home to have a chemical-free taste? But you do not have a garden because of a small home? Now you can build a small vegetable garden in your backyard for the successful planting and fresh vegetables. Assemble cedar boards, Kreg Screws, cedar stakes, deck screws, circular saw, drill, impact driver, hole jig, etc. thenavagepatch
DIY Greenhouse: 40 Most excellent and free building plans on how to build an easy DIY greenhouse, simple cold frames, garden tunnels & hoops with low-cost materials!
2. Terra Cotta Fountain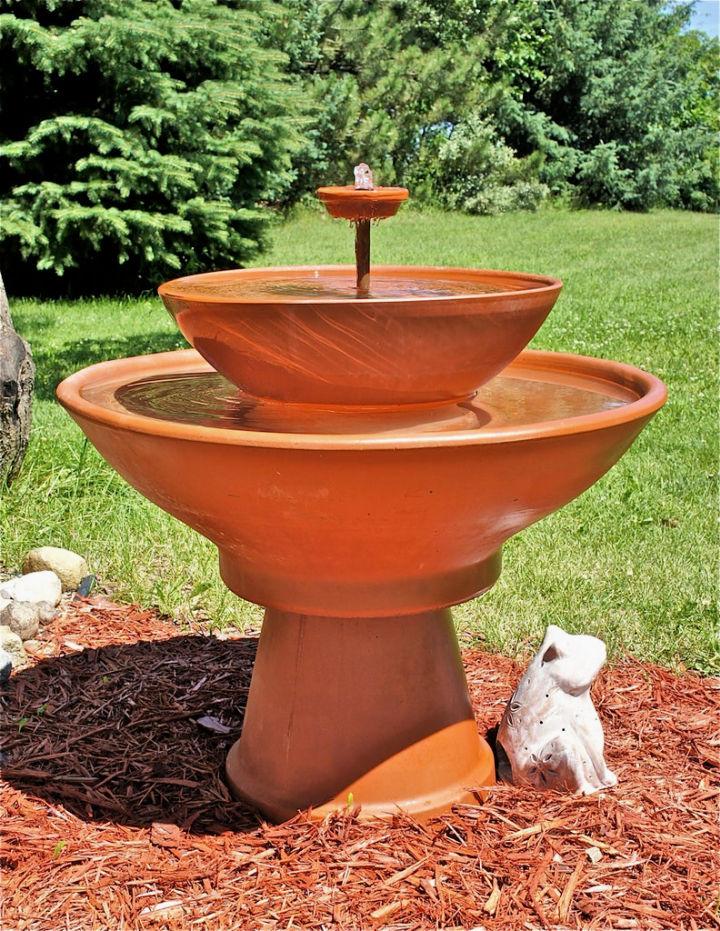 Have you been searching for a perfect fountain to put in your garden for a pleasantly natural and fresh outdoor look? Couldn't find your desired one in the market and wondering if you can do something at home? Why not! Make a perfect custom fountain using Terra cotta planters, plastic pump tube, water pipe, circular saw, drill, hammer, and enjoy the perfect outdoor look. instructables
DIY Putting Green: Want to make your own putting for the backyard? Find these 15 unique and creative ideas to make DIY putting green for your backyard on a low budget.
3. Clay Garden Markers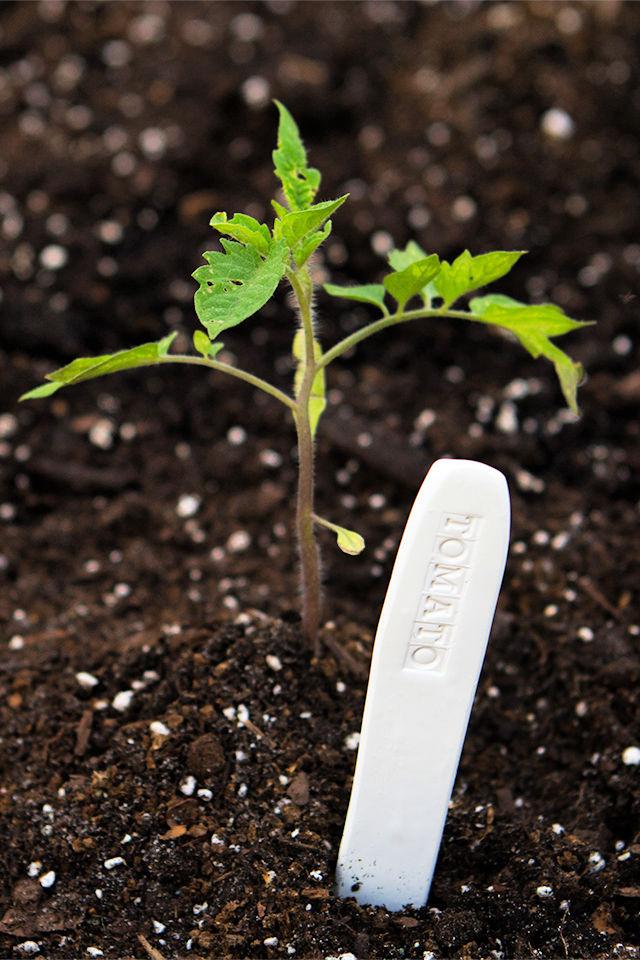 Do you have a spare raised bed kit lying around you, and wondering if you can use it for some planting purposes? Fill out the kit with the organic potting soil and some plants in it. Now the final touch is adding the clay to make your plants perfectly stamped into the clay. Assemble bake clay, oven, parchment paper, baking sheet, rolling pin, dinner knife, and alphabet stamps. sarahhearts
4. Homemade Garden Box

Do you love plating vegetables in the summer? We understand that there is nothing better than homegrown vegetables. Now, grow as many vegetables as you want by making a homemade wood garden box. All you need is these easily available materials like wood boards, plywood, cedar boards, power drill, nails, hole pocket screws, hammers, and vegetable seeds. onelittleproject
5. DIY Vertical Herb Garden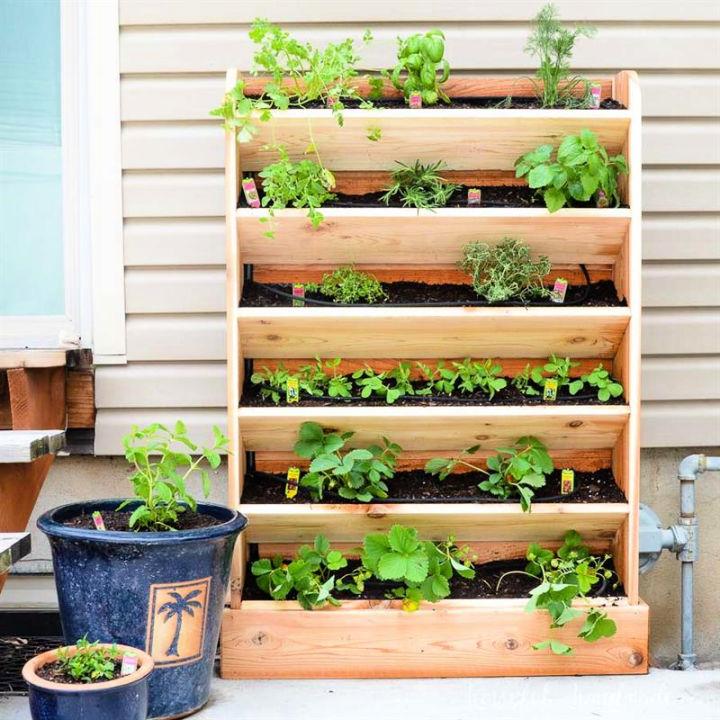 Herbs are beneficial to treat many dangerous diseases. It' always better to grow some essential herbs at home rather than purchasing from the market. Natural and fresh herbs give you next-level refreshment. They do not take much space; therefore, the DIY vertical garden is the best idea to go with. Assemble wood boards, pocket hole screws, finish nails, wood clamps, etc. learn kregtool
6. DIY Stone Planter Boxes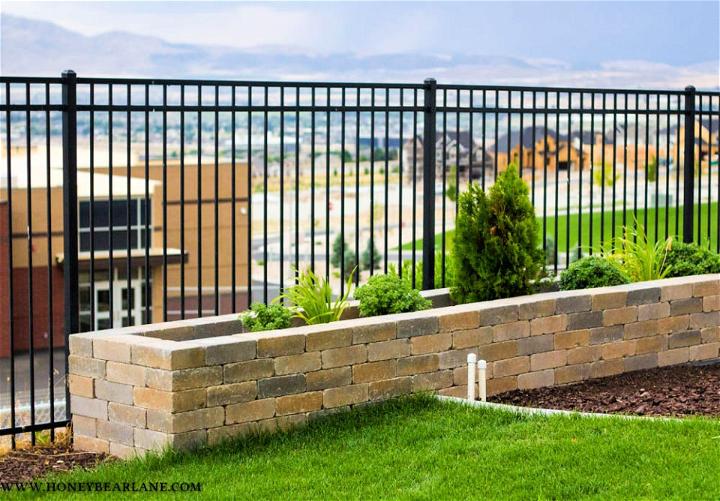 Give your backyard a perfect garden look by growing some fresh plants around with a stone planter box. This project could take some time to get ready, but you will get a very good out at the end. It's easy and inexpensive too. All you need is bricks, plants, seeds, clay, stone, water to mix the sand, hammer, cedar boards, clamps, and cement. honeybearlane
7. How to Make A Garden Bench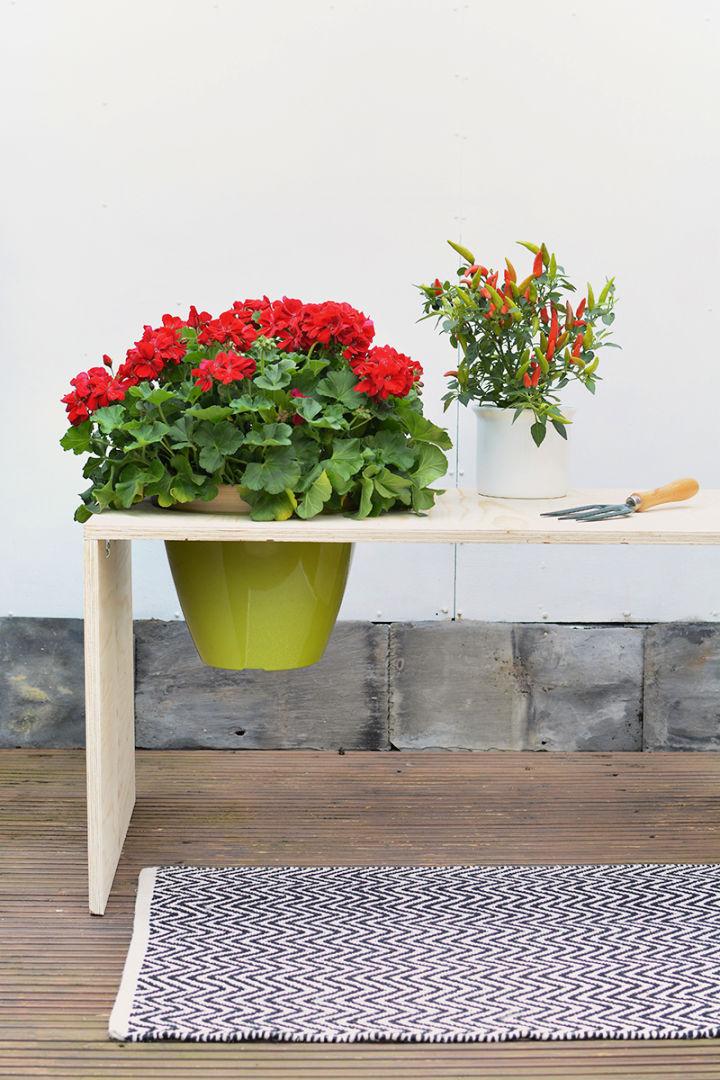 Do you like growing flowers a lot? Are you also planning to buy a new flower bench for your garden so you can put your favorite flowers and grow the new one too? Here is the best plan for you! Make a perfect DIY flower bench at home with easy steps. All you need is wood boards, a circular saw, measuring tape, nails, clay, plants, clamps, and cedar boards. burkatron
8. DIY Garden Fence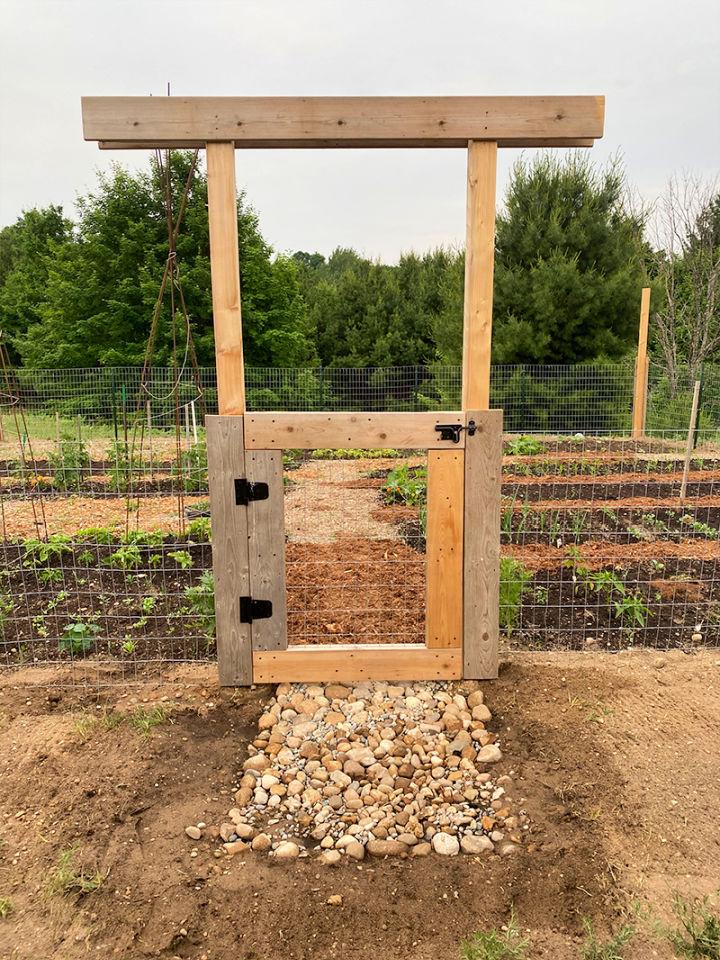 Are you tired of pests coming to your garden because they damage the plants? Are you also finding a way to keep the pests out of your planting area but wondering what could be the alternative? Building a DIY garden fence in just a few dollars and effort is the best solution for you. Assemble pitch ax, cedar boards, a hole digger, T-posts, level, and cedar 4×4 posts. freshexchange
9. Make Your Own Fairy Garden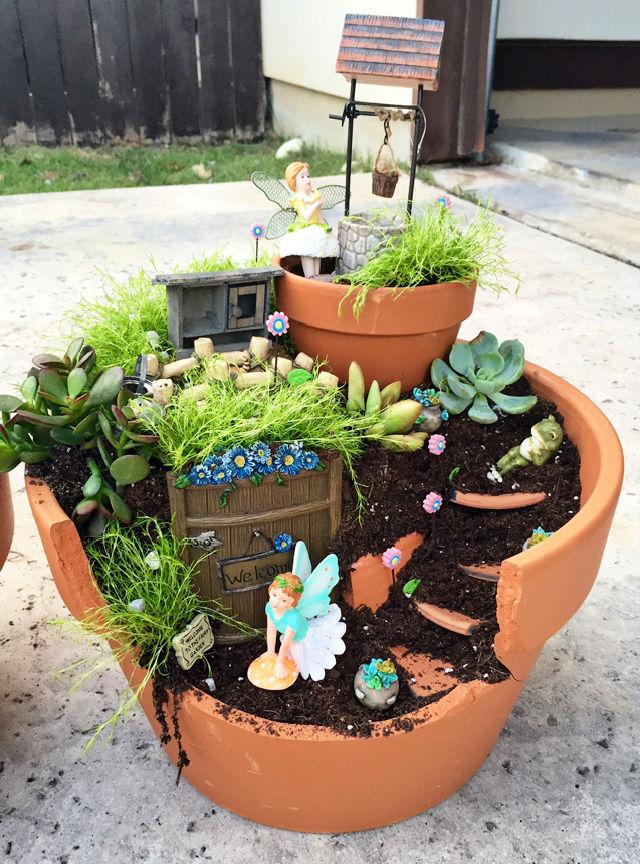 Do you admire the personality of the fairytale and watch her a lot? Want your garden them to be alike? Why not! Imagine you start a new adventure of making your desired fairytale garden at home? Yes, this super fun and creative project are doable. All you need is clay, favorite small plants, fairytale toys, water, a drill, clamps, and a pitch ax.projectnursery
10. Vertical Garden Plan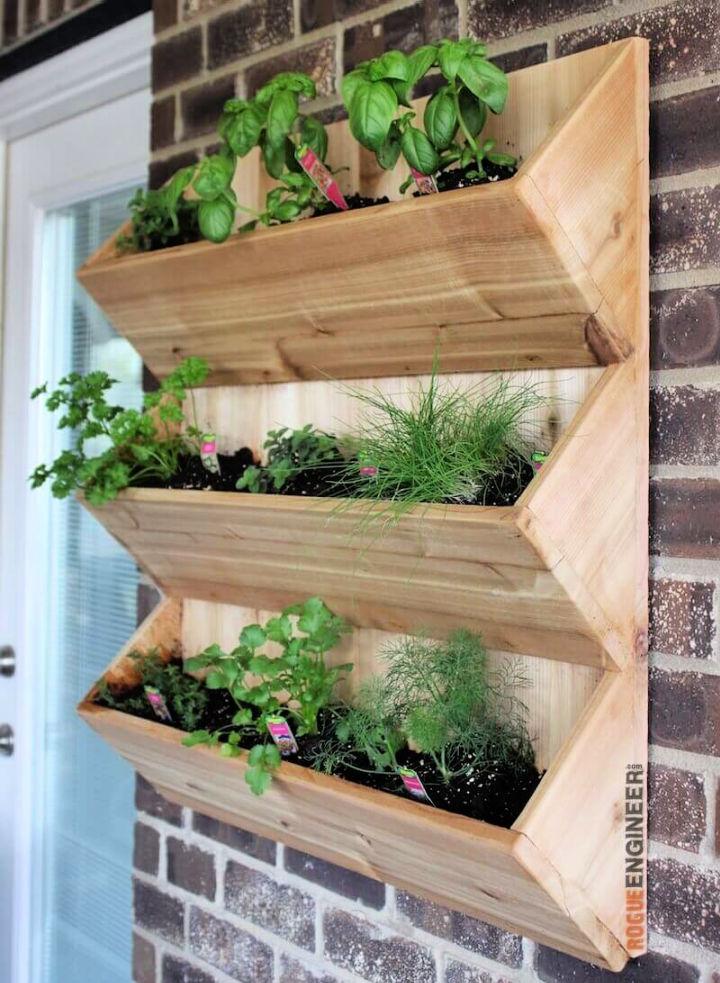 Are you the one who lives in a small house and has always wondered about having a garden at home but does not have enough outdoor space? No worries! Because here is the most suitable vertical garden plan for you to place anywhere you want. All you need is cedar boards, measuring tape, drill, nails, pitch ax, wood glue, plants, and screws. ryobitools
11. Make a Stacked Garden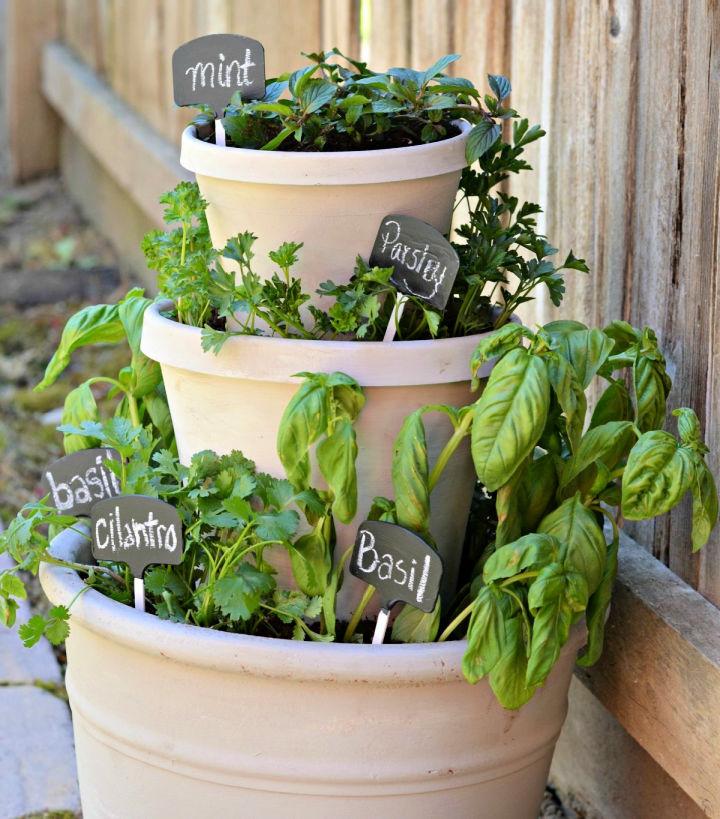 Have you been craving to plant fresh herbs at home? Do you have minimal outdoor space, and wondering if you can grow your plants within it? Building a stack herb garden at home is the perfect plan for you to grow herbs and pleasant addition to your outdoor space. Assemble plant pots, flowers, set of white garden t-labels. hip2save
DIY Concrete Planter: These amazing DIY concrete planters are easy to make, super stylish, and are a fraction of the cost!
12. Pallet Garden Trellis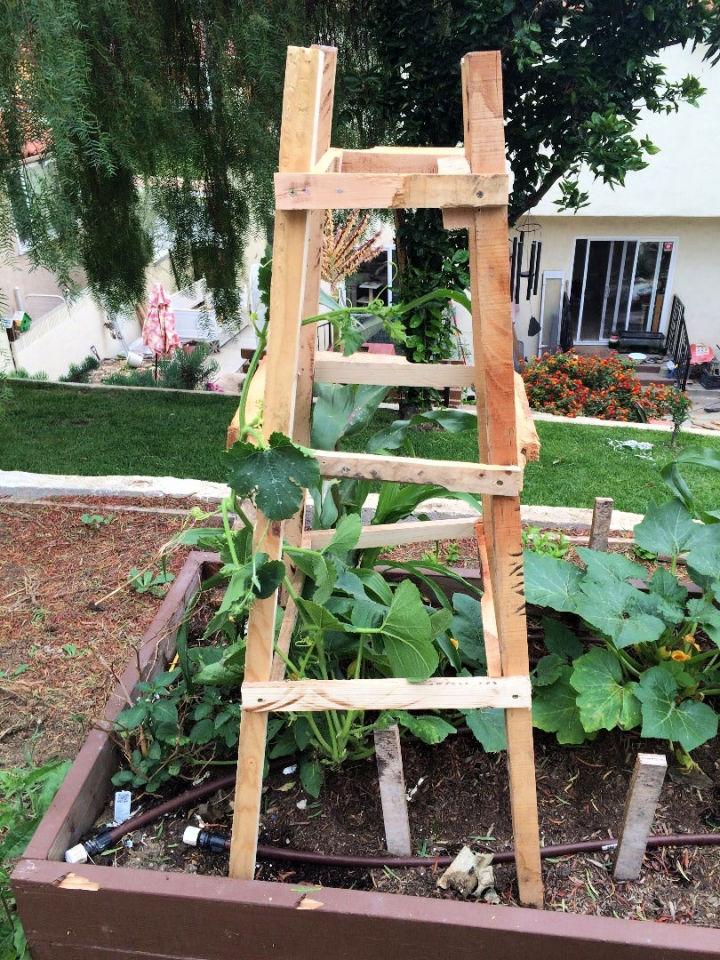 Have you ever seen small trellis in planter boxes and really liked them? Why don't you build one at your home? Get a 5-gallon planter bucket and pallet wood to create your desired garden trellis. This is pretty simple. All you need these few easily accessible materials like a pallet, safety goggles, table saw, reciprocating saw, nails, and screws. instructables
13. Strawberry Tower Garden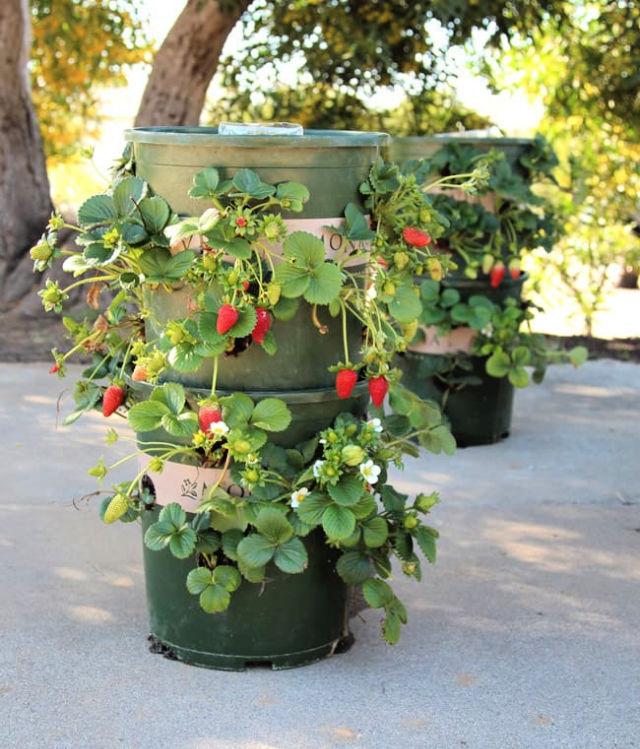 Now, building a strawberry planter with a built-in reservoir is no more difficult. In fact, it is super easy! Strawberry tower is a great space-saving vertical strawberry planter, an ideal option for your small garden space. Go to the market and shop for a Milwaukee 1.25" hole saw, power drill, plastic bottle of one liter, and a 5-gallon plastic planter pot. apieceofrainbow
14. Hanging Garden for Indoor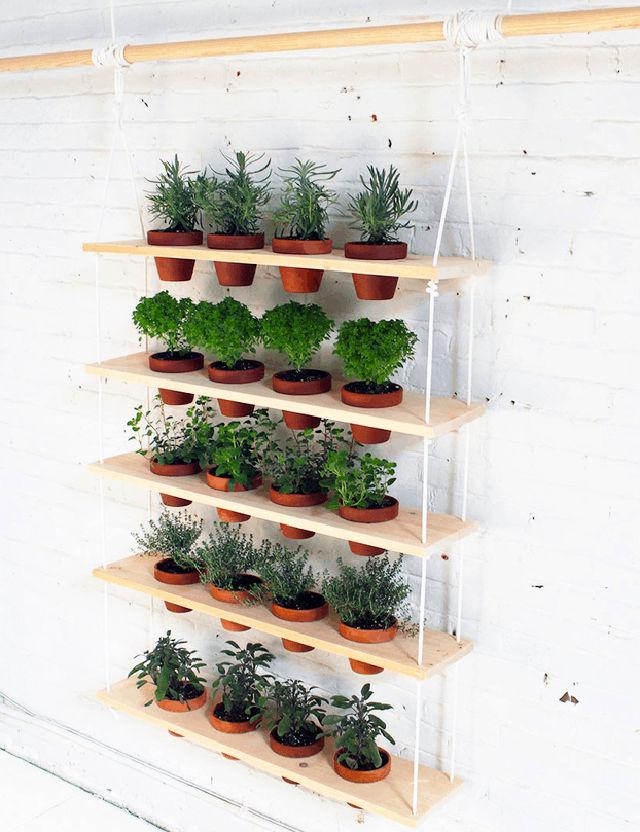 No worries if you do not have enough outdoor gardening space to grow plants. Here we come up with the best DIY hanging planter idea for you! Make a perfect indoor hanging garden and grow as many plants as you want. It would neither take any space nor would you need to change the furniture set. Assemble wood boards, plants, hammers, rope or thick thread, nails. homesteading
15. Garden Bench Plan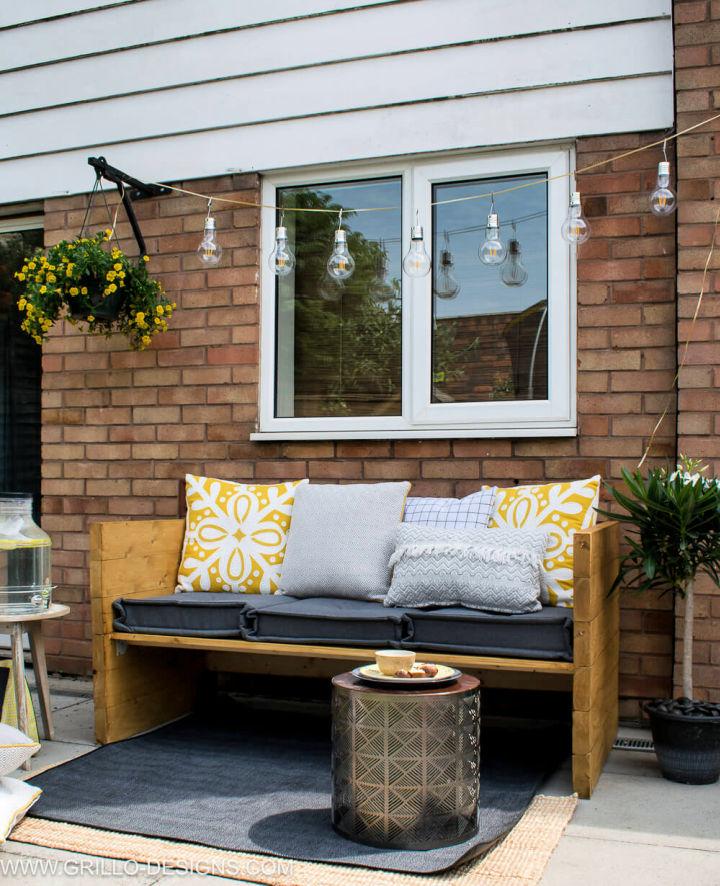 Did you just got married a few months back and shifted to a new home? Are you looking to buy a perfect two-seated bench for your garden for the perfect outdoor sitting in the evening? Wait! Let's plan and have a fun activity with your partner by building your desired sofa at home. All you need is a plywood sheet, spray paints, paintbrush, woodcutter, foams, etc. grillo designs
16. Garden Art from a Paper Plate Holder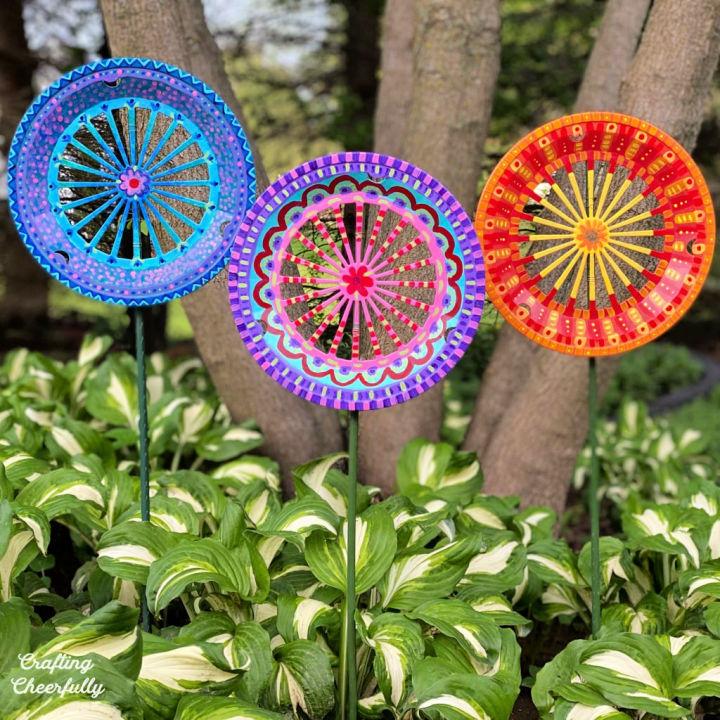 Are you free this weekend and looking for a perfect DIY garden project to renovate your yard? Create an easy and fun garden art to upgrade your yard by using a paper plate holder. This project is not only easy but inexpensive too and won't take a lot of time. Assemble paper plate holder, wooden or plastic stakes, wire, sealer, and outdoor acrylic paint. craftingcheerfully
17. How to Make a Garden Utility Cart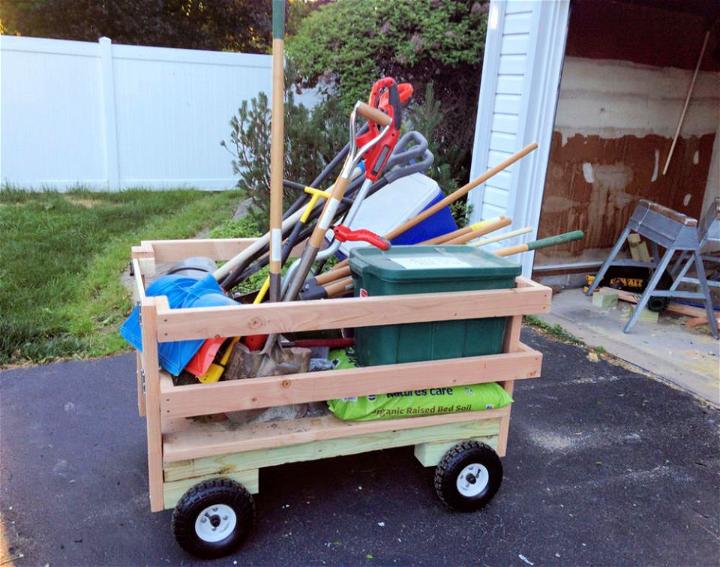 We all have a lot of garden accessories, tools, materials that we use to keep our outdoor space fresh. You must relate that it really annoys seeing garden stuff lying here and there on the floor. Must be looking for a utility garden cart to keep everything inside it. Well, it's super easy to build. Get four pneumatic tires and locking pillow blocks, axle rods, spacing washers. justmeasuringup
18. DIY Garden Gate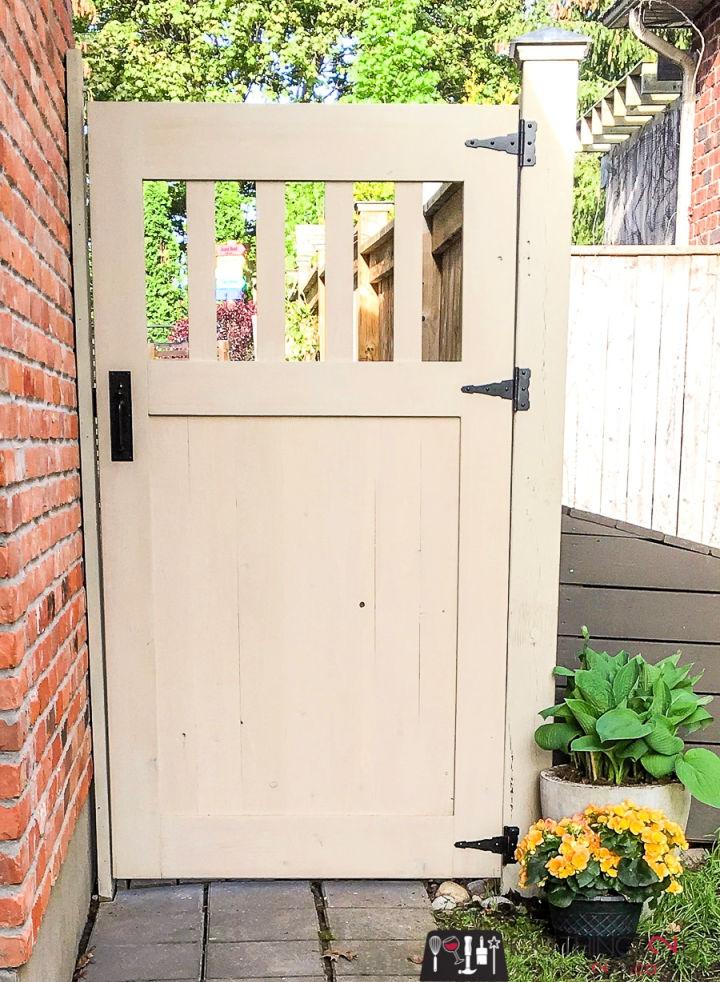 Are you tired of animals and pests getting into your garden and looking to add a garden gate? Are you looking to hire a woodworking man to make a custom gate for your garden? Well, why don't you build at home and save a lot of dollars as it's super easy? All you need is plywood sheets, nails, woodcutter, power drill, clamps, pocket hole screws, miter saw, measuring tape. jenwoodhouse
19. DIY Garden Water Fountain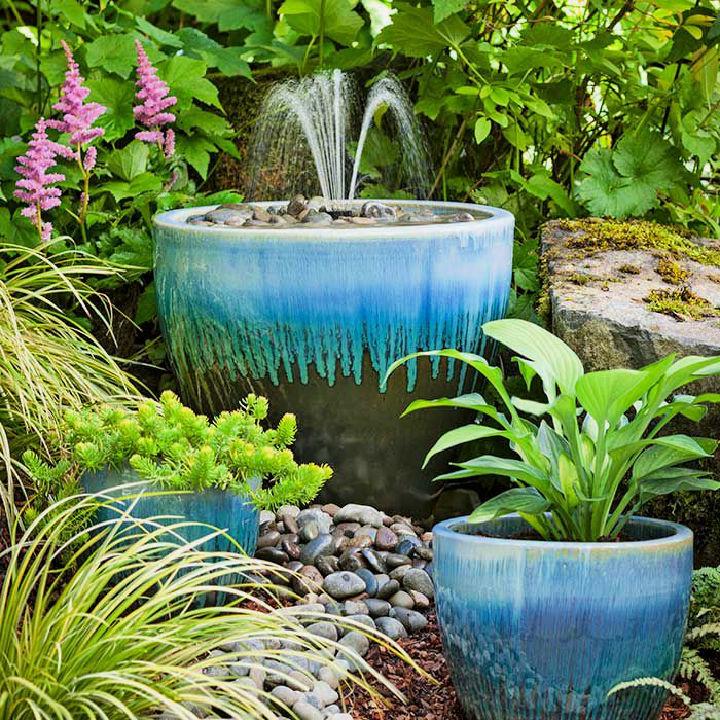 Without any doubt, fountains are still one of the best decor ideas that don't seem to get old in the next so many years too. Building a fountain for the garden and growing plants around it gives your outdoor space a fantastic look. All you need is a drill, glazed ceramic pot, rubber hole plugs, utility knife, pencil, tape measure, silicone adhesive sealant, and a 5-gallon plastic bucket. lowes
20. Garden Flag Using A Place Mat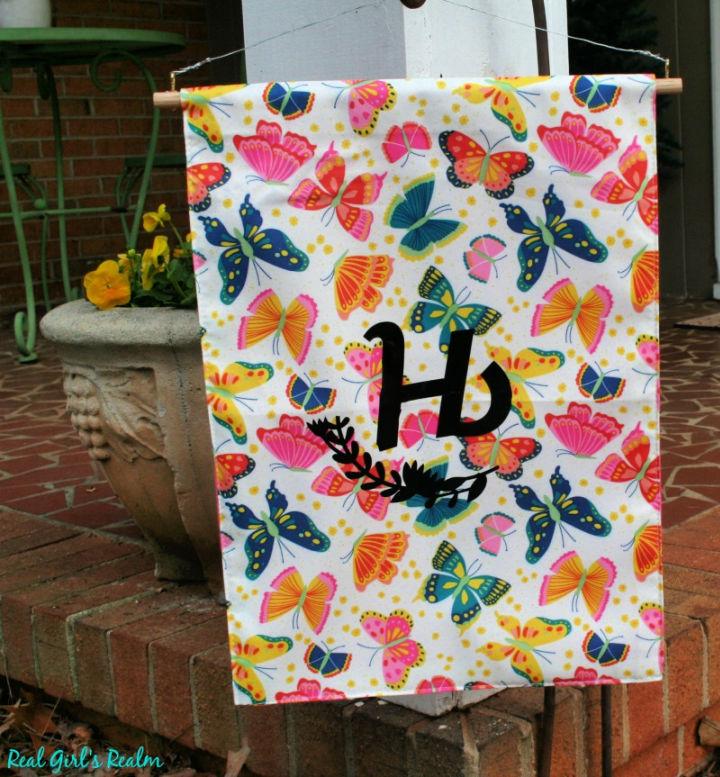 Are you the one who likes crafting and decorating a home garden with seasonal flags? It must be expensive to buy new flags every season and holiday, right? are you looking for an alternative if you can make them at home? Why not! Assemble a placemat, two eye screws, wooden dowel, hem tape, picture wire, and start making it right away! realgirlsrealm
21. Build a Garden Arbor Arch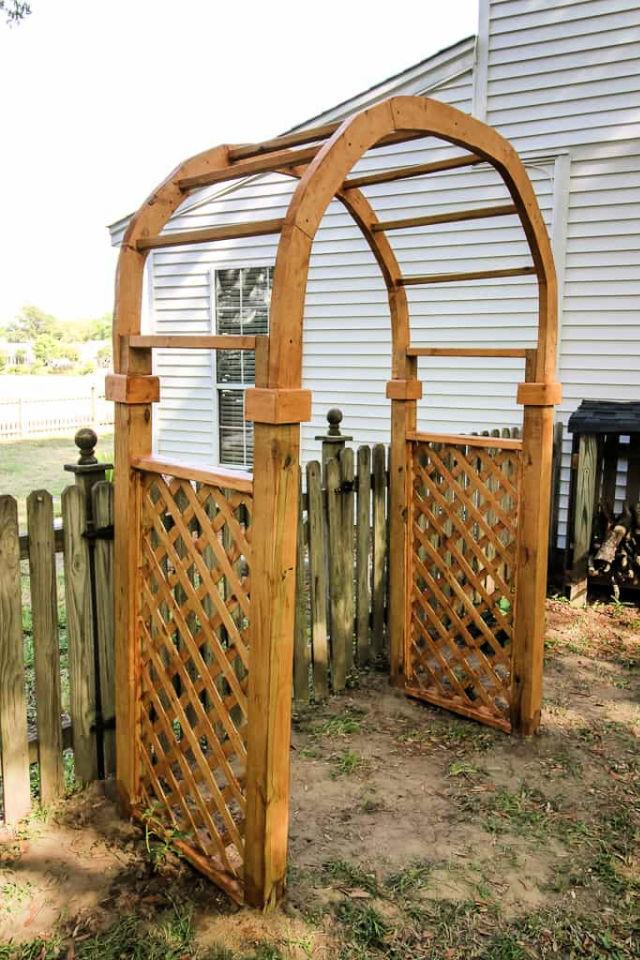 Have you been craving to have a beautiful arch in your outdoor space for so long? Did you find your desired one in the market, but it was too expensive for you to afford? Let's spend some time and build your desired garden arbor arch with all the inexpensive materials. All you need is wood boards, pocket hole screws, nail guns, wood clamps, rope, plywood sheets. charlestoncrafted
22. DIY Japanese Zen Garden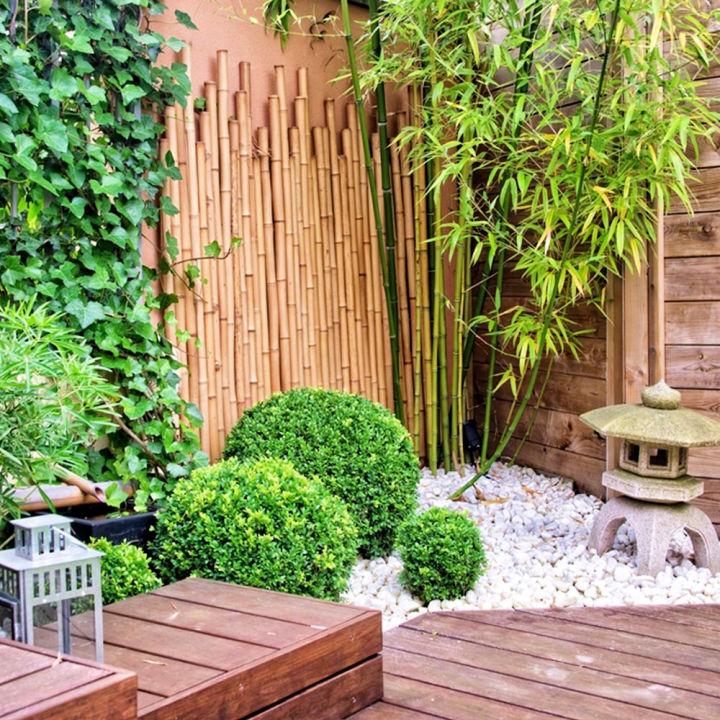 Do you already have a good garden and looking to renovate it? Do you want to give your garden a Japanese zen look? Have you been searching for the relevant to hire and o the needful but couldn't find one? Well, why don't you follow this plan to give your garden the desired look? Assemble wood sticks, rope, fence boards, power drill, wood clamps, etc. homedepot
23. Raised Vegetable Garden With Compost Bins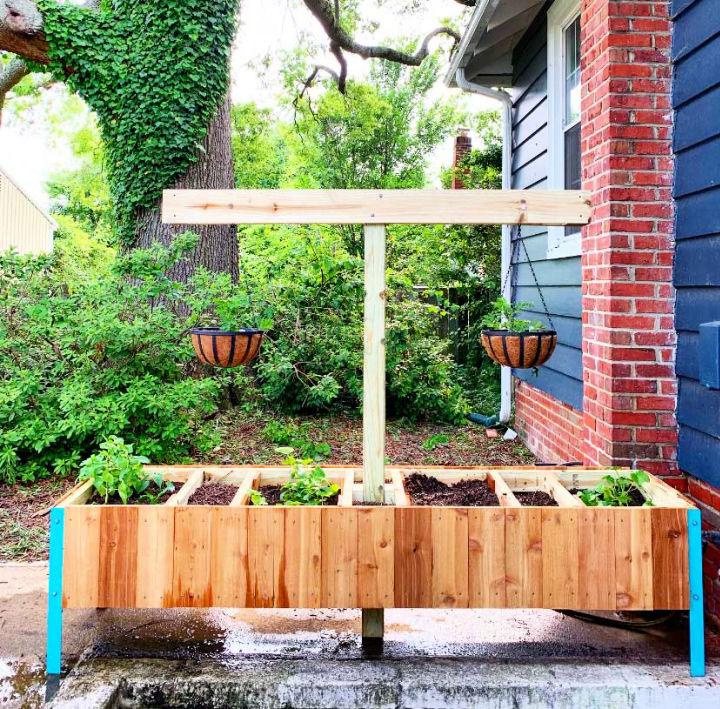 Fresh vegetables taste different. But growing them, seeding, self watering planters, and keeping them safe from insects and pests is the actual task. To keep your vegetable safe, build raised vegetable garden with compost bins. All you need are nails, wood clamps, hole screws, dowel rod, pressure-treated boards, cedar fence pickets, pieces of steel angle iron, zinc plated lag screws, drill. lazyguydiy
24. Elevated Garden Bed Plan

Are you the one who loves to grow plants above the ground because of the pets getting into your garden area? Build a perfect raised garden bed with legs to make your gardening easier. Grow as many plants as you want with the simple and inexpensive DIY garden plan. All you need is wood boards, cedar boards, nails, a ruler, measuring tape, wood glue, and wood clamps. angelamariemade
25. Homemade Garden Table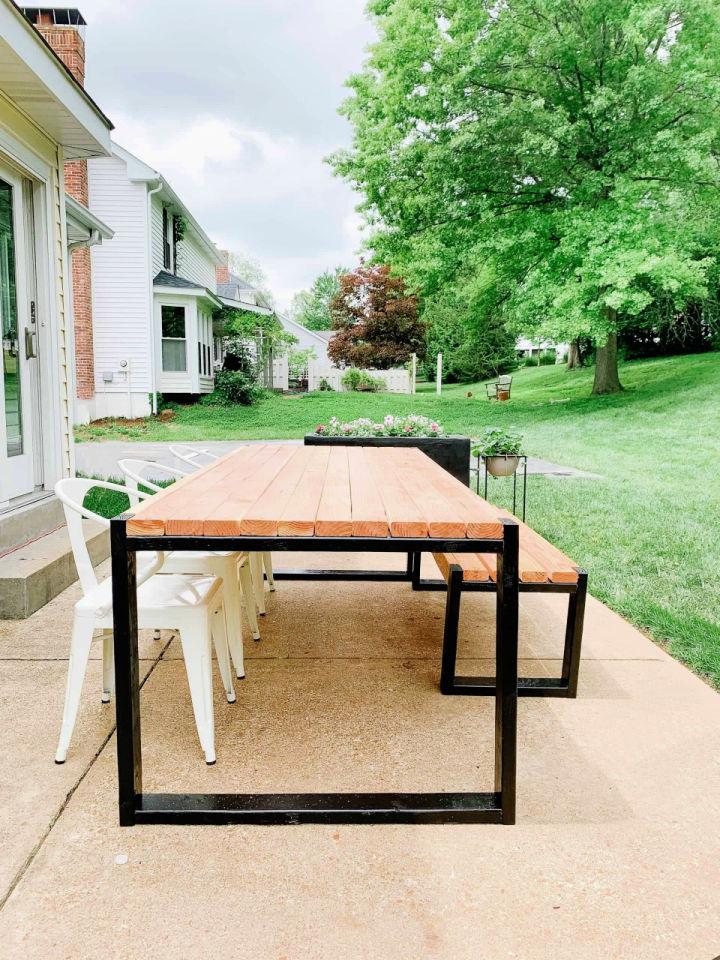 Is your son's birthday just around, and you are planning to do something exciting year to surprise him? Do you want to arrange an outdoor set up this year for the whole family and friends too? But, can't you do it because you do not have money to buy a large outdoor garden bed? Build it yourself by gathering supplies like wood boards, plywood sheets, nails, hole screws, etc. arinsolangeathome
26. Modern DIY Garden Trellis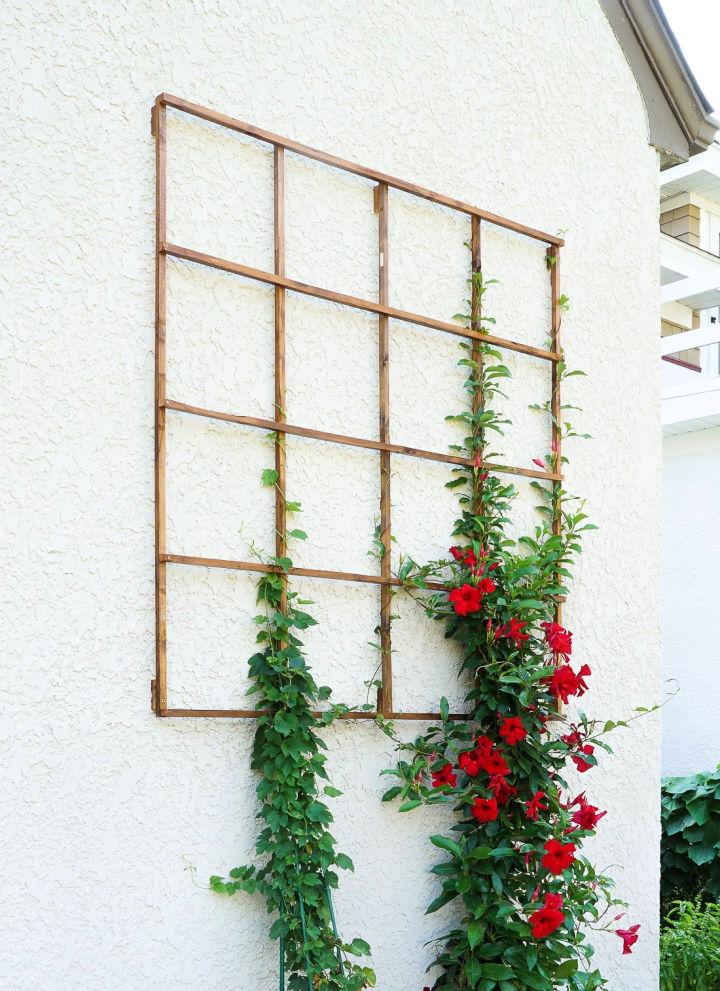 Build a modern garden trellis that helps your climbing vine to the distance. Hand this trellis on the favorite wall of your home to let the plants grow upright. Over time, you il see the plant growing over the trellis and will give you a lush green color wall look. All you need is caulking, 3" galvanized screws, miter saw exterior grade stain, 11 cedar garden stakes. francoisetmoi
27. Hose Holder with Pallet Wood Planter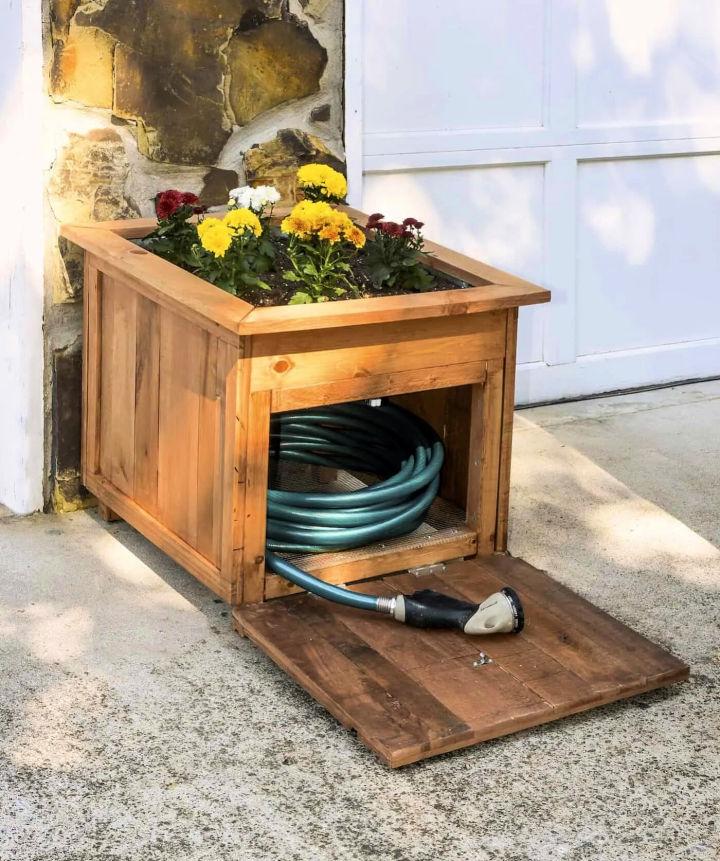 Make sure to keep your plant's hose hidden until you need them. This DIY garden plan would allow you to keep your hose stored underneath when you do not need it. This is how you may keep your garden looking tidy. This is a very simple project: readily supplies like pallets, small door latch, Thompson's water seal, wood screws, galvanized hinges, and ultimate wood glue. diycandy
28. Hanging Gutter Planter and Stand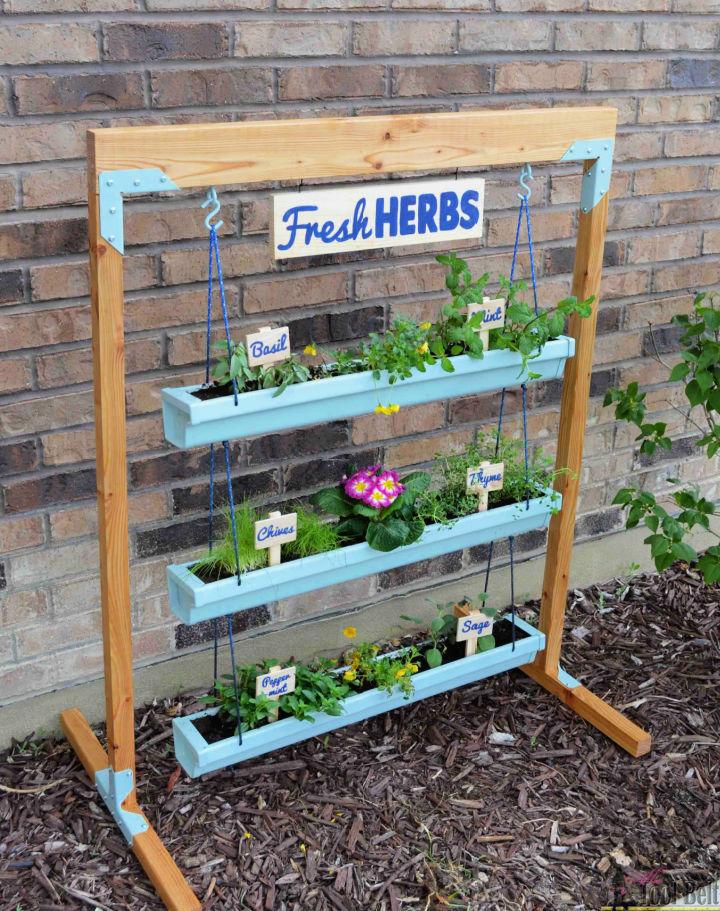 Everything tastes better with fresh ingredients! Have you been craving for a fresh herb garden to use in cooking? But you also do not want to dedicate a huge outdoor space from the garden? Well, this is an ideal DIY plant stand project for you to work on then. Build an elegant hanging gutter planter stand to grow your favorite herbs. Get wood, nails, ruler, etc. hertoolbelt
29. Paint Dipped Garden Tools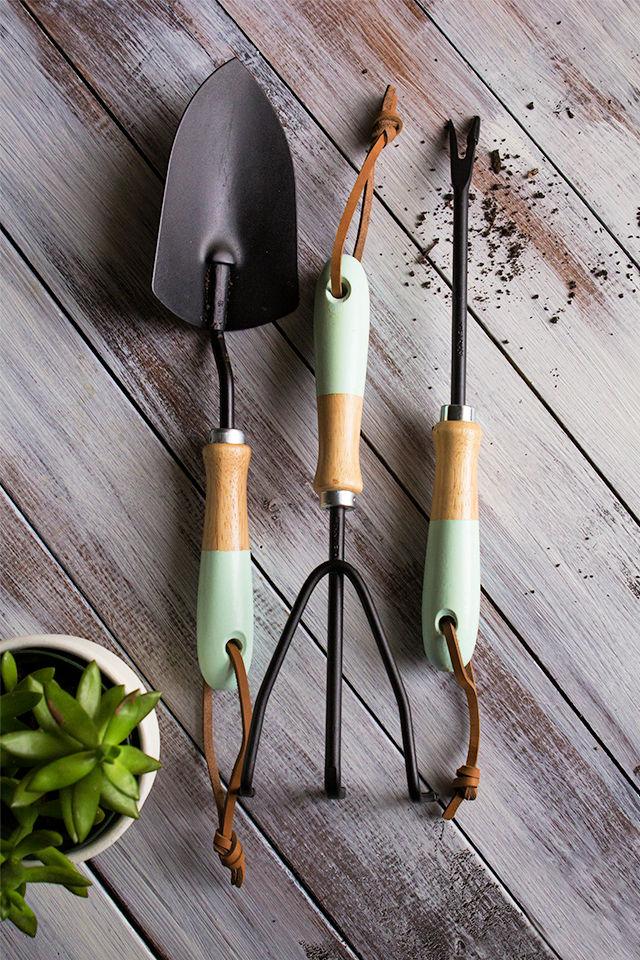 Are you done with renovating your garden and have also added all the new gardening extensions to your outdoor space? Are you craving more gardening? Let's paint and transform your cheap garden tools into new ones. It's a super fun project to make your tools stylish in no time! All you need spray paints, paintbrushes, and water paint (depending upon your choice). sarahhearts
30. Sew Your Own Gardening Apron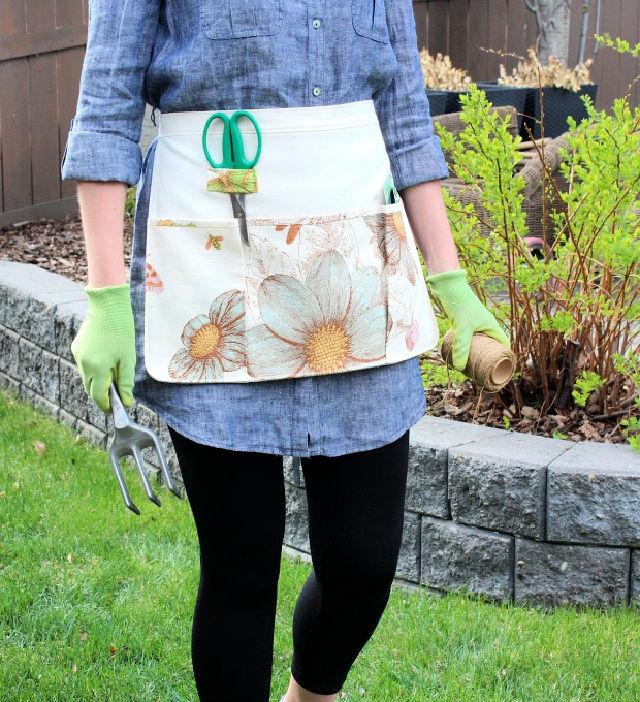 If you love gardening, you will agree that clothes get untidy during the planting and gardening process. Why don't you sew your own gardening apron rather than purchasing it from the market? Sew this simple apron with handy pockets for keeping supplies and tooling at your fingertips. It's super easy. Gather these supplies: sewing machine, needle, thread, fabric, ribbon. satoridesignforliving
31. Colorful Cinder Block Planters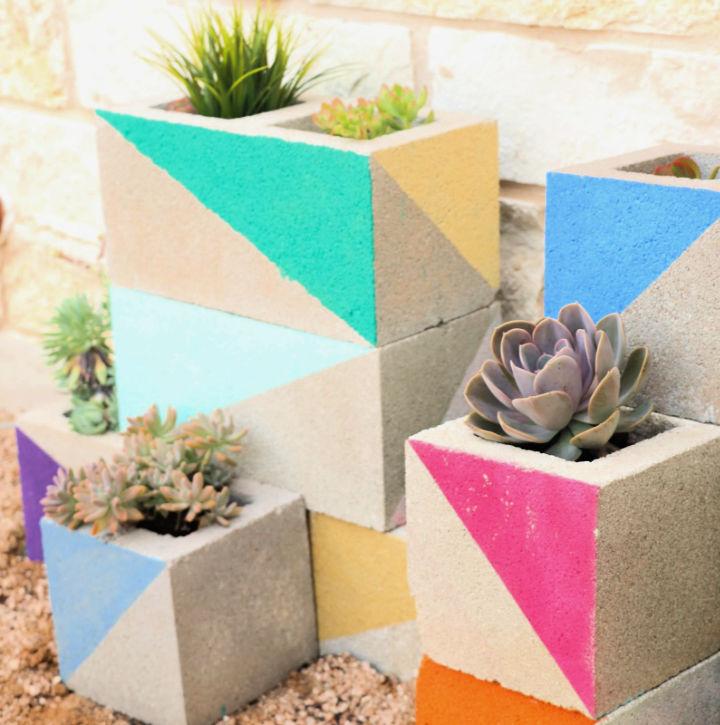 Have you been searching for unique cinderblock DIY garden projects to do this weekend? If yes, then build landscape colorful cinderblock planters at home by using succulents they might be expensive, you can purchase one and divide it to fill cubbies. All you need is cinderblock, succulents, spray paint, paint brushes, pencil, drill, etc. akailochiclife
32. Building A Garden Bench

Who doesn't like to sit outside in summers to enjoy nice evening winds blowing. Are you looking to buy a piece of new outdoor furniture for small gatherings of friends and family? Don't spend a lot in purchasing a new outdoor garden bench, and follow this perfect plan to make it yourself at home. Assemble miter saw, measuring tape, wood boards, nails, etc. instructables
33. Wooden Crate Garden Planter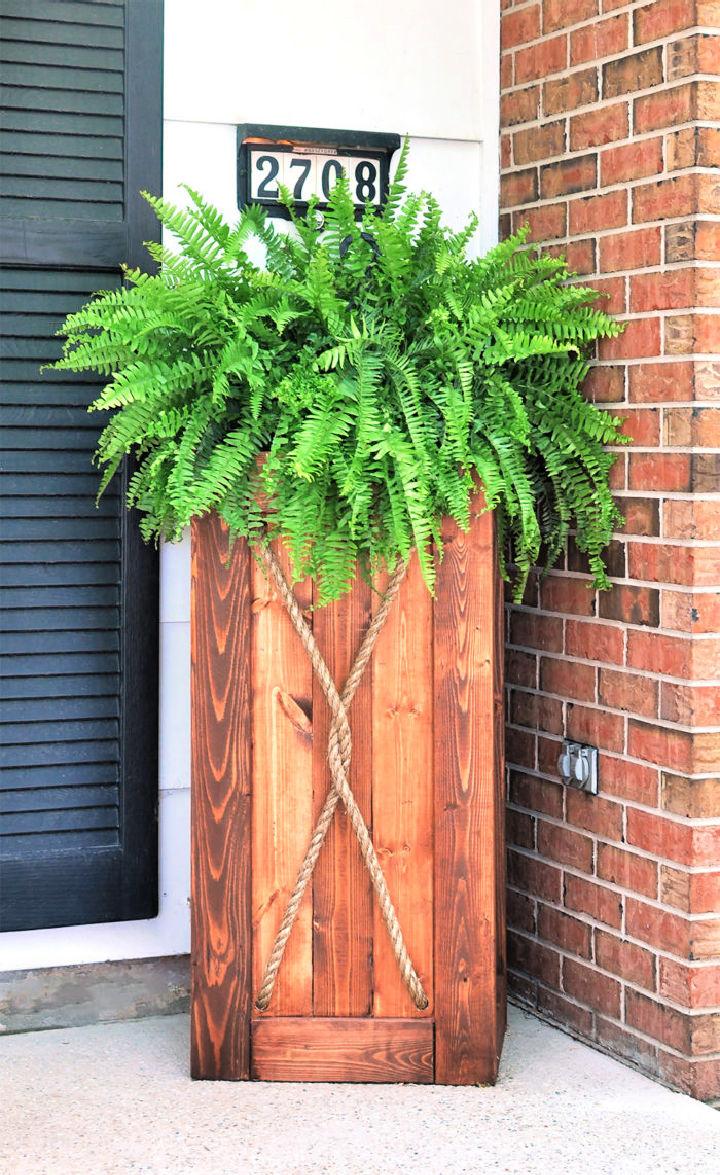 Adorn your back patio space or front porch with a fantastic pair of wooden planters flanking at your doorstep. Spend some time of few hours and add a beautiful extension to your planter accessories. All you need is wood stain, rope, wood boards, waterproof sealant, miter saw, clamps, nail gun, wood glue, drill, or impact driver. cherishedbliss
34. $10 DIY Tiered Planter Box

Are you with a minimal budget of few dollars and looking to create something for outdoor space to give it a better look? Here is the perfect plan to make a tiered planter box for just $10! Moreover, this project would take your only two hours to get complete. All you need is lumber, flowers, plants, clay, a water bottle of 1-liter, wood boards, nails, etc. anikasdiylife
35. Simple 2×4 Potting Bench

Have you been searching for the perfect garden ideas to create potting bench at home? Do you have some time to spend and like art and gardening both? Well, this is the best plan for you then. Assemble the supplies, including exterior self-tapping screws, wood glue, miter saw and circular saw, measuring tape: power drill, nails, wood boards, hammer, and wood clamps. ana white
36. Recycled Tire Planter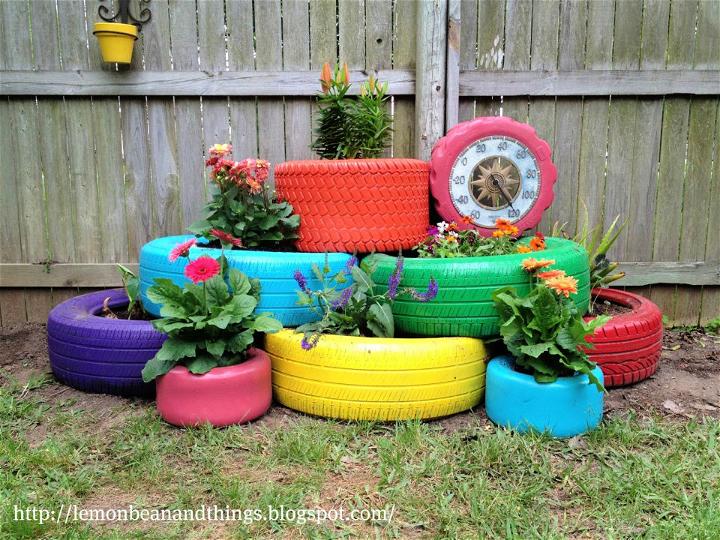 Do you have spare tires lying around and wondering if you can recycle them to make DIY flower bed creative out of them? Why not! You may use these tires to make perfect DIY garden planters to grow plants and herbs of your choice. All you need is tires, clay, water, plants, spray paints, paintbrushes, flowers, seeds to give a perfect looking to your outdoor space. lemonbeanandthings
37. Build A Cart For Garden Tools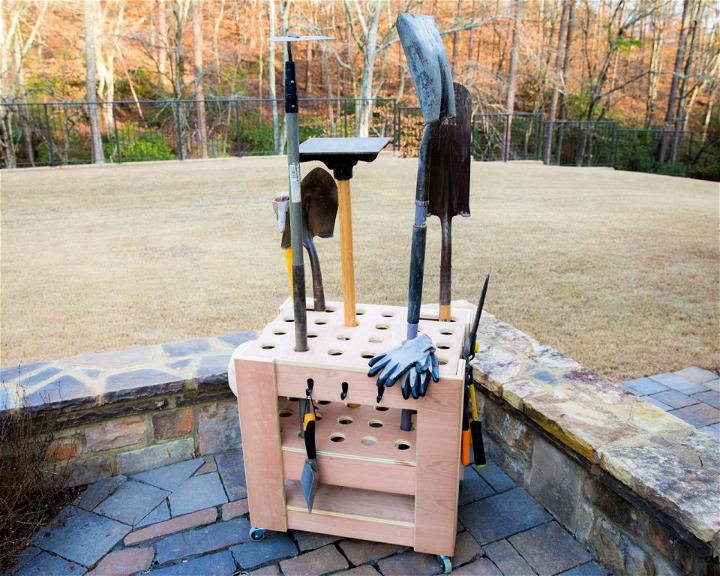 If you have an outdoor space at your home along with the perfect garden and plant, then you must know difficult it is to store all your garden equipment like rakes, trowels, shovels, and much more! Build a perfect storage cart at home. Assemble table saw or circular saw, medium or small casters, hooks, Forstner bit or hole-saw bit, power drill, "?? sheet of plywood of your choice. diynetwork
38. DIY Tiered Herb Drying Rack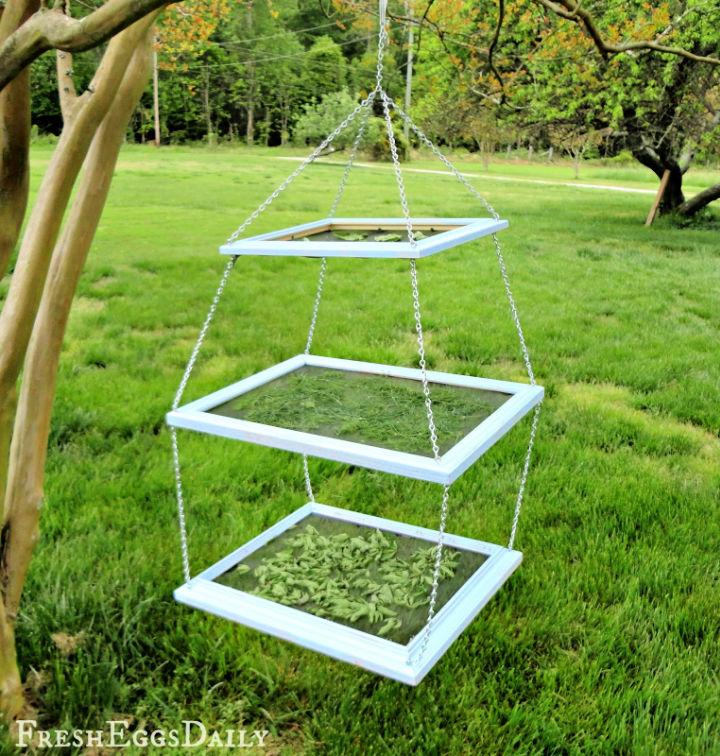 Are you tight on gardening space and simply looking to grow your favorite herbs out of reach from your pets and other animates and pests too? If yes, then this DIY garden of making a tiered herb drying rack is the perfect solution to your problems. All you need is scissors, staple gun, 20 small eyehooks, pliers, cordless drill, can of spray paint, window screening. fresheggsdaily
39. Wooden Slat Garden for Patio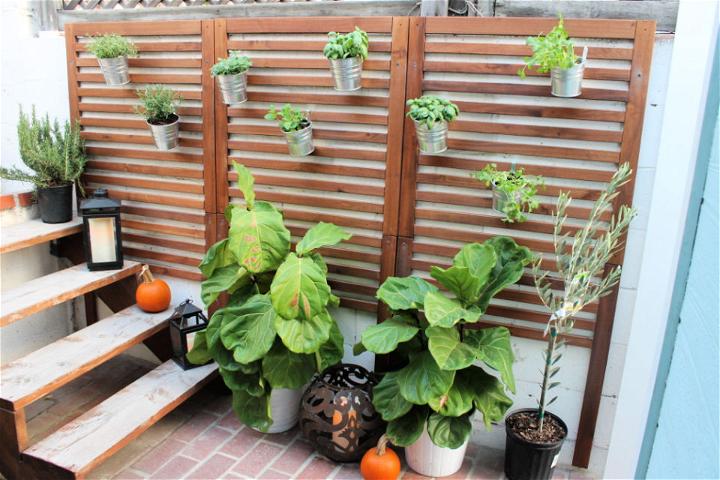 Have you been crawling the internet to search for the diy garden ideas for creating your own apartment garden? Can't buy it from the market because of a limited budget of $150 only? Well, you are at the right place, and here is the best plan for you! Assemble masonry anchors, IKEA socker pots, IKEA white pots, IKEA Applaro outdoor panel, lanterns, plants, and drill. designwinedine
40. How To Build A Cedar Planter Box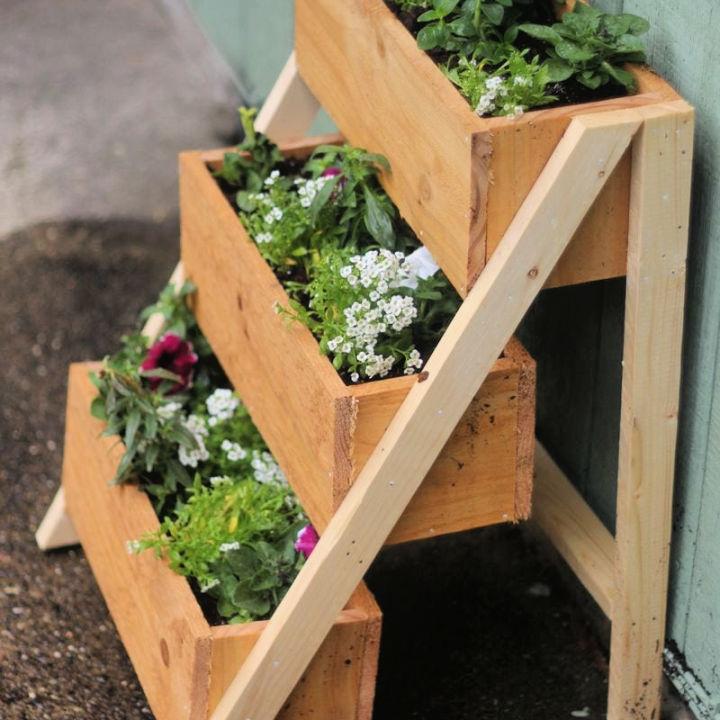 Are you looking to add an excellent extension to your outdoor space and searching for the perfect DIY project to do this weekend? Do you also have some cedar planks around? Save money and use these diy garden ideas to make an ideal DIY cedar planter box to grow plants. All you need is cedar fence pickets, tape measure, pencil, miter saw, wood glue, and finishing nails. homebyjenn
Conclusion:
Let's wrap up here, hoping that you found all the cheap, easy and creative garden ideas as mentioned earlier inspiring and have also found your desired one. As discussed above, each of the diy garden ideas has its own features and qualities. All you need to do is think smartly and choose the most suitable plan that suits your budget and comfort the best. No doubt, all of us really love to see small or large gardens at home. Still, some of us can't make it happen because of the limited space, right? However, now make your custom DIY garden yourself without hiring and paying anyone.
Are you wondering if you can make money out of these diy garden ideas? But how? You can learn all the diy garden ideas and create custom gardens for people looking for something relevant at cheaper rates. Do all the diy garden ideas seem attractive to you? Have the supplies ready? Let's give it a try then!