Find 23 beautiful and durable garden fence ideas that are super useful, cheap and convenient to keep your garden and all are easy to build. These DIY fences keep critters away from your beautifully grown herbs, fruits, and vegetable garden. It gives a proper structure to a garden along with some style too. This outdoor space allows you to create your little garden using tools and supplies that are easily available and very cost-efficient too. It is always better to build a DIY garden fence on your own rather than hiring someone else to do it because you know better how you want things to look like eventually. Moreover, you can also customize some ideas or colors according to your preference.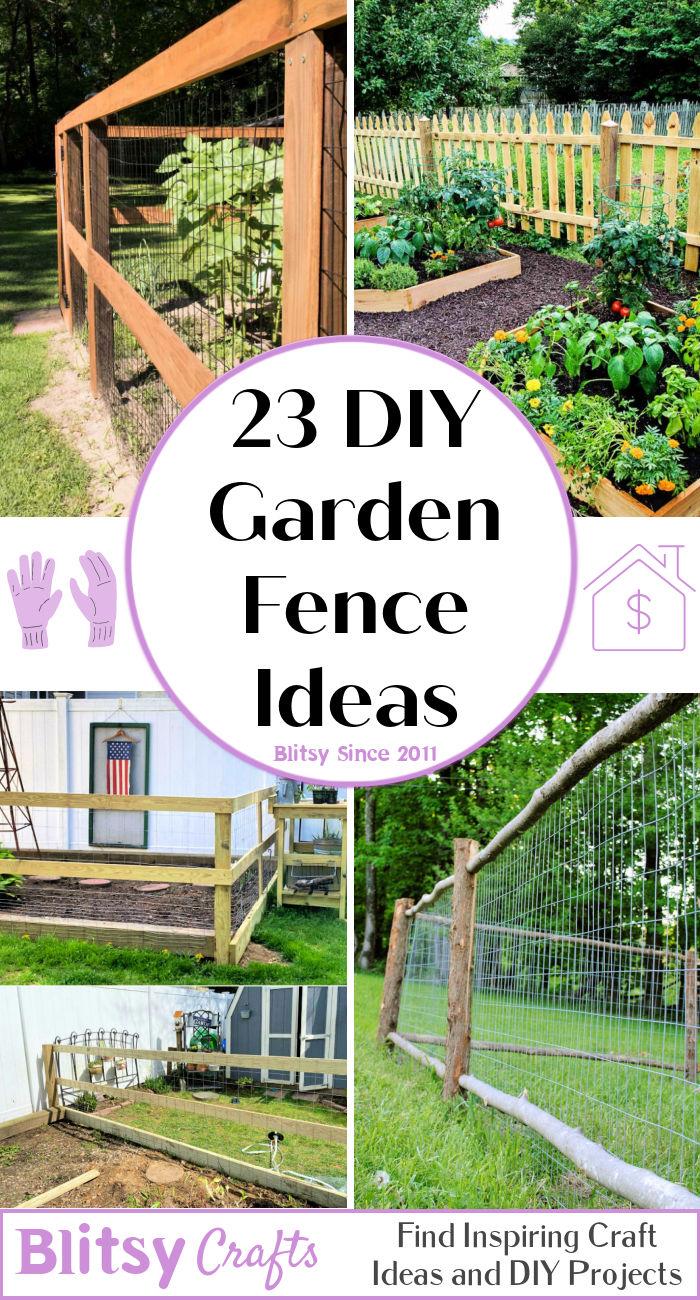 This article gives you a wide range of easy to install, garden fence ideas for example hog wire, wooden, picket, raised garden bed, chain link, farmhouse style, coastal rope, chicken wire, and wooden pallets. You need to make sure that you are aware of the dimensions of the space where you have decided to make the fence. Pick and choose the DIY garden fence that you think would suit your space the best and gather all the necessary supplies for it. Once all of the things are completed, you can start building your own DIY garden fence project right away. So without any further ado, let's look into the variety of garden fence ideas below!
1. How To Build A Garden Fence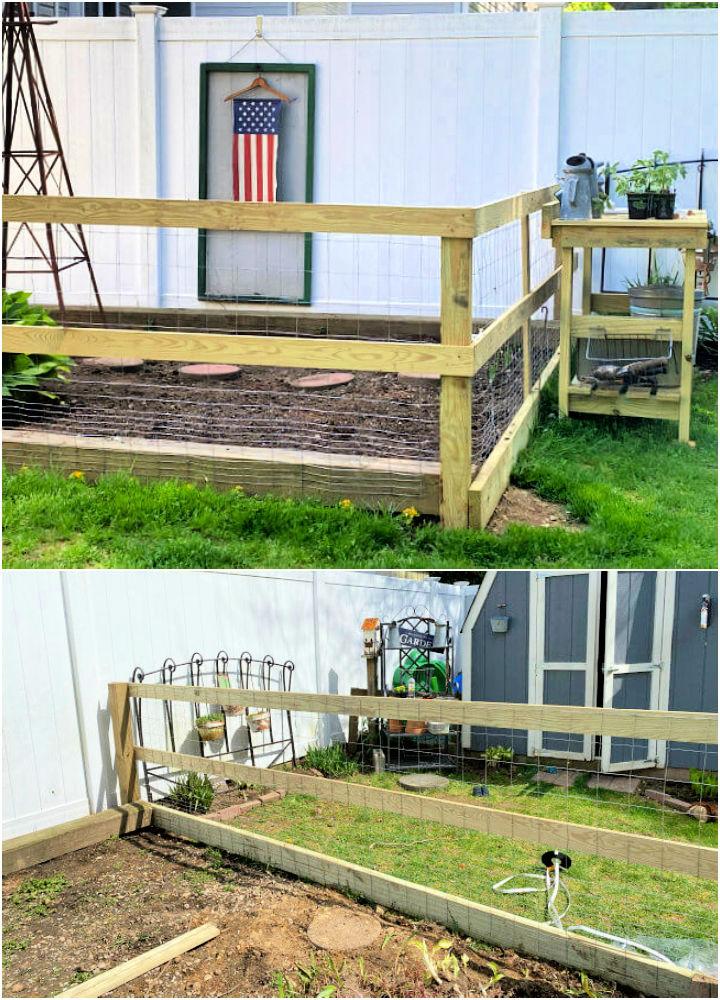 If you plan to build a vegetable garden in your outdoors, then learn to make this garden fence too. This garden fence will protect your vegetables, fruits, flowers, or herbs from your pets and your kids. The fence is made by bringing together the lumber wood and the fence wire, and you can learn the details here! homeroad
DIY Greenhouse Plans: Find 40 Free DIY greenhouse plans that will give you what you need to build one in your backyard.
2. DIY Hog Wire Garden Fence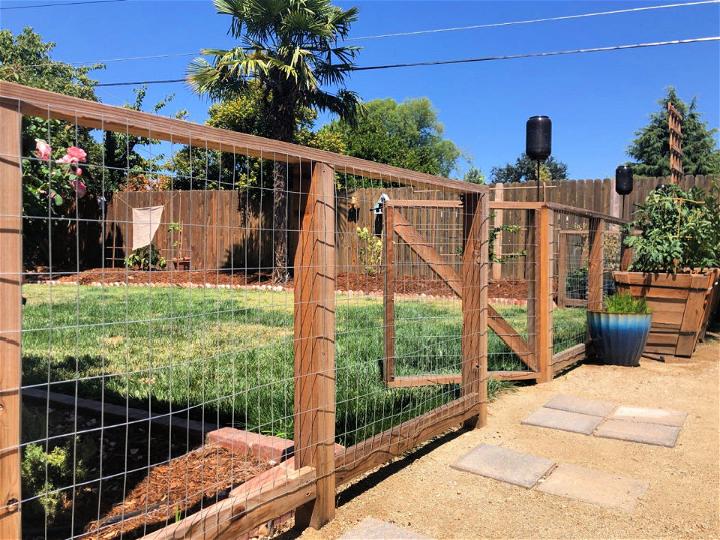 Make your gardens completely guarded with this DIY hog wire garden fence. This fence is made with lumber and fence wire, gravels, deck screws, gate hardware, and marking paints. So if you are planning to raise a vegetable or seasonal flower garden outdoors, check out the details of this DIY garden fence. ourlibertyhouse
3. Custom Fence Plan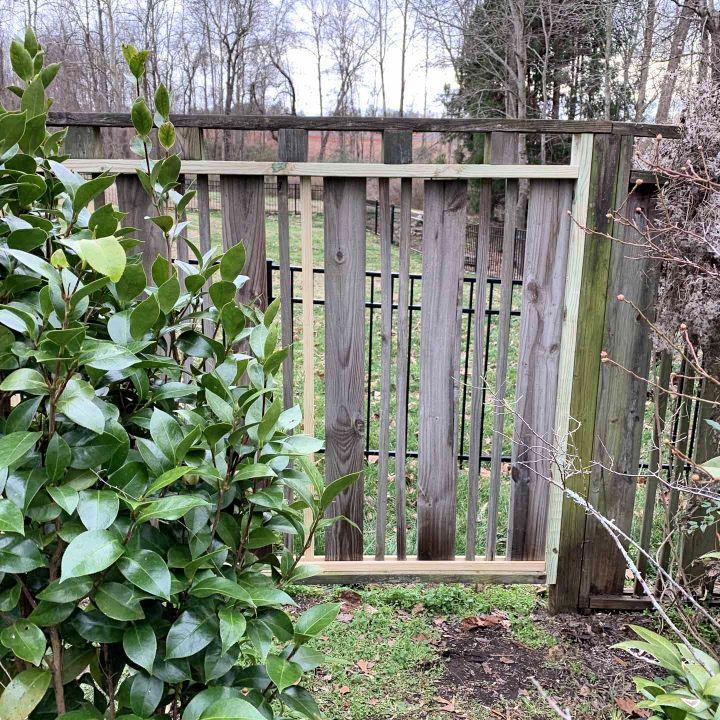 Here is this custom fence plan that is so gorgeous and decorative that you are going to go gaga over it. The long fence with a lovely fairy house-like gate is going to be the perfect boundary for your blooming garden. So no more dog barging into your gardens and creating the mess, as you can work up this custom fence plan with details here! fromhousetohome
4. Vegetable Garden Fence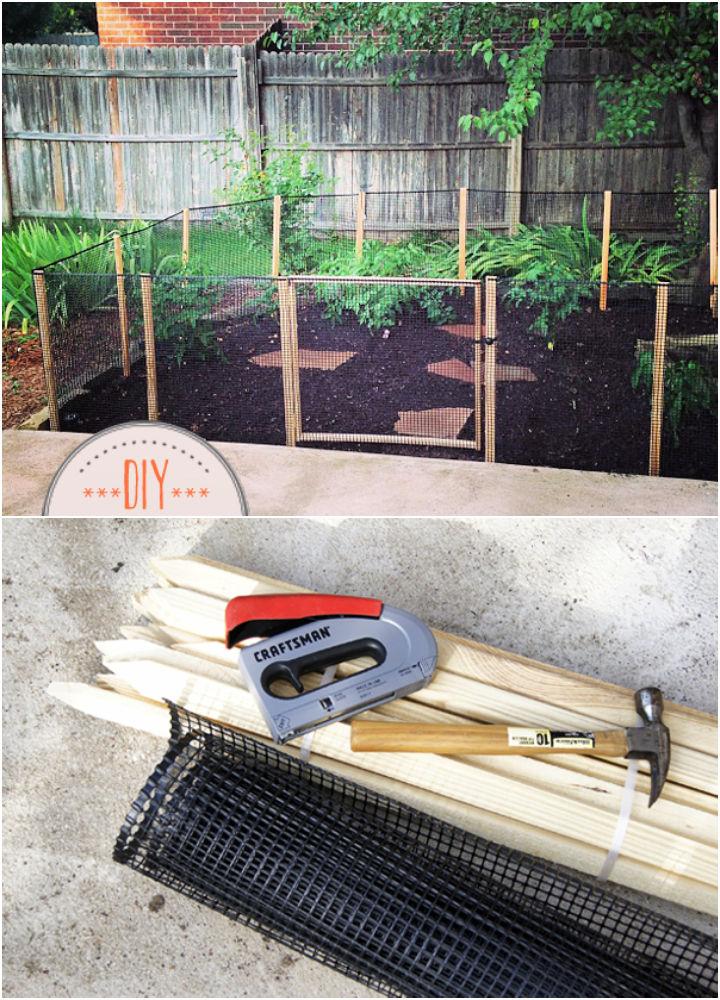 If you plan to increase the variety of vegetables in your garden, which can welcome wild rabbits, then opt for this vegetable garden fence. You can customize this garden fence according to the area and shape of your garden. So get your hands on the wooden sticks, plastic black net, door lock, hinges, and the tools like leveler hammer and the staple gun to work up this fence. oheverythinghand
5. How To Make A Wooden Fence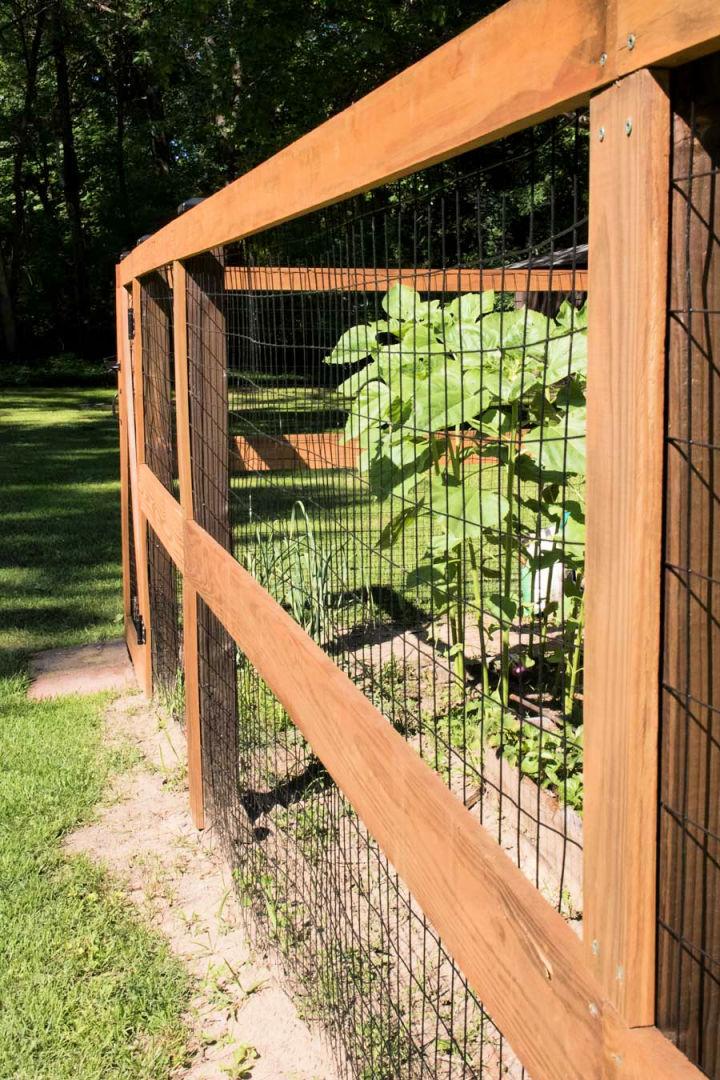 No matter what animals you have around, if you have a vegetable or fruit garden, then it's surely in danger of attack. So here is the idea of creating this wooden fence for your small garden and protect it from the attacks of wandering animals. The fence is made with wooden posts and metal fence mesh, along with a cute little fence gate with a lock. Details here! merrypad
6. Make Your Own Garden Fence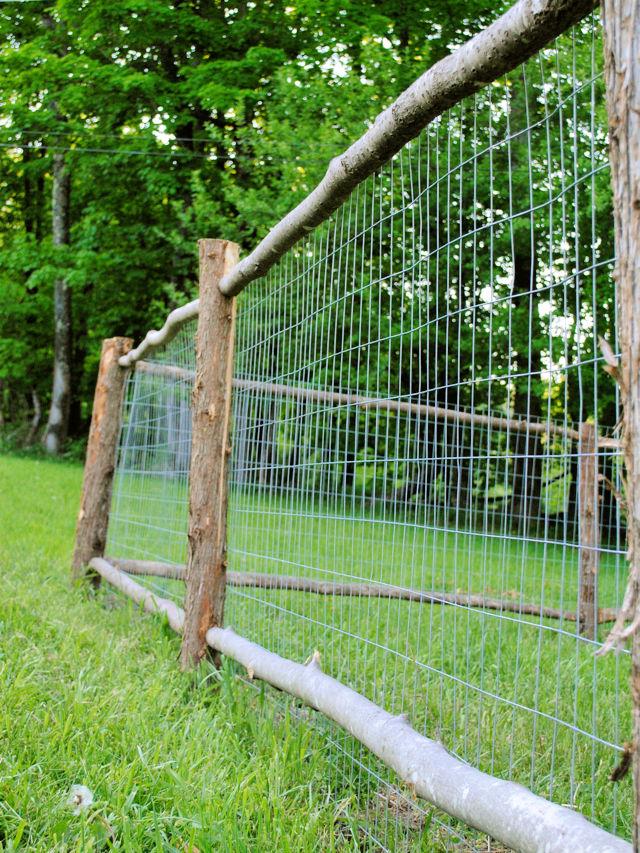 We cannot sleep peacefully at night if the rabbits or the deer can damage our new vegetable garden. Make your own garden fence and feel least worried about your growing vegetables. Using the salvaged wooden boards and the rabbit wire, you can easily install this low-cost but perfectly efficient fence with a small gate. Details here! littledogvintage
7. How To Install A Picket Fence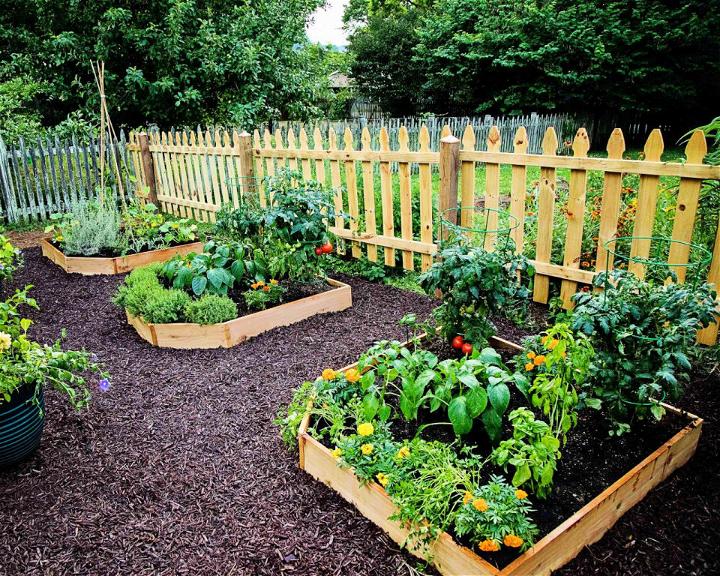 When it comes to fencing our gardens, the picket fence is the most classic design and choice for this purpose. You need wooden posts and dog-ear-shaped fencing boars to install this perfectly gorgeous and fun-looking fence. Paint it in your desired hues for a decorative and pretty look. Get the details of fence installing right here! hgtv
8. DIY Raised Garden Bed Fence

Here is this quirky kind of DIY raised garden bed fence to make your vegetables and blooms safest. The raised bed has been over-protected with the help of wooden posts and the wire net fencing. It would not let rabbits, dogs, and deer enter your garden and ruin your vegetables. Check out the details here! thriftdiving
9. Chain Link Fence Makeover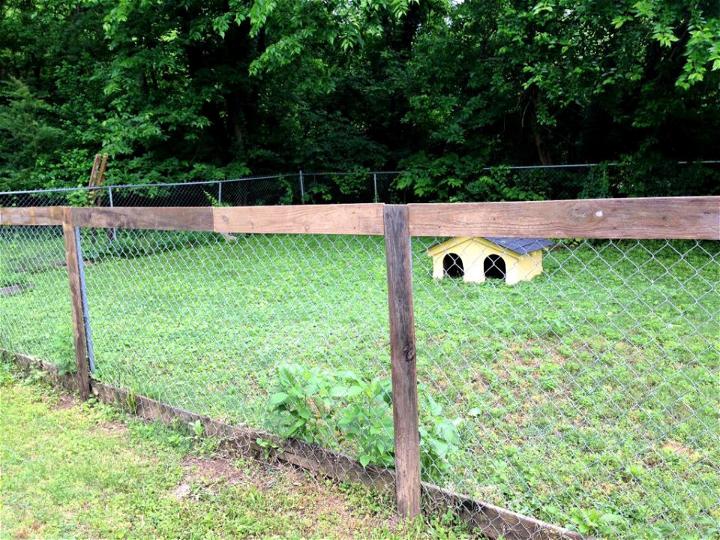 If you need to change the fence around your garden spaces, then making this chain link fence makeover is the best idea to get your hands on. With a few things on hand and some hard work, you can easily work up this fun chain link fence makeover and create a safer and more beautiful fence around your garden area. Details here! mominmusiccity
10. Small Fencing Fencing On Low Budget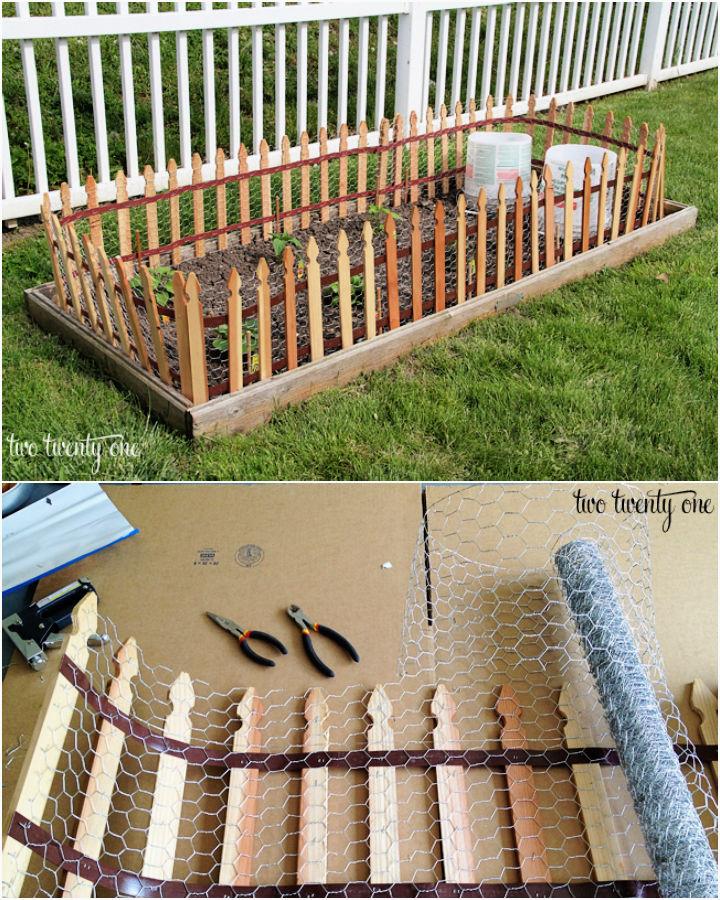 Here is an interesting idea to create the perfect fencing around your newly raised vegetable garden and save it from the naughty rabbits. This perfect fence has been made with wire fencing and wooden pickets. You would also need your staple gun and the wire cutters to make this perfect fencing. Details of the idea here! twotwentyone
11. Install a Critter Proof Garden Fence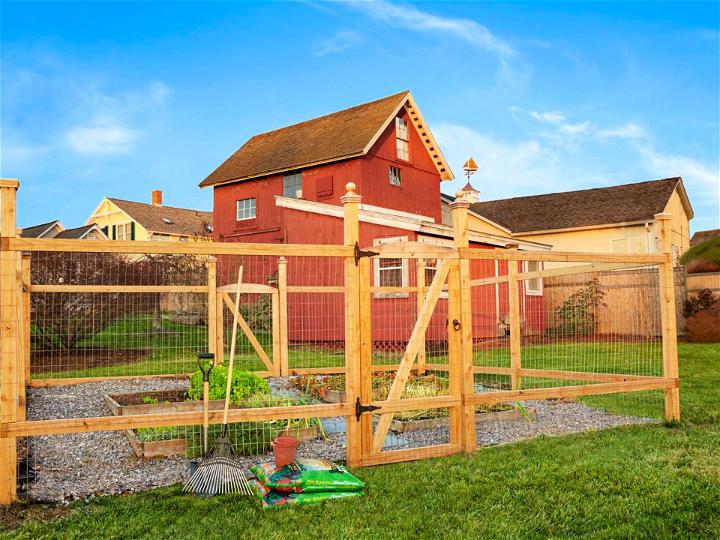 Hand-grown vegetables are the best and most precious to us. So here is the idea of creating this critter-proof garden fence on your own. The fence is easy to build out of the wire fencing, and the wooden lumbers posts and thus create a perfect keep out for the animals around you. You can find out the details here! thisoldhouse
12. Best Homemade Garden Fence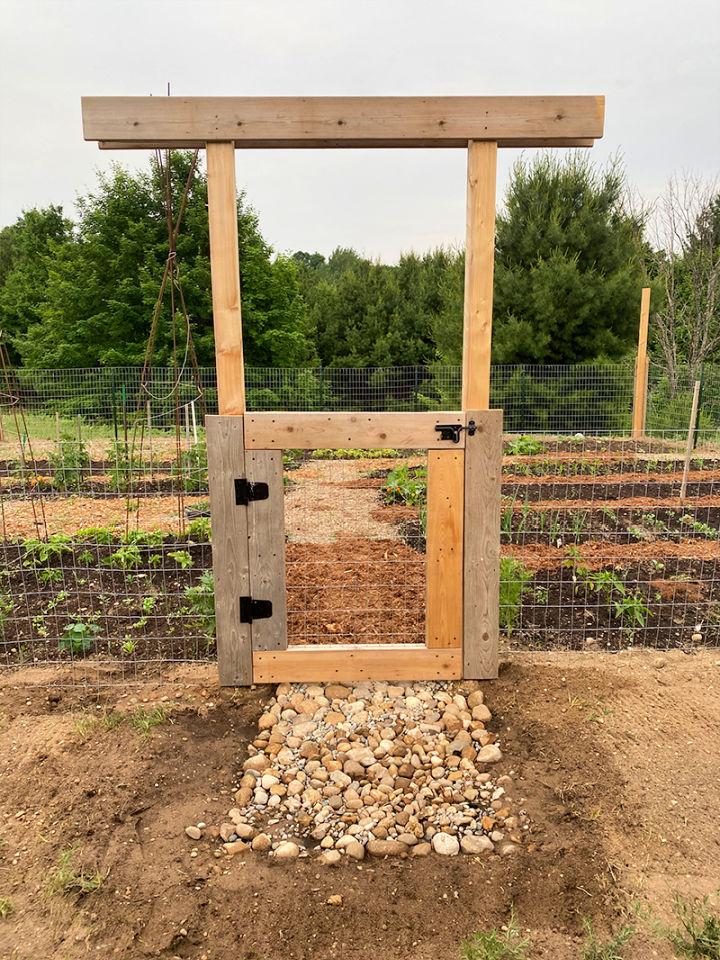 Keep the animals and kids out of your garden space where you have grown your favorite veggies or herbs.  This best homemade garden fence would keep the invaders out of your garden place. The fence is created with wire fencing using some wooden boards to create the support and the gate of your fence. Details of the idea here! freshexchange
The best DIY ideas to make your own planters. From small indoor plant boxes to large outdoor planters. Find the inspiration you are looking for to create homemade planters.
13. Building A Garden Fence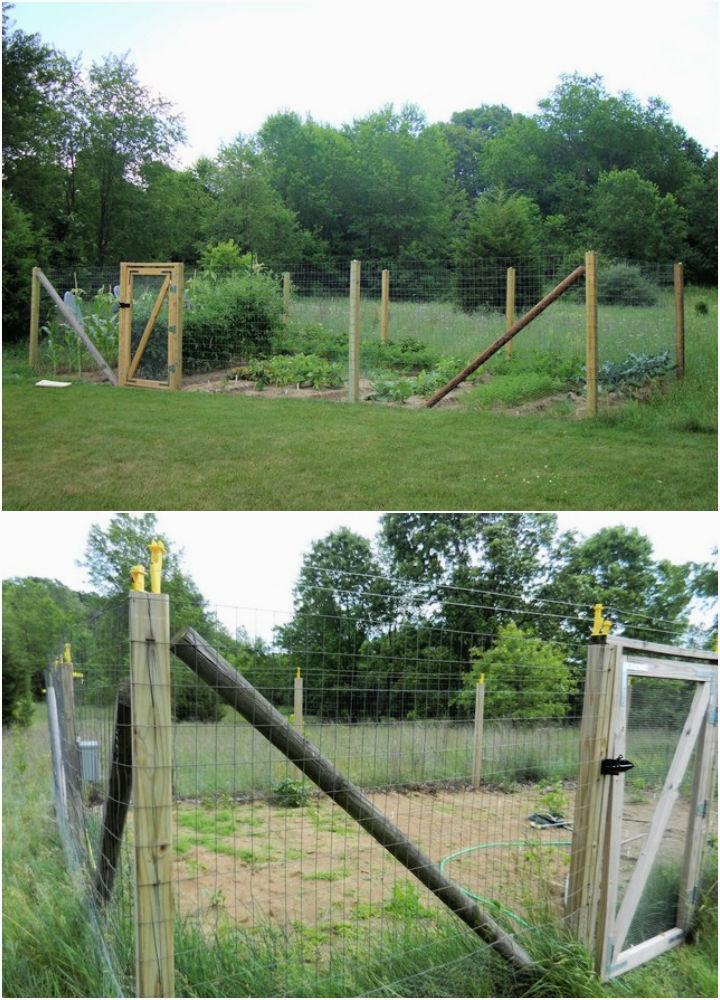 If there are bigger animals around you and you need to make a high garden fence, here is building this garden fence. Using the wire fencing and the wooden posts, you can easily shape this garden fence on your own with a bigger door. You can learn the details of the idea right here! thecountrybasket
14. Farmhouse Style DIY Garden Fence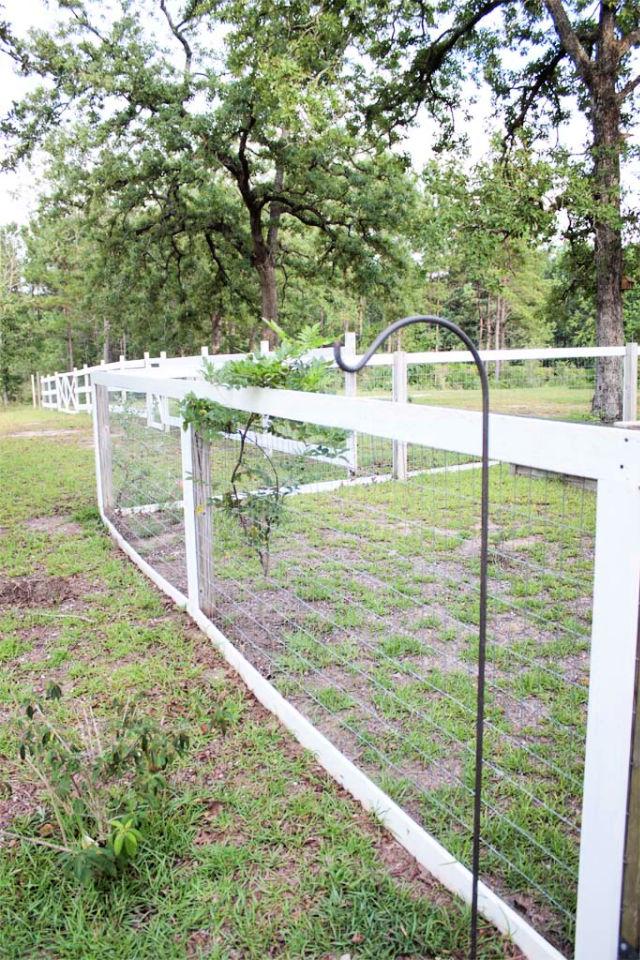 Bring the perfect farmhouse-style decor vibes to your spaces with this farmhouse-style garden fence. The chic white garden fence is the best thing to build when you want a safe boundary for your vegetables and want a decorative appeal for your outdoors. Check out the details of the idea here! southern revivals
15. Simple Garden Fence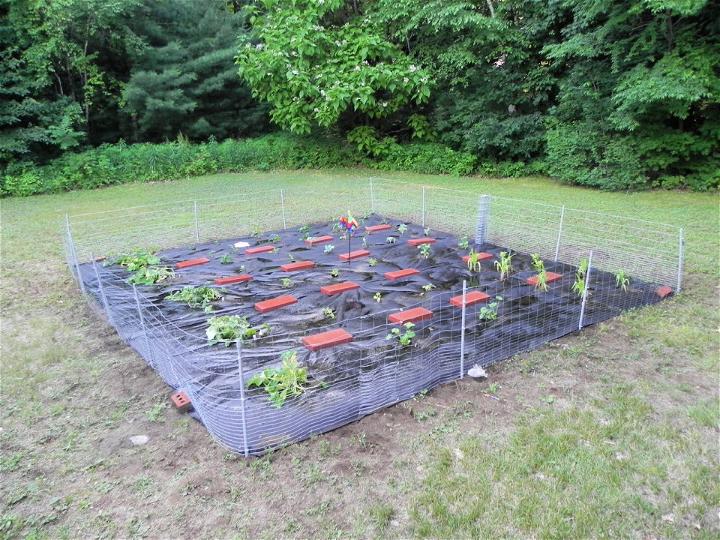 Here is another great and simple idea of the garden fence to create a perfectly safe space for your new vegetables and blooms. The simple garden fence is made with the metal fence wiring and the polls and becomes so sturdy and robust. Also, you can easily remove it during the winters, so do check out the details here! theadirondackchick
16. Coastal Rope Garden Border Fence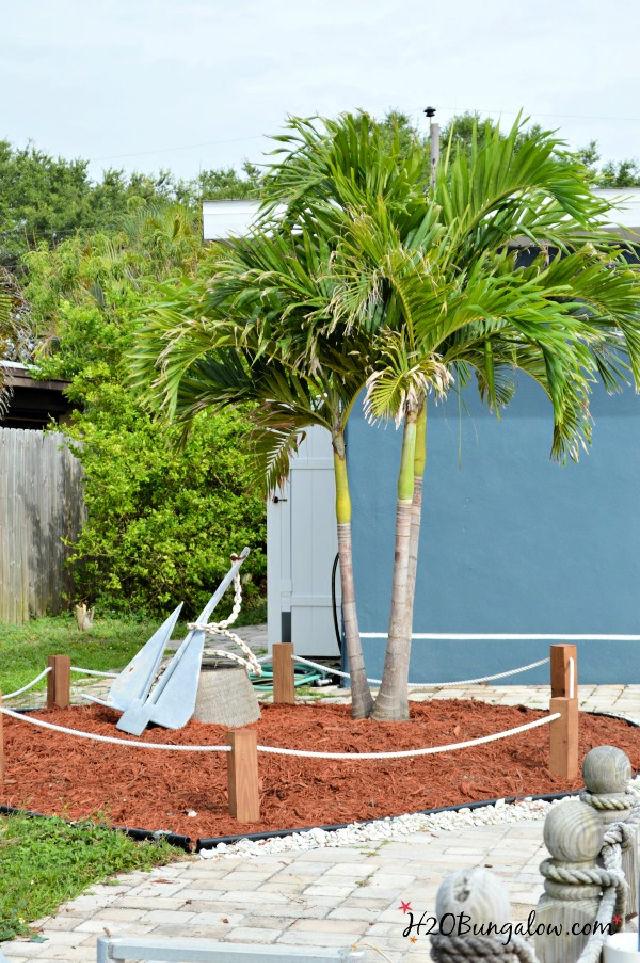 Here is the summer-perfect garden fence idea to protect your summer blooms most amazingly. The pretty simple and cute garden fence is made with wooden posts and the white-painted coastal rope with anchors. Not only is this fence going to be protective, but it also looks so much decorative and fun. Details of the idea here! h3obungalow
17. Unique Garden Fence and Arbor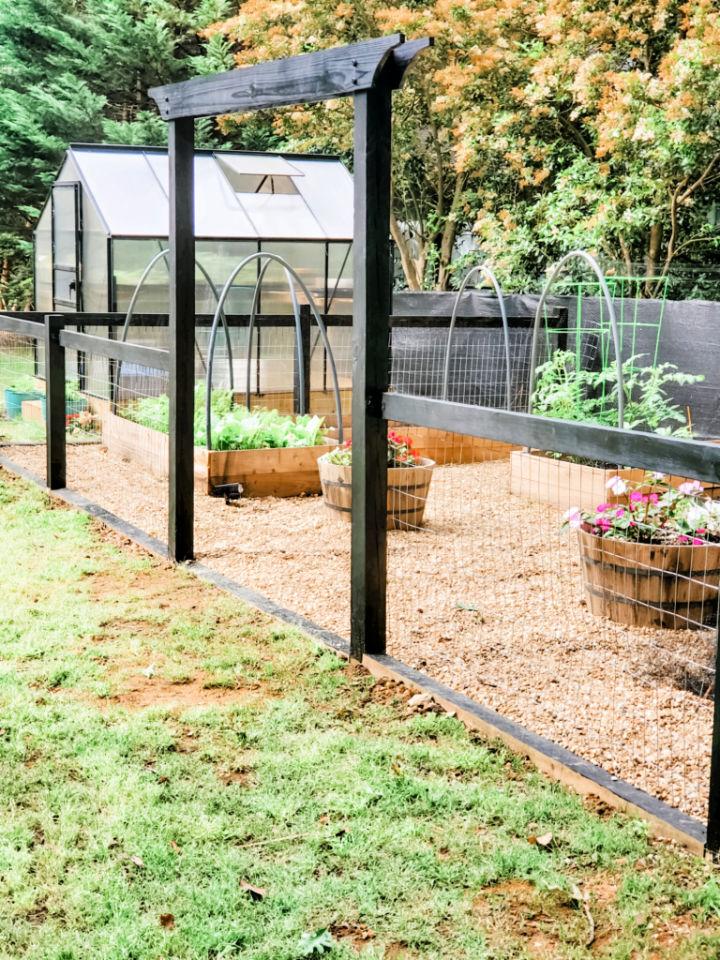 If you are looking for a modern and fun idea of creating a quirky and cool fence for your spaces, then here is the one. This unique garden fence and the arbor is the best plan to get your hands on. There is wooden and wire fencing around the overall area of the garden and arbor-style fencing around each raised garden bed. Details here! staciesspaces
18. Sustainable Garden Fence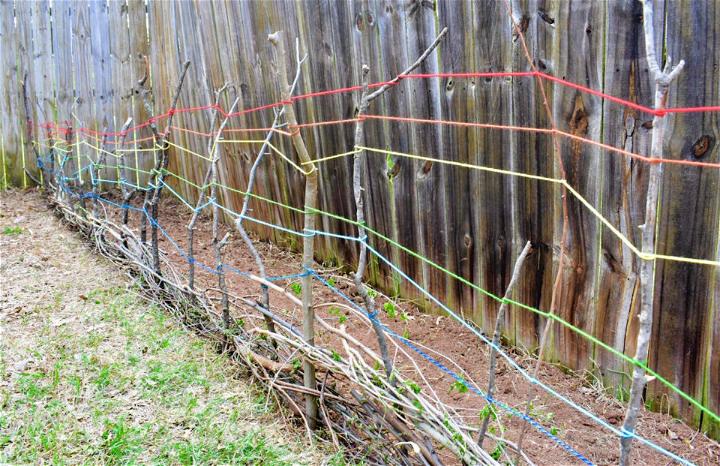 You are going to look adore this sustainable garden fence for so many reasons. This is a low-budget garden fence project that comes with an artistic appeal. The quirky and rain bow-colored fence yarn on the wooden twigs has become so unique and fun. You can easily work up this project in a day and save your cute little garden. aoksocial
19. Backyard Wooden Fence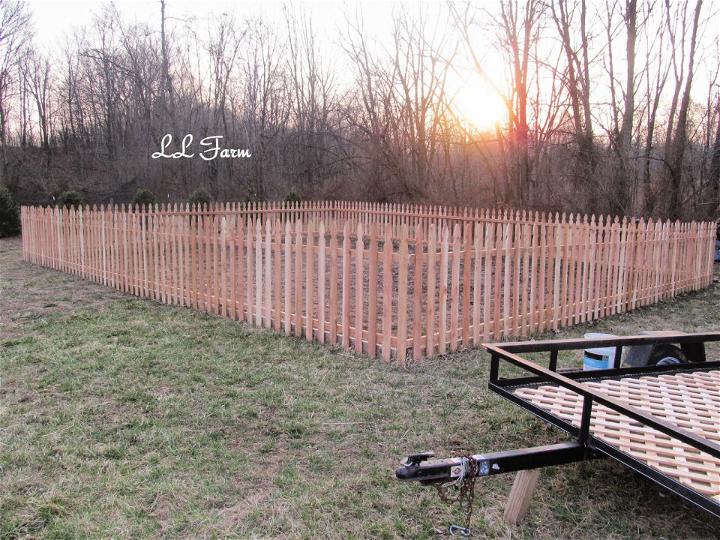 This backyard wooden fence seems to be done by a branded furnishing company for being so elegant and charming. But be happy as you can easily make it at home using the wooden boards and your tools. Another good thing about this backyard wooden fence is that you can customize the size of your fence too. Check out the details here! llfarmblog
20. Chicken Wire Garden Fence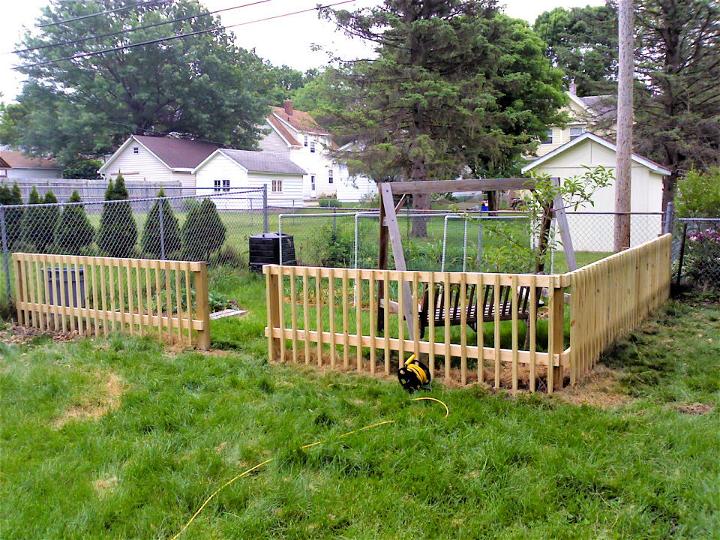 We love our dogs, but not when they enter our garden and mess up our green things. Here we have brought you this idea of the chicken wire garden fence that you can easily install in your spaces. Using the lumber boards in varied sizes and the screws, you can easily work up this garden fence. Learn the step-by-step details here! uncommoncoder
21. Building Pallet Garden Fence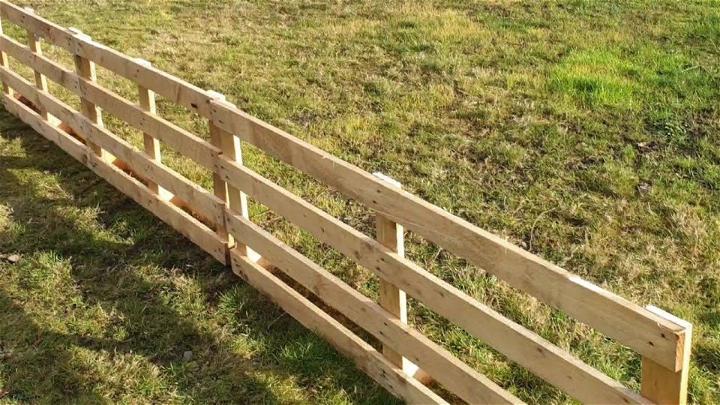 Pallets are love for doing some perfect wooden projects with the least of the budget involved. If you need the fence for your garden, then do it with the pallets. This gorgeous and simple garden fence is made by arranging the pallet boards together. You can customize the size of your garden fence by deciding the height and width of your fence. Details of the idea here! youtube
22. Decorative Garden Fence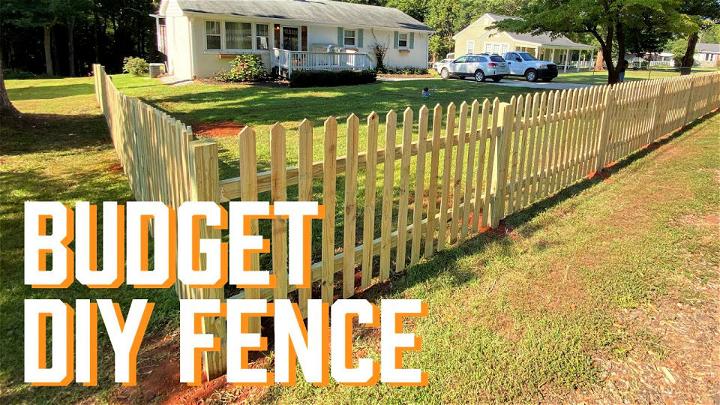 Not only do the fences save our spaces from the outside attacks by the animals, but they also play an important role in enhancing the decor of your spaces too. So if you are more on the decorative side to build a fence for your garden, then here is a perfect idea. This decorative garden fence is the best project to bring the perfect boundary wall for your spaces. Details here! youtube
23. Fence Garden Out Of Wood Pallets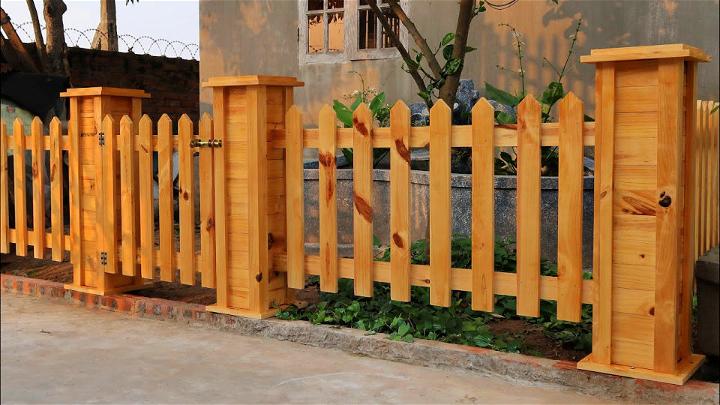 Here is another gorgeous garden fence project to get your hands on and get a perfectly gorgeous and robust fence for your spaces. The fence is made out of wooden pallets and involves thick wooden posts, a gate, and the strong fence bonding of the wooden boards. Follow the complete project with details right here! youtube
Conclusion:
So, to sum it all up, we hope you are motivated enough to start making a garden fence for your home too. Each one of the designs has its vibe and feel, make sure to select the one that matches the vibe of the house too. Make sure you have all your supplies and tools ready before starting to work on these, buying inexpensive materials will help lessen the cost of the project overall making it very reasonable. Moreover, if you make these ideas with passion, time and effort would not matter in the end because the result would be worth it all. It is quite a treat for all the gardening lovers out there! Let's begin making all these starting now on! Happy building!