No matter how sad you are, instant happiness comes and makes us smile every time when we look at the colorful garden flowers. So, bring flowers in your life in more stylish and decorative ways with these 25 most beautiful DIY flower bed ideas that will allow you to install a flowerbed anywhere in the garden or around the home.
This will also add flattering colors to your property and make the house's resale value. If you are planting a flowerbed in the home front yard, lawn, or lobby, it will also add a great curb appeal. Whether you are willing to build fixed raised flower beds or on wheels, or you are intending to plan self-standing flower beds or wall hanging planters, you will get instructions for all types of flower beds. See a wide variety of 25 DIY flower bed ideas proved to amaze you at a very first glance. You will get instructions here to build taller vertical flower beds that will create a big focal point in your garden or any patio.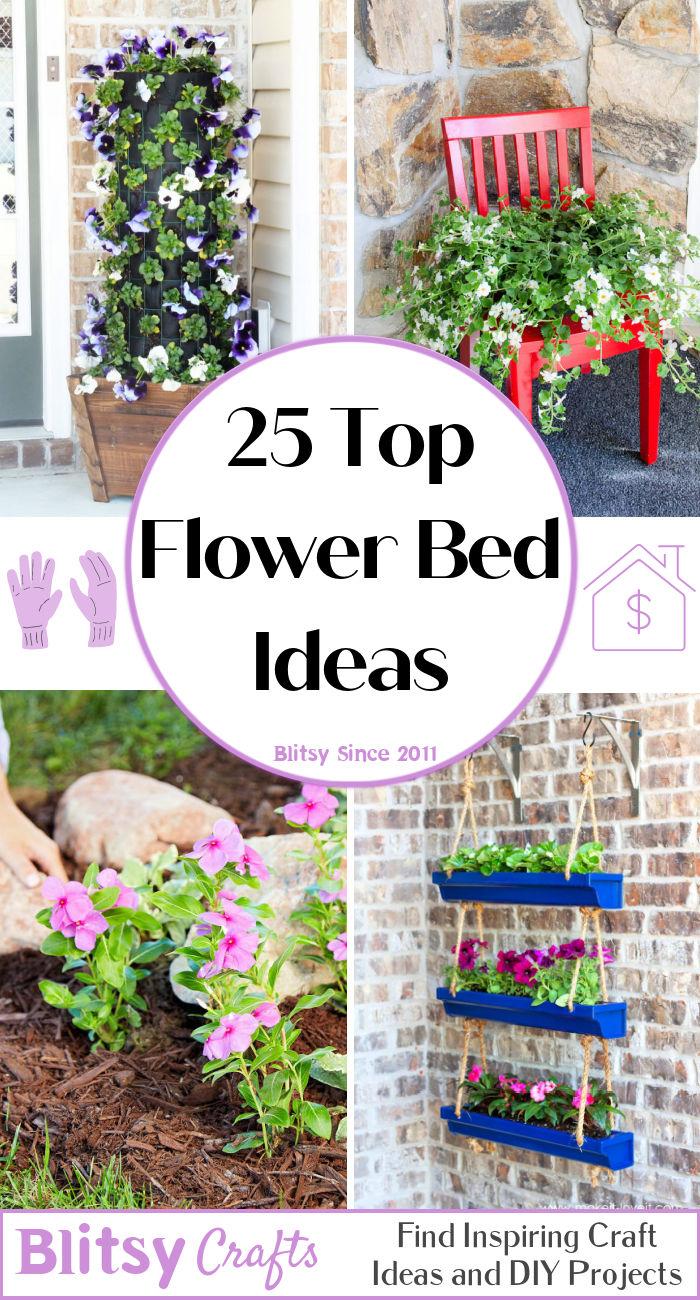 Build the swing style tiered vertical flower garden using scrap wood and rain gutters and fit the DIY flower pots in the seats of old chairs to gain unique flower planters. Build the large and small wooden planter boxes that you can mount on the fence walls or finished with custom legs to build extra raised flower beds. Opt for corrugated metal sheets also to build lasting longer flower beds that will last for years to come. Moreover, the raised beds will work better also in terms of water retention and weed control. Learn more by peeking into details of all these DIY flower bed ideas that will inspire your creativity.
1. Zoysia Grass and Flower Bed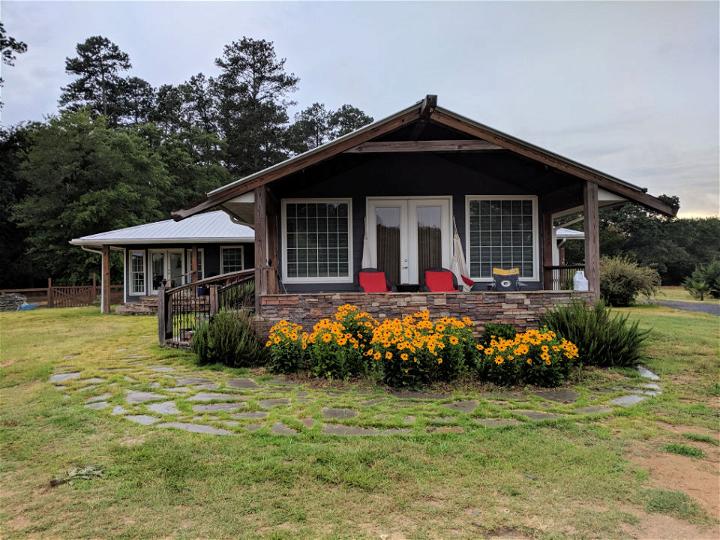 Every garden, backyard, lobby, or lawn looks incomplete without the colorful flower beds. The project will show you how to install better flower beds and a decorative walkway using flagstones and grass. The walkway looks much natural around the flower beds and is not very hard or laborious to do. You need masonry sand, metal edge, and flagstones. After you complete the walkway, add the sand in the seams and also sprinkle zoysia seed in each seam. A great outdoor landscaping project. imgur
2. $10 DIY Tiered Flower Bed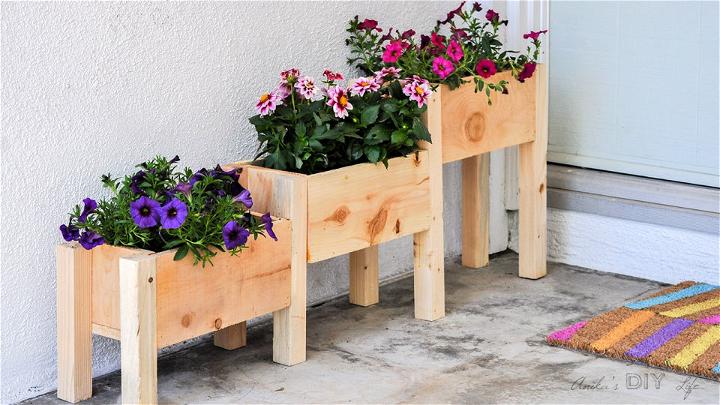 Grab here instructions to build a tiered planter box at a cost next to nothing. DIY tiered flower bed that you can drag to anywhere indoor or outdoor for a great touch of green and colorful garden space. You need cedar fence pickets, 2×3 furring strips, wood glue. And other woodworking tools like a drill, miter saw, nails, etc to build this fetching planter box. This is here the best-tiered flower bed that everyone can make with ease. The finally completed planter is 45″ wide and 16″ tall. The project is much doable for all beginners. anikasdiylife
3. Small Flower Bed For Front Of House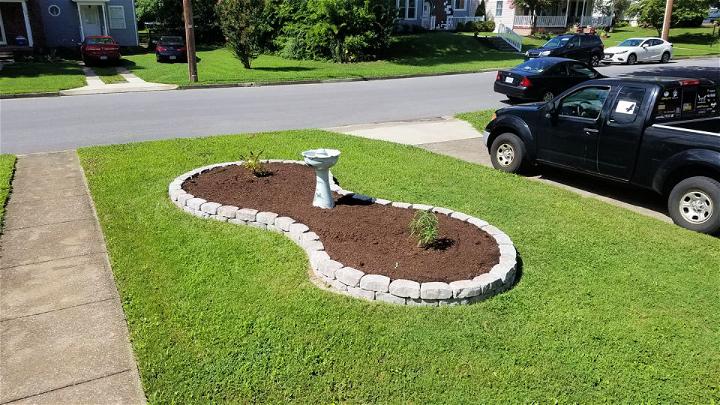 Create a big focal point in your garden or lawn by building this flower bed, impressing its unique art style design shape. Mark the garden area first to dig for the flower bed design and then do all seeding and watering to grow a lovely flower bed. Fill the dug-up boundary of the bed with the landscaping stone. And next, lay down the landscaping fabric over the entire bed for weed control. Fill the bed with potting soil, install a fountain in the center, and sprinkle seeds of your favorite flowers to complete the bed. imgur
4. Towering Flower Beds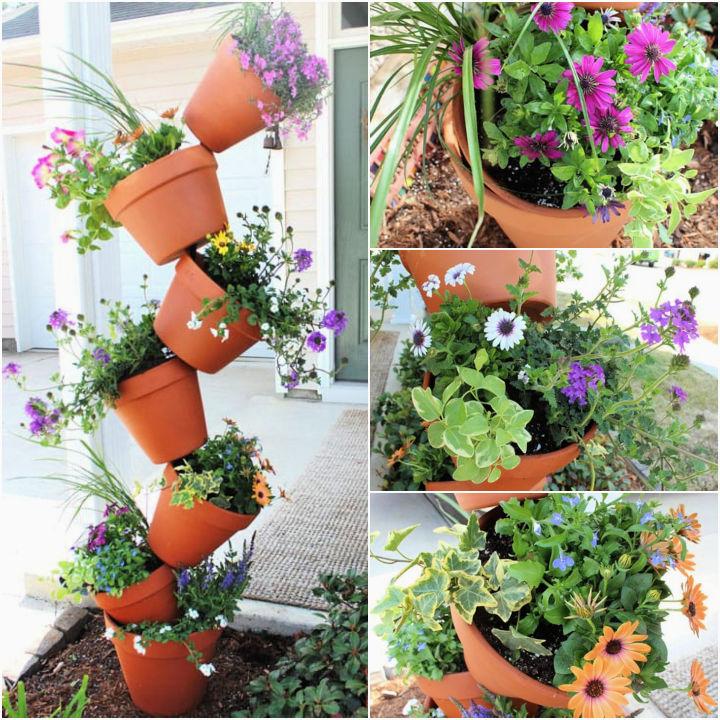 You can build self-standing artistic flower beds not merely on the garden or backyard ground. Get inspired by this topsy turvy flower planter that is quite something quick and easy to make. Fit a 6ft rebar length in the base planter nicely and durably and then keep on adding the terracotta pots on the rebar with the random positions and alignments and gain a lovely topsy turvy planter. You can easily buy the rebar from the stores for $10. This flower bed will turn any green space into mini heaven and will bring a big wow factor to any targeted space for sure. weheartthis
5. How to Build a New Flower Bed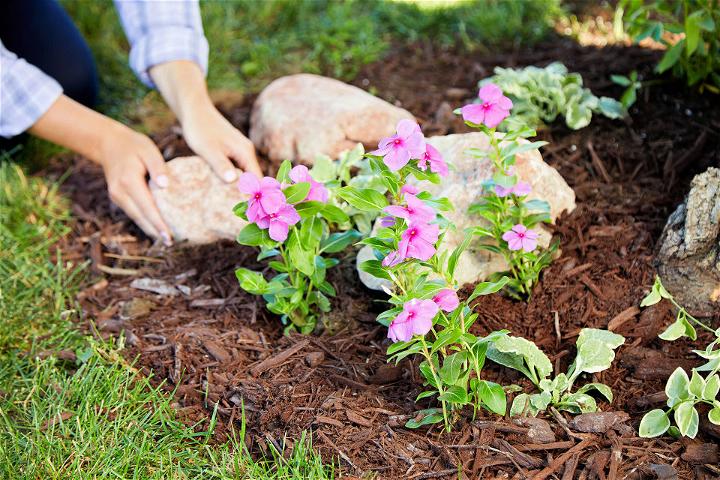 Grab here guides and instructions to whip up a new beautiful flower bed where you can grow all your favorite blooms. Building this flower bed will add new decorative dimensions to your garden space, and colorful flowers will also attract butterflies and pollinators to your green garden space. Mark space, dig it up, remove the existing grass and make the soil soft to add new flower seeds. Adding a landscaping fabric is recommended before adding the new potting soil, as this will help stop the weeds from the bottom. One of the quick and best DIY flower bed projects. bhg
6. Flower Bed From Old Chair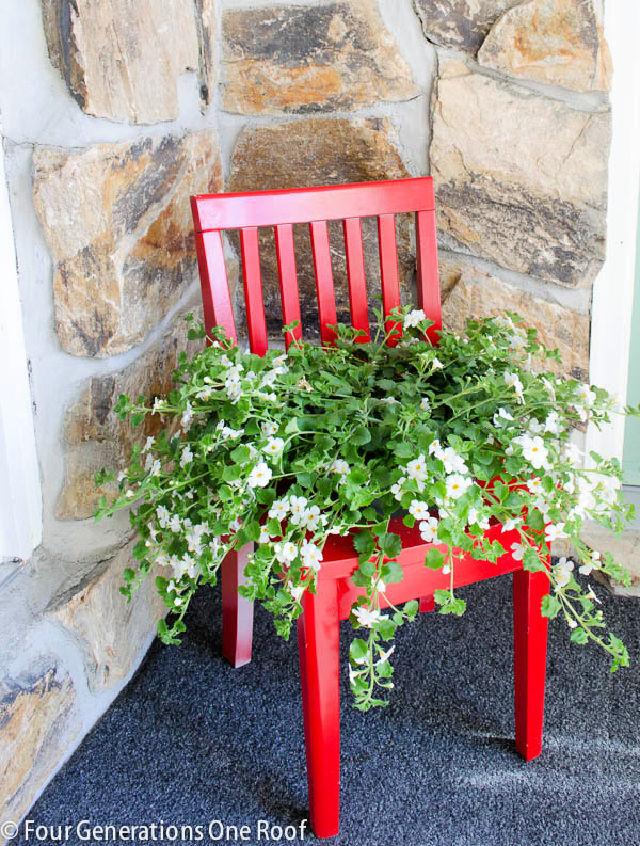 Build also awesome-looking flower beds out of old recycled furniture. Duplicate this pottery barn-style planter that will be a great decorative addition to any green patio area. Cut out a big hole in the seat of an old chair, fit the planter in it, and gain a lovely decorative planter, bringing a big wow factor to the entire green space. You are all free to use any chair for this mind-blowing planter creation. And the whole project will cost you next to nothing as it involves using the recycled items. Use the jigsaw to cut a big hole in the seat. fourgenerations
7. DIY Flower Tower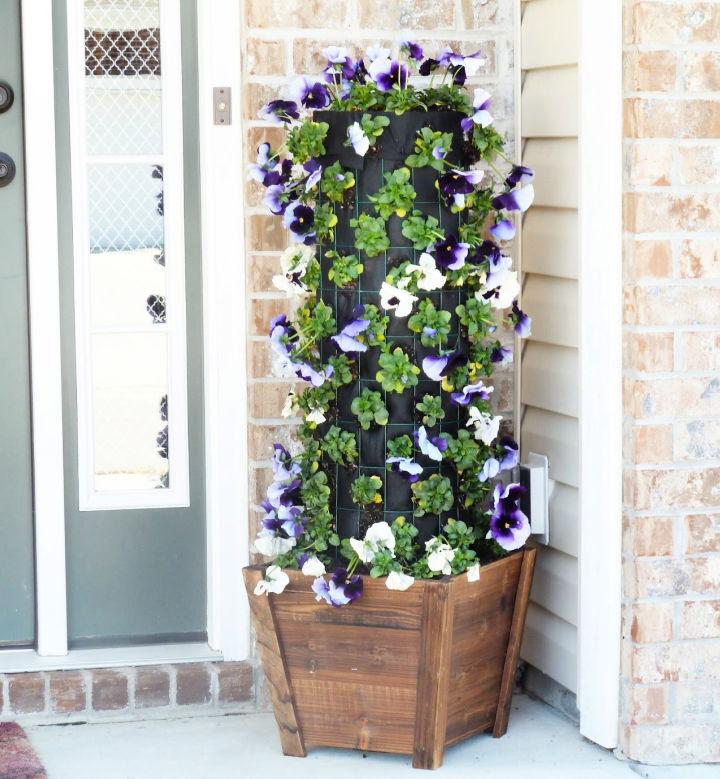 Add a great curb appeal by adding this flower tower inside of the main entrance. It is heaven to look at this tall vertical flower bed, and you will get here all the guides to whip it up quickly in no time. Here the idea is to build a tower in the planter using the metal hardware cloth, landscaping fabric, and potting soil. You can build it all in a wooden planter box, and it will make the whole entrance graceful and much visually stimulating. Everyone will just love to do this project that is beginner-friendly and easy to do. simplydesigning
8. Suspended Flower Beds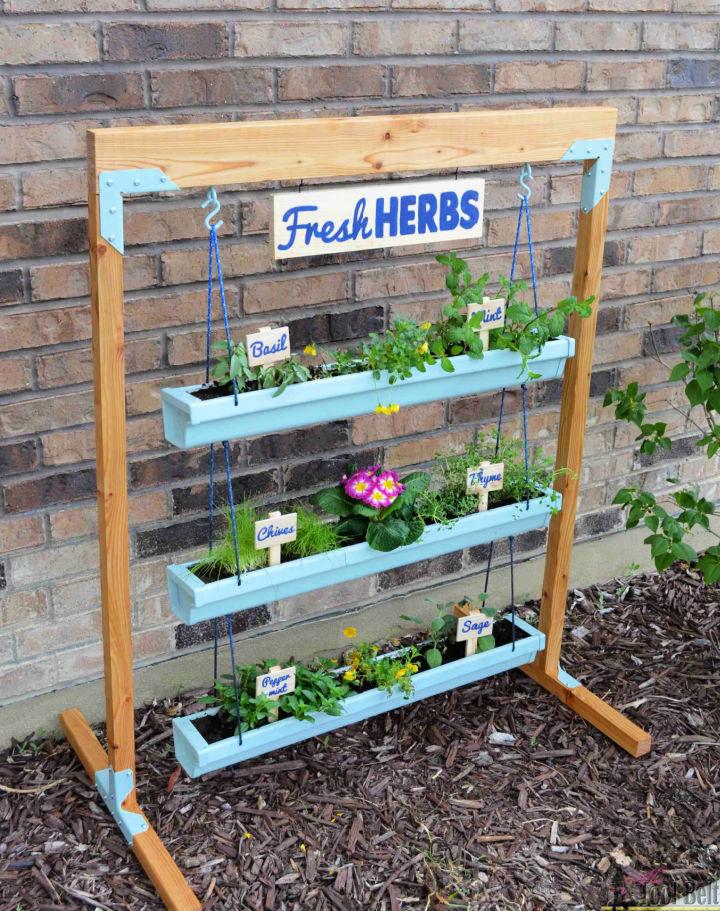 Grab here instructions to build a hanging gutter planter that will create a great focal point in your garden or backyard. This hanging planter is easy to build and comes with a swing-like frame in which the gutter planters tiered on the heavy-duty rope. Use the eye screws and s-hooks to easily hang the diy planters on the self-standing planter frame. You need 2x4s, 1×2, gutters, s-hooks, eye-hooks, and potting soil to whip up this crazily beautiful self-standing planter stand. hertoolbelt
9. Hanging Rain Gutter Flower Beds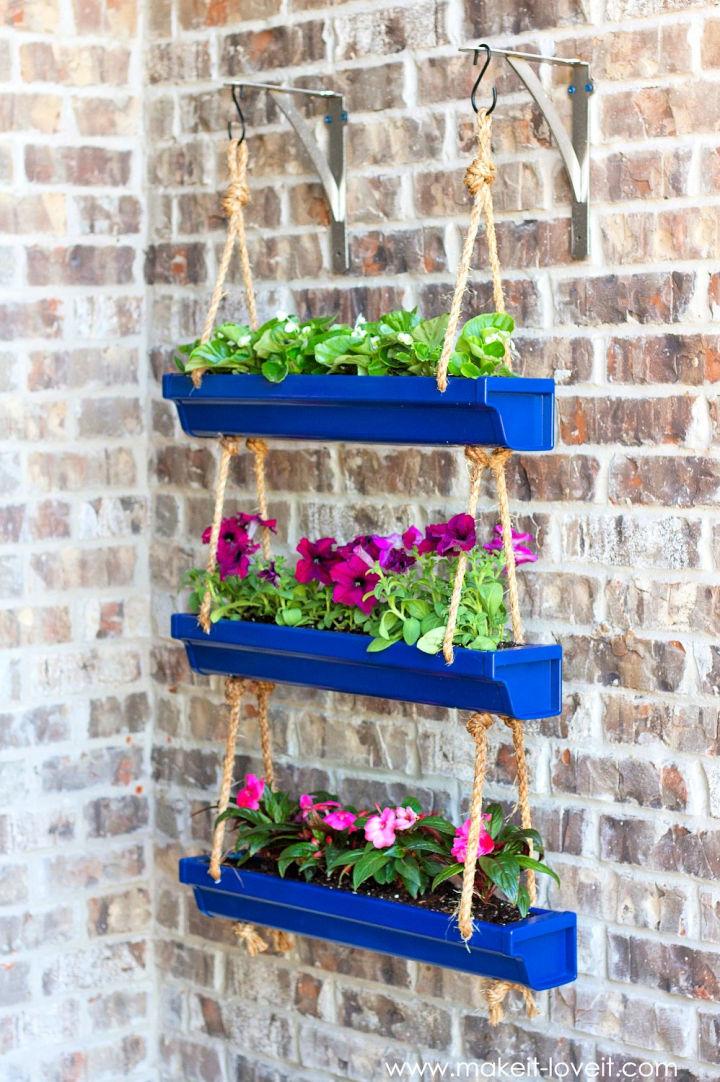 Follow here instructions about how to whip up a hanging flower bed that will grace the whole exterior of the house. You need the 10ft vinyl gutter and 3 sets of vinyl gutter end caps to whip up this hanging flower garden, can be hanged to any particular wall for added visual stimulation. Also, Pick ¼″ natural fiber rope for the stable and durable hanging of this hanging flower garden. You will never get out of style. Every beginner can do this project with ease. makeit loveit
10. Build a Raised Garden Flower Bed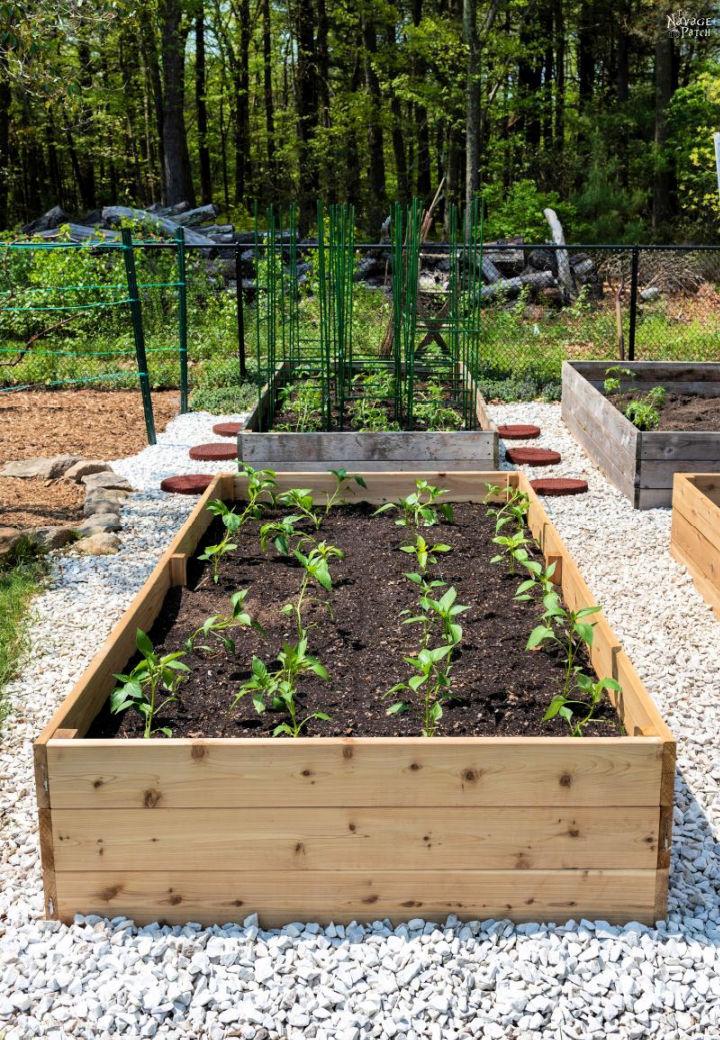 Follow these instructions about how to whip up a raised flower bed using the wood of choice. This raised flower bed will rock for weed control and create a big focal point in your garden. The project is easier to do with the beginner skill levels and will never get out of style. First, mark the area of your garden space, and then start digging it up a little to fit the wooden boundary all around. You need cedar deck boards, cedar stakes, and custom hardware to build this lasting longer raised flower bed. The best to do to lure the number of views of your garden. thenavagepatch
11. Elevated Raised Flower Bed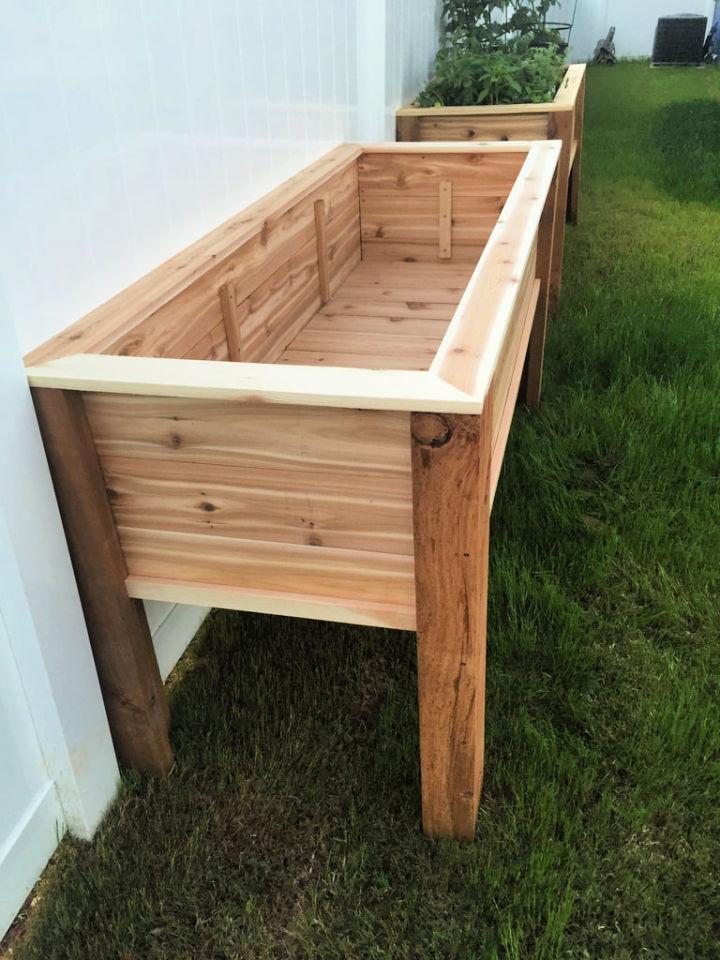 Follow these flower bed ideas and instructions to build durable raised garden beds to drag to any outdoor location. You need 1x6s, 2x4s, and 1x2s to build these elevated planter-raised beds will go for amazing garden decor. The whole project will cost you next to nothing, and you will love building and installing these raised beds. Paint and stain for weather protection, and then just start growing your favorite flowers in the beds. The project is much doable for all beginners. instructables
12. DIY Vertical Flower Bed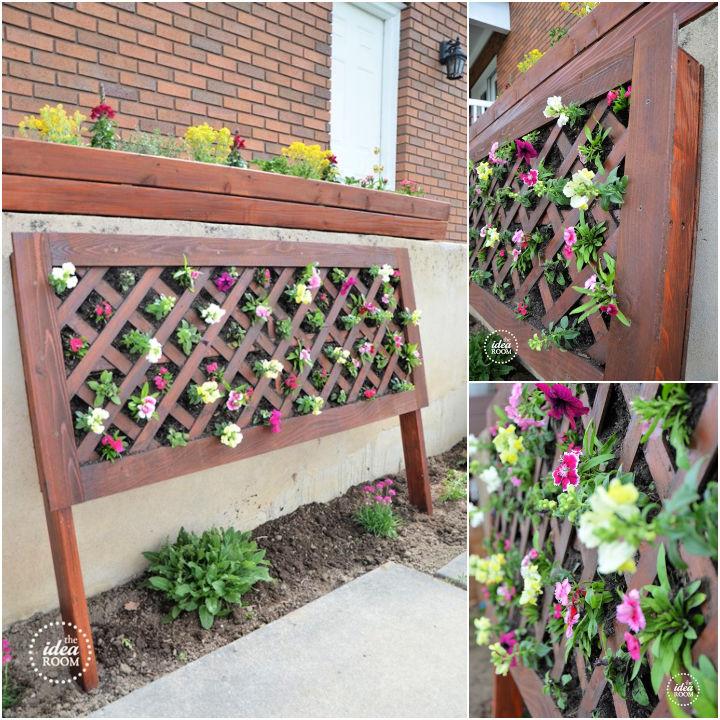 Grab here complete directions and instructions to whip up these vertical flower bed that is sweet and good looking and will be a great addition to your green garden space. Bring tons of grace to any exterior with this vertical flower planter, will be a big love of all the garden lovers. You need wood lattice, landscape fabric, and custom cedar or lumber wood lengths to whip up this crazy model of vertical flower bed. Stain and paint in the way you like and fill it up with the potting soil. One of the best DIY flower beds ever built. theidearoom
13. Raised Flower Beds Out of Pallets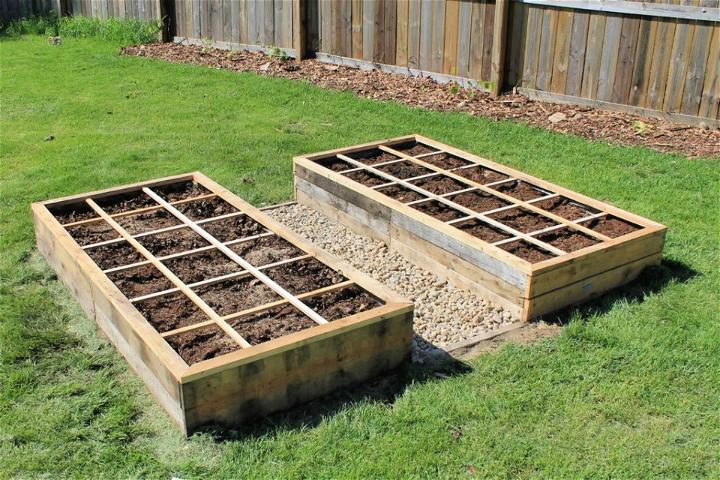 Do you intend to build the free-raised flower beds? Then here is the quick hack that will impress. Go handmade with free recycled pallets and build these lasting longer raised flower beds looking divine with the lattice style top framing. Dismantle the pallets and get crafty with the free pallet wood slats to whip up these beds. These amazing flower bed ideas will last longer. You can decide on a custom depth of these raised flower beds, and they will create a big focal point in your garden. One of the easiest DIY raised bed projects ever. instructables
14. DIY Hanging Flower Bed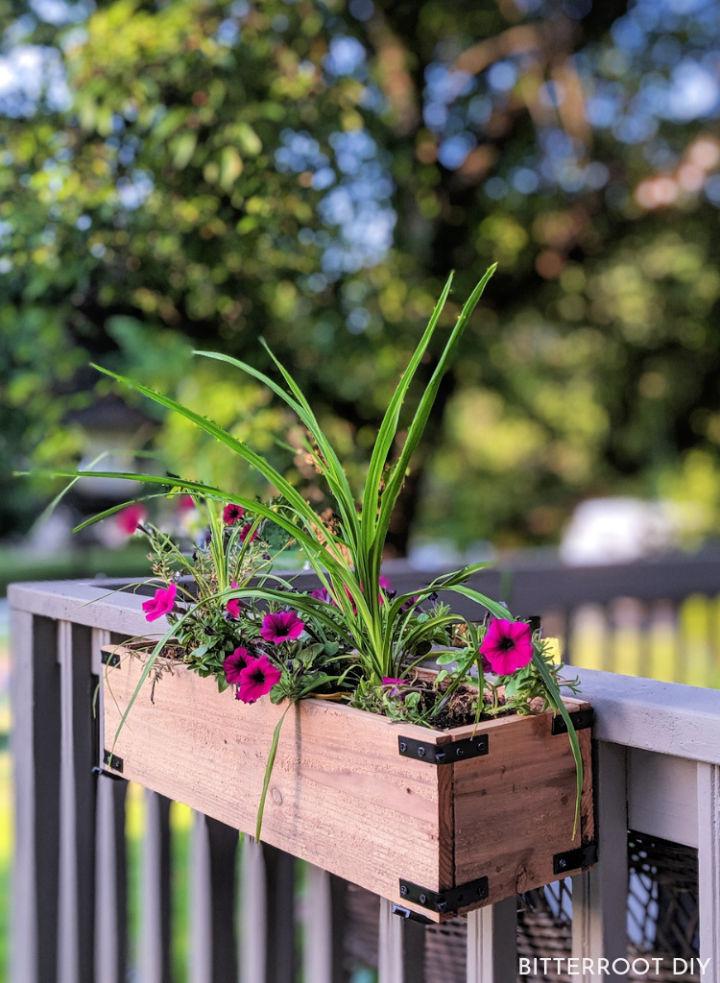 Fancy up any patio, window side, or fence wall with these beautiful cedar planter boxes, super quick to build. Get crafty with the 1x6s to easily build these lasting longer DIY hanging planters that have been fastened tight in shape using the flower box brackets, which gives an accent metallic touch to wooden surfaces also. Use the pocket hole jig to drill pocket holes, will help nicely assemble the boxes with no visible hardware. These are here the miniature flower beds that every beginner can build with ease. The provided free instructions will be a total help. bitterrootdiy
15. How To Build A Raised Flower Bed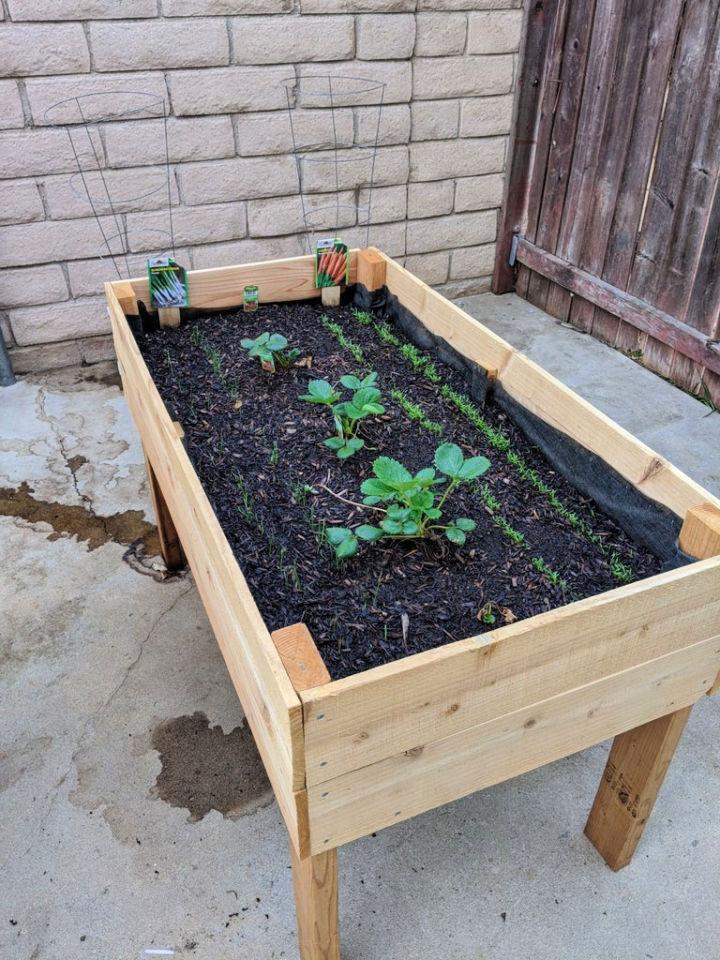 The raised flower beds rock when you need to get total control of the weeds. They will also rock for better water retention, and one can quickly make the raised wooden beds at home without getting a bit expensive. You need 2x4s, 2x2s, 1x6s, wire mesh, wood barrier, and flower bed soil to whip up these very beautiful raised flower beds. There is nothing major in the constructions; you need to build large rectangular boxes that you can finish with durable legs after. One of the best DIY flower bed ideas for home and garden lovers. instructables
16. Raised Flower Bed From an Old Shipping Pallet

The shipping pallets are made with hardwood, so they can survive well in outdoor environments. So, why not use the shipping pallets to do some outdoor and garden improvement projects? So, learn here to build a better rolling raised garden bed out of free shipping pallets. You need sturdy wood pallets, 2x4s, 1x8s, recycled plastic shutters, exterior-grade paint, landscape fabric, drainage stone, planting soil, and compost to build this very beautiful rolling raised flower bed. One of the best DIY garden bed ideas. diynetwork
17. DIY Metal Raised Flower Bed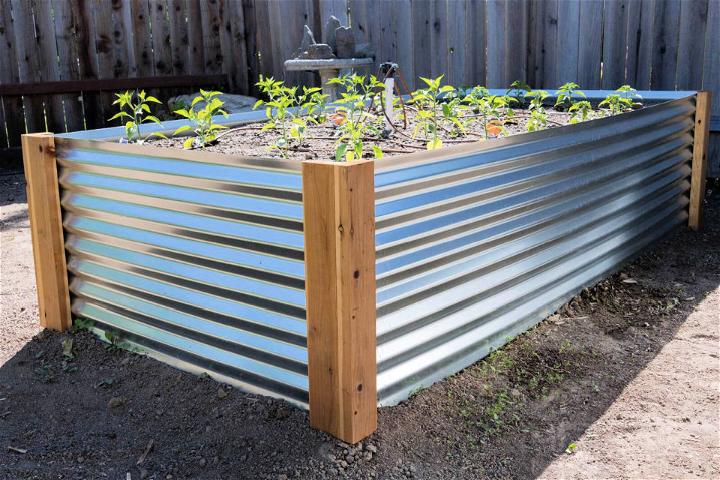 Grab here instructions to build a metal raised flower bed, will bring a big wow factor to any garden or backyard. The construction will be easier than you think, and every beginner can easily make this lasting longer and beautiful raised flower bed. You need the corrugated metal sheet and the heavy-duty wooden legs to whip up this very beautiful lovely wooden garden bed, will never get out of style. It will last for years to come and will also grace up your garden with the accent metallic touch. The wood and metal combinations always rock. mklibrary
18. Raised Bed Flower Garden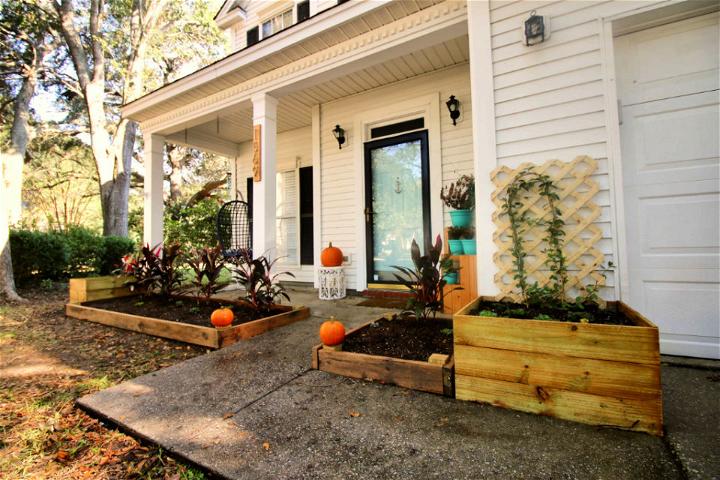 Are you new to building the raised garden beds? Don't know where to start? Take a better start by building these quick raised beds that add a great curb appeal and make the entrance a lot more graceful and dignified. You need the 2x6s to build these raised beds with solid inner corner supports. Dig the space a little, and also add the landscaping fabric inside the beds for weed control. Add the potting soil suitable for a special type of flowers or plants you will grow, and that's it. charlestoncraft
19. Wooden Flower Bed Plan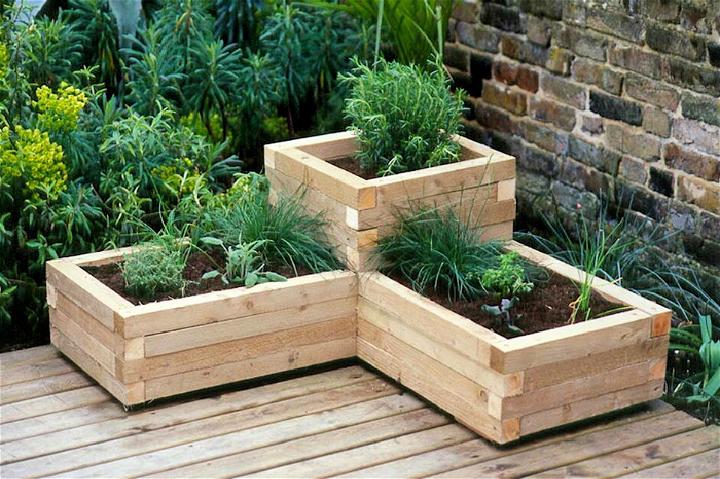 Transform any patio into mini heaven by adding this trio of wooden planters. Go handmade with the pressure-treated timber to build this very beautiful raised planter centerpiece. Add it to any deck, porch, or patio for added visual grace and attractiveness. You also need a saw, drill with a drill bit, gravel board, and custom measuring tools and hardware to complete this wooden planter box in no time. The whole project will complete in a weekend. The best to get for your patio and green garden spaces. gardenersworld
20. Raised Flower Bed On Casters For Patio Or Deck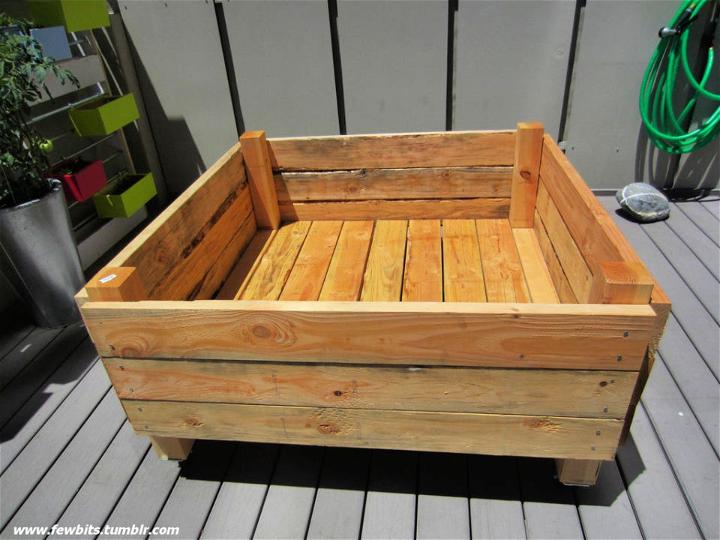 Take the garden and deck decorations to the next level by adding this rolling raised garden bed. Build it also with recycled wood, and it will be quickly there for you to grow your favorite flowers. Get crafty with the 2x6s, 2x4s, and 4x4s to build this solid wooden rolling cart. Next, finish this cart with industrial casters and also with a nice wood stain or sealant. The whole project will cost you next to nothing and is easy to whip up. You are all free to build any size of this raised garden bed. instructables
21. Simple Flower Bed Idea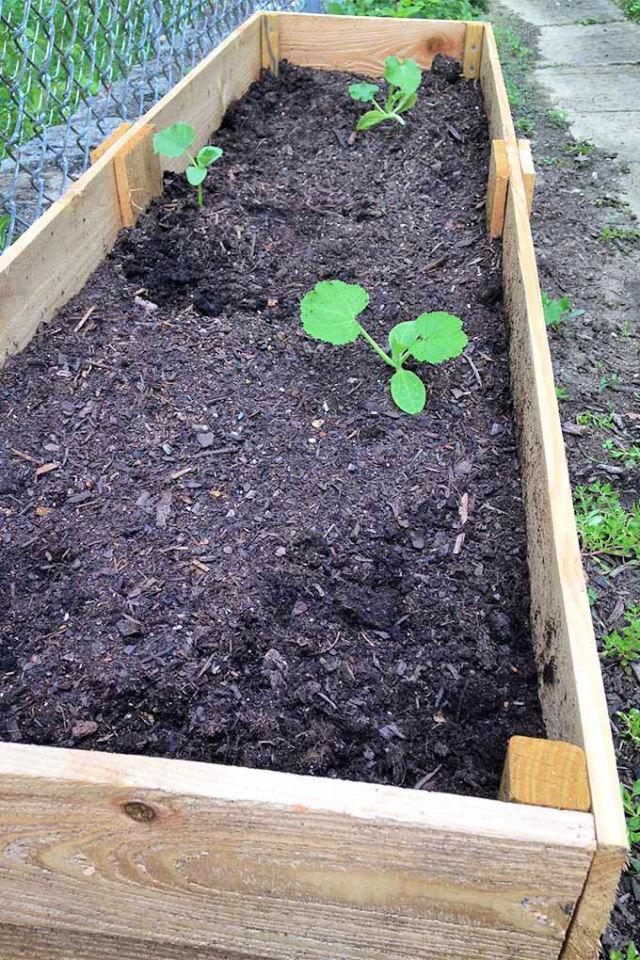 Are you intending to grow more in your green garden space? The idea is to build this raised wooden garden bed that will allow you to grow more separately and safely in a targeted garden. You need cedar fence posts, 2x2s, and exterior wood screws to build this raised garden bed, perfect for growing flowers and veggies. Cut your pieces, assemble them by drilling holes and then make a quick wooden raised bed. This will bring tons of grace and focal stimulation to your garden space. gardenerspath
22. Easy Front Yard Flower Bed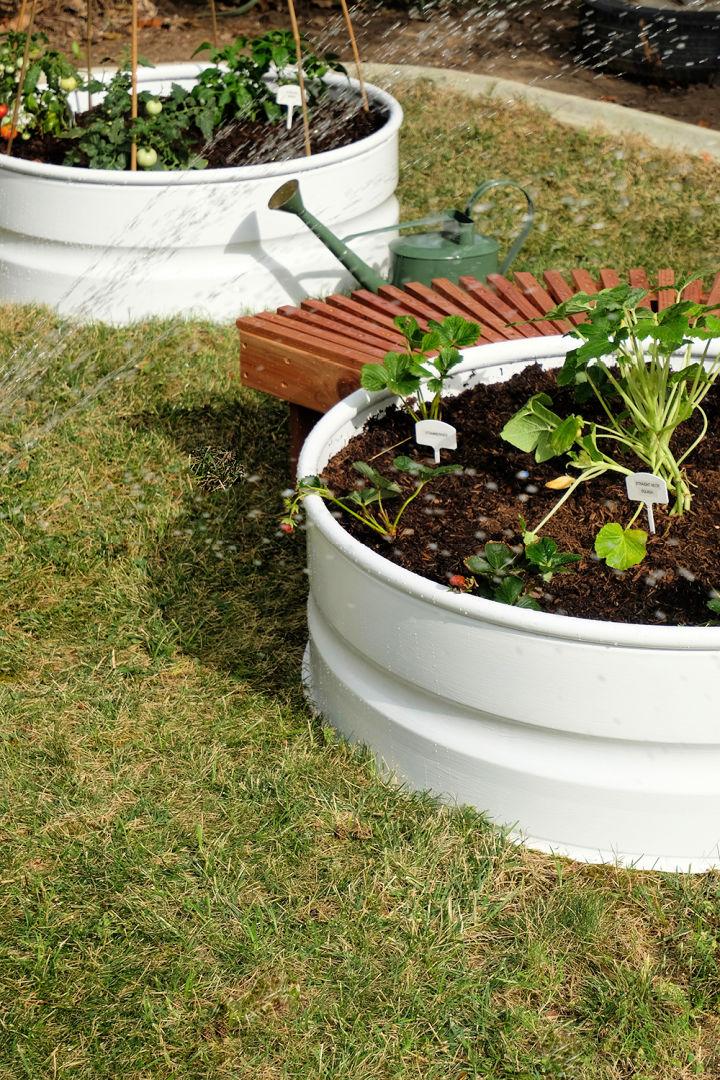 Cerate amazing geometrical decor statement of your garden space by installing these round raised garden beds that are visually stimulating and beautiful. You need a 3ft galvanized fire ring, steel wool, white vinegar, self-etching primer, oil-based enamel, disposable paint, compost, and two bags of organized garden soil to make these perfectly round garden raised beds. These raised beds will be comparatively durable and can be put together in the garden in lots of amazing design patterns. oleanderandpalm
23. How To Make A Flower Bed

Follow here easy plans and instructions to build a beautiful square raised flower bed or planter in the lawn or lobby. This will grace the entire lobby or green space and be a piece of cake to build. Here all you need is the timber lengths that you can put together building a square raised bed. Also, paint the finally completed model for a graceful and lovely appeal, and you will style up your green spaces. This raised bed will be a lovely way to grow vegetables and fruits separately in a targeted green area with better water retention and weed control. swoonworthy
24. DIY Fall Flower Bed Flowerbed Makeover – Start to Finish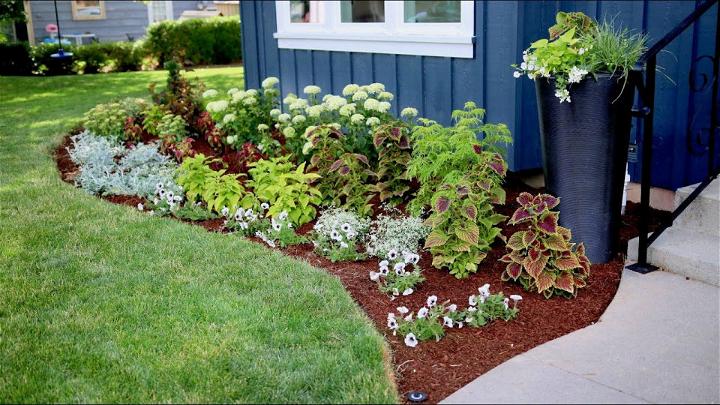 Are you willing to install the flower beds all around the boundary of your property or house? Then follow here this flowerbed makeover that will provide you the easy way to easily build the fantastic flower beds by easily removing the grass area. First, mark the design curves for the flower bed, and then start removing the grass and digging up space a little. Lay flat and evenly the landscaping fabric and add potting soil to start growing your flowers. Install the watering system before you fix the plants in the ground by digging through the landscaping fabric. youtube
25. Planting a New Flowerbed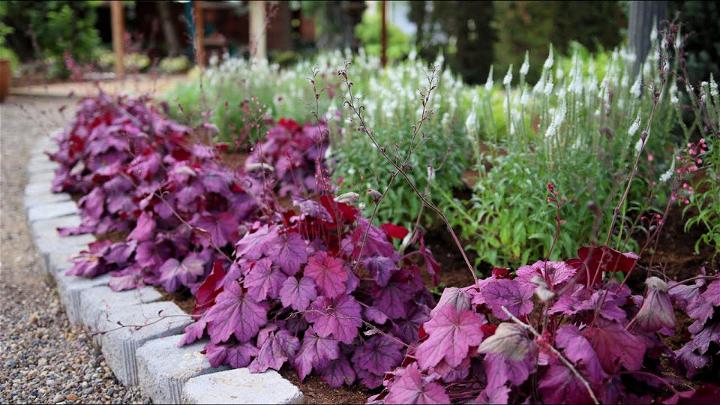 Follow here step-by-step video guides about how to plant a nice flower bed on any leftover garden area like a pro. This will take the garden beauty to the next level. You can simply clean the space if it already has the soil and is a little raised and then can add some kind of fertilizers or the type of potting soil. This will make the soil ready for your favorite plants and flowers and cost you next to nothing. One of the best-raised flower beds it will be, and it will amaze the guests and new visitors for sure. youtube
Conclusion:
Planting a flower bed around the home or in the garden can be a matter of higher investments if you hire professionals. But it can be as easy as a piece of cake to build your own beautiful raised flower beds if you rightly follow the instructions and guides provided in these DIY flower bed ideas.
From building around beautiful raised flower beds to gorgeous wooden raised flower beds, you will learn here to build all sorts of raised flower beds, which will bring a big wow factor to your green spaces and areas. You will get the best flower bed ideas and instructions here to whip up decorative wooden planters that will lure the number of views of your garden space and style up your garden. Learn more by browsing all these flower bed ideas.