Add new decorative features to your garden landscape with these beautiful DIY stepping stones giving you the ease to personalize your garden. Making stepping stones is one of the best Kids Craft Projects, and you can make lots of custom garden stepping stones to add to garden walkways for adding a personal touch. As mostly the molds are used to make them, so they can be made in any shape suiting best to you garden and surrounding landscapes. Make the family footprint or kids' handprint stepping stones that will create garden memories, and they will surely make the green space look extra special.
Learn how to make stepping stones by just exploring these 30 charming DIY Stepping Stones for the garden to see various designs to choose from. So, you can look through these diy garden stepping stone ideas every time you need to create a beautiful DIY path, walkway or patio right in your garden. So, add these stepping stones to your garden path and walkway to make your garden a wonderful place.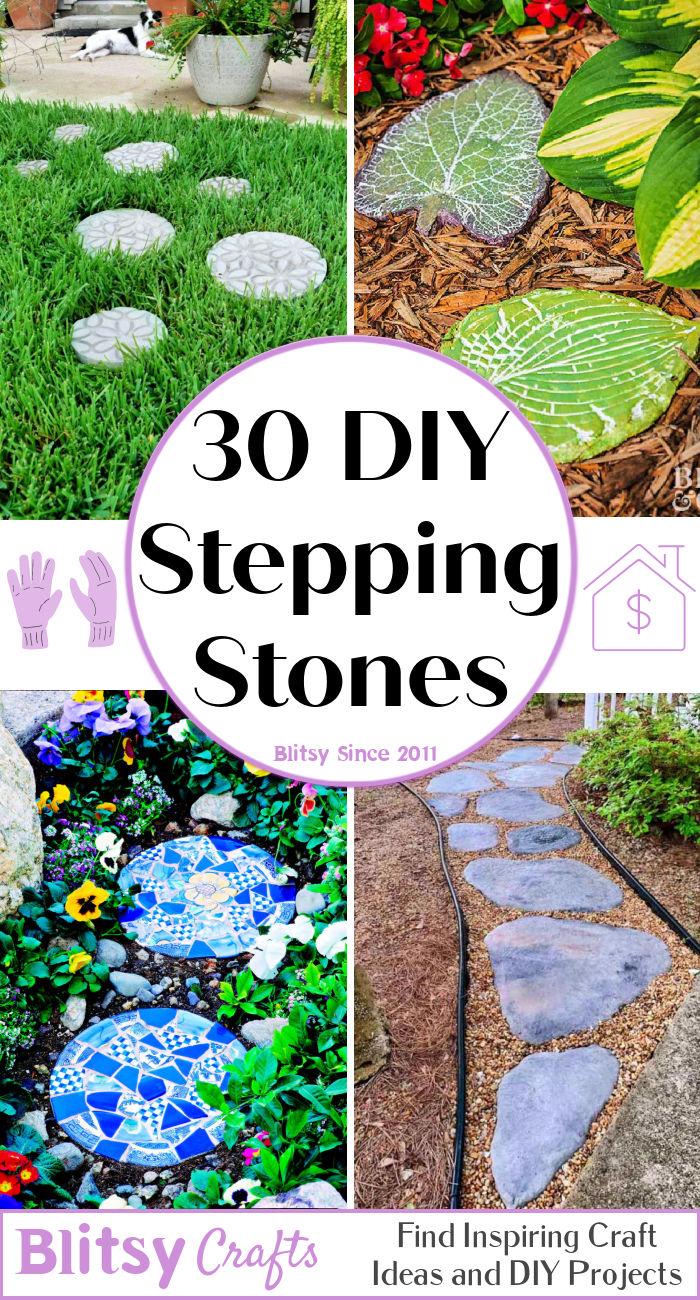 The homemade stepping stones will share comprehensive guides about how to make the stepping stones like a pro. At the same time, you will also get instructions about how to redecorate and update the stepping stones you already have. The basic idea is to pour the concrete into a custom-shaped mold and then decorate it with custom beads, broken china, mosaic tiles, letters, and custom stencils.
The final step will be to leave the stepping stone to dry and finished with a sealant. From dog paw stepping stones to complete concrete walkways and engraved stepping stones to heart-shaped stepping stones, you will learn to make all sorts of DIY stepping stones like a pro.
1. DIY Garden Stepping Stones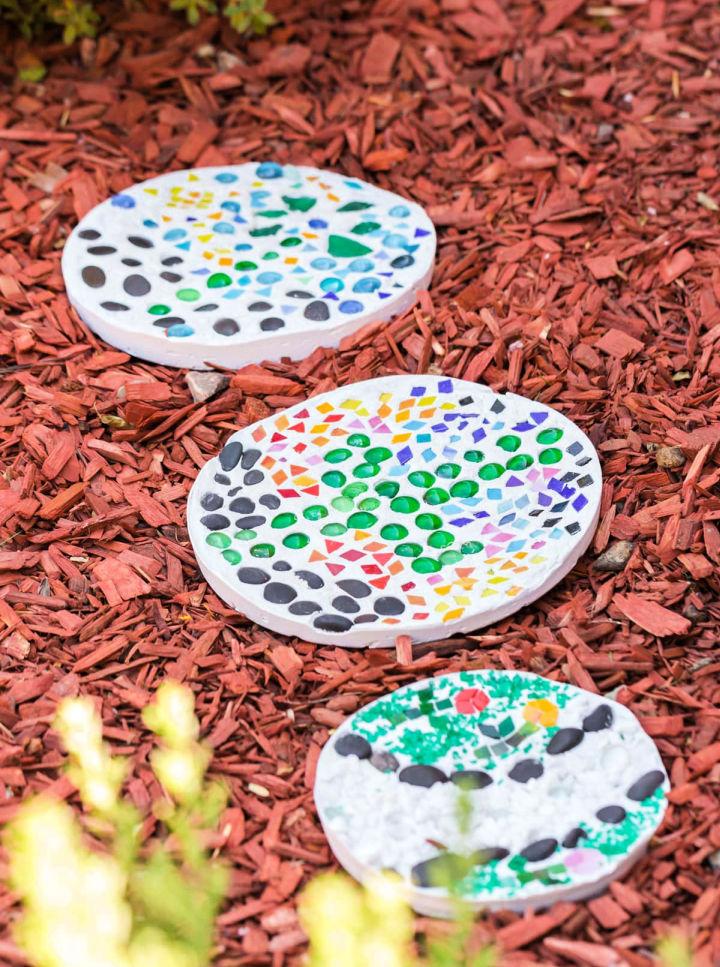 Update your garden decors with these colorful stepping stones, which will also bring the necessary colors to your garden. What will make you easily get these garden decors is the easy construction. Yes, you can quickly make these garden beauties using a quick set of mortar, sea glass, glass beads, small crystal pieces, glitter, buttons and seashells. Even the kids above 5 years can make these beautiful garden stepping stones. The whole project will complete in an hour, excluding dry time. The total project costs will be less than $10. craftsbyamanda
2. Make a Slate Concrete Stepping Stone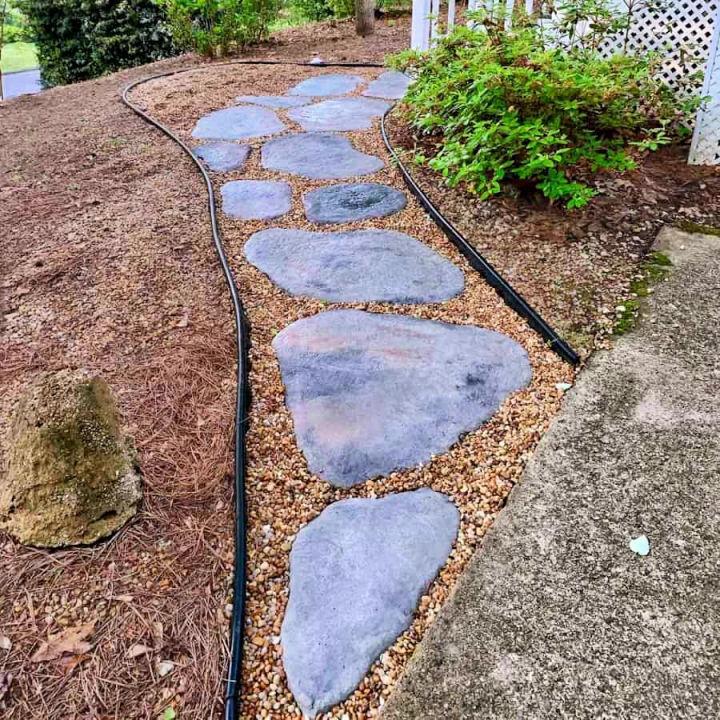 Due to the involved creativity, everyone will adore this garden stepping stones project. Yes, it involves creating natural-looking stepping stones using concrete. And then have been added to the garden ground to create a beautiful pathway that is amazingly cute and beautiful to look at. You will get guides from planning the stepping stones to building them to install them as a garden pathway. You need sanding topping mix, fabric pegs or stakes, vinyl furniture strapping, large mixing bin, trowel, hoe, black red and blue colorant, and some safety materials etc., to do this project. artsyprettyplants
Find more DIY garden projects:
Build a retaining wall: You can make your garden beautiful and appealing by building a retaining wall. Find these easy diy retaining wall ideas that are ample suitable for a yard, a garden, as they can improve the whole beauty of your garden space.
DIY planters: Looking to get creative with flower pots or planters? Here are some clever DIY planters that you can try as your next craft project.
Garden fence: Building a garden fence is a great idea because it'll keep your plants safe and will also make your backyard look polished. These DIY garden fence ideas are perfect for any budget or any sized space.
Vertical garden: For small spaces, these DIY vertical garden ideas are ideally changed to these spaces because they give the ability to maximize space artfully.
Pallet garden: Find these 40 cheap pallet garden ideas to reuse the wooden pallets for your garden and yard. So, you can make a flower, vegetable and herb garden.
Planter box: It's easy to add style to your outdoor and indoor spaces with a decorative DIY planter box. These planter boxes are ideal for all types of space.
Hanging planter: These DIY hanging planters are the absolute solution for adding lush, green interest and beauty to each nook and cranny of your house or apartment.
Raised garden bed: Starting a new garden? Looking to up your gardening game this year? Try growing in raised beds! These DIY raised garden beds will provide you full control over the health of the soil in which you are growing your plants.
Chalk Art Ideas: Chalk is a quick and easy art form for anyone to bring some excitement to their yard, sidewalk, patio, or other areas. Learn how to do it yourself with these chalk art ideas and then get out there and be creative!
3. Handprint Garden Stepping Stone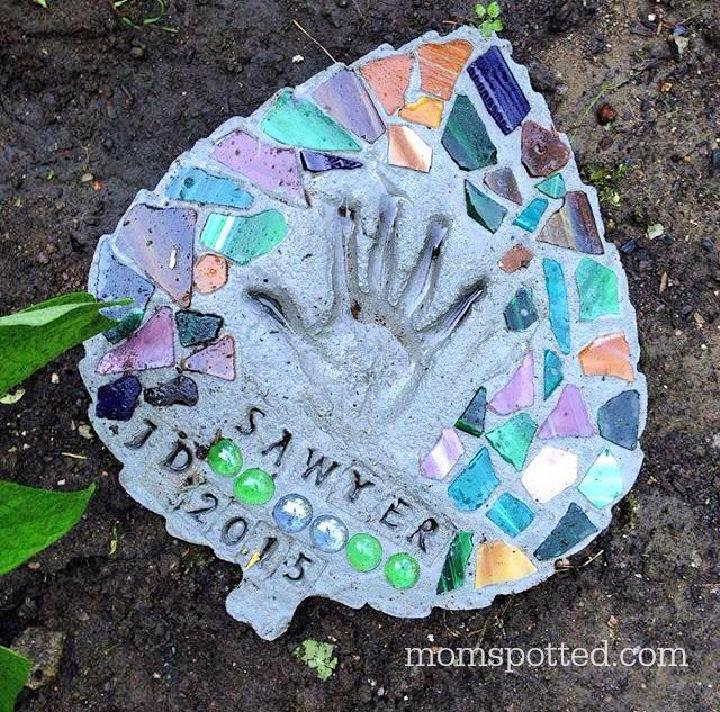 Make your garden look pretty and exciting with these handprint stepping stones having a shape like a leaf. Mention the name, year and other details and the handprint to create a significant memory in the garden in the form of this accent stepping stone. To make it, you need a cement mix, stone molds, alphabet & number stamps and mosaic pieces to work up these stepping stones efficiently. One of the best stepping stones ever made. They will surely be a colorful addition to your garden. The best kids' garden craft idea. momspotted
4. Personalized Stepping Stone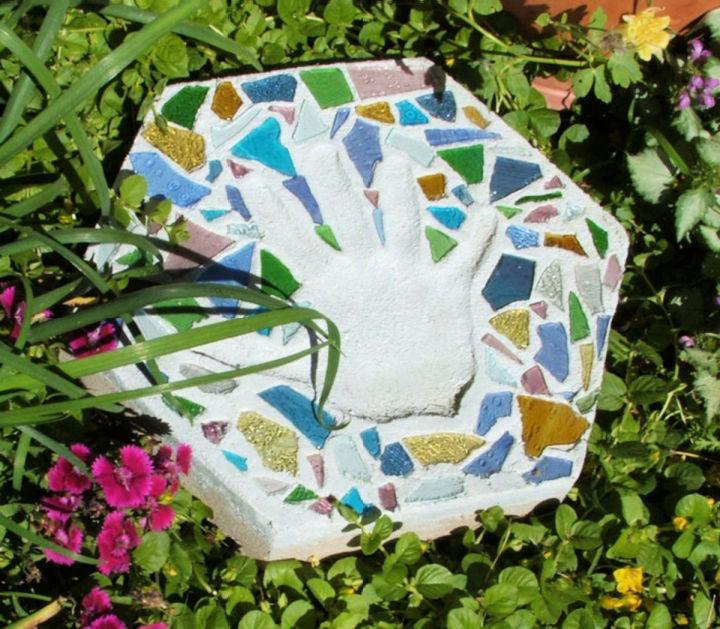 Give your green space a glam personal touch by adding these walking stones. They will be like creating great memories in your garden and will get ready at cheaper cost prices also. These are here, and the personalized stained glass stepping stones will never get out of style. Here you need no molds for this project, and it will not create any mess too. This is a beginner mosaic project. You need a 12″ commercial precast stepping stone, design template, marking pen, decorative stained glass cobbs or cobbles, mortar mix, duct tape, water, plastic bucket and custom safety equipment and materials to do this project. feltmagnet
5. Making Stepping Stones for Kids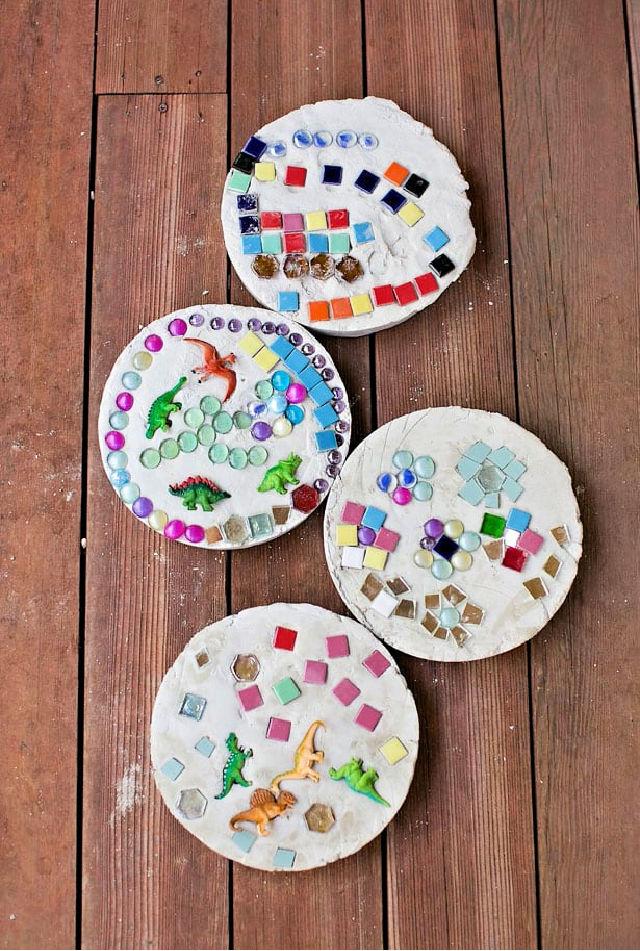 Are you deeply interested in decorating your front and backyard? Then time to do it by adding some decorative stepping stones. The project involves making the round stepping stones using quick-drying concrete, and you can decorate them using lots of materials like stones, mosaic pieces, plastic figurines, etc. You also need rubber gloves, a trowel, a plastic cover, circular molds and a plastic bin for this project. Pour the liquid concrete mix in the mold, and then add decorative materials on the top. hellowonderful
6. Painted Stepping Stones with Stencils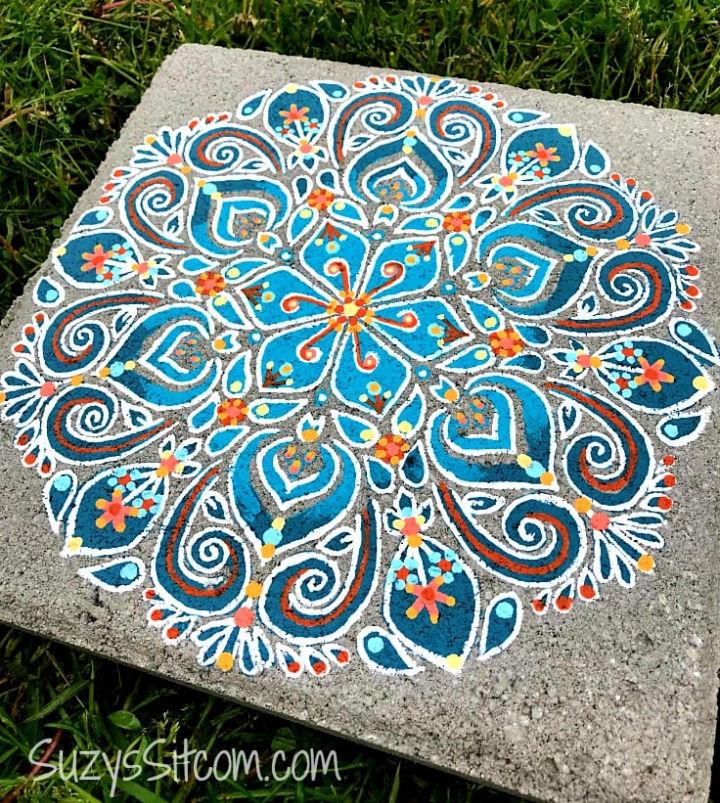 This project will help you decorate the stones you already have. So, they will look enchanting again and will add to the beauty of your garden. Here you are to use the custom decorative stencils for stepping stone painting to create a fetching appeal of boring and dull-looking garden stones. Look at the finally painted stepping stone design, truly something spectacular and absorbing to look at. You need a 12″ x 12″ concrete stepping stone, 12″ x 12″ stencil, acrylic paint, pouncing sponges, artist brushes and clear acrylic sealant to do this project. kenarry
7. DIY Footprint Stepping Stones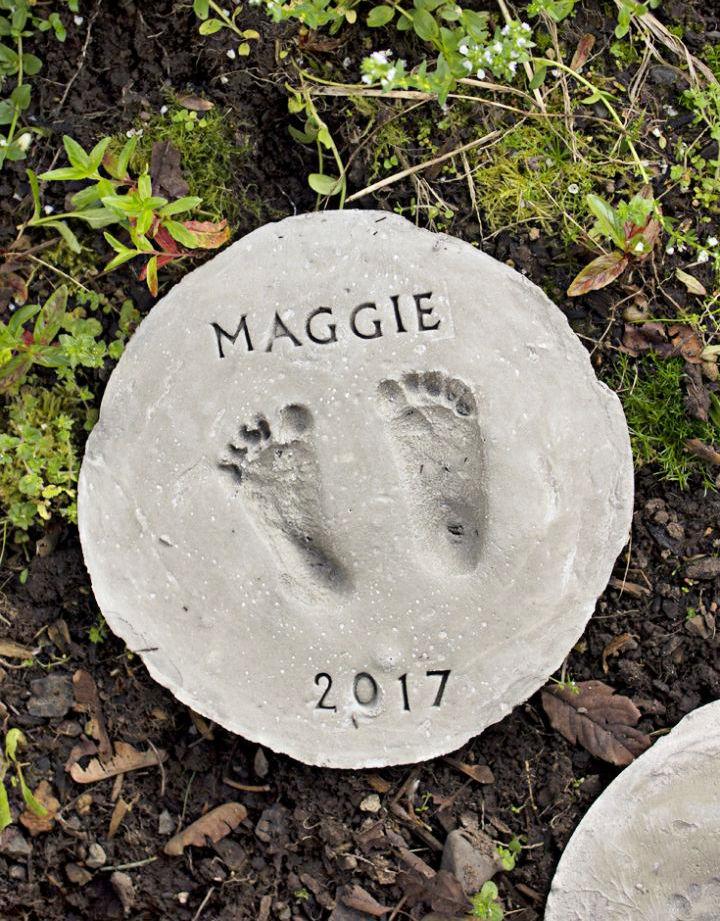 Feel free to clone these adorable footprint stepping stones, and they will surely make a great memory. These are the simple 10″ stepping stones that come with name letters just above the footprints. You can mix custom colors in the concrete or paint these stepping stones to add charming decors to your garden space. You can use the stamps to add the letters and numbers on these stepping stones. Here you need cement mix, disposable tray, water, stirrer, plastic plant tray, wax paper and cement letter stamps to make these lovely stepping stones. acraftedpassion
8. Flower Pot Stepping Stones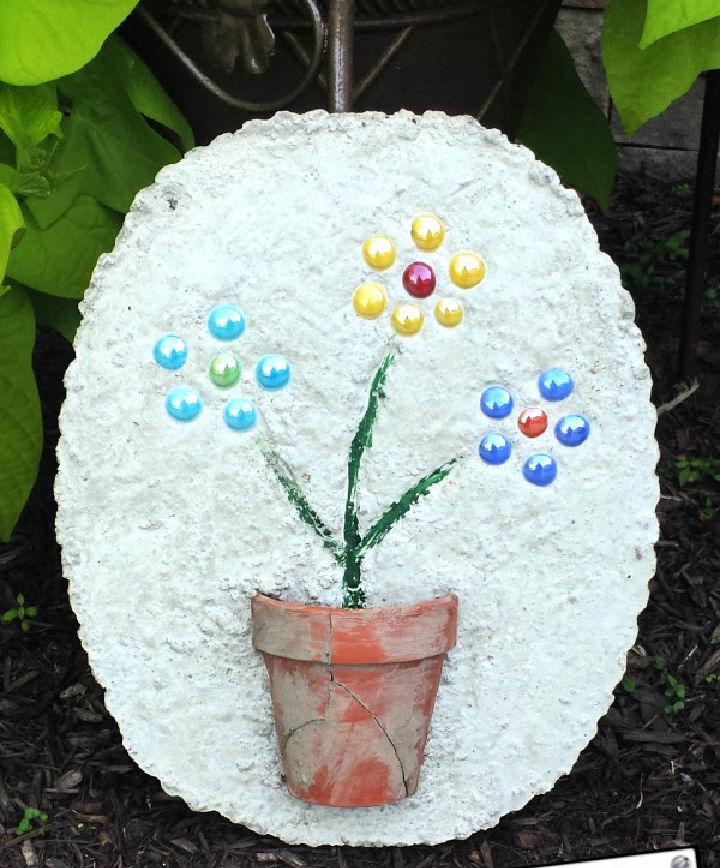 Learn here to make a super beautiful stepping stone that makes a great Memorial Day gift also. Make this lovely-looking stepping stone, and it will make a sweet handmade present for Father's Day, Mother's Day, and Grandparents Day. You need a few market supplies and materials to duplicate this beautiful and lovely-looking stepping stone easily, and It will be a big love of all garden and gardening lovers. Personalize and decorate it in the way you like. You need quikrete, water, a disposable tin pan, cooking spray, chicken wire, and custom embellishments like marbles, scrabble letters, floral gems, terracotta pots and acrylic paint. divaofdiy
9. Pebble Mosaic Stepping Stone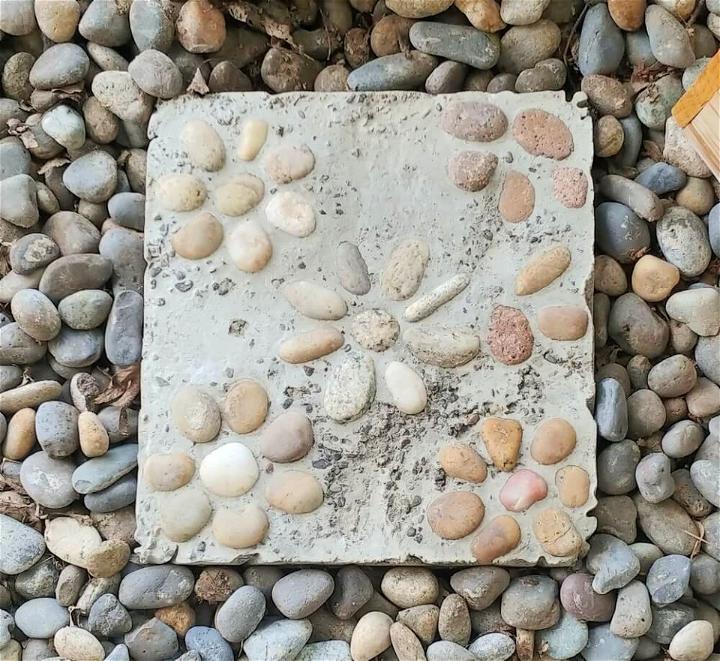 Feature both the stones and interesting flower patterns in your garden space by adding these rock mosaic stepping stones. They will go natural to your green space and are quite quick and inexpensive to make for your garden decors. The project requires only a few supplies to get these garden cuties made. Grab the scrap wood to make a mold, plastic to line the mold, screws, rocks, and some creativity to build these mosaic stepping stones like a pro. One of the best DIY garden stepping stone projects ever. littlevintagecottage
10. Fossil Imprint Stepping Stones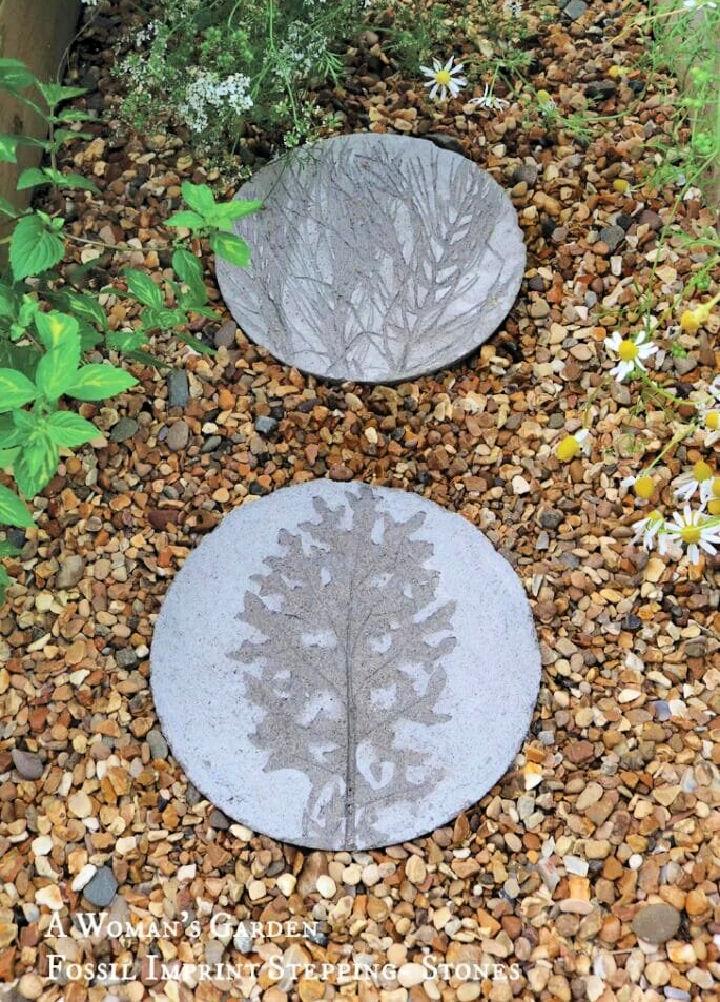 There are tons of unique and creative ways to make decorative stepping stones for your front and backyards. You will get here instructions to make a unique and affordable design of stepping stones. The fossil imprint stepping stone is here to make with few cheap materials and is easy and quick to whip up. You need cement, coarse sharp sand, water, cooking oil and foliage to complete these decorative stepping stones. In tools, you also need a plastic pot saucer, bucket, stick, and newspaper. All beginners can do this project. empressofdirt
11. Homemade Button Stepping Stones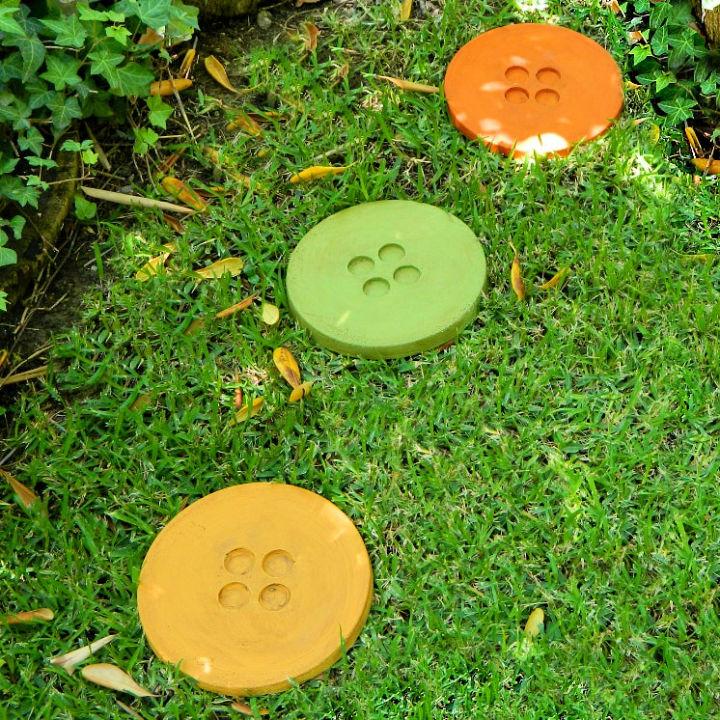 Adding these garden stepping stones will be like you are adding lovely buttons to your garden. Yes, these are the button-inspired stepping stones that are not a big hassle to make and will complete simply in no time. It will be a super quick process to make these lovely stepping stones. You need chalky finish paints, ultra-matte varnish, rapid set cement, non-stick cooking spray, large lids in different sizes, 4 matching small plastic caps, and a craft knife to complete this easy peasy crochet stepping stone project. instructables
12. Kids Artwork Into Garden Stepping Stones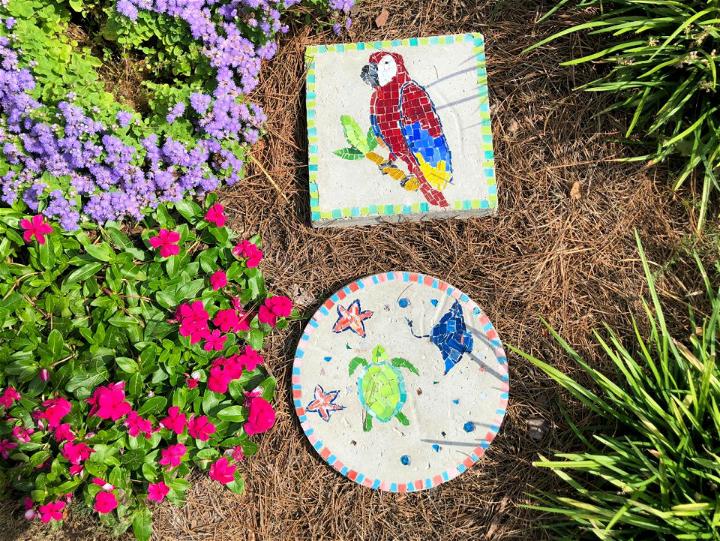 Let the kids fall in love with your garden again by adding these custom stepping stones to make with the kids' artwork. Yes, the idea is to add the kids' artworks on the round and square concrete garden stepping stones, and this will be wholly easier to do even for a beginner. Featuring your kids' drawings and paintings in your garden will also be a great idea to boost your kids' confidence. These unique stepping stones will be the most loved whimsical garden decor ever to make in no time. The best cost-efficient garden decor idea. diynetwork
13. Decorative Stepping Stones with Mosaics

Adding these decorative stepping stones will add a heavenly pathway to your garden. These stepping stones may look intimidating to make, but they are a piece of cake to make. The project is about doing a decorative makeover of a concrete stepping stone for a brilliant mosaic effect. First, grab a concrete stepping stone and immerse it in water for some time. Add a layer of mortar on it, and then start adding the mosaic pieces. The broken china, bits of glass, stones, crystals and marbles will rock for a striking mosaic effect.??midwestliving
14. DIY Leaf Shaped Stepping Stones

Sometimes we don't want to get out the natural garden decor theme. So, presenting here the most natural-looking garden stepping stones that look like the more giant garden leaves. What makes these stepping stones a lot more interesting is the natural leafy design texture. Here the idea is to pour the liquid concrete on a large garden leaf. Remove the leaf after it gets dried well, which will help create a great appeal for your garden???one of the best DIY stepping stone ideas that everyone can duplicate with ease. Paint and decorate these leaf-shaped stepping stones more in the way you like. theownerbuilder
15. Unique DIY Stepping Stone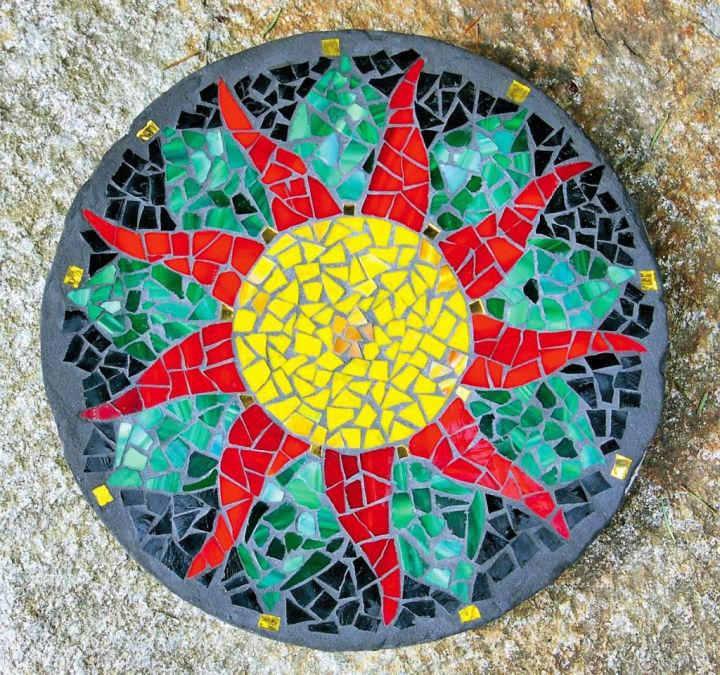 This project will share the complete guides about making a unique stepping stone for your garden space. Peek into details of this given stepping stone that features both a lovely art and a mosaic effect. This type of stepping stone will surely give your garden an instant facelift, and everyone can make these decorative stones quite easily and efficiently. You can do this project with a pre-made stepping stone and make one using concrete and round mold. Next, ad your favorite mosaic or glass pattern on it using a custom adhesive. wsmag
16. Outdoor Embossed Stepping Stones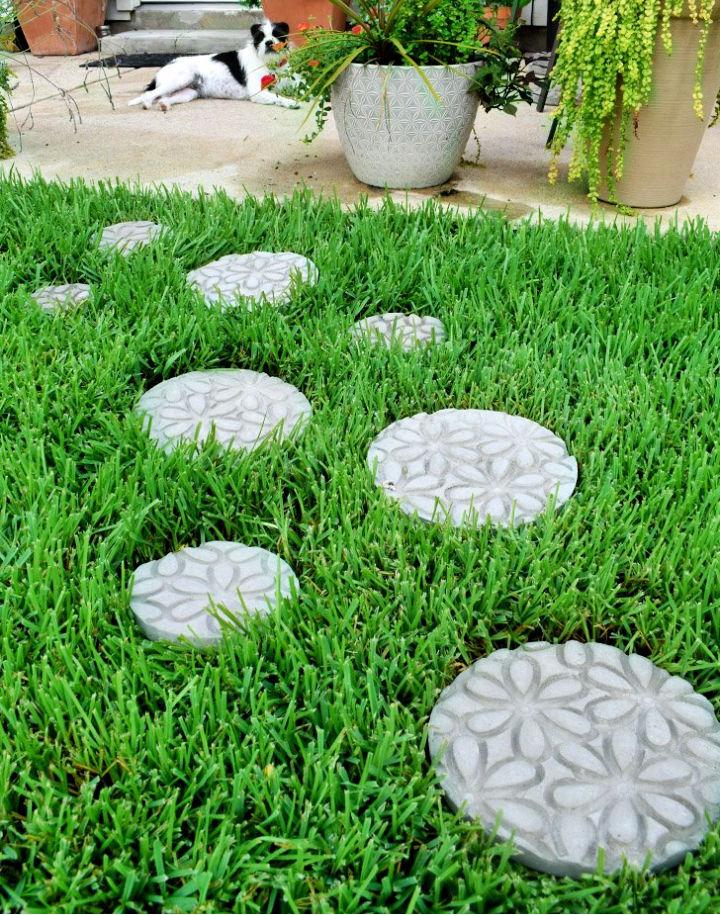 If love, at first sight, is true, then all garden lovers will fall in love with these embossed garden stepping stones at a very first glance. They come with distinctive embossed design patterns and can be painted for a more impressive appeal. Make the assorted sizes of these stepping stones, and then add them to your garden in custom configuration, creating a pathway. The whole project is more than easier to do and will spruce up your garden. You need a rubber doormat, sand, reusable plastic stepping stone mold, plastic mixing bucket, trowel, knife, rough sandpaper, chip brush, gloves and cooking spray to make these stepping stones. dreamalittlebig
17. Building a Stone Walkway

Create a more sensational appeal for your garden by installing this natural stone walkway. The project is much doable for intermediate crafters and will cost you a little higher also. The whole project will complete simply in 2 days, and the results will be lasting longer. First, manage the stock of supplies before you jump into the construction. You require flagstone, water, pre-mix cement mortar, cobblestones, crushed run gravel and ¾″ gravel for this project. In tools, you need a mixing bucket, mason's chipping hammer, rubber mallet, tape measure, protective eyeglasses, and rake etc. diynetwork
18. How to Make a Stepping Stones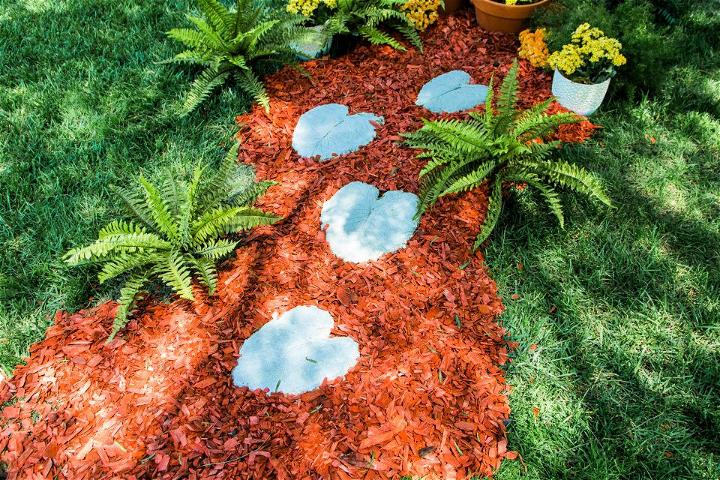 Peek into the design details of these leaf-shaped stepping stones that look like lovely hearts too. The leafy texture on the skin of these stepping stones makes them look extra beautiful. Here you need the giant leaves as molds to complete this project. Grab the large leaf, 2x4s, 18″ x 18″ plywood, play sand, high strength quick concrete mix, plastic bucket, fencing mesh and clear masonry sealer to complete this project. These stepping stones are guaranteed to make your garden look divine. hallmarkchannel
19. Fathers Day Concrete Stepping Stones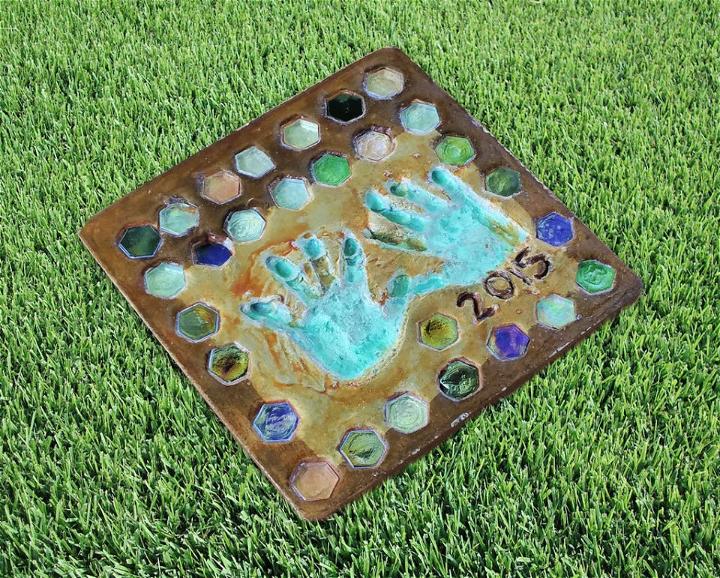 Celebrate Father's Day by making these colorful and beautiful stepping stones. They will make exclusive heart-winning gifts for all gardening lover dads. What makes these stepping stones a lot more interesting is the addition of colorful hexagons and handprints. Mainly you need a DCI concrete countertop, assorted stones for decoration, DCI concrete overlay, concrete mold, concrete acid stain sample kit, small foam brushes and baking soda to complete this fantastic stepping stone project. The whole project will be much doable for all beginners. instructables
20. Stenciled Garden Stepping Stones for Backyard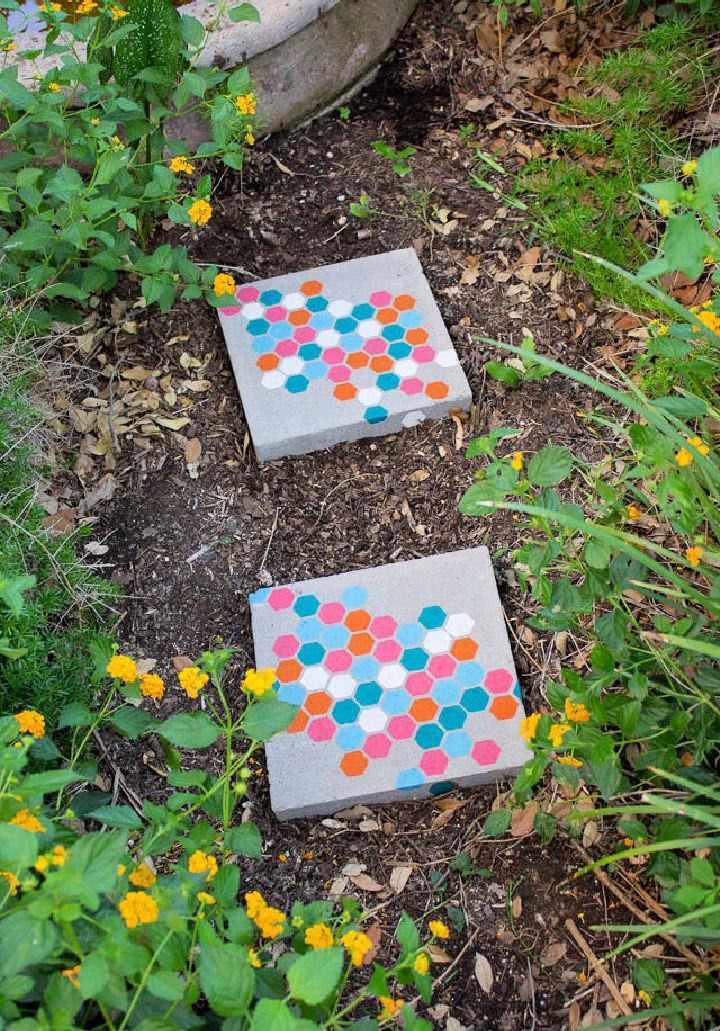 Check out here the quick-to-make garden stepping stones that are insanely cute. These stepping stones come with colorful stenciled hexagons and are sure to bring the geometrical decor vibes to your green garden space. The project is about doing a decorative makeover of the concrete pavers using the honey bee stencils to make some lovely garden stepping stones. So, to do this project, you need hexagon stencils, concrete pavers, weather-resistant acrylic craft paints, foam brushes, and painter's tape to complete this project efficiently and quickly. designimprovised
21. Dog Paws Stepping Stones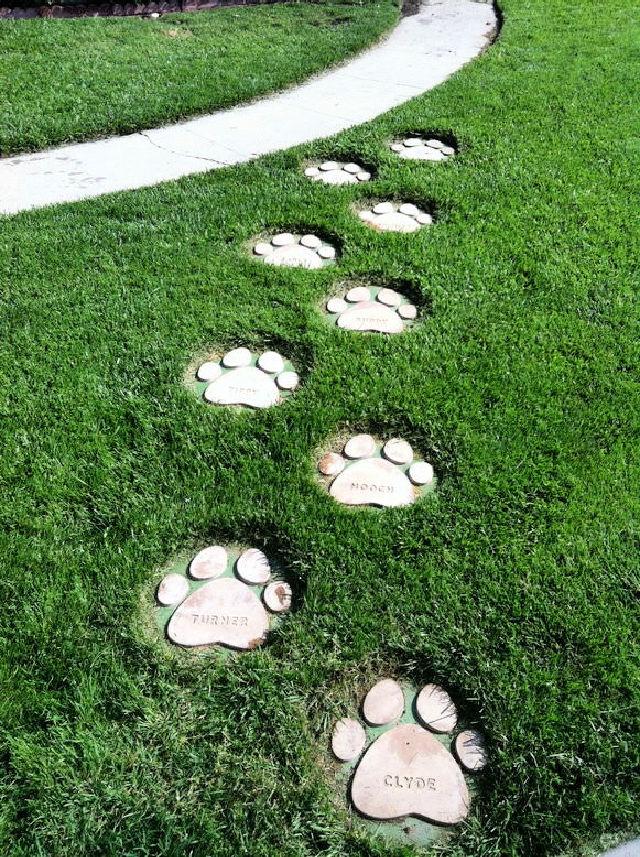 You can get inspired by many amazing things and characters while intending to make the lovely stepping stones for your garden space. Peek into details of these dog paws stepping stones that are insanely cute and better express your love for your dog. These stepping stones may look intimidating to make, but they are one of the easiest DIY garden decor projects. Here you need a wooden dog paw mold that you can easily make at home. You will get here instructions for that too. So, after you have the dog paw wooden mold, fill concrete in it to get these stepping stones made. Don't forget to add the name letters on them. instructables
22. Homemade Stepping Stones with Flour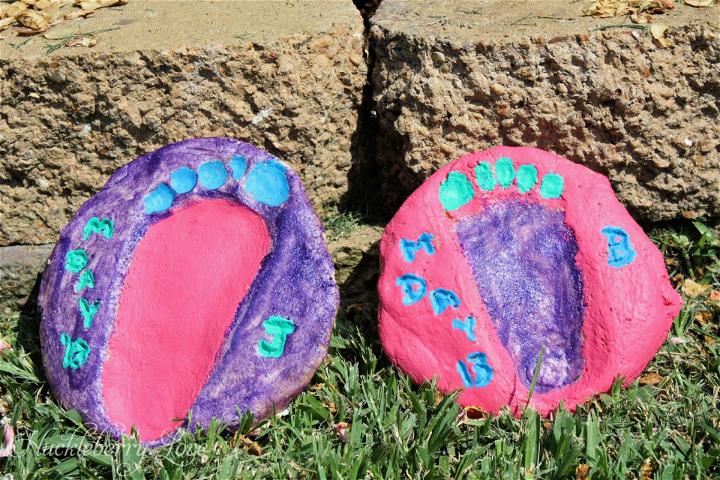 Jazz up your garden with these footprint garden stones, sure to make great garden stepping stones. They will create a great memory in your garden and are genuinely something quick and easy to make. Grab the table salt, white flour, water and paint of choice to complete these solid and beautiful garden stepping stones. At the same time, these footprint stones will make a great keepsake gift also. The project is super feasible and cost-efficient, and everyone will love doing it. You can even involve your kids while doing this project. huckleberrylove
23. Stepping Stone Concrete Pavers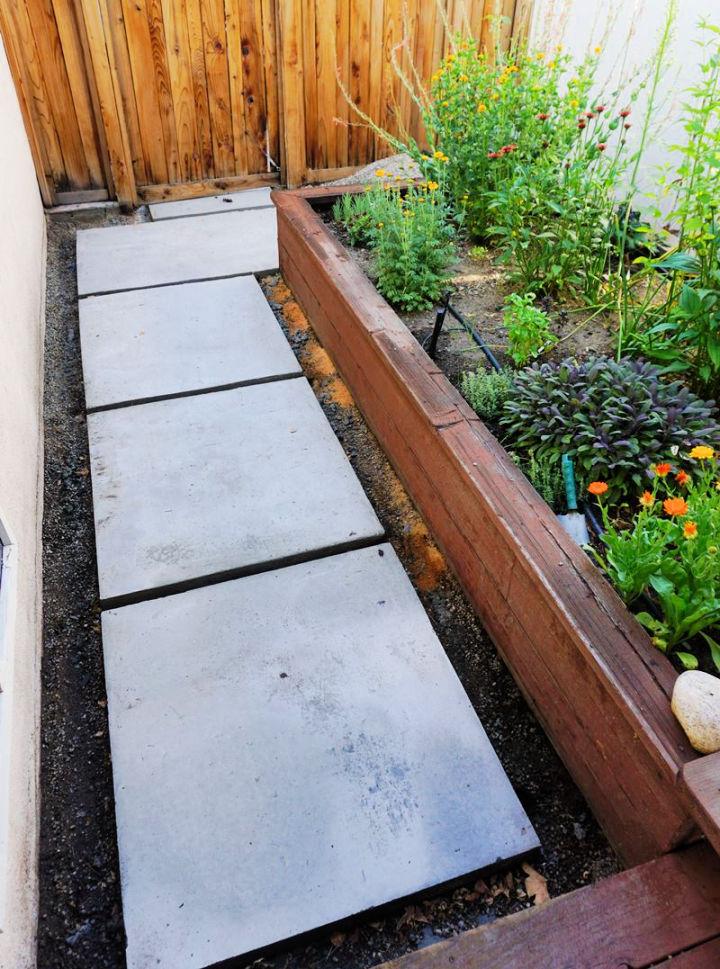 You will love the clean and plain look of these concrete pavers that create a stunning garden pathway. Get here A-Z instruction to easily duplicate this concrete paver pathway, which will never get out of style. The idea is to plan the wooden mold frame for these pavers and then fill the concrete in the frame to get the job done. Fill the sides of the pavers with gravel, and this will fancy up the whole concrete pathway. The project requires lots of precision but is much doable for all beginners. Installing the mold frame will get half of the job done. lovelyimperfection
24. DIY Path Stepping Stones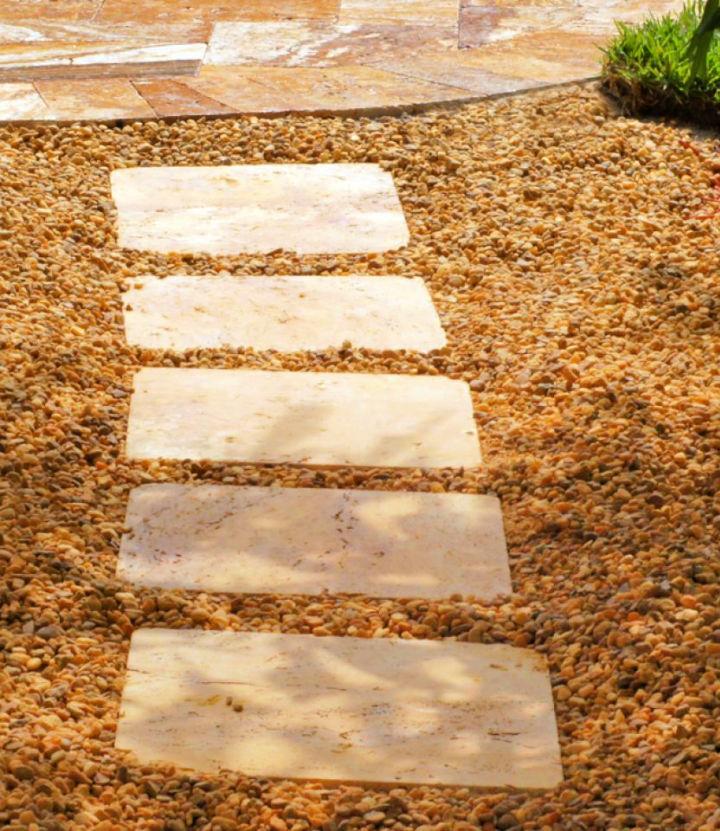 Take your garden decors to the next level with this significant garden stone path, which is a great pleasure to walk on. You will get here the complete step-by-step instructions to set up and install this stone patch, which will new decorative dimensions to your garden's beauty. You can choose the stones matching to home exterior bricks or surrounding landscapes for some fantastic results. It will not be even a little slippery to walk on these stones, even when raining or after rain. Clear the space and then fill and level the sand. Lay the weed barrier and then your stone and fill it with gravel. hgtv
25. Engraved Garden Stepping Stone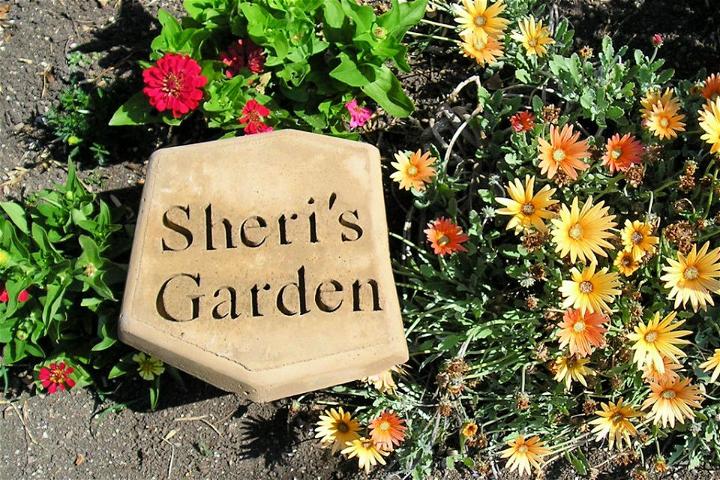 Follow here guides to make personalized garden stepping stones guaranteed to create a personality of your garden. These stepping stones come with carved-out name letters, and you will also get instructions about how to make those letters and how to use them for name carving on these stepping stones. Mainly you need stepping stone mold or form, buckets, Styrofoam or EPS form, hotwire machine, backer, and other custom tools and materials to complete this garden stepping stone project. The whole project will cost you next to nothing. instructables
26. DIY Heart Stepping Stones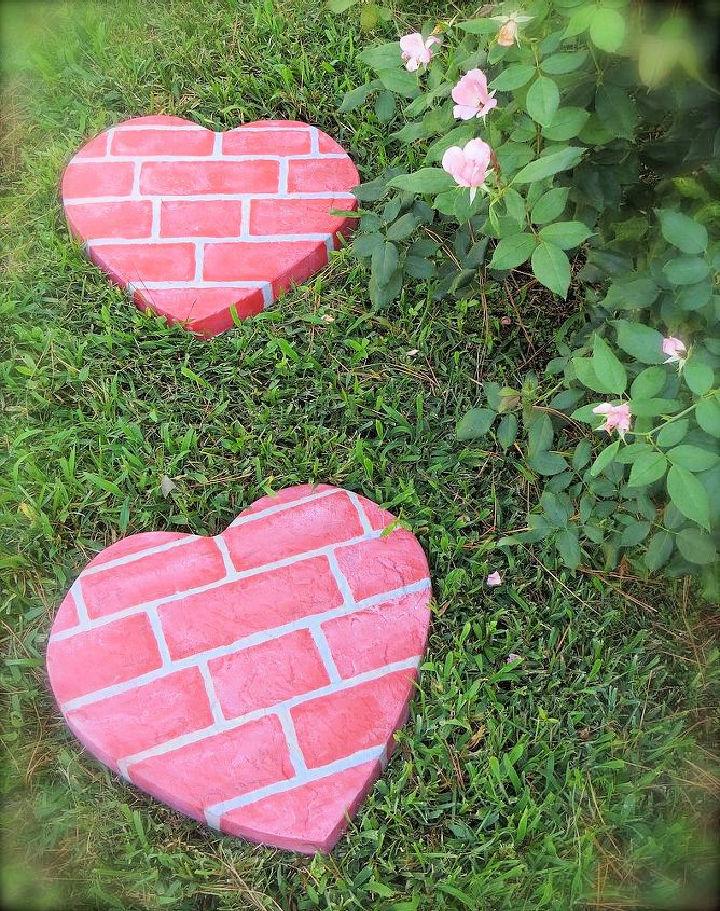 Bring love and tons of romance to your garden with these heart-shaped homemade stepping stones. They enchant with the brick style design appeal and are easy and quick to make also. Just mix the concrete and pour it into a heart-shaped mold. Please take out the well-dried heart-shaped stepping stone and then paint and decorate it in the way you like. Here the finally completed heart-shaped stone ar painted for a brilliant brick pattern that matches beautifully with the home's exterior or surrounding landscapes. The project is more than easier and more cost-efficient. hometalk
27. Textured Stepping Stones

You will love the decorative embossed look and appeal of these wonderful stepping stones. They will be a super decorative addition to your green garden space and are a total breeze to make also. You need fine concrete, cardboard tubing, rubber doormat with a fun design, pam cooking spray or oil, chalk pencil, saw and level board covered in plastic wrap or tin foil to complete this project. Cut the bigger rings out of the cardboard tubes to use as round molds and use the doormats for decorative design stencils in this project. Pant and decorate the finally completed stepping stones in the way you like. nancymizelle
28. DIY Sea Glass Stepping Stone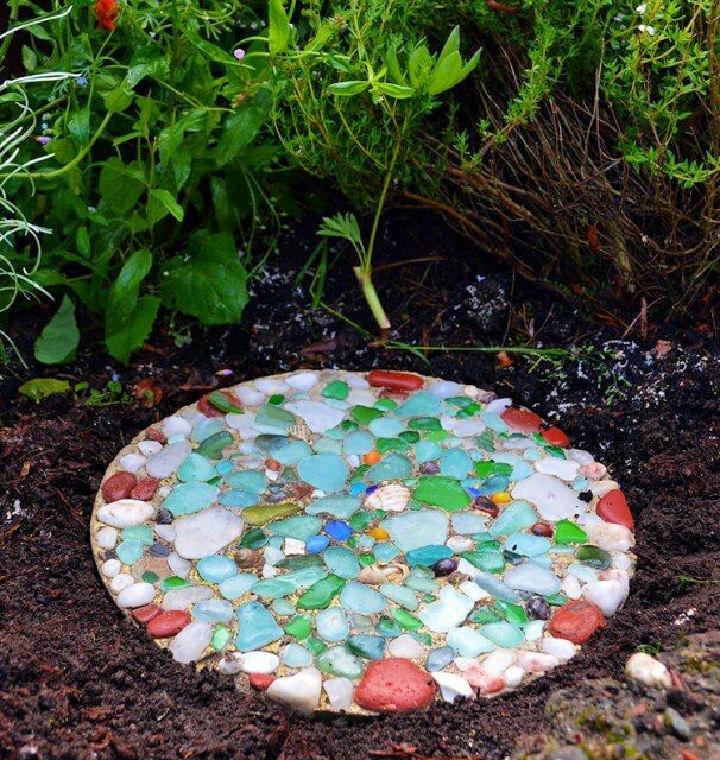 You will love the mosaic appeal of this, another great and exciting stepping stone. Here the sea glass pieces are used to fancy p these concrete stepping stones. Use the old pan or a plastic tub as the mold for this excellent sea glass stepping stone that is crazily easy to make also. Make a number of these stepping stones to add a great pathway to your garden. The project is beginner-friendly, budget-friendly and also eco-friendly. In other supplies: You need cement, matte white spray paint, clear glossy spray paint, and sea glass to work up these stepping stones. The project will cost you around $25-30. lovelygreens
29. DIY Leaf Stepping Stones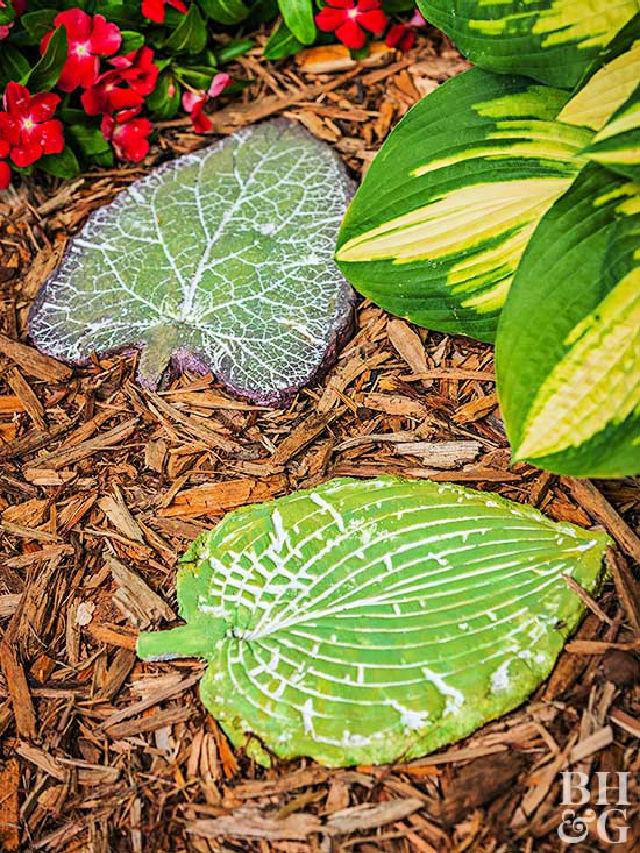 Sorting out the best decors for incredible garden landscaping? Then time to make these garden leaf stepping stones relatively easy and quick to make with minimal crafting skills or experience. These stepping stones are inspired by garden leaves and will help you stay in the natural garden decor theme. You need cooking spray, quick-drying concrete mix, a large piece of cardboard, exterior paint, exterior grade spray sealant, foam paintbrush, trowel, and rubber gloves to make these leaf-shaped garden stepping stones. One of the easiest and quickest DIY garden stepping stone projects ever. bhg
30. Stepping Stone for Grandpas Garden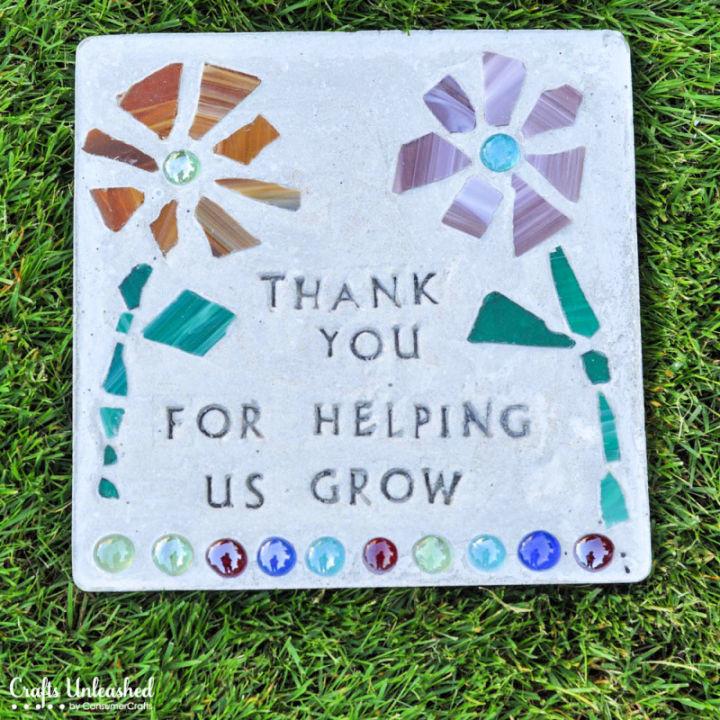 This project is all about crafting the most colorful and quotes garden stepping stones that will instantly grace up your green space and will also be a total pleasure to work up. The flowers on this stepping stone are made with broken glass or china pieces, and you can use the letter stamps to carve out the name letters. Use the custom glass beads and various other accents to decorate these stepping stones more, which will create a big focal point in your garden. The best garden landscaping and decoration idea that will amaze all. You need an inspiration stepping stone kit, bucket, water and a piece of plywood to complete this project. consumercrafts
Conclusion:
Bringing beauty and grace to your garden starts by adding decorative DIY stepping stones to garden pathways. They are often to buy expensive when selected in custom designs. So, you can try to make your own stepping stones at home by learning all the hidden secrets here about making stepping stones. Yes, you can read through these DIY Stepping Stone Projects to master all the strategies and creative tricks that will help you make these decorative garden stones like a pro.
These garden stepping stones projects will share complete material lists, tool lists and step-by-step written and visual instructions to make all sorts of stepping stones expertly and without getting a bit expensive. So, do take a tour of this entire list to understand the garden decorative stone game comprehensively.